Use Dollar Tree items to create Christmas decorations. These decor items are cheap and fun to make.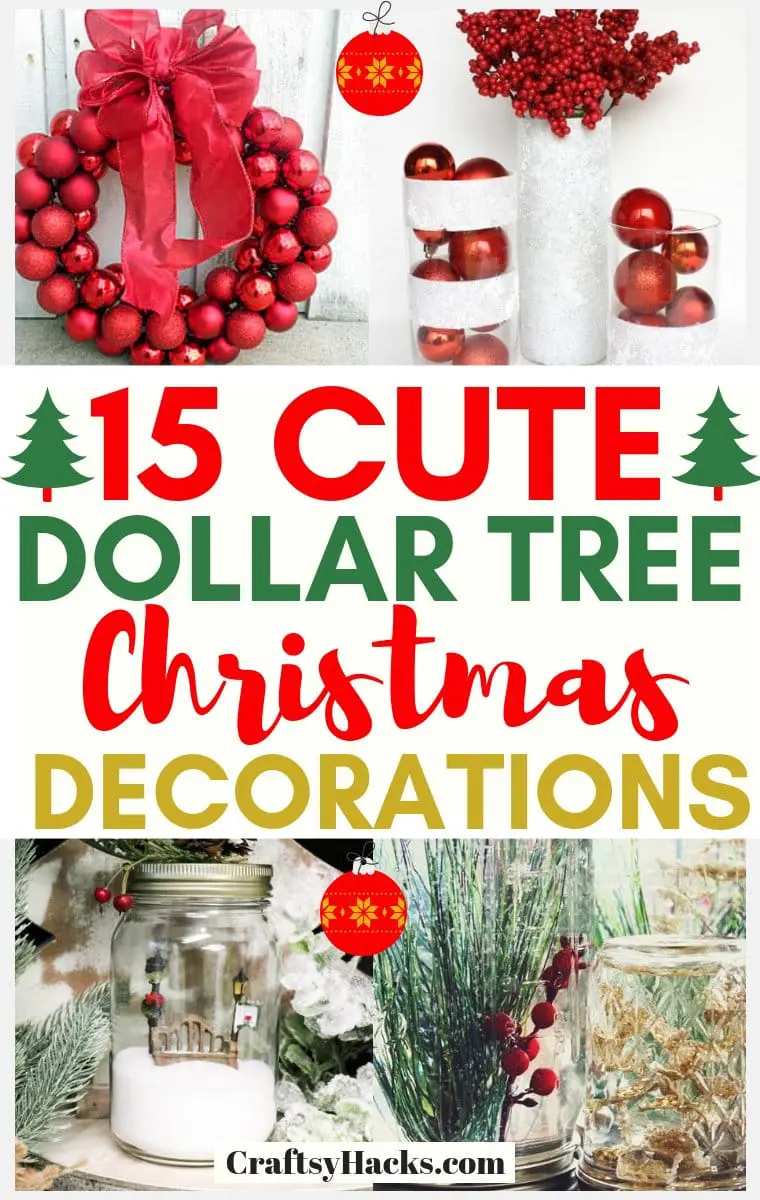 It really doesn't feel like Christmas until the entire house is decked out in decorations! If you're a DIY enthusiast (just like me), the winter holiday is really our time to shine.
Instead of putting a dent in your wallet to decorate your house, just DIY it. Not sure where to get started?
Here are 15 fun craft ideas for making your own beautiful Christmas decorations with Dollar Tree items!
1. Farmhouse-Style Bead Ornaments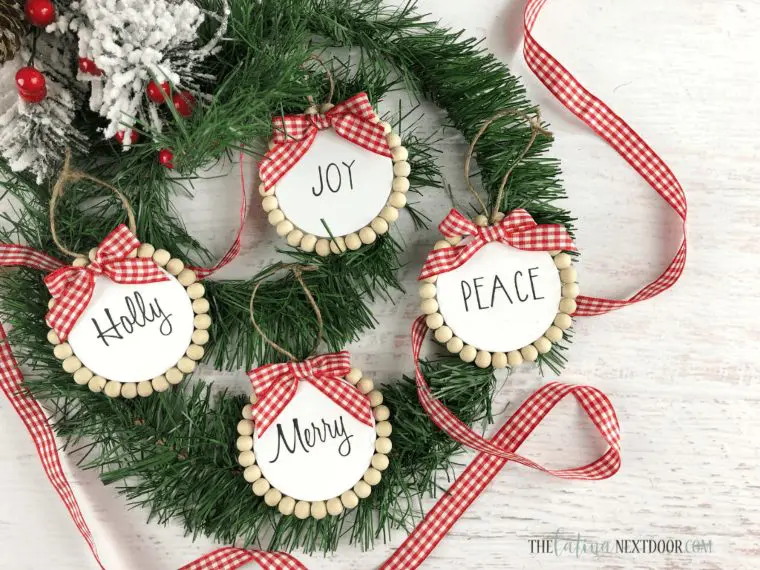 Credit: thelatinanextdoor.com
Forget about spending a fortune on ornaments – we're getting super creative this year. Give your Christmas tree a farmhouse-style makeover by adding in a couple of bead ornaments!
You can even add a personal touch to the ornaments by printing out a custom message to display on it. To make sure you cut out the perfect circles out of the foam board, I suggest using a rotary cutter like the one you here.
Having a good quality hot glue gun is a must here too!
2. Snowman Candle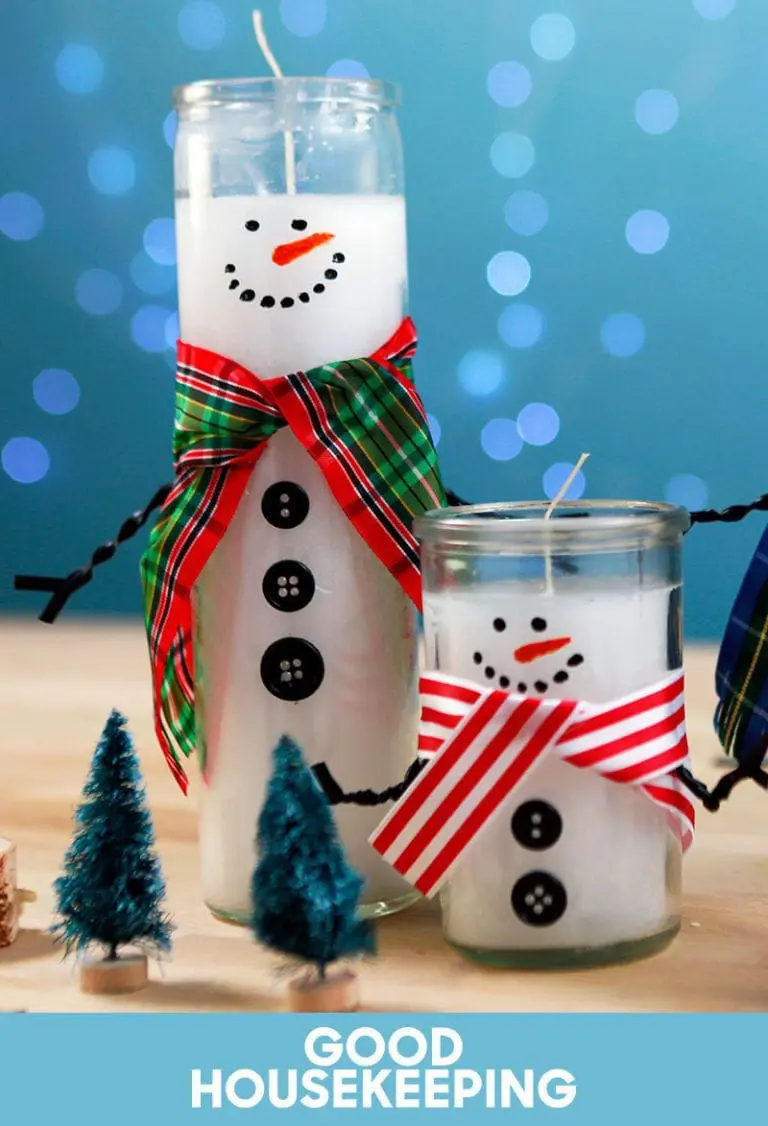 Credit: goodhousekeeping.com
Got a ton of empty space on your tabletop? These adorable snowmen candles are the perfect addition to any corner of the room during the holidays!
To dress up your mini snowman, you'll need a glue gun to attach the pieces. For all my DIY projects, I always keep a sleek but functional glue gun handy.
The set you can find here keeps everything neat and tidy for your craft sessions. Also, this craft requires a little bit of ribbon, so feel free to stock up on that for your future projects here.
3. Wine Glass Snow Globe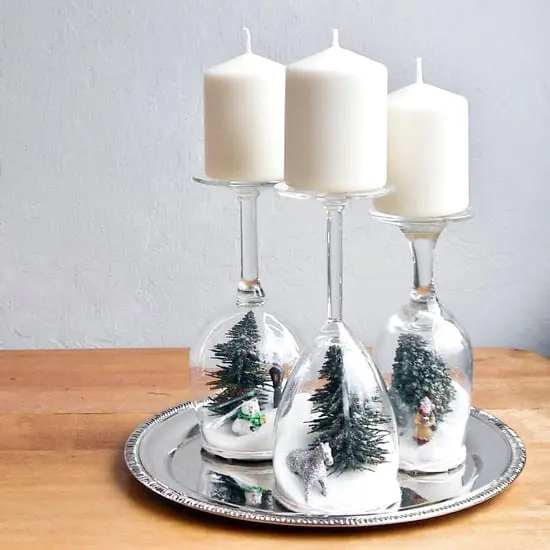 Credit: popsugar.co.uk
It just doesn't feel like Christmas until you throw a couple of snow globes into the mix! Instead of spending the big bucks on expensive snow globes, you can actually make your own out of wine glasses.
These intricate wine glass snow globes look absolutely stunning in any area of the home. The best part is that they also double as festive candle holders!
4. DIY Ornament Wreath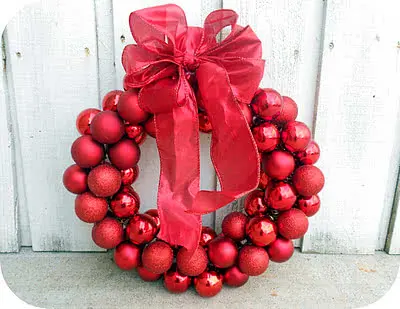 Credit: sixsistersstuff.com
Consider your holiday décor situation incomplete until you've got a gorgeous wreath hanging on your front door! Save yourself a couple of bucks (well, more than that) this holiday season, by making your own wreath.
The only materials you really need are a wire hanger and Christmas ornaments. What's great about this craft project is that you can really customize the look of your wreath!
You can choose the perfect colors for your ornaments to match the theme you're going for. Don't forget to top it off with a pretty bow!
For your homemade wreath, I suggest grabbing a variety of ornaments like the set you can find here. A Christmas wreath can do for a beautiful Christmas decoration and could be even something you can add to a DIY Christmas gift basket.
5. Picture Frame Snow Village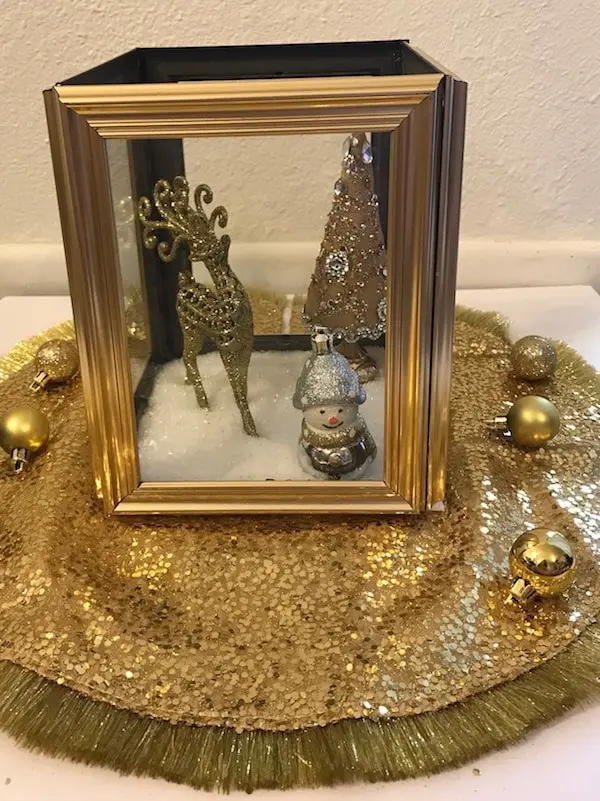 Credit: prudentpennypincher.com
Light up your house this Christmas with an impressive homemade snow village display. You can easily customize your display by choosing the specific elements you want to incorporate into your winter scene.
To build the case for your snow village, you'll need to grab a set of 8×10 picture frames like the style you can find here. That's in case you have no time to actually go Dollar Tree shopping!
Make sure you stock up on glitter here! It goes so well with pretty much any Christmas craft.
6. Snow Globe Snowman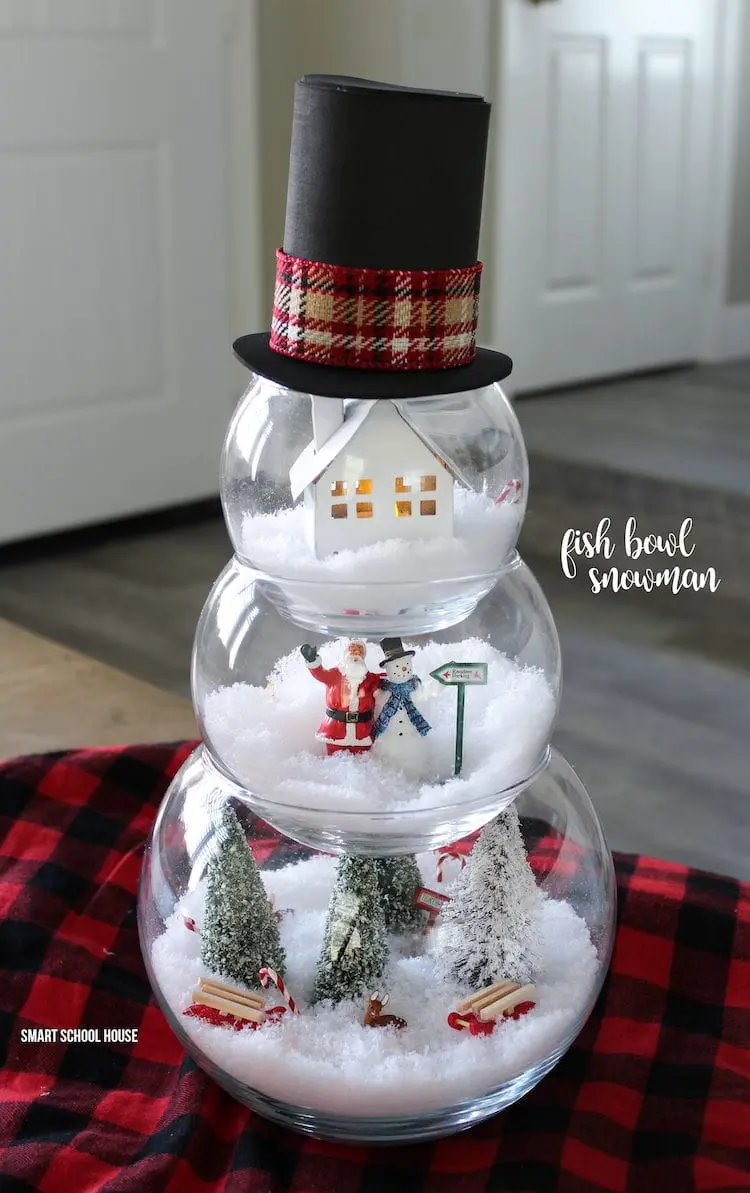 Credit: smartschoolhouse.com
This is hands down one of the most creative projects on this list! Show everyone that you've got some serious DIY skills by building a snow globe snowman out of fishbowls.
This snowman display is incredibly unique – a refreshing way to put a modern spin on traditional Christmas decorations!
7. Frosted Vase Centerpiece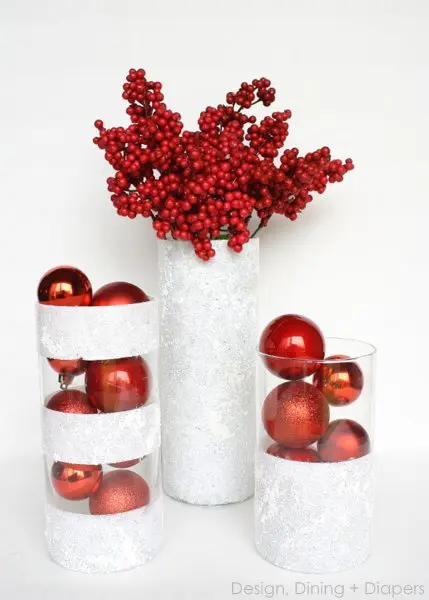 Credit: tarynwhiteaker.com
Dining room table looking a little empty? Your holiday setup isn't complete until you add a beautiful festive centerpiece into the mix!
Instead of buying an elaborate centerpiece, just make your own elegant frosted vase display. For this idea, I recommend grabbing three vases (different sizes) to create a more dynamic setup!
These glass cylinder vases should be great for this occasion.
8. Framed Reindeer Portrait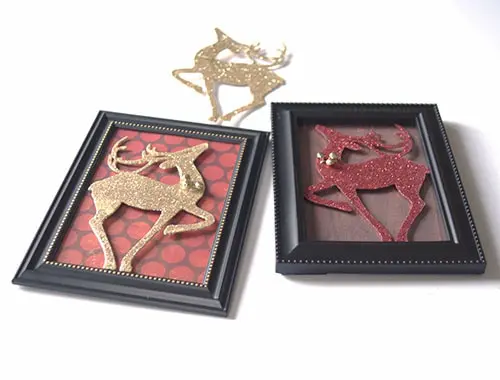 Credit: savedbylovecreations.com
Looking for a simple way to spice up your home décor for the holidays? Make your own framed reindeer portrait!
These framed reindeer silhouettes look fantastic on top of a table or even as a way to fill up some empty wall space.
If you're not really feeling the reindeer silhouette, you can easily opt for a different Christmas character to make your home look more festive this season. This is a great craft for teens!
9. Vintage-Inspired Candle Holder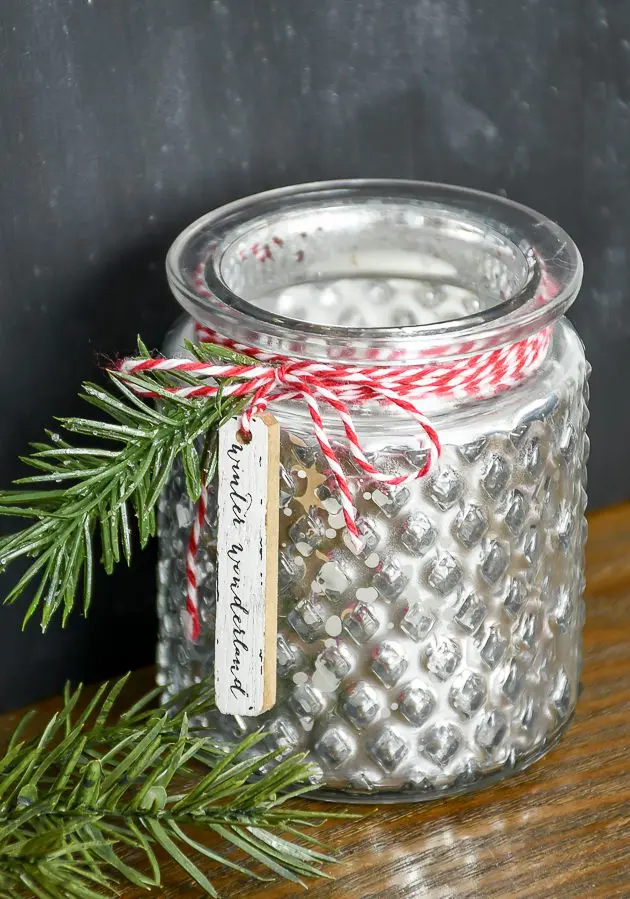 Credit: littlehouseoffour.com
Candlelight adds a dreamy quality to any home décor situation. Go the extra mile this Christmas by making your own vintage-inspired candle holders place around your home!
You can create a beautiful display by placing a couple of them side by side, then scattering mini pinecones around them.
If you're skipping the trip to Dollar Tree, these tea light holders can do the trick.
10. Mason Jar Snow Globe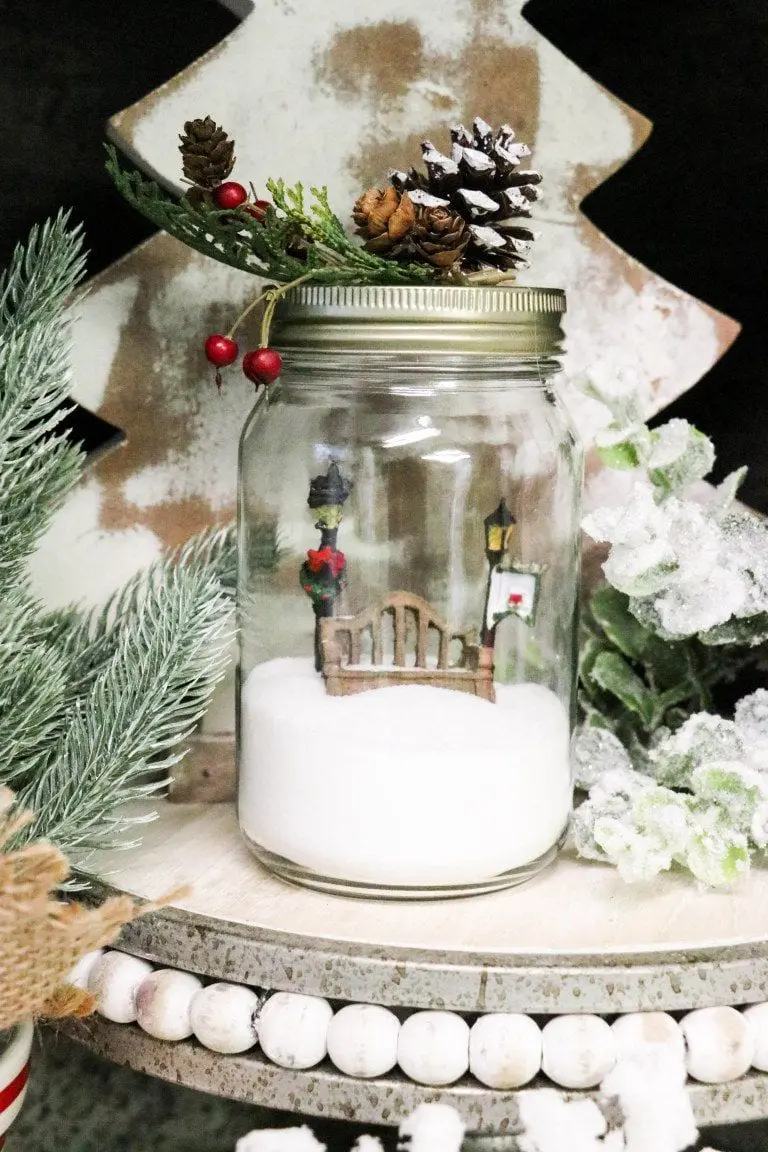 Credit: re-fabbed.com
Who doesn't love a beautiful snow globe? But let's get creative by making our own this year!
Surprisingly, making your own snow globe is actually a lot easier than it might seem. And all you really need is a mason jar and salt!
The best part is that you can customize your snow globe by adding in whichever elements you like to create the perfect winter scene.
You can stack up on those mason jars here. They're very handy to use for both crafts and food storage. Love Mason jar crafts? Here are some more of these projects for the upcoming spring.
11. Mason Jar Underwater Forest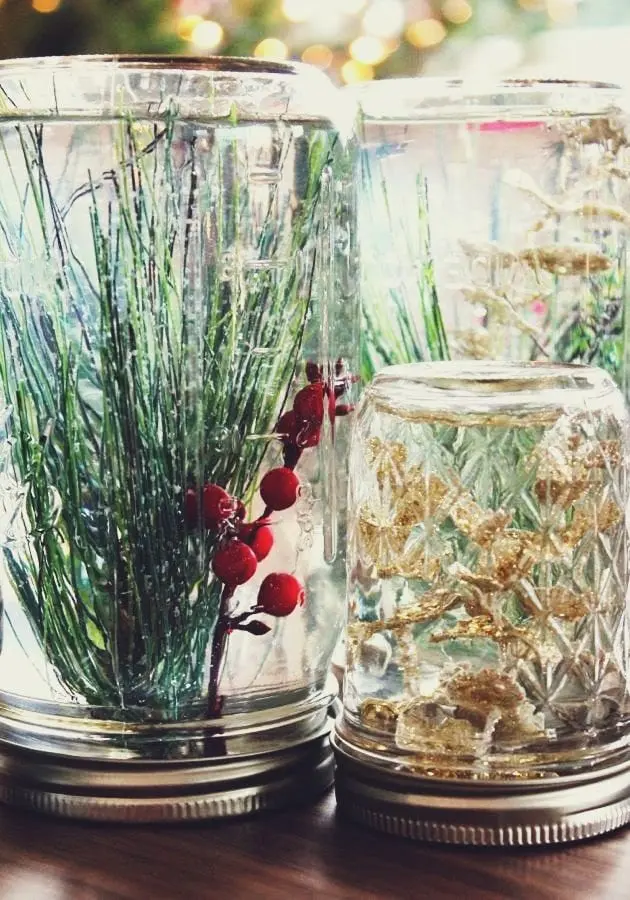 Credit: make-haus.com
Digging the homemade snow globe idea? Here's another fun-filled craft project to assemble your very own underwater forest.
These gorgeous mason jar snow globes look absolutely stunning around the home – any time of the year. For all my DIY projects, I love using Ball mason jars.
You can grab a set for a fantastic price here.
12. Snowball Candle Holder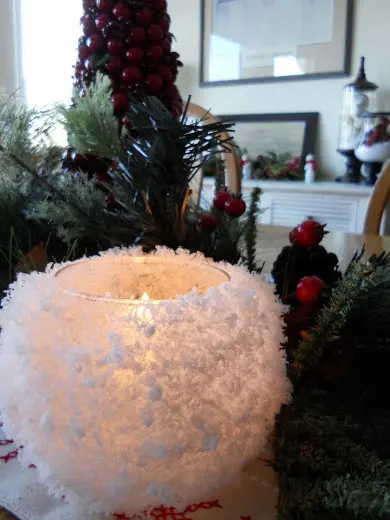 Credit: justanotherhangup.blogspot.com
Is your holiday setup really complete without throwing some snowball-inspired decorations into the mix? Bring a dreamy quality to your entire candlelight situation by creating your own fluffy, snowball candle holders to place around the house.
The best part is that you don't need a ton of materials! All you really need to grab is a round glass votive holder, spray adhesive, and artificial snowflakes.
Around the holidays, I love using small, speckled gold votive holders. Here is an example of that. They look great with or without the snowball effect!
13. Potpourri Christmas Trees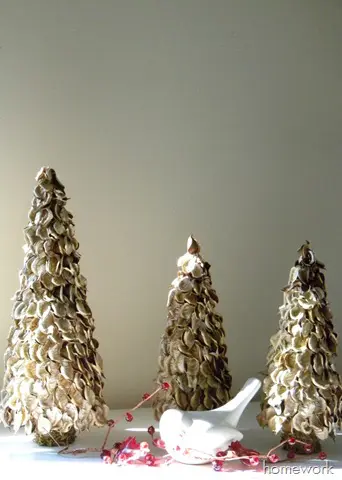 Credit: carolynshomework.com
Bring some Christmas cheer into your home by assembling your own miniature Christmas trees out of potpourri.
The best part is that these adorable mini trees also work wonders for filling your home with a sweet fragrance. That's the ultimate win-win situation.
14. North Pole Display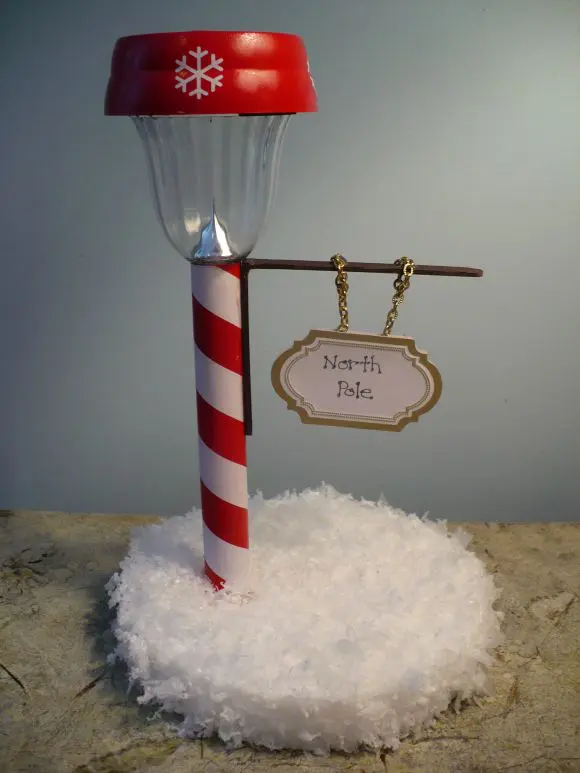 Credit: dollarstorecrafts.com
Looking for a fun-filled craft idea to keep the kids busy? What better way is there to bond with the kids than by getting them to help you decorate the house by building a North Pole display!
This is a great way to add a pop of color to your Christmas decorations while filling up some empty space on your table. Not to mention, it also adds a whimsical quality into your entire holiday setup.
15. DIY Ornament Wreath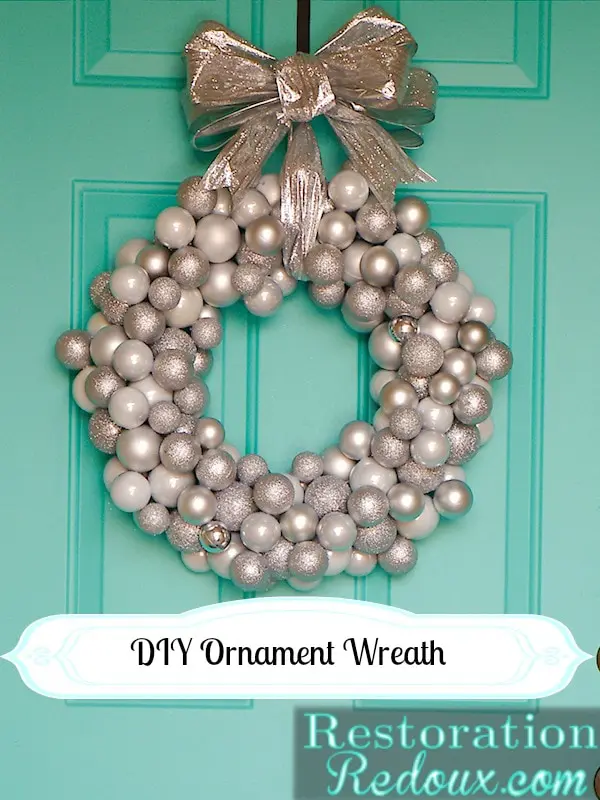 Credit: restorationredoux.com
As a DIY enthusiast, the goal this year is to spend more time on our decorations and LESS money. The best place to start?
Assembling your own gorgeous festive wreath out of tree ornaments. What I love the most about this simple DIY is that I can pick and choose the right colors.
To create a more dynamic arrangement, I suggest using a variety of ornaments ranging in size, color, and texture! There is plenty of choices here.
If you're interested in making your own ornaments, check out this article here.
Conclusion
Which one of the Dollar Tree decorations are you going to make this Christmas? Let me know in the comment section!
Have fun crafting!