Dollar Tree is full of goodies you can use to decorate any party. Check out these Dollar store party ideas and take your celebratory game to a whole new level.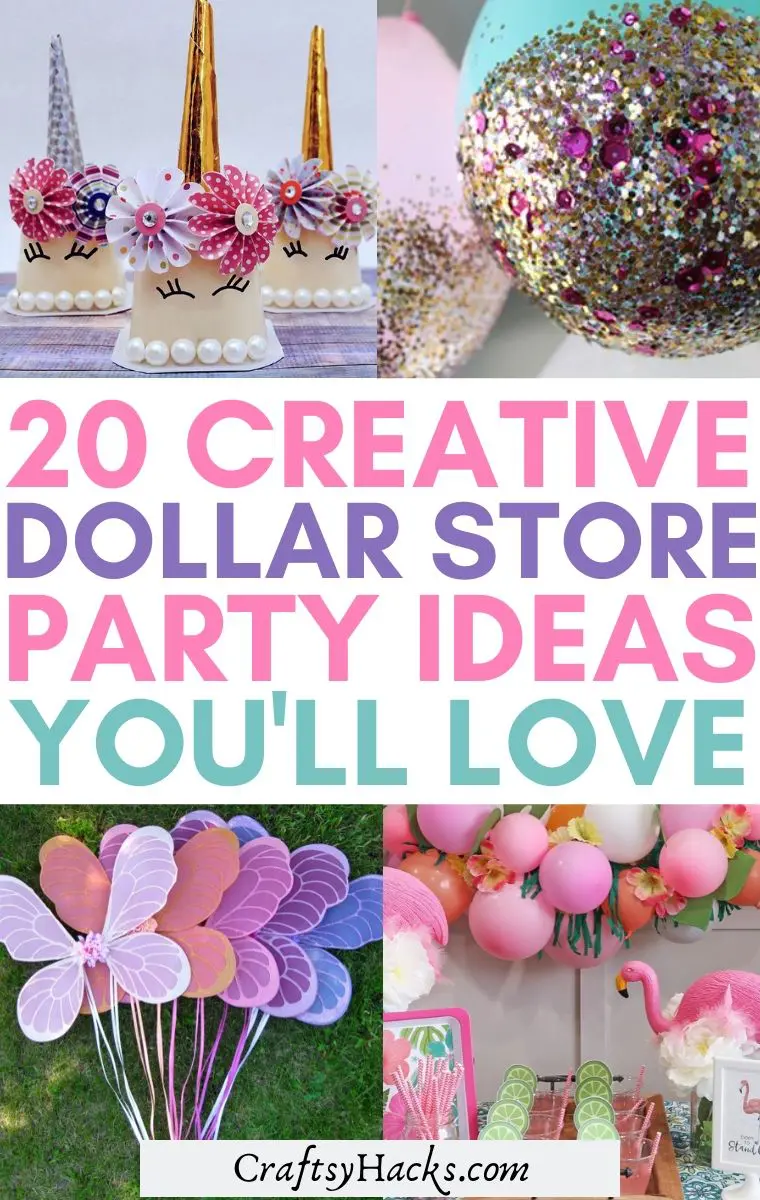 Your party decors play an important role in setting the mood for the entire event. Vibrant party decors instantly cheer up your guests as soon as they enter the venue.
A more formal décor would imply an expectation of prim and proper behavior. On the other hand, a venue full of playful patterns and colors means that your guests can let loose!
But this doesn't mean you have to splurge so much on decors. Here are dollar store party ideas that set the tone of your party and save you money at the same time.
1. Foam Board Greeting Sign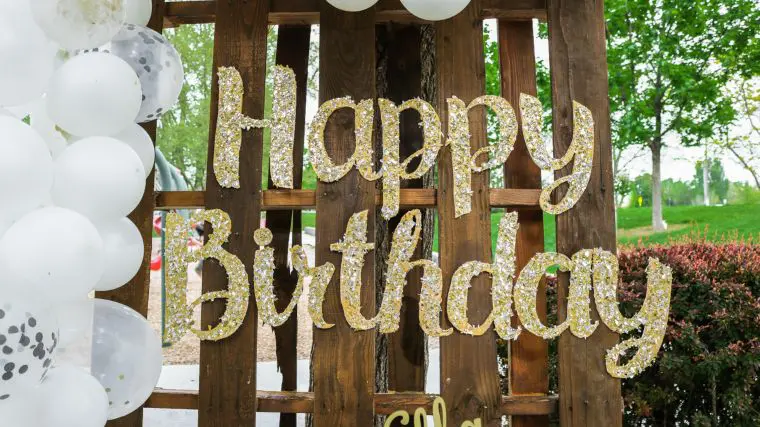 Credit: lilyardor.com
The dollar store will surely have pre-made banners or signs for any occasion. But where's the personality in that, right?
Other than personality, you can also tailor it to fit the overall party theme. It's easier than it looks.
Draw your letterings on white foam board sold at dollar shops. Cut them out using a cutting knife, and decorate to your heart's content!
I ordered a craft paint set here and used it to paint over my party sign. I intentionally picked this 18-pack set, knowing that I will be making similar signs for other parties.
Just sparkled on some glitter that I also got from the dollar store for the sign's finishing touches.
I like to use mounting putty like this to attach my signs to any surfaces. They're easy to stick on and do not cause any damage to the surface, which is always a plus, especially when you've only rented the party venue.
Check out more Dollar Tree crafts like this here.
2. Football-Themed Party Decor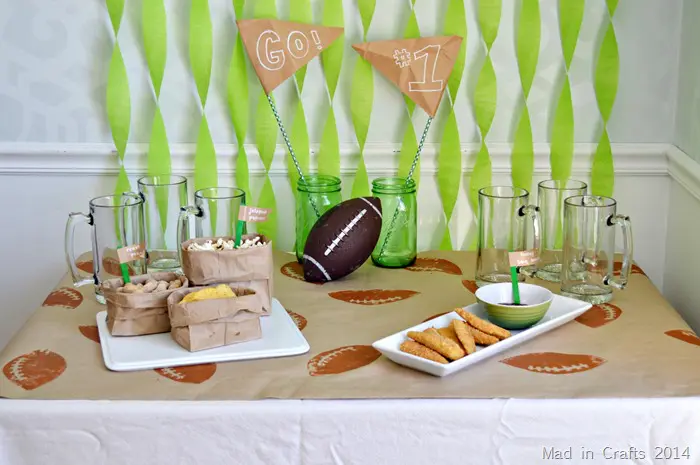 Credit: madincrafts.com
Everything you need in this photo is at the dollar store from the backdrop to the banner to the centerpieces and mason jars. Because they're relatively inexpensive, you don't even need to have a party to decorate.
Surprise your husband's friends by doing this quick décor for their next game night. In the rare instance that your partner and his mates aren't football fans, change the theme to whatever sport they usually love watching.
Check out more Dollar Store crafts for kids here.
3. Pottery Barn Inspired Weathered Stone Pumpkins Fall Decor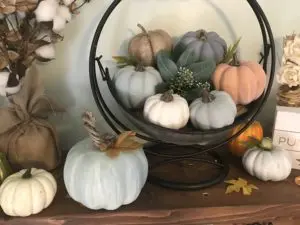 Credit: diywithmyguy.com
Buying these pumpkin fall decors from Pottery Barn would see you spending at least $59 for three. You can make something similar in less than half of that price with materials from the dollar store.
Check your dollar store for polyfoam pumpkins, fake leaves, mod podge, twisted rope, and craft pins. The paints are the only materials not available at the dollar store.
I went online to find my paint finishes and found this perfect rose gold shade. I also got assorted-colored chalk paint here for less than $2.50.
Once you have all your materials ready, pop on to this page for a video tutorial.
4. DIY Party Backdrop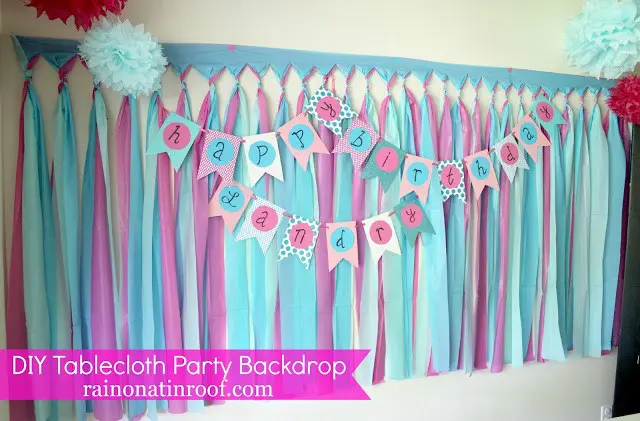 Credit: rainonatinroof.com
This colorful party backdrop is super easy to make. All you need are colored table cloths from the dollar shop, your scissors, and some thumbtacks.
For the greeting banner, you can use colored paper and a sharpie. Inexpensive and straightforward, right?
5. Glittery Balloons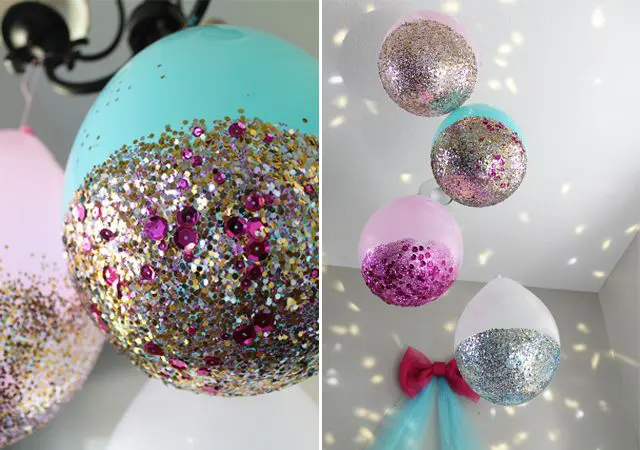 Credit: sisterssuitcaseblog.com
Add a twist to the traditional party balloons by hanging them upside down and drizzling them with glitter. From the dollar store, you'd need balloons, mod podge, glitter, and a brush.
Brush one half of the balloon with glue, and roll the balloon on a plate full of glitter. You can also sprinkle the glitter on the balloon with your hands.
I did this once for a Frozen-themed party and used a mix of blue and teal balloons. I then sprinkled them with diamond-like glitters, which I bought here.
6. DIY Single or Multi-Tier Cake Stand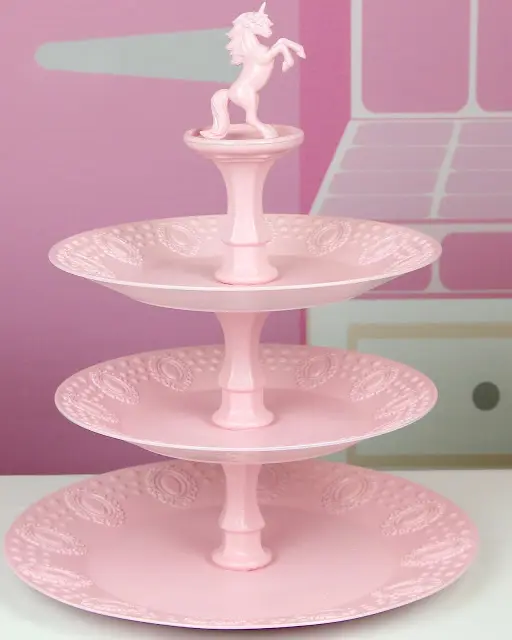 Credit: lindsayannbakes.com
Isn't this the cutest centerpiece? It's perfect for a princess or unicorn-themed party.
Another thing I love about this party décor is you can stack them in tiers or leave them as separate pieces.
Your dollar store finds are: different-sized plastic plates and varied lengths of candle holders.
If you want the color used in this example, you can buy the chalk pink finish here. Remember, you can always change colors according to the party theme.
Attach a candlestick to a plate to act as the stand. If you want a multiple tier stand, simply put one candlestick-and-plate combo on top of another.
7. Pudding Cups Turned Unicorn Party Favors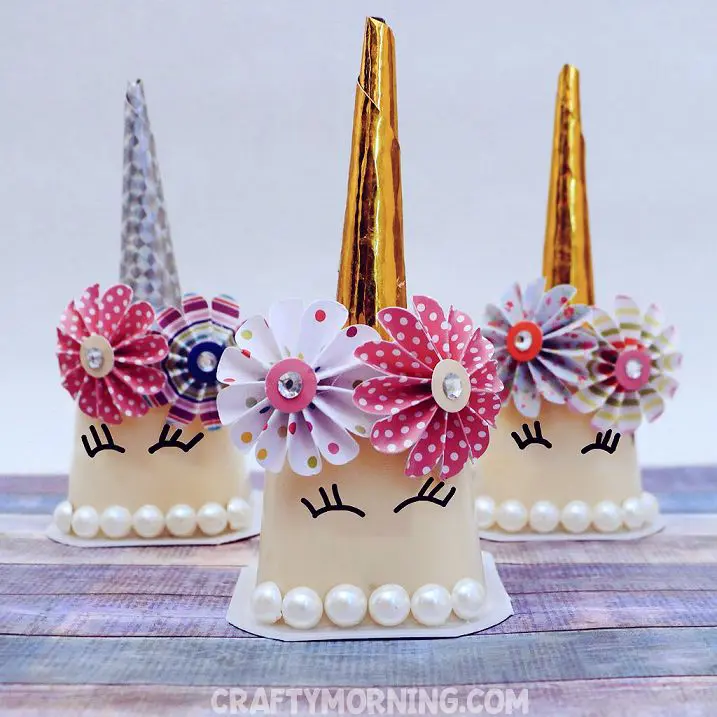 Credit: craftymorning.com
These pudding cup party favors are super adorable and easy to make, too. You'll need pudding cups, metallic hats, paper flowers, glue, a sharpie, and rhinestones.
That's it. Put them all together for a party favor that will surely make your little girl's guest scream their hearts out.
Check more crafts for teenagers!
8. Vibrant Flower Centerpieces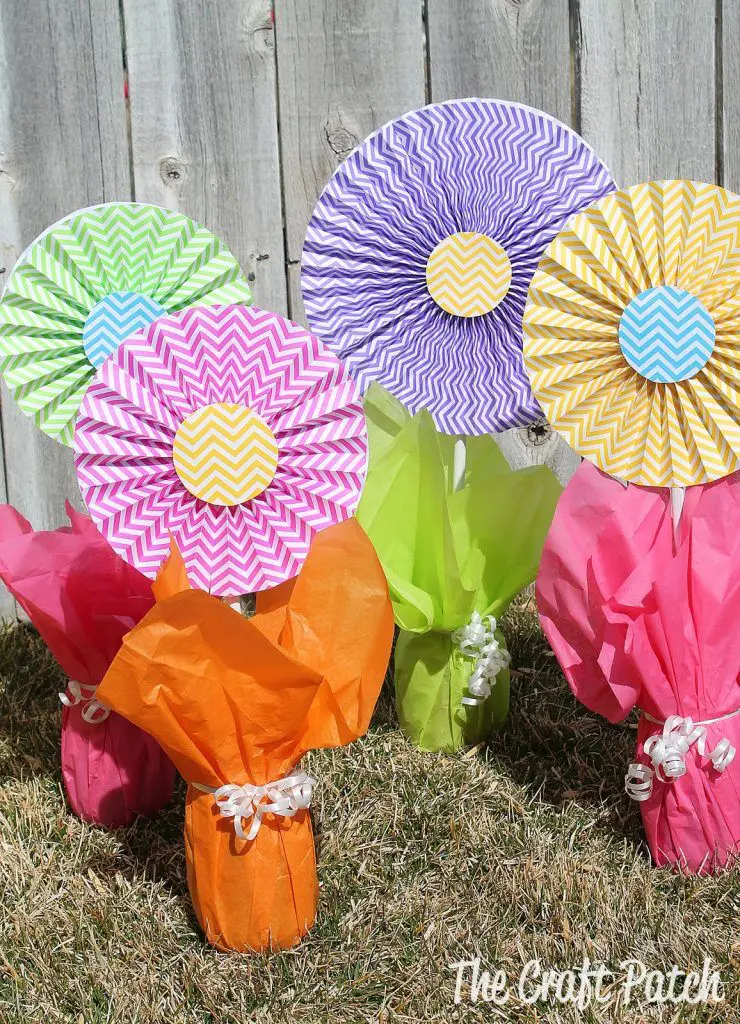 Credit: thecraftpatchblog.com
These colorful centerpieces are perfect for outdoor parties. You have two options for creating the flowers for this project.
You can either buy the individual pieces, such as the card stock, dowels, and hot glue. Alternatively, you can buy pre-made flower pinwheels for roughly the same price, like the ones I found here.
Use mason jars filled with sand and covered with tissue paper and ribbons for the base of your flowers. Soooo easy, right?
Check out more mason jar crafts here.
9. DIY Floral Vine Backdrop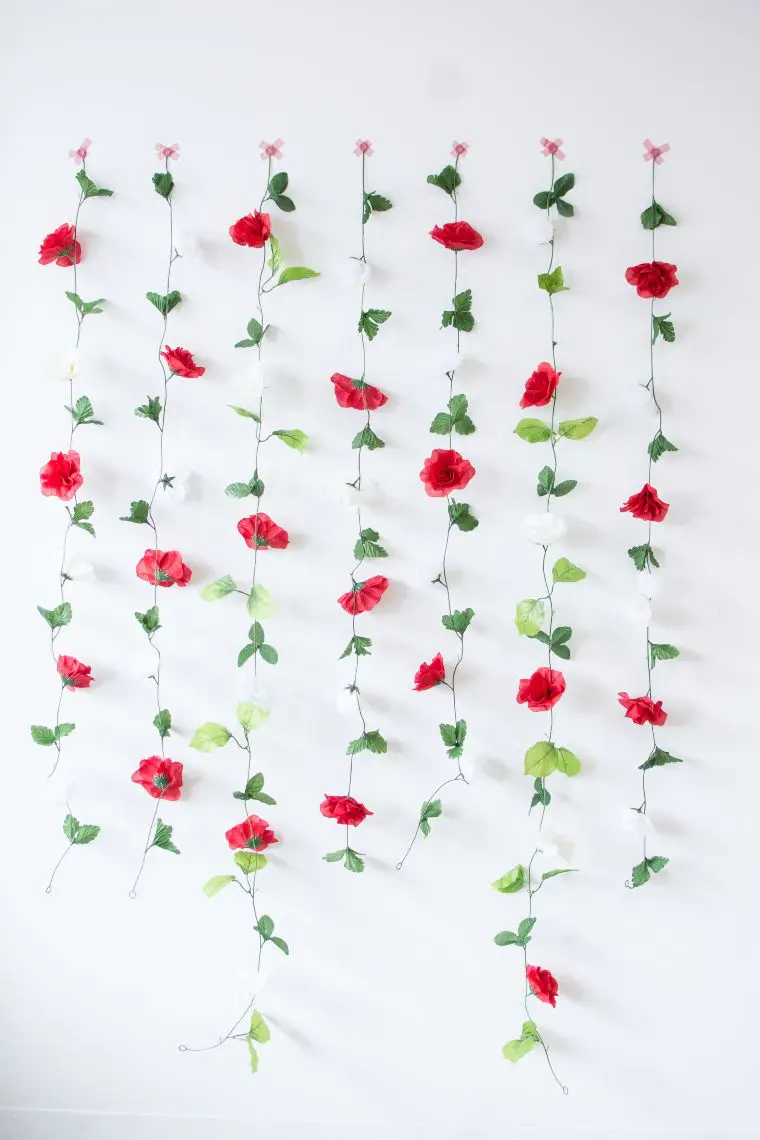 Credit: thissweethappylife.com
Don't you think this floral backdrop goes well with a bridal or baby shower? There are only three dollar store materials, too: floral vines, floral bunches, and washi tape.
You may want to go for vines with lights if you're planning for a nighttime event. I found a relatively inexpensive 10-feet leaf vine here.
10. Redesigned Fairy Wings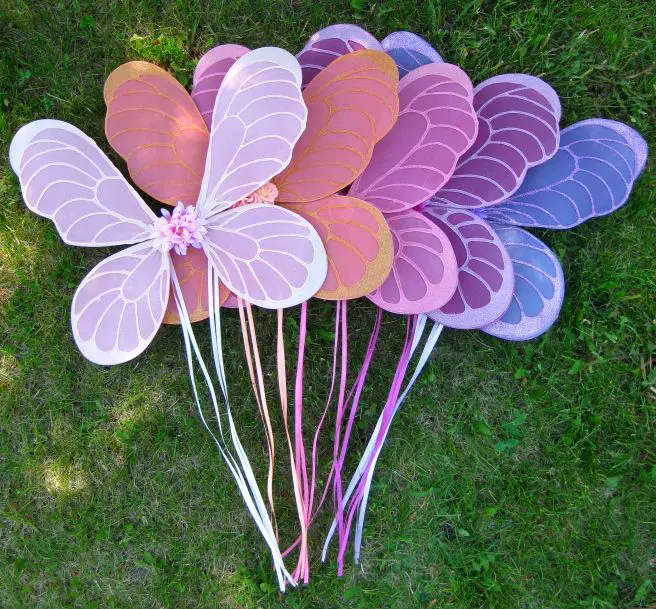 Credit: randomhousewifery.wordpress.com
Dollar store fairy wings are inexpensive. But sometimes, they come in colors and styles that simply aren't suitable for the occasion's color style nor theme.
The way to work around this style problem is by customizing your fairy wing dollar store find. Head on to this page for a step-by-step guide and the materials needed.
11. Inexpensive Princess Party Decors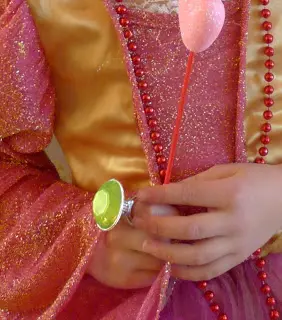 Credit: piecesbypolly.com
If you have a little girl, they will want to have a princess-themed party at some point. 'The dollar store is your friend when the day comes.
From the decors to the guest's accessories to the table setting and party favors – you can grab inexpensive items fit for royalty at your local dollar store.
12. Pool Noodle Giant Firecracker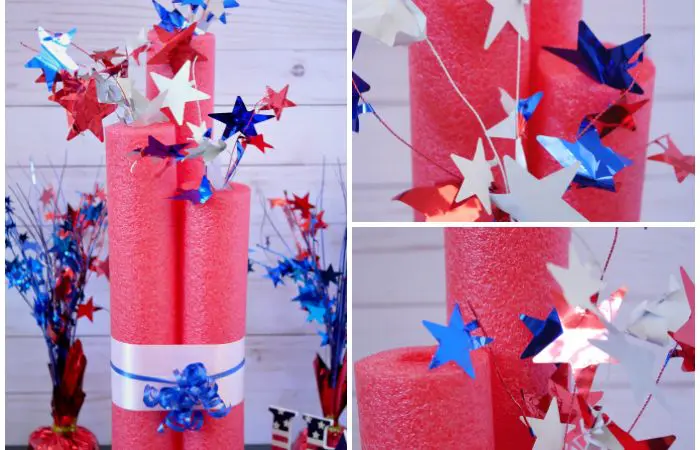 Credit: mypinterventures.com
This décor would probably be the only time your young kids get a hold of a "firecracker."
All you need are some pool noodles, wire garland, tape, ribbons, and metallic stars. If your dollar store doesn't stock the stars, you can order colored ones here.
This décor is perfect for a 4th of July or New Year's Eve party.
13. Independence Day Lanterns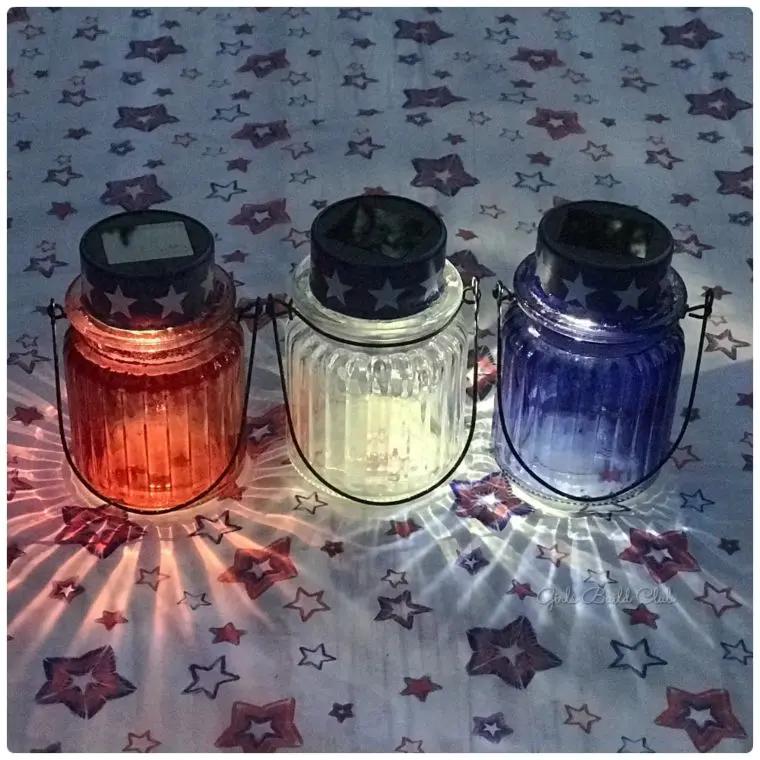 Credit: girlsbuildclub.com
Speaking of the 4th of July, here is another dollar store hack for your next Independence Day party.
You will need solar stake lights, glass votive holders, and clear glue.
I like using this clear sealant caulk because it's waterproof and very durable. Visit this page for the full 4th of July lantern tutorial.
14. Tissue Paper Backdrop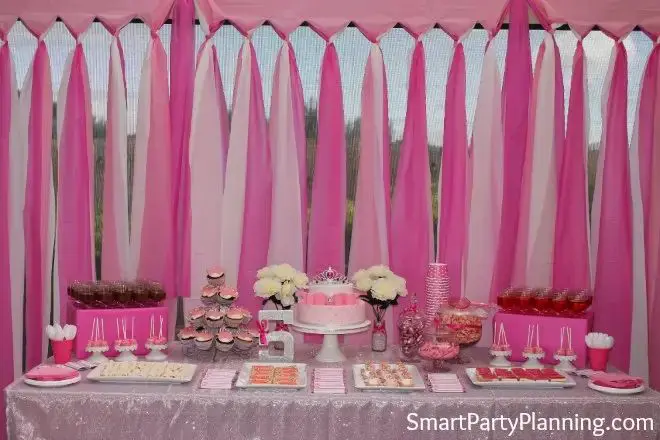 Credit: smartpartyplanning.com
Tissue paper is a versatile dollar store find when it comes to party decors or backdrops. You can make tissue paper garlands, tissue paper pompoms, tissue paper vines, and so much more.
If your local dollar store stocks limited colors of tissue paper, you might want to order yours from here.
15. Dollar Store Minimalistic Wreath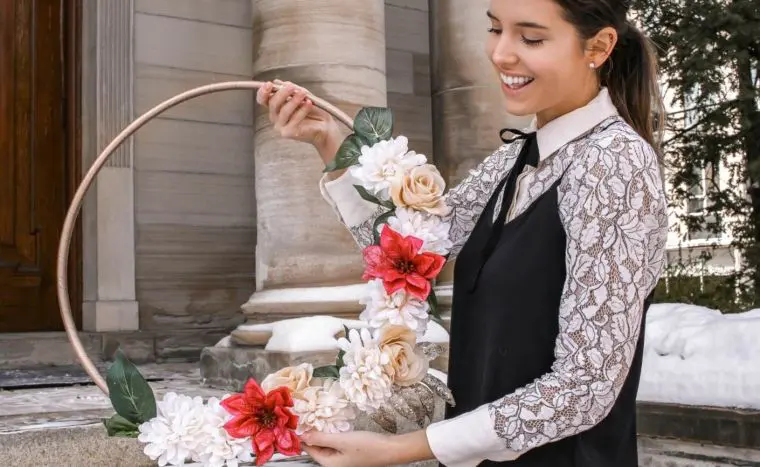 Credit: byerinelizabeth.co
This simple wreath is great for Christmas party decors, but they also make for great door hangers. The best thing is it's inexpensive and easy to make.
Use a spray-painted hula hoop for the ring and adorn it with dollar store faux flowers, greens, and ribbons. Now, wasn't that easy?
Check out more wreath ideas for Easter!
16. Tropical Party Decor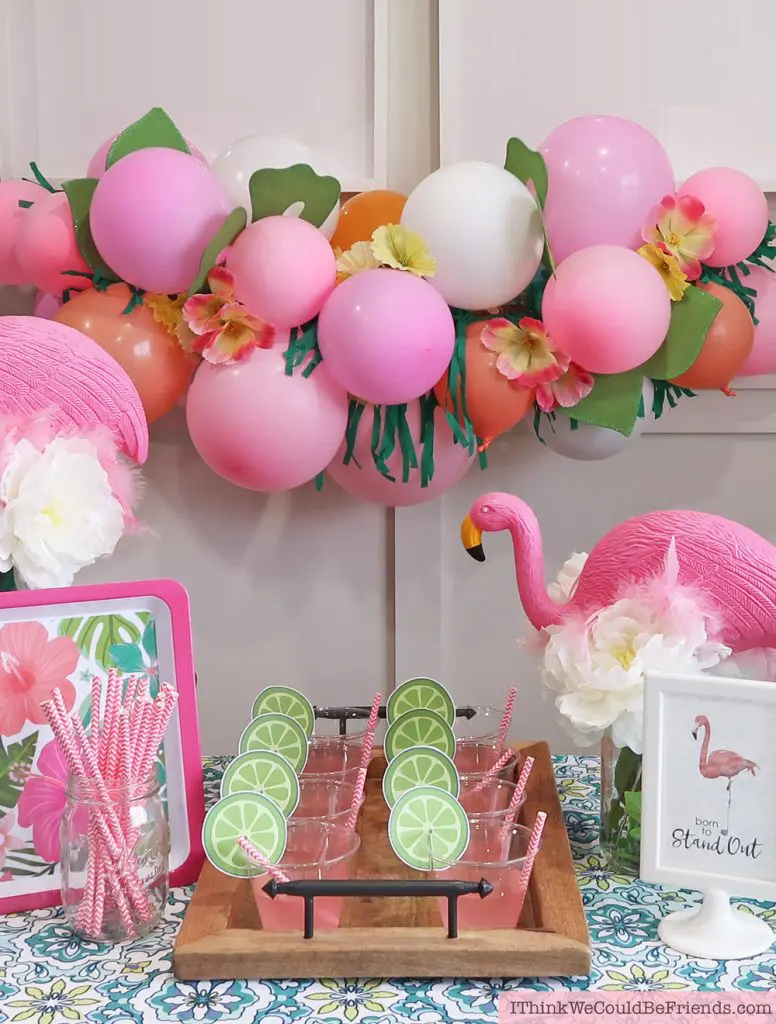 Credit: ithinkwecouldbefriends.com
This tropical balloon garland is simply stunning! It's an excellent backdrop for a baby shower or a beach party.
You will need balloons, craft rope, faux flowers and leaves, a hula skirt, and rubber bands. Just intertwine all these elements together to create an eye-catching tropical backdrop.
If you want a minimalistic yet tropical theme, have a look at these foam Hawaiian Plumeria available online.
17. Carnival Party Theme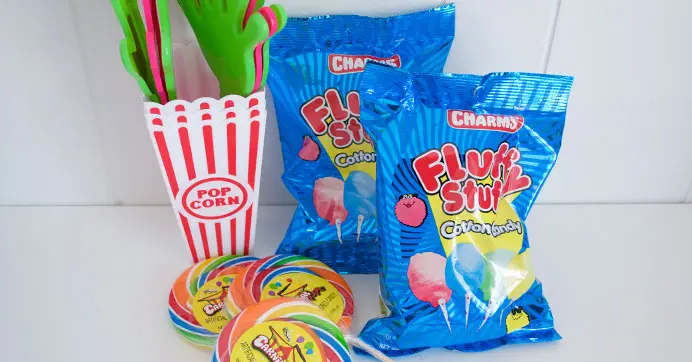 Credit: dollartree.com
If you can't have a party at the carnival, bring the carnival to the party instead! All you need is your creativity, and a few dollar store finds.
Start by decorating your entryway like a carnival tent entrance. Adapt carnival games for your party games (think bottle toss, balloon darts, bottle ring toss, etc.)
Finally, finish it off with carnival-like party favors (think popcorns, cotton candies, and more). It's definitely less expensive than a day at the carnival with over ten kids!
18. Lemon-Themed Party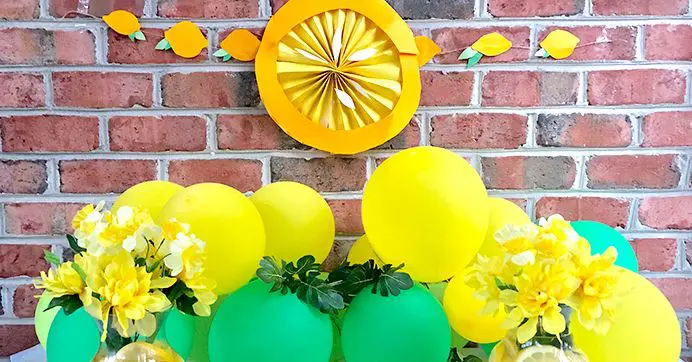 Credit: dollartree.com
A lemon-themed party is ideal for outdoor or summer parties. The dollar shop has all your lemon party needs from the backdrop to the tabletop décor and mason jars for your lemonade.
Check out these bright yellow garlands available online if you want to add more non-DIY lemon-yellow elements to your décor.
19. Unicorn-Themed Party Decor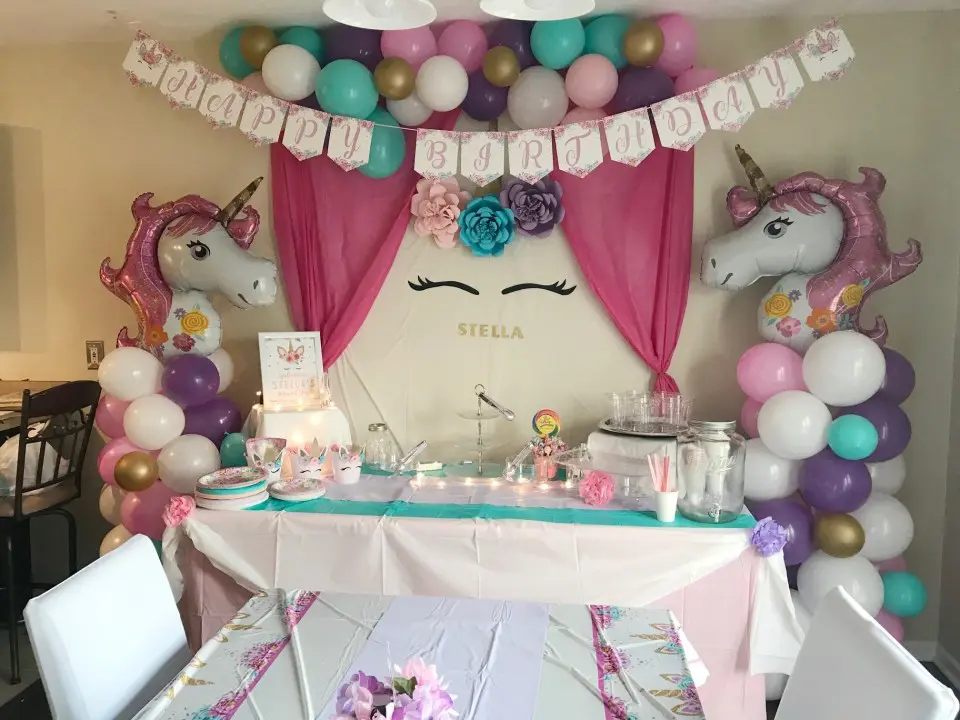 Credit: blessedandcreativelyobsessed.com
Girls of all ages love unicorns! Again, everything you need for this unicorn-party can be bought from your local dollar store.
You can buy the balloons, glue, and ropes to build your garland. Alternatively, you can also purchase them as a garland kit with full instructions, dot glues, and strips here.
20. Cascading Mermaid Balloon Backdrop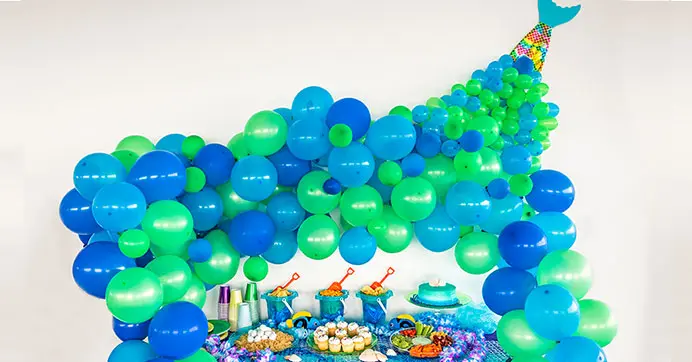 Credit: dollartree.com
Mermaids are just as adorable and irresistible as unicorns. Like the unicorn-themed party above, your dollar shop should have all materials you need.
But again, if you want to save time and have everything ready in a kit, check out this 180-piece mermaid décor kit I found online here.
Conclusion
There you go, 20 dollar store party ideas. You saved on the decors, and now you have extra cash to spend on the food (or yourself, because you definitely deserve it)!
Did you have a favorite from this list? Go ahead and share it with your friends.