Fill up your mason jars with all sort of DIY's, candies, and little things to make gifts for your loved ones! 25 ideas that will give you inspiration.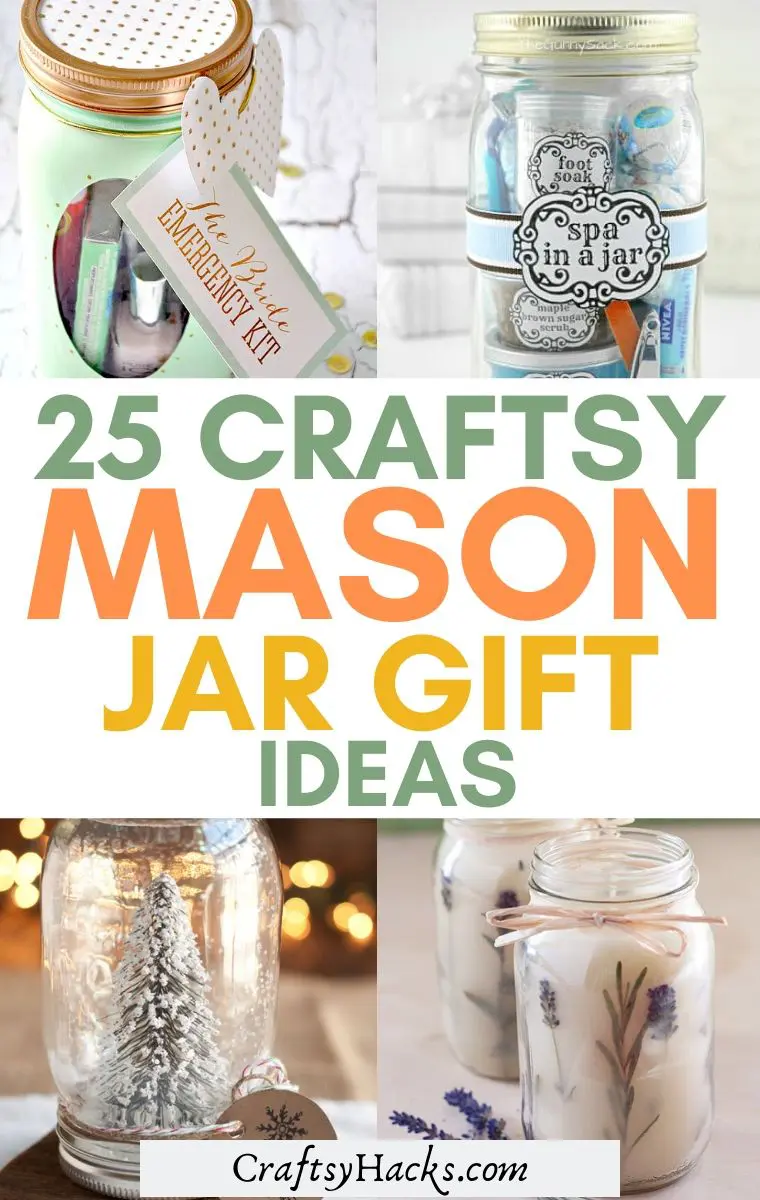 It's time to get crafting and turn your home into a winter wonderland! And for that, you don't have to break the bank; all you need is a few simple mason jars and your creativity.
I'm sharing 25-holiday projects that are easy, affordable, and time-saving. From DIY jar candles to terrariums and fun emergency kits, there's something for everyone.
1. DIY Mason Jar Snow Globes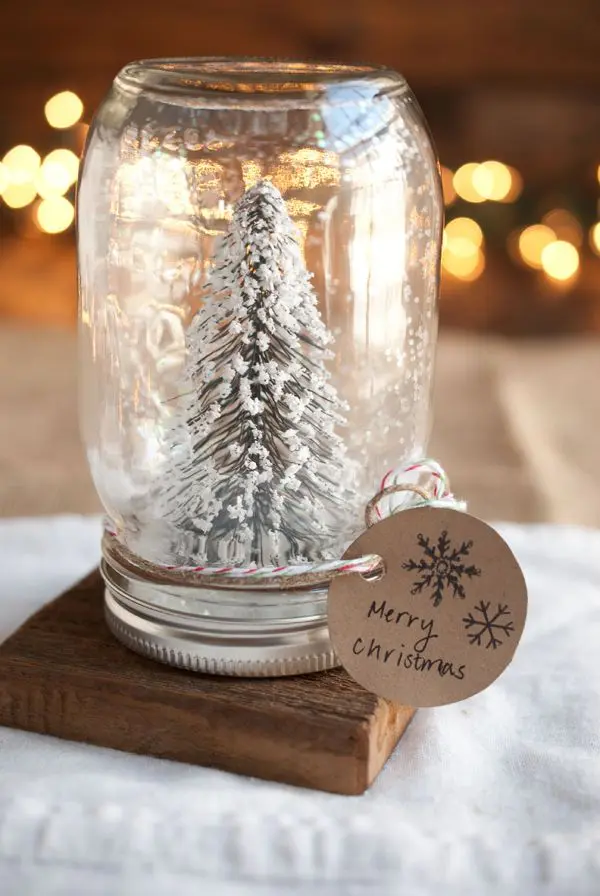 Source: simplecravesandoliveoil.blogspot.com
There's no better Christmas gift than a handcrafted one! If you're looking for inspiration, consider making mason jar snow globes which require only a few simple supplies and a little bit of your time.
You can get a bunch of mason jars here.
If done right, these cute jars can be used year after year. What's more, this can be a fun Christmas craft for both adults and kids!
Check out more of these DIY mason jar projects!
2. DIY Pick Me Up Jars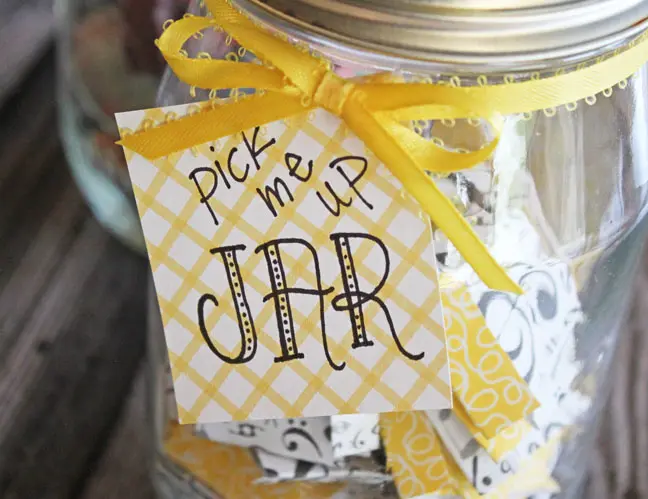 Source: jamiecooksitup.net
If you want your days to be filled with positivity, make a happiness jar. Fill it with inspirational quotes, affirmations, poetry, song lyrics, or whatever makes you feel good.
All you need is a mason jar, pieces of scrapbook paper, and pens.
Here's our favorite quote to inspire you: "He who has not Christmas in his heart will never find it under a tree."
3. DIY Mason Jar Cocktail Gifts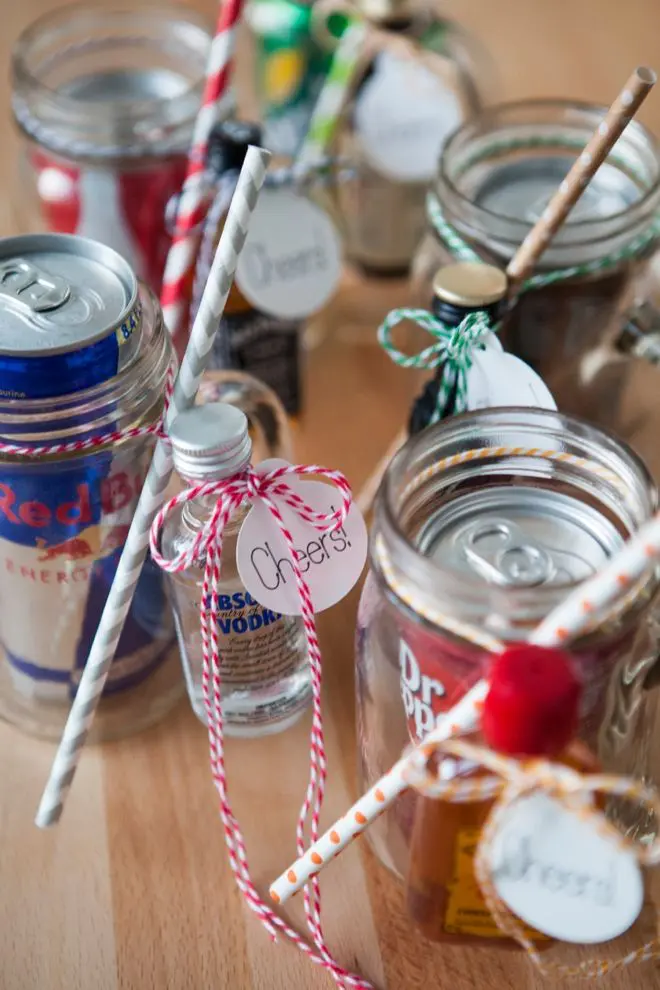 Source: somethingturquoise.com
Cocktails in mason jars? Well, sign me in!
These mason jar cocktails are perfect if you're hosting a Christmas party. Surprise your guests with a little gift they can open and actually consume on the spot!
Wrap up a mason jar drinking mug, a mini bottle of liquor, and some soda, and say CHEERS! It's also a great gift to add to a Christmas gift basket.
4. DIY Peppermint Mason Jar Candles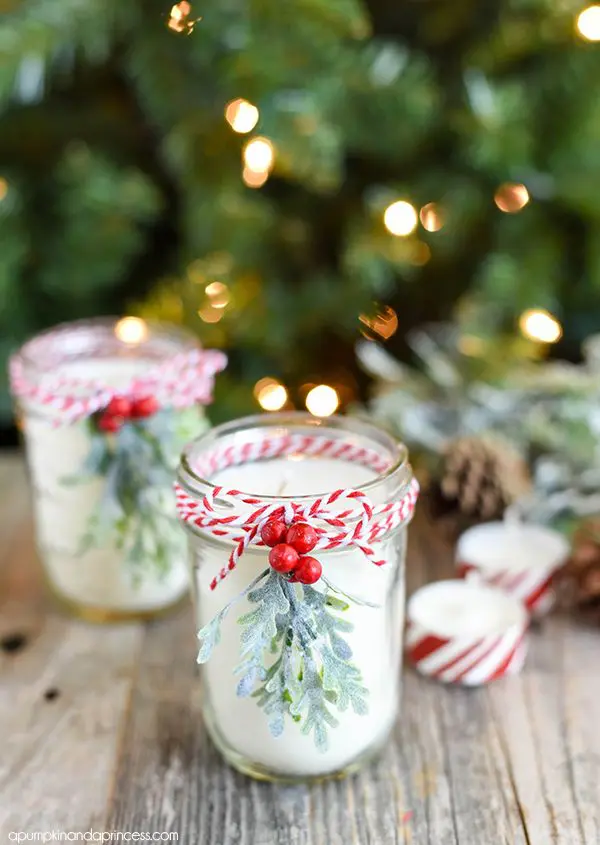 Source: apumpkinandaprincess.com
Making your own candles is so easy and fun! You can use different jars to change up and customize the look or use different essential oils to change up the scents.
Here is a low budget essential oil set you can get to make that happen.
Not to mention, these mason jar candles make the perfect Christmas gifts in a jar! See how to make them here.
5. Coffee Lovers Gift in a Jar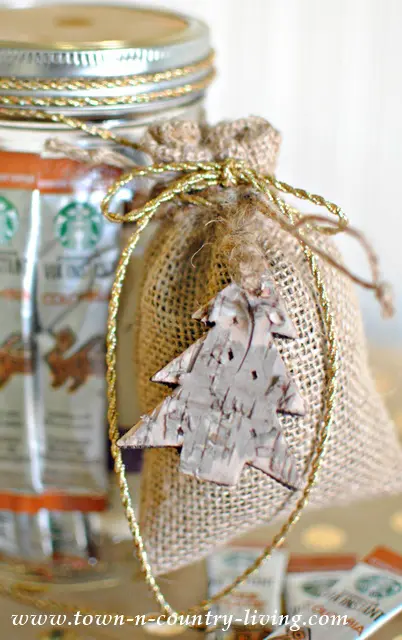 Source: town-n-country-living.com
Each of these jars contains everything you need to make a delicious cup of coffee. Pair them with cute coffee mugs like these and give them as Christmas presents to all your coffee-loving family and friends!
6. Pressed Herb Mason Jar Candles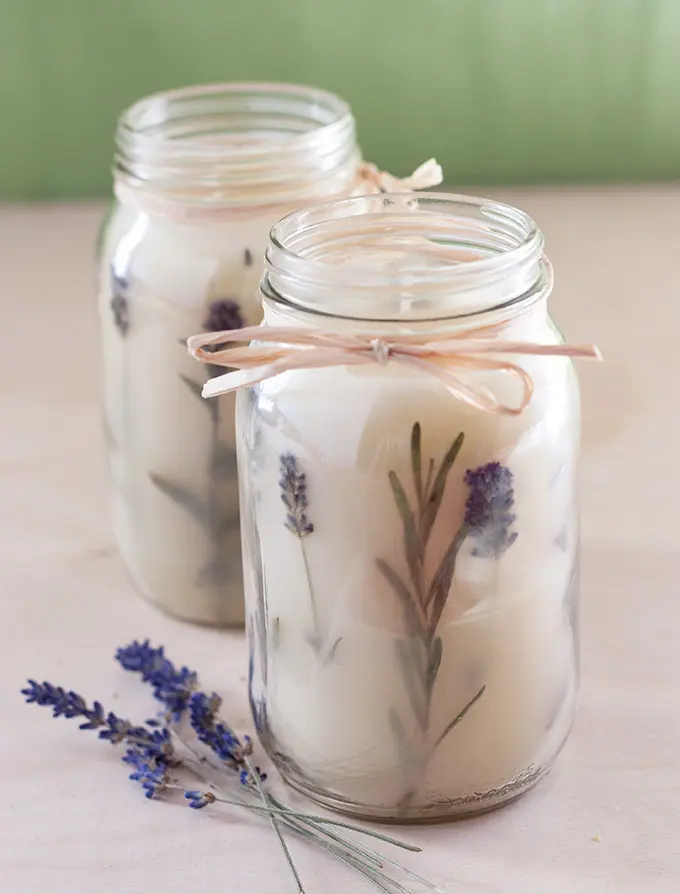 Source: gardentherapy.ca
With the furnace turned on and all the windows shut tight, our homes definitely lack some fresh air during winter.
These herby mason jar candles are an easy and affordable way to freshen up your home and add a beautiful piece of decor.
They can do for beautiful Christmas decorations.
7. Best Teacher Christmas Gift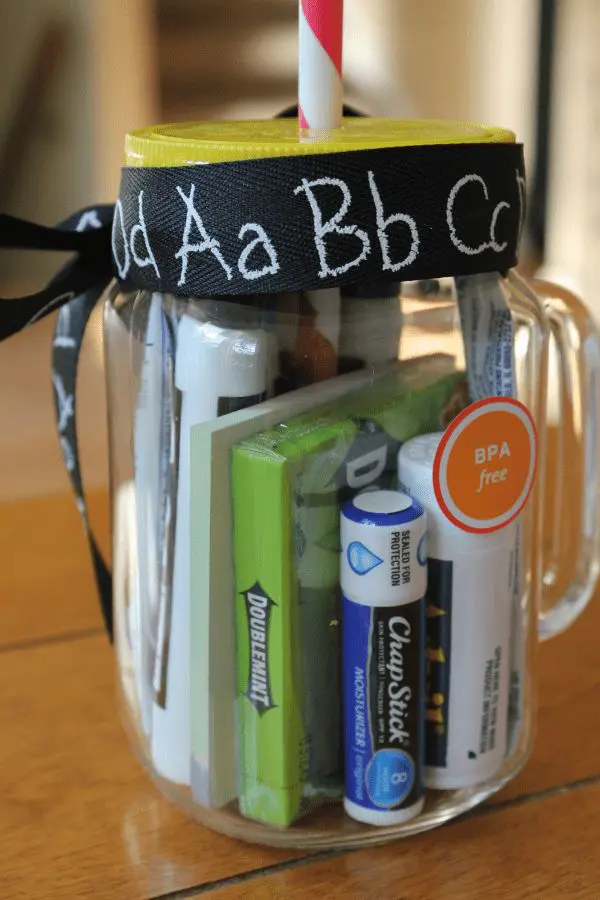 Source: mymommyworld.com
If you are looking for a great handmade gift for your kid's teacher this Christmas, your search is over.
Let your little one pick out what they would like to give that special person: white-board markers, single-serving drink mixes, post-it notes, plastic alphabet letters…
These mason jar gifts are very budget-friendly and will certainly get you an A+ for creativity!
8. DIY Christmas Mason Jar Terrariums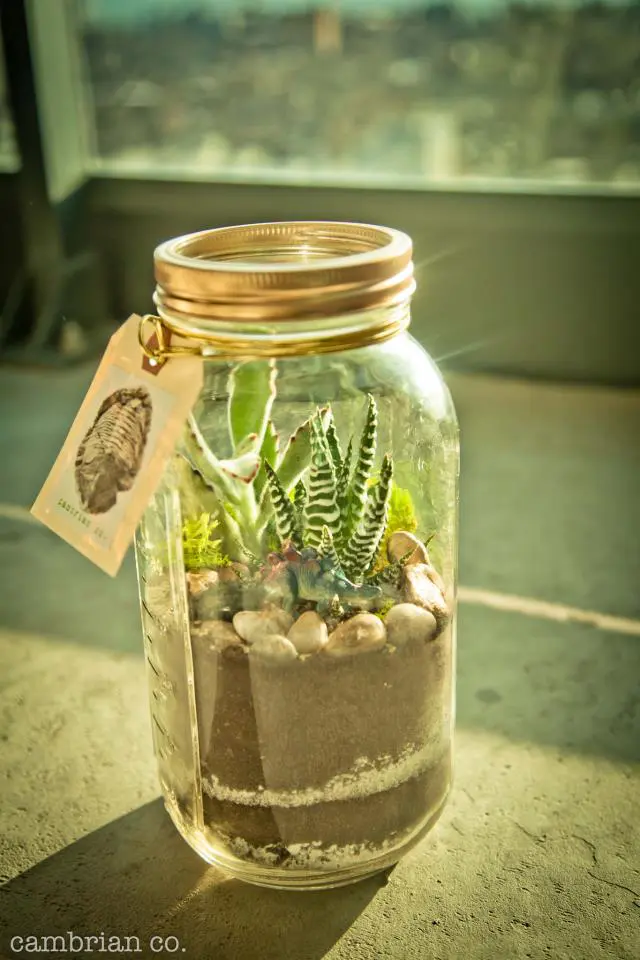 Source: facebook.com
Sometimes the most beautiful decorations can be made from things you already have around the house.
These mason jar terrariums are an easy way to bring the festive spirit into your home without breaking the bank. They're also a beautiful way to decorate for the holiday season and all winter long!
Overall, make multiple of these and use them as a festive Christmas centerpiece.
9. Chocolate Chip Cookie Mix in a Jar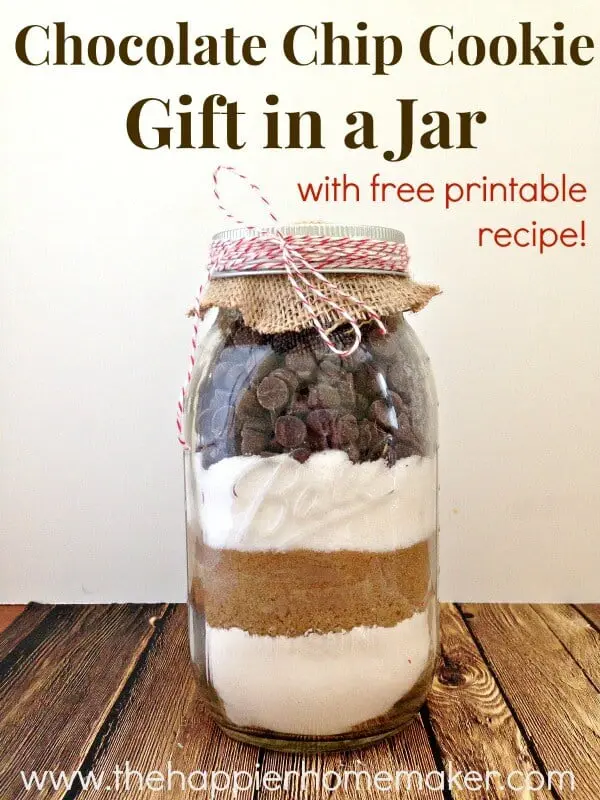 Source: thehappierhomemaker.com
When it comes to Christmas gifts, food never fails! And when packed in a mason jar, it looks festive, delicious, and absolutely gorgeous.
If you're looking for the perfect recipe, I recommend chocolate chip cookies. Kids, teenagers or grown-ups, everybody loves chocolate AND freshly baked cookies, so you can't go wrong.
Feel free to make these keto Christmas cookies if you have someone eating a low carb diet.
10. DIY Gift for Those Who Love to Bake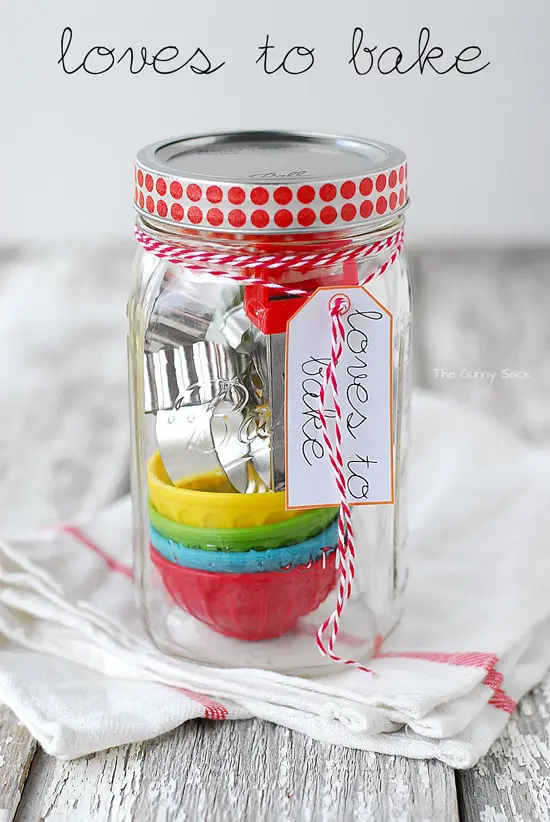 Source: thegunnysack.com
Do you know anyone who just loves the smell of Christmas? This DIY gift will help them make the best treats for the holiday season.
Fill it with everything the recipient would need in order to make delicious Christmas sweets: cookie cutters like these, cupcake liners, these measuring spoons, mini silicone pinch bowls…
Here are the instructions.
11. Lucky Charms Marshmallow Jar Gift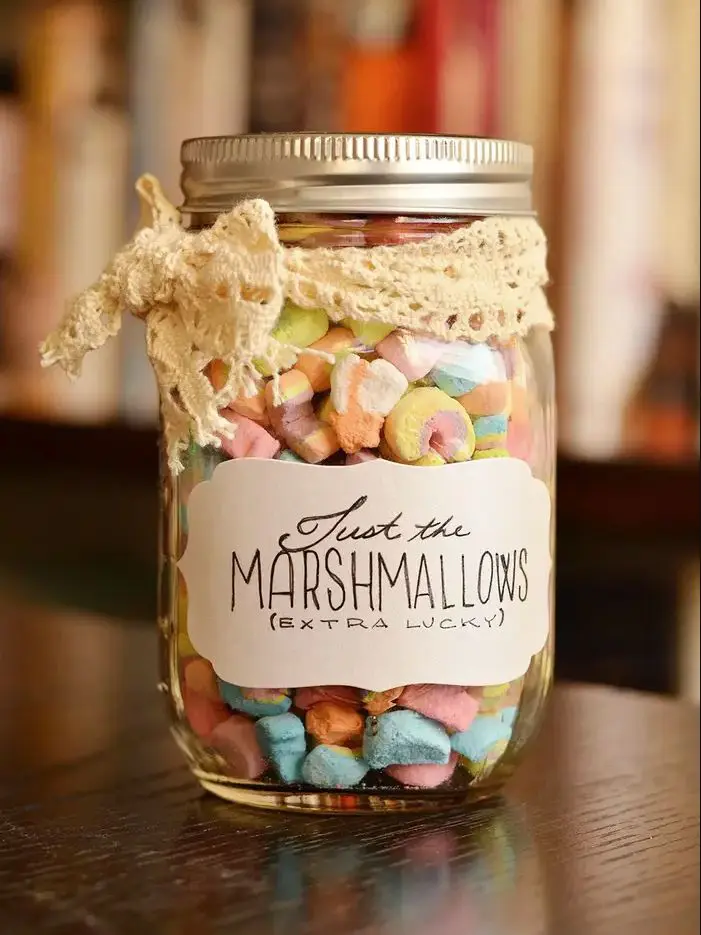 Source: buzzfeed.com
If you have lots of kids in your extended family, here is the perfect gift. These lucky charm marshmallow jars are filled with funny, colorful, and exciting marshmallows that every kid adores!
12. Peppermint Pampering Gifts in a Jar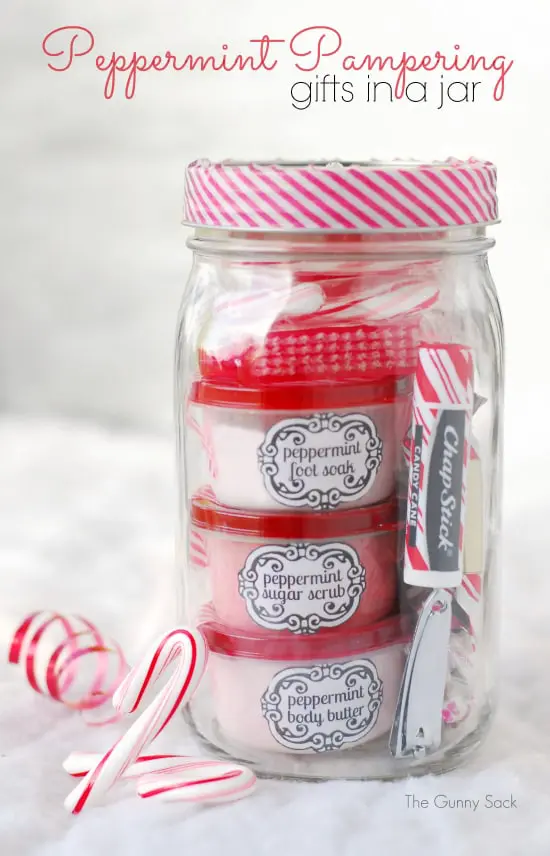 Source: thegunnysack.com
Who doesn't like a bit of pampering? This is the ideal gift for someone in your life who could use some revitalization.
Get this Christmas peppermint body butter, sugar scrub, and foot soak. Package them up in mason jars and you're ready to give away some Christmas rejuvenation and relaxation!
13. DIY Spa in a Jar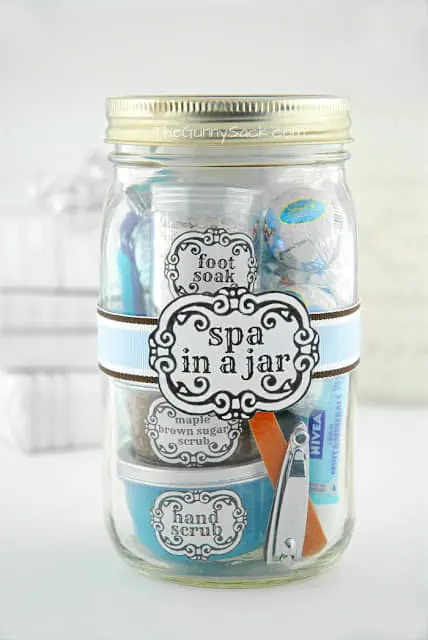 Source: thegunnysack.com
Speaking of pampering, here's another super easy and affordable gift idea.
Fill your jar with various spa items such as shampoo, soap, skincare products, body wash, and more. Then, put on a ribbon and a cute 'Spa in a Jar' label and you're good to go.
I recommend this moisturizing body wash.
14. Mason Jar Pin Cushion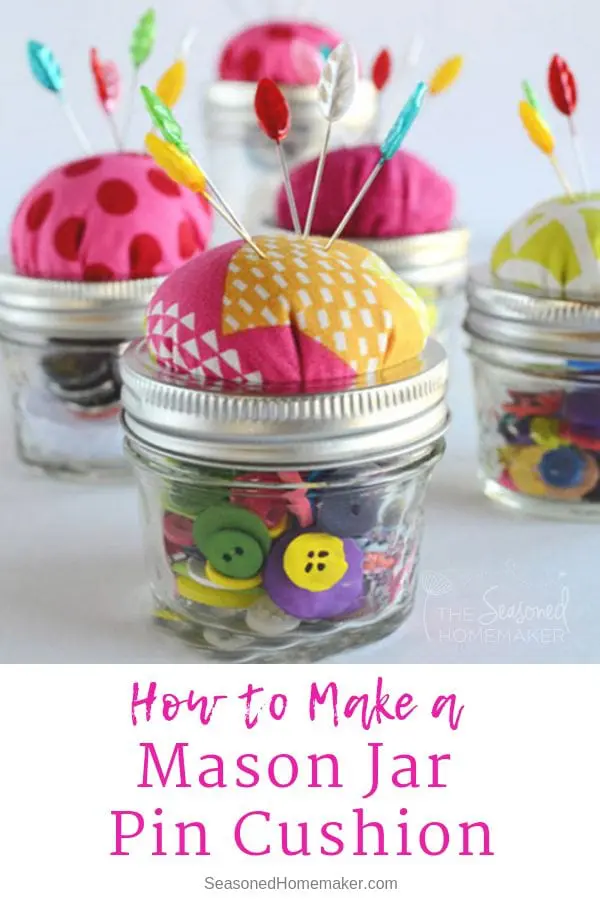 Source: seasonedhomemaker.com
Need a Christmas gift for a friend who sews? Or maybe you're just looking for a parking spot for your pins and needles.
This handy sewing kit is perfect to keep your sewing scissors, needles, and thread. You can just get a whole sewing kit and transfer all the items into a mason jar.
15. Double Mason Jar Gift Card & Candy Holder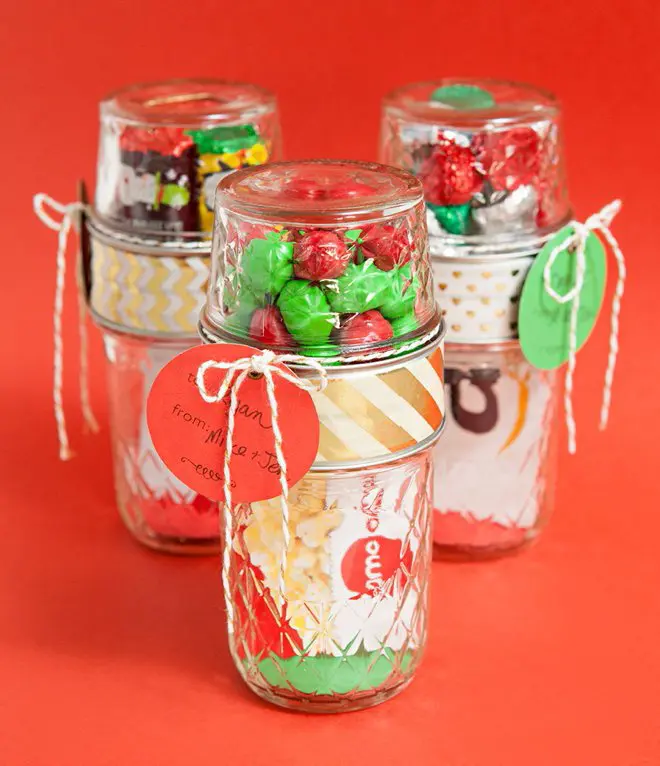 Source: somethingturquoise.com
Perfect for kids (and adults with a sweet tooth, why not?). This cute Mason jar is actually a stylish gift card/candy holder.
Using 4oz. and 8oz. mason jars, just glue the lids together to create a double jar filled with Christmas goodies.
You could also buy these Christmas candy jars if you're not feeling like DIY'ing today.
16. Printable Christmas Labels for Your Mason Jar Gifts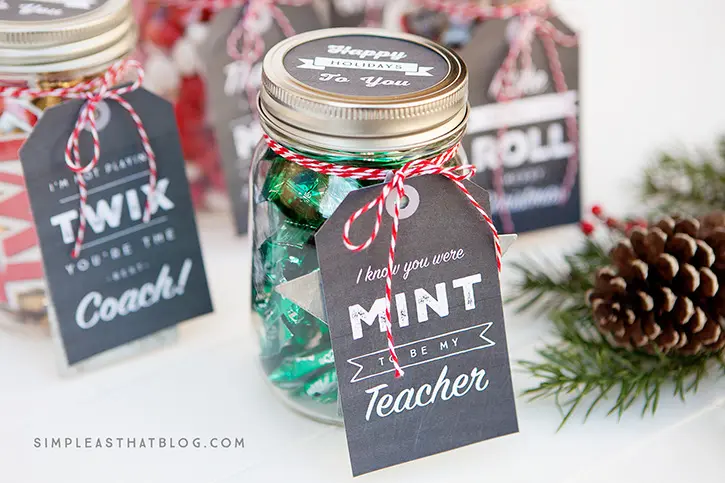 Source: simpleasthatblog.com
If you're a Christmas mason jar gift giver, here's something amazing for you. These free printable Christmas labels can easily be added to your Christmas gifts to add a personal touch and make them even cuter!
Simply print them onto full sheet labels and trim with scissors.
17. Ice Skating Date in a Jar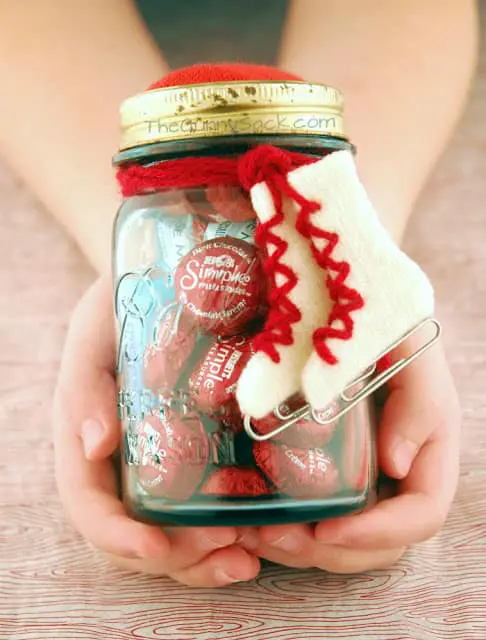 Source: thegunnysack.com
Have a friend who loves skating? Ask them on a skating date with this amazing themed Christmas gift in a jar.
It features super-cute vintage felt ice skates, powdered mocha mix, red gloves, chocolates, and lip balm.
Here is my favorite Belgian mocha mix. Get these Burt's Bees 100% natural lip balms too.
18. Christmas Tree Mason Jar Votive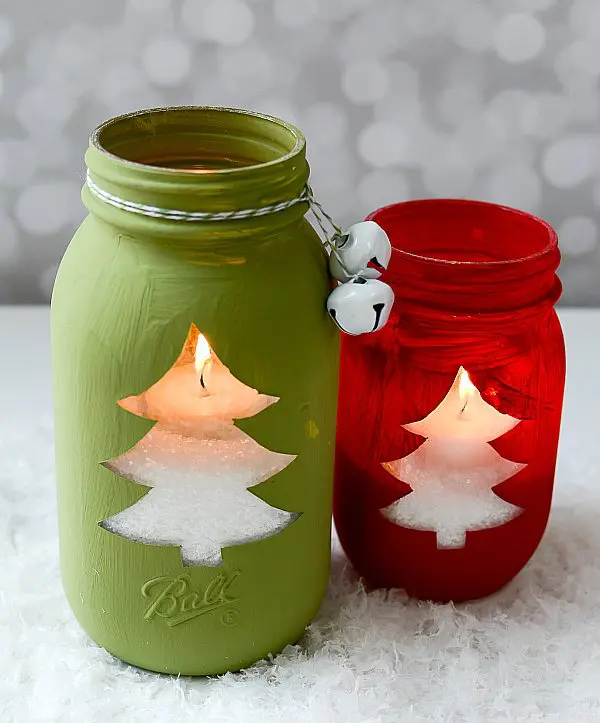 Source: masonjarcraftslove.com
One of the best ways to refresh your home during the holiday season is by using scented candles as decorations. Add a fun holiday votive and your guests will feel like they're walking into a winter wonderland.
19. Snow Covered Mason Jar Lantern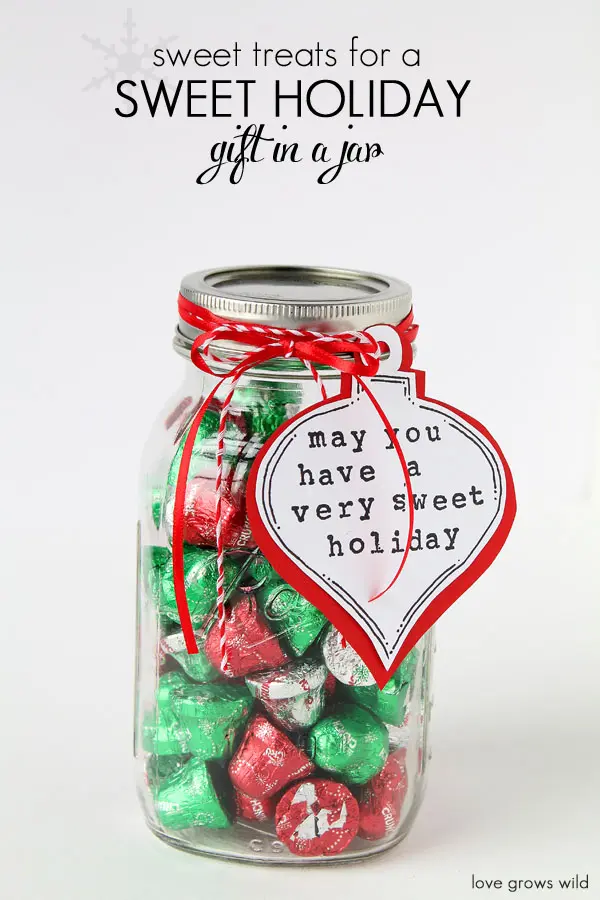 Source: lovegrowswild.com
Bring the "snow" to your backyard and make it more welcoming to guests with these snowy mason jar lanterns. You can also put it inside your home to make it feel warm and cozy or give it as a creative décor gift.
20. Christmas Sweater Mason Jars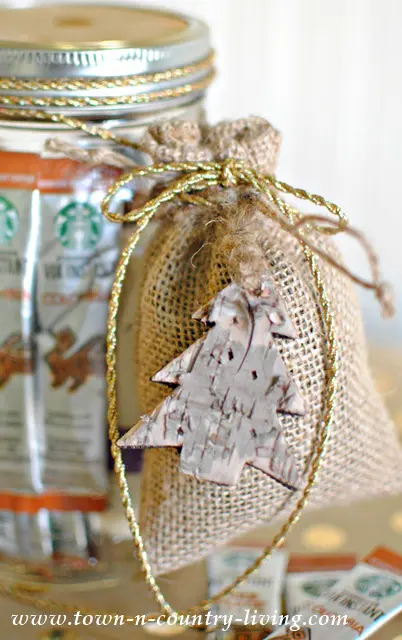 Source: town-n-country-living.com
Instead of wearing an ugly (but totally fun and festive) Christmas sweater, why not paint it on a mason jar? These cute jars will bring instant warmth and coziness to your home.
Make sure you stock up on these votive candles to bring in the festive mood into your home this Christmas.
21. Santa Belt Mason Jars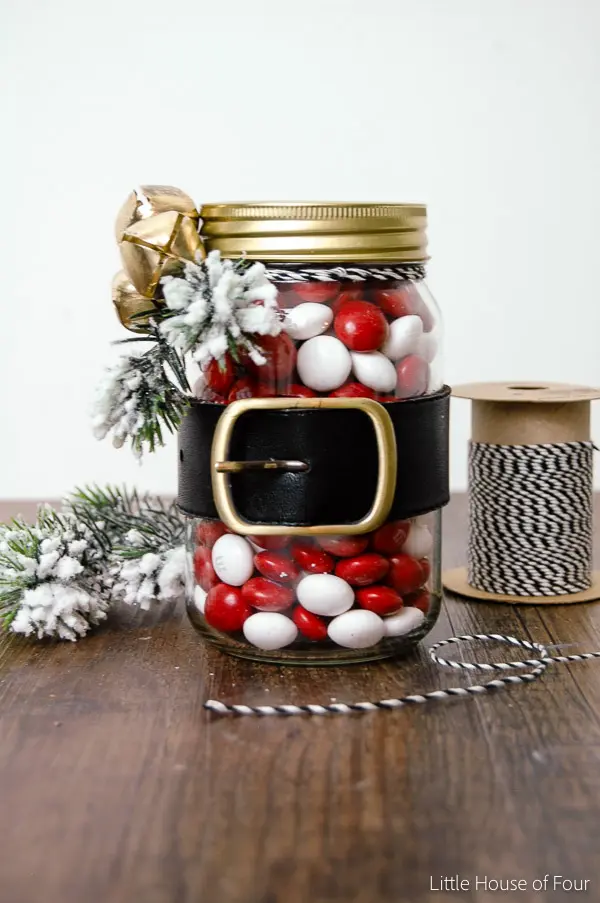 Source: littlehouseoffour.com
These cute Santa belt mason jars make a great Christmas gift for your friends and family!
This tutorial by Little House of Four suggests filling the jars with red and white M&Ms, but you can use anything: jewelry, nail polish, pens, candies, stickers, lip gloss…
Add a belt, and embellish the jars with some greenery, bakers twine, and gold bells. So easy and so fun!
Get more cheap Dollar Tree Christmas decorations that are a little like these.
22. Rock Painting Kit in a Jar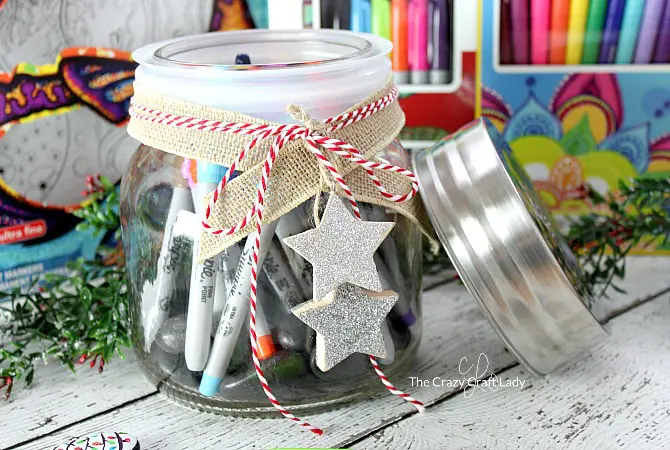 Source: thecrazycraftlady.com
Did you know that rock painting promotes relaxation and relieves stress? Not to mention, it's lots of fun.
So, why not share this craft with the ones you love by giving them a DIY rock painting kit as a gift?
It's a great gift if you want your kids to get involved in Christmas crafting.
23. Bride Emergency Kit in a Jar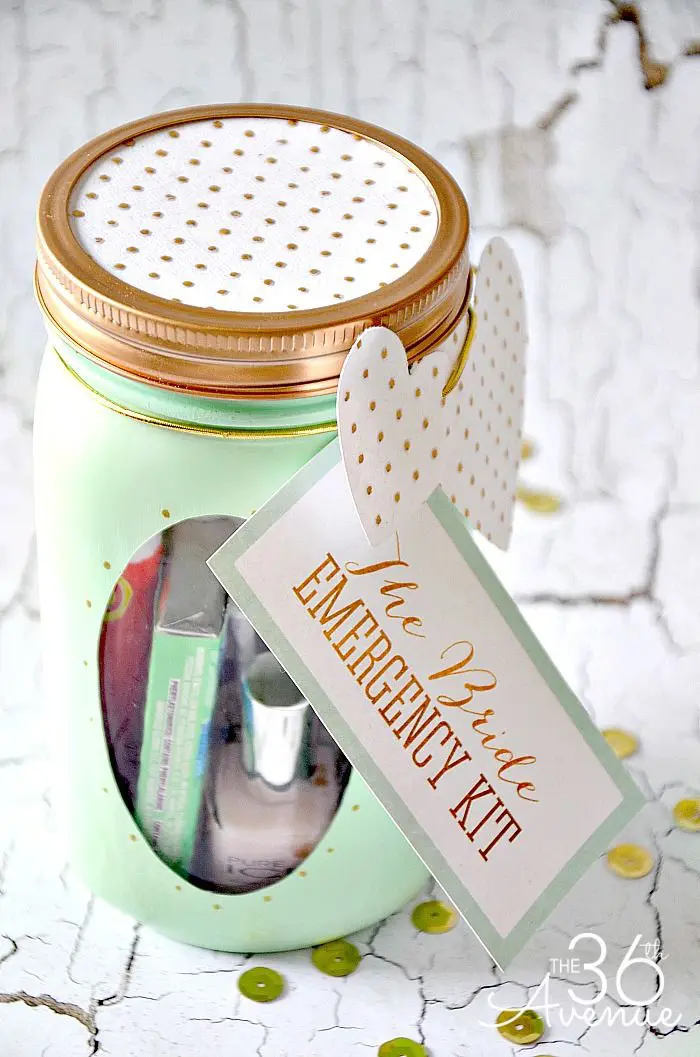 Source: the36thavenue.com
Do you have a friend or someone in the family who is getting married soon after Christmas? Gift this cute emergency kit to your bride so she knows she'll be prepared for anything.
The emergency supplies may include eye drops, tissues, lip balm, hairspray, mints, stain wipes, nail file, Q-tips, snacks…
24. DIY Sugar Scrub Cubes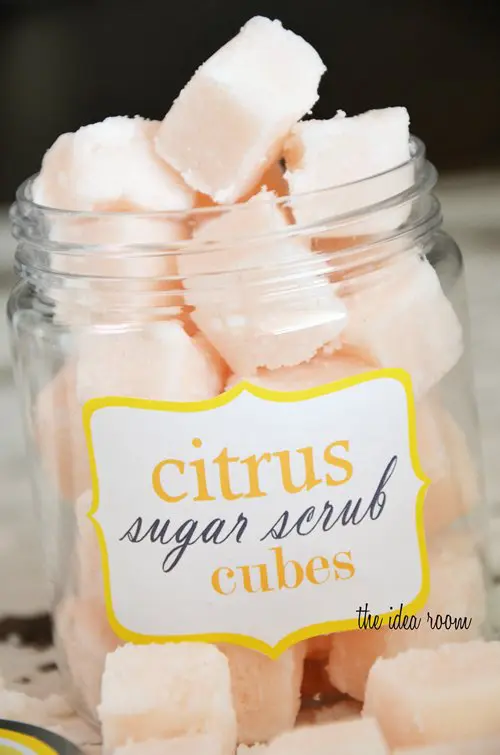 Source: theidearoom.net
These DIY sugar cubes hydrate, exfoliate, soften, and cleanse the skin. And the best part is they're so fun and easy to make!
The ingredients are combined together and poured into the mold. The soft texture of the soap base allows you to cut it into cute small cubes, which will go into mason jars.
Add a tag on each jar so that the recipient knows how to use their beautiful, personal gift!
25. Spa Pedicure Gift in a Jar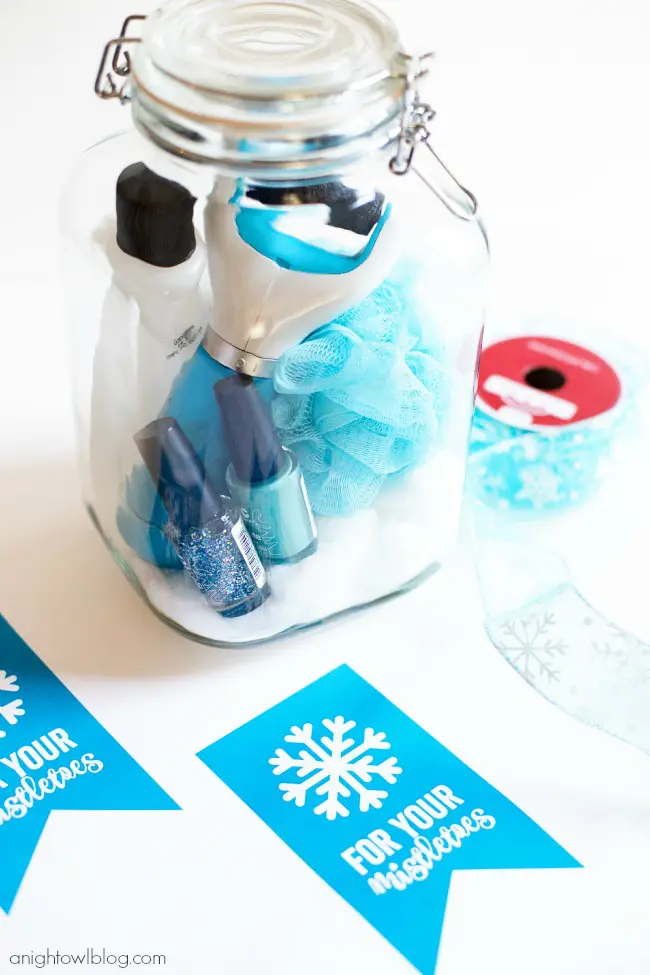 Source: anightowlblog.com
Summer might seem far, but once it's here, the recipients of this gift will be so thankful.
This jar super easy and fun to put together. In addition, it's very budget-friendly.
Use mason jars you already have on hand and fill them with pedicure supplies (basic pedicure tools like these, nail polish, cotton rounds…)
Conclusion
Do you have any fun mason jar DIY projects you will be making this Christmas? I'd love to hear about them in the comments below.