Get crafty with these little unicorn DIY ideas! These crafts are great for kids and families to make!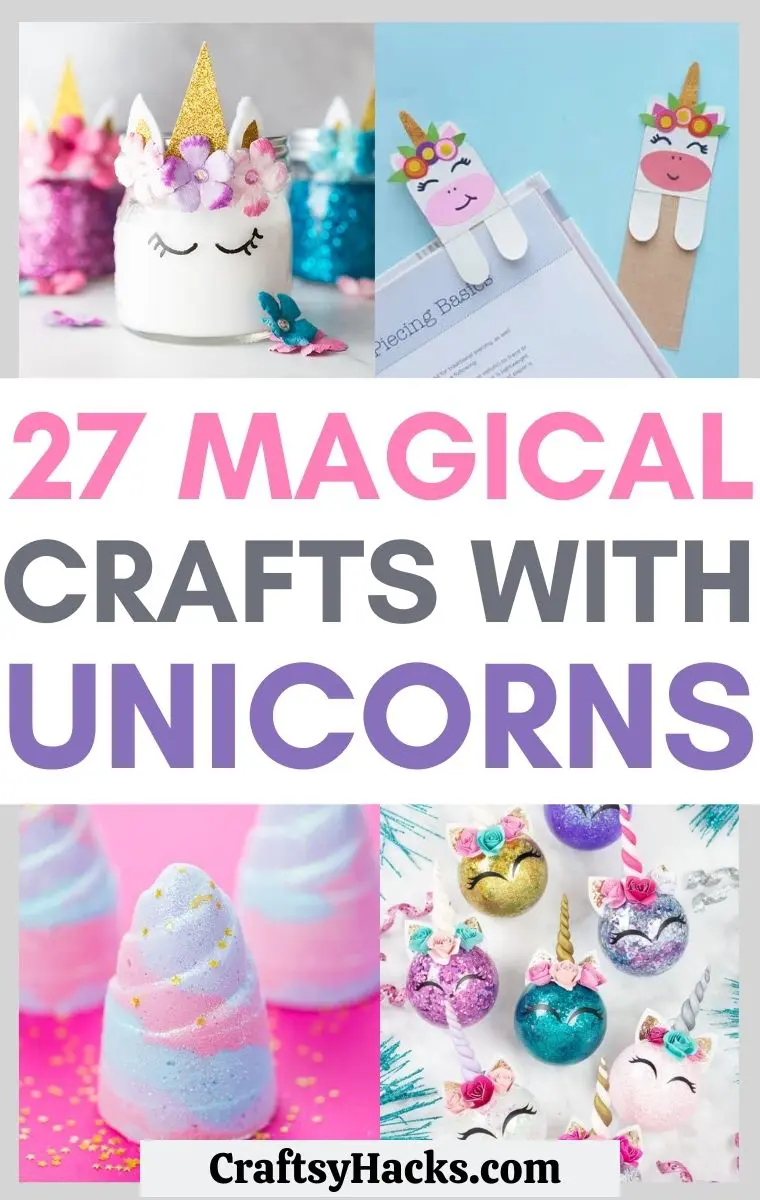 Ah, unicorns. Magical creatures that symbolize all that is good and pure in the world, unicorns are a huge favorite for kids all over the globe.
They're colorful, they're joyful, and they remind kids to smile. Here are 27 delightful unicorn crafts to bring some magic into your life.
1. DIY Unicorn Felt Banner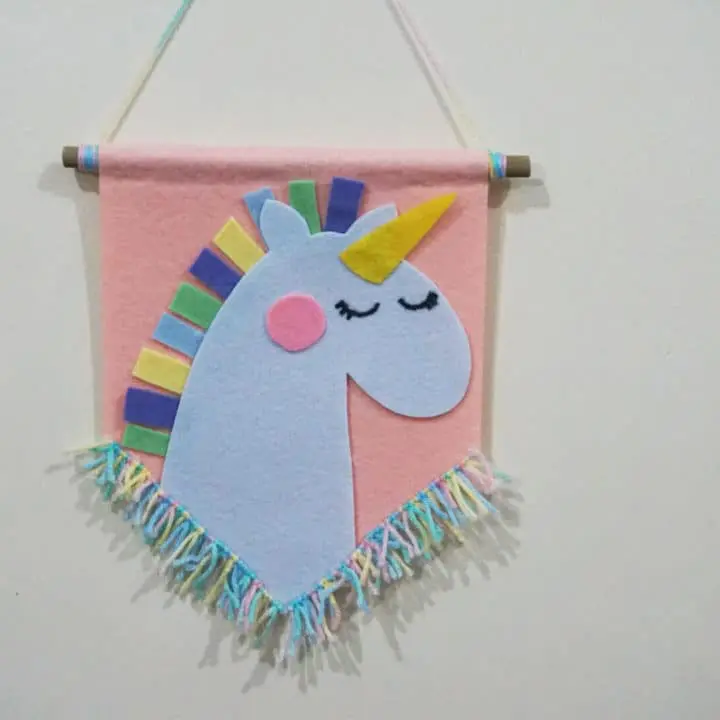 Credit: partywithunicorns.com
A felt banner might sound like a bit of an undertaking, but this one comes together very easily. No sewing required!
All you need is your trusty hot glue gun, a bunch of pastel felt cloth, and the right pattern.
Download the pattern from Party with Unicorns and cutting out the shapes in your felt. Assemble them onto the banner, fringe with yarn, then drape said banner around a wooden dowel for easy hanging.
2. DIY Unicorn Dream Catcher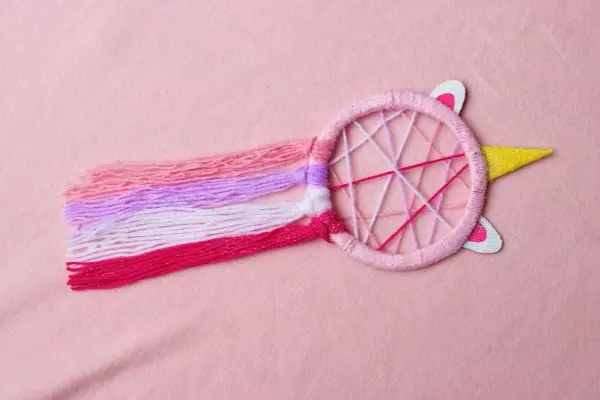 Credit: threekidsthreecatsandahusband.com
Dream catchers catch nightmares in their web. Filtering them out and replacing them with good dreams to put a smile on your little one's face.
This is a great craft to do with your children, and you can easily customize the color of yarn you choose to suit their favorite color scheme. To prevent fuzzing, pick up some quality yarn here.
3. Adorable DIY Unicorn Pumpkin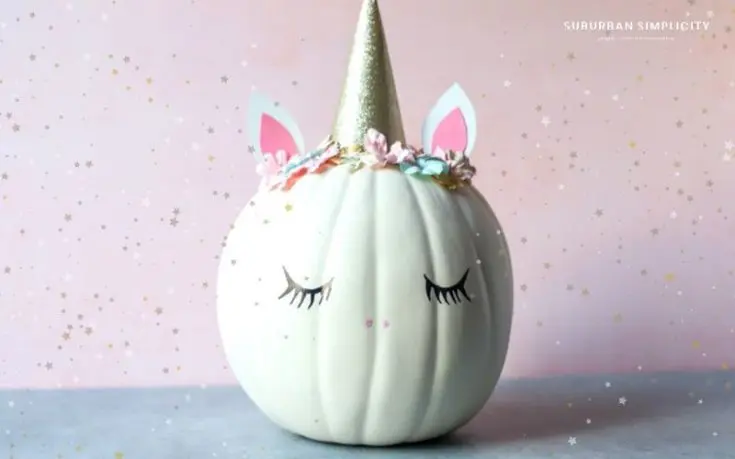 Credit: suburbansimplicity.com
Whether it's Halloween and you're decorating, or you're just searching for the perfect cutesy fall decoration, this one is for you. Sit down with the kids and give them a pumpkin each to go wild!
Luckily, most of the decorating in this craft is done by drawing. So, you don't need much more than your faux white pumpkin like this and a pack of Sharpies like these.
Looking for some other ways to keep the kids busy? Here are 20 fun crafts you'll like.
4. DIY Unicorn Slippers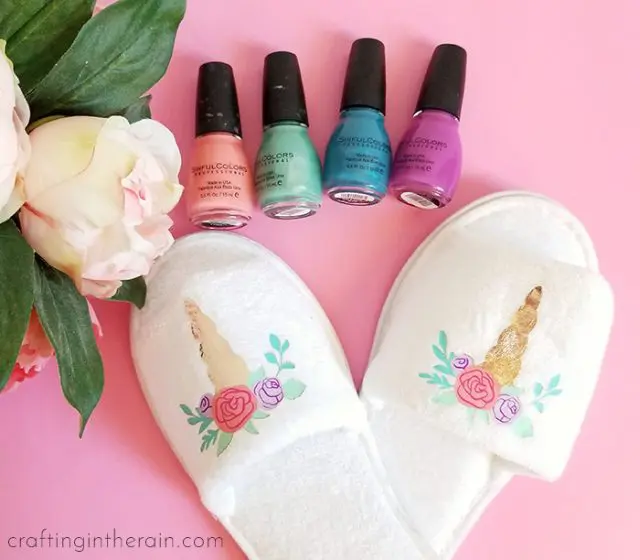 Credit: craftingintherain.com
White slippers, a mini craft iron, and some colorful iron-on vinyl. That's all you need to make these absolutely adorable DIY unicorn slippers.
These make the perfect gift for a unicorn lover—young or old. Or, you can create that coveted design you've always searched for and never found. You can use this technique for any shape!
5. DIY Unicorn Corner Bookmark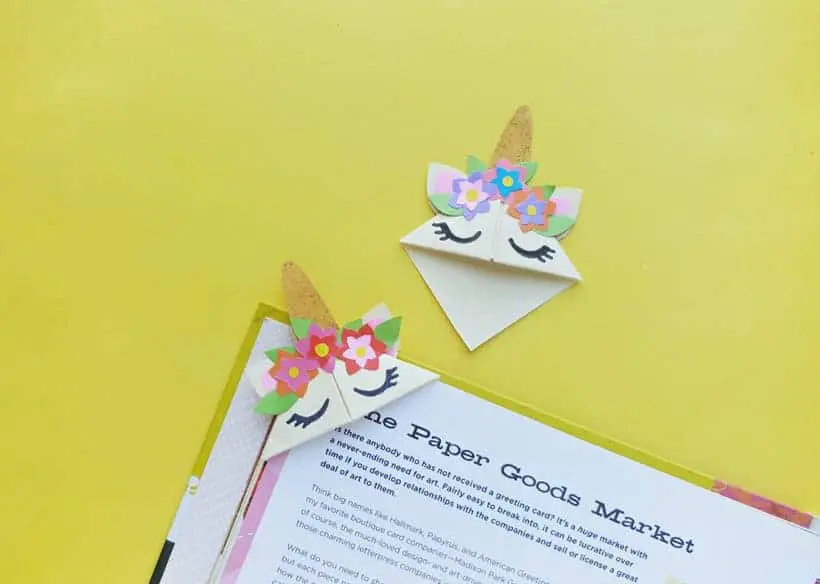 Credit: bigfamilyblessings.com
Is your little one a bit of a bookworm? Maybe they're looking for something cute to give away at school? These unicorn corner bookmarks fit the bill perfectly!
They're cheap to make and so easy to customize since you're just using colored paper to create them. So, you can follow the template given or go offbeat to craft a unique unicorn companion.
Don't worry if you have a lot of leftover paper. These 20 paper crafts are the perfect way to put it to use.
6. DIY Unicorn Hug Bookmark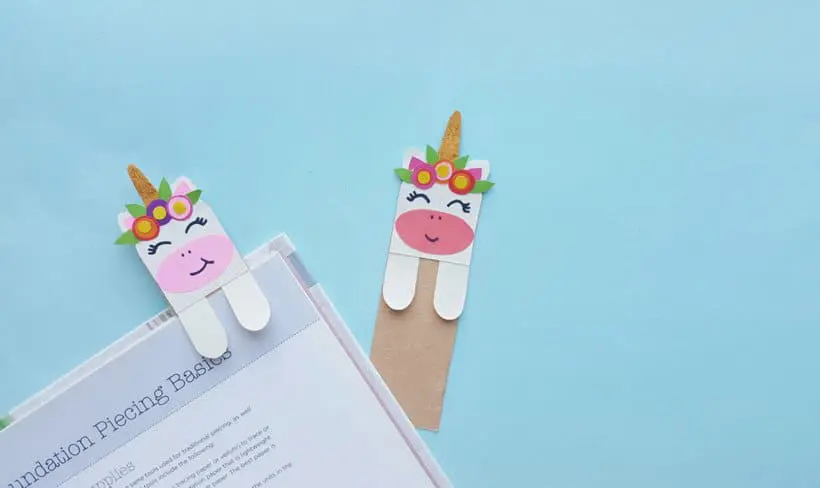 Credit: bigfamilyblessings.com
If you're not a fan of the corner bookmark style, you can opt for something a little more traditional using this unicorn hug bookmark. I think it's adorable, and like its predecessor, this craft only needs paper.
If you want to take the craft up a notch, why not use a golden stamp pad like this. Or even a set of colorful rhinestones like these to make your unicorn glow!
7. DIY Felt Unicorn Ornament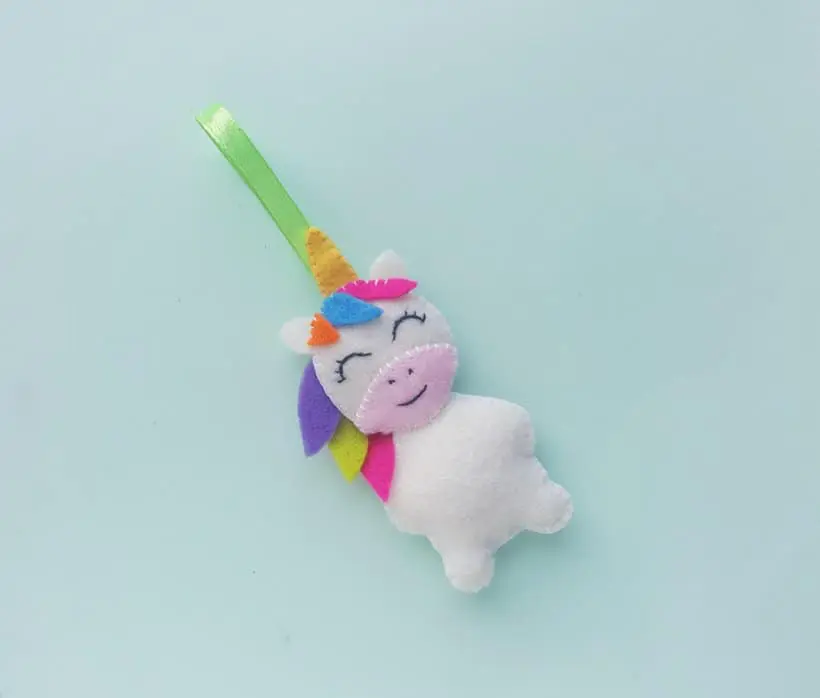 Credit: bigfamilyblessings.com
Christmas is on the horizon, and what better way to bring some extra magic to the festivities than by including a unicorn in the ornaments this year?
This DIY felt ornament uses some sewing techniques and stuffing to create a 3D effect. So, it's perfect for teaching your little one some sewing basics.
Alternately, use it as a stocking stuffer for a Christmas morning surprise!
8. DIY Unicorn Slime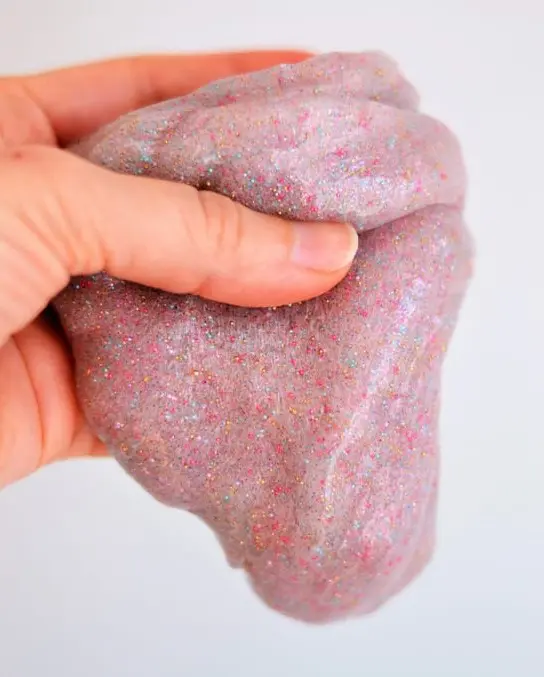 Credit: burlapandblue.com
I don't know about you, but I've been seeing slime everywhere these days, and there's a good reason for that! Slime is super easy to make, fun to play with, and makes an adorable gift.
For this magical unicorn slime, you'll only need four ingredients: Elmer's Clear Glue, baking soda, unicorn glitter (this one is perfect), and contact lens solution.
9. DIY Magical Unicorn Succulent Pot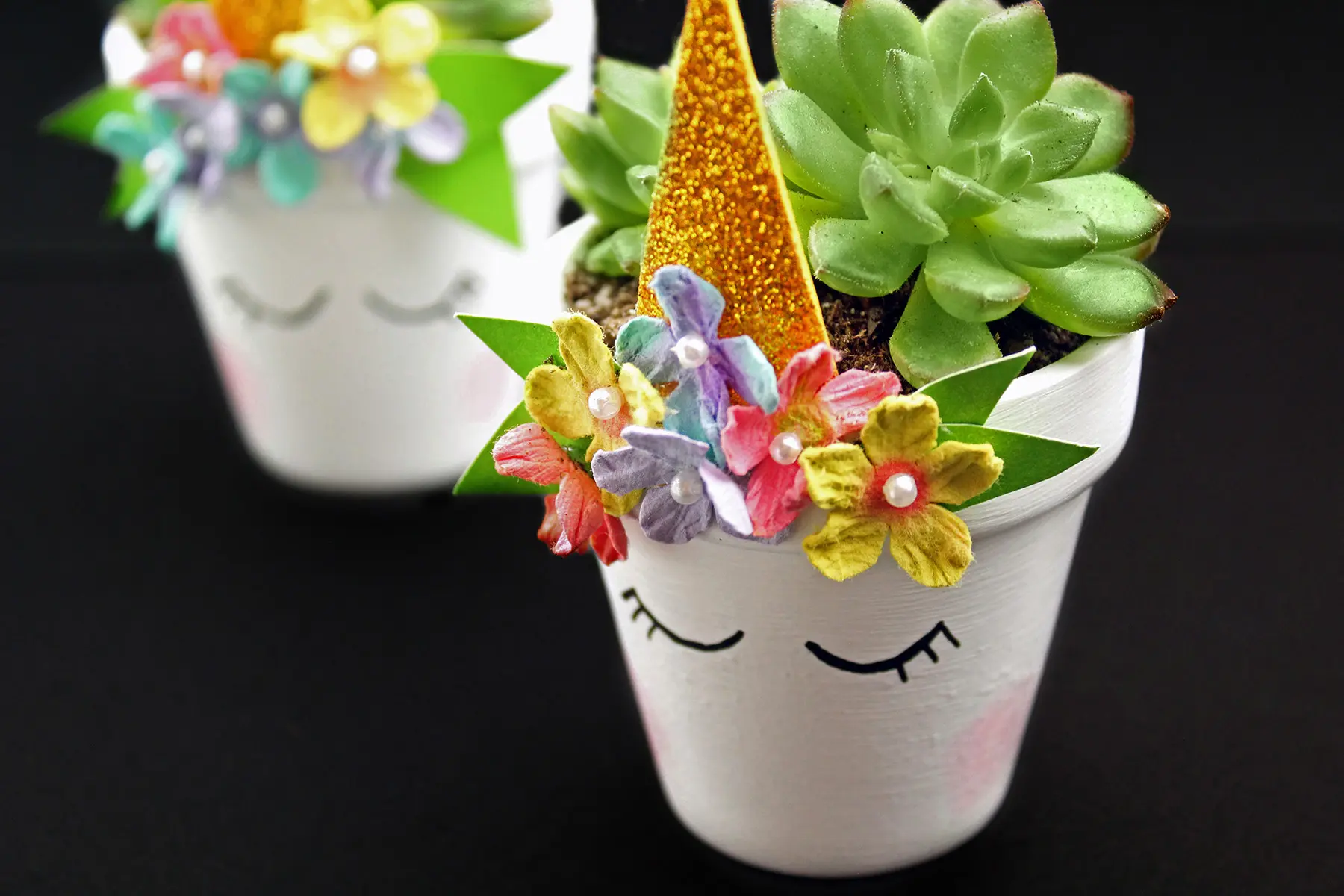 Credit: extremecouponingmom.ca
This is one way to make sure that your unicorn-loving child will always have a touch of magic in their bedroom. It's so fun to make with your kids, or you can craft it as a surprise reward for doing their chores!
Pick up some mini terracotta pots like these along with some paint, cardstock, and the actual succulents for the pot.
Check out more dollar tree planter ideas here.
10. DIY Adorable Unicorn Notebook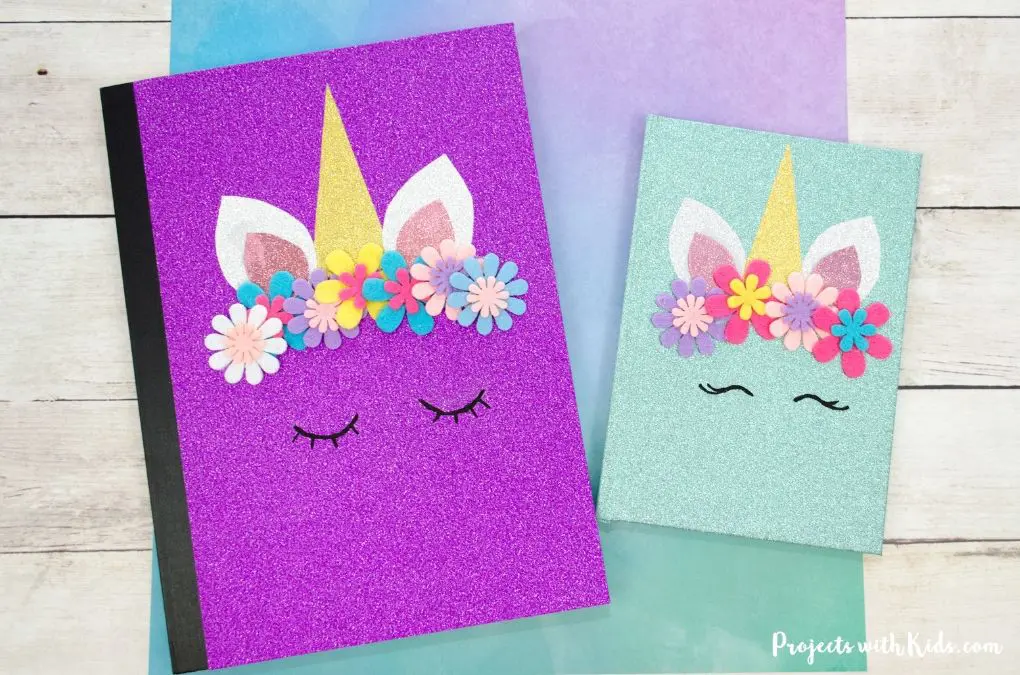 Credit: projectswithkids.com
There's something about a set of funky school supplies that can get you through even the most stressful school day.
So, whether you're a college freshman, a 9 to 5 professional, or making a book for your kindergartner, this is perfect for making your day a little more magical.
Are you looking for more crafts to make for your kids? Why not make them their favorite animal with these easy DIY sock plushies?
11. Unicorn-Themed Whipped Body Butter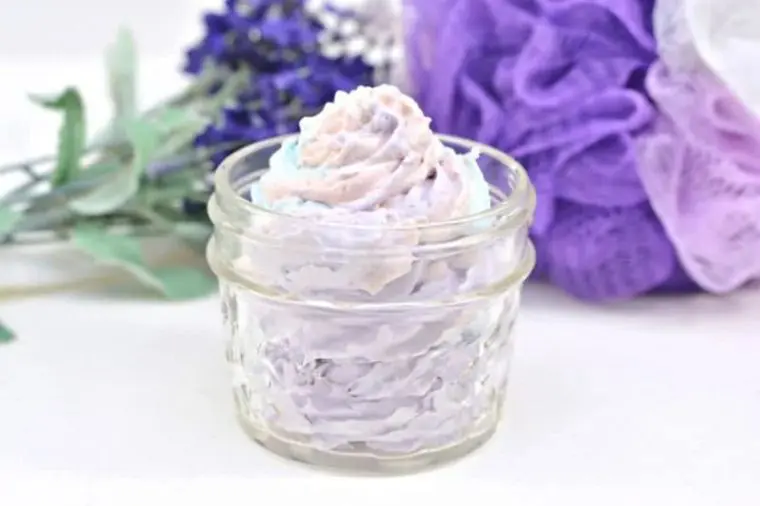 Credit: crayonsandcravings.com
This one is for unicorn lovers with a few more years to their name. In fact, it's the perfect self-care product to make if you're obsessed with a certain mythical creature or as a gift to someone who is.
This whipped body butter is incredibly decadent, using a variety of delicious-smelling supplies to create a truly ethereal result. Whip in your favorite essential oil scents for a personalized touch (like these).
12. DIY Unicorn Crayons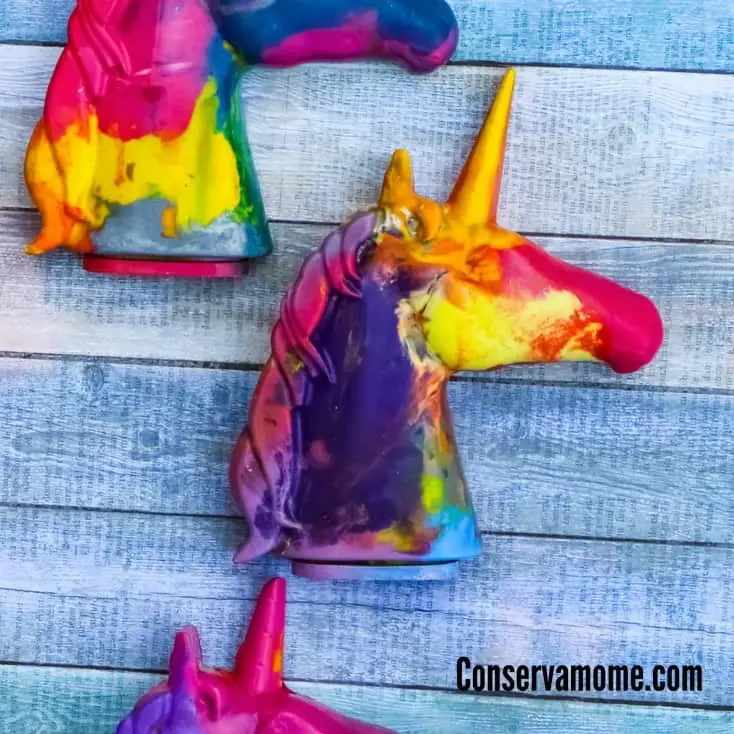 Credit: conservamome.com
These DIY unicorn crayons are perfect if you have kids around the house. That's because they help you get rid of all those broken crayons you don't need anymore.
Make a few for your unicorn-loving kids to draw with or use them as an easy, vibrant, and unique piece of décor come summertime.
If you don't already have one, pick up the perfect unicorn silicone mold for this project here.
13. DIY Unicorn Headbands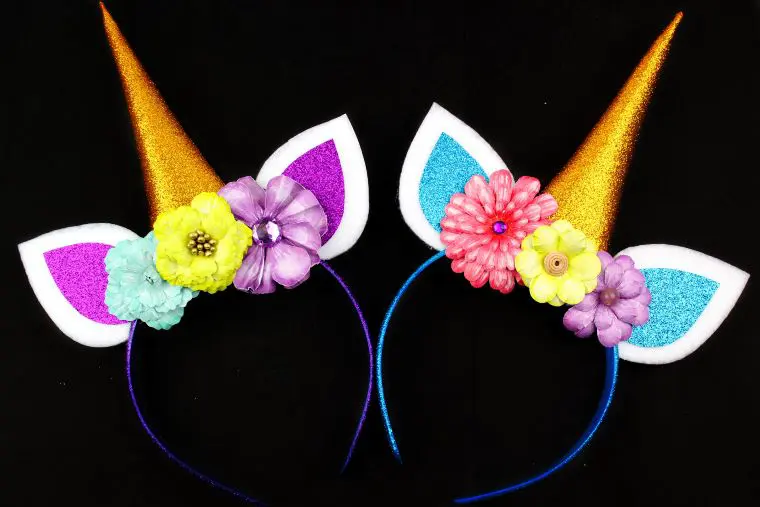 Credit: extremecouponingmom.ca
Where there are children, there are birthday parties, and where there are birthday parties, you will inevitably need some adorable party favors. Enter: the DIY Unicorn Headband.
These adorable headbands are cheap and easy to create for your little one's magically-themed birthday bash.
Looking for some other party favors to join the headbands? Add some of these Dollar Store party ideas into the mix.
Love the headband? Check out this DIY headband.
14. Ultra-Easy DIY Unicorn Mug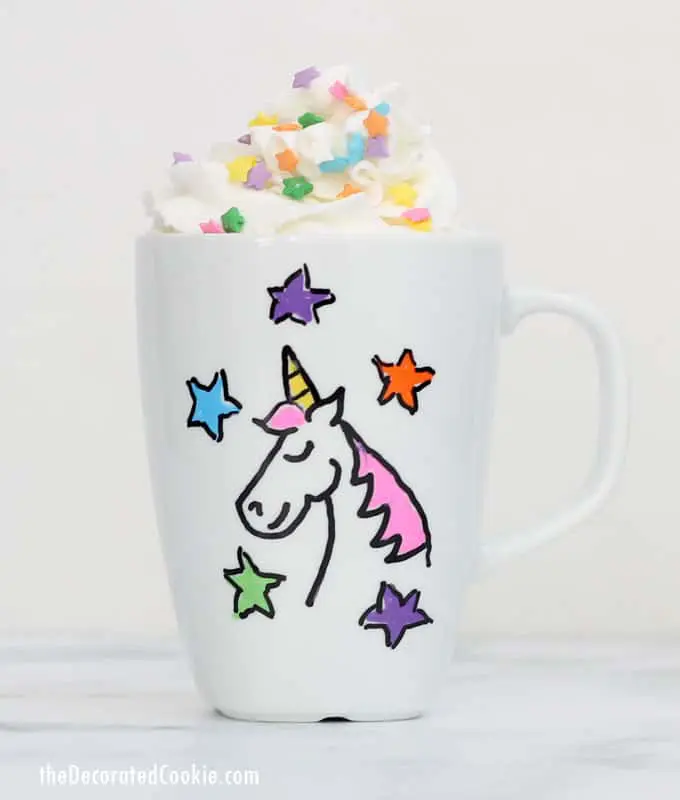 Credit: thedecoratedcookie.com
Create just one for you, or make a set as a gift: the choice is up to you with this ultra-easy DIY unicorn mug hack. All you'll need is your chosen mug, some rubbing alcohol, and your Sharpies.
Draw the design in the tutorial or go wild and make your own if you're feeling confident. Keep in mind that you'll need special oil-based Sharpie paint markers to make the design stick.
15. DIY Unicorn Christmas Ornament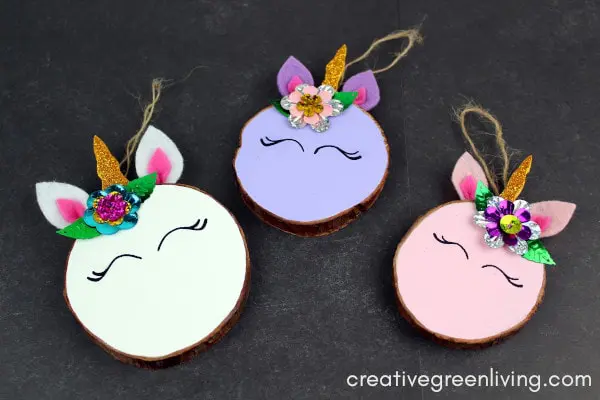 Credit: creativegreenliving.com
Turn a humble wood slice into the Christmas ornament of your child's dreams! These are so easy to make with the kids, and they'll gel easily into a sophisticated farmhouse Christmas décor scheme.
If you have some branches in the backyard, all you need to do is slice them up and paint as you will with acrylic paint. Add some sparkles, some sequins, and tie into the tree with twine once you're done.
If you don't have any spare wood lying around, just buy some pre-cut, ornament-ready slices here.
16. Upcycled Unicorn Horn Sleep Mask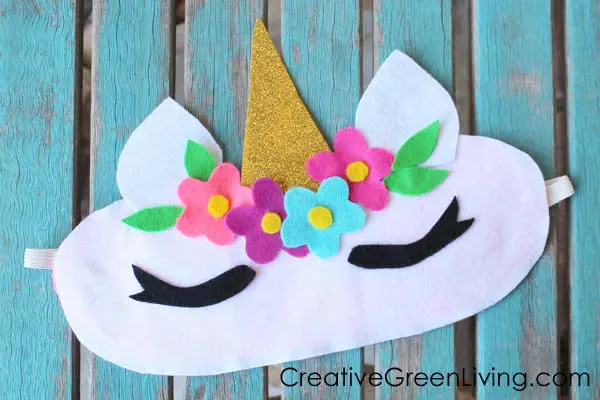 Credit: creativegreenliving.com
Have an old t-shirt lying around and not sure what to do with it? Why not create something fun and unique to gift to the unicorn-lover in your life! Make a small one for kiddos or go larger for adults.
Using a recycled t-shirt makes sure this mask is deliciously soft, as it's made from a material that's been worn down. The t-shirt is the base, and then you decorate with felt and your trusty glue gun.
17. DIY Unicorn Painted Rock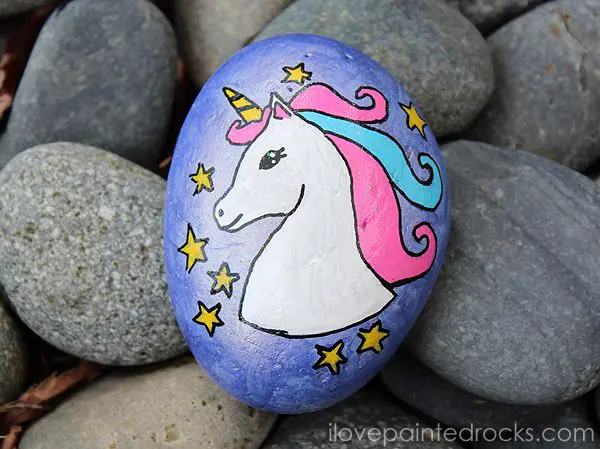 Credit: ilovepaintedrocks.com
In the pantheon of crafts, painting on a rock is potentially one of the easiest, most affordable, and most enjoyable ways to get your hands dirty with your kiddos.
Once completed, these adorable rocks can be used as doorstops or paperweights in the kid's room!
If you're using it as a doorstop, make sure you spray with clear-coat enamel-like this once the rock has been painted to protect the design.
Looking for some more affordable crafts for kids? Check out these Dollar store kids' crafts that won't break the bank.
18. Unicorn Mini Canvas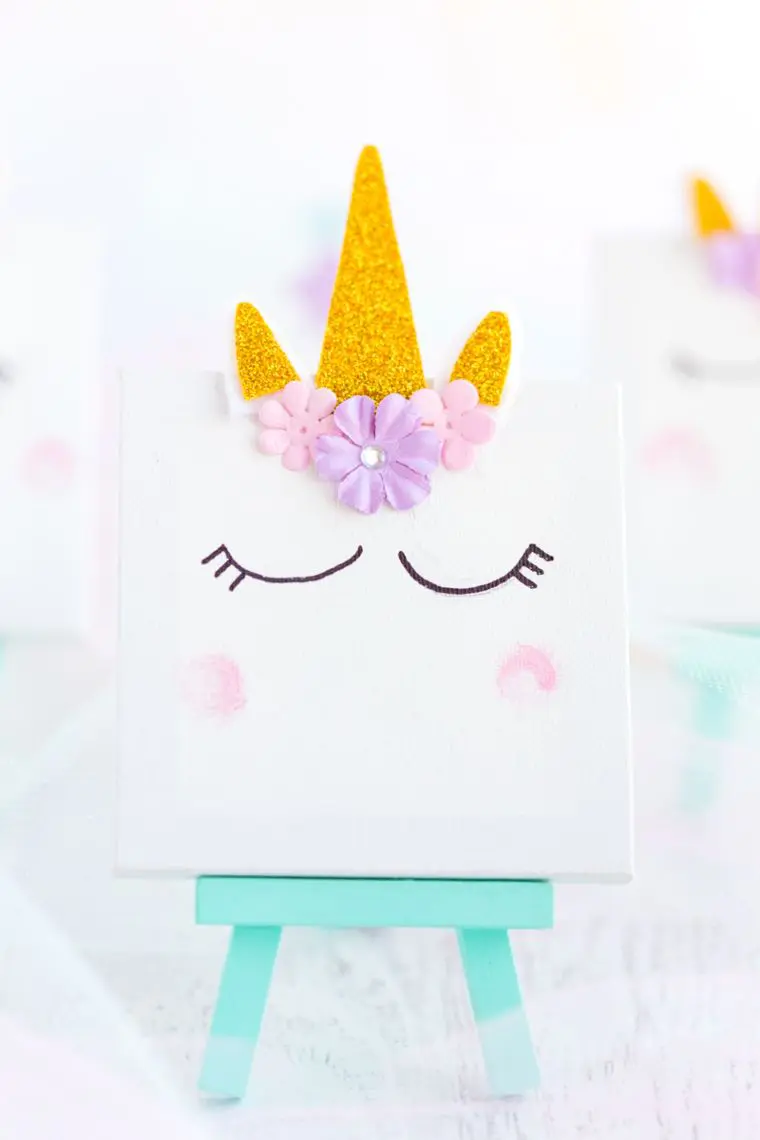 Credit: madetobeamomma.com
Mini canvases are a classy, minimalist way to decorate a child's room, or maybe even a nursery! They're quick and easy to bring together, don't cost a lot to make, and they last forever.
You can pick up a matching mini canvas and easel for easy assembly. Then, paint the canvas as you like using some acrylic paints.
For an extra touch, add a gold glitter foam horn to the top!
19. DIY Unicorn Pencil Case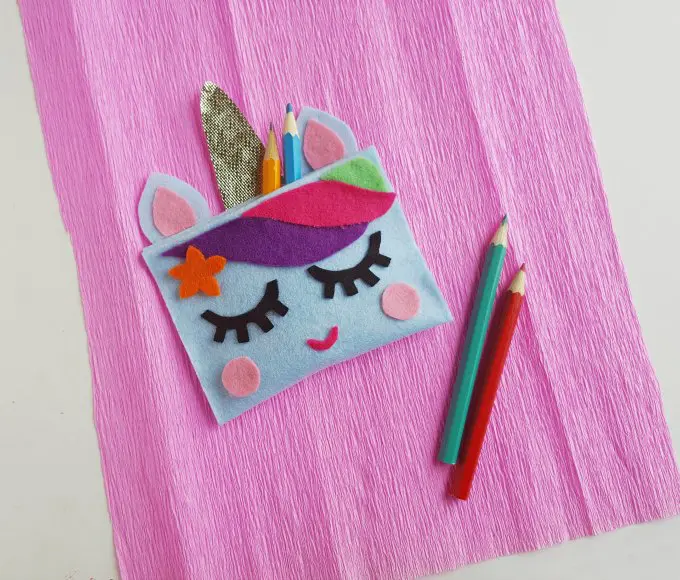 Credit: myheavenlyrecipes.com
As I said earlier, there are few things that make a day of work or school better, like some fun school supplies. This time, we're looking at a DIY unicorn pencil case that's perfect for your little one.
Luckily, this pencil case's size and colors can be easily changed to accommodate different needs. Make sure you have some snap closures like these to finish it off.
Fill it with colored pencils, and you're done!
20. Unicorn Paper Plates for a Party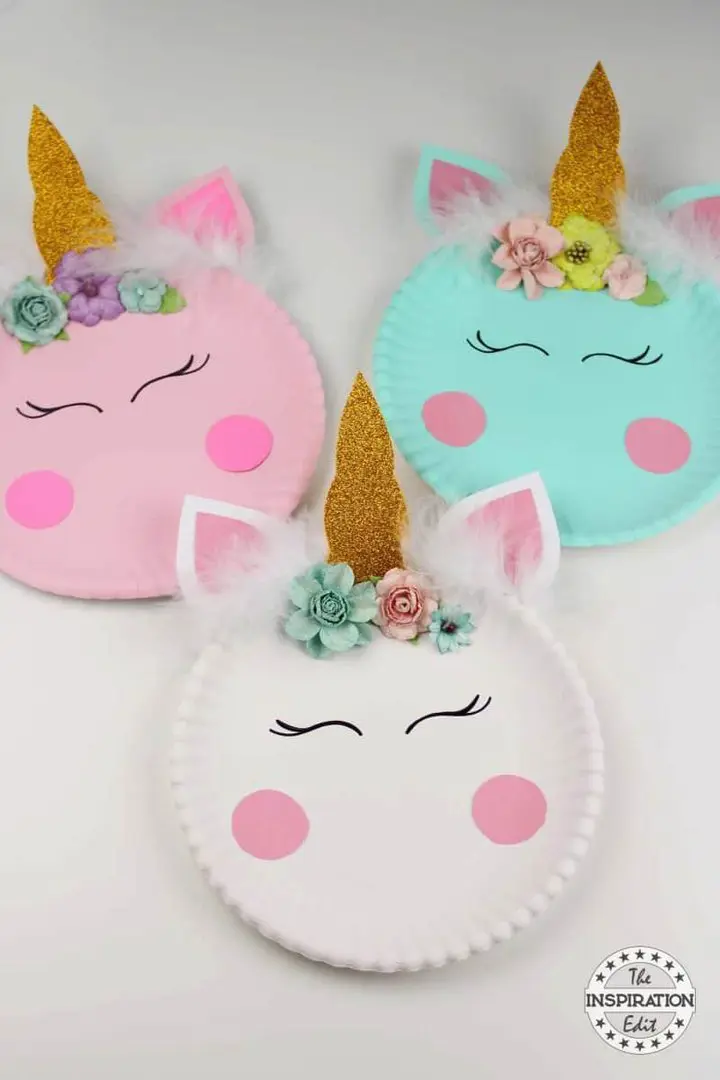 Credit: theinspirationedit.com
In the vein of party ideas, these craft unicorn paper plates are perfect for serving the birthday cake on! In my opinion, this is one of the cutest crafts on the list, and they'll really bring a unicorn theme together.
The base of the craft is a simple unicorn face and cardstock horn. But, you can make each one unique with a variety of sequins, feathers, paper flowers, and other crafty essentials.
In fact, you can even have the kids decorate their own paper plates as a party activity. Genius!
21. DIY Toilet Tube Unicorn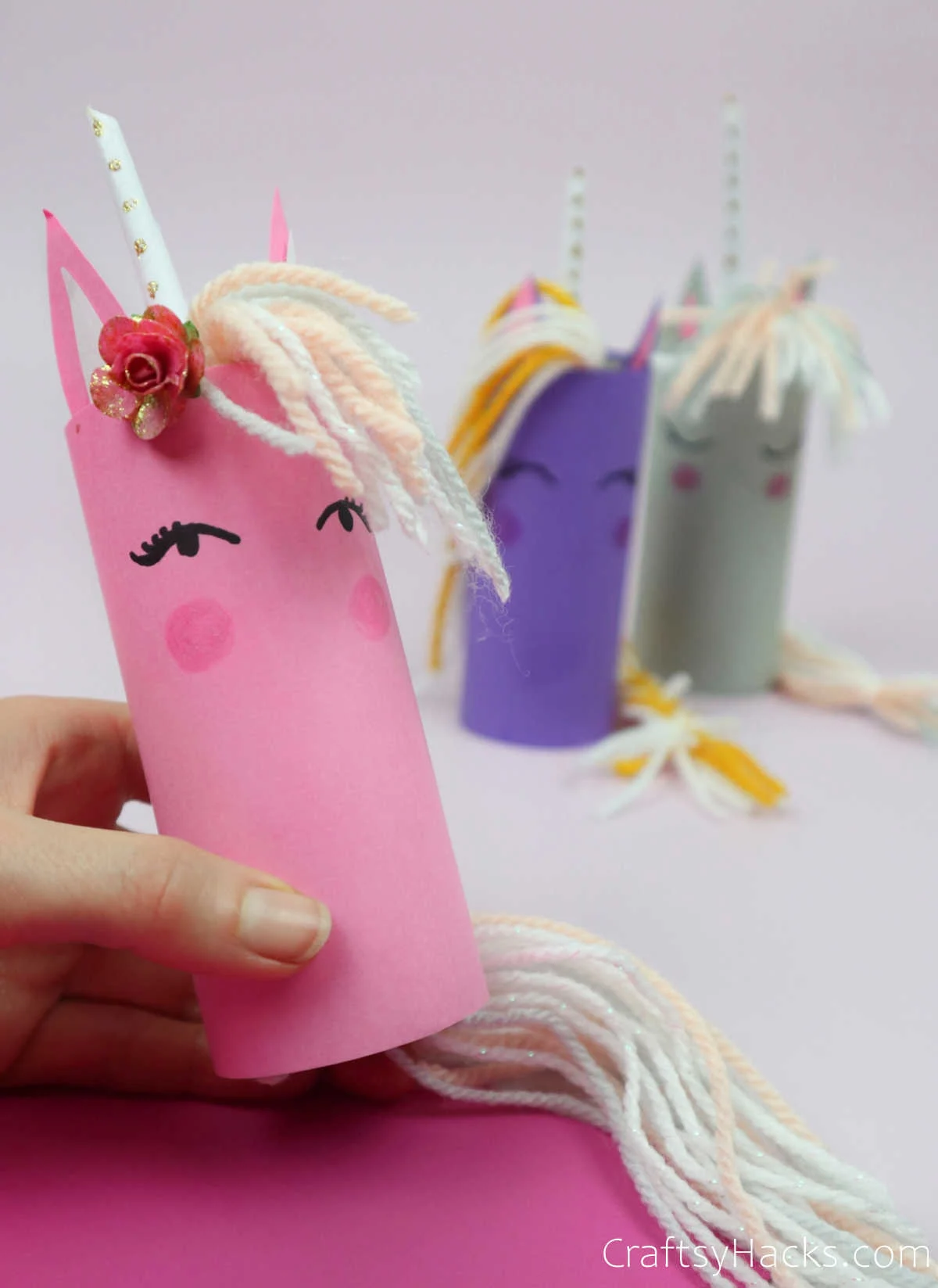 Credit: CraftsyHacks.com
Toilet tubes are something every home will have no shortage of. So, instead of throwing them away, why not use them to have some valuable crafting time with your children?
You'll need all the standard crafting supplies to work with, such as colored paper, yarn, glitter, and of course, the toilet paper tubes. One thing you might not have lying around is some rainbow yarn like this.
Find some more ways to use those leftover toilet tubes with these toilet paper roll crafts.
22. Unicorn Horn Christmas Ornaments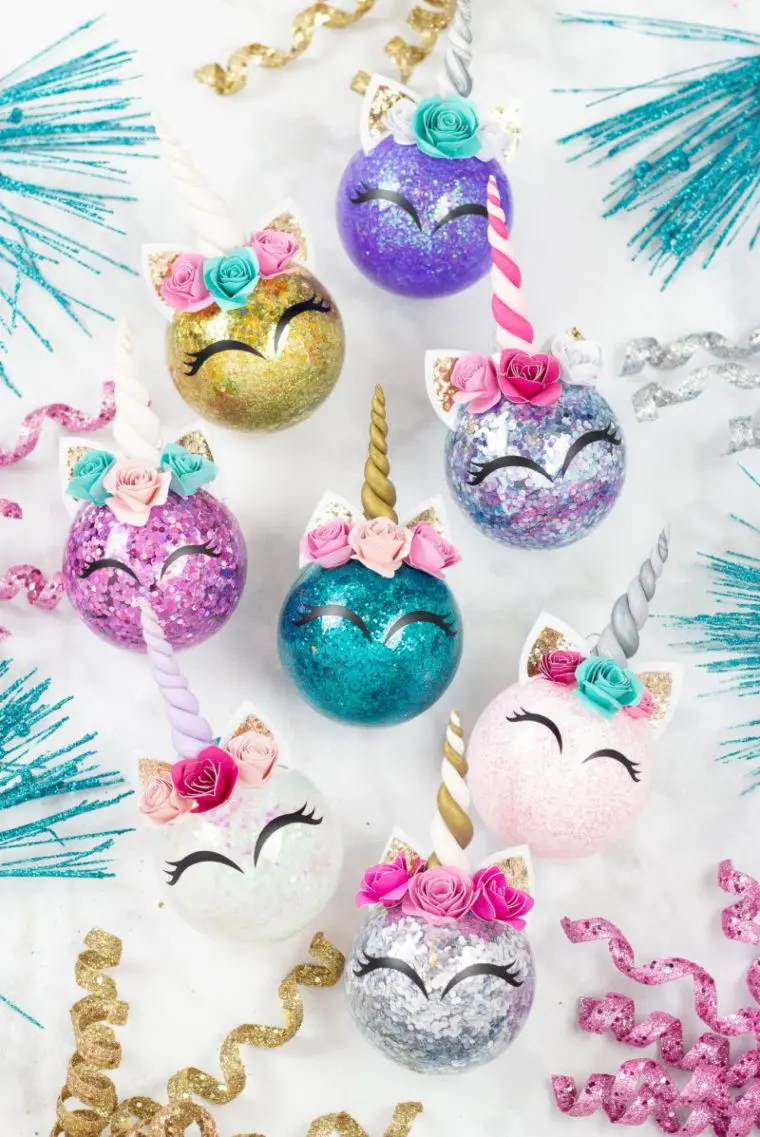 Credit: sweetredpoppy.com
These unicorn horn Christmas ornaments are shockingly cute, so easy to make, and will look perfect on your tree! Alternately, you can make a set as a gift and wrap them up to put under the tree.
These glittery unicorns use large, clear ornaments like these as their base. The glitter is glued to the inside to form the unicorn's head. Then, the outside is decorated to bring it to life.
Make sure to pick up some gold Sculpey Clay to form the horns. They add an extra 'oomph' to the result.
23. DIY Unicorn Mason Jar Nightlight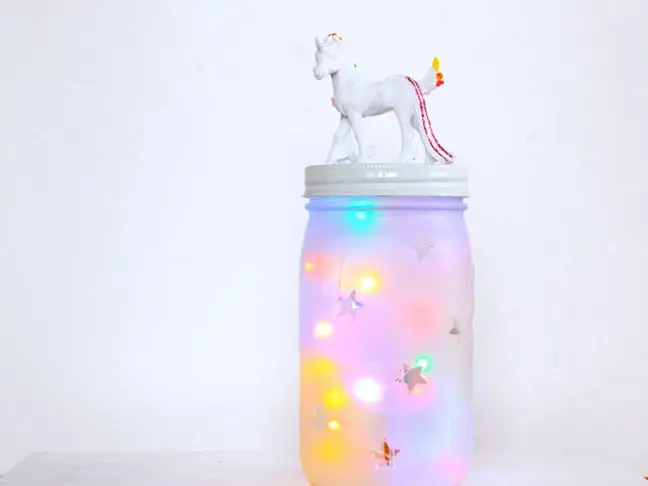 Credit: momtastic.com
Tackling bedtime can be a scary thing for many kids. So, why not give them something to make the dark a little less scary? This DIY unicorn night light uses a mason jar and some fairy lights for an easy nightlight.
Make sure you're using a wide mouth mason jar and some battery-operated fairy lights. If you can't get a frosted jar, pick up some frosted glass paint.
Just assemble, place on their nightstand, and watch the monsters under the bed run and hide!
Got a couple of other mason jars? Try out any of these craftsy mason jar gifts.
24. DIY Fleece Unicorn Pillow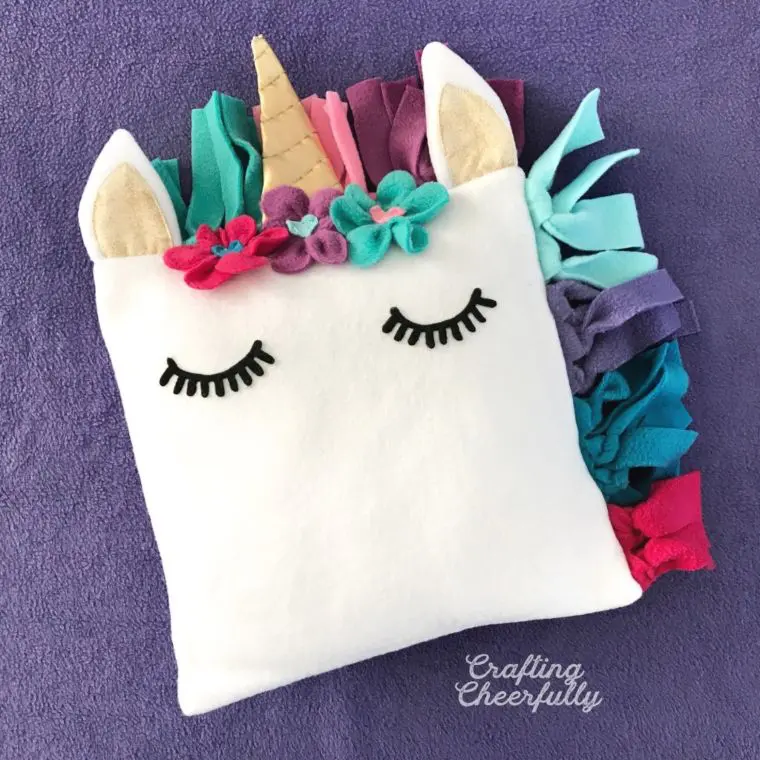 Credit: craftingcheerfully.com
This fleece pillow is comfy, warm, adorable, and looks utterly professional once completed! In fact, this is the perfect project to test your sewing skills against.
Most of the materials you'll need are fleece in different colors. But, the eyelashes are crafted using an iron-on material called Wonder Under, which you can find here.
Simply follow the pattern with any colors that strike your fancy, be patient, and you'll have a gorgeous unicorn pillow in no time.
25. DIY Mini Unicorn Soap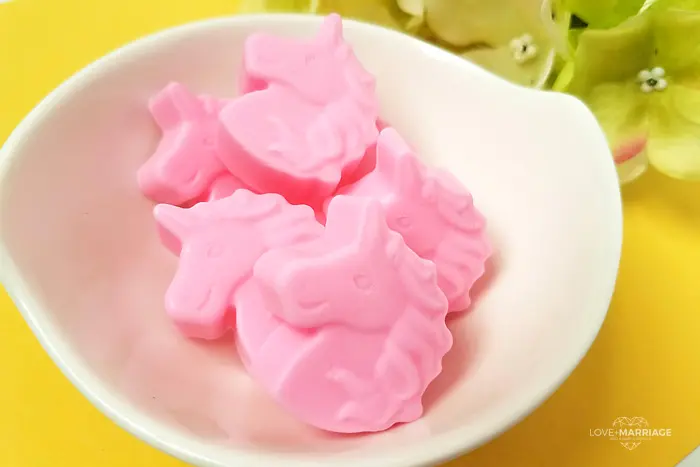 Credit: loveandmarriageblog.com
Perfect in the guest bathroom, as a party favor, or even as a gift set for your little ones, these DIY mini unicorn soaps look and smell amazing!
Pick up some melt and pour Shea Butter soap base, alongside a silicone unicorn mold and your preferred soap coloring. Melt, mix and pour your way to these adorable little soaps with ease.
While the DIY doesn't include a scent, adding one is as easy as adding a couple of drops to the mixture!
26. DIY Unicorn Slime Jars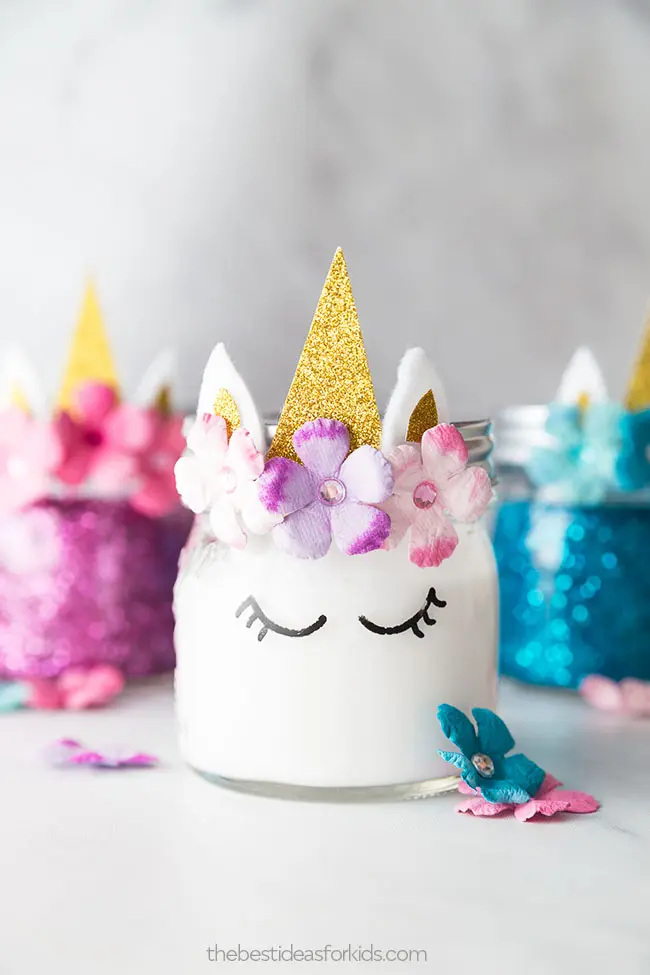 Credit: thebestideasforkids.com
Made the unicorn slime, but don't have a jar worthy of such magical material? It's as easy as pie to make one with a spare mason jar, some small paper flowers, and some felt.
While these are fantastic for storing slime, they can be used for other things as well! Keep them in your child's room to teach them the importance of organization and to add a little touch of magic.
27. DIY Unicorn Bath Bomb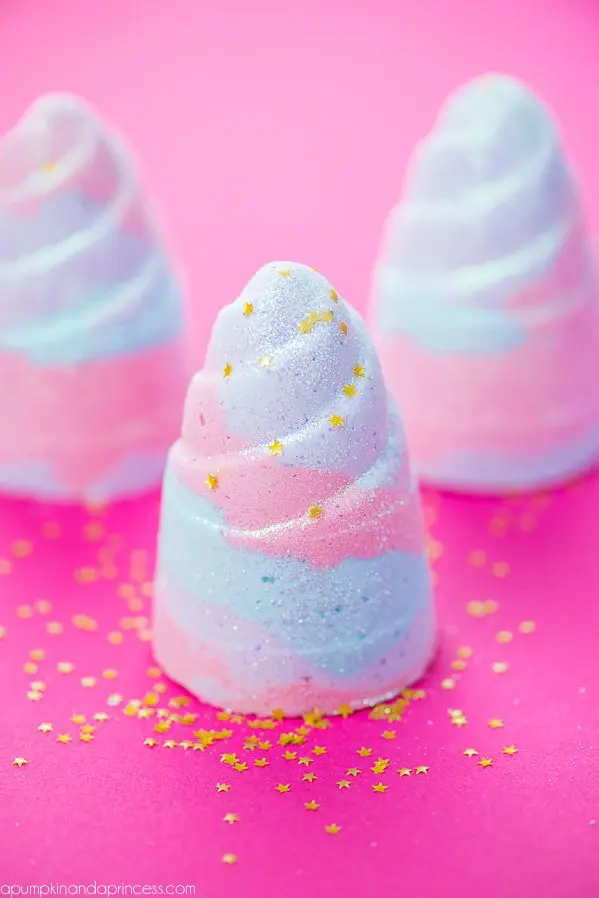 Credit: apumpkinandaprincess.com
These adorable bath bombs are bubble-gum and baby blue, and they come in the shape of a unicorn's horn thanks to the silicone horn mold.
They're deceptively easy to put together. You'll just need to pick the perfect essential oil blend. Why not lean into the candy aesthetic with some candyfloss or bubble-gum scents?
Conclusion
Which one of these unicorn projects is your favorite? Are you going to make some of these with your kids?