Got a stash of tissues? These tissue paper crafts will help you to make use of all those tissues and have fun crafting.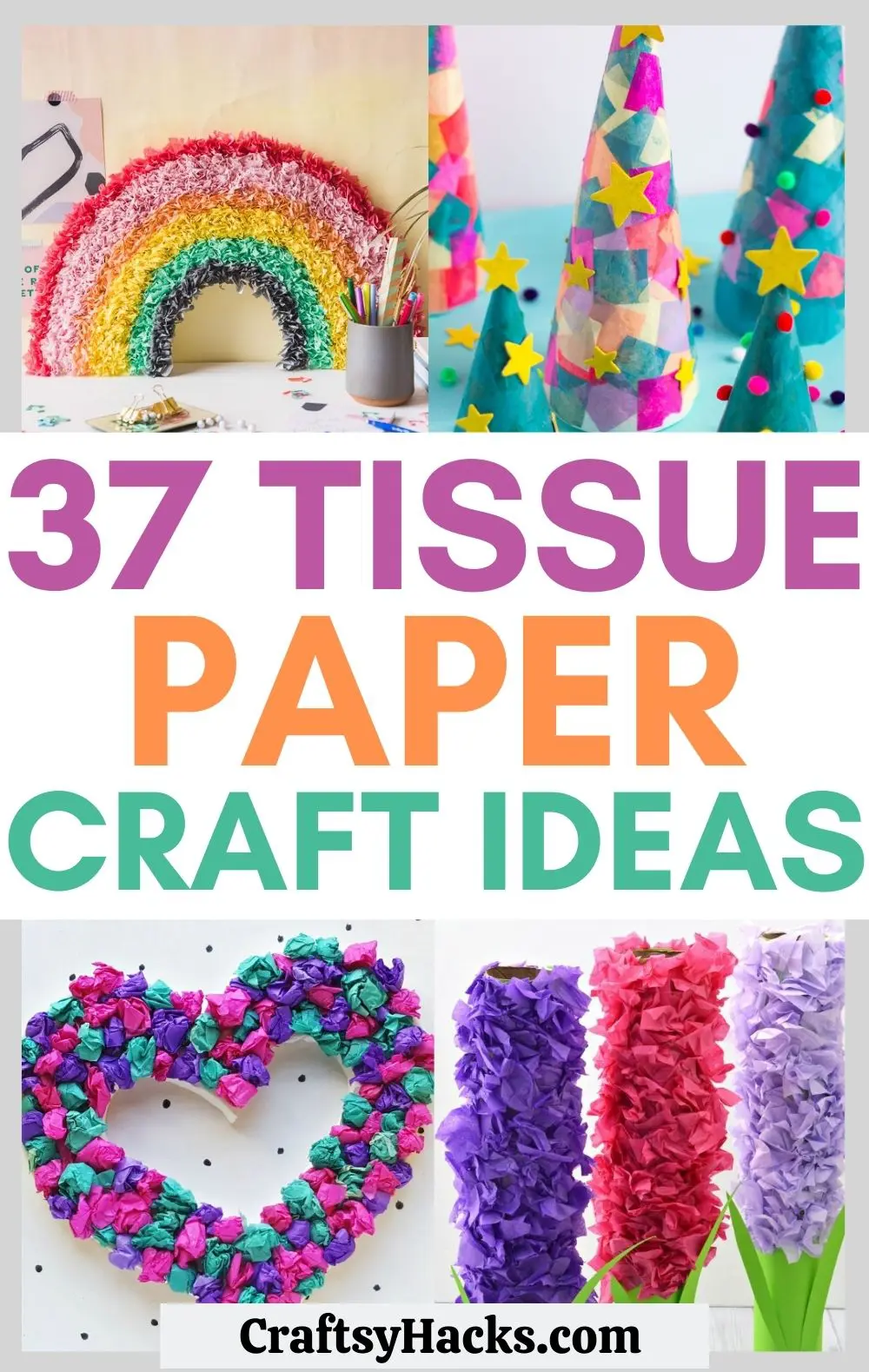 There's a universal truth in the DIY world: we all have a whole lot of scraps. Whether it's fabric, tissue paper, or yarn, we all have little cut-offs that we don't know how to use!
I personally have a lot of tissue paper just lying around. Throwing it all away just isn't sustainable, and it feels like such a waste. So, what do you do? Well, you do what you do best: you craft.
Each of these tissue paper crafts brings something new to the table, offering a brand-new skill or a gorgeous result. Try them out, and I guarantee you'll have some contemporary décor for your home soon.
1. DIY Coffee Filter Peonies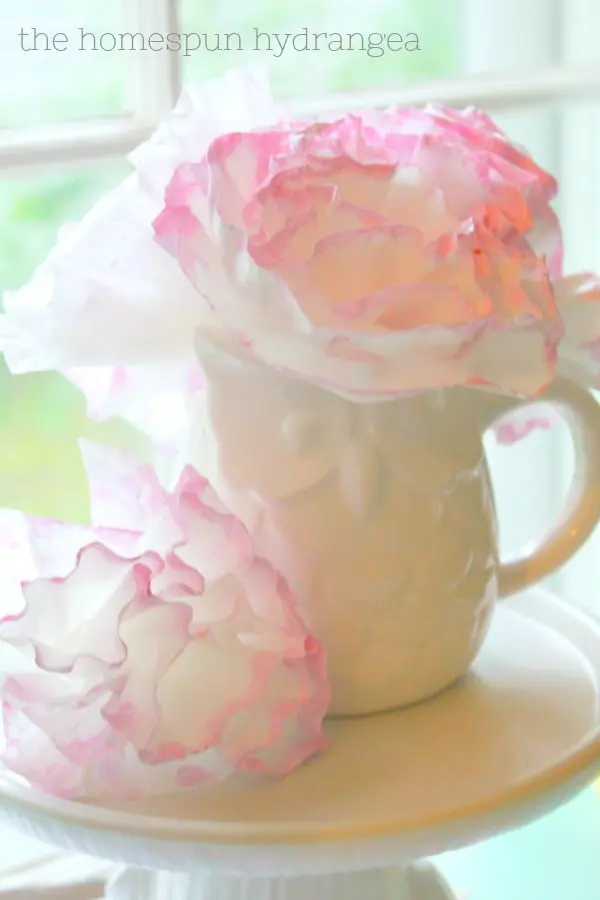 Credit: thehomespunhydrangea.com
Let's start with something a little unexpected: using coffee filters. That's right, something as unassuming as those can produce a gorgeous fake peony worthy of any bouquet.
All it takes is a little patience. Start with your white coffee filters, then use white and pink craft paint to soak the edges, turning them into petals. Now you can enjoy these temperamental blooms year-round.
2. Hanging Tissue Paper Garland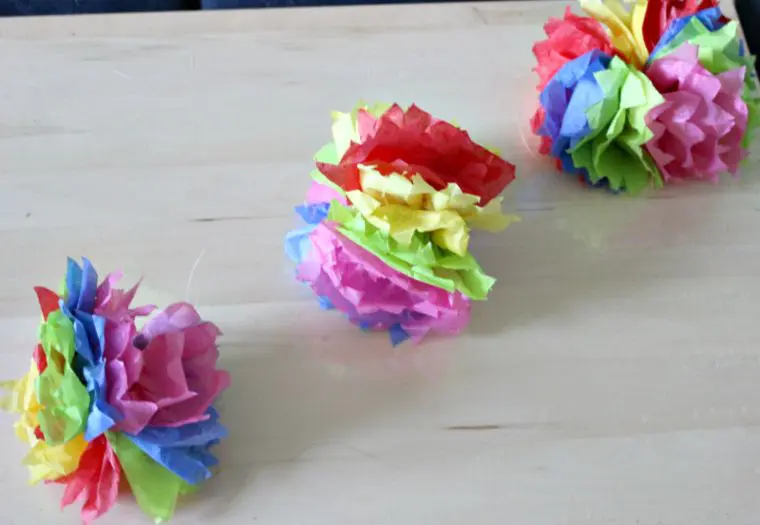 Credit: ourcraftymom.com
Knowing how to make a catch-all decoration will save you a lot of stress from holiday, birthday, or surprise party. Choose any colors you like to match the party's theme and have at it!
I love how simple the craft is, and it has such a gorgeous payoff! Not to mention, it's the perfect way to use up all the tissue paper colors you've got hiding in your stash.
Check out more similar Dollar Store party ideas here.
3. Turkey Tissue Paper Suncatcher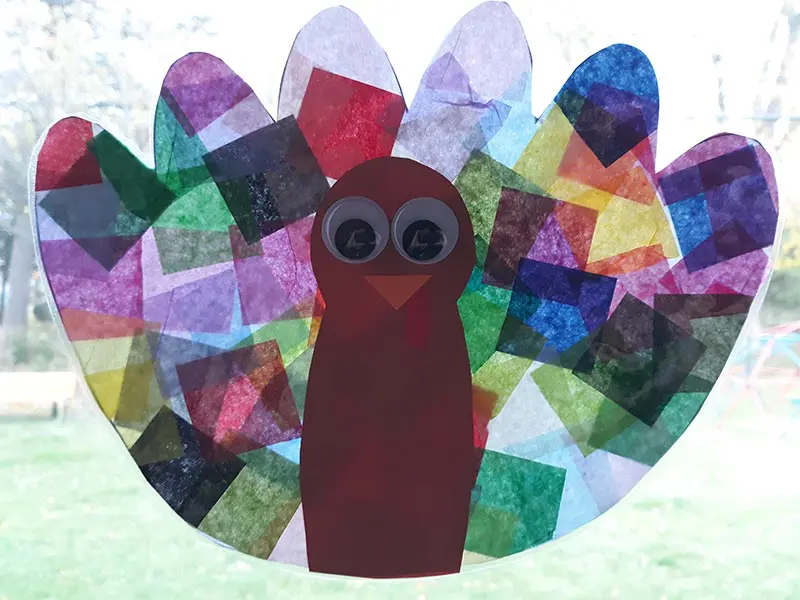 Credit: darcyandbrian.com
Next up, we've got a craft the kids will love to do with you. This turkey tissue paper suncatcher gets stuck to your window, highlighting the myriad colors as the sun streams through the glass.
Use regular printer paper for the turkey's base, colored construction paper for his neck, and tissue paper for his colorful feathers. Invest in some removable mounting tabs (here) for clean removal.
In need of some more kid-friendly activities? I've got you covered. Check out this list of fun crafts that will keep the little ones busy as you do some of your own craftings.
4. Mini Tissue Paper Flowers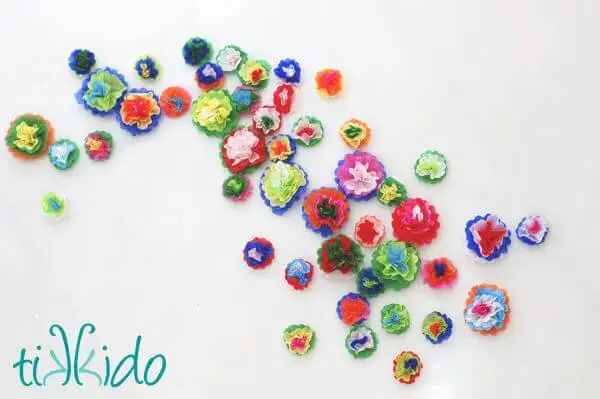 Credit: tikkido.com
These are a prime example of a craft that can be used in multiple ways. Make these adorable flowers into badges, hang them from a mobile, or attach magnets to the back to decorate your fridge.
The one specialty tool you'll need for this project is a scalloped circle scrapbook punch, which you can find here. You can wrestle with your scissors, but I find this punch makes life a lot easier.
5. DIY Tissue Paper Rose Pomander Pinata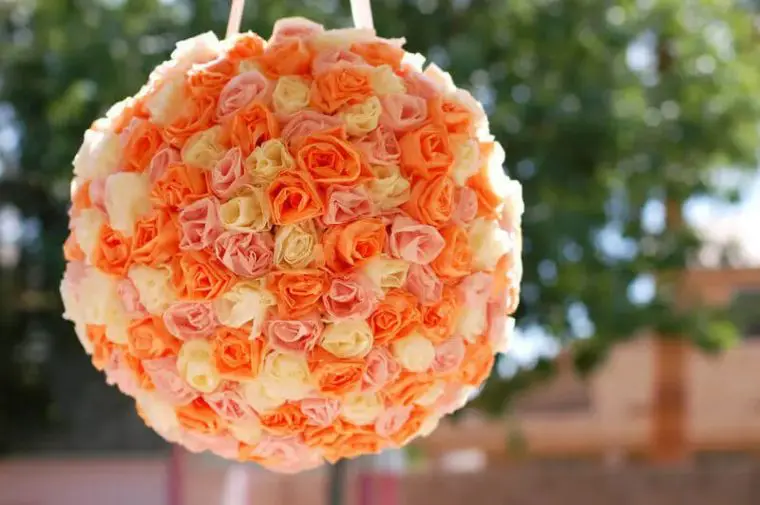 Credit: tikkido.com
Who says adults can't love pinatas? From baby showers to wedding parties, this gorgeous pinata is perfect for hanging as a decoration… right up until you smash it apart, that is.
The key to this craft is a hidden ball-shaped interior, crafted with some newspaper and your trusty wallpaper paste like this one here. Keep in mind that it takes several days to make, so get a head start!
6. Tissue Paper Mason Jar Lanterns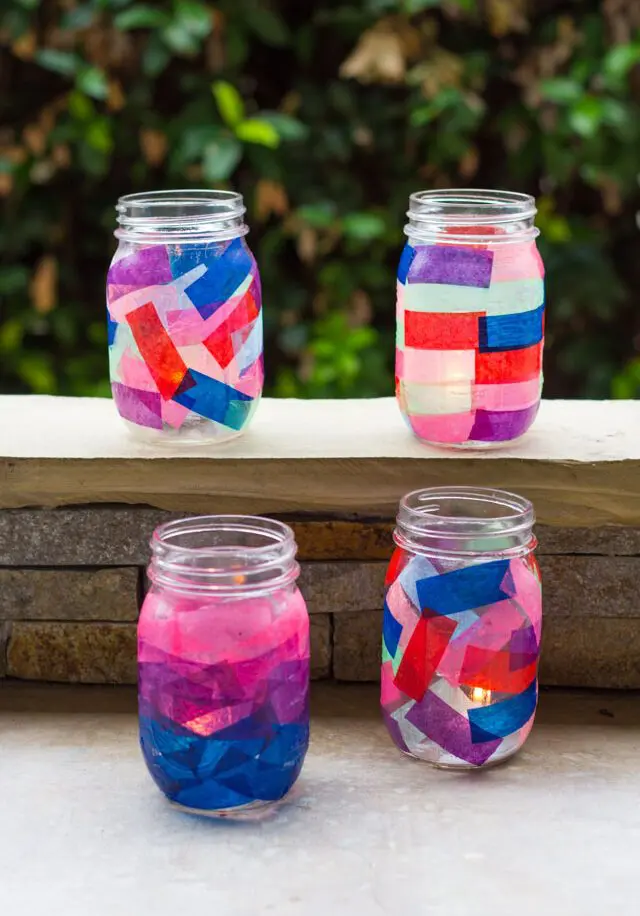 Credit: designimprovised.com
Light up the night with these colorful mason jar lanterns, perfect for your next party (or even just your teenager's room). This is the ideal stash-buster, requiring only strips in many different shades.
Using an old jam jar, cover the outside of the pot in strips of tissue paper. I recommend using Mod Podge, as it's tough, dries clear, and protects the delicate tissue from ripping. Grab some here.
If your teenager loves these, here are some other ways they can personalize their room!
7. Bleeding Tissue Paper Art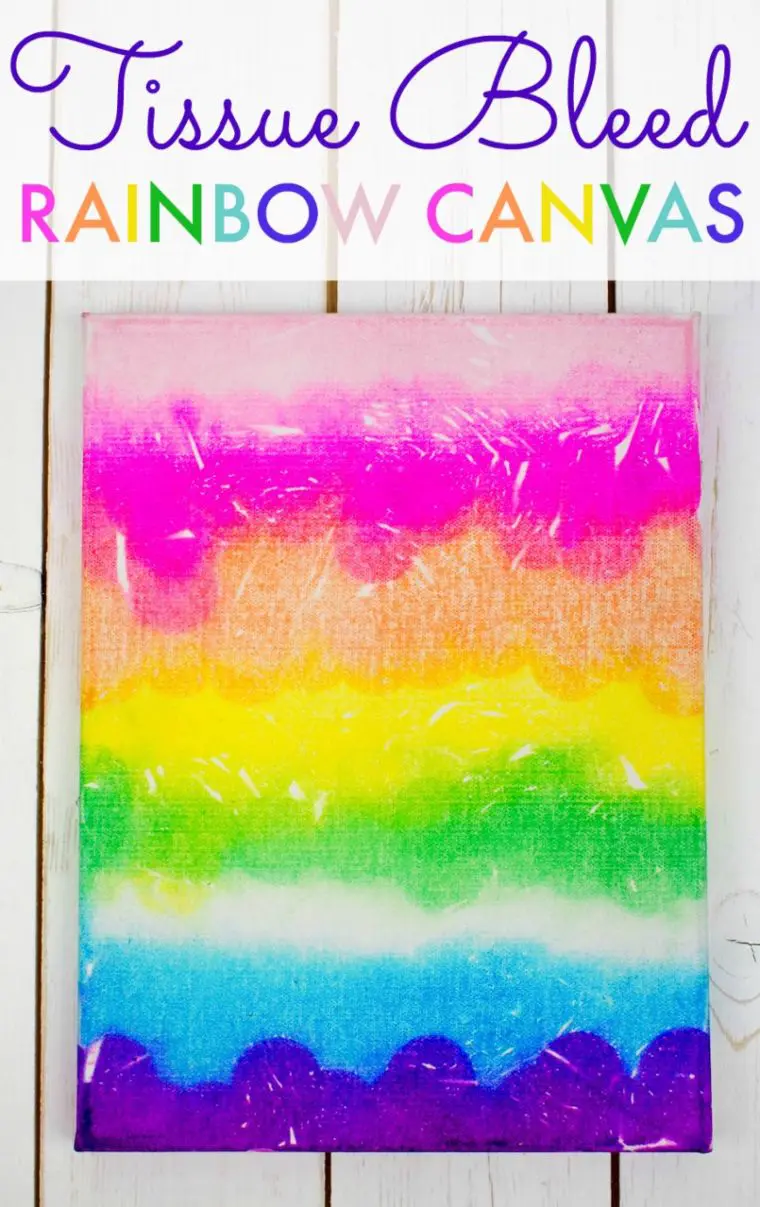 Credit: muminthemadhouse.com
This is, in my humble opinion, a truly genius way to use scraps of tissue paper. Who knew you could create something so stunning with something so unassuming?
Keep in mind that you might have to invest in tissue paper that's made explicitly for bleeding, like these. However, some cheap brands will also work.
Once you're done, you're left with a stunning art piece!
8. DIY Tissue Paper Coasters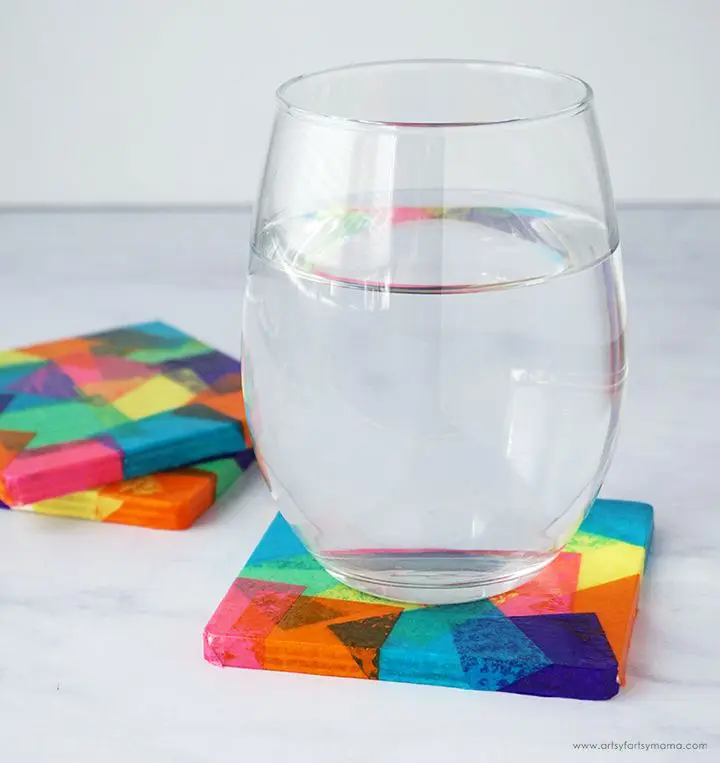 Credit: artsyfartsymama.com
This one goes out to the homemakers, always lamenting the presence of water rings on their lovely furniture. Time to say, "no more!".
These tissue paper coasters offer a pop of color, so they're difficult to miss. In other words, they're perfect as a reminder to your family to use a coaster.
I suggest investing in a square punch like this to get the most out of the craft. Otherwise, you can just buy pre-cut tissue paper squares like these ones.
You might also want to check out these DIY rope coasters.
9. Tissue Paper Butterfly Mobile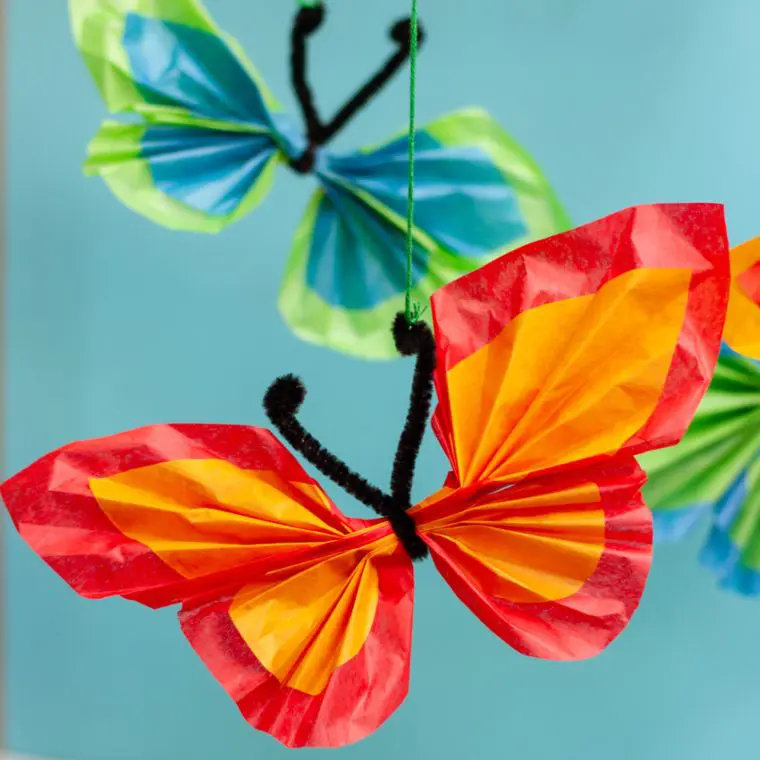 Credit: makeandtakes.com
Decorating a nursery is a task and a half. So, it's refreshing to find a mobile that's not only cheap, it's also colorful, engaging, and easy to make! I love this butterfly mobile because it ticks all three boxes.
Even if you're not decorating a nursery, kids of all ages will love having this mobile in their room. Get your older kids in on the making process to involve them in deciding what their space will look like.
10. Tissue Paper Flower Bracelet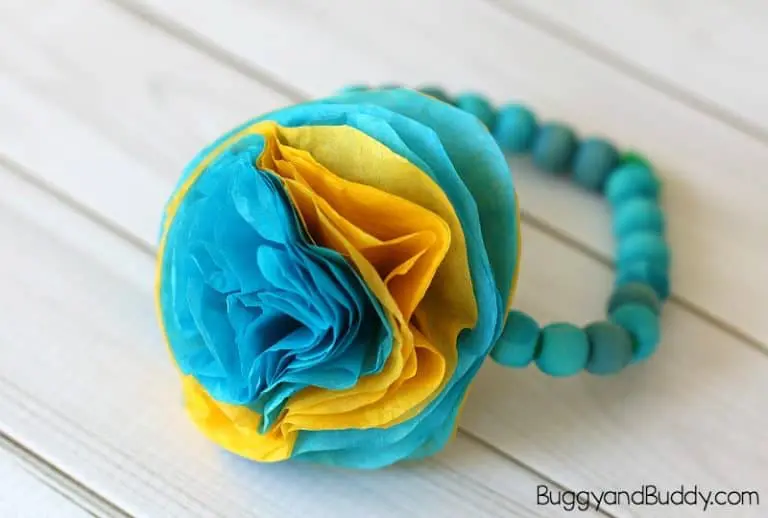 Credit: buggyandbuddy.com
Whether you're using them as party favors or your little ones simply want a new accessory, these flower bracelets cannot be missed. They're so cute, so simple, and perfect for making together!
While the original tutorial says the wooden beads are optional, I think they really take the bracelets to the next level. You can grab some colored beads here, or you can paint some plain ones yourself.
11. Tissue Paper Poppy Bouquet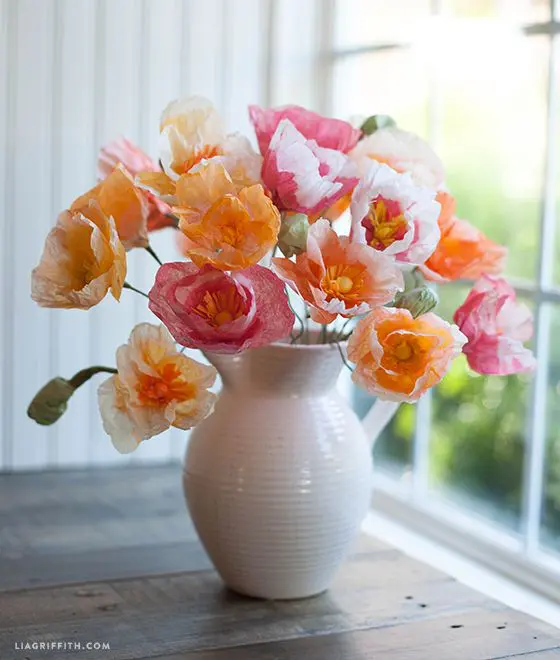 Credit: liagriffith.com
I can't get over how stunning this next DIY is. If you have a little patience and a lot of creativity, these poppies will be adorning your home in no time. Enjoy their presence with no threat of wilting!
If you don't get them perfect the first time, don't be disheartened! These poppies take practice. Some essentials for this craft include floral wire and floral tape. You can grab a whole kit here!
Need something to put the poppies in? Give this yarn-wrapped vase a try for a natural, farmhouse décor look.
12. Quick and Easy Tissue Paper Lei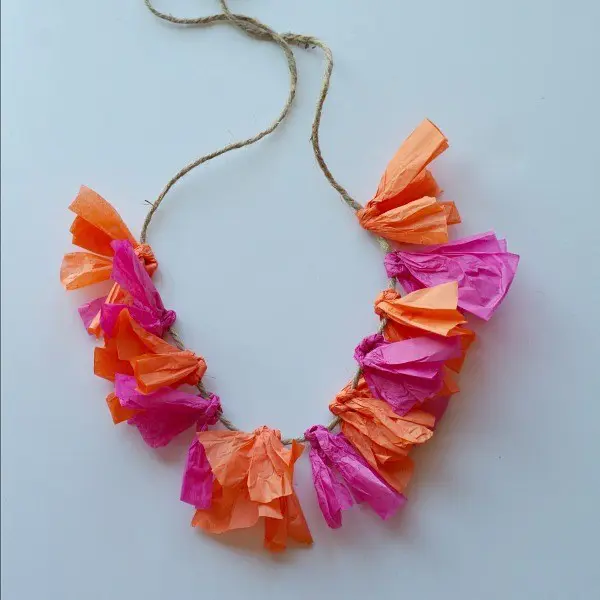 Credit: smartpartyplanning.com
The lei is a Hawaiian symbol of affection, presented upon arrival or departure from a venue. In other words, if your party is Hawaii-themed, you can't go on without a lei.
These tissue paper leis bring all the beauty of the traditional garland with none of the decay, and the best part is, you can customize them! Craft a spray to suit each of your guests for a truly personal touch.
13. Tie-Dye with Tissue Paper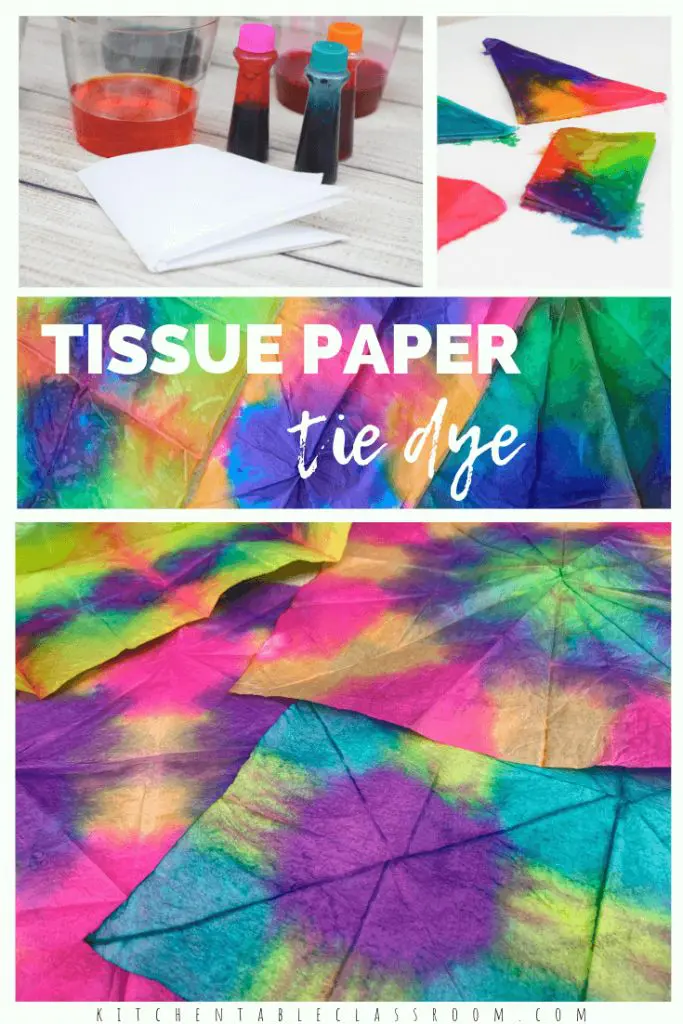 Credit: kitchentableclassroom.com
While standard fabric tie-dye is one heck of a hassle, tissue paper tie-dye delivers all the visual impact with a quarter of the effort! All you need is your tissue paper, some water, and some food coloring.
I love the idea of creating these tissue paper squares, then framing and hanging them to create a vibrant accent wall. It's perfect for living in a rental where you can't paint the actual wall!
In fact, you can even make the frames yourself with these creative DIY picture frames.
14. Simple Tissue Paper Pom Poms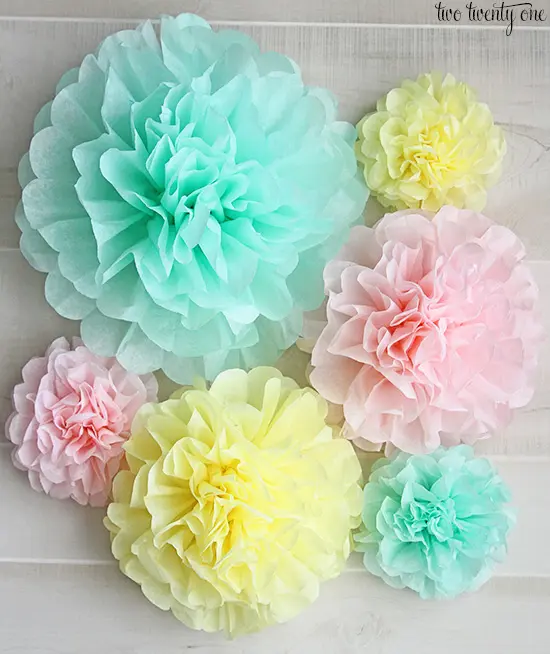 Credit: twotwentyone.net
Tissue paper pom poms are the ultimate party decoration. Thread them onto a garland, hang them on your wall, or group them together to form a vibrant centerpiece; the choice is yours!
This method of pom-pom making is quick and straightforward, requiring only the paper and some floral wire. If you want to take these one step further, consider dip-dying the edges with food coloring.
15. Year-Round Tissue Paper Wreath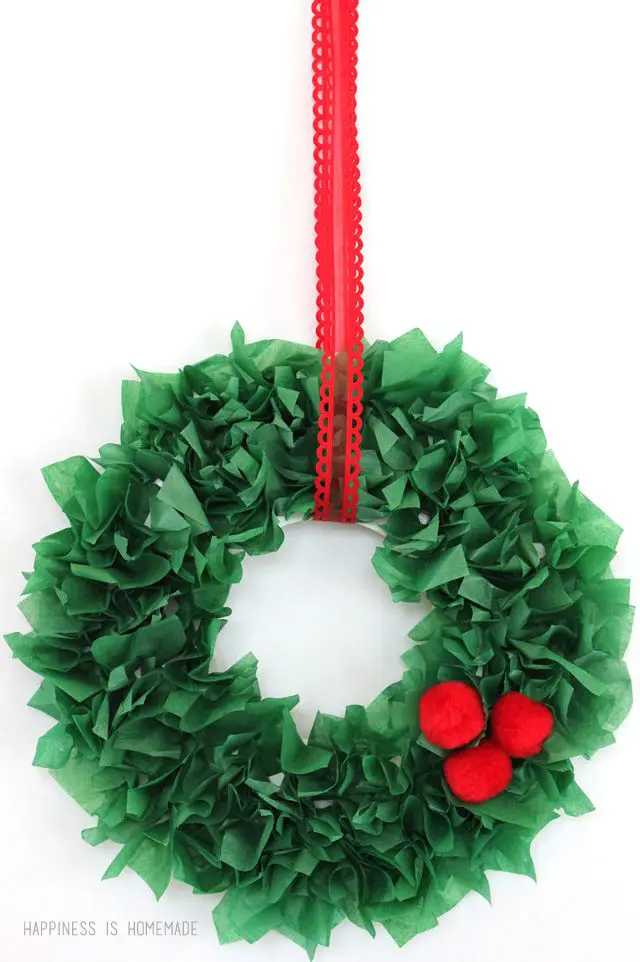 Credit: designdazzle.com
You might think wreaths are only for the festive season, but I'm here to tell you that isn't the case! Thanks to the many tissue paper colors, you can have a wreath in any holiday's colors!
Cinco de Mayo? Halloween? Hannukah? The possibilities are endless thanks to this creative craft. If you want a sturdy wreath, grab a 3D foam wreath form like this one here to use as your base.
If you're stuck for ideas, then don't worry. There's tons of inspiration out there! Start by discovering some of these unique takes on Christmas wreaths.
16. Tissue Paper Rainbow Fish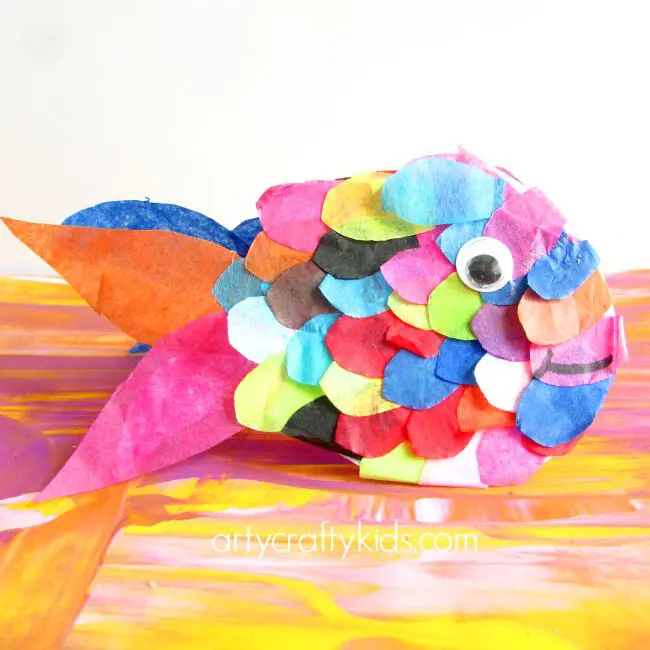 Credit: artycraftykids.com
This one goes out to the at-home parents and preschool teachers who just can't decide which craft to do next. Here's your answer! This rainbow fish is vibrant and straightforward to make for all ages.
Best of all, it doesn't use any supplies you don't already have in your home or classroom. The cardboard forms the base, then tissue paper scales overlap to create that signature rainbow fish form.
17. Tissue Paper Sparklers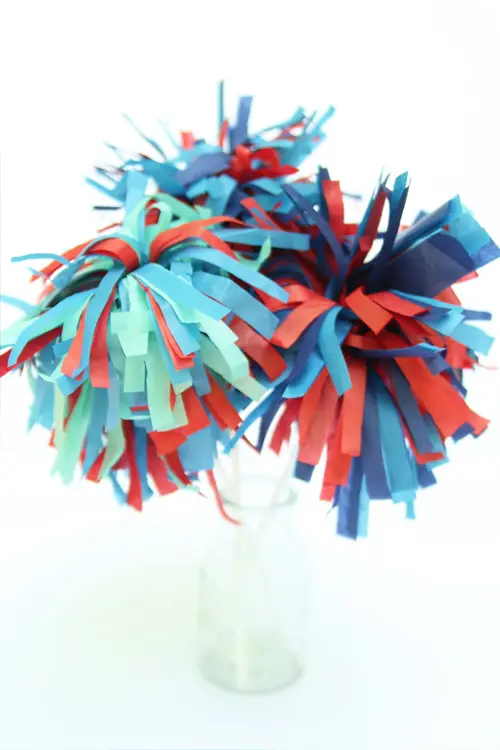 Credit: onelittleproject.com
Fireworks are lovely to look at, but their effects on the neighborhood can be rough. Pets run away from the booms, and you never know who might struggle with these celebratory explosions.
Here's a way to help your kids celebrate holidays like the Fourth of July… without all the bangs that accompany fireworks. Let them run around with the completed sparklers, and they'll have a blast!
18. Tissue Paper Flower Wreath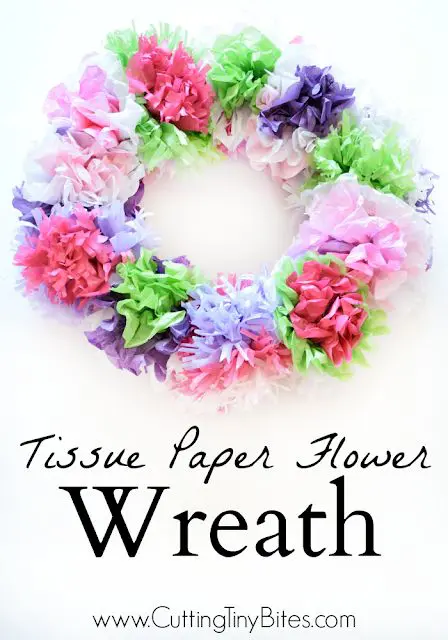 Credit: paper-and-glue.com
Flower wreaths are absolutely gorgeous to look at, but you can't stop them from eventually withering away. Luckily, this tissue paper flower wreath will stay bright and beautiful forever.
Create this beautiful spring or summer decoration with your kids. Use it to adorn the front door, or back them with paper to use as nameplates for the bedroom doors. How genius is that?
If you've got a teen girl who's fallen in love with her new wreath, there are so many other super cute crafts she can use to personalize her room!
19. Teal Tissue Paper Pumpkin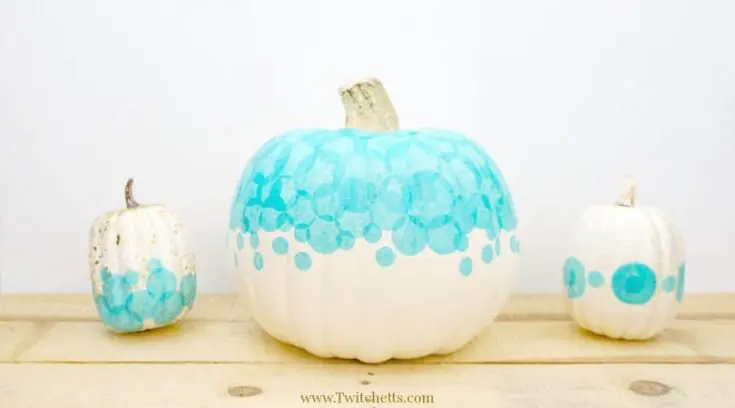 Credit: twitchetts.com
Let's move on from spring and into fall, where pumpkins, spice, and changing autumn leaves are the order of the day. Help your porch stand out from the rest with this teal tissue paper pumpkin!
Start with a fake white pumpkin as your base, which you can find here. From there, use some Mod Podge to adhere tissue paper in a gradient, starting from the top and fading out gradually.
This is an attractive way to elevate your front porch. You can even make multiple matching little pumpkins to use throughout the house.
20. DIY Luau Tissue Paper Pineapple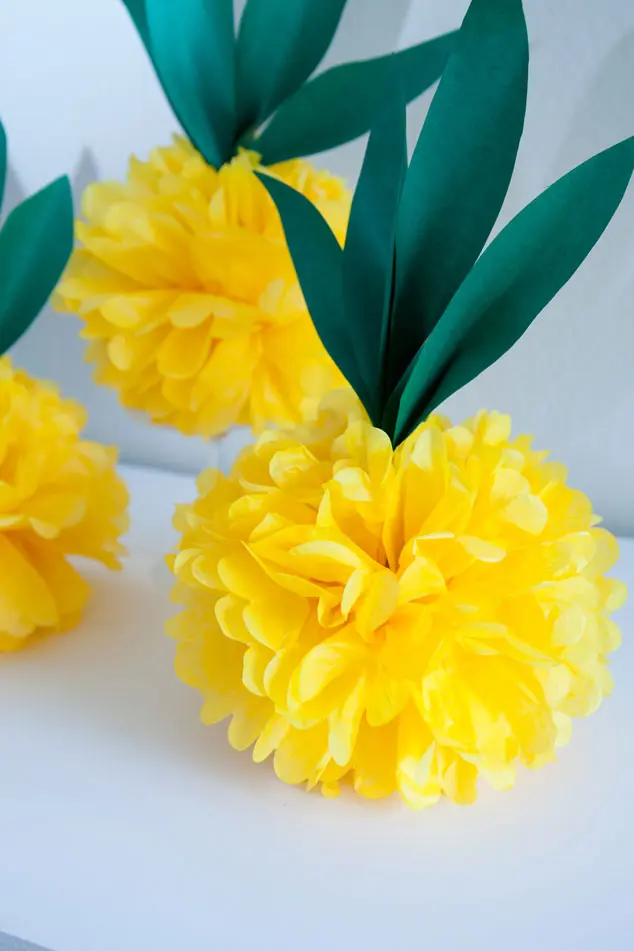 Credit: frogprincepaperie.com
If you're throwing a beach party, these bright tissue paper pineapples will take the whole experience up a notch. They're light enough to hang from a sun umbrella's corners or garlands, plus they're stunning!
You can choose to make your own tissue paper pom pom to use as the base, or simply buy a pre-cut pouf here and add tissue paper leaves. It all depends on how much time you have.
21. Simple Tissue Paper Wall Letters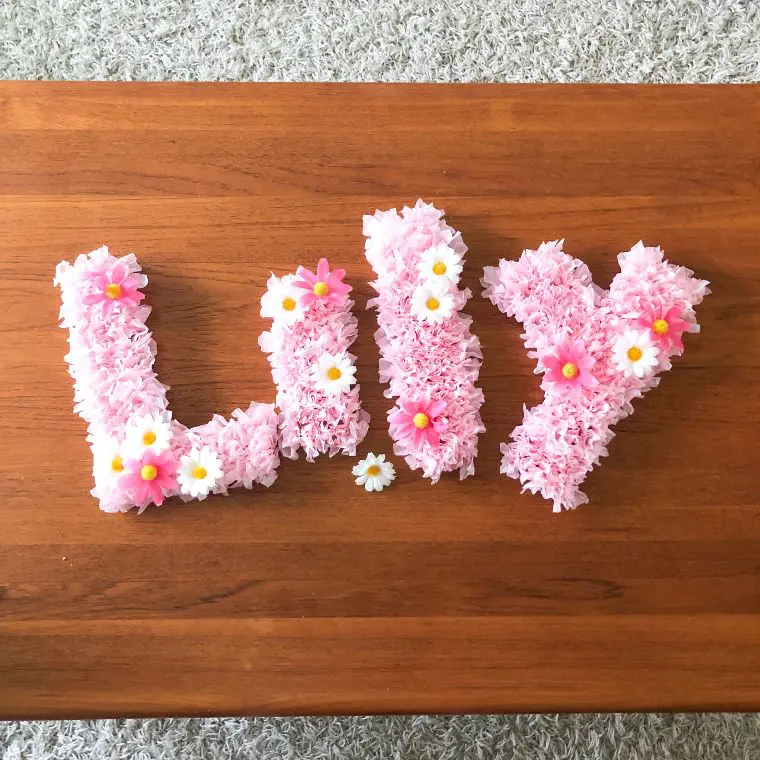 Credit: makeitlaura.com
Attention, expensive party supplies! Make way for these adorable tissue paper wall letters, made custom to suit the guest of honor! Seriously though, these are so professional and cost nothing to make.
All you need is some tissue paper, glue, cardboard, and scissors. If you like, you can take it up a notch with some silk flowers (here) or any other decorative elements to personalize the name.
After all, who says parties have to be exceptionally expensive? In fact, I've got a bunch of dollar store centerpieces that will save your wallet when the next birthday party comes around.
22. DIY Tissue Paper Rainbow Decoration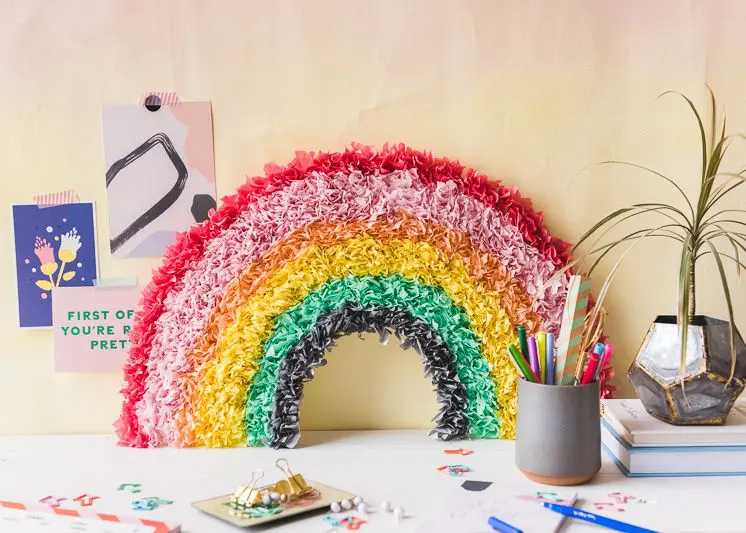 Credit: thehousethatlarsbuilt.com
There are few things in the world that I love more than a good desk decoration, and this paper rainbow fits the bill. It's so simple to make, I almost couldn't believe how gorgeous it looks!
The crafter who came up with this DIY recommends cutting your tissue paper out by hand, but you can invest in a large square punch too. From there, just follow the rainbow, and you'll find the way.
23. Paper Roll Hyacinths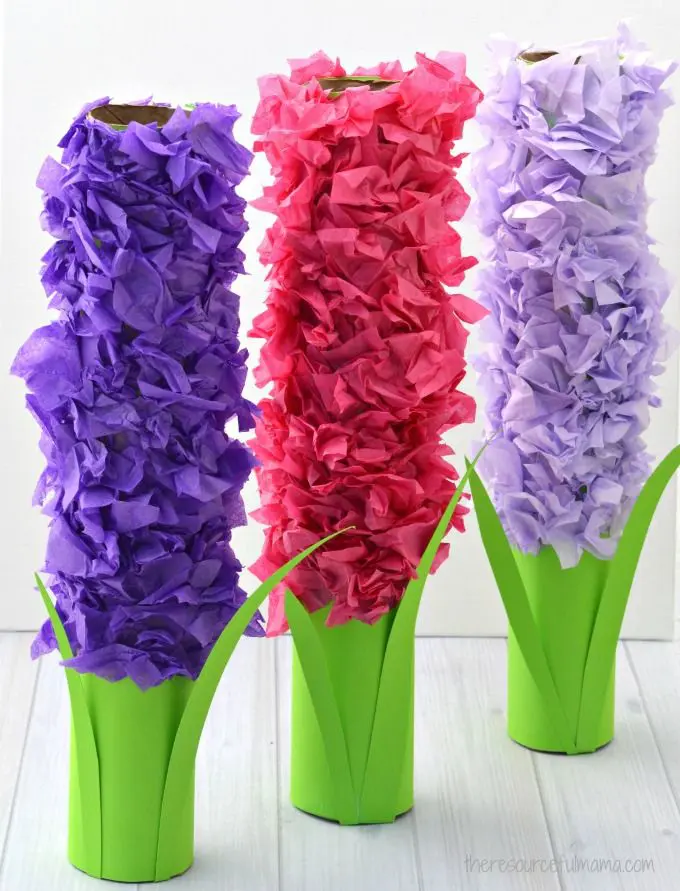 Credit: theresourcefulmama.com
I'm a huge fan of inexpensive crafts, and this springtime homage to hyacinths is perfect for using up those old carboard rolls you might have to lie around.
Each hyacinth is made by adorning a cardboard roll with crumpled tissue paper rectangles. Try making many of them to create a bouquet, or sprinkle a few throughout your home.
If you're feeling really creative, you could even spray some of them with gold spray paint like this to try a modern look.
24. Tissue Paper Stained Glass
Credit: threelittleferns.com
Much like the turkey from earlier in this list, this tissue paper stained glass craft is an ideal project to tackle with your kids in tow. The original crafter uses a Cricut machine (here) to get her flower shape.
If you don't see yourself buying one, you can always just use scissors. The black shelf-liner like this makes this craft super easy since you just need to stick the tissue paper to the back. No glue needed!
25. Love Critter Puppets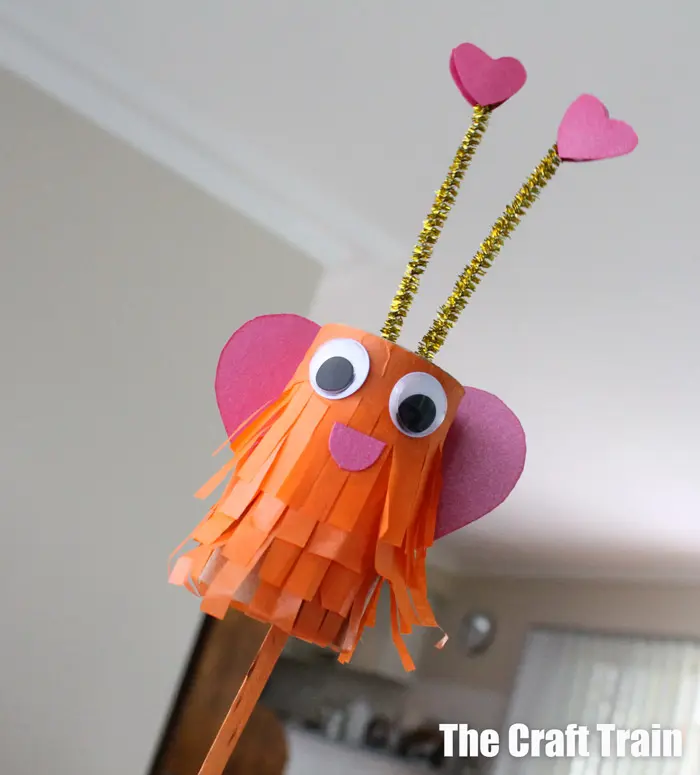 Credit: thecrafttrain.com
You might be asking yourself, "what on Earth is a love critter puppet?". Don't worry, I did the same thing. Turns out, it doesn't matter because these Valentine's Day puppets are too stinking adorable!
These make an excellent gift for your kids, especially if they have a Valentine of their own waiting at school. Grab some glittery pipe cleaners (here) to cap the little critters off with.
26. Tissue Paper Heart Wreath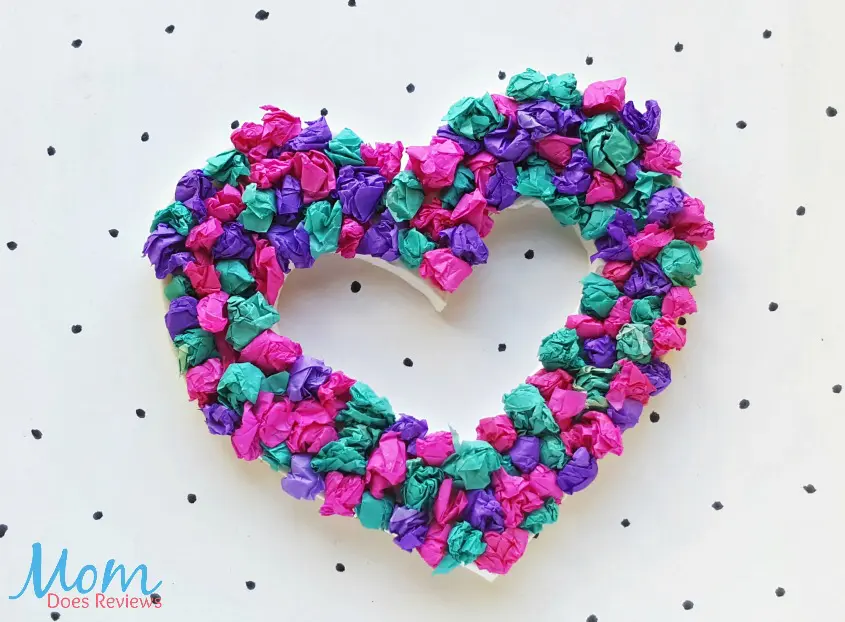 Credit: momdoesreviews.com
Speaking of adorable Valentine's Day craft ideas, this heart wreath is just too cute to miss out on. Hang it up on your front door, in the kitchen, wherever strikes your fancy!
You can buy heart-shaped wreath bases pre-made here. However, if you're after a specific shape or size, you can make a wreath base by cutting out some cardboard in your desired shape.
Curious about the world of Valentine's crafting? Dive a little deeper with these other Valentine's Day craft ideas.
27. Tissue Paper Fireworks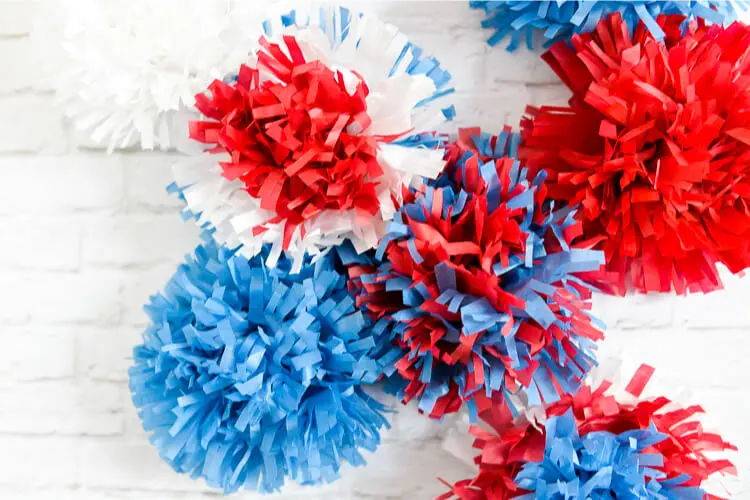 Credit: heyletsmakestuff.com
Remember those sparklers from earlier on this list? Well, there's another way to substitute tissue paper for fireworks, and I have a feeling you'll like this one too.
These tissue paper fireworks are perfect as wall decoration; you can even do them in the Fourth of July colors for the ultimate festive touch. Mount them with some command strips, and you're good to go.
28. Stained Glass Bookmarks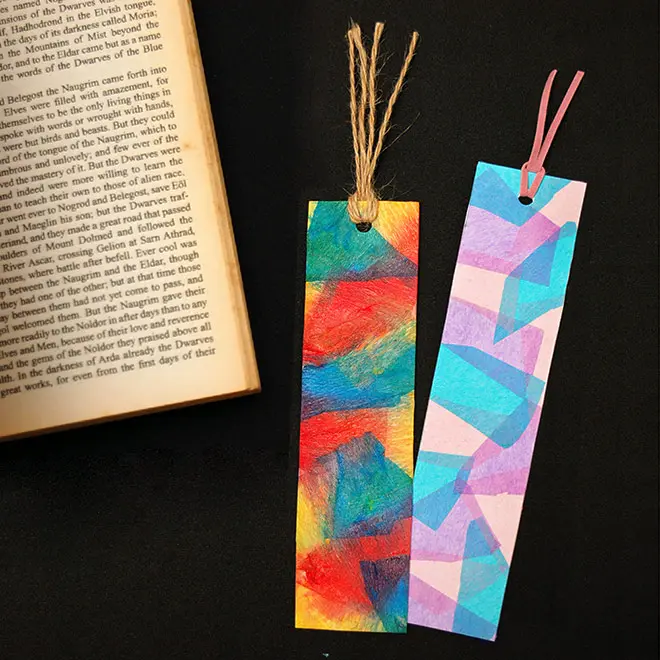 Credit: firstpalette.com
This one's perfect for all ages, and the result is truly stunning. All you need is your trusty tissue paper, some white cardstock, some yarn, and your chosen decoupage medium (e.g. Mod Podge).
Once this bookmark has thoroughly dried, I guarantee it will be adorning your books for a while to come. They're so simple, take no time at all to make, but the result is too pretty to let fall by the wayside.
29. Colored Popsicle Fine Motor Craft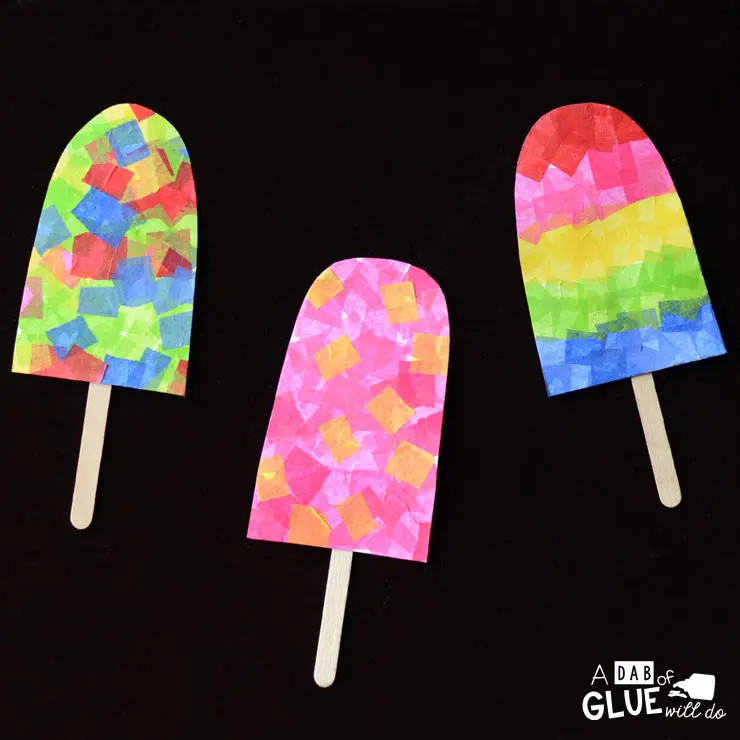 Credit: adabofgluewilldo.com
Here's a stunning summer craft to bring some color indoors! Set up the kids at an outside table with some tissue paper squares and construction paper because this might get messy.
Ask your kids what their favorite ice cream, then get them to recreate that flavor on paper! You can even attach magnets like these to the back and hang these on your freezer as a reminder.
Don't worry. You won't be left out of the crafting session. Try out any of these spring mason jar ideas to add your own decorative element to the spring or summer décor.
30. Easy Paper Plate Flamingos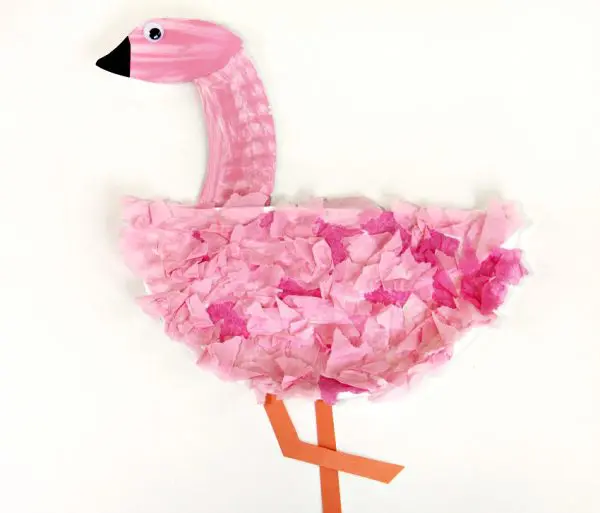 Credit: makeandtakes.com
I have many paper plate crafts on this website, and for a good reason! They're a versatile medium and so accessible. Bring those springtime lawn ornaments indoors with this flamingo paper plate craft.
I guarantee the kids will have a blast with this one. They're just too cute to pass up! I love how the ripped tissue paper looks like the flamingo's feathers. It's such innovative use of the material.
31. Tissue Paper Easter Eggs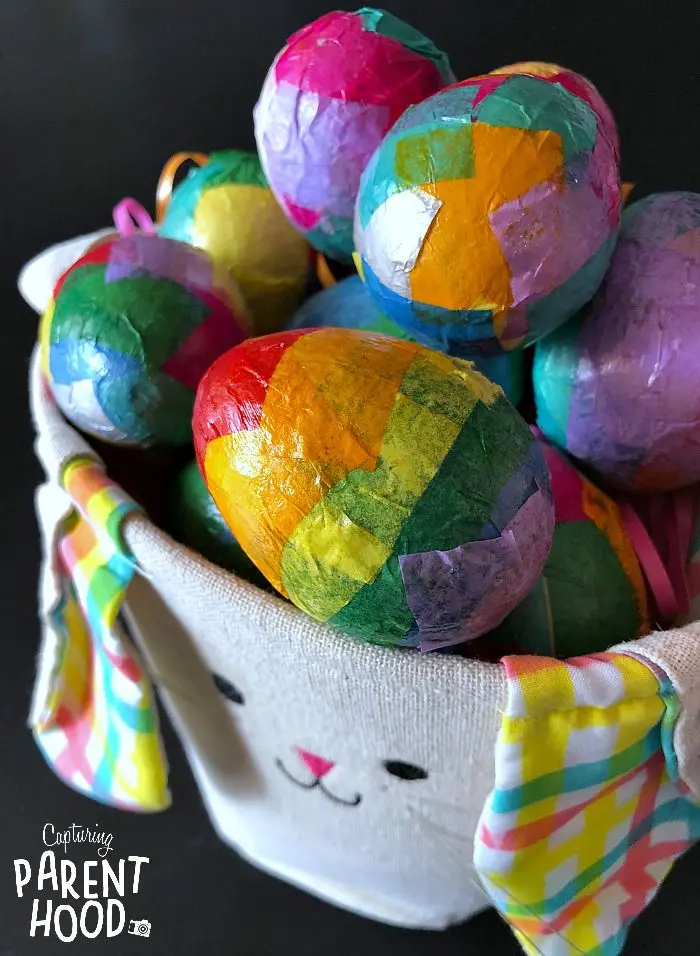 Credit: capturingparenthood.com
If you and your kids just don't prescribe to the regular chocolate Easter egg hunt (or you're concerned they'll fall victim to the weather), these are for you.
These tissue paper eggs would look gorgeous stacked in a basket on your end table or adorning your windowsill, or really, anywhere you care to put them. The kids will fall in love with them in no time!
Now, I know that your little ones won't be satisfied by just one Easter craft. The horror! Not to worry, there are plenty more awesome DIY projects for Easter weekend.
32. Tissue Paper Dinosaur Craft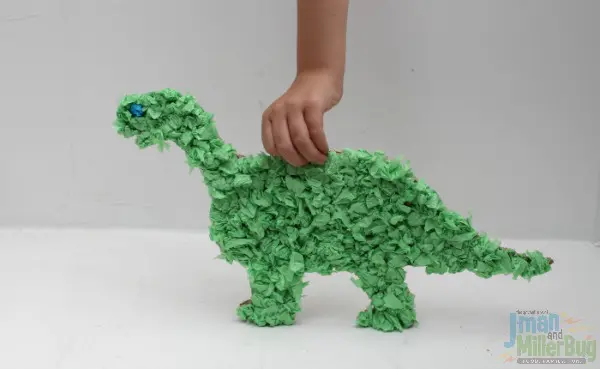 Credit: momunleashed.com
Your resident dinosaur-lover will get a massive kick out of this dinosaur craft. Hang it on their wall, prop it up on their desk, whatever they want! The great thing is this craft can work for any kind of dinosaur.
Ask your budding archaeologist which dinosaur is their favorite, then cut its silhouette out of an old cereal box and get to work.
Not only does this DIY keep your kid busy, but it also helps them get more in touch with their favorite topic of study. This encourages tactile education in a big way.
33. Crepe Paper Wisteria Ring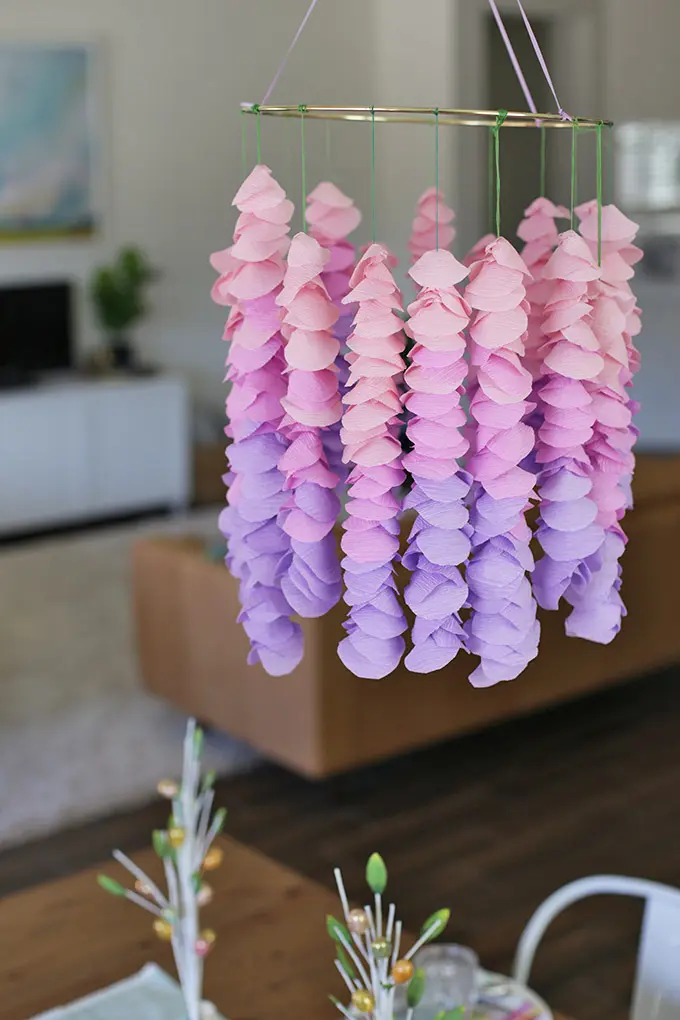 Credit: onelovelylife.com
Did somebody say stunning? This gorgeous take on fake wisteria has me rushing for my tissue paper stock, ready to begin crafting immediately. I love how delicate and ethereal this ring looks while hanging.
You'll need three sets of tissue paper, all in the same color family, but each one a different shade (light, medium, and dark). Then, you'll need some embroidery thread and a gold macrame hoop (here).
Take your time with this one. Ultimately, it's patience that will deliver these delicate blossoms to you. In fact, this craft is so repetitive it would suit an afternoon marathon of your favorite show.
34. Tissue Paper Christmas Tree Ornament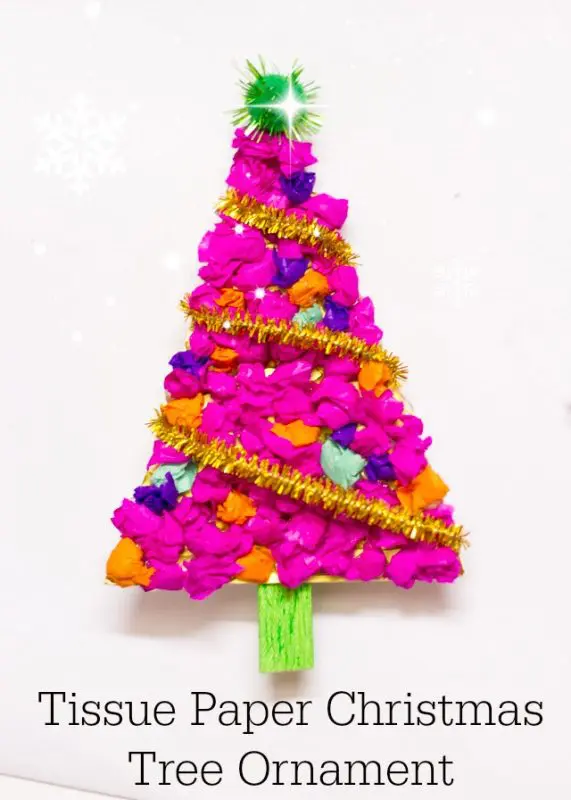 Credit: makeandtakes.com
Next up, a festive craft to set your sleigh bells ringing! This ornament would work well hanging from your tree, or you could make a large one mount on your wall as a tree replacement. Get creative!
The colors you use will change the vibe of this ornament. For example, white and gold tissue paper will give you a refined result, whereas the full rainbow will create something bright and cheerful.
If you need some other Christmas ornaments to accompany this one, might I offer a few suggestions here?
35. Striped Pillar Candle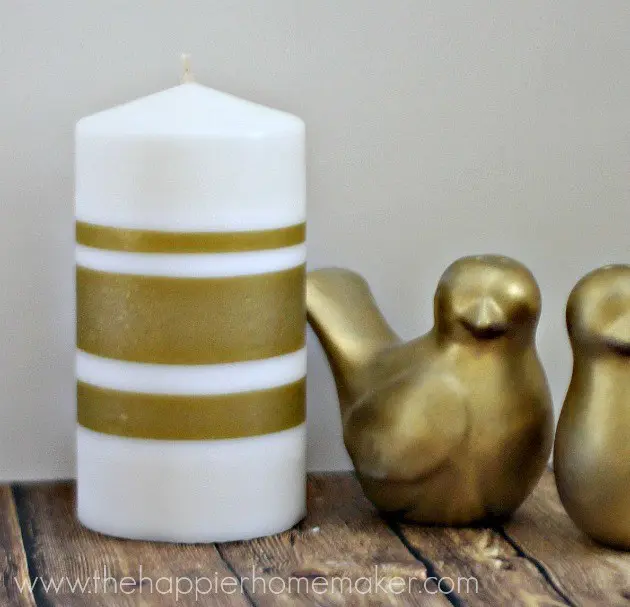 Credit: prettyhandygirl.com
Next on our list is something many people haven't even considered for tissue paper: embedding it into a candle. Turn a plain pillar candle into something out of Bed, Bath & Beyond with ease.
An essential item for this project is a heat gun, which you can find here. Don't worry. There are myriad uses for this tool out there, so it won't be a wasted one-off purchase.
For example, you can branch out into working with resin, sculpt with wax, or use it to shrink-wrap things safely.
36. Monster Suncatchers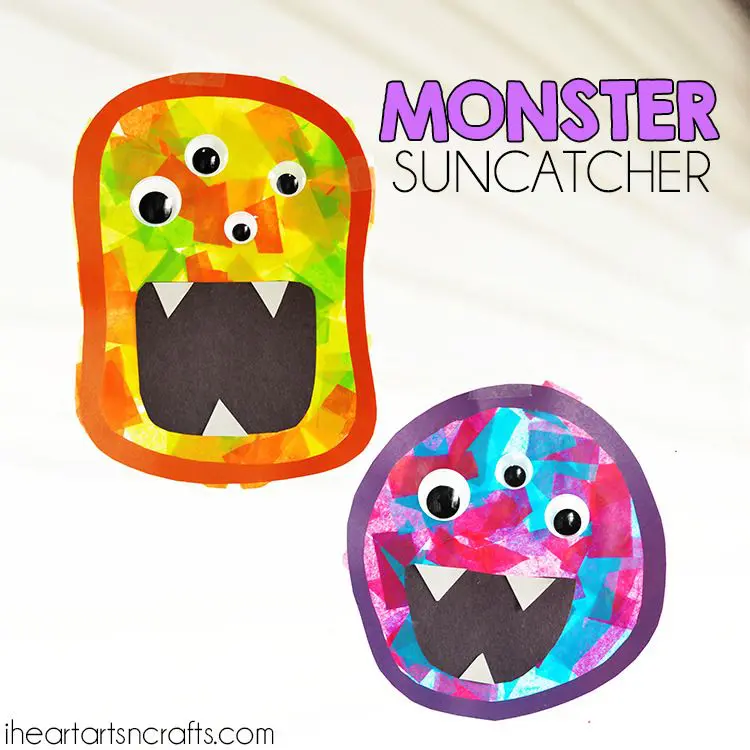 Credit: iheartartsncrafts.com
I know most of us balk at the idea of monsters looking in at us through our windows, but these ones are just so cute! These are the perfect DIY for your child's first Halloween. Cute, easy, and cheap!
This suncatcher method cleverly uses contact paper as the adhesive, holding your tissue paper squares in place. Make sure you grab some clear contact paper like this to make the craftwork.
Remember, monsters are only in our imagination, so let your little ones run wild here! Make monsters of all shapes and sizes to protect your home on Halloween night.
To help them enjoy the spooky season even more, take your kids through any of these adorable Halloween crafts, made for all ages!
37. Tissue Paper Christmas Trees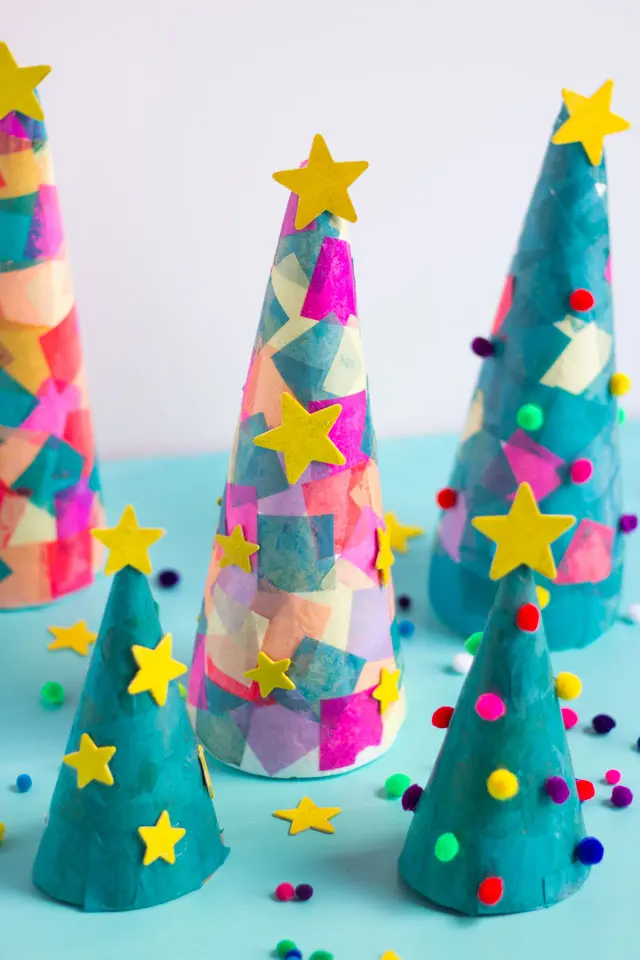 Credit: designimprovised.com
Our last craft on the list rightfully celebrates the final holiday of the year: Christmas. These tissue paper Christmas trees bring a whole new meaning to the word 'festive', and I'm in love with them.
Once you've got your foam cones (which you can find here), the only thing left to do is adorn the trees with tissue paper. Cover the whole thing in Mod Podge once you're done.
You can take the craft even further, using sequins, rhinestones, and even tiny fake Christmas ornaments to make these trees unique.
So, have any of the crafts on this list gotten your creative juices flowing? I know mine has! Comment below and let me know which excellent project you're going to try first.