Halloween is a fun celebration. Get crafty with the kids and create some Halloween projects!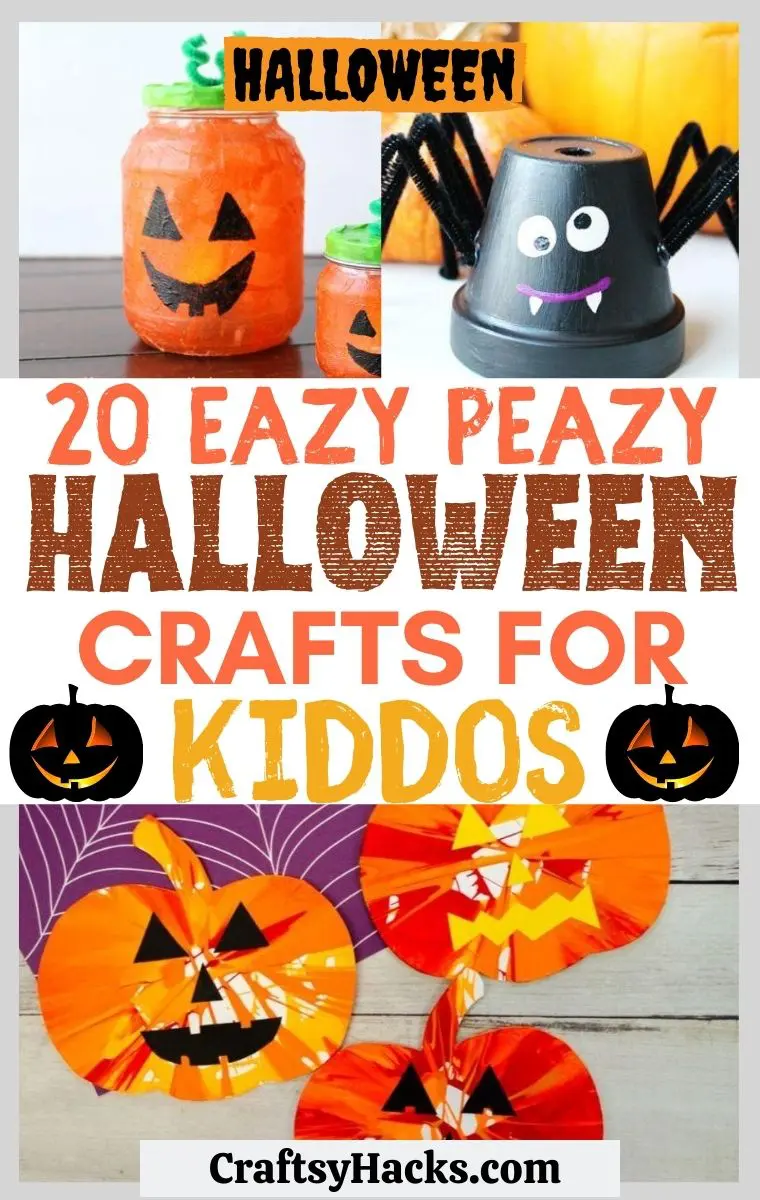 There are two things kids absolutely love about Halloween: trick or treating and looking at the neighborhood Halloween décor. Add a third by teaching them some or all of these kid-friendly Halloween crafts.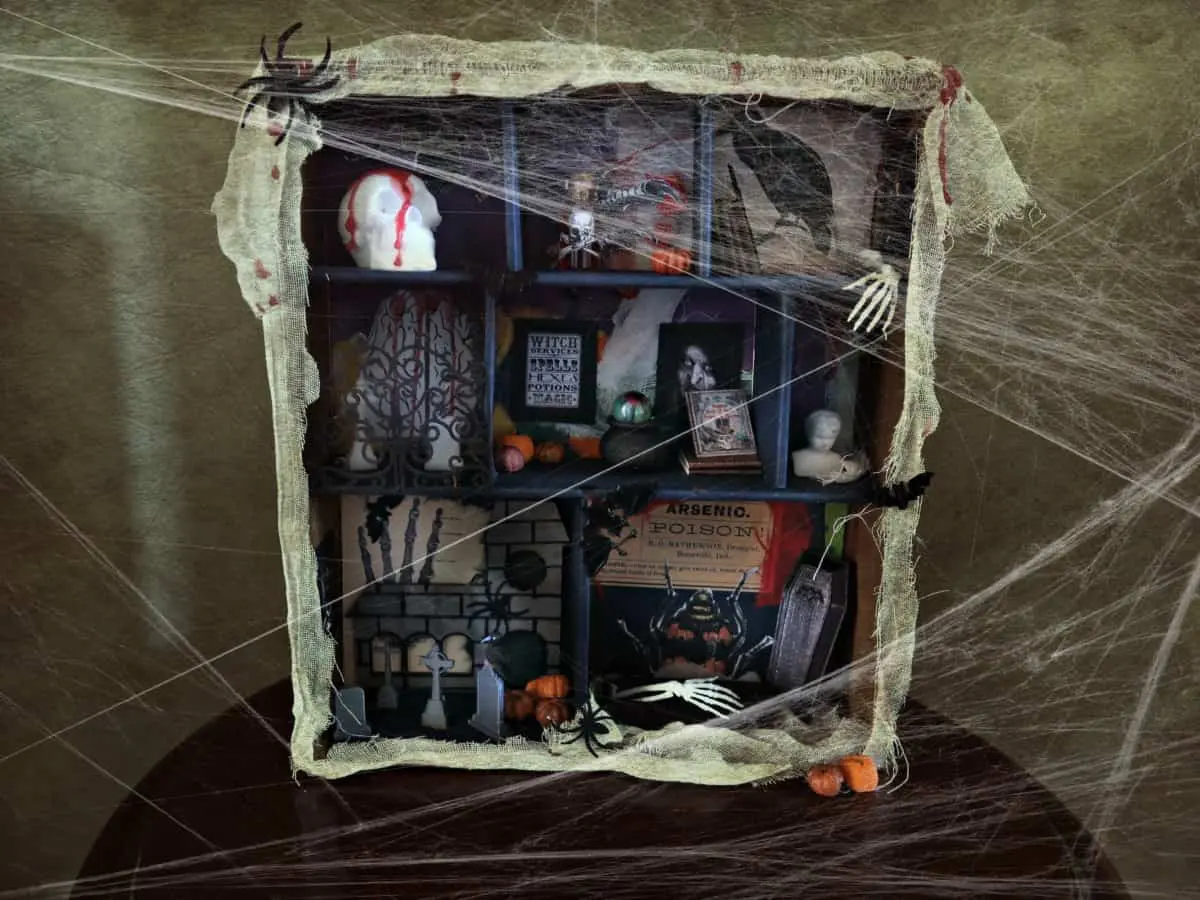 Credit: craftinvaders.co.uk
Shadow boxes are excellent craft projects to encourage your young one's imagination. Use an old wooden box or shoebox for the shadow box frame, and old magazines or cloth for the box wall.
You can then help them create miniature Halloween ornaments, or purchase them premade and in bulk here. Allow them to use the ornaments to decorate the box as they please.
To ensure that their ornaments stick to their box, get them to glue dots similar to these. Once completed, display this shadow box by the living room to showcase your child's creative talent.
This is a great Halloween craft to make with adults.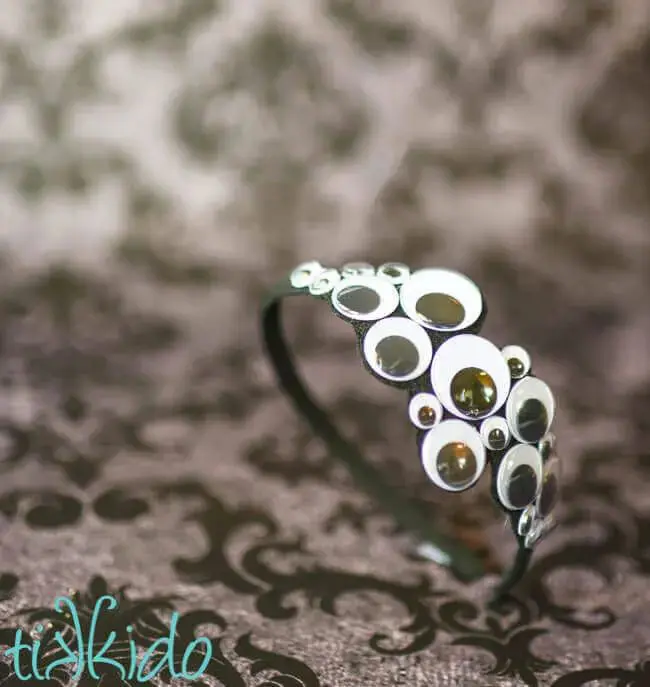 Credit: tikkido.com
Teach your little girl this googly eye hair accessory for use during their school's Halloween party. If their school doesn't do Halloween, that's okay as these can still be used for trick or treating. This will go well with any outfit.
Because this craft project involves simply sticking things together, even young school-aged kids can do it. They will need a plain headband for the base, felt, and assorted googly eyes like these.
Here are more crafts for kids and teenagers!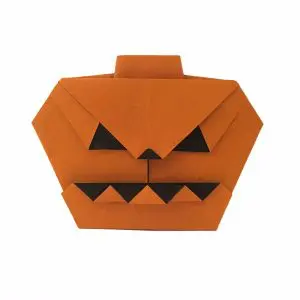 Credit: origamiexpressions.com
As a child who was introduced to origami, I believe all kids should be taught this art. This Jack-O-Lantern origami craft is suitable for beginners. So, it would be a fun first origami project for the kids.
These paper-based Jack-O-Lanterns would make great wall decors, and they can even be used as gift tags for Halloween gifts. If you haven't done this type of origami before, here's a video link showing how it's made.
Check out more paper crafts here, and specifically ones for Halloween here.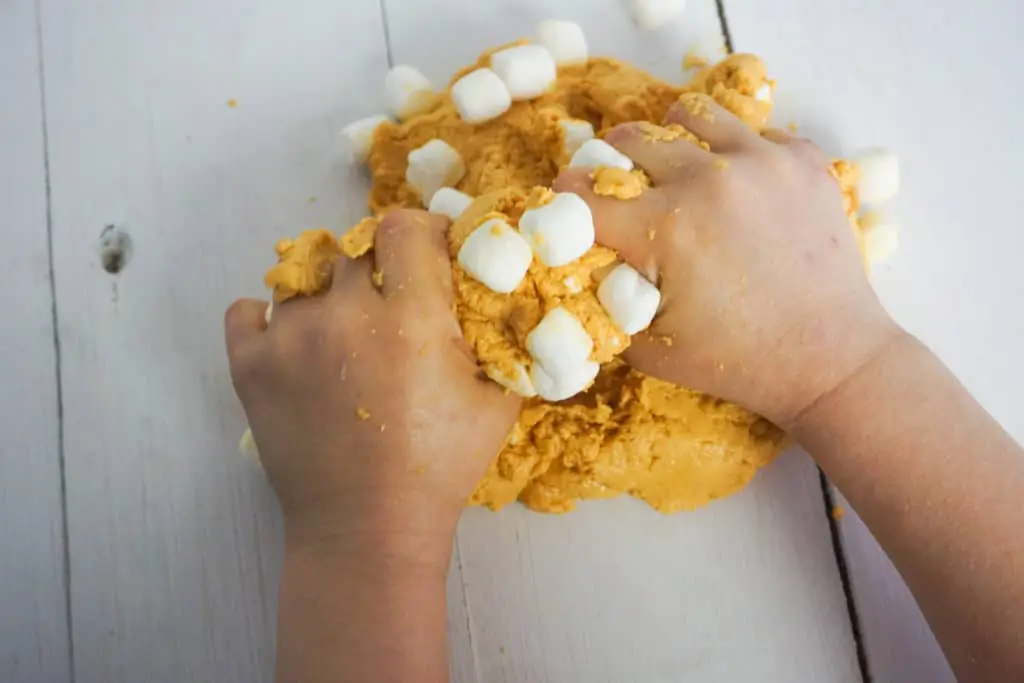 Credit: dadlifelessons.com
If you don't know it already, slime has been a breakthrough hit among kids over recent years. It's like the moist and stickier version of playdough.
Teach your kids how to make this pumpkin-pie-inspired slime, and they will surely spend hours on end playing with it. This craft suits older school-aged kids better, but the younger kids can definitely play with them once made.
Because this is a messy project, you probably should let them do it in an easy to clean space. Kitchen countertop or on top of a clean table outdoors work.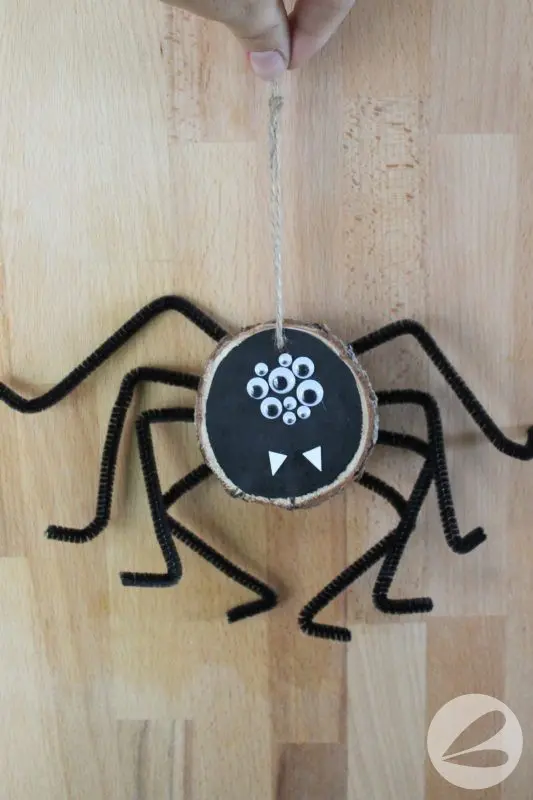 Credit: homemadeheather.com
Other than just playing with these spiders for fun, the kids can also hang them on your front yard shrubs, on their school bags, give as presents for their friends, or leave them to you to give out as treats for Halloween night.
Use any rounded object for the base, such as wood or cardboard. And hook this onto a string.
The key to making the spider appear like they're dancing is to use these black chenille stems for the spider legs.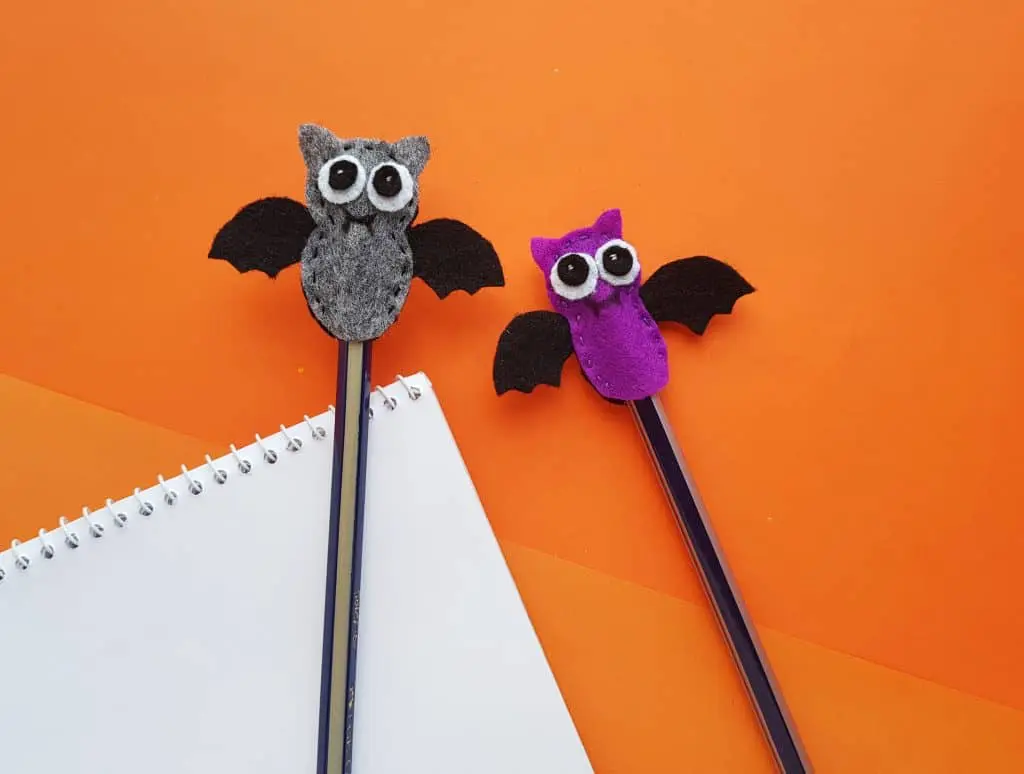 Credit: easyfeltcrafts.com
Encourage your children to study and do their homework by creating these super cute mini bat pencil toppers with them. The younger kids can help draw the bats and pick the colors, and the older ones can help with the cutting.
It's probably best you do the sewing. If you have teenagers at home, this is a good chance to teach them the skill and involve them in the family's Halloween craft bonding.
Check out more crafts for teens here. You will need assorted colors of felt for this project, and this can be bought in bulk packs here.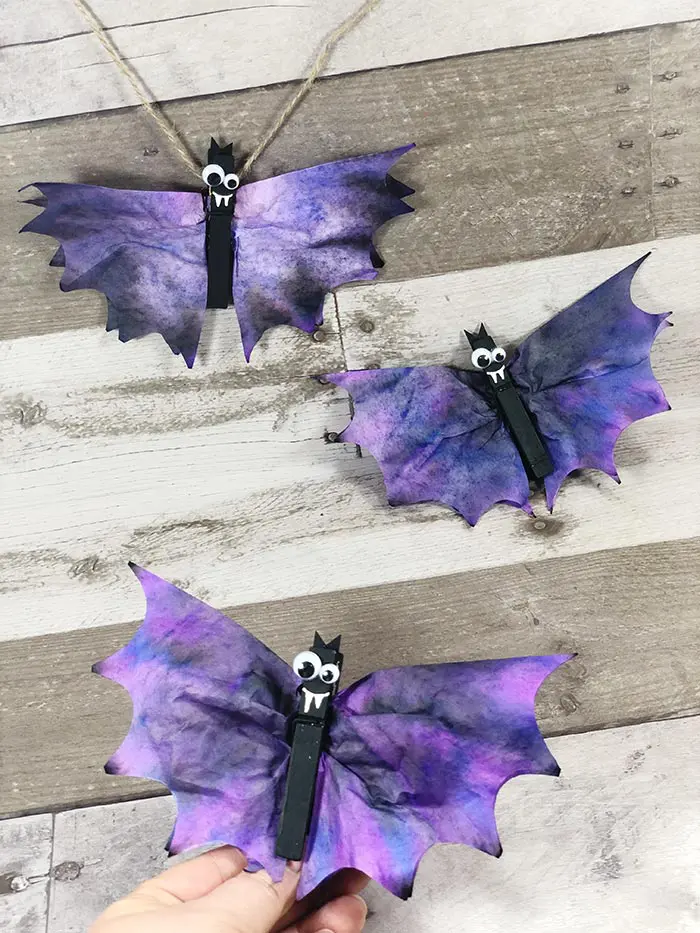 Credit: darcyandbrian.com
Allow your kids to create many of these bats and help them hang them out the front porch to create the illusion of bats flying around your home.
They will need coffee filters, flat clothes, pegs, yarn, googly eyes, and craft paint and brushes available as a set here.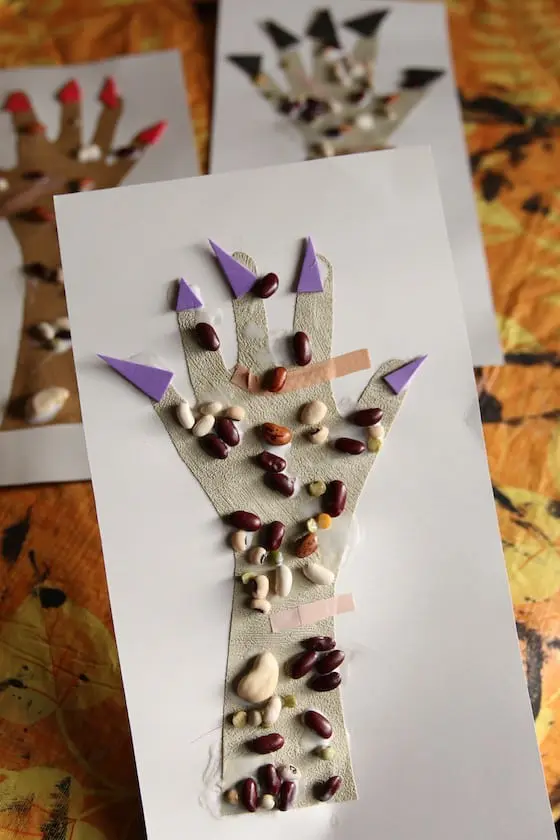 Credit: happyhooligans.ca
If you're looking for a Halloween craft suitable for toddlers or preschoolers, this is probably your best option. It involves minimal to no cutting.
You can cut the hand silhouette yourself. It is also primarily gluing (you can also spread the glue beforehand).
It uses materials that are most likely already at home, such as paper, glue, and various nuts and beans. It's an excellent way of encouraging your young ones' creativity and helping them further develop their fine motor skills.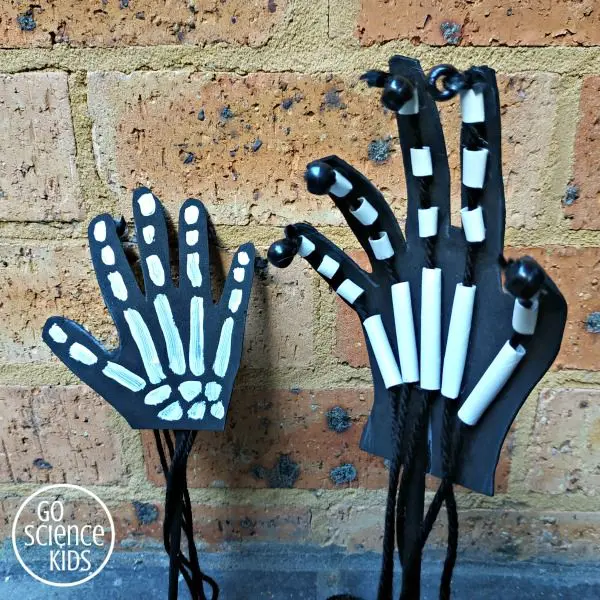 Credit: gosciencekids.com
Any type of Halloween craft that closely mimics the real thing is a sure hit with kids. Take this flexible and movable skeleton hand, for example.
Your kids will surely love using this to give trick or treaters a fright.
This is a craft that involves a lot of cutting and the use of blunt sewing needles, so it is best for your older school-aged ones.
They will need black craft foam like this for the base, black yarn, these black pony beads, white paper straws, black and white craft paint, and your usual cutting, gluing, and painting tools.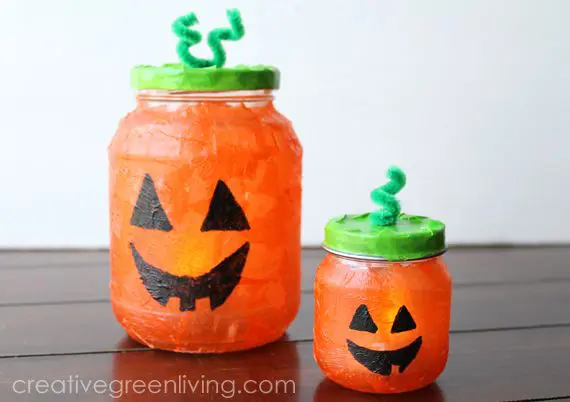 Credit: creativegreenliving.com
This pumpkin jar craft is a great project to teach your kids the value of recycling while encouraging their creativity.
You will need clean old glass jars, mod podge, orange, and green napkins to mimic the pumpkin colors. Also, chenille pipes for the pumpkin stem and a foam brush.
To light up the pumpkins, use battery-powered tealights like the ones found here. It is important not to use the real tea lights as this can be a great fire risk.
Bu,t it's also equally important to ensure that you choose lights with childproof battery compartments.
This is truly an awesome Halloween decoration idea.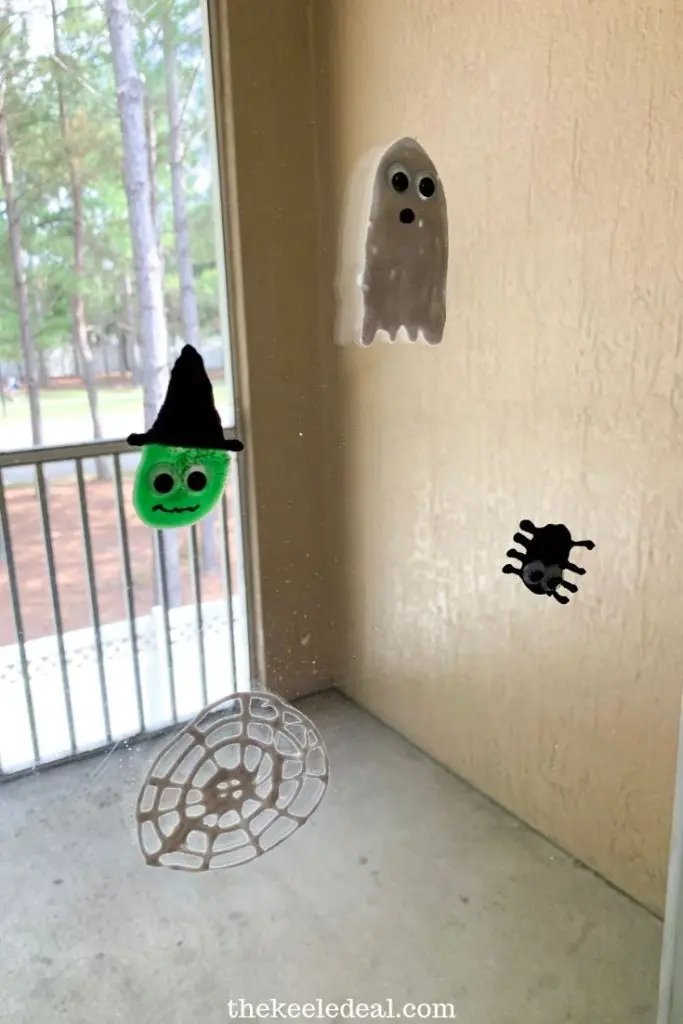 Credit: thekeeledeal.com
Teach your kids the basics of creating these window clings and watch them use your windows as their canvas. You will need assorted colors of puff paint like these for the base material, and some googly eyes and glitter for added details.
The best thing about these window clings are they're easy to make and just as easy to take off. This means the kids can create different decors for each season.
In parenting lingo, that translates to a few hours of weekend free time for you while they are busy creating these.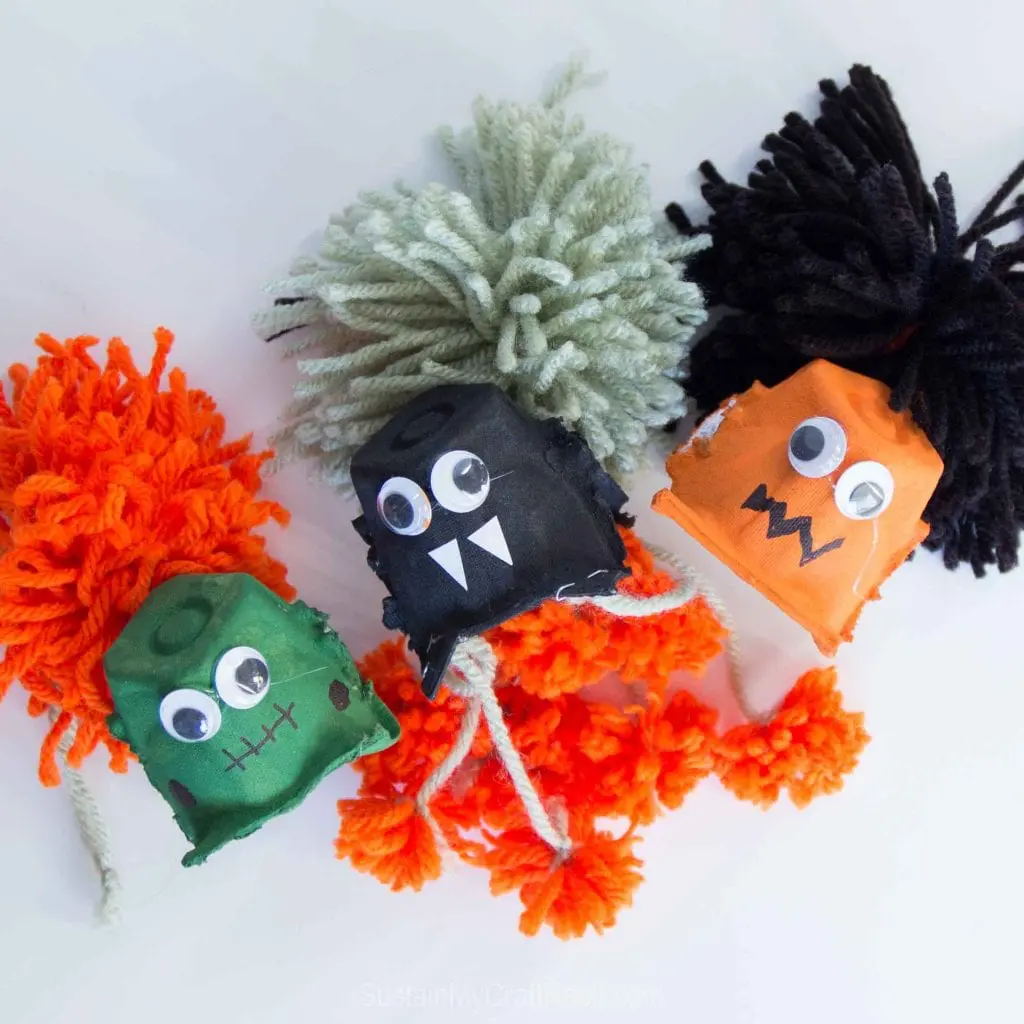 Credit: sustainmycrafthabit.com
Hang these Halloween-themed and pom-pom-inspired garlands around the home during the Halloween season. The kids can also make a few to give out to their friends.
This craft will involve using a glue gun, so you may need to assist younger kids and supervise the slightly older ones.
Besides the glue gun, they will need an egg carton, different colored yarns available as a pack here, googly eyes, and markers.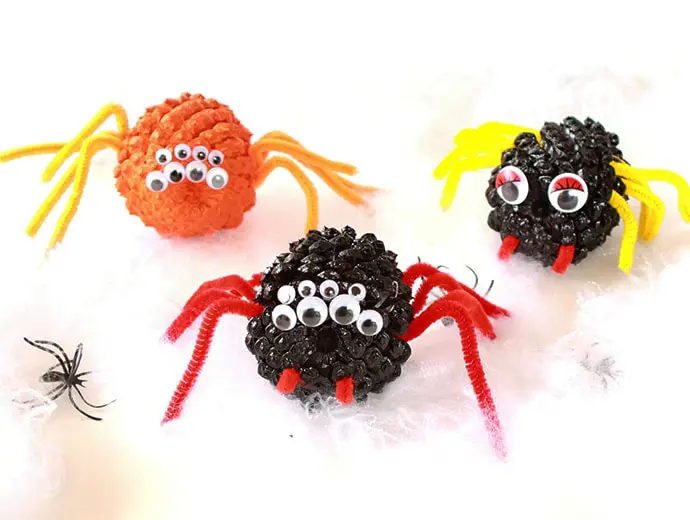 Credit: mypoppet.com.au
This craft is a great way of teaching the kids the value of resourcefulness by using pine cones for the spider's base. They will also need googly eyes and a few pieces of chenille stems.
Make collecting the pine cones an outdoor bonding activity by grabbing the entire family for a walk along the nearby park.
Once these creepy spiders are done, scatter them along the front porch and in random places inside the home. Then, sit patiently watching out for the reactions of people who get startled by them.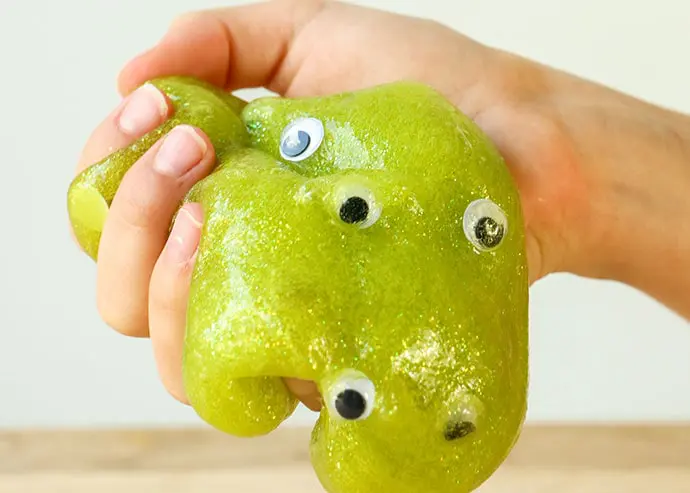 Credit: mypoppet.com.au
Remember earlier when I said slime is a big hit for kids? Here's another slime craft for the kids to enjoy making and spend hours playing with.
The difference is that this one uses non-edible ingredients. So, it is best left as a craft project and toy for kids older than 3 years of age.
The kids will need green-colored glue and magical liquid to create this slime. You can also buy pre-packed slime making kits like the ones found here.
If you haven't played with slime before, try creating this with them. You will be surprised to find they can actually be therapeutic to play with.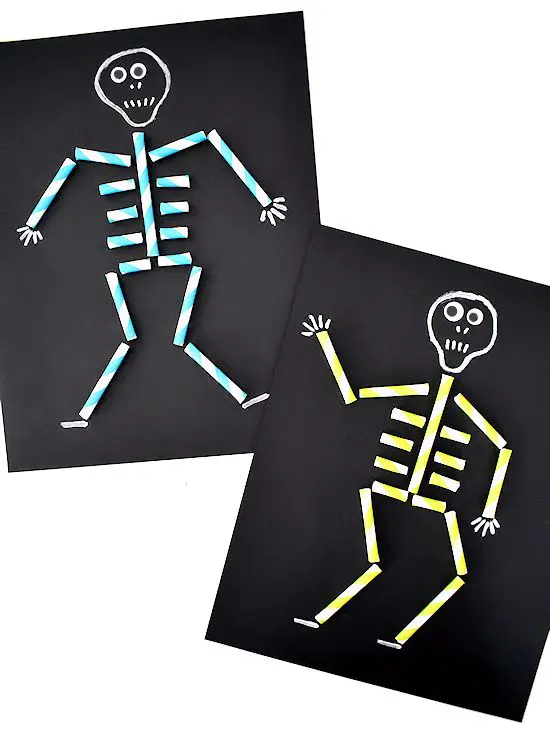 Credit: ourkidthings.com
This paper straw craft is great for a chill type of weekend. You know, the ones where you want the kids to be creative and have fun but don't really want to clean up after a huge mess after?
It's super easy to create and is suitable for kids of all ages. Precut the paper straws to eliminate the need for the kids handling scissors.
Other than the paper straws, they will need some glue sticks, white markers available here, and black cardstock.
Once they're done, stick them on the fridge for an instant Halloween décor to your kitchen space.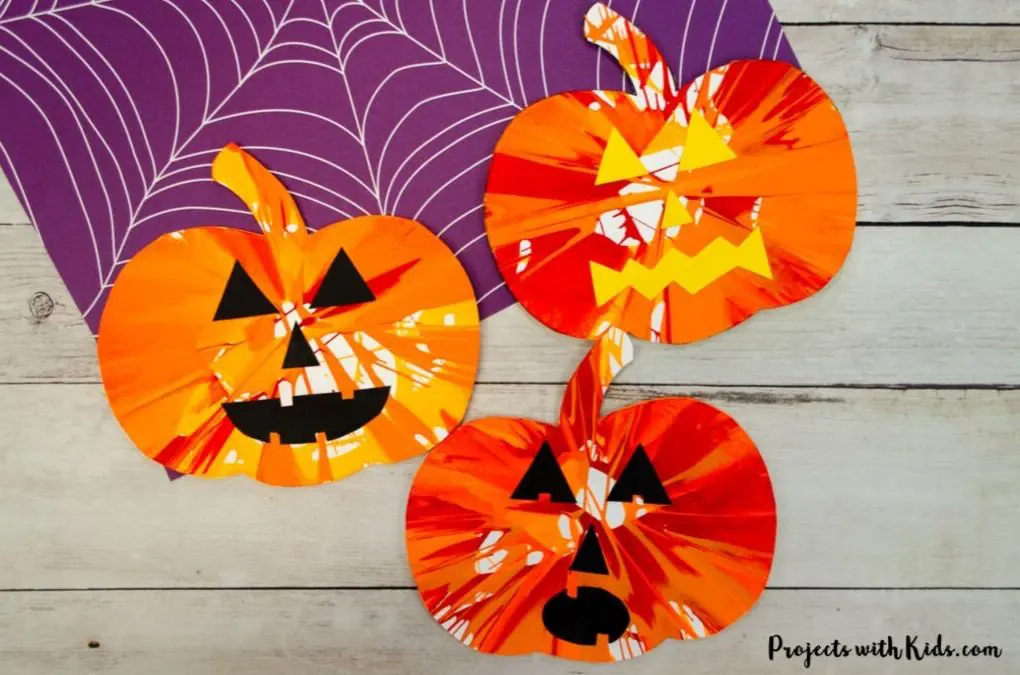 Credit: projectswithkids.com
This craft reminds me of tie-dyeing. But, this time on paper.
A few of these pumpkin spin painted pieces will make a great window or wall decors. Or even as Halloween cards that the kids can give to their friends and extended family members.
Here's a link to the detailed instructions on how to recreate this Halloween spin painting artwork.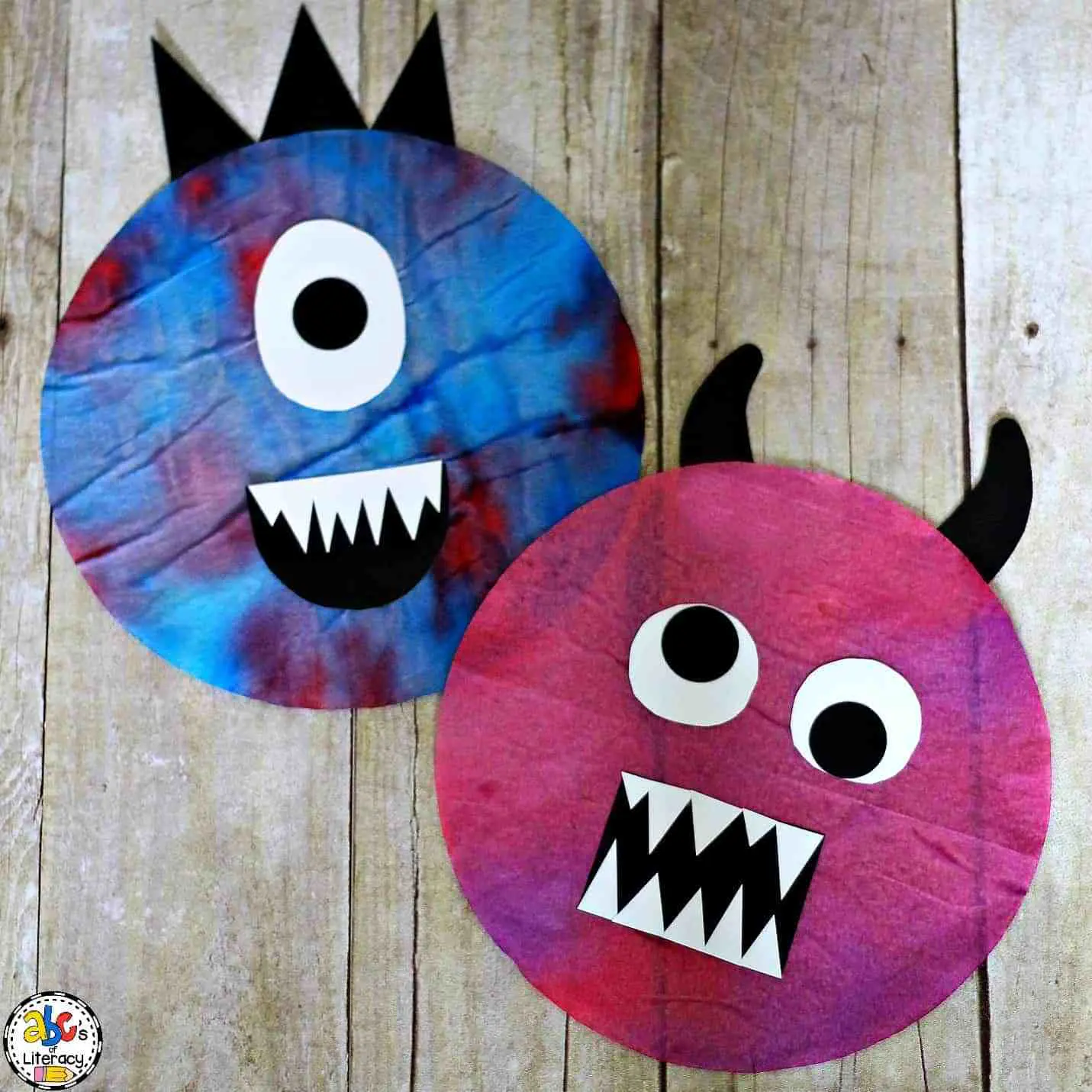 Credit: abcsofliteracy.com
Earlier on this list, I showed you bats made out of coffee filters. This time, its monsters are made of coffee filters.
It just goes to show that coffee filters are versatile crafting materials. If you don't use filtered coffee at home, you can still recreate the same using paper plates if you have any, or any paper cut into circles.
Use them as wall, door, or window decors or stick them on the fridge or the rest of the home appliances to bring Halloween's spirit inside the home.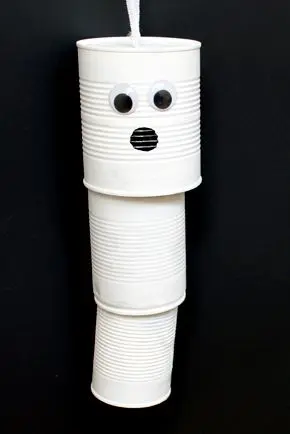 Credit: creativegreenliving.com
This is the perfect craft that the entire family can play a part in doing. This activity will involve hammering nails, using strong-hold adhesives, and using paint.
So, parents definitely need to do and supervise some of these steps. You will need clean tin cans without any signs of rust (for everyone's health and safety).
Then, get paint, googly eyes, this heavy-duty adhesive, and string. Hang these outsides and listen to the ghosts "sing or whisper" whenever the wind blows!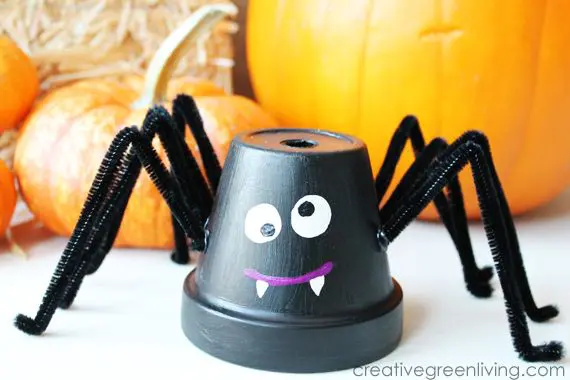 Credit: creativegreenliving.com
Not all crafts are scary. Some of them are actually super cute, like these humongous yet spider made of old flower pots, chenille stems, and some paint.
Line a few of these up in your driveway to entertain the trick or treaters. Or get entertained with the different reactions they have when they see these creepy crawlers scattered around the yard.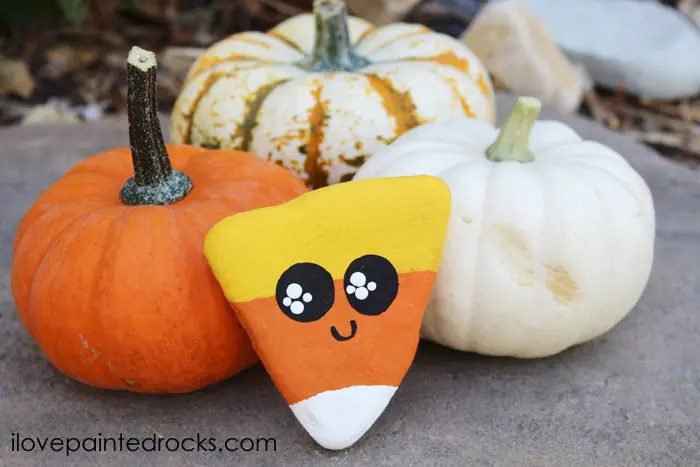 Credit: ilovepaintedrocks.com
If you're wanting to teach the value of not having to buy everything, of creativity, and of resourcefulness to your children, this is the perfect craft project that will hit all those three stones at the same time.
The only thing to buy if you don't' have them already is acrylic paint and brushes, like this set here. Other than that, it's just a matter of you and the kids going to a nearby beach or river to collect rocks that can be used as their Halloween décor base.
Lay their finished products alongside your other outdoor decors. Or if you're making a lot of these rocks, you can also use them to create a mini-pathway to lead your trick or treaters to the door!
Conclusion
Did you go through this list with the kids? Do they have any particular favorites? Feel free to share your thoughts in the comments below.