Paper is a cheap material you can get creative with. Check out these paper crafts for Halloween!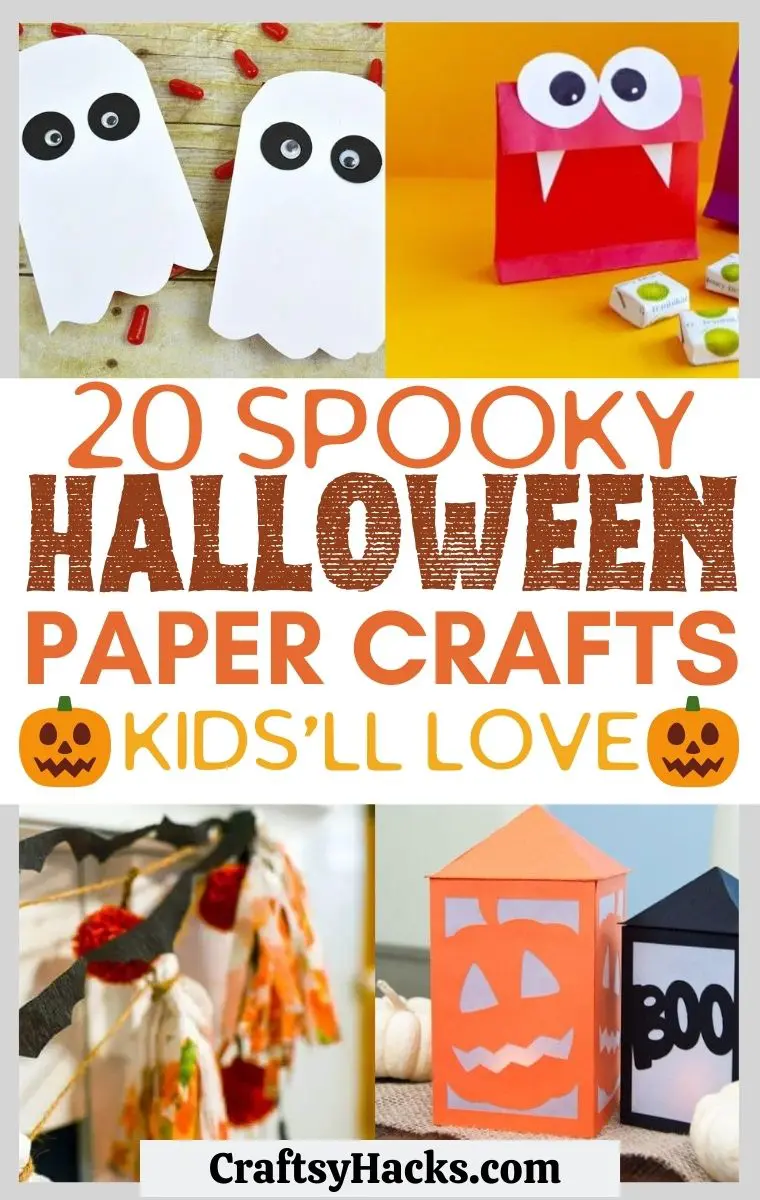 Paper crafts are tried-and-tested fail-proof projects for adults and kids of all ages. Halloween, on the other hand, is super fun and versatile celebration.
Combine these two on the weekend, and you have a fun-filled family bonding activity.
Here's a few Halloween paper crafting ideas to get you started.
1. Hanging Paper Bats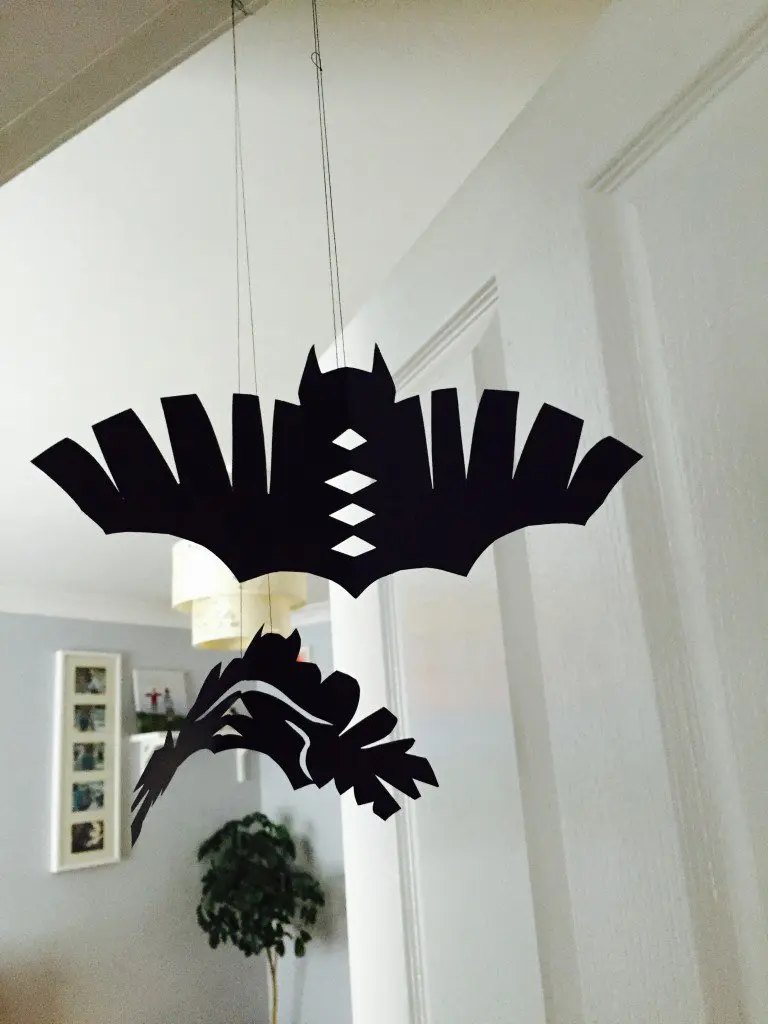 Credit: daisiesandpie.co.uk
Where's the fun in Halloween without a few bats hanging around the house? Unless you're also nocturnal like bats, I probably won't recommend inviting real bats to your home.
Instead, create paper bats using a few materials that are surely readily available at home: a scissor, black thread, and black paper. Let these bats give visitors a funny fright by hanging them by the front door.
This is a lovely Halloween craft for kids!
2. Jack Skellington-Inspired Door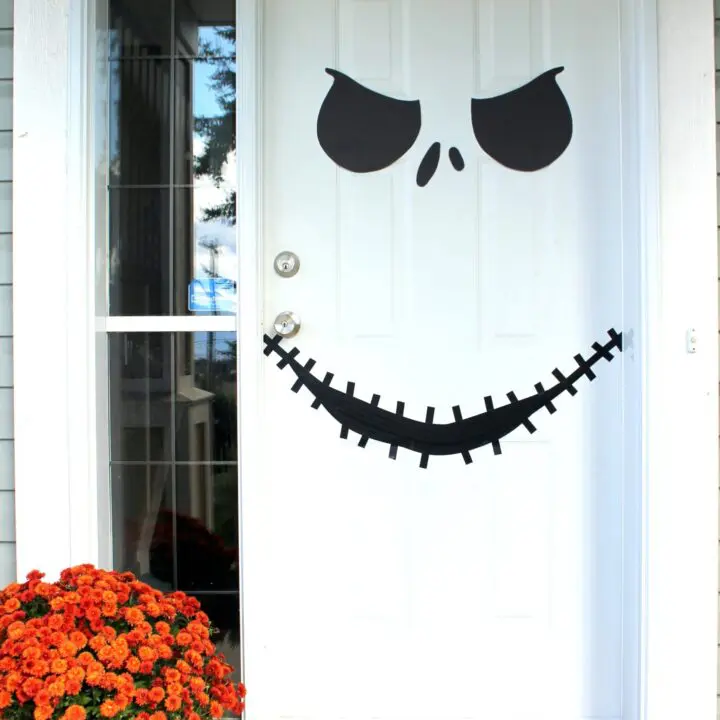 Credit: homemadeheather.com
Give your door a bit of character: Jack Skellington style, using removable black self-adhesive sheets like these. Do this on your front door to give visitors a spooky welcome, or create a couple and stick them on the garage door.
If you've watched The Nightmare Before Christmas, you'll know who I'm talking about. If you haven't, it's a nice animated movie to watch with the family.
Use this for decorating the outdoors for Halloween!
3. Halloween Accordion Decor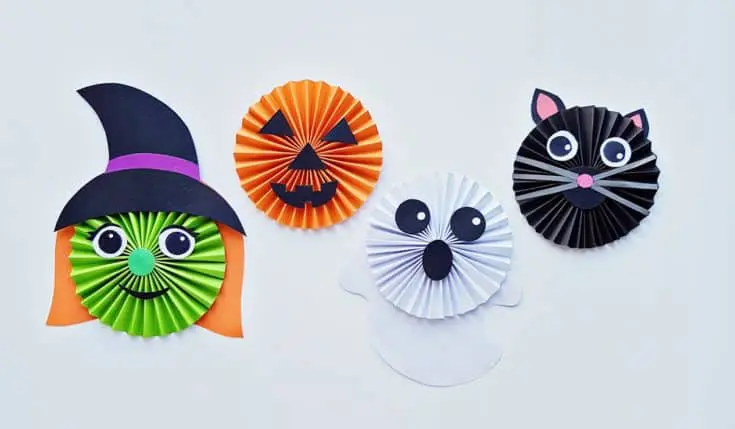 Credit: hellowonderful.co
Adding dimension and life to plain cardstock is easily achieved by folding them into accordion-like patterns. Just look at how these Halloween characters pop out from the wall (imagine them flat, and you will see what I mean).
These are great for decorating nurseries, playrooms, or classrooms if you are a carer or a teacher. You can also stick them on your front porch windows as cute decors for your neighbors to admire.
4. Halloween-Themed Ugly Sweaters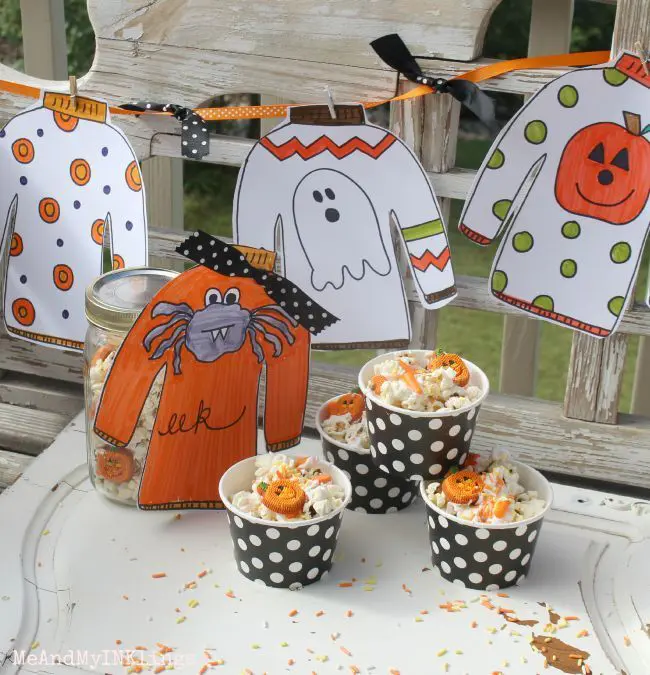 Credit: meandmyinklings.com
Ugly sweaters are popular Christmas garments, but that doesn't mean the principle can't be applied to Halloween. But because we don't really take Halloween family photos like we do Christmas, create ugly paper sweaters instead and for use as garlands or tabletop décor.
Use colored pens or crayons to decorate your sweaters. Make your sweaters appealing to the eyes and the nose by using scented markers, like the ones found here.
Check out more paper crafts like this here.
5. Mess-Free Jack-O-Lantern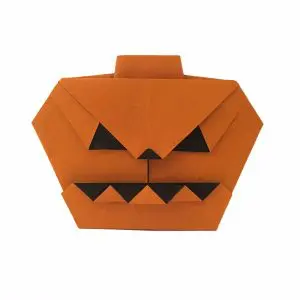 Credit: origamiexpressions.com
Jack-O-Lanterns are staples in Halloween décor. The thing is, creating one out of real pumpkins can be time-consuming, not to mention messy.
If you don't have the time to carve a pumpkin or clean up after, this paper Jack-O-Lantern may appeal to you.
These paper pumpkins are great for decorating the walls or as gift tags for Halloween treats. If you plan on making many, you probably want to buy precut orange origami paper like this.
6. Crepe Paper Bat Banners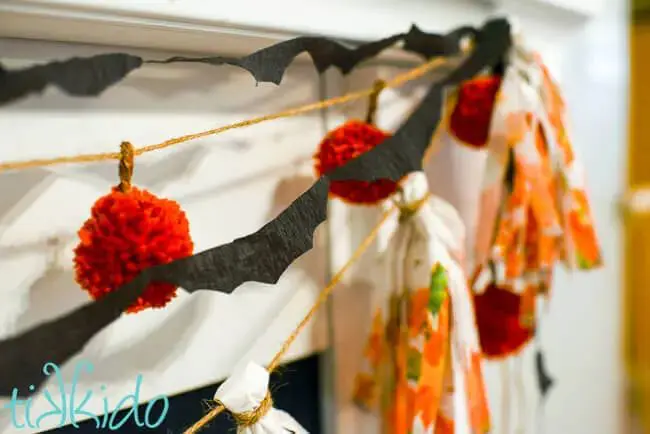 Credit: tikkido.com
An alternative to hanging paper bats is the use of crepe paper banners. The crepe paper's flowy nature creates a great illusion of your bats "flying" wherever you put them.
These banners will look great atop a fireplace, as decors for an outdoor Halloween party, or hung by the front fence. The trick is to get wide crepe paper like the ones found here. So, you have enough space to create a bat figure.
This is a lovely craft to make with your teens.
7. Halloween Monster Quills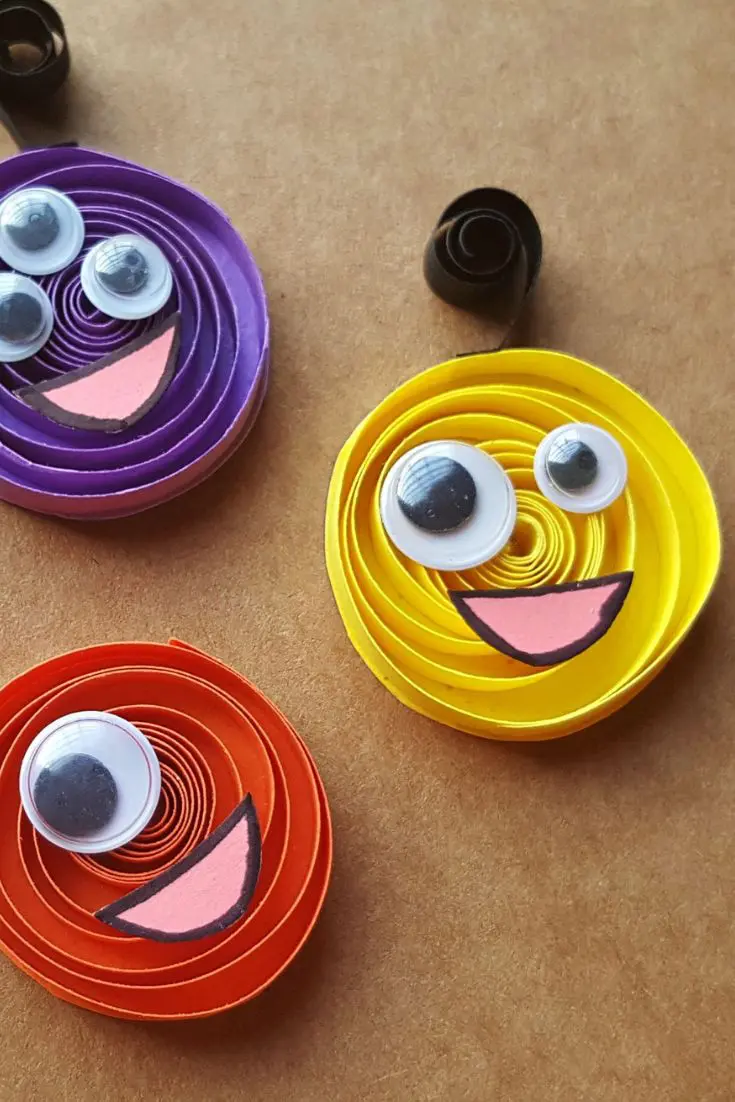 Credit: jayssweetnsourlife.com
If you or your child haven't done paper quill, these monster-inspired paper quills are a great beginner's project. It's super easy, and all you need are strips of paper quill available here.
Also, use these various-sized googly eyes to animate your paper monsters. Make large ones for use as tabletop decors or create mini ones to give kids for trick or treat.
8. Monster Paper Bags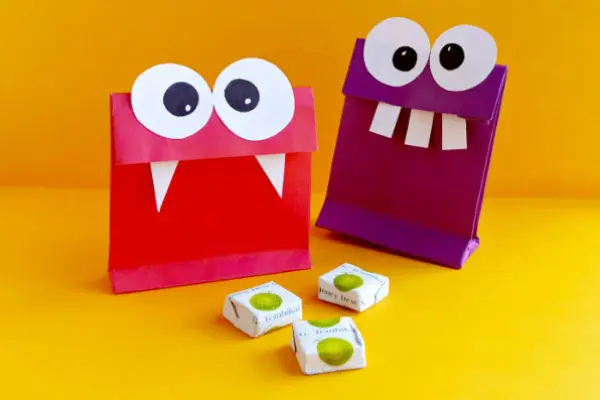 Credit: shesaved.com
The neighborhood kids will surely remember your house if your treats are enclosed in monster paper bags like these! Plus, your kids will definitely have fun making them with you, and they can even use it as lunch bags on Halloween week.
There are two ways of doing these bags. Start from scratch and use colored paper to create the bags or buy premade colored paper bags like these. Then, add the monster details, such as the eyes and fangs.
9. Mummy Chocolate Wrappers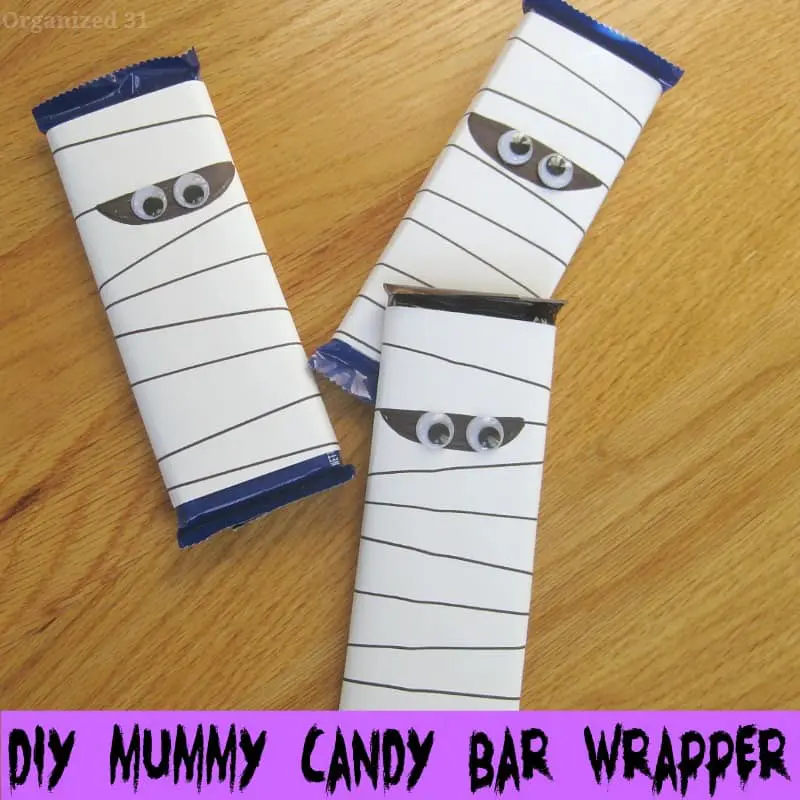 Credit: organized31.com
Here's another trick or treat idea that will be a sure hit with the neighborhood kids (and your own kids)! It's fun and super easy to make.
You will need chocolate or candy bars, white card stock paper, a permanent marker, googly eyes, and tape. I prefer using a double-sided tape like this.
It already comes in a dispenser, making my craft projects hassle-free!
10. Ghost Covered Candies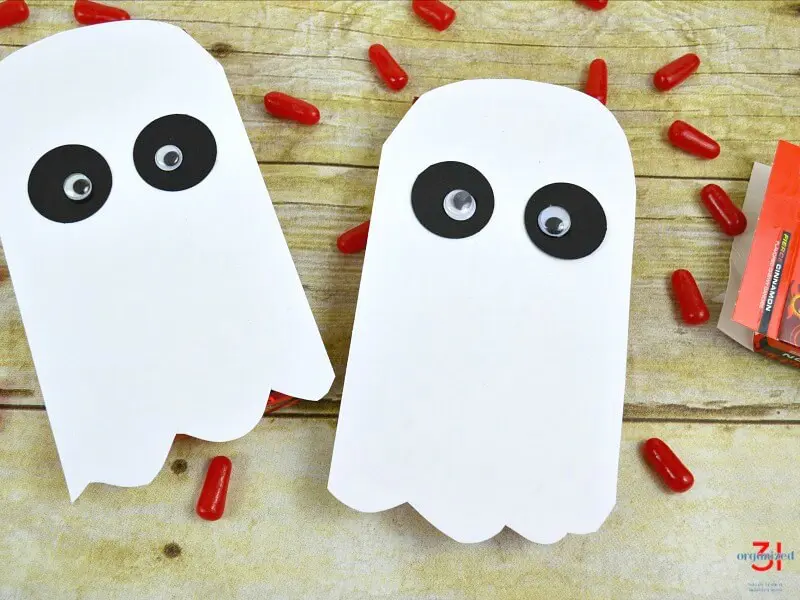 Credit: organized31.com
Mix up your DIY candy wrappers and add ghost covered candies to your mummified chocolate bars. You will be using the same materials anyway, so you might as well do this too!
If you're like me and prefer your ghost eyes to be perfect circles. Check out these circle punches that come as a pack of four different sizes.
11. DIY Frankenstein Packaging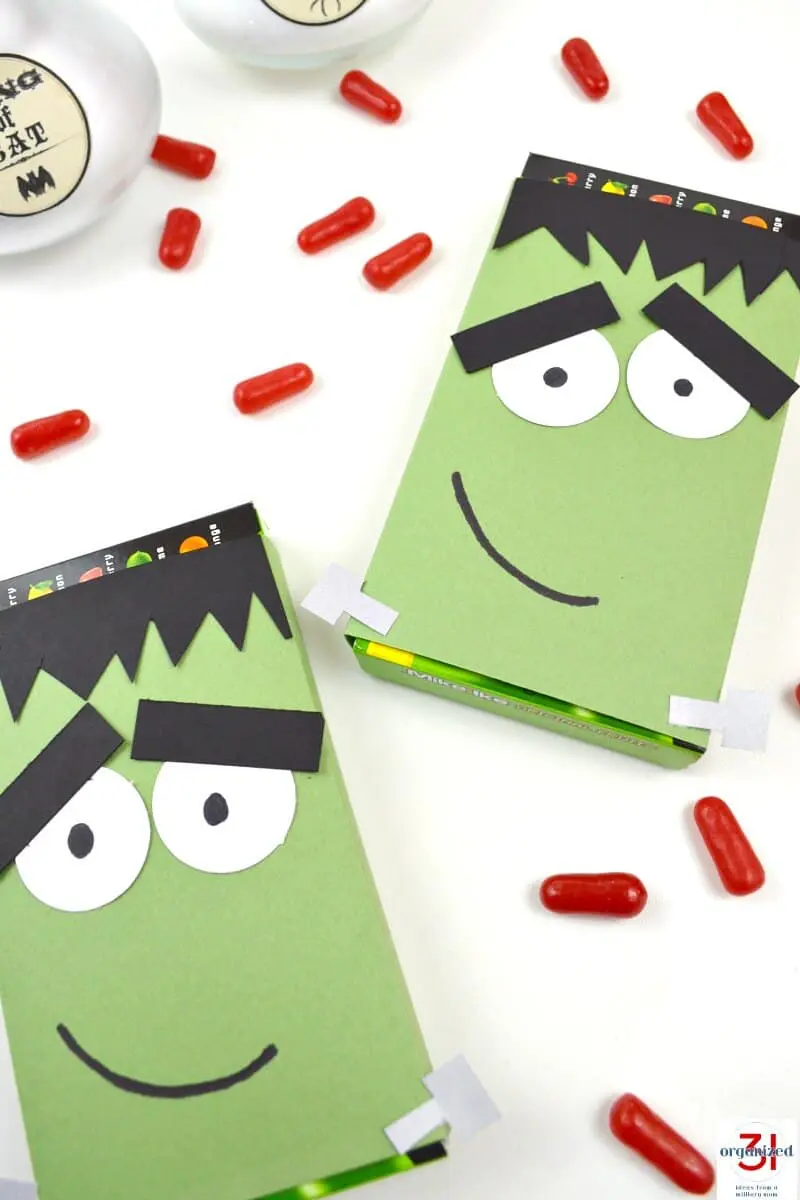 Credit: organized31.com
If you're throwing a Halloween party, these Frankenstein-wrapped candy boxes work great as table centerpieces or party favors (or both!). Of course, you can also add it to the mix of your candy treats for the neighborhood kids.
You will need a mix of colored card stock, such as these, a permanent marker, some glue, and scissors – that's it!
12. Pumpkin Cardstock Decor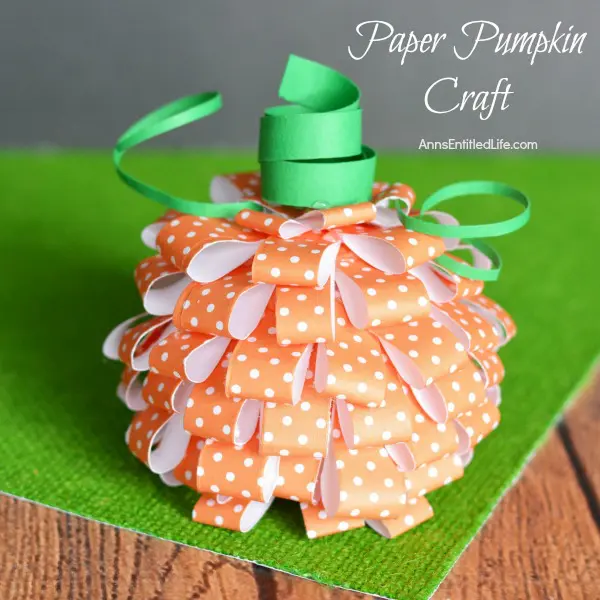 Credit: annsentitledlife.com
If you're looking for a Halloween papercraft for decorative purposes, this is probably one of the best on this list. You can use them not only as décors for Halloween but all throughout the autumn period.
It's super straightforward to make, too, especially if you have a paper trimmer like this, which cuts your cardstock cutting time into more than half.
13. Handprint Halloween Bat Decor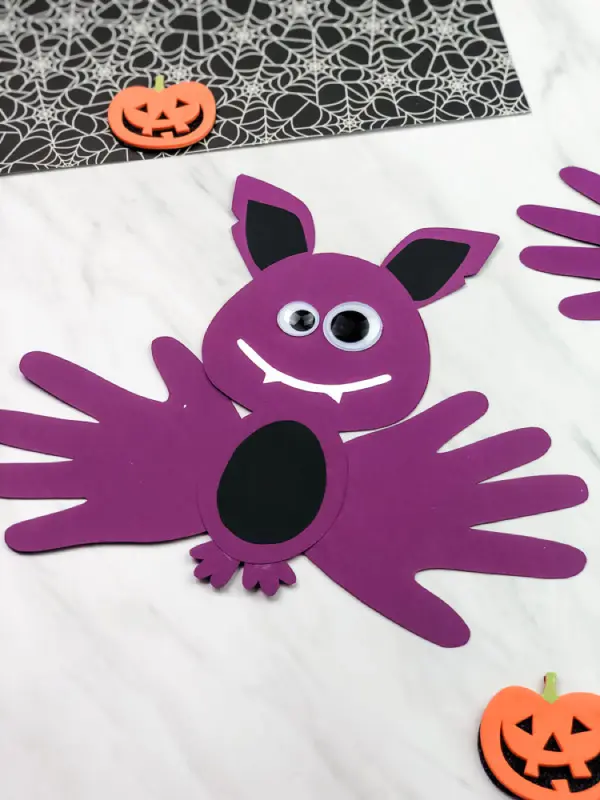 Credit: simpleeverydaymom.com
I love the personal touch of this Halloween papercraft. I am pretty sure your kids will love making them, too.
After all, who wouldn't be thrilled by the thought of a bat formed in the shape of their own tiny hands?
You will need a mix of cardstock, some googly eyes, a glue stick, and scissors. If you have younger kids, this will make for a great pre-Halloween tradition.
Keep all the bats you've made through the years and watch your little ones' hands grow year after year.
14. Chic Halloween Paper Lanterns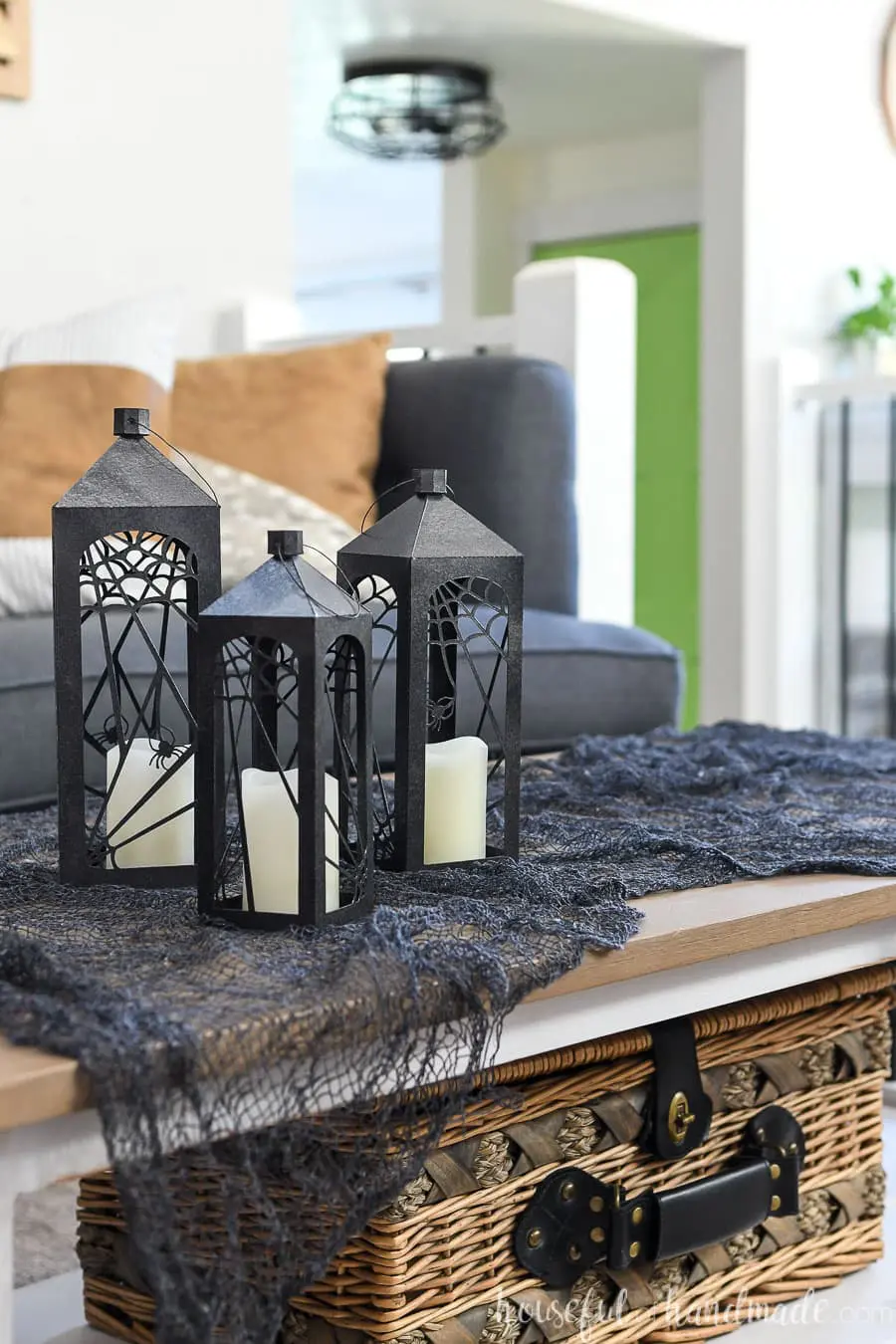 Credit: housefulofhandmade.com
These Halloween-inspired paper lanterns are so gorgeous. They will look great on your living room coffee table or by your hallway door.
To recreate this chic Halloween décor, you will need cover stock paper, floral wires, and black spray paint like this. If you want detailed instructions, including the lantern pattern, have a read through this page.
15. Silhouette Halloween Lanterns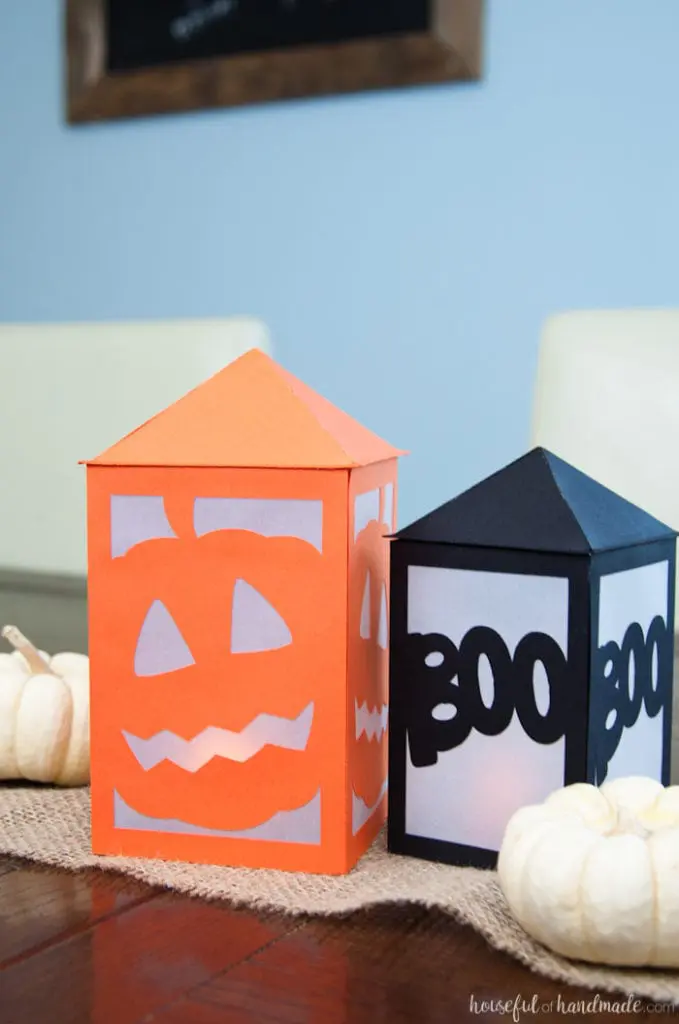 Credit: housefulofhandmade.com
This is another Halloween lantern that you can make using paper, scissors, and glue. To emphasize the beauty of your silhouette pattern, use flameless tealights like these.
These lanterns are perfect for dinner table centerpieces or as displays on your front porch. You can even swap it with the kids' usual nightlamps during the Halloween season.
16. Paper Bat Cupcake Toppers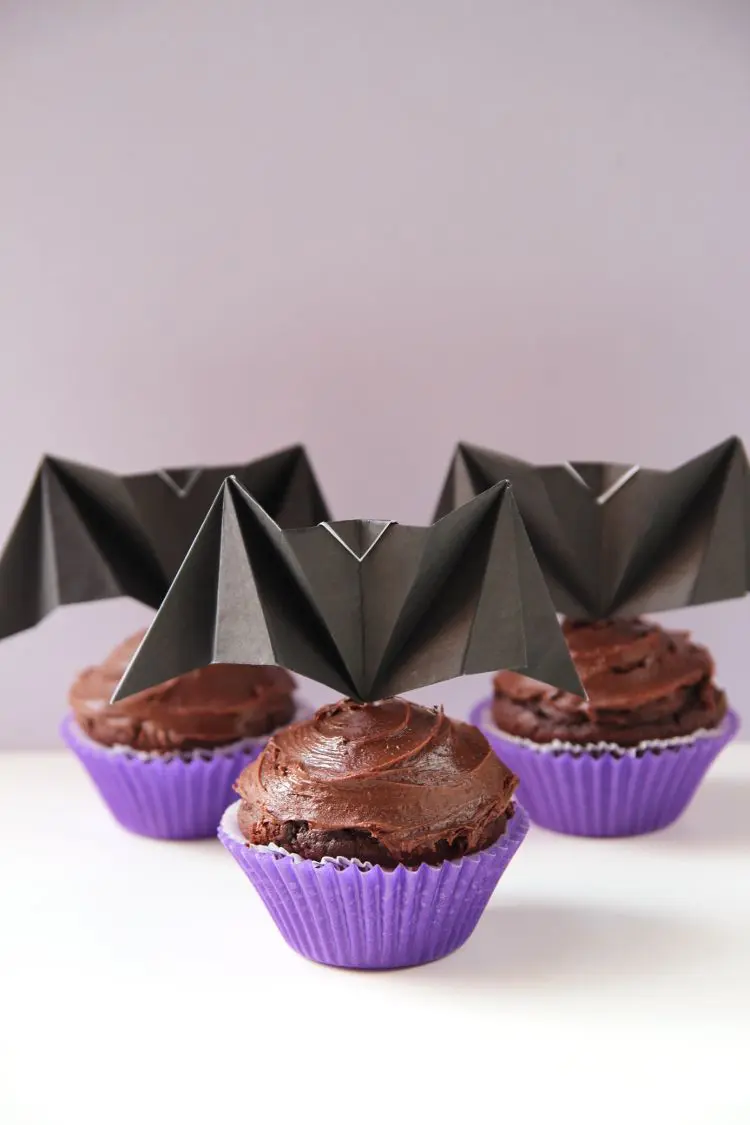 Credit: gatheringbeauty.com
If baking is your forte, this is the papercraft for you. Bring the Halloween spirit to the workplace, your kids' school, or the lovely neighbors, by baking delicious cupcakes topped with origami paper bats.
It's very easy to make, you can do them while waiting for the oven timer to sound off. You will need black cardstock, some toothpick, and glue or black washi tape like this.
17. Cutesy Pumpkin Halloween Bag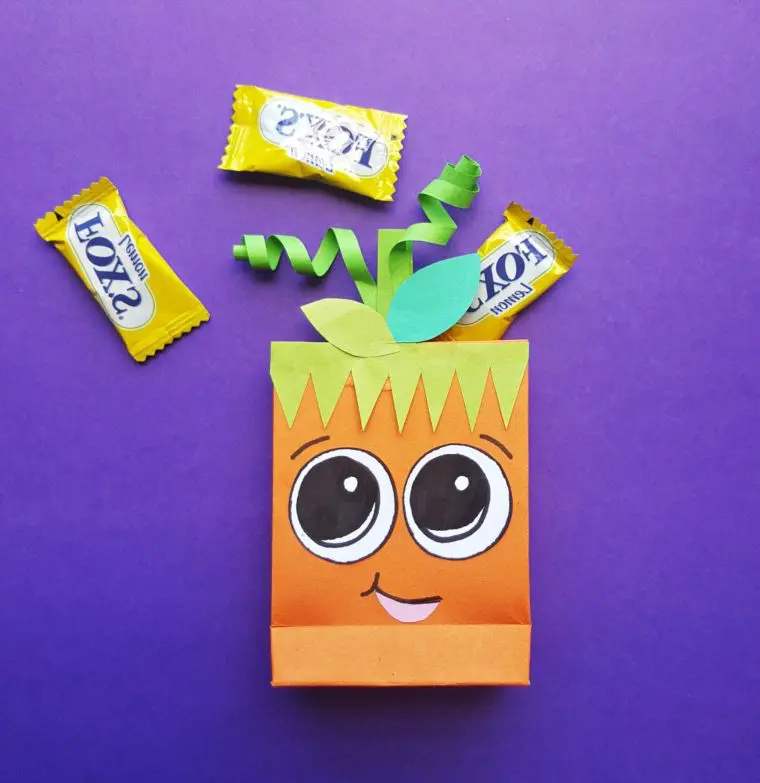 Credit: jayssweetnsourlife.com
If you prefer celebrating Halloween in a less spooky way, these super cute pumpkin bags are your go-to trick or treat container. Making them is so easy and very child-friendly.
All you need are your usual cutting and gluing materials, plus some card stock to match the pumpkins' color and stems. Another way of using these bags are lunch boxes, especially for the younger kids.
You don't really want them going to preschool with vampire-inspired bloody lunch bags, do you? This is a lovely project for teenagers.
18. Googly-Eyed Paper Pumpkin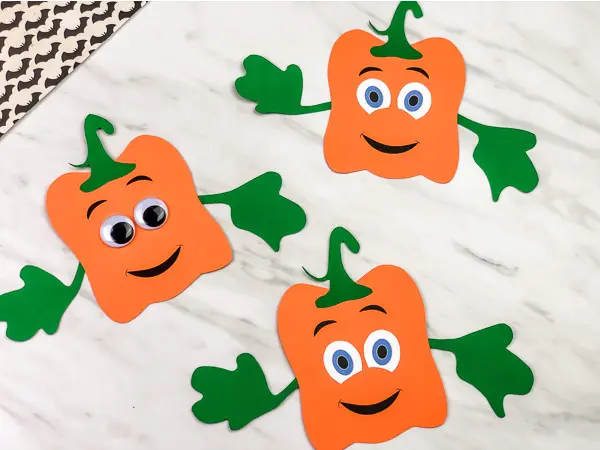 Credit: simpleeverydaymom.com
Scary creatures can be traumatizing to the younger kids. But that doesn't mean they can't join the Halloween celebrations.
Create these cute googly-eyed paper pumpkins with them so they can still play with Halloween-inspired creatures, minus the scary and morbid skeletons, witches, and bloody limbs.
19. Wall Silhouettes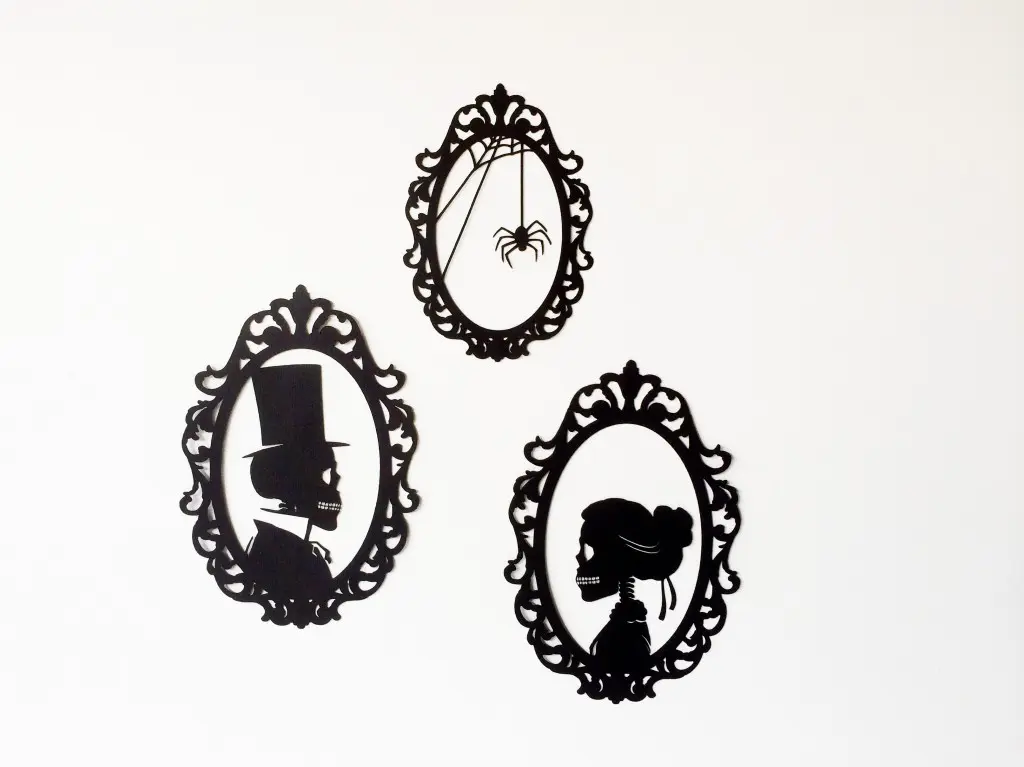 Credit: saltycanary.com
If your bare walls could use some Halloween décor, these wall silhouettes would be the perfect touch! Simply use black card stock cut out to your desired silhouette shape.
If you plan on doing a lot of similar crafting work and have some money to spare, investing in this cutting machine could well be worth it.
It's great for cutting complicated paper patterns and would also be a great tool for creating DIY greeting cards and paper décor.
20. Colorful Pumpkin Garlands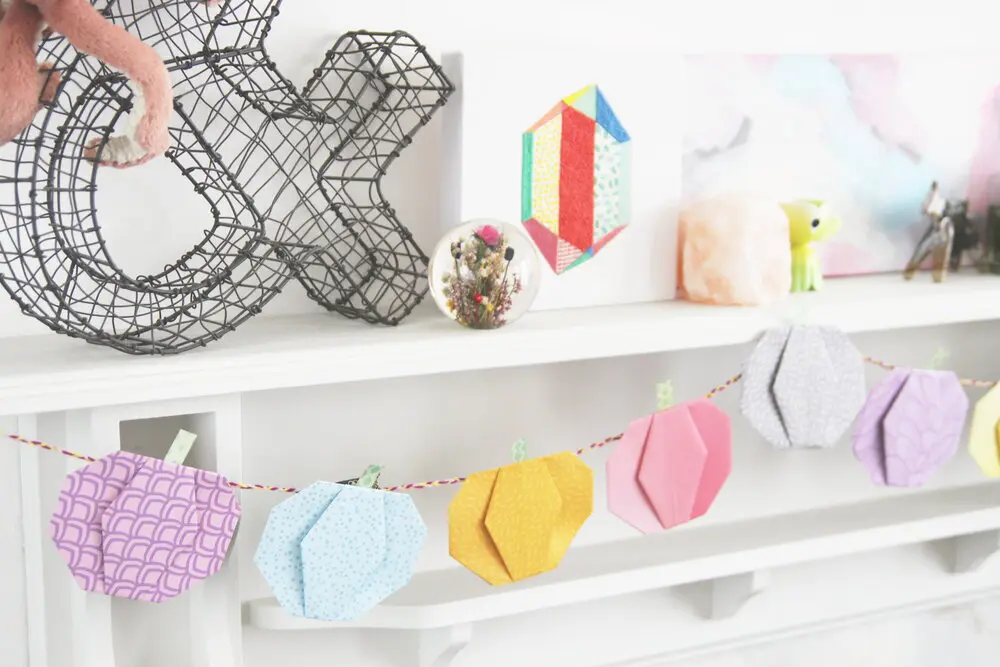 Credit: gatheringbeauty.com
Pumpkins are Halloween stars, so why not end this list with these super cute and colorful pumpkin garlands. Hang them along your walls, on the kids' doors, or by the front porch.
You can use any design or color of card stock, but if you want to stick with the Halloween theme. Look at the unique and gorgeous patterns on these themed scrapbook cardstocks.
Conclusion
Don't you just love the versatility of paper? I especially loved the chic paper lanterns.
What was your favorite Halloween papercraft?