Looking for decor ideas for this Halloween? These DIY Halloween decorations are fun to make!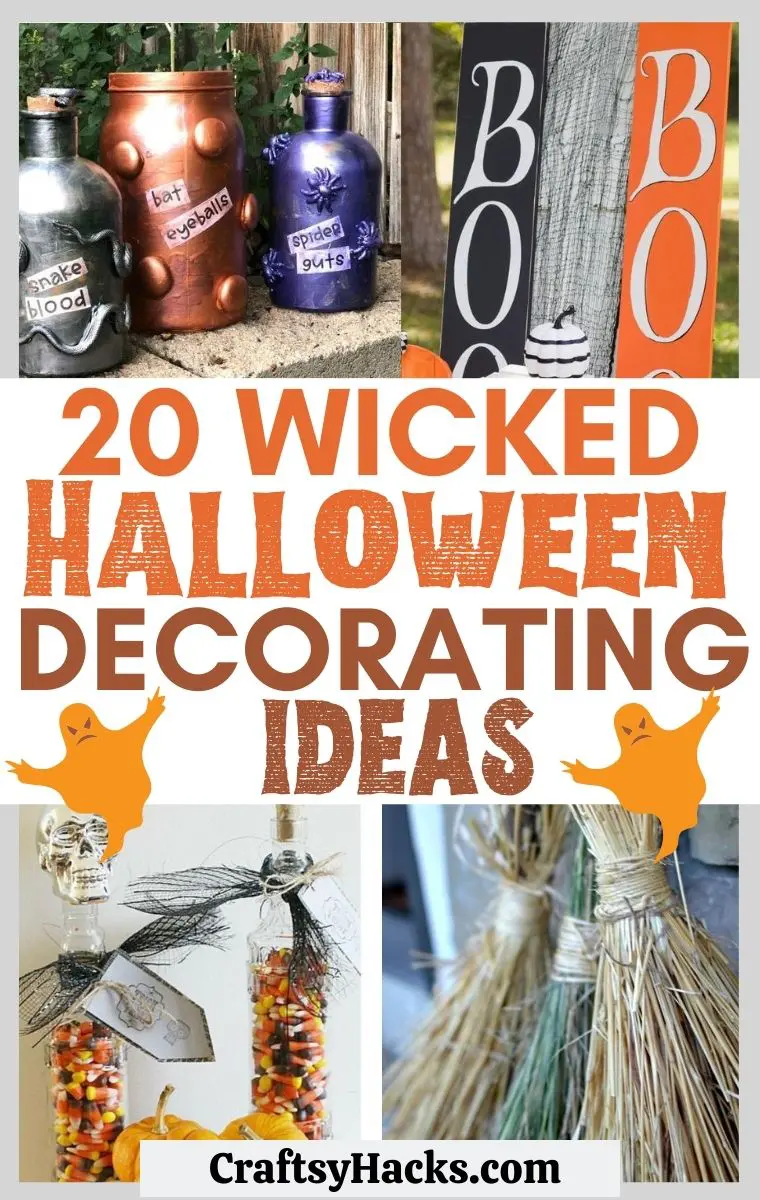 Halloween: it's the yearly tradition that brings out the eccentric, wacky, weird, fun, and humorous side of us.
If you're getting tired of rehashing the same Halloween décor through the years, make this year different by trying one or a few of these Hallowed decorating ideas.
1. Halloween Tree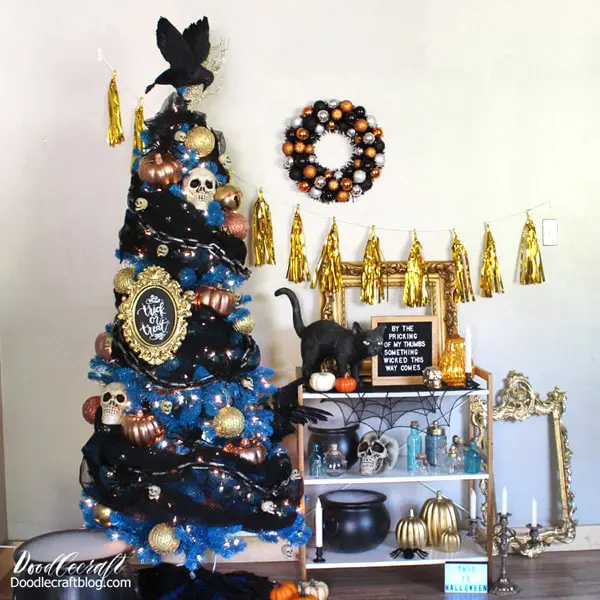 Credit: doodlecraftblog.com
Changing your Halloween décor doesn't necessarily mean having to buy everything again. Take a look at this Halloween tree, for example.
If you haven't already guessed, this ingenious Halloween décor is made of a Christmas tree. But, instead of colorful and metallic tinsels and baubles, use black crepe paper and ornamental skulls and pumpkins instead.
Complete the look by using a realistic-looking crow topper like this.
2. Day of the Dead Table Setup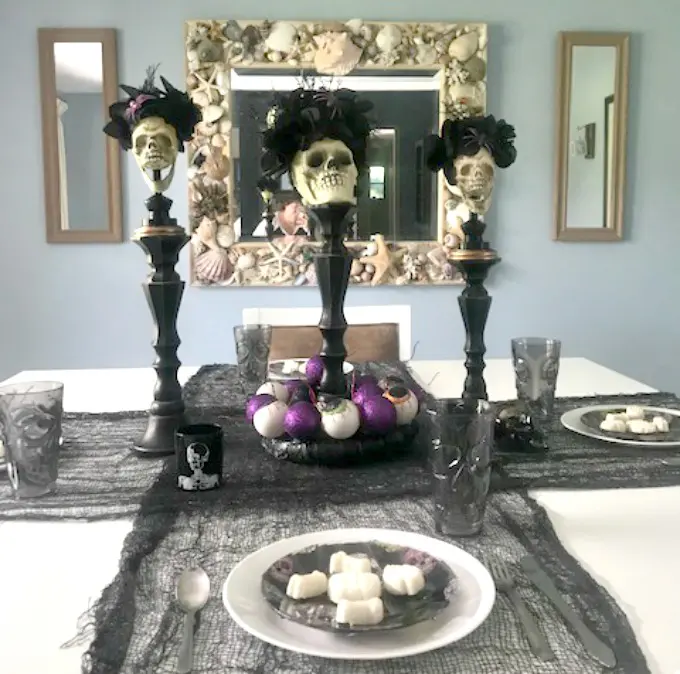 Credit: ourcraftymom.com
Day of the Dead is the Mexican counterpart of Halloween. It usually involves skeletons and vibrant colors.
Adapting the Day of the Dead theme to your table centerpiece decor is an excellent idea, especially when having guests over for dinner. You will need a few mini skull pieces mounted on candle holders, colorful ornament balls, and a faux spider web cloth similar to this.
This is a fun decoration to make for adults!
3. Creepy Shadow Box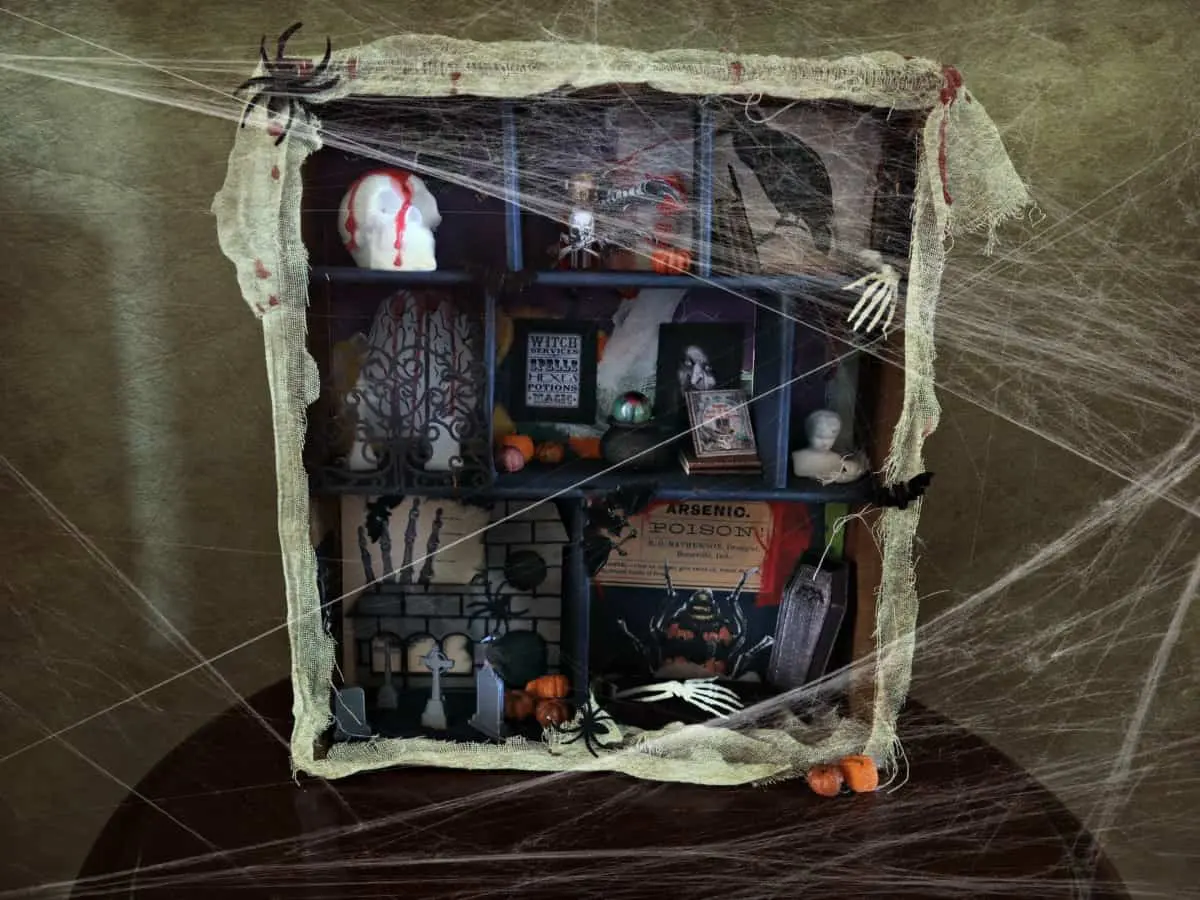 Credit: craftinvaders.co.uk
Shadow boxes are intended to display precious memories. Give that a Halloween twist by displaying anything Halloween.
That's skulls, witches, cauldrons, pumpkins, spiders. Anything and everything you could think of!
Recreate the shadowbox frame and background using any wooden box or an old drawer, scrapbook paper, and various fabrics. To ensure that your Halloween pieces stay put on the box, use this type of adhesive dots.
This is a nice craft project for adults!
4. Halloween Wall Scroll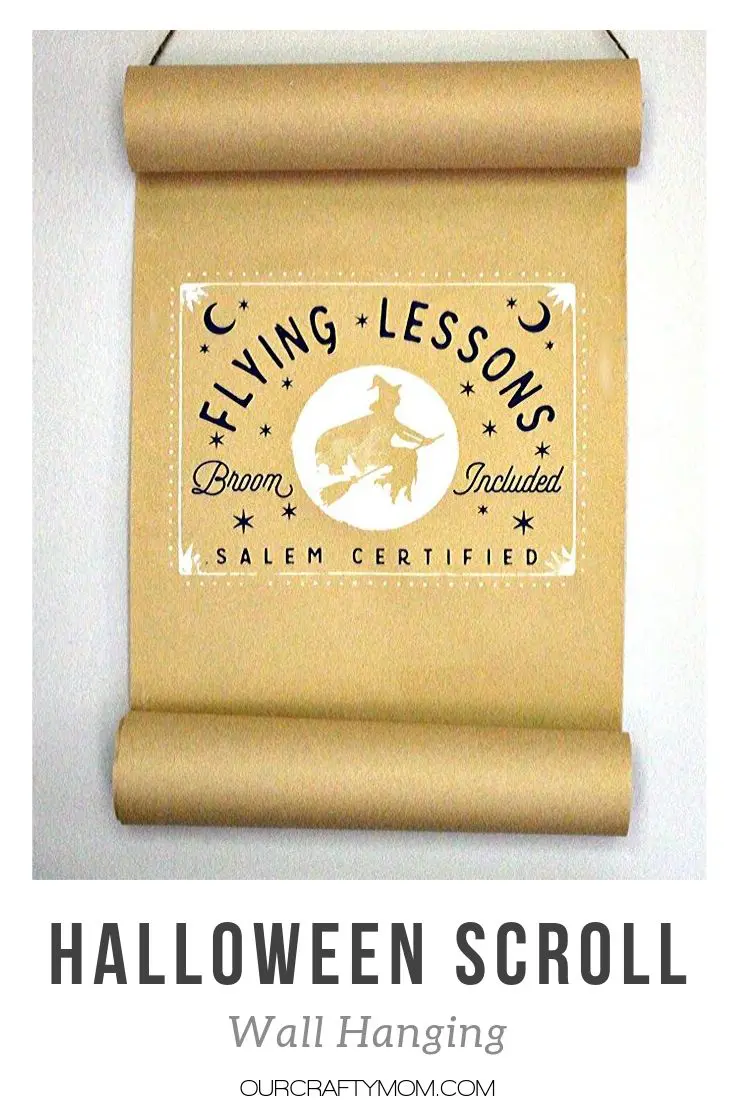 Credit: ourcraftymom.com
Create this simple yet eye-catching scroll and hang it on your bedroom door or hallway door. You can impress your Halloween dinner guests by writing your menu on it and hanging it in the dining area where everyone can easily see it.
You will need a roll of kraft paper like this, twine, glue, and your chosen material for drawing your design. Check out more Halloween paper crafts here.
5. Halloween Treat Jars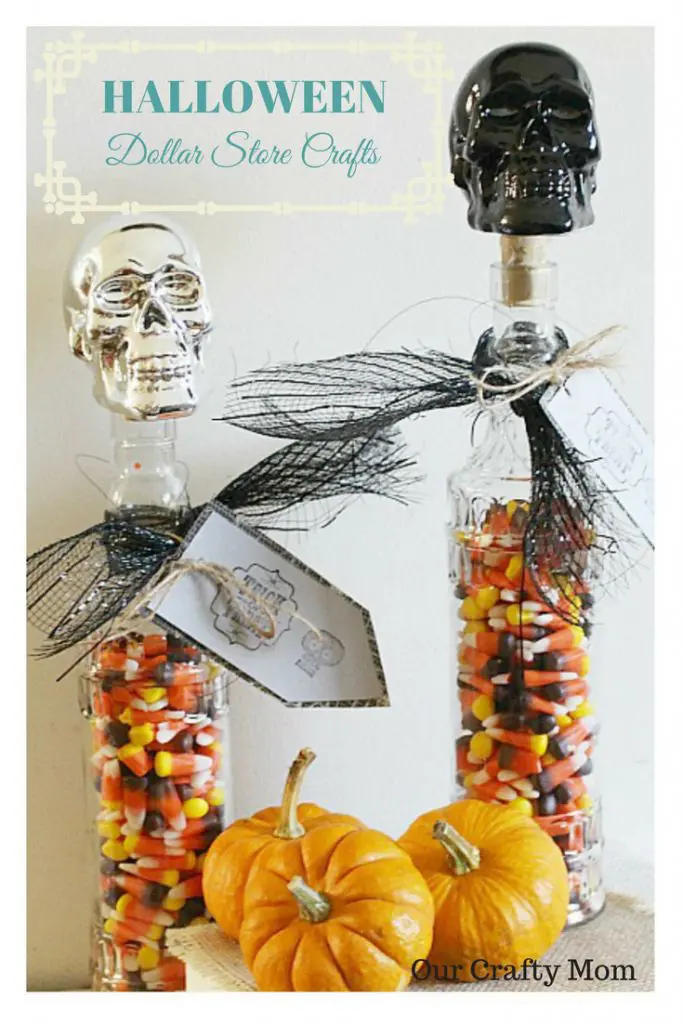 Credit: ourcraftymom.com
This Halloween décor idea is taking a trick or treat jars to a whole new level. The best thing is, it was made using purely dollar store finds!
They certainly don't look like it, do they? Head to the dollar shop, grab some glass jars, candy, black ribbon, and a skull cork topper.
In case you can't find any skull toppers, an alternative is using normal cork toppers and using a strong hold adhesive to attach these mini skulls.
6. Colorful Skulls and Skeletons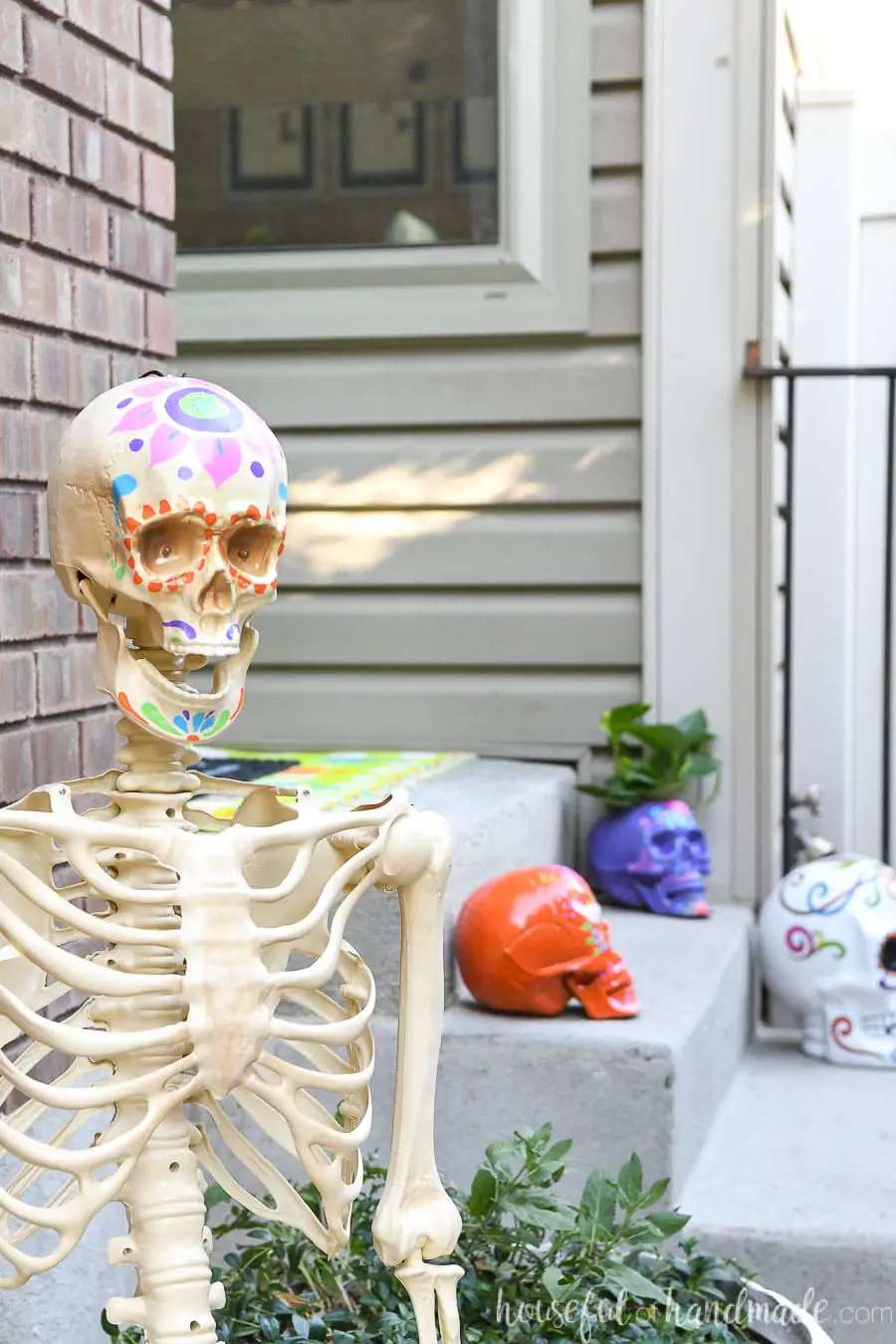 Credit: housefulofhandmade.com
Make your front door décor less morbid by painting your skulls and skeletons with vibrant colors, just as they do with The Day of the Dead.
I would recommend acrylic paint similar to these instead of spray paint. So, you can use the same paint to draw in colorful patterns and details.
7. Halloween Farmhouse Table Setting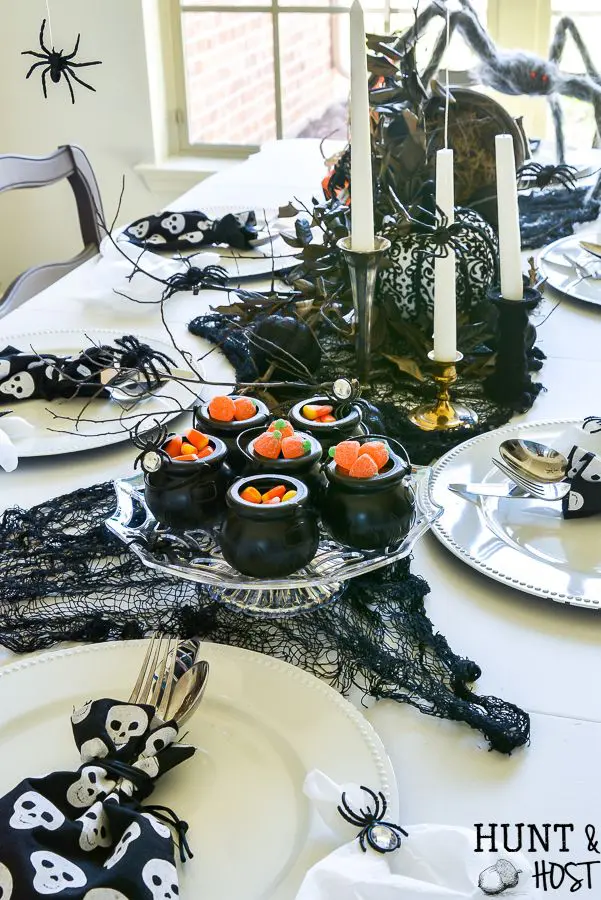 Credit: salvagedliving.com
If you're hosting a Halloween dinner party, spend more money on food and less on décor with this budget-friendly Halloween table setting, farmhouse style. The key is to use a few Dollar store finds and combine these with a few vintage pieces, which you already have at home.
For a more vintage, old-house feel, hang fake spiders on a white cobweb-like thread on the ceiling over the dinner table.
Check out more Dollar Store decorating ideas.
8. Eco-Friendly Witch Brooms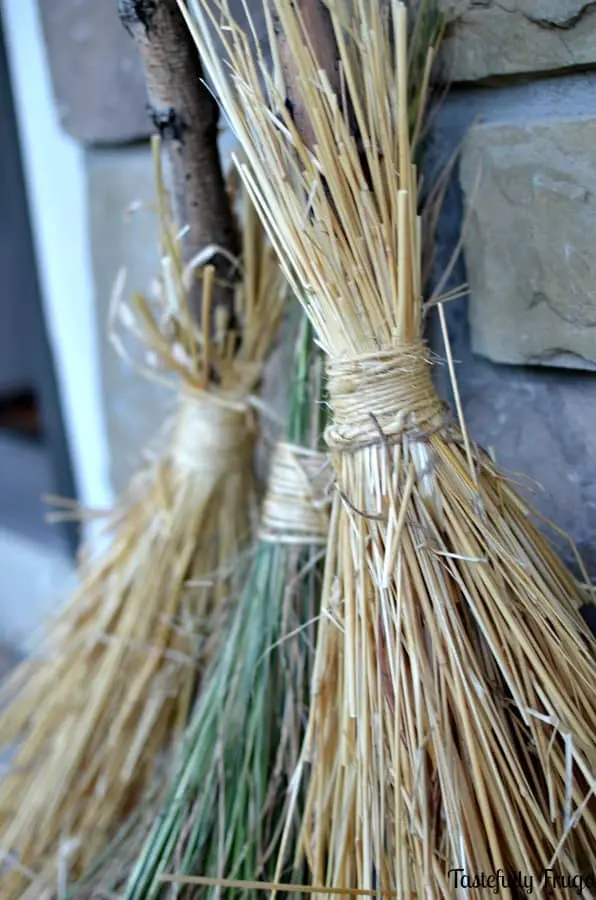 Credit: tastefullyfrugal.org
For an eco-friendly Halloween décor alternative, gather dead twigs, weeds, and grass and transform them into witches' brooms.
These brooms would look great by your front porch or rested against your mailbox by the driveway. You can also strategically scatter them around the front yard and scare the neighborhood kids into believing many witches are residing in your home.
This DIY project is great for outdoor decorating on Halloween!
9. Witch Hat Stencil Wall Decor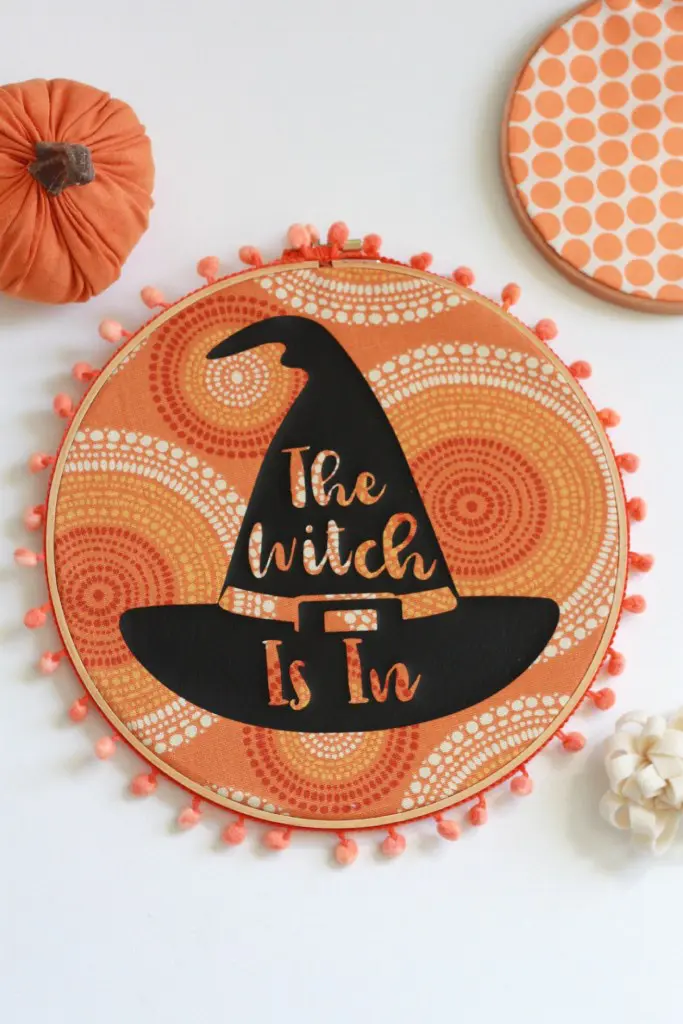 Credit: everydayjenny.com
Stencils are always a great way of adding more life to existing décor. Take a look at this orange fabric on the embroidery wood frame, for example, which was given added personality thanks to the statement stencil.
If you are one who is extremely gifted at doing stencil work, creating this Halloween should be a breeze for you. Thankfully, for the rest of us normal people, there is still hope in the form of this Cricut machine.
It allows us to design and print already cut stencils on paper, fabric, and other materials.
10. Super Cute Pom Pom Bats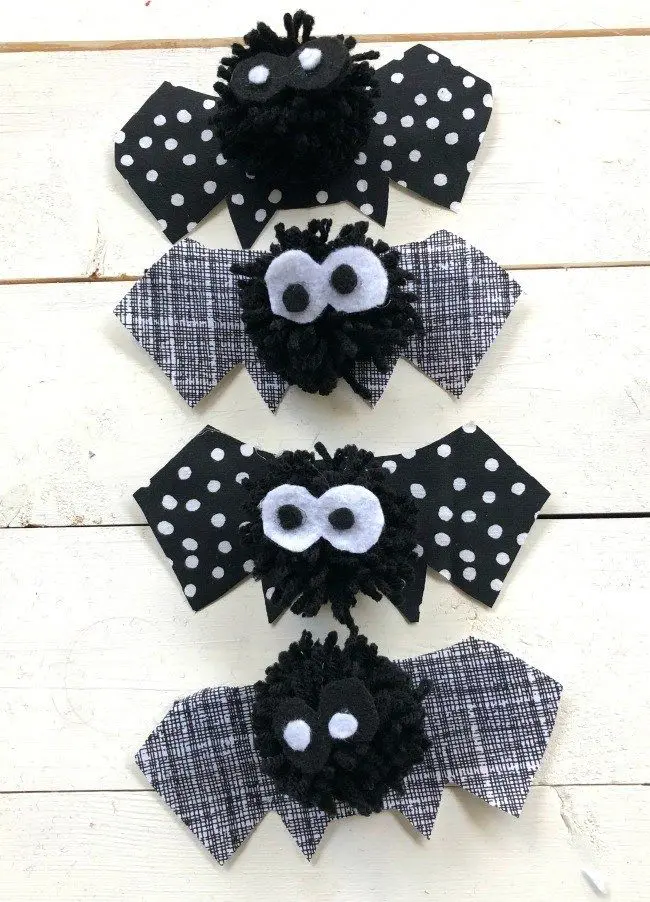 Credit: meandmyinklings.com
Bats don't have to be scary, and if there's anything this décor idea shows us, they can actually be super cute. Dangle these bats along your hallway entrance, by the front porch, or across the living room.
You will need balls of black yarn, black felt, ribbons, glue, and scissors to recreate these cute creatures. If you plan on making a few bats, you can also buy these pompom makers to make more in significantly lesser time than it would if done manually.
These pom bats are a fun craft for teens to make!
11. DIY Witch's Spell Jars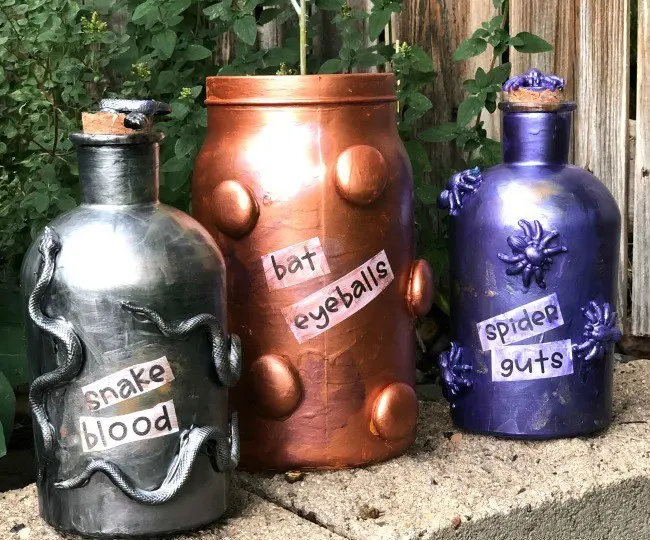 Credit: meandmyinklings.com
Create these tastefully decorated spell jars. Pop them on the kitchen countertop or on your open kitchen shelves for a playful and humorous Halloween décor.
Imagine the look on your children's friends' faces when they see this every time they come over for a play date.
You will need old glass jars, mini creepy creatures such as snakes, spiders, lizards, and different metallic paint colors like the ones sold here.
Check out more mason jar gift ideas!
12. DIY Felt Ghost and Frankenstein
Credit: meandmyinklings.com
Aren't these the cutest Halloween monsters you've ever seen? To make your own ghost and Frankenstein, you will need felt, which can be bought in bulk here and your basic sewing kit.
I can imagine these adorable creatures lying down peacefully on the family room couch, the kids' bedrooms, or the nursery's changing table. You can also create mini versions as alternative treats in place of candy.
13. Rose Dunn Inspired Halloween Signs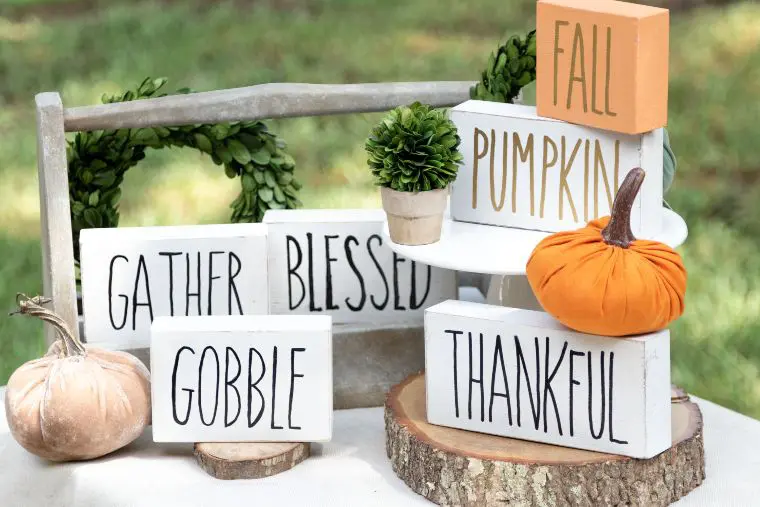 Credit: kippiathome.com
Signs are great for Halloween if you prefer subtle decors. Rose Dunn signs are a perfect choice as they are all undeniably gorgeous!
The problem is, they're not necessarily budget-friendly. As always, the crafters and DIYers that we are, have ways around that.
You will need a wooden block, a paint marker, and your choice of paint. I like using this white spray paint because of its smooth yet chalky effect, similar to those you see in the Rose Dunn signs.
14. DIY Pumpkin Fences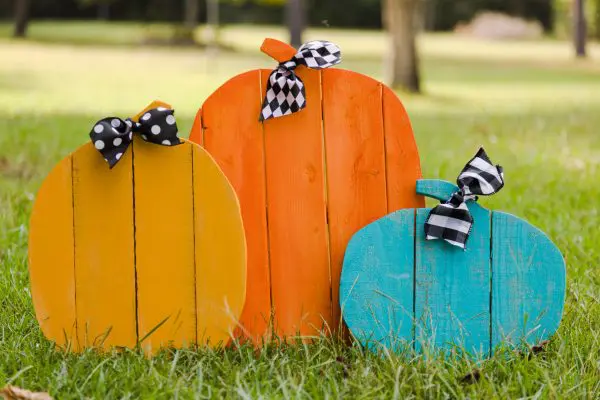 Credit: kippiathome.com
This cute pumpkin fence made of wood pallet is super cute, you can use it as an outdoor décor not only for Halloween but for the entire fall season. Rest them over your front yard shrubs or by the front porch for a rustic and welcoming feel.
Besides your wood pallet slabs, you will need ribbons, some orange paint, and wood glue like this to keep the wood slabs together.
15. Halloween Wall Candy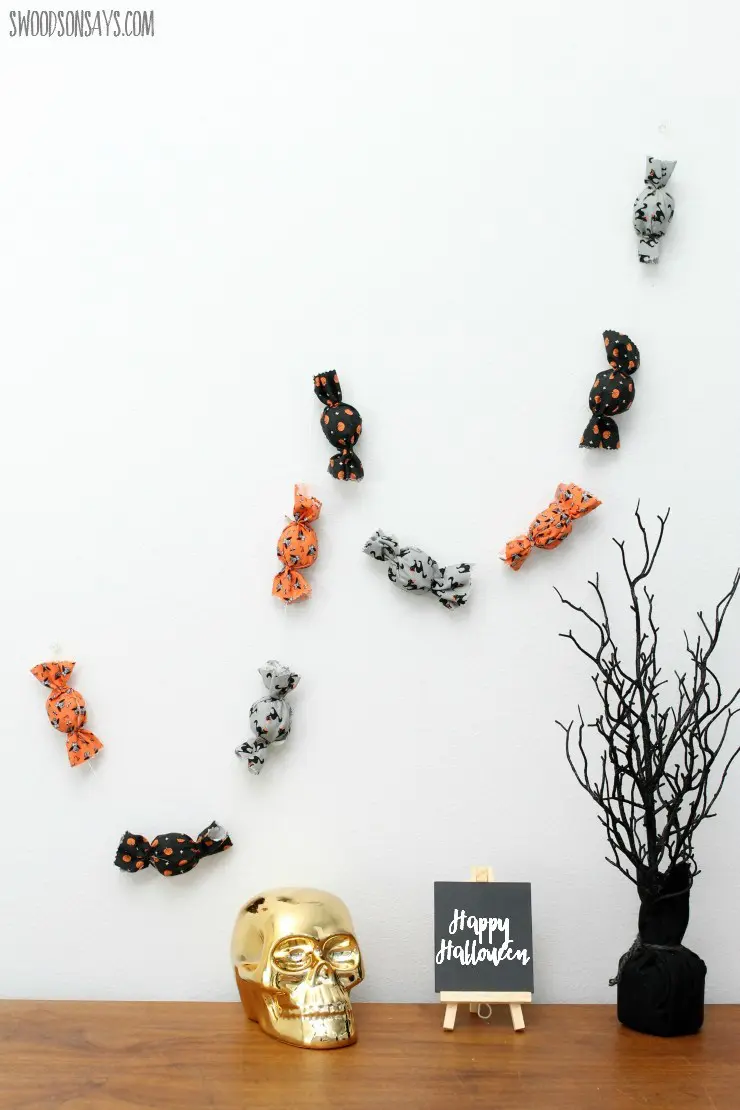 Credit: swoodsonsays.com
Disclaimer: you may disappoint your young kids with this wall décor. Who wouldn't be when you see candy crawling on the walls only to find out they're only empty pieces of fabric?!
Use aluminum foil to bulk up your candy and scrap pieces of fabric for the candy wrapper. If you want to make your candies truly Halloween-inspired, check out the scrap Halloween quilting fabric available on this page.
16. Lurking Eye Vase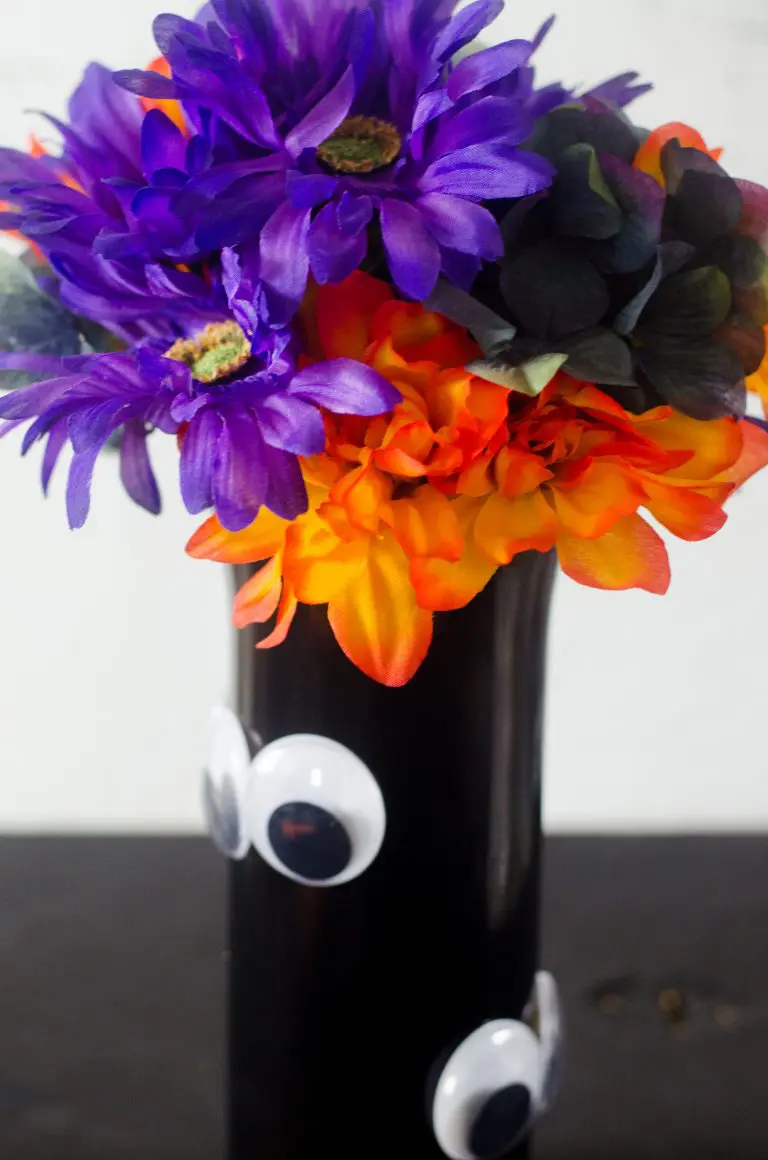 Credit: ourwabisabilife.com
Have you ever had that eery feeling of someone watching you even when you're alone at home? Most of the time, it's just our imagination but come Halloween, let's make that real by creating this lurking eye vase.
All you need is to add large googly eyes like these to your flower vases. It may be a very subtle Halloween décor, but I assure you, the creep factor will be more than 10/10!
17. Wooden Halloween Signs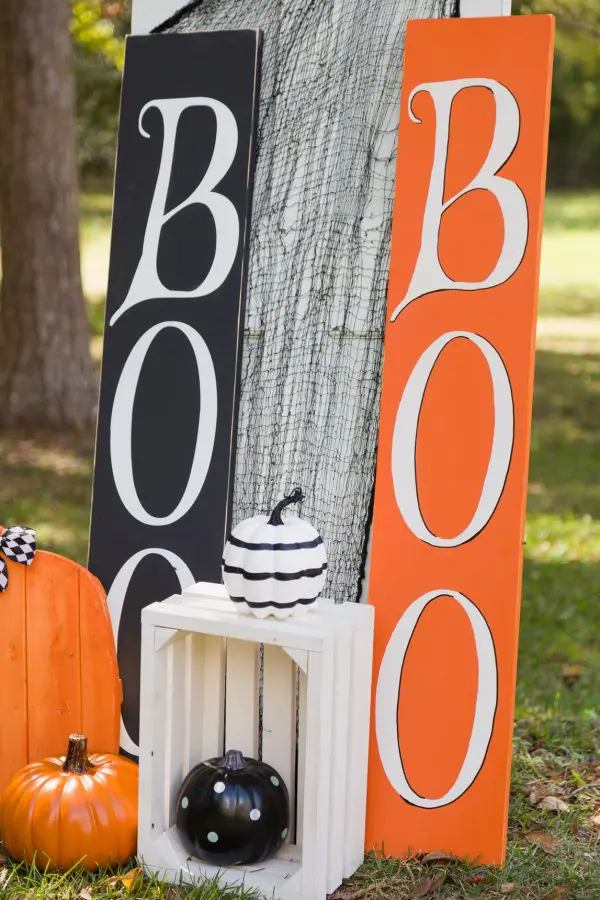 Credit: kippiathome.com
Another way of repurposing wooden pallets is to create Halloween signs out of them.
With a few touches of paint and a dash of your creativity, you'll end up with attractive, spooky signs that would look good on the driveway. Especially by the front porch, or as a photo backdrop when you're hosting a Halloween party.
18. Freestanding Halloween House Sign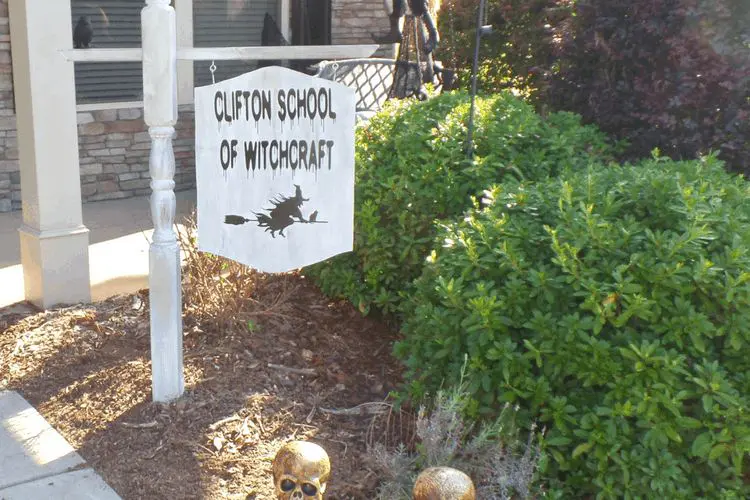 Credit: createandfind.com
Another Halloween sign idea is the use of freestanding wooden house signs. You can recreate this using paints and brushes, much like the previous slab signs featured on this list.
However, if you don't want to use paint or want more detailed graphics on your sign, you can always use decal stickers like these to stick on your slabs.
They're easy to stick on and equally easy to remove, which means you can repurpose your wood slab for other crafting projects after Halloween.
19. Fabric One-Eyed Flowers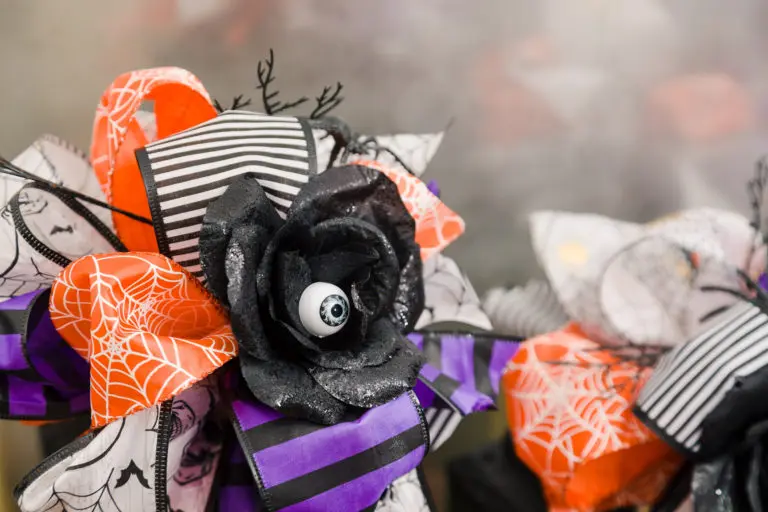 Credit: kippiathome.com
Flowers have that magic of giving you a warm, loving feeling. This Halloween flower, however, is the exemption.
Create a faux flower fit for Halloween by using scraps of dark fabric for the petals and leaves, and place a fake eyeball like this smack in the middle to complete the spooky feature.
Display a few of these flowers around the house or use them as a centerpiece for Halloween dinner.
20. Stylish Halloween Mantel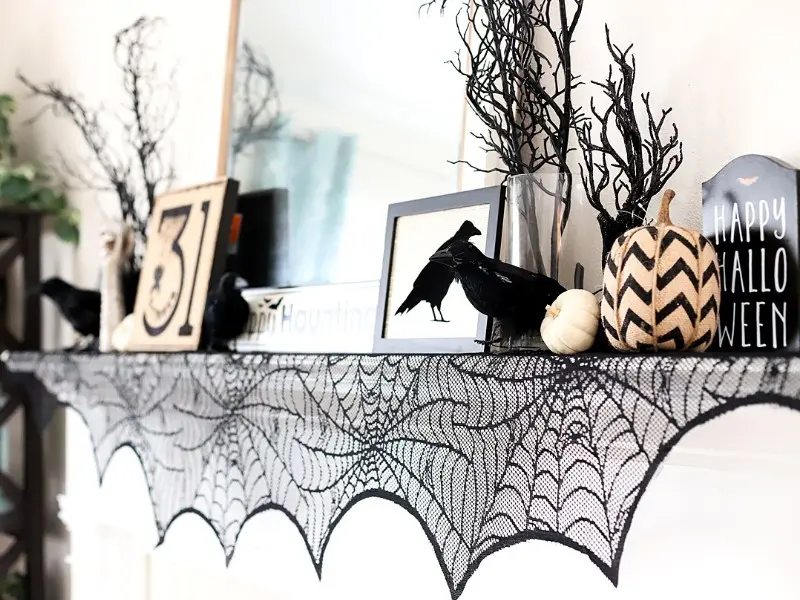 Credit: suburbansimplicity.com
Who among you have fireplace mantels but only style them for Christmas and Easter but not for Halloween? Well, this gorgeous Halloween mantel may just change your mind.
To achieve a similar stylish look above your fireplace, the key is to keep things monochromatic, but mix up the accents to achieve a play on textures and tones.
Use dried twigs, various-sized pumpkins, candlesticks, and a decorative wall mirror like this, to serve as the focal point.
Conclusion
I hope you find these Halloween decorating ideas fresh and worth trying. What is your Halloween decor going to look like this year?
It would be fun to hear about them in the comments below.