Love crafting? Try these fun Halloween crafts and have fun getting spooky!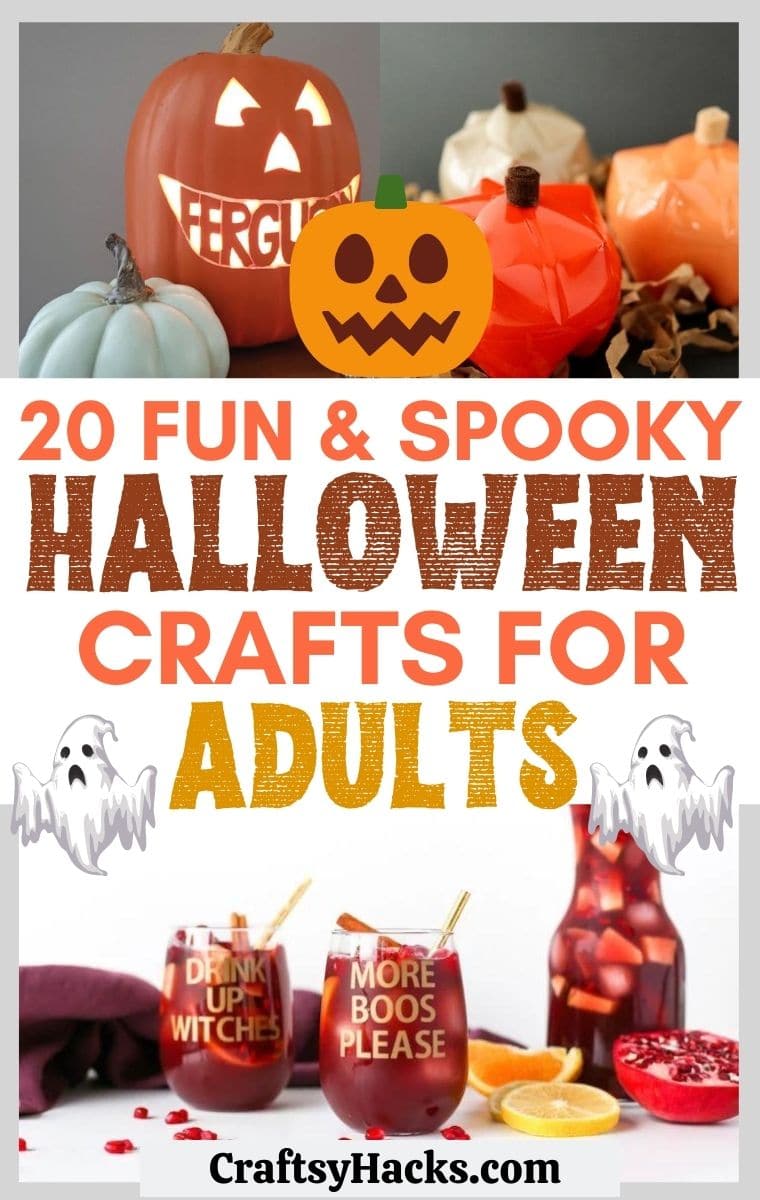 Halloween is one of my favorite seasonal excuse to go all out with my crafting and DIY projects. It's so versatile that you can go super cute or super scary.
The style and design options when it comes to Halloween are literally endless! Here's my pick of the 20 best Halloween crafts for adults so far:
1. DIY Halloween Plank Ghosts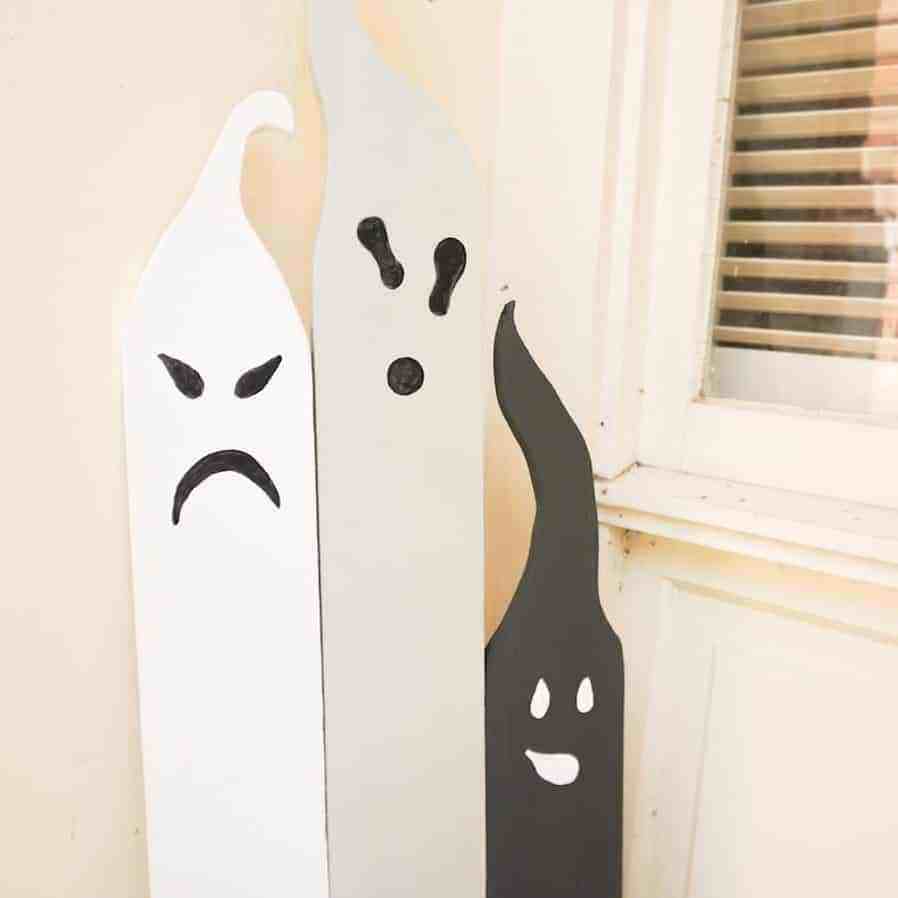 Credit: happiestcamper.com
There are so many ways of creating ghost decors for your outdoor Halloween space. Here's one of the most inexpensive ones.
All you need to recreate these ghosts are spare wooden planks, chalkboard paint like these for the base, and craft paint for your details.
When you're done, line these ghosts on your front porch or by the front door to give your guests a spooky welcome!
This could do for a nice Halloween outdoor decoration!
2. Copper Pumpkin Mugs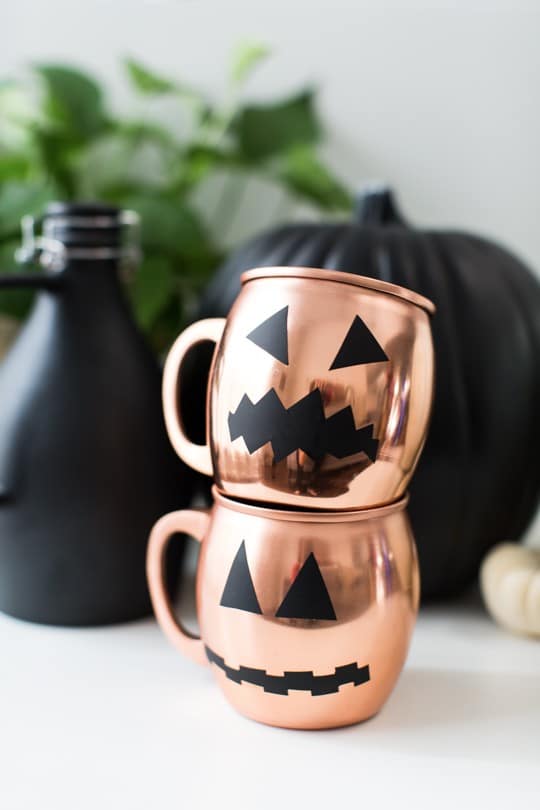 Credit: sugarandcloth.com
This craft is a must-do if you're hosting a Halloween themed party. If you already have copper or pumpkin-colored mugs at home, that's perfect.
If you don't, you can order relatively cheap ones online through this link. Other than the mug, you will need an adhesive decal sheet to serve as your pumpkin mug's eyes and mouth.
Remember to pick waterproof adhesive sheets like these, so your pumpkin's body parts don't fall off mid-dinner.
3. Personalized Jack-Lantern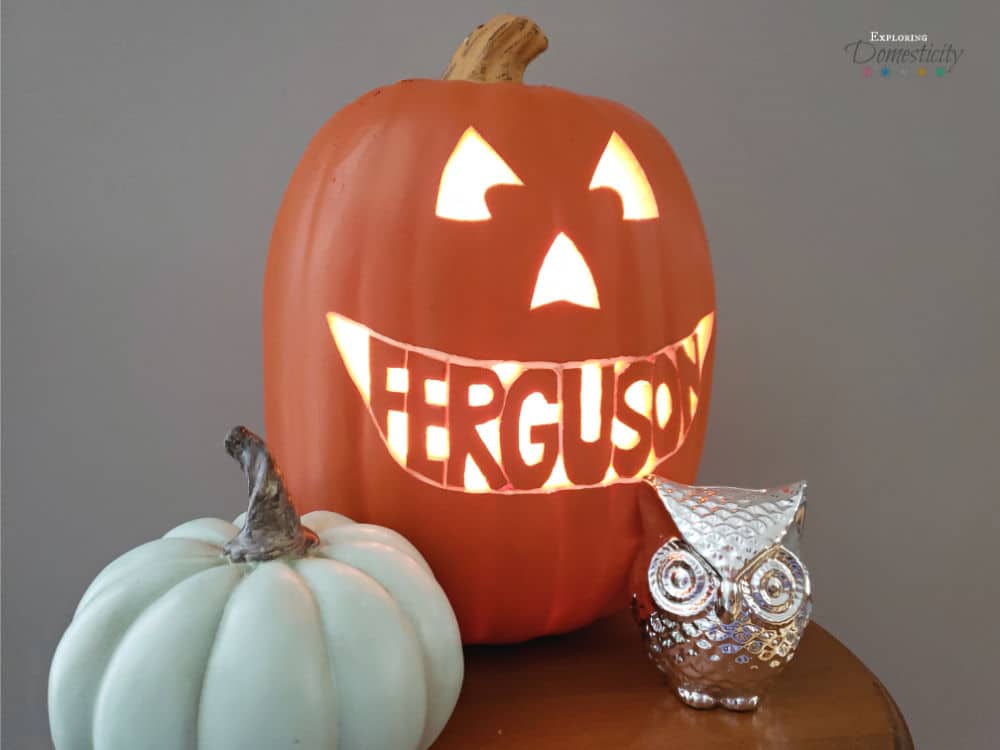 Credit: exploringdomesticity.com
This DIY pumpkin carved with names will look really great on the front yard, or by the front door. You can carve it with house numbers or names and use it for your own home or as gifts for others.
Carving a pumpkin can be a bit time consuming, but you can always make it easier by getting yourself one of these hot craft knives. It is a good investment in itself as it can be used for so many different crafting projects.
This is a lovely Halloween decor idea too!
4. Creepy Eyes Napkin Ring Holders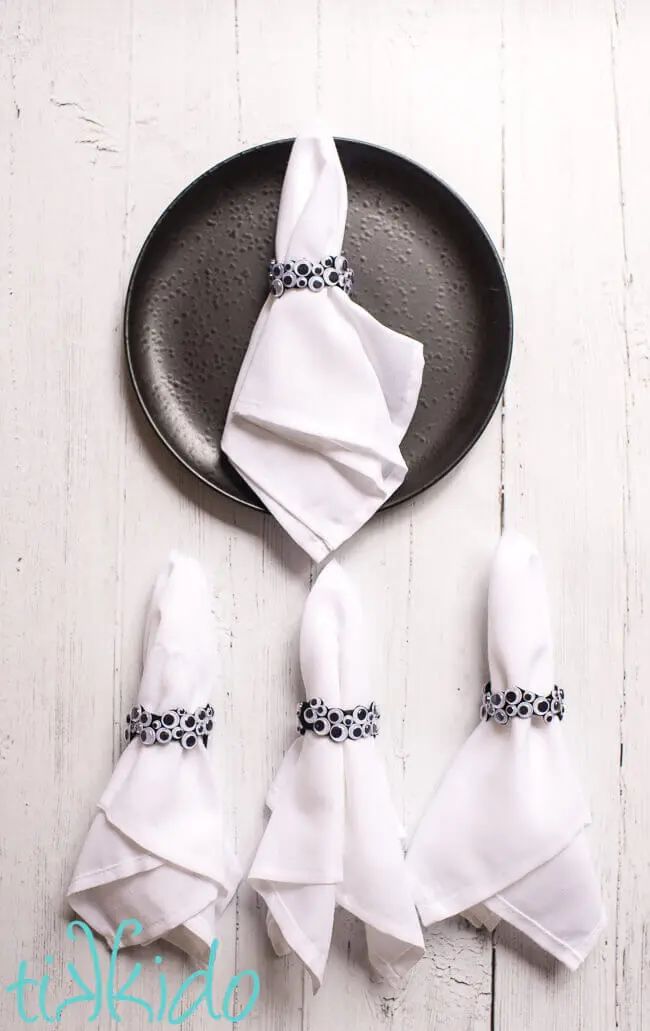 Credit: tikkido.com
Impress your Halloween dinner guests by your detailed décor with these googly eye-ring holders. To make the eyes stand out, match these ring holders with plain colored table napkins, such as white, orange, or red.
To recreate the napkin rings, you will need a strip of felt paper glued together to form the ring. Then, layer with different sized googly eyes, such as the ones sold here.
5. DIY Potion Bottles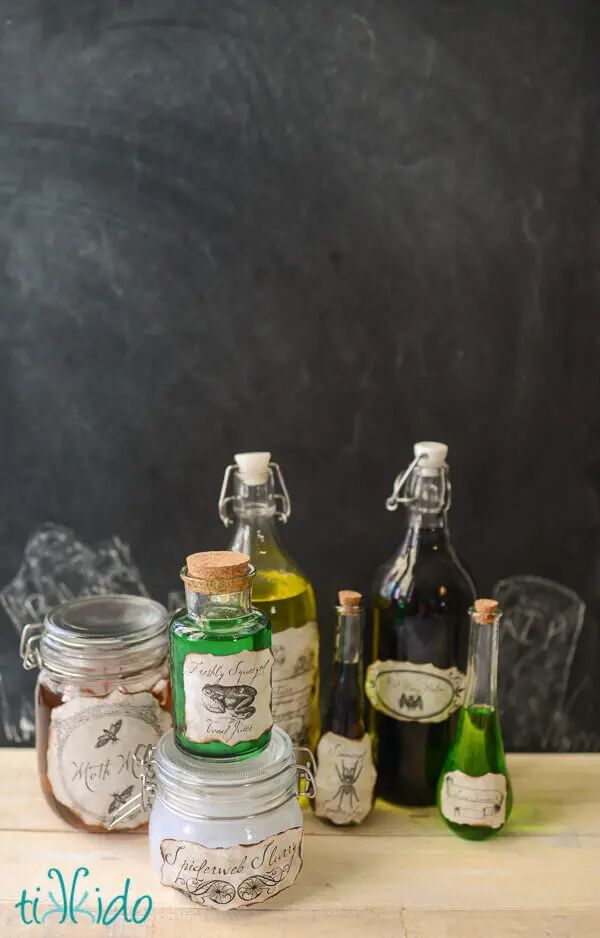 Credit: tikkido.com
Halloween is all about ghosts, witches, potions, and magic. Create these potion bottles as additional creepy accents to your kitchen countertop décor.
Fill them with water tinted with food coloring for an added effect. You can also use these bottles to make sure your little ones don't go opening your favorite drink (if you know what I mean).
6. Cobweb-Covered Wreath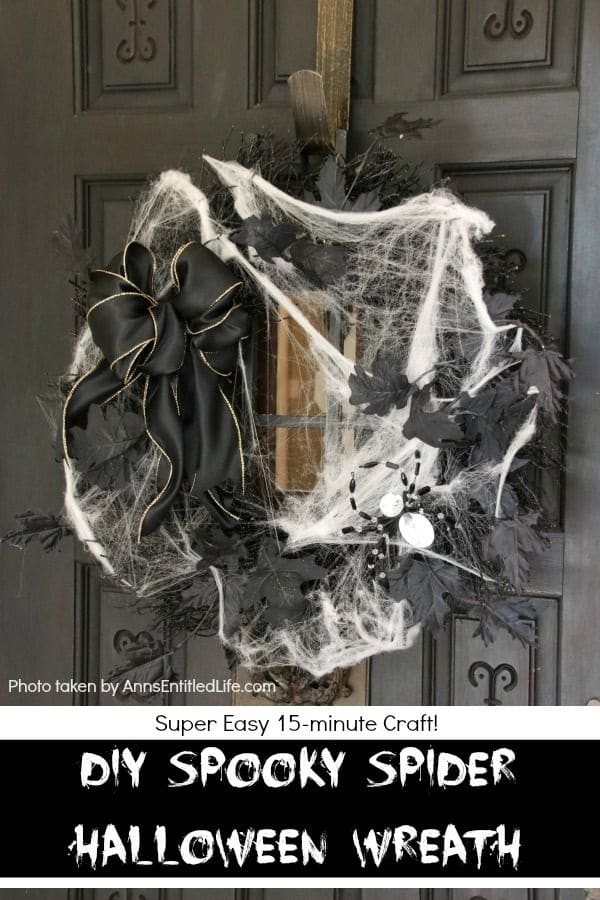 Credit: annsentitledlife.com
Wreaths are often used at other seasonal occasions, such as Christmas, Easter, and Thanksgiving. They are more often than not colorful, warm, and super cute.
This doesn't mean wreaths aren't appropriate for Halloween. I actually love the dark and spooky effect of this spider wreath.
Although I am admittedly super scared of spiders.
You can use any old wreath you have and just paint it with a pure black coat and complete it with accents such as fake spiders, and realistic-looking spider webs like the ones found here.
7. DIY Halloween-Themed Silhouette Pillow Covers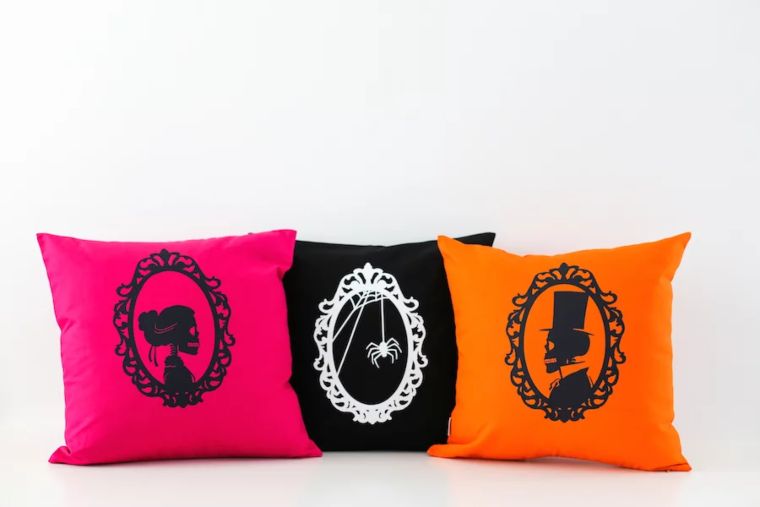 Credit: saltycanary.com
I love the idea of these silhouette pillow covers. If you are wanting subtle Halloween accents insider your home, this is the way to go.
Another thing I love about this Halloween craft is it's not limited to Halloween. You can actually make one for any time of the year and even make one without any special event.
It's also relatively easy to make. You will need your chosen design printed on iron-on transfer paper and a pair of scissors to cut the patterns out.
If you want to make this crafting project even easier, consider gifting yourself with one of these Cricut cutters, especially if you are already doing or plan on doing a lot of cutting in your craftwork.
This is a nice craft project for adults.
8. DIY Halloween-Inspired Wine Glasses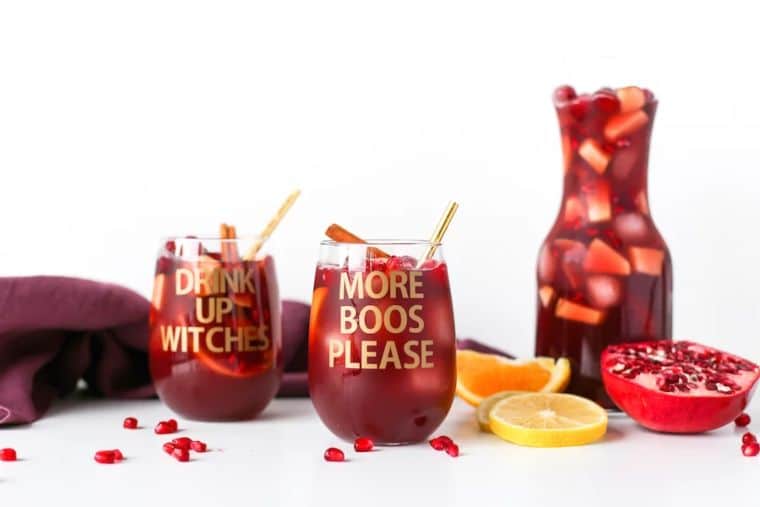 Credit: saltycanary.com
Are you hosting a ladies' night during the Halloween season? Add the spirit of Halloween to your fun night with these easy-to-make golden glass prints.
This craft is super easy to make. You only need your scissor and one material – a waterproof gold contact paper similar to this.
9. DIY Jar Jack-O-Lantern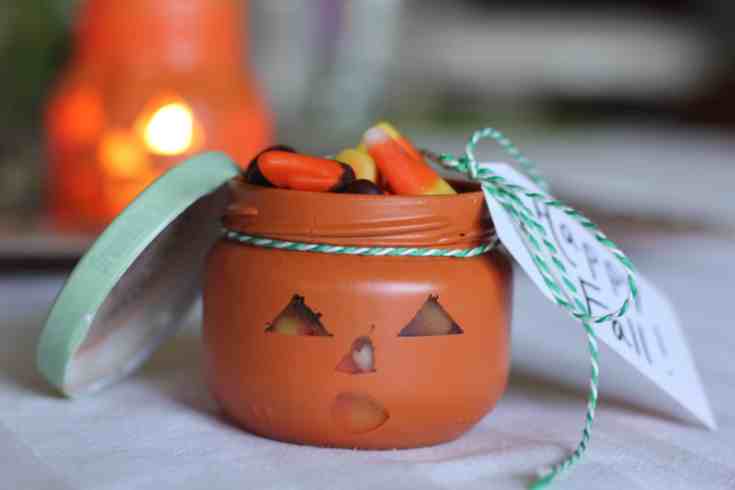 Credit: thekitchengarten.com
This repurposed jar craft project is great to use as a table centerpiece, especially when hosting a Halloween-themed event.
To recreate them, you will need a few pieces of clean used jars (the number depends on how large and how many tables you have at the event). Also, you'll need tea lights, painter's tape, and pumpkin-orange colored spray paint like this.
This is a lovely project, even for teenagers!
10. Plastic Soda Bottles Turned Pumpkin Gift Holders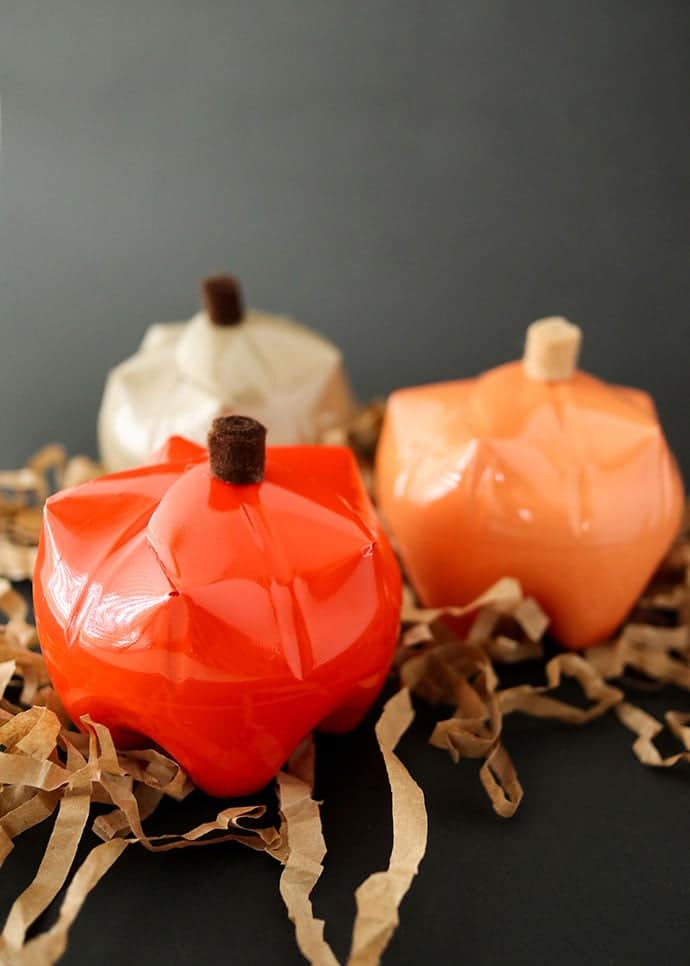 Credit: mypoppet.com.au
Give your neighborhood kids a pleasant surprise using these pumpkin gift holders filled with toys and candies instead of the usual handful of candy treats.
The best thing is, you are putting those empty soda bottles into good recycled use. Felt is great for making the pumpkin stem, and googly eyes are excellent at giving the pumpkin a bit of life.
If you want detailed instructions on how these recycled gift holders are made, have a read through this page.
11. Inexpensive Cardboard Pumpkin Craft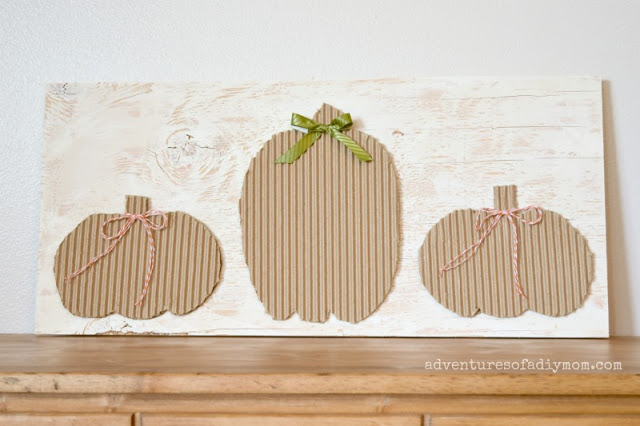 Credit: adventuresofadiymom.com
This Halloween craft requires purely recyclable materials. So, you shouldn't need to spend anything. Especially if your craft drawer is already fully stocked.
You will need any scrap piece of wood, paint (whatever color you have lying around will do), cardboard, your usual cutting, and adhesive craft materials. Along with some ribbons or strings to act as your pumpkin ties.
As promised, it's super inexpensive, right? You could make this one with your kids!
12. Embroidered Spider Web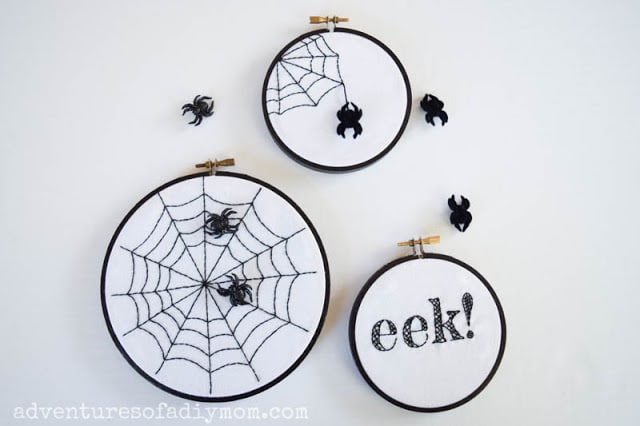 Credit: adventuresofadiymom.com
If you are an embroidery fanatic, this craft is for you! Make it even creepier by adding in life-like felt spiders like the ones found here.
These will look great hanging on the children's wall, your hallway, or the guest room to give your Halloween weekend visitors a welcome fright!
13. DIY Halloween Welcome Door Mat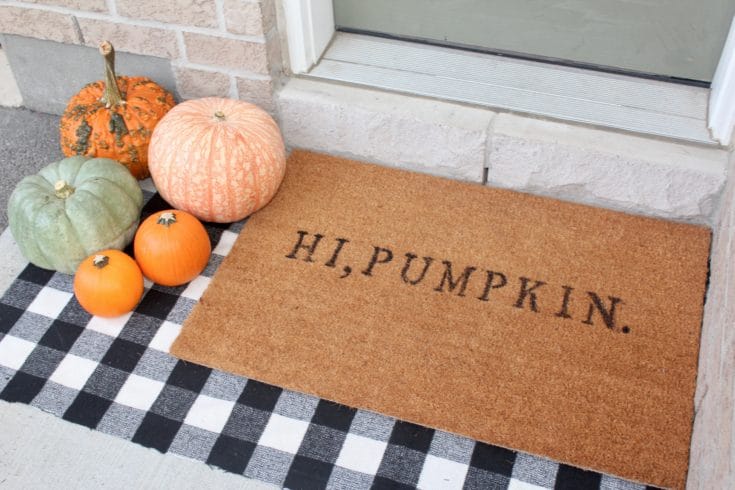 Credit: feelingnifty.com
Welcome your guests the Halloween way by adding some spooky or quirky Halloween greetings on your welcome mat.
You will need a plain doormat like this, black acrylic paint, a sponge brush, and some alphabet stencils to do this craft.
14. DIY Felt Flower Frame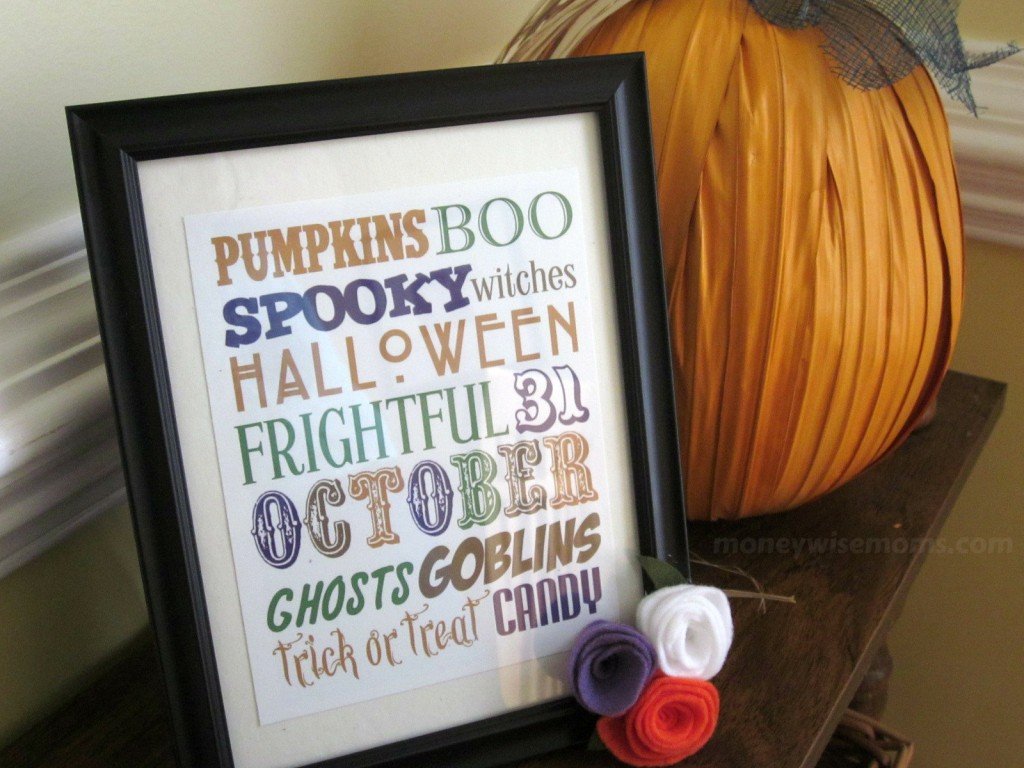 Credit: moneywisemoms.com
This Halloween craft is another one that might appeal to you if you don't want super "loud" Halloween décor or if you want to keep your decorating expenses at a minimum.
All you need are a sheet of paper printed with Halloween-themed text, any old picture frame, and felt paper. You can purchase it in bulk here.
Buying different colored felt is great because if you don't want flowers. You have so many color options that you can easily do something else, like a pumpkin, a spider, or perhaps even a witch's hat.
15. DIY Spider Web Quilt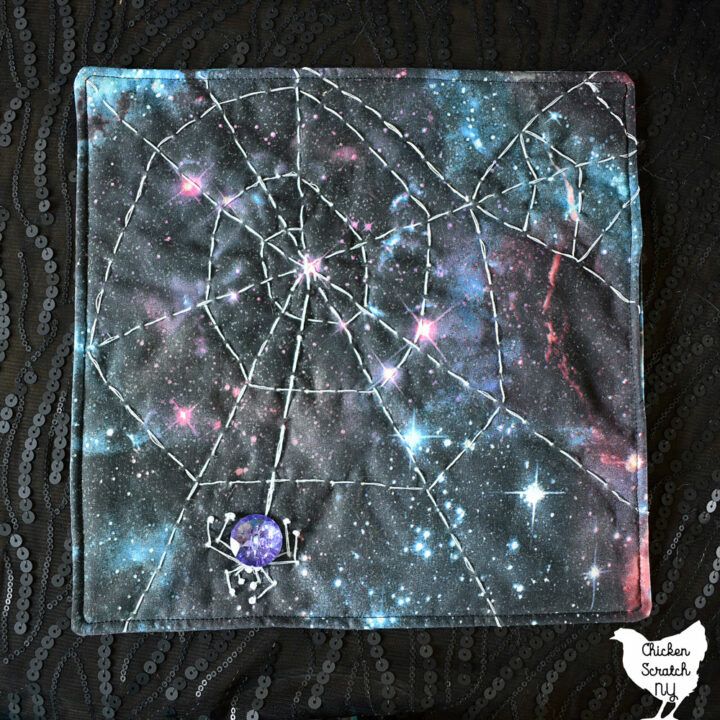 Credit: chickenscratchny.com
I can imagine this spider web quilt perfectly laid on the family room couch as a throw blanket, or as décor for a toddler's room.
If you are an experienced quilter, this craft should be super easy and super quick for you to do. However, if you're new to quilting and want to try your hand at it, have a read through this page for a detailed tutorial.
16. DIY Gory Candle Holders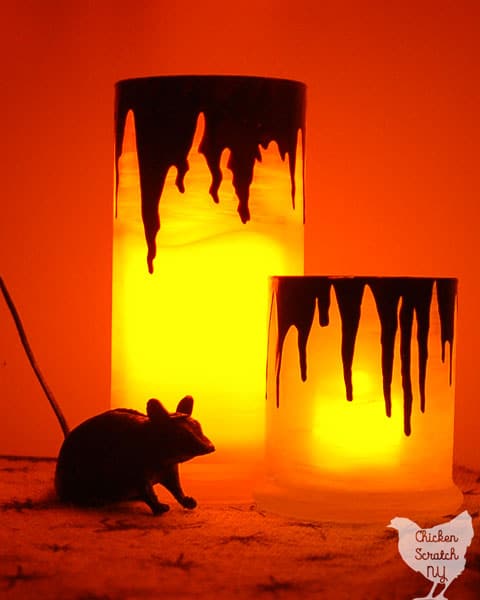 Credit: chickenscratchny.com
Where's the fun in Halloween crafting without a gory decorative piece? This bleeding candle holder is the perfect icky addition to your home's counter or tabletop Halloween décor.
You will need a battery-operated candle like these, red and white frosted glass enamel paint, and an old candle holder.
Don't be tempted by using real candles. This may be way cheaper than battery-operated ones, but the latter is definitely a safer alternative.
17. Freestanding Halloween Greeting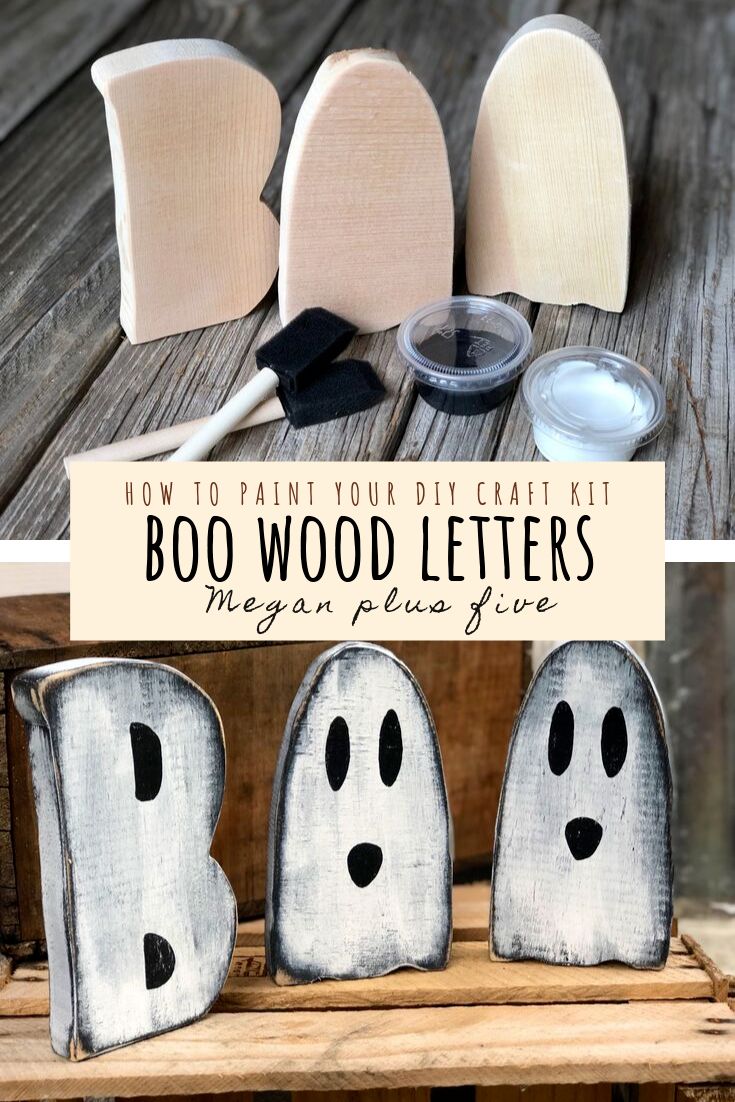 Credit: meganplusfive.com
If your bookshelves or fireplace nook lacks some Halloween spirit, line them with freestanding Halloween greetings. Such as this boo wooden cutouts.
If you don't have the materials to cut the wood into the proper alphabet shape, you can also use pre-cut alphabet cutouts like the ones available here. Once you have the alphabet base, the rest is really up to your creative style.
18. DIY Recycled Tin Can Pumpkins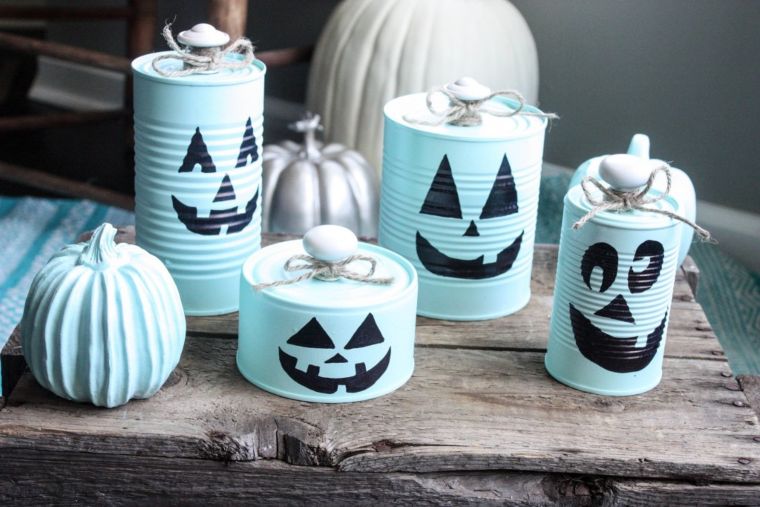 Credit: re-fabbed.com
Who says pumpkins can't be any other shape? This DIY craft is proof that anything can look like a pumpkin, as long as the maker is a creative genius!
To create your own tin pumpkin, you will need clean, and rust-free (safety first!) tin cans and orange spray paint fit for use in metals like this, old cabinet knobs for the pumpkin stem, and black paint to create the details for the pumpkin's face.
Easy and unique, don't you think?
19. Pumpkin Made of Wine Corks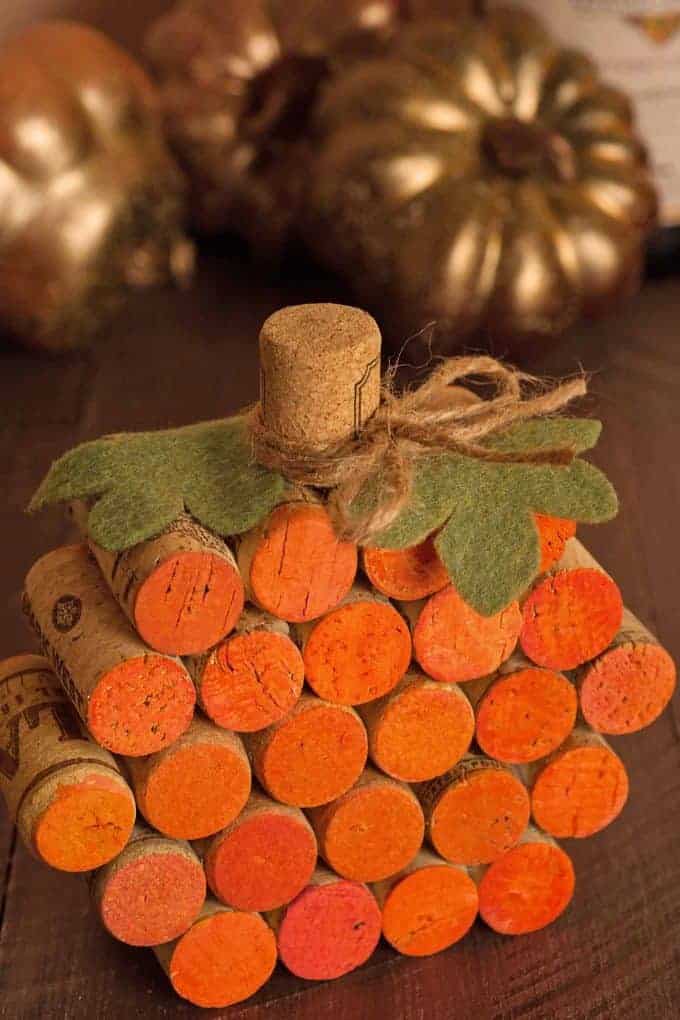 Credit: mygourmetconnection.com
If you enjoy glasses of bubbly or wine at night, there's no better Halloween craft suitable for you than this! The best thing is that the base material is made of wine corks.
This leads me to the best thing for you about this craft: you need to empty the wine bottle to use the cork!
This cute Halloween décor will sit well on your countertop. But, an alternative is as a coaster – like for your wine glass, perhaps?
20. DIY Halloween Yarn Lantern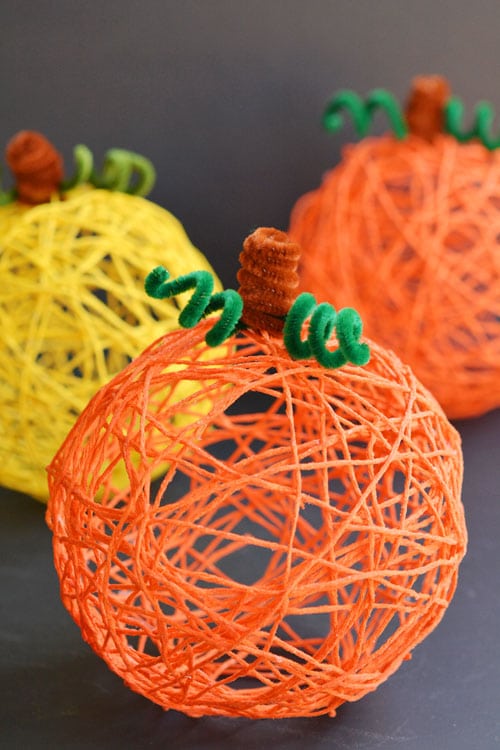 Credit: onelittleproject.com
This DIY yarn lantern is perfect as a hanging décor if you're hosting an outdoor party. You can also use them as Halloween ornaments for your front porch.
This craft is super easy, and the materials are surely readily accessible. It's yarn, glue, a few balloons, and blue and green chenille sticks like the ones seen here.
Loving yarn crafts? Check out this yarn-wrapped vase!
Conclusion
Did you enjoy looking at these adult Halloween crafts as much as I did? Feel free to tell me below about any other ingenious Halloween crafting ideas I might have missed.