Use Dollar Tree items to make Christmas crafts! Whether it's a gift, a decoration, or just a fun little item you want to make for yourself.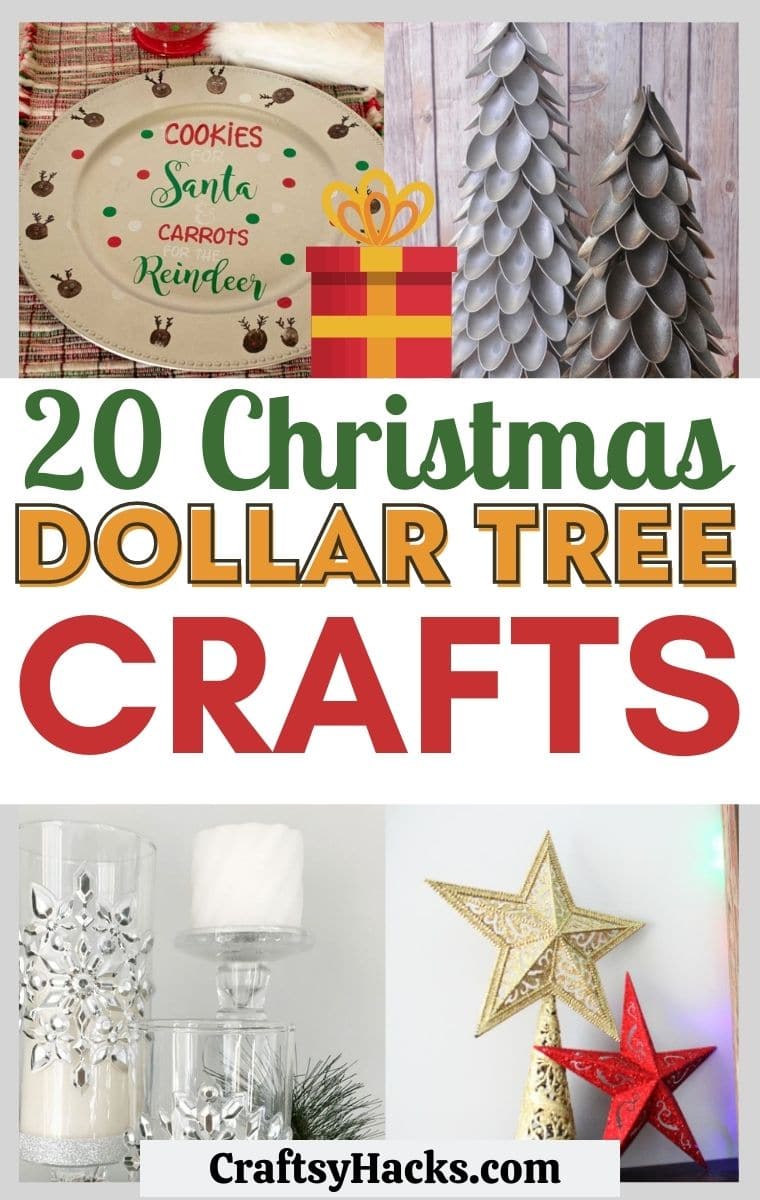 In my opinion, the perfect Christmas craft is cheap, adorable, and full of festive joy. So, what better place to go hunting for supplies than at the dollar store?
The Internet is full of craft people creating amazing crafts using very little cash, and you can do it too! So, grab a notepad and start making a list because it's time to head to your dollar store for some crafting gear.
1. DIY Snowball Ornament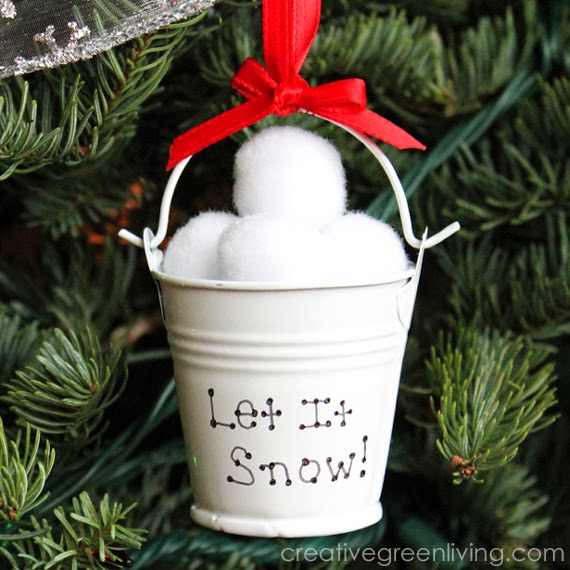 Credit: creativegreenliving.com
Ornaments are a dime a dozen in any Christmas store, but the ones you can buy for a low price all look the same! So, add some individuality to your tree this year with a bucket of fuzzy snowballs.
For this craft, snag a mini bucket from your local dollar store and get customizing! You'll need an ultra-fine tip permanent marker like these ones, plus some white pom poms and a Styrofoam ball for the base.
Slap it all together on Christmas Eve with your kids or break out some wine and make an evening of it with your friends!
Check out more Christmas tree decorations here.
2. Upcycle a Dollar Store Christmas Wreath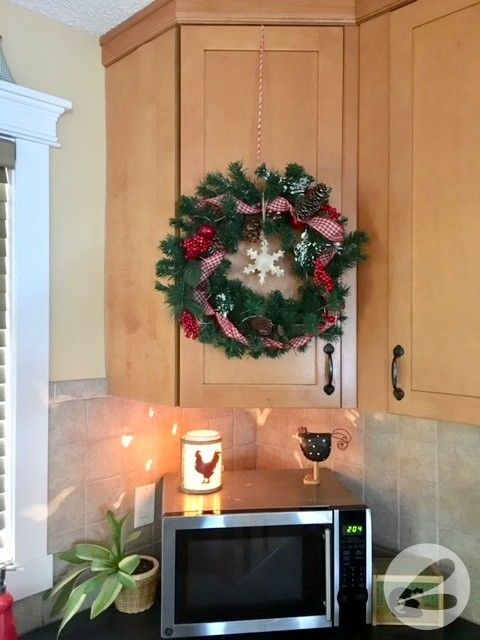 Credit: homemadeheather.com
Your typical dollar store wreath isn't much to look at, but with the right adjustments and some creative elbow grease, you can make it into something spectacular. Take it from frumpy to festive!
Start out with your wreath, then upcycle it to your taste. This clever crafter used snowflake ornaments, gingham ribbon, some miniature ornaments, and some battery-operated lights like this.
The result? A million-dollar wreath for under ten bucks.
If you're looking for some wreath inspiration, check out these Christmas wreath ideas.
3. Make Your Own Solar Powered Christmas Ornament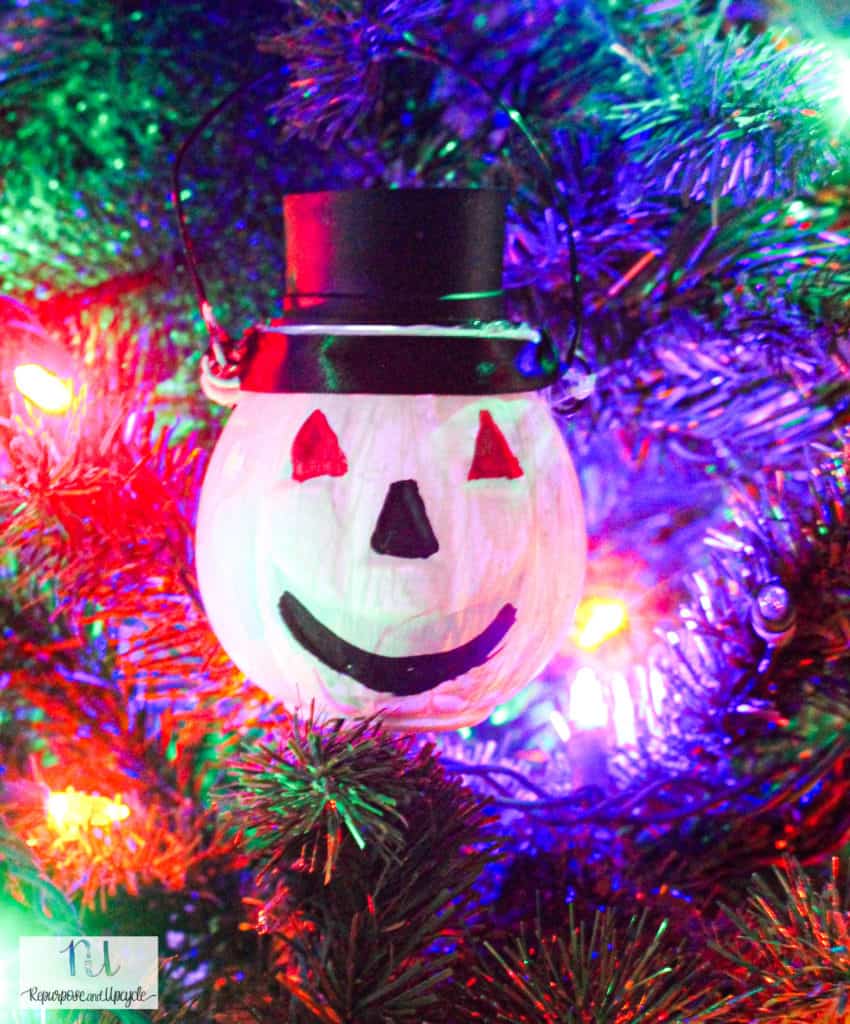 Credit: repurposeandupcycle.com
Once you've made one, you won't be able to stop making these adorable sun-powered Christmas ornaments. They harvest energy during the day and shine at night, so they're also a sustainable choice!
You can get everything you need for this craft from your local dollar store, including the solar stake light you'll be using as the centerpiece. If you're not venturing out, you can find one of those here.
4. Plastic Spoon Christmas Tree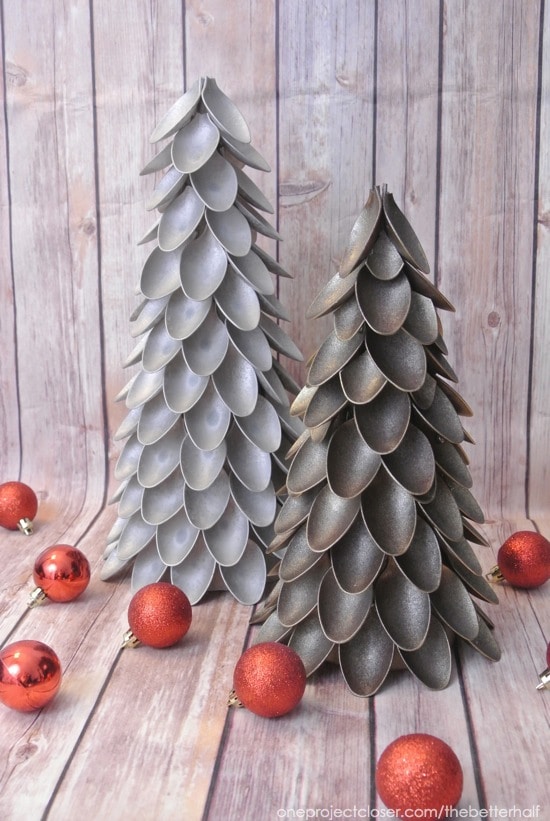 Credit: oneprojectcloser.com
You'd think that any craft involving plastic spoons would end up looking a bit tacky, but this refined craft is anything but! Using plastic spoons, you can create your own metallic mini-trees.
Perfect for decorating your countertops, mantelpiece, and bedside tables, these trees come together so easily! Not to mention, they're very easy on your wallet.
The core ingredient is a pack of plastic spoons, which you can pick up at the dollar store or right here.
5. Create Gorgeous Winter Vases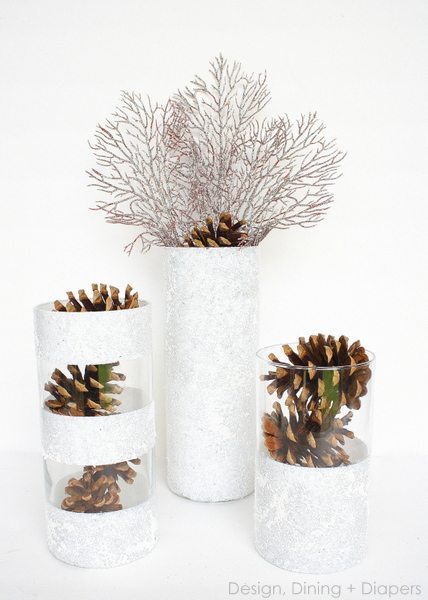 Credit: tarynwhiteaker.com
Next on the list of unexpectedly refined crafts is this DIY dollar store winter vase hack! Start with a few cylindrical glass vases like this one, then use Snow-Tex and a stencil brush to make them shine.
Mark out your lines with some masking tape, then apply the Snow-Tex using the stencil brush. Then, fill them with non-perishable decorations like ornaments, fake flowers… whatever strikes your fancy!
I personally think this frosted snow look is gorgeous. Plus, filling the vases with monochrome decorations really brings some modernity to a traditional Christmas decoration.
Check out another way to spruce up your vases with my tutorial for a yarn-wrapped glass vase.
6. Dollar Store Snowflake Door Hanger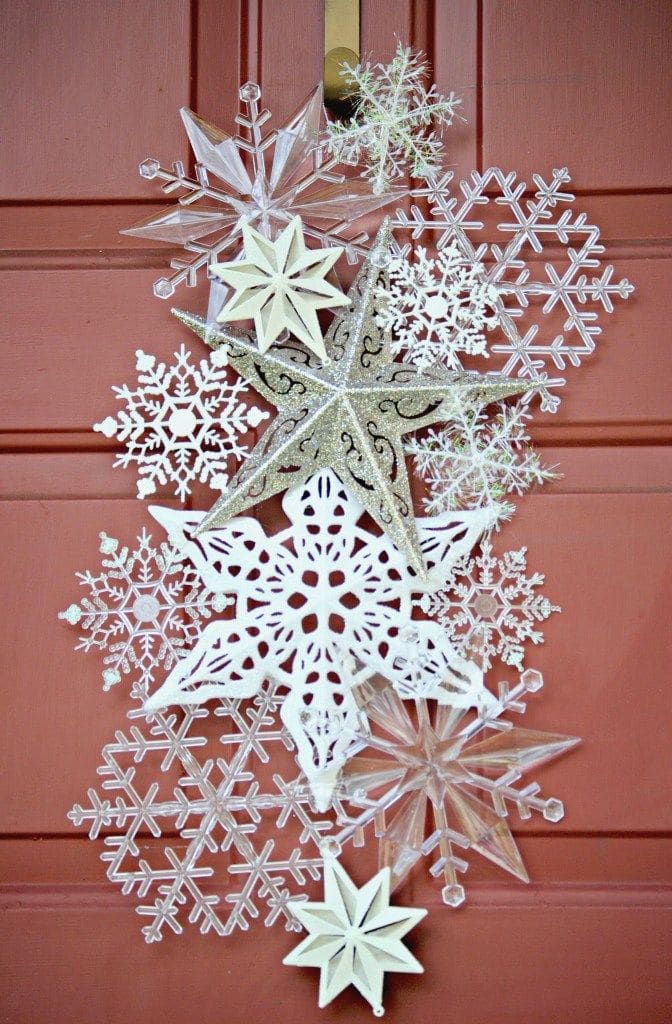 Credit: raeofsparkles.com
I don't know about you, but anything with glitter on it immediately calls my name, whether I'm in the dollar store or a furniture emporium. So, this glitter-covered snowflake door hanger immediately caught my eye.
The great thing about this craft is how little you actually need to buy to get it done. All you need is your trusty glue gun and a collection of the small, medium, and large dollar store snowflakes.
Assemble them in a pattern you like, slather them in hot glue, and fix a ribbon to the back you can use to hang on your door. You can also use command strips (like these) to achieve the same effect.
7. Easy DIY Glitter Star Pedestal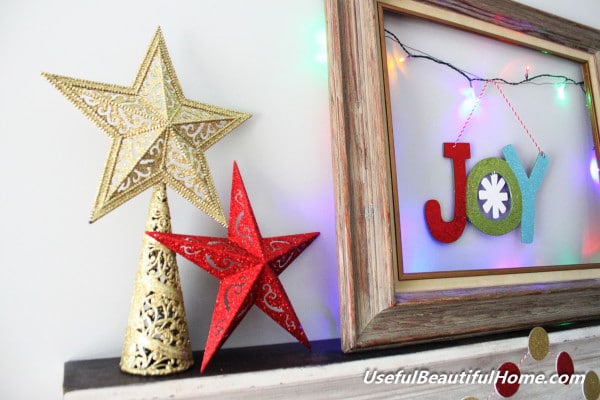 Credit: usefulbeautifulhome.com
Speaking of glitter, here's something with even more bling to satisfy all the other glitter-lovers out there! The idea is to create a standing ornament you can place on any surface.
Add some Christmas cheer to your bathroom, your kitchen, your living room, pretty much any room in your home! Once again, all you'll need is the glue gun and the ornaments, and you can get started.
8. DIY Gem Icicle Ornaments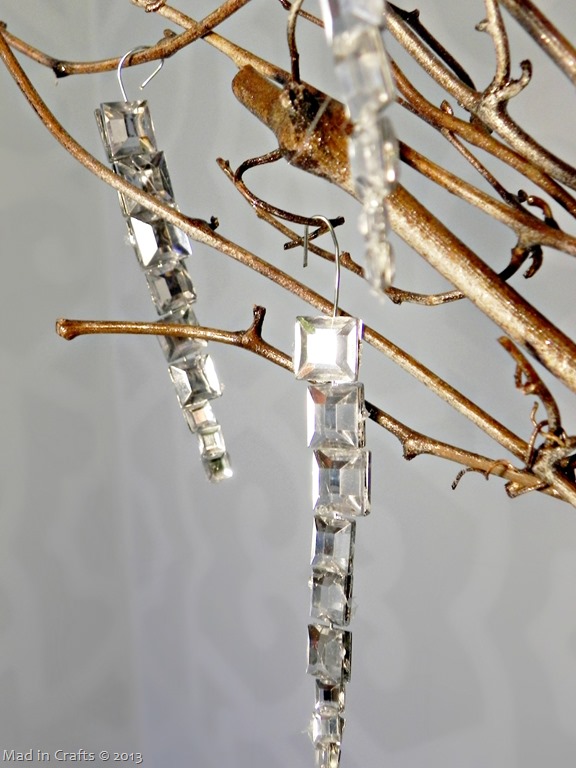 Credit: madincrafts.com
Next up is something that will really take your tree trimming game to the next level. They're super easy to make, and the result brings memories of cold winter mornings and glittering icicles with it.
Pick up as many dollar store gems as you like, in as many sizes as you like. Make sure you also grab some fast-grab tacky glue (or stick with a glue gun). Then, take an afternoon with some wine to assemble.
The one thing you might need to grab separately is some silver floral wire (here) and the accompanying shears. They're essential for attaining that true icicle shape.
9. Popsicle Stick Wooden Sled Ornaments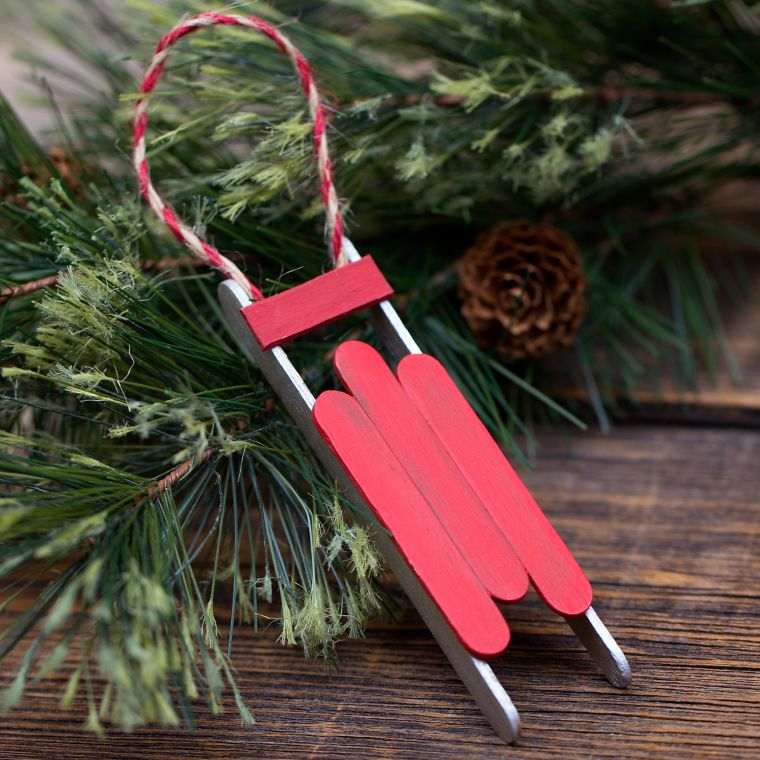 Credit: firefliesandmudpies.com
If you have kids, this is the craft for you. The components are easy to find, the assembly is simple, and the result is absolutely adorable. Craft as many of these vintage snow sleds as you possibly can.
If you're looking to keep your little ones occupied for longer than an hour, you can always make a whole batch of these ornaments and give them away as gifts!
If you like this vintage farmhouse look, I've got a whole bunch of other Farmhouse Christmas décor projects to keep you going.
10. Easy-Peasy Grinch Decorations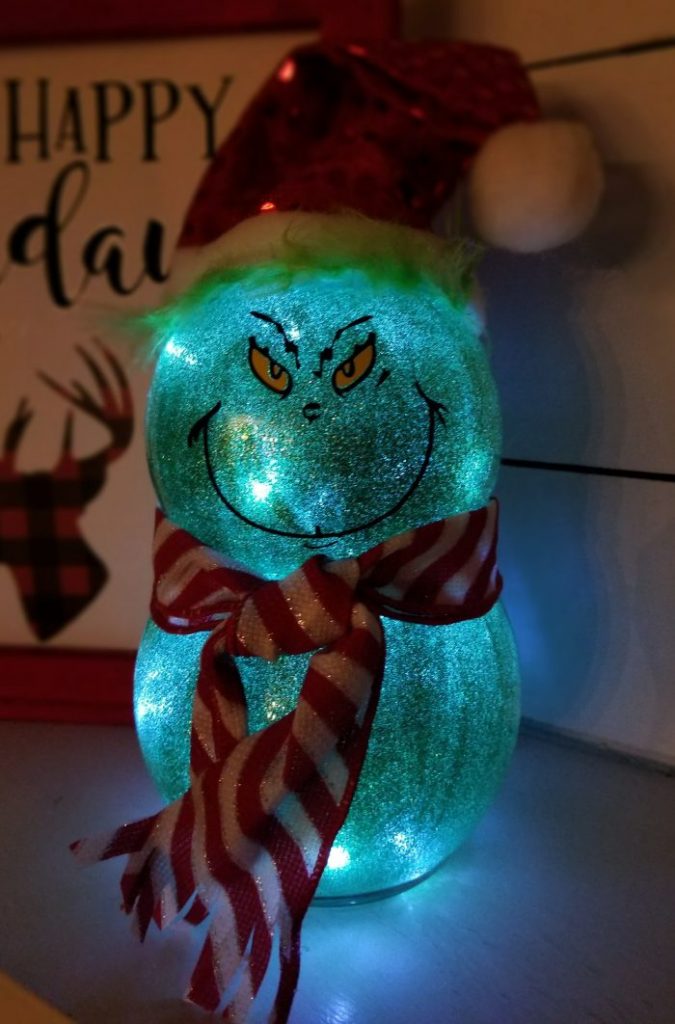 Credit: leapoffaithcrafting.com
Whether you're a Christmas-lover like Cindy in Whoville or the very Grinch himself, you can't deny that these Grinch-themed decorations are absolutely charming.
The one specialty item you'll need for this craft is a Cricut cutting machine (check it out here), but if you don't have one, you can always rely on your art skills to paint the Grinch's face on.
Also, I know the tutorial says "fairy lights optional", but it's so worth adding them for some extra sparkle!
11. A Customised Cookie Plate for Santa's Cookies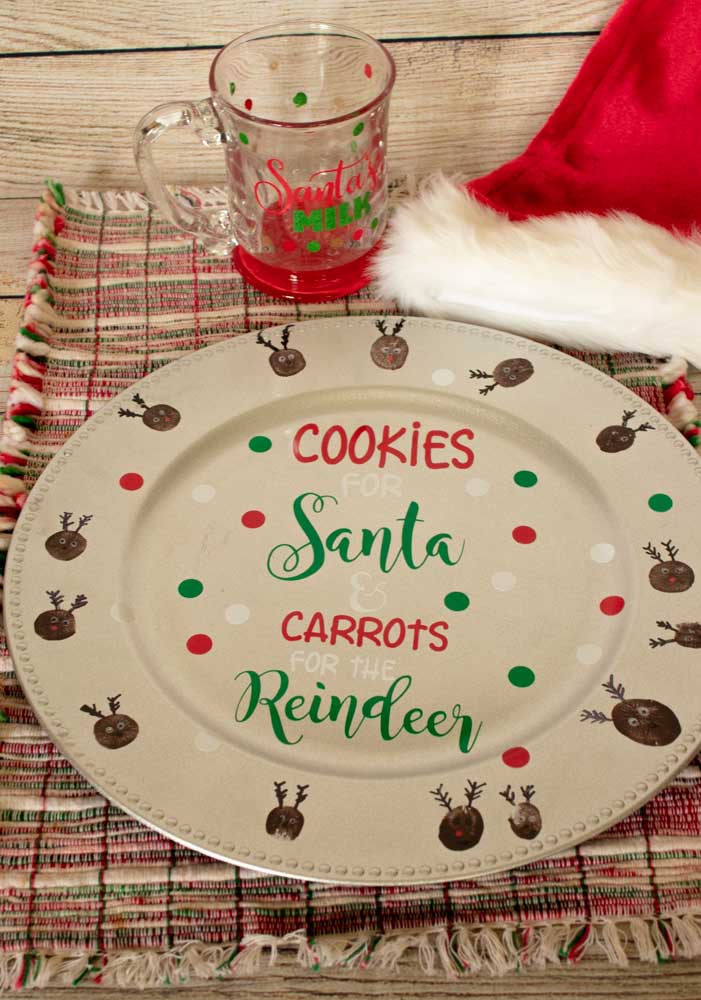 Credit: leapoffaithcrafting.com
Another great craft to tackle with the kids, this customized cookie plate is the perfect thing to use when leaving cookies for Santa. You can decorate it in whatever way strikes your fancy!
Assemble your paint markers (I love these), your Sharpies, your adhesive vinyl, and a dollar store plate to bring this craft to life.
I love the idea of making little animals using your kid's fingerprints. It's such a cute way to capture the memory of your Christmas with them!
12. Dollar Tree Christmas Snowman Figurine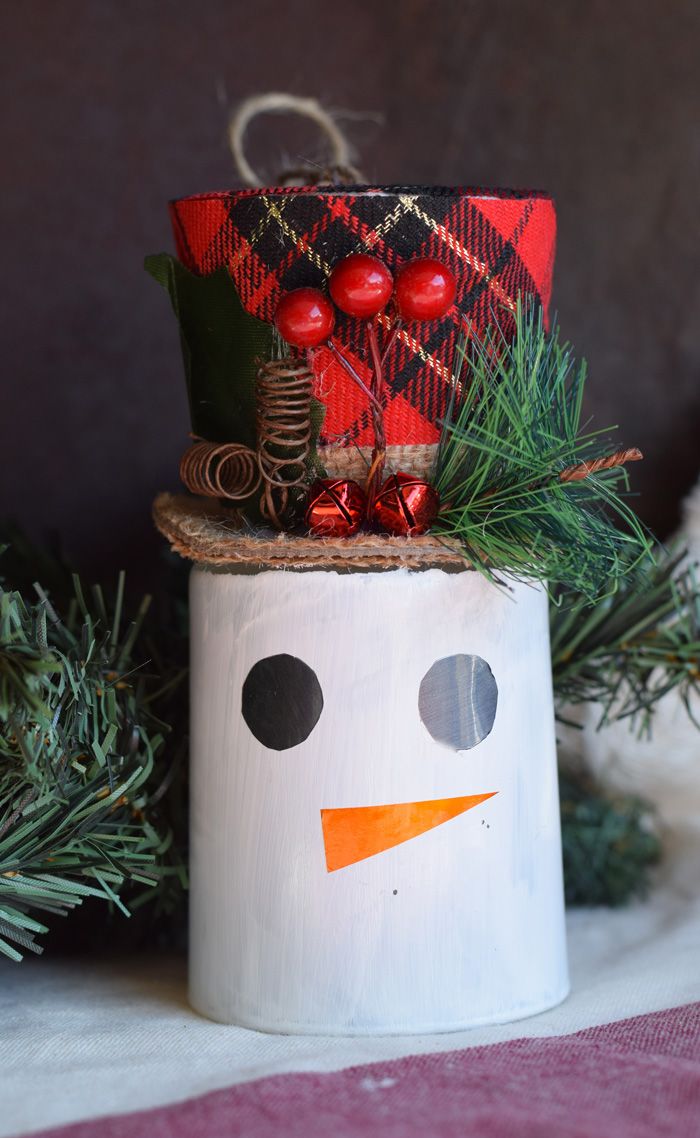 Credit: ithappensinablink.com
If there's one thing I really love about Christmas, it's how whimsical the entire holiday is. So, there's no better way to embody that whimsicality than to bring some frosty little snowmen in from the cold.
All you really need for this craft is a glass, a top hat ornament, a glue gun, and some white acrylic paint (stock up on some of the good stuff here). Then, it's the matter of an afternoon to craft it.
When it comes to putting the snowman's face on, there are actually three options. So, you can tailor the craft to suit the supplies you have on hand.
13. Christmas Snow Globe Ornament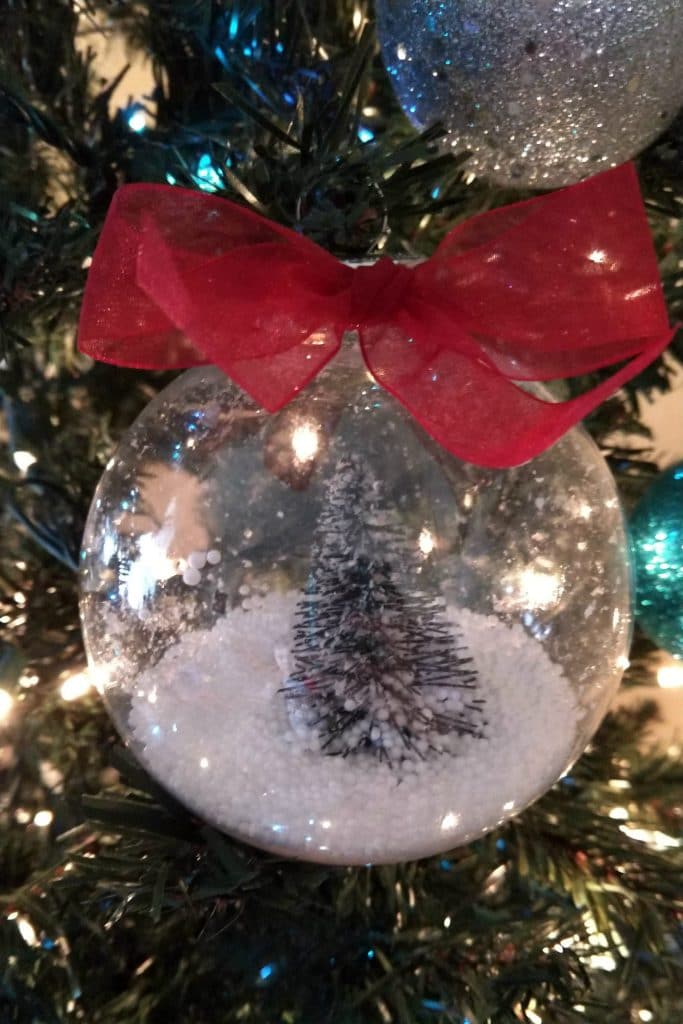 Credit: sunshineandmunchkins.com
Speaking of something whimsical, here's a traditional Christmas craft that can go on every tree you have for the rest of the time. Also, it's another great one to sit and do with the kids on Christmas Eve!
A DIY snow globe ornament may sound like a lot of work, but it's actually very basic. The key is in finding the right clear plastic ornament, so if you can't find one at your local dollar store, try these!
14. Bottle Brush Tree & Crate Christmas Scenes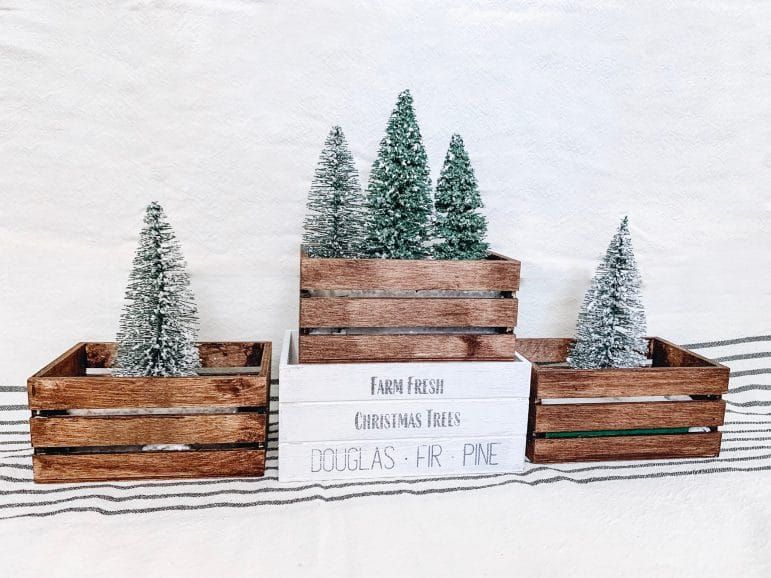 Credit: thriftednest.com
Whether you live in a place with snow at Christmas or not, this fetching craft is one of the best ways to bring some wonderful wintery Christmas scenes indoors.
Apart from the crates and trees themselves—which you should have no trouble finding at your local dollar store—you'll need some floral foam, paint, and a good gel stain (I love this one from Amazon).
Just stain the crates, affix the trees into the floral foam, and stand them anywhere you like for a view of a gorgeous winter wonderland indoors.
15. The Ultimate Snowflake Wreath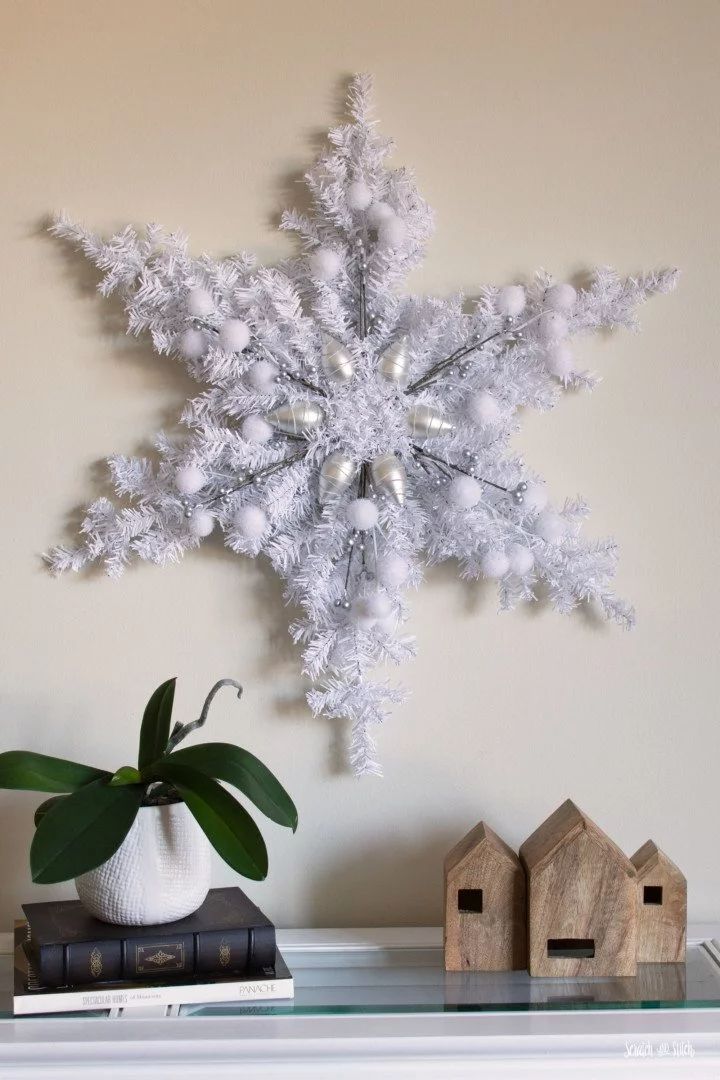 Credit: scratchandstitch.com
Christmas wreaths are a great space to express some individuality over the holiday season, and this unique snowflake wreath is really something special! Why not craft this for your front door?
Inspired by another full-color snowflake-shaped wreath, this monochromatic white wreath brings a little modernity to your celebrations. Not to mention, you're making it from actual Christmas trees.
What's more festive than that?
If you're after some other easy Christmas crafts to spruce up your home, check out my blog post on 20 easy Christmas crafts for adults!
16. DIY Christmas Swag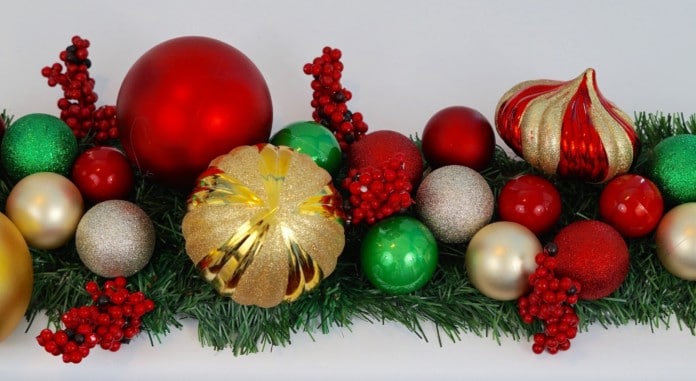 Credit: missplanit.com
If you've never heard of a Christmas swag before, then don't worry. It's essentially a Christmas garland gone overboard! This gorgeous decoration could find a place both indoors and outdoors.
The great thing about a swag is its versatility. Craft it to co-ordinate with your other Christmas décor, and you can place it anywhere in the house for a cohesive, well-thought-out design.
Not only does it make your decorations seem professionally-planned, but it also gives you even more craft projects for the holiday to-do list! Sounds like a win-win to me.
17. Affordable Christmas Votive Candle Holders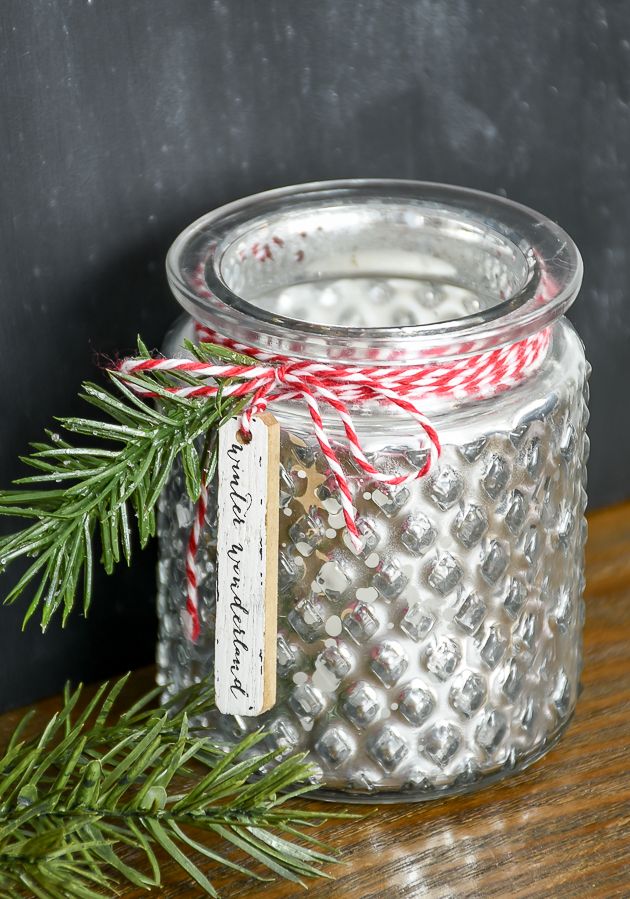 Credit: littlehouseoffour.com
There's almost nothing easier than making over some pre-existing candle holders, and they always come out looking so perfect. You can dot these all-around your home or just use them for Christmas morning!
You can grab almost everything you need for this craft from your local dollar store. However, why not take it one step further and order some scented votive candles for an extra festive touch!
Once you have all your supplies, just use your trusty glue gun and your best creative eye to give them an adorable holiday makeover.
18. DIY Sparkly Gem Christmas Trees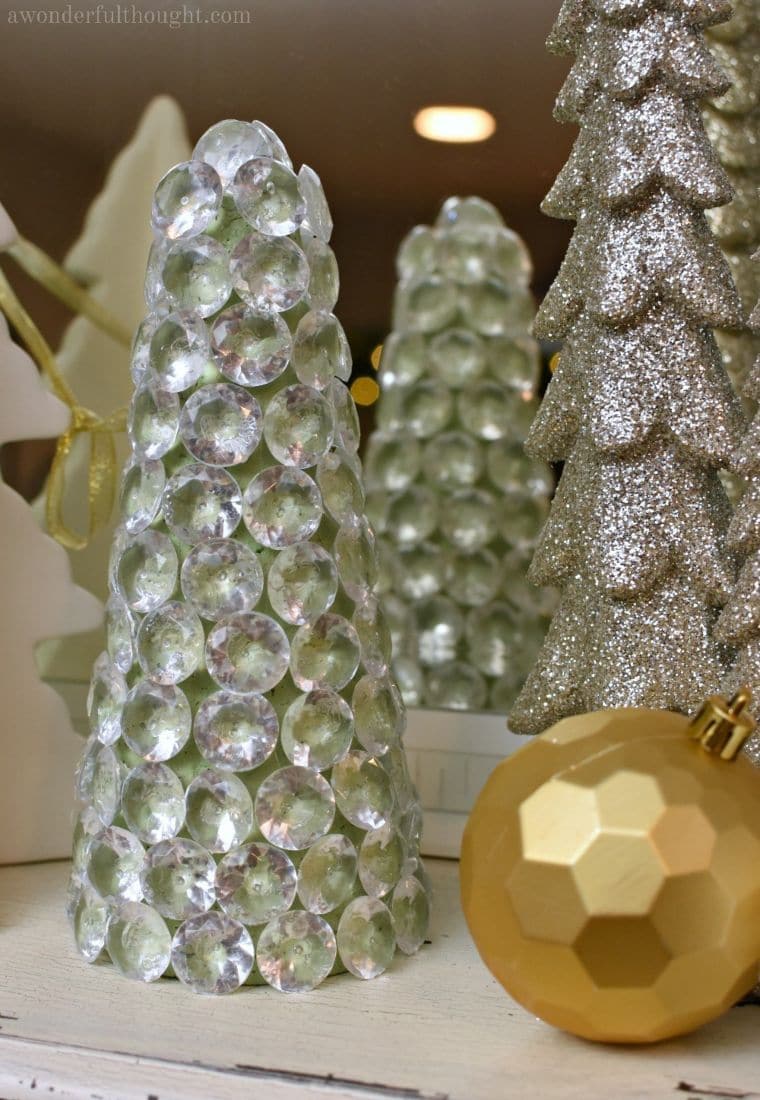 Credit: awonderfulthought.com
Here's the thing about sparkles… you either love them, or you hate them. If you love them as much as I do, then this is absolutely the dollar store Christmas craft for you. It's so shiny!
Happily, this craft is very easy to carry out because you only need three components: a Styrofoam cone, acrylic paint in your chosen color, and some clear acrylic gems. So, it's super easy to customize.
Make a tree that's bright pink, create a gradient series, or create multiple trees in different sizes in your favorite Christmas colors. The ball is in your court!
19. Vintage-Inspired Ornament Candy Jars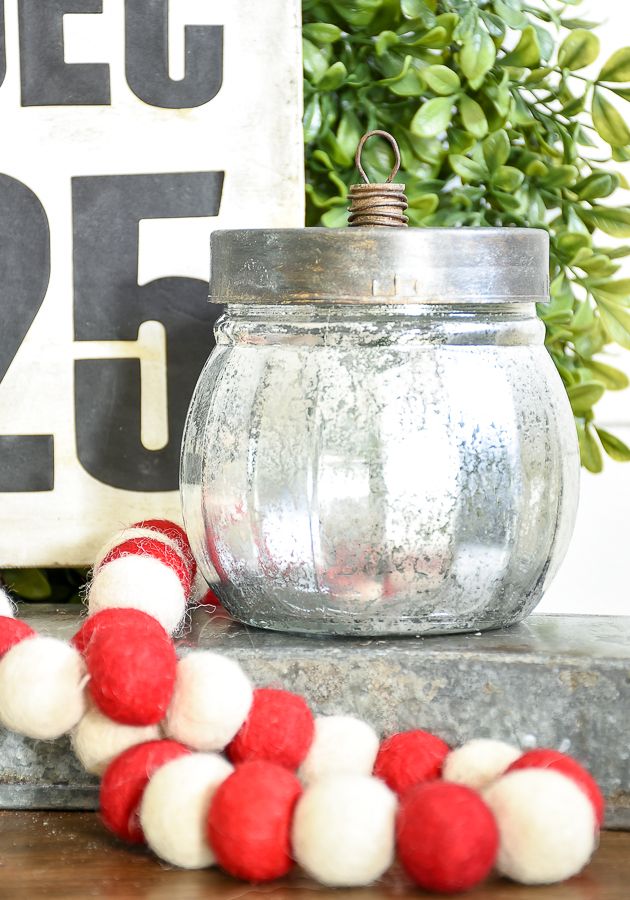 Credit: littlehouseoffour.com
There's farmhouse décor, and then there's creating ornaments that look like they really belong in a vintage elves' workshop. These amazing ornaments undoubtedly fall in the latter category.
By aging a glass jar from your local dollar store, you're making a truly unique ornament! The aging requires some Gold Leaf Rub 'n' Buff, which is a staple for any antique-loving crafter.
If ornaments aren't really your style, consider just aging the jars, filling them with candy, and gifting them as stocking stuffers!
20. Gorgeous Pillar Candleholders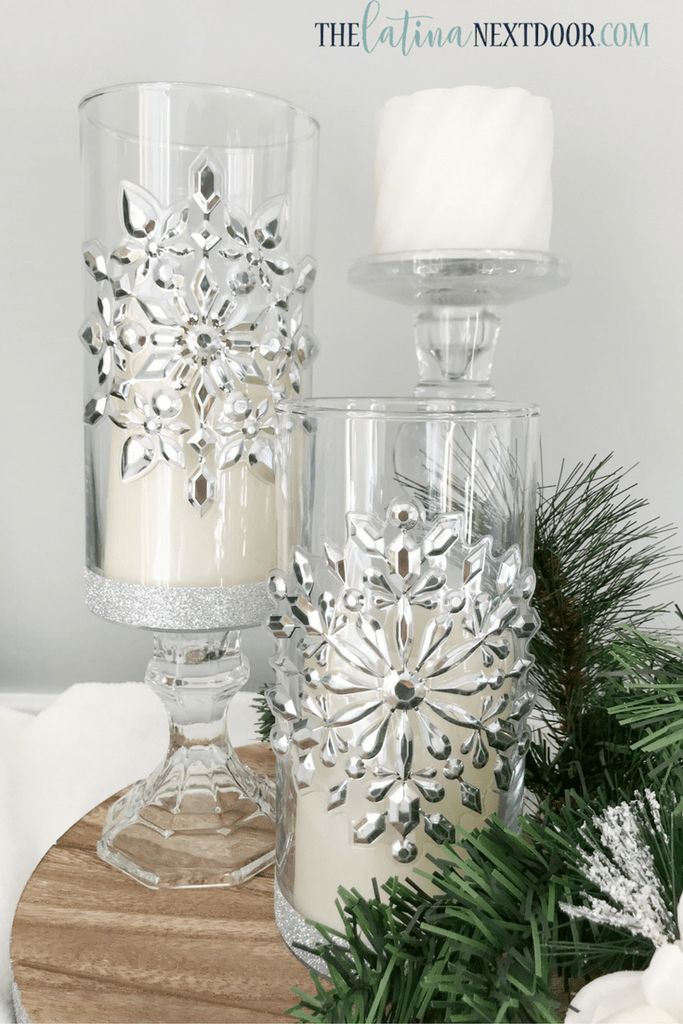 Credit: thelatinanextdoor.com
Finally, here's a way to class up a cheap dollar store vase that's quick, easy, and professional. This one's for pillar candle-lovers, so why not stock up on a bunch of scented pillar candles first?
Once you have your cylindrical vase, the next step is to add your window decal. You can pick this up at a local hobby store, or you can find some online at Amazon here, so exercise your creativity!
Pop your candles in, light them, and done! A classy Christmas candleholder for your table.
Conclusion
So, which one of these Dollar Store Christmas crafts is your favorite? Let me know and get crafting!