Get crafty this winter with Christmas crafts for adults! These DIY projects are great for adults.
When Christmas time comes around, there's nothing better than adorning your home with hints of the holiday season! Wreaths on the doors, homemade ornaments on the tree, and chestnuts roasting on an open fire…
It's time to bring the sights and smells of Christmas into your home with some crafty sessions.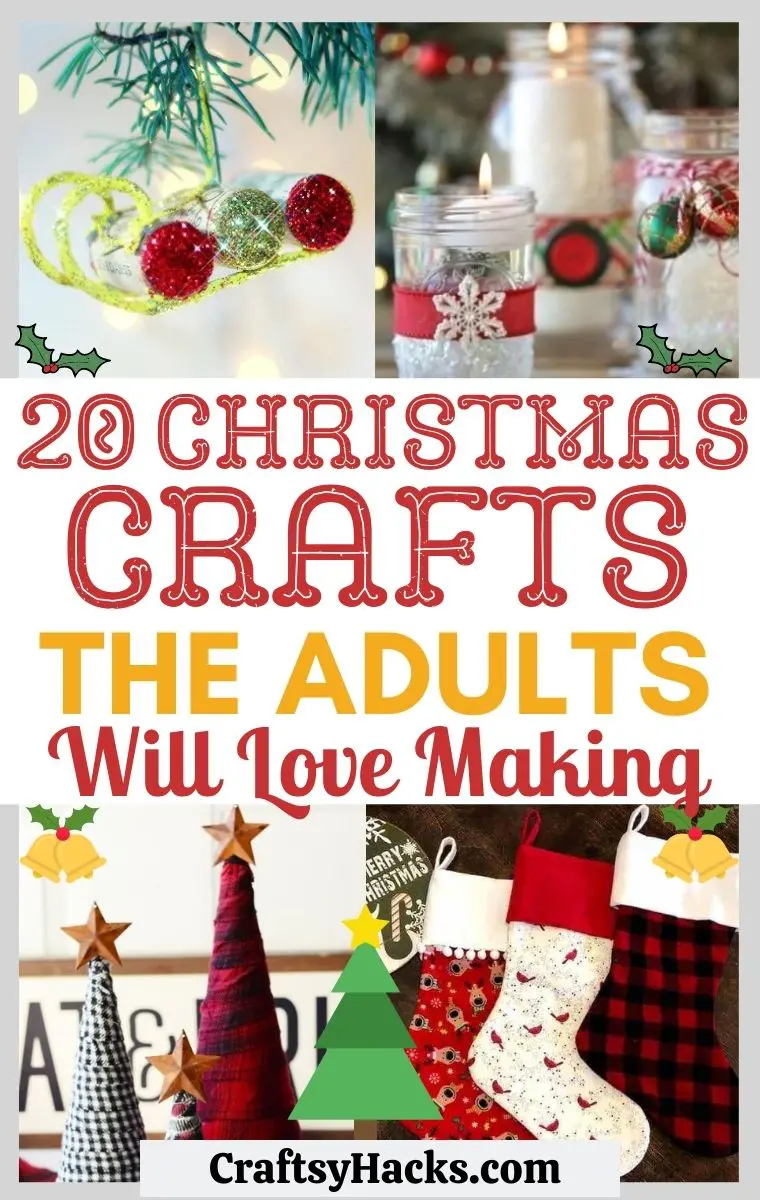 Most holiday-themed DIYs are aimed at kids, but what about some Christmas crafting for adults who can't get enough of the holidays?
Grab your partner, sit down with the kids, or take these crafts on yourself! Here are twenty of our favorite Christmas crafts for adults.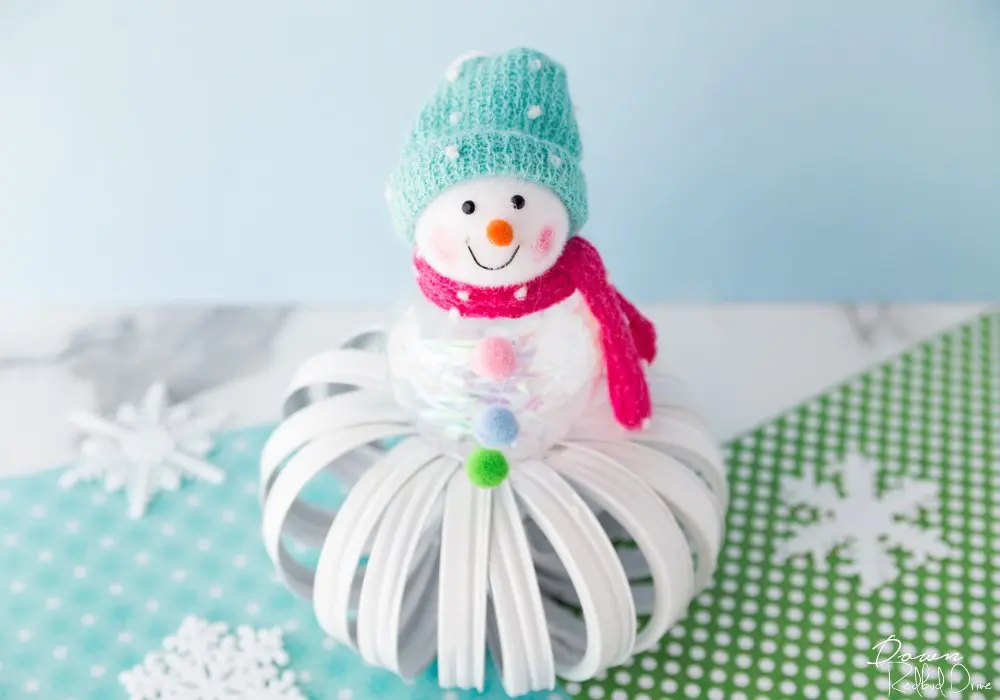 Credit: Down Redbud Drive
Mason jars are the kind of thing most people have around the house, and they're the perfect medium for crafting in any season. These adorable little winter companions are easy to make and even easier to enjoy.
Dot them around your house as little reminders of Christmas, or add a string and hang them on your tree! To bring these mason jar snowmen to life, you'll need eighteen silver mason jar rings, white spray paint, floral wire, a snowman ornament, needle-nose pliers, and a hot glue gun.
Simply spray the rings and tie them together in the shape you see above with the floral wire. Glue your chosen ornament to the top, and you've got a gorgeous little snowman! It couldn't be simpler.
Can't find an ornament you like at your local store? Try using this snowman for this craft.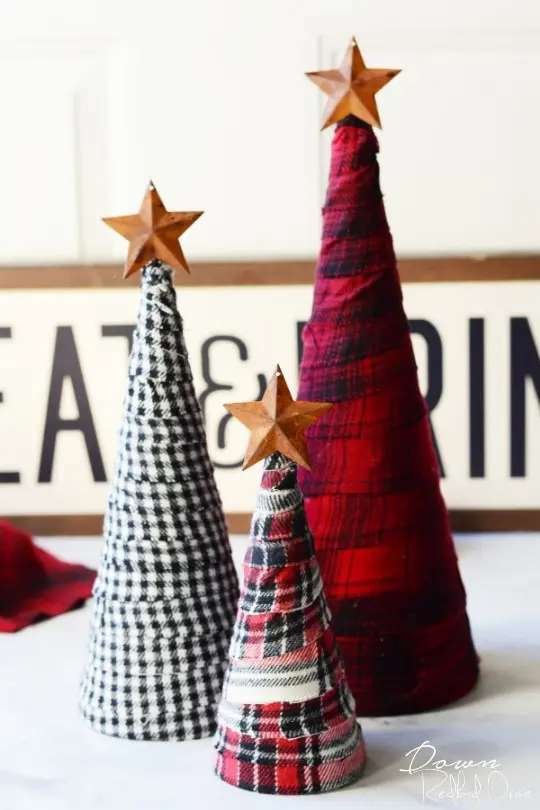 Credit: Down Redbud Drive
The best kind of Christmas decoration is one you can't find in the store. Use these DIY flannel trees to bring a touch of Christmas-y warmth to your home.
They're super easy to make and make a perfect decoration for adults who like a refined design.
For this incredibly simple project, all you'll need is some cardboard cone trees like these. Also, your favorite flannel fabric (we recommend picking two or three types for some variety), rustic metal star toppers, a hot glue gun, and your best scissors (give these a try).
An afternoon of crafting fun for a professional-looking decoration. What could be better?
This could also be a wonderful Christmas centerpiece!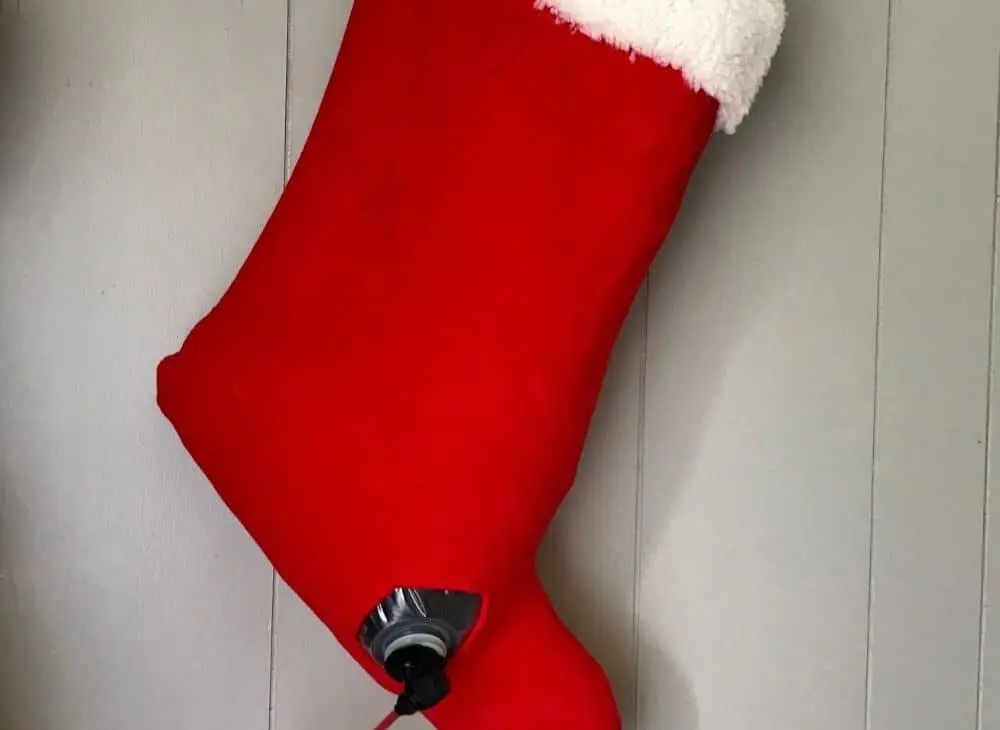 Credit: Beginner Sewing Projects
Calling all wine lovers! Whether you're a fan of holiday mulled wine or you're looking for a cute way to pour wine at your next Christmas party, this is the craft for you.
Change up the colors to correspond to the wine: white for white, red for red, pink for blush.
This one's a from-scratch sewing project, so it's a great craft to try if you're trying to get better at sewing. You'll need a yard of fleece fabric, a quarter yard of Sherpa fabric for the cuff (we recommend this one).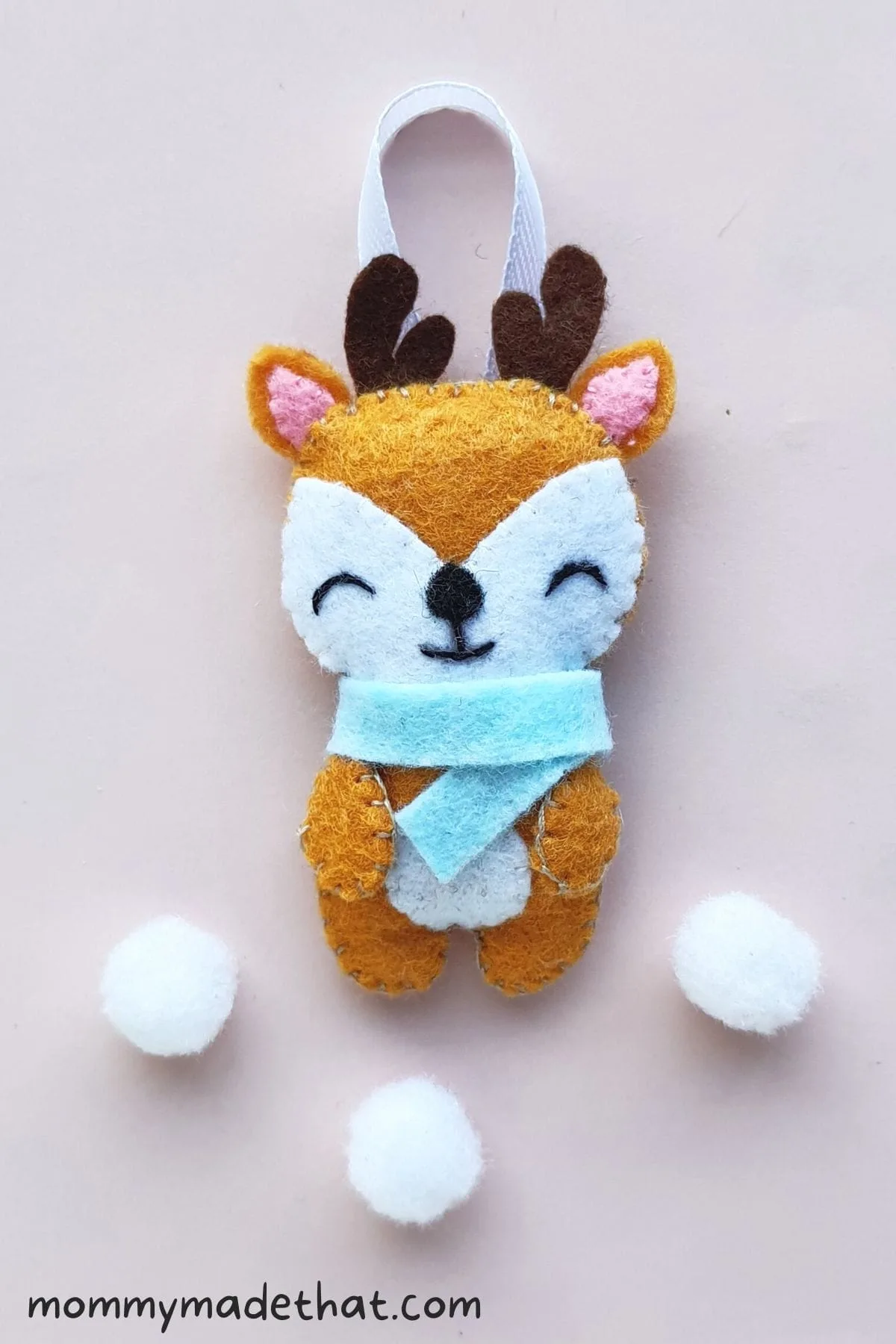 Credit: mommymadethat.com
Looking for something cheap and easy? These felt Christmas ornaments make amazing holiday gifts or decorations, and they're super easy to customize to your own taste.
You'll want to download the template from Mommy Made That and print it out, as this is what makes the shape. Then, pick out some felt fabric in your favorite Christmas colors.
Cut out the felt pieces and lay them on top of one another, then stitch a simple embroidered design through the layers to hold them together (and add some decoration). Weave some of those beads in as you go for a bit of extra personality.
Before you know it, you're done.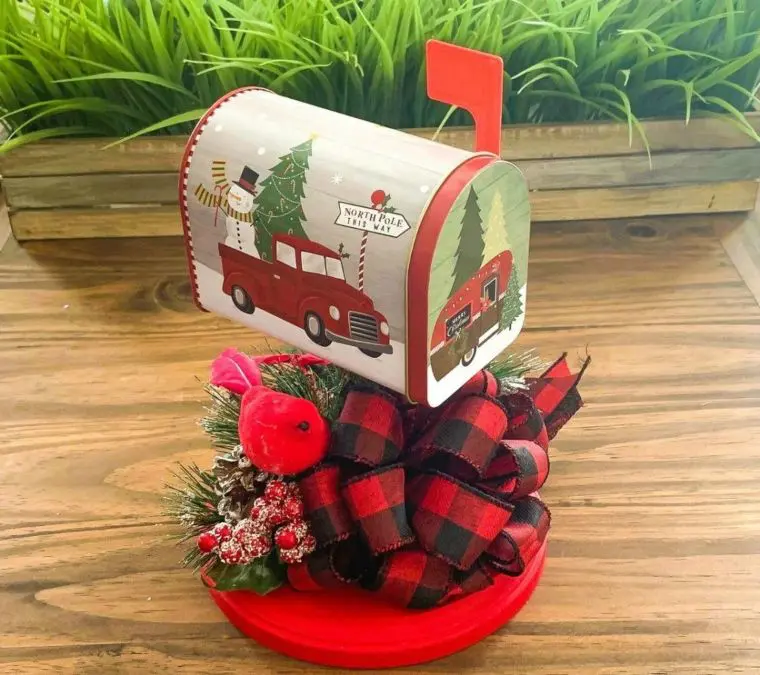 Credit: This Ole Mom
There's nothing better than an affordable Christmas DIY project, and that's what this Christmas mailbox is! Based on a Dollar Tree mini mailbox, this is the ideal craft to customize and place near your home's entrance as a "Welcome In!" to your guests.
Apart from your miniature mailbox, you'll need red acrylic paint, a round wooden disk, Christmas-themed foliage of your choice, a ribbon bow, floral picks with birds, a small wooden dowel, and the ever-present hot glue gun.
The great thing about this craft is how easy it is to customize. If you want something traditional, you can opt for a red plaid bow or go for something sleeker with black and silver accessories!
This is a beautiful Christmas decoration!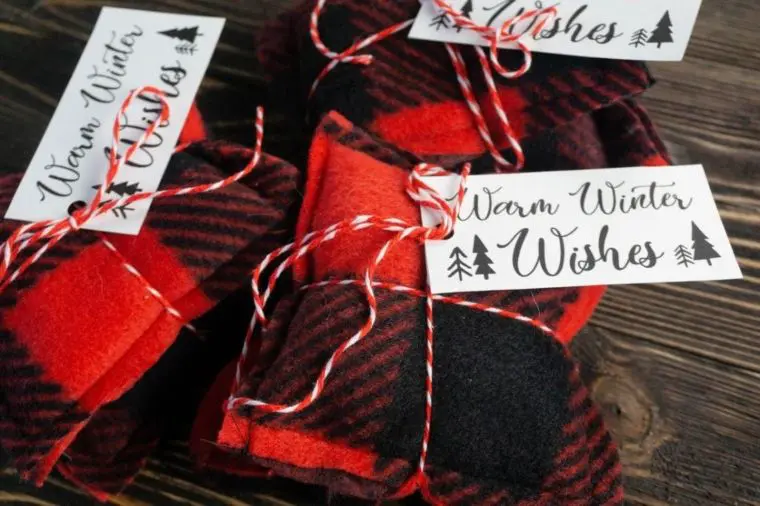 Credit: Mooshu Jenne
Good for small hands and large hands, these gorgeous fleece hand warmers make amazing stocking stuffers for the big day. Pair them with another small gift, and they'd make a great party favor for your holiday festivities.
All you'll need is the fleece material of your choice, matching color thread, rice for the stuffing, a funnel, as well as baking twine and card stock for the tags. I love this baking twine for Christmas projects, thanks to the candy-striped pattern.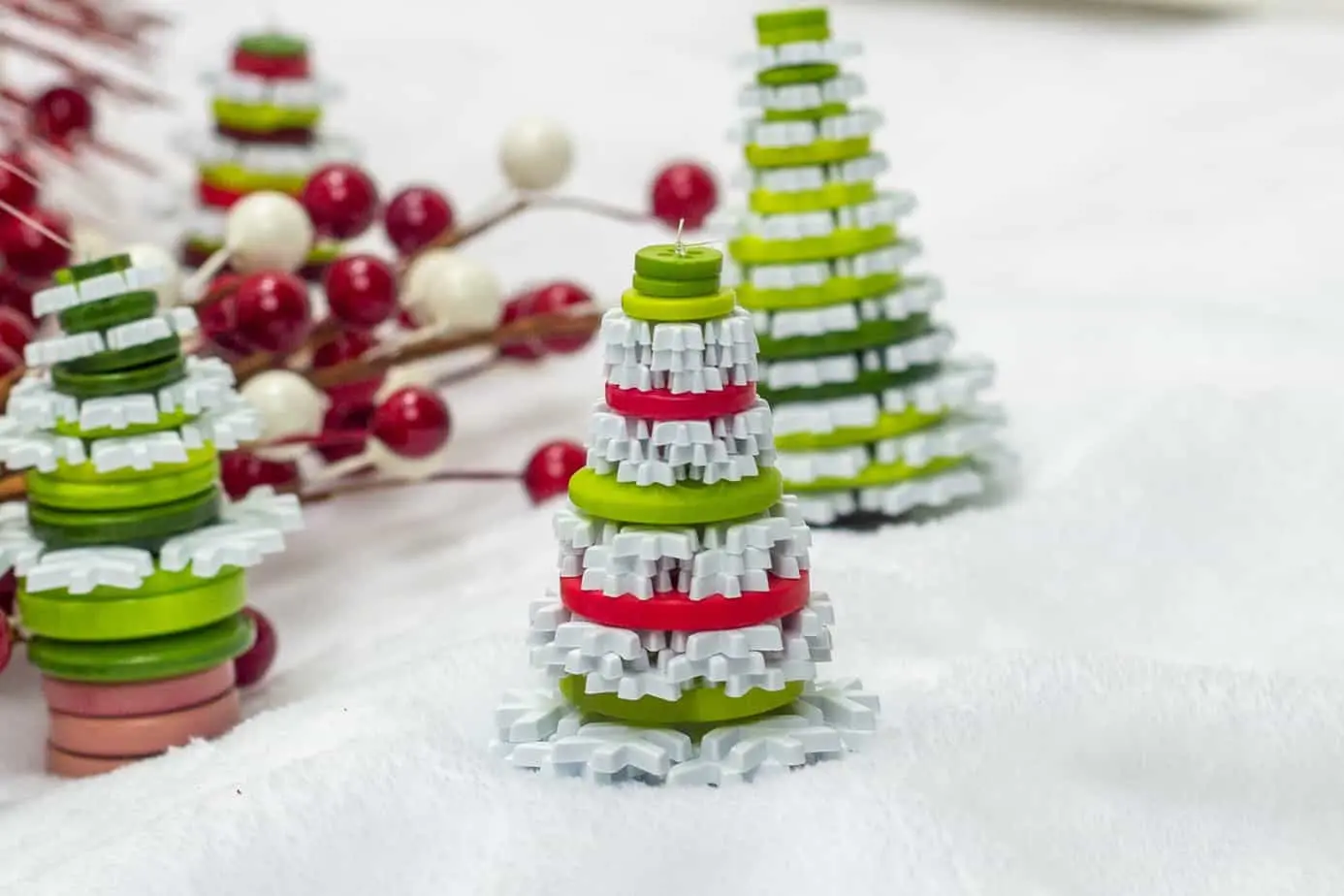 Credit: Beginner Sewing Projects
This is the ideal Christmas craft to choose if you have some odds and ends lying around the house, and you're looking for a cute new adornment for your tree. They take about five minutes to make.
Also, require very little in the way of supplies, and they are (pardon the pun) cute as a button!
Scrounge around your home for the supplies you'll need to get these little fellas on your tree as quickly as possible. One thing you'll definitely need is some illusion cord, and if you're not used to crafting on the fly, you might not have that on hand.
Not to worry, I recommend this illusion cord for any and all ornament making adventures.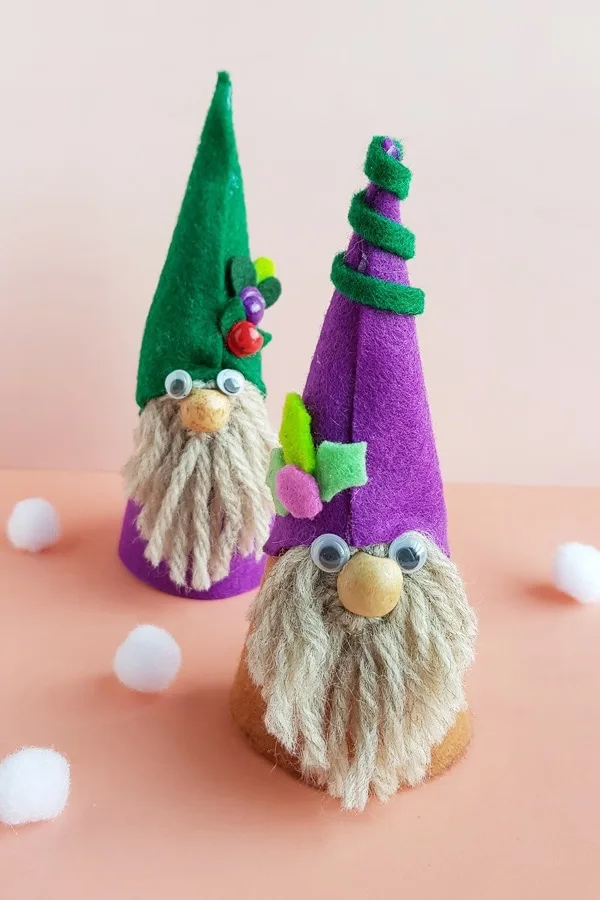 Credit: mommymadethat.com
If you're not much of a sewer, but you love fabric ornaments and crafts, this is the seasonal craft that will tickle your fancy.
The great thing about these felt gnomes is that you customize them to your heart's content. Dot them inconspicuously around your house, place a line on your mantelpiece, or make bigger ones stand guard on Christmas night! It's all up to you.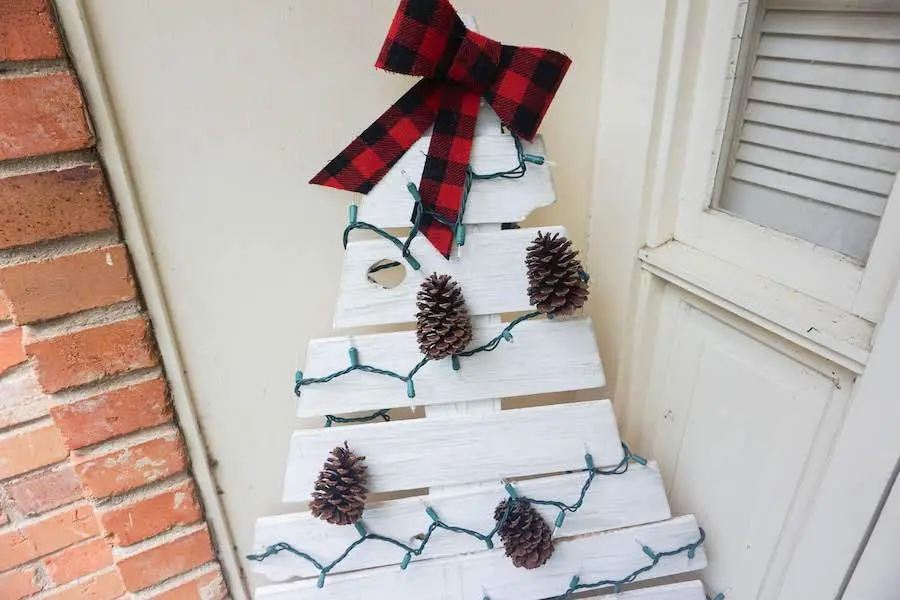 Credit: The Happiest Camper
Outdoor Christmas decorations need to be durable to withstand the weather, and they need to be super cute at the same time. Usually, that means spending a lot of money to get the right balance of the two.
But, with this DIY wooden Christmas tree for your porch or front stoop, there's no need to empty your bank account!
Set aside an afternoon for this craft and pick a day with good weather (it needs to dry). You'll need some wood, sandpaper, a hot glue gun, and the paint color of your choice.
In addition, you'll need a jigsaw or scroll saw, which you can find here. If you want to use a standard saw, then you can, however, it will take a bit longer to knock this craft together.
Simply cut the planks to size, paint them, glue them together into a Christmas tree shape, and adorn with whatever Christmas-y decorations you find lying around!
I recommend natural elements like pinecones and some outdoor Christmas lights like these.
This could be a nice addition to your farmhouse Christmas décor.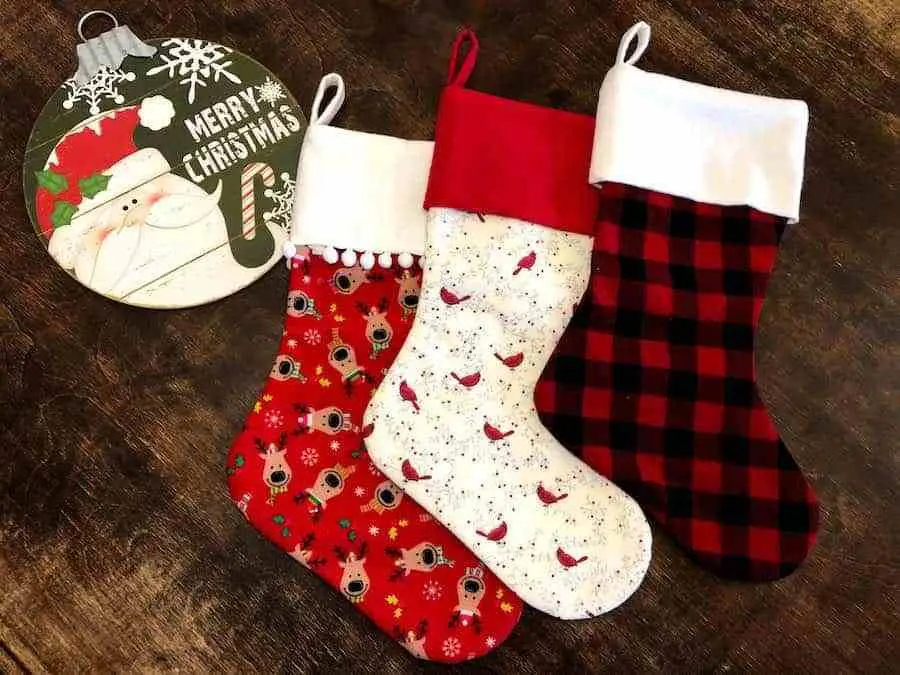 Credit: The Happiest Camper
Sometimes, the best craft for Christmas is something that takes you back to your childhood. Remember mornings running down the stairs to grab your stockings, unwrapping gifts before breakfast, the smell of hot cocoa, and a floor strewn with wrapping paper?
Bring those memories back by creating your very own custom Christmas stocking. If you're looking for something traditional to adorn your fireplace, you can choose some classically Christmas-themed fabric.
Or you can go a more refined route with simple fabrics. These stockings also make amazing gifts for family members on the big day!
One key thing you may not have hanging around your home is a rotary cutter and the corresponding mat, but you can pick those up here.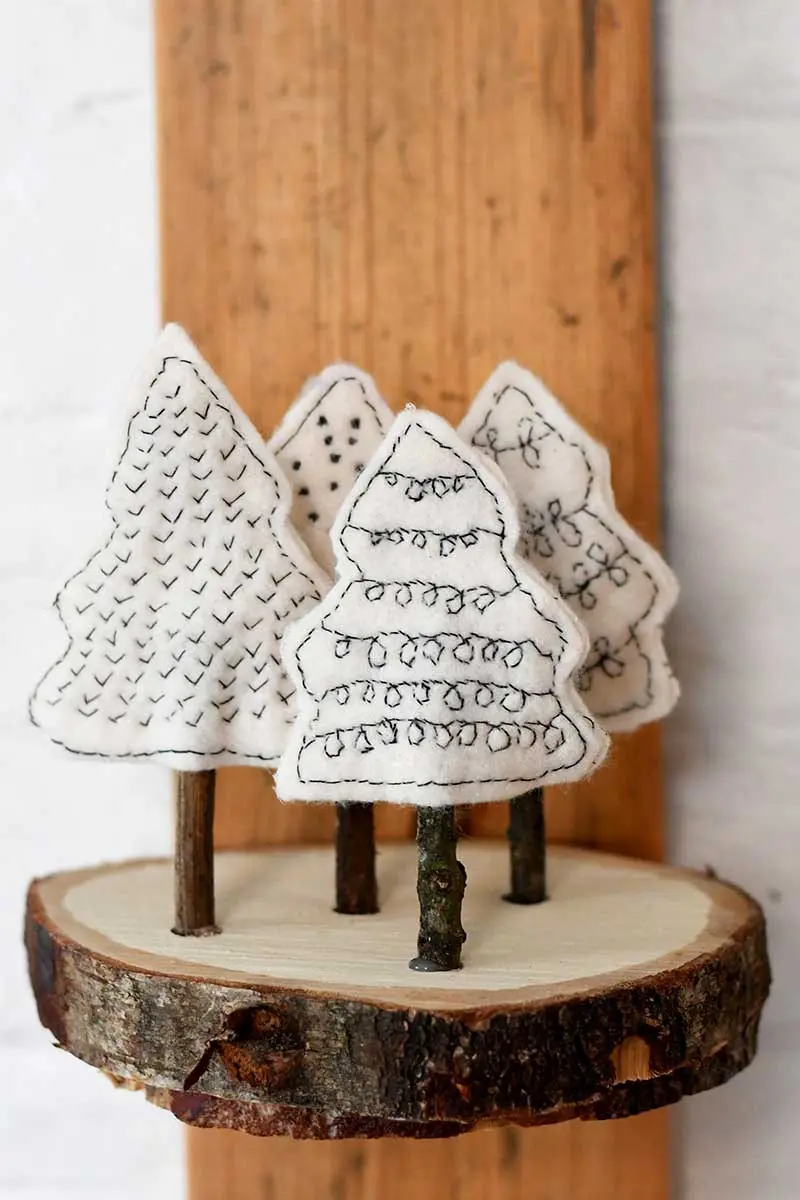 Credit: Pillar Box Blue
Speaking of more refined crafts, this Scandi-inspired Christmas DIY is perfect for bringing a natural, minimalistic taste of Christmas into your home. Rough natural textures combine with soft white felt in this gorgeous, unique piece.
Perfect for an adult home that wants to eschew some of the "cheese" that many Christmas ornaments carry with them.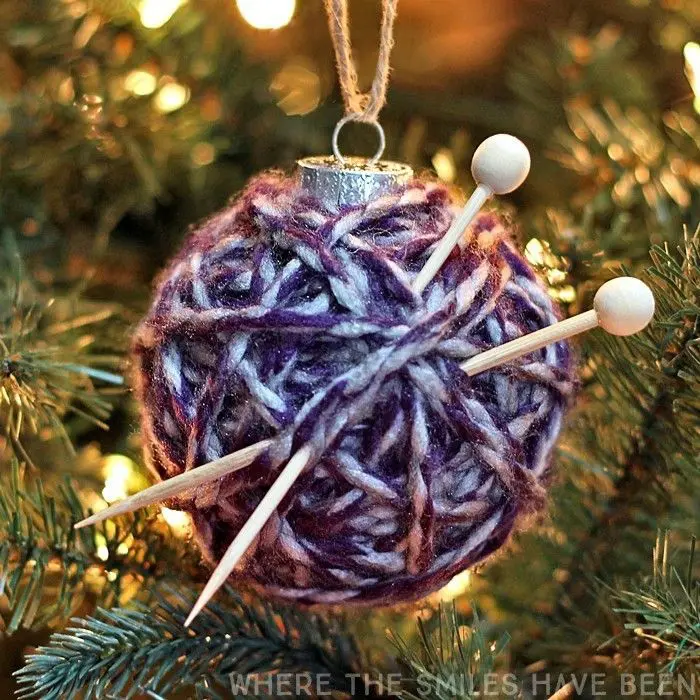 Credit: Where the Smiles Have Been
If you're reading this craft blog, odds are you're already pretty crafty. So, why not express your craftiness in your Christmas tree ornaments?
These adorable little balls of yarn can be made in two different ways. So, you can choose your preferred method based on what you might already have from other crafts.
One method is based on a clear ornament like this, while the other uses a white foam sphere like this. Both use a crafter's tried and trusted companion, a hot glue gun, as well as lightweight yarn and wooden skewers.
Express your crafty sensibilities this festive season. Check out more Christmas tree decorations here.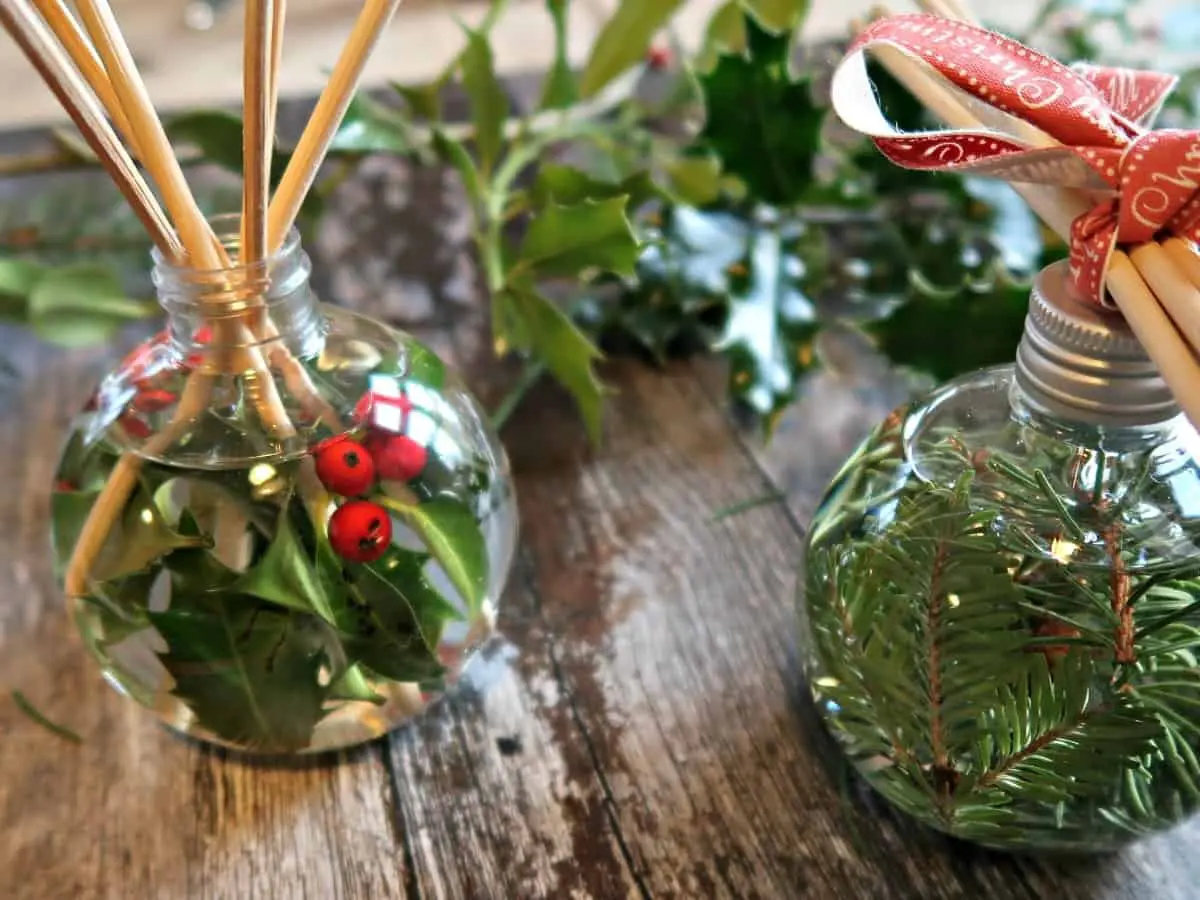 Credit: Craft Invaders
These nifty little homewares only take a few minutes to bring together. But, they make for really thoughtful gifts or an easy way to bring the scent of Christmas indoors.
Many DIY diffusers use pre-made diffuser oil, but this craft teaches you how to make your own. So, you can use it all year round with your own scent choices.
The diffusers find their home in a fillable Christmas bauble, much like the one I have linked above.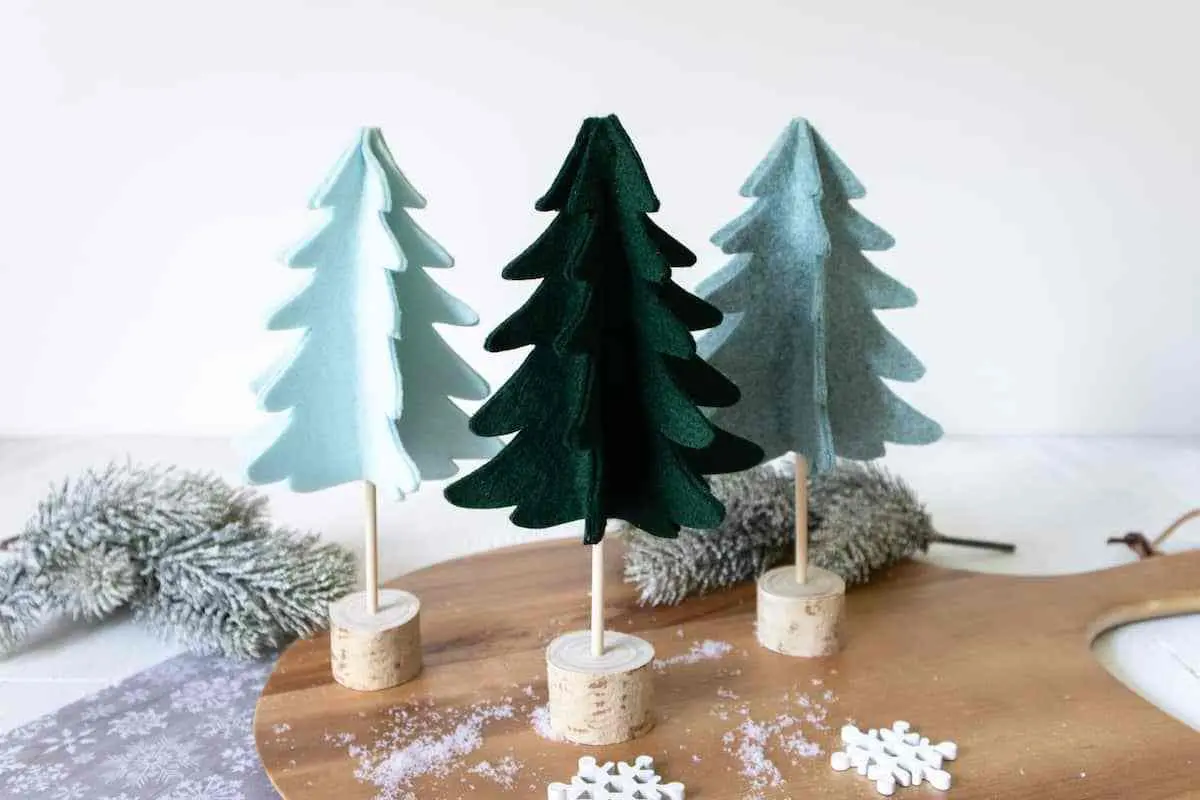 Credit: Single Girl's DIY
If you liked the look of the Scandi felt craft from number eleven on this list, but wanted something a little more portable, this is the one for you.
These little trees each have their own little wooden stand. Which makes them the perfect craft to the group on your mantelpiece or dot on your kitchen windowsill.
These felt trees are also in 3D, so they make a perfect winter scene from all angles. For this craft, all you need to do is print out the tutorial template.
Then, cut out enough shapes in your chosen felt fabrics, and affix them to the wooden dowels using your hot glue gun. Simple!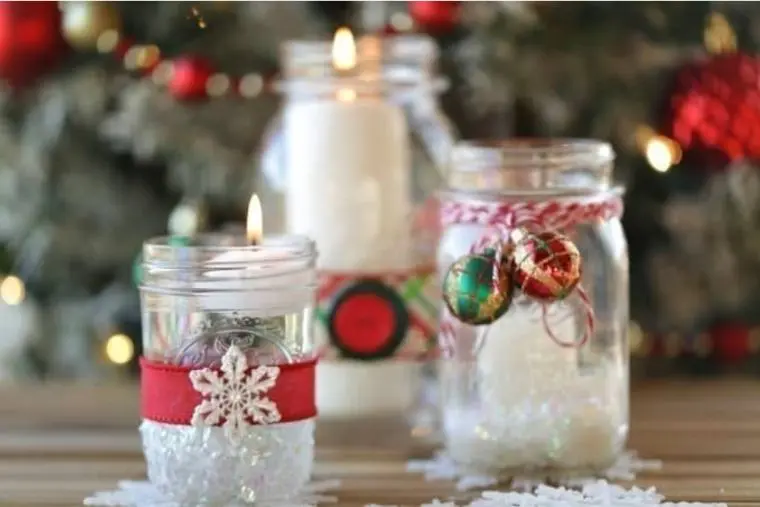 Credit: The Farm Girl Gabs
Here's another mason jar craft to make good use of all those old jam or pickle jars! This craft is perfect to spruce up some basic pillar candles, adding a touch of Christmas-y cheer to even the smallest element in your home.
Even better, they're amazing for clearing out the very last scraps of ribbon, lace, and decorative string out of your crafting stash. The ultimate scrap-buster!
Whip out your favorite baubles, ribbons, decorations, myriad mason jar sizes, and your favorite candles to make this DIY come to life. This craft is even better with Christmas-scented candles like these!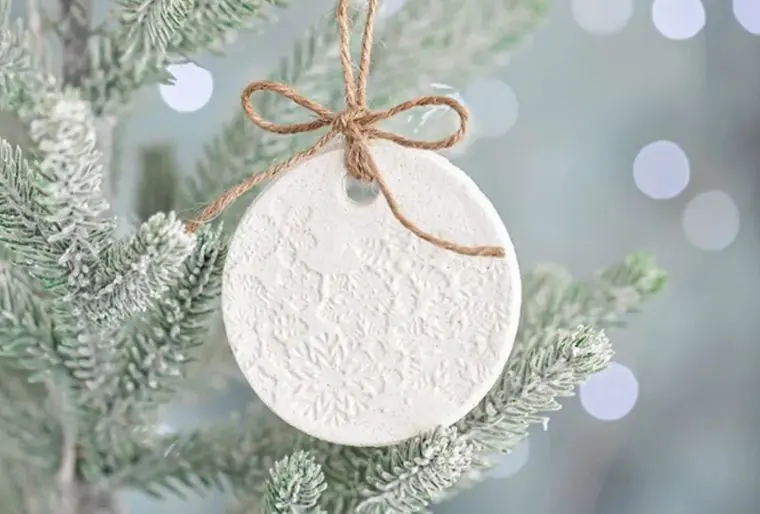 Credit: Good Life Eats
This seasonal craft reaches way back in time, to when we didn't have plastic, craft stores, or DIY sites like these! Salt dough ornaments are just that; ornaments made from salted dough, solidified, and hung up to make classically beautiful ornaments on your Christmas tree.
It's best to keep these designs simple, using classic colors and seasonal symbols to bring some real nostalgia to your holiday celebrations.
Salt dough is very easy to make. All you'll need is flour, salt, water, and some essential oils like these for the perfect wintertime scent.
Mix those up, imprint with a stamp, dry out and hang it up. Easy and beautiful.
This is a lovely Christmas craft for kids!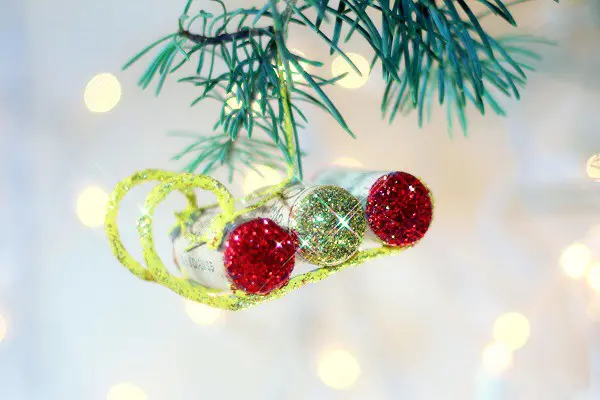 Credit: Creative Green Living
Now, if we're talking about adult Christmases, then of course, we have to consider what to do with all the leftover wine corks from the lead up to the holiday season!
These adorable wine cork sled ornaments are a great way to reduce, reuse, and recycle while adding a beautiful ornament to your collection.
Hold onto some wine corks (you'll need three per ornament). Then, whip out some white glue, a hot glue gun, some yellow acrylic paint, some hemp cord (I like this one), and all the glitter you can stand.
Assemble these into a sled shape with the wine corks as the base, dust with glitter, and string it up with the hemp cord.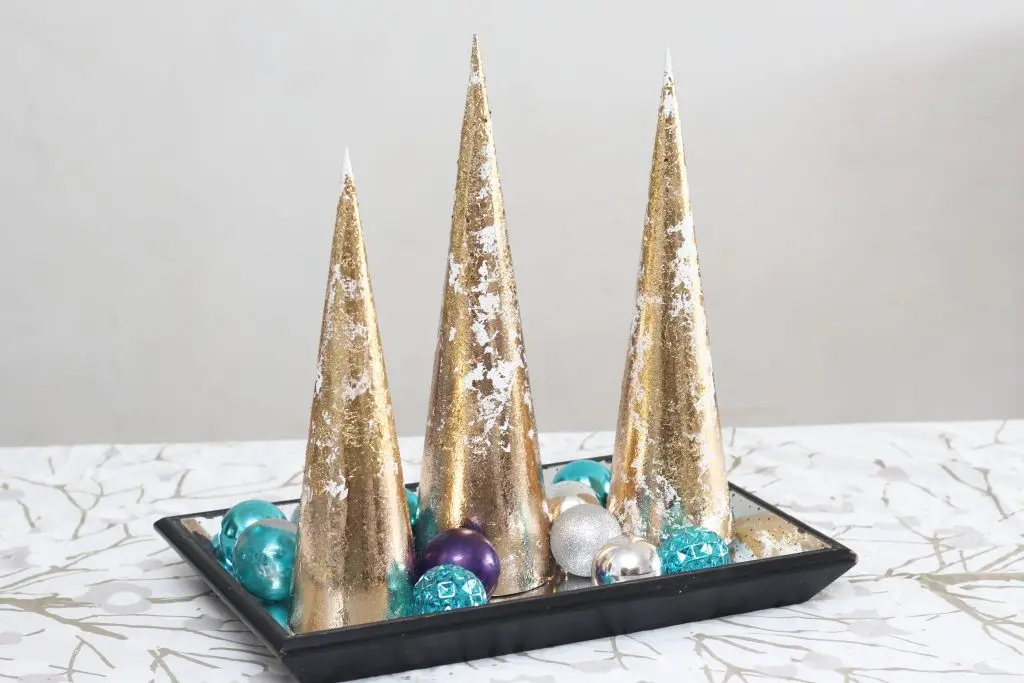 Credit: Sparkle Living Blog
This one goes out to my resident bling-lovers, some golden Christmas trees to spruce up your seasonal décor. Place this tray at the center of your table as a great accent piece or use them as ring holders for a flashy piece of bedroom decoration.
The materials you'll need are inexpensive, but the result you get looks so professional your guests will never know the difference. You'll need four core things: cardboard cones, spray adhesive, white acrylic paint, and imitation gold leaf.
If you're struggling to find that last one, Amazon has a great option here.
Simply paint the cones white and brush the gold leaf on top of the dried paint, sticking it to the cone using spray adhesive. Once they're completely dry, you can display these beauties however you like.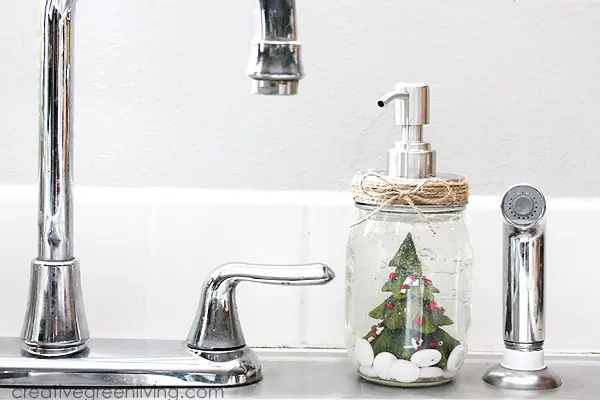 Credit: Creative Green Living
Snow globe soap pumps are an amazing way to add a tiny dash of Christmas to your kitchen or bathroom, and they're so easy to make. In fact, this Christmas craft is another way to reuse an old mason jar, and you can specifically pick out a clear soap with a seasonal scent.
It's perfect!
You will need a clear mason jar, some white flat back glass marbles for the "snow", a ceramic Christmas tree, a mason jar soap pump lid, your clear soap, and some brown twine.
You can use any kind of ceramic ornament you like to add a personalized touch, whether that be a snowman or a candy cane, the result is all up to you.
Having a tough time hunting down a mason jar soap pump lid? This one is perfect (ensure the size fits your jar).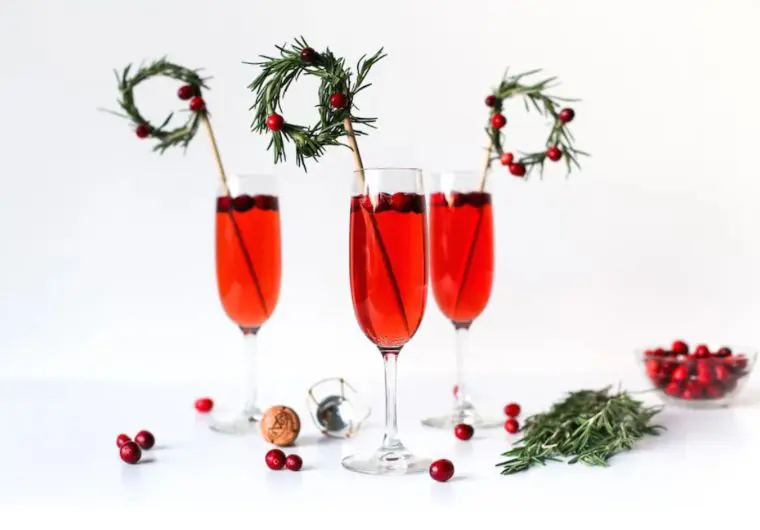 Credit: Salty Canary
Our final craft is perfect for your Christmas morning cherry mimosa, holiday party drinks, or dropped into a mug of mulled wine on Christmas Eve. They're easy to make, look incredibly professional, and add a little touch of festive magic to an otherwise simple beverage.
To make these adorable drinking companions, the only things you'll need are green floral wire, some bamboo skewers, rosemary sprigs for a gorgeous scent, and some cranberries.
Conclusion
Are you excited to try one of the DIYs in the list above? Do you have one of your own? Comment below and let me know what your plans are for your Christmas crafting season!