Stay within your budget with these Dollar tree decor centerpieces. They're creative, fun to make, and cheap!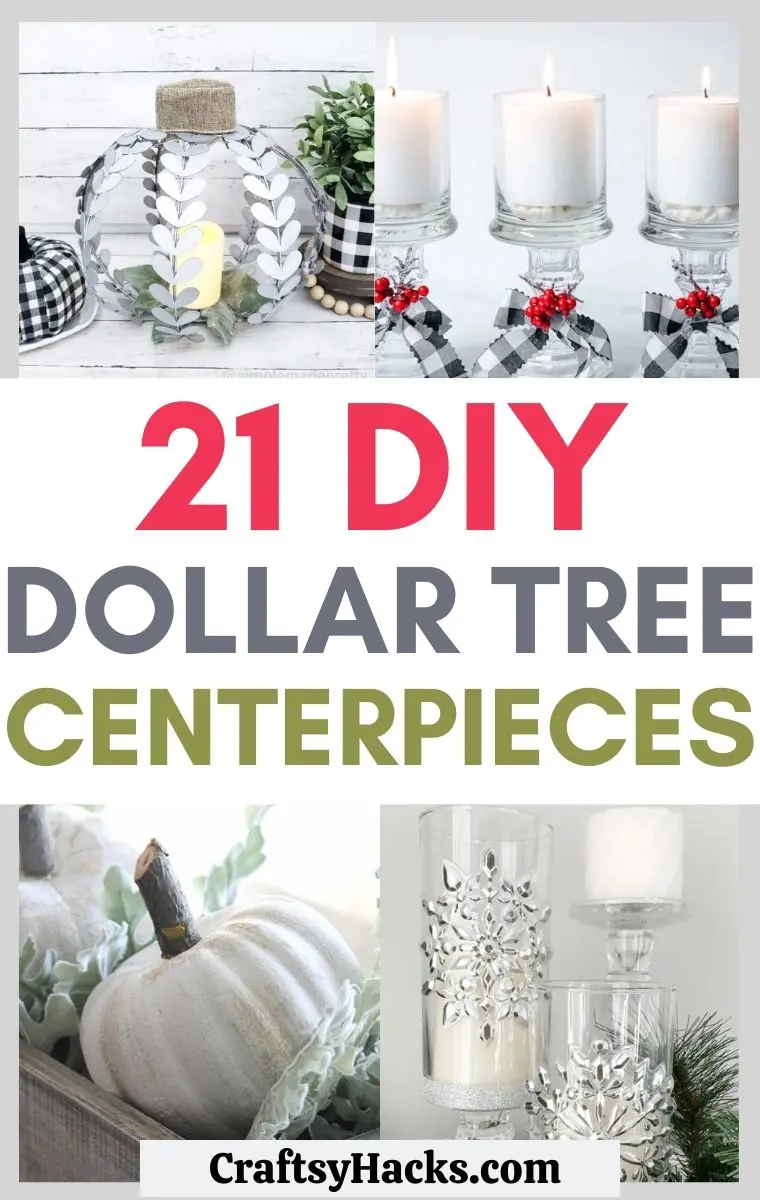 Whether you're prepping for the holidays, your wedding day, or you're just looking to spruce up a table, centerpieces are the key. They belong in the middle of the table, but that's where the rules end!
You can create a centerpiece from pretty much anything. In fact, the more creative you are with your materials, the more interest the piece brings to your table.
So, here are 21 brand-new ideas (done on a budget).
1. DIY Fall Forest Centerpiece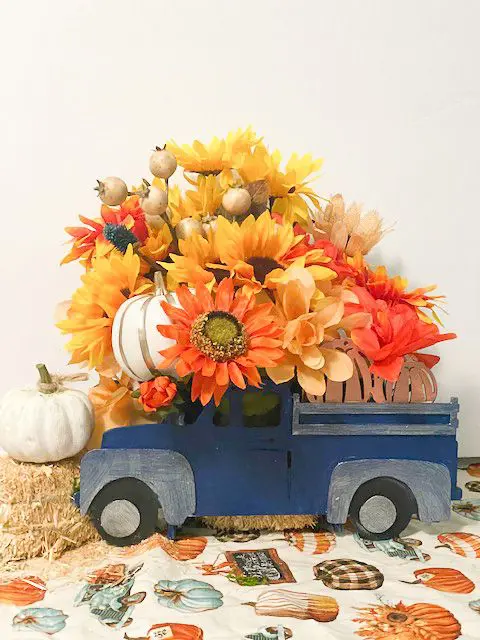 Credit: ourcraftymom.com
Fall is all about nostalgia for me, and it looks like I'm not the only one who feels that way! The oranges of fallen leaves, the sight of pick up trucks, hay bales, and pumpkins stacked all akimbo are familiar ones.
So, what better way to celebrate the advent of fall than with this gorgeous explosion of fall color? Using a dollar tree wooden cutout, some fake (or real) blooms, and some paint, you can have your own.
Alternately, try stuffing those same blooms into a 3D miniature pick-up truck's flatbed for a more dynamic look. A model like this would do the trick.
2. Rustic Farmhouse Floral Can Centerpiece
Credit: crayonsandcravings.com
Taking a Christmas bouquet and elevating it is a fantastic idea when crafting any centerpiece. Rather than sticking with a traditional vase and red flowers, take it up a notch with some elbow grease and burlap.
This rustic farmhouse floral can centerpiece is everything I love about retro farm décor. It's charming, it's simple, and it hints at Christmas without overstating the holiday cheer. Perfection.
All the supplies are easily attainable from your local dollar store, but you will need a quality hot glue gun to get the job done. Try this one on for size.
Are you gearing up for Christmas? Here are some other Dollar Store Christmas Crafts to try.
3. Dollar Tree Floral Fall-themed Centerpiece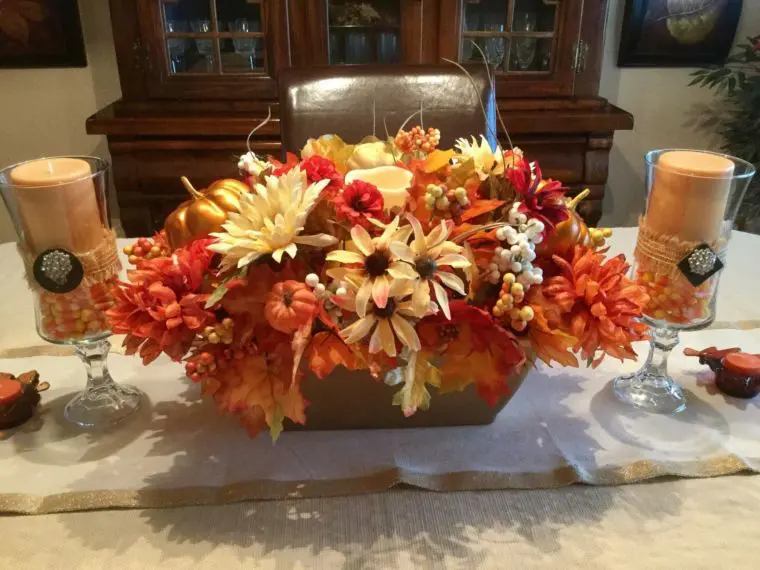 Credit: lovetofrugal.com
Having a fall wedding, going for some chic Halloween décor, or just love fall with all your heart? This floral centerpiece brings an explosion of fall color into your living room with ease.
Using a battery candle, some fake (or real) flowers with an autumnal color palette, you can take your table's décor up a notch.
The great thing about this piece is you can construct it in any shape you want. While the original crafter chose a rectangular planter, you can go circular, triangular… Whatever strikes your fancy!
4. DIY Minimalist Farmhouse Centerpiece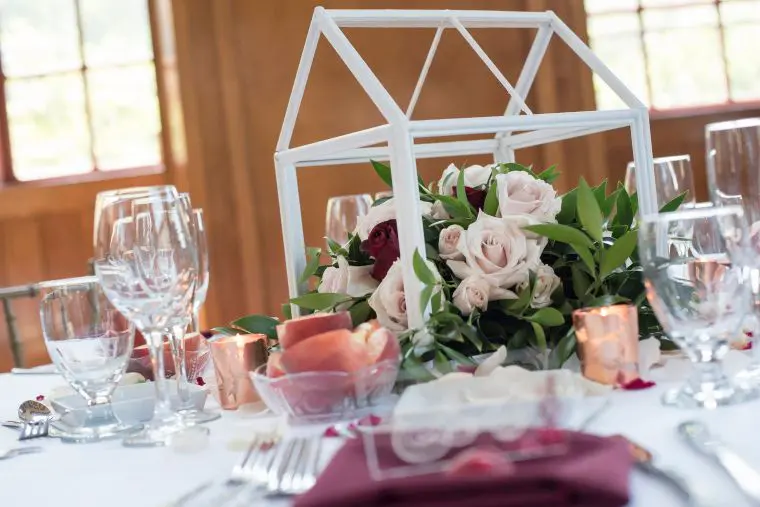 Credit: simplyhandmadestudios.com
This stunning centerpiece is perfect for a modern rustic wedding. It incorporates some stunning minimalist elements with the appeal of a rustic fall farmhouse, and the result is gorgeous.
The best part? You can easily make these in bulk and on a budget.
So, they're ideal for your wedding! These pieces center around a dollar store balsa lantern frame and your chosen florals.
While you can go the route of fake dollar store flowers, these are perfect for showcasing your beautiful wedding arrangements. Just make sure you pick up some quality florist foam (like this).
Check out more creative Dollar Tree crafts for low budgets here.
5. Fall Pumpkin Wreath Centerpiece
Credit: simplemadepretty.com
One of the things I love about Scandinavian décor is its ability to take traditional design elements and elevate them into something really modern. Enter this stunning minimalist pumpkin wreath.
Featuring a battery candle at the center of a wire pumpkin, this centerpiece removes all the fall colors without taking any autumnal spirit away. So, even the minimalist homes can get in on the joy!
You can pick up some wire pumpkins to use as the frame for this project. Additionally, if you've been looking for an excuse to invest in a Cricut machine (like this one), the time has come!
Check out more Halloween decorating ideas.
6. Stunning Modern Mirror Centerpiece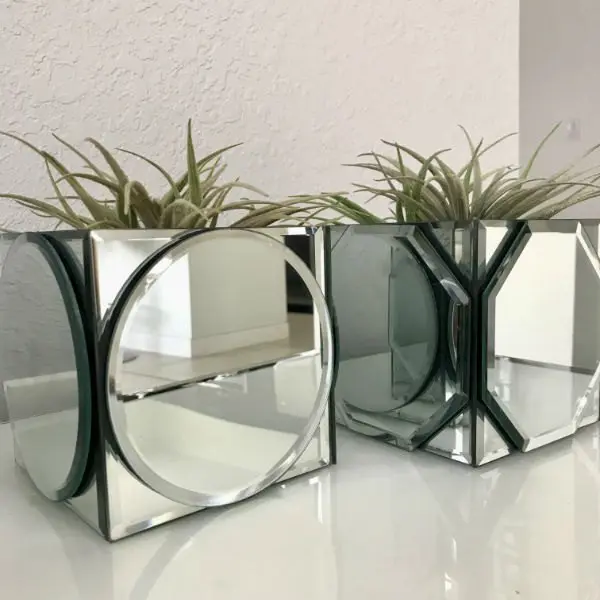 Credit: hometalk.com
This is the kind of centerpiece people pay far too much for, and you can make it for next to nothing. Encapsulating your favorite house plant in a pot of mirrors melds natural and slick elements effortlessly!
You can purchase the mirrors from your nearest dollar store. You'll need eight total mirrors for each piece: four standard squares and four shapes to lay over the squares.
Then, all you need is a glue gun. Check out more Dollar store decorating ideas.
7. Succulents and Candle Centerpiece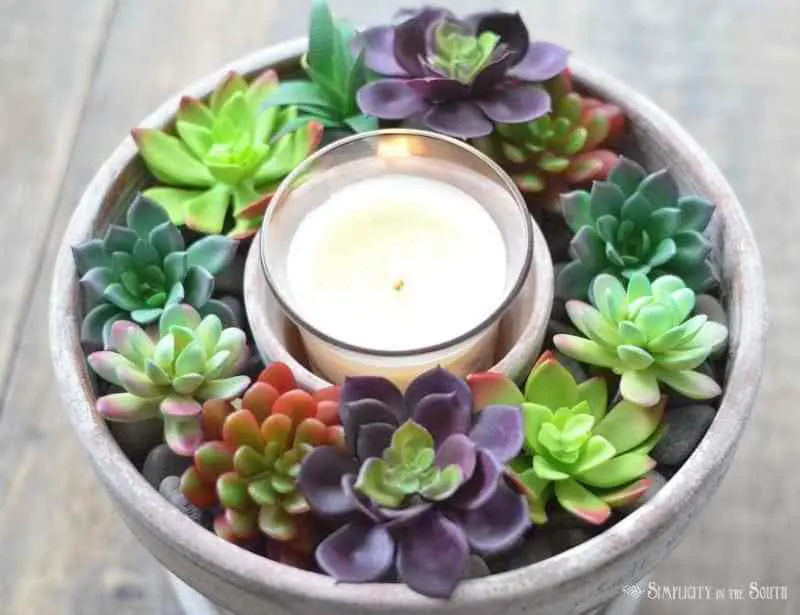 Credit: simplicityinthesouth.com
Who said easy meant low-quality? This gorgeous little succulent centerpiece doesn't take more than ten minutes to put together, and it brings a whole new look to your dining room table.
This is a prime opportunity to use the miniature fake succulents prevalent in every dollar store. Simply add a scented candle in the middle of an aged terracotta pot (like this), a ring with succulents, and you're done.
Are you loving the plant vibe for your home? So am I! Check out these genius Dollar Store Planter Ideas.
8. Tall Fall Wedding Centerpiece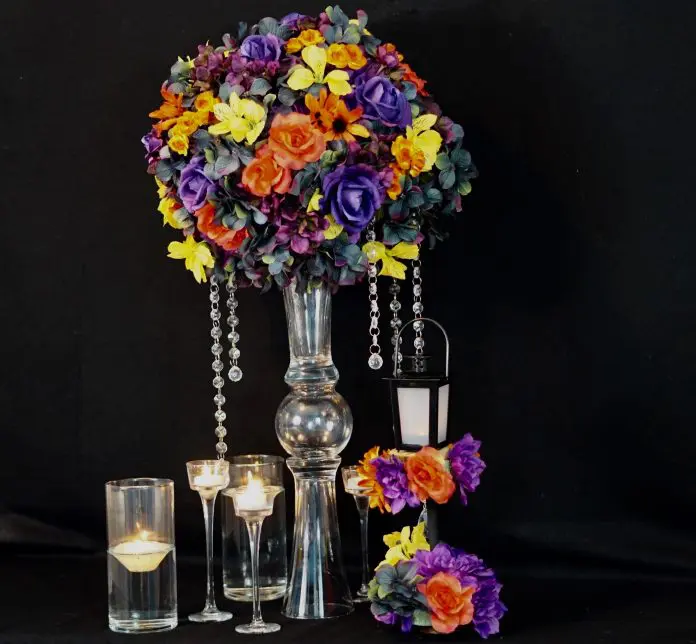 Credit: missplanit.com
Cheap, colorful, and glamorous. These are the three words that characterize this tall fall wedding centerpiece, and I, for one, can't get enough of it.
Using some florist foam and a cheap dollar store vase, you can create a stunning centerpiece for your big day! The best part?
This won't blow your budget, and you can customize the colors to suit your theme.
Just make sure to pick up some E6000 glue to make sure your piece doesn't fall apart midway through the dinner service (you can find it here).
9. Dollar Store Book Tree Centerpiece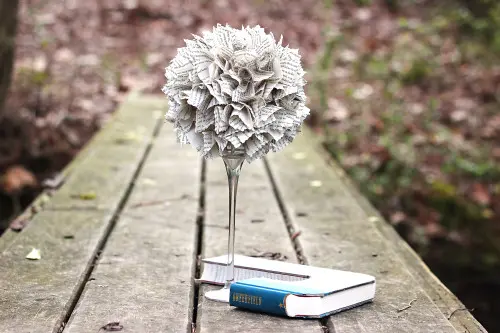 Credit: sweettmakesthree.com
There's something so whimsical yet sophisticated about this centerpiece. It combines the refined essence of words on a page with a whimsically ruffled, almost bubble-like shape.
Now, fair warning, this craft does require you to rip up a book. However, you can always thrift a book that's looking a bit rough, or you can choose a favorite to create a centerpiece with meaning.
Want to take it up a notch? Use this golden stamp pad to edge the pages in golden ink once you've ripped them. It makes the piece look expensive and brings an element of glamour to the pages.
10. Dollar Store Mirrored Terrarium Centerpiece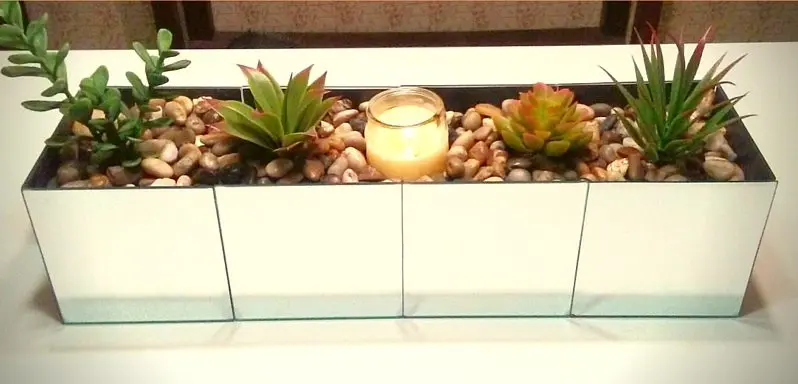 Credit: diveintodiy.com
If you liked the mirrored centerpiece from earlier in this list but thought it needed something a little extra, this might be the centerpiece for you. This is a rectangular version also crafted with cheap mirrors.
After creating the rectangle with a foam board and decorating it with the dollar store mirrors, simply fill it with stones, candles, succulents. Whatever makes you happy.
This shape is perfect for a coffee table.
11. Dollar Store Halloween Floral Arrangement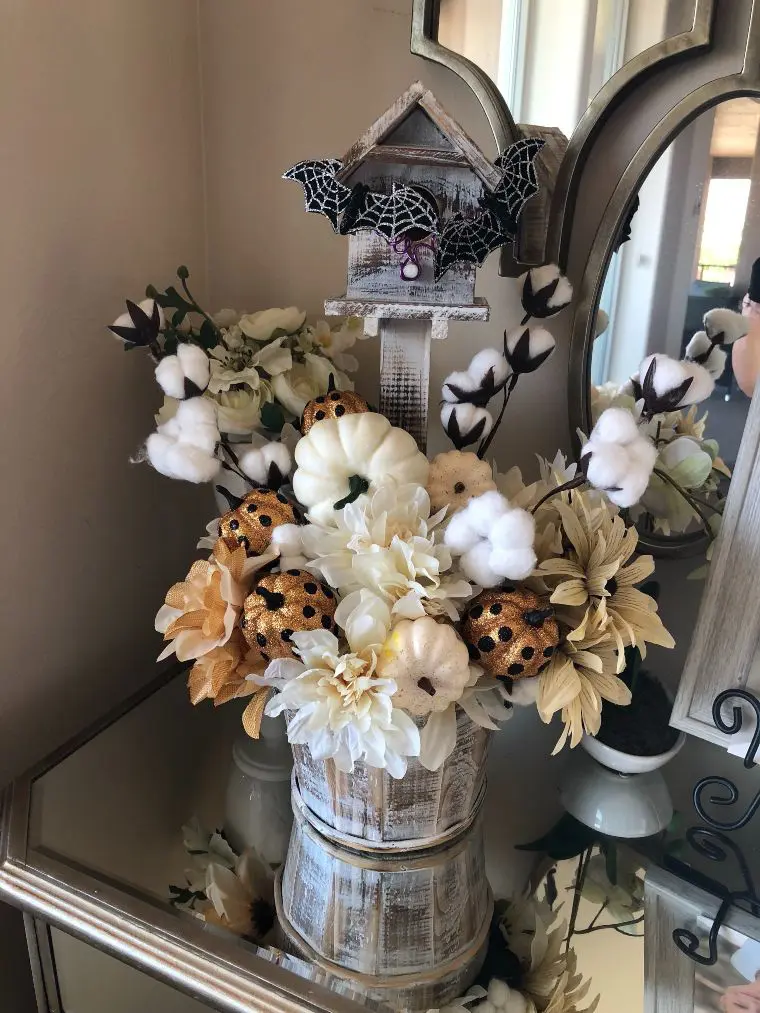 Credit: theeverythinghousewife.com
Be prepared for the spooky season once it rolls around again with these stunning Halloween floral arrangements. Using dollar store fake flowers and other little decorations, you can make it yours!
While the final look is completely customizable, achieving a balanced floral arrangement relies on a few key supplies. Namely: floral sprigs in your color palette (8-10 work well) and some Halloween fillers.
You'll also need a bucket that fits your theme, some quality craft foam, and good floral tape (I like this one). You can follow these arrangements to a tee or create your own. Be creative!
12. Decorative Ball Vase Centerpiece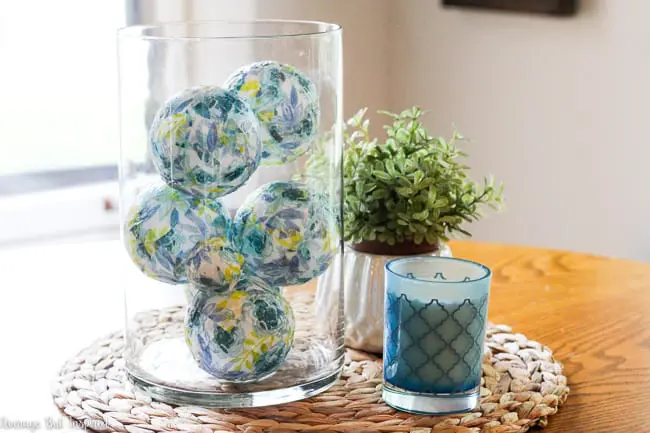 Credit: averageinspired.com
We've all seen those trendy glass vases filled with colorful balls in magazines like Architectural Digest. They add a touch of glass to any space, but the price tag they come with is hard to justify.
Never fear! Dollar store baseballs are the solution. Using some plastic baseballs, some smaller foam balls, decorative napkins, and Mod Podge, you can create this highly touted centerpiece with ease.
Make sure you invest in a larger container of Mod Podge (like this one) if you're planning on making a few of these centerpieces at once.
13. Upcycled Farmhouse Candle Holder Centerpiece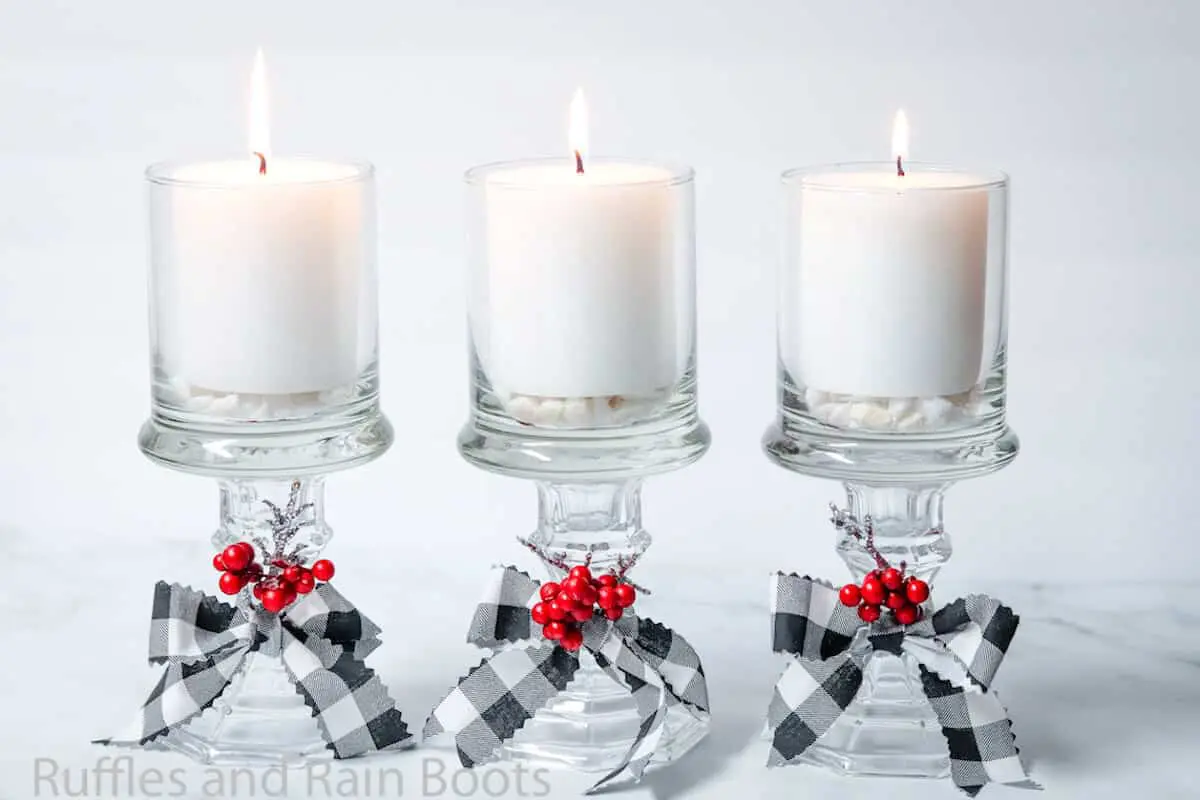 Credit: rufflesandrainboots.com
There's just something about elegant farmhouse décor that calls to me. The contrast of sophisticated, clean glassware and rougher textures is undeniably one of my favorites.
If you're in the same boat, this upcycled farmhouse candle holder is for you. Simply tie your favorite rustic ribbon around a glass votive candle holder from your local dollar store.
I love this crafter's idea to use a buffalo plaid ribbon (find it here) with miniature holly berries. However, you can choose anything that pleases your eye.
Curious about the farmhouse aesthetic? Check out these 20 Farmhouse Christmas Décor Projects for some inspiration.
14. Dip-Dyed Dollar Store Vases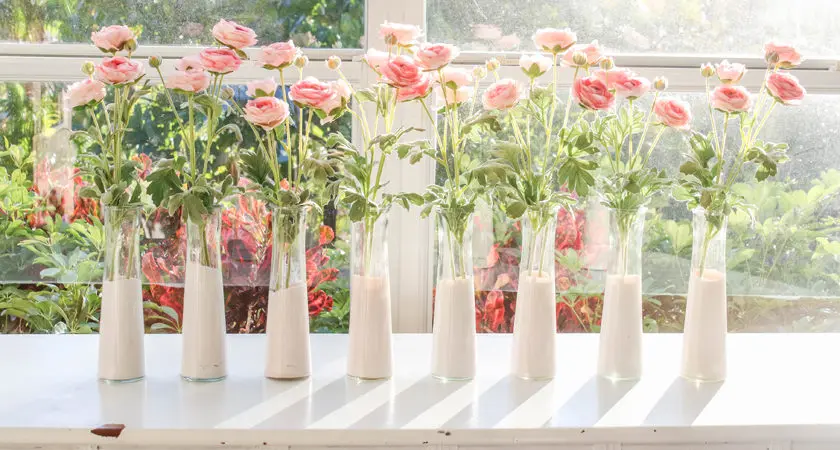 Credit: housemixblog.com
Whether you're dressing the house up for Valentine's Day, celebrating that spring has sprung, or looking for a unique piece at your wedding, this craft will work. Not to mention, it's so simple to do!
All you need are some tall dollar store glass vases, paint in your desired color, and the flowers to match. If you want the arrangement to last then, I suggest fake florals, but real stems are great for celebrations.
This crafter went for a pink aesthetic, but this craft can be adapted to suit any season. Halloween? Go with black or orange. Valentine's?
Pink and red. Christmas? Red is your friend. The sky's the limit!
15. Pumpkin-in-a-Crate Centerpiece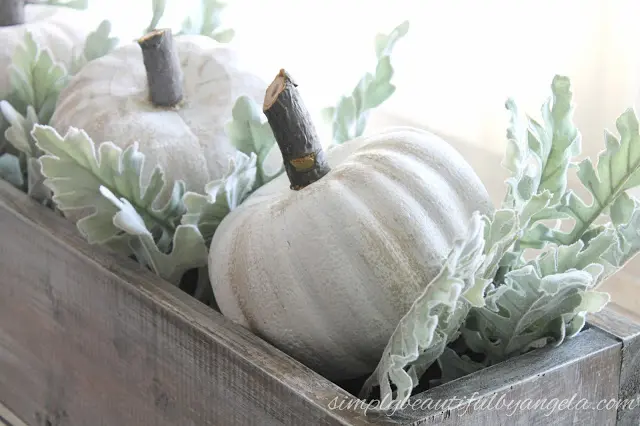 Credit: simplybeautifulbyangela.com
If you've been to your local dollar store lately, you've most likely spotted those little fake pumpkins they always bring out for fall. Well, here's a craft that takes them to a whole new level.
This clever crafter gave her pumpkins a chalky look, then distressed them and placed them in a similarly distressed wooden box for the ultimate fall side table. That's what I call ingenuity!
16. Ultra-Affordable Christmas Milk Glass Centerpiece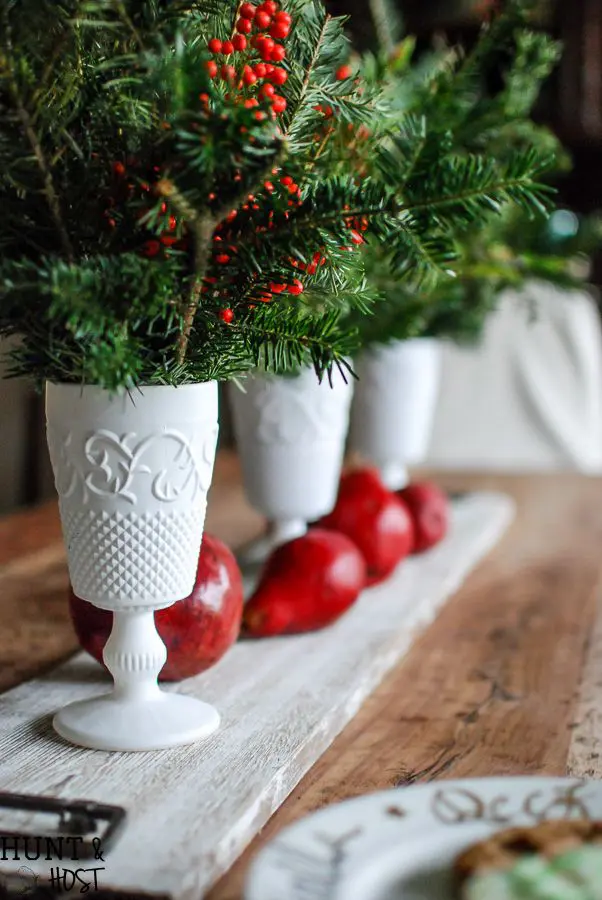 Credit: huntandhost.net
Most dollar stores have a glass section where you can pick up some ultra-cheap glassware. But, who knew you could use them to create a gorgeous Christmas-themed centerpiece?
All you'll need is three glass goblets, some white matte spray paint (I love this one), and the Christmas greenery of your choice.
Arranged in a line of three, this makes a great table runner for that Christmas dinner with your family.
17. Wine Glass Diorama Centerpiece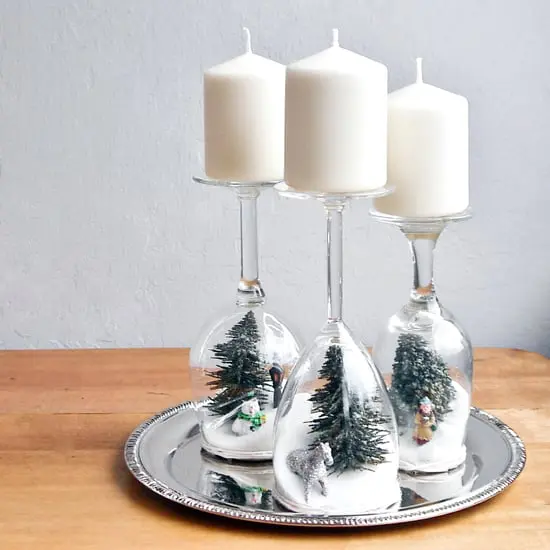 Credit: popsugar.com
Speaking of Christmas glassware, why not reach for some cheap dollar store wine glasses to craft your very own Winter Wonderland?
Simply upend the wine glasses on a silver tray; if you don't already have one, this is a good choice. A box of sugar or fake snow and some kitschy figurines later, and you've got a forest scene to be proud of.
If you have some other tables in need of their own Christmas centerpieces, why not try out any of these festive centerpiece Ideas?
18. Elegant Silver Candle Holders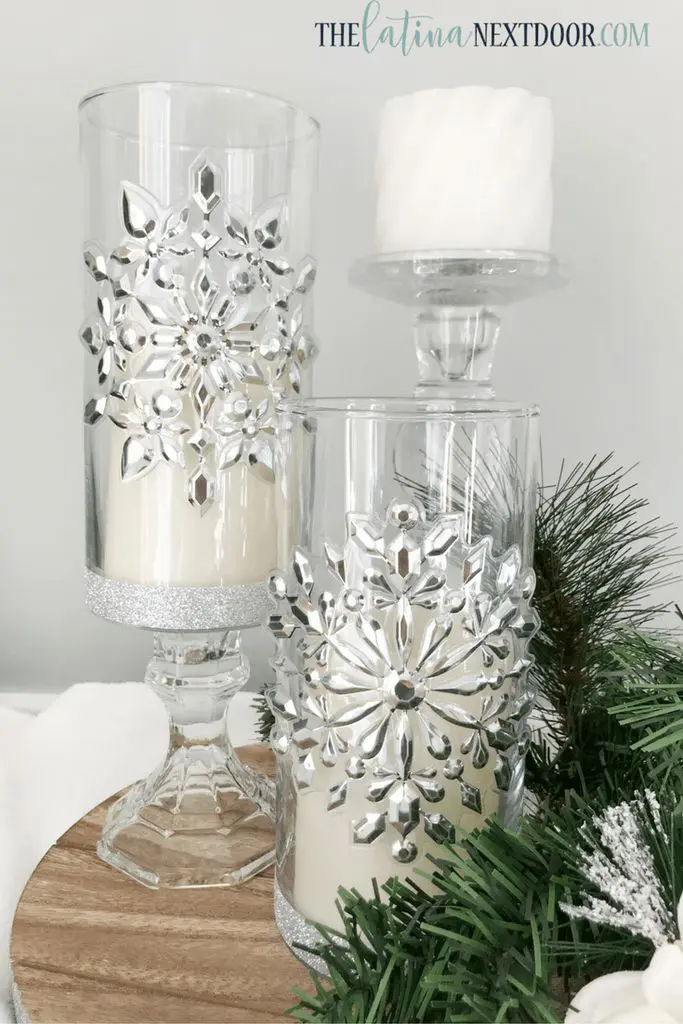 Credit: thelatinanextdoor.com
These candleholders can be grouped together to form a round centerpiece for your table. Also, you can use them as a table runner to take your Christmas dinner décor to the next level.
Either way, they're stunning (and stunningly easy). Using some dollar store glass vases, pillar candles, and glass decals, you can whip these up in less than ten minutes.
Elevate these holders even further with some scented pillar candles (like these) for a full sensory experience.
19. DIY Farmhouse Tray Centerpiece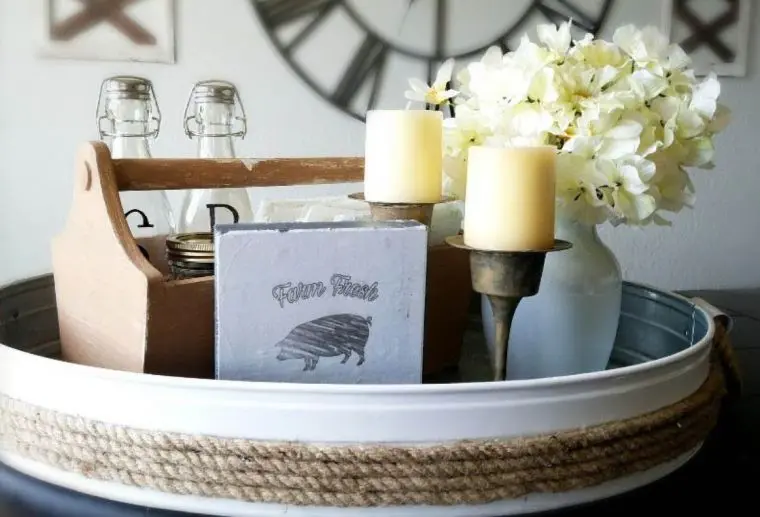 Credit: warmcozyhome.com
Bringing multiple elements together on a tray is a great way to make a thematic centerpiece, and this farmhouse tray executes this principle perfectly.
The centerpiece uses florals, distressed elements, aged brass, and the rough texture of the jute cord to create the farmhouse aesthetic we all know and love.
Most of the pieces are easy to find at your local dollar store. If they're not just right, you can use some chalk paint like this or Rub 'n Buff to age them to your liking.
There you have it!
20. DIY Wooden Succulent Centrepiece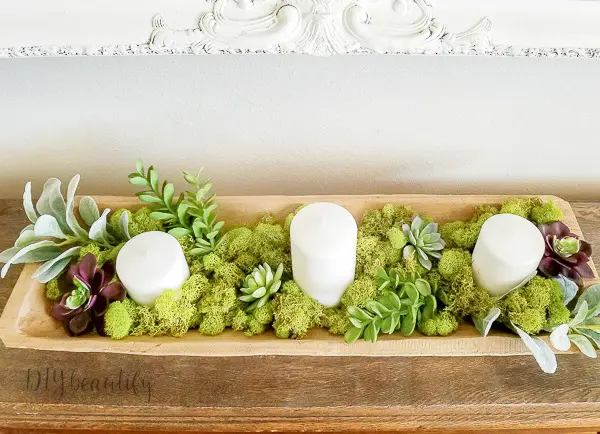 Credit: diybeautify.com
Combining rough-hewn wood, succulents, and clean white candles make this centerpiece look like it stepped straight out of the Garden of Eden. Though the wood looks great, any rustic piece will do.
You can pick up the succulents and candles at a dollar store, but the other elements might be harder to find.
One, in particular, is reindeer moss, which you can pick up from a craft store or find here. The fluffy texture is perfect for padding out the dollar store greenery.
21. Holly Berry Christmas Wreath Centrepiece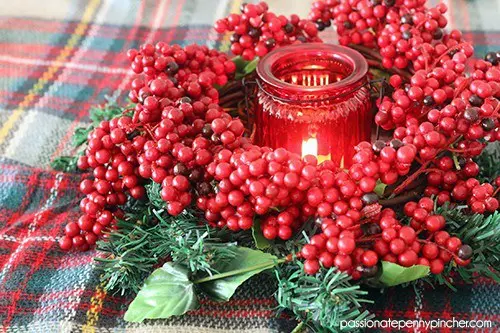 Credit: passionatepennypincher.com
They say Christmas wreaths go on doors, but who says you can't adapt them to suit your dinner table? This tiny wreath places a red candle at its center, picking up on the colors of the holly berries beautifully.
The best part of this craft is that, despite taking only minutes to assemble, it turns out looking absolutely stunning! Not to mention, it's gentle on your wallet.
So, now that you have enough ideas to decorate every surface in your home (and then some), go forth and craft! Make sure to leave any of your favorites in the comments below.
Conclusion
Which one of these dollar tree centerpieces is your favorite? Let me know!