Got duct tape lying around? You can use it to make wonderful duct tape crafts on a budget and have fun being creative.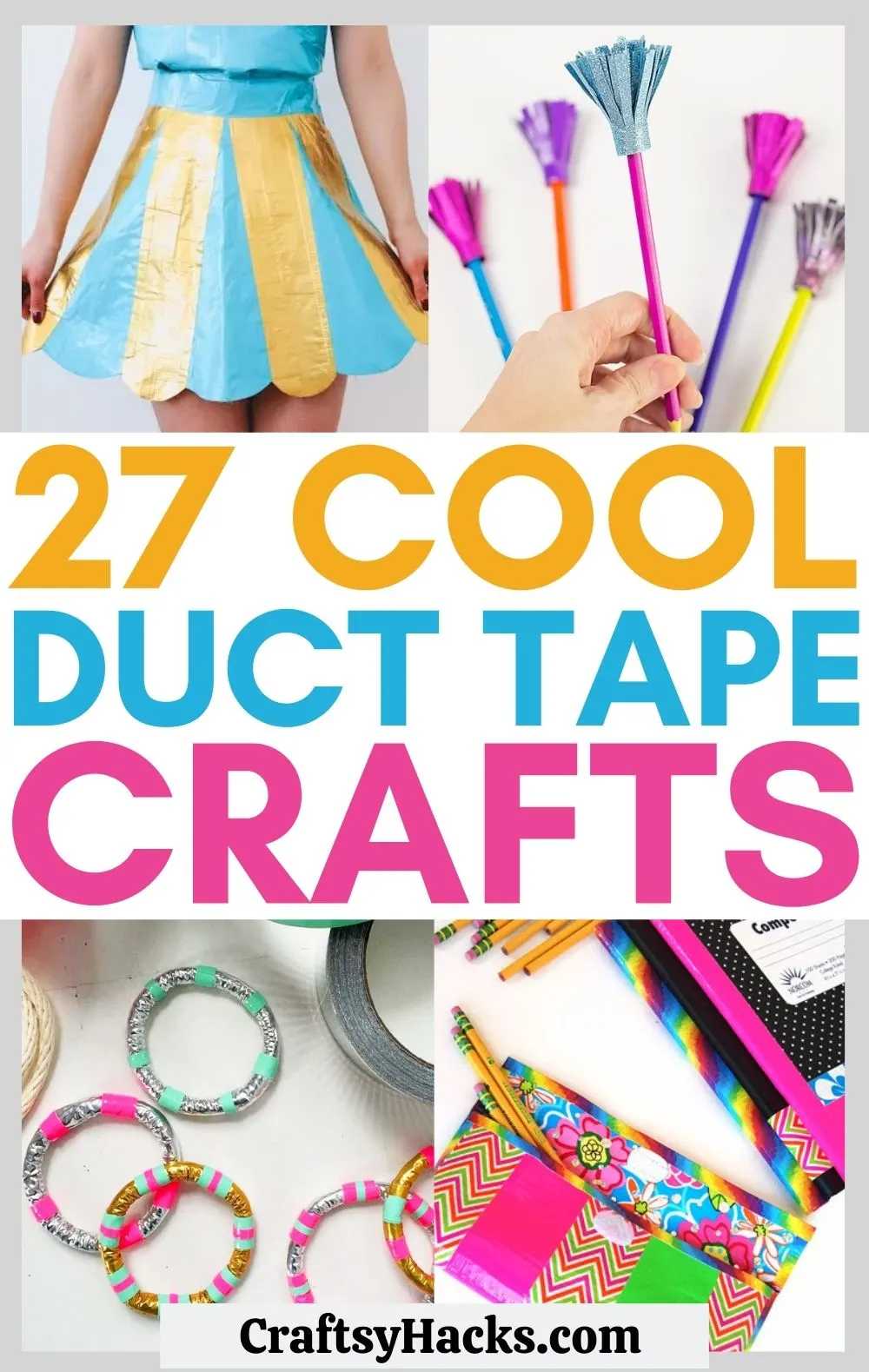 With an iconic silver sheen and some of the strongest bonding power known to man, duct tape has conquered the world. Almost everyone has at least one roll of this extra-strong tape lying around.
But did you know it's not just for binding up unexpected holes? Duct tape can be used to create many weird and wonderful things, as evidenced by this list! Take a ride as we explore twenty-seven duct tape possibilities.
First thing's first (and it goes without saying), you're going to need a lot of duct tape. So, grab some here, and let's get going!
1. Mini Instant Photo Frames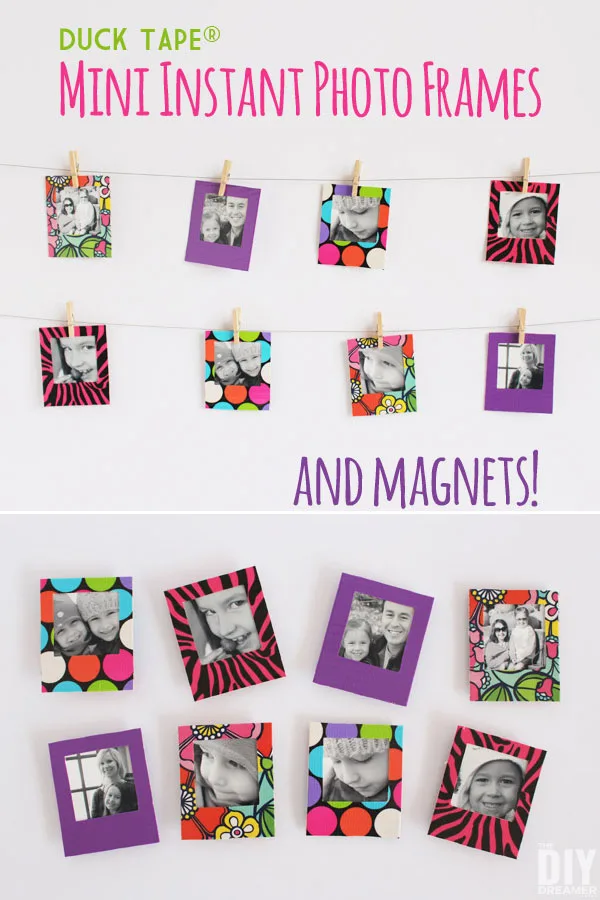 Credit: thediydreamer.com
First stop, it's time to highlight some memories. Using the patterned rolls from the Duck Tape collection, you can create instant frames for polaroid photos or photobooth strips.
You'll need patterned tape, so avoid the standard grey stuff here. Alternatively, you can also use silver tape as the base and paint your own distinct pattern with some acrylic paint. How creative are you feeling?
Speaking of photo frames, here's another super simple way the kids can frame your photos.
2. Effortless iPad Stand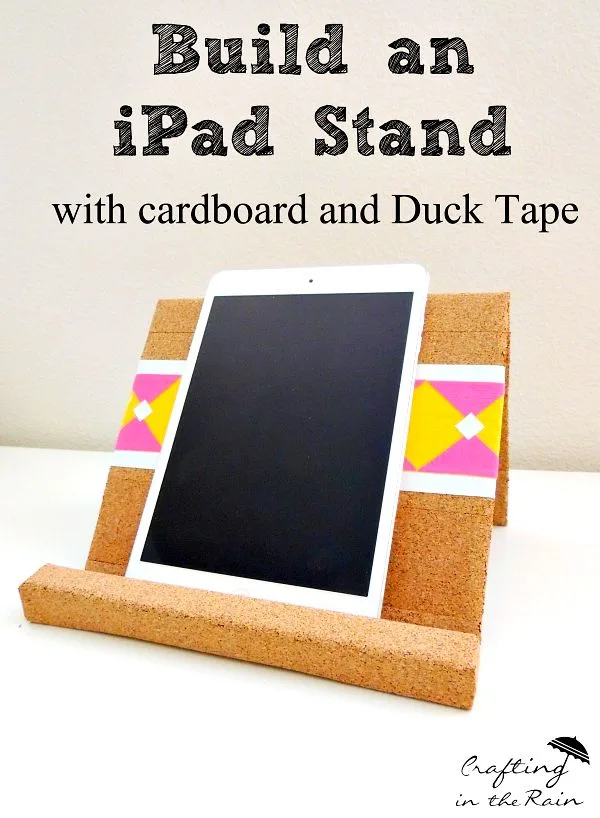 Credit: craftingintherain.com
Using some old cardboard and a roll of duct tape, you can create the perfect stand to prop up your tablet. This is great for kids who need to use the tablet for homework or if they want to watch movies hands-free.
This clever crafter used cork tape like this to make the cardboard look a little more attractive; maybe you'll like marble tape too (here)! Make sure to adjust the measurements based on the size of your tablet.
3. DIY Duct Tape Desk Organizer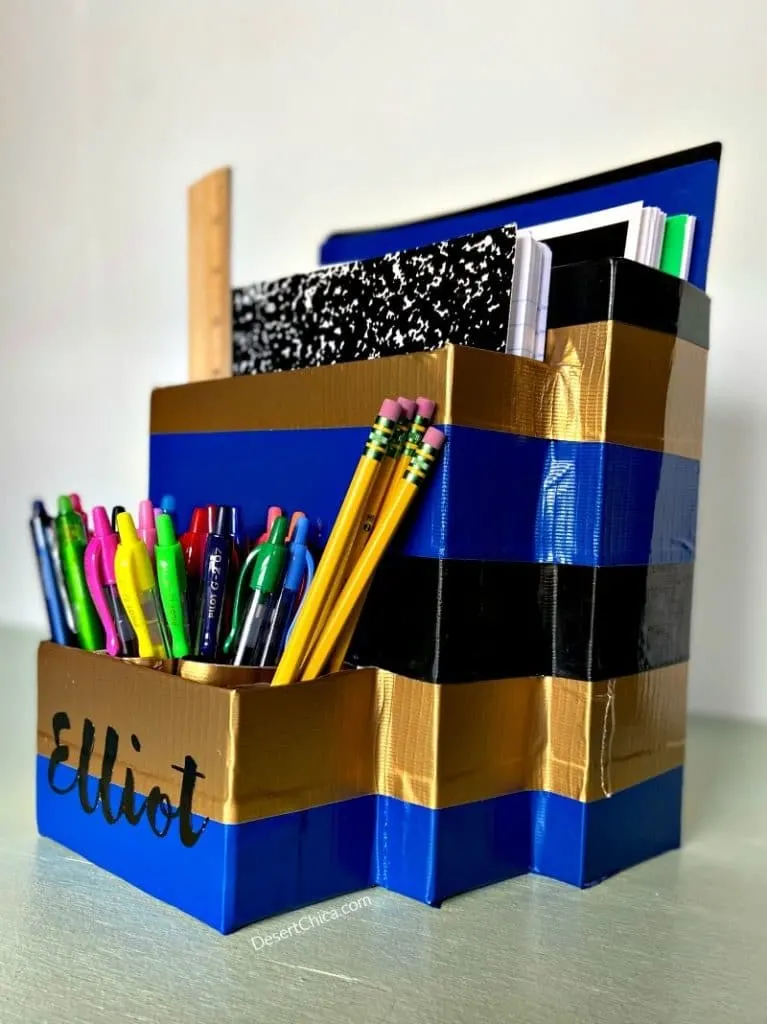 Credit: desertchica.com
Are your kids having some trouble keeping their school supplies in line? Get them in on the crafting fun with this DIY desk organizer, made with toilet rolls, cardboard boxes, and duct tape.
The organizer's front is dedicated to pens and pencils, while the rear is home to books and files. I love how simple this organizer is to make, and the result is so effortlessly functional.
4. Duct Tape Hair Bows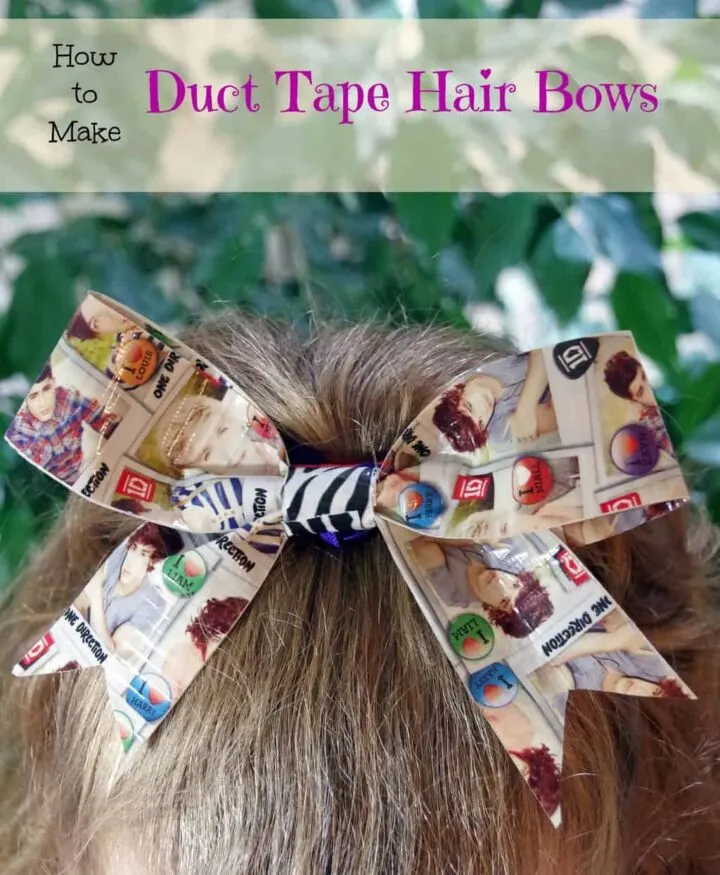 Credit: suburbia-unwrapped.com
I know, I know. Bringing tape near long hair has historically been a bad idea, but these duct tape hair bows aren't sticky, just stylish. Have your child pick out any tape pattern they like to get started.
Transforming this adhesive tape into an adorable bow comes down to your folding technique, so take your time! Once you're done, you'll have a simple way to replace lost hair bows in an instant.
5. Duct Tape Flower Bookmarks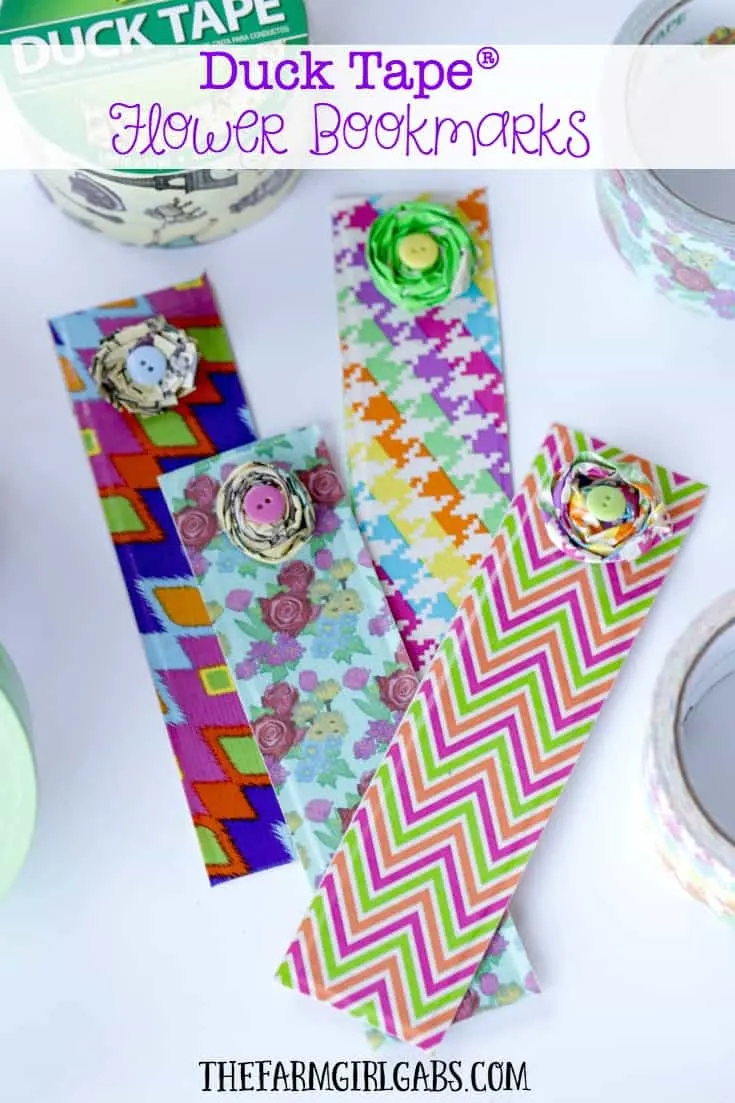 Credit: thefarmgirlgabs.com
If you're having trouble getting your child into reading, this bookmark craft is a fun way to get them invested in books! Luckily, this craft is far from complicated, so you won't have your patience tested.
The bookmark's base is very basic, requiring only the patterned tape and some cardboard strips. From there, it's your child's job to decorate it any way they like. Pick up a craft kit here to give them some choices!
6. DIY Kids' Duct Tape Bracelets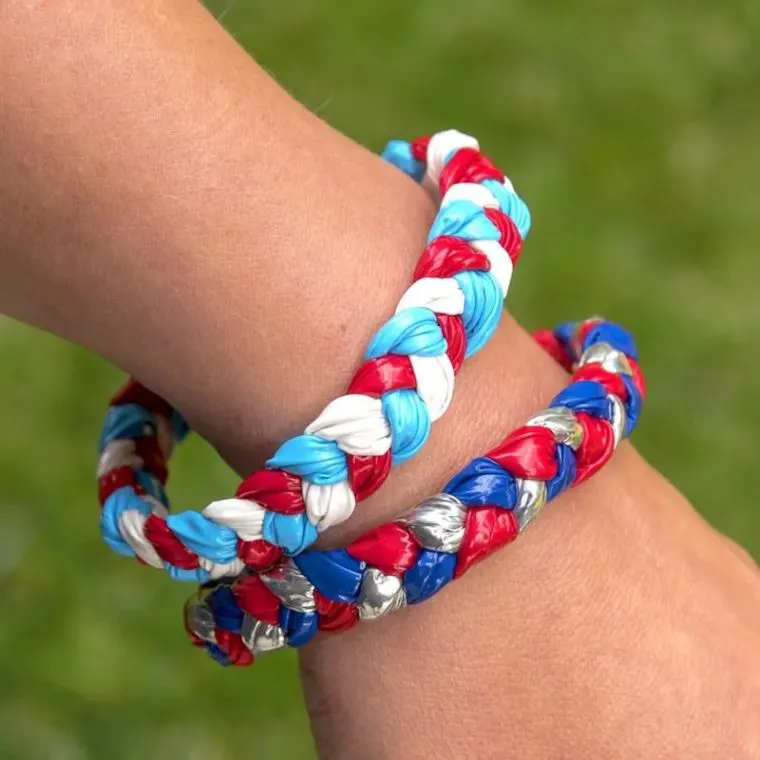 Credit: diycandy.com
Speaking of accessories, this next DIY embraces the weaving power of duct tape to create beautiful bracelets. Once your kids get the hang of this technique, they'll have a limitless supply of new jewelry!
Not only are they stylish and straightforward to make, but these bracelets are also waterproof! So, they're perfect for summertime. Make sure to grab a craft knife and mat (here's a good kit) to make the process easier.
There are more accessories where that came from. Check out these twenty-seven DIY ring ideas your kids will never want to take off.
7. Duct Tape Pencil Holder and Art Organizer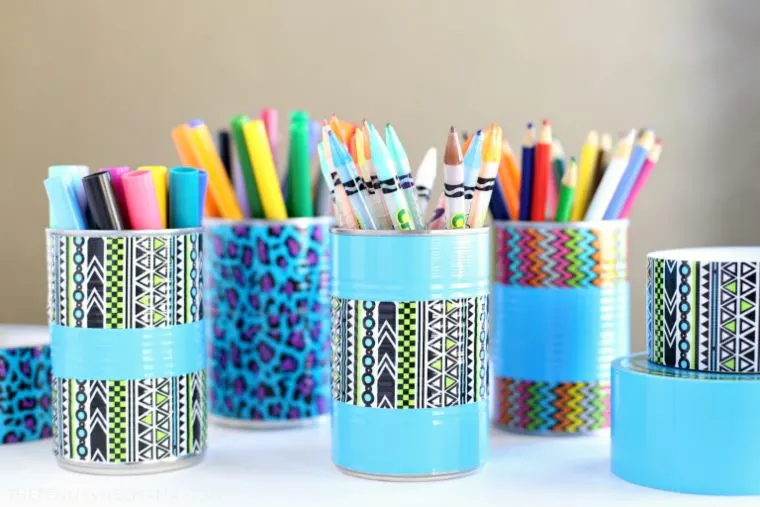 Credit: thepennywisemama.com
Next up, this hack upcycles any old metal cans you have lying around. This is the perfect craft to teach kids about the 'reuse' part of the reduce, reuse, and recycling triad.
The key to this organizer is the wooden crate corralling the cans. You can make a simple one out of old timber or simply purchase one like this online. They come cheap, but they last forever!
8. Futuristic Duct Tape Bracelets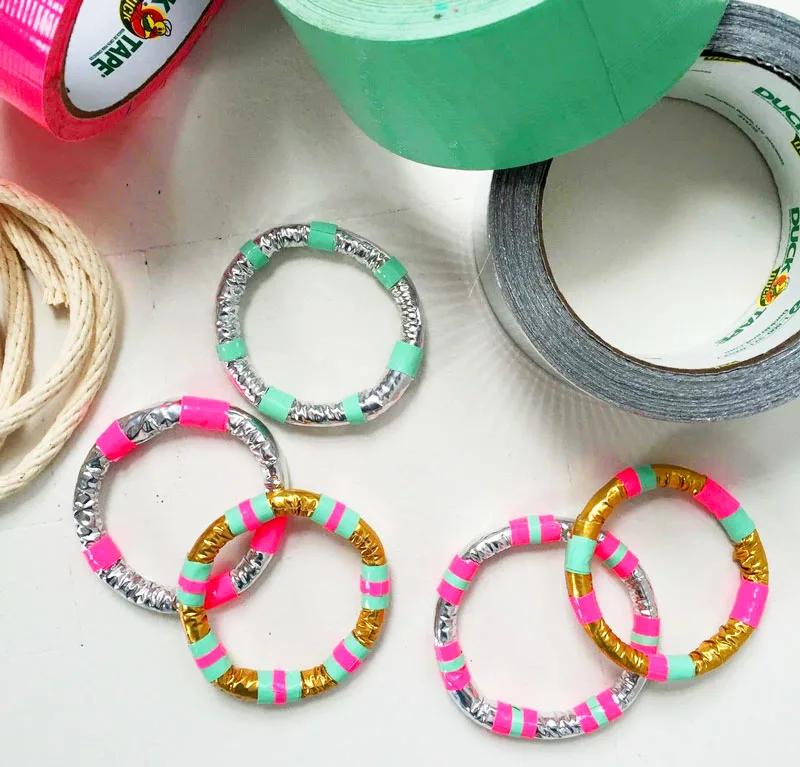 Credit: projectkid.com
Whereas the previous duct tape bracelet craft relied on a braiding technique, these bracelets are even simpler. The result of your efforts will be a shiny, futuristic bracelet your kids will undoubtedly adore.
To wrap these bracelets, you'll first need a core. That's where the clothesline rope comes in! With its sturdy construction and hefty width, this material is the perfect thing to create your bracelets.
9. Quick and Simple Bullet Journal Bookmark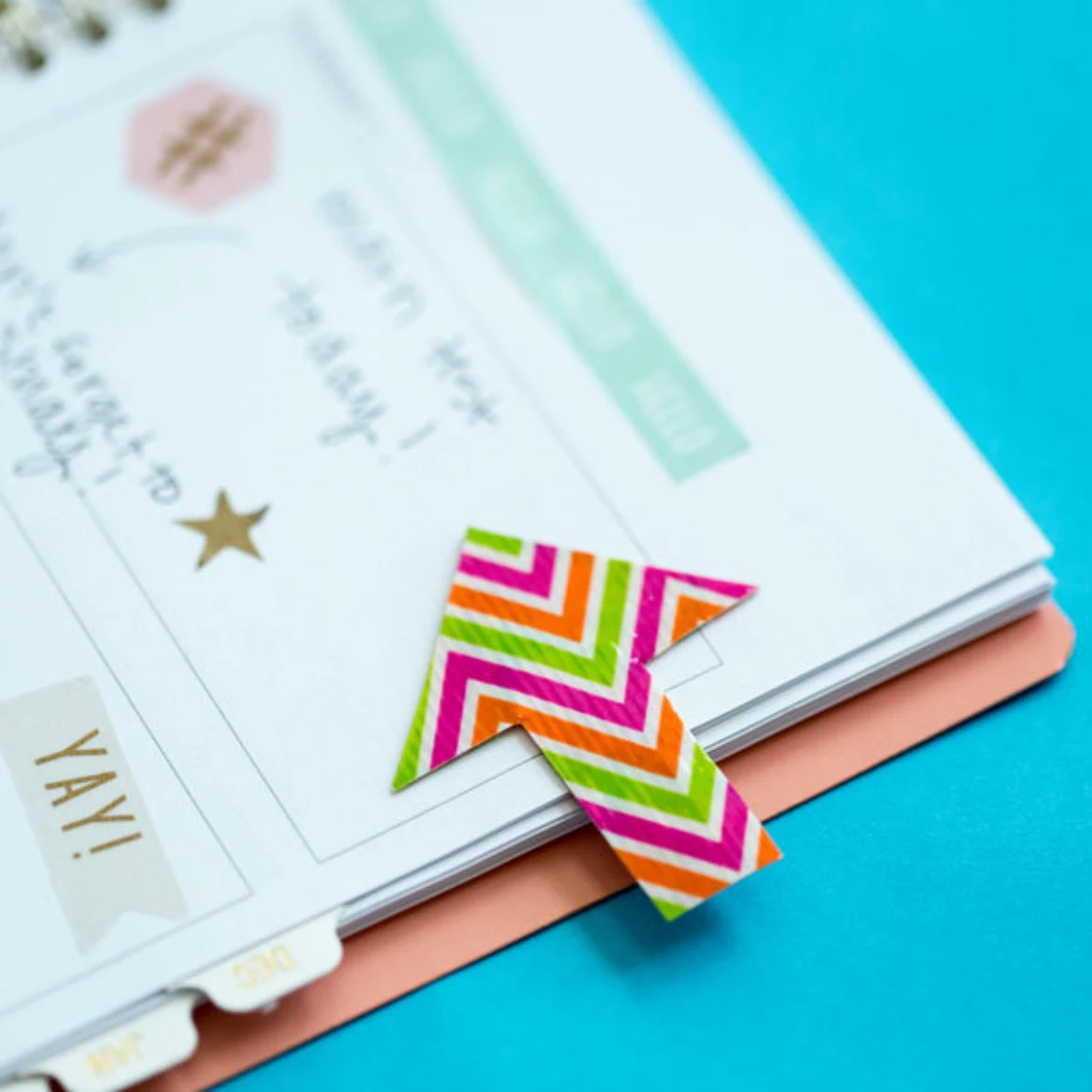 Credit: duckbrand.com
Whether it's for the latest book you're reading or for keeping your bullet journal organized, buying trendy little bookmarks is expensive! With this method for creating paperclip bookmarks, those days are gone.
Choose your favorite patterned Duck Tape, then fold it in on itself to stop it from sticking. From there, cut out the shape you want (this crafter chose an arrow). Finally, use hot glue to affix a paper clip to the back.
Missing a hot glue gun? Add this essential item to your arsenal.
10. Duct Tape Flash Card Holder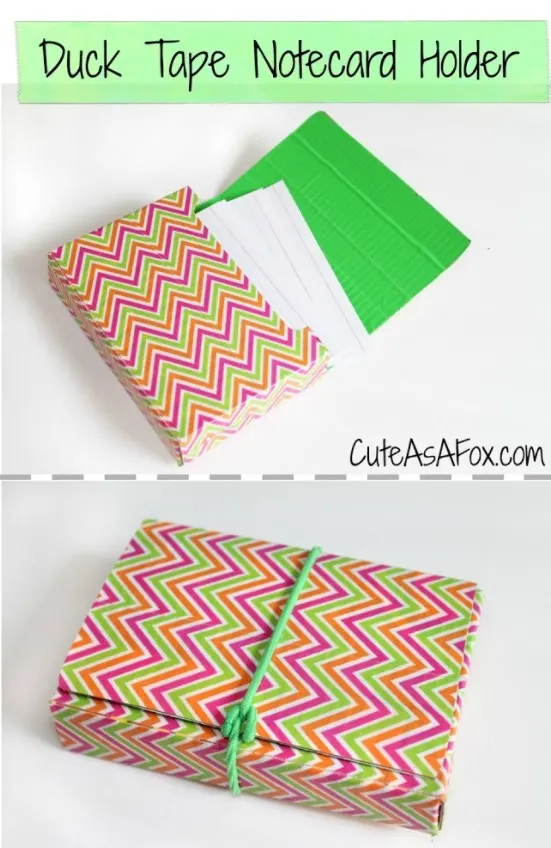 Credit: cuteasafox.com
When study season comes around again, you'll need something in which to carry your flashcards. Don't want them getting creased, after all! All you need to create this flashcard holder is tape and a cereal box.
Using your patterned tape, cover an entire plane of the cardboard cereal box in the tape. Then, print out the provided template, cut it out, and assemble the box. Use a hair tie to close or pick up a closure like this!
This isn't the only way to store flashcards! A custom paper envelope is a quick and easy way to whip one up without any duct tape, should you be out of it.
11. Duct Tape Pencil Case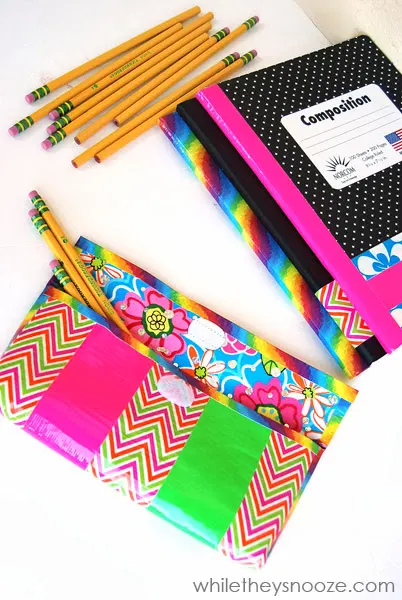 Credit: Blogspot
This next project is perfect for the back-to-school season; it's an inexpensive way to make pencil cases that would rival even the best ones on the market! This is also a great fabric stash buster.
Grab any spare piece of fabric in a pattern your little one likes (it can come out of an old piece of clothing too). Use the duct tape in place of needle and thread, pasting the case together in five minutes!
12. Duct Tape Pencil Toppers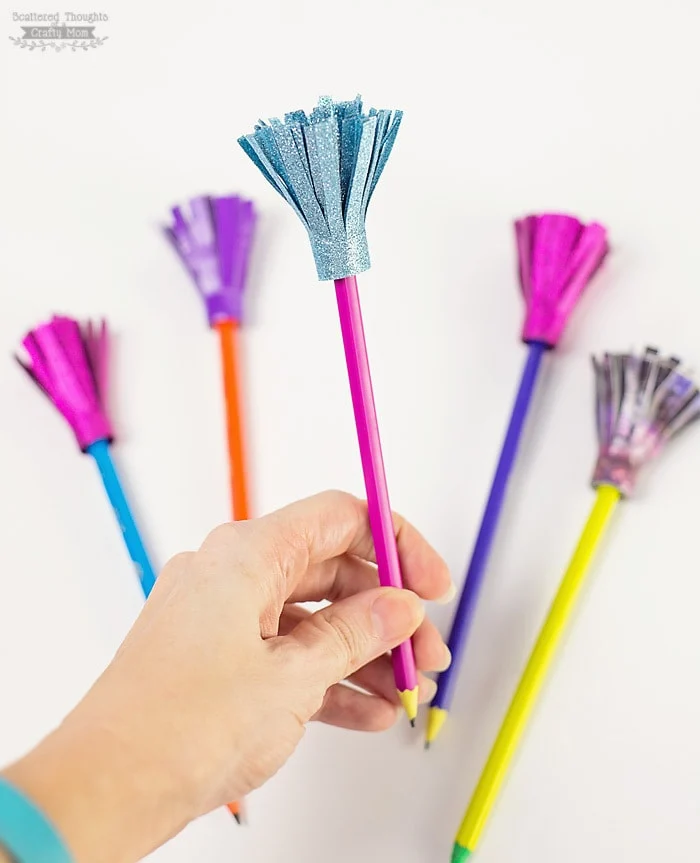 Credit: scatteredthoughtsofacraftymom.com
This is a quick and easy way to adorn an otherwise dull pencil with a little sparkly. Not to mention, if they somehow manage to get lost, they're cheap and straightforward to make again!
If you run a classroom or if you happen to be a parent, this is a great craft to teach your kids! Not only does it help them engage with their schoolwork, but it also sports minimal risk of injury or mess. Bonus!
13. Duct Tape Swimming Tote Bag
Credit: Blogspot
If warmer weather is on the horizon, our hearts and minds inevitably turn to one place: the water. This quick and easy swimming bag tutorial means you can whip up a tote bag the day before you head to the beach.
Thanks to its waterproof components, you can keep wet bathing suits and towels in this thing with no hassle, ready for the laundry. Even the flower applique is made out of duct tape (except for this button).
14. Duct Tape Roses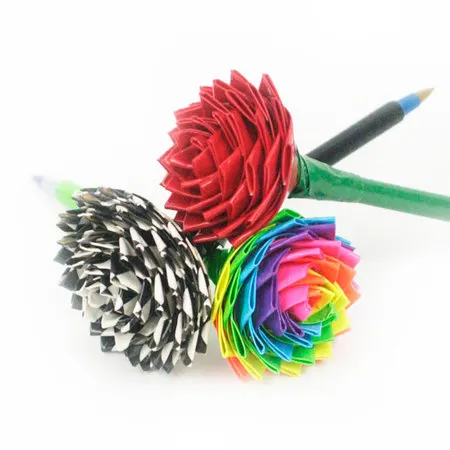 Credit: craftfoxes.com
If you want a different method for that swimming tote applique, or you're looking for a cheap and convenient fake flower option, this next project is for you. Make gorgeous blossoms out of duct tape!
While colored Duck Tape is best for this activity (like this), you can create the blooms from standard duct tape and then paint them. These never wither and never fall, so they're perfect for year-round displays.
If tape flowers aren't your thing, why not try making your everlasting florals out of tissue paper pom-poms instead?
15. Scalloped Duct Tape Christmas Ornaments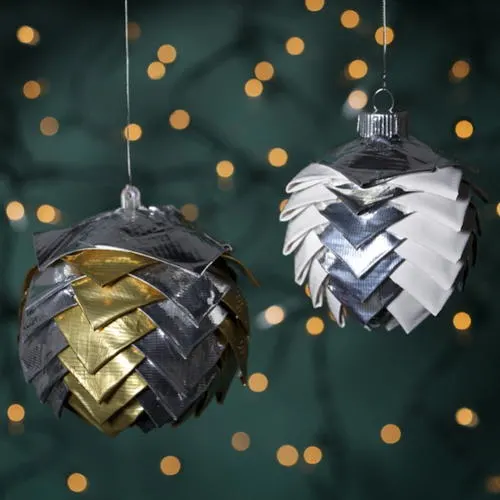 Credit: allfreeholidaycrafts.com
Who knew something made from duct tape could look this glamorous? Adorn your Christmas tree with some unique ornaments this year. You can even get your kids in on the fun with a pre-Christmas craft session!
Costing no more than $10, these gorgeous ornaments are far cheaper than ones you'll find elsewhere. They also look a whole lot better. Apart from duct tape, you'll need decorations like this to use as a base.
16. Duct Tape Sunglasses Holder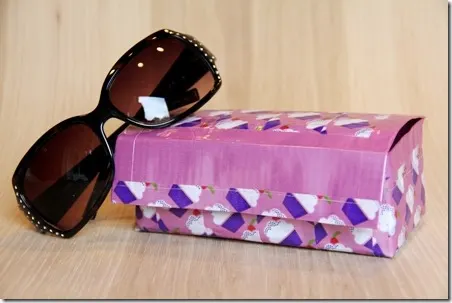 Credit: craftystaci.com
Sick of your sunglasses getting lost in your bag or surfacing from the clutter with scratches on the lenses? Make these issues a thing of the past with a trusty roll of duct tape, some ingenuity, and five minutes.
This craft uses nothing apart from the duct tape; absolutely nothing. Isn't that amazing? By creating a sheet of pliable material from the tape, you can fold it into an adorable sunglasses holder with ease.
17. DIY Duct Tape Hair Pins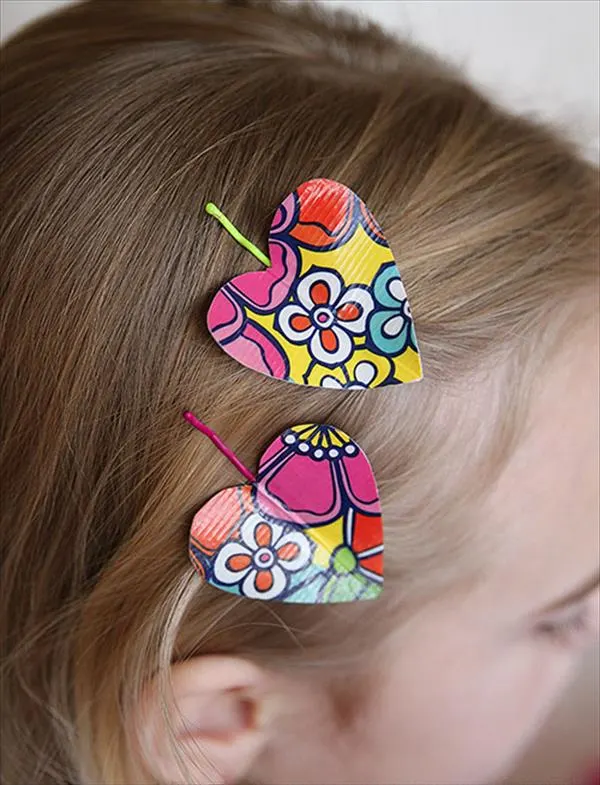 Credit: 101ducttapecrafts.com
Have you noticed your kids lamenting their lack of hair accessories? Lament no more with this fantastic hack to create custom hairpins. Use plain duct tape and decorate or stick with patterned tape for speed.
Apart from your hairpins and tape, you'll need to pick up some nail polish (here) to match the tape shapes you make. Paint the hairpins a corresponding color to round out the accessory's look.
18. DIY Duct Tape Dress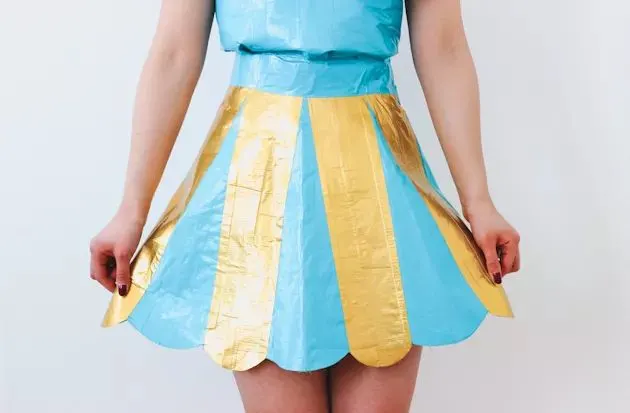 Credit: ehow.com
That's right, you read that right. You can make actual clothes out of duct tape! While you might not want to wear this to prom, this hack is fantastic for last-minute Halloween costumes or costume parties.
Apart from the duct tape, you'll need a flatbed sheet to act as the lining (duct tape is rough on the skin). Make sure you also grab a Velcro strip like this to act as your garment's closure. Go forth and create!
19. A Simple Duct Tape Belt
Credit: happyhourprojects.com
Before you scroll down, hear me out with this one. If you're picturing a simple grey duct tape belt tied around the waist, I have news for you! These trendy and colorful belts look like they came right off the shelf.
Once again, patterned Duck Tape like this is your friend. However, if you're after a super unique pattern, you might have to paint the belt yourself. Apart from the tape, make sure to salvage an old belt buckle to use.
20. Duct Tape Water Bottle Holder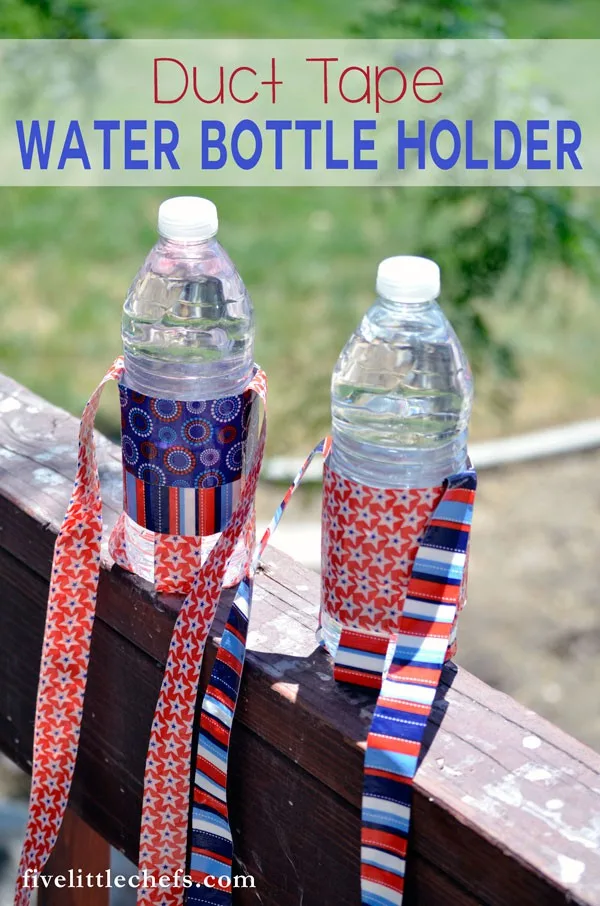 Credit: fivelittlechefs.com
Continuing in the vein of helpful accessories, this duct tape water bottle holder is super helpful for trips away from home. Make one for the kids (or yourself) to keep those water bottles by your side all day.
Apart from the duct tape, all you need to create this craft is some parchment paper and some scissors. If you're using a craft knife, consider investing in a self-healing mat like this to keep those cuts clean and straight.
Like this accessory? Take your fashion statement one step further with this DIY no-sew t-shirt upcycle.
21. Duct Tape Beads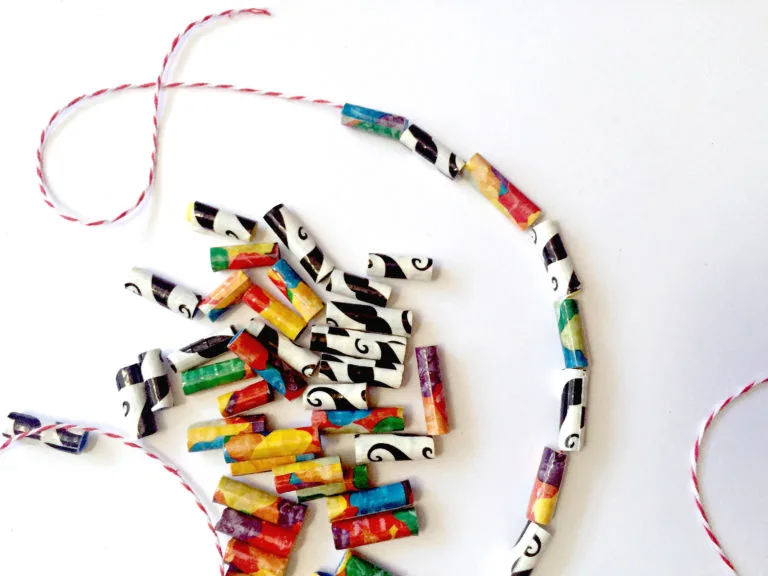 Credit: clumsycrafter.com
Here's yet another way to approach making jewelry from duct tape. Instead of weaving or braiding, in this hack, we're creating actual beads out of duct tape and using those to create our jewelry pieces! Genius!
These are so fun and simple to get the hang of. So, you and the kids can create a hundred of these without blinking. You'll need some straws (go for the paper kind to stay sustainable), scissors, and some patience.
22. Duct Tape Lunch Bags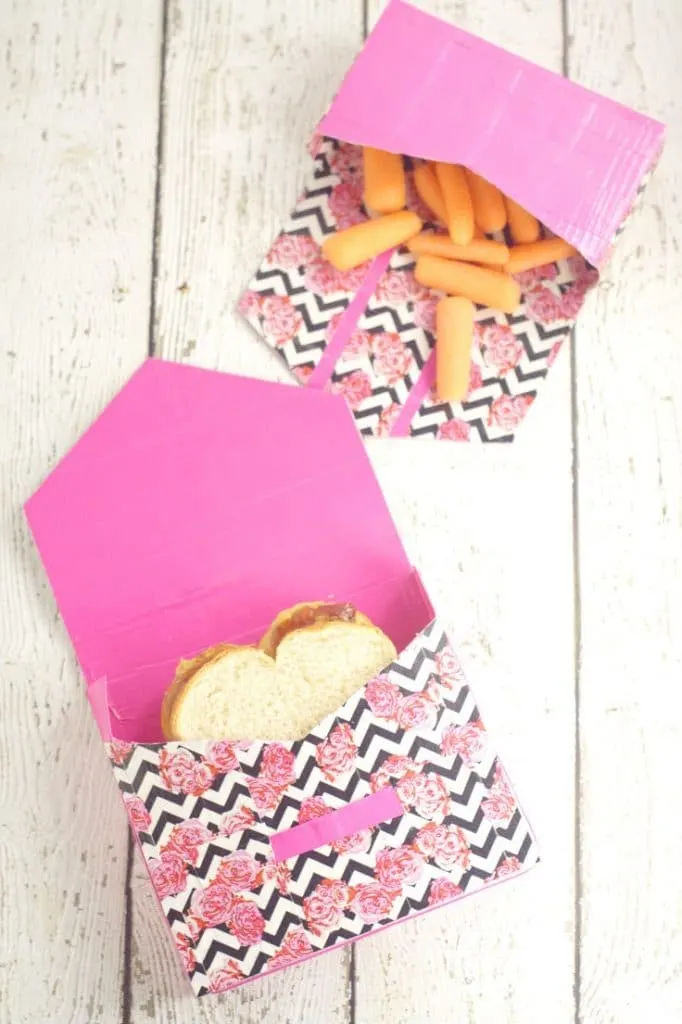 Credit: thegraciouswife.com
If your kids are in the habit of losing every lunch box you send them to school with, I have a hack that will save your Tupperware cupboard. Instead of sacrificing lunchboxes, simply make them from tape!
Don't worry, these look absolutely adorable (not at all like they've been made from tape). The best part is how easily replaceable the bags are, so you don't have to drop a quarter of your pay on new containers.
23. Duct Tape Lunch Bags, Take Two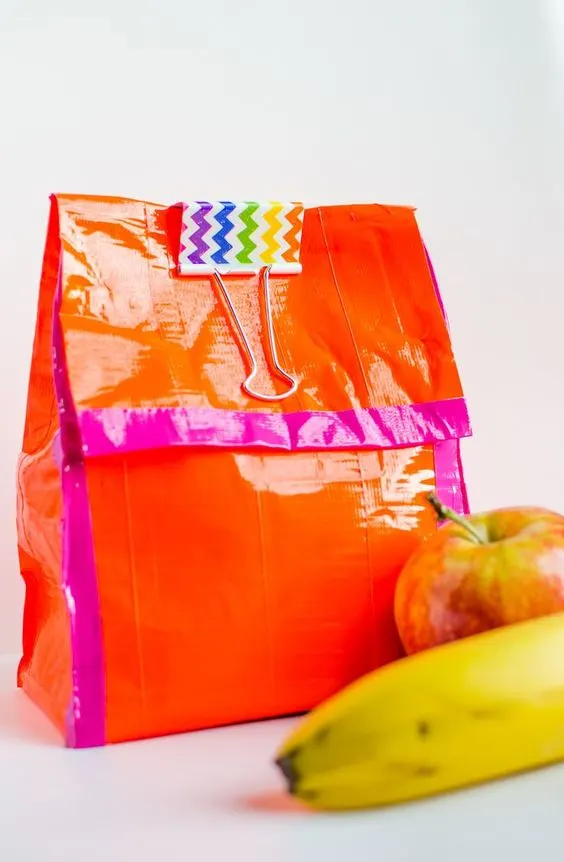 Credit: broughttoyoubymom.com
This is another take on duct tape lunch bags, but they have a little more structure thanks to the incorporated cardboard. Create separate panels and bring them together in this fun rainy-day activity.
While the tutorial recommends using a binder clip to keep the lunchbox closed, there are other ways to go about it. I'd recommend a buckle like this attached to the box, as it's harder for kids to lose or break.
24. Valentines' Day Inspired Heart Jewelry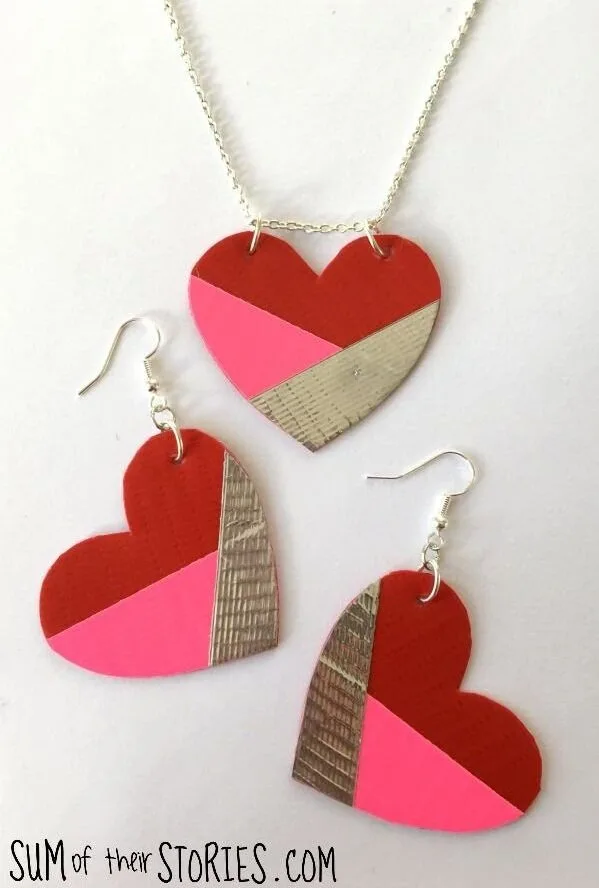 Credit: sumoftheirstories.com
Give your partner the gift of a whole new set of accessories with this lovely DIY. This tutorial goes over multiple ways to make a pair of love-themed earrings or a love-inspired necklace, so pick your favorite.
To make these jewelry pieces, you'll undoubtedly need a quality single-hole punch like this. Not to mention, you'll need chains from which to hang your newly-created heart pendants (find them here).
25. DIY Duct Tape Fidget Spinner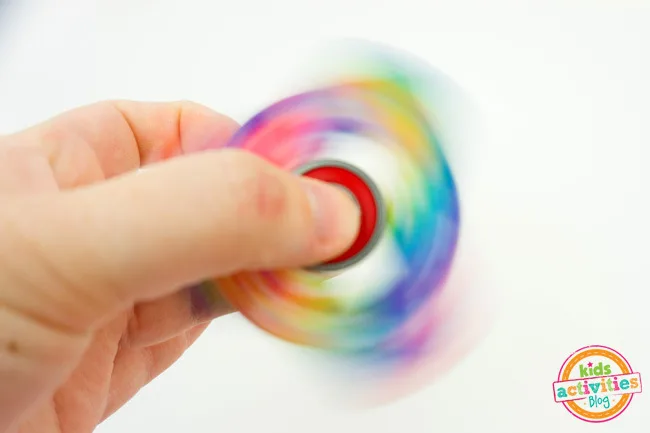 Credit: kidsactivitiesblog.com
That's right, you can even make a fidget spinner out of this incredible material! Is there nothing duct tape can't do? Entertain yourself or your children with this spinning marvel; made in an afternoon and sure to impress.
Apart from tape, you'll need some craft sticks, some washers, glue, clothespins, and a crucial component: a skate bearing (here). This allows for the spinner's free rotation, so make sure you pick a quality specimen.
26. Duct Tape Wallet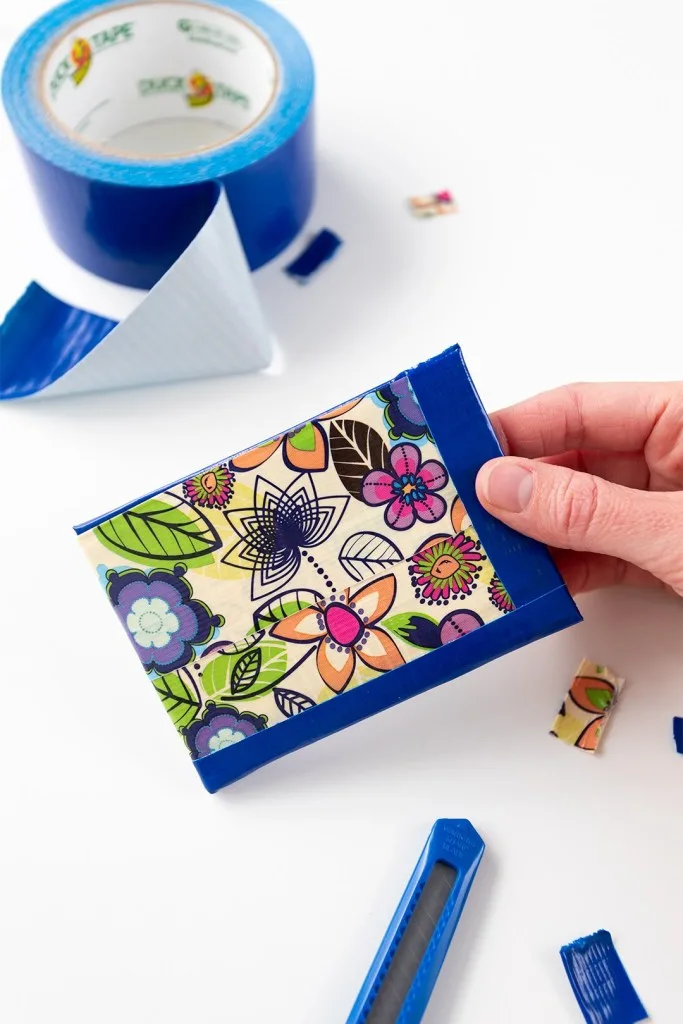 Credit: welcometonanas.com
Our penultimate craft celebrates how much money you're saving with these crafty substitutions, making a spot to hold all your money in. That's right, I'm talking about making a wallet out of duct tape.
This is a fantastic way to make a completely unique wallet; no one on Earth will have one like you. This is also great for kids who are just learning to look after smaller possessions; if it gets lost, just make another.
You can also make some trendy paper wallets with your kids using this tutorial.
27. Duct Tape Wreath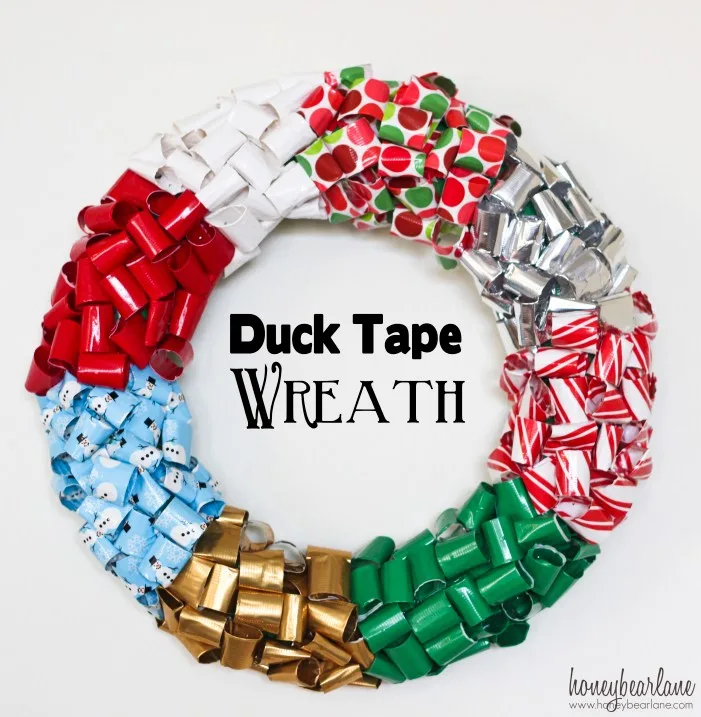 Credit: honeybearlane.com
Finally, let's crown this list with the ultimate celebration of duct tape: a giant, gorgeous wreath to hang on your front door. No matter the season, you can create a corresponding wreath sure to impress your guests.
The key to the wreath form lies beneath the tape. A foam wreath form like this provides structure to the decoration, while the many loops of tape are the real attraction. Hang this up in any climate; it can endure the weather!
Conclusion
There we have it! Twenty-seven duct tape crafts to break out the next time you need a quick project. How many duct tape rolls do you have in your home right now? Each one is a brand-new possibility.