Got some leftover fabric lying around? Let's put it into good use with these fun scrap fabric projects. Upcycle fabric scraps and make something you'll be proud of!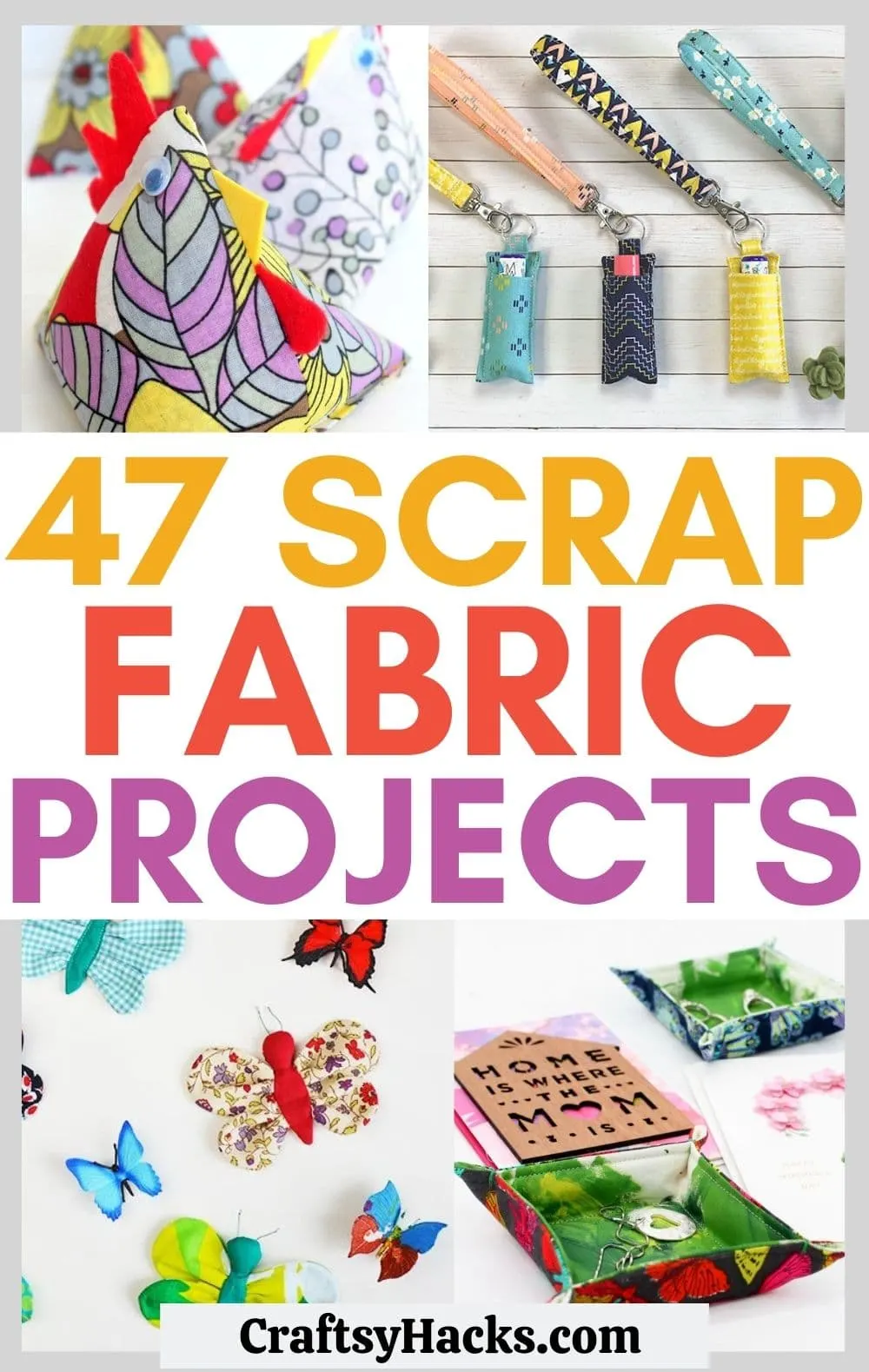 You probably have a box somewhere in your storage labeled scrap fabric, overflowing with, well, scrap fabric. I know I do.
It might be sample swatches you cut off from catalogs or leftover scraps from previous sewing projects that you had the good sense to save. But looking at the overflowing box(es), you're wondering if it was a good sense or your tendency to hoard.
I told myself it would be a downright crime to throw away something so pretty and that I would upcycle, not recycle. It helped me sleep at night.
Well, whatever we told ourselves, it's time we did something about all those beautiful scraps of cloth: something craftsy, fun, and creative.
Here's a list of 47–yes, 47!— fun scrap fabric projects for you to explore.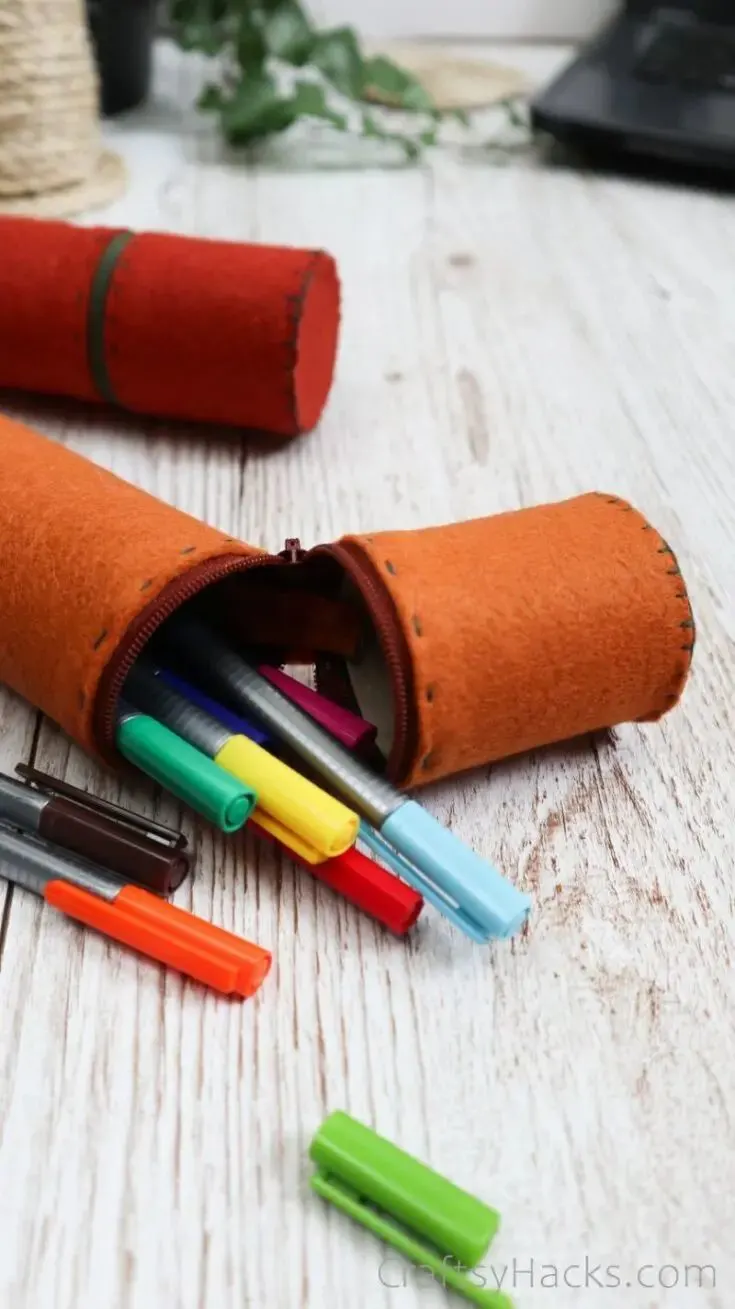 Credit: craftsyhacks.com
Luxury toilet rolls just took on a whole new meaning, and what a sustainable and ingenious way to do it!
Most of what you'll need, you'll already have at home: scotch tape, toilet roll, fabric, needle and thread, cardboard, a zipper from other projects, and a knife.
But do you have a trusty hot glue gun? No? Look here.
Tip: You can switch out the felt fabric for any other thick scrap, denim, velvet, or even leather.
Here are some more ideas for toilet paper roll crafts.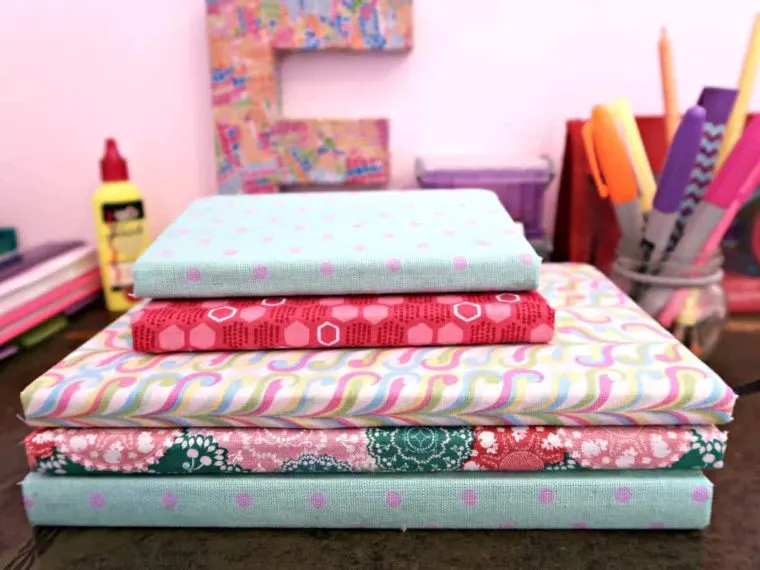 Credit: craftinvaders.co.uk
I've always wished my notebooks were more personalized. Surely that would make me want to take notes in school?
But all the good ones aren't just pretty, and they're pretty expensive.
Not true, at least not anymore. You can use any hardcover notebook you have for this project. Then all you need to do is to glue your scrap fabric over it, and you have your very own fancy cover notebook!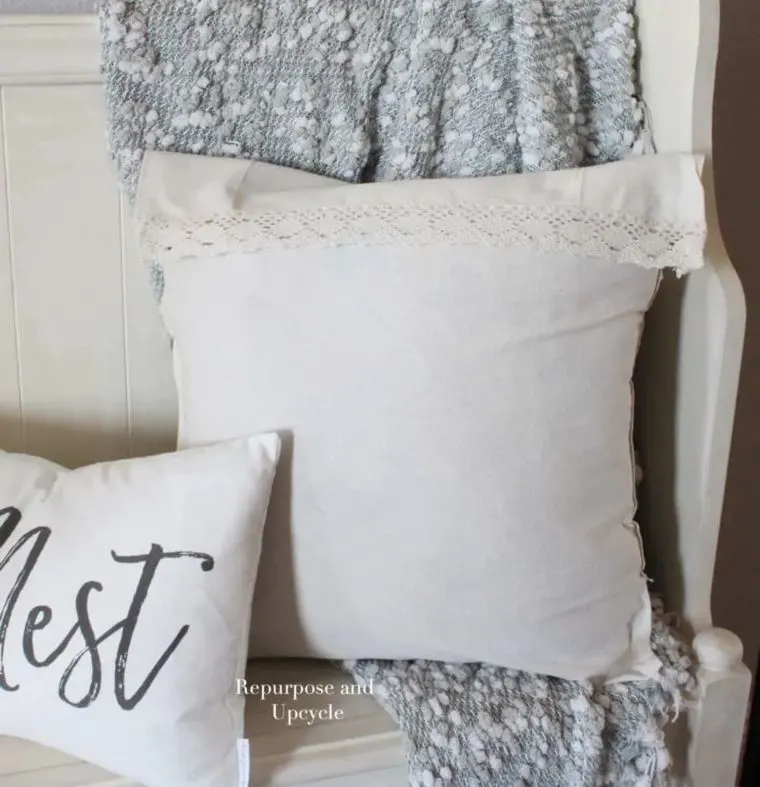 Credit: repurposeandupcycle.com
This project doesn't technically use 'scraps.' It calls for an old tablecloth or even a bedspread you have lying around.
On the flip side, there's no sewing involved! All you need is fabric tape, which you can get here, and you're set.
You can add some trim lace to the edges, although that would add 'sewing' into the no-sew part of this project. It's all up to you!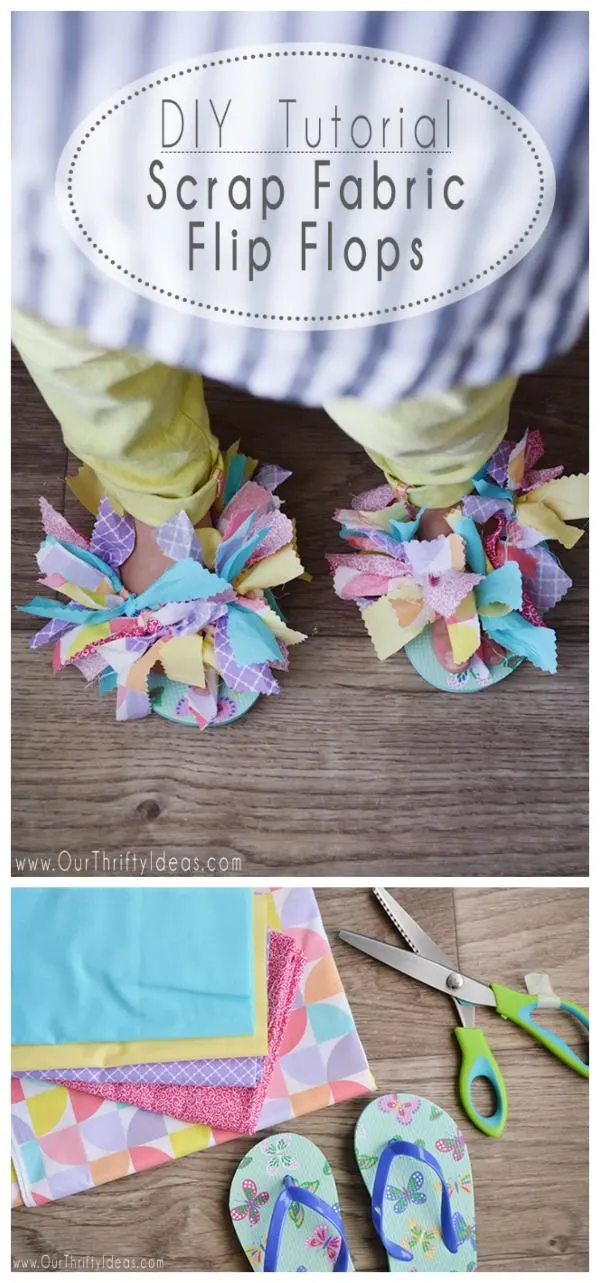 Credit: todayscreativelife.com
This one, well, I have no words. Look at all that color. Look at the myriad of textures. No, seriously, look.
Under those strips of fabric sits an unassuming pair of flip flops, whose purposeful yet straightforward life just took a turn for the wild and wacky.
Grab a sturdy pair of pinking shears here and get cutting.
Credit: beginnersewingprojects.com
I've come to realize you can never have enough coasters. So why not make a dent in your scrap fabric pile and sew a few of them?
Do you see those quilted stitches in the center? They aren't just decorative because they also hold all the layers together. Isn't that neat? You can learn how to quilt from this tutorial here.
Additionally, you might also need a couple of layers of batting, which you can order online right here.
Love making coasters? Try these DIY rope coasters!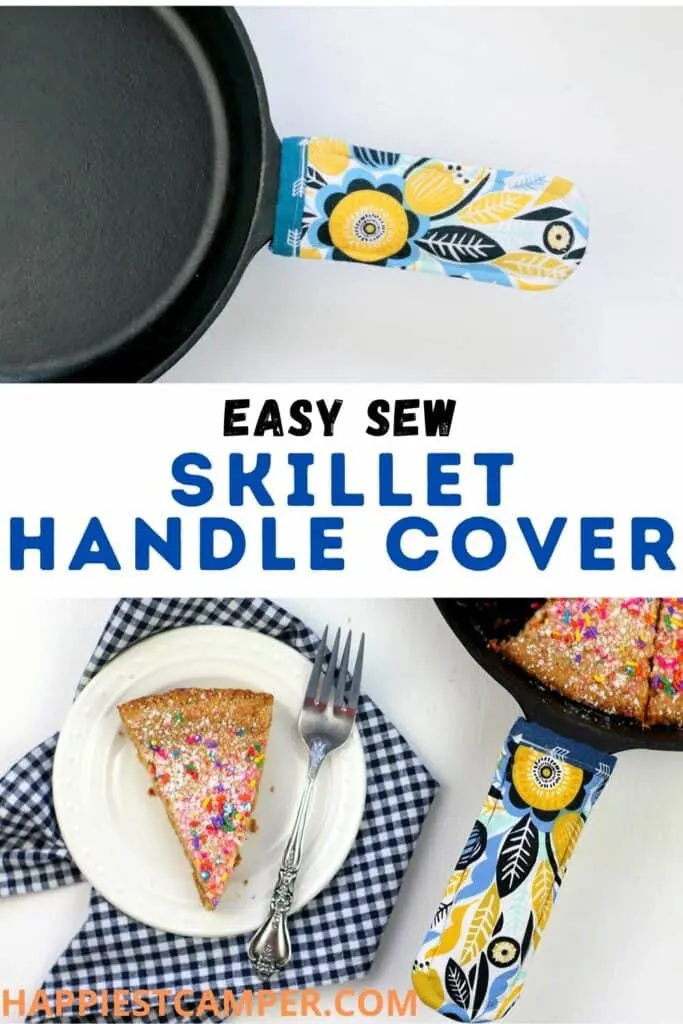 Credit: happiestcamper.com
Isn't this just clever and useful to boot?
I always, but always forget that the handle is hot and just grab it. Then ensues a sort of tribal dance where I'm flapping my burnt hand around and letting loose a stream of… let's just stick to the tribal dance metaphor and call it chants.
This skillet handle cover is the perfect solution and almost looks better than the actual food in the skillet! Almost.
Your scraps of fabric alone won't keep the heat from filtering through, though. You'll also need some insulated lining, which you can find here.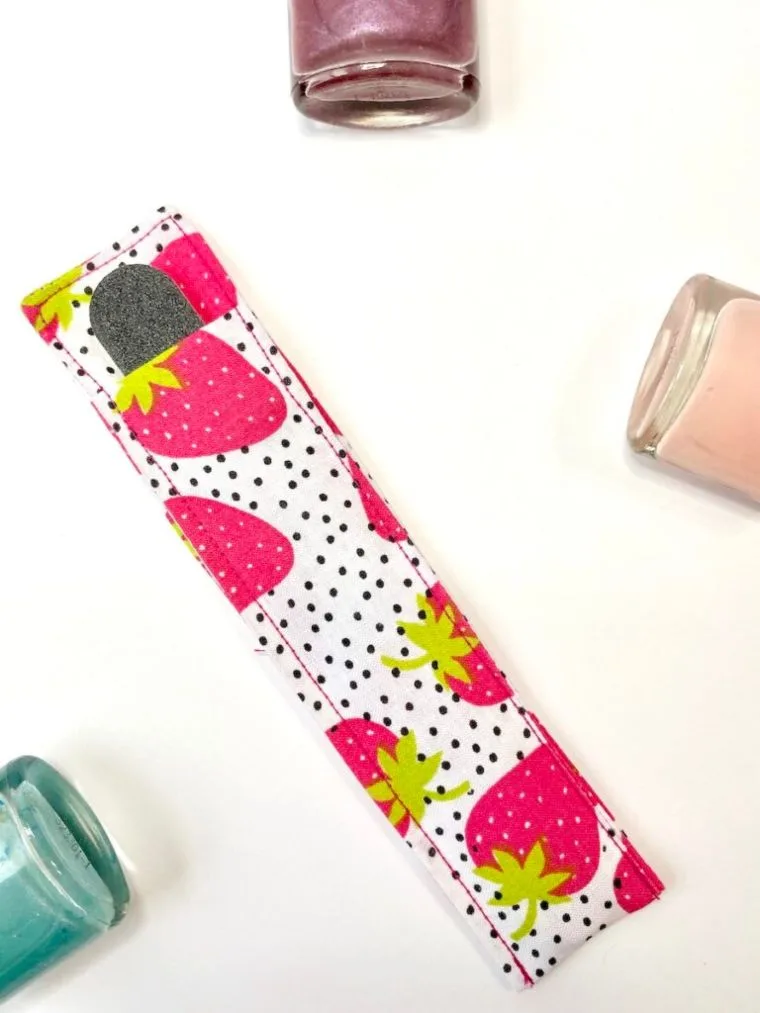 Credit: easythingstosew.com
Don't you just hate losing your nail file inside your handbag or make-up kit? Worse, they can snag the fabric and tear through the lining.
A nail file case, bright and colorful, made from a small quarter of fabric, is the solution. The tutorial calls for a turning tool, which you might not have lying around. So check this one out!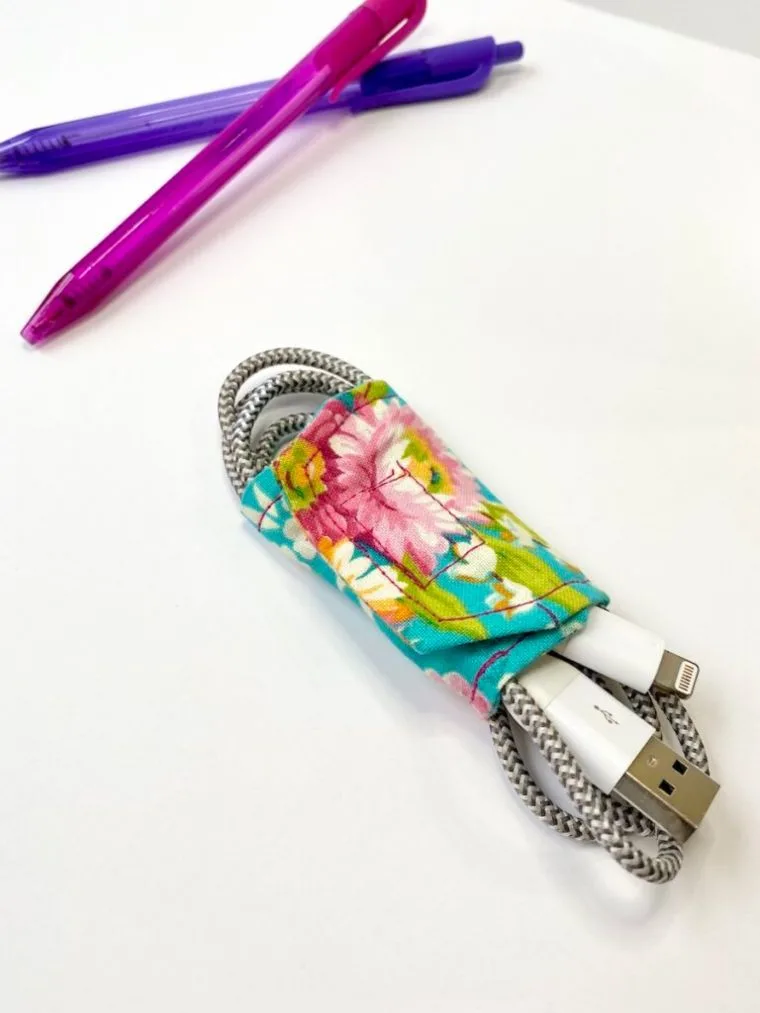 Credit: easythingstosew.com
If I never find myself having to untangle my charger cords or earphones, it'll be too soon. Now here's one way to keep those cord wires from tangling up all the time when you put them away.
And, if you get to use up some of my scrap cloth along the way, you could make a dozen and give them to fellow-frustrated-detanglers.
Just follow the instructions, sew yourself a pretty cord wrap, and velcro that cord in place with this fabric fastener.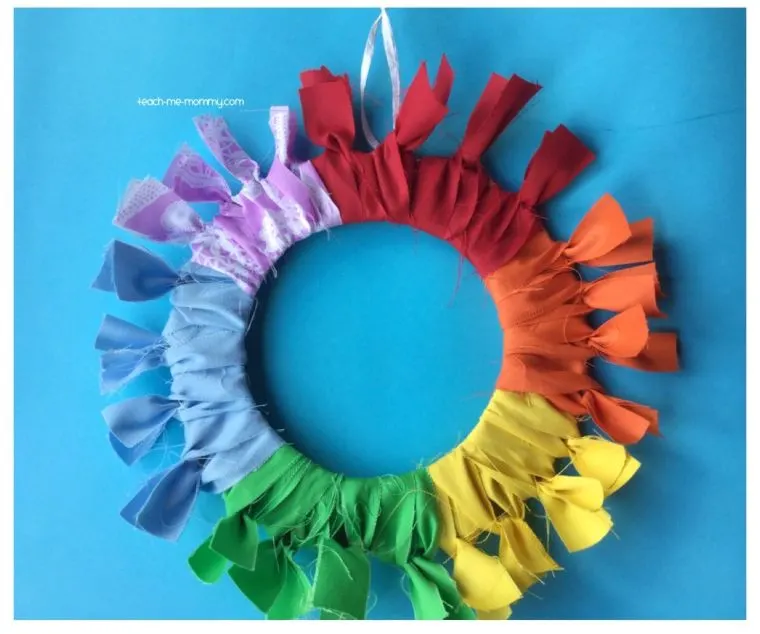 Credit: teach-me-mommy.com
Rainbow wreaths… isn't that something of an oxymoron? But I guess you can have wreaths at Christmas too, right?
Or you can make one in all the colors of the rainbow and take it with you to an LGBTQ parade! Once you're done, hang it in a place of pride(see what I did there?) right by your craft desk and enjoy the color it brings to your space.
Check out more wreath ideas here.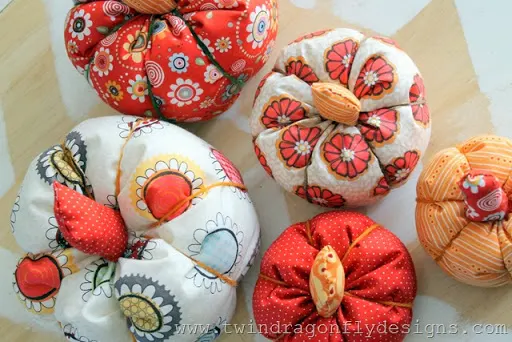 Credit: homemadeheather.com
I just love me some stuffed pumpkin. It doesn't really matter that this one here is stuffed with scrap fabric and inedible because it's just that cute.
Whether they're meant to spice up your home decor or you're just looking for something to make for your local craft fair this year, these scrap-stuffed, plush pumpkins are just what you need.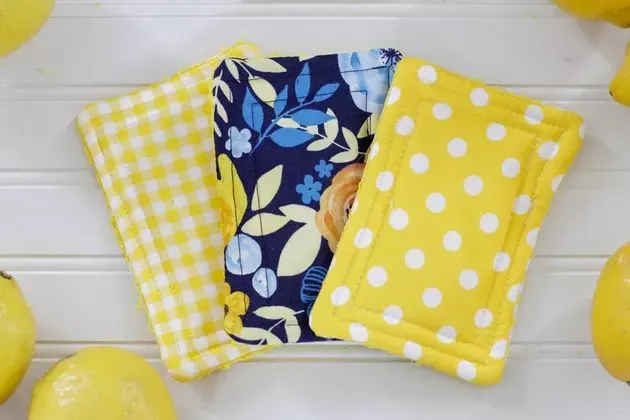 Credit: ehow.com
Won't these look bright and sunny hanging off a hook by your kitchen sink? With pretty fabric on one side, tulle or mesh fabric on the other, and batting in between the layers, you've got yourself a good scrubbing sponge.
The reusable part of this DIY project means you can just pop them into your washing machine along with your load of towels. Your sponge comes out clean and ready to scrub.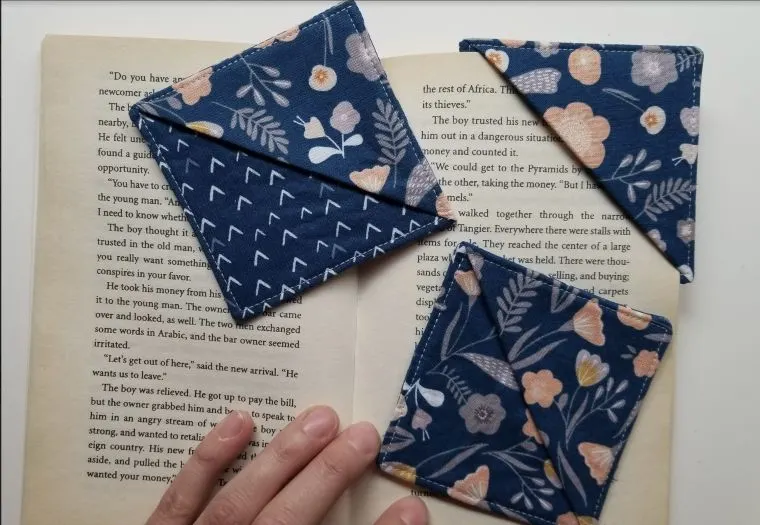 Credit: quilterscandy.com
The bibliophile in me who absolutely abhors dog-eared pages is shedding tears of genuine relief. Just how cool and nifty are these slip-on cloth bookmarks?
You'll need some of this sheer weight, as this project calls for some interfacing to keep the edges from folding over.
I bet you won't stop with making just one. So, why not make a couple—dozen—and give some to your fellow readers?
This is a great craft for teens and girls.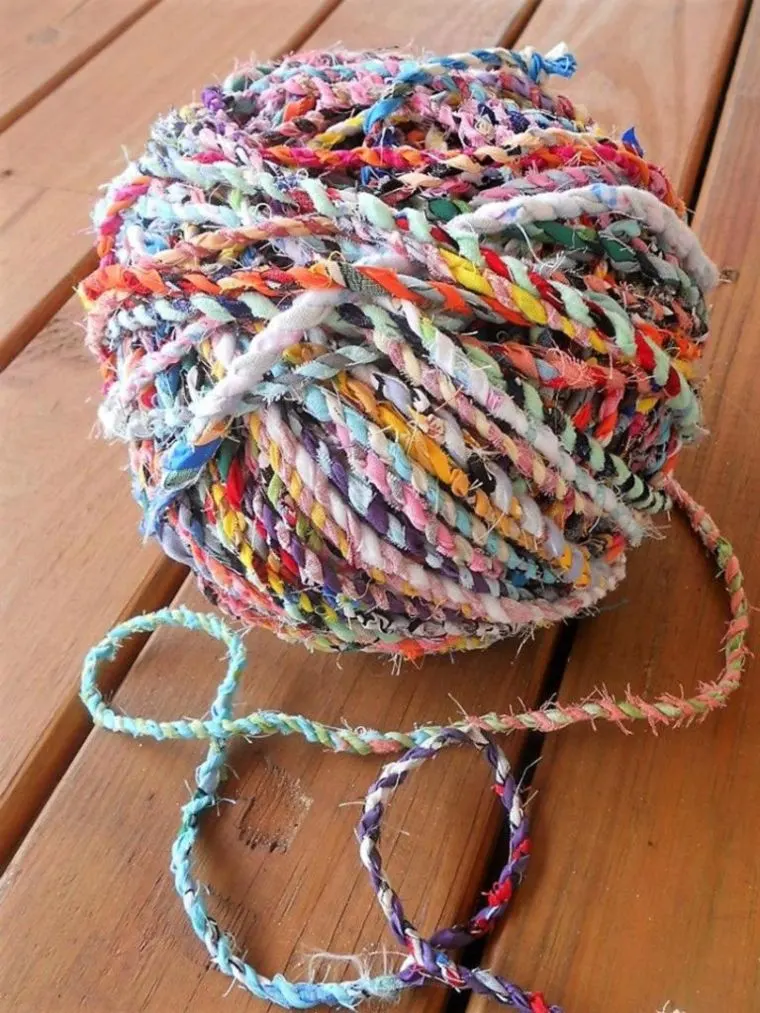 Credit: myfrenchtwist.com
A skein or two of fabric twine would be a great addition to your craft supplies. You can use them for dozens of craft projects:
planters, rugs, twine coasters, and spools, to name a few.
If you're like me, then you'd rather use all your scraps of cloth on those awesome fabric bookmarks we just saw. But now, you also want a cloth twine.
Fret not; you can order some here.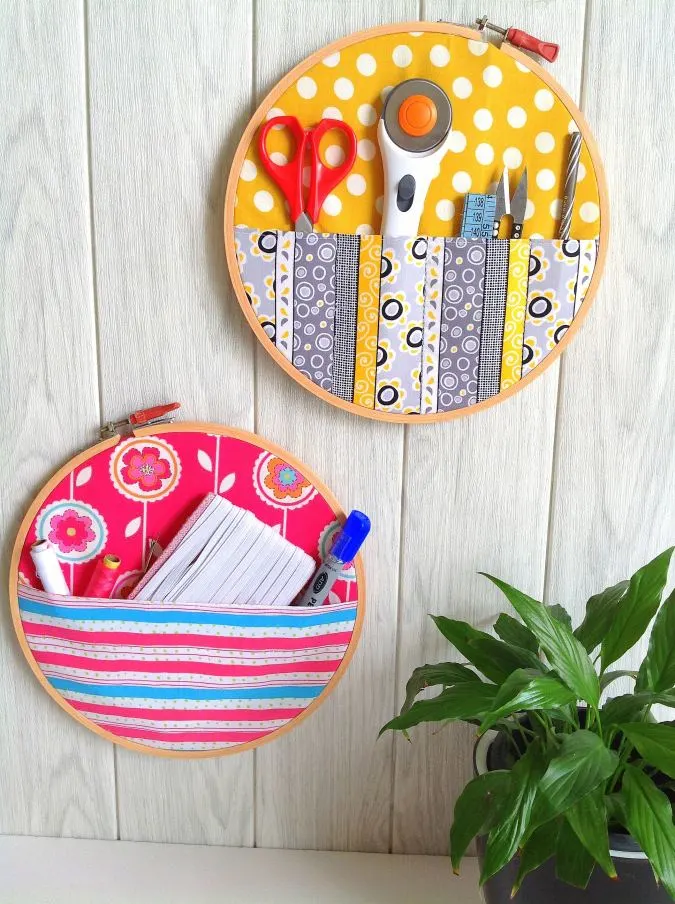 Credit: sewcraftyme.com
You probably have a few embroidery hoops lying about in that same box with your scraps. No? Etsy has some beautiful ones, in different shapes—circle or rectangle—for you to choose from.
These hoop organizers make for a great accessory that you can hang right next to your craft desk and fill with supplies and materials.
You can even go ahead and embroider something pretty on the cloth while you're at it.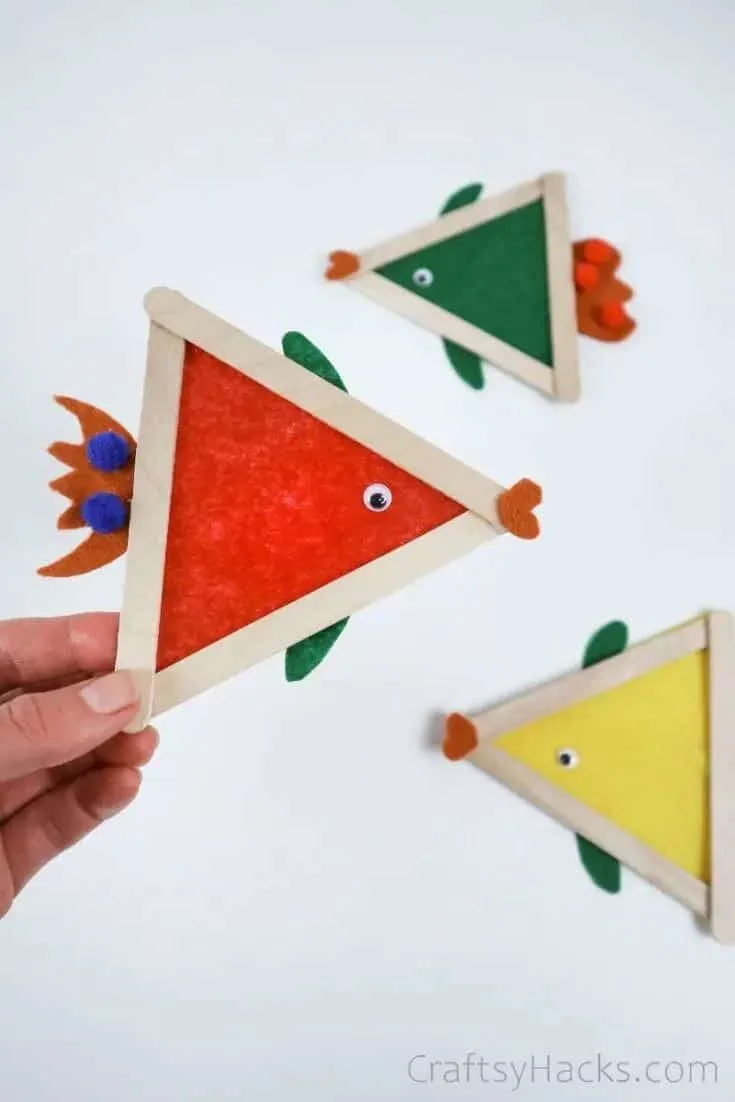 Credit: craftsyhacks.com
If you've got kids at home, then it's a safe bet to assume you also have a few popsicles in your refrigerator.
But, you decide to play the responsible adult. You choose not to give in to the temptation and host a full-fledged popsicle-eating tournament to collect popsicle sticks.
Instead, you can buy them here.
You can hang the finished fishes from a string in your kids' rooms and call it a good day.
Have too many popsicle sticks left over? Here are some popsicle stick craft ideas to try.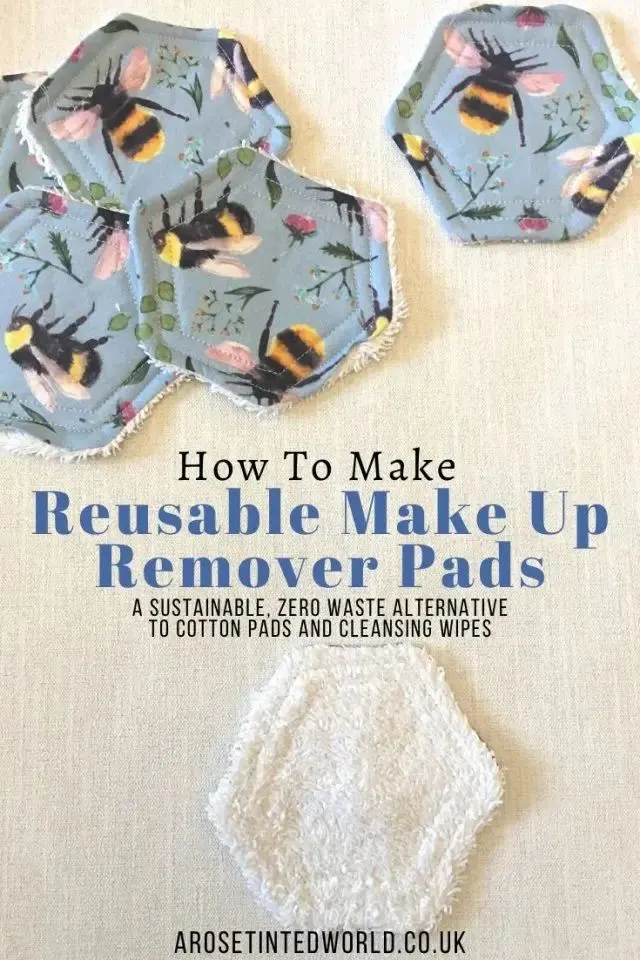 Credit: arosetintedworld.co.uk
Now there's a thought. What a sustainable and zero-waste alternative to disposable cotton pads or cleaning wipes.
You don't need much: just a few scraps of cloth from your ever-growing pile of scrap fabric and. Oh, you might need a square or hexagon template to use as a base.
When you're ready to wash them, just pop them into your machine, or soak them in warm, soapy water first, and wash them by hand.
Credit: bonjourquilts.com
Don't you just love how wholesome patchwork quilts are? You've got scraps of cloth already at hand, and all that's left is to sew them together!
You can choose to stick to one color or take a walk on the wild side and make a beautiful rainbow lattice patterned quilt as you see here.
The Scrappy Lattice Quilt pattern will help you with the sizing and design.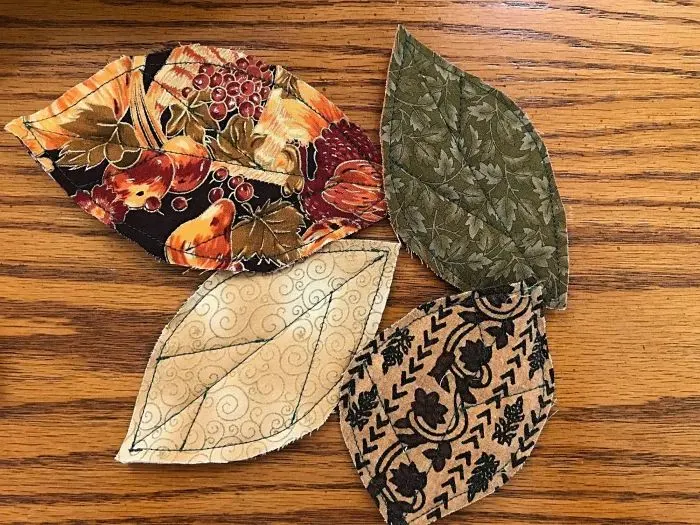 Credit: feltmagnet.com
Think of the red, orange, gold, and maroon hues from fall leaves on dark, earthy soil. Now imagine recreating those autumnal colors as a scattering of fabric leaves sewn together on a backdrop of rustic wood from your dining table.
Doesn't it look gorgeous? You can have this table runner too. You already have everything you'll need, except, perhaps, the low-loft batting which you can get here.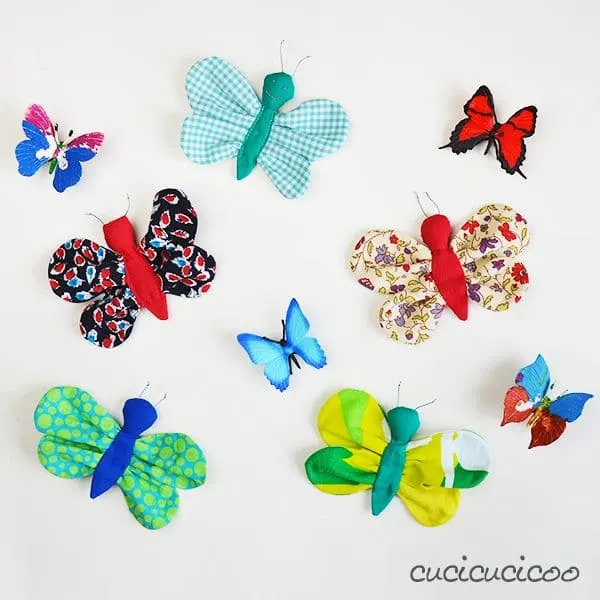 Credit: allfreesewing.com
Just like the stuffed fabric pumpkins, making these butterflies will definitely help you put a dent in your supply of scrap cloth. But, trust me, you can't make just one and stop.
You probably have the fabric and the supplies. But do you have some leftover stuffing from the pumpkins? Used it all up, did you? You can get some here.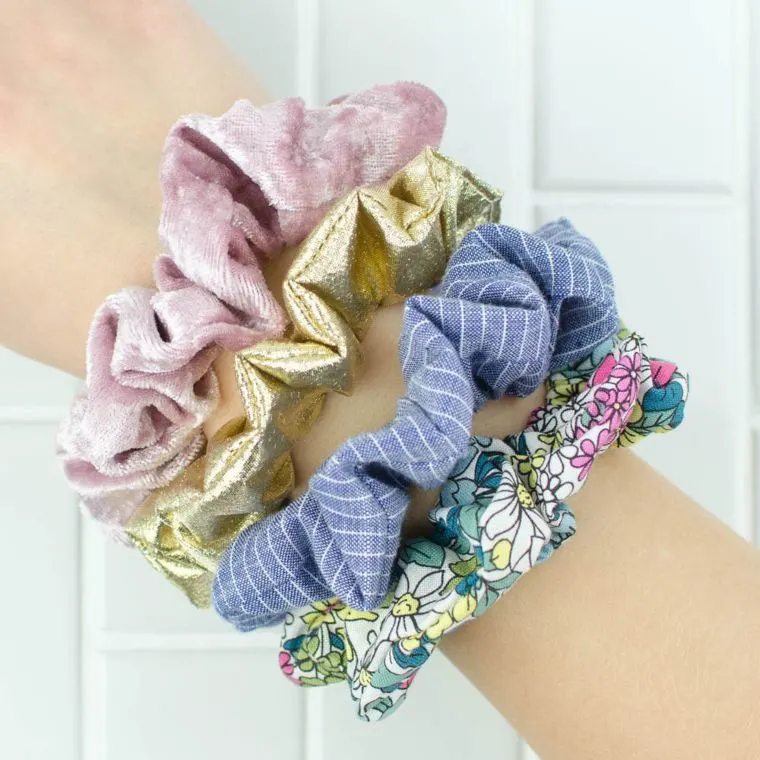 Credit: alittlecraftinyourday.com
Finally, finally, a solution to my ever disappearing stash of scrunchies. I could weep; I'm that happy.
This is the perfect way to solve the scrunchie-shortage and customize them to match your outfit simultaneously. Moreover, they'd make fabulous gifts for your sisters and girlfriends!
You can grab some elastic bands here or pop over to your local sewing shop and buy some.
This is a perfect craft to make sell.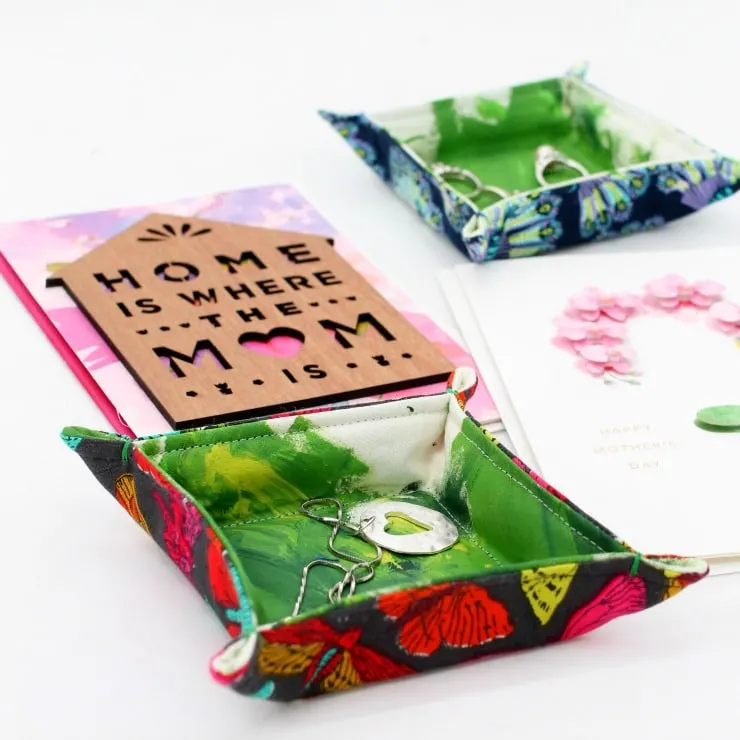 Credit: swoodsonsays.com
These seem like such clever little craft items to display around your home.
You can place one by the front door and drop your keys in them. Alternatively, keep one on your dresser and dump loose change, recipes, and the odd pocket treasures.
There are just so many things you can do with these fabric trays. You can't use plain old running thread to sew this together, though. Instead, you'll need some strong embroidery floss that you can find here.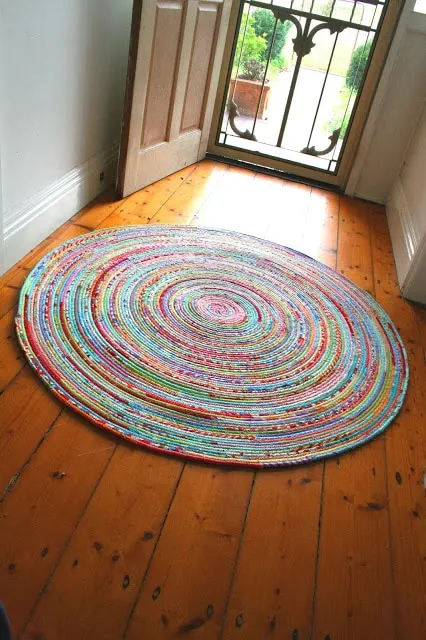 Credit: Blogspot
Remember that fabric twine we made a little while ago? Well, I've got the perfect DIY rug that needs some of that twine.
This pattern also calls for copious amounts of polyester thread. How to gauge how much thread is enough thread? If you think you have a lot, you probably don't have enough, so buy more here.
Don't forget to put some elbow grease into twining your rug; it'll be worth it in the end if you get that pretty rug out of it.
Credit: rebootedmom.com
While not quite as big or sturdy as the reusable make-up remover we read about earlier, these soft cotton rounds still serve the same purpose.
You can dab a little cream or make-up remover and use it as a scrubber or even a nursing pad. Of course, you'll go through these quicker, but half a dozen or so make for a great addition to a handmade care package.
Alternatively, you can buy these here on Etsy.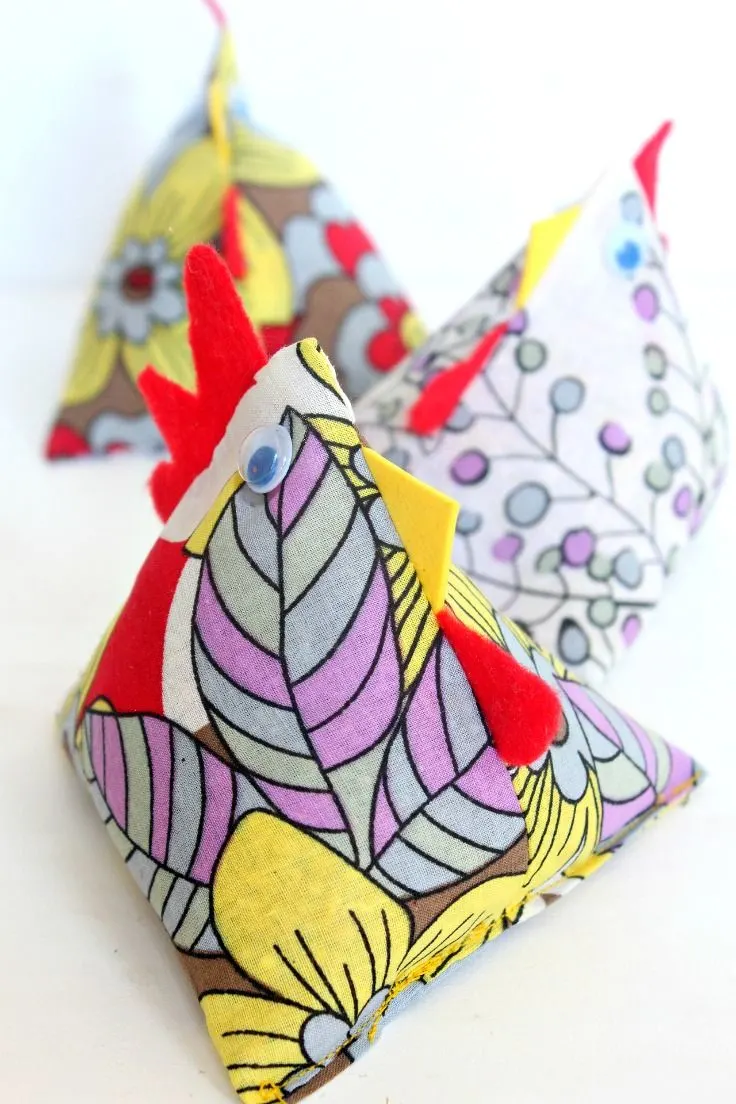 Credit: theseamanmom.com
Well, now I've seen everything.
I realize that this particular craft calls for poultry-themed fabric weights—they really did a great job sewing on that beak, comb, and wattle.
But, you can just about use any fabric and any, um, theme, to make them.For the filling, you can use rice, lentil, or other grains.
Consider the metaphysical symbolism at work here: we eat chicken with rice, said chicken eats grains of rice, and here we are, stuffing chicken weights with rice.
While you're at it, you can even put a few drops of essential oils in there. Fragrance pockets placed strategically around a room really make your home smell great.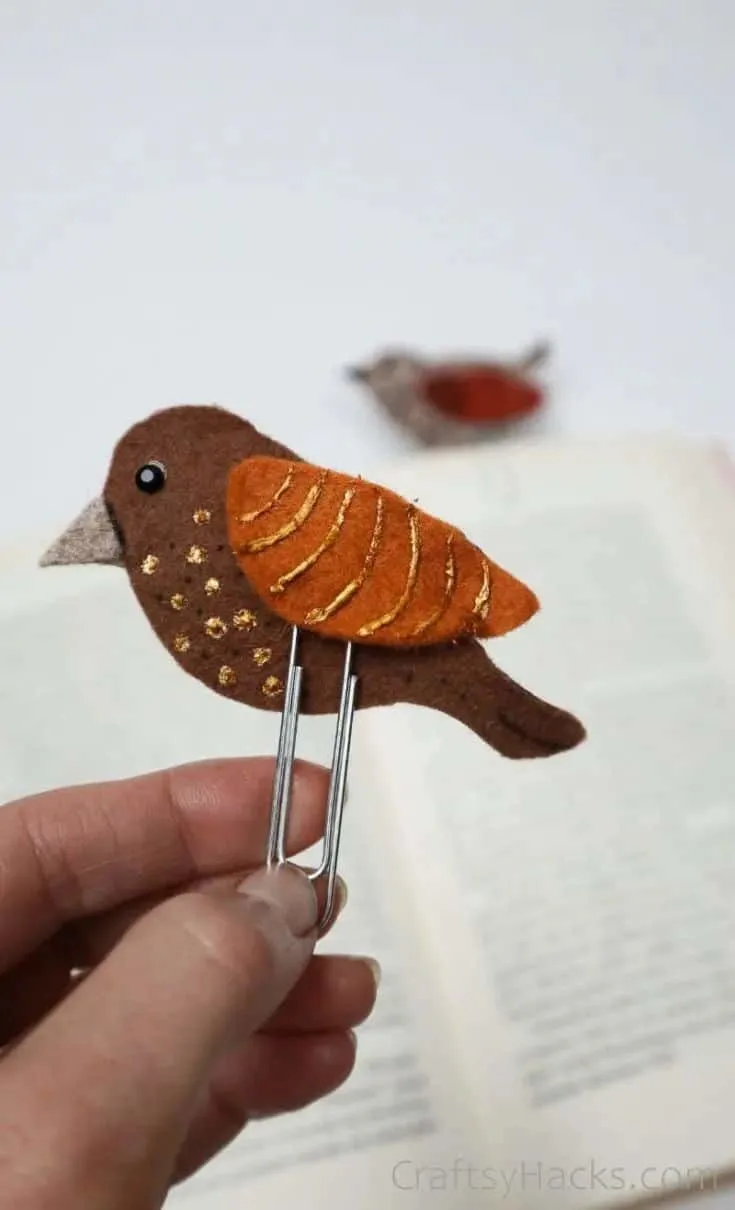 Credit: craftsyhacks.com
Another bookmark, only this time, we use fabric cut-outs and paperclips like this—anything to stop ear-marking a page.
A tiny little felt fabric songbird–I miss the chicken already– perched on your page is as adorable as you can get. Follow the step-by-step tutorial, and in less than 30 minutes, you'll have the perfect bookmark ready to clip onto your page.
Credit: thecraftymummy.com
I must say, we've hit a hattrick with bookmarks! You've got absolutely no excuse not to fold the corners of your page ever again—not a single one.
While you can use any fabric scissors, I find that pinking scissors give a nice crisscrossed edge that kicks things up a notch.
And, that little band of ribbon brings it all together just right.
Here are a few DIY bookmark crafts for you to try.
Credit: scatteredthoughtsofacraftymom.com
They remind you of the reusable fabric face scrubs, don't they? But, with some deft quilting stitches, you can transform your scraps of fabric into pretty coasters.
This one calls for a presser foot. If you're not sure where you can find one, look here. Also, if you, like me, have no idea how to use one, look it up on Sew Guide.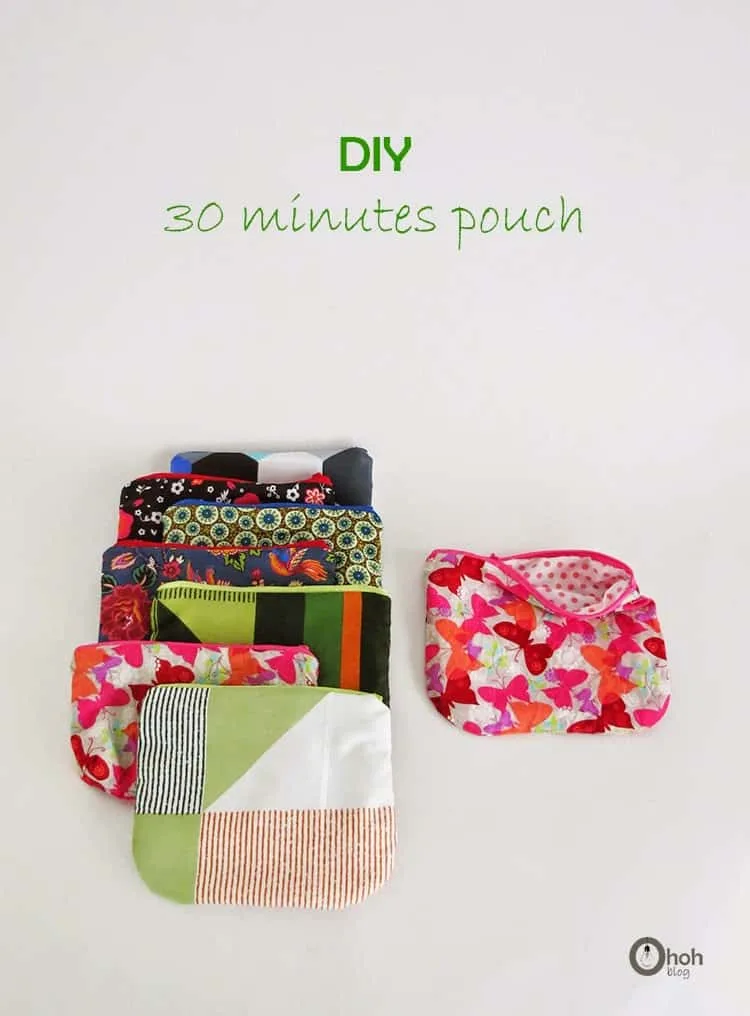 Credit: ohohdeco.com
This 30-minute sewing project makes for a cute gift pouch to slip your presents into. Or, if you like to keep the insides of your handbag neat and organized, you can use these pouches to store coins or beauty products.
You can find a zipper if you don't already have one in your box of sewing supplies, right here.
This is a great project for adults.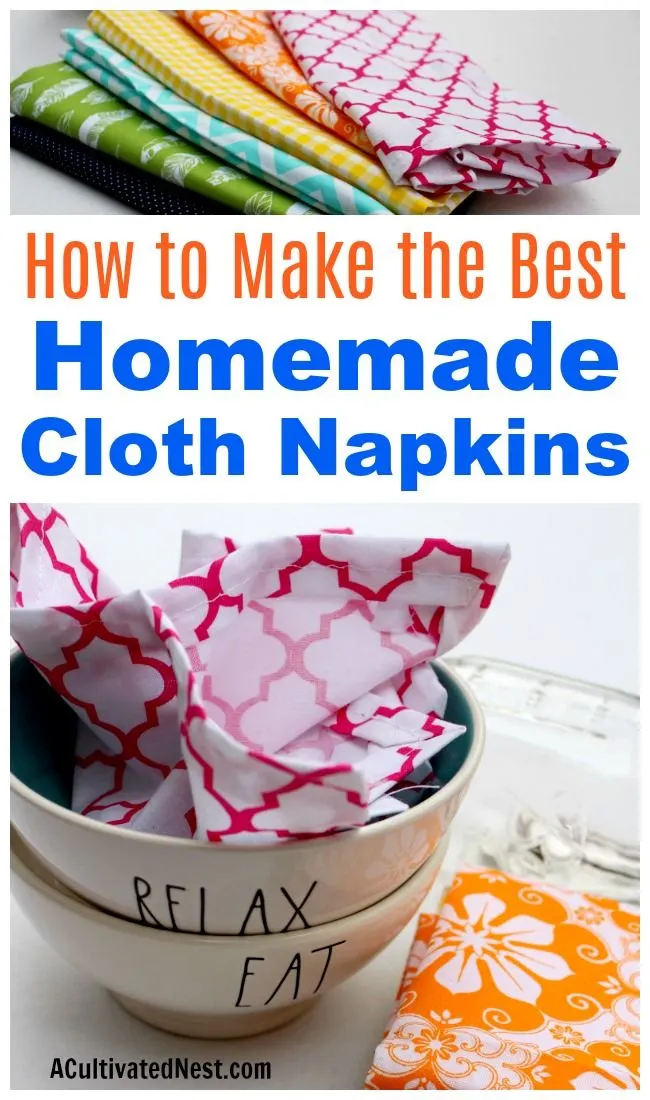 Credit: acultivatednest.com
I was wondering when we'd get to the napkins. Now, you can't just fold your scraps in two and call it a napkin. It requires more fitness and sewing than that.
You'll need pretty edges: curved, folded, or just crisp and cut. Oh! Why not add a pretty lace trim along the sides?
You can either use what you already have or buy a roll of French bobbin lace here.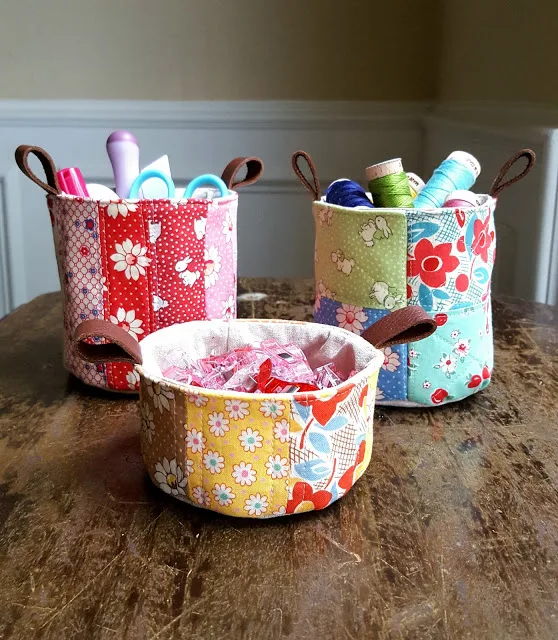 Credit: Blogspot
Again, patchwork is as wholesome as it gets, and you can't convince me otherwise.
These patchwork buckets with sturdy leather handles will be perfect for storing your skeins of yarn and crochet hooks. The odds are, you already have everything you'll need to make these.
What about that little leather strip used for the handles? Why don't you look for some here?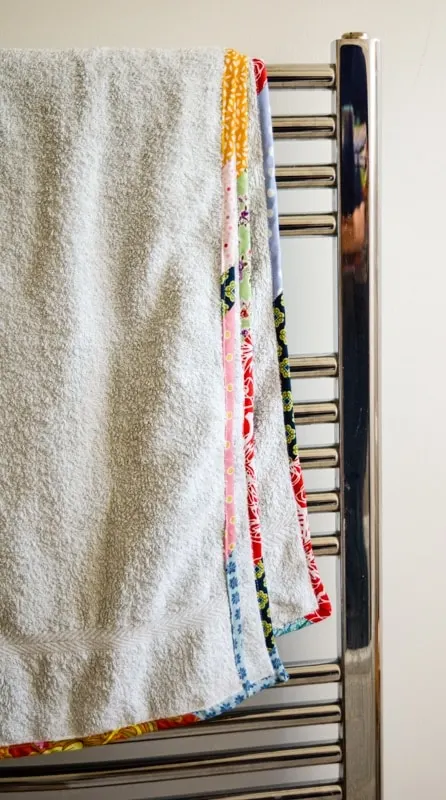 Credit: vickymyerscreations.co.uk
I read through this tutorial, and I can't stress how important it is to iron your fabric right at the beginning when you start this project. It makes it a whole lot easier to pin and sew along the grain if you, trust me.
You'll want to invest in a bias binding tool like this for this one; it's definitely a significant and valuable addition to your sewing basket.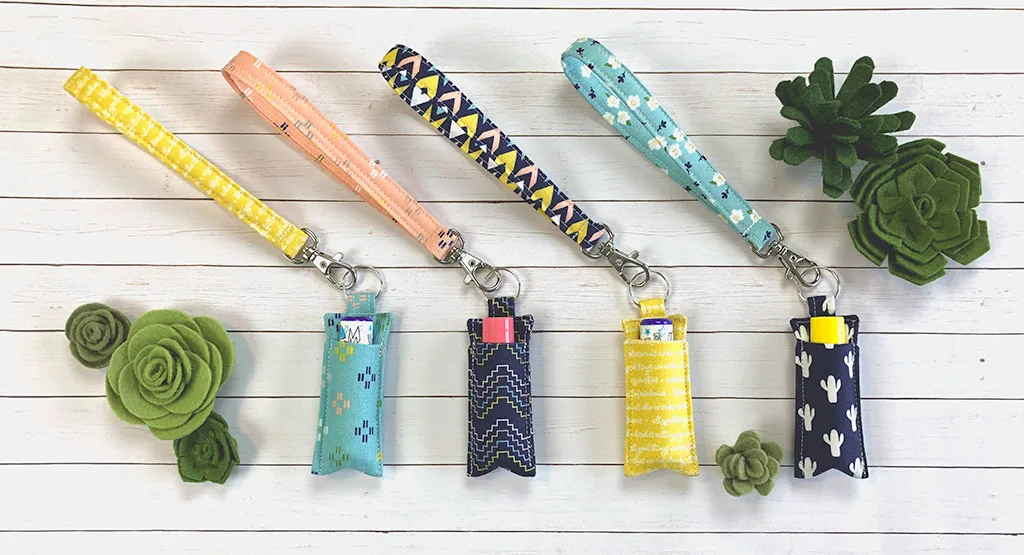 Credit: amerooniedesigns.com
Not unlike the nail-filer holder that we read about earlier, this one. And, just like I keep losing my nail filer, I lose my chapsticks too and subsequently buy enough tubes to own stock in Nivea.
I swear, these rank high on my DIY To-do list. You really don't need much, but this project does call for a clever keychain ring like this.
You can loop the ring into your zipper, and this time, by God, your chapstick will stay right where you put it.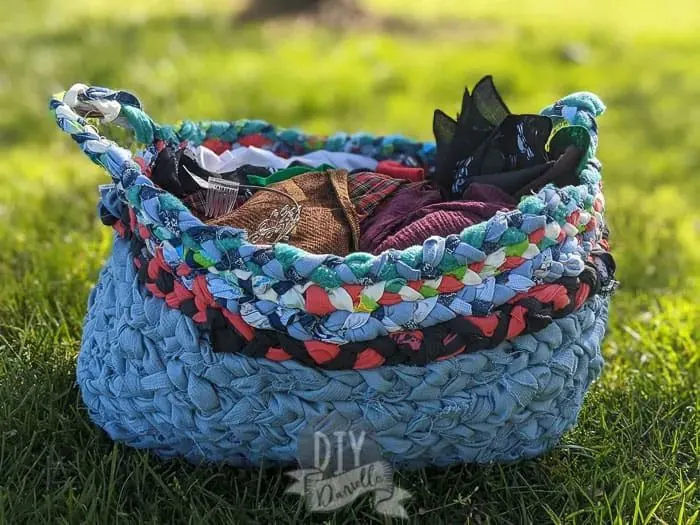 Credit: diydanielle.com
Time to pull out your fabric twine again.
Also, do you know how to braid? Just the regular, three-strand plait will do, but you'll definitely need it for this project.
Alternatively, you can also tear three strips of linen and, tying them into a knot at one end, start braiding. You'll need some binder clips to help you hold your braided twine together in place.
You can find them right here.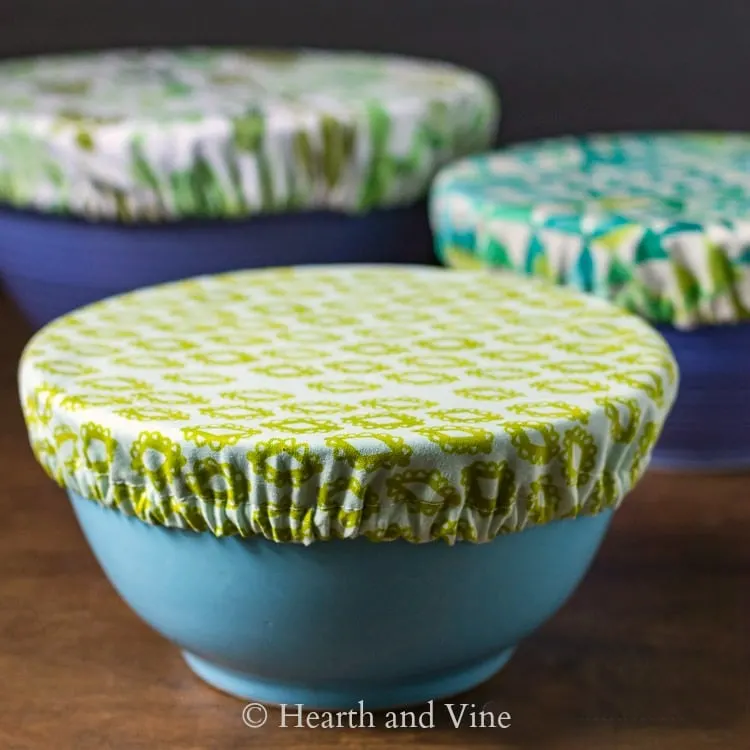 Credit: hearthandvine.com
Wow, aren't these covers pretty as pie? But could you cover a pie dish with them, I wonder?
I think these elastic covers would look great over your bowls and cups. However, I wouldn't use them to cover a hot bowl of pasta.
Why? For the simple reason that the order would permeate and the fabric would wilt and dampen over the heat.
But I'm sure you can cover a bowl of chips, yogurt, butter, or jam much more effectively, so I'd still make them.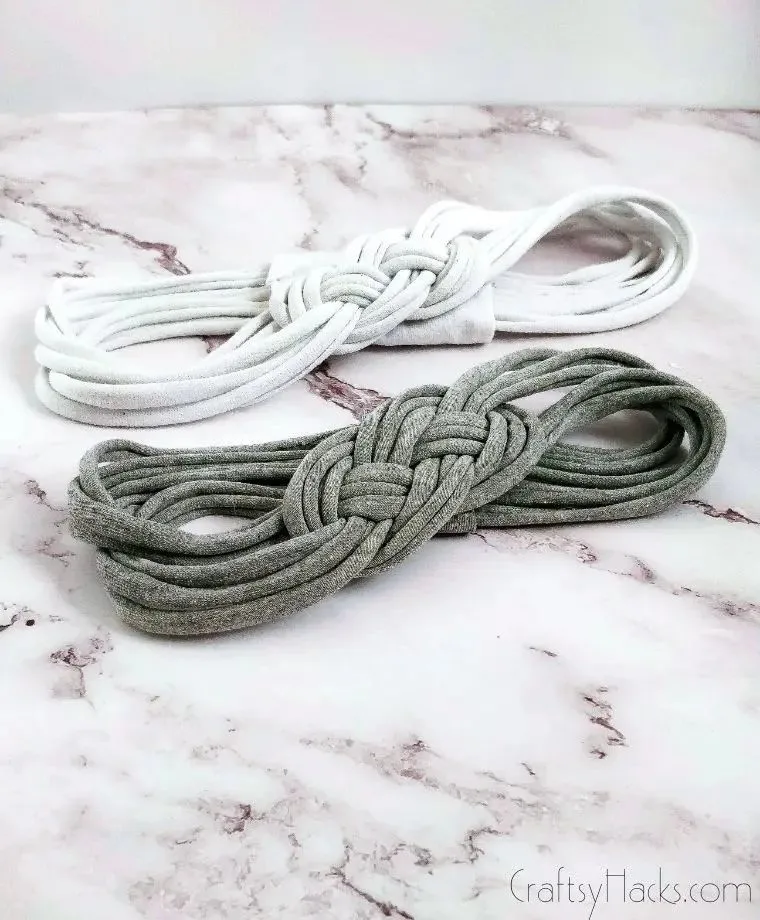 Credit: craftsyhacks.com
These aren't your regular cloth bandanas or even the stretchy headbands you'd wear to keep your hair in place. No, these look like something you'd buy at a store, with that Celtic knot design up top.
Remember to choose the right kind of fabric, depending on the occasion you need them for. Going to the gym? You'll need a material that would absorb sweat.
Out for a day of fun? Something light and cotton, preferably with pops of color to make it stand out.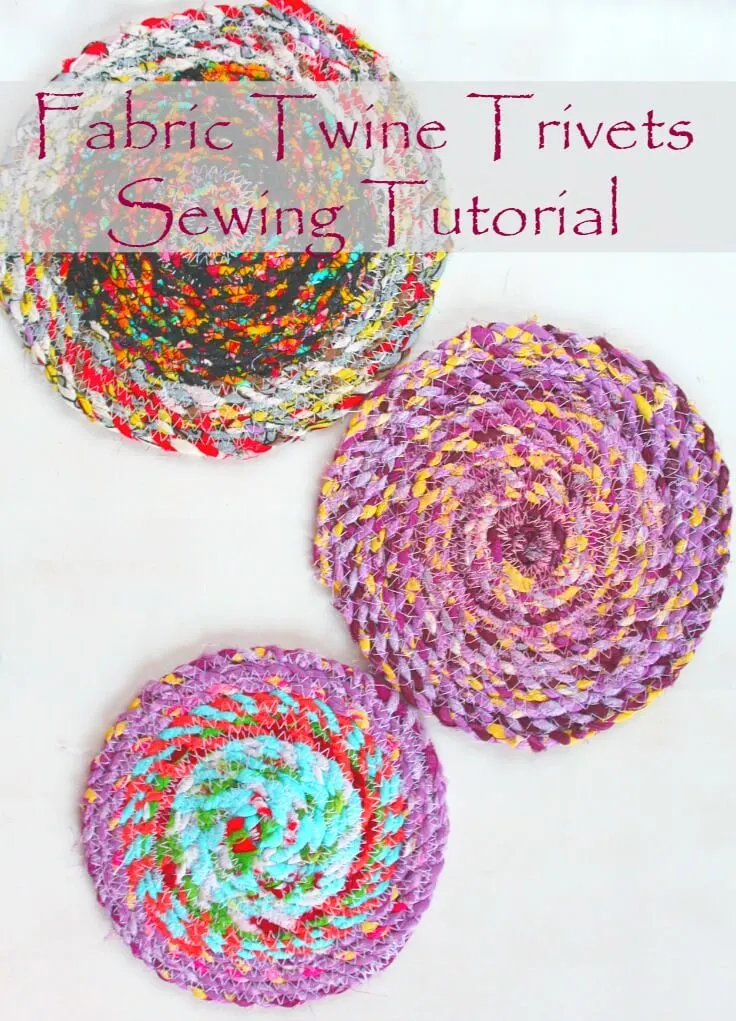 Credit: theseamanmom.com
Yet another opportunity to bring out your fabric twine; guess you should have made some more, huh?
A trivet isn't that different from a coaster, but it is more like a hot pad or a hot plate: something you'd use under your serving dish and over the dining table.
So remember to use some heat-resistant and robust fabric when rolling your twine for this project. You'll want something padded and tough but not lumpy either.
Speaking of tough, you'll also need some strong thread—perhaps denim thread, like this— to sew your trivet together.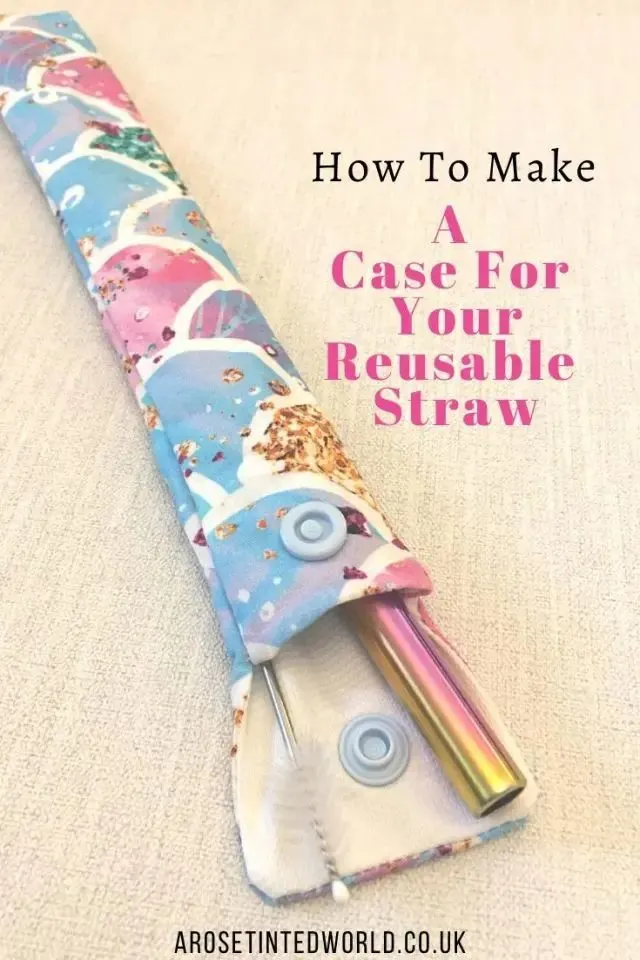 Credit: arosetintedworld.co.uk
Cute, reusable case-covers for straws; if there's any way to get people into using reusable straws, this would be it.
Sustainable, washable, and zero-waste, this case can hold any of your straws: bamboo, steel, or glass. Just remember to wash it and then dry it before placing it back in the case.
While you can use colorful snap buttons like these, you can just as easily use velcro to fasten the flap close.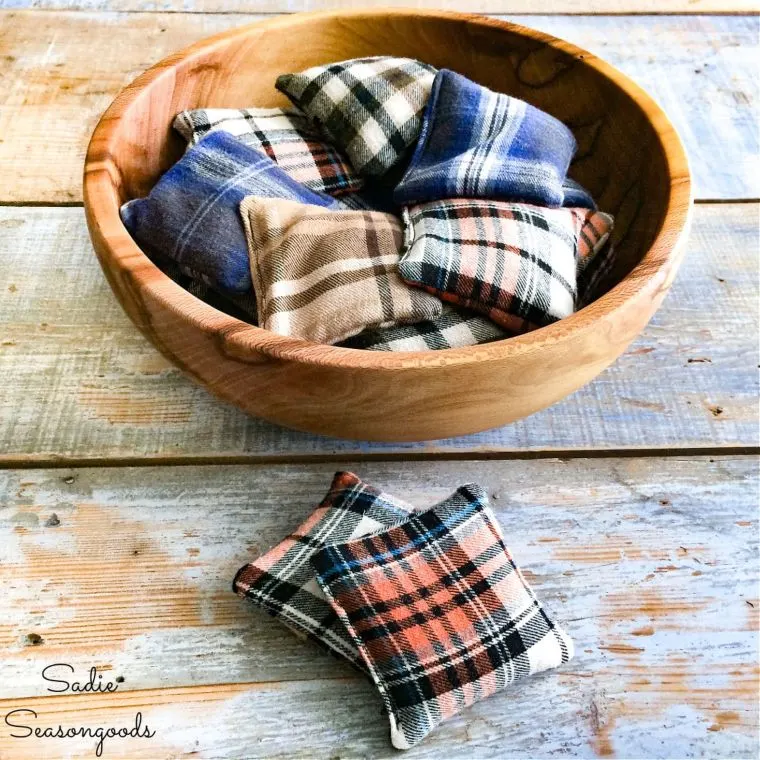 Credit: sadieseasongoods.com
Now, why didn't I find out about these sooner? I've got plenty of flannel scraps from my old pajamas, and I've got the thread, I've got rice and grains to fill the pouch with, and I got the time.
Do you? Then get started on these adorably functional hand warming pouches. Once they're ready, pop them into the microwave for 20-30 seconds, and that's it.
Late run to the grocery store to grab some milk? Slip a pouch into each pocket of your hoodie to keep your hands warm.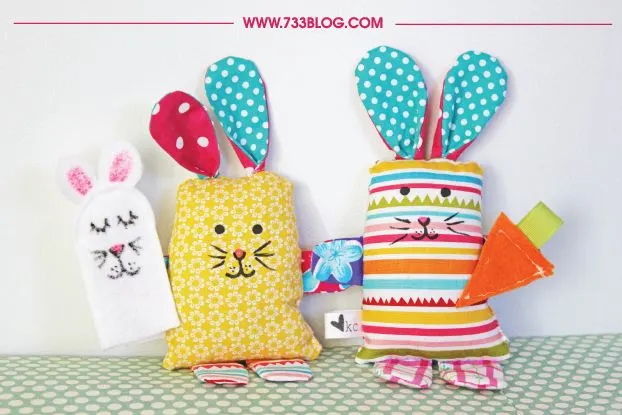 Credit: inspirationmadesimple.com
First the chicken, now the bunny. Only this time, the bunny is stuffed with cotton stuffing.
This pattern is easy to follow, and with a few short, simple steps, you'll have your stuffed bunny.
You can give it to someone or just use it to adorn your shelf. Alternatively, if you have a kid–human or canine– you can give it to them.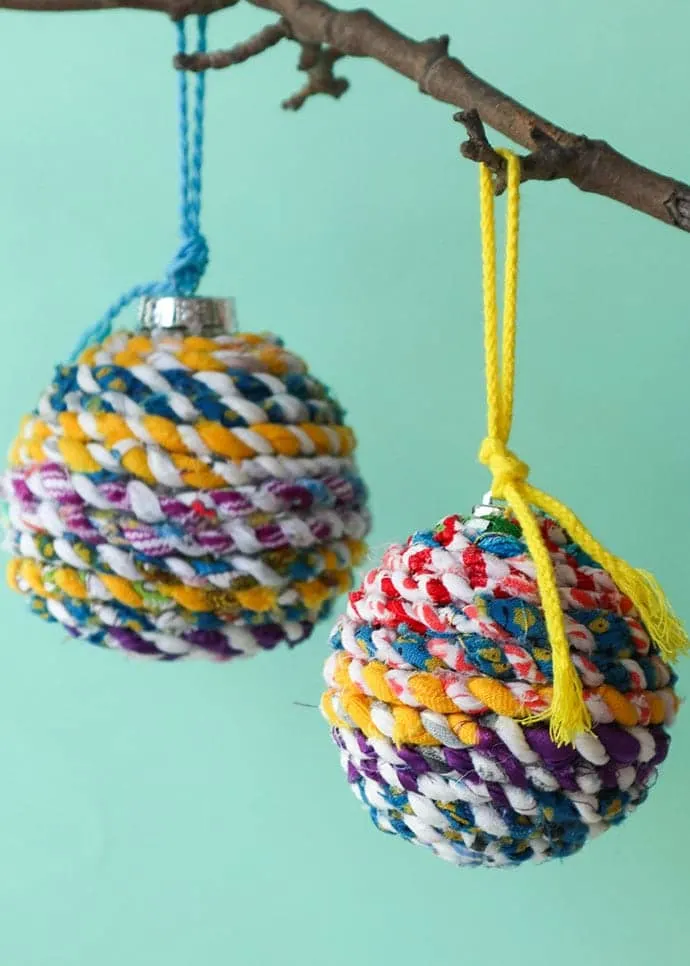 Credit: mypoppet.com.au
You really, really need to make more twine. We have another twine-wrapped craft coming your way: upcycled Christmas ornaments.
Whether you're using glass balls, candy cane, or even making something altogether new with the twine, upcycling old Christmas decorations and making new ones have never been this much fun!
Credit: kenarry.com
Not necessarily a garland that you need to hang around your neck, this craft can also double as a marquee. Why not string it across your room and call it home decor?
Again, you should already have everything this project needs: fabric strips, a length of string, scissors, and knotting skills. You can even decide on color schemes or themes if you're celebrating a holiday.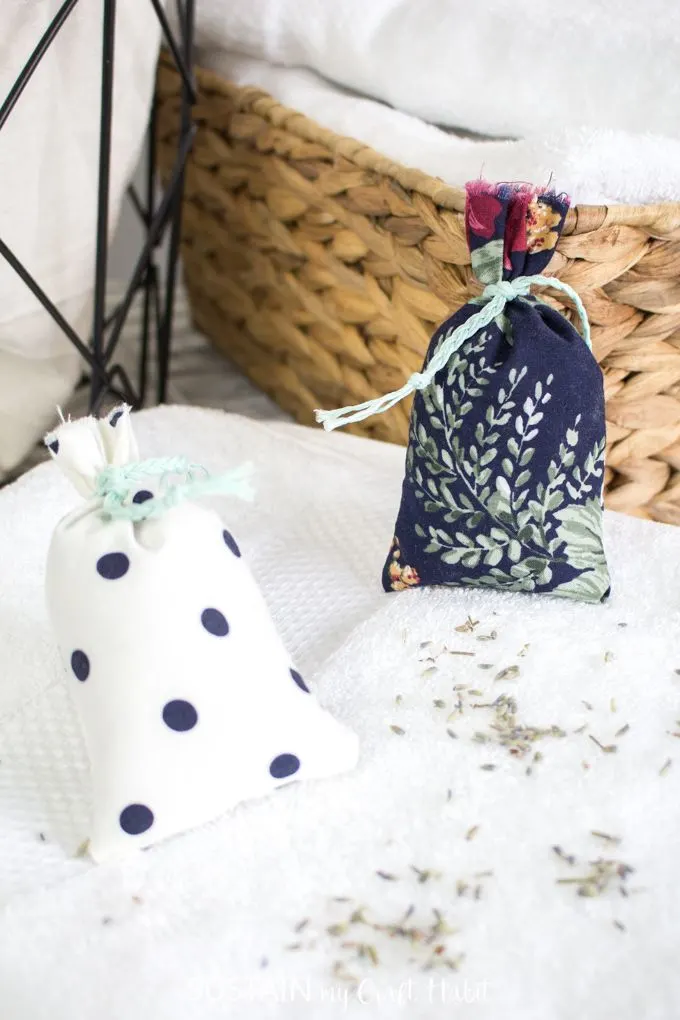 Credit: sustainmycrafthabit.com
I love opening my dresser or walking into my closet or any other small spaces and catching a whiff of lavender. But where is it coming from?
See that little drawstring pouch by the bathroom sink or at the back of your dresser? That's a scented sachet.
You can choose to fill the pouch with potpourri or get some dried lavender or fresh lavender and then dry it. Finally, you can add some other herbs, dried flowers, and oils to the sachet and tie it up.
Alternatively, you can just buy a sachet here.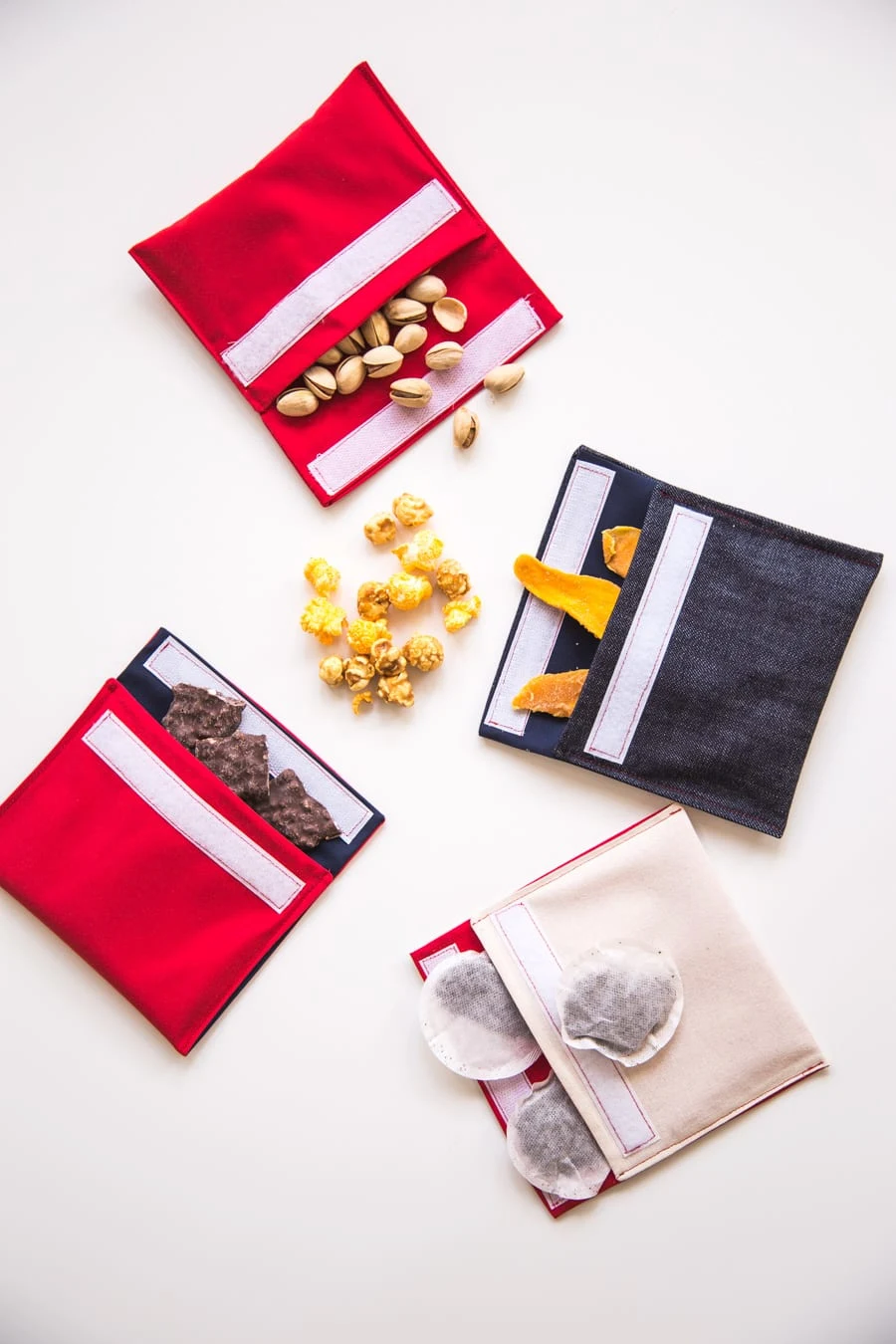 Credit: closetcorepatterns.com
I can already see that meme, the one where Shark Tank investor, Robert Herjavec, keeps pressing the 'invest button.'
I'm all for using time and effort on this craft. You've got everything you need to make the pouches, so just go on out there and load your shopping cart with snacks and candy.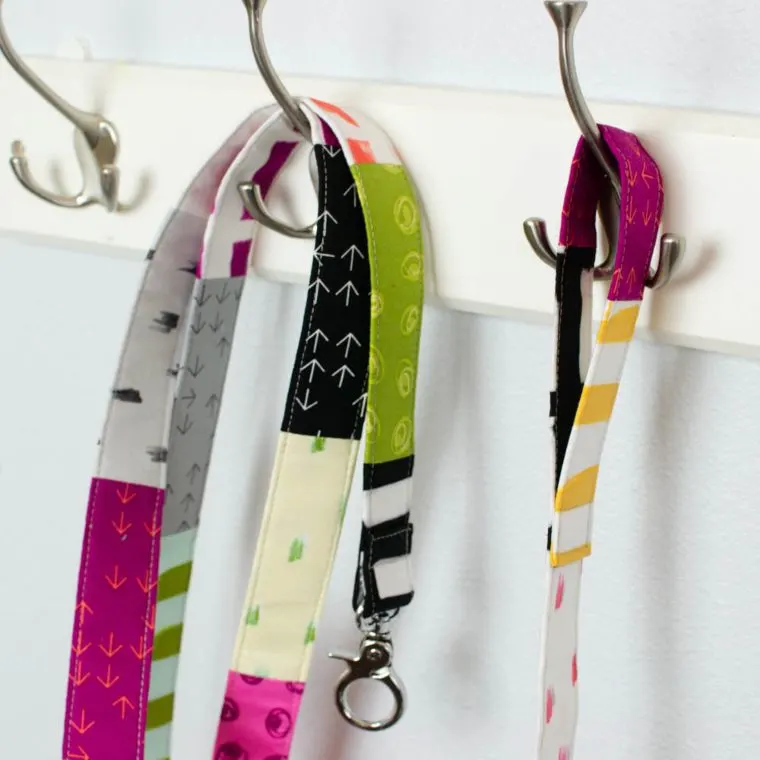 Credit: sewcanshe.com
Customizing your dog's leash to make it fun and colorful is something I fervently lobby for. I'm sure there's a weak pun here somewhere, but why not create one from scratch?
Don't forget, you'll need this fusible interfacing to help you get the right level of grip and durability for the leash.
Credit: awilson.co.uk
I guess the poultry-themed weights just didn't cluck. Ha!
So we're back to plain old patterned weights, the ones you can use in lieu of sewing pins when you're sewing. But we know better, don't we?
You can use these weights as warmers, too, if you're so inclined, or, with a few drops of essential oil, a fragrant scent pouch.
Oh! Why not a warmer weight that is scented? We've stumbled upon something here. I just know it.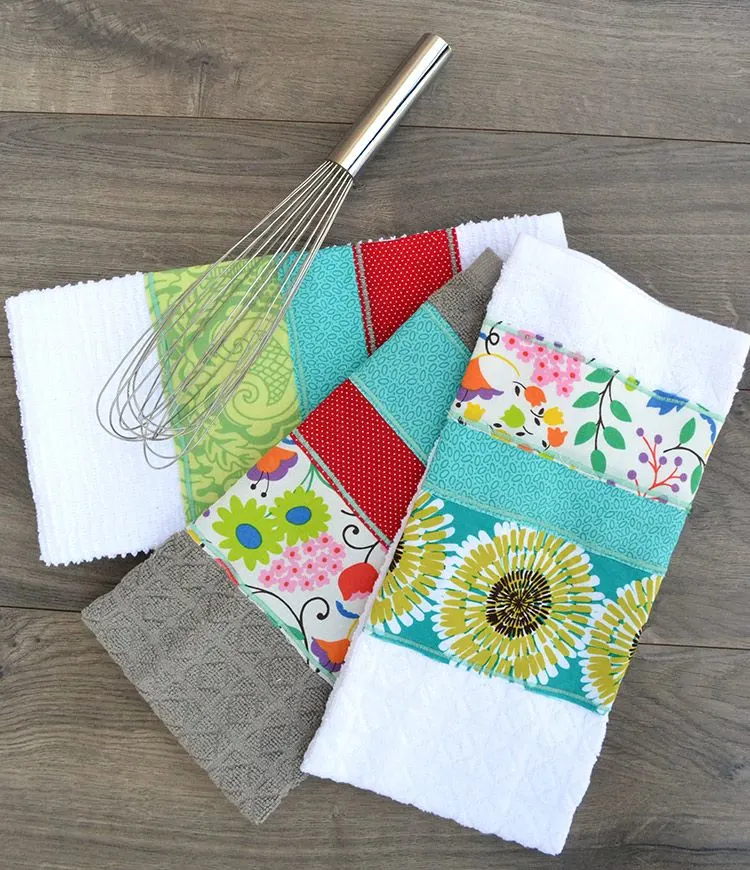 Credit: bitesizedbiggie.com
Your dishtowel is a kitchen necessity, but that doesn't mean you can't jazz it up into a kitchen accessory at the same time.
With some bright, sturdy, and washable fabric, color-coordinated thread, and a can of spray starch, you're all set to make a snazzy dish towel.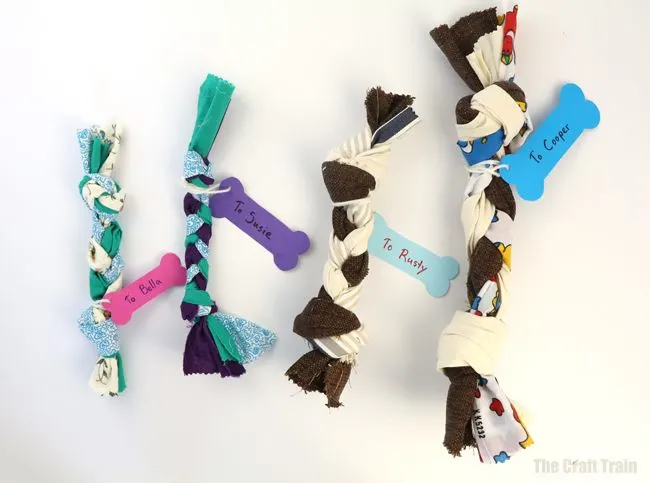 Credit: thecrafttrain.com
We've reached the last item on our list, and isn't this one just adorable? And clever, too, if you think of it.
I've had matchsticks that lasted longer than a new chew toy I bought for my dog, which is why these reusable, washable fabric dog toys really drew me in.
Don't have a dog to give it to? You can make a toy and give it to a friend.
Or, do the right thing and adopt a darn dog already!