When it's cold outside, there is no better way to spend your time inside than to craft. Check out these winter crafts that will give you a boost of inspiration and keep the whole family busy.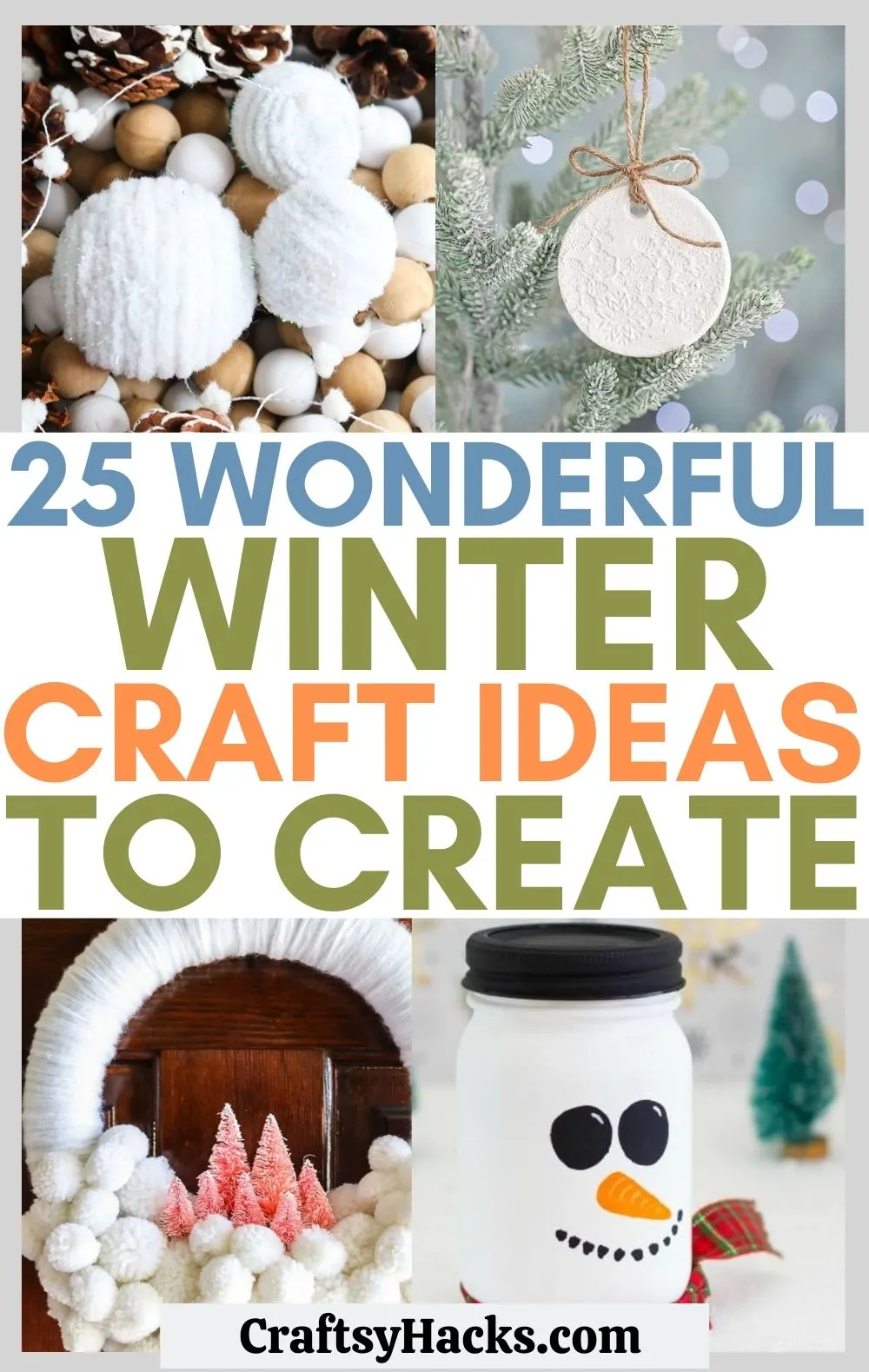 You might miss the fall season, but winter brings a whole new avenue of absolutely terrific craft ideas, home decoration possibilities, and a completely new palette of colors and textures to choose from. It's winter, and it's here to stay, at least for the next few months.
DIY and craft projects often make the best decorative pieces, so who knows, you might get more than a fun craft session of it. With that in mind, let's take a look at 27 winter craft ideas for you to explore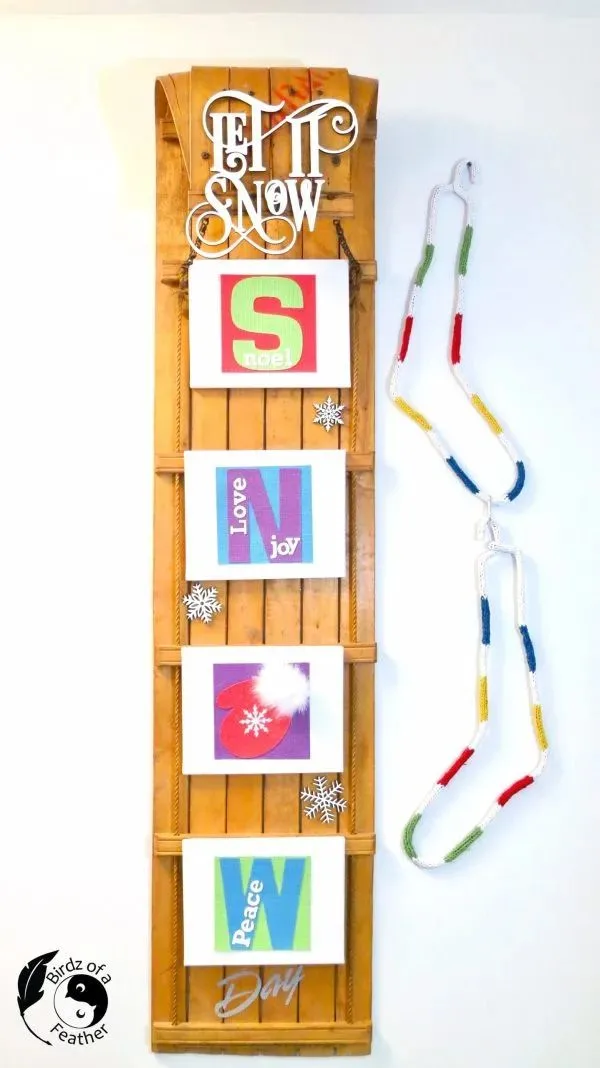 Source: birdzofafeather.ca
Sledding during the winter months is such a blast. Can you recall the rushing, heady sensation of swishing down white slopes and feeling the biting wind against your cheeks?
So let's make a wooden sled in honor of those wonderful memories. Only, this one's just going to be decorative, but who cares? It will still look fabulous.
You'll need some fishing wire from here, faux fur, a vintage toboggan, and other craft essentials. Once you've got it all, start crafting!
Check out more wood craft ideas here.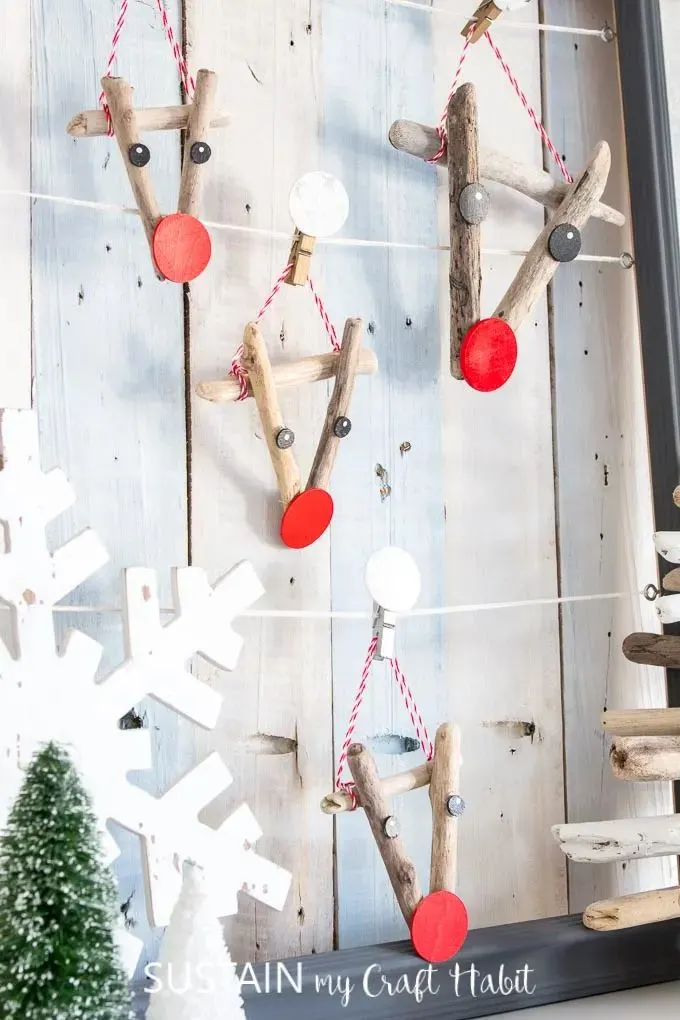 Source: sustainmycrafthabit.com
There's nothing that can beat homemade ornaments. They don't have to be fancy or elegant, as long as you enjoy making them.
Take these driftwood reindeer ornaments, for example. They're super simple and add a lovely, rustic touch to your Christmas decor.
The bright pop of red from the reindeer's nose is just the classic splash of color you'd expect at Christmas, isn't it? You can use some cardstock to make the nose, or a bright red pompom like this would go, as well.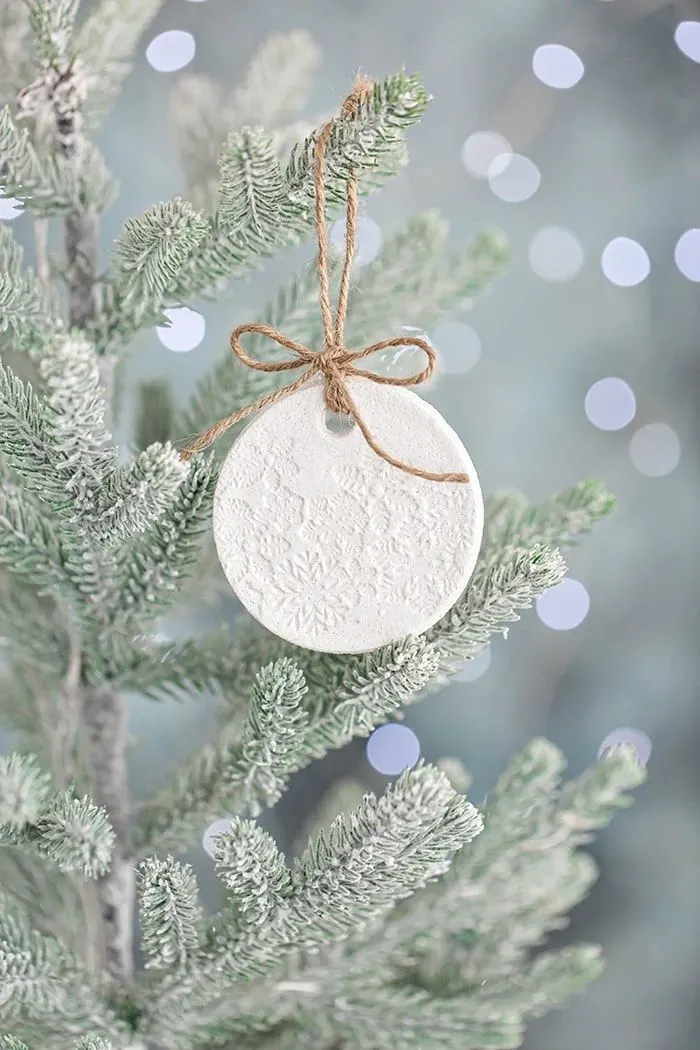 Source: goodlifeeats.com
Can you just stop everything else you're doing and look at this ornament? It looks like something you'd pay through my nose for at a fancy department store.
But what if I told you it was actually just—wait for it—salt dough! That's right, just plain old salt dough that you can turn into this unbelievably elegant ornament!
Look up the best salt dough recipe, and feel free to add a few drops of essential oils from here to the mixture. Finally, hang the ornament up on your tree with this jute twine and enjoy the fruit of your labor.
Check out more salt dough ornaments kids can make here.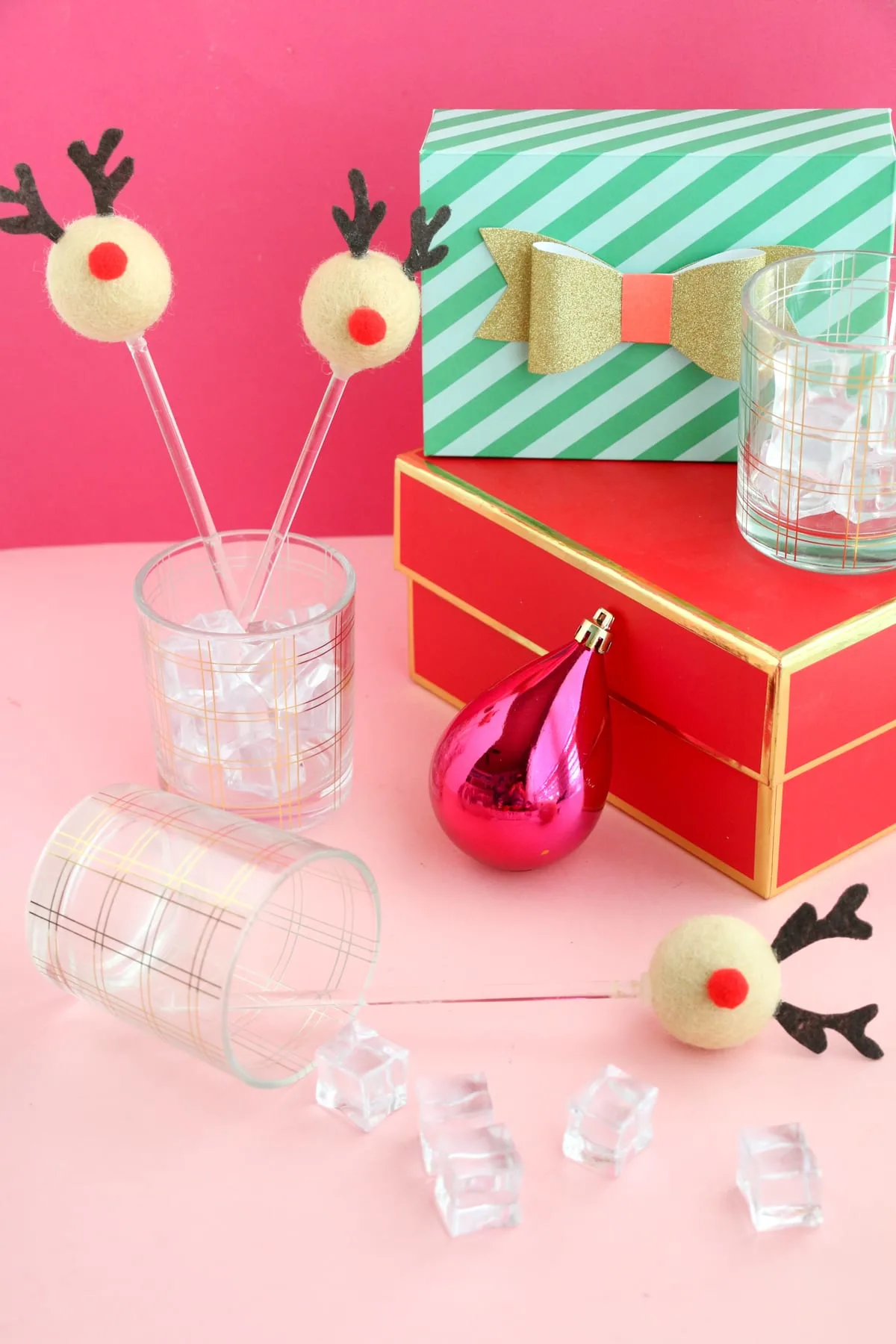 Source: lovelyindeed.com
Is it eggnog that you prefer at Christmas time, or hot cider, perhaps? Either way, you know what would be an amazing addition to your beverage corner? These reindeer stirrers!
You can find those clear stirrers easily enough; just look here. For the reindeer heads, though, you'll need a few felt balls from here, some mini red pompoms, dark brown felt sheet, and a hot glue gun.
This project will take you all of 30 minutes. You can make dozens of these and hand them out as take-aways at your Christmas party!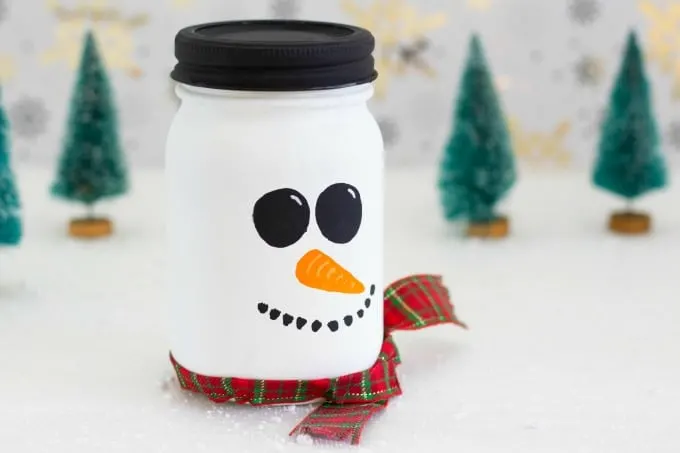 Source: funmoneymom.com
If I've said it once, I've said it a gazillion times(excuse the hyperbole): mason jars are the absolute best. I genuinely believe that you can do just about anything with these mason jars.
This mason jar snowman is a lovely decorative addition to your winter-themed home decor. It's also something that I bet your kids will enjoy making, so feel free to involve them, too!
Don't forget to pick up some paint while you're shopping: black, orange, and white for this project.
Check out more mason jar gift ideas here.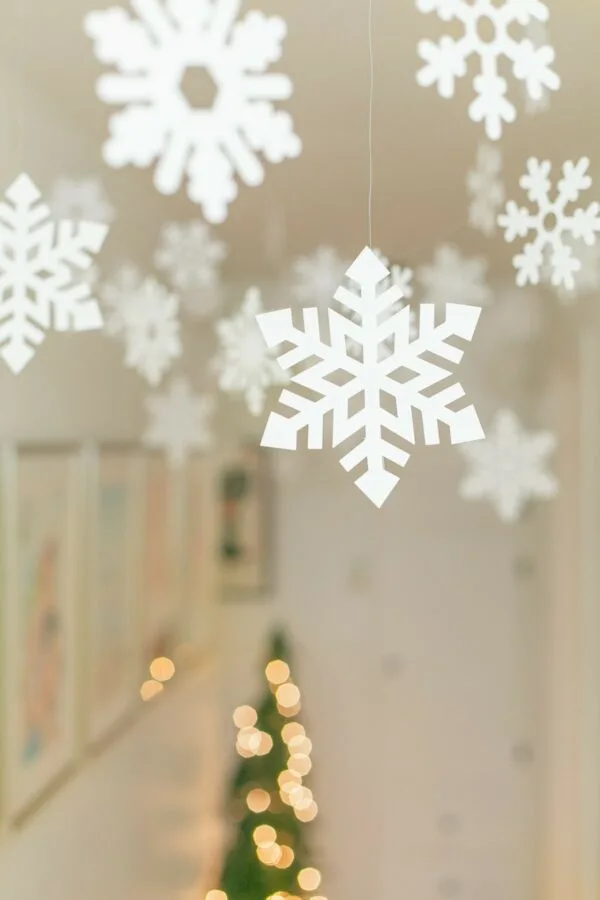 Source: lovelyindeed.com
What's peanut butter sandwiches without jelly, ice cream sundaes without a cherry, and winter without snowflake? Incomplete, that's what.
But if you live somewhere tropical, then you've got more chances of seeing Santa Claus than seeing snow. That means you're going to have to contend with these snow ornaments.
But if you make enough, you can string them up into a garland of sorts and hang them up everywhere! So, what are you waiting for? Get started!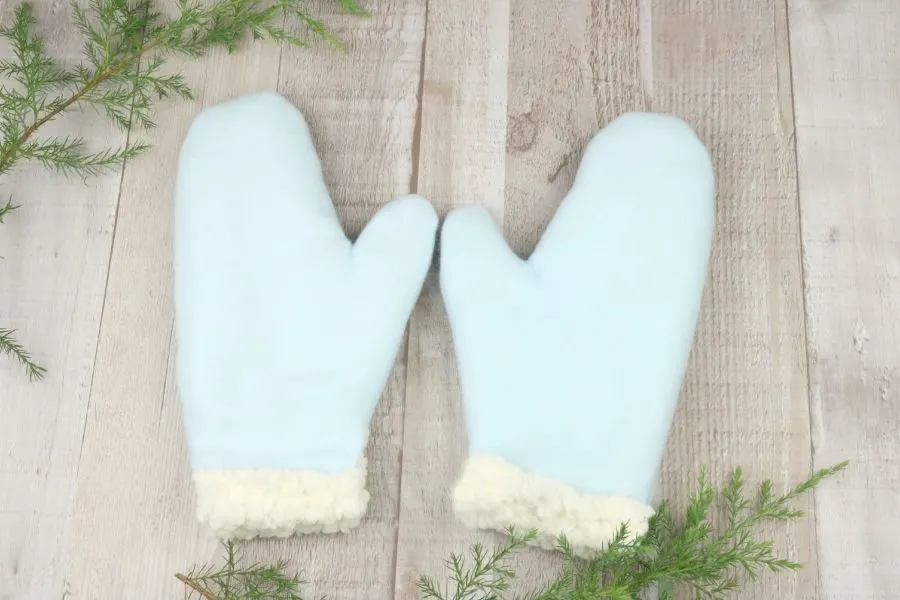 Source: happiestcamper.com
Do you even need to ask why you need these mittens this winter? Can't you just feel it already, that warm feeling of slipping these fluffy white mittens on?
You'll need to pull out your sewing machine for this project. Also, pick out the inner fabric with utmost care—sherpa, perhaps? For the outer fabric, you can use fleece.
Also, print out the mittens template that's been provided to help you along the way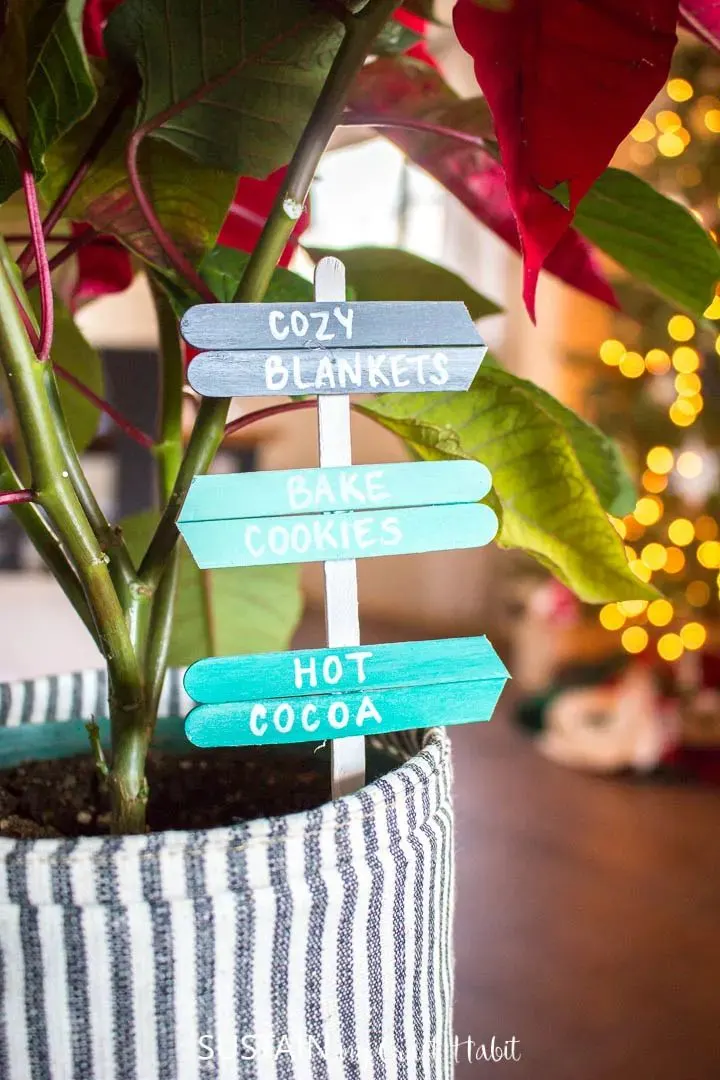 Source: sustainmycrafthabit.com
These adorable miniature signs are super fun to make and even more fun to just stick into a potted plant or a pot. They're definitely going to brighten up the space infinitely.
They also evoke very winter-y vibes with their message: cozy blankets, baking cookies, hot cocoa, and more! Don't you just feel all mellow looking at it?
Pick up some of these popsicle sticks as well as coffee sticks from here. Assemble the signs, paint them a wintry blue, and then paint the words to wrap them up.
Check out more popsicle stick crafts here.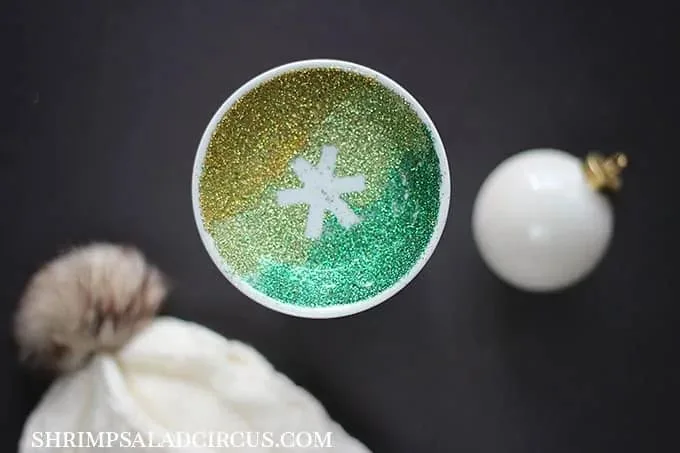 Source: modpodgerocksblog.com
You can't have a better pairing than mod podge and glitter. Now, just imagine that combination in a pretty snowflake trinket dish. Gorgeous, isn't it?
I bet you have a number of tiny little ceramic dishes in your kitchen from when you went through a 'souffle baking' phase. I know you do.
You can use those dishes or just pick some sauce dishes from here. Then comes the fun part of mixing the mod podge with the glitter, of course!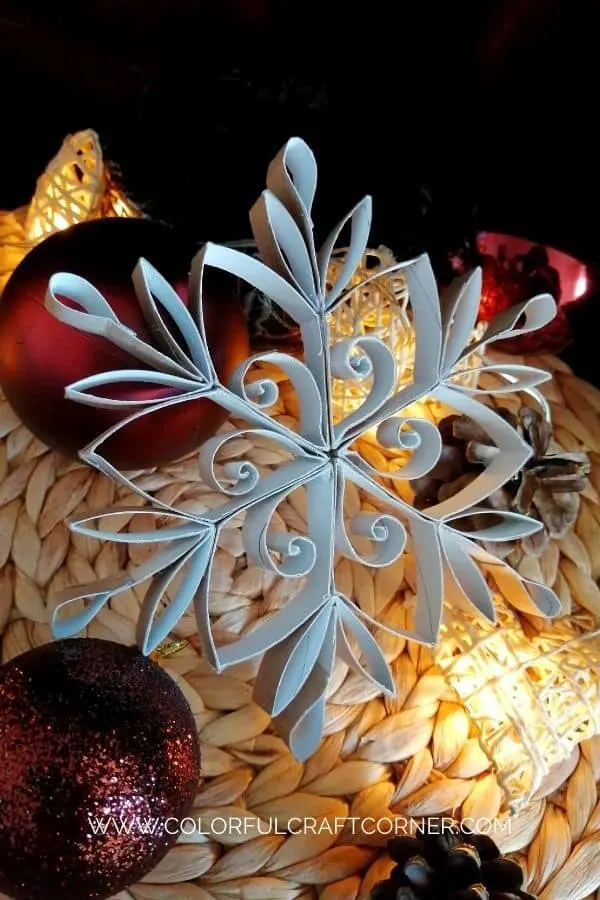 Source: colorfulcraftcorner.com
I know what you're wondering: how on earth do you make snowflakes out of toilet paper rolls? It's not how you think it is, you'll actually be cutting the paper rolls to make the snowflake.
So grab a pair of sturdy scissors and a pencil, ruler, and, of course, your toilet paper rolls. You'll also need a hot glue gun and a bottle of paint to polish off your snowflakes.
You can also spray some glitter to add a bit of sparkle to your snowflakes. There really are a ton of ways to jazz up plain old toilet paper.
Take this DIY pencil case out of toilet rolls, for example, and also this DIY phone holder!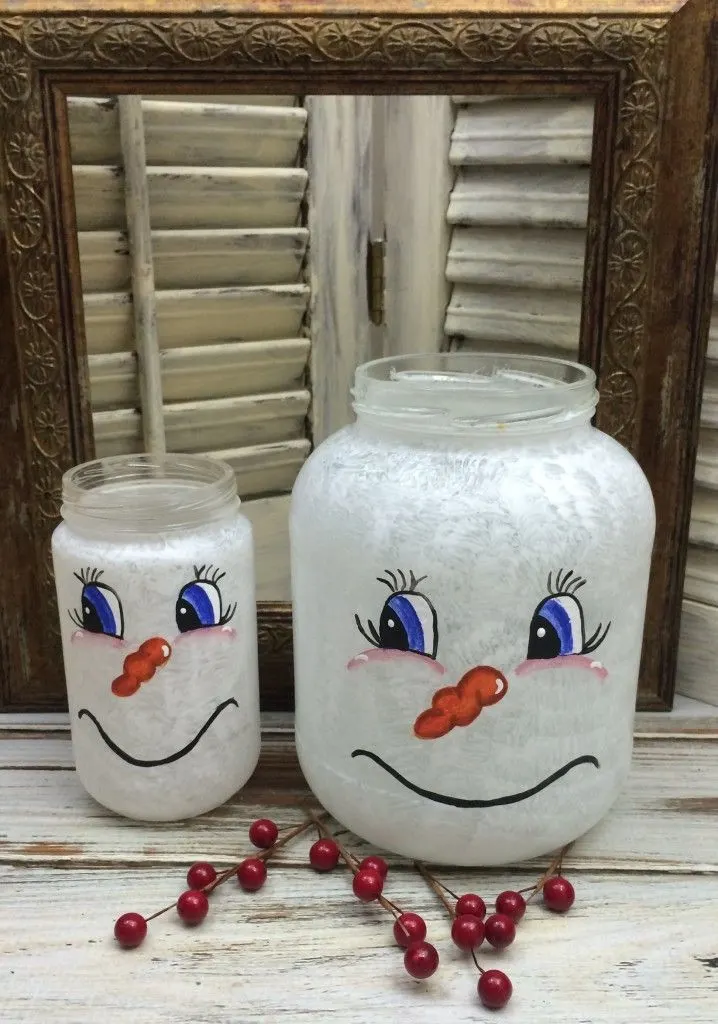 Source: mixedkreations.com
This DIY snowman lantern is a double winter-themed craft project with a snowman and a lantern in one package. So, what will you need for this project?
A glass jar, to begin with, some mod podge, and a couple of sponges to create some sponge art on the inside of the glass. You'll want to practice this to achieve that 'frosted' effect with white paint.
Then, just paint your snowman's features: eyes with some lashes because why not? Then, draw a carrot nose and a mouth to finish it off.
Love this lantern? You might want to check out this DIY Dollar tree lantern.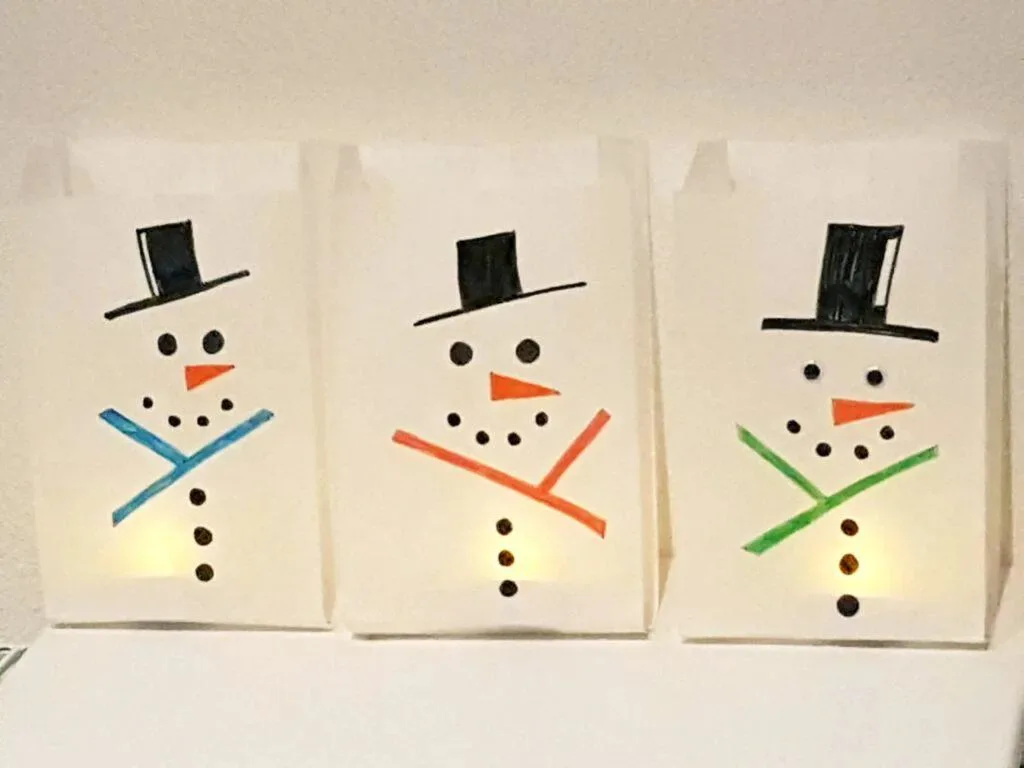 Source: liltigers.net
These are not quite the same as the snowman lanterns, no. But they do achieve the same purpose, albeit in a simpler way.
These white paper bag luminaries are super easy to make, and there's absolutely no fuss about gathering supplies or drawing elaborate snowmen. Just a simple, and straightforward snowman and that's it.
These luminaries are safe for toddlers and kids, too. So you can have them help you make this craft project. Grab some flameless tealight candles from here and get started.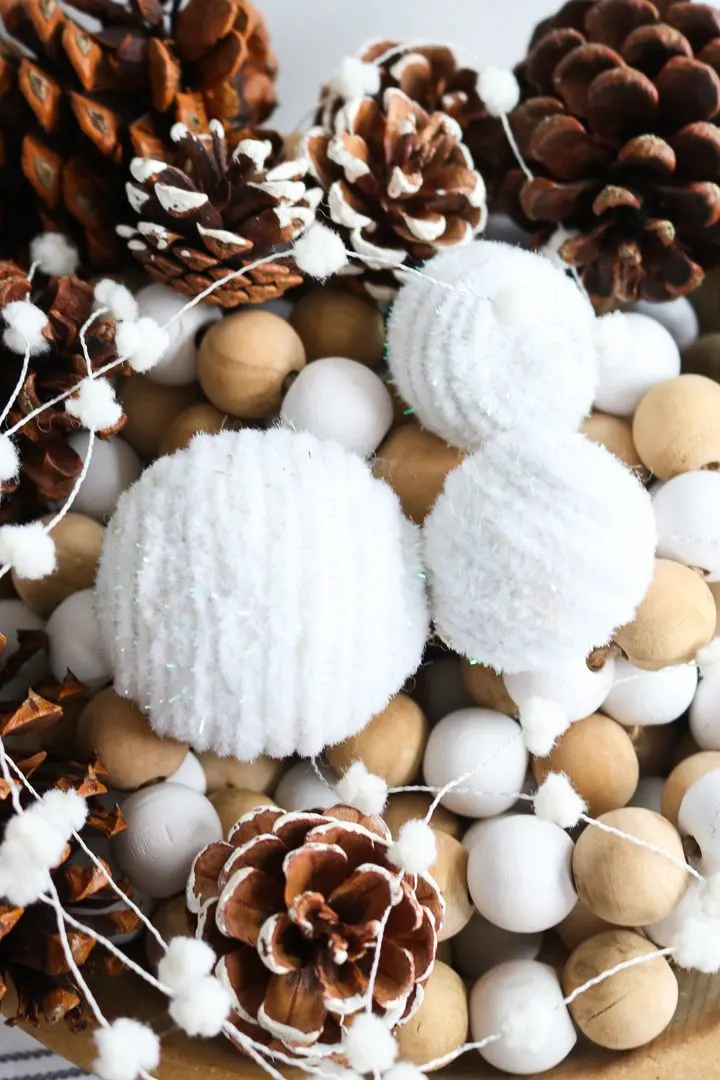 Source: thecountrychiccottage.net
Pipe cleaner snowballs are actually easier to make than you'd expect. It all comes down to bending your pipe cleaners just so around these styrofoam balls.
Once you're happy with how it looks, just apply hot glue to secure it in place. The process is that simple.
You can hang these balls up on your tree or use them to supplement your table decor. Just toss a couple or so of these balls around your centerpiece and winter flowers, and they'll look fabulous.
Check out these pipe cleaner craft ideas if you're interested.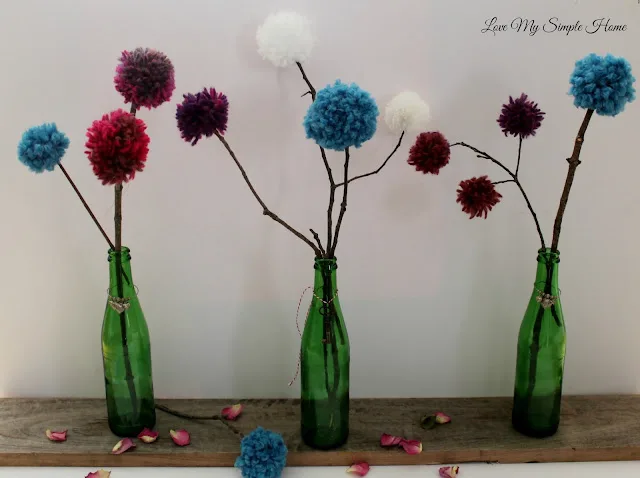 Source: blog.lovemysimplehome.com
These pompom snowballs can be used, once again, as ornaments
to hang on a tree. Or, you can attach them to a floral stem and make a bouquet of sorts that you can display in a vase.
You'll need yarn, a pair of scissors, and the stems you decide on. Grab the end of the yarn and start wrapping around your palm over and over.
Once you've wrapped it enough times, slide the yarn off, loop another bit over and around it to knot it in place. Then just cut off the ends to make your pompom as instructed.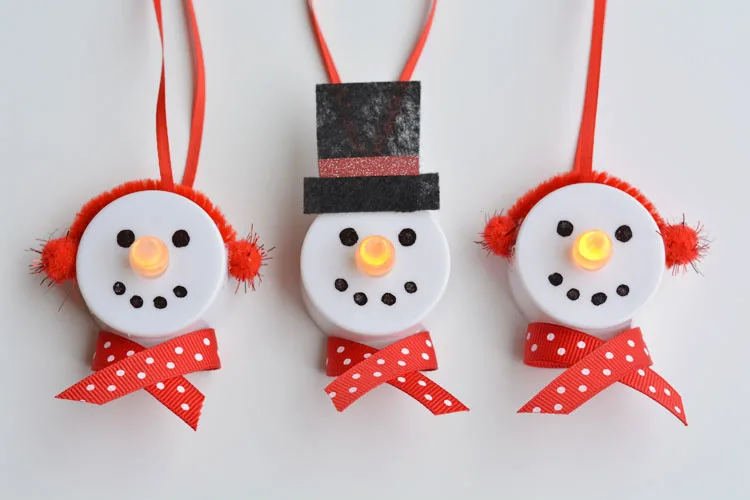 Source: onelittleproject.com
Electric tea lights are pretty useful, yes, but they are terribly boring on their own. That's why this snowman is just what you can draw on it to jazz it up for your winter decorations.
Grab a black marker and proceed marking the eyes and mouth, as shown here. Then, make a little hat and wrap a bit of red ribbon for the scarf, and you're all done.
When you light it up, the 'nose' will look splendid! Check out more fun crafts for adults here.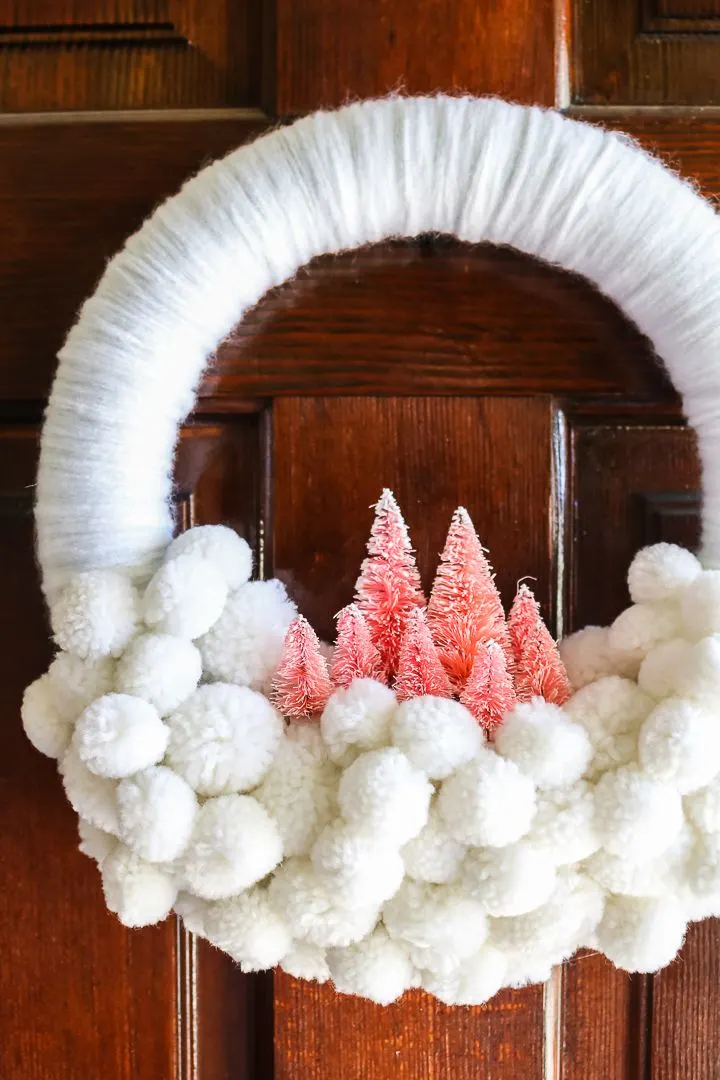 Source: thecountrychiccottage.net
Do you have a foam wreath form to work with? No? Then pick one up from here.
This winter wonderland wreath has such a lovely flush of pink right at the center of all that snowy white. There's also a ton of different textures from the pompoms, the spiky bottlebrush(look here) trees, and the fuzzy, foamy wreath form.
Alternatively, you can make your own pompoms if you're so inclined; although that's going to take you much longer to wrap this up.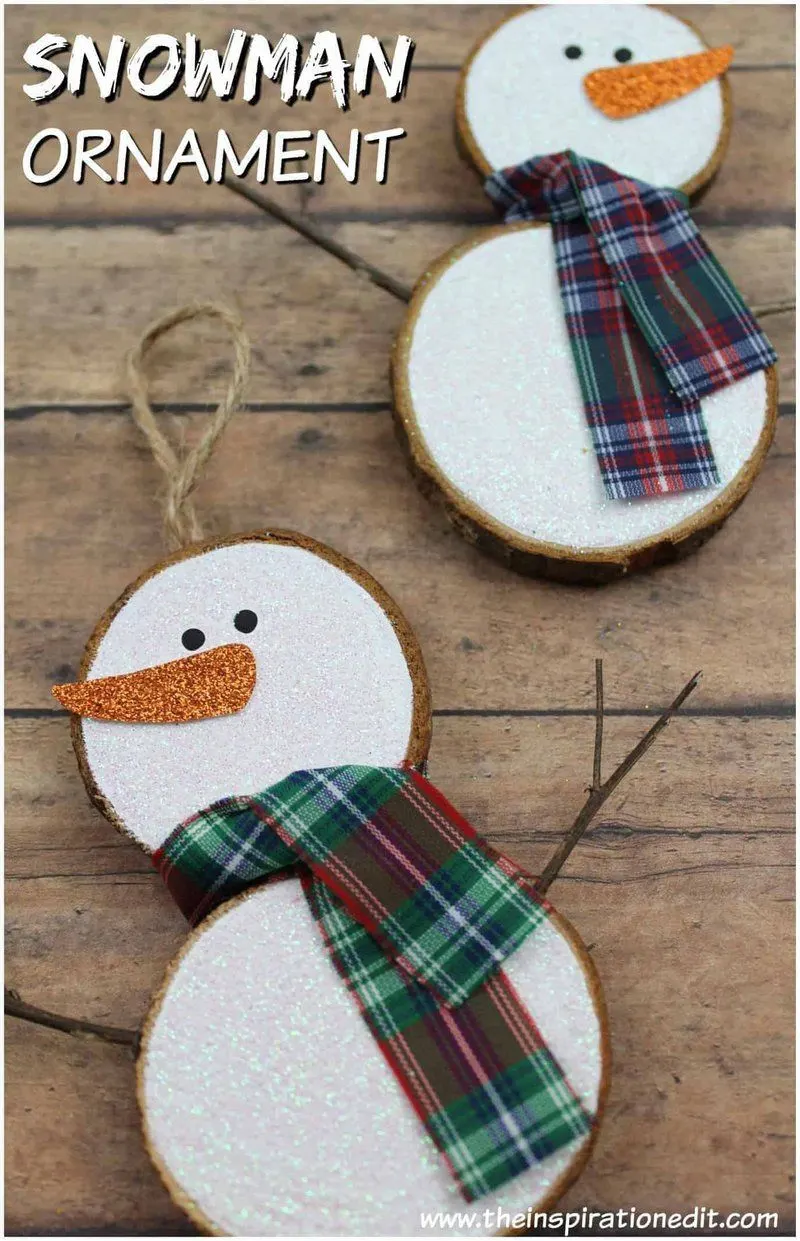 Source: theinspirationedit.com
Winter is perhaps the best season to add rusticity to your decor. Just think of a dark woody aesthetic, a log fire going, and a warm plaid blanket to curl up under. It's simple rusticity, just like these rustic snowman ornaments.
You'll need to buy that tartan ribbon first, as well as wooden slices from here. Then it all comes down to painting them with sparkly glitter paint.
You can stick a couple of sticks as seen here for the arms, and you're all done!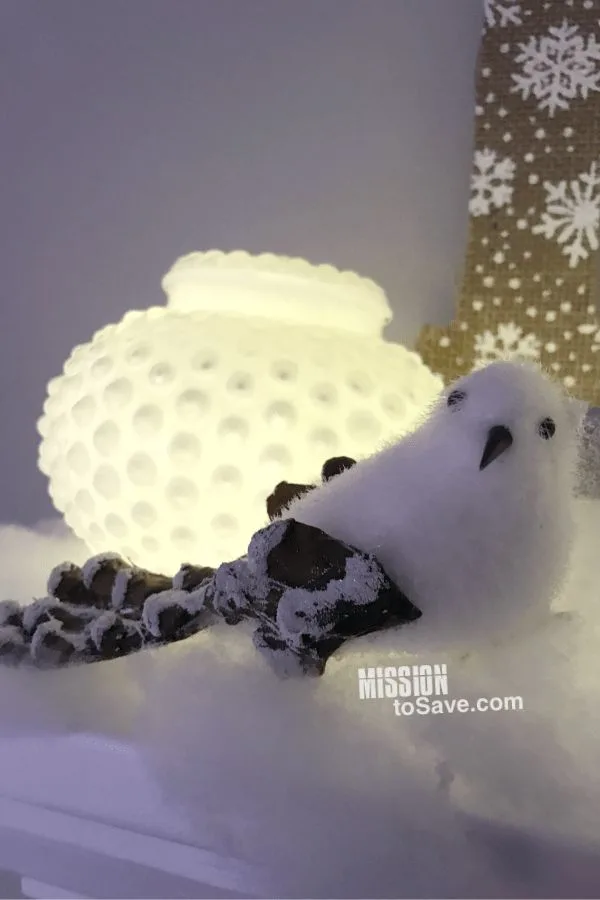 Source: missiontosave.com
I'm sure you have a few bowls and light globes like the ones you see here lying around. Isn't it time you did something with them, like repurpose or upcycle them?
Grab some fairy lights first. You can set up these lights on the mantle with a few winter-themed additional decorations. That bed of cotton looks an awful lot like snow, doesn't it?
Also, feel free to add a few faux florals and even a bird or two to perch on your lights just so.
Source: simpleparenting.co.uk
Not to sound too dramatic, but I'd sell an arm to find out how these gorgeous ice ornaments are made. They look so natural, don't they?
They're perfect to use outside on low-hanging branches in the backyard. You can take advantage of the frosty air outside to keep the ice frozen.
If you like, feel free to jazz it up with a couple of leaves or berries. You can just place them in the mold, pour your water and allow them to freeze as is.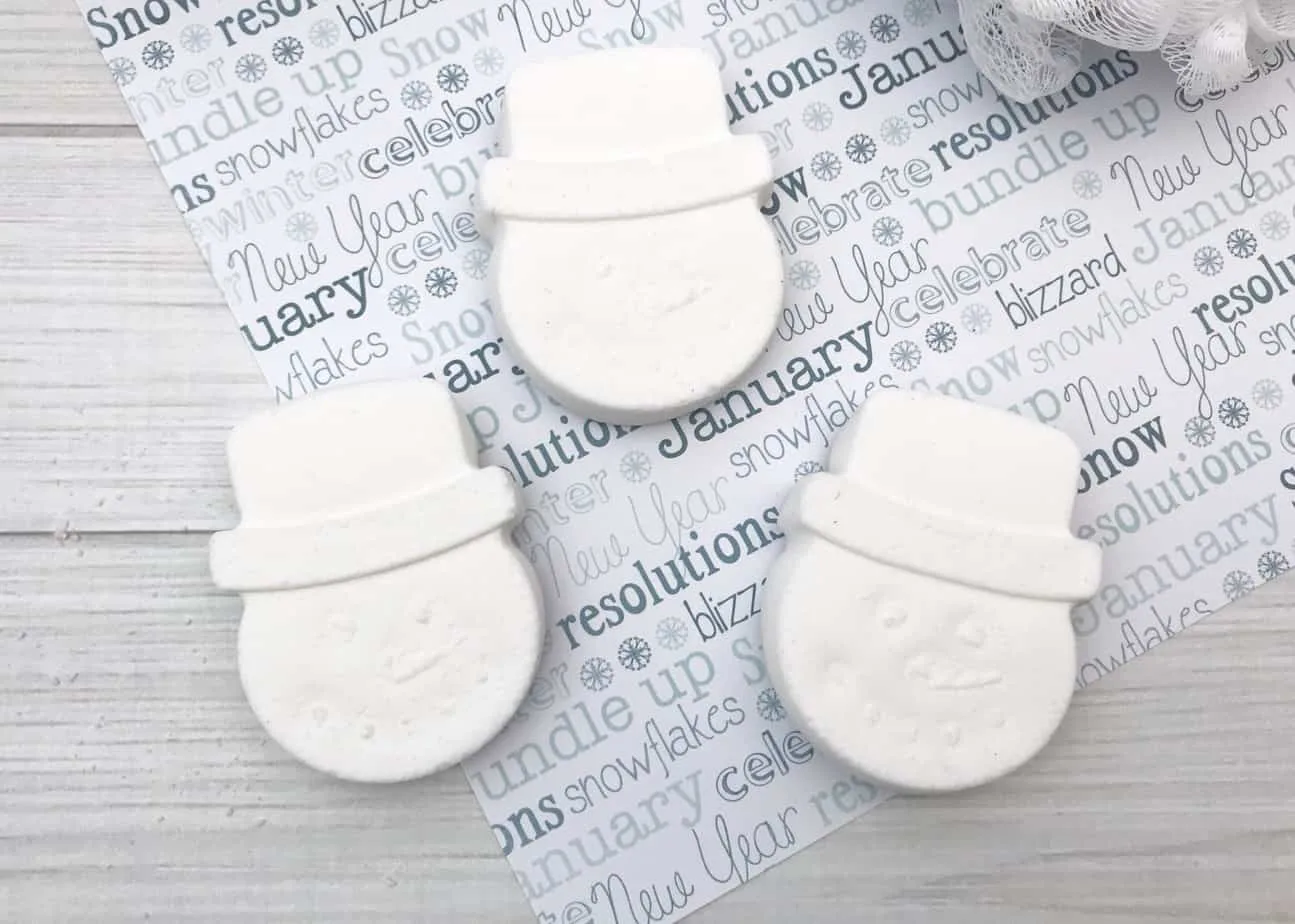 Source: family-budgeting.co.uk
A nice hot bath is exactly what you need to relax and pamper yourself on a cold winter night. You know what would make that bath even better? This snowman bath bomb!
You won't believe how easy it is to make bath bombs. You'll need a snowman mold from here, some baking soda, vanilla extract, a bit of coconut oil, and a half cup of citric acid.
Follow the recipe and make your very own snowman bath bomb! You can obviously experiment with color but make sure you use the proper dye, or you'll end up coloring yourself and your bathtub.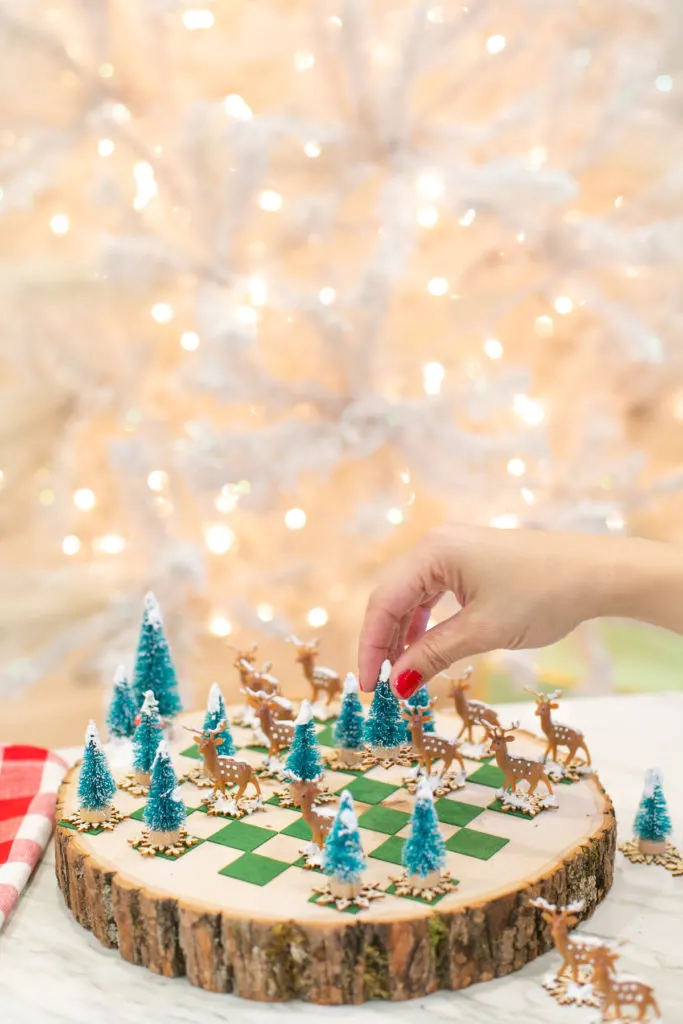 Source: lovelyindeed.com
You can't beat that amazing feeling of sitting by the fire and enjoying a game of chess or checkers on a cold winter night. This checkers board can perhaps make that even better?
It's quite ingenious, really, how you've got reindeer and Christmas trees instead of typical checkers pieces. You'll need a large wooden tier from here, to begin with.
You'll also need some green felt for the checks, as seen here. To top it off, you can apply a nice layer of iridescent glitter to recreate sparkling snow.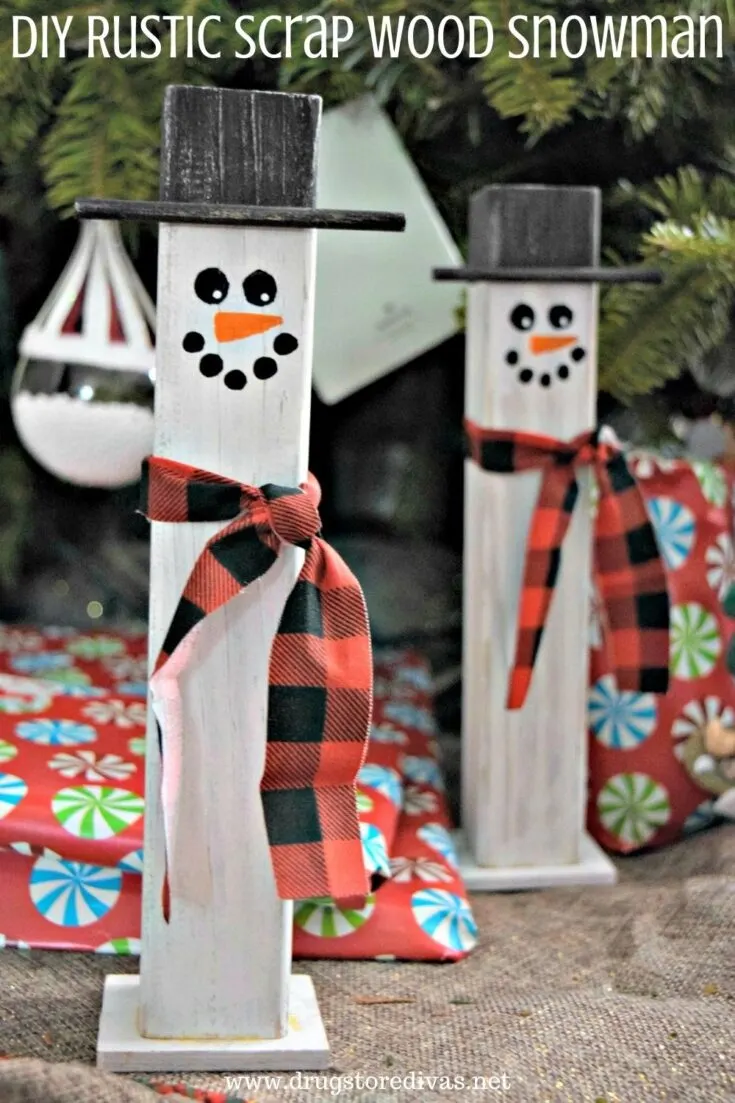 Source: drugstoredivas.net
Once again, this is an easy, no-fuss project that adds a charming rusticity to your decor. If you have any scrap wood leftover from previous projects then you can make good use of them here.
Paint the wood with a base coat first, and then apply another coat to smoothen it out. Then go ahead and paint the carrot nose, eyes and mouth.
Finally, wrap a bit of ribbon, and you'll have a nice red checked scarf to tie around the snowman's neck!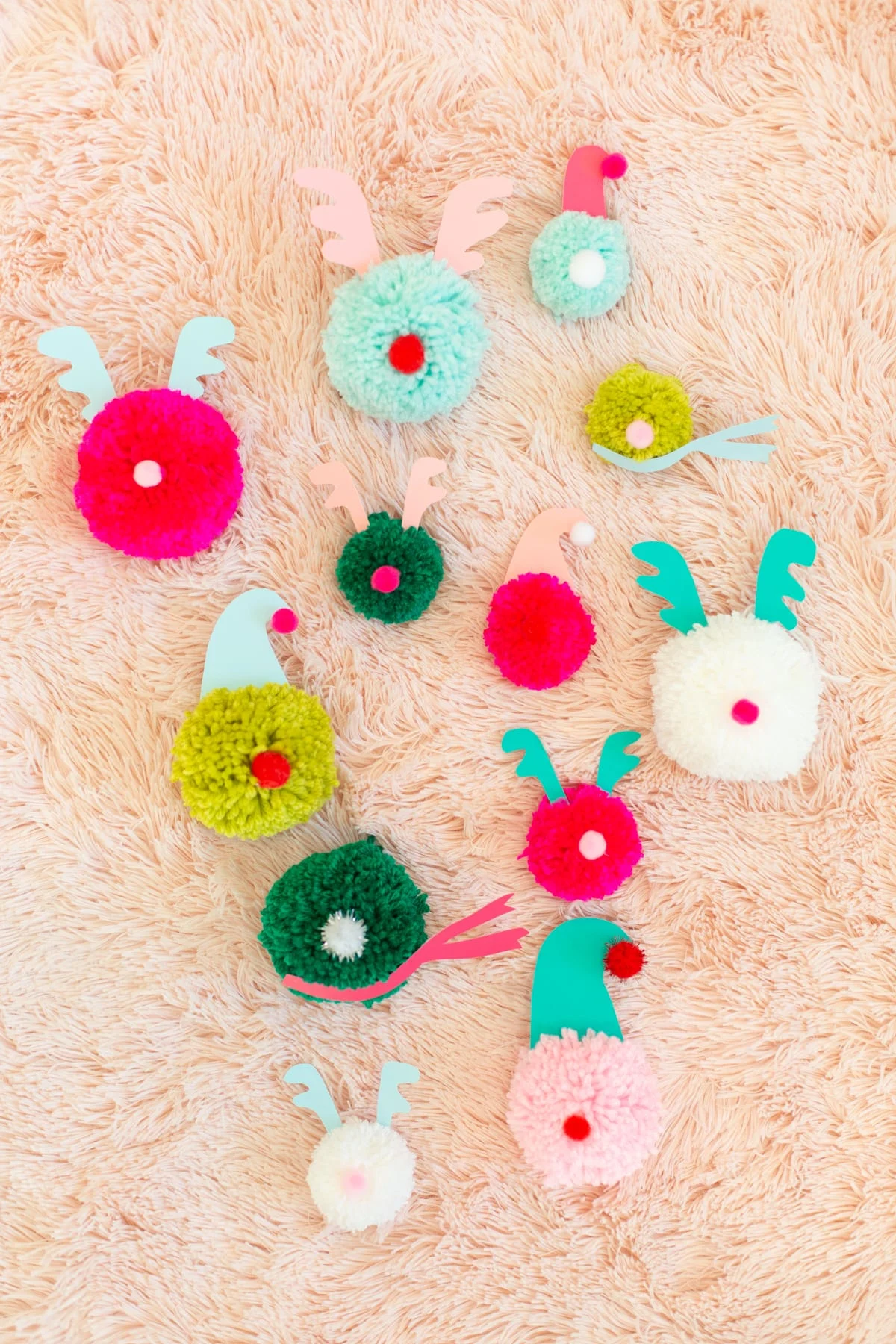 Source: lovelyindeed.com
I wonder if you've still got any pompoms from your precious projects. You'll need large white ones as well as small red ones.
You'll be making a fluffy reindeer ornament with a bright splash of red at the nose and cardstock paper for the reindeer's antlers.
You'll also need a bit of twine to attach and hang the ornament from your tree. Depending on the different sizes of pompoms you have at hand, you can make big and small reindeer at your discretion.
Want to make your own pom poms? Check out these DIY tissue paper pom poms.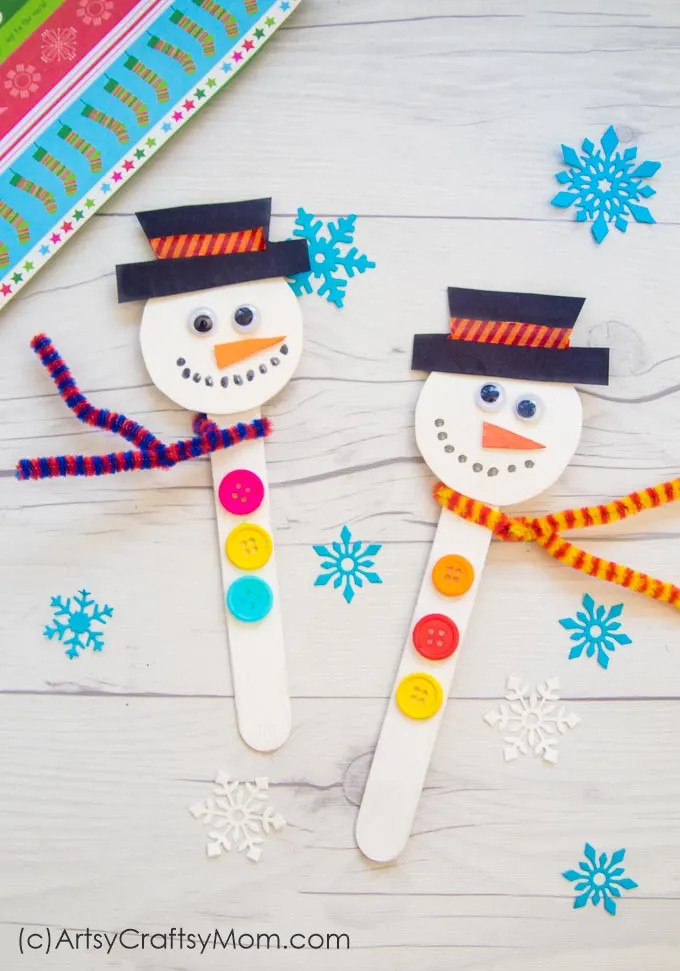 Source: artsycraftsymom.com
This popsicle snowman won't take you more than 5-10 minutes to complete. You can make a dozen or so in an hour and prop them up around your home as decorative pieces.
This project is perfect for even the youngest of kids. Start by painting the popsicle sticks white—acrylic paint with a matte finish works best.
Then, for the head, you can cut out some white foam sheet into a circle. Don't forget a little orange triangle for the nose, the black hat and googly eyes, too.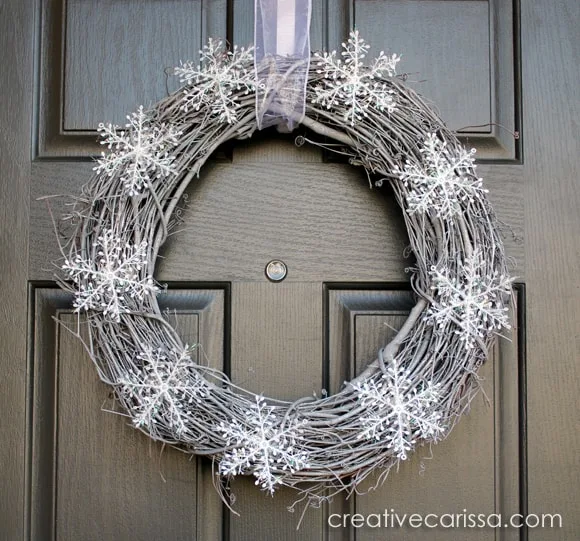 Source: creativegreenliving.com
Winter wreaths and Christmas wreaths are pretty different. While you can use a winter wreath at Christmas, a Christmas wreath might not work in the winter months after the holiday.
So, check out this classic and timeless-looking, frosty snowflake wreath. You can use a grapevine form to help you get started on making it. It somehow manages to look rustic and chic at the same time. Once you're done, feel free to spray a layer of shimmer to offset the frosty colors of the wreath.
If you're interested, check out these unique Christmas wreath ideas for later.