Got a pack of pipe cleaners? Use them to make some cool pipe cleaner crafts! Have fun crafting on a low budget with these little projects!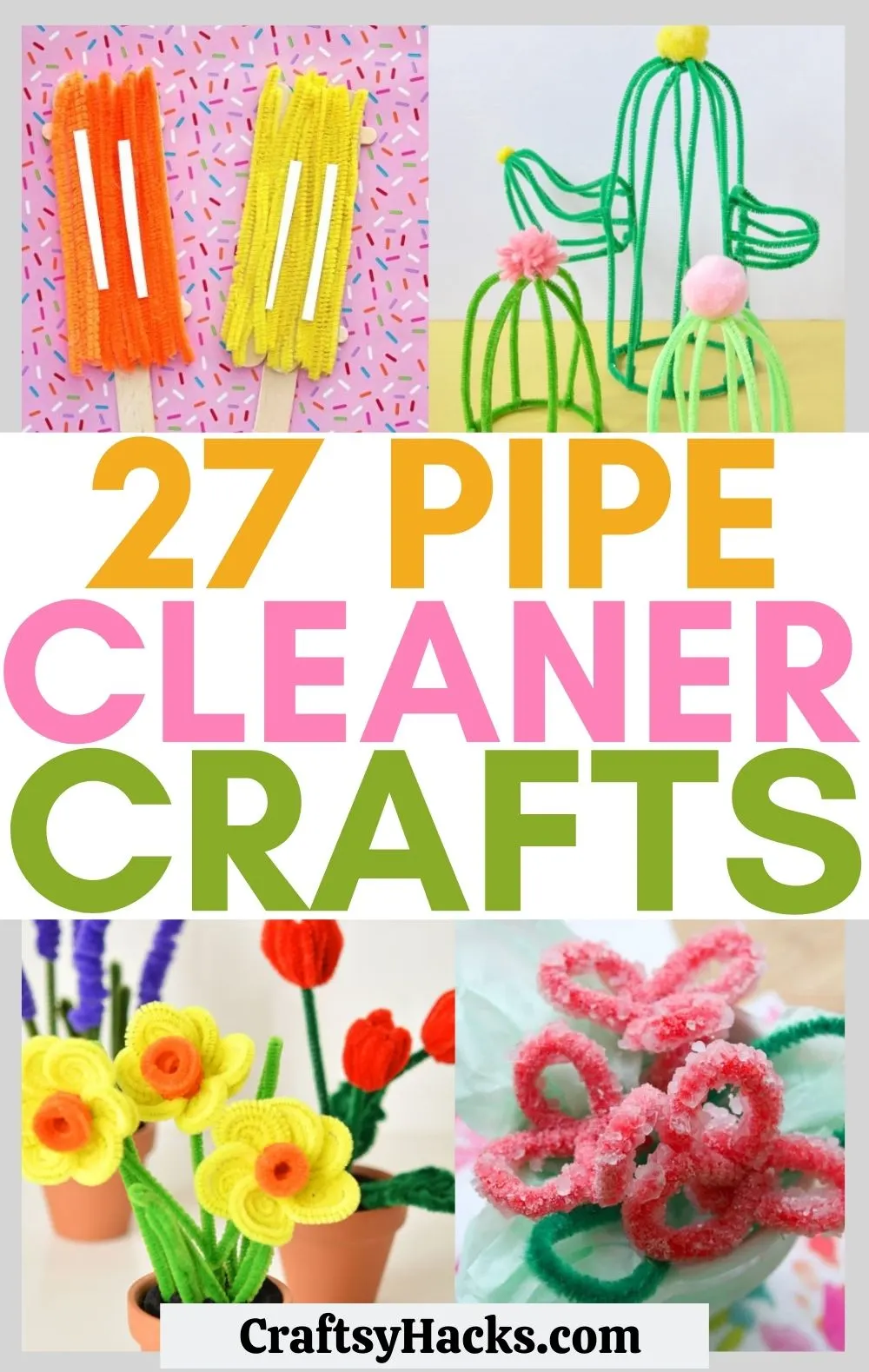 While summertime is absolutely amazing, I bet your kids are tired of playing outside in the hot sun all day. It's time to bring them in for an hour or two of creative craft time.
But what do you make during craft time? You're all out of playdough, and you really don't want to resort to plain old coloring books.
I've got two words for you: pipe cleaners.
When you've got pipe cleaners, you really don't have to worry about planning the next craft session for your kids. They're just so versatile that you can make dozens of creative and fun crafts with them!
So read ahead and pick from one of these 27 amazing pipe cleaner crafts!
1. Pipe Cleaner Spiders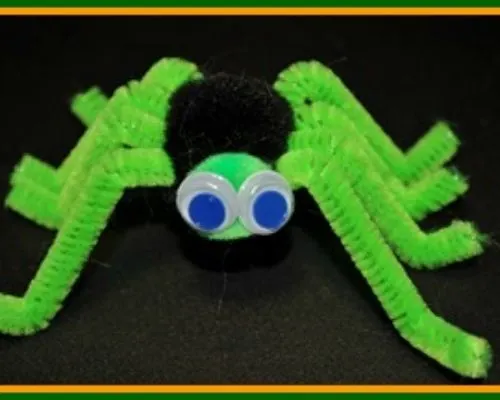 Credit: easy-crafts-for-kids.com
Pipe cleaner spiders seem like the perfect craft project, don't they? Think about it: what better way to recreate those long, fuzzy, spindly legs than with pipe cleaners?
Now, all you need are some pom poms for the body, a couple of googly eyes, and some glue, and you've got an easy and fabulous Halloween decoration piece.
Hang them down from the ceiling and enjoy the bright, spooky pipe cleaner spiders!
Check out these amazing spider crafts that your big-loving child will adore!
2. Beaded Snakes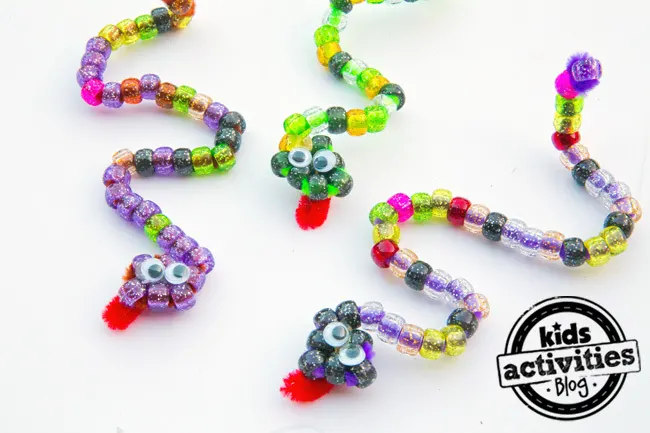 Credit: kidsactivitiesblog.com
This beaded snake craft project would be fun for toddlers. Did you know that by stringing the beads, your toddler will effectively be learning hand-eye coordination?
That aside, who doesn't love stringing colorful beads? Sure, you're making a snake, but I guess this one's cute enough.
So, grab your beads, sit your toddler down and enjoy a fun-filled afternoon craft session. If you have a toddler playdate scheduled, check out these 31 crafts for toddlers the little ones will love.
Buy some googly eyes from here, and you're all set.
3. Rudolph Ornament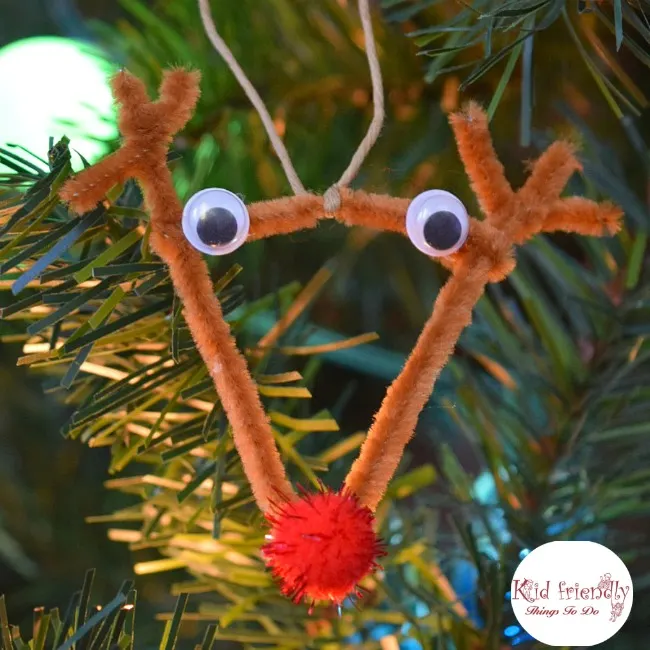 Credit: kidfriendlythingstodo.com
There's little doubt that Rudolph is the most beloved of the reindeers, with his shiny, red nose. So why don't you make Rudolph ornaments with pipe cleaners for Christmas?
They would be absolutely perfect hanging from your Christmas tree.
When it is time to decorate it, you and your kids can hang these ornaments up with the rest of the decorations.
Now stand back and admire how adorable Rudolph and the tree look.
Check out some more Christmas tree decoration ideas for when you start decorating your home!
4. Bunny Ears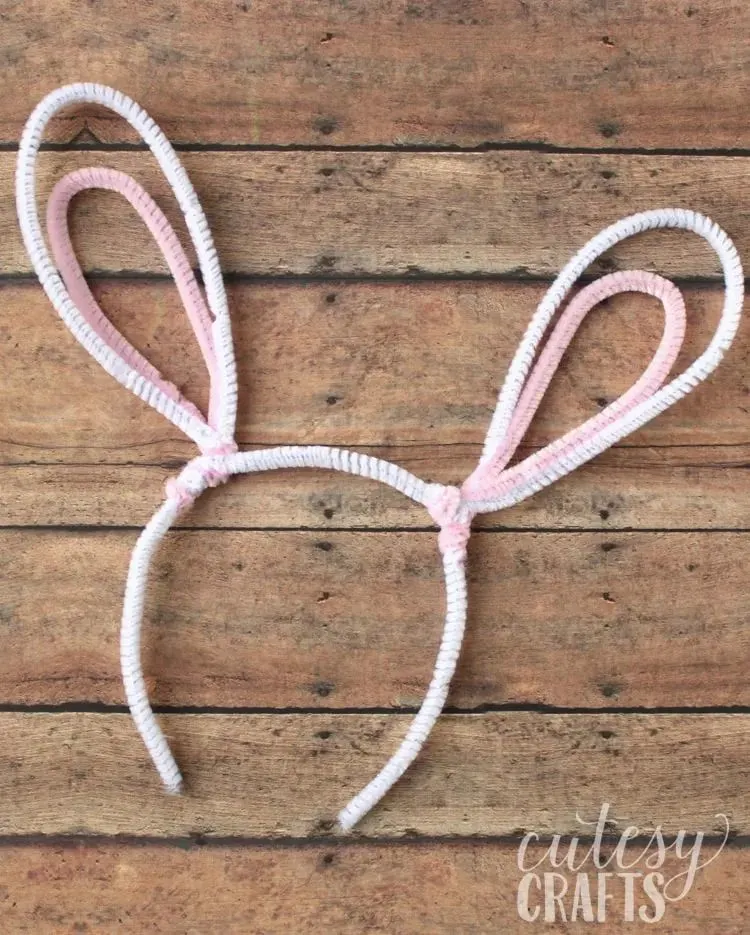 Credit: cutesycrafts.com
With Easter holidays around the corner, I bet you have a ton of egg hunts to plan and chocolate eggs to make. So, why don't you rope your kids into the process with a fun craft session?
How do these pipe-cleaner bunny ears headbands look? I knew you'd like them.
Your girls will like these headbands even more! Just practice twisting the pipe cleaners around a bit until you get the hang of it.
Speaking of Easter decorations, here are 25 easter crafts for adults for some grown-up craft time!
5. Flower Pipe Cleaner Craft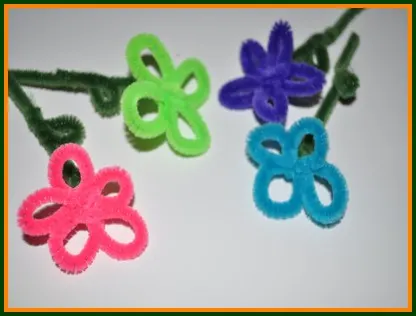 Credit: easy-crafts-for-kids.com
I always get sad when my pretty flowers wither. Sure, I love replacing them with fresh ones, but sometimes, it can be a day or two before I get to it.
So, here's a bright and cheerful bouquet of pipe cleaner flowers. These will definitely see you through many happy days.
Bonus? You can go absolutely wild with the colors! You can finally have rainbow flowers!
So, finding pom poms like these for the flower pistils, your glue gun, and the pipe cleaners to get started.
6. Bunny Finger Puppet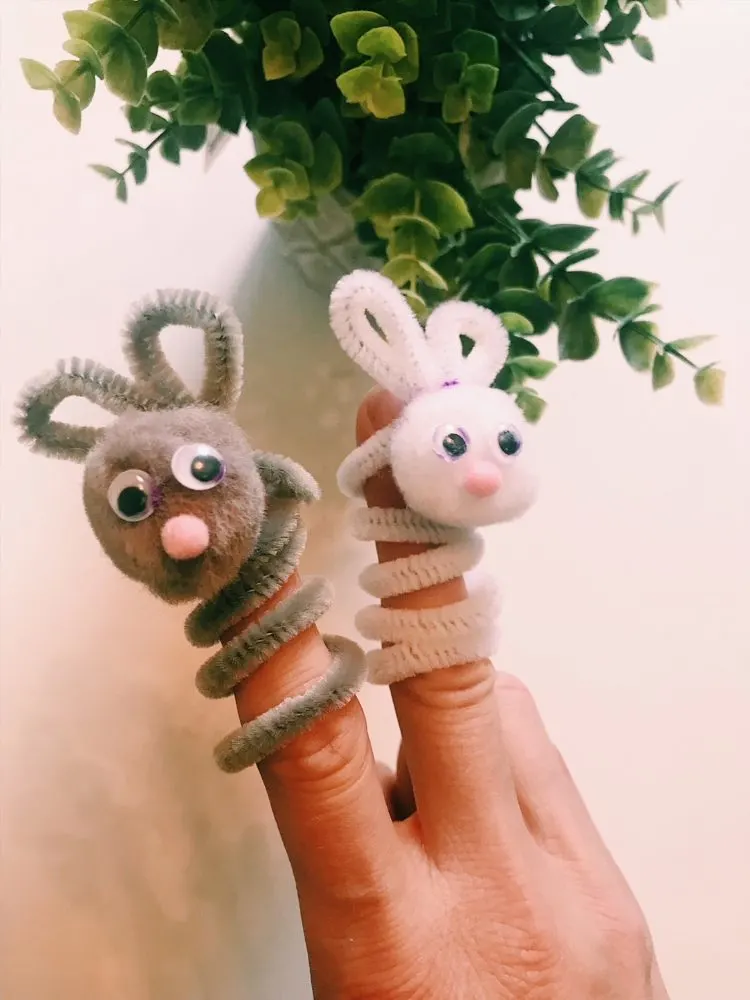 Credit: familyfocusblog.com
Sure, hand puppets are great, but you only have two hands. But you have ten fingers, so you know what that means? Finger puppets!
This particular craft project is all about bunnies. So maybe you can add these to your Easter decorations.
You already have googly eyes and little pink pom poms for the nose. You will need slightly bigger pom-poms for the bunny's face, but that's pretty much all you'll need.
Just twist your pipe cleaner into a coil, hot-glue the pom-poms, and set up your puppet show!
7. Borax Crystal Flowers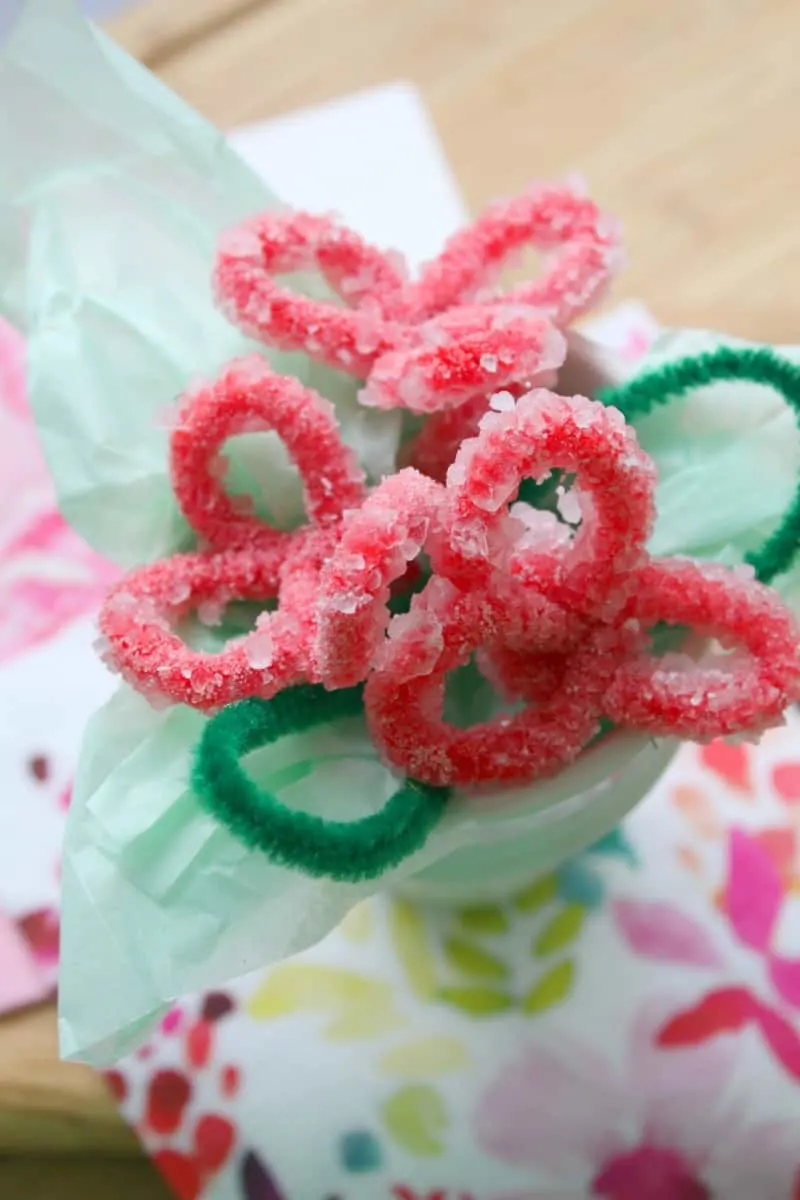 Credit: in-our-spare-time.com
Did you know borax crystals are known to have cleansing powers? Borax itself is found in many cleaning products and used to clean mold, mildew, rust, and even just your floor.
But this time, we're using borax for crafts and making borax crystal flowers! Not only is this craft educational, making borax crystals is pretty magical.
Just let the crystals grow on your pipe cleaner flowers overnight, and you'll be able to enjoy it come morning! You can find borax powder right here.
8. Butterfly Craft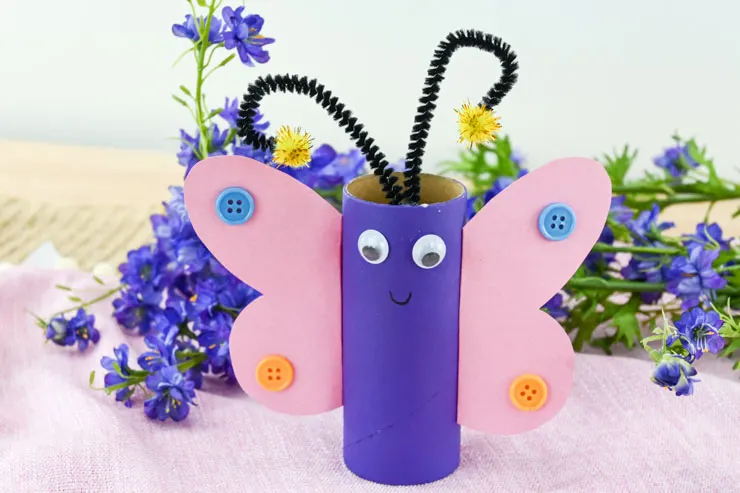 Credit: consumerqueen.com
You can't have flowers and not expect to attract some butterflies—even pipe cleaner butterflies like these. For your next craft session with your kids, how about you try out this toilet paper roll butterfly?
It's easy to make, and you hardly need to look further than your bathroom and craft desk for the supplies you'll need. Once you've made the butterflies, you can paint them in bright and cheerful colors.
You can also bedazzle them with sequins, buttons, and other cute embellishments! Find your glue gun here and get started right away!
9. Robot Hat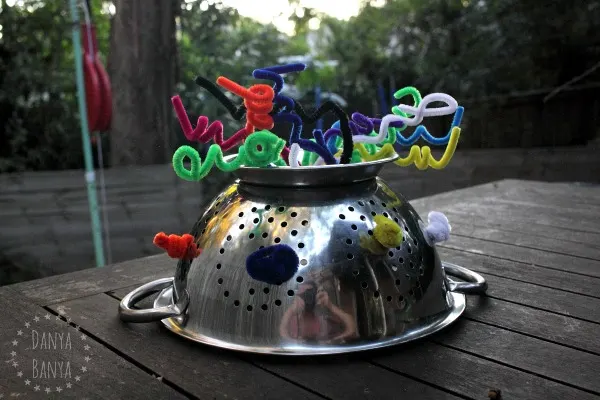 Credit: danyabanya.com
You're definitely not the only kid who donned an upturned colander on your head and pretended to be a robot. Make-belief worlds and characters never needed much by way of props.
So for this robot hat, grab this stainless steel colander and a dozen or so pipe cleaners. Twist the pipe cleaners into curly coils around your fingers.
Stick the ends into the colander holes and secure them in place. Then, teach your kid a couple of robotic moves and have a super-fun robotic-themed dance-off!
10. Crystal Snowflakes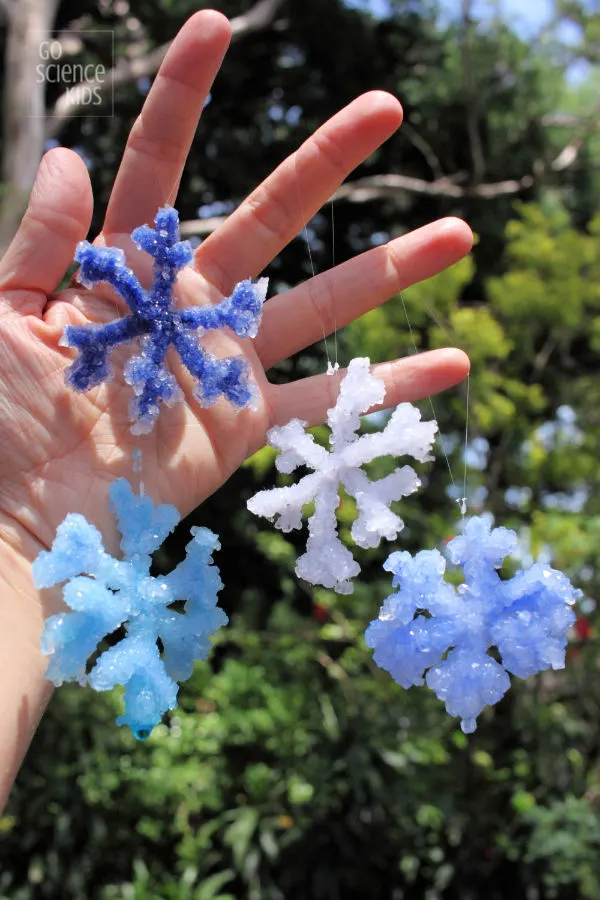 Credit: gosciencekids.com
Here's another DIY project that calls for borax crystal and pipe cleaners. It would totally be remiss of you if you didn't make use of them and made snowflake crystals.
You should find a few wide-mouth jars from here to help stir the borax. Mason jars would definitely work—aren't they just the best?
Once you've gathered all your supplies, set out some newspapers to catch any spills. Now you can get started making some snowflakes!
11. Heart Shaped Bubble Wand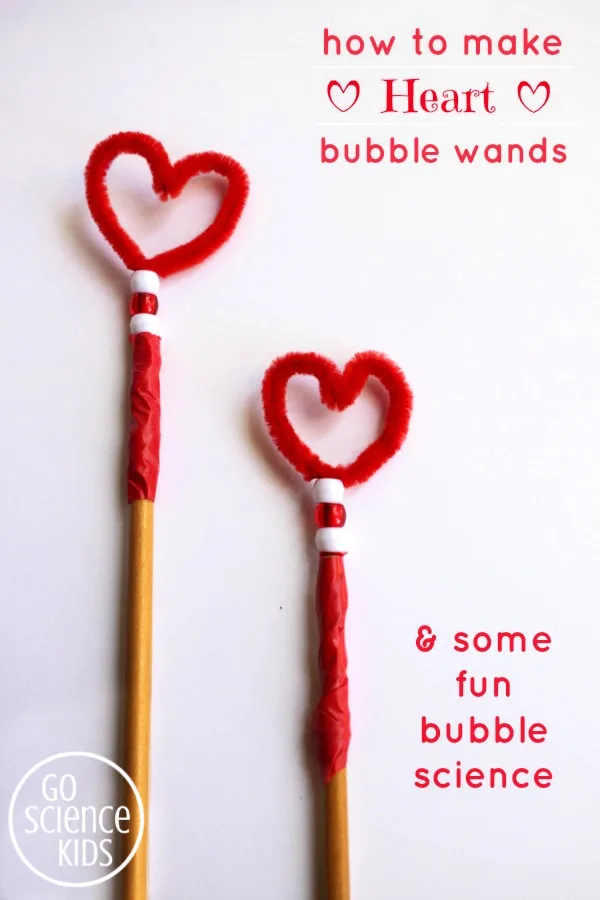 Credit: gosciencekids.com
If you're disappointed that heart-shaped bubble wands don't blow out heart-shaped bubbles, join the club. But I still find these fuzzy red pipe cleaner hearts adorable.
They'd be a great addition to your Valentine's Day decor—just stick a few of these in a vase. They're quirky enough to pass off as just about anything!
You can make your bubble solution at home, too, or you can just buy some here and save the trouble and mess.
If you're interested, check out these 20 cute Valentine's day decorations!
12. Pipe Cleaner Monkeys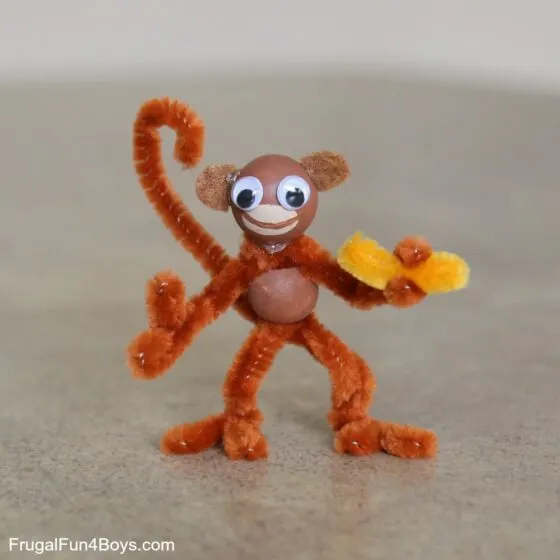 Credit: frugalfun4boys.com
I love how these pipe cleaner monkeys look like they'd fit in anywhere you put them. They'd look great sitting on the craft desk, on a bookshelf, or even on top of your pencils.
You'll need some of these wooden beads for the monkeys' heads and their bodies. You'll also need some brown and yellow pipe cleaners.
Just follow the pattern, and you'll have your little pipe cleaner monkeys ready in no time at all!
There's something so delicate and ethereal about dragonflies. They're too pretty to be insects, I tell you!
So, I hope you saved some beads from the earlier projects. If you didn't, then you can find them here for this pretty dragonfly pipe cleaner craft!
You'll also need crafter's tape like this but other than that, you're all set to start making this dragonfly!
14. The Very Hungry Caterpillar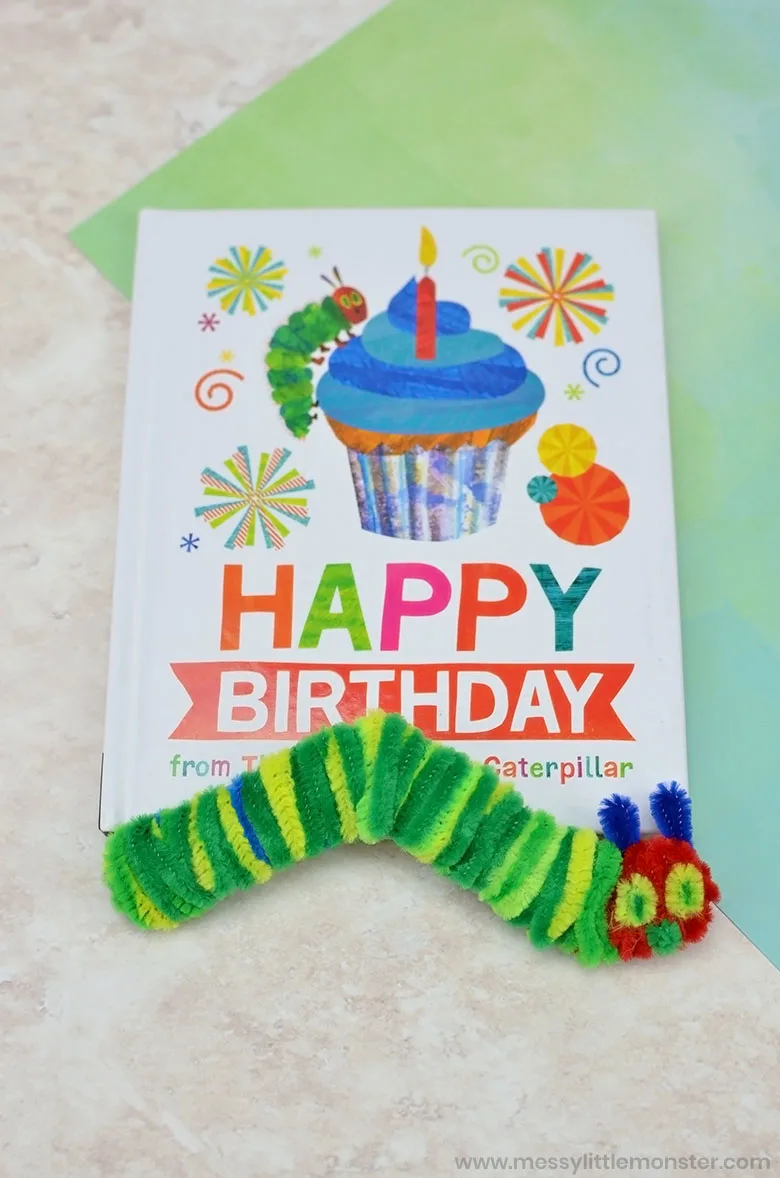 Credit: messylittlemonster.com
From dragonflies to caterpillars, we're really exploring all the craft possibilities with pipe cleaners, aren't we?
Now, caterpillars are creepy crawlies, and I absolutely prefer them when they're butterflies. But I guess crafty caterpillars are not too bad.
Plus, they're a great way to teach kids about them without actually having to use the real live ones. Grab some of these popsicle sticks and get started!
15. Crocodile Pipe Cleaners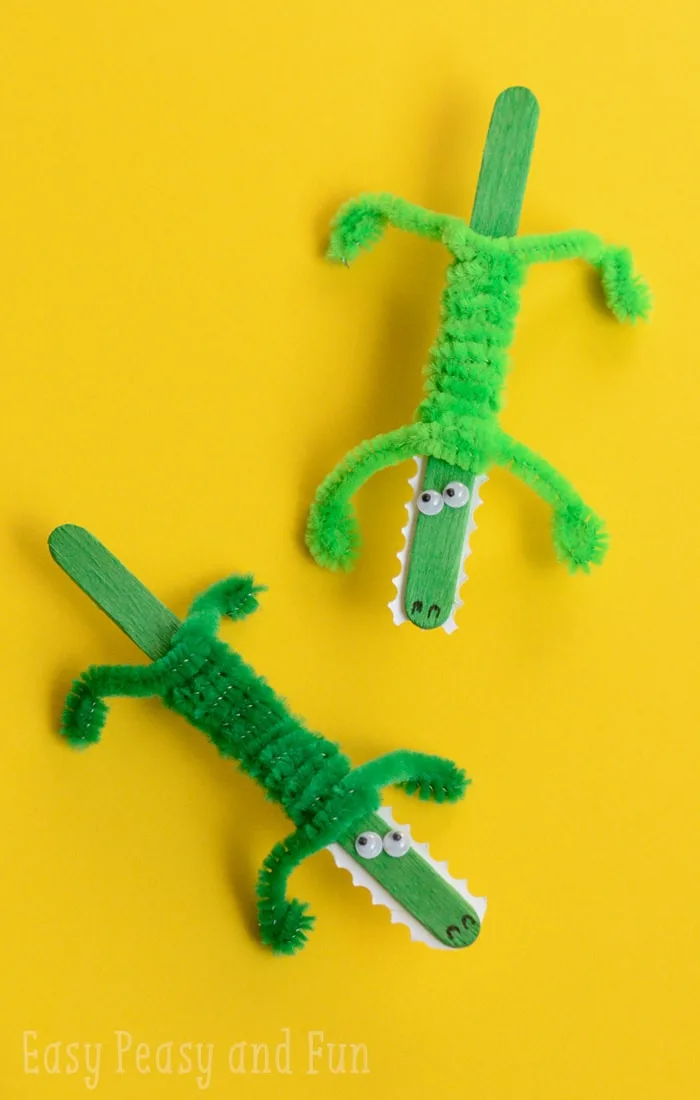 Credit: easypeasyandfun.com
I hope you've saved some of those popsicle sticks because you'll need them again for this project! Grab some googly eyes as well while you're at it!
Paint your popsicle sticks green for the best finish. Then start wrapping the pipe cleaners around and work your way down the stick.
Don't forget to cut out some zig-zag paper for your crocodile's teeth. You can glue it onto the bottom of the craft stick and then use a sharpie to draw his eyes.
If you've got some popsicle sticks leftover, here are 20 popsicle stick crafts kids will love!
16. Pipe Cleaner Flamingo Craft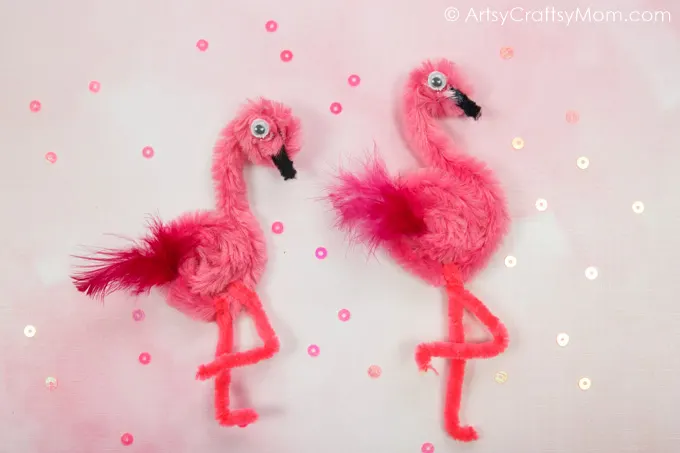 Credit: artsycraftsymom.com
Don't you think that flamingoes are just the most lovely shade of pink? Plus, they're just downright sassy!
Look at them standing there and posing with one leg up. It's time to recreate those flamingos during your next craft session.
Grab some pink feathers from here and your hot glue gun. Then pick out your pipe cleaners—pink, of course.
Finally, start rolling them into S-shaped loops, with a little black bit for their beaks. The final touch after you've stuck the googly eyes on is to glue on that sassy pink feather, and voila!
17. Easy Bunny Craft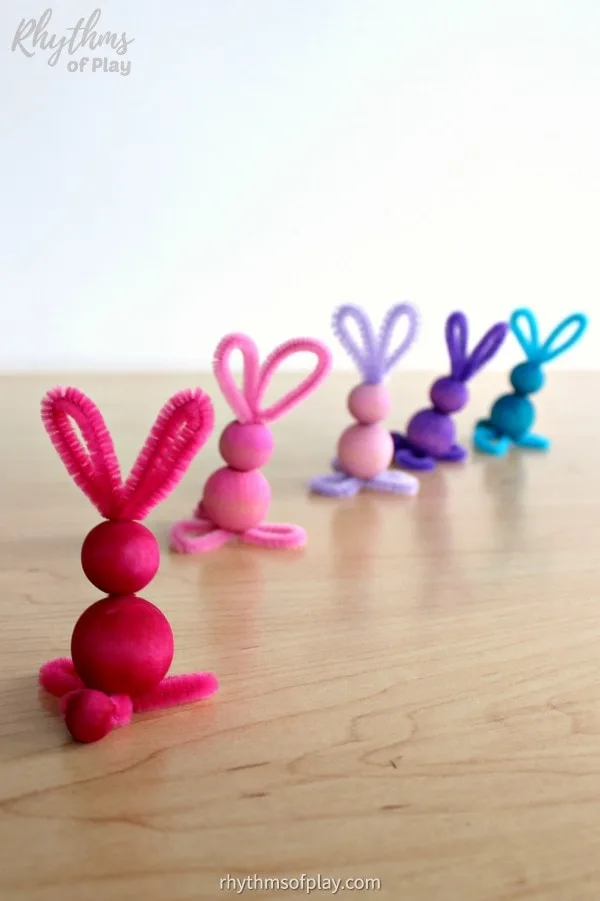 Credit: rhythmsofplay.com
Here's another DIY craft that would look adorable as a part of your Easter decoration. You can never have too many bunnies at Easter, and these pipe-cleaner bunnies hardly take any time.
Take out your wood beads again for this project. Remember to paint them in different colors too—pink, purple, and pastels for Easter.
You can glue on the googly eyes, or you can grab your paintbrush and start painting. But, they look just as good without them if you're not too confident about painting!
18. Finger Puppet Snails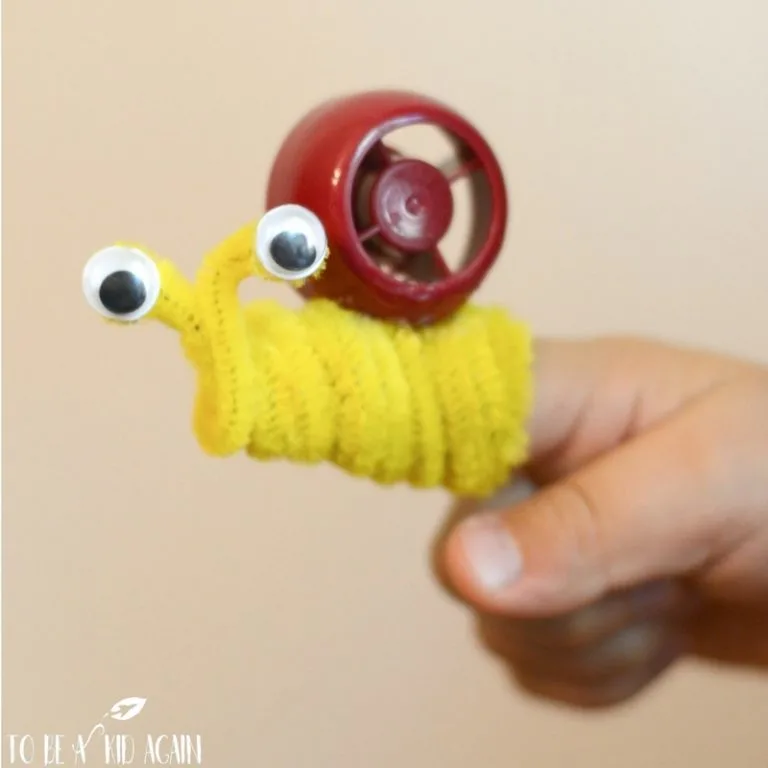 Credit: creativelittleexplorers.com
Like the pipe cleaner caterpillars, snails, too, belong in the Great Outdoors with the rest of the creepy crawlies. But I understand the fascination that kids have with fat, squishy creepy crawlies.
So, what do you do? You compromise and let your kid explore his fascination with bugs and insects during craft time.
Also, you will need a few yellow pipe cleaners for this DIY or any other color that strikes the fancy. You and your kid can wrap the pipe cleaners around your fingers to curl them into the snails!
You can also try out these 24 bee crafts for kids if you're fed up with creepy crawlies and want to move on to something new!
19. Pipe Cleaner Dragons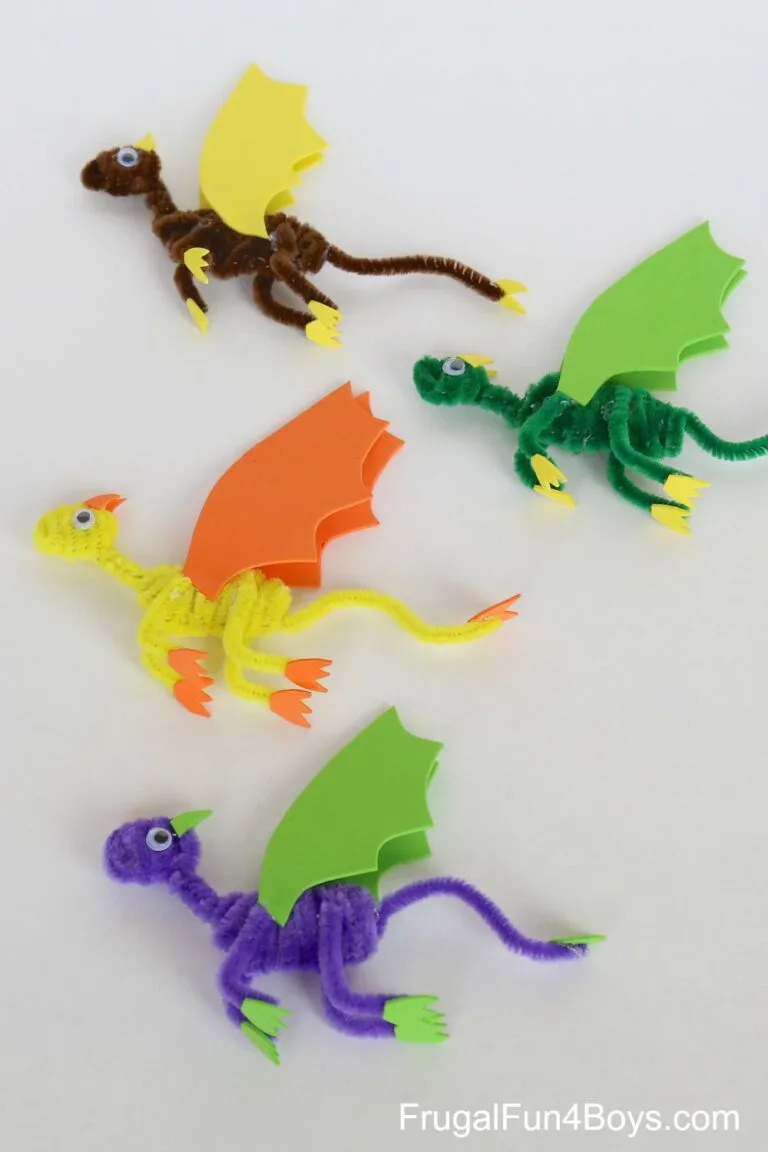 Credit: frugalfun4boys.com
Fire breathing dragons can be fierce and, well, a mess to clean up after. They'd probably drag soot and ash everywhere.
So let's compromise and make these pipe-cleaner dragons instead! Your kids can play with them all the time.
They can pose them on their nightstands or even add them to their kiddie-version of Dungeons and Dragons gameplay!
You'll need roughly four pipe cleaners per dragon and some craft foam for the wings. You can get them right here and start making those dragons!
20. Pipe Cleaner Fishing Game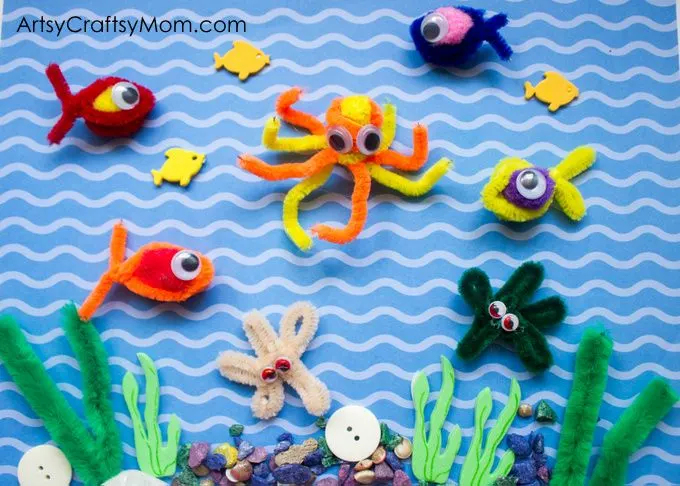 Credit: artsycraftsymom.com
Do you remember that fishing game you used to play as a kid? You'd have a dozen plastic fishes rotating around the electric board, and you'd use those magnetic sticks to 'fish' them out.
Well, let's simplify that game a little, shall we, and make our own DIY fishing game with pipe cleaner fishes? Go ahead and gather these supplies: pom poms, craft glue, sequins and shells, ribbons, magnets and, finally, googly eyes.
You can make as many fishes as you want and in a rainbow of colors. You can even make an octopus or two and a few fuzzy starfish.
Sometimes, you just have to give in to the urge and make dozens of pipe-cleaner flowers. Once you know how easy they are to make and how much fun you'll have making them, it can be hard to stop.
So this time around, let's make daffodils, lavender, and tulips! You'll need mini craft pots from here and your craft essentials.
Once you've got everything you need, it's time to start winding the pipe cleaners into flowers. You know how many colors tulips come in, so go crazy with colors and use reds, pinks, oranges, and any color you want!
22. Pipe Cleaner Popsicles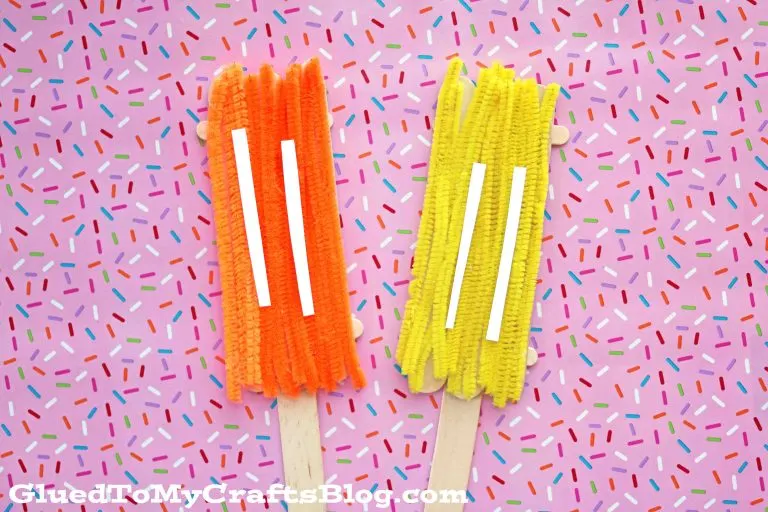 Credit: gluedtomycraftsblog.com
When you can have the best of both pipe cleaners and popsicle sticks, why stick with just one? So take out your popsicle sticks, and let's get started on making these DIY pipe cleaner popsicles.
You'll also need some cardstock, some hot glue, and a good pair of scissors. You will also need a couple of mini popsicle sticks to stick across the larger ones and hold them in place.
Once you've assembled your popsicle, glue the pipe cleaners in place and allow them to dry completely!
Check out these 20 popsicle stick crafts kids will absolutely love!
23. DIY Pipe Cleaner Tiara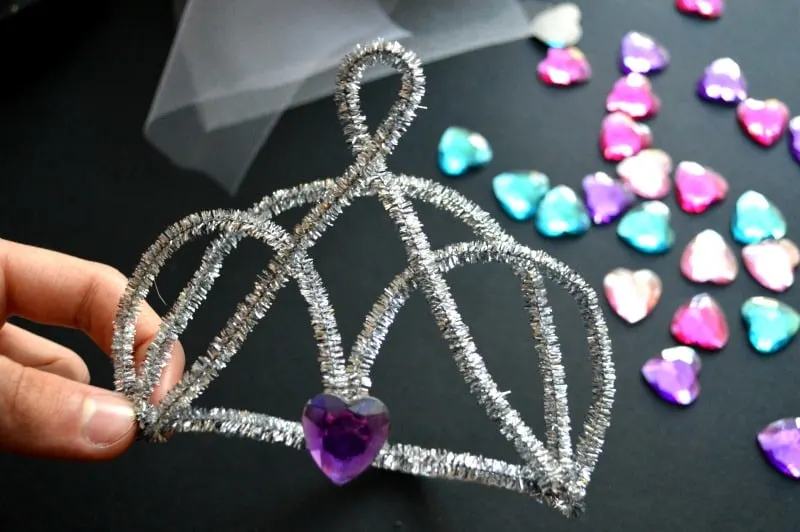 Credit: stylishcravings.com
Is any DIY craft list complete without some version of a princess tiara? Check out this sparkly DIY pipe cleaner tiara!
This project calls for some creative twisting and bending of the pipe cleaners. But don't worry; you'll have your tiara ready in no time at all if you follow the pattern.
Can you guess what the final touch is? Gems and sparkly rhinestones, of course.
Go ahead and glue on the finishing touches so you and your girl can enjoy the pipe-cleaner tiara!
You can have a lot of fun with cacti crafts. They're super versatile, and there are so many ways to jazz them up.
For this project, you can customize the shape, size, and even the color of your cacti. It's a very creative way for kids to experiment with 3D shapes, too!
Start shaping your cactus with a sturdy base and keep twisting more pipe cleaners as you build it up. Once you're absolutely happy with your design, there's only one more thing left to do.
Grab your pom-poms—or even make them if you want to—and stick them on the top of the cactus.
25. Valentine's Day Love Bug Craft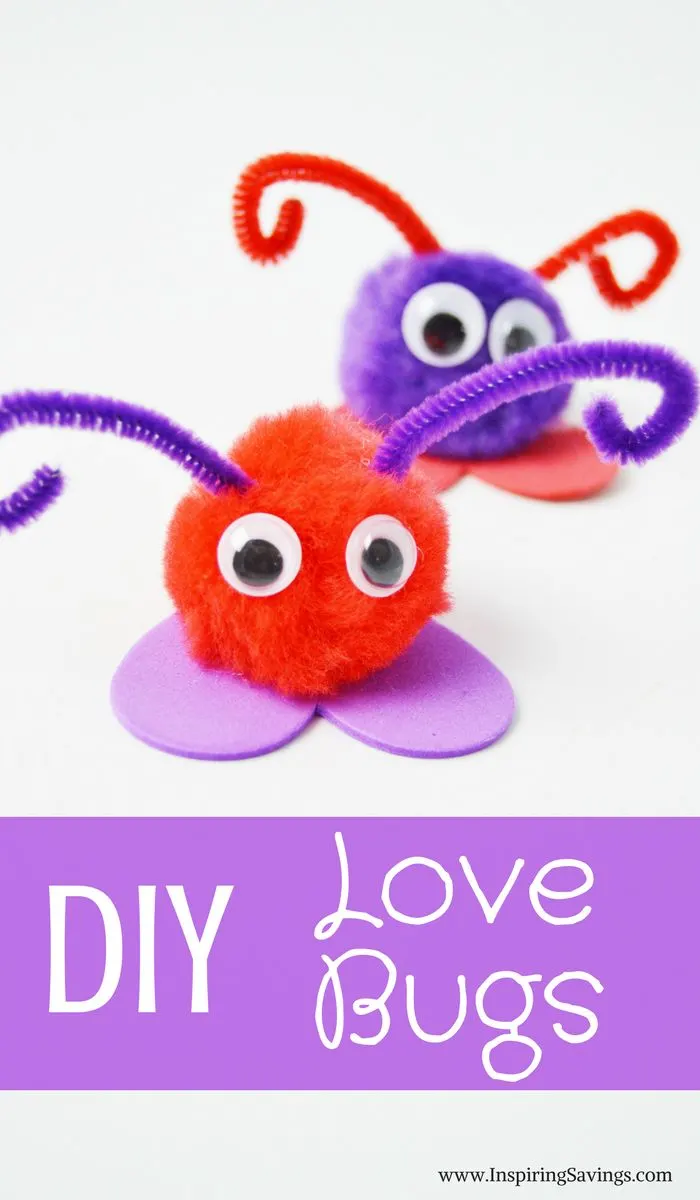 Credit: inspiringsavings.com
There's love in the air and you've been bitten by a love bug. Don't worry; they're just craft love bugs made from pipe cleaners.
Does that sound like an interesting craft project? Then let's get to it and make these pipe-cleaner love bugs.
You can rope your kids into it along the way! Every holiday is an opportunity to teach the young ones, and V-day is no different.
Don't forget to attach the antennae when you're done. Just curl a couple of pipe cleaners, then glue them in place, and you're all set!
Why don't you check out these 20 DIY Valentine's Day crafts if you're interested and are looking for more V-day craft inspiration?
26. Pipe Cleaner Super Hero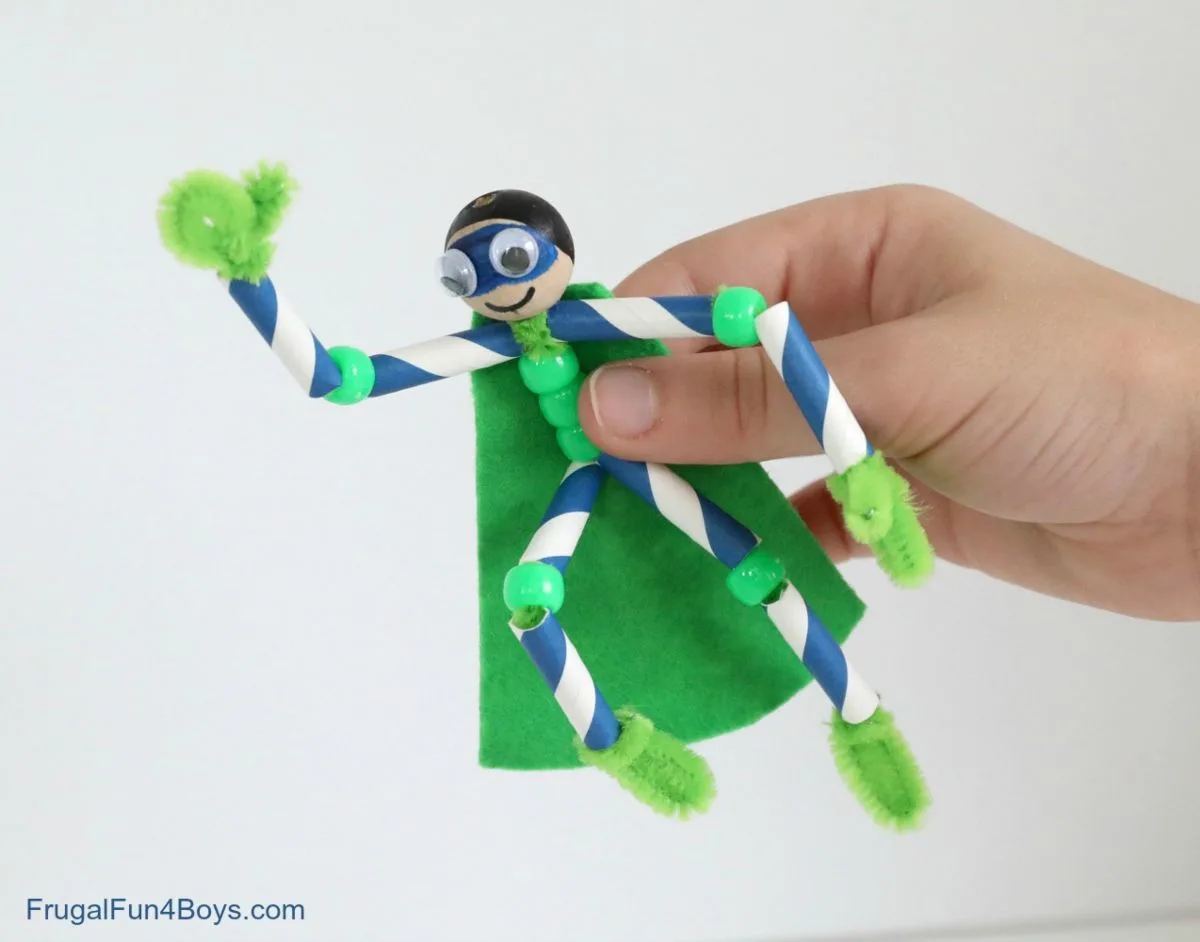 Credit: frugalfun4boys.com
Is it a bird? Is it a plane? It's Superman…or at least a pipe-cleaner version of him.
How can you resist making stick action figures with these pipe cleaners? They're fun and super easy to make as well!
They would pair really well with LEGOs. Plus, they're much cheaper than those pricey action figure dolls at the store.
So, grab some pony beads, a few paper straws, pipe cleaners, and wooden beads for the heads. Finally, design their outfits, select their superhero colors, and of course, the length of their cape!
27. Pipe Cleaner Trees Christmas Craft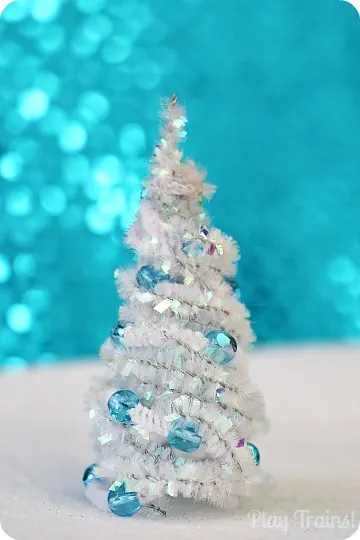 Credit: play-trains.com
With the holidays just around the corner, these little Christmas trees would be a hit! They'd look like a million bucks sitting on the mantle or scattered around your home.
You'll need some strips of thin cardboard—perhaps small cutouts from old cereal boxes? Also, buy some glitter glue from here.
You'll want some of those sparkly sequins and gems from the previous craft projects to decorate your tree. Once you've gathered all you need, start twisting those pipe cleaners and make the best Christmas tree ever!