Love spiders? Or perhaps you're afraid of them? Either way, make these spider crafts with the little ones and teach them all about these insects.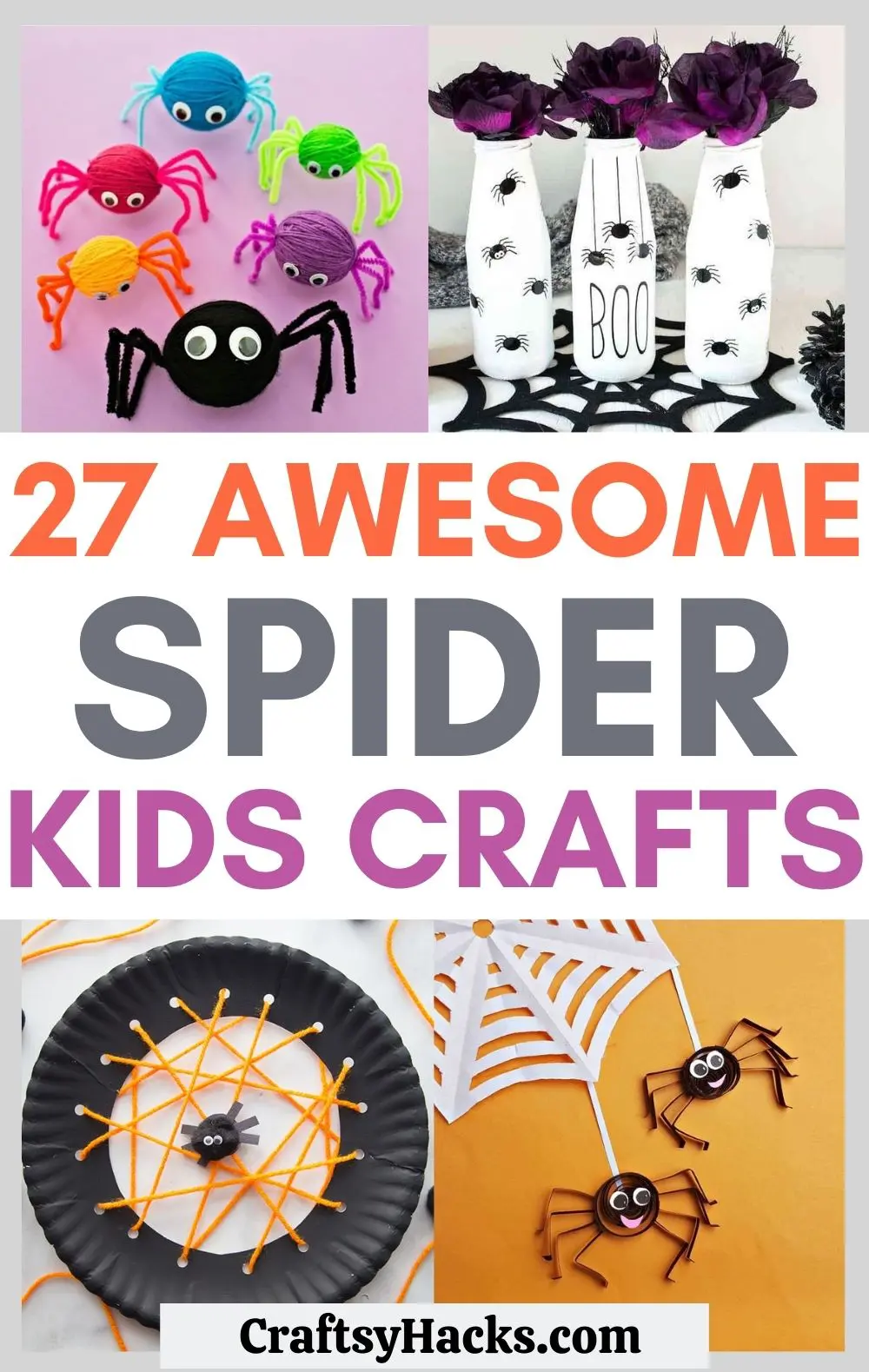 They're creepy, they're crawly, and to some kids, they're absolutely adorable! That's right, spiders are a common infatuation for little ones, and there are so many possible crafts to play on that love.
Are you teaching your class about arachnids, helping your little one to get over their arachnophobia, or encouraging an interest in insects? No matter what, one of these 27 spider crafts is for you.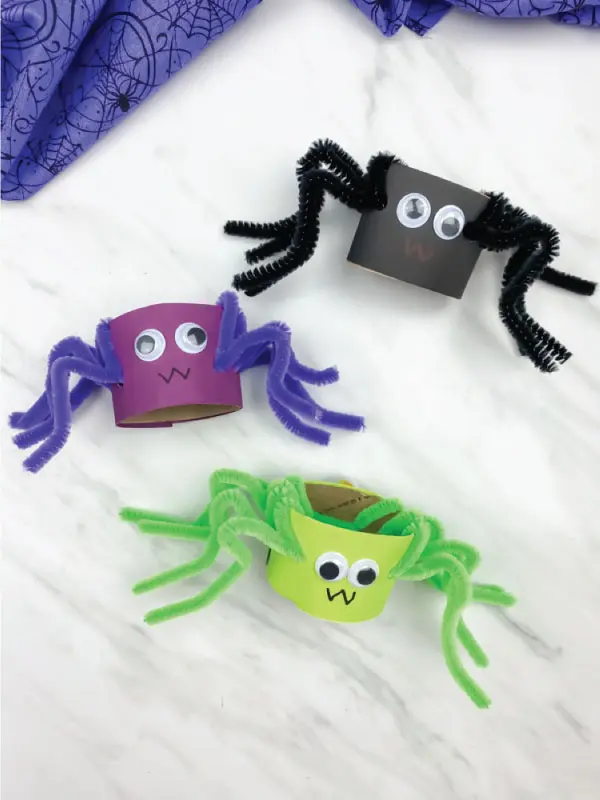 Credit: simpleeverydaymom.com
Let's start off with something simple. These little toilet paper roll spiders come together with pipe cleaners, colored paper, and googly eyes. Barely anything needs to come out of the craft cupboard!
These toilet rolls turn into absolutely adorable arachnids, so there's no creep factor. While you do need to supervise (as there are scissors involved), most of this craft is nice and straightforward.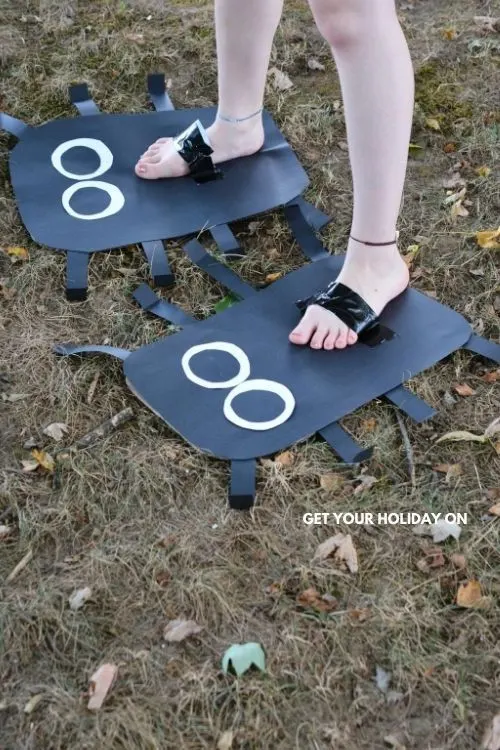 Credit: getyourholidayon.com
This one is less true to learning about spiders and more about learning to squish them. They're super easy to pull together quickly, so they're perfect for a last-minute kid's costume.
The idea is to make it look like your child is squashing spiders with every step, and you'll only need a few staple craft supplies to make it happen. Make sure you get a black poster board (here) in the right size!
Making these for a Halloween party? Here are spooky Halloween paper crafts to make as an accompaniment.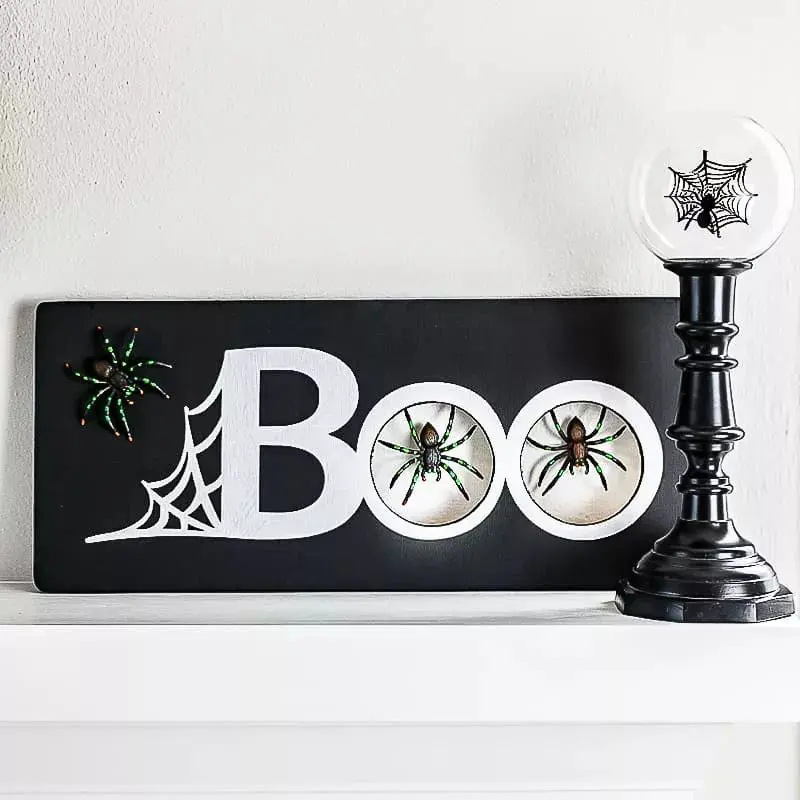 Credit: thehandymansdaughter.com
Whether it's in anticipation of Halloween or you're just a spook-loving family, this spider sign is perfect for your mantelpiece. This one's great if you have some scrap wood lying around.
Keep in mind that, because this craft includes woodworking, your kids won't be participating in the entire process. However, once you get the paintbrush in their hand, they'll go nuts for it!
Make sure you pick up a solid battery-powered drill to make the process quick and easy. I love this set from Amazon.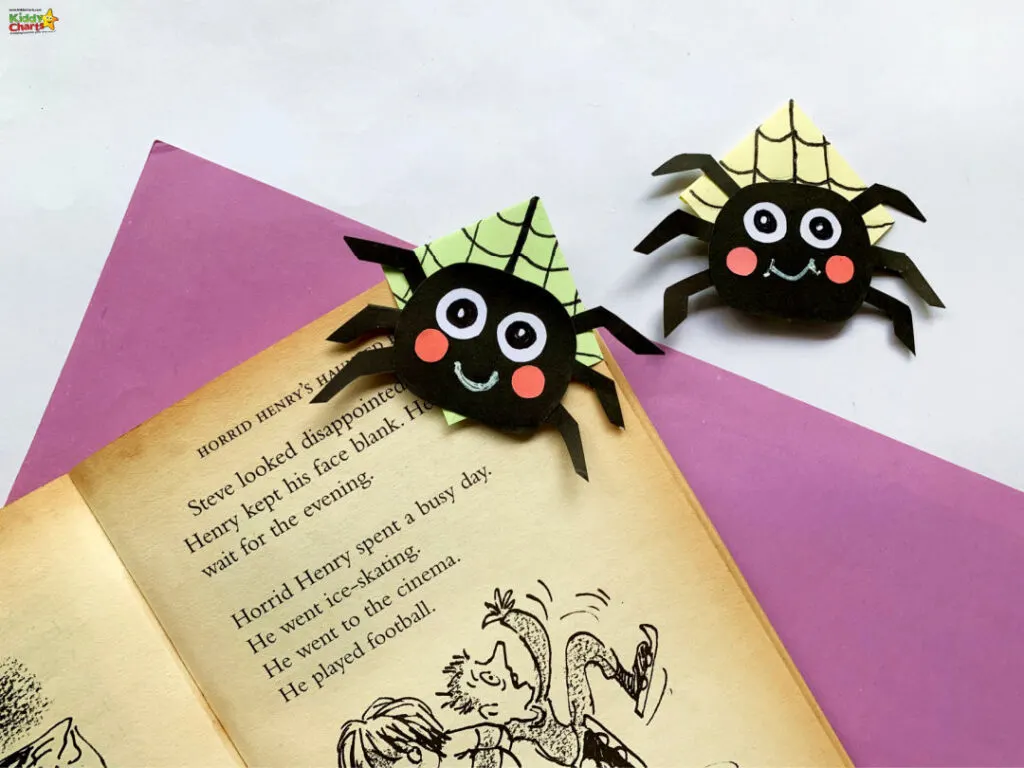 Credit: kiddycharts.com
Navigating the intricate folds of an origami project is great for developing your child's spatial awareness and reasoning. Not to mention, the result is just so cute (and useful)!
Once again, this craft is easy on the wallet. All you really need is the black double-sided origami paper (grab it here) and some patience.
Make sure to read through the instructions all the way before starting with your child. This helps to avoid frustration and ensures the result will look nice and crisp.
Curious about some slightly easier paper crafts to do with your little one? Try out these DIY paper wallets if you're crafting with someone a bit younger!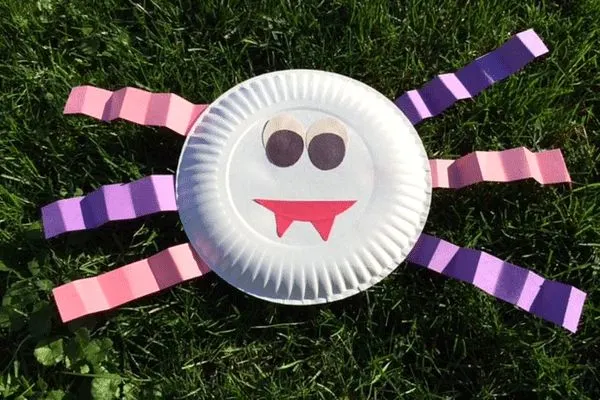 Credit: livinginhappyplace.com
Featuring a little bit of cutting and a whole lot of fun, this happy spider learning craft is a great way to introduce your child to the concept of spiders. Make it anatomically correct, or get creative!
All you'll need for this craft is a paper plate (try these biodegradable ones), some colored paper, scissors, and non-toxic glue. Simply cut, chop, and glue your way to a new creepy crawly companion.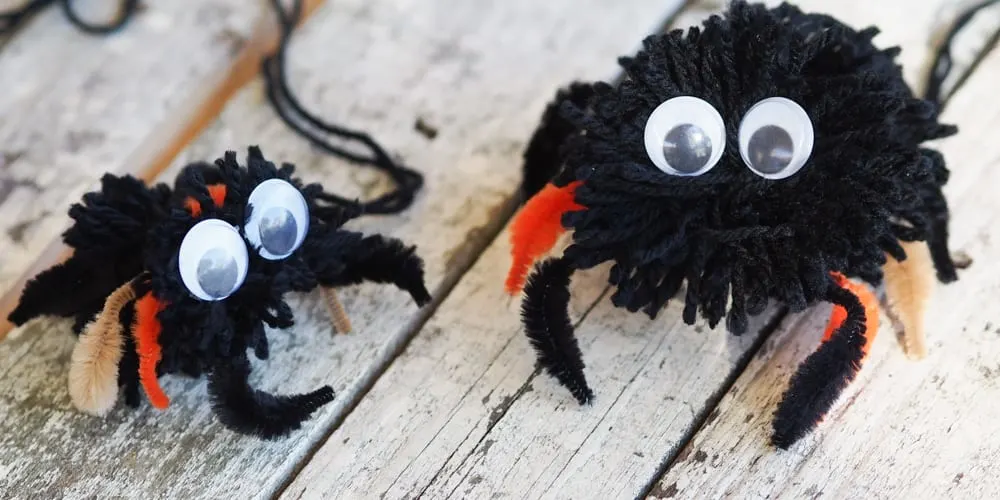 Credit: familiesmagazine.com.au
Who knew spider "teddy bears" could be so easy to make? Using the base craft of pom-pom making, you and your little one can create a spidery spectacle with some googly eyes and pipe cleaners.
While making a pom-pom doesn't require a proper pom-pom maker (like this one), it will make the process faster and more satisfying for younger kids.
These are great for a bedside table guardian or even as a classroom craft if you're in early childhood education.
Got some leftover black yarn? Give this yarn-wrapped DIY flowerpot a go with the remnants.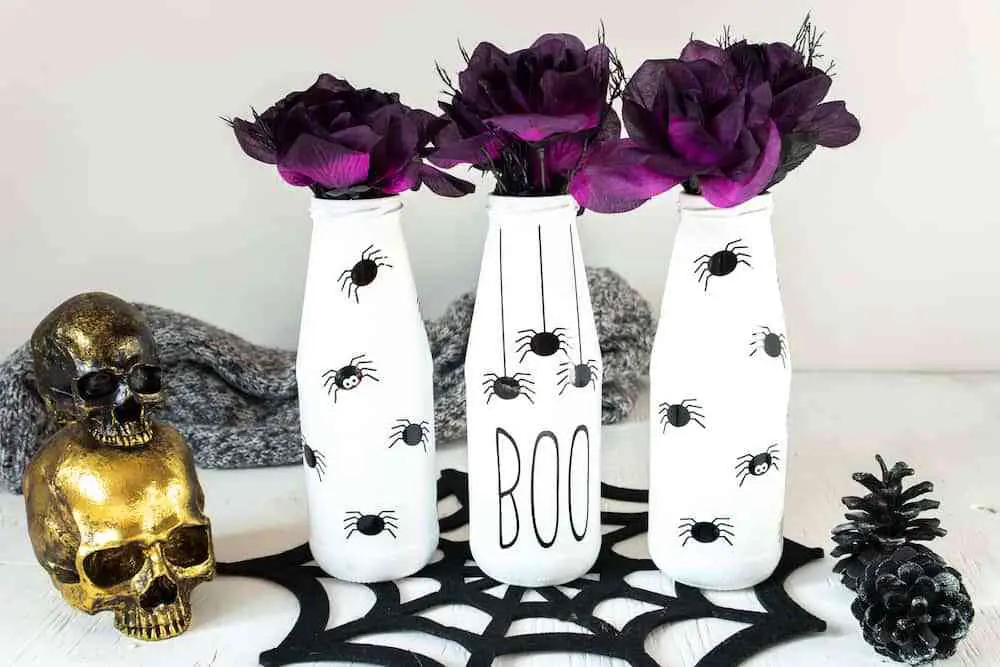 Credit: singlegirlsdiy.com
As a fall decoration or a Halloween piece, these upcycled glass spider vases add a touch of minimal (yet spooky) whimsicality to your home.
This might be more for any adult arachnid lovers, but kids will enjoy it too! Keep in mind that the original craft uses a Cricut with black adhesive vinyl (like this). You can do it the old-fashioned way, though.
Apart from that, you'll need some chalky white paint that will adhere to glass. This Americana Chalky Finish in Everlasting will get the job done perfectly.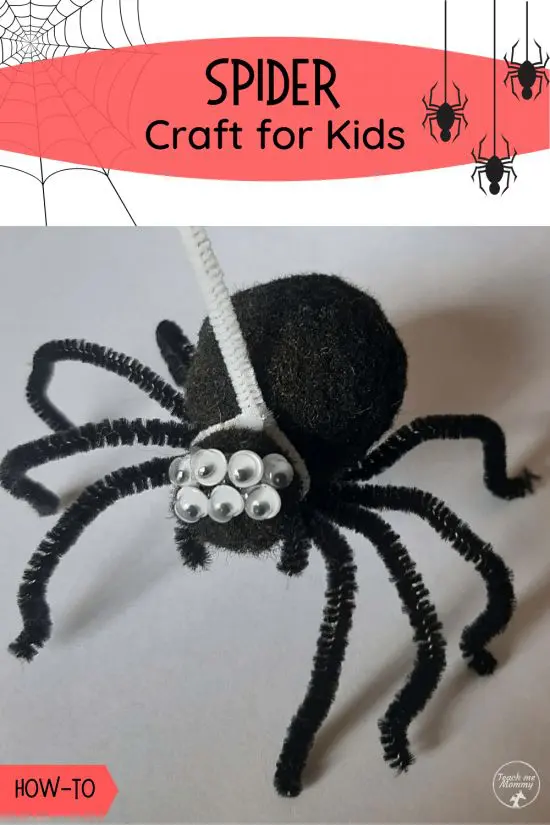 Credit: teach-me-mommy.com
When the time comes to teach your kids about spiders, this little pet spider is a great way to introduce them to their anatomy. Eight legs, many eyes, and a large body are all present here.
There's minimal cutting with this craft, so it's exceedingly kid-friendly. Use colored paper or other differences to educate little ones on different spider types or stick with a traditional look. Up to you!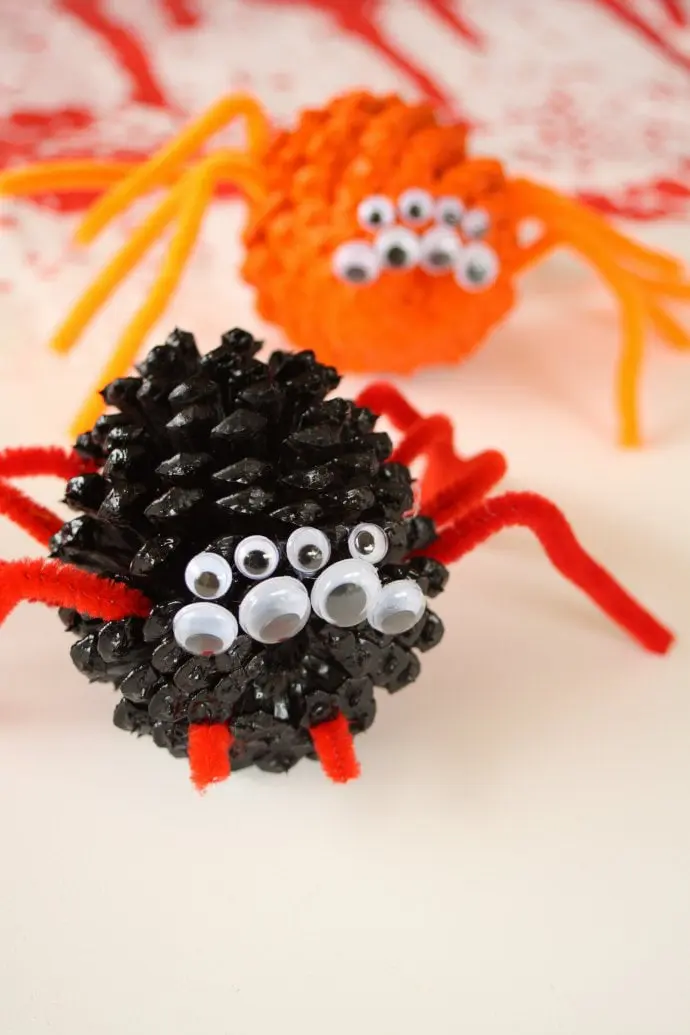 Credit: mypoppet.com.au
If we're talking about budget-friendly crafting, then what's better than grabbing the materials from your own backyard? These pinecone spiders are perfect for fall when supplies are littering the sidewalk.
To turn these into spooky spiders, you'll need to spray them with some gloss enamel black spray paint (I like this one). You might want to do this before you involve your kids, as it can get messy.
From there, all you need to do is attach the legs and eyes, and you've got your very own creepy-crawly family.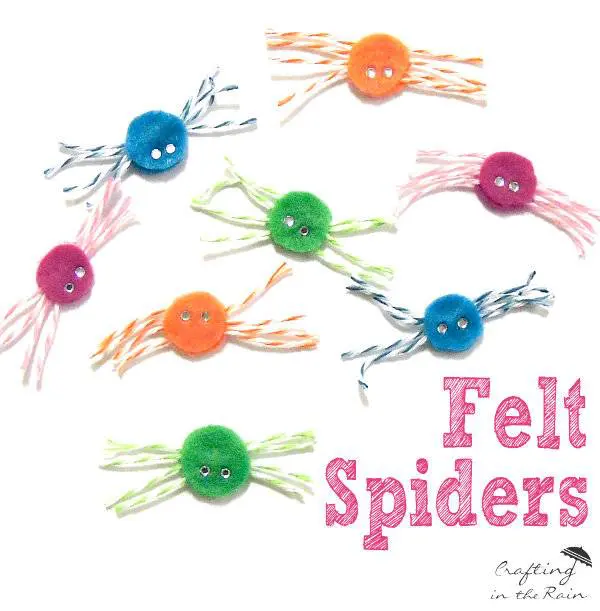 Credit: craftingintherain.com
I think it's about time we had a felt craft join the list, don't you? These sweet felt spiders are so colorful, so they make for fantastic year-round room décor for your little one.
To bring these candy-colored companions to life, all you'll need is some colored felt, colored twine, hot glue, and some rhinestones. What are the rhinestones for? Their sparkly eyes, of course!
If you're making these in a classroom, consider picking up a bulk pack of felt like this one. Not only is it cheaper, but they also have a broader color range.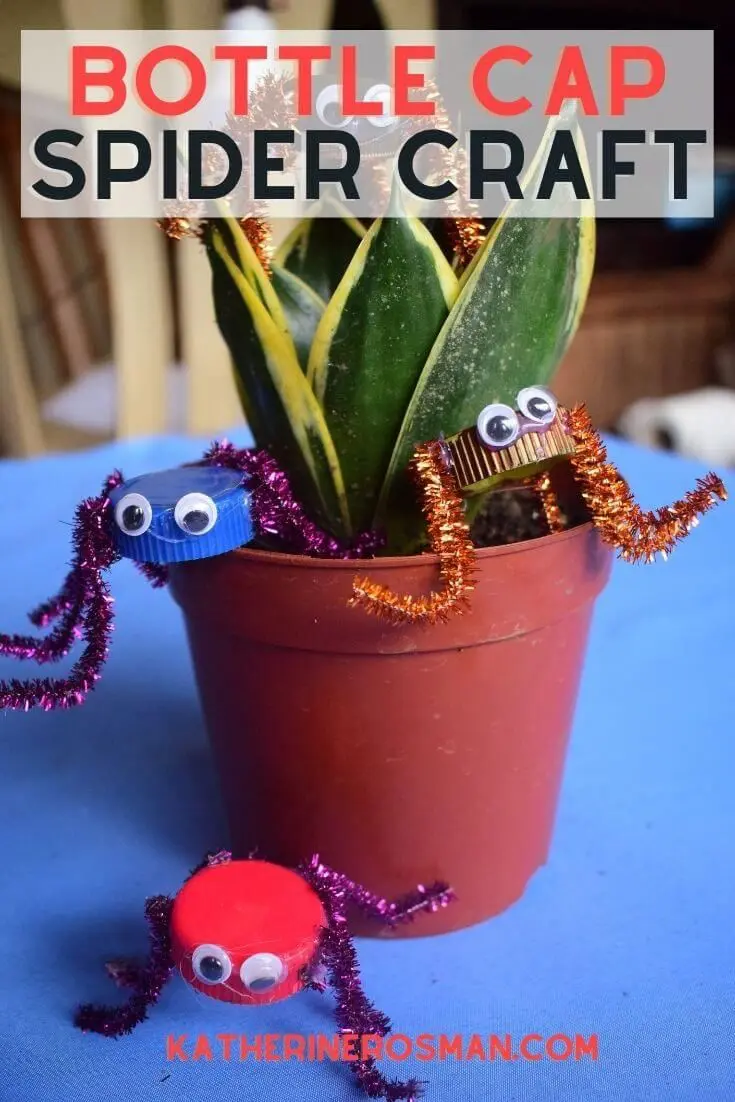 Credit: katherinerosman.com
Next up, we have a cute and sustainable way to use up any spare soda bottle caps you have lying around. These are adorable when dotted around the house, hiding in your houseplants or your pantry.
This craft involves painting, so take it outside if the weather's good. If not, spread a good drop cloth over the floor (this one is great) and have the kids wear some old clothes.
Got metal bottle caps instead of plastic soda ones? Not to worry, why not give these DIY bottle cap candles a go?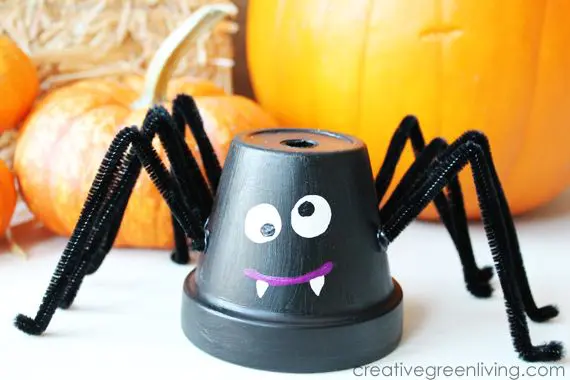 Credit: creativegreenliving.com
This is a great way to eat up some old flower pots, and they make for adorable outdoor decorations (no matter the time of year). You can stick with small pots or use myriad sizes for some variation.
Since you'll be working with terracotta flowerpots (like these), you'll need some multi-surface paint that can stand up to its porous texture. Then, leave the painting to the kids!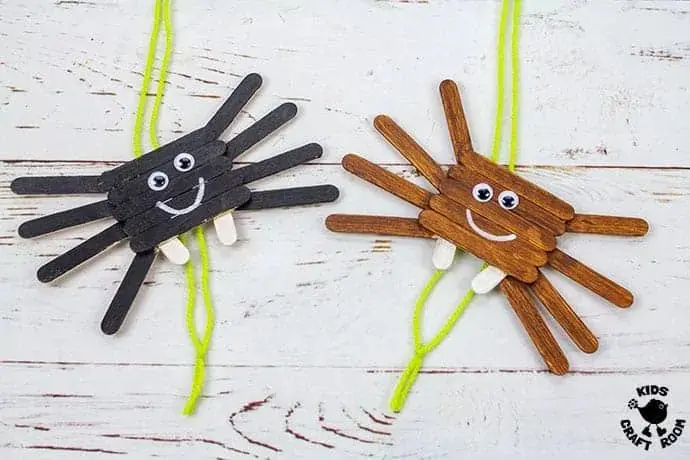 Credit: kidscraftroom.com
Here's a clever and sustainable spider craft that's perfect for summer. Just make sure you hang onto all those leftover popsicle sticks! This saves your wallet and the planet, so it's a win-win in my book.
The great thing about this craft is how versatile it is. Your kids can create any kind of spider they want, and you can hang these hanging insects from their bedroom walls with ease.
Check out some other ways to craft sustainably with these popsicle stick crafts.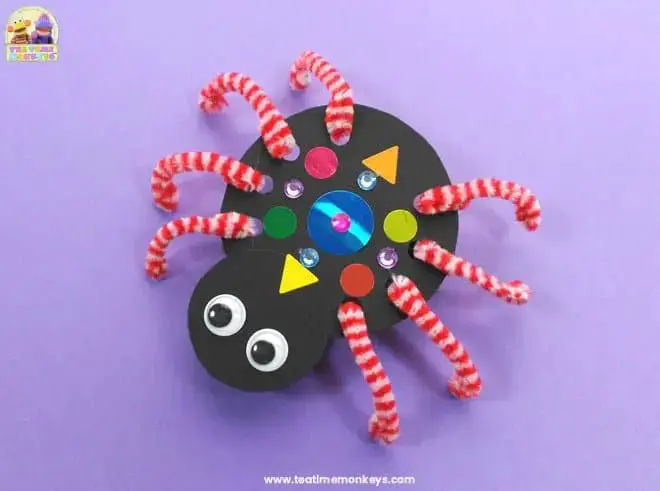 Credit: teatimemonkeys.com
From climbing to crawling, these spider crafts are all over the place! Next up, we have a simple paper craft that's perfect for birthday parties, classrooms, or family crafting afternoons.
Whip out some black cards, pipe cleaners, stickers, googly eyes, rhinestones… pretty much any craft supplies you like! Cut out the spider shape, attach the "legs", and let the kids decorate as they please.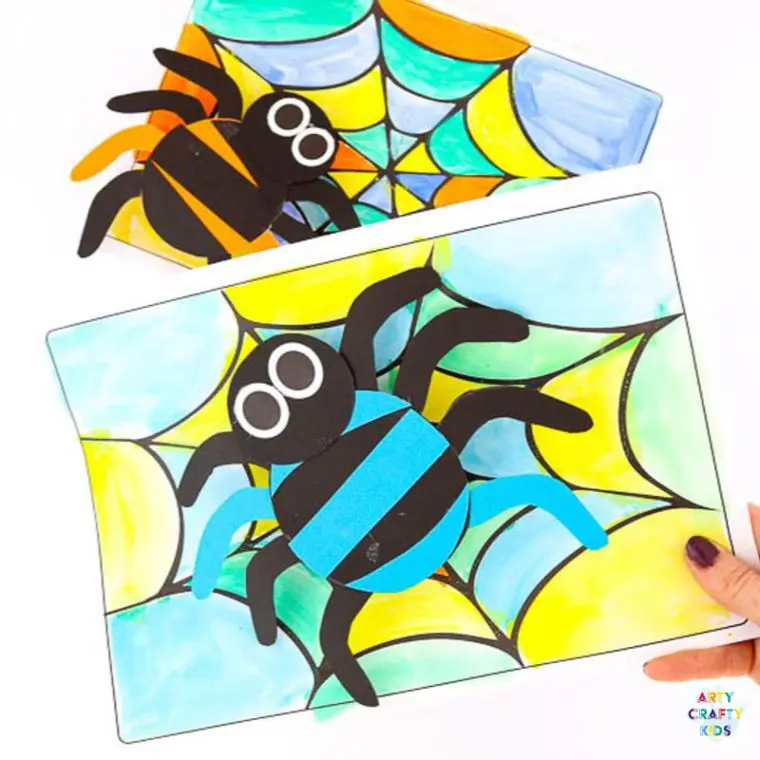 Credit: artycraftykids.com
Speaking of educational settings, this bobble spider is perfect for a classroom craft. Print out the templates en masse, supply the kids with craft paper and crayons, and let the fun begin!
This craft is ideal for teaching kids about spiders because it also includes the web. Have them write down the facts they learn about spiders in the gaps and hang them on the wall for a fun craft day.
Make it an even better craft day with any of these paper crafts.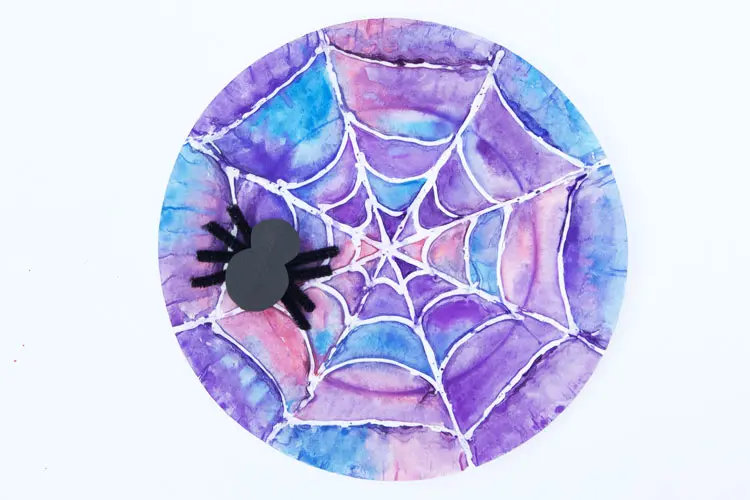 Credit: onelittleproject.com
This is a craft you'll definitely be proud to display on the fridge! These stunning watercolor spider webs look like they belong on something more expensive than a paper plate, but they're so easy.
You'll need a hot glue gun to outline the plate's web and a set of good watercolors to lend the vibrancy (these are great for kids).
I'd suggest preparing the plates beforehand, so all your kids have to do is paint! Attach the little spiders or leave the plate as it is, hang it, and smile every time you pass it.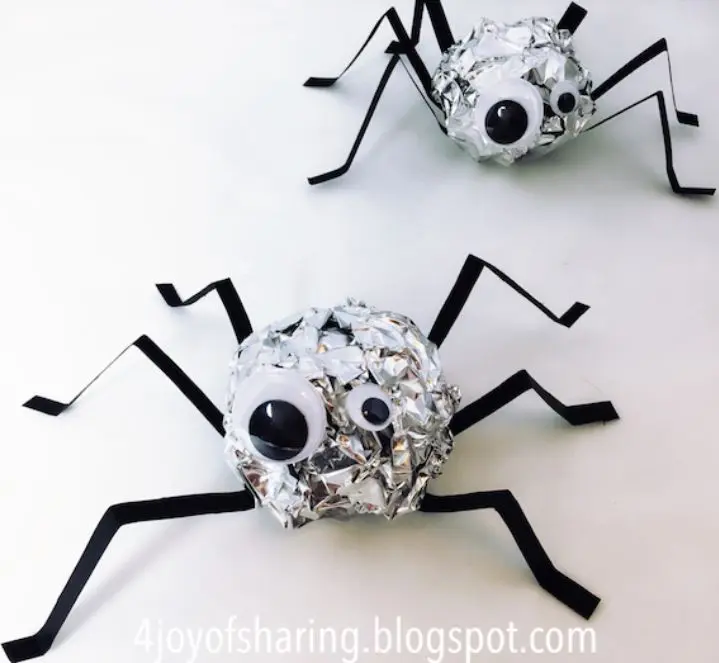 Credit: thejoysharing.com
You most likely have this craft's key ingredient in your home already. That's right, it's aluminum foil! With the help of some black cardstock and googly eyes, you can turn foil into a cute spider decoration.
This is a great craft to whip out on an unexpected rain or snow day to keep your kids happy. After all, you most likely have all the supplies around the house!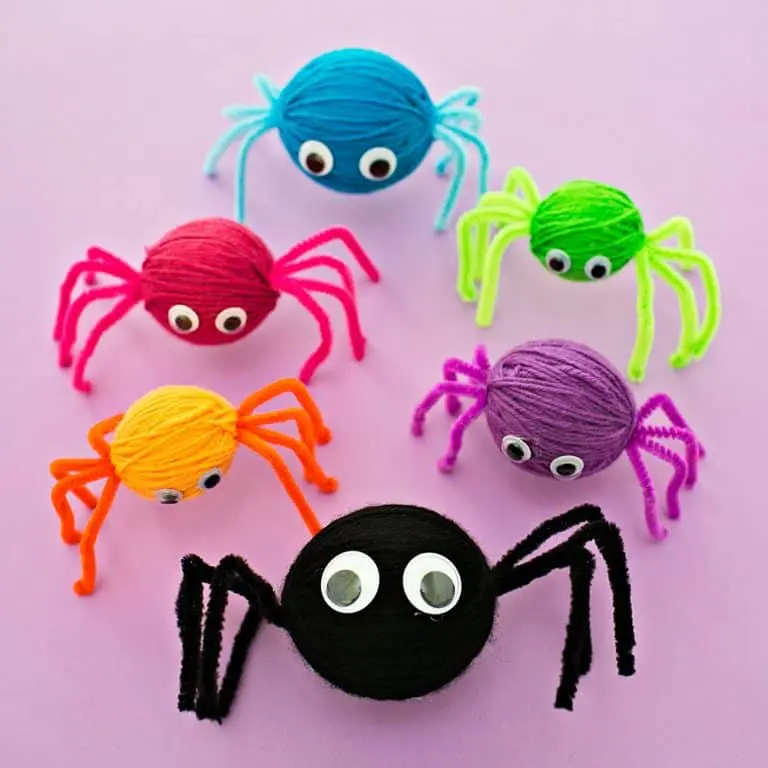 Credit: hellowonderful.co
Who said spiders have to spooky? These standing spiders are soft, fluffy, and colorful. Introduce your little ones to arachnids in an educational way, no fear or creepiness necessary.
This is a great stash-buster if you happen to be a knitter! If you're not, picking up some colorful acrylic yarn couldn't be easier.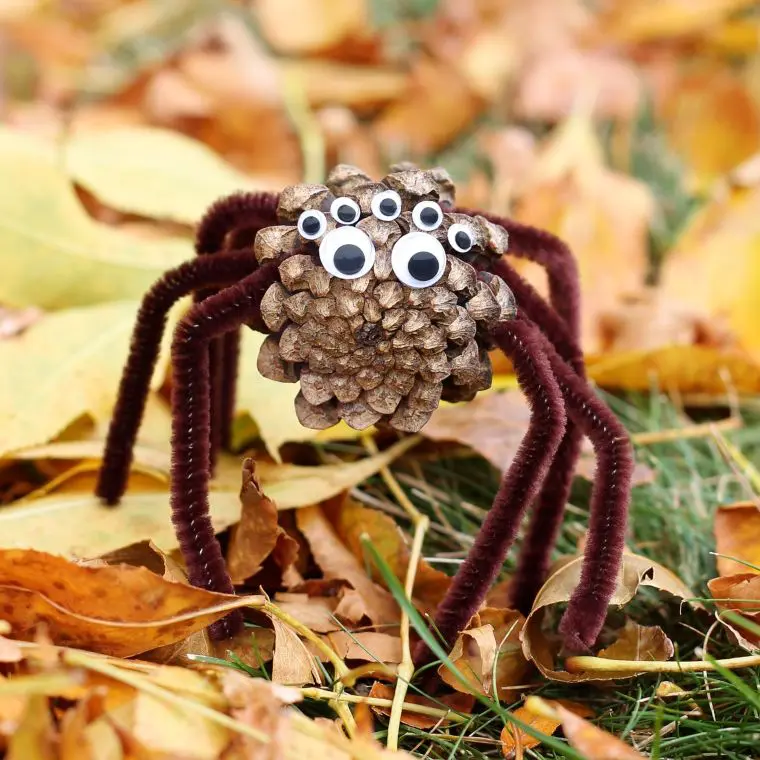 Credit: firefliesandmudpies.com
This is a delightfully rustic take on the pinecone spiders from earlier in this list. These would blend beautifully with a farmhouse décor scheme, but they're just as fun for the kids to make.
Alternately, if you're taking the kids out camping, this is a perfect craft to take with you. You can find the pinecones out in the wild, so you'll just need to pack some pipe cleaners, glue, and eyes in your bag.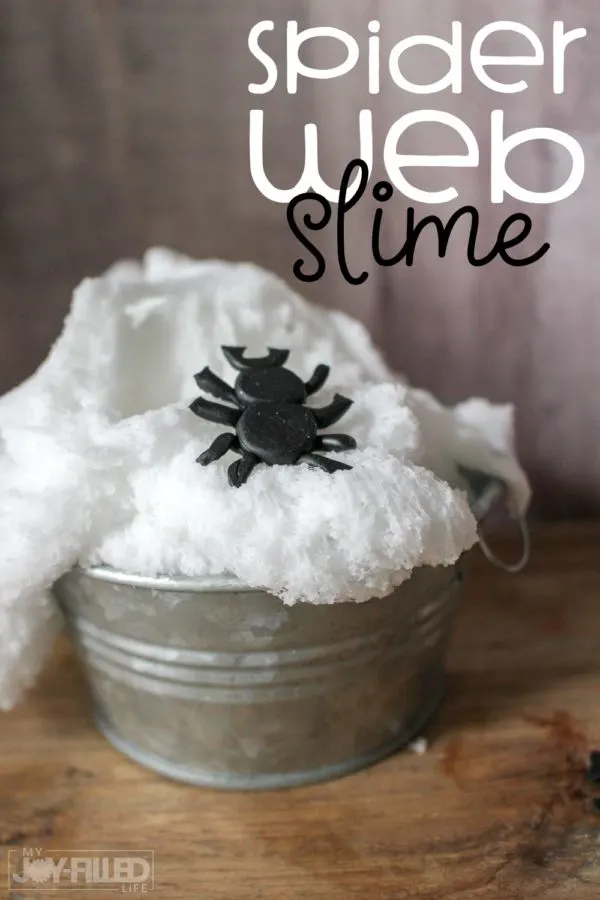 Credit: myjoyfilledlife.com
We're taking a bit of a left turn with this craft, focusing less on the spider itself and more on its home. That is the web. This spider web slime is great for some introductory kids' chemistry!
There are a few key ingredients to get this slime bubbling, toiling, and troubling. Namely, some Elmer's White Glue, some Borax, and a few teaspoons of loose Instant Snow (here).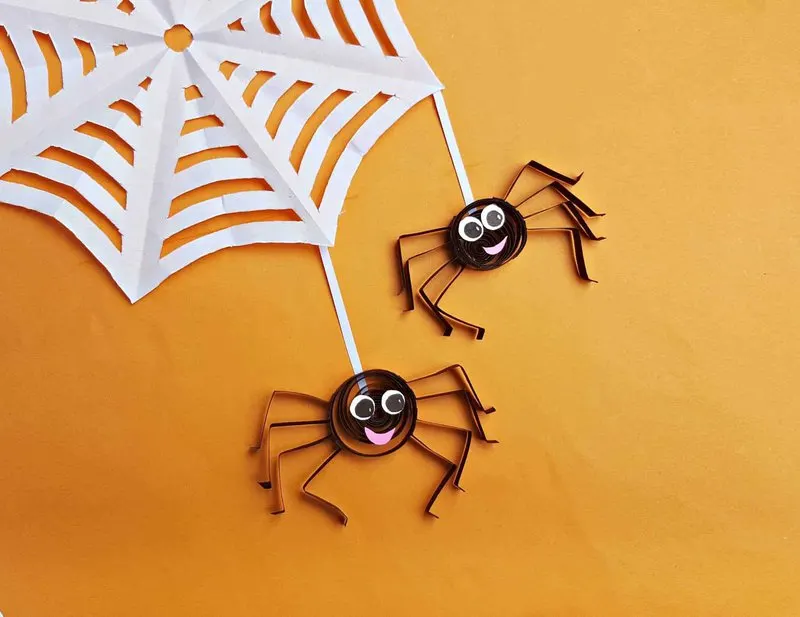 Credit: theinspirationedit.com
Paper quilling is a craft that teaches patience, and patience is essential to instill early on. So, why not try out this adorable spider paper quilling craft to bring it to the fore?
One essential tool for this craft is the slotted quilling tool (check one out here). This makes manipulating the quilling strips much easier, and they're not expensive to buy.
Who knows, you might install a long-term love of paper quilling in your little one with this creepy-crawly craft! Check out these other indoor activities for kids at home for more.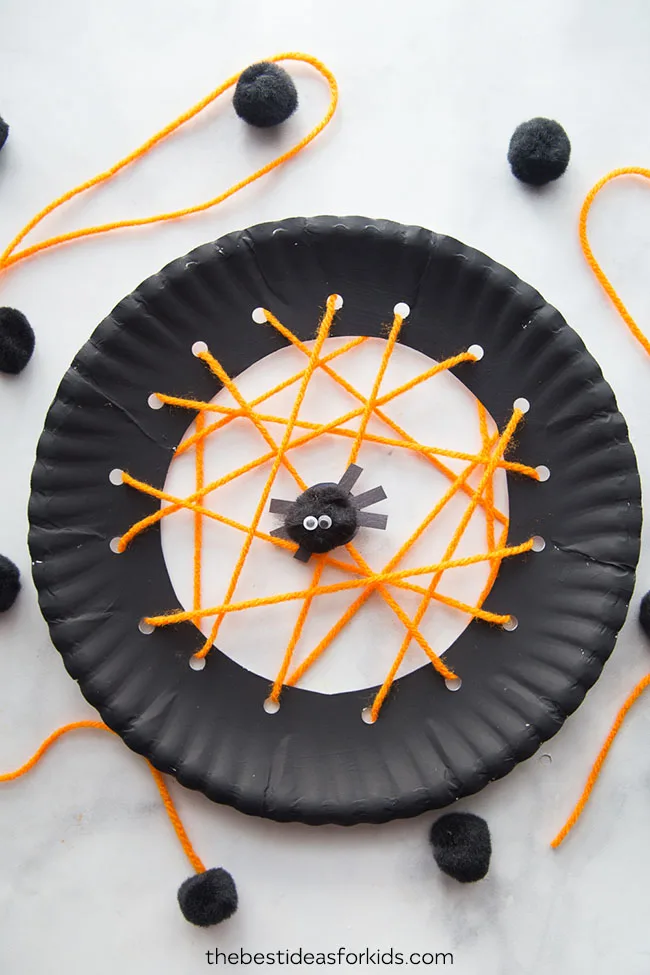 Credit: thebestideasforkids.com
Here's a cute wall hanging that uses up any paper plates you might have lying around, perfect for a craft afternoon with your kids! Besides the plate, you'll need some black paint and paper, and yarn.
You don't have to use orange yarn, as that's usually a color scheme reserved for Halloween. Have your little one choose their favorite color of yarn and use that instead!
Make sure you invest in a single hole puncher. It'll save you a lot of hassle and frustration, that's for sure.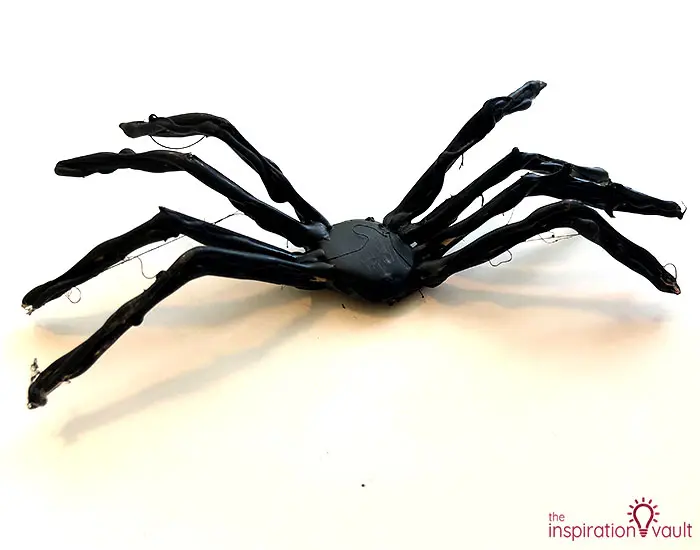 Credit: ellemariehome.com
We all know that hot glue guns are an integral part of the crafting toolkit, but who knew it could be the main ingredient for a craft like this? These creepy glue spiders are perfect for cheap spooky décor.
Since you'll be making these with your kids, having a dual temp glue gun like this is essential. The glue comes out liquid enough to shape spiders but not hot enough to burn their little fingers.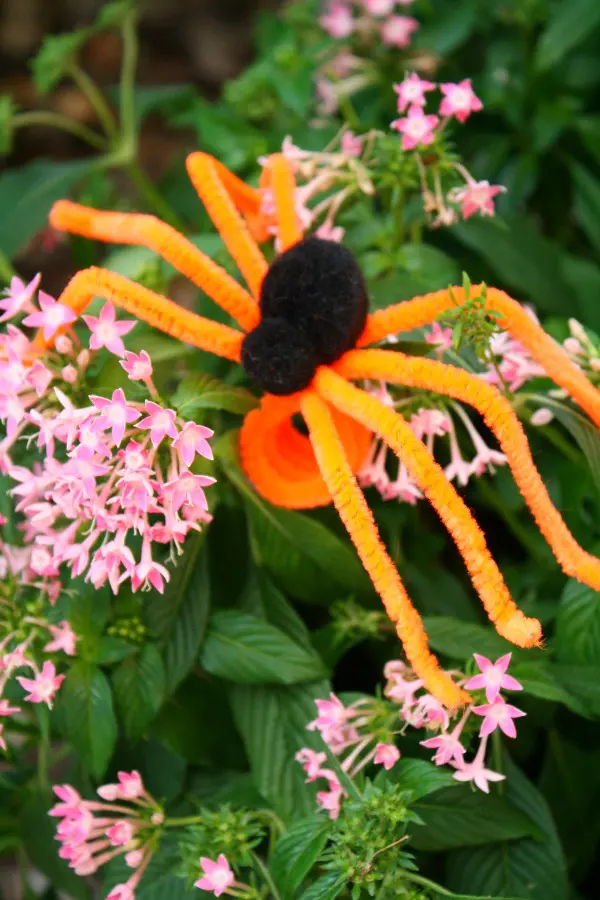 Credit: fantasticfunandlearning.com
If your little one loves arachnids with all their heart, then what better craft than a spider ring? Let them take their favorite member of the animal kingdom with them anywhere!
These spider rings are exceptionally easy to make, needing only a few pieces and no more than ten minutes to assemble. Not to mention, you can make them in any color your child likes!
Now that your little one has a ring, why not make one for yourself too? Check out this DIY wire ring tutorial that's just as easy (and so fashionable).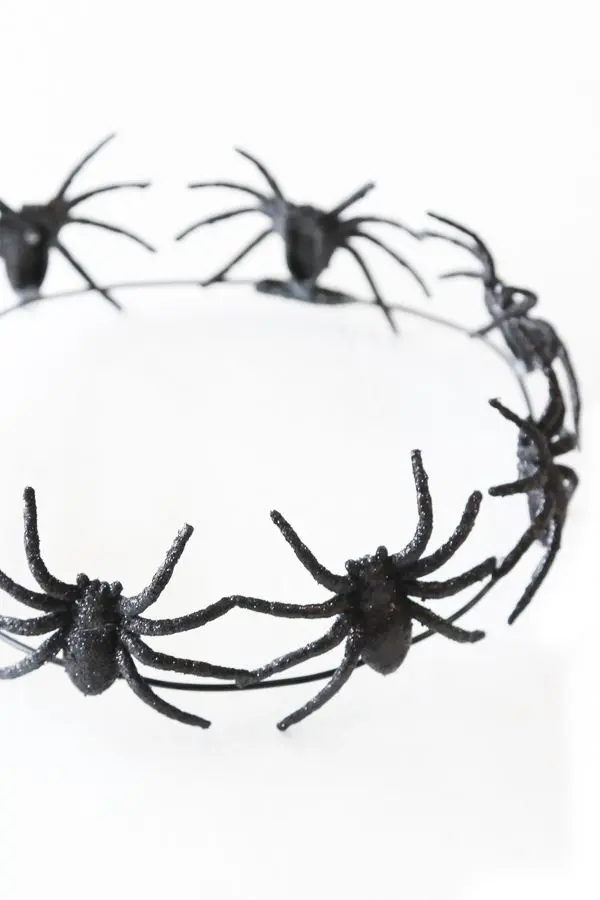 Credit: simplybeingmommy.com
Speaking of wearable arachnid-themed accessories, this spider crown is perfect as a last-minute costume addition. Bring it together with some plastic spiders, some 12-gauge wire, and some glue.
The hardest part of this craft will be getting your child to wear anything else. It's got a healthy helping of spook along with sparkle. So, it's perfect for any child under the sun!
Grab some great plastic spiders for this craft here, or make your own with the hot glue spider hack from earlier in this list.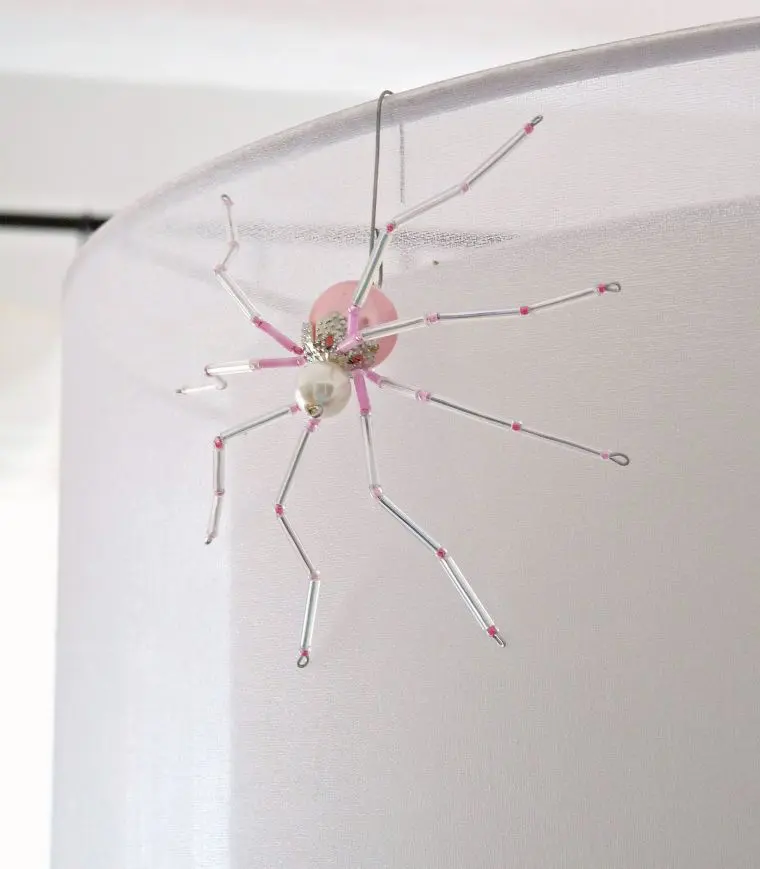 Credit: danslelakehouse.com
Who knew spiders could be so glamorous? I was also skeptical, but then I saw this DIY and knew I had to try it. These gorgeous, beaded spiders are stunning year-round or as Christmas ornaments.
This craft is ideal for working with older kids, as the small pieces can be a bit finicky for young hands. Using seed, bugle, small, large, and cap beads, you too can have one of your own.
Once you have the names down, these glamorous eight-legged ornaments come together quickly and easily. Not to mention, the result is incredible! Grab your starting beading kit here.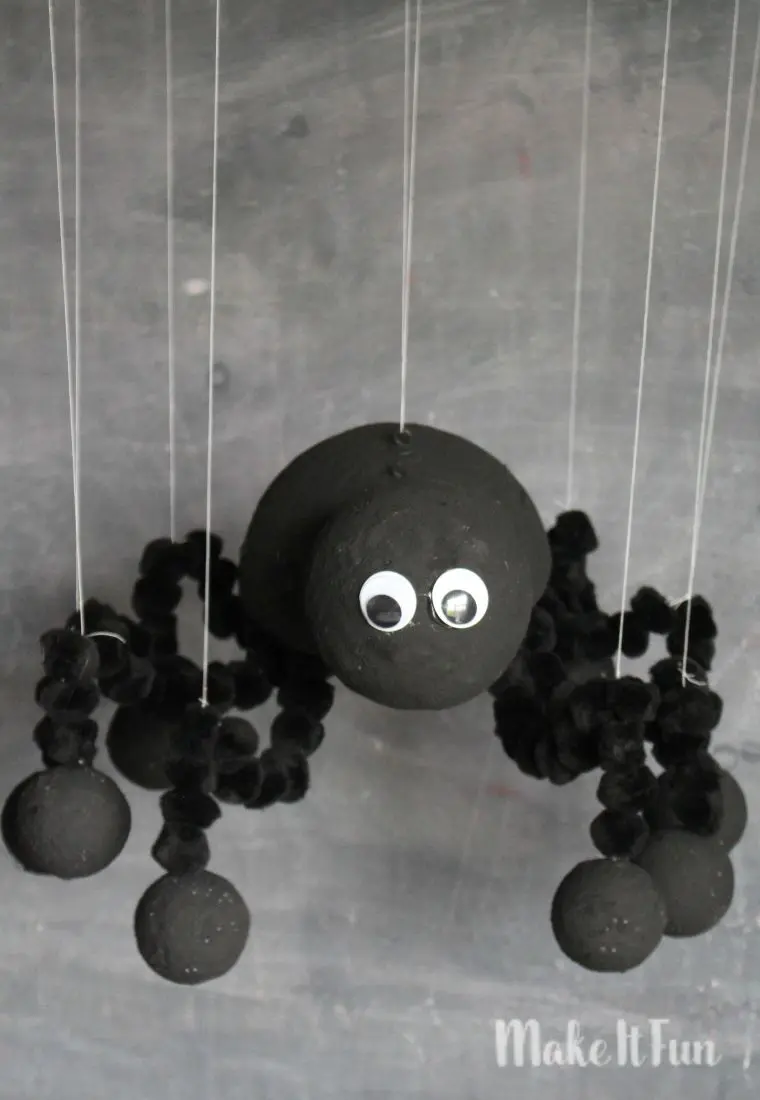 Credit: makeitfuncrafts.com
The last craft on this is an amazing learning tool. Not only does it teach kids about spider anatomy, but it also develops their spatial awareness and creativity. That's a win-win in my book.
These crafty little critters come together thanks to foam balls, black paint, googly eyes, and paint stirrers. It's the work of an afternoon, but the memories that result will last for a lifetime.
One essential ingredient you might not have already is the FloraCraft Smooth Finish. This smooths the foam balls out, removing their trademark texture and making the spider more lifelike.
There you have it! Twenty-seven spider crafts to try your hand at with your little ones, perfect for any time of year (and any skill level). Comment below with your favorites!