Brighten up Valentine's day with these DIY decorations. Fun and easy to make!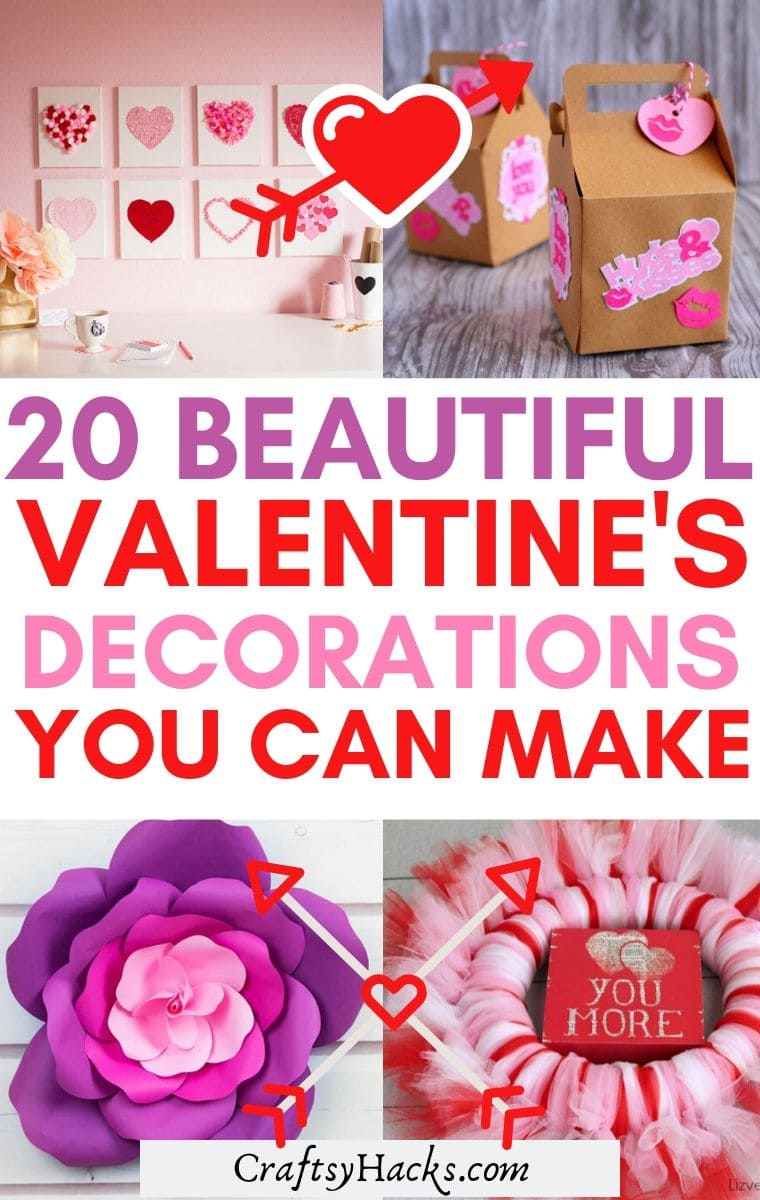 Valentine's Day is around the corner, and there are plenty of ways to celebrate the sweetness of this heart-themed holiday with DIY crafts!
You don't have to spend a lot or be a crafts genius to create some super cute, swoon-worthy DIY decorations to have a happy hearts day!
1. Mini Wreaths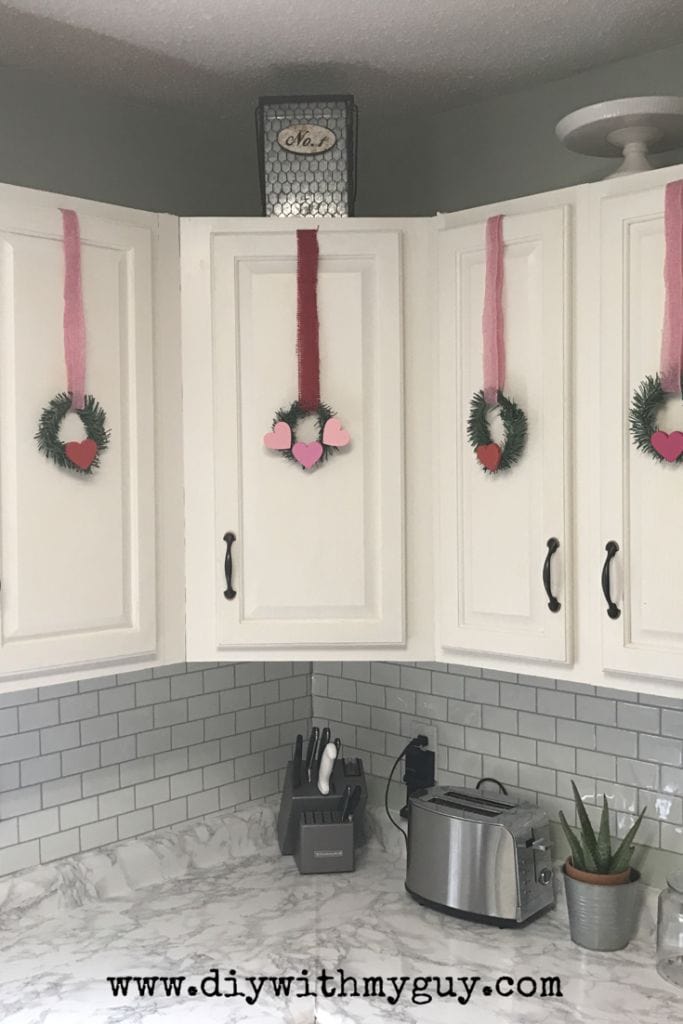 Credit: diywithmyguy.com
Wreaths don't have to be giant to have a big impact! In fact, these miniature wreaths are perfect for decorating windows, cabinet doors, and drawers.
The great thing about these wreaths is that once you create the wreath base, you can change out the decorations for different holidays.
Use hearts for Valentine's Day or shamrocks for St. Patrick's, making this an inexpensive craft that's worth your cash.
Check out more Valentine's wreath ideas here!
2. String Heart Banner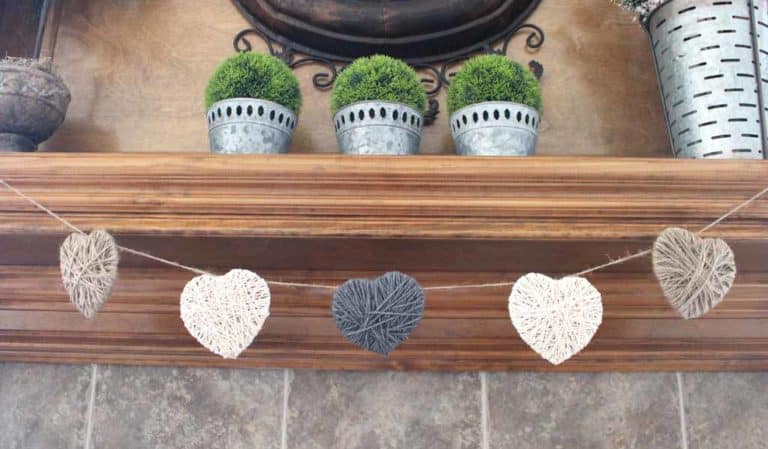 Credit: loveourreallife.com
You may love Valentine's Day, but maybe red and pink are a bit too much for a more natural-colored home.
This string heart banner conveys the message of hearts without a lot of bright red and pink decorations. And it has a shabby chic look to it that's kind of rustic and cute!
Materials are minimal, and you'll mostly use some things you may already have on hand, like an X-ACTO knife and some cardboard.
You may want to pick up some jute, which you can find here, or you can just use cotton string to make this subdued garland.
3. Get Glowing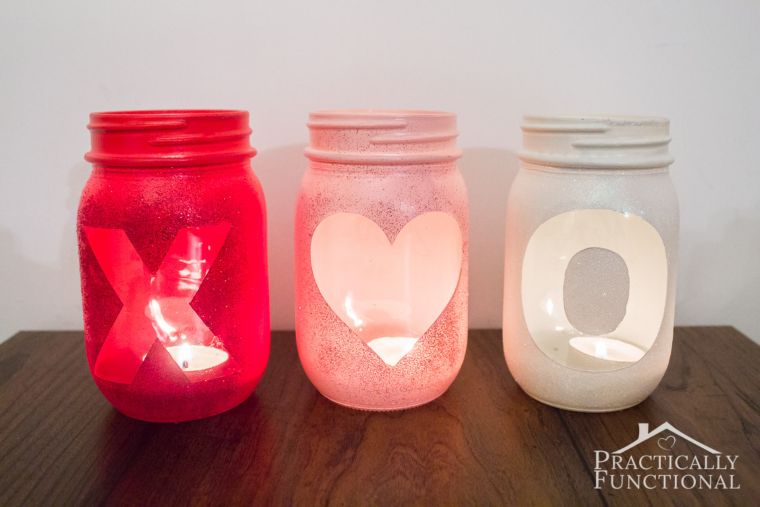 Credit: practicallyfunctional.com
This jar DIY is both decorative and practical. Use this DIY and some Mason jars, like the ones you'll see here, to make beautiful Valentine's Day candles. Check out more mason jar gift ideas here.
You can use these to decorate for a romantic Valentine's dinner, or just to set a sweet mood in your living room throughout February!
You'll need some spray paint and spray adhesive, which you can find here. You probably already have glitter and stickers on hand.
This is a simple DIY that turns out boutique-worthy! They make great gifts for girlfriends, too.
Check out more DIY Valentine's Day crafts here.
4. Cupid's Arrows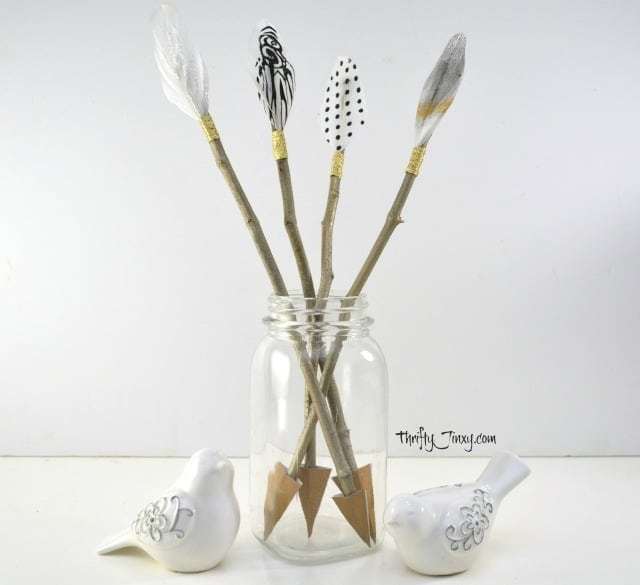 Credit: thriftyjinxy.com
Not exactly a hearts and flowers kind of chick? Go outside the box for your Valentine's decorations this year.
Pay tribute to Cupid with these cute, rustic arrows you can arrange in a glass jar. It's not overly sweet and sentimental, but it's a clever and creative craft that looks super cute in a shabby home.
Just because you're not into pink and red doesn't mean you can't DIY! Things like feathers, a hot glue gun, spray paint, and cardstock, along with some twigs from outside is about all you need.
Simple, cute, and easy!
5. Oversized Roses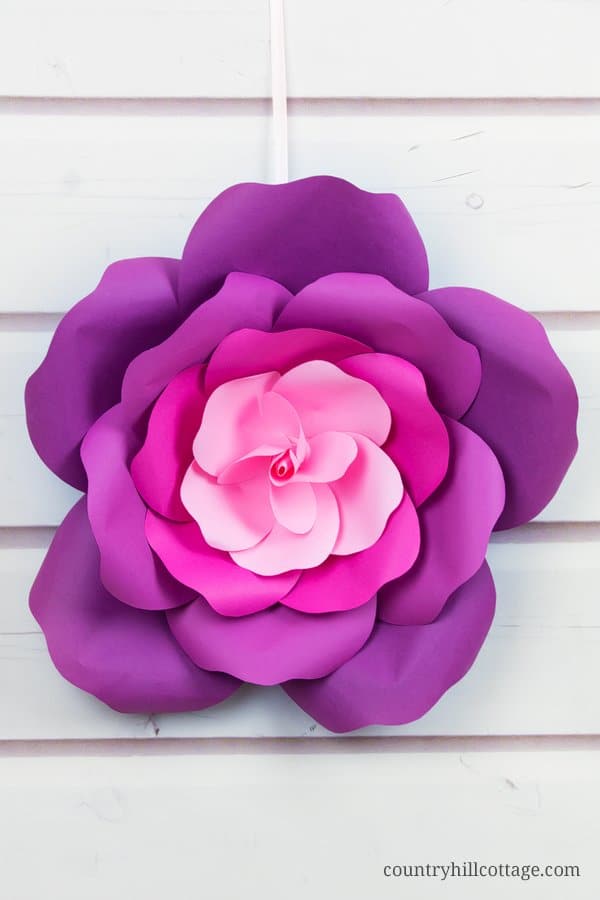 Credit: countryhillcottage.com
These cool roses aren't just for your sweetheart on Valentine's Day. You can use these easy to create crafts to decorate for a wedding or party, make a garland of flowers, or create a stunning centerpiece.
If you're making them for Valentine's, use them in a garland or wreath or arrange them in a vase. The possibilities are limitless.
Grab your hot glue gun and some scrapbook paper and easily make your own gorgeous rose garden!
6. Fluffy Tulle Wreath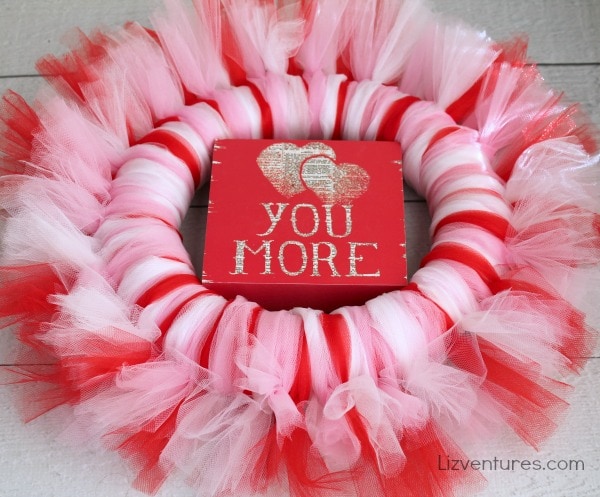 Credit: eatmovemake.com
Tulle is inexpensive and can be used to make a variety of crafts. If you don't have some on hand, grab some pink, red, and white tulle like this kind here.
All you need for this wreath is a Styrofoam wreath form, tulle, and a cute little wooden sign or ornament you can hang in the middle of the wreath.
It's super easy and costs much less than a wreath you'd find at a boutique, but it's just as cute!
7. Kids' Treat Boxes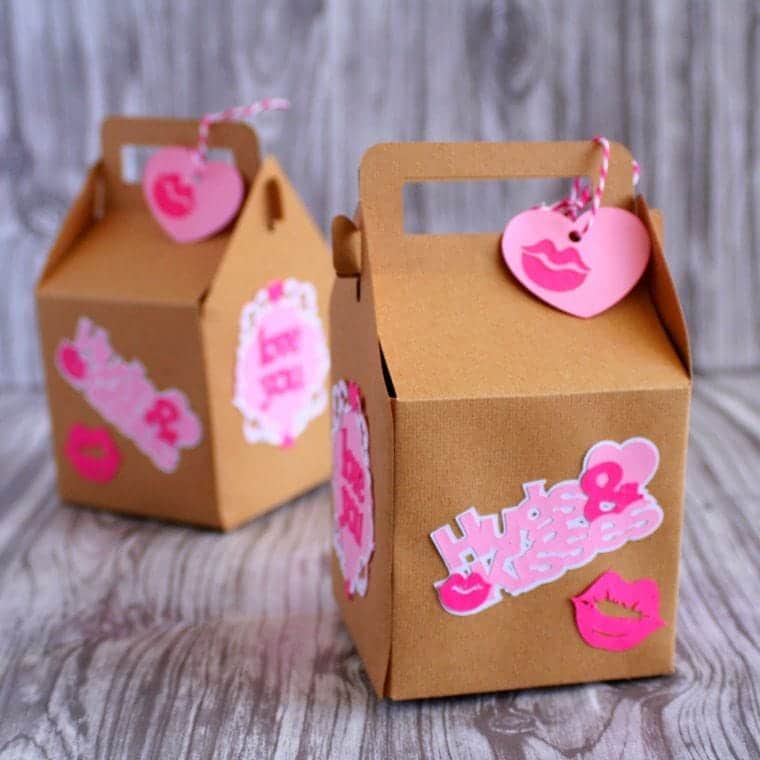 Credit: jordanseasyentertaining.com
You may be intimidated by crafting, but there are so many crafts that are really easy, and this is one of them.
Make adorable treat boxes for your kids to take to school or to fill with treats for them at home. You need card stock of different colors and some twine along with glue
These roomy boxes are big enough to hold candy or small presents, and you can decorate them however you like.
You can follow the template in order to create your boxes.
8. Painted Pink Valentine's Jars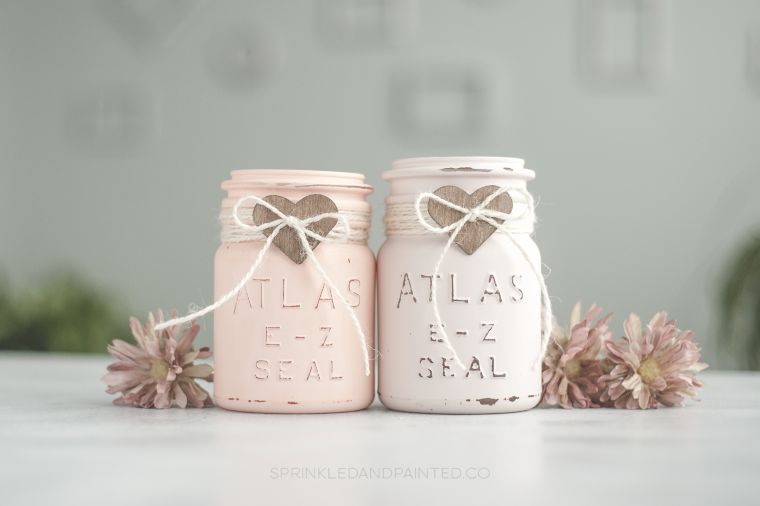 Credit: kastyles.co
Mason jars always make the cutest decorations, and the great thing is you can use them in a variety of ways. They're also inexpensive, too.
Make cute pink jars using latex paint, string, and wooden hearts. You can use them as small vases or table décor.
They'd also make super cute holiday centerpieces. Use different colors of pink and set several jars together for an ombre look.
This would be cute as a decoration for a party or grouped together on a mantel, and they're really easy to make. You can also paint designs directly on the jars if you don't have wooden hearts.
9. Cute, Colorful Gnomes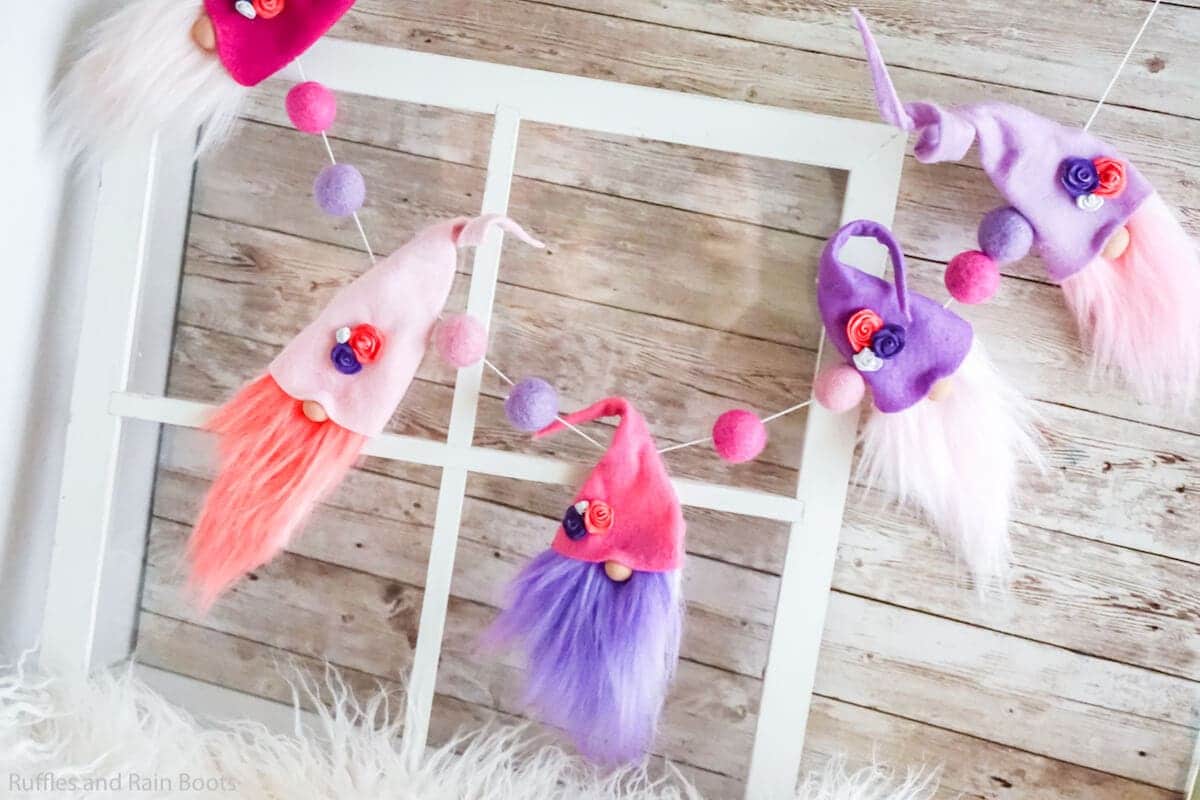 Credit: rufflesandrainboots.com
There's something absolutely adorable about gnomes. These quirky little guys make a great Valentine craft, believe it or not.
Make the cutest Valentine's gnome garland using Valentine-colored supplies. With cute touches like DIY felt balls and colorful faux fur beards, the details of this garland really stand out.
This craft may take you a little longer and require more supplies than other DIYs, but the end result is totally worth it.
You'll find all the templates and instructions you need online.
10. Paper Flowers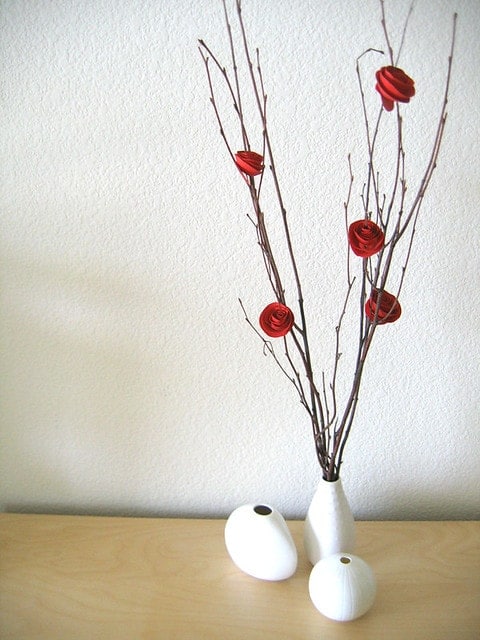 Credit: dozidesign.blogspot.com
This versatile craft is super easy for anyone to make and adds a pop of fun color to any Valentine's Day craft.
You can glue them on twigs, add them to wreaths, or make three-dimensional cards with them. Use any color of paper you like to make these.
You may be surprised how well they turn out and just how easy it is to make them!
Literally, all you need is paper, instructions, scissors, and glue!
11. Sweet Song Lyrics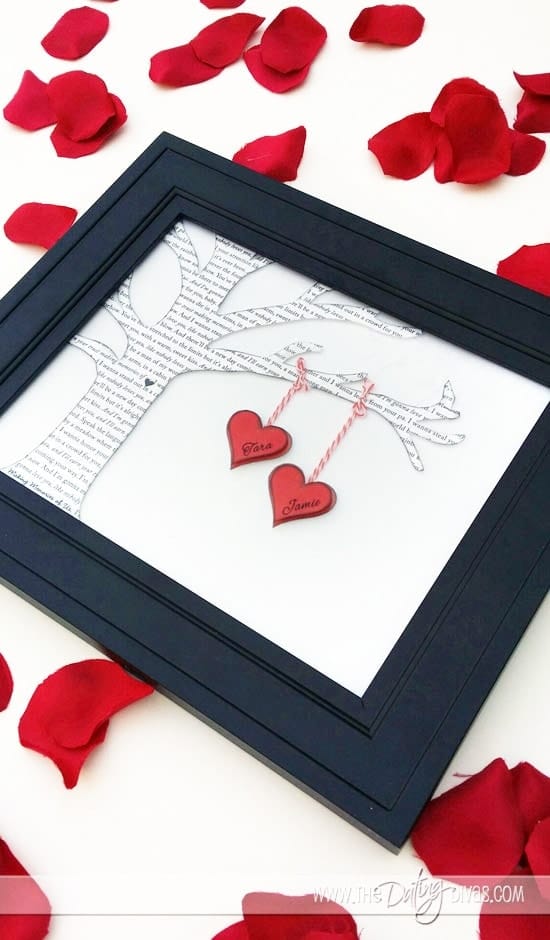 Credit: thedatingdivas.com
Turn a favorite song, wedding song, or just meaningful lyrics into framed artwork for yourself or as a gift.
This is an easy craft that turns out romantic and cute! It's perfect for Valentine's Day.
You'll basically just need a few things. Some cardstock, an 8×10 frame, like the one you'll see here, a black pen, and some ribbon or twine.
You'll essentially turn the song lyrics into a PDF and use a template to create a tree shape. Hanging from the "tree" will be the couple's names in hearts.
This craft looks like it costs way more than it does, and you'll make someone very happy for an anniversary or just your other half for Valentine's Day.
12. Map Roses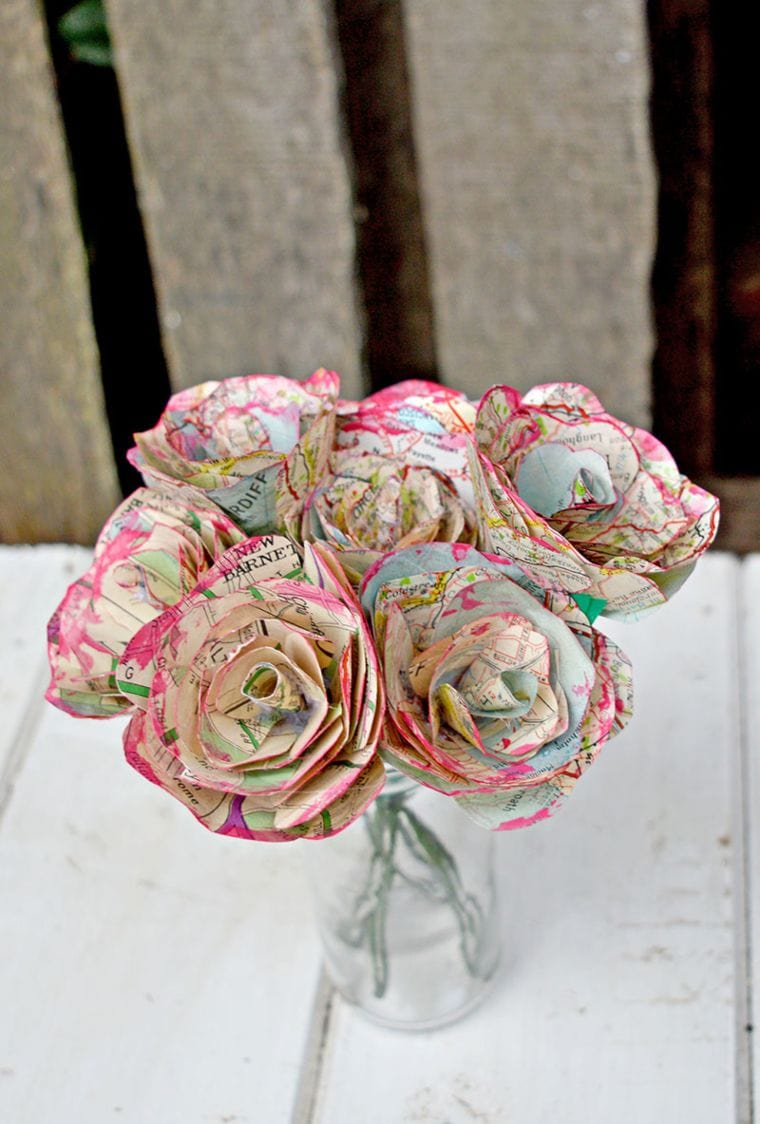 Credit: pillarboxblue.com
Roses are so pretty and make a sweet Valentine's Day gift, but eventually, they die! Why not make really cool paper roses that last forever?
These roses aren't like other flowers; they're made from upcycled maps! This gives them an even more unique look.
All you need to make these roses is a map and some florist's wire, along with scissors, a glue gun, and some red watercolor paint if you want to accent the flowers.
These make a cute and quirky-looking display, and you can keep it up year-round, not just for Valentine's Day.
13. Gleaming Gold Love Sign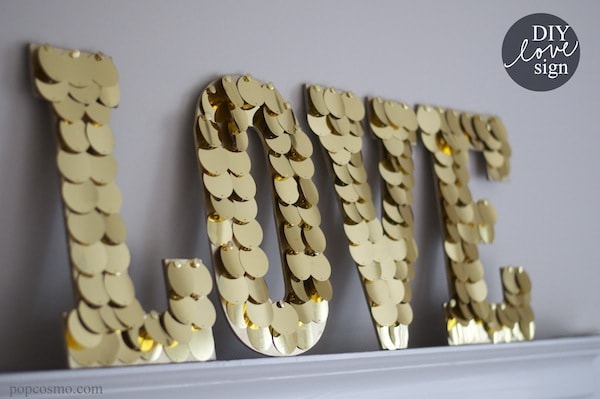 Credit: popcosmo.com
These oversized letters spell out the word "love" and are decorated with huge gold sequins. You can pick some of these up in a boutique and pay way too much, or you can make your own for much less!
These are really pretty propped up on your mantel, and with the gold color, you can enjoy them all year!
This is a chic way to celebrate the holiday if you're not into the paper-style red and white decorations and would enjoy a more stylish, sophisticated approach to decorating!
What you'll need for this decoration includes wooden letters, gold disc sequins, like the 40mm discs you'll find here, some tacks, and Krylon paint.
You'll love the shine of these letters!
14. Heart Tree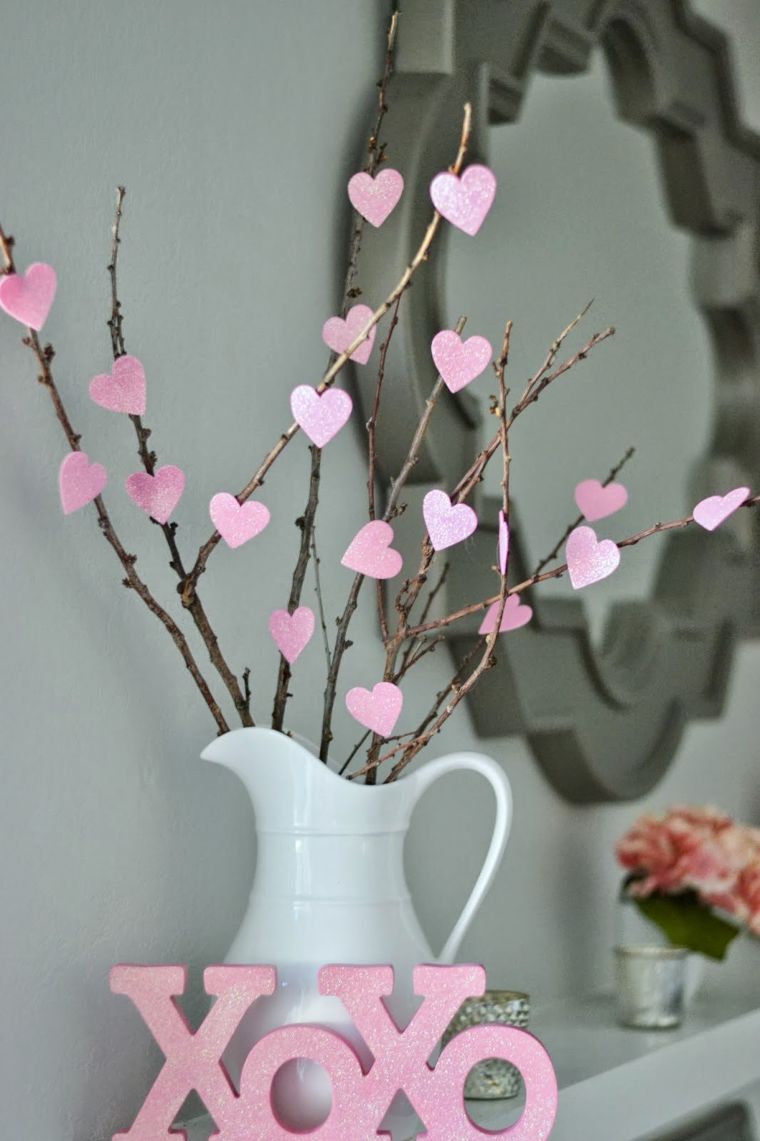 Credit: moneyhipmamas.com
This is probably the simplest, cheapest Valentine's Day craft you'll come across. All you need to do to make the cutest heart tree ever is to use a hot glue gun, some hearts, and branches.
You can go outside and gather some slim branches yourself for this craft. Creating the hearts is simple using a heart punch, or you can buy hearts made of paper, foam, or felt.
Simply glue the hearts to the branches and group them together in a vase to make the most decorative arrangement that costs absolutely less than any other decoration.
Change it up: instead of adding heart branches to a vase, slip them into a cute pitcher! This would look pretty on and end table.
15. Glowing Fabric Garland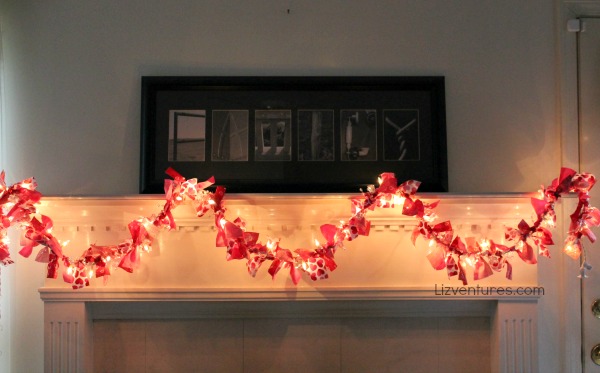 Credit: eatmovemake.com
Gather up some scrap fabric or head to the store for a variety of Valentine's Day fabric pieces.
Got leftover clear Christmas lights? That's all you need for this craft, which will likely be very inexpensive.
Follow the tutorial to cut and tie the fabric pieces onto the string of lights. Then, hang it on your mantel.
Plug the lights in and enjoy a beautiful, glowing garland that's simply breathtaking and takes less than an hour to create.
16. Canvas Heart Art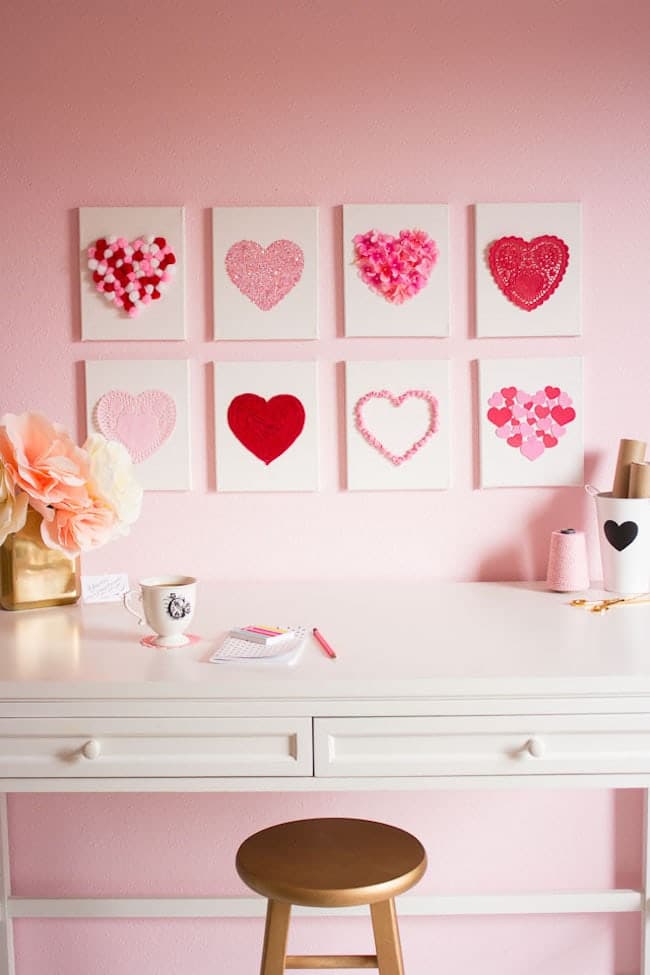 Credit: designimprovised.com
The fun part of this project is trying to use what you have on hand to create something really awesome and cheap.
You may have to buy the canvases, but those are generally affordable. You're looking for canvases that are 8×10 in size for the best results.
Create a heart template you can use for all of the canvases so your hearts will be the same size. You can use as many canvases as you like.
Trace the heart onto each canvas, then use a hot glue gun to add a variety of materials to make the hearts.
This can range from fuzzy pom-poms to tissue paper to glitter. Use your imagination!
Hang them together for a gorgeous, fun Valentine's display.
17. Cricut Heart Garland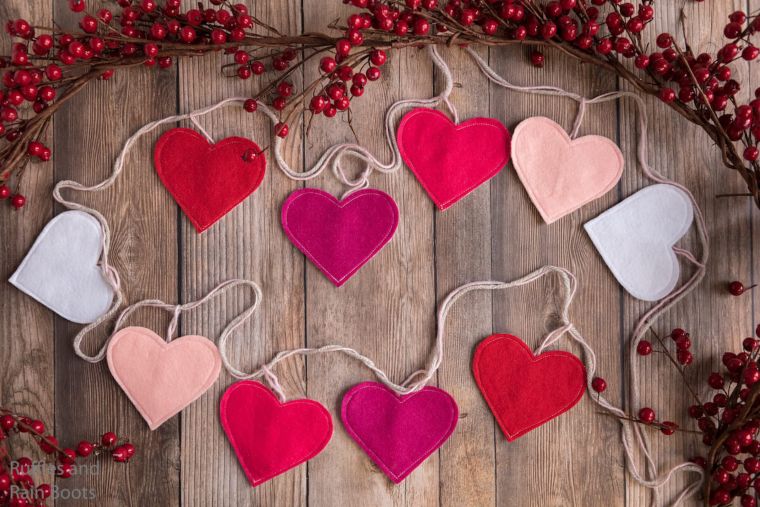 Credit: rufflesandrainboots.com
If you already have a Cricut, this is a simple craft. If you don't, now's the time to buy one, like this one here!
When you love to craft, you'll use it frequently, and you'll see in this DIY why using a Cricut is so simple.
You'll simply use the template to create a heart that you can use to make a garland with. You can use felt in any colors. This one is ombre, but you're definitely not limited.
You'll also need yarn, polyfill, thread, and some other basic essentials. You'll love how this heart garland looks just about anywhere in your home or classroom!
18. Valentine's Day Outfit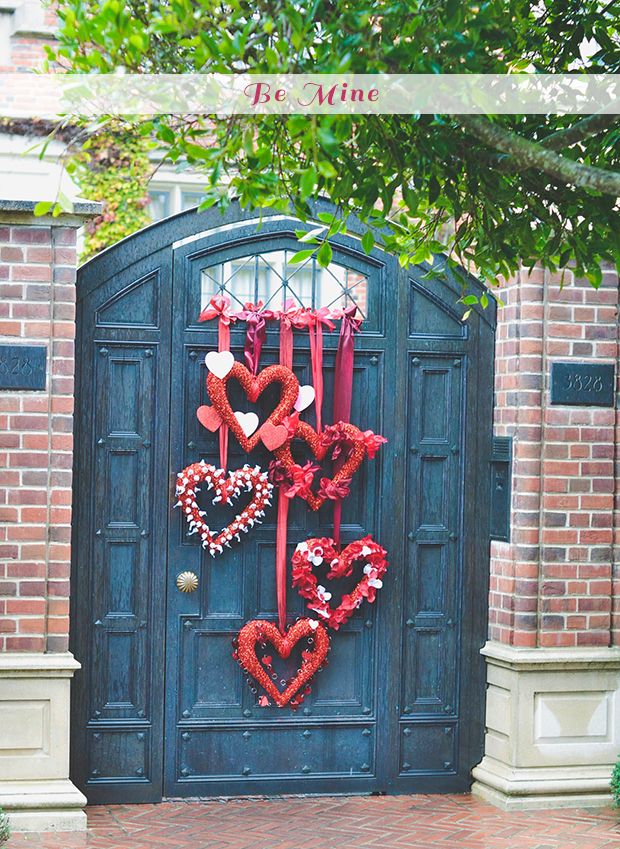 Credit: advicefromatwentysomething.com
Not exactly a home decoration but still relevant to the holiday, you may not know what you should wear on February 14, especially if you have a romantic date!
It may be tempting to go all out with hearts and pink, but the best bet is to pay homage to the holiday without going overboard.
Opt for something pretty and subtle, like a blush-colored top paired with jeans and boots.
19. Glittering Mason Jar Votives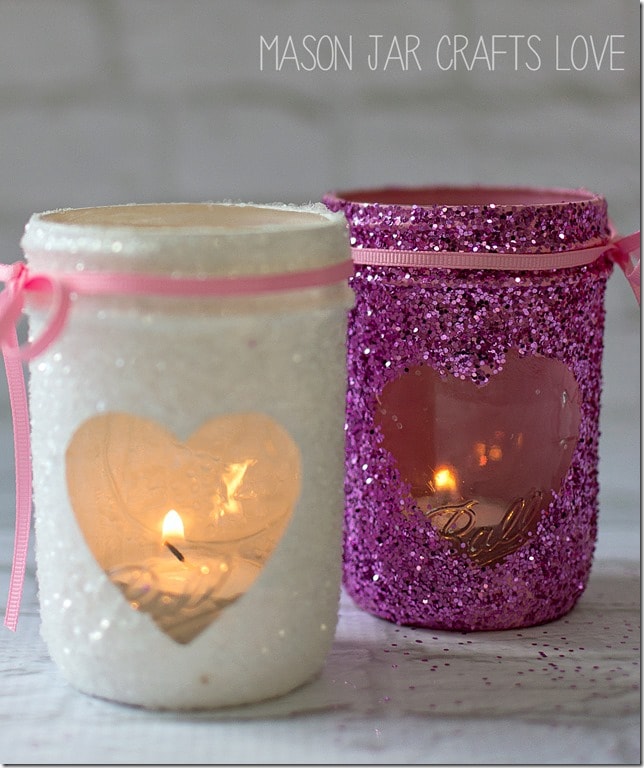 Credit: masonjarcraftslove.com
Once again, Mason jars work great for crafting! You should probably keep some of these handy jars around if you DIY a lot because there are so many things you can do with them!
This craft is simple and uses Mod Podge, glitter, paint, and foam heart stickers to create sparkly Valentine's Day jars you can use as stunning candle holders!
Make a few that are different colors and create such a lovely display!
These are also fun gifts if you aren't sure what to get someone for heart's day.
20. Heart Pillow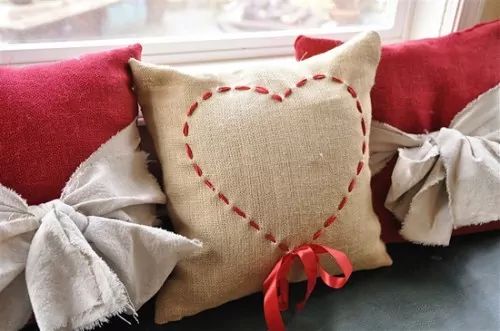 Credit: yourhomebasedmom.com
Do something different this year for Valentine's Day and decorate with this adorable DIY toss pillow.
This is much easier if you already have a blank pillow to use or you can use the other side of a different pillow! You'll just need a needle and thread, a heart template, and some satin ribbon to finish it off.
This looks so pretty on your couch or chair and is the perfect way to celebrate the holiday without going overboard on lots of bright decorations.
It has kind of a shabby chic style you'll love! Like many of these decorations, you can also use it year-round since it's not a decoration that's too obviously Valentine's Day…everyone loves hearts!
Conclusion
Are you going to try making any of these Valentine's decorations? Give them a try and have fun doing it!