Valentine's is just around the corner! Why not decorate your home with these beautiful DIY wreaths?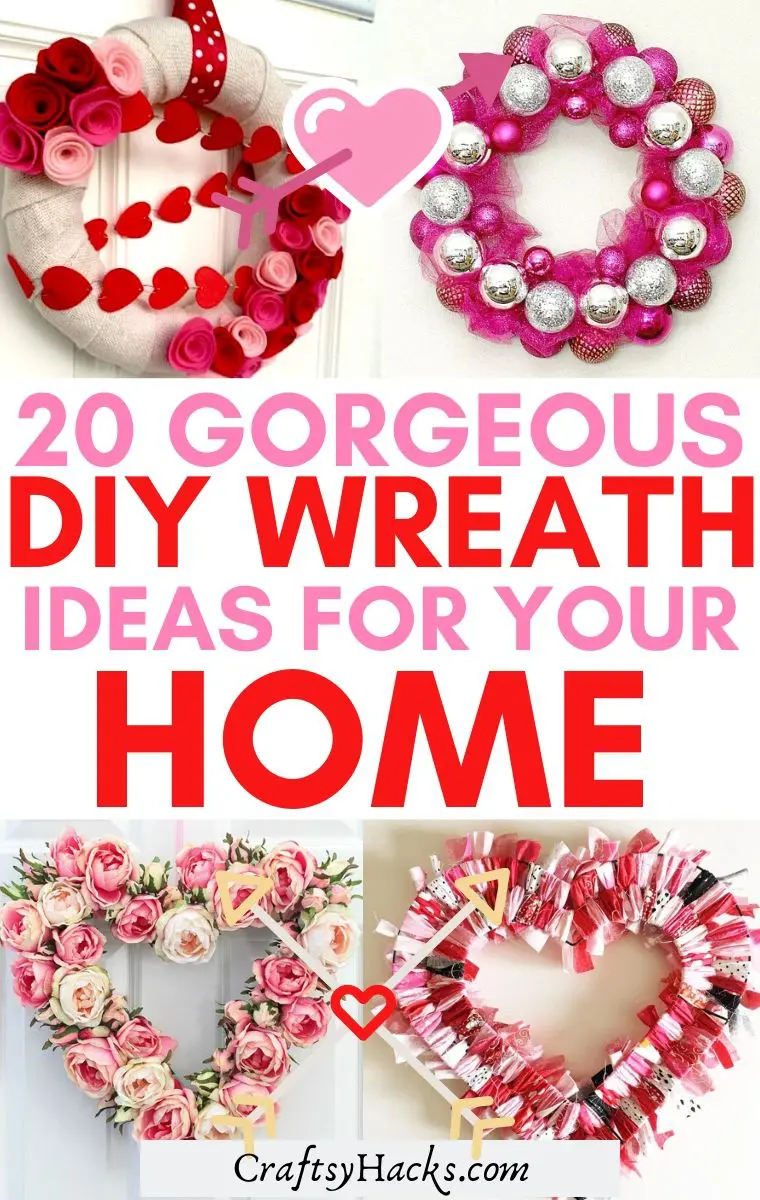 You don't need much money to decorate for any given holiday, especially when it comes to wreaths. You may see high-dollar wreaths in craft stores that retail for $80 to $100, which can be discouraging.
However, you can make your own wreath for less than half the cost of those, and you may be surprised by the stellar results.
These DIY wreath ideas vary from super simple to a bit more time-consuming, but they're an easy way to dress up your door or hang up in your house to celebrate Valentine's Day. They also make great gifts!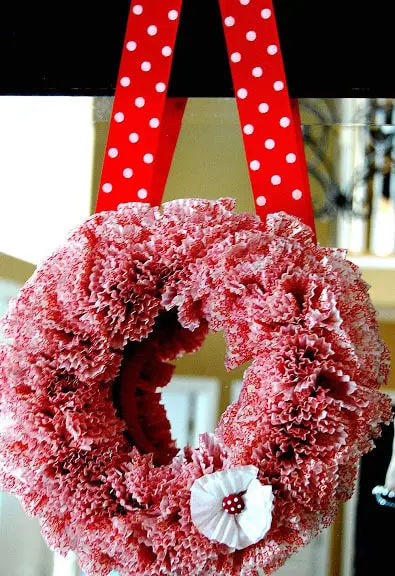 Credit: tatertotsandjello.com
This is definitely an idea you may not have thought of on your own, and it won't break the bank. At first glance, you may have no idea what's used to create this fluffy, fun wreath.
Upon closer inspection, you'll see that it's bunches of cupcake liners! This whimsical wreath only requires a few supplies to create; some Valentine's Day cupcake liners (or solid-colored ones) along with a wreath form, matching ribbon, and a hot glue gun.
Here is a hot glue gun you should get.
You'll glue cupcake liners all over the wreath, then use a different, contrasting color cupcake liner as an accent.
A cute wide ribbon makes an adorable hanger.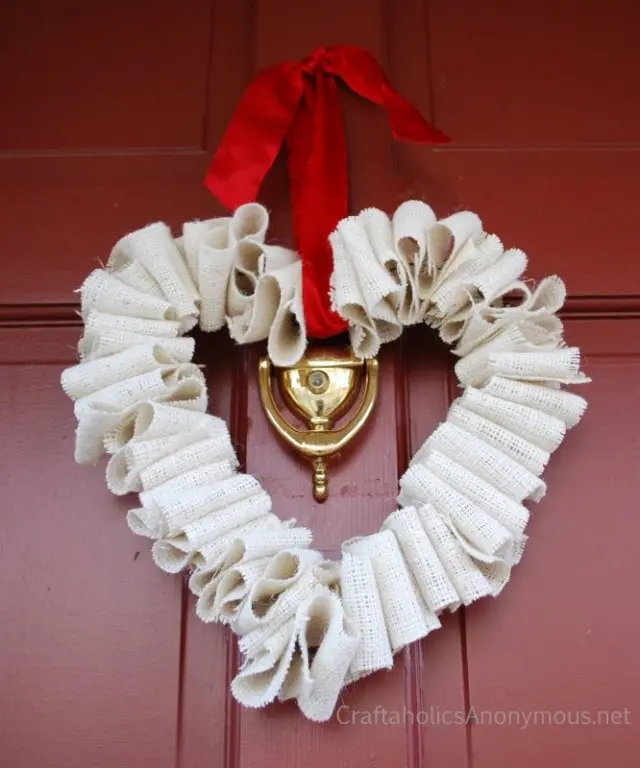 Credit: craftaholicsanonymous.net
This is a very simple, easy craft with a shabby chic vibe you're sure to love. It's also not red or pink, so you could easily use it as a year-round decoration.
To make this sweet burlap heart, you'll need wire, wire cutters, burlap, and scissors. You can stock up on burlap easily here.
You'll twist the wire into a heart shape and thread the burlap onto the wire. This produces a fluffy effect.
You can then hang it with any color of ribbon you like. Pink or red for Valentine's Day, or another color for any other time of the year.
Check out these Christmas decorations to get more ideas on how to make your very own wreath.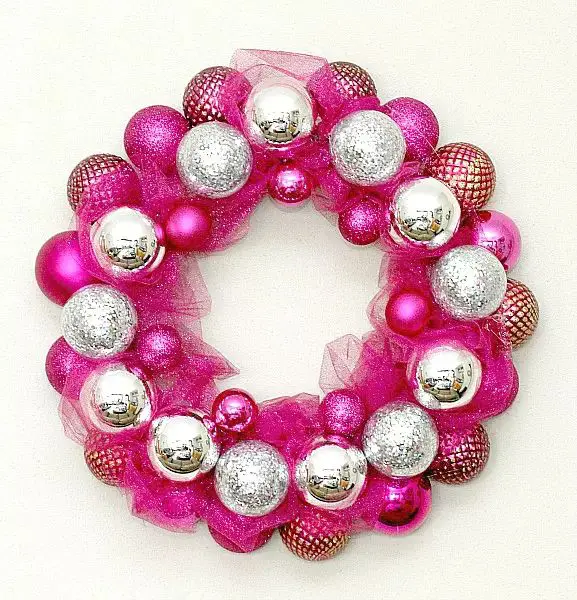 Credit: momdot.com
A combination of Valentine's Day-colored Christmas ornaments (check the after-holiday sales!) brightly colored tulle and a wreath form make this Valentine's wreath a surefire hit!
It's easy to make, super cute, and a fun way to greet friends and family when they come over during the months of January and February.
A hot glue gun is your secret weapon with this wreath, and you'll use it to attach bulb ornaments and layers of tulle. For best results, you can use a pattern when picking out ornaments, such as a layer of red, a layer of pink, then silver, etc.
But it really doesn't matter how you add them. Choose a tulle that matches the ornaments, and hang it with a pretty ribbon. This is such a shiny, glamourous wreath it looks just like one of those that cost $100!
You can stock up on tulle that comes in multiple colors here.
Credit: polkadotchair.com
There's just something absolutely adorable about this scrappy heart-shaped wreath. Not only that, but it's the perfect way to use all of your fabric scraps!
All you need is a heart-shaped wire wreath form like this along with plenty of red, pink, and white scraps and some time! You'll tie the scraps along the heart-shaped wreath form to create a fluffy fabric wreath.
Just add as many fabric scraps as you like. Use double knots and alternate them back and forth between the different rungs.
If you're loving the wreaths, I recommend checking out these DIY Christmas wreaths!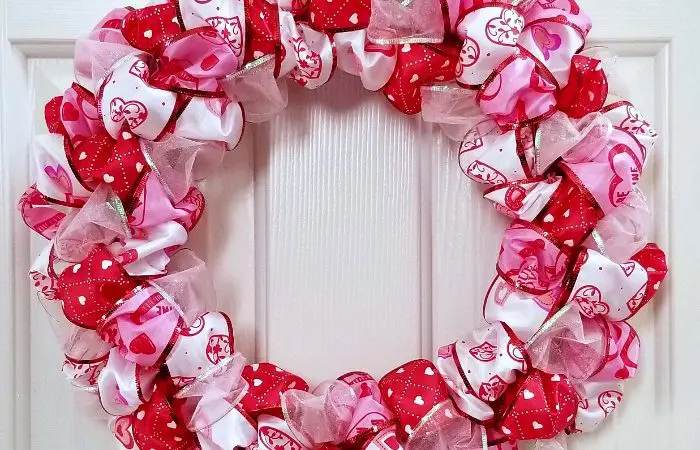 Credit: mypinterventures.com
Satiny and shiny, this luxe-looking wreath fits the bill when you want eye-catching Valentine's Day decor.
You'll use wide rolls of wired holiday ribbon like this, a round wreath form, pins, and paint. Using the tutorial, you'll follow the simple DIY to create rolls of ribbon and affix them to the wreath form.
The combination of different ribbons looks so pretty! Use ribbons that complement each other for the best results.
Credit: aspenjay.com
This is probably one of the cheapest crafts you can make, and the end result is absolutely precious!
You'll need a heart-shaped cardboard cutout and plenty of tissue paper. Use this tissue paper gift wrap to make flowers, and glue them to the cardboard heart.
It's really that simple. The dollar store usually has super cute tissue paper. You can make flowers of any size, but larger ones usually work better.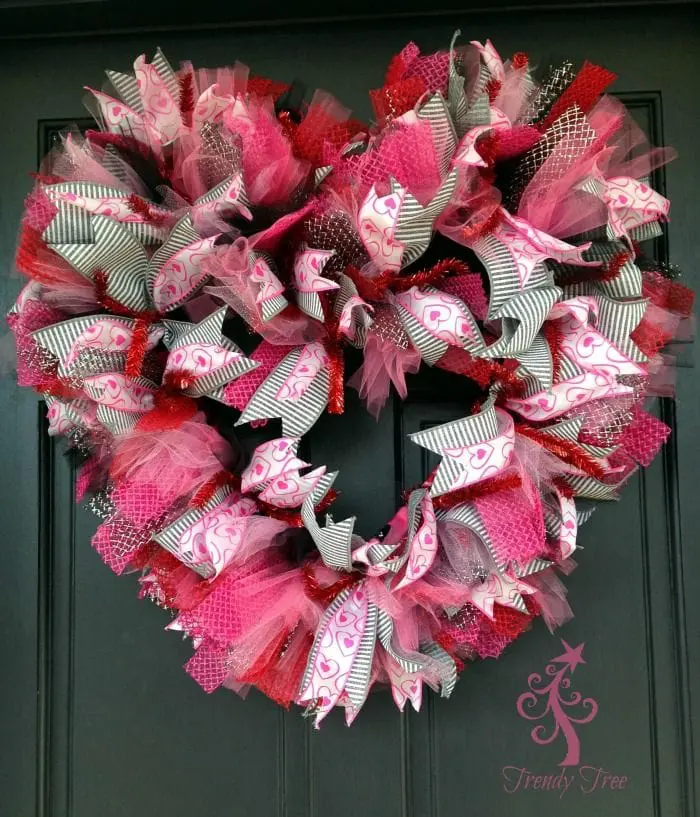 Credit: trendytree.com
When you read the list of items you'll need for this wreath, you'll likely feel like it's a lot. But when you see them come together, you'll see how special and sweet this wreath looks!
A wire form will be the base. Once you add the supplies, this wreath will also be a bit bigger than you likely expected, so make sure and account for that when you figure out where you'll hang it.
You can also add accents if you like, such as wooden hearts like these or letters. Hang it with a ribbon for a pretty touch.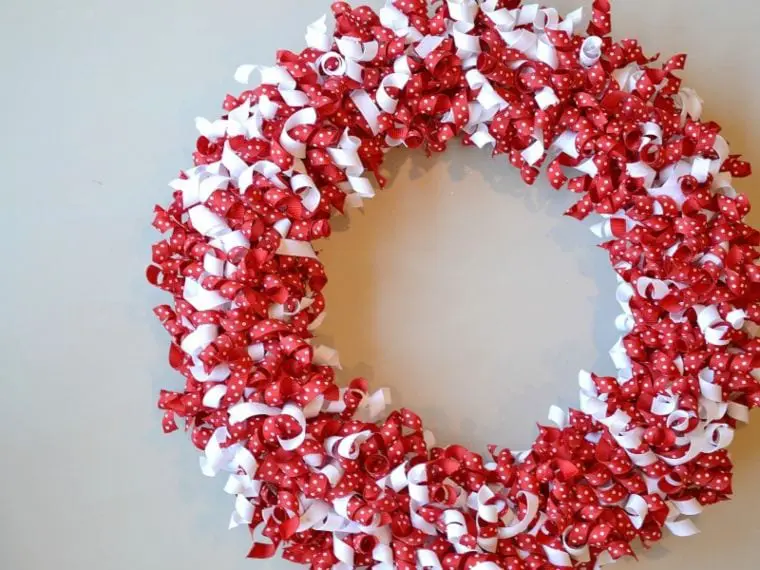 Credit: nikkiinstitches.com
Grosgrain ribbon is the star of this curly cute wreath. With minimal supplies, you can create a really adorable Valentine's Day wreath.
To make this wreath, you'll need a foam wreath form, some fabric to cover the foam, pins, and lots of grosgrain ribbon, which you can get here.
You'll also need time. And scissors, because you're going to go old-school curling the ribbon-like we did when we made ribbon barrettes as kids!
The finished product couldn't be cuter! Patterned ribbon turns out great, but you could use solid-colored too.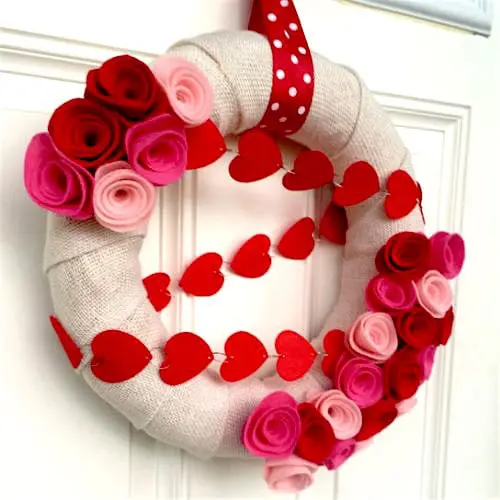 Credit: howtomakeaburlapwreath.com
Looking for a more understated way to make a wreath this season? Burlap is the answer!
With only a few supplies and a quick tutorial, this wreath comes to life with sweet felt roses, a heart garland, and a patterned ribbon to hang it from.
A simple, sweet romance in a beautiful rosette wreath. Burlap is so cute and homey-looking.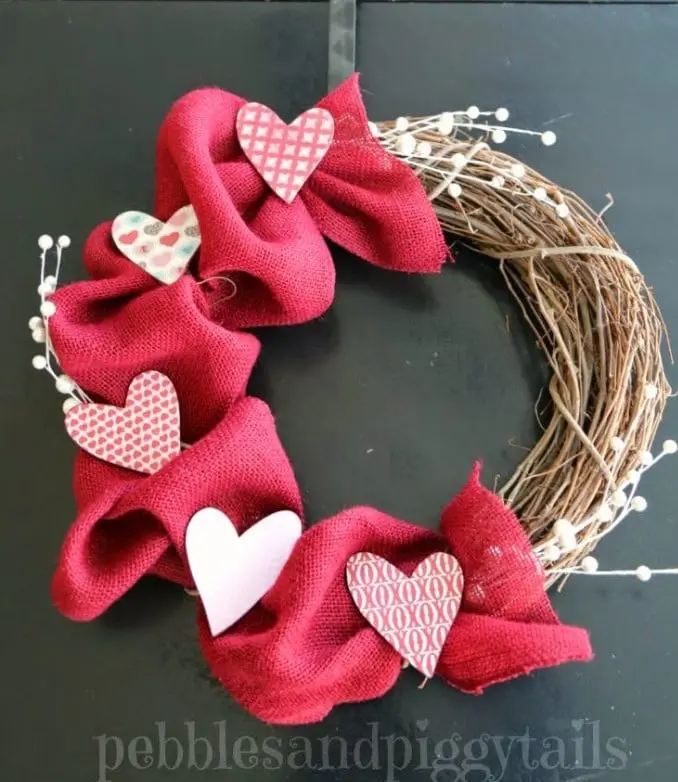 Credit: makinglifeblissful.com
There's something about grapevine that just gives off a really cute rustic vibe. When you add burlap, it's even shabbier.
Try this simple DIY that combines colorful burlap, wooden hearts, and floral picks to make a simple Valentine's Day statement.
This wreath is easily customizable since you can use any type of wooden decorations or foam heart picks like these to design the wreath you desire.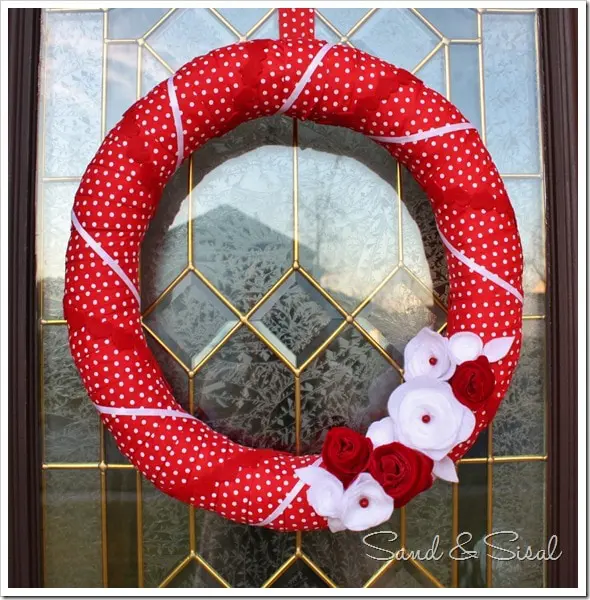 Credit: sandandsisal.com
Polka dots and felt flowers make this wreath stand out. A straw wreath is a base for this design.
You'll use a cute ribbon to wrap around the wreath and pin it in place, then different colors of felt that match the ribbon to create the felt flowers.
You can make flowers of different sizes or the same size. Also, once you learn how to make felt flowers, you'll find this DIY can come in handy for a multitude of projects!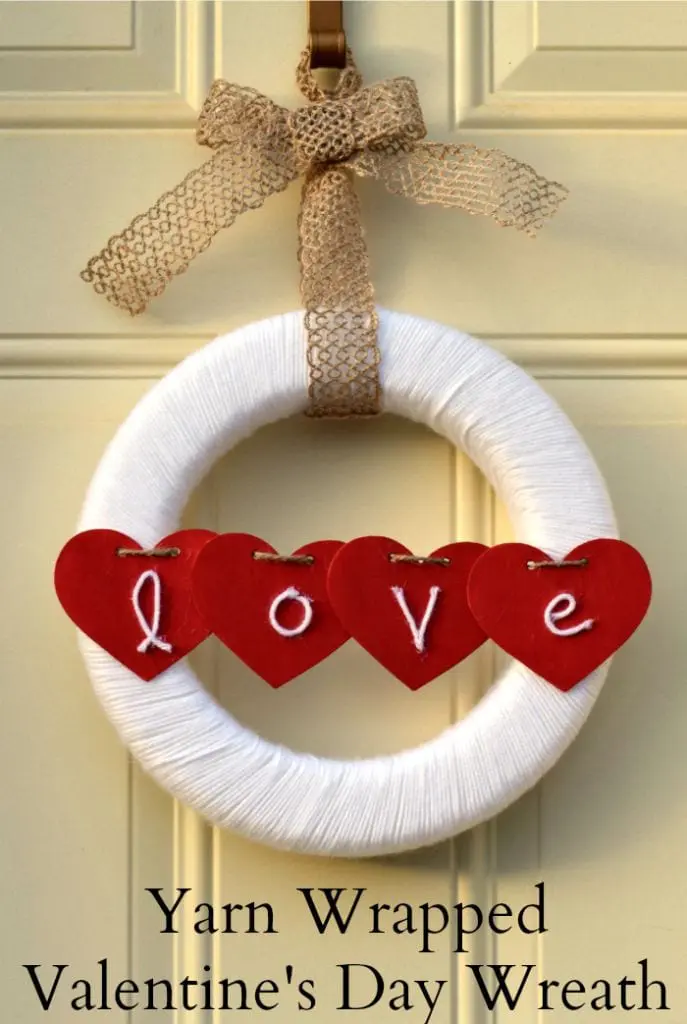 Credit: ithappensinablink.com
If you crochet or knit, chances are you have a lot of yarn; you may not know what to do with. This is a great way to use it up.
This simple wreath only requires a few supplies, and you'll wrap the wreath form with yarn, then use small wooden hearts to create the garland that goes across the center.
Cute but not overwhelming, this wreath is just the right amount of Valentine's cheer.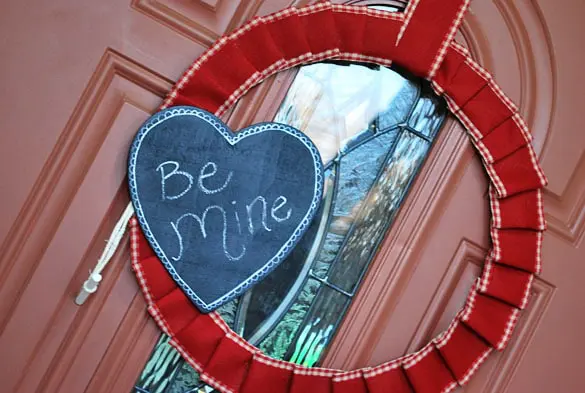 Credit: clumsycrafter.com
This wreath is known for being very simple for those of us who may feel slightly intimidated by crafting or by more difficult craft projects in general.
All you need is a flat wreath form, wired ribbon, some paint, and a paint pen along with a glue gun.
Pleated ribbon and a chalkboard heart create a cute, crafty wreath that doesn't take much time or effort.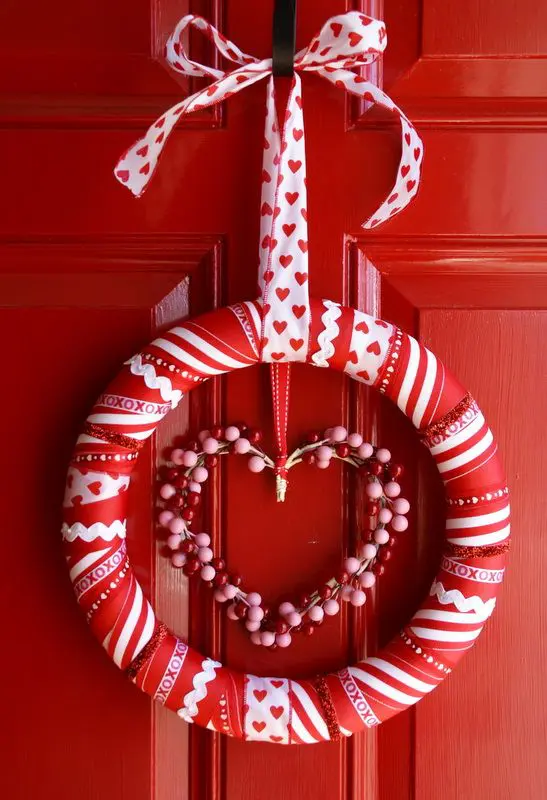 Credit: thespeckleddog.blogspot.com
This multicolored ribbon wreath has something extra: a cute dangling heart in the center.
It may look complicated, but it's really not. All you need to make it is a wreath form, some ribbon, and rick rack.
Straight pins and scissors will help you assemble the wreath. You can just purchase an already-made decoration to hang in the center to add some extra flair, but you don't have to.
It does look cute, though!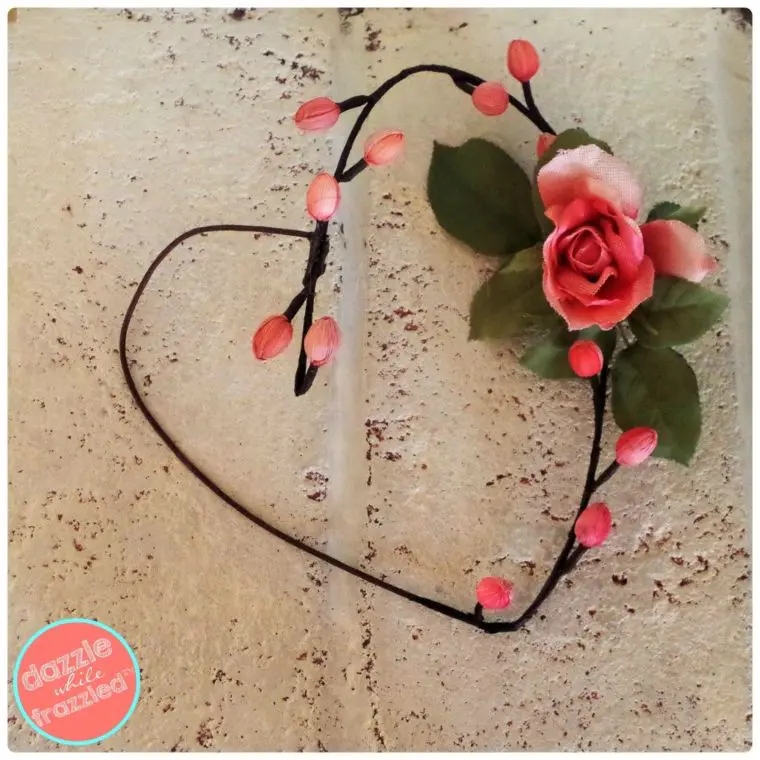 Credit: dazzlewhilefrazzled.com
Simple and romantic, turn a flower stem into a heart shape with this easy, basic DIY that's elegant and adorable.
All you need is a long-stemmed artificial rose and some floral wire to secure it with.
It makes a great cheap gift, wall hanging, or you can even frame it for a cute piece of inexpensive wall art.
Hang it with a ribbon for added texture, such as a red velvet ribbon to match the rose.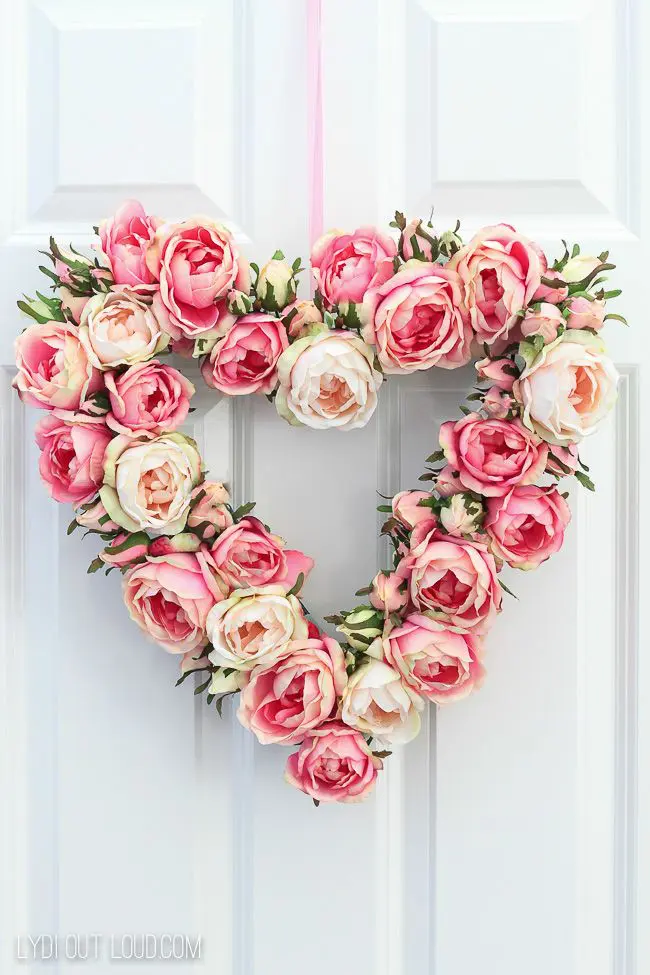 Credit: lydioutloud.com
Use artificial flowers that will last forever for this gorgeous, bud-filled wreath.
It's very simple to make, too. All you need to make it is fake flowers, a heart wreath form, some wire cutters, and floral foam like this.
This is a basic level craft, so you don't have to be an experienced crafter to make this, but it looks so professional when you're done!
Everyone loves getting flowers, especially when they last for the whole year!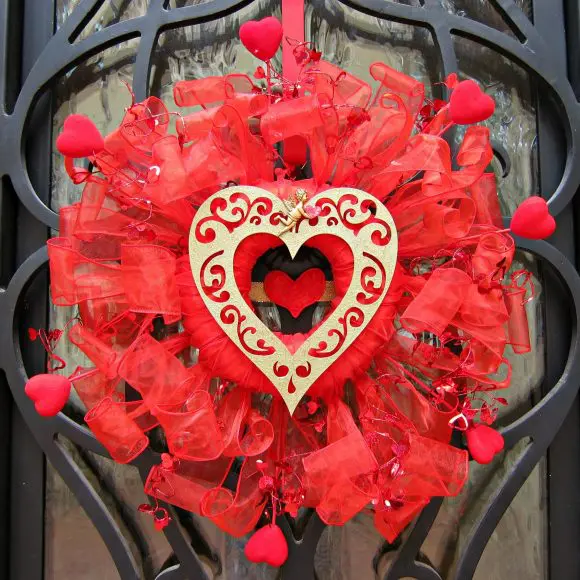 Credit: dollarstorecrafts.com
Short on cash to buy craft supplies, but you really want to make a cute V-Day wreath? Dollar store to the rescue!
Head to your nearby Dollar Store and load up on cute, cheap odds and ends to create an amazing wreath that will look way more expensive than it really is.
To make this wreath or a similar one, get a cheap wreath form, ribbons, garland, stickers, and just some small decorations you like and put them together in an appealing way to create a cute custom wreath!
You don't have to follow an exact tutorial to make this wreath. Make it your own by using decorations and colors that you like!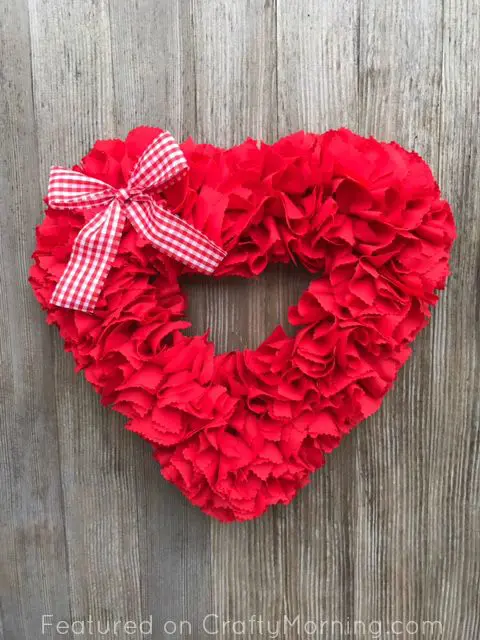 Credit: craftymorning.com
You've no doubt seen a wreath like this before and probably thought either A. it's too expensive to buy or B. I could never make that. Or, maybe both.
However, you'll be pleasantly surprised to discover that with the aid of this simple tutorial and a few spare hours, you can most definitely make this wreath yourself, and it doesn't have to cost a ton of cash, either.
It looks much harder to make than it actually is, and you only require a few supplies. Scissors, fabric, some ribbon, thread, and a wreath form.
Then, turn on Netflix and get comfortable while you craft! The end result is simply fabulous and totally worth your time.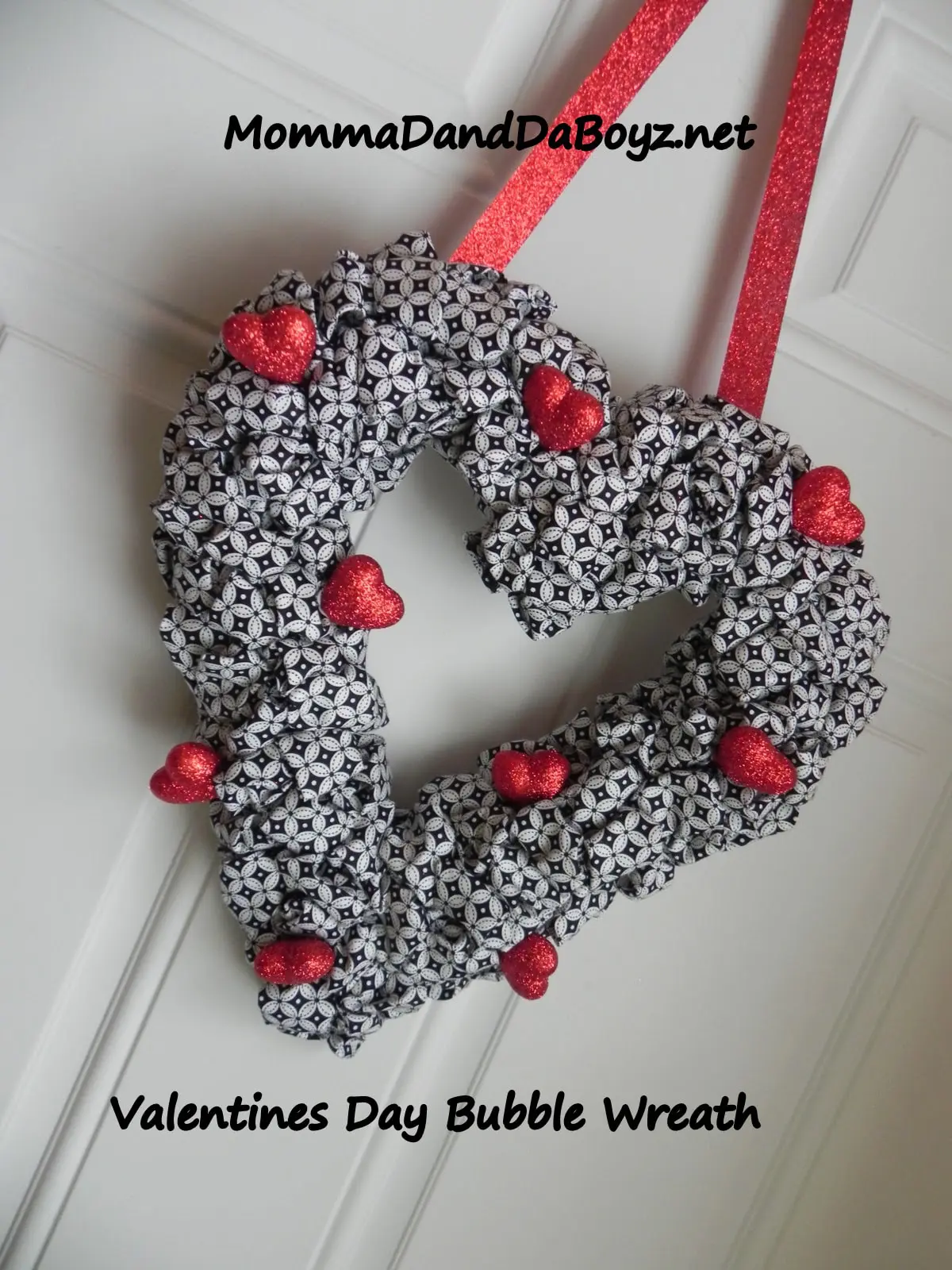 Credit: mommadanddaboyz.net
A newer trend in crafting, creating 'bubbles' with fabric, adds a three-dimensional look to your wreath that you'll love.
It's not difficult to do, but it will take some time, so commit to an afternoon or morning of making this cute wreath.
You can choose any type of fabric you desire for your bubble wreath. Once you learn how to create the bubbles, it goes by pretty fast.
A foam heart wreath form, some straight pins, decorative ribbon, and floral pins are all you'll need to create this craft, but feel free to use any other type of enhancements.
You'll love the unique look of this wreath!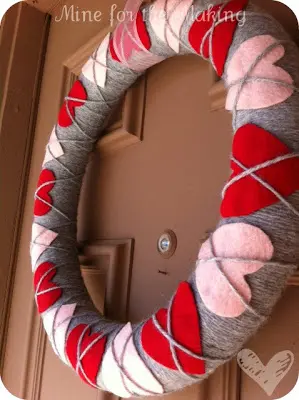 Credit: mineforthemaking.com
This wreath brings to mind the preppy, cute look of a pair of argyle socks! But instead of diamond shapes, this wreath is made of hearts.
To make this clever craft, you'll need a wreath form, felt, a heart template, so your hearts are all matching, yarn, a fabric pen, scissors, and a hot glue gun. This is the one I recommend.
How easy could it be? Once you get everything ready to attach to the wreath form, it's super simple, and it's unlike anything you'll see in a store, which makes it that much more special and sweet.
Conclusion
Which one of the wreaths is your favorite? Share them with your friends and family to spread the message!