Simple, easy, and beautiful, these bee crafts are fun to make! It's a lovely DIY project idea for kids and the family to do! You can use them for decorating and more.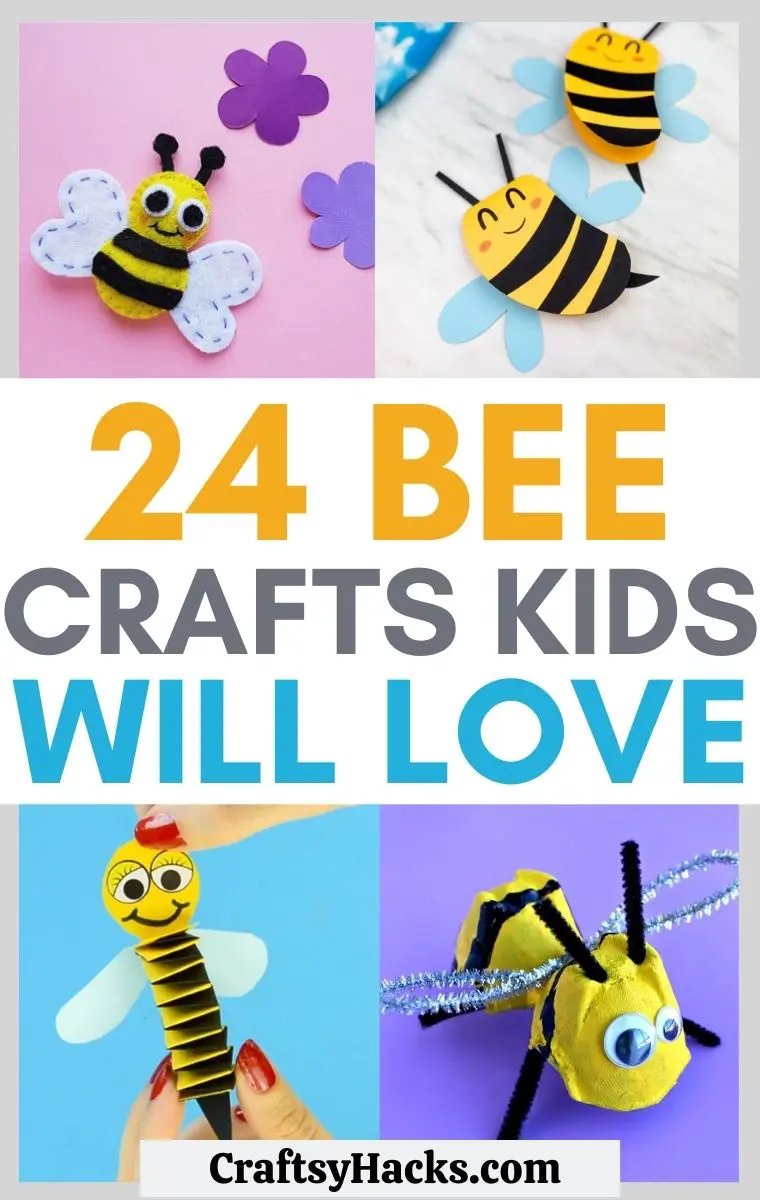 There's something about bees that makes me think of joy, and we all need some of that right now. If your little one is a fan of all things insect-related, then these bee crafts are bound to get them buzzing!
From paper plates to bubble wrap, you'll find a craft on this list that you and your child would love to try. Get out the paints, settle in with your kiddo, and spend some quality time crafting together.
Let's crack into these twenty-one adorable bee crafts for kids to try.
1. Bumblebee Paper Plates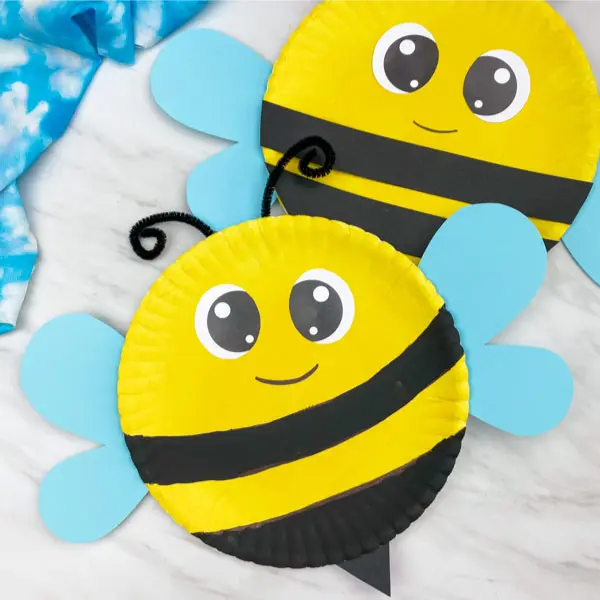 Credit: simpleeverydaymom.com
If your child has a birthday party coming up and you're stumped for decoration ideas, these Bumblebee plates are a great place to start! They're simple to make, affordable, and adorable.
Not to mention, you can even craft some of these with your little one for some quality time together. You'll need some pipe cleaners, colored card stock, paint, and of course, the paper plates.
Grab some other ideas for a birthday party on a budget from these Dollar store party ideas.
2. Easy-Breezy Honeybee Slime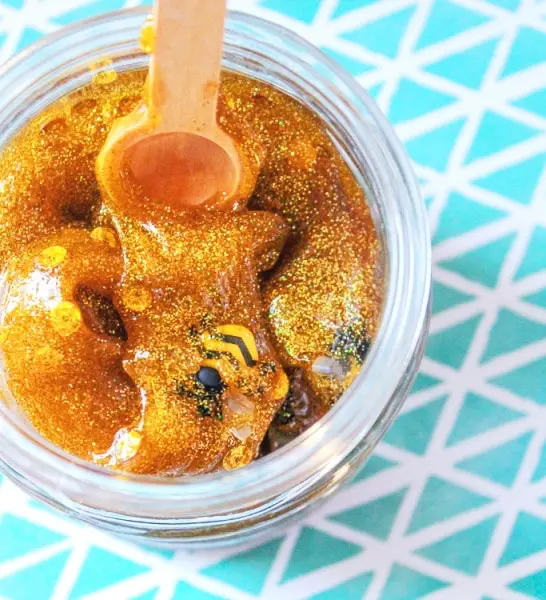 Credit: kimandcarrie.com
There are few things on Earth kids love more than slime. It's great for tactile play, and the colors exercise their brains to facilitate healthy vision and cognitive development.
Making your own honeybee slime is super easy, and it doesn't require a lot of complicated ingredients to get you started. Not to mention, it looks adorable once it's finished.
The one special ingredient in this craft is Borax, which is the slime's activator. You can find some high-quality Borax here.
3. Coffee Filter Bumblebees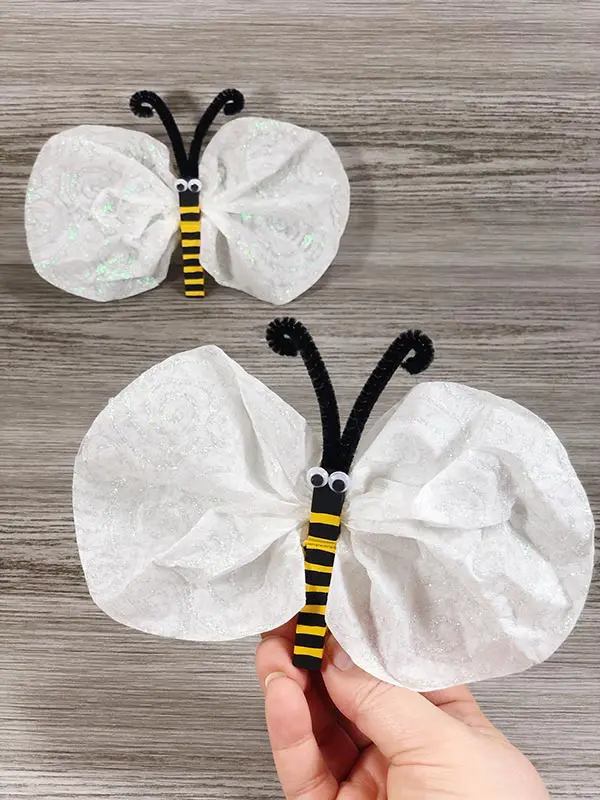 Credit: darcyandbrian.com
Decorating your child's room doesn't have to cost an arm and a leg, as long as you're open to getting a little creative! Turn their room into a colorful, buzzing beehive with these coffee filter bumblebees.
Take an afternoon to sit and create some personalized bees for your little one's room. Make some to wrap a gift, or take a bee-themed party to the next level.
This craft is seriously affordable, using some pipe cleaners, craft paint, glitter, and the all-important coffee filters to create an adorable bee.
4. DIY Bee Rock Pets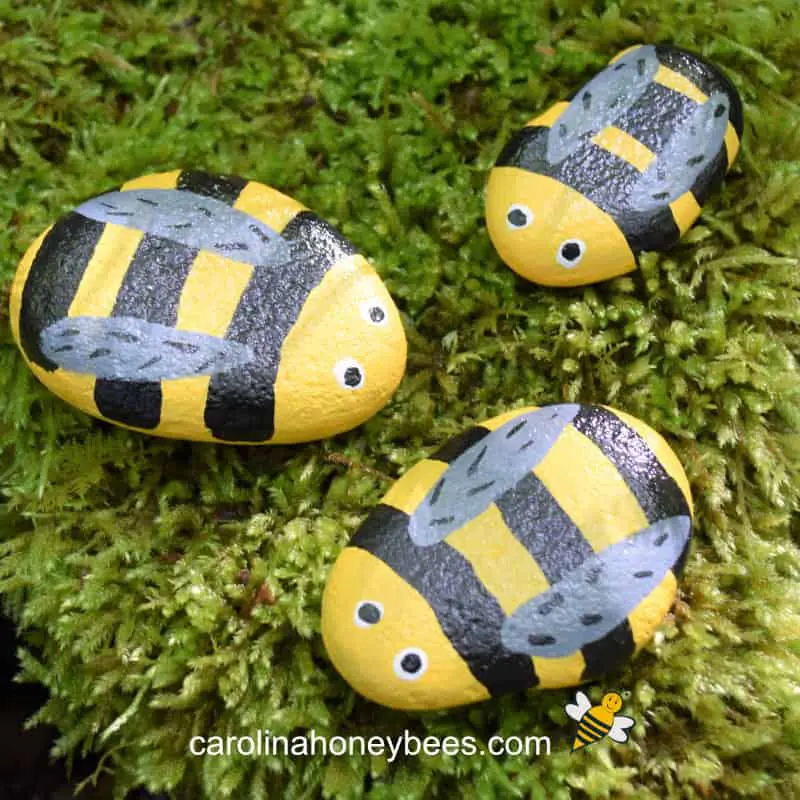 Credit: carolinahoneybees.com
Great as a garden decoration, a simple Christmas gift, or even a doorstop. These DIY bee rock pets are a great way to teach your kids about the importance of bees as pollinators.
This craft is as simple as picking out the perfect rock and painting it in whichever way pleases you. Pick a sunny day with your little ones, and head outside to go rock hunting!
If you want the paint on the rocks to last as long as possible, make sure to pick up a clear enamel spray paint to protect the little bees. I like this one from Amazon.
While you're outside with your paints, why not try making these adorable DIY rock photo holders for your desk?
5. Super Simple DIY Bumblebee Puppets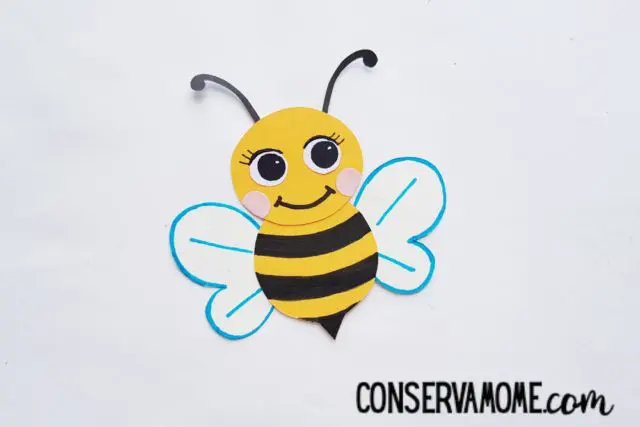 Credit: conservamome.com
This one's great for letting your kids take the reins. It's super simple, requiring only adult supervision and an occasional guiding hand. By the end, your child will have their own pet bee!
In fact, this is excellent as an activity for a play date or birthday party, considering the materials are also very inexpensive. Just whip out some colored paper, popsicle sticks, and a Sharpie to get started.
6. DIY Bubble Wrap Beehive Card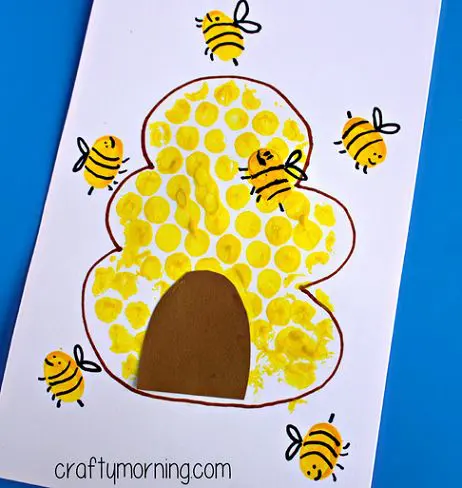 Credit: craftymorning.com
For any celebration, family members love receiving cards made by the little ones in the bunch. So, if a family member has an approaching birthday, or if Christmas is on the horizon, help your kid make it special!
These DIY bubble wrap beehive cards are super easy to make, look adorable when they're done. Also, they're perfect for going into the memory box to look at in the years to come.
Looking for some other paper crafts to get into? Try any of these here.
7. Awesome Recycled Bee Craft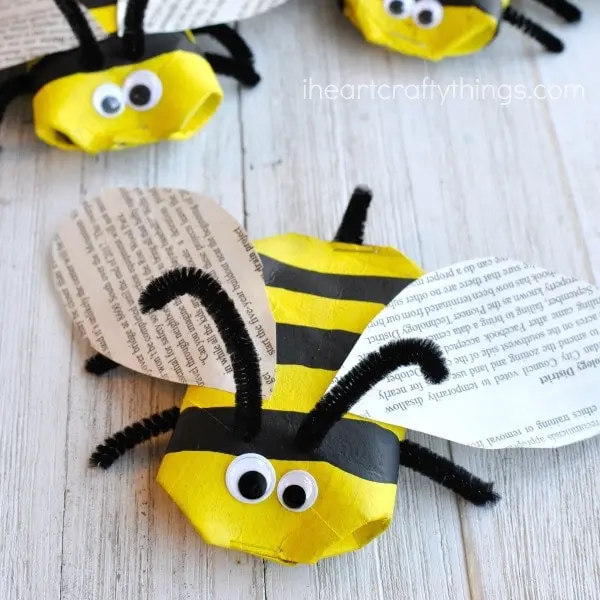 Credit: iheartcraftythings.com
This craft is your chance to teach your child about two very important things in the modern world: how essential bees are to our ecosystem and the importance of recycling! Of course, it's also fun to make.
For this adorable bee companion, dig through your recycling to find a cardboard toilet roll and some newspaper.
Take the opportunity to make this time super educational with a bee-themed picture book. Let's teach our future generation well!
8. DIY Buzzing Bee Cards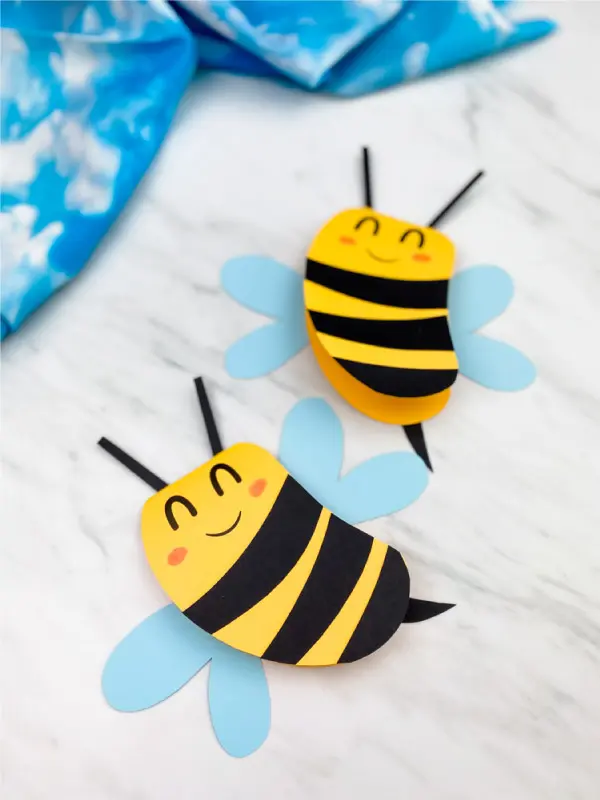 Credit: simpleeverydaymom.com
Speaking of recycled crafts, these buzzing bee cards are a great way to use up any leftover card stock from the other activities on this list. This is great as a birthday card for one of their friends or family.
Once you've printed out the template for the card, all you need to do is help your child cut out the shapes. Then, glue them together in the right order.
You might want to make them a little extra special by adding some bee-related accessories! Try out this glitter or these tiny honeybee stickers as adornments.
9. DIY Mason Bee Habitat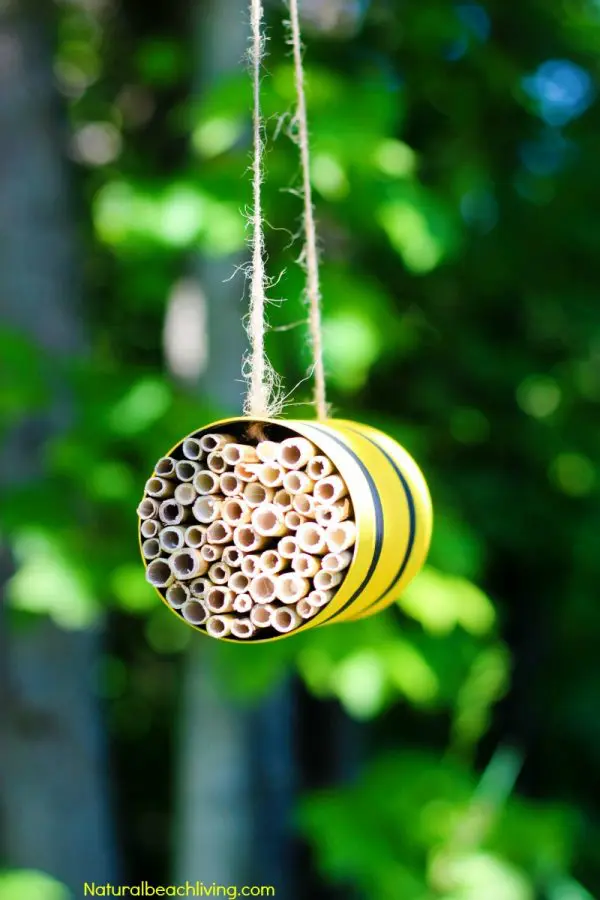 Credit: naturalbeachliving.com
Whether you're a teacher on a mission to educate your students about bees or a parent trying to do the same for your child, this bee habitat is the ideal hands-on approach to learning.
Mason bees are known for pollinating but not stinging. So, they're great to have around your home. Now that the bee population is declining, providing good habitats for them to live in is so important.
Teach your child about the importance of saving the bees and put those teachings into practice with a whole new bee home for your backyard!
10. DIY Pom Pom Bumblebee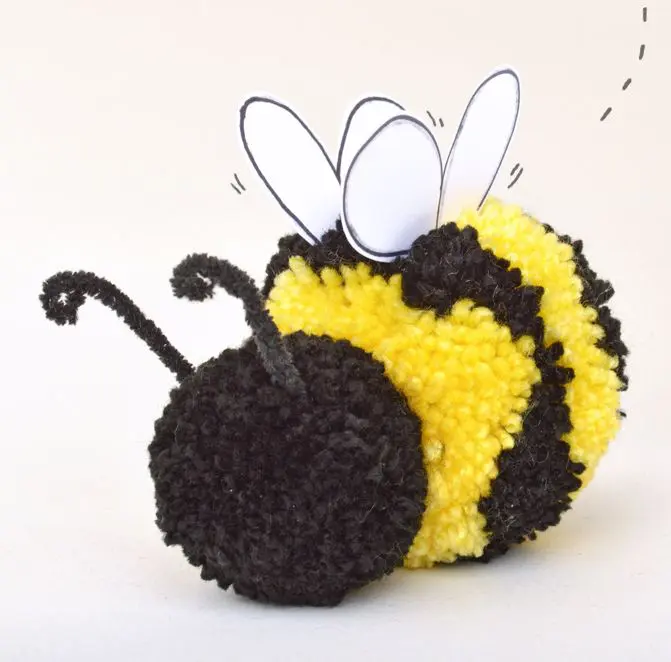 Credit: mollymoocrafts.com
This pom-pom craft is a great way to keep your kids occupied for an afternoon. The repetitive motion of winding the wool around and around is captivating for them (and relaxing for you).
While you can use cardboard circles to make your pom-pom, a pom-pom maker like this can be used over and over again. The only other things you need are yellow and black wool, plus pipe cleaners.
If you have some leftover wool, why not try making this yarn-wrapped DIY flower pot and planting some lavender for our little bee friends?
11. Egg Carton Bumble Bee Craft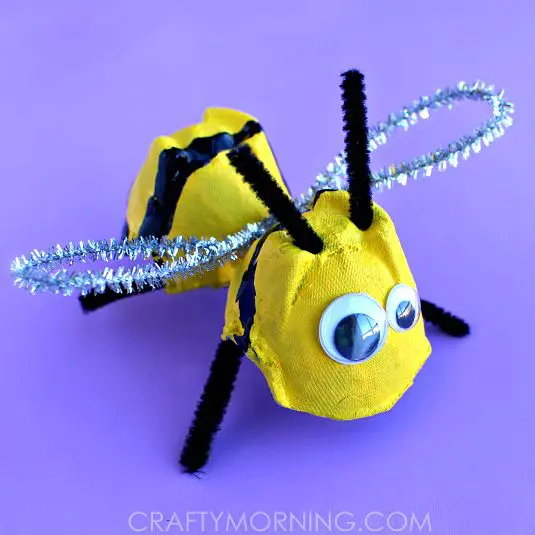 Credit: craftymorning.com
Here's yet another craft that uses recycled materials for your afternoon DIY session with the kids. Using an egg carton, some yellow paint, and some pipe cleaners, your kid can have their own bee!
Make sure you have a trusty glue gun on hand to affix the googly eyes and pipe cleaners. If you don't already have one in your arsenal, this one is great for small crafts.
12. Bubble Wrap Beehive & Paper Bee Rings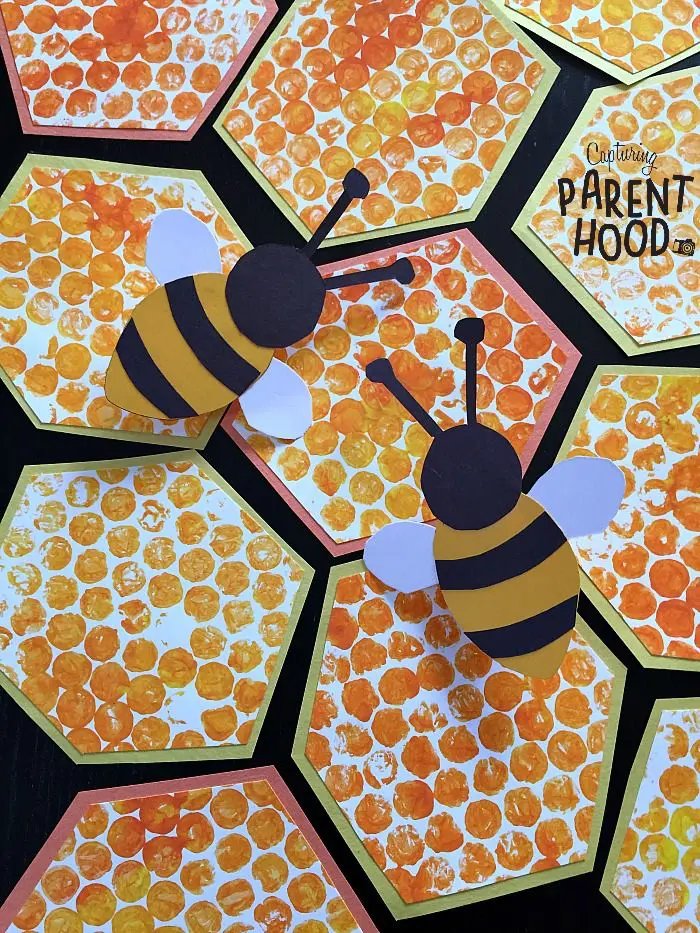 Credit: capturingparenthood.com
If you spend a lot of time teaching your child about bees, you might find them totally encapsulated by our little buzzing friends! If so, these paper rings are an adorable idea to perpetuate that interest.
These rings are made entirely out of paper, and the leftover bubble wrap is used to make the accompanying beehive. This makes a great wall decoration, or you can even turn it into a puzzle.
13. Bee Corner Bookmark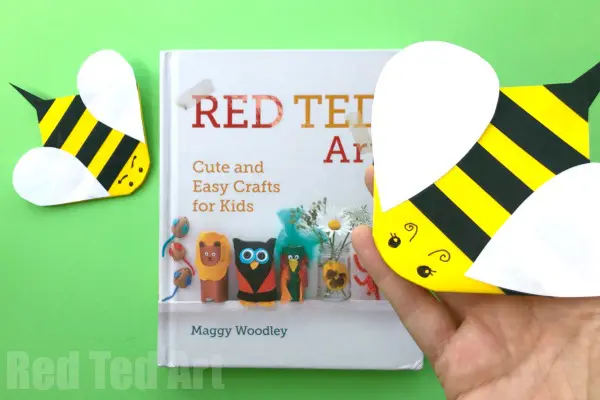 Credit: redtedart.com
This one goes out to all the little bookworms running around with their noses buried in pages. A bookmark is essential for these budding novelists. And, this bee corner bookmark is simple and cute!
Since this involves origami, this craft is perfect for testing out your child's fine motor skills.
Make the time spent on this craft even more special by turning it into a crafting day! Try out any of these kid crafts.
14. DIY Fuzzy Bee Craft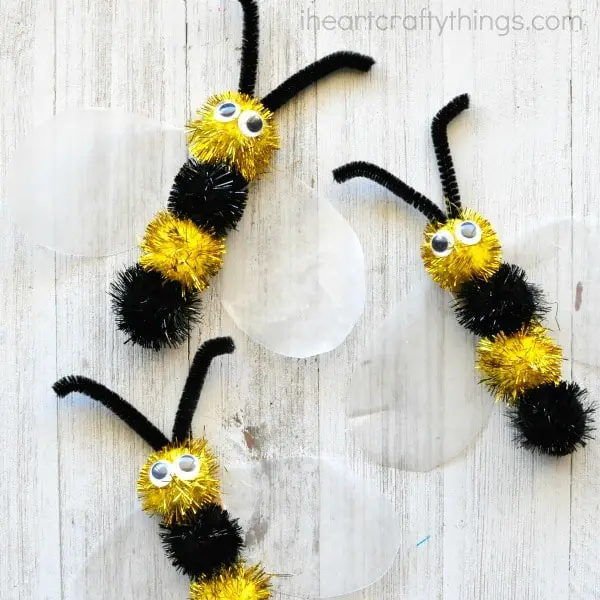 Credit: iheartcraftythings.com
As spring rolls around once again, bees are the perfect DIY craft to get your kids in the spirit of sunshine. These fuzzy little bees are glitterier than their live companions, so they're great decorations!
Pick up some glittery pom-poms to get started (you can find them here). Make just one as a decoration for a gift, or make twenty to decorate your little one's wall. The sky's the limit!
15. Accordion Bee Paper Craft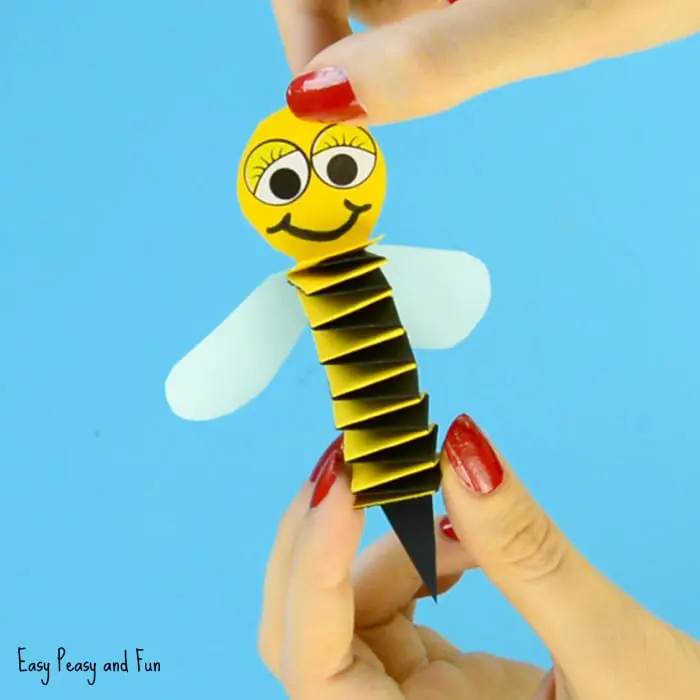 Credit: easypeasyandfun.com
Every parent will remember the day they first made an accordion paper animal. It's almost like a rite of passage as you grow! Not only is it great for a child's fine motor skills, it's also a lot of fun to make.
These adorable accordion paper bees make for a great Sunday afternoon craft at the dinner table. Simply gather your colored construction paper, some scissors, some glue, and you're away!
16. DIY Scented Bee Soaps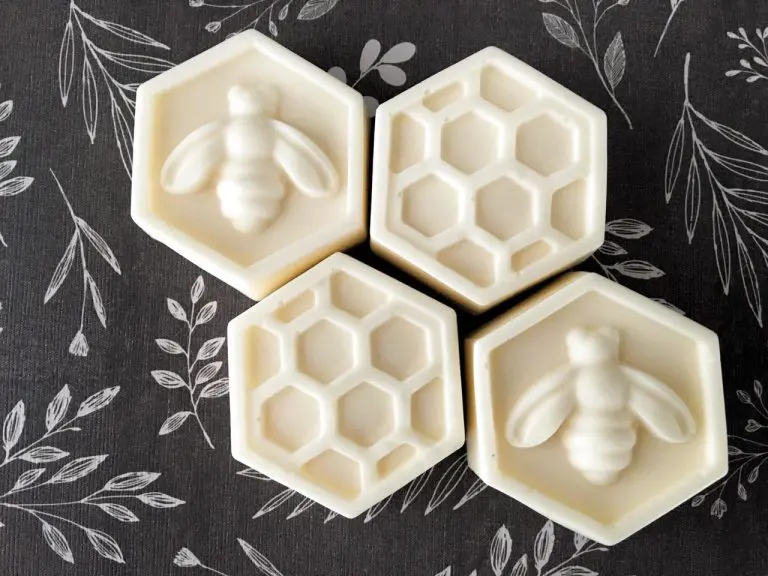 Credit: 2beesinapod.com
This craft is doubly helpful. Not only does it teach your children about the importance of bees and honey in our everyday lives.
But, it also gives them a way to engage with their own hygiene.
You can use any bee-themed mold that strikes your fancy (I like this one). Just make sure it's made from silicone for easy removal.
Then, all you need is some Melt and Pour goats milk soap.
You can use any essential oil you like, but opting for a floral or a citrus scent really brings that bee theme together.
17. Bumblebee Paper Cut-outs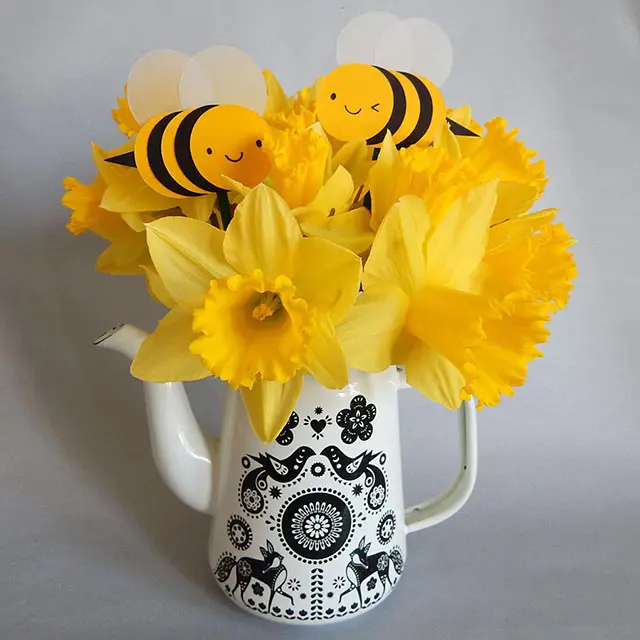 Credit: askingfortrouble.co.uk
Whether you're looking to bring a little springtime indoors or just decorating your child's bedroom, these easy bumblebee paper cut-outs are an ideal craft to do with your child.
Simply draw an adorable face on yellow cardstock, layer with other card circles for stripes, and done!
I personally love the idea of decorating a bouquet of flowers with these adorable little bumblebees. Pick up some real blossoms, or get this pre-arranged fake bouquet for a long-lasting decoration.
18. B is for "Bee" Letter Craft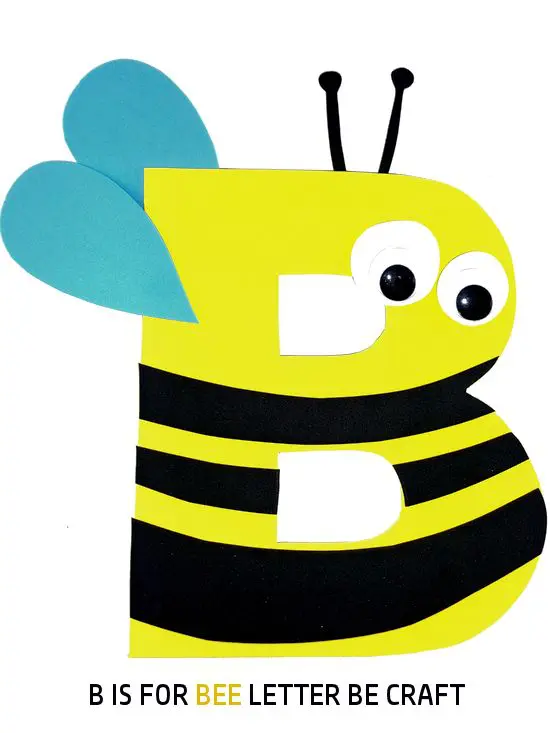 Credit: ourkidthings.com
If you're looking for an educational craft that won't break the bank, this paper letter craft is perfect for you. Help your child learn the alphabet with tactile examples.
Engaging with the letters in ways that don't promote rote learning is a fantastic way to instill long-term retention of knowledge!
Looking for a different way to learn the alphabet? Why not try creating these DIY paper picture frames with picture prompts for each letter?
19. Duct Tape Twirling Bee Garden Decoration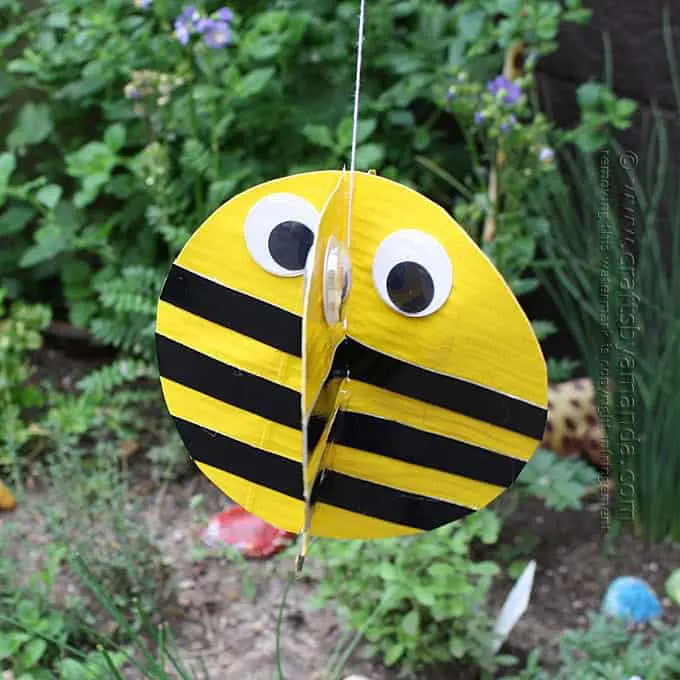 Credit: craftsbyamanda.com
Here's another way to get the kids out and about in the sunshine, learning about bees! Make your backyard as fun and adorable as the inside of your home by hanging these twirling bees in the trees outside.
Perfect for porches, decks, trees, or even to hang from your roof gutters, these decorations are made from duct tape, so they're tough. Spring for heavy-duty tape if you want to be sure.
20. Paper Cup Preschool Bumblebee Craft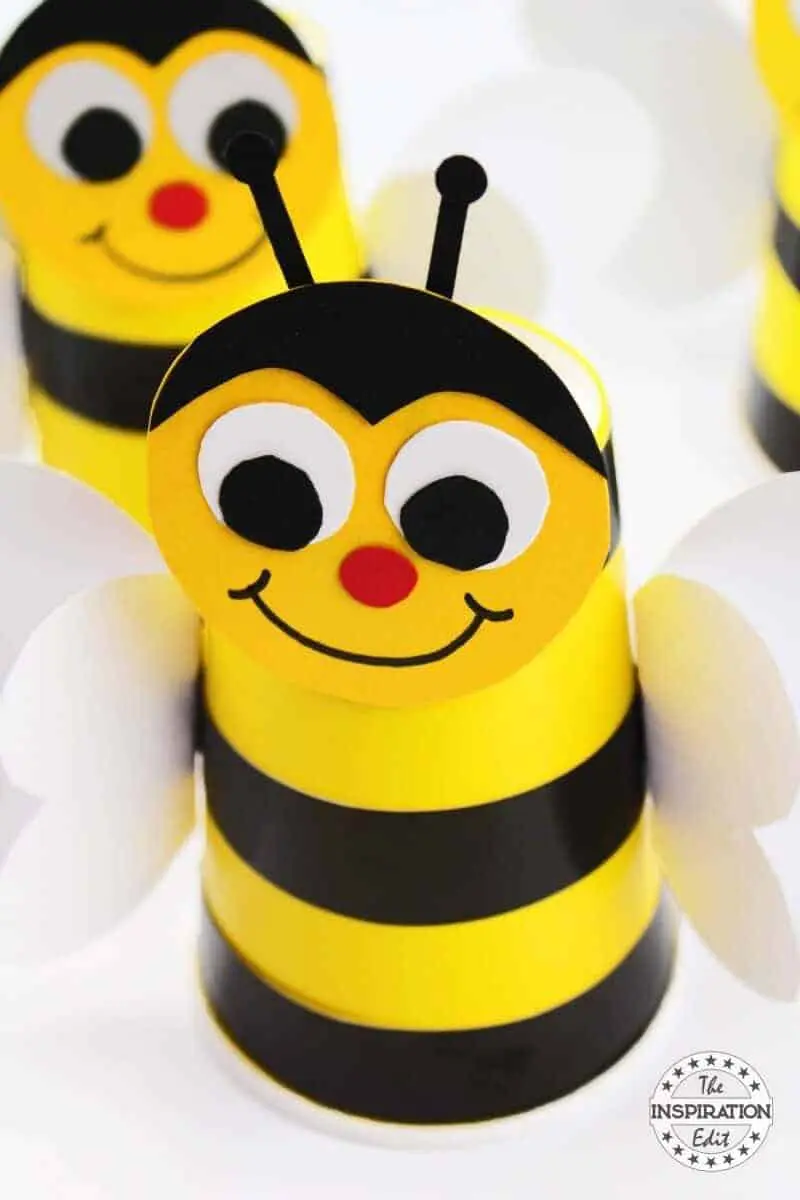 Credit: theinspirationedit.com
Here's a simple way to take one of the humblest objects in the world—a paper cup. And turn it into an adorable buzzing companion for your child. Alternately, it's a great craft for the classroom.
All you'll need is some yellow and black paper cups, some construction paper, Elmer's Glue, safety scissors, and a Sharpie. Simply cut out the stripes and shapes, glue them together, and voila!
Try out some other crafts for the classroom with these popsicle stick crafts.
21. DIY Felt Bumblebee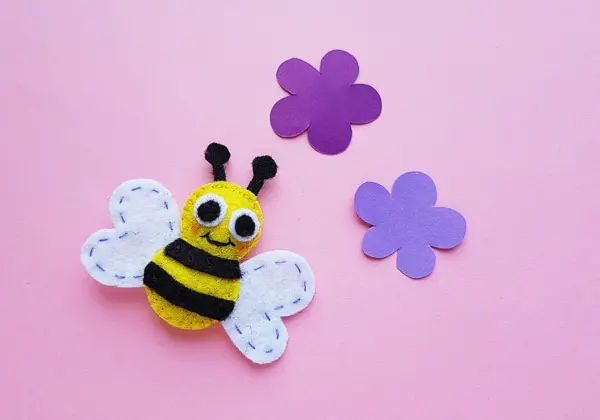 Credit: mommymadethat.com
This little felt fella is un-bee-lievably cute. And it's a great way to teach some basic sewing skills to your child. You'll only need the most basic of sewing supplies, as well as the right felt (here).
Cut out the patterned pieces, then begin assembling the face and body, sewing as you go. If you like, you can stuff your bumblebee with some felt scraps for a 3D buzzing companion or leave him as is.
22. Popsicle Stick Bumblebees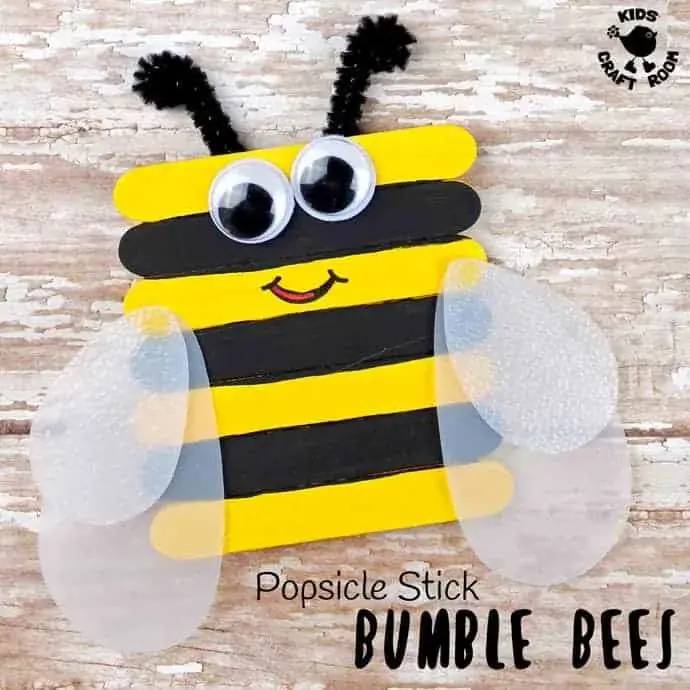 Credit: kidscraftroom.com
Simple, affordable, and adorable. This popsicle stick bumblebee has all the elements of the perfect family-time DIY.
These are great as wall decorations, classroom activities, or even to hang outside in the summer and spring months! If your child is really a bee fiend, you can even turn these into Christmas ornaments.
Make sure to grab some paint marker pens to keep the craft as clean and tidy as possible.
23. Ultimate Beehive Wall Decoration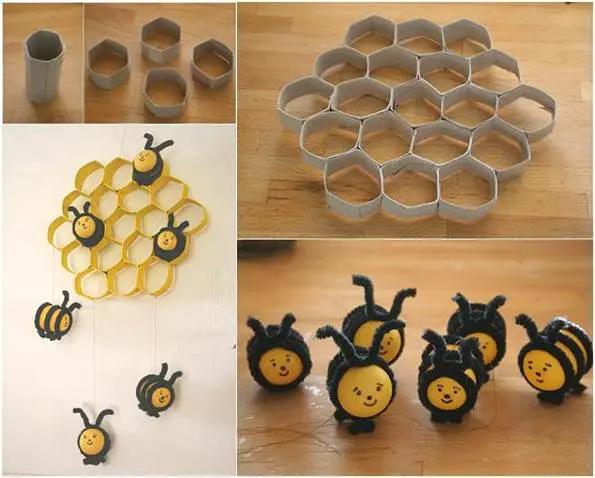 Credit: icreativeideas.com
Speaking of bee-themed wall decorations, this is the ultimate bedroom decoration craft for your little bee-lover. Recycle some old toilet rolls, create your own fuzzy bees, and place them in a hive!
While the original tutorial recommends using Kinder surprise eggs to create the bees, I recommend using something non-perishable like these ceramic eggs if you'll be leaving the décor up for a while.
24. Pool Noodle Bumblebee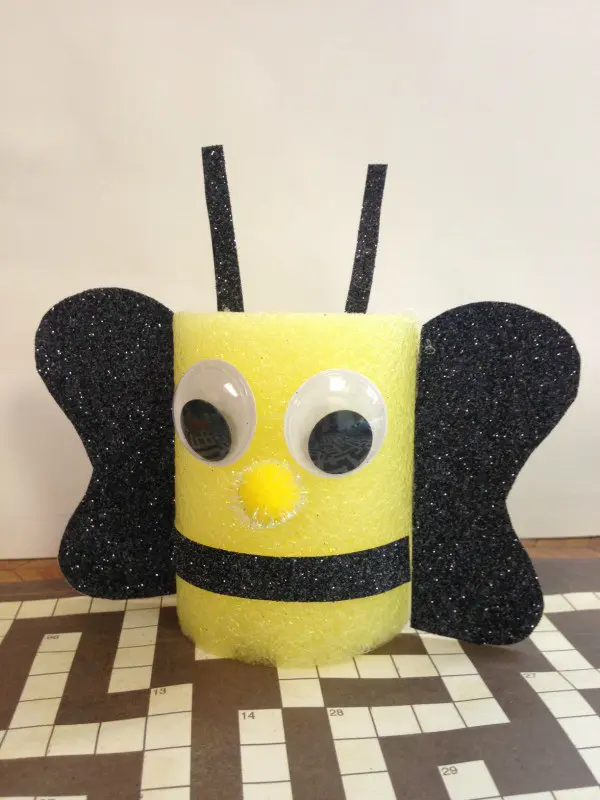 Credit: premeditatedleftovers.com
If there was an award for the perfect summertime craft, this would take the gold! Made from a pool noodle, this cute little bumblebee can follow your child into the pool when they're having a swim.
Pick up a yellow pool noodle for the body and some black craft foam to create the stripes and wings. You can stick with a small noodle or keep it full-sized to make the ultimate pool toy!
Conclusion
So, are you going to get crafty and make these bee crafts? Which one is your favorite?