Got some wood lying around? Why not use it and make something creative? These wood craft ideas are fun DIY projects anyone can make even sell!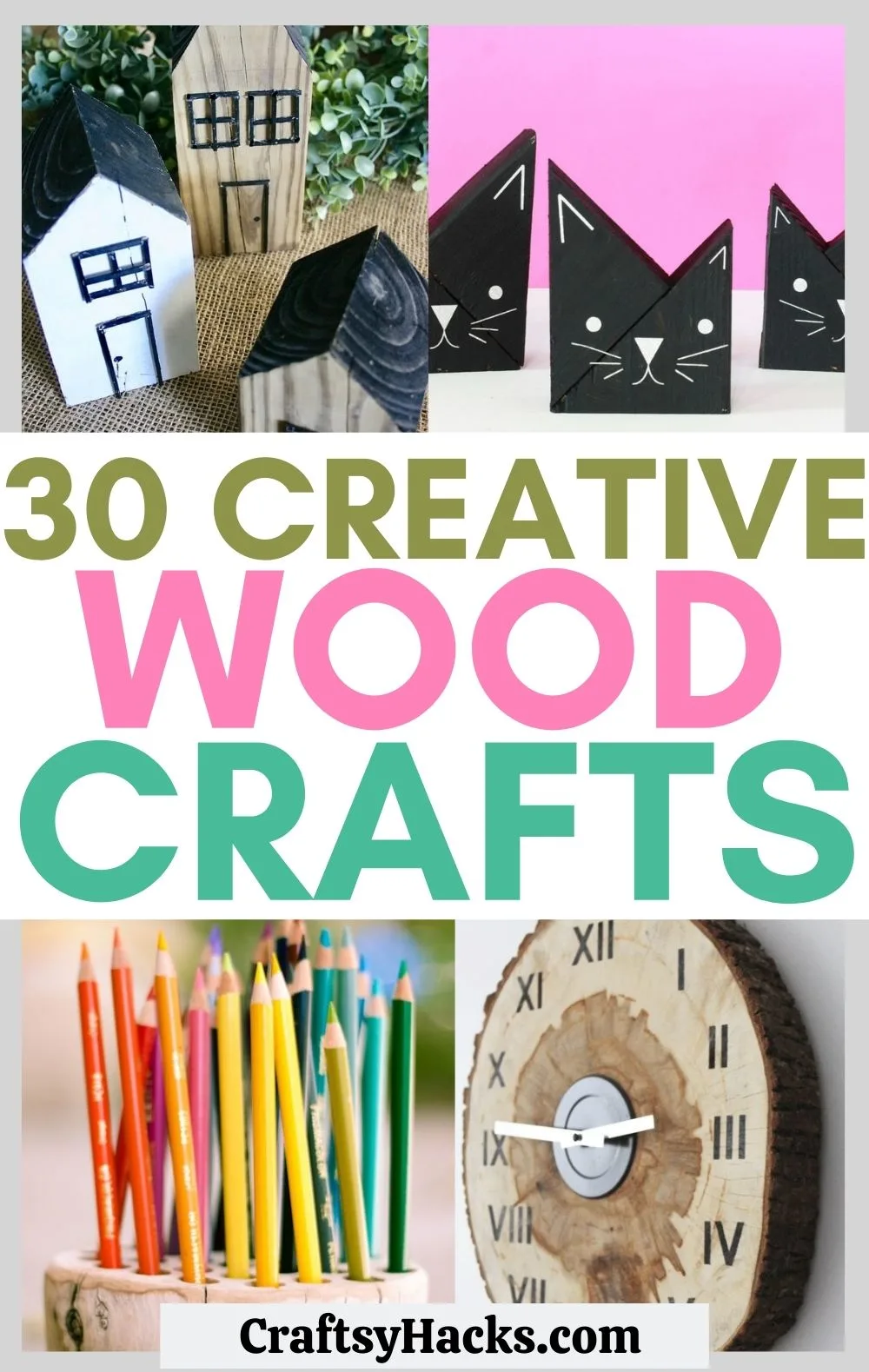 There's absolutely no shortage of the number of woodsy craft projects you can explore and play around with. Coasters, wooden trays, wood baubles, kick knacks and decor pieces, centerpieces…the list truly is endless.
But for now, here are 31 DIY wood crafts that you can check out and make right at home!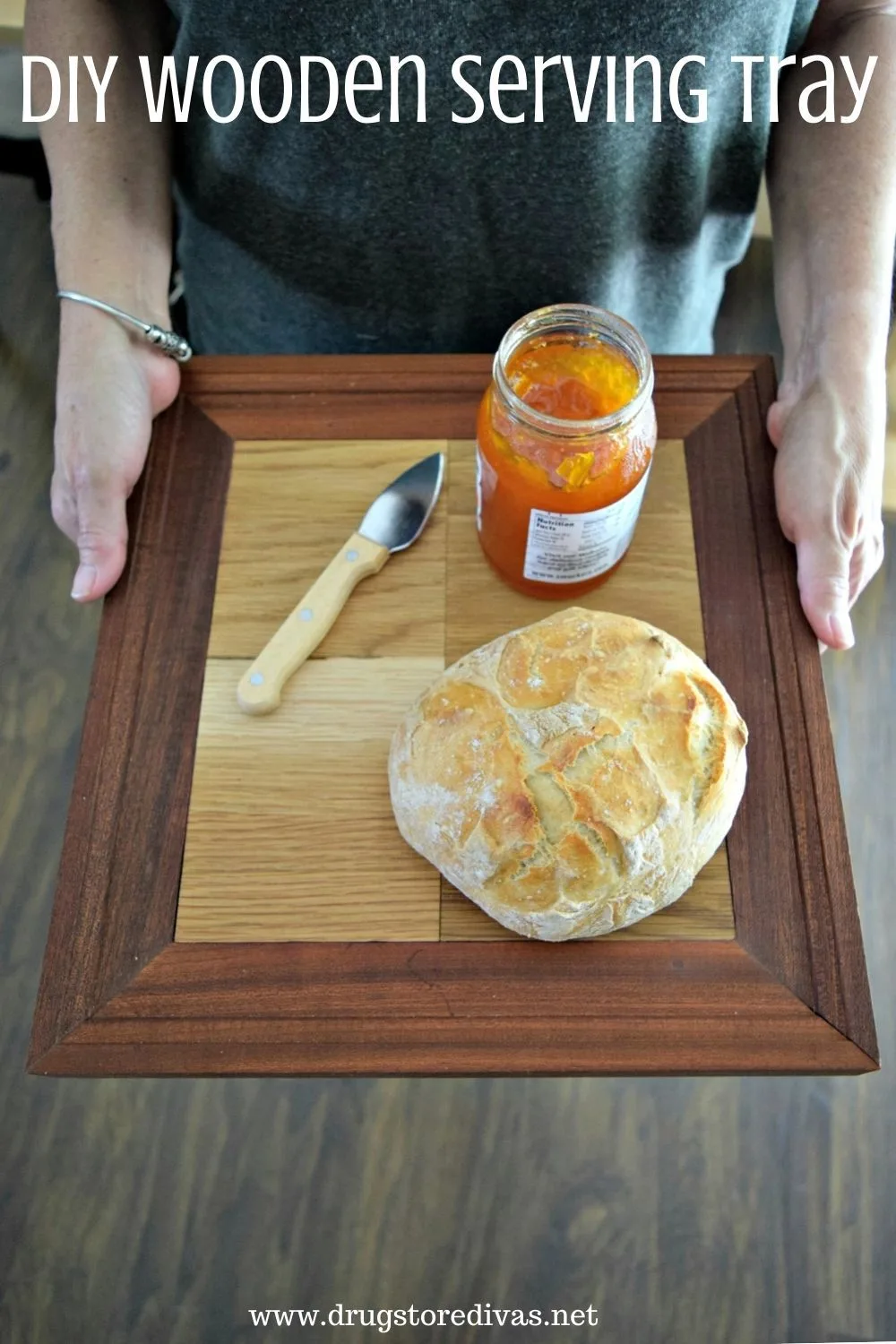 Credit: drugstoredivas.net
How about this DIY wooden serving tray to get you started? You can never have too many serving trays, can you?
If you entertain guests often, you know that you can never have too many serving trays. Your choices are endless: breadboards, cheese boards, serving drinks, or even a decorative piece!
Once you've assembled your wooden tree, there's one vital step that you absolutely can't skip. You'll need to rub your tray down with some food-grade mineral oil or butcher block oil.
You can find that here!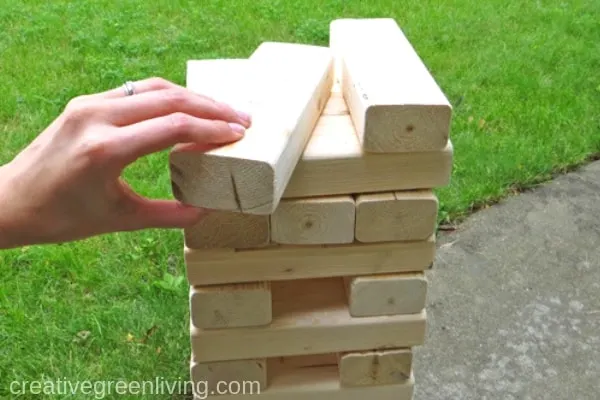 Credit: creativegreenliving.com
Admit it, you've always wanted to play giant Jenga; I know I have. It's been on my DIY craft list for years because it's super easy to make giant Jenga blocks and even more fun to play with them.
A round of giant Jenga outside in your yard would be a great party game for your next barbecue Sunday brunch. If you have your lumber picked out, you can get started right away.
Pull-on a pair of work gloves and don a pair of protective eyewear. You'll need them when you're working with a compound miter saw.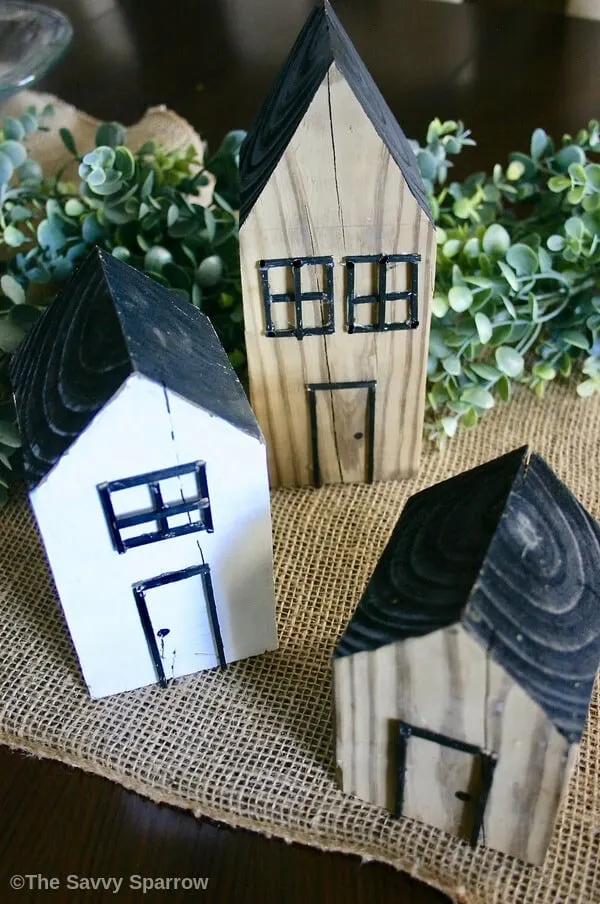 Credit: thesavvysparrow.com
I hope you still have some of that scrap wood left over from your last DIY. This decorative wooden house calls for some sturdy wood and creative woodworking.
So go ahead and assemble your materials. You'll need some craft sticks like these as well as your trusty glue gun, some sandpaper, and acrylic paint.
It's the painting of the wooden house that you can get creative with. Sure, you can opt for a rustic yet charming barn house effect.
Or, you could do something wacky if that's where the wind takes you!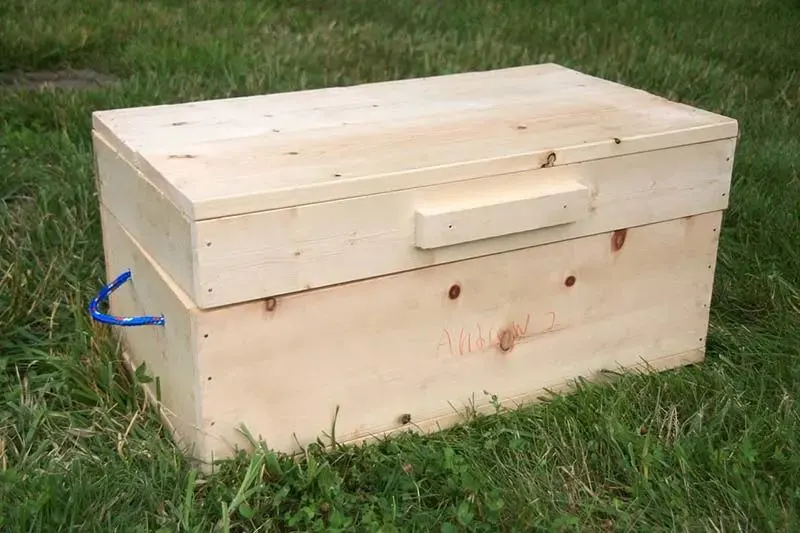 Credit: cubscoutideas.com
I bet you had a little wooden chest back when you were a child to store all your toys. I also bet they came in handy when you wanted to play make-belief and used it to store your treasure.
So how about you recreate that and build yourself—or your child—a wooden chest? It will take you a day to make, but if you follow the pattern, it will last you many years to come.
It's easy to make and store more than just toys; they store happy memories of fun times!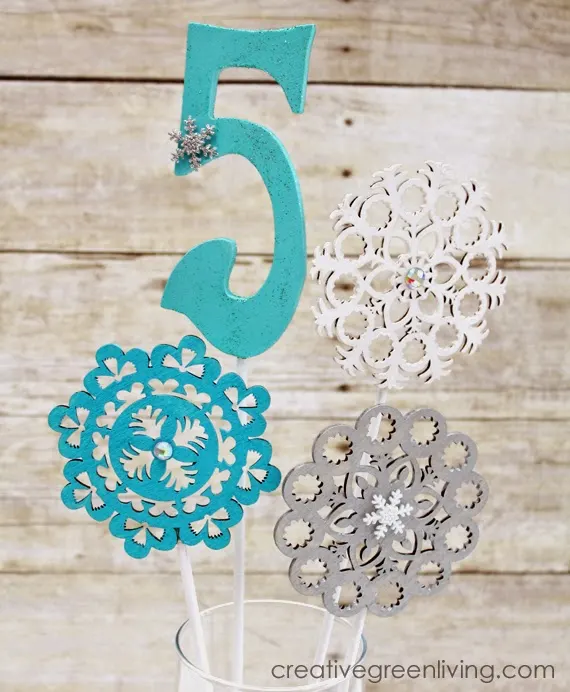 Credit: creativegreenliving.com
I doubt the movie Frozen and Frozen-themed decor items will ever go out of style. This Frozen-themed party centerpiece would be a great addition to your table.
You can store them away till Christmas, too, and add them to your Christmas decor. Bonus? They're easy to make, and you can rope your kids into a fun afternoon craft session while you're at it.
Grab some wooden snowflake cutouts from here. You can also find them at your local craft store. Paint them, embellish them, and hey presto, you've got gorgeous snowflake centerpieces ready to use!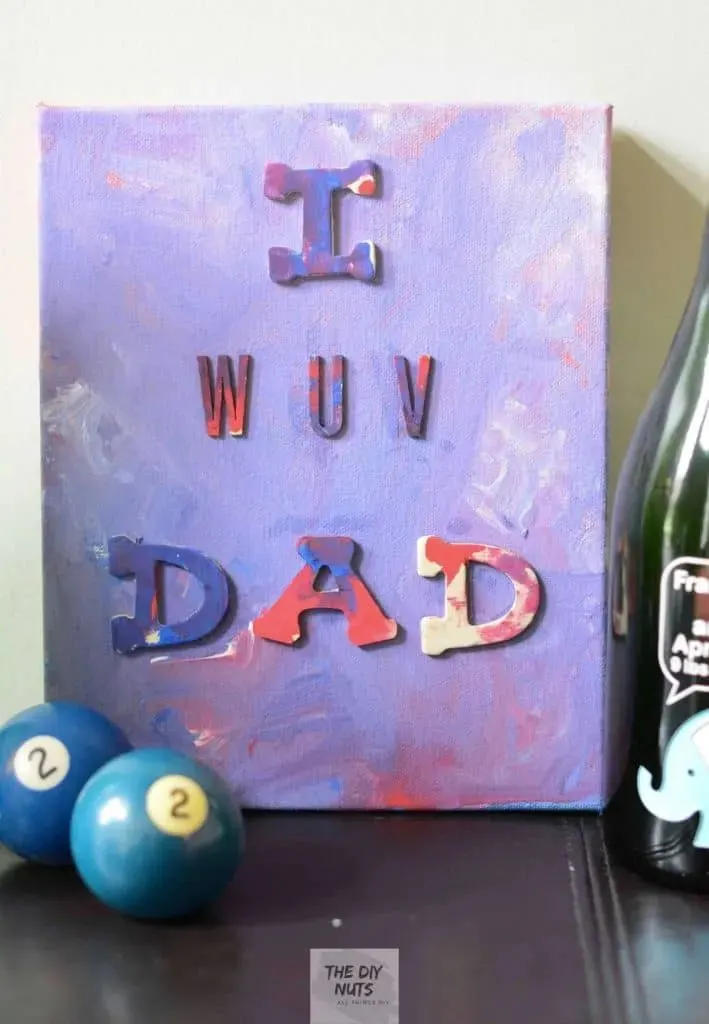 Credit: thediynuts.com
A DIY canvas board art project can be a wonderful gift come Mother's Day or Father's Day. They're a great project for kids to try out and can be customized in any number of ways!
You will need these wooden letters, some paintbrushes and acrylic paint, a canvas board and finally, some glue. Your kids can spend an enjoyable hour or two painting and decorating the board
Lay out a few newspapers before you get started. When paint and kids are involved, you can and should expect a mess.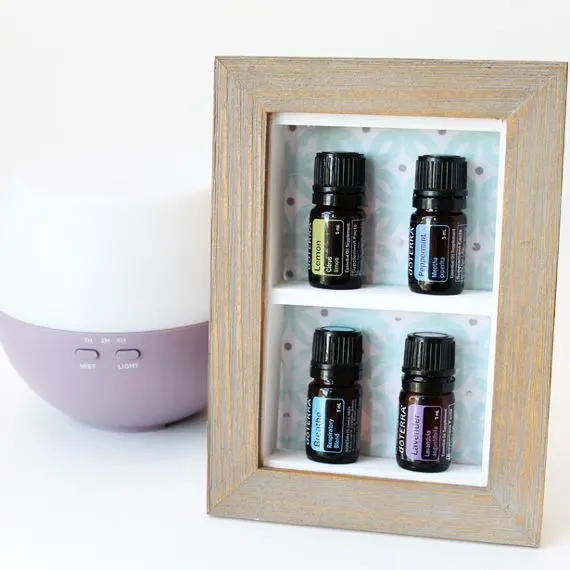 Credit: creativegreenliving.com
I love essential oils. A few drops of fragrant vanilla or soothing lavender into a diffuser is all you need to get a little aromatherapy underway.
Have you noticed how much clutter your essential oil bottles can add to your space, though? A wooden frame desktop display like this to store and arrange your essential oils.
It can keep the bottles organized and also help you declutter. Just find a sturdy wooden linear picture frame, and you're already halfway there!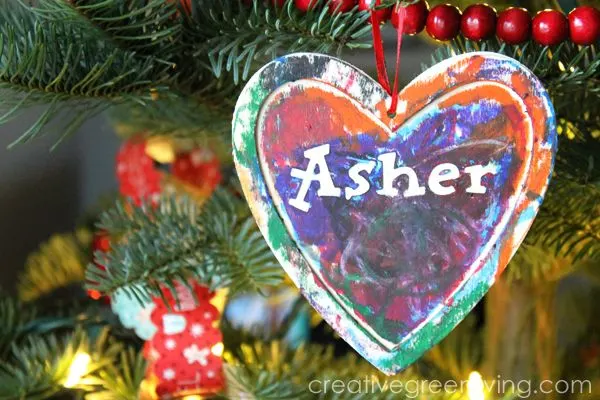 Credit: creativegreenliving.com
Were your unicorn-themed ornaments a hit? Do you want to make some more Christmas ornaments? I've got you covered.
With your kids ready to help you with this DIY craft project, you will have a dozen of these personalized wooden ornaments in no time. Imagine how much they'll enjoy finding these ornaments a few years down the line.
You'll need alphabet stickers, acrylic paint, and some wood-shaped ornaments, but that's pretty much all you need to get going. Hang these up on your tree and enjoy your handiwork.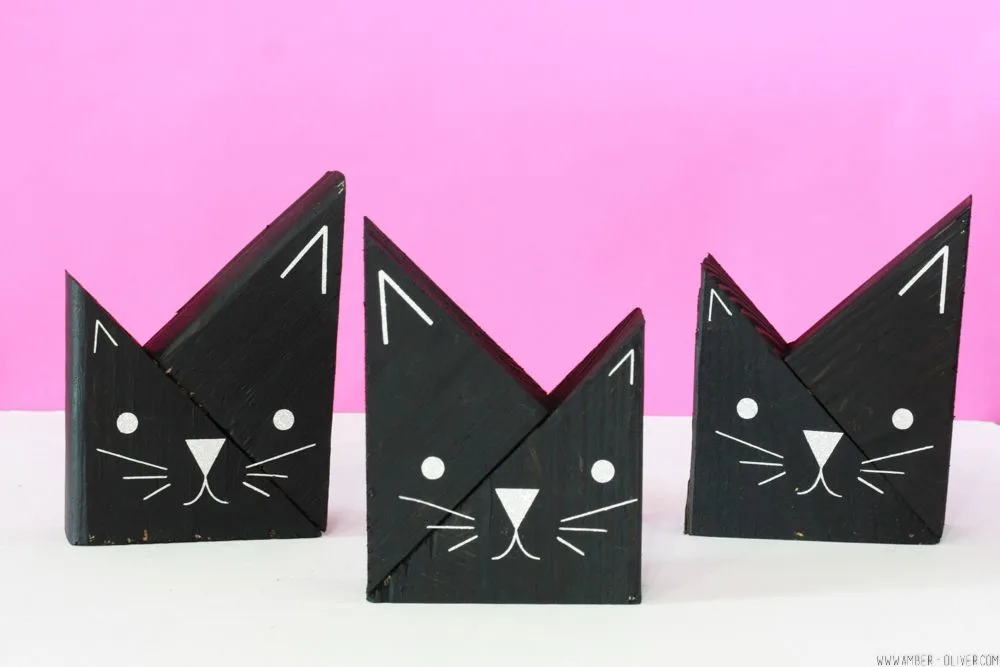 Credit: amber-oliver.com
From chickens to cats, this list of wood craft ideas covers all its bases. Don't you think this decorative piece would add just the right
amount of eccentricity to your home?
A Cricut machine would really come in handy for this project. You can find it here. You will also need a cat face blueprint.
Just follow the pattern, download the cat face print, and get started on creating your DIY wooden cat. In a couple of hours, you'll have a trendy new decor item to adorn your shelves!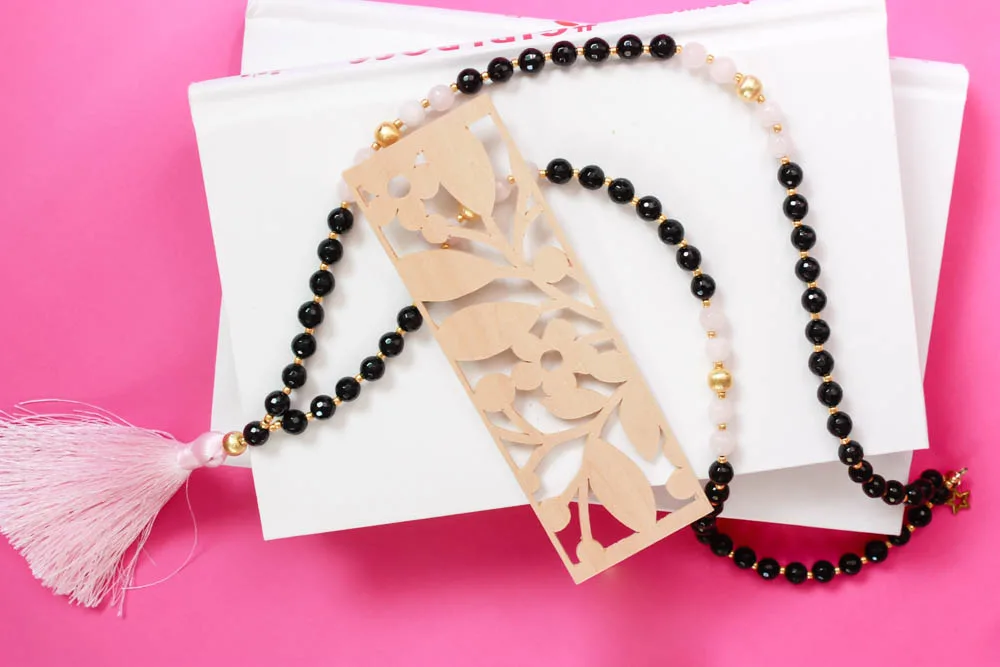 Credit: amber-oliver.com
I have an ongoing love affair with bookmarks. You can't have too many bookmarks, so how about we make another one?
Only this time, let's make a wooden bookmark: something that will last a long time. You'll need to get your Cricut out again for this project.
Once you've picked out the wood and downloaded your bookmark design of choice, you can get started on the cutting. The final step is to attach your bookmark to a tail of beads, twine, ribbon, or plain old burlap.
Check out some more DIY bookmark ideas for inspiration!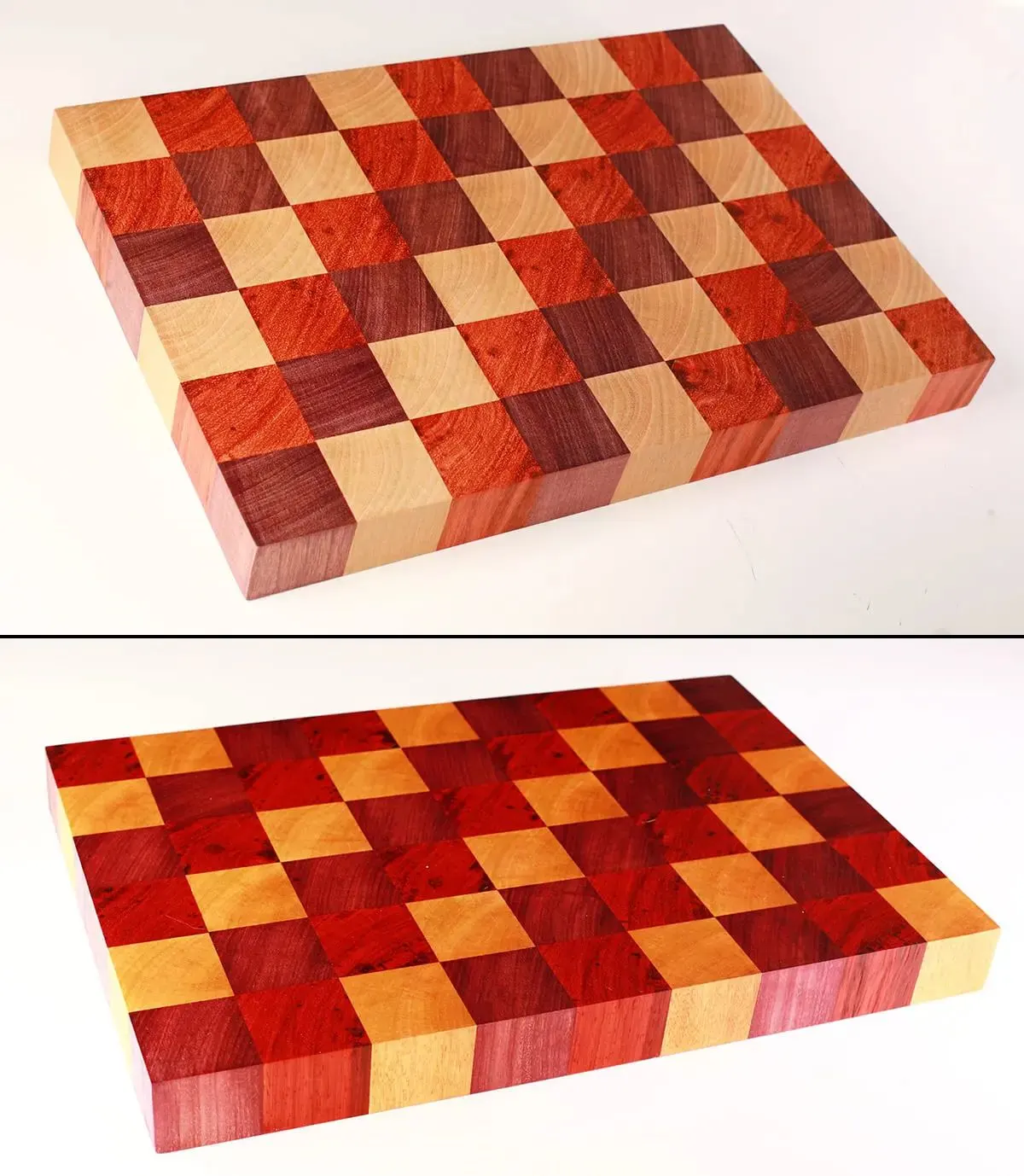 Credit: celebrationgeneration.com
I always have an extra cutting board that I only bring out when I'm entertaining. I often use it as a breadboard or cheese board as well.
This checkered cutting board can do exactly that for you as well. Sure, you can use it as your everyday cutting board.
But since you're making it yourself— and it's pretty easy to assemble— you can make another one to use as a serving board too!
Just remember to rub it down with some butcher oil once it is ready to use and you're all set. Check out more crafts for men.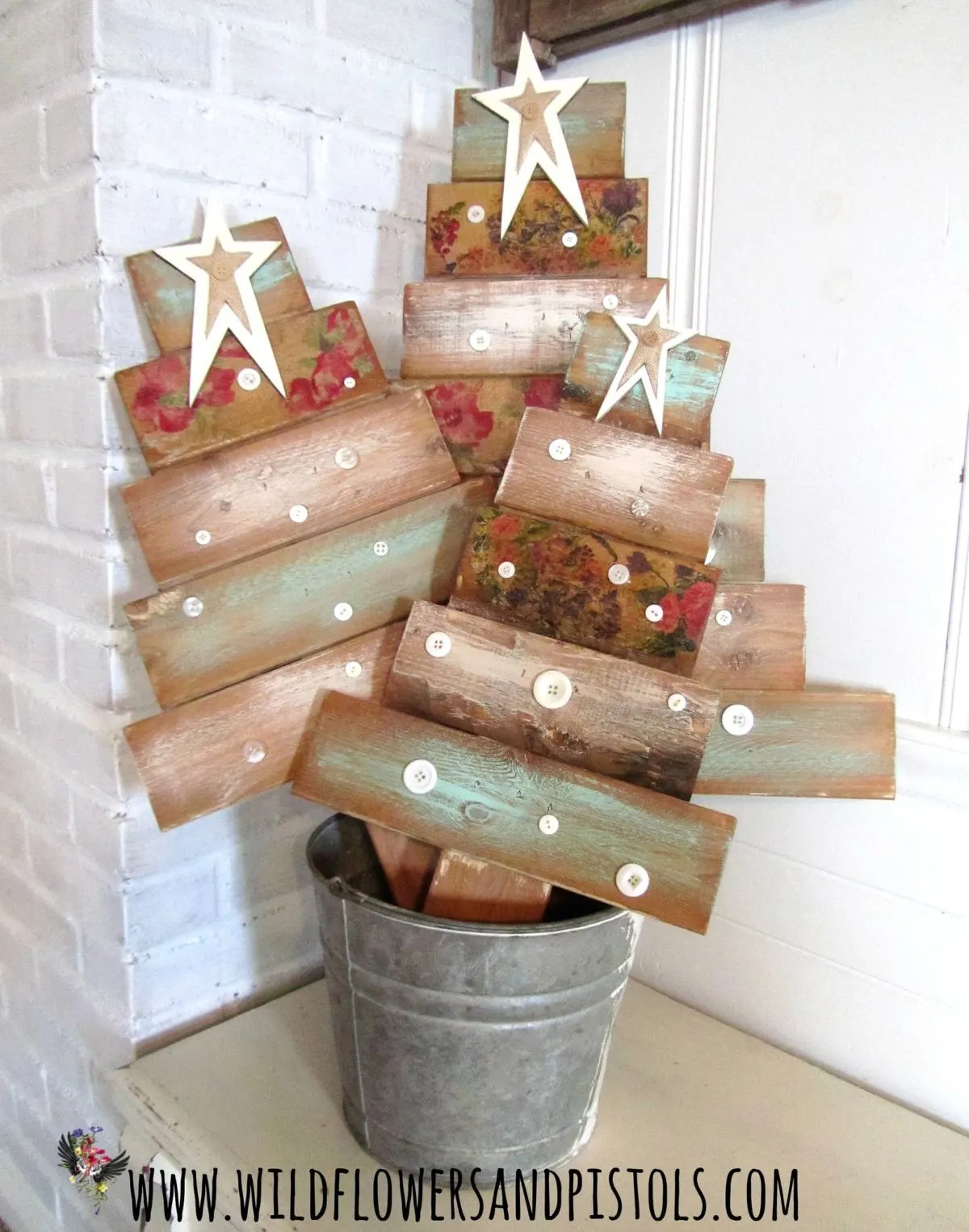 Credit: wildflowersandpistols.com
There's something so personal and quaint about making anything from reclaimed or repurposed wood. Making a Christmas tree that way can be extra special!
Once you've designed the tree and fixed its size and dimensions, you can easily assemble it and nail the boards in place. You can also consider choosing and using wood stains like this to get a better finish.
Or, if you are so inclined, you can paint the tree in bright and cheery Christmas colors.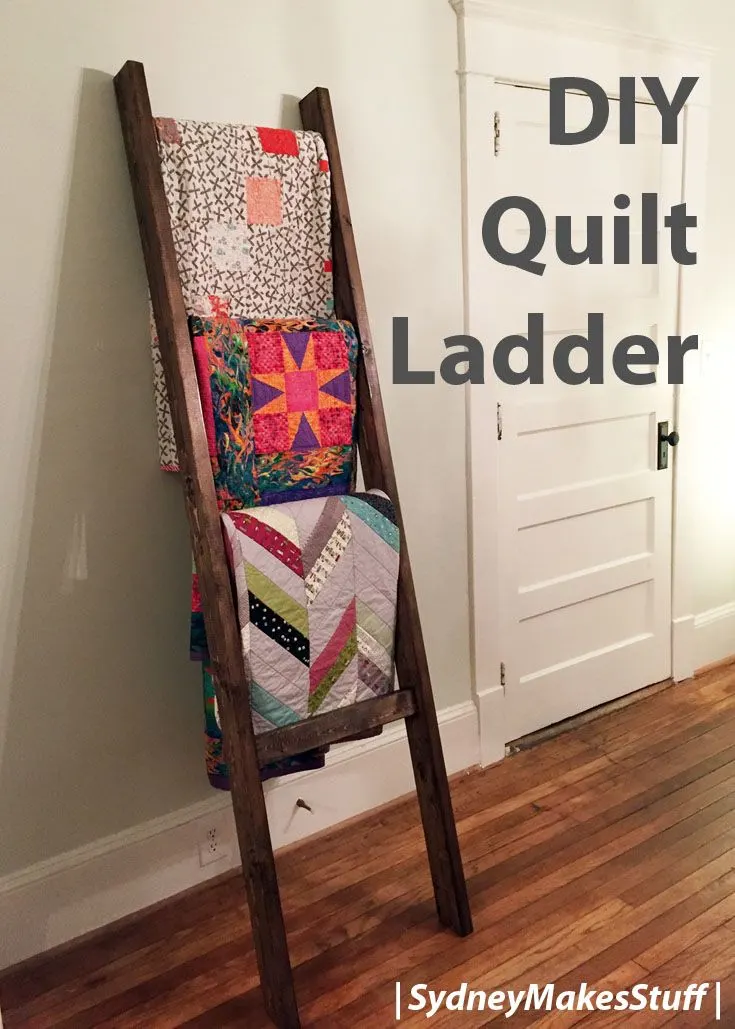 Credit: Wordpress
A quilt or a blanket ladder is a seriously underrated piece of furniture. Once you have a ladder and start using it to put away your quilts and blankets, there's no going back to folding them into a basket.
With a few pieces of wood, nails, screws, sander, and, of course, your sturdy saw, you can make one right at home. They are surprisingly easy to make if you know your way around woodwork.
Just remember to measure the wall space you want to prop your ladder against before you start assembling it.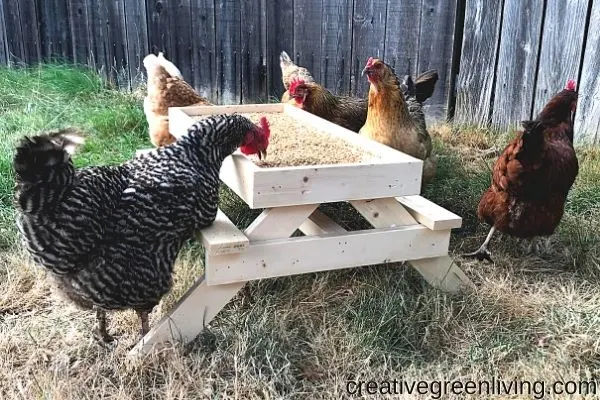 Credit: creativegreenliving.com
No, you read that right. It's a chicknic table: a picnic table for chickens…what is the world coming to, you wonder?
This isn't just a gag DIY craft project, no. It's actually a really amazing—and hilarious—idea to build a chicken feed.
So how do you build this chicknic table? The first order of business is to pick out your lumber and start designing it.
Once you've assembled your chicknic table, go ahead and paint it. I won't judge you if you build this chicknic table and then buy chickens for the table's sake.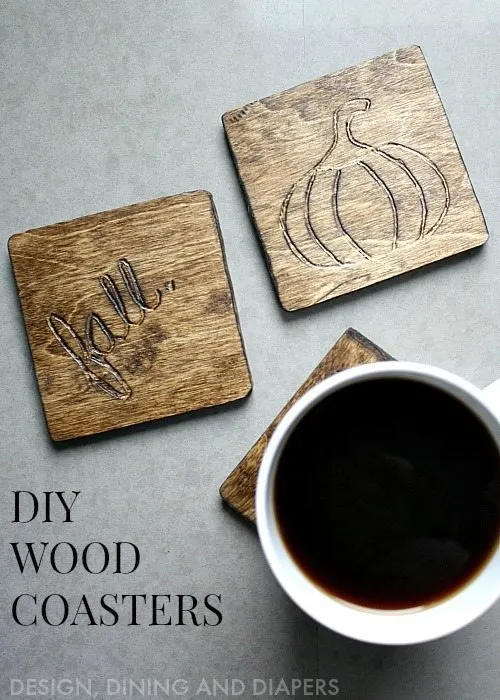 Credit: tarynwhiteaker.com
Have you considered switching out cheap plastic coasters with something hardier, like wooden coasters? You'd be surprised just how charming they look!
Do you have any wood slices leftover from earlier? You can find something similar, albeit in a different shape, right here.
These will make the base for your wooden coaster. You can attach the coasters to a length of jute twine or rope and hang them away for later.
Speaking of rope and coasters, check out these DIY rope coasters!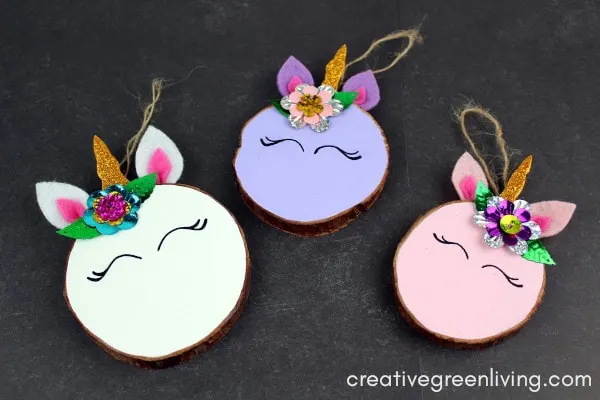 Credit: creativegreenliving.com
Speaking of decorating your Christmas tree, have you picked out your ornaments yet? I have an adorable DIY project for you: unicorn Christmas ornaments!
You'll need wood slices from here to begin with. You will also need felt scraps, glitter foam, and sequin confetti to turn your wood slice into a unicorn.
Don't forget the horn because otherwise, you'll just have a bedazzled horse ornament.
Check out these 27 delightful unicorn crafts, if you've got unicorn fever and want a unicorn-themed celebration this year!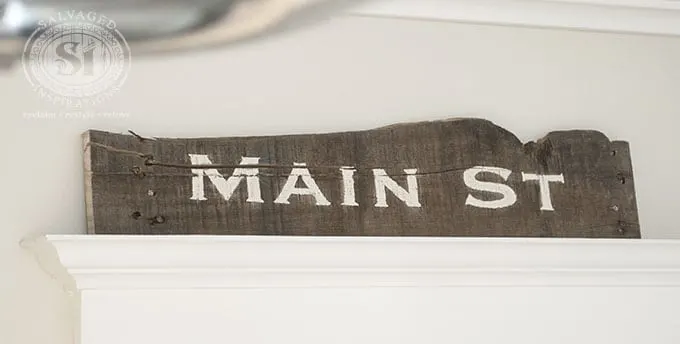 Credit: salvagedinspirations.com
Have you ever salvaged a plank of wood from somewhere? Did you have a cherished boat that you had to let go of or an old barn that had to be torn down?
I bet you saved a plank of wood for keepsakes. How about you turn that plank into something classy and decorative and display it on your mantle?
Trust me, wooden sign boards add a lovely touch of rusticity to your home. Bonus, it also holds a precious memory seeing as how the wood you used belonged to something you once held dear.
Check out more crafts like this you can sell.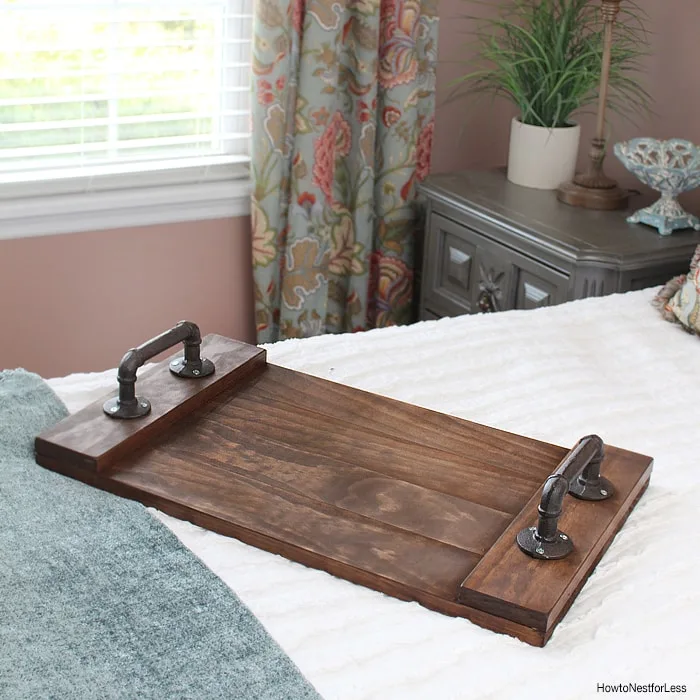 Credit: howtonestforless.com
Wooden trays cost an arm and a leg at those fancy home decor stores. That's why it makes much more sense to make one yourself.
It's easy to make, cost-effective, and in the end, you have a wonderful wooden tray or serving board to show for your efforts.
Once you've picked out your wood, buy a couple of sturdy handle pulls from here. Secure the handles in place only after you apply a wood stain of your choice and it has completely dried.
These trays can also make wonderful gift ideas!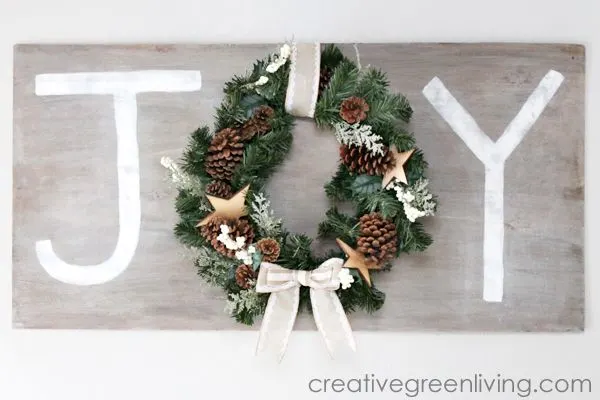 Credit: creativegreenliving.com
With Christmas right around the corner, it's time to decorate your tree, bake cookies, and, of course, hang your wreath. But, how about this year you hang a wreath sign to spread joy?
You'll need a plywood board, wood wax, and sandpaper to begin with. You'll also need your decorating supplies like ribbons, paint, and brushes.
Pick out your Christmas wreath and start assembling your board. You can check out these 20 unique Christmas wreath ideas for inspiration.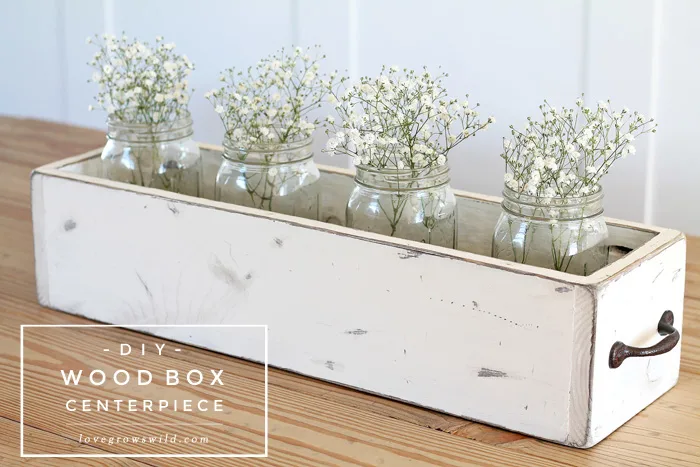 Credit: lovegrowswild.com
You don't need to have a wedding to have centerpieces. Just have a gorgeous wooden box centerpiece for your dining table at home with a few simple decorative items.
You will need a few mason jars from here—aren't mason jars the best? You can use them for just about anything. In this instance, your mason jars will act as flower vases.
Once you've built your wooden box, place your mason jars in it and fill them up. Consider using beautiful flowers, ferns, reed and pampas grass(look here), potpourri, or pillar candles like these.
Check out some more mason jar ideas to decorate your home!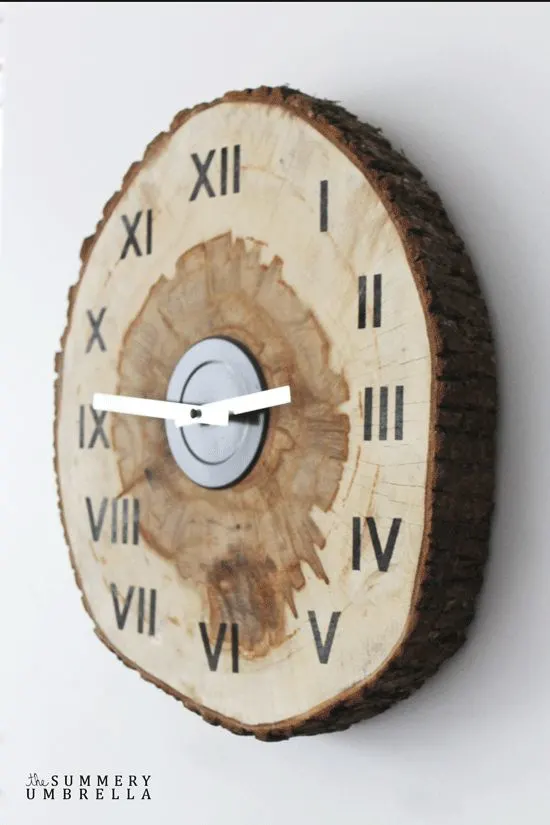 Credit: thesummeryumbrella.com
This DIY calls for a few of those wood slices you used in your earlier crafts. Go ahead and grab them from your craft supplies.
You will also need the clock mechanism—you can find the hardware here or just disassemble an older clock and use those pieces.
Once you've grooved out the center of the wood slice to fit the mechanism in place, it's time to(ha!) create the numbers on the face of the clock.
After you've assembled all the components, go ahead and hang up your wooden clock!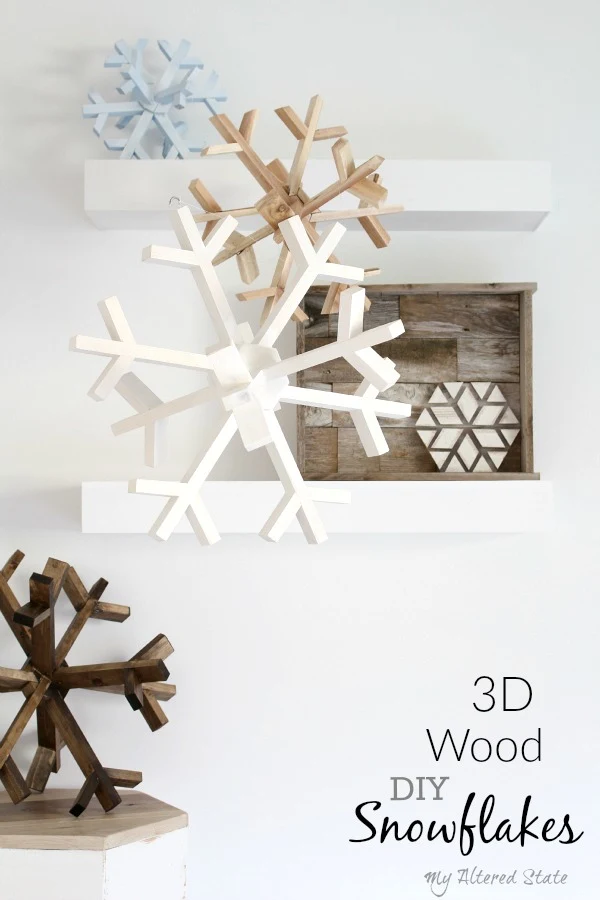 Credit: web.archive.org
Remember when you made those Frozen-themed placemats? Well, here's another craft project to add to the Winterland decor you have going.
This 3D snowflake would look beautiful on your shelves or on the mantel where everyone can admire your handiwork.
All you have to do is design the snowflake, decide the dimensions and start carving out time—and the wood, too, of course.
You can stain the wood or paint it a nice silvery blue before you arrange the snowflake on your mantle.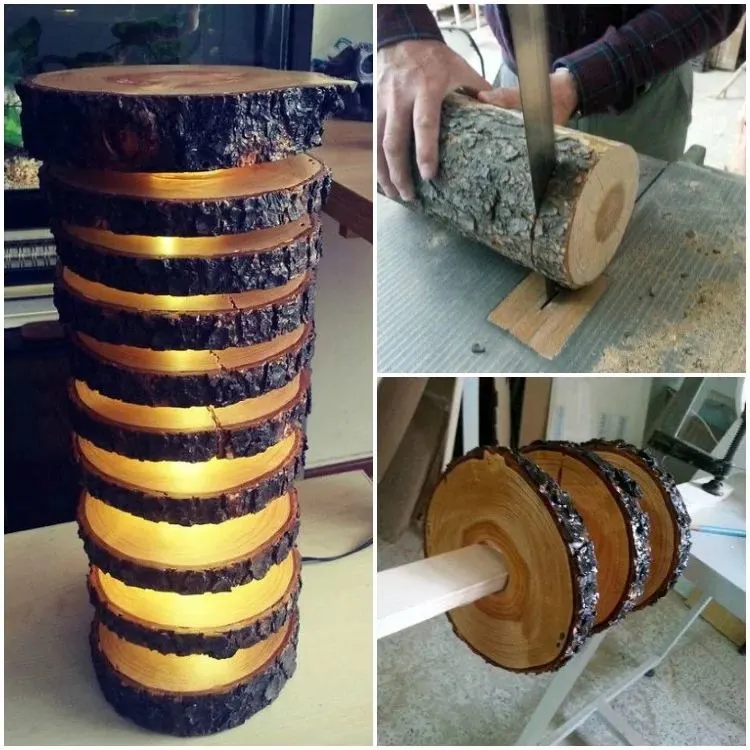 Credit: idlights.com
A floor-length lamp is definitely a statement piece in every living room. Sure, you can just as easily buy one at IKEA or the local home decor store.
But how about you make your own floor log lamp? It could be just the right idea for a nice, long weekend of woodworking, beer, and chilling out at home with a DIY project.
Grab your toolkit, pick out your wood and buy a plexiglass tube from here. Now don your protective gear and start cutting your wood!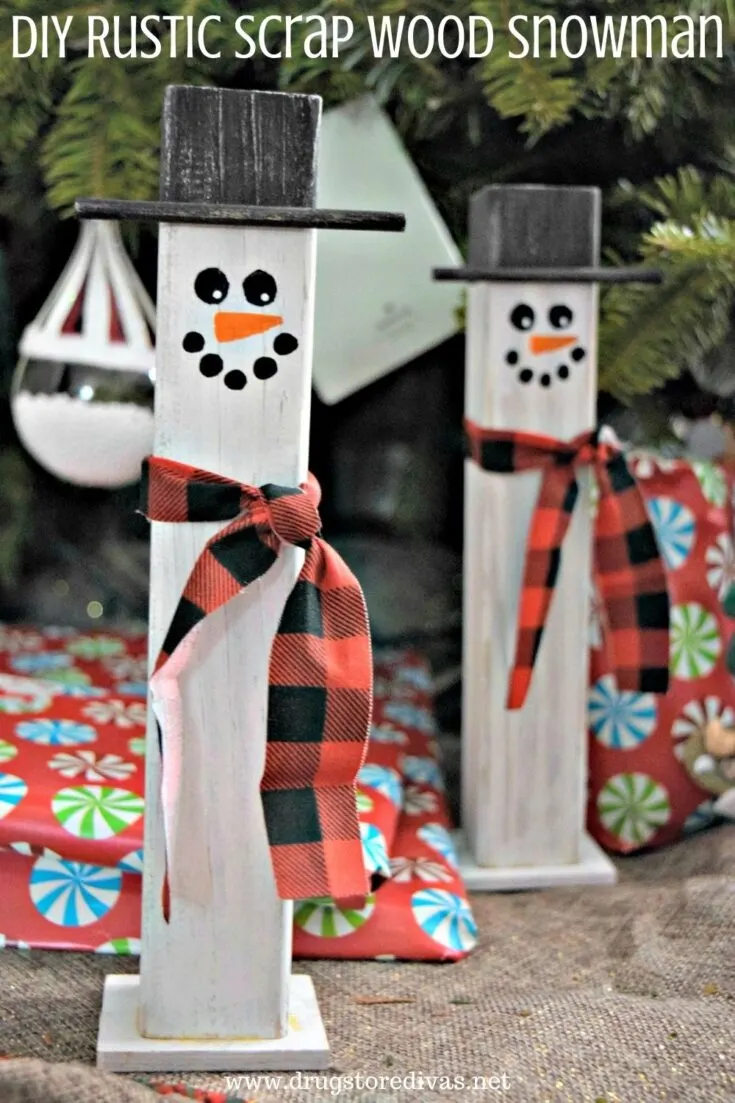 Credit: drugstoredivas.net
This adorable DIY can have your house looking like Christmas Day all day, every day. So why wait for snow to make a snowman when you can have a wooden one instead?
All you need is some scrap wood, which you can easily find at your local hardware store. Then it all comes down to designing, painting, and embellishing your snowman.
It's rustic charm on a wooden post, and it's also Christmas vibes even during balmy summer months. So what's not to absolutely adore about this project?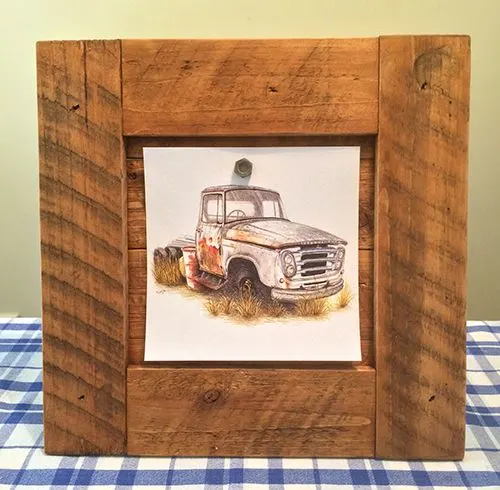 Credit: ozdiyhandyman.com.au
I have a dozen or more photo frames scattered around my living room alone. I can't count how many more frames I have around the rest of my house.
After an extensive DIY like that floor log lamp, making this easy and quick DIY picture frame will be a walk in the park. By now, you already have most of the materials you'll need, so you can start right away.
You can use repurposed wood or scraps that you have leftover from previous projects that will work just as well here!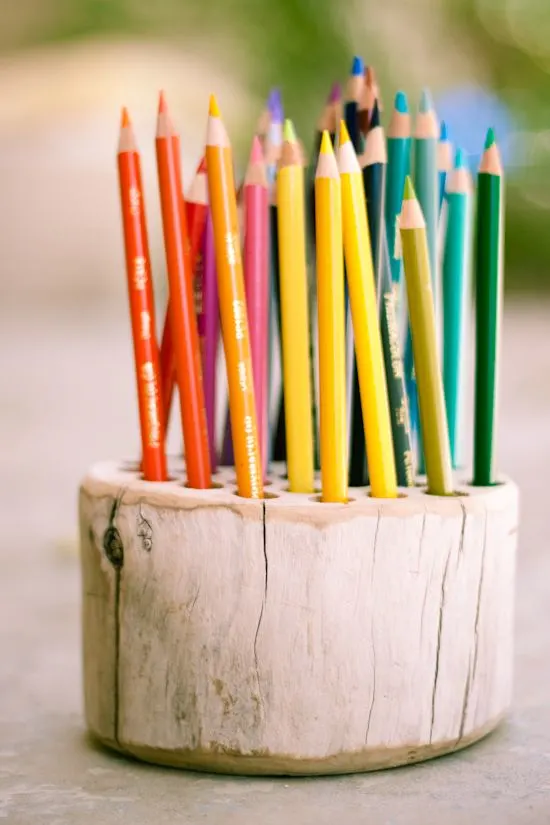 Credit: Blogspot
Speaking of wood scraps, have you considered making a pencil holder from a block of wood you have lying around? It's a rather quaint craft project but is utterly charming once you're finished with it.
It really is easy to make. You can finally get rid of that chipped coffee mug you're using to dump your pens and pencil.
Just drill some holes into a small block of wood. Be careful not to split the wood down the middle, though, and you'll have a pencil holder in no time.
If you're looking for more creative ways to store your pencils, check out this DIY pencil case out of toilet rolls!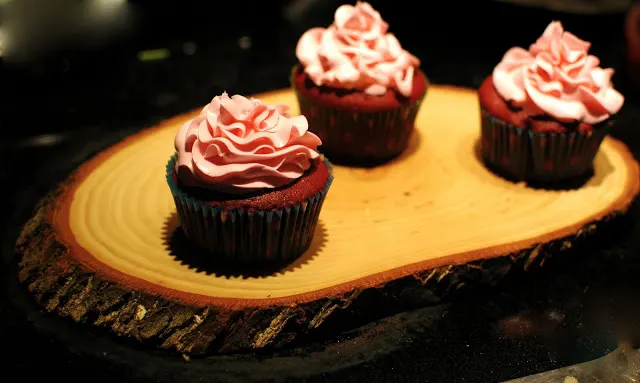 Credit: Blogspot
Have you been surfing wedding cake pictures lately? You certainly will have noticed how many rustic-themed weddings are using an earthy and chunky block of wood as a cake stand.
You'll find that they cost a pretty penny at the stores that carry them. Lucky for you, you're quite handy and can make a wooden cake stand all on your own.
It all comes down to leveling your log, which requires more than just a good scrubbing with sandpaper. So go on and grab your toolbox to get started.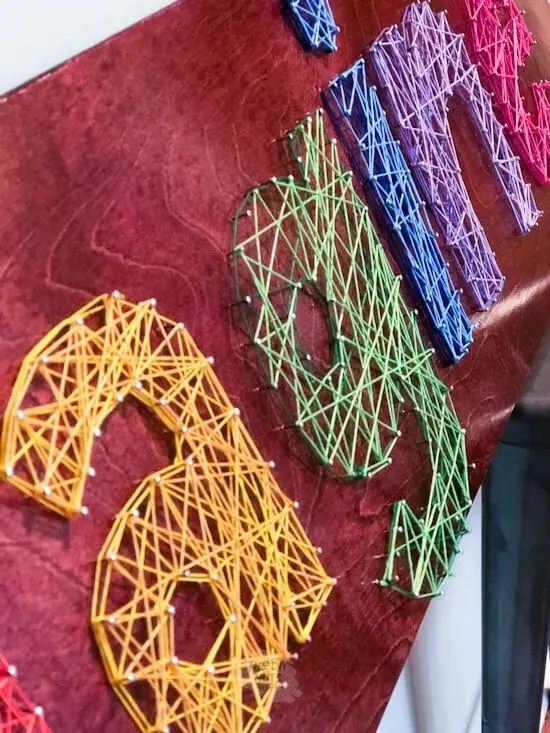 Credit: thediynuts.com
I'm certain you've seen string word art projects and ideas trending on social media. It's actually easier than it looks, and you don't need too many supplies to get started.
Grab some embroidery string from here. You'll need a few dozen of these linoleum nails, which are easy to find and inexpensive.
Finally, you'll need a piece of wooden board. This is a great way to make good use of any scrap wood you have lying around.
Grab your hammer and start nailing down your letters!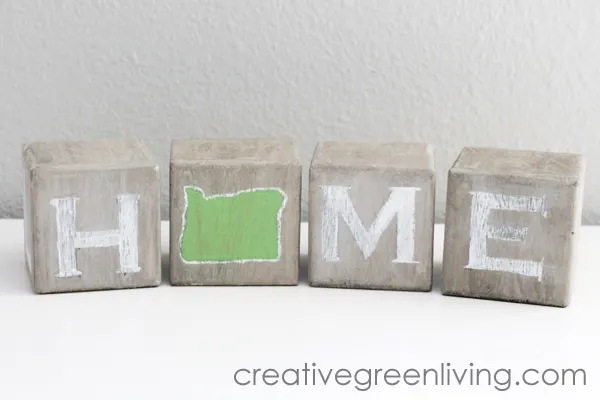 Credit: creativegreenliving.com
Home is where the heart is, sure. But I think home is where these chunky wooden blocks tell you it is.
This is a DIY project that can be used as an accent decor piece. It can just as easily sit on your mantle for you and your family to enjoy!
You can find those wooden blocks right here. You might also consider using a fine-grit sanding sponge to smoothen the edges.
Once you've assembled all your supplies, go ahead and start painting them.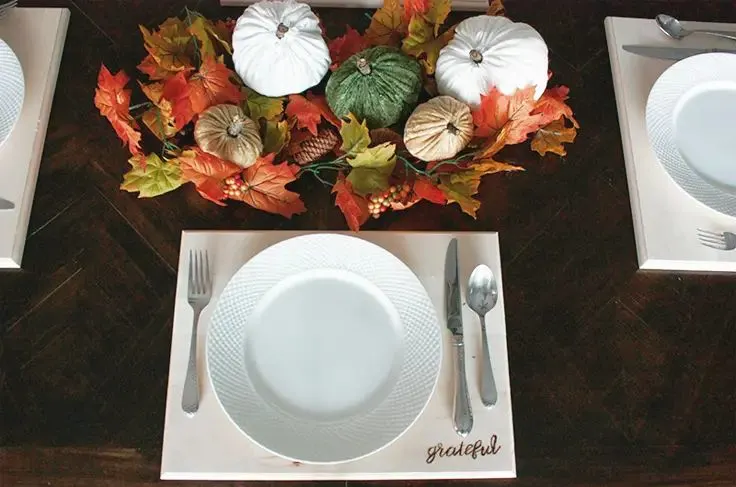 Credit: amber-oliver.com
I don't know about you, but placemats bring a lot to the table. They can set the tone of the entire table, especially if you have a theme going.
Wood placemats are super versatile and can blend in or just as easily stand out as an accent piece. This DIY project also allows you to personalize them with words.
Don't you think those would be lovely souvenirs if you're hosting a party? It's a place card and a placemat, all in one trendy wooden package!