Make someone's birthday even more special with these DIY birthday cards. What a great way to wish someone all that they deserve! So, get creative and use your imagination!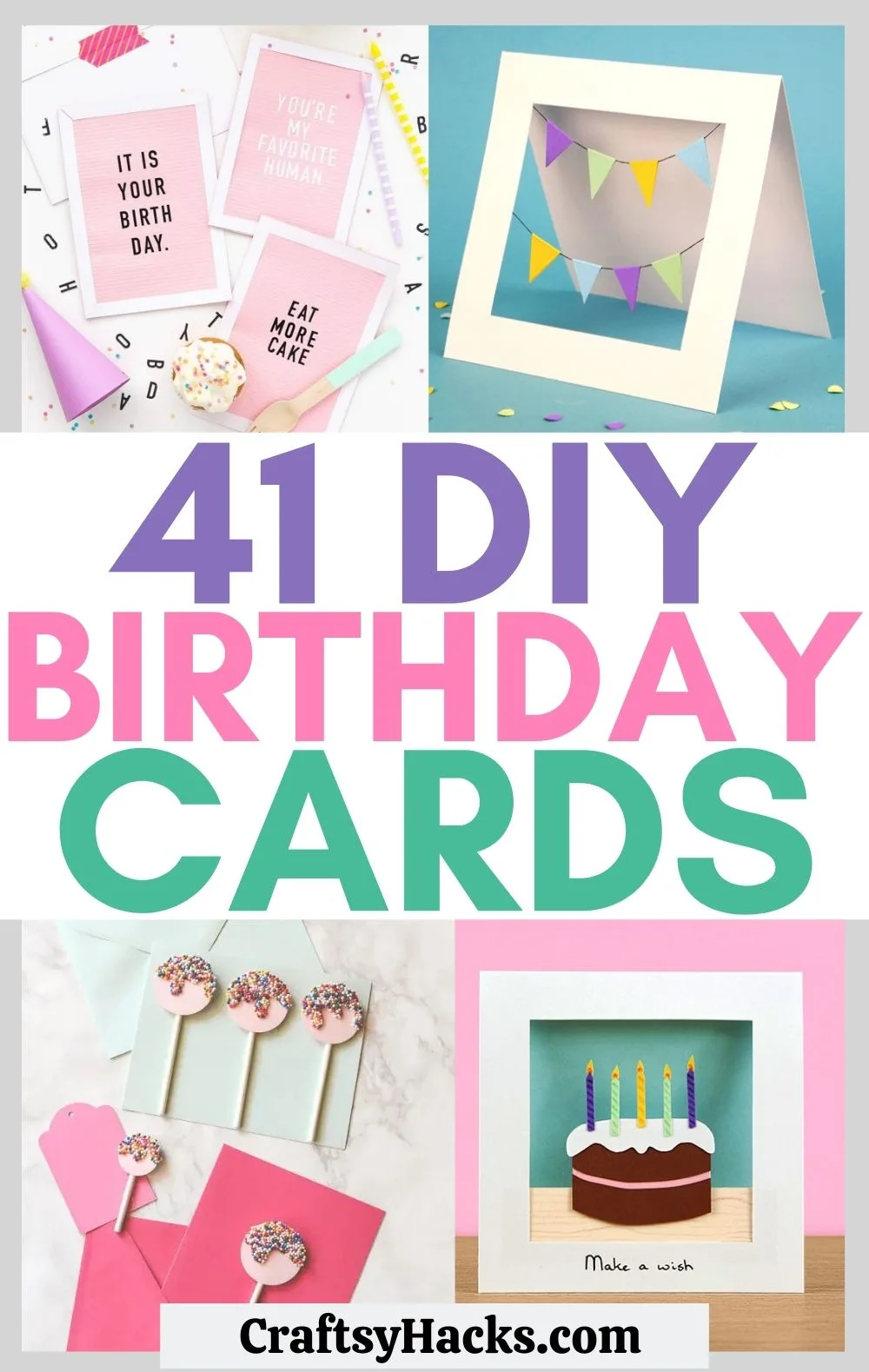 With a ton of birthdays coming up, you're definitely going to be on the lookout for creative and personalized birthday gifts. While making an entire gift can be quite a big project, it doesn't take too much time or effort to make a birthday card.
So with that in mind, here's a list of 41 inspiring DIY birthday card ideas that I think you'll absolutely love to make!
1. Easy Sprinkles Lollipop Card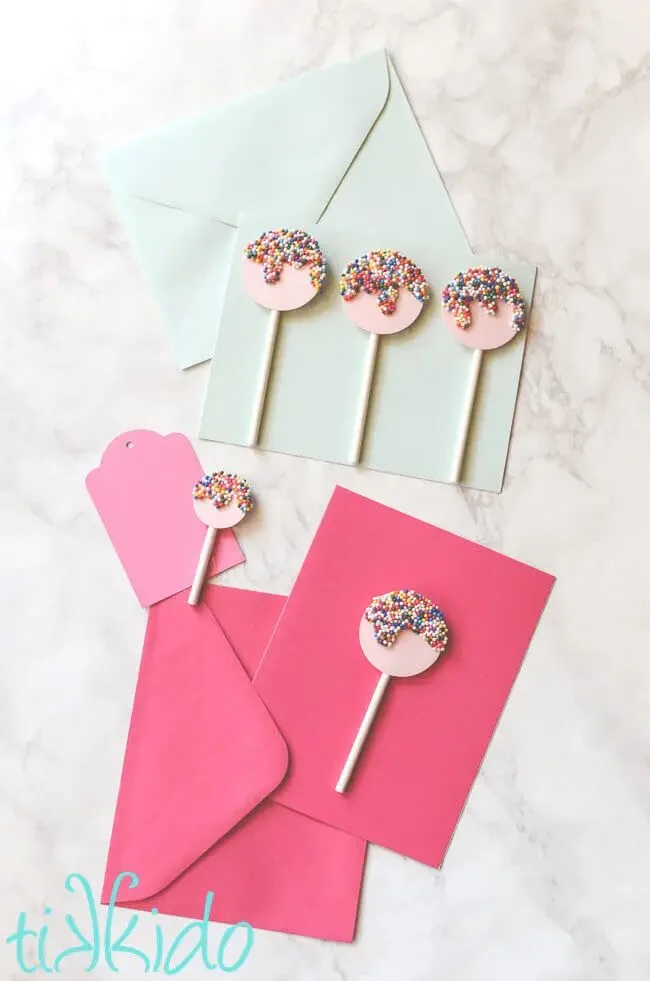 Credit: tikkido.com
Candy and a birthday card in one package? Sign me up, please! This homemade birthday card comes with sprinkle-topped lollipops.
Now while the lollipops aren't edible, it is still a wonderfully whimsical birthday card to make. So, gather your cardstock, rainbow sprinkles from here, a circle punch, and finally, a packet of lollipop sticks like this.
Here's an idea, how about you make a sprinkle-covered popsicle cone too? Lollipops and popsicles would really up the ante with this birthday card!
2. Yoda Pop Up Birthday Card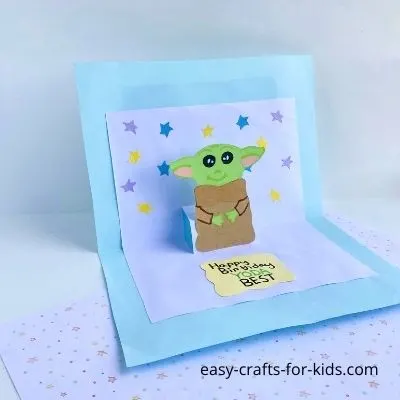 Credit: easy-crafts-for-kids.com
There's something about Yoda that everyone finds endearing. But to a true Star Wars fan, a Yoda-themed birthday card would be a real treat.
Bonus, this birthday card idea calls for a pop-up version of Yoda! You can also consider recreating Baby Yoda if that's where The Force takes you.
You don't need many supplies, just some colorful cardstock, markers, and a sturdy hand with the scissors. Once you've drawn Yoda, go ahead and cut it out for the pop-up.
3. DIY Explosion Box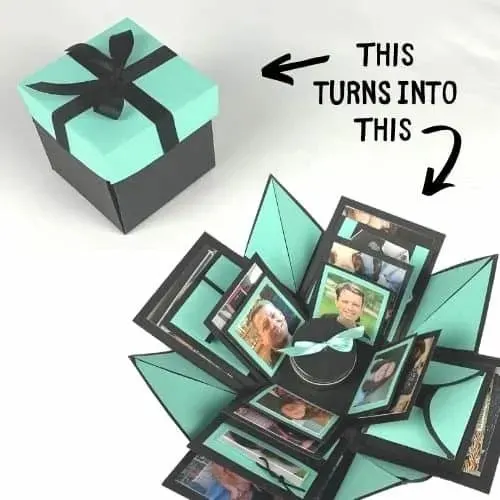 Credit: chaoticallyyours.com
Have you ever seen one of those explosion gift boxes? Don't you love opening them and being treated to an explosion of confetti, gifts, candy, or even photographs?
It's actually pretty easy to make them once you know how to. This DIY birthday explosion box's blueprint calls for a ton of amazing photographs.
The personal touch that this gift adds makes it a wonderful birthday gift! So pick out your favorite memories with the birthday boy or girl and start making this explosion box!
4. Teenage Mutant Ninja Turtle Birthday Card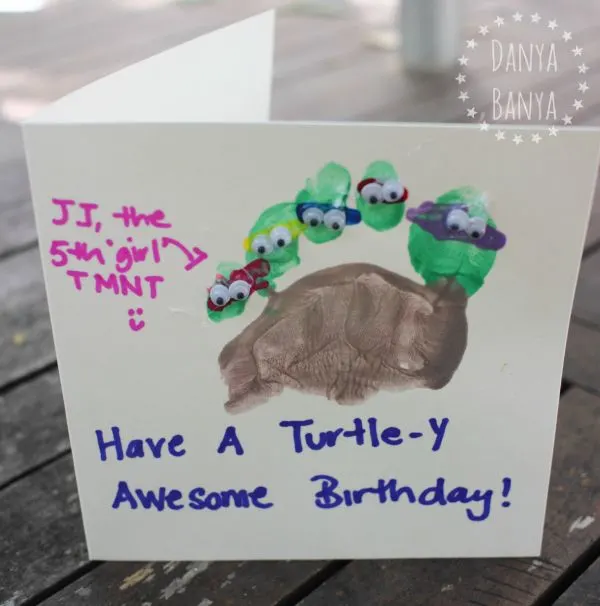 Credit: danyabanya.com
Growing up, I bet you attended at least one Teenage Mutant Ninja Turtle themed birthday party. So how about a birthday card like you see here to brighten up a fellow cartoon turtle lover's birthday?
Did I mention this project involves foot painting? Sounds like real fun, doesn't it?
Buy a packet of these googly eyes and start making that card!
Marbling paper with food coloring and shaving cream is one of my favorite craft time activities. So how about trying out that marbled effect on a birthday card?
It's classy, colorful, and requires very few craft materials. Trust me; it's not as intimidating or nearly as intricate as it appears.
The shaving foam and food coloring(look here) do all the artwork for you. All you need to do is enjoy the process and refrain from giving yourself a Santa beard with the shaving foam—I know you want to!
6. Watercolour and Hand Lettering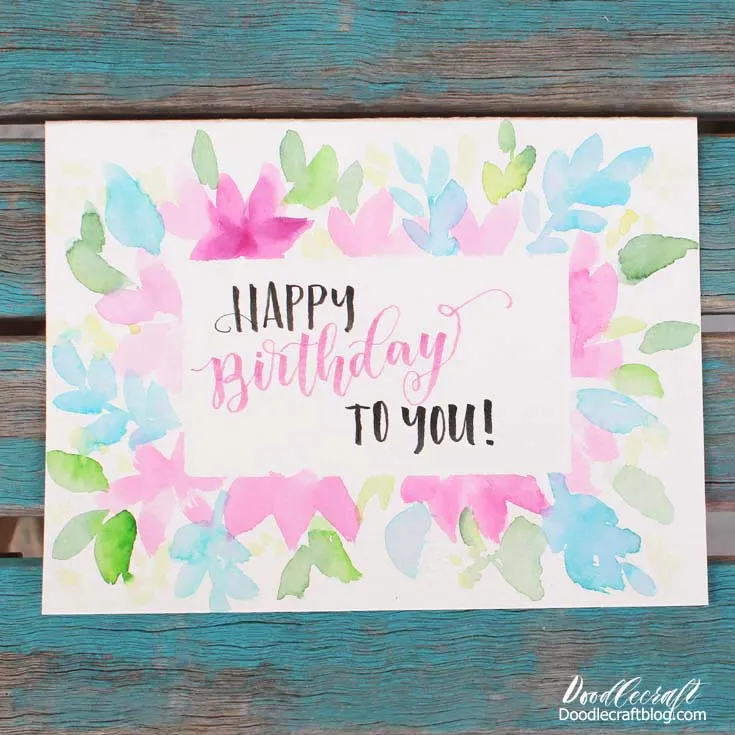 Credit: doodlecraftblog.com
A beautiful and colorful birthday card like this one would be such a wonderful way to brighten up a loved one's birthday. With a few simple materials and a practised hand for the calligraphy, you can make one just like that!
Grab some removable adhesive tape from here and a large-sized blending palette like this to help you with this project. Don't forget to lay out a couple of newspapers.
Any project that involves watercolors is bound to get messy.
Isn't there something absolutely decadent and medieval about parchment paper? One glance at the rustic ivory parchment, and you're immediately transported to days of yore.
I think a parchment scroll in place of a traditional birthday card would make a birthday even more special. You'll also have a ton of room to scrawl out a lovely birthday message.
You can make your scrolls in just under ten minutes. You can find the paper you need right here.
Pressed flowers bring such a vintage aesthetic to any craft project. A few sprigs of lavender or a soft, veined rose bloom combined with parchment-like paper sounds magical, doesn't it?
A vintage birthday card would be the perfect choice for someone who loves that vintage aesthetic. You can press the flowers at home, or you can order them online.
As long as you preserve them carefully, you're good to go!
9. Paper Scrapped Birthday cards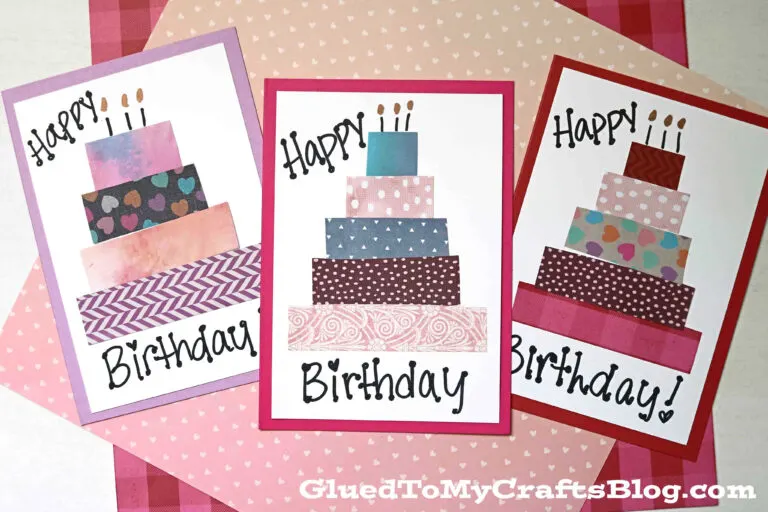 Credit: gluedtomycraftsblog.com
Do you have a ton of paper scraps leftover from previous craft projects? I think I have the perfect solution to help you put those scraps to good use: birthday cards!
It's a very creative and sustainable method of making birthday cards from scrap paper. You can also use embellishments, sequins, and glitter to jazz the card up.
Scrawl out your birthday message, allow the paper to completely dry, and voila, you've got yourself a fabulously upcycled birthday card!
10. Pom Pom Ice Cream Cone Birthday Cards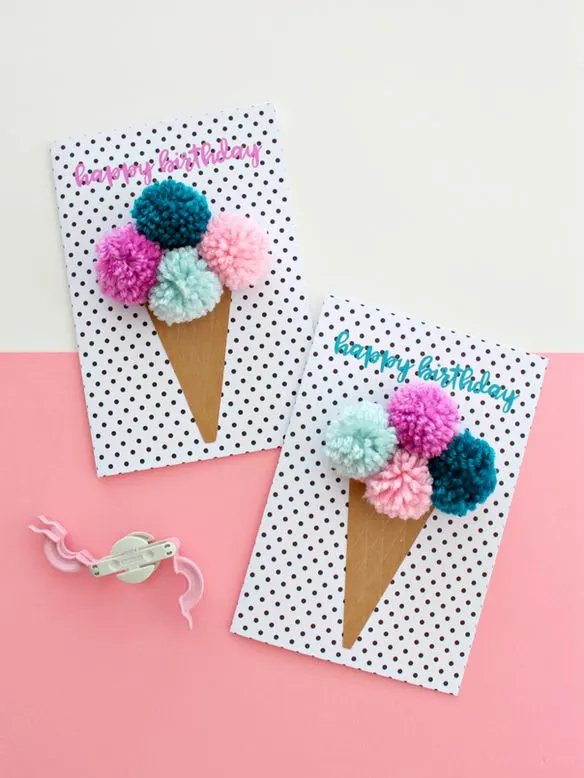 Credit: whitehousecrafts.net
When you've decided to use pom poms on a birthday card, it's only natural to segue into the land on ice cream cones.
No, really, just think about it. What better way to represent scoops of ice cream than fluffy pom poms?
You will need a few colorful pom poms from here, or you can use yarn to make the pom poms from scratch. Use heavy-duty mounting tape to attach them in place, and you're all set.
11. Birthday Bear Card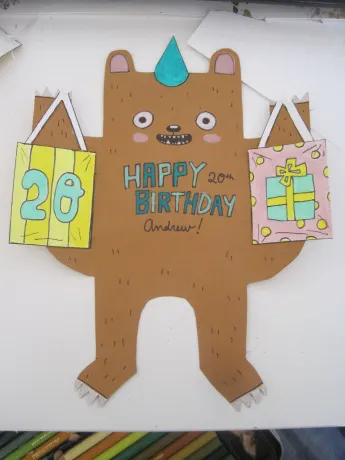 Credit: WordPress
Here's another special birthday card idea, one that involves the birthday bear. In just a couple of hours, and with only your craft essentials, you can have this birthday bear card read to go.
First, decide the dimensions of your birthday card. Then you can draw the bear on your cardstock of choice.
You can easily trace it onto the paper as well. Finally, write your birthday greetings, fold your bear card, and seal it in place.
12. Washi Tape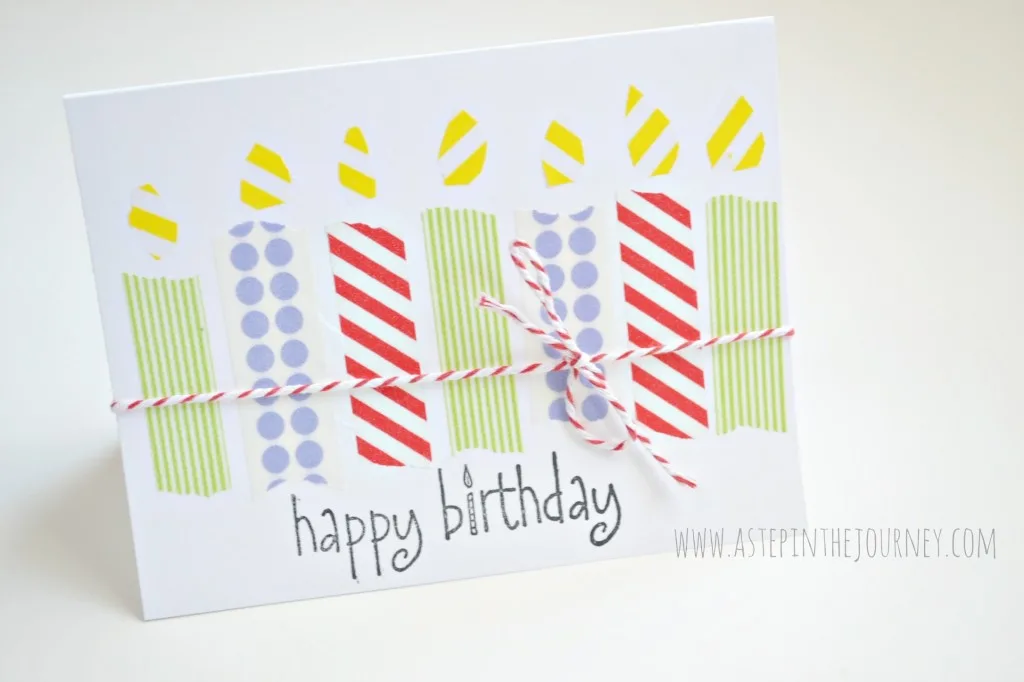 Credit: astepinthejourney.com
I have an entire shelf of my craft corner designated to store just my washi tapes. They are so versatile and can be used as borders, banners, and marquees.
For this DIY, you can use your own supply of washi tape to decorate a birthday card. A few strips of washi tape along the length of the card can easily pass off as candles.
Just draw the flame, write out your birthday wishes, and it's ready to go.
13. Embroidered Cards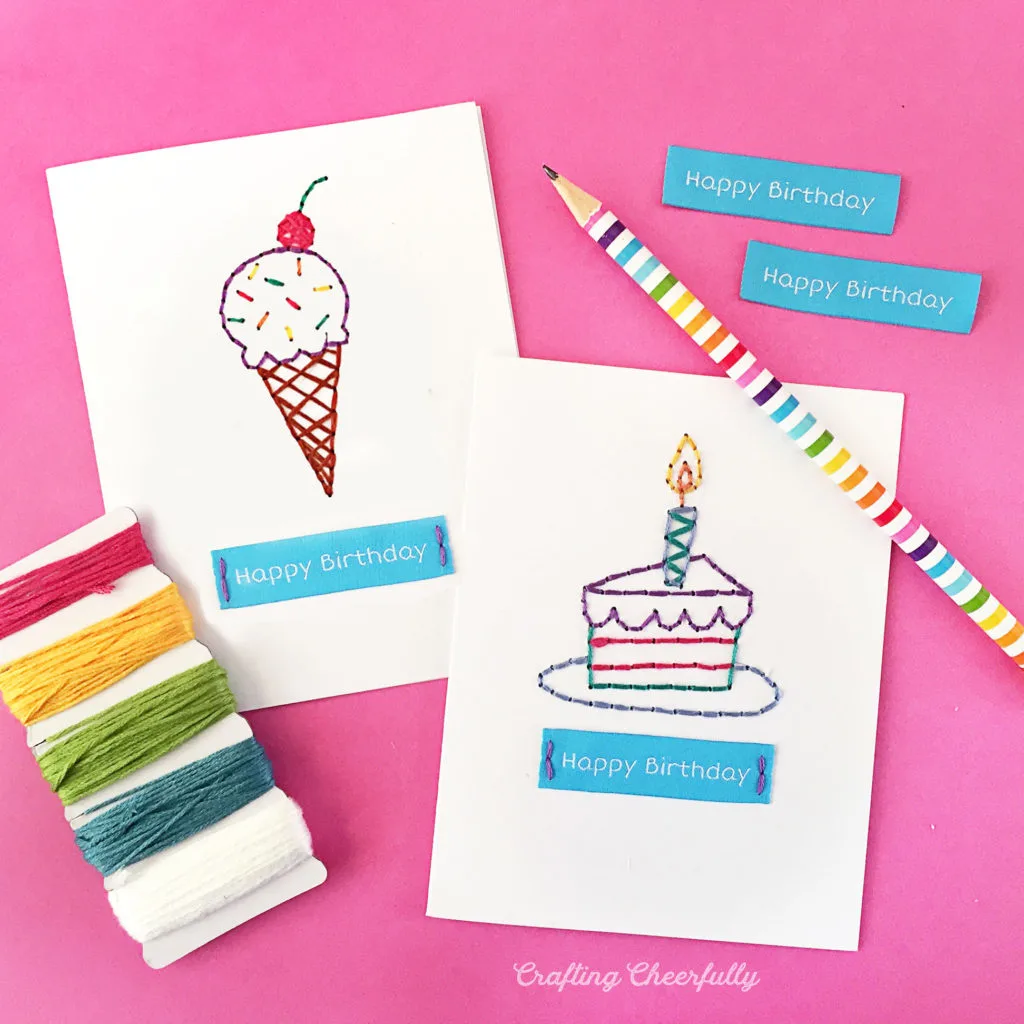 Credit: craftingcheerfully.com
Do you have a good hand at embroidery? Have you perhaps considered embroidering a birthday card for your friend or a loved one?
It's pretty simple, and all you need is some embroidery floss from here to get you started. You can design a cheerful cake, balloons, or other birthday motifs on your card.
You also have a multitude of colors to choose from, as well! If you have a few sewing tags, you can embroider happy birthday on them and stick them to your card.
14. Chocolicious Birthday Card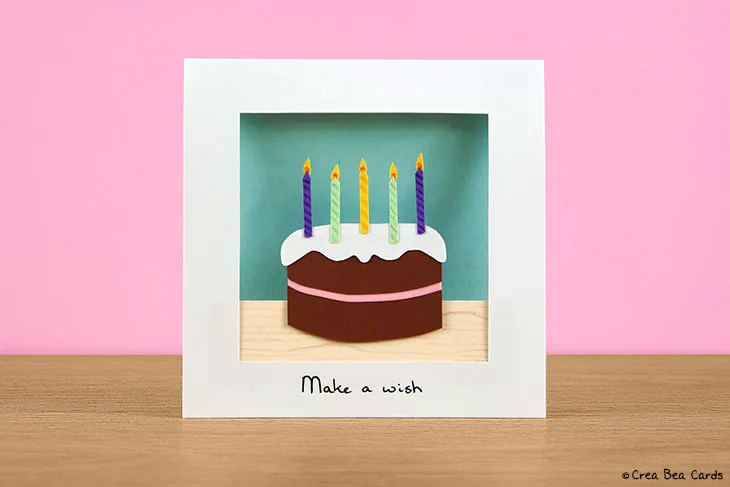 Credit: creabeacards.com/
Nothing says birthdays like chocolate cake and colorful candles. So when you're creating your next birthday card, how about you make a chocolate cake birthday card?
Grab your craft knife and graphic ruler and start cutting out your card. You can use markers or even stamps to print out your birthday text along the border.
Finally, pick out a sheet of colored cardstock to attach inside the card as a background for your chocolate cake!
15. Birthday Garlands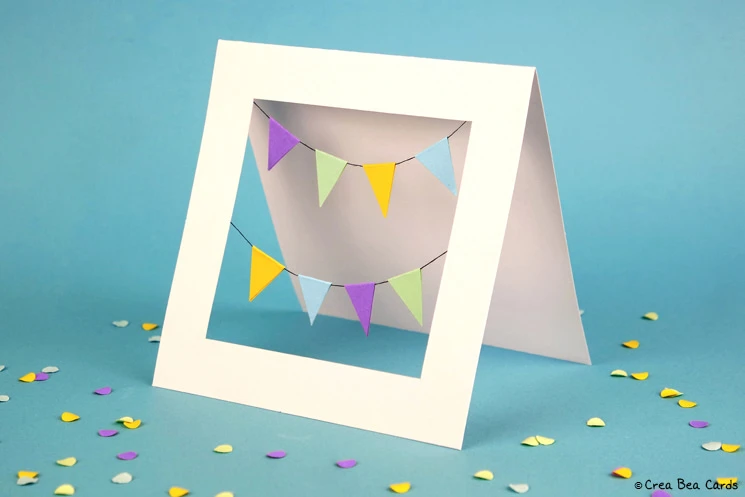 Credit: creabeacards.com
Don't you love colorful birthday party decorations? I think that no birthday party is complete without a few pennant flags hanging overhead in bright and colorful arcs.
Have you considered recreating a pennant flag garland as a birthday card? It's very easy to cut out mini garlands and hang them in a birthday card frame.
Just buy a blank greeting card from here before you start cutting your garlands.
16. Cupcake Card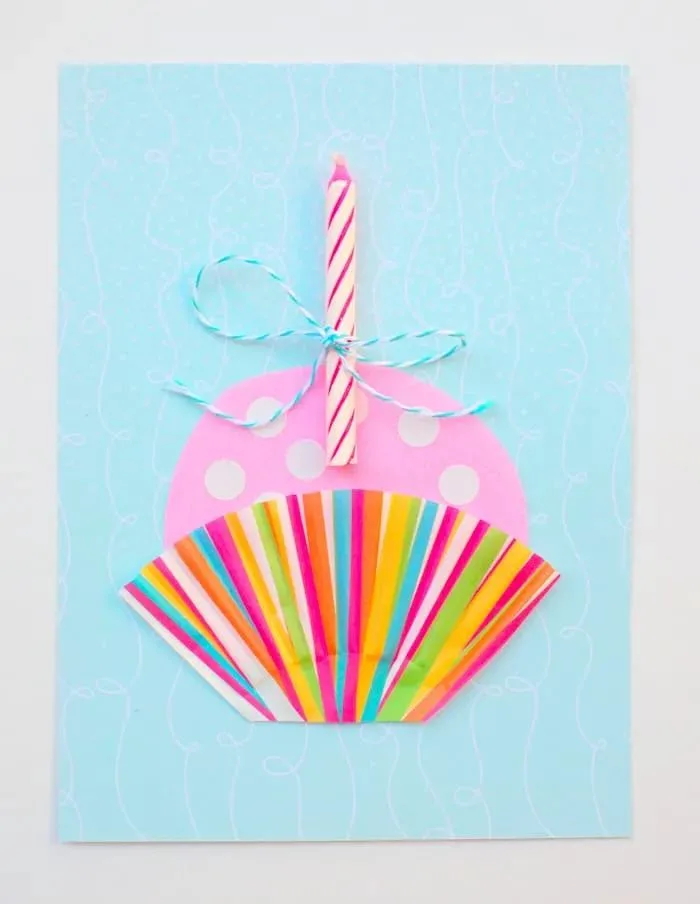 Credit: diycandy.com
Lollipops, cake, ice cream cones, and now, cupcakes! Don't you just love food and baked goodies on birthday cards?
This is a great project to rope your little ones into. Instead of buying your birthday cards at the store, your kids can have a more hands-on role in making cards on their own.
If you want to make it a little extra special, you can stick a real candle on top of your colorful cupcake. That will add a 3D effect to the card!
17. Cake Pop Out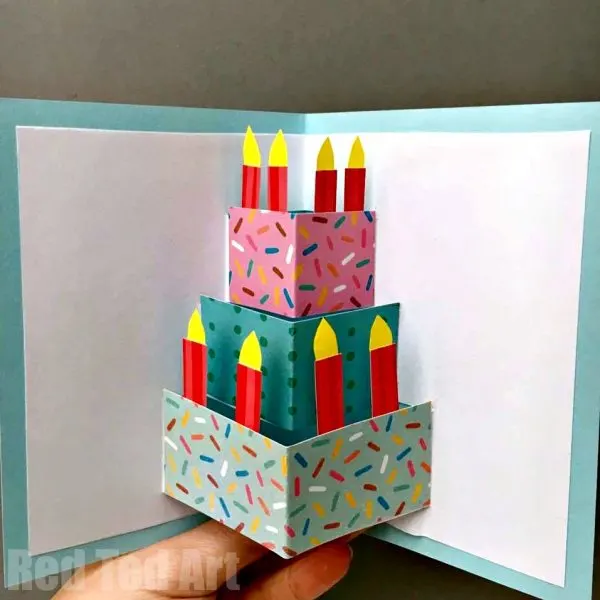 Credit: redtedart.com
Here's another birthday cake card on our list, and this one also happens to be a 3D pop-up cake. Don't worry though; it's not as complicated as it looks.
You will need a few sheets of contrasting colored paper for this card. Do you have any A6 cardstock at hand?
Then go ahead and start cutting out the pop-up. If you follow the pattern and cut the paper carefully, your pop-up cake will look positively delectable!
18. Balloon String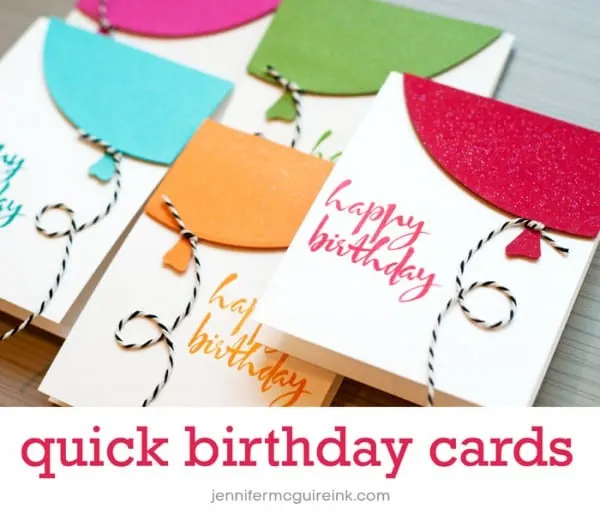 Credit: jennifermcguireink.com
This birthday card is for when you need a quick and easy craft project to make in a pinch. It takes just under half an hour to make this balloon string card.
You will need a few scraps of glitter felt paper for this card, as well as some string or twine. If you have any ribbon at hand, go ahead and use that instead.
Twirl the length of this string or twine to form a loopy curl and stick it on the paper. There you go, a big, bright balloon birthday card that's sure to brighten up any birthday!
19. Dino Boy Birthday Card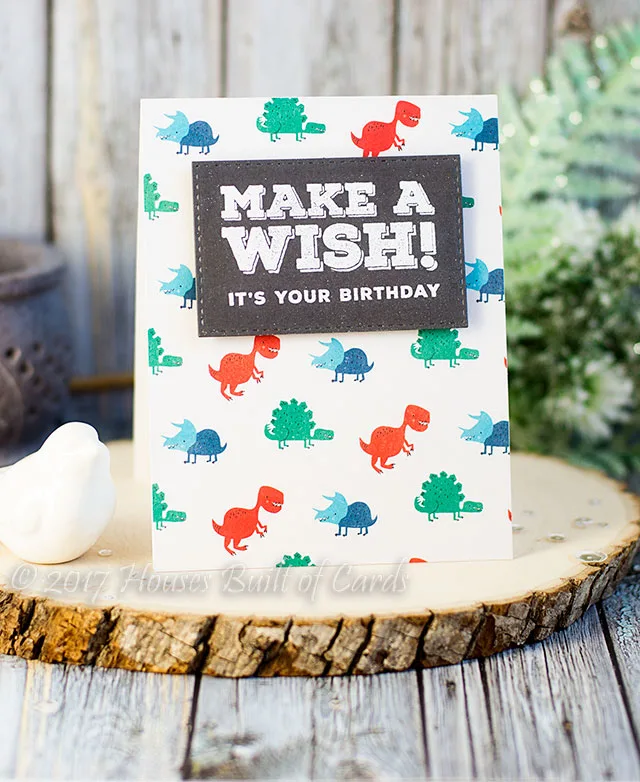 Credit: Blogspot
Dinosaurs might be extinct, but that doesn't mean you can't bring them to life again. How?
Well, do you have a friend who's particularly fond of dinosaurs? Is his birthday coming up?Well, there you go!
You can make this quirky dinosaur-themed birthday card to put a smile on his face!You already have all you need for this DIY card.
Just use dinosaur print paper or if you've got a way with doodling, draw the dinosaurs yourself!
20. Letterboard Cards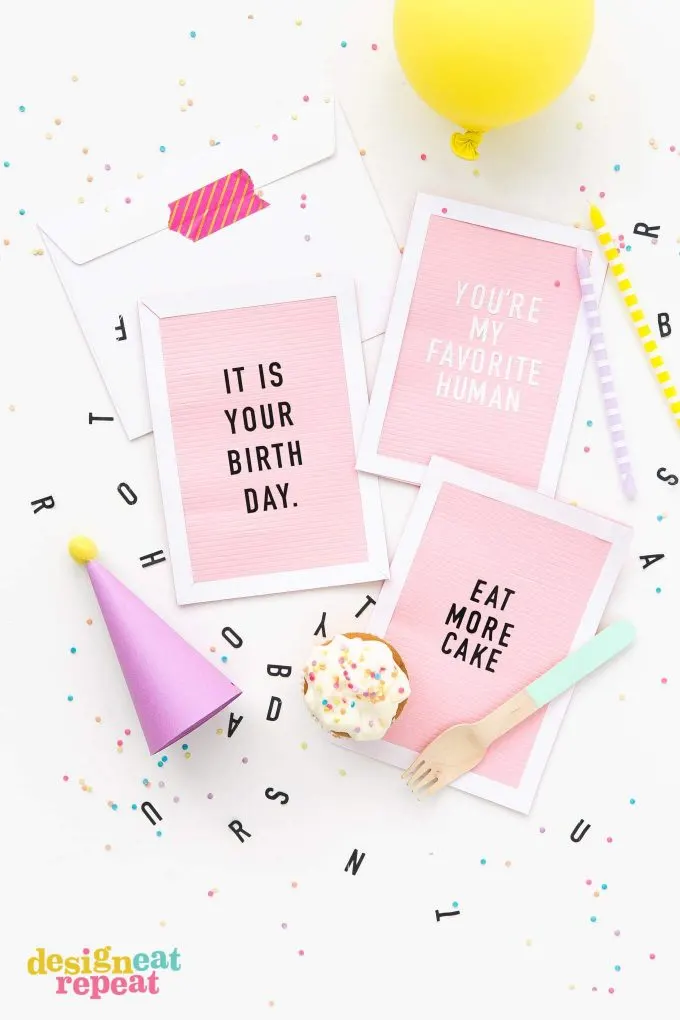 Credit: designeatrepeat.com
I really think it's time to bring letter boards back in style. A letter board-style birthday card should do the trick!
You can customize the birthday text, the size, the color, and even include witty phrases.
You'll need a scoring board(look here) and a scoring tool like this for this craft project. You will also need some colorful markers and heavy-duty double-sided adhesive.
Once you've gathered all your supplies, you can go ahead and score your cardstock to make the letterboard.
21. Black Paper Birthday Card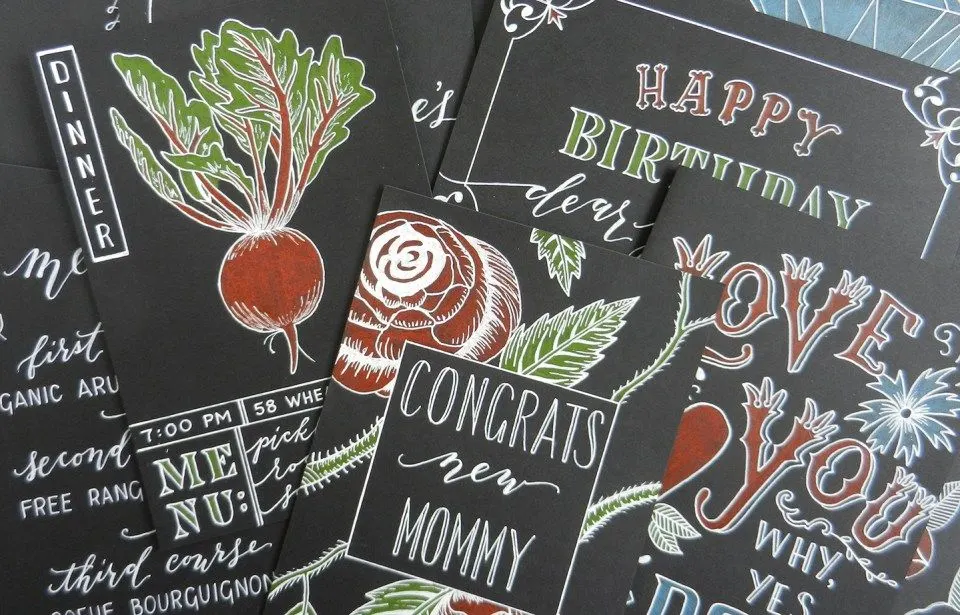 Credit: thepostmansknock.com
Creating art on black paper might seem a little intimidating and a bit of a novelty. You might think that you need special markers and expensive supplies, but you really don't.
With a couple of white gel pens, you can create fabulous art on black paper. For example, you'll be able to make birthday cards and other greeting cards.
You can find those pens right here. Alternatively, you can use a soapstone pencil from here to the same effect.
22. Tulle Birthday Balloon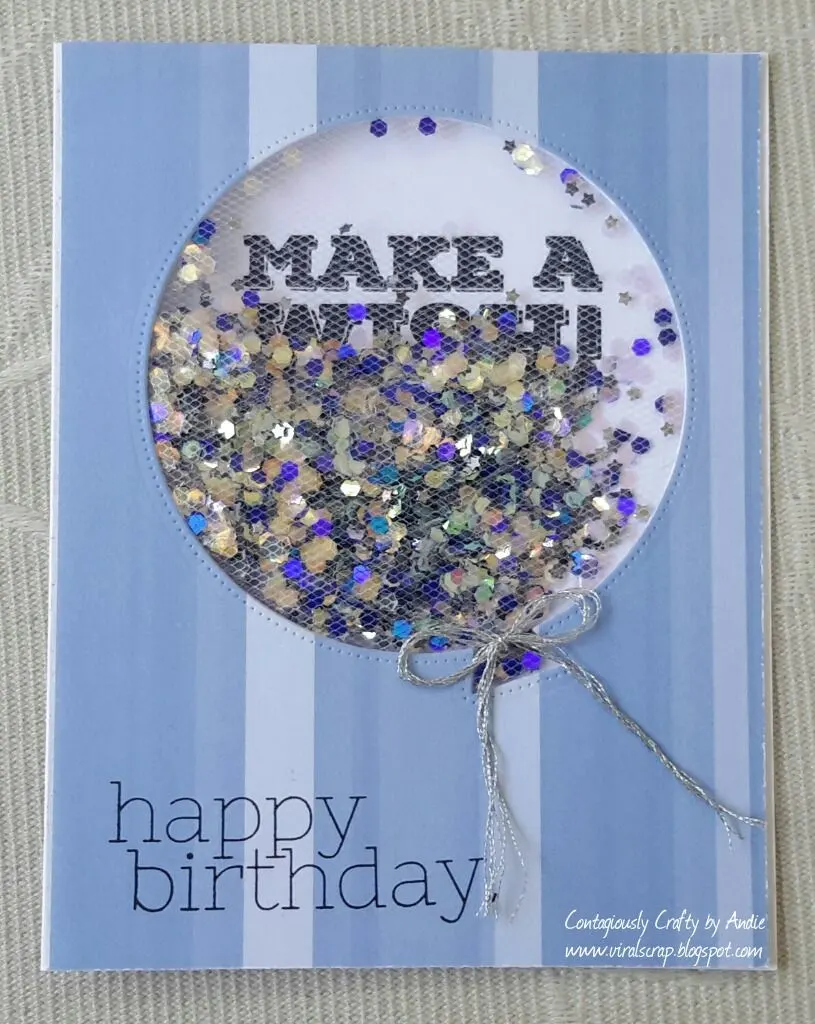 Credit: Blogspot
Tulle is the perfect material to use as a mesh. This project calls for a tulle mesh birthday balloon. Does that sound interesting?
You'll need a bit of tulle fabric, some sparkly confetti and glitter sequins, and of course, your birthday card. So assemble your supplies, make your balloon cut out and fill it up with the sparkles.
Finally, just secure the mesh in place and enjoy your handiwork!
23. Butterfly Gift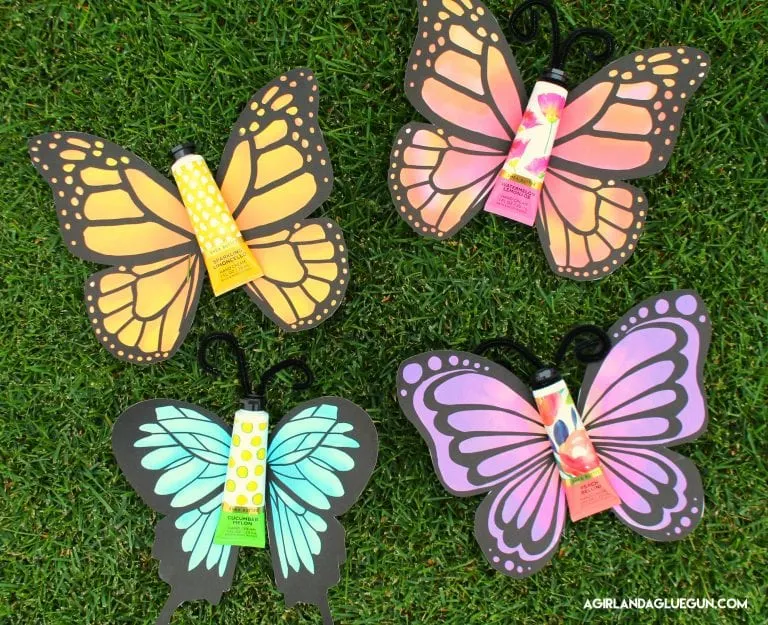 Credit: agirlandagluegun.com
Butterflies and birthday cards are what's in store for your next DIY craft. This butterfly birthday card gift idea is colorful, cheery, and downright fabulous.
You will need to download the blueprint and pattern first. The really fun part is the body of the butterfly, which will enclose a little party favor: candy, gum, a tube of hand cream, lip gloss tube, and the likes!
These card-slash-gifts are so amazing that you'll hardly have the heart to give them away.
24. Fabric Flowers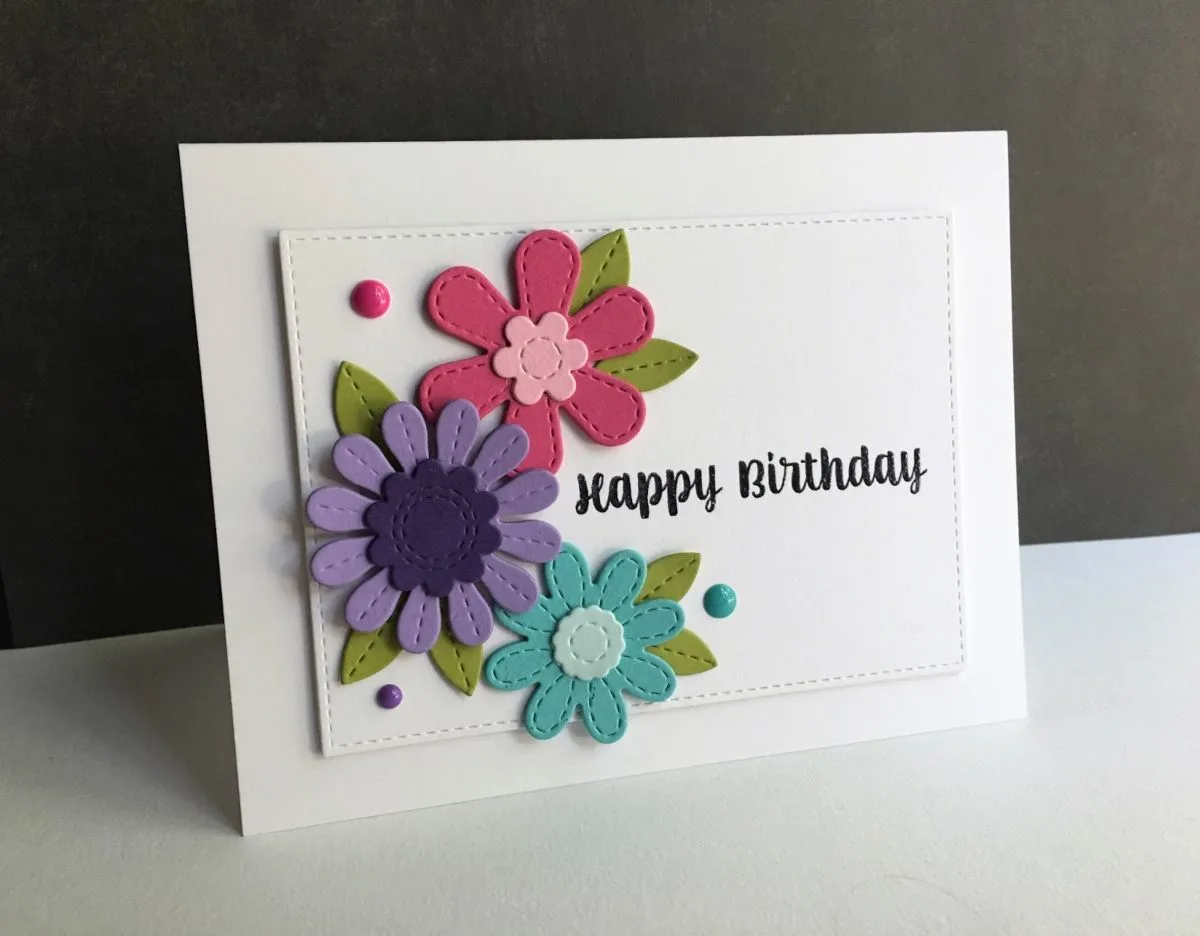 Credit: Blogspot
Do you have a few scraps of different fabric leftover from previous craft projects? Or do you have some clothes or cloth swatches that you can upcycle? Go ahead and grab those.
With a little creative cutting, you can turn those scraps of cloth into flowers. You can secure them to cards and other craft projects.
Feel free to decorate these flowers with buttons, enamel dots from here, or similar craft knick-knacks.
25. Sunflower Card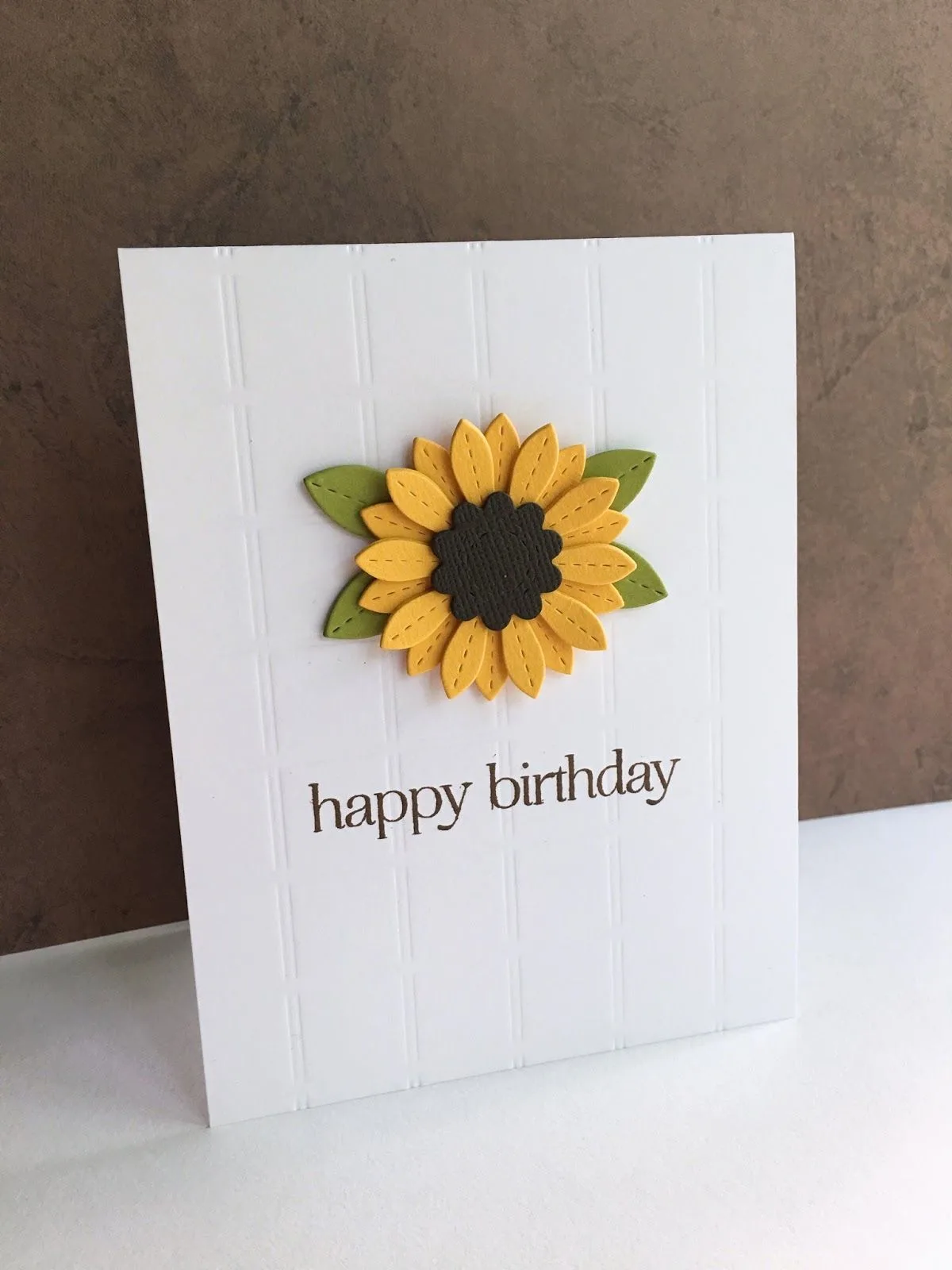 Credit: Blogspot
Speaking of flowers and birthday cards, check out this sunny sunflower birthday card! Is there any flower that's prettier and more welcoming than sunflowers?
Follow the pattern and cut out the different layers of petals. You can also cut out a few leaves and the center for the flower while you're at it.
Secure the entire flower onto the card once you've put all the layers together. There's only one thing left to do, and that's to scrawl out your birthday text.
26. ATM Card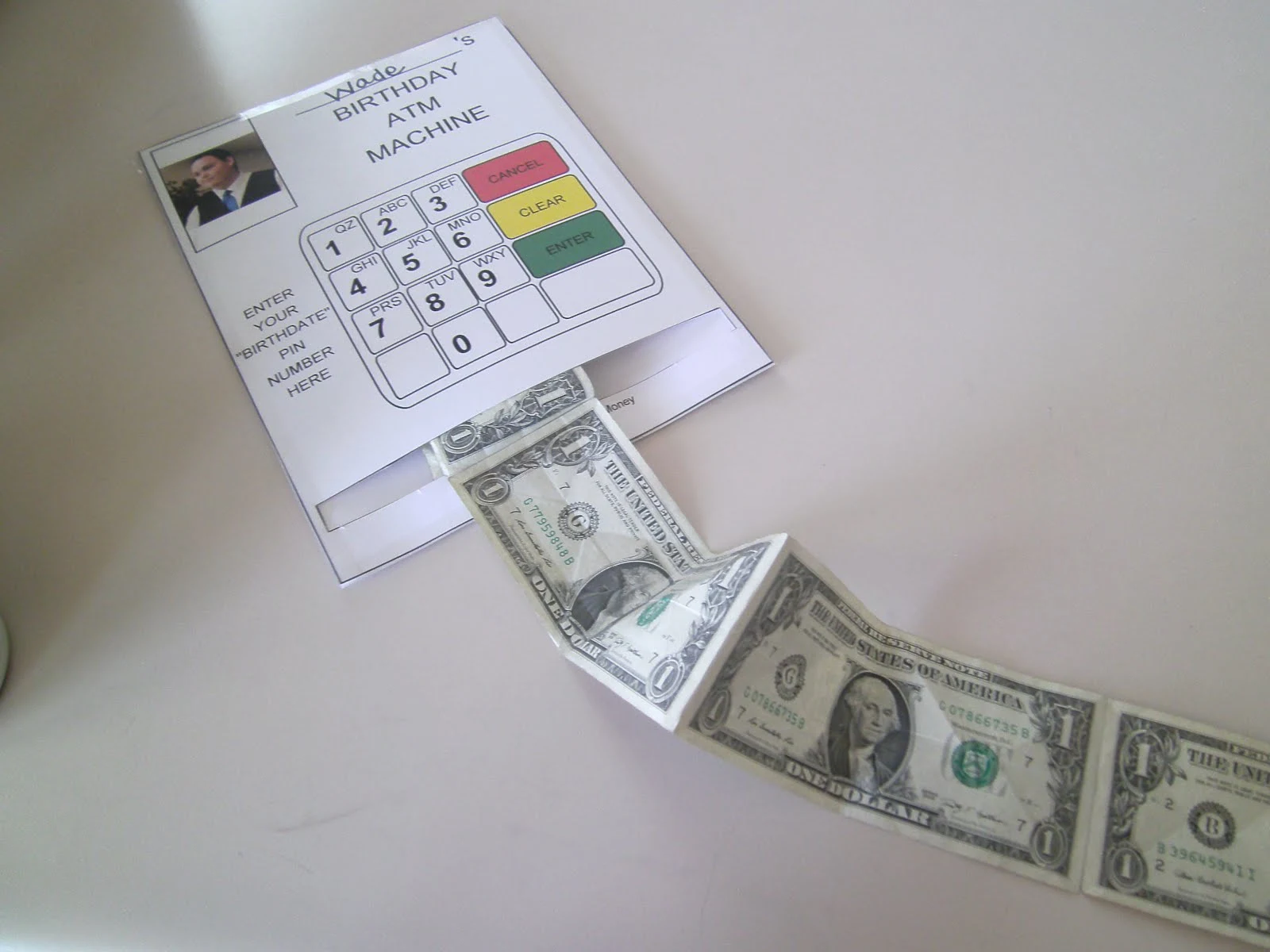 Credit: Blogspot
Who wouldn't want to make a few easy bucks on their birthdays? So, take that idea one step further and what do you get? ATM birthday cards!
No, you read that right! With this super clever birthday card, you're going to get bumped up the scale with your friend or loved one.
Just think how much fun it will be to pull out the crisp green notes from this card! The money has to be real though. I don't think Monopoly money will be received too well, unless it's a gag gift.
27. Sign Language Card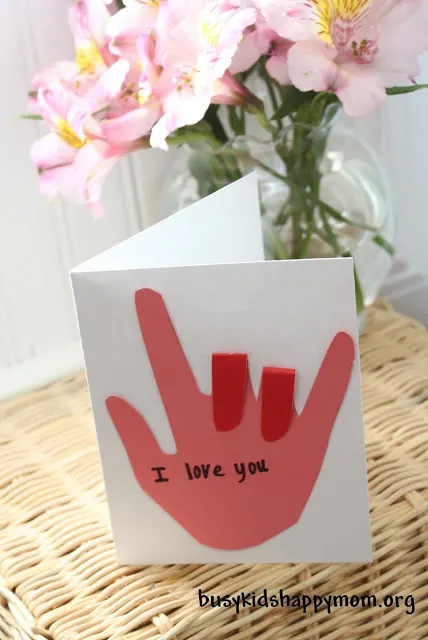 Credit: busykidshappymom.org
What's more endearing than saying meaningful words? Well, in this instance, it's using sign language!
How do you recreate words in sign language, you ask? On paper, of course. Go ahead and grab some colorful cardstock and your paper cutter.
You can cut out your message and paste it on the face of the card, along with the text. It's that easy, and I bet your friend or loved one will adore this touching card!
28. Secret Message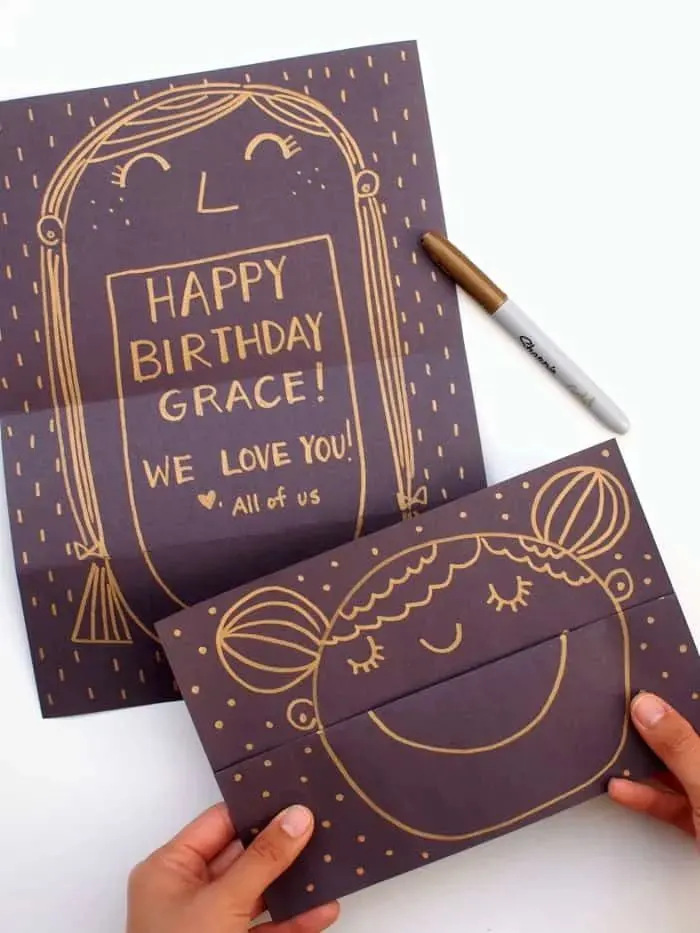 Credit: diycandy.com
You used sign language for the last DIY card. So, how does a secret message for this one sound?
It's always a wonderful experience when a birthday card manages to surprise you. With a secret message popping up, you're certain to make this card even more special.
You'll need a few sharpies and your choice of construction paper. Follow the instructions, fold the paper accordingly, and finally, pen down your message.
Unicorns are one of life's most wonderful mysteries. Are they real or are they simply make-belief? Either way, you've got to love these ethereal creatures.
So why don't you make a unicorn birthday card? It is such a sweet birthday card idea and is sure to bring a smile to little ones and adults alike.
Grab some gold cardstock from here for the infamous horn, and start creating your card!
30. Pop Up Card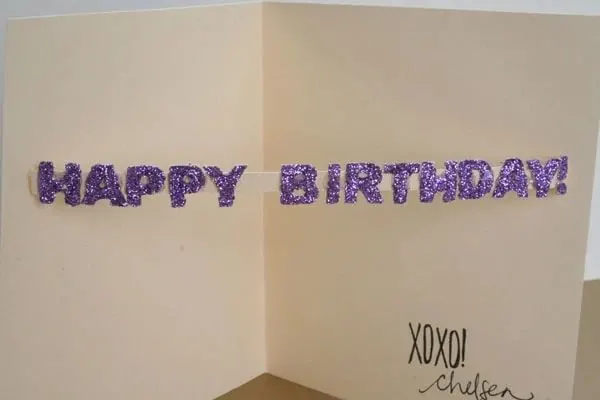 Credit: lovelyindeed.com
Here's another pop-up card on the list and this one has a pop-up marquee that reads 'Happy Birthday.'
It's simple, easy to make, and requires very few materials for you to work with. Just pick out your cardstock or a blank greeting card and you're set.
You can also use stick-on alphabets(look here) to secure your message in place along the marquee.
This all-in-one heart-shaped card isn't just for birthdays; they'd be absolutely perfect come Valentine's day. You can turn this heart-shaped envelope into an all-encompassing birthday card to end all birthday cards!
It needs just four supplies: paper, stickers, scissors, and glue. In under an hour, you will have your birthday/Valentine card ready to gift!
Here are 41 romantic gifts that will be really interesting for you to explore!
32. Scrapbook Card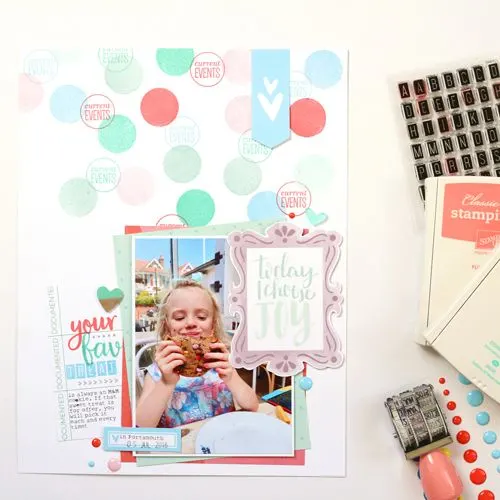 Credit: Typepad
Why stick to just one simple birthday card when you can make an entire scrapbook worth of birthday wishes instead? It's a lengthier project, yes, but the finished gift item is definitely worth the effort.
This scrapbook birthday card project will draw on your journaling skills, crafting skills, and creative flair for all artsy things. It's a lovely gesture that can also be used as an anniversary present.
A word of caution: just make sure you set enough time aside to work on this project before the big day!
Check out these 41 Anniversary gifts that I think you and your significant other will love!
33. Harry Potter Card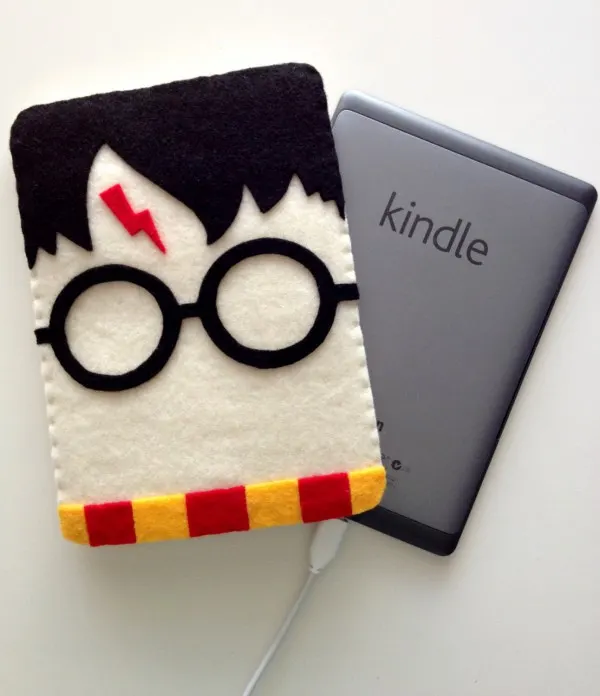 Credit: Blogspot
We've hit the motherlode with this Harry Potter birthday card. You can never, but never, go wrong with anything that is Harry Potter-themed.
All you need for this card are a few scraps of craft paper which I'm sure you have already in your stash. It requires a bit of creative designing and cutting, as well.
Oh, and don't forget, you'll need to cut out a little lightning-shaped scar. Otherwise, it's just a boy with messy hair and poor eyesight— not the infamous Harry Potter.
34. Candy Gram Card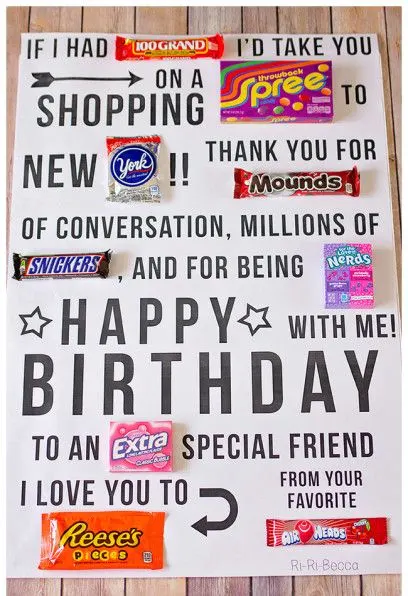 Credit: who-arted.com
Forget all the other birthday cards with fake candy, cupcakes, and cakes you've seen in this list. We're finally looking at a card that uses real candy!
The candy you use for the card will need to 'fit in' with the text. Just download the printable version of the candy gram.
It will give you a detailed list of all the candy that the project calls for. Just to be safe and err on the side of caution, you should definitely buy two—three?—of each.
Printable cards really do make things easy and hassle-free. That being said, there's still plenty of opportunities to personalize them.
This project features a really sassy feather-hanging which you can recreate. Here's an idea: if you attach a length of ribbon like this to it you've got yourself a lovely bookmark as well!
36. Woven Wishes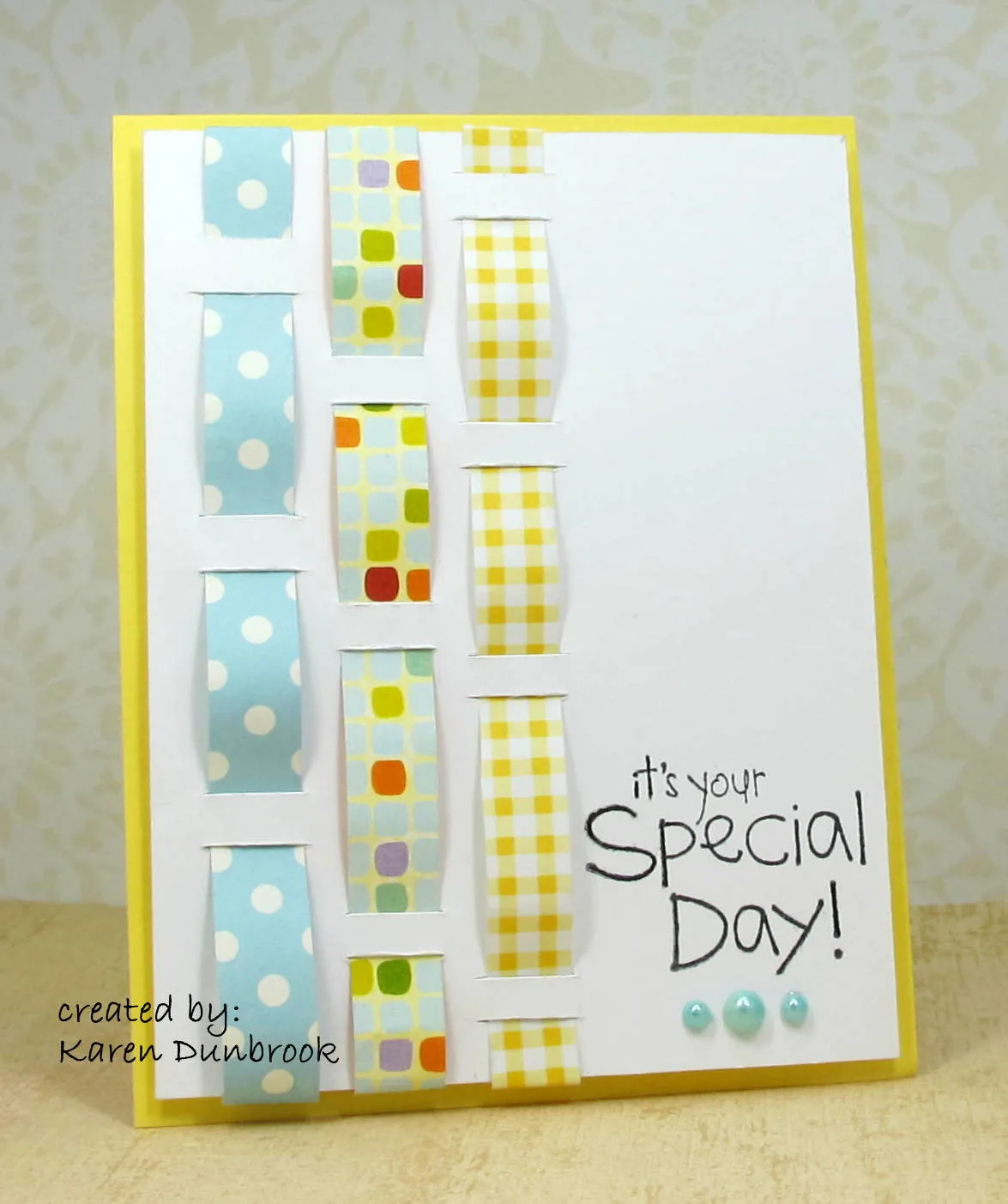 Credit: Blogspot
I love being able to use up my ever-growing scrap stash; I really do. If you have a big box of scrap papers, then here's another DIY card that calls for colorful bits of paper.
You'll be loosely recreating the 'woven' basket pattern, with slits to hold the 'wishes' in place. Just cut the scraps of paper and weave them into your card.
You can use glitter and other embellishments to jazz it up!
37. Rainbow Birthday Cake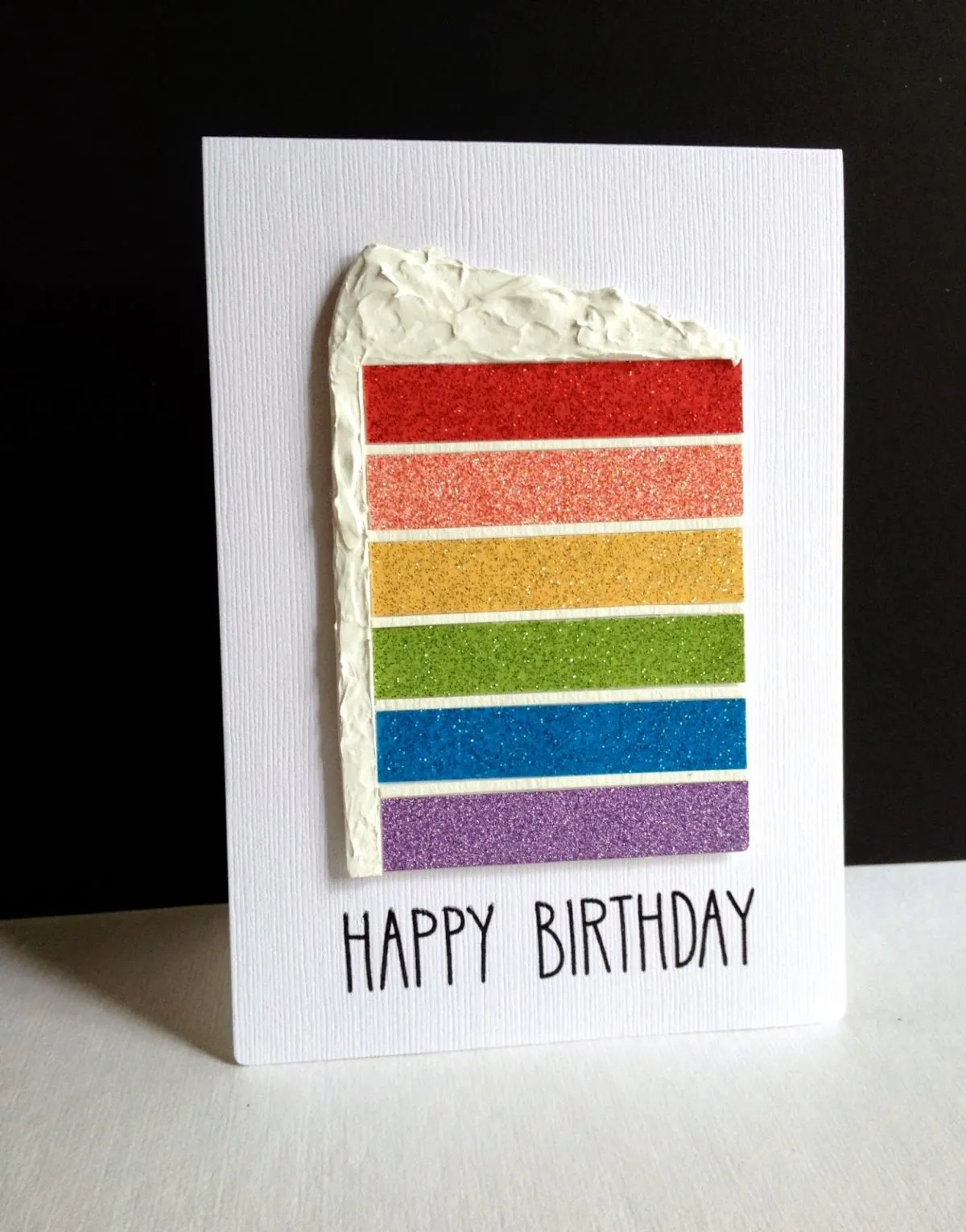 Credit: Blogspot
Rainbows, cakes, and birthday cards—you know you've hit the trifecta with this amazing combination. It's time to pull out your glitter paper and cut strips for your rainbow layered cake.
Alternatively, you can also use glitter washi tape to the same effect. Next, line every cake layer with a thin 'vanilla' frosting filling of ivory watercolor paper.
Finally, buy some embossing paste from here to spread over the white layers to create that billowy frosted-tip effect.
When you can have floral birthday cards, you have to have one with beautiful paper leaves, too. You can use a nice piece of cardboard or sturdy cardstock for the base.
For the foliage, you can cut out leaf-shaped bits of scrap paper. Alternatively, if you have scrap cloth lying around, you can use that instead.
Draw some vines and then finally glue the leaves in place along the branches. You can even make these into a mistletoe leaves-themed Christmas card and give them to your significant other!
Check out these 20 Christmas gifts that your boyfriend will love to receive along with this card.
39. 3D Cat Pop-Up Card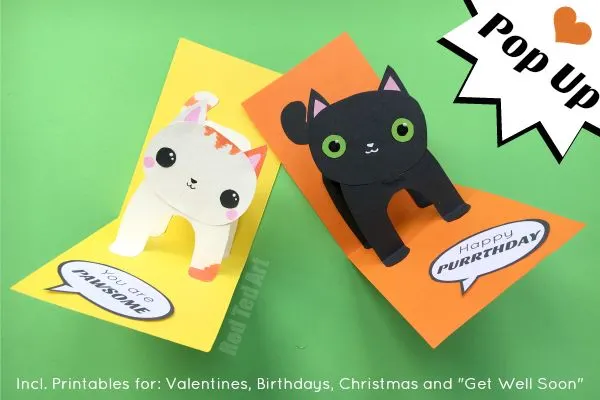 Credit: redtedart.com
We all have that one friend who has a rather alarming fascination with anything related to cats. You can make this pop-up cat card for that friend!
If, however, that person is you, you're going to love this craft project even more. This is the purrfect birthday card idea for all cat-lovers!
Grab your craft essentials: paper, scissors, glue, and markers. Draw your cat, cut it out and follow the pattern to make it into a pop-up 3D version.
An accordion birthday card gives you a ton of creative space to work with. Here are some of the craft ideas you can explore and play with for this particular card:
1.Embed a secret message or surprise into the disappearing folds.
2.Draw artwork that transcends from one folded side to the next.
Make cute envelope pockets on every other sloping side.
The opportunities are endless, so let's get right down to it!
41. Travel-Inspired Birthday Card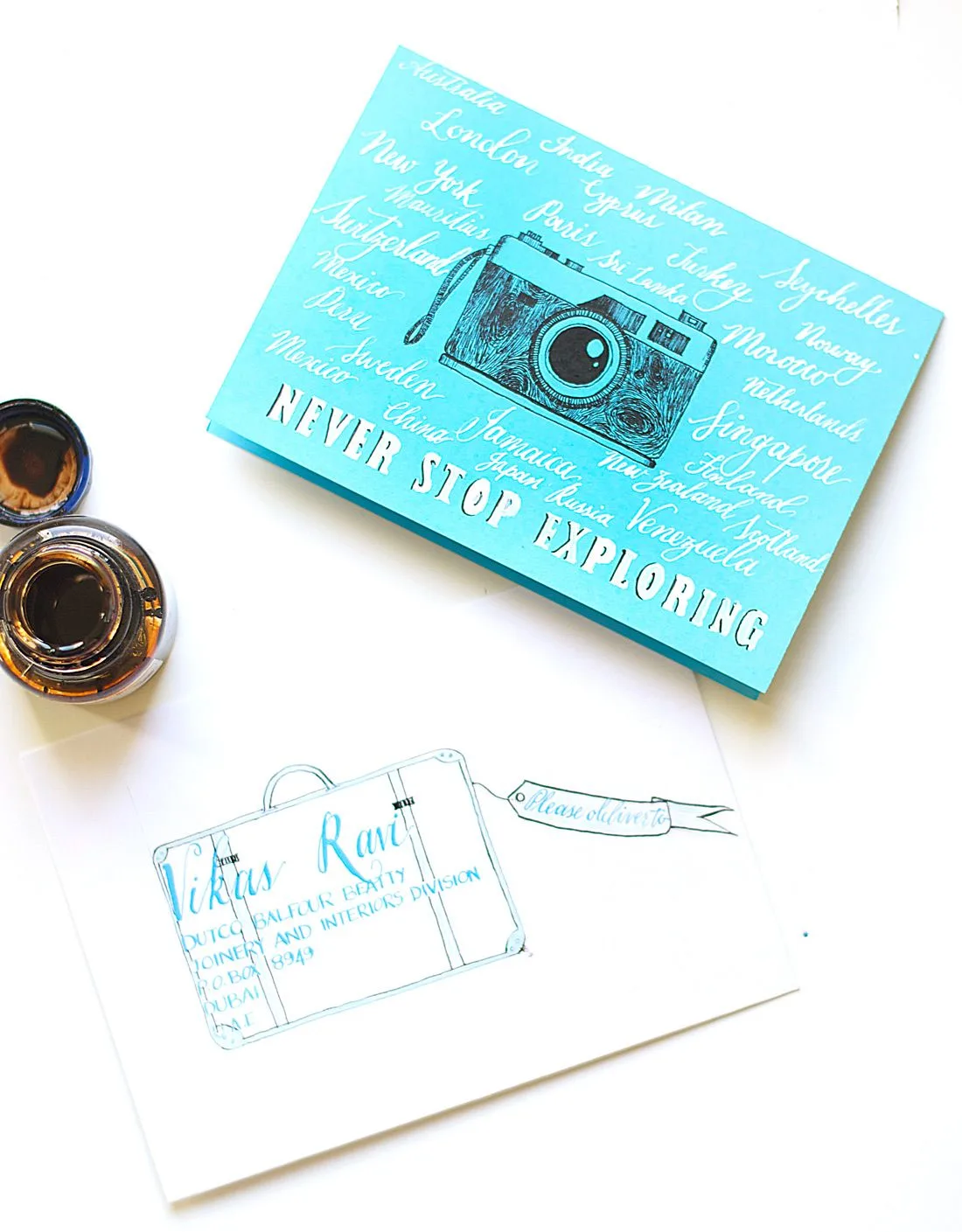 Credit: inkstruck.com
This last item on our list of birthday card ideas is for anyone who's been bitten by the travel bug and has wanderlust running through your veins.
With a few strokes of your pen, you can draw a really simple yet gorgeous looking vintage camera on the front of the card. Then follow that up with your birthday wishes.
For the final touch, jot down a list of all the beautiful places you can think of, from Milan to India and London to New York.