Wedding anniversary coming up? These wedding anniversary gifts for husbands are awesome!
No matter how many years have passed, every time the date of the anniversary pops up, the love story recalls. Anniversary is a significant milestone that one should always celebrate. Whether you plan a small getaway or a special gift, it is the effort that counts.
If this year you have decided to make your anniversary unique by getting your partner a cool and unique gift, we are here to lend a hand. Here are 27 wedding anniversary gifts for him that he will cherish for years to come.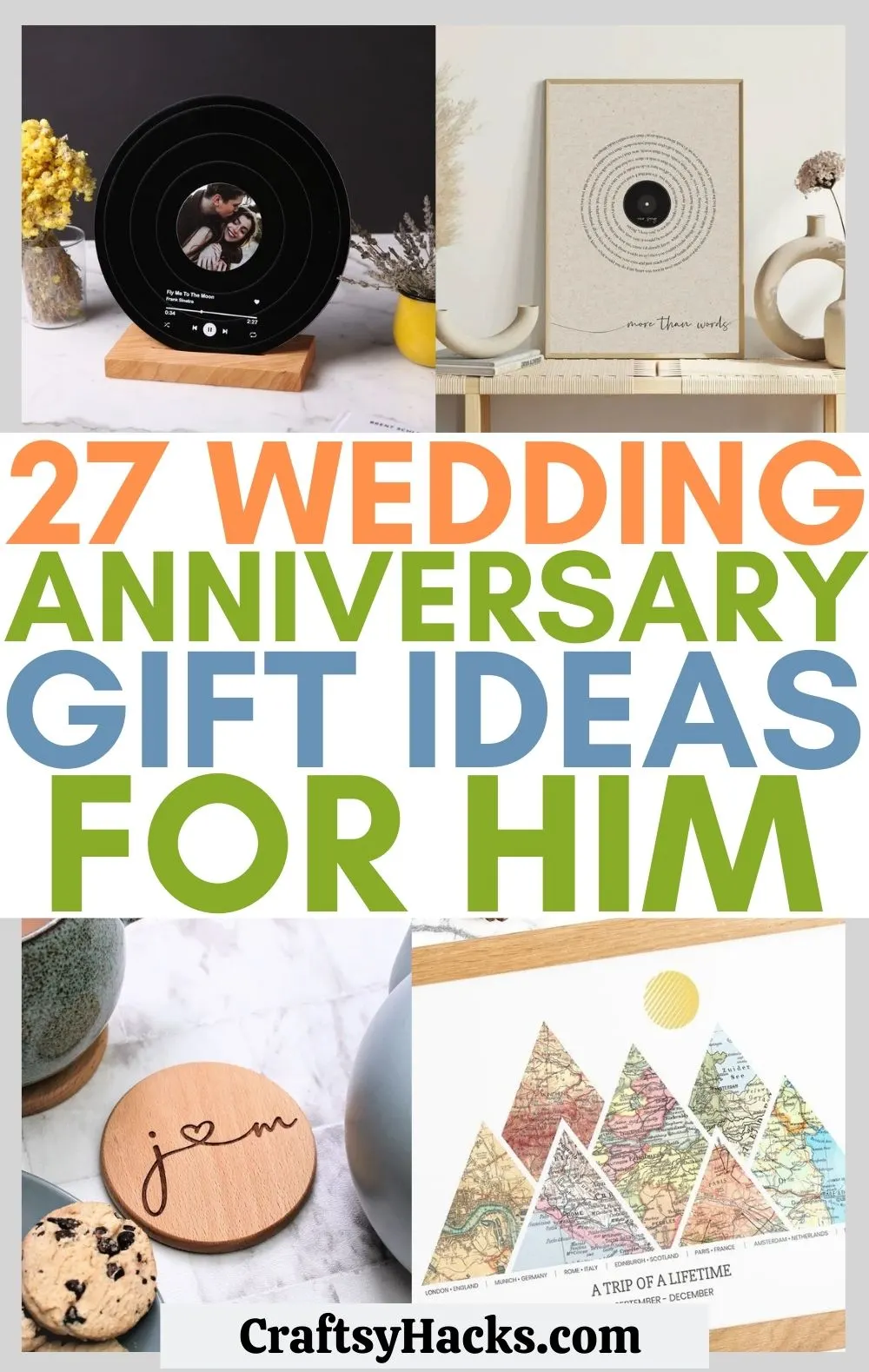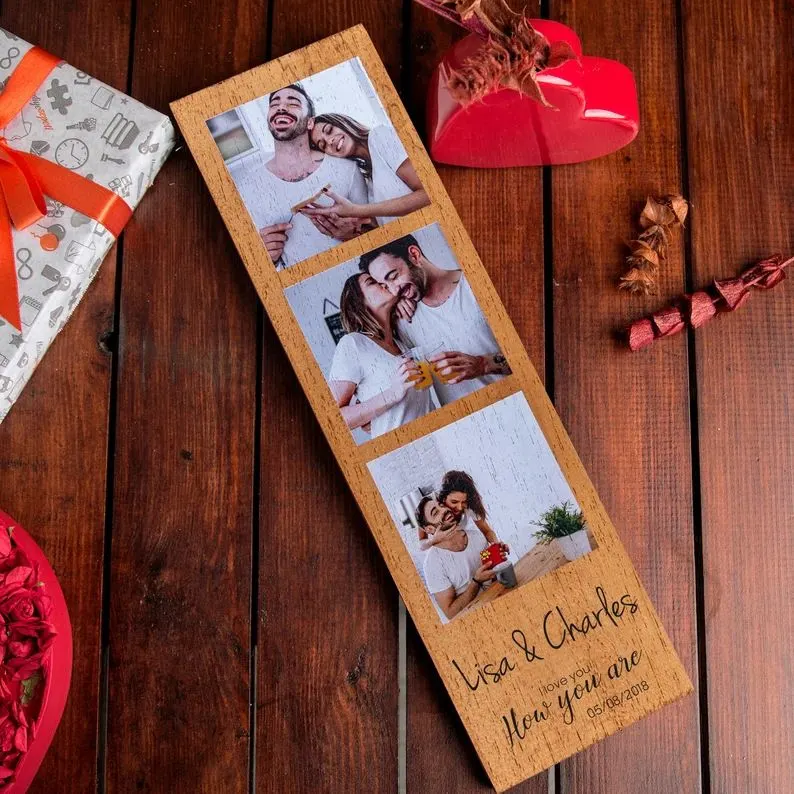 Source: Etsy
The Basswood photo gift is perfect for an anniversary since it captures your best moments with your partner. The printed Basswood comes with a hook so that you can hang it anywhere you please.
Relive the best moments of your happy married life with this Basswood photo board. You can also add the couple's name as well as wedding date on the board.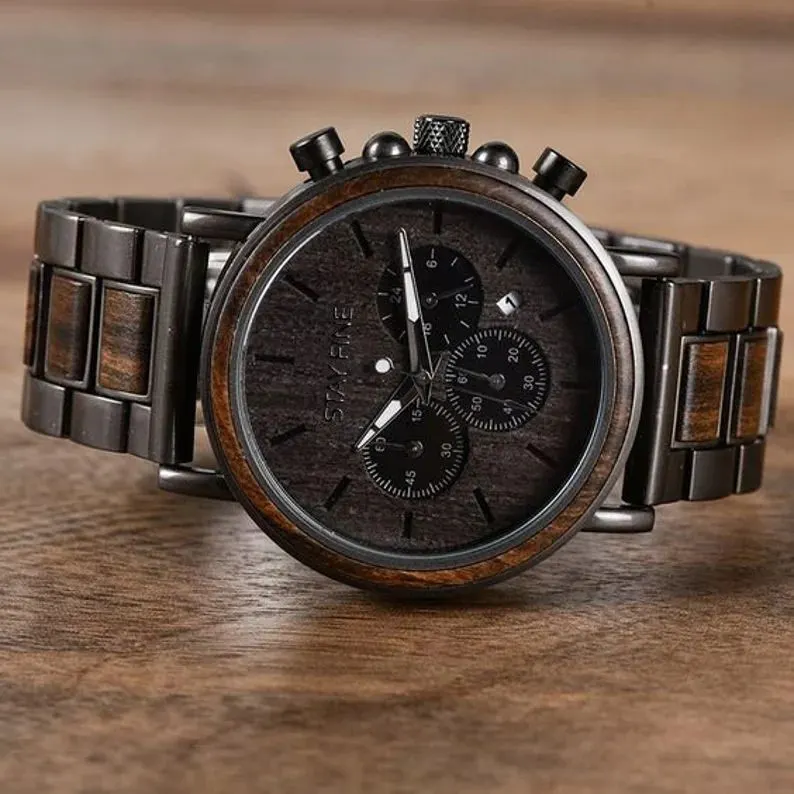 Source: Etsy
Lo and behold, the ultimate personalized gift is here; this stunning Rugged Timber Wood Watch will make the best anniversary present; Do you know why? Because you can personalize it.
Yes! You can get a heartfelt message engraved on the back of the watch. This high-quality watch comes with luminous numbers, and it's made from Hardened Mineral Crystal Glass.
Brilliant quality, beautiful message, and aesthetically pleasing design, what more do you want in your anniversary present? Every watch is handcrafted and made to perfection for your partner.
Check out these wedding gifts for more inspiration.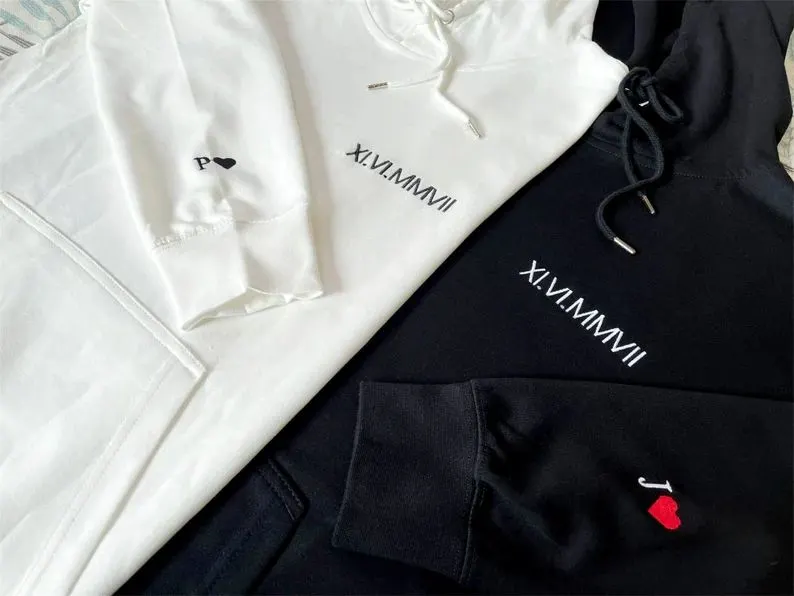 Source: Etsy
Get your husband matching unisex hoodies this winter. But wait, why buy the ordinary ones when you can have your initials printed on special ones?
Yes, you read it right; get your matching unisex hoodies with your initials embroidered on them. Isn't this the perfect anniversary gift ever!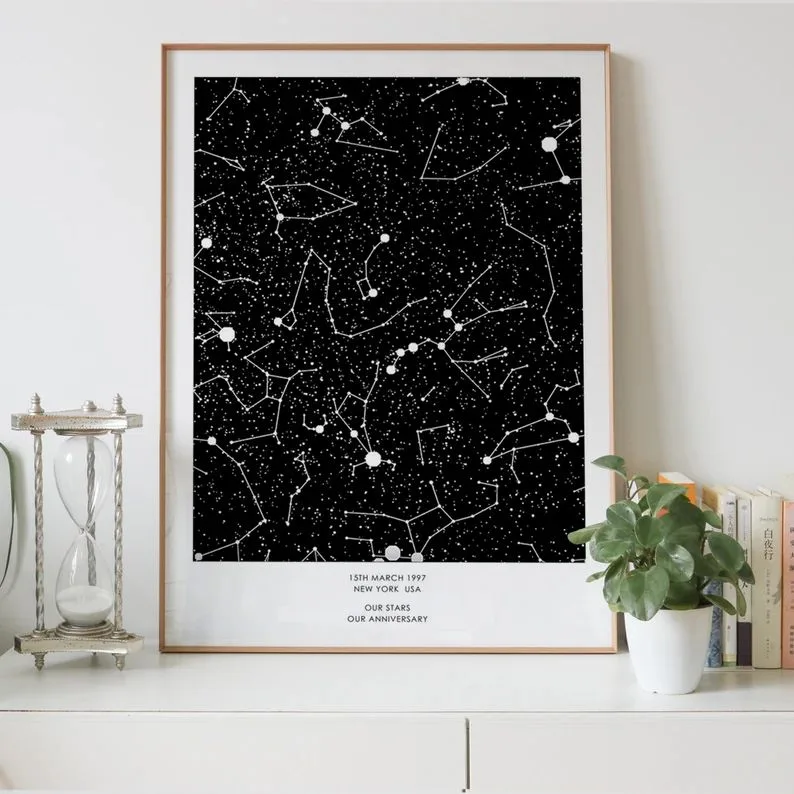 Source: Etsy
How did the heavens look when you met your partner or when he proposed to you? Ever thought of this? If you have and if you are looking for the answer, we have it here.
Now you can get the personalized constellation map that tells you how the night skies looked the day you got married or any date of your choice. This is an incredible present for your 1st-anniversary celebrations.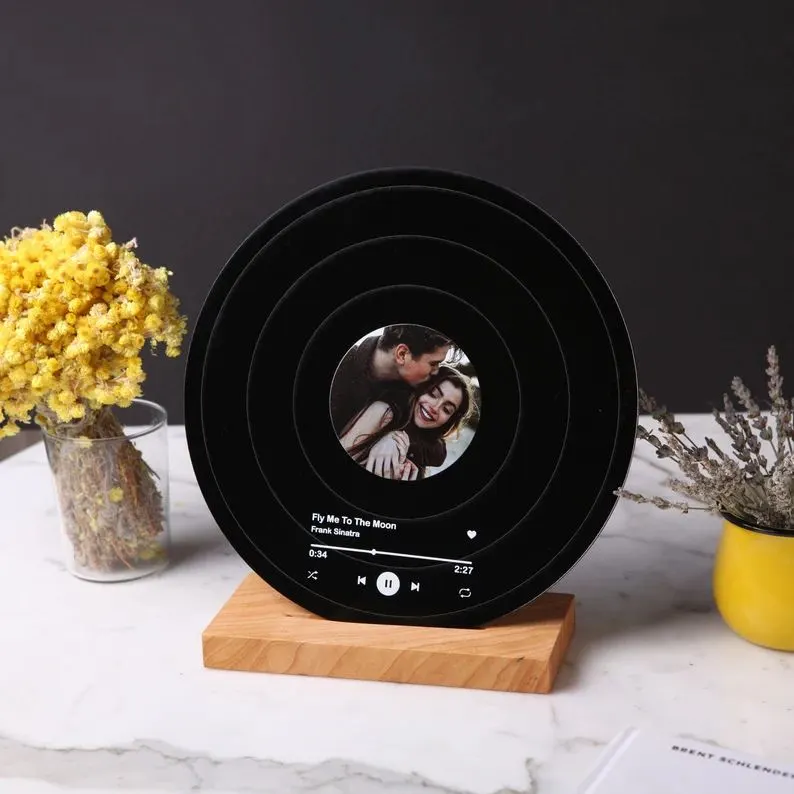 Source: Etsy
Music has the magic to bring back memories. If you have a song that brings back memories, use it to personalize your 1st wedding anniversary present.
Get this Personalized Record frame with your favorite song and your picture printed for your loved one. This will make your partner fall in love with you all over again.
Check out more DIY wedding gift ideas.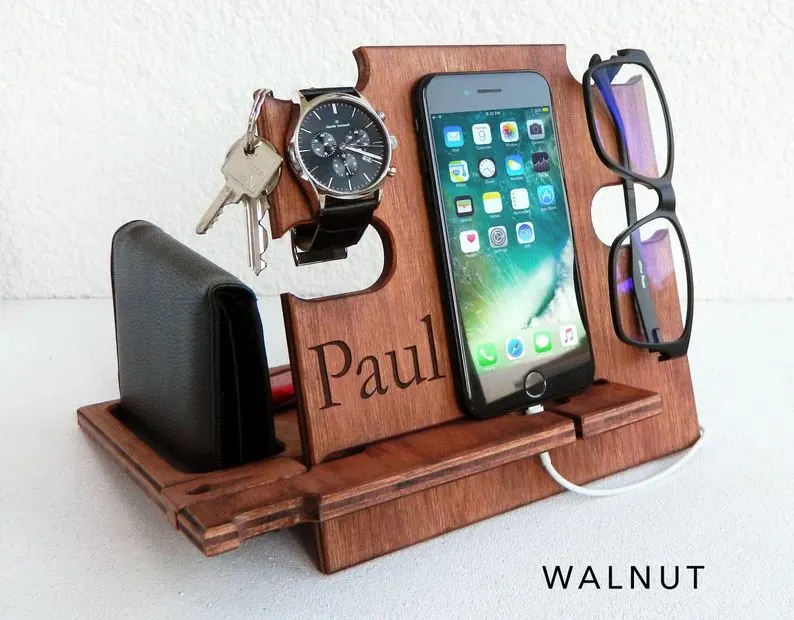 Source: Etsy
A docking station is a wholesome gift that will keep your partner's all trinkets in one place. This will not only help me organize better, but it will also make his life more sorted.
The docking station can hold glasses, wallets, keys, and more; it's the perfect gift for someone who finds it hard to organize his everyday items.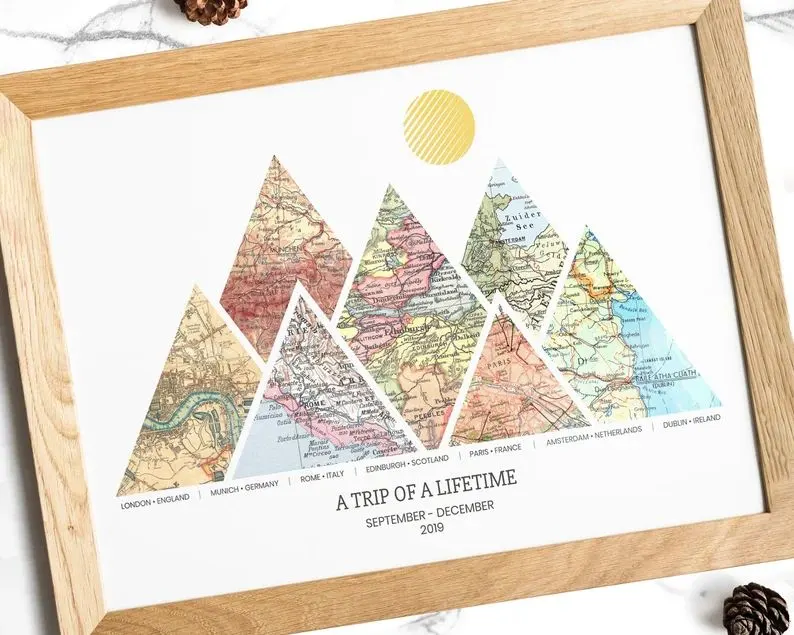 Source: Etsy
Have you, as a couple, traveled the world? If you have, we have just the perfect surprise for you to add to your 1st-anniversary gift list. This Milestone's Map is the perfect one for couples who are well-traveled or have a passion for traveling.
This one lets you add all the places you have been to with a heartfelt personal message like "All the sights we have seen!" or "Many more to Conquer."
You can get a variety of frames, add as many as 13 locations, and add a personalized message to your frame. It's the perfect gift for a traveler.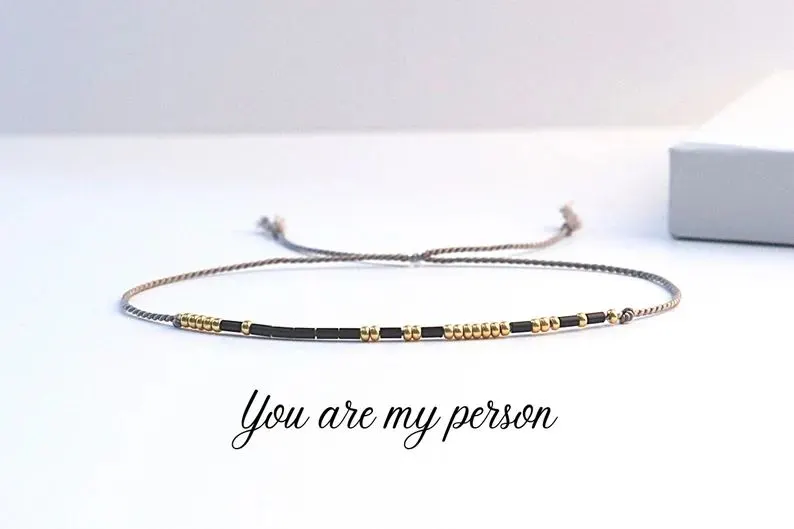 Source: Etsy
Is your person as unique and nerdy as you are? If yes, check out this cool Beaded Morse Code Bracelet that codes "I LOVE YOU" it's a cool unisex bracelet that you and your partner both can wear.
If he is as nerdy and cool as you are, he will fall in love with this simple yet unique bracelet.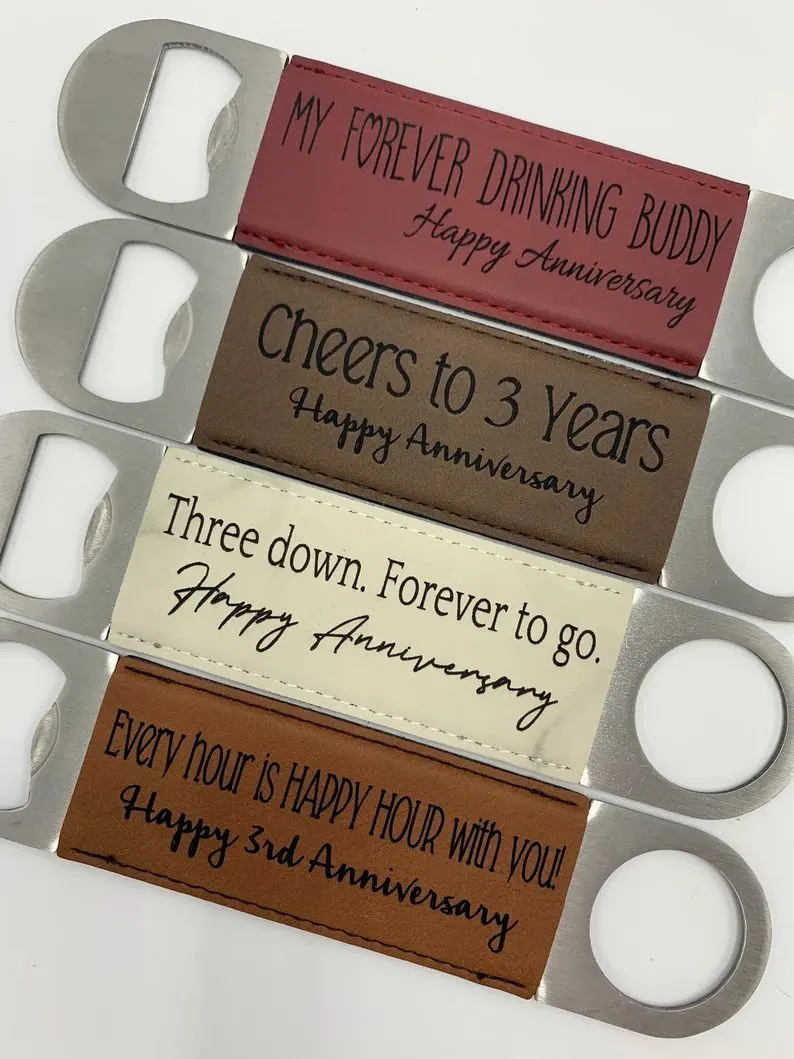 Source: Etsy
Did you know traditionally you are supposed to give a leather gift on your 3rd anniversary? If you don't know yet, we have enlightened you with the traditional way of surprising your husband with a leather gift.
If you are thinking of buying a conventional leather wallet or shoes, stop right there, we have something personalized and special for you; Leather Bottle Opener.
If your husband is also your drinking buddy, and you guys love a beer together, this is the perfect gift for you.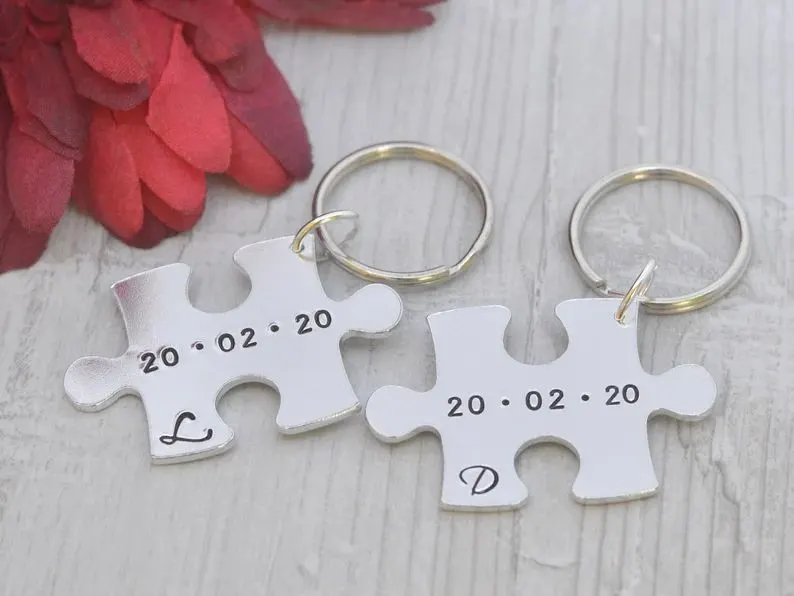 Source: Etsy
I love small gifts that connect me to my husband; he loves getting these gestures from me. If you are in the same boat, I have the cutest suggestion: an interlocking puzzle keychain.
So, what's so special about this keychain? You can get your wedding date as well as your initials hand-printed on them; excellent.
These are high-quality aluminum, and the details are hand stamped. Get two interlocking keychains with puzzles and surprise your partner with a cute gift this year.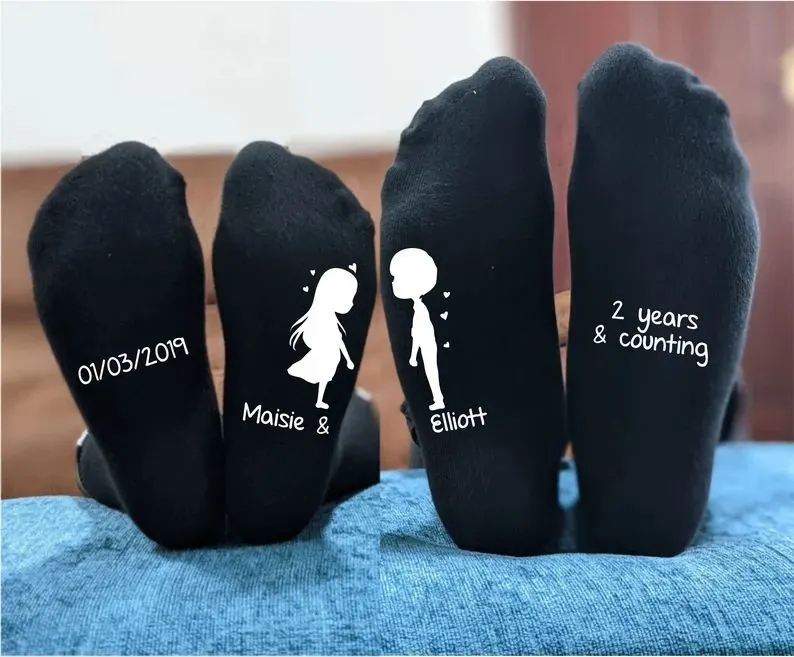 Source: Etsy
Do you know what Dumbledore from harry potter always wanted as a gift? SOCKS! He always wanted thick woolen socks. If your partner is a fan of cozy socks, get him personalized ones.
These are comfortable everyday socks with a twist at the bottom. Add your wedding date and a personalized message on the socks. Wear them or just have them as a keepsake; either way, you have the perfect wedding anniversary gift.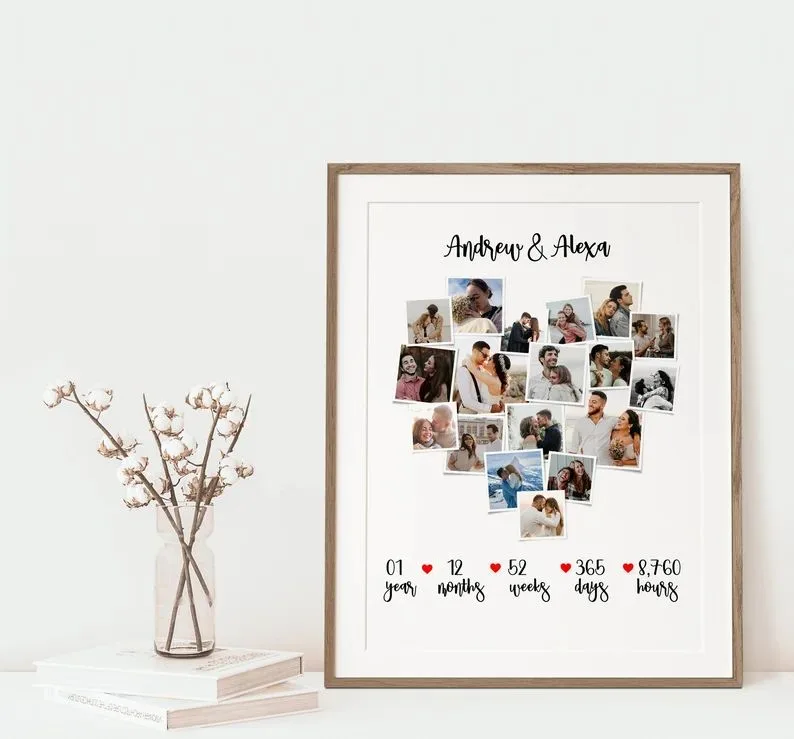 Source: Etsy
The years you have spent with your loved one measure up to many bitter-sweet moments. Pick out your sweetest moments and turn them into the most stunning wedding anniversary photo gift.
The perfect anniversary gift is a heart made out of your best moments in the picture with years, days, and even hours printed on a beautiful frame. I am sure you will agree.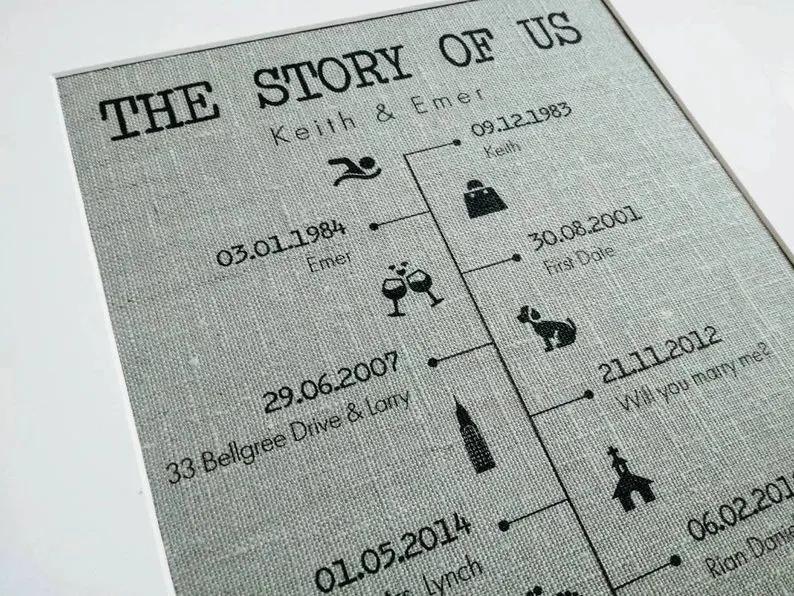 Source: Etsy
A timeline print is the best way to make your anniversary memorable. You can add all kinds of details to this "The Story Of Us" wedding anniversary present. Make your gift memorable by adding details like getting married, getting engaged, having babies, and other highlights to your gift.
This is a beautiful way of telling your life story; your partner will love reliving the best bits of the marriage. From 1st date to having your 1st child, you can add all the details to this beautiful piece of art.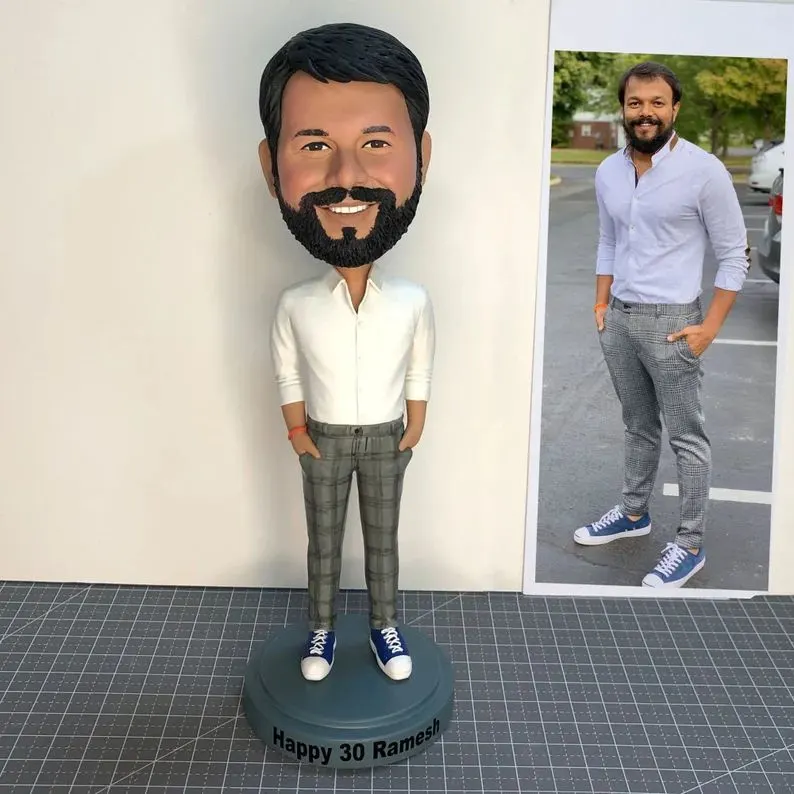 Source: Etsy
Here's the best one of all, a personalized bobblehead! This is the cutest and most fun gift of all for your wedding anniversary. You can get one for yourself as a pair, won't that be the best surprise ever!
This bobblehead is a miniature life-like version of your partner that he can keep in his car or his desk. It's both cute and fun. Pair it with a funny card or balloons, and you are all set for your wedding anniversary surprise.
Source: Etsy
Get a one-of-a-kind adventure book and save all your memories together. If you or your partner love journaling, you both will adore this wooden scrapbook.
This scrapbook is different from your average ones, as it's handmade with minute details like a wooden cover, a personalized cover, and stunning golden screws to hold it together.
You can order from 30, 45, or 60 sheets; this is a beautiful personalized present that will last you a lifetime.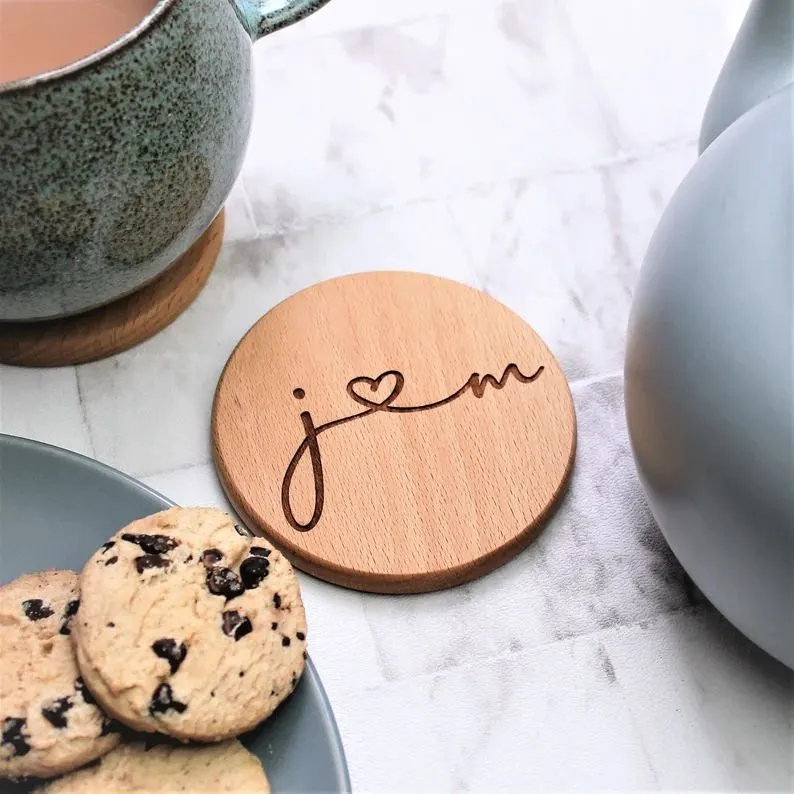 Source: Etsy
Check these personalized coasters for the men who love their coffee hot. Get your husband this stunning personalized coaster and kill two birds with one stone.
Keep the coffee and tea rings off your coffee table and simultaneously make your man happy. This wooden coaster will look great on your table, and it will be a beautiful reminder of a beautiful anniversary spent together.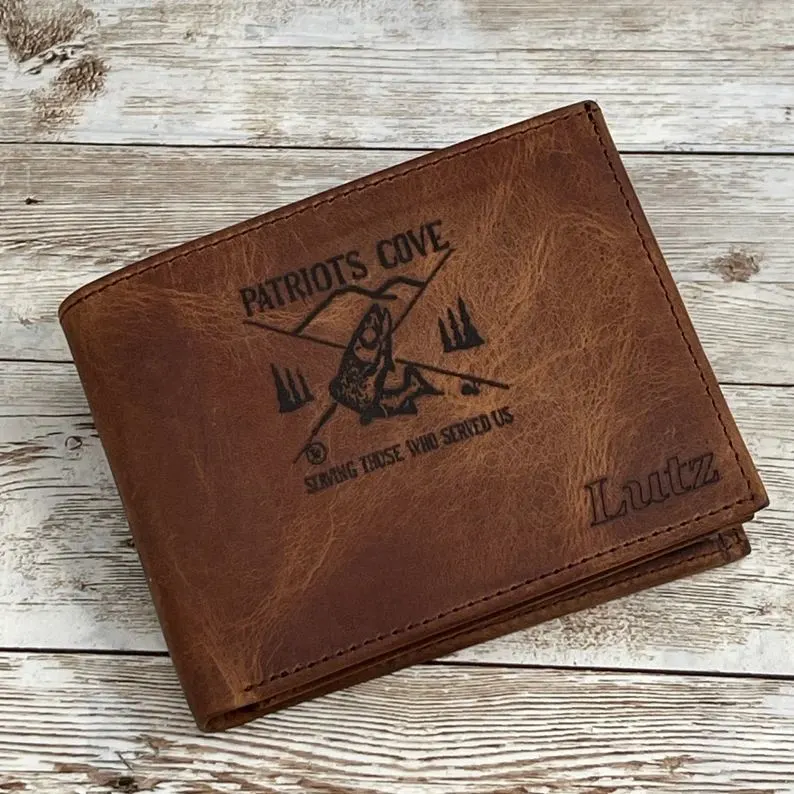 Source: Etsy
Thinking of getting a gift that is both personal and practical? Such gifts are hard to come by. However, you don't have to worry; we have just the thing you need.
Get this Dark Brown Wallet, high-quality Genuine Leather with a handwritten message from you. Not only do you get to print your message on the wallet, but you also get to print it in your own handwriting.
The wallet is practical as it comes with eight credit card slots, a Driver's License slot as well as a couple of billfold slots. It also has a coin pocket to keep your change sorted.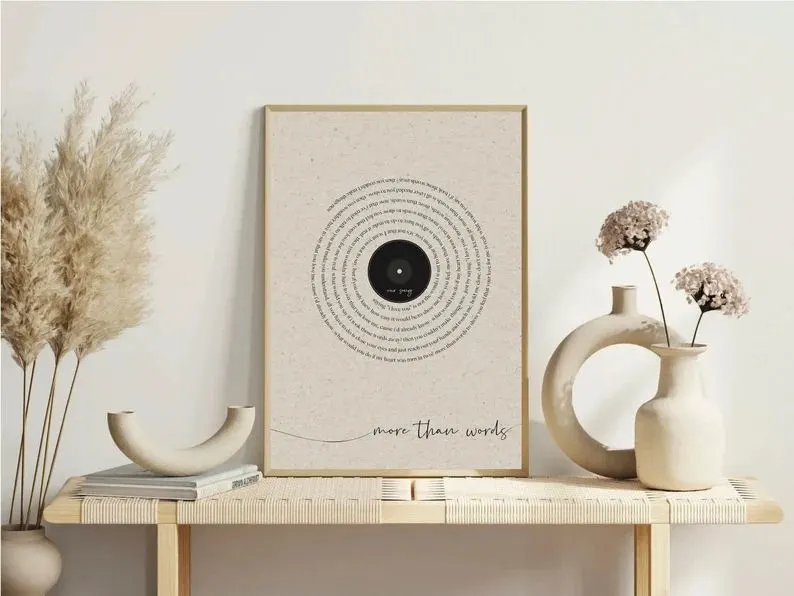 Source: Etsy
Do you remember the song that played at your wedding? The first one that you both danced on? Do you want to keep that memory fresh forever? Get this First Dance Song Lyric Print frame for your husband this wedding anniversary.
Live the movement all over again with this beautiful present. Moreover, you can get any song print, your couple's song, his favorite song, or another special song that brings back memories.
Find more gift ideas for newlyweds.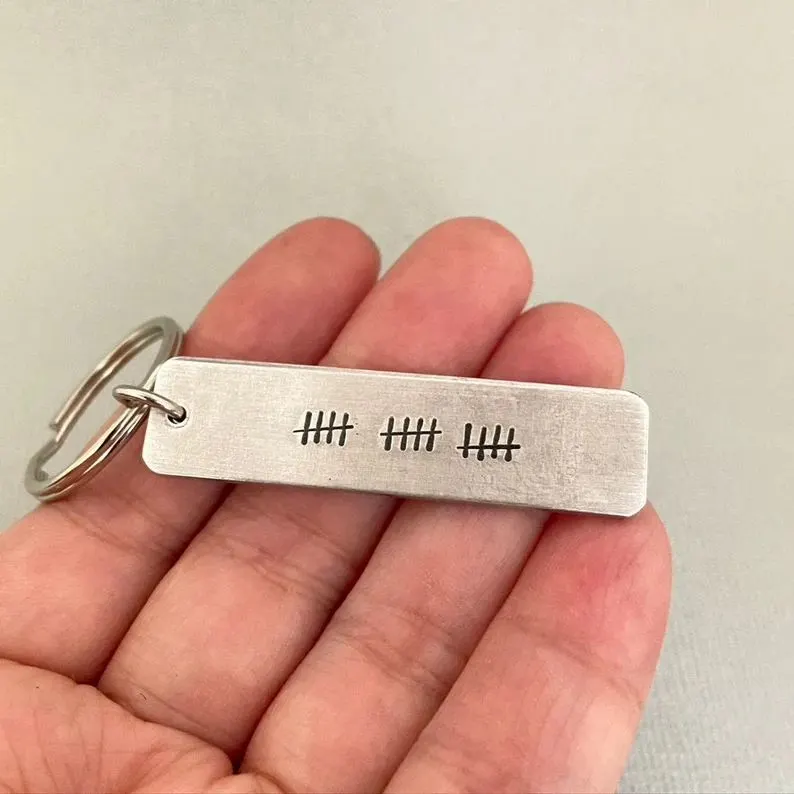 Source: Etsy
Personalized gifts are the best as they have so many sentiments attached to them. This one here, the Tally Mark Keychain, is just the same. It comes with a double-sided message.
You can personalize one side with years in numbers and the other side with tally marks. It's a beautiful way to tell you, partner, how you have loved all the years spent with them. You can also add a birthstone to this keychain to make it even more special.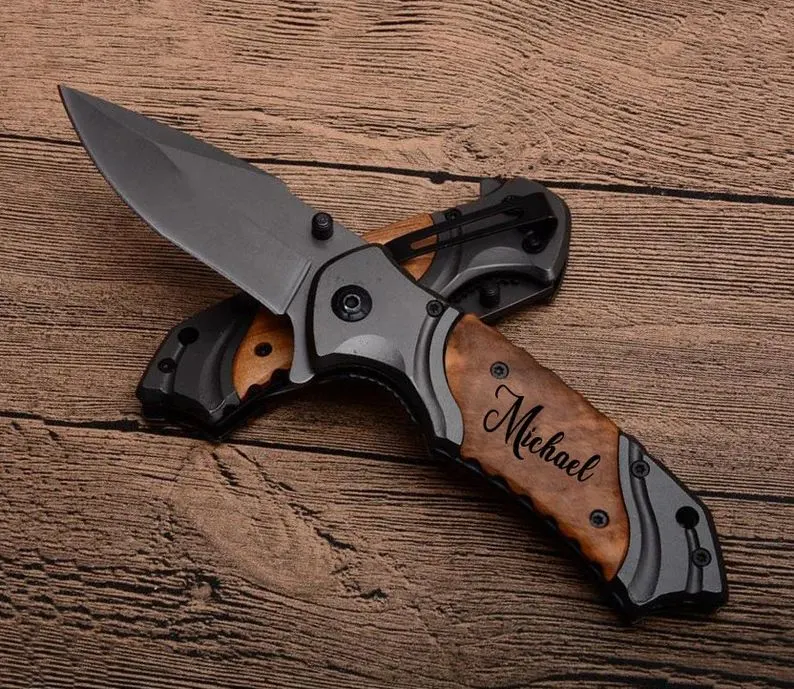 Source: Etsy
Is your man a hunter or a hiker? Does he love outdoor adventures? If yes, you need this engraved pocket knife for him. This is a stunning piece of wood that has his name on it, literally!
Get your pocket knife with your husband's name engraved on it and make this anniversary special for him. Gifts that support passion are one of the best gifts ever.
Every piece is handmade and one of a kind; it's the perfect gift for someone who understands quality and unique gifts.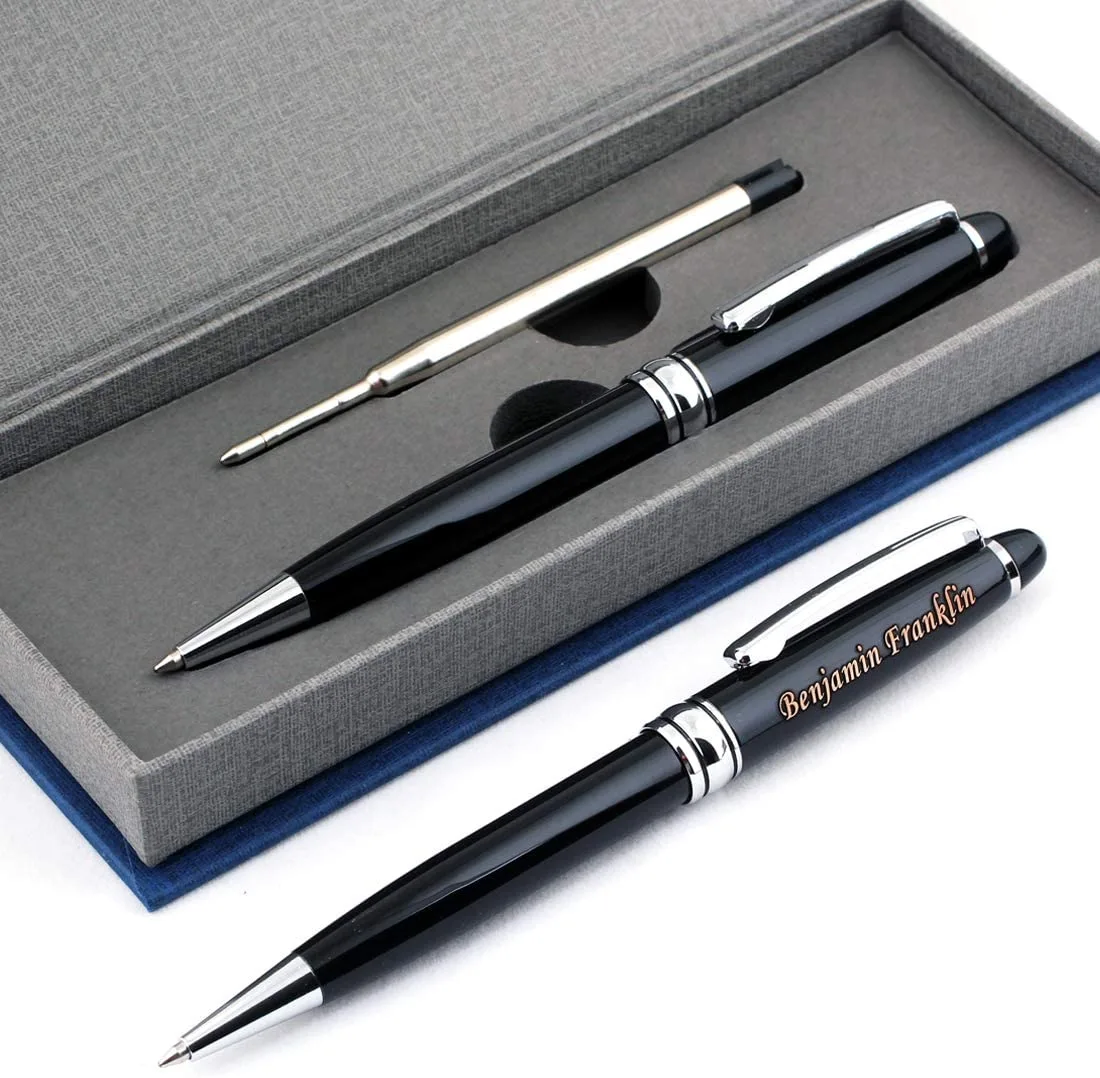 Source: Amazon
Giving personalized presents has become a huge trend nowadays; if you want to jump on the bandwagon, why not choose something that is both personal and practical.
This personalized pen is one of the few practical presents that can be personalized. You can get the pen in an elegant box, so you don't have to worry about the packaging. Moreover, it comes with an extra Refill Ink Cartridge.
You can add a name or a simple love message on the pen for your loved one and give them on their anniversary.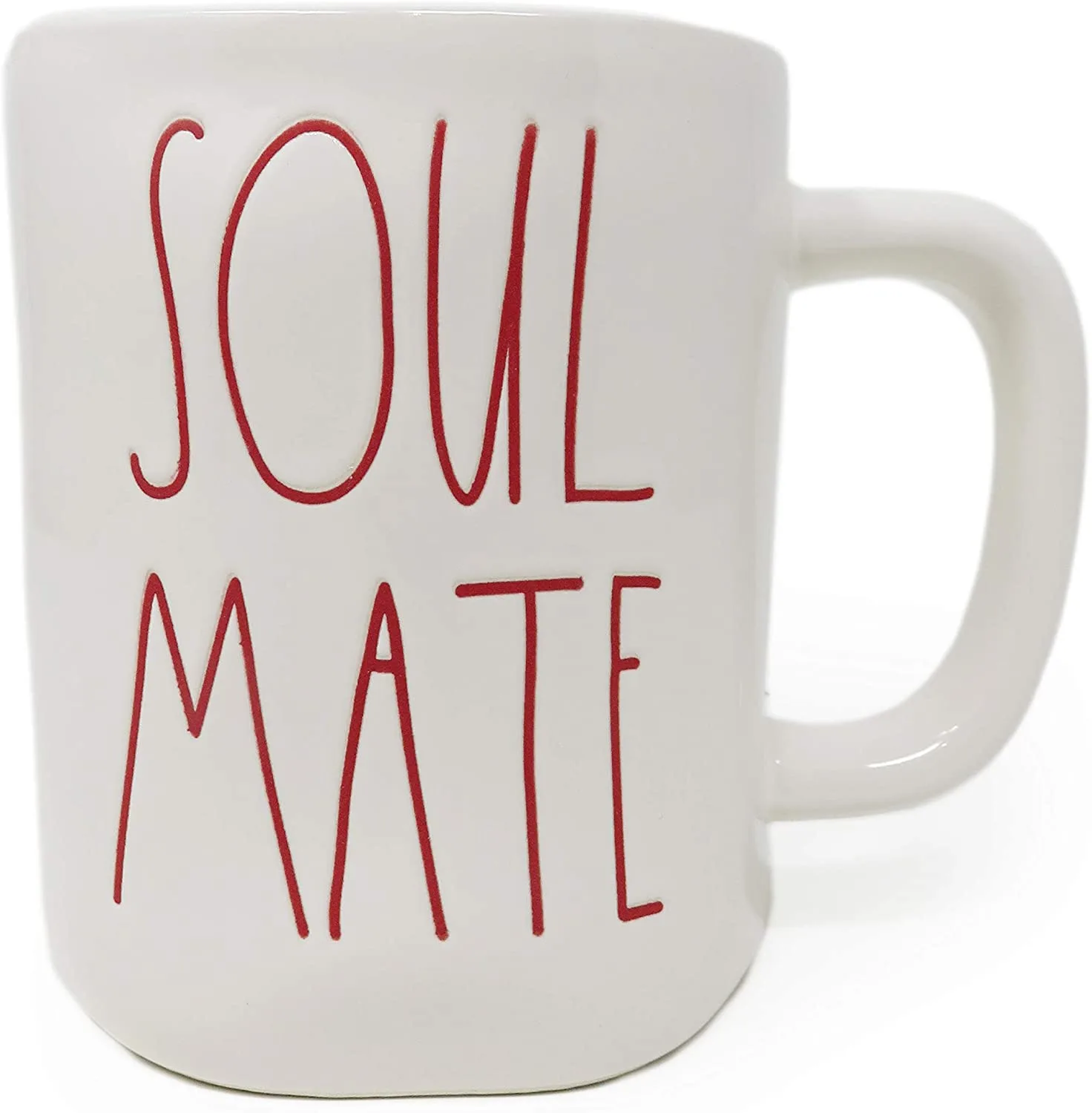 Source: Amazon
The Japanese have this beautiful tradition of using the wabi-sabi technique to mend broken things. They find beauty in imperfection. A marriage and a couple are just the same; they are two imperfect people, completing each other.
This Soul Mates mug is the same, with no definite shape; it still looks beautiful and luxurious, just like a married couple. The imperfection of the mug tells you that no matter how hard and imperfect things get, the relationship stays beautiful and is worth working on.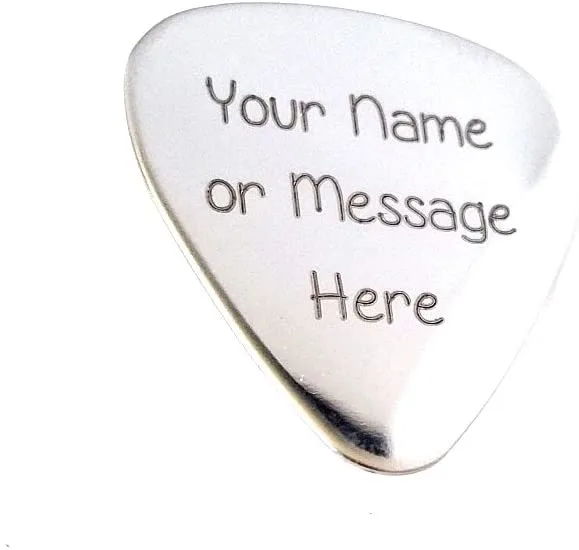 Source: Amazon
This one-sided, personalized guitar pick is an exquisite gift for a musician. It's a beautiful gesture, and your loved one can use this guitar pick for his special performances.
You never know, maybe this will bring him immense luck and make him utterly famous. You can add any custom message to this pick.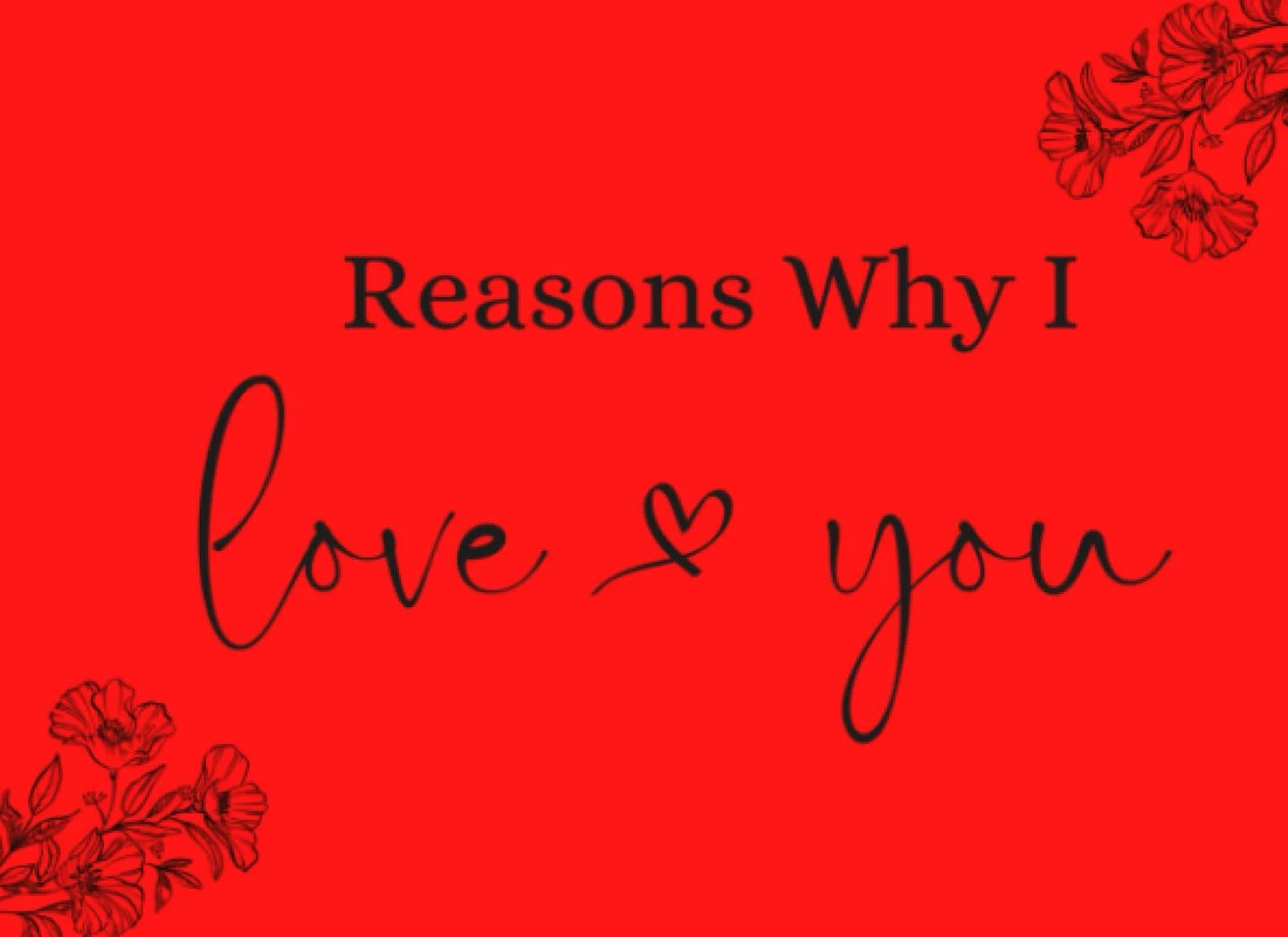 Source: Amazon
Looking for a unique gift with words to describe how much you love your soulmate? This fill-in "What I love about us" is the perfect gift with words for your anniversary surprise.
This book comes with cute prompts; you can fill the rest in your own romantic, witty or frisky way. You can be as cheeky or funny as you want or fill the book with lovey-dovey stuff.
How you choose to fill in the prompts is totally up to you. Another significant part is that you don't need to be a writer or a poet, you don't even need to have perfect grammar or spelling, just write what you feel, and you are good to go.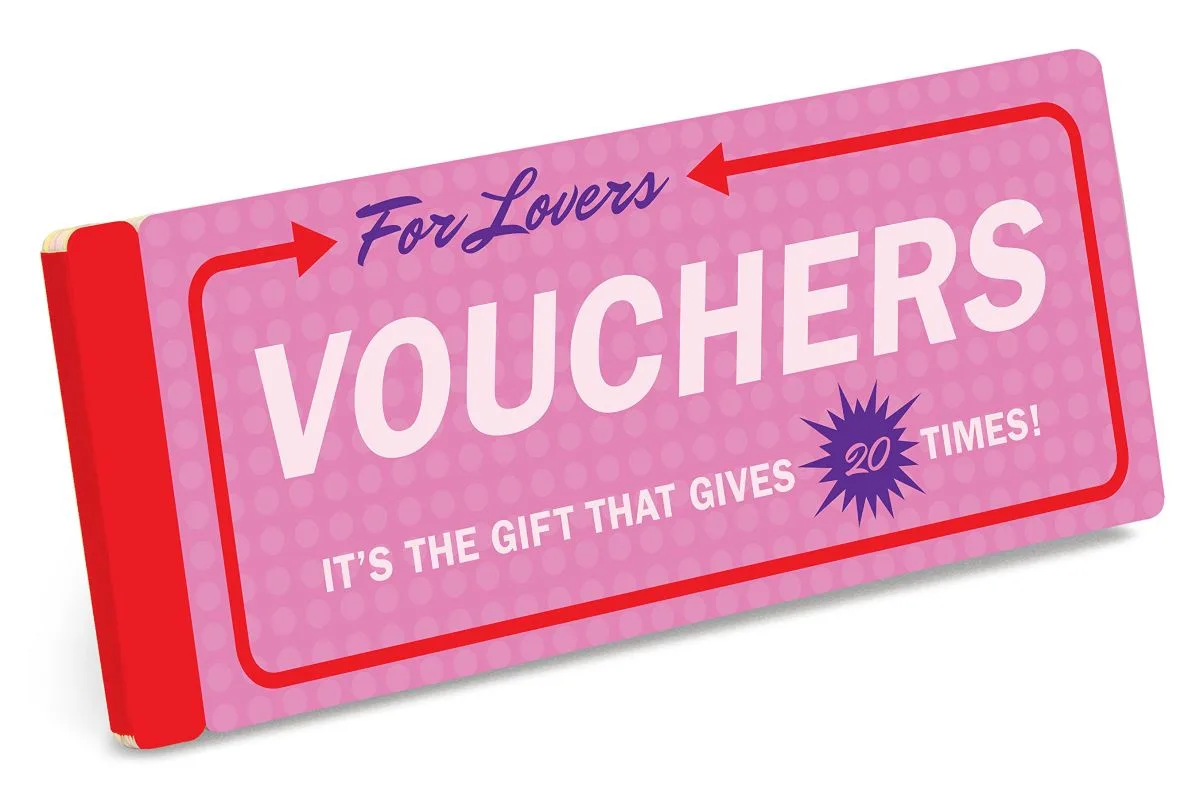 Source: Amazon
The love vouchers are ideal for wedding anniversaries as it is 20 gifts in one. The love voucher pack contains 20 unique love coupons that can be used any time.
For example, your partner can give you the "End Argument" voucher to end a fight, or a "Candlelit Bath" to request a romantic bath.
With the love vouchers, you can give not one or two but twenty gifts at the cost of one. How cool is that?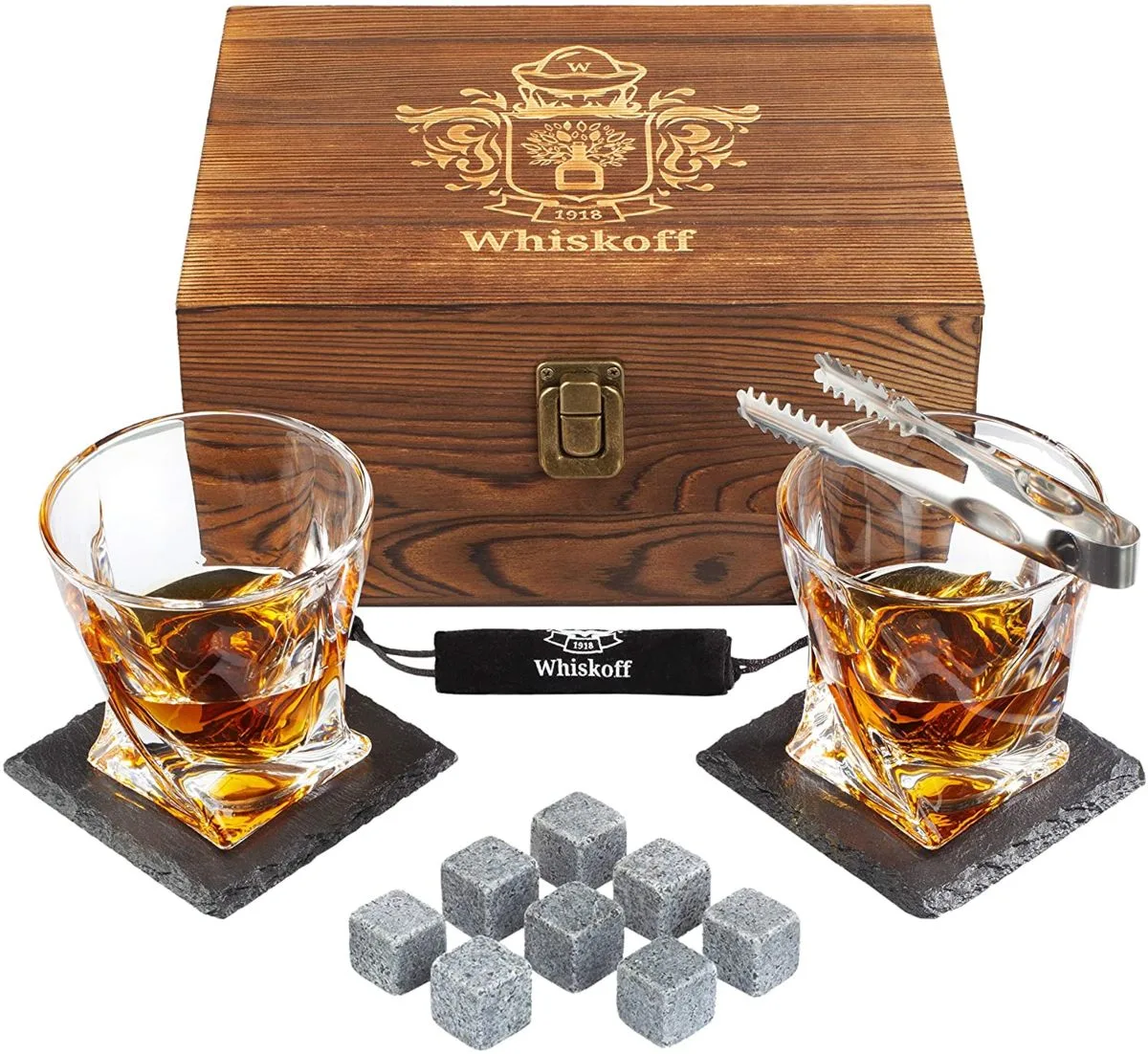 Source: Amazon
Is your husband your drinking partner as well? Do you guys toast to your good life often? If yes, you need to order this beautiful whiskey glass set.
These aren't your ordinary glasses; they are specially designed for a good time. They come with stainless steel cubes to keep your whiskey child but not watery. You also get tongs, coasters, and a velvet pouch,
It's a thoughtful gift for people who have a taste for luxurious things.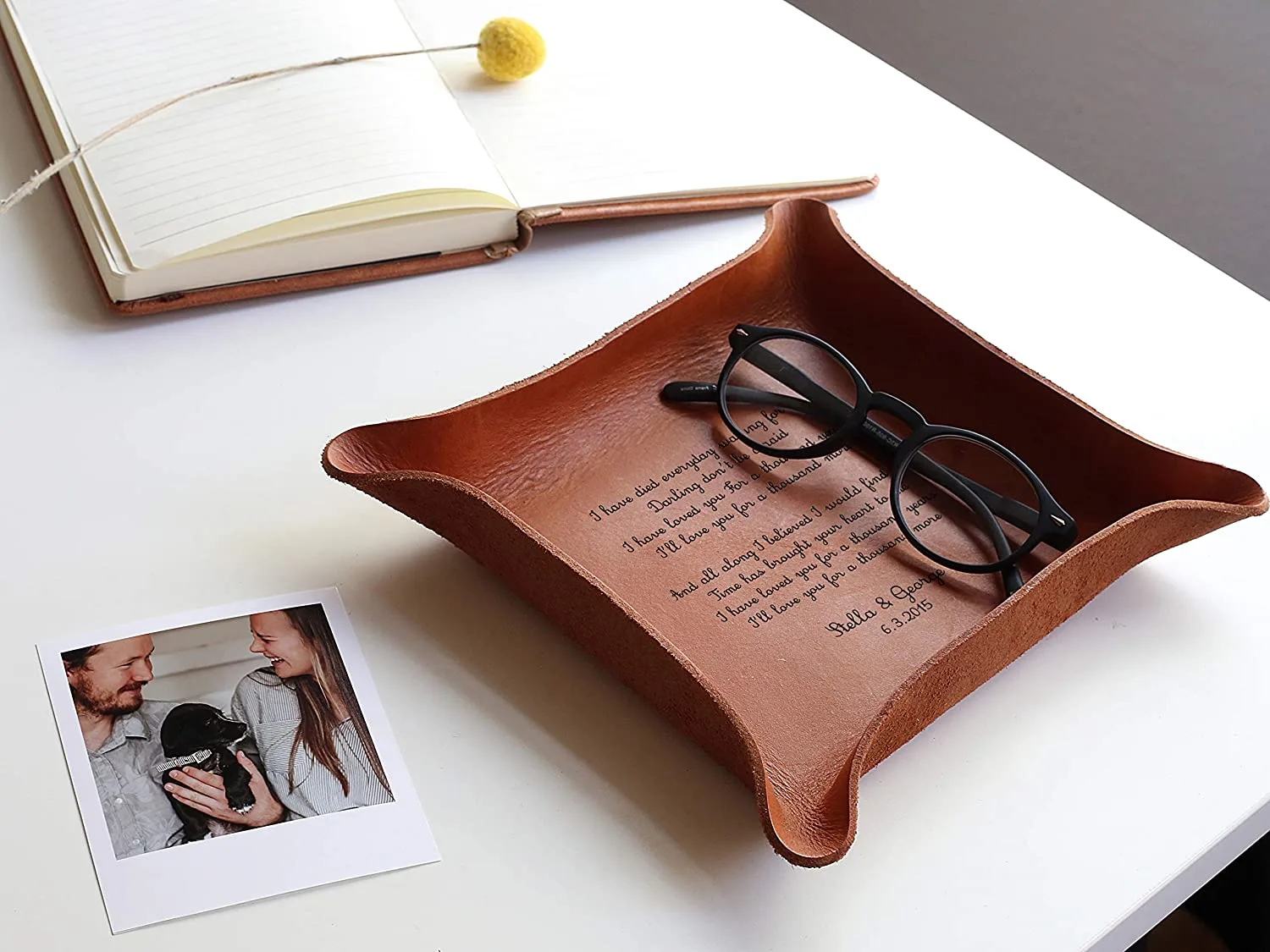 Source: Amazon
Marriage is part courtship, friendship, blessing, loyalty, and much more. If you feel the same about your marriage and partner, you need to get him this engraved tray.
Made with leather and love, this is the perfect gift for wedding anniversaries as well as birthdays. It's best if you choose this one for your 3rd anniversary as traditionally leather gifts are for third anniversaries.
All in all, anniversary gifts are significant; they convey the message of love and the fact that the years have been blissful. Whether you go for a big one or a simple one, the gesture is all that matters.
Yield: wedding anniversary gifts for him
27 Wedding Anniversary Gifts for Him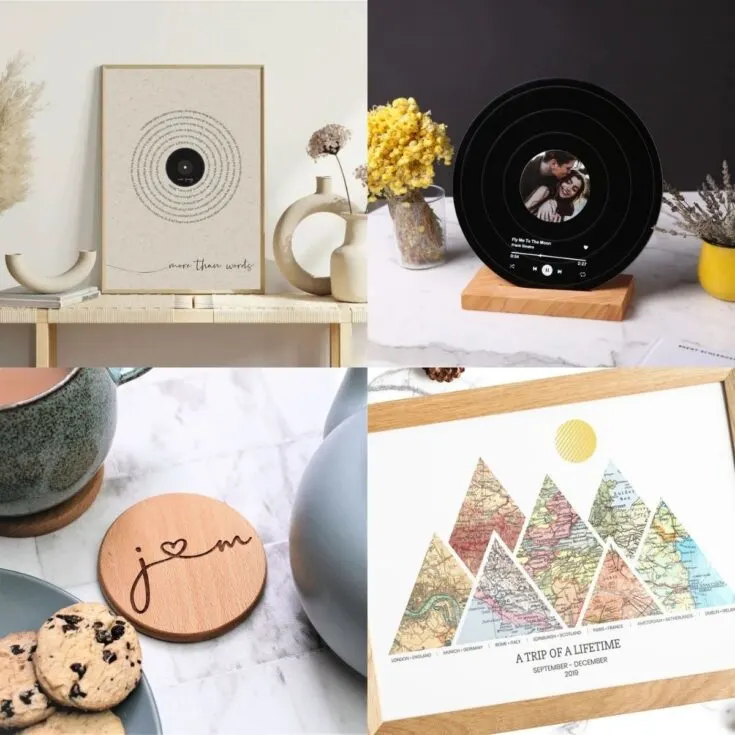 These beautiful wedding anniversary gifts for him are just so awesome. Celebrate your anniversary with your lover!
Materials
Find the perfect gift for your anniversary.
Instructions
Check out these fun gifts!
Enjoy your anniversary!