Need the right idea for the wedding gift? Make these DIY wedding gifts for the newlyweds and enjoy crafting!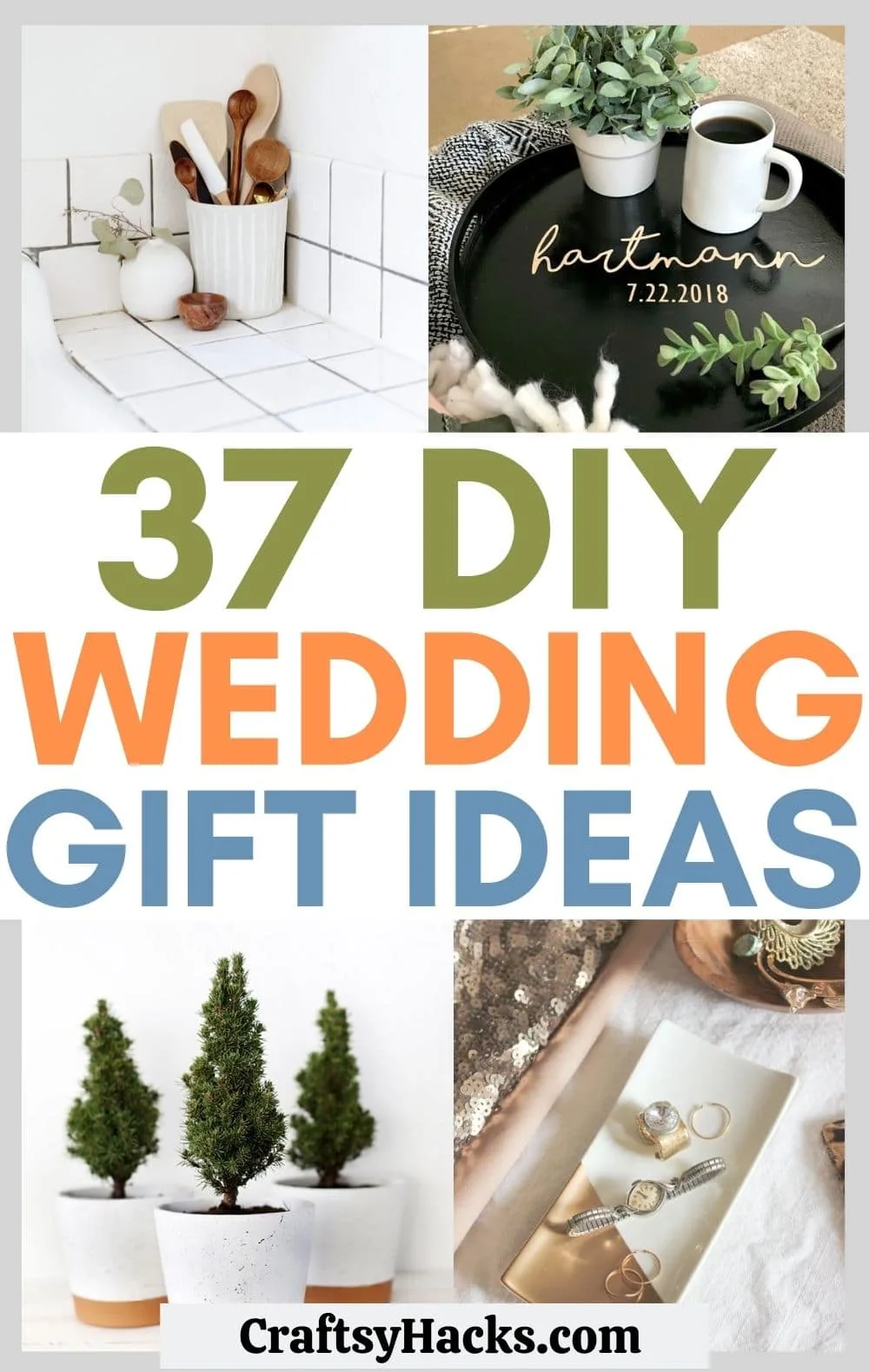 Weddings are all about the ceremony, dancing, food, and music. To the guests, it's an experience to enjoy, and a happy memory spent with the newlyweds, be it their friends or family.
But for the happy couple in question, I'm sure they are super excited about the Big Day and are looking forward to it. But you know what they look forward to the most before the wedding?
Wedding gifts that all their friends shower upon them. However, when you're picking the gift out, it can be easy to get a gravy boat or a waffle maker and call it a day.
Or you're choosing from a registry, which is still fine, but something's missing. Where is that personal touch to let the couple know that you spent time and effort in picking out the perfect gift for them?
So with that in mind, here are 37 DIY wedding gift ideas for you to explore so you can contribute to the process of gifting and giving.
1. DIY Personalised Tray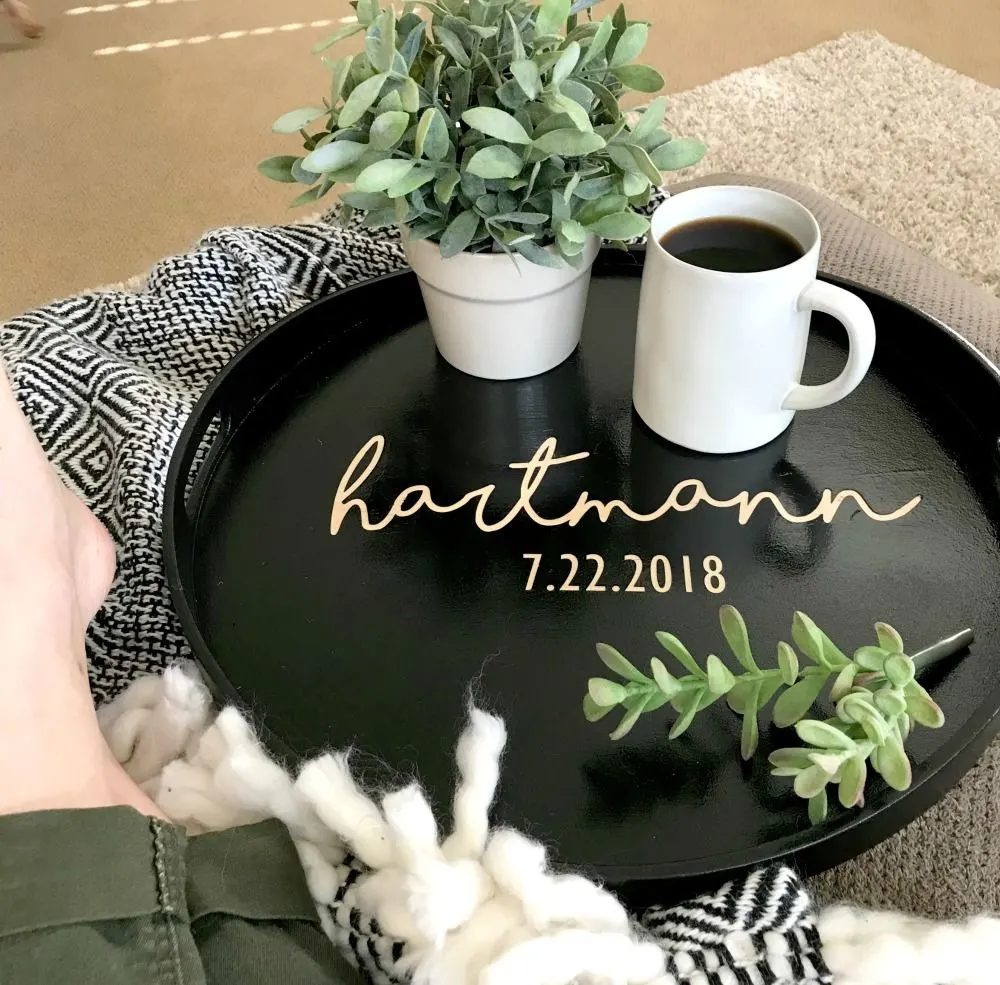 Credit: rachelteodoro.com
A black tray can be turned into a personalized, thoughtful, and chic wedding gift. This black serving tray can be transformed into exactly that.
You'll need to cut some of the vinyl to spell out the couple's last name. You can also cut out their wedding date if you want to.
Use transfer tape like this to make transferring the letters to the tray easier. Next, peel away the paper, line up the letters and press the adhesive in place.
That's pretty much it, and you've got a lovely DIY tray.
2. DIY Gift Using Cricut Explore Air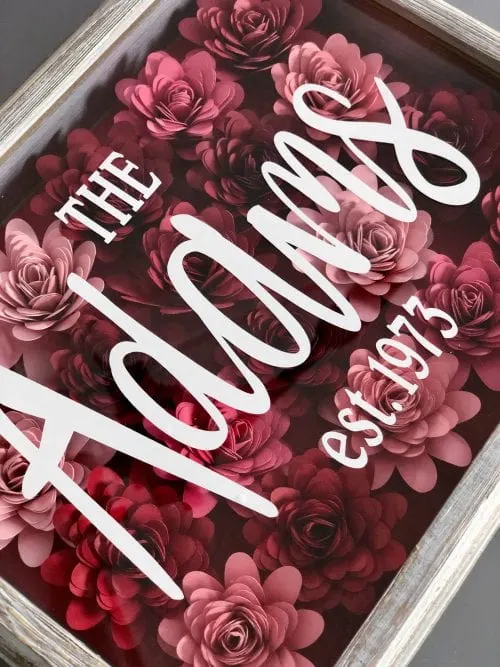 Credit: thecraftyblogstalker.com
How does a box frame with beautiful decorative paper flowers inside it sound? You can personalize it with the newlywed's last name and the date of their wedding!
If you've got your Cricut Explore Air 2 set up, then you're halfway there. You'll also need some red-tone cardstock paper, a hot glue gun, and a shadow frame.
You'll need a ton of flowers depending on the size of the frame and the size of your finished flowers. Your Cricut Explore Air should help you with that in no time!
3. Photo Coasters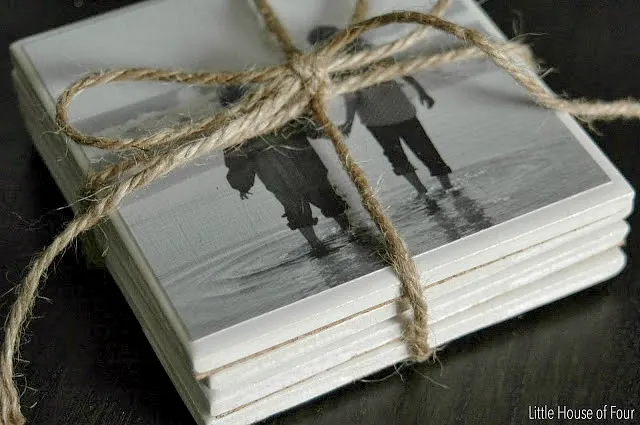 Credit: littlehouseoffour.com
Anything personalized with photos of happy memories is timeless and sweet—mugs, frames, or, in this instance, tile coasters. You just can't convince me otherwise.
With a few ceramic tiles, a foam brush, and your photographs of choice, you've got yourself a wonderful DIY wedding gift.
Of course, you'll also need some adhesive cork sheets from here, but that's about it. Just pick some amazing pictures, and you're all set.
4. Pressed Herb Candles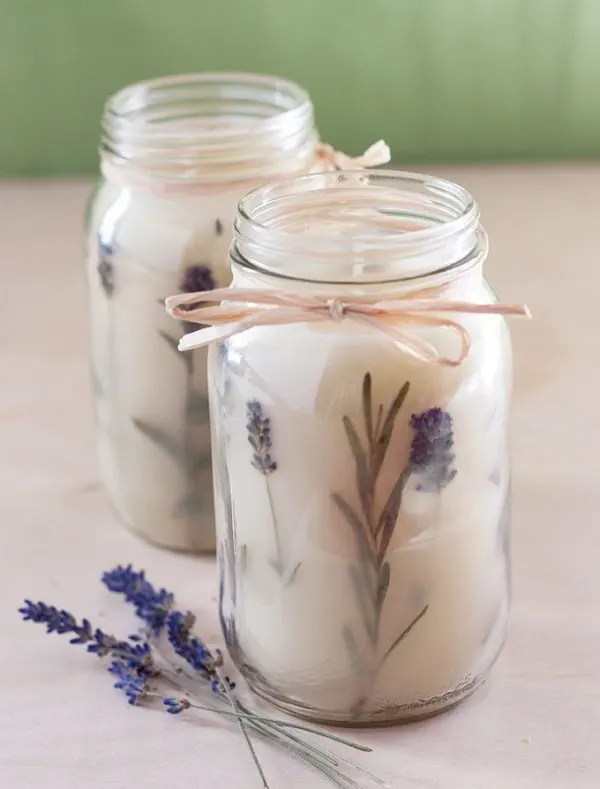 Credit: gardentherapy.ca
You can never have too many scented candles. So why not give a half dozen pressed herb candles to newlyweds?
They'd be a lovely addition to their new home if they're just setting it up.
You'll need to pick your herbs: thyme, rosemary, lavender, or chamomile. Each herb has a different purpose: lavender to relax, rosemary to boost energy and focus, and so on.
Next, get some glass jars from here, some beeswax or soy wax, and start some candle wicks like these. Be careful while melting the wax!
5. Wood Slice Portrait Christmas Ornament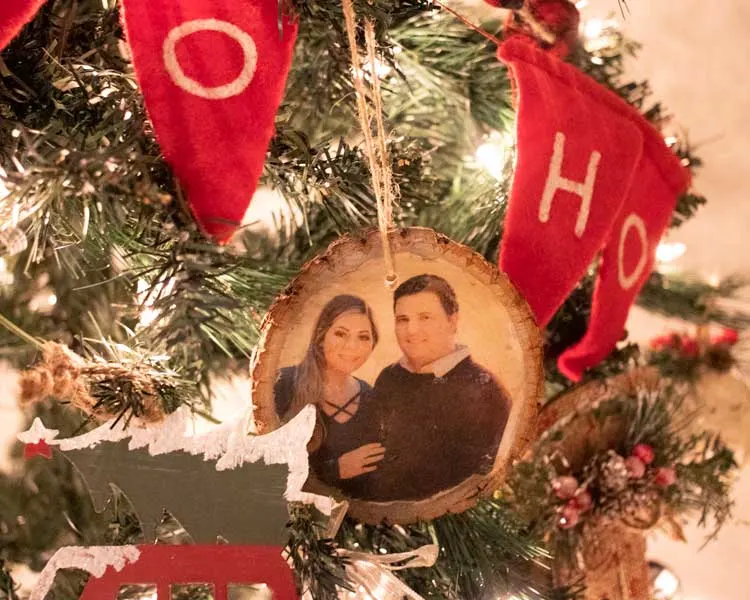 Credit: frugalfitzdesigns.com
You might not celebrate Christmas with them, but with this gift, you'll definitely be a part of the newlywed's first Christmas as a married couple.
You'll need a drill, some twine, and of course, wood slices from here. You'll also need to select your favorite photograph of the happy couple.
If you're making more than one, then feel free to select photos of you with the happy couple, as well. I bet they'd love to see a picture of you hanging from their tree as well.
6. Wood Pallet Coaster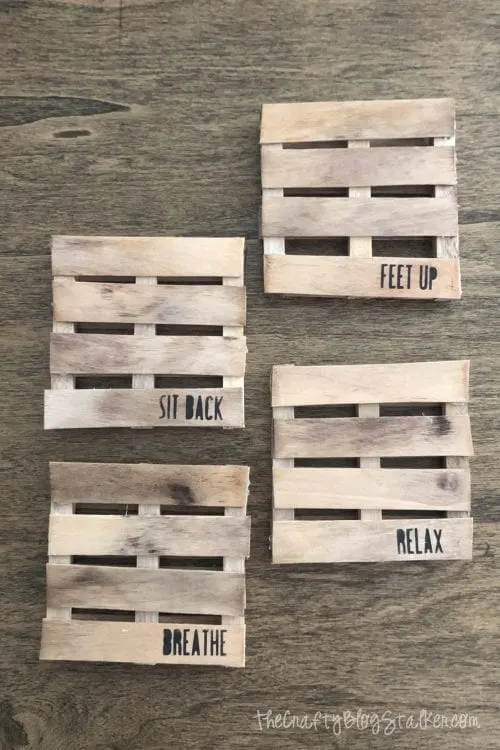 Credit: thecraftyblogstalker.com
Rustic wood pallet coasters are easy to make and look great on coffee tables. All you need are a few jumbo popsicle sticks.
While you're shopping, also grab these ⅜ inch dowel rods to prop both sides of the coaster up. They'll help to make your coasters sturdy and give an extra lift to them as well.
To make it even more rustic, you can distress the popsicle sticks to make them look exactly like pallets.
7. Bling Ring Dish
Credit: creativegreenliving.com
With a new rock on the bride's finger, she's sure to need an equally pretty ring dish. That's where you and your DIY gift come in.
You can make the ring dish yourself. You'll just need a roll of oven-bake clay and a craft cutter machine, like Silhouette Cameo or Cricut Explore Air.
You'll also need a roll of vinyl to cut out the letters. Once you've got all your supplies, roll up your sleeves and start molding that clay!
8. Tassel Wall Hanging
Credit: homeyohmy.com
Who needs stuffy paintings and lofty wall decor when you can have this edgy and modern tassel wall hanging? It's the perfect wedding gift, and a housewarming gift too!
All you'll need is a wood dowel like this and round wood beads. Then just grab your craft and sewing supplies and your trusty glue gun to get going.
You can go all black with the threads or make it fun and colorful—whichever way the newlyweds would like it.
9. Painted Dishes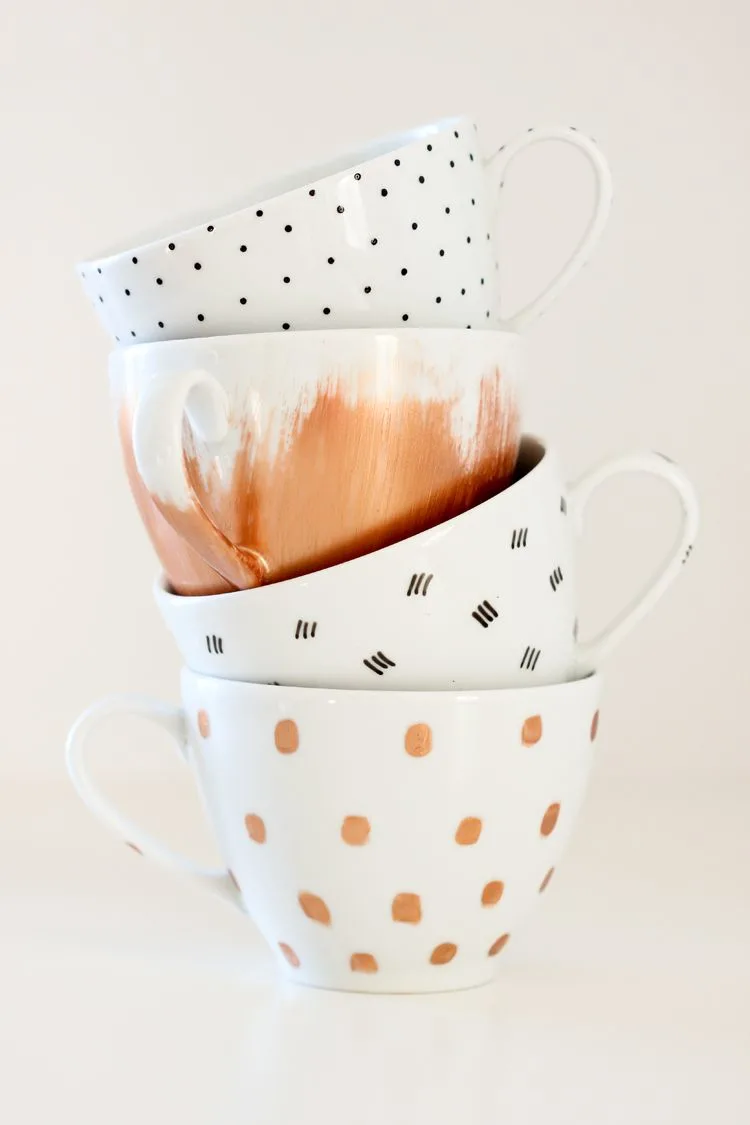 Credit: deliacreates.com
You can't have too many mugs and cups at a new home. So if you have newlywed friends who are setting up their new kitchen, how about these dishwasher-safe painted cups as gifts?
First, buy some white tea or coffee cups. You'll also need some porcelain paints like these.
Grab your paintbrush and start painting your cups. Once you're done, you can just bake them to make the dishes dishwasher-friendly.
Wrap them up in a bow, and your DIY wedding gift is ready!
10. Gold Dipped Jewelry Tray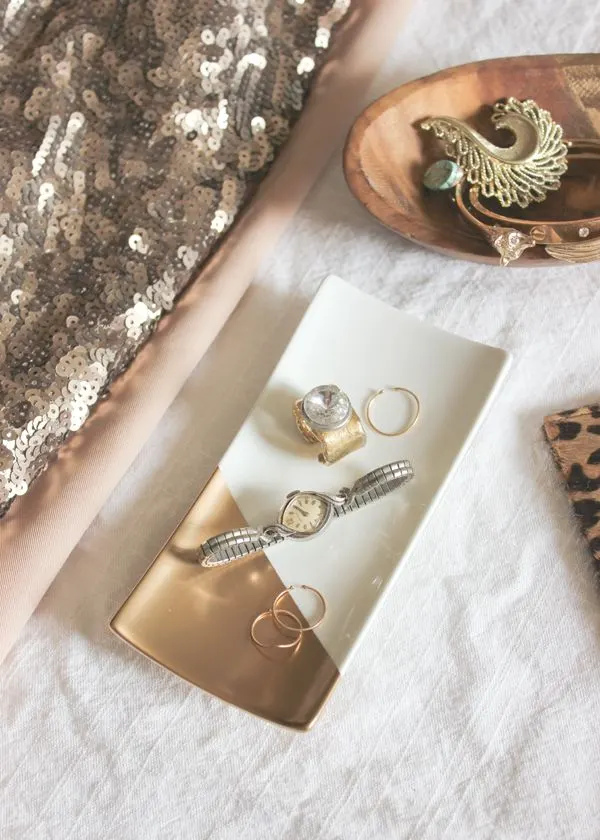 Credit: afabulousfete.com
A girl can't have too much jewelry and certainly never enough boxes and trays to keep them in. That's why a gold-dipped tray is the perfect wedding gift for the bride.
First, grab some painter's tape and a can of gold spray paint. You'll also need your tray.
Tape off the area you don't want to paint, lay out some newspapers and start spraying that gold paint.
11. DIY Knot Pillow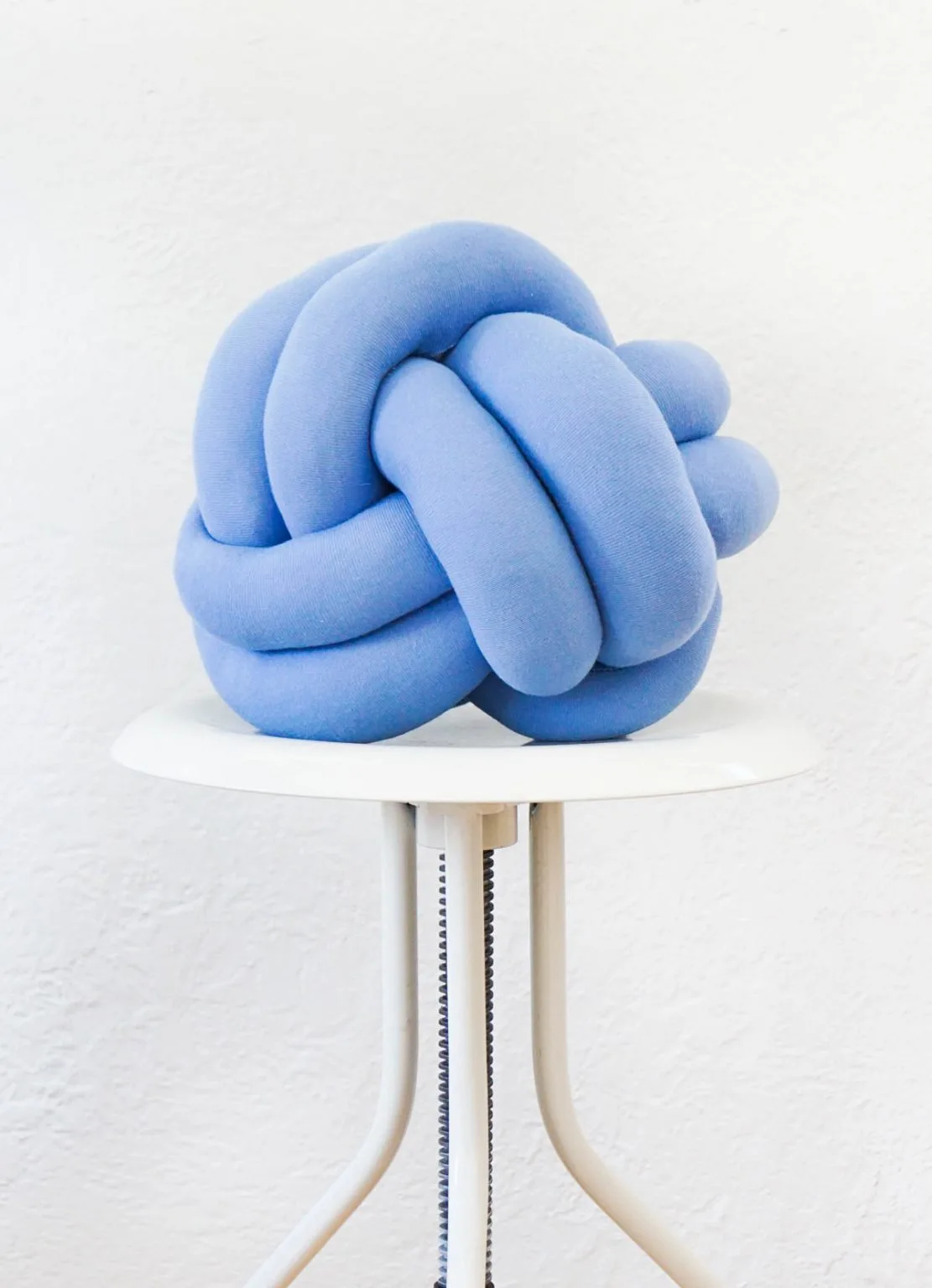 Credit: sugarandcloth.com
You don't need to touch this lush, knotted pillow to tell how soft and pliable it is. It's great as a toss pillow on your sofa, armchair, and bed, or even as a decorative piece on a windowsill.
They're also great wedding gifts. Apart from your usual sewing supplies of needles, thread, and scissors, you'll also need some stretchy fabric and dry polyester fiber filling from here.
Use a cardboard tube to help you stuff the filling into the fabric once you've sewed it.
12. Striped Gold Foil Wooden Bowl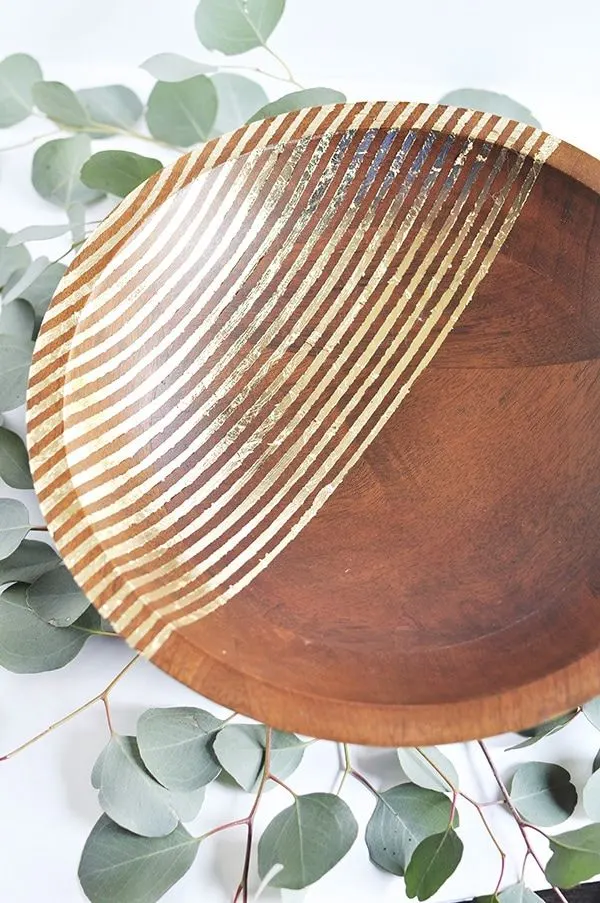 Credit: delineateyourdwelling.com
Whether you mean to use it as a fruit bowl or as a key-holder, this wooden bowl would be a great wedding gift. The gold foil just classes it up, don't you think?
Find a regular paintbrush as well as a soft bristle brush for the gold foil. You will also need some painter's tape and glue, but that's about it.
You can go crazy with the pattern, or you can stick to classic stripes. Just section off the area and use the adhesive to glue the foil down.
13. Blanket Ladder
Credit: shegaveitago.com
Every living room should have a blanket ladder. They're so underrated, but once you start using them, you'll never have to worry about rumpled blankets over your couch.
They're also a great accent piece, and a touch of wood to a room is a great way to jazz it up. You'll need a drill, some wooden dowels, wood beams, and screws of the appropriate size.
Once you're done, the only thing left to do is figure out how to get this gift to the couple.
14. DIY Fringed Pillows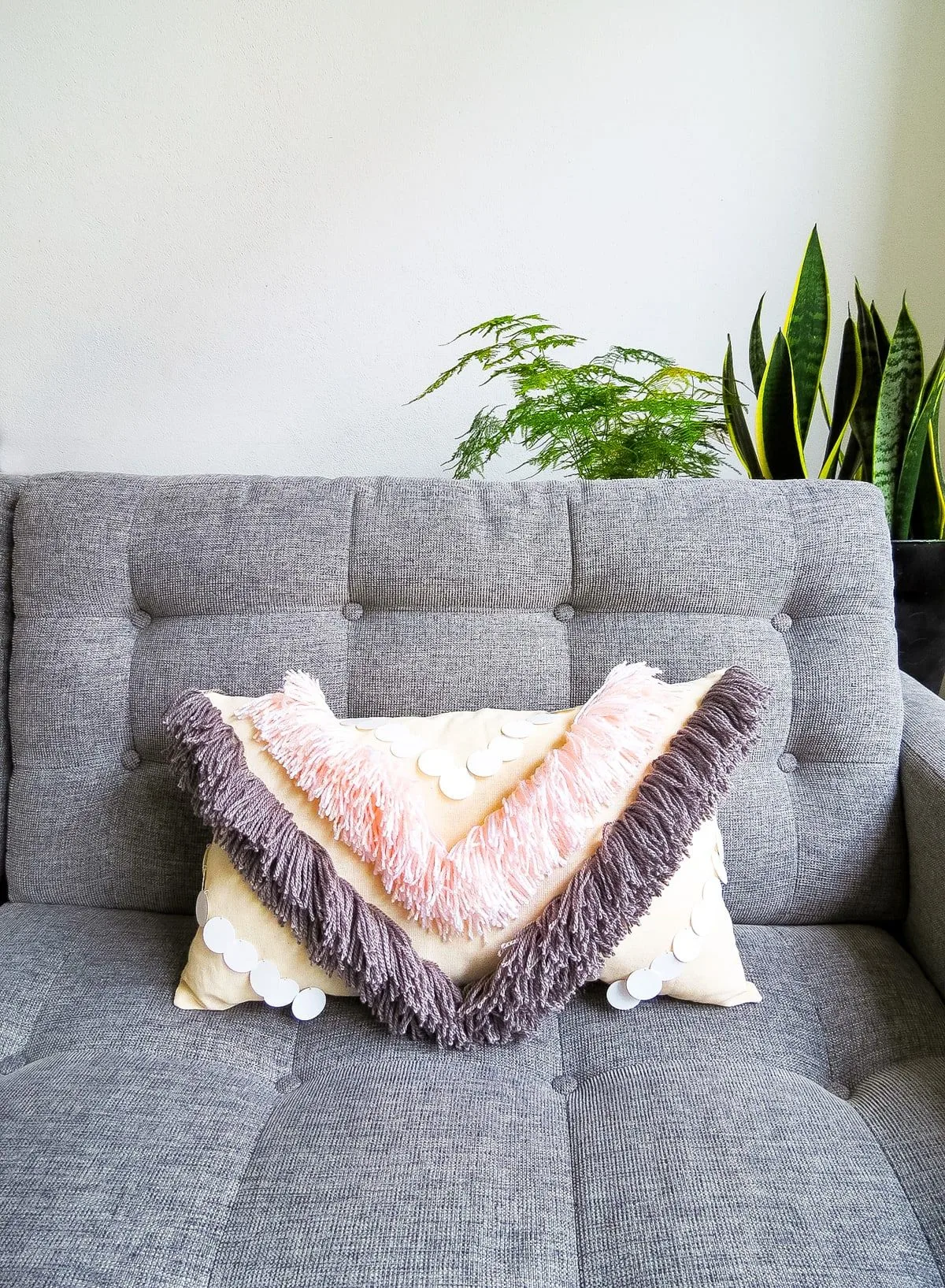 Credit: sugarandcloth.com
Here's a customizable, personalized gift for the newlyweds: fringed throw pillows! With a bit of weaving, some colorful yarn, and the right design, you'll be on your way to making this DIY gift.
I hope you saved some of the polyester fiber stuffing from the other DIY project because you'll need it again. You'll also need your sewing supplies.
If you aren't too sure about what colors to use, play it safe with neutral tones. You can never go wrong with beige or cream fringes. They're very boho-chic, don't you think?
15. DIY Pom Pom Pillow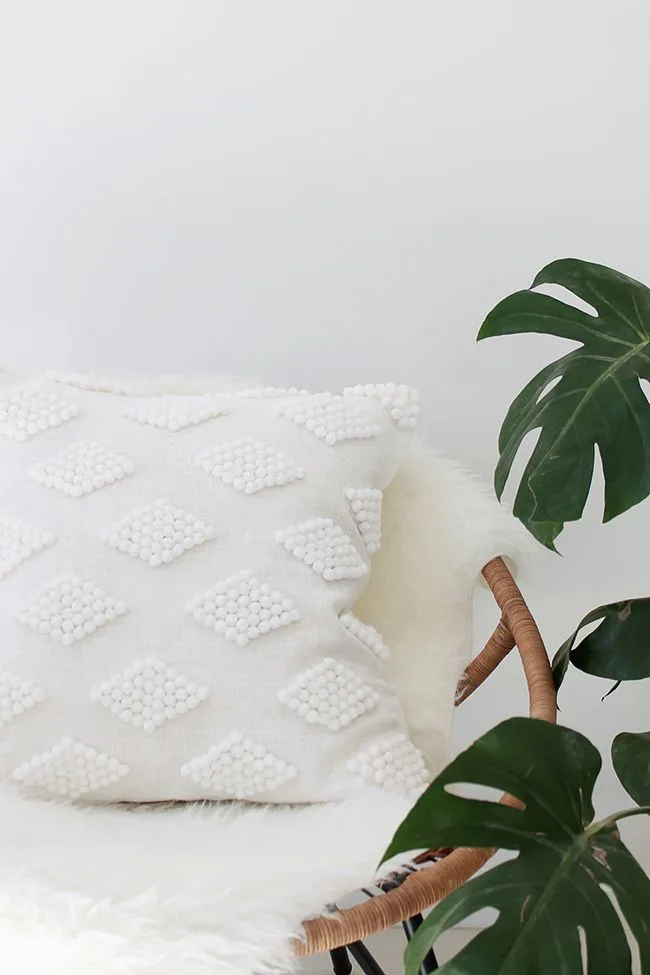 Credit: almostmakesperfect.com
Maybe you should just buy stock in polyester stuffing. You're sewing and stuffing pillows left, right, and center for wedding gifts.
Only this time, instead of fringes, you're making tiny pompom fluffs to glue onto the pillow. You can find them here.
16. DIY Chunky Knit Blanket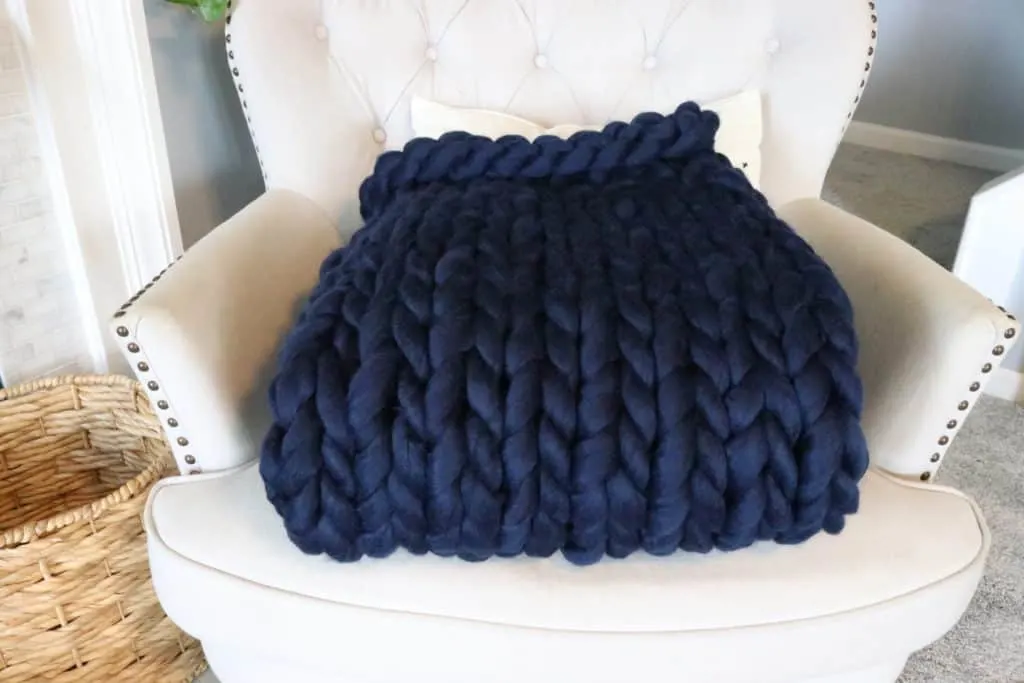 Credit: raisingnobles.com
You did make a blanket ladder for a wedding gift. It would make sense to make a soft, chunky blanket, too, don't you think?
You can find your bulky, chunky yarn right here. Also, don't bother with knitting needles or crochet hooks. You're making this blanket with your hands.
It's a lovely gift and one that you've spent time making, which is a beautiful sentiment in itself!
17. DIY Splatter Planter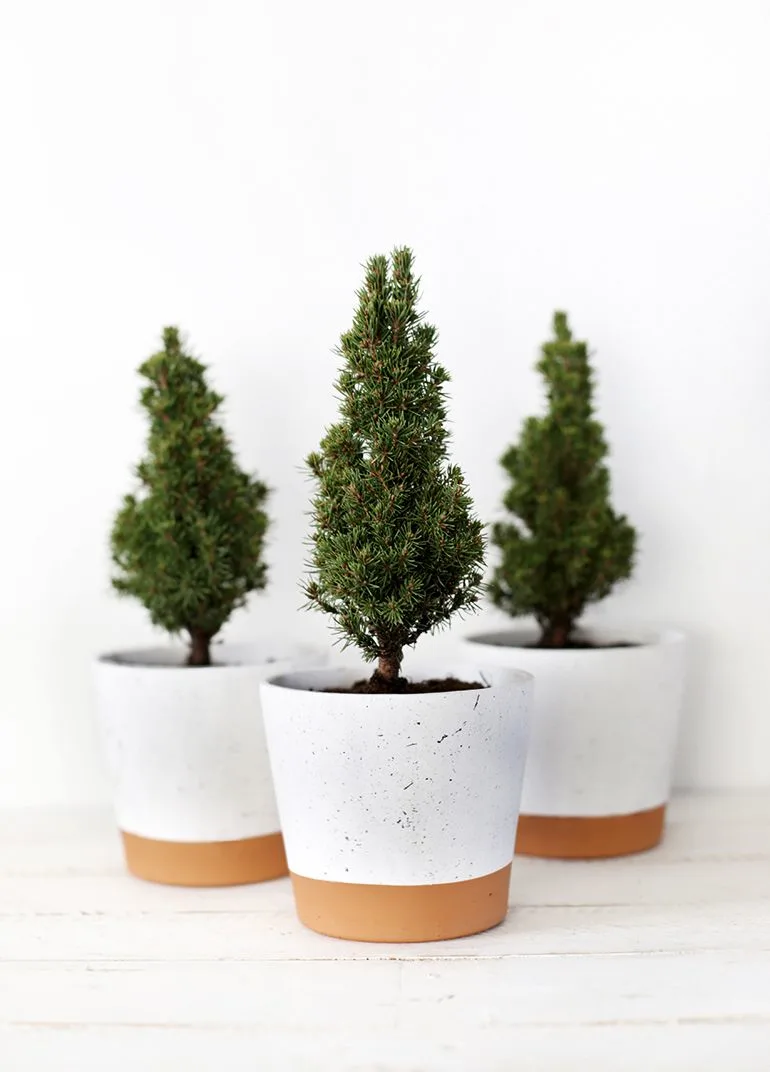 Credit: themerrythought.com
What are splatter planters, you ask? Well, they're exactly what it sounds like: planters with paint splatters.
Buy a terra cotta pot from here, some acrylic paint—for both the base white coat and also multiple colors for the splatter. You'll need a bristle brush, and you're set.
You can't just give an empty pot as a wedding gift, so buy some planting soil and pick your plant of choice. Perhaps a succulent—you can never go wrong with succulents.
18. Wooden Candlestick Holders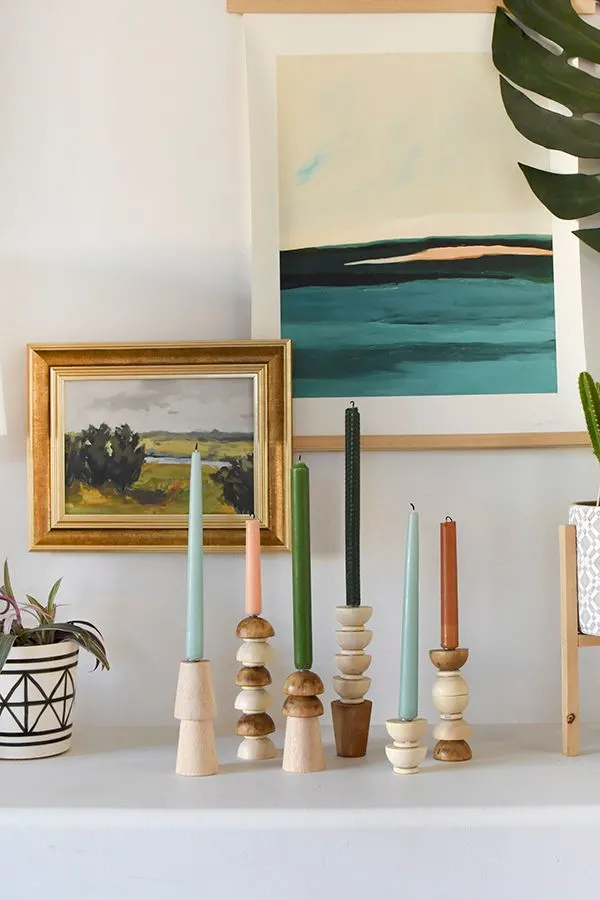 Credit: delineateyourdwelling.com
I love how these wooden, beaded candlesticks add a touch of rustic beachy vibe to the tableau. They're much better gifts than stuffy, ornate candle holders.
First, get these wooden beads. You can paint them, or leave them be if you prefer. You'll also want wooden cork stumps for the base and a handful of thumbtacks for the candles.
Speaking of candles, these taper candles would pair well with these candle holders.
19. Faux Ceramic Utensil Holder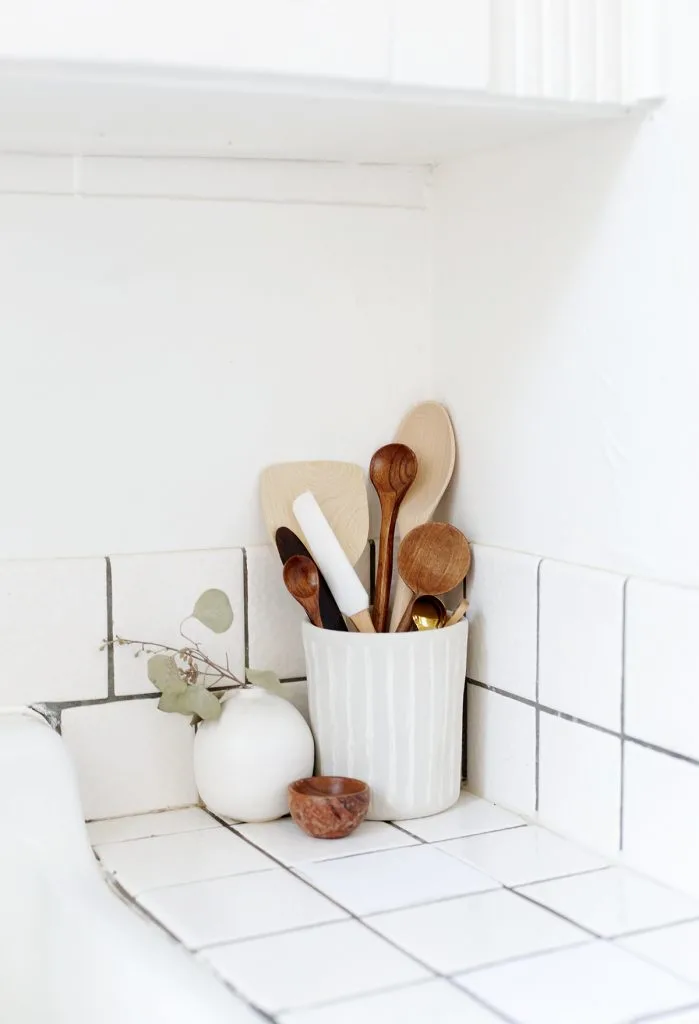 Credit: themerrythought.com
I usually just dump all my utensils in a drawer, and that would be that. That's why a utensil holder is such a thoughtful gift.
You'll need a plain utensil holder, spackling paste for the grooves, and a putty knife from here. You can go wild with the paint or stick to classic white to pull off the ceramic finish.
You can make a matching planter, too, for the newlyweds to keep next to their utensil holder!
20. Etched Cutting Board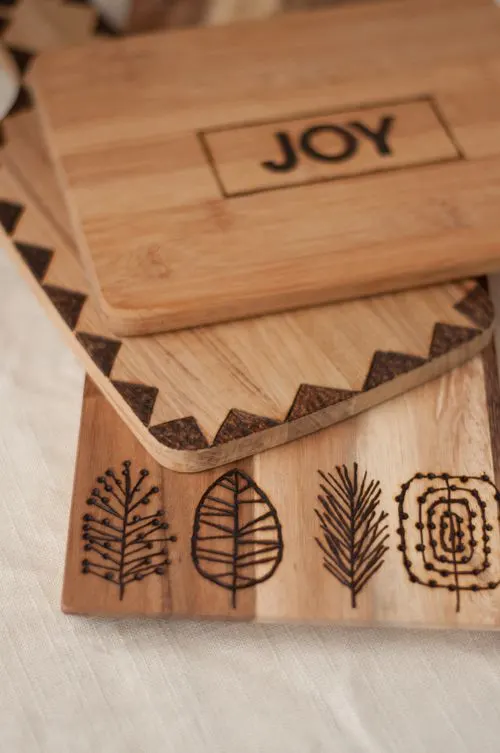 Credit: designmom.com
Since you're thinking about utensil holders and gifts to decorate the kitchen, how about a cutting board with gorgeous, earthy etchings?
You can get creative with the etching patterns. You can even etch the newlyweds' last name and wedding date while you're at it!
You'll need a heating tool for this project, so grab an etching kit from here. These come with a variety of patterns to help you etch what you want.
Why not a matching cheeseboard, too? You can find some multipurpose bamboo boards here.
21. DIY Marble Tray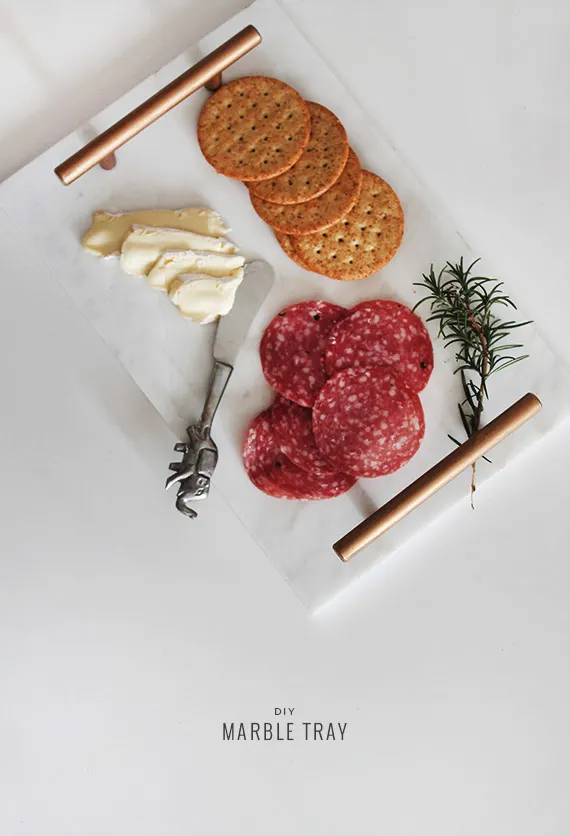 Credit: almostmakesperfect.com
Speaking of cheese boards, look at how this tray looks. You can use it for bread, or to serve canapes and finger food, too. They'd be a wonderful wedding gift, much better than an old gravy boat.
You'll need a couple of copper drawer pulls, some felt pads like these, and a marble slab.
22. Metallic Leather Coasters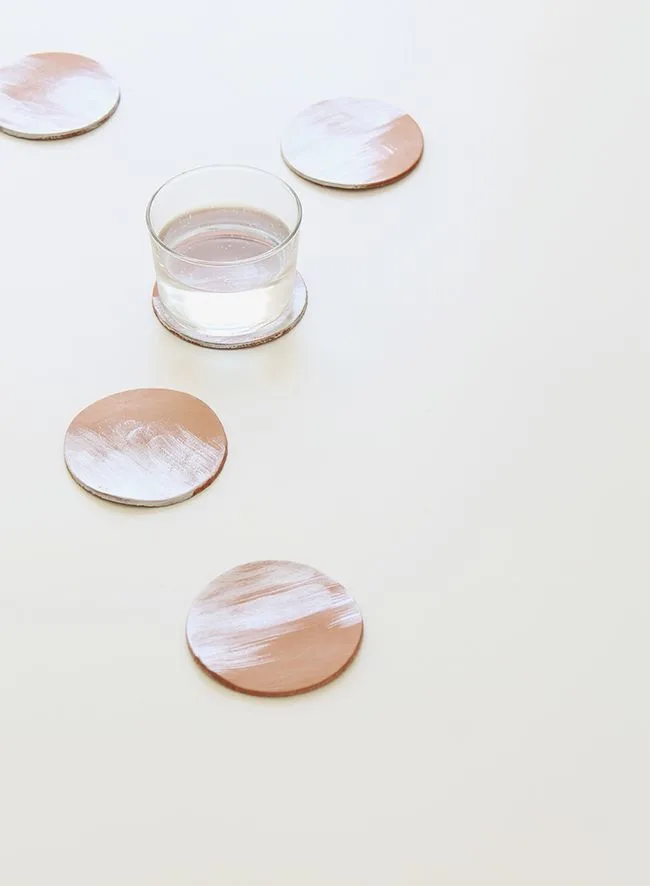 Credit: almostmakesperfect.com
Is it metal? Is it leather? Or is it both? But wait, what is it? Metallic Leather Coasters.
I bet you can find some leather circles or patches at a local craft store. You'll also need some silver paint to add that metallic touch to the rustic leather.
Once you're done, use some finishing spray like this to set the paint.
23. Marble Dipped Vessels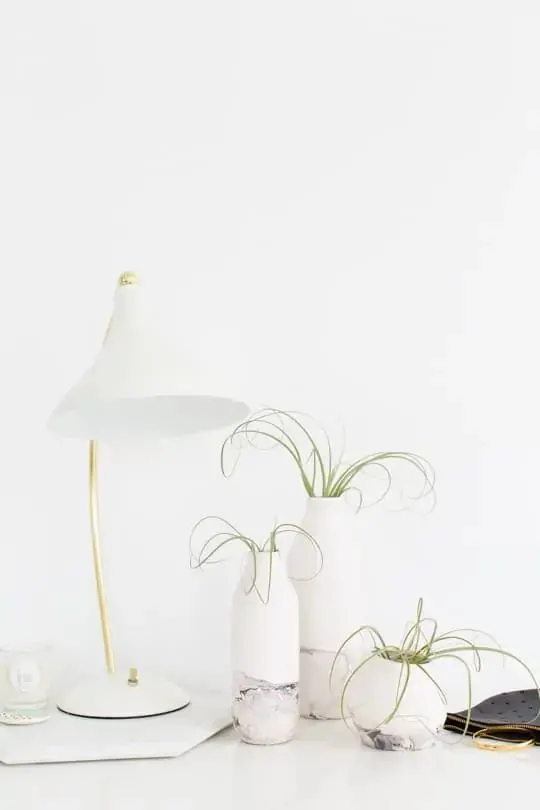 Credit: sugarandcloth.com
Marble finish on your tiles and decor boosts the class factor, don't you think? So how about you make some of these marble-dipped vessels as a wedding gift?
You'll need a few ceramic vessels first. Also, if you've got some gray and black nail polish, they'd be perfect for the marble veins.
Now spread out some newspapers before you get started because this project is bound to get messy.
Check out more wedding crafts here.
24. DIY Quote Pillow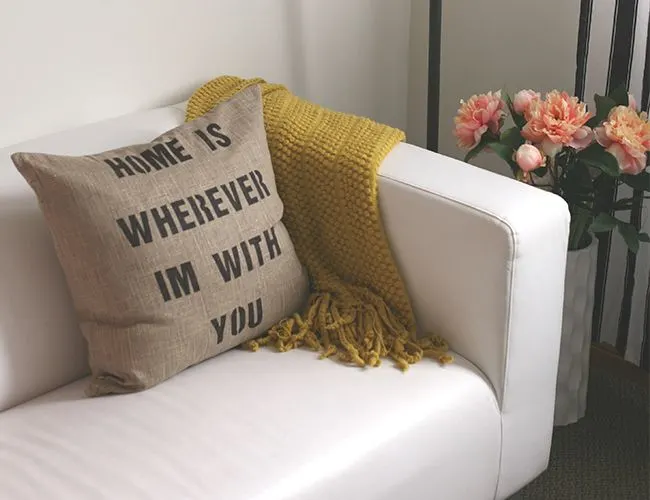 Credit: inspiredbythis.com
Here's another throw pillow on the list, only this one's got a quote on it. How about printing a saying or a quote—something meaningful to the married couple, or even just their last names and wedding date?
Here's what you'll need:
Letter stencils
Fabric marker
Tape, ruler, and pencil.
Now just pick out your pillowcase linen and get started on the stenciling.
25. Teacup Candles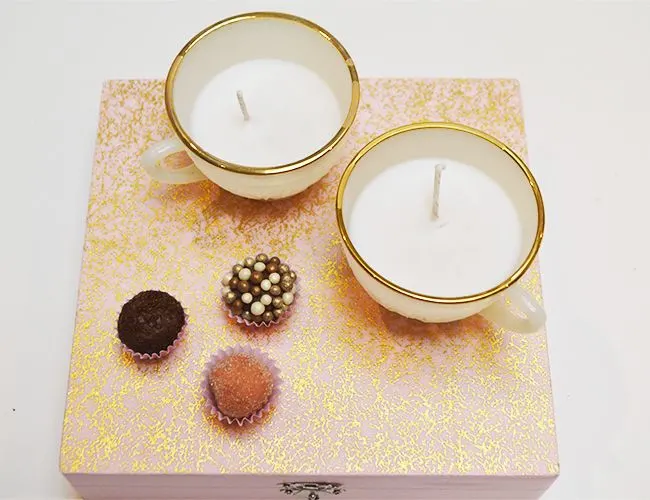 Credit: inspiredbythis.com
These aren't your regular tealight candles. We're talking teacup candles, as in candles in a teacup. Just buy some beeswax pellets from here and start melting the wax in a saucepan.
Once you melt the wax, it's time to jazz it up with some dried herbs. You can also add a few drops of food dye to the wax if you want some color.
A few drops of essential oils, too, can do wonders while making a scented candle. Finally, pour the wax in, set the wick, and let it dry overnight.
26. DIY Japanese Printed Bowls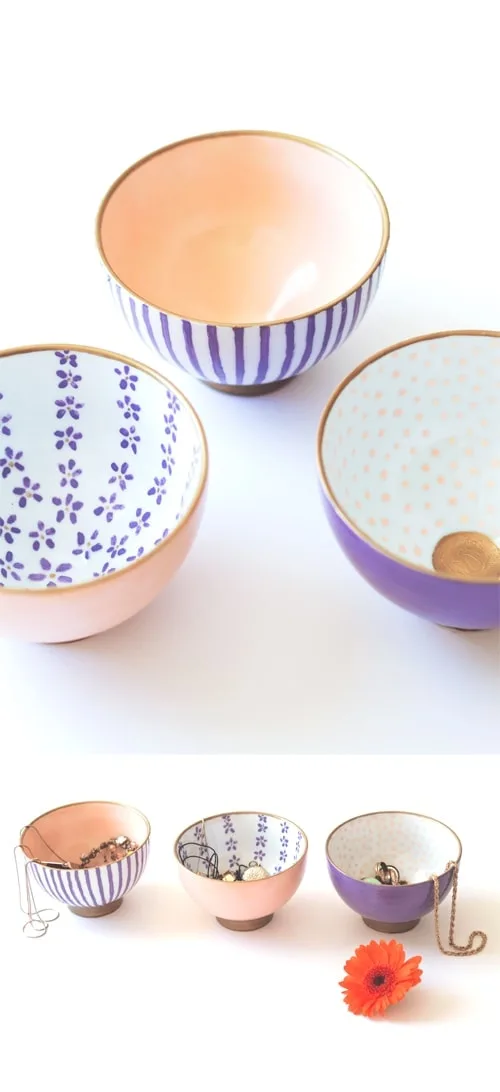 Credit: thelovelydrawer.com
Miniature pattern bowls never go out of style, simply because you can always find a use for them. They're great for serving condiments and dips, keeping little jewelry and trinkets, and even as a dish to dump loose change in.
This DIY project will make a wonderful wedding gift! You'll need a sharpie, a few bottles of acrylic paints, paintbrushes, and of course, a porcelain bowl.
Look up some Japanese prints and get started on painting them on the bowls.
27. Gift Basket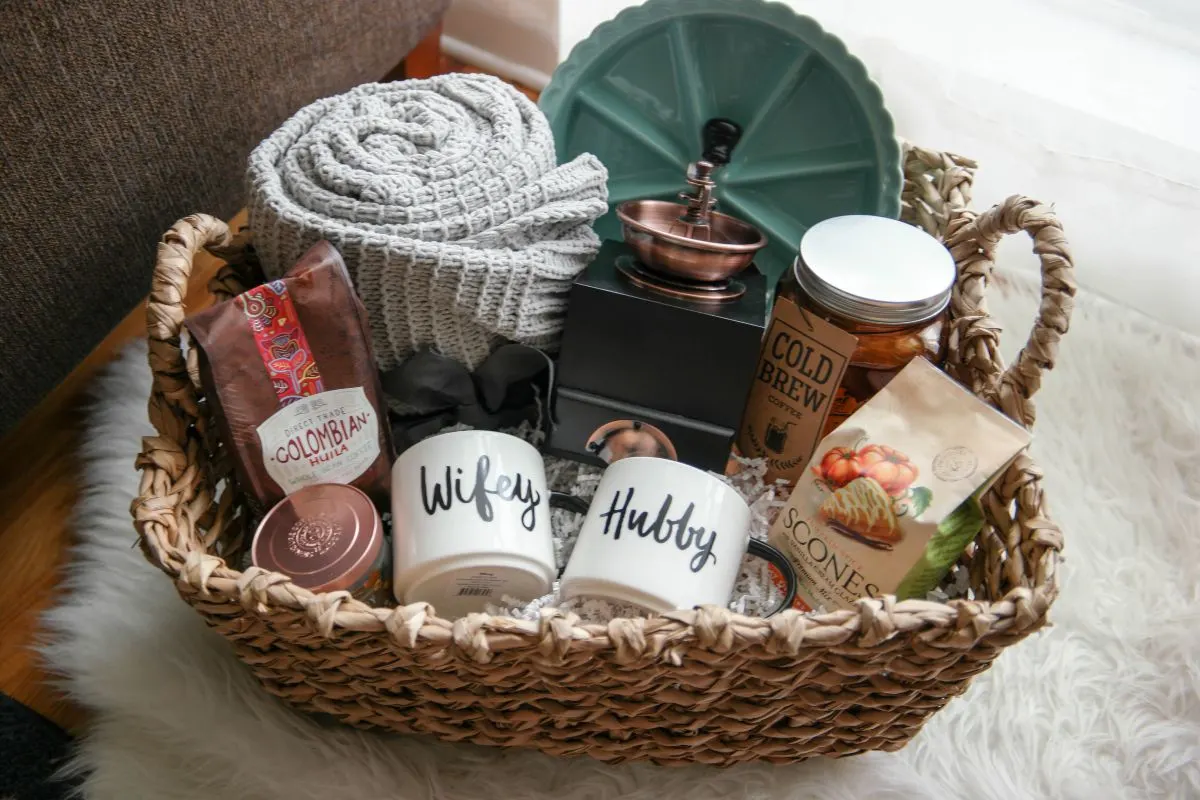 Credit: mymountainwild.com
I love gift baskets and hampers. You never know what you'll find, and they're such a lovely gesture.
How about a cozy morning gift basket to give the newlyweds. Here are some items you can include: a warm throw, his and hers mugs, herbal tea, some amazing Columbian coffee, a vintage coffee grinder, and some sweet mini scones.
Put all those goodies in a basket, slap a bow on it, and voila!
28. DIY His And Hers Towel Hooks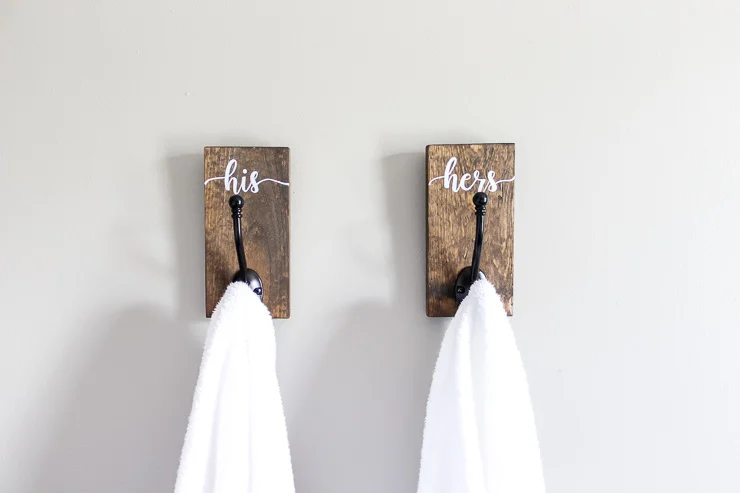 Credit: prettyhandygirl.com
Forget his and her towels. Instead, check out these his and her towel hooks. Don't they look snazzy on that wall?
You'll need pinewood blocks, a ruler, a composite square, a couple of these decorative hooks, and your choice of wood stain.
Grab a paintbrush and paint the 'his and her' signs, and you're done!
29. His and Hers Key Holder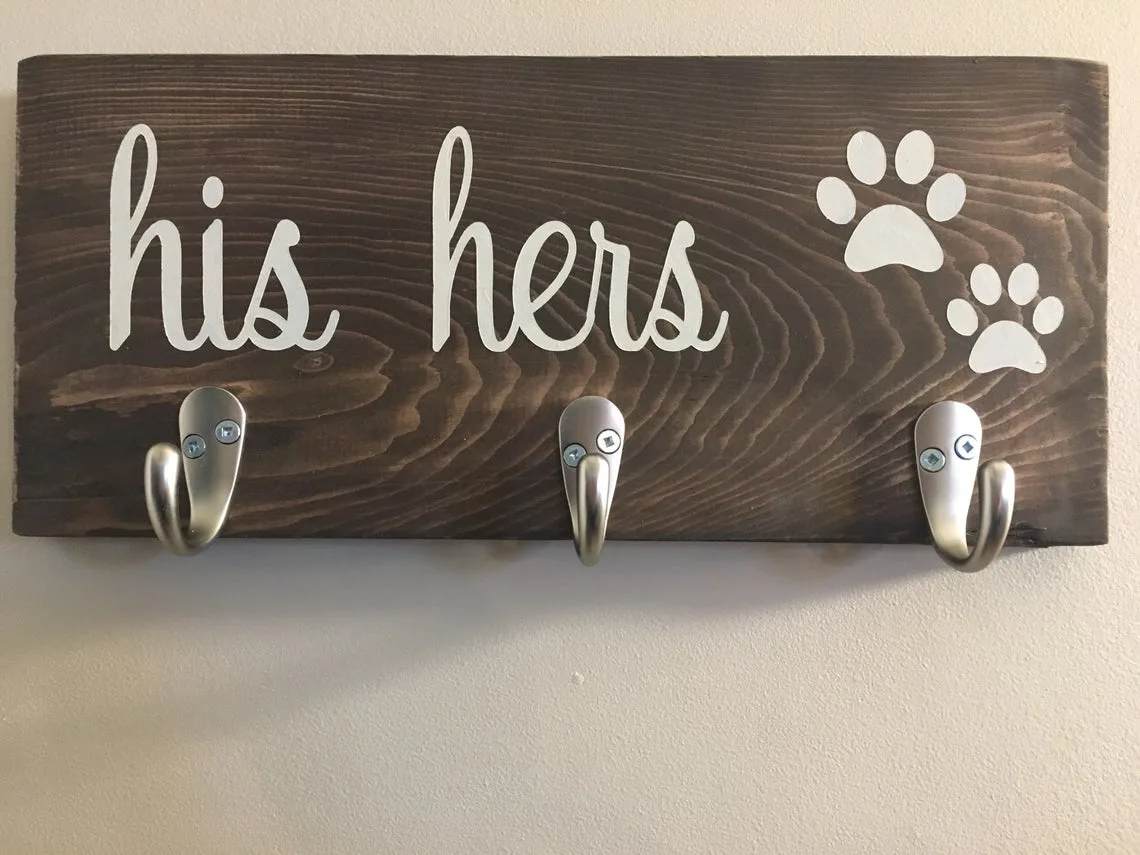 Credit: Etsy
You'll need pretty much everything you used for the previous his and hers towel hooks for this DIY project as well. But instead of big hooks, consider smaller hooks.
While you're at it, how about stenciling some patterns on the wood? Pawprints, something floral or geometric, or even just casual stripes can do wonders to jazz it up.
30. Hubby Wifey Glass Set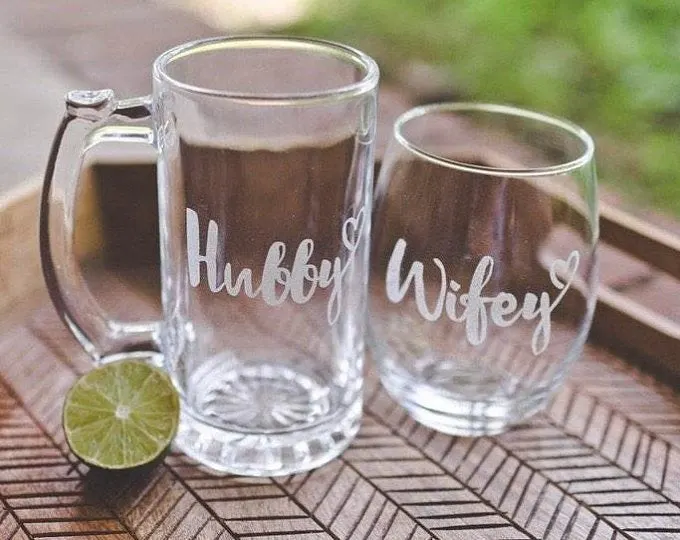 Credit: Etsy
Etsy always has the best customizable, to-order gifts. Be it for weddings, housewarming gifts, or party favors. You can add a personal touch to your gifts by customizing it.
So, check out these hubby-wifey glass sets for newlyweds. Adorable, isn't it?
31. Wedding Embroidery Hoops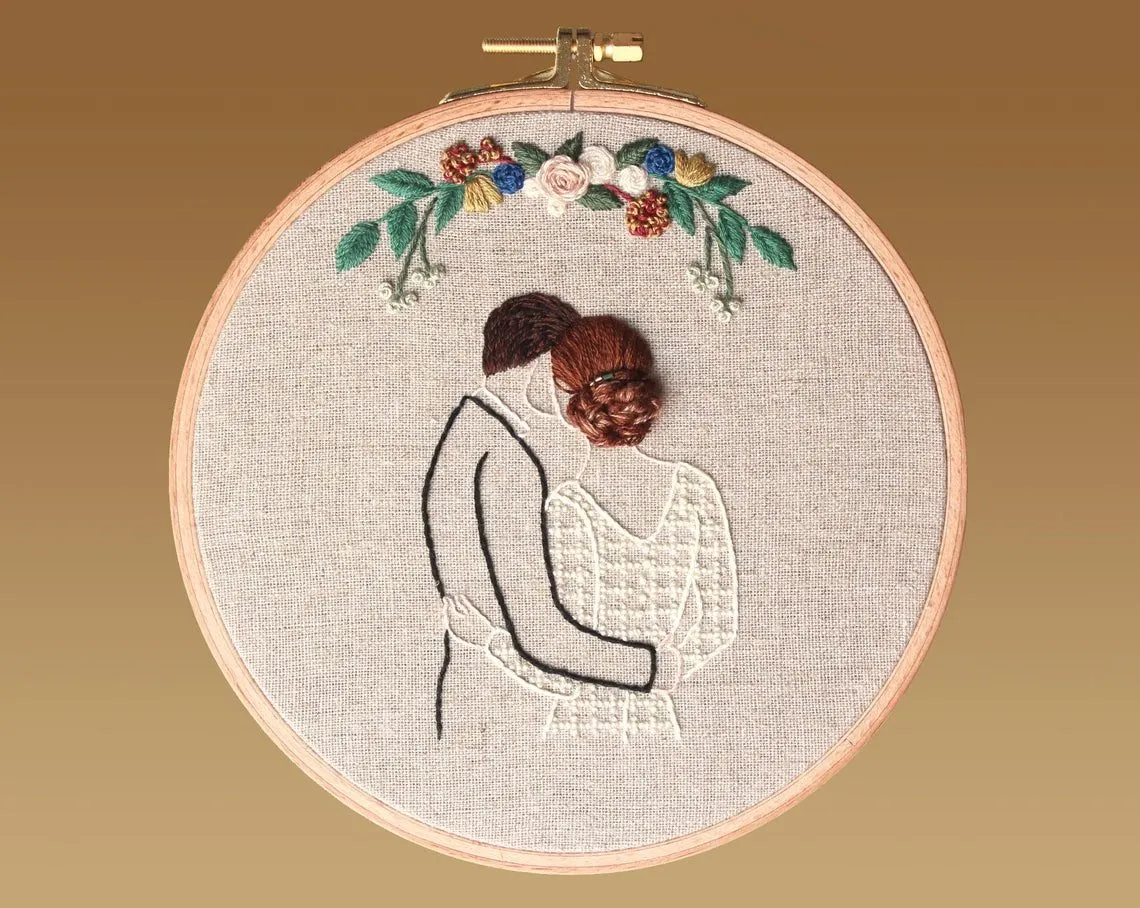 Credit: Etsy
If you have a flair for sewing and can embroider, how about this gorgeous wedding embroidery hoop for a gift?
All you need is an embroidery hoop from here, some colorful embroidery threads, and an embroidery needle.
You can embroider a good liking of the happy couple with their last names and the wedding date right under!
32. DIY Sharpie Wedding Mugs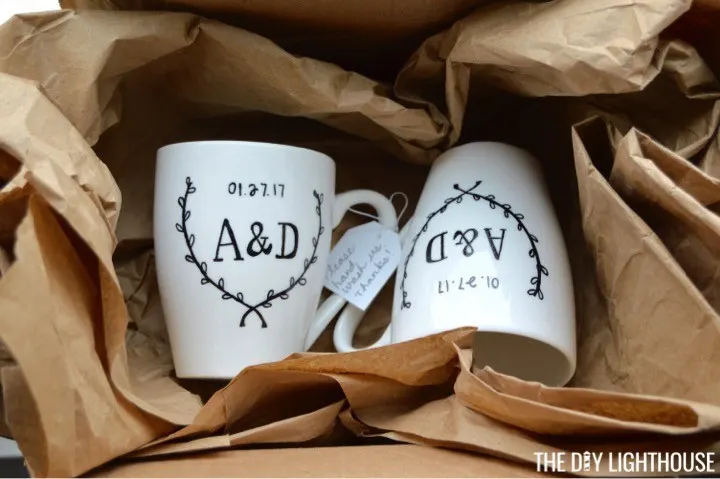 Credit: thediylighthouse.com
Let's gather our supplies for this project. You don't need a lot: a couple of white ceramic mugs and a few sharpies.
Remember, however, to only get oil-based paint sharpie markers for this DIY project. You can just as easily pop into your local craft store for the sharpie markers if you don't have them already.
Use fine-tip markers if you're going to design something that requires fine lines and tricky detailing. Once you've sketched and painted your mugs and they've dried, there's one more step.
Pop them into the oven and bake the mugs for 30 minutes.
33. Hand Stamped Vintage Spoons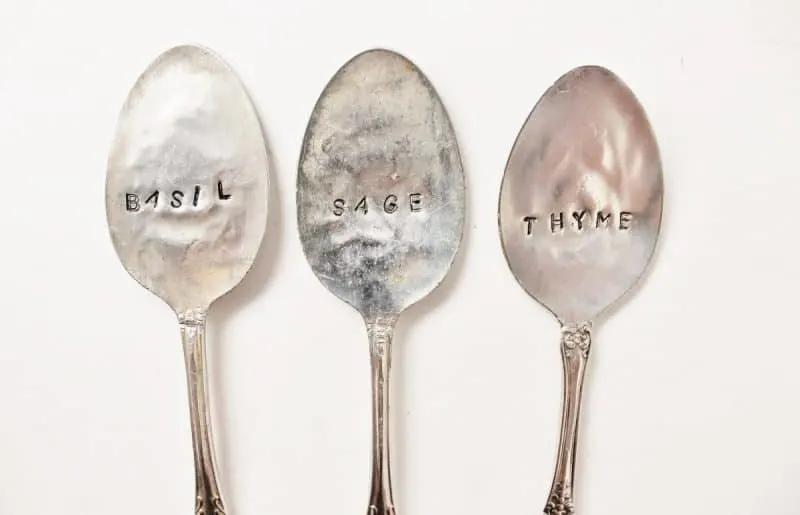 Credit: adirondackgirlatheart.com
Look how ornate these vintage spoons are. They'd be a lovely and charming wedding gift, don't you think?
You'll need a metal stamp set to get started. You can make these into a 'his and hers' set, or you can stamp the newlywed's names in.
Unless, of course, their names are just too big for a spoon. Using a ladle is out of the question…or is it?
34. DIY Wedding Cornhole Board Set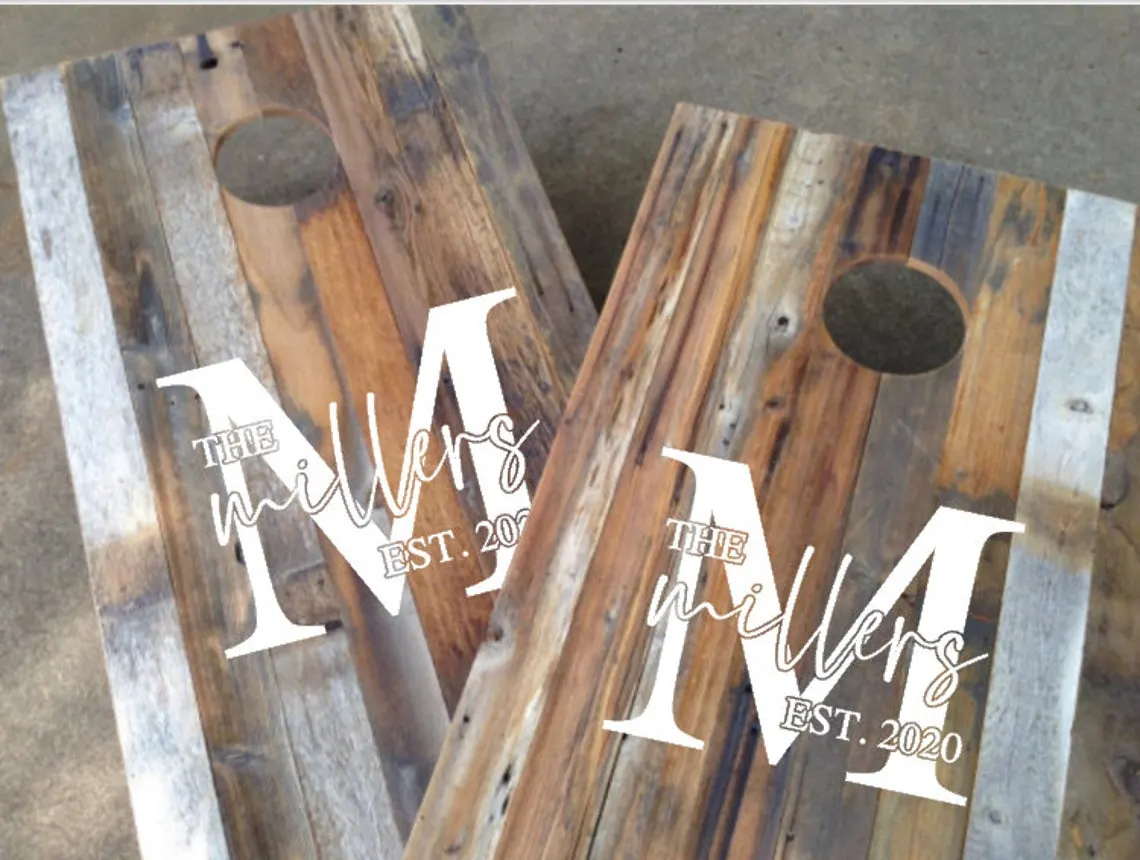 Credit: Etsy
How about a vinyl-printed cornhole board set for a wedding gift? You can simply monogram it, or you can print the couple's names and wedding dates.
Also, you can lookup a meaningful quote if you'd like—something that would strike a happy chord with the newlyweds.
You can make your own cornhole board or look here. Now you can choose the wood stain you want and go about customizing it.
35. Personalized Couple Name Sign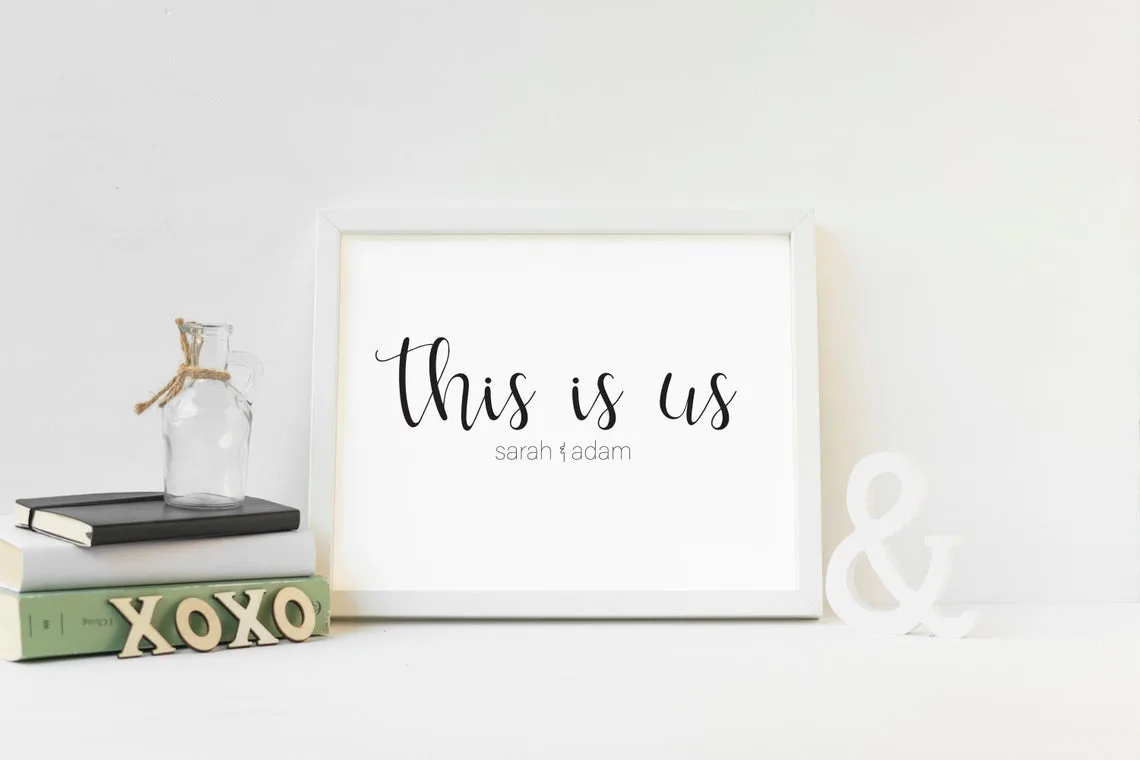 Credit: Etsy
If there were ever a TV show that celebrated life and marriage, it would be This Is Us. It makes sense that you'd pick this particular quote for a wedding gift with the couples' names under it.
All you need is a simple white frame. You can print your sign with any font or color you prefer. Then laminate it or have it mounted in the frame.
Speaking of signs, check out these creative DIY wedding sign ideas.
36. DIY Bath Caddy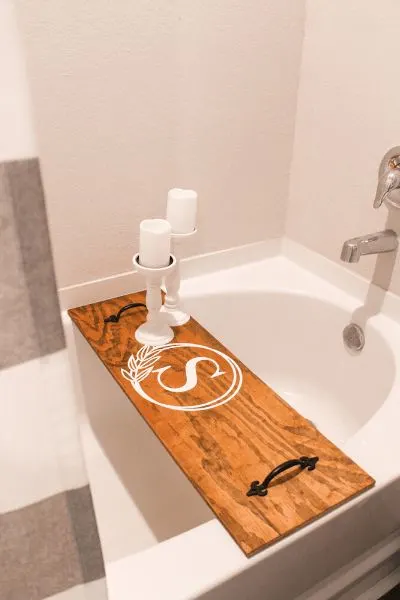 Credit: her-happy-home.com
Bath caddies are absolutely divine. There's no going back to plain old bubble baths after you've taken a bath with this.
It has all the making for the perfect wedding gift, and I won't be surprised to see it on every bride's wedding registry. You can have it designed or monogrammed and choose between different woods, too.
Just remember to find the measurements for the bathtub before you get started.
37. DIY Hot Pads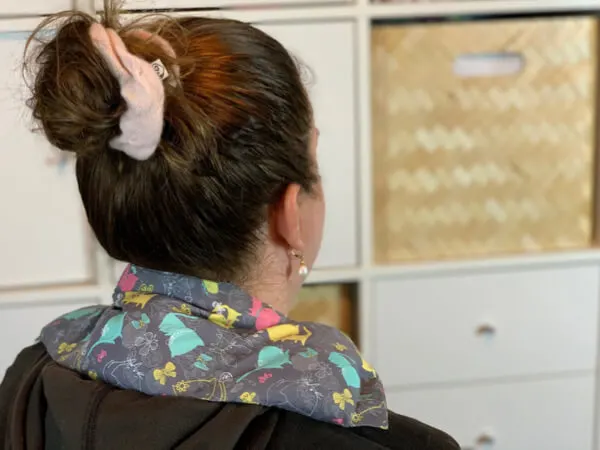 Credit: truemoneysaver.com
The last item on our list of DIY wedding gifts is a no-sew hot pad. Don't you think they'd make a lovely addition to a dining table?
They're bright, colorful, and easy to make. You can also make cute coasters to match if you have a mind to do so. It can be a full-on dining table set with placemats, hot pads, and coasters!
If you're looking for more inspiration, check out these 27 wedding gift ideas to stun your newlywed friends.