Are you looking for the perfect wedding gift for newlyweds? These wonderful gift ideas will give you a very much-needed inspiration to choose just the right one.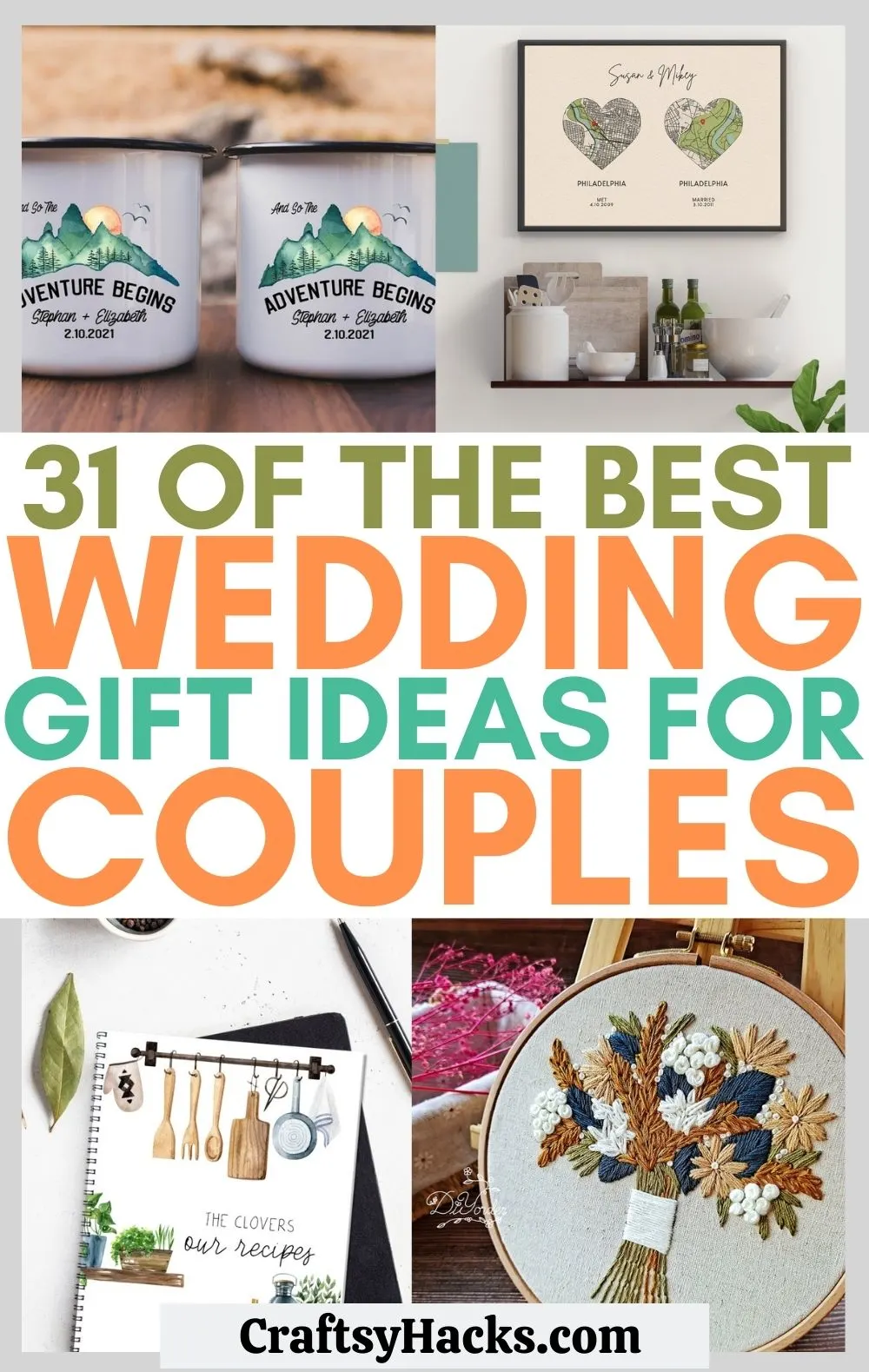 Whether it's for the holidays, anniversaries, or birthdays, you have to put some serious thought into it when you're looking to find the perfect gift. Wedding gifts, especially, need to be well-thought. You need something pretty and fancy, but also meaningful and personal.
So, with that in mind, here's a list of 31 best wedding gifts ever to help you decide!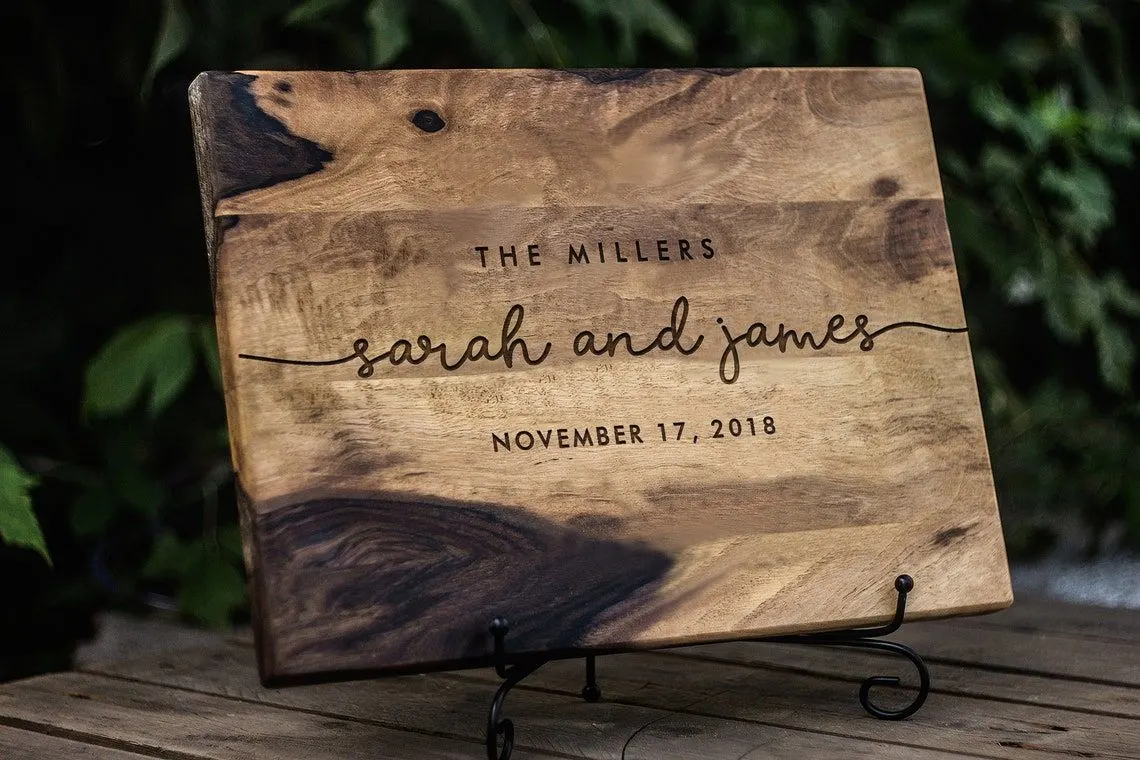 A personalized, customized, glamorized cutting board? Sign me up!
When you're browsing for the perfect wedding gift, you'll want one with a personal touch to commemorate the lovely couple's special day. That's exactly what this engraved board does.
You can engrave the couple's names, their surname, the date of their wedding, and even some filigree work to make it extra special. You can have this board made or just grab a wood-burning tool and make your own!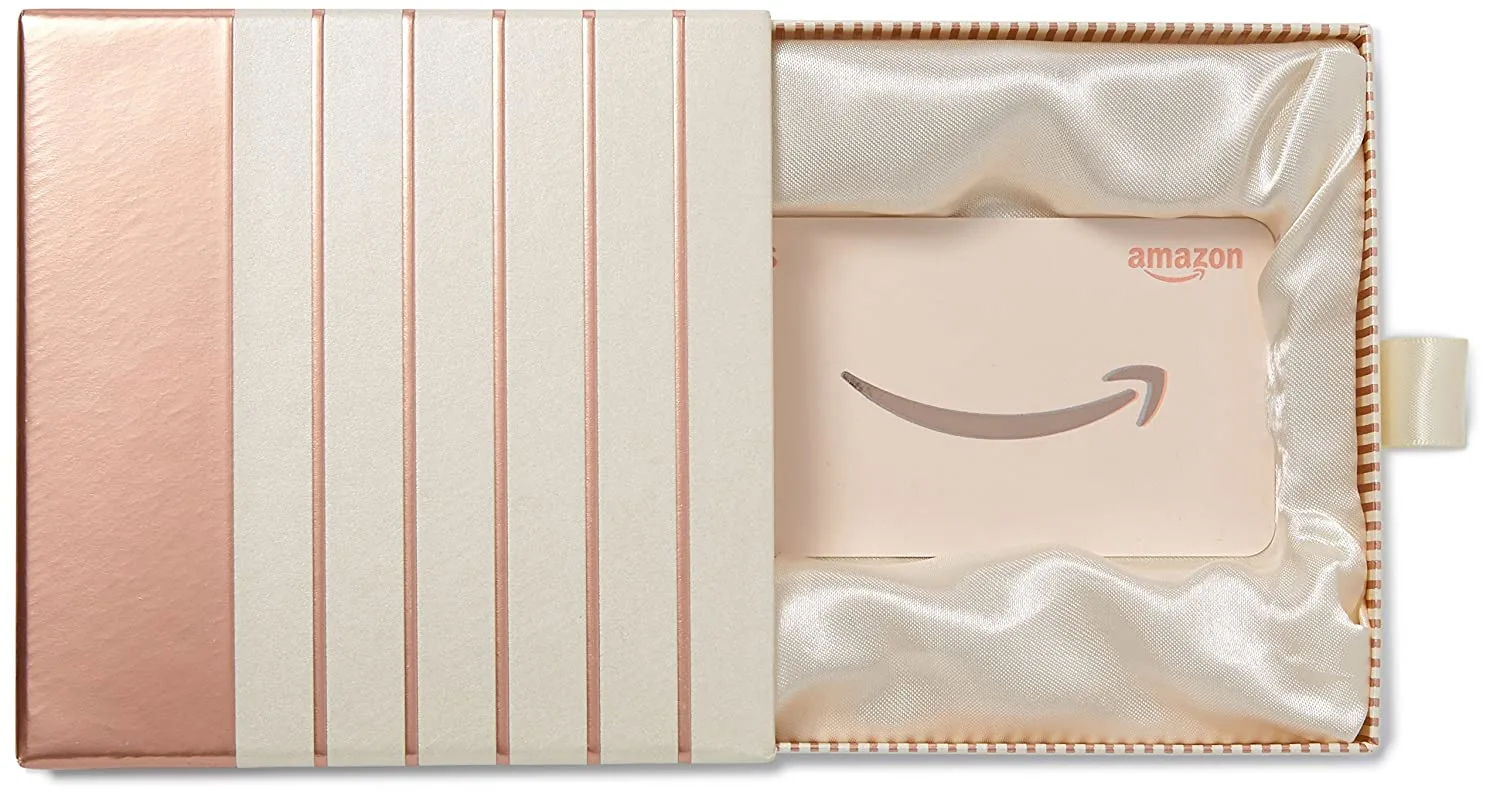 Whenever I'm not too sure about what to get someone, I pick up a couple of gift cards and let them do the picking. But when it's an event that's pretty big and fancy, like a wedding, you can't just slide a gift card into the happy couple's hands, can you?
That's where this gorgeous premium gift box comes in. It's exactly what you need to slide your gift card into! These premium gift cards also have a ton of extra benefits.
For starters, the gift card won't reflect the amount you've charged towards it—that's just too tacky for a wedding, right? This is an overall great wedding gift for anyone.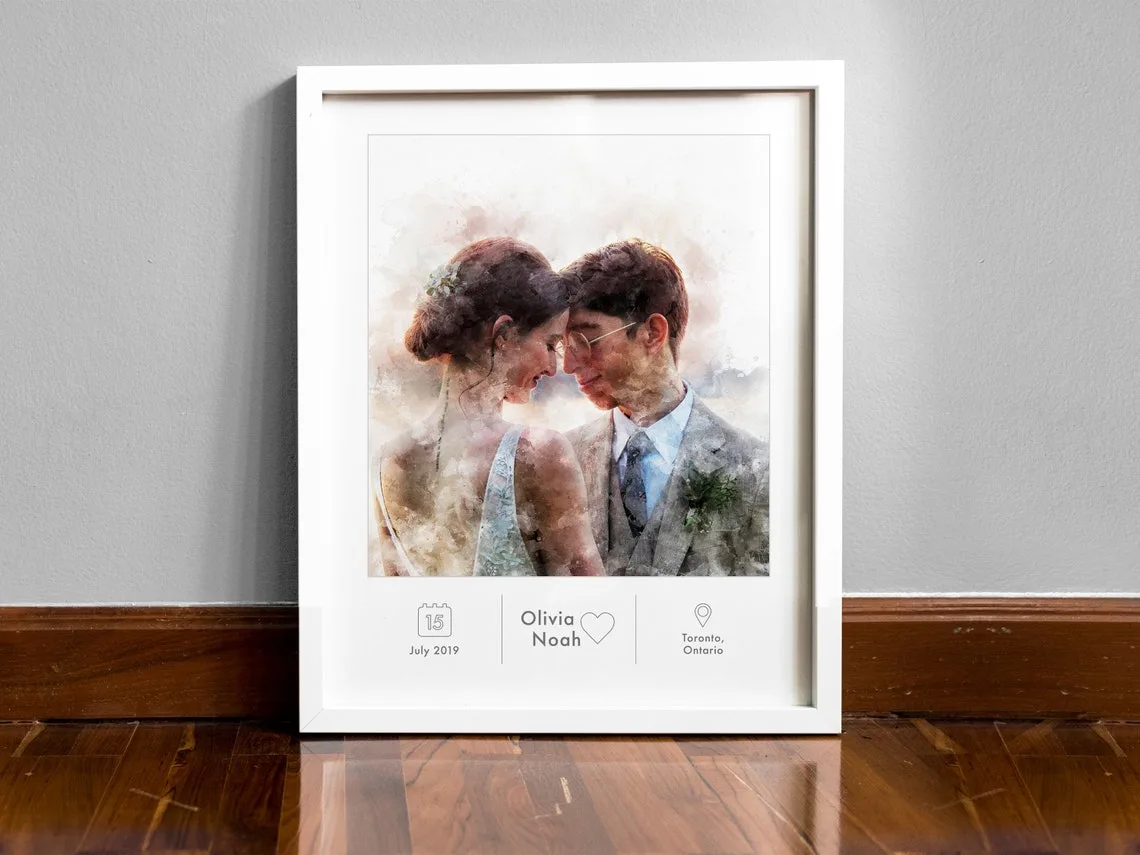 Now, while commissioning an actual watercolor portrait of the happy couple might be amazing, it can also be super pricey. Lucky for you, there are still plenty of ways to get your watercolor portrait!
First, you will need to pick out your favorite picture of the couple in question. Then, if you want to personalize it some more, consider adding their names, the date of their wedding, and even where they got married.
You can have these photos made on canvas and printed and frames to your liking and specifications.
If you've been on Instagram, you will have noticed that these adorable hand-casting kits are all the rage at the moment. It's a fun way to get the happy couple involved in making their own keepsake.
You'll find everything you need to make this keepsake in the kit, which includes a rubbery cast to help you capture everything, right down to the fingerprints.
It's not just the best wedding gift ever, but also an activity that's bound to give them a ton of happy memories!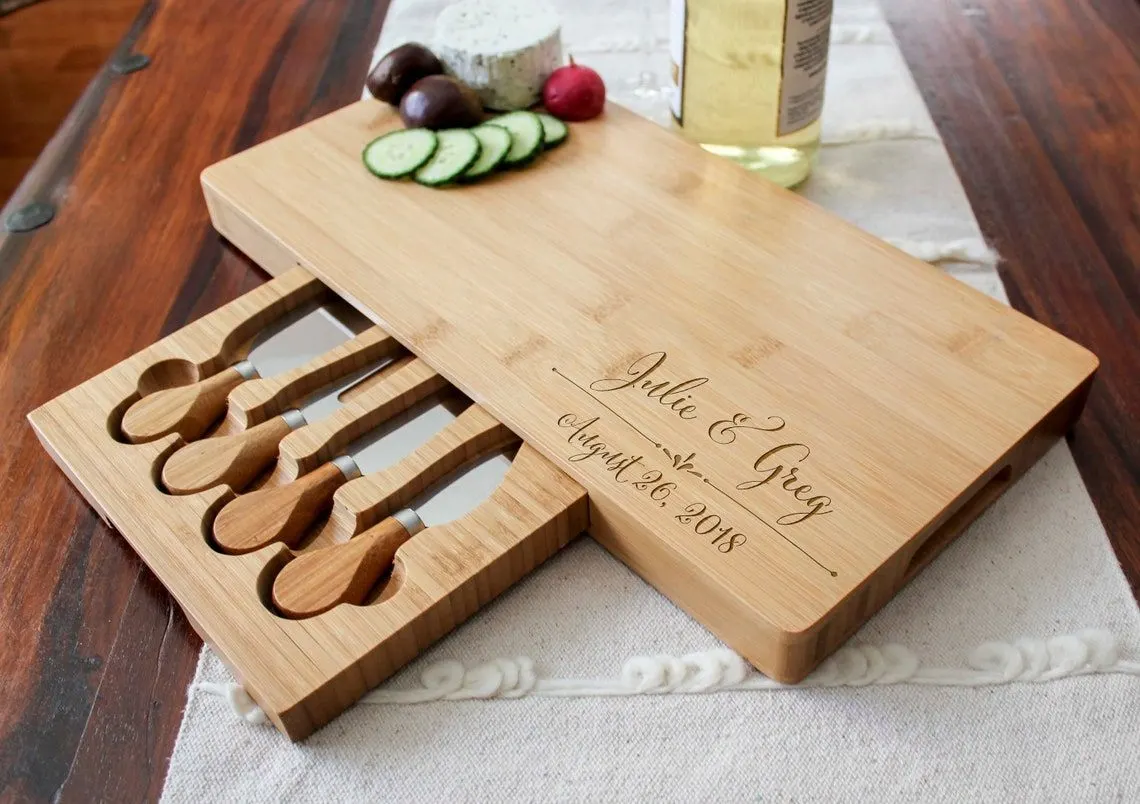 Don't you just love a good cheese board? Often, you end up just using a serving tray to keep everything, but there's a gifting opportunity here.
Just like that personalized cutting board you saw earlier, you can personalize a cheese board for the bride and groom. You just need their names and the wedding date to engrave on the board.
This particular cheeseboard comes fully equipped with picks, knives, and cheese forks to make it a wholesome and functional gift, as well as a fancy one!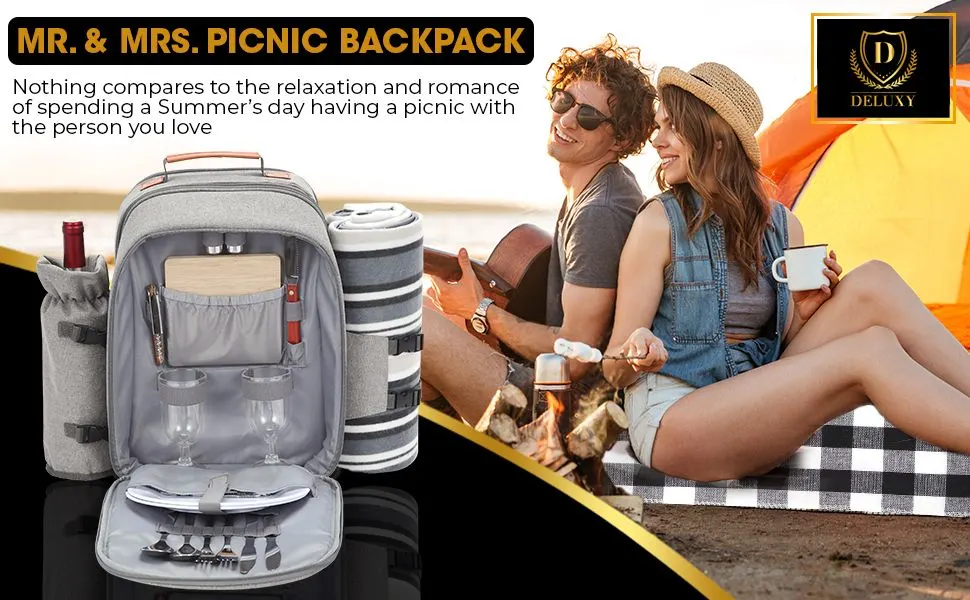 A picnic backpack is such a modern rendition of the quintessential picnic basket. I think it's something that a newly wedded couple would genuinely love.
This backpack will encourage the couple to go out and hit the park on a warm summer's day to enjoy the sunshine and each other's company. There's room for everything that they could ever need on their picnic, too: a cutting board, cutlery, a blanket, and even a mini wine cooler.
It's the perfect luggage they need for a day trip or romantic getaway to bond and enjoy time together.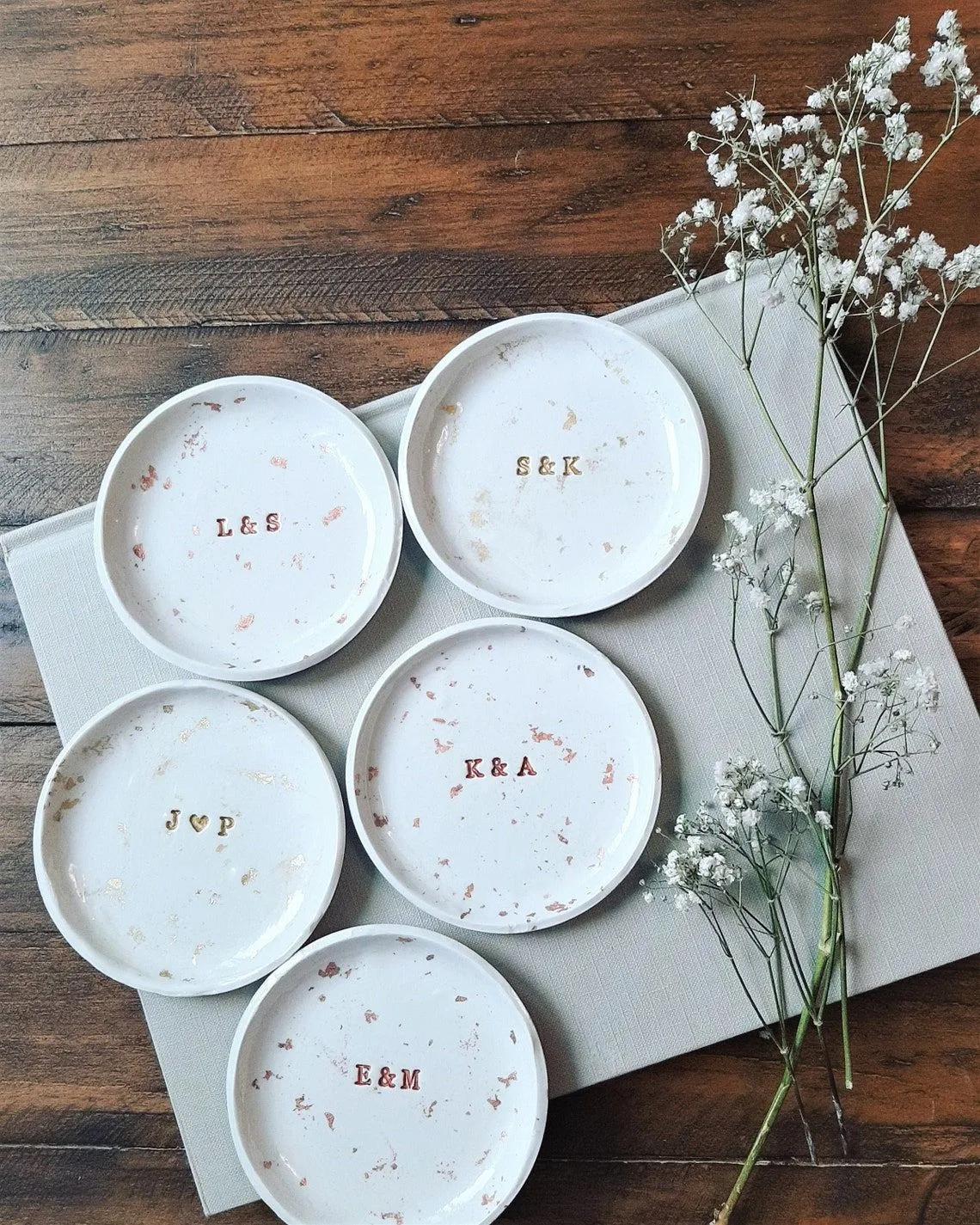 Weddings have ring bearers, yes, but what they really need is a jewelry dish like this one for their rings. Or rather, that's what the couples need as their wedding gifts.
Let's take it a step further and personalize those jewelry dishes with initials flecked and lined with gold and glitter. Gold engravings can class up a white porcelain or ceramic trinket dish like never before.
You can also switch out the initials for the couple's surnames or wedding dates, and they can keep these trinket dishes as a keepsake for years to come!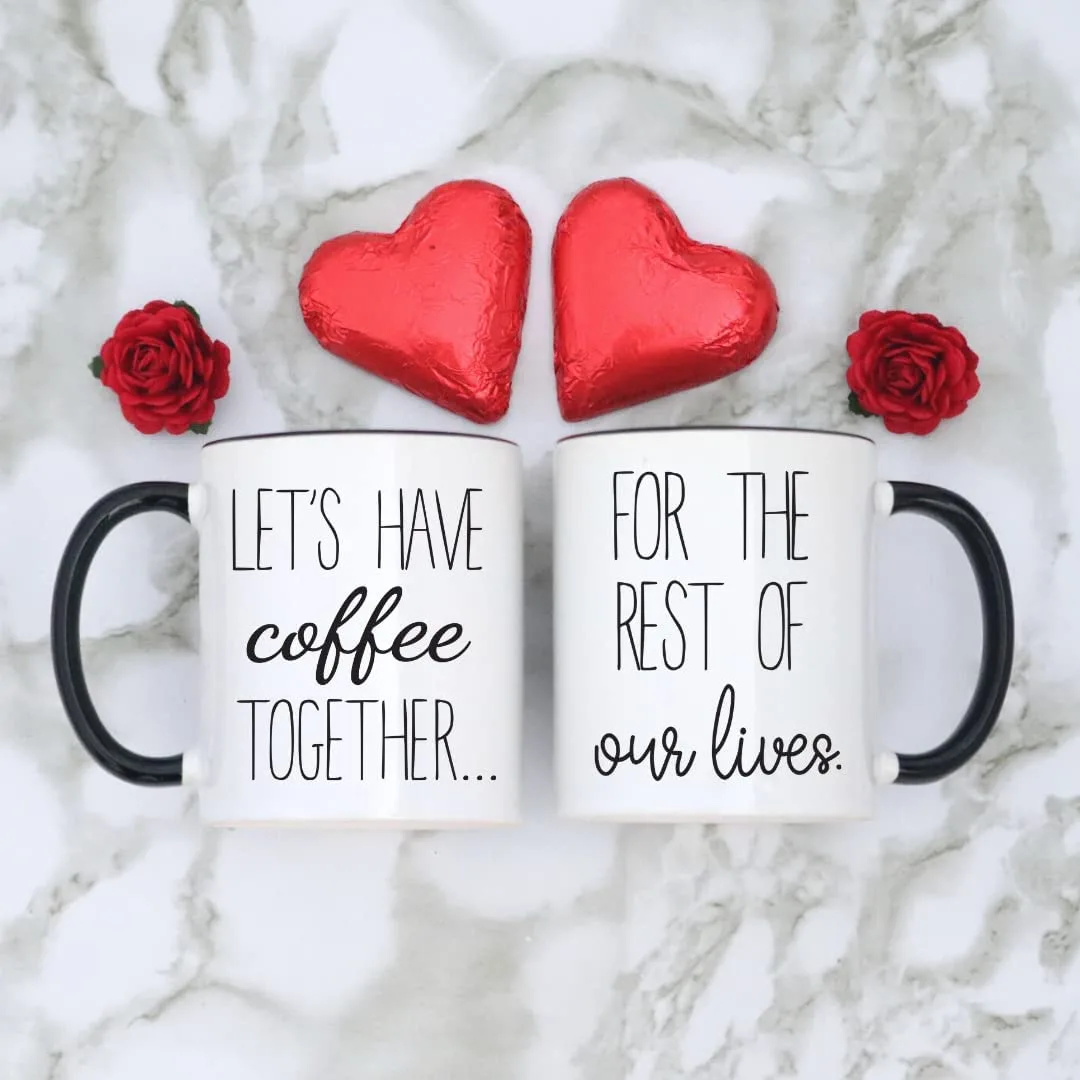 There's nothing more romantic than sitting down with your partner and sharing a cup of coffee or a hot beverage. It's time spent together where two people can share the events of the day, catch up, and just bond with each other.
But for that, they need a pair of gorgeous coffee mugs. So, if you've been racking your brains for another wedding gift, then look no further.
These matching coffee mugs spell out a lovely message that's perfect for the bride and groom. They also make really great bridal shower gifts!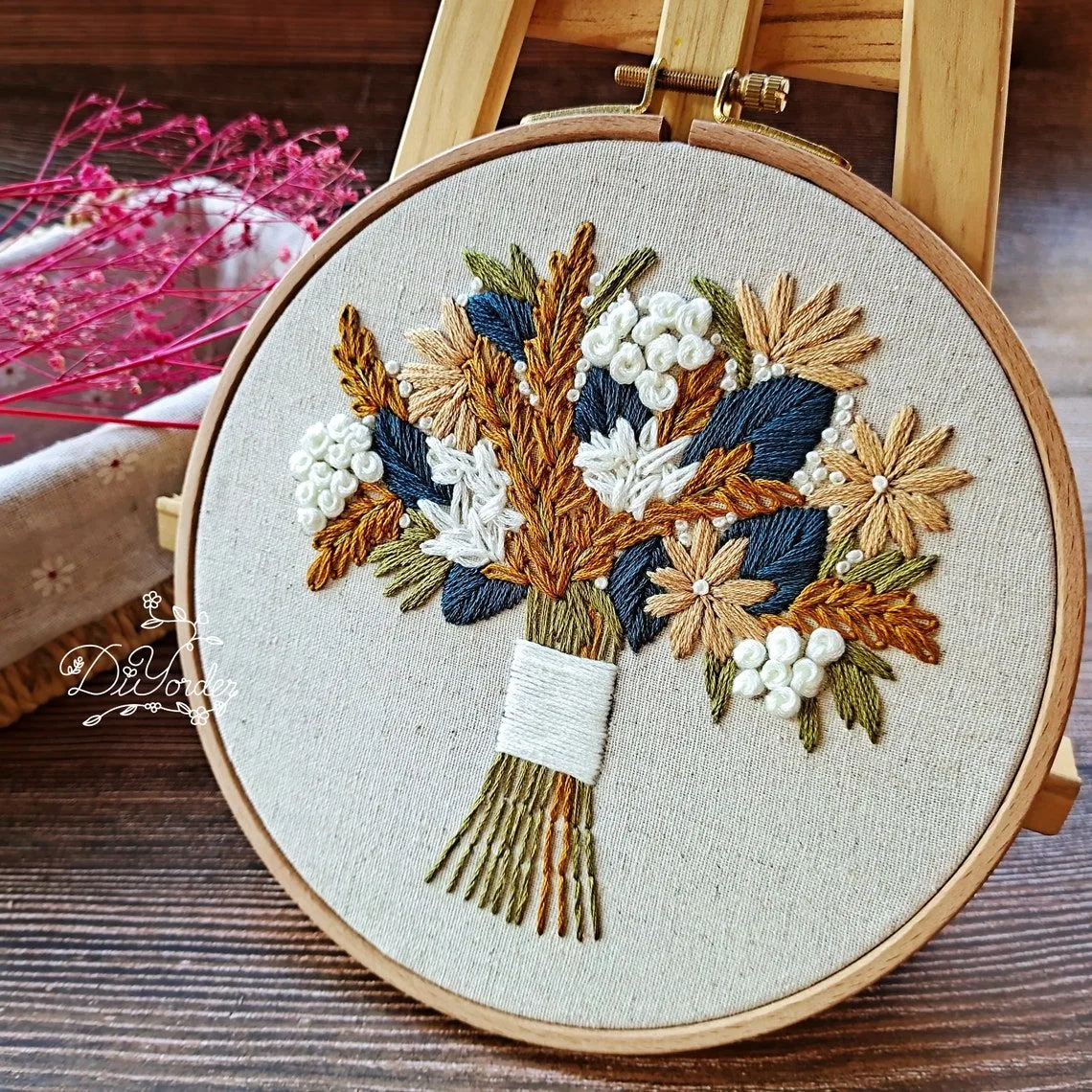 Flowers are at the heart of every wedding—after the bride and groom, of course. So, for this next wedding gift idea, why don't you go floral and gift the happy couple this lovely floral keepsake?
This embroidery hoop is simply bursting with color, flowers, and happy memories. It's bound to find a place of honor in the couple's new home.
If you're good at embroidery, then you can make this all on your own, or just order one of the many options available on Etsy's catalog and you're all set.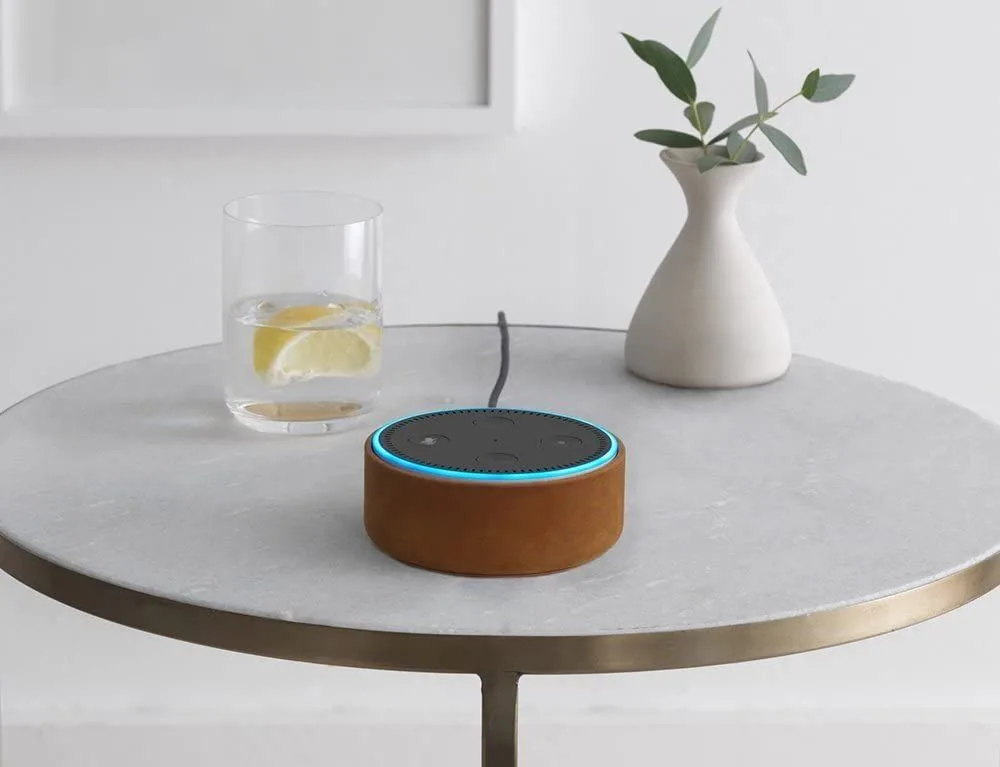 A gadget like Amazon's Echo Dot can really be useful for a couple that's just starting out on their own after their wedding. It's trendy and full of features to make life easier
Echo Dot isn't just a speaker, you know. It can help connect your smart home and all the gadgets and appliances in it, making it accessible at your fingertips.
There's also a ton of apps that you can connect to on the Echo Dot, which makes life so much more fun—and easy—for the newlyweds.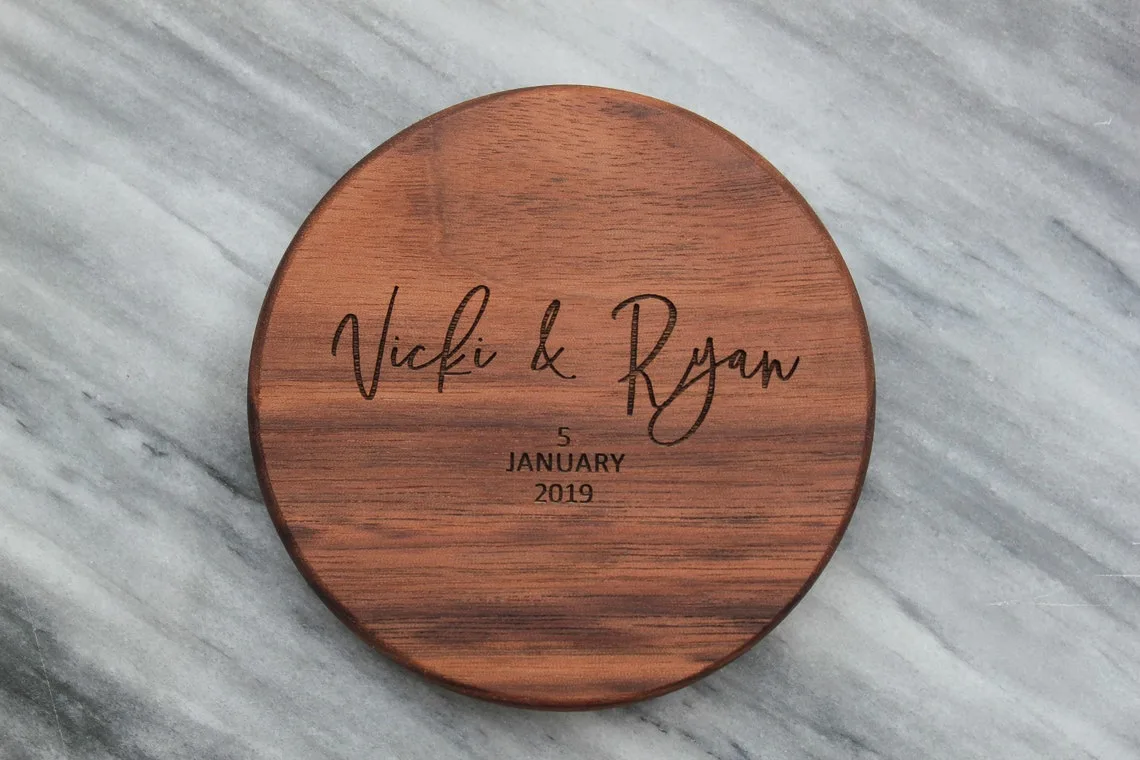 You can never have too many coasters in your home. I bet that any bride who's just setting up her new home would appreciate a set of coasters!
But let's go one step further and make this gift a special wedding gift. How? You personalize it, of course, with the couple's names, their wedding date, and even designs that can be carved or engraved on the wood.
You can wrap the coasters up nicely with a big flourishing bow to top it off. These coasters are perfect if you're on a budget. It's affordable without compromising on that personal touch, and that's super important in wedding gifts.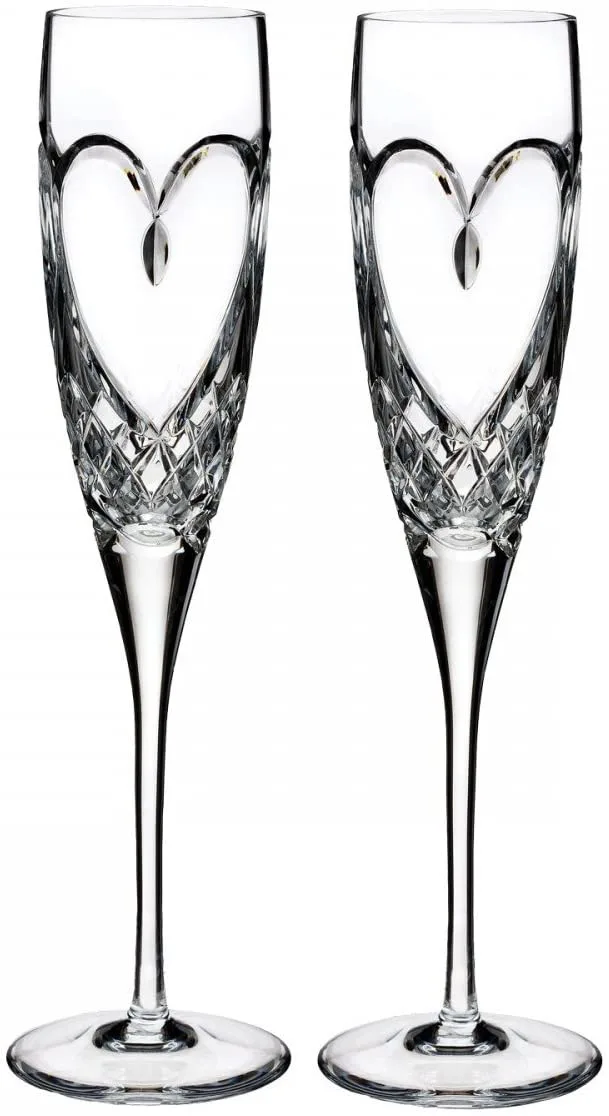 What, you might be wondering, is a true love flute. It's just a pair of champagne glasses but with a lovely evocative heart pattern on it.
Whether it's for the engagement party celebrations, the Bridal shower, or the wedding itself, a pair of these champagne flutes is bound to bring luck and love to the happy couple.
It's just right for the bride and groom to toast each other, their love, and all the happy times they've spent together. Plus, slip in a bottle of champagne with the glasses, and you'll have a pretty terrific gift.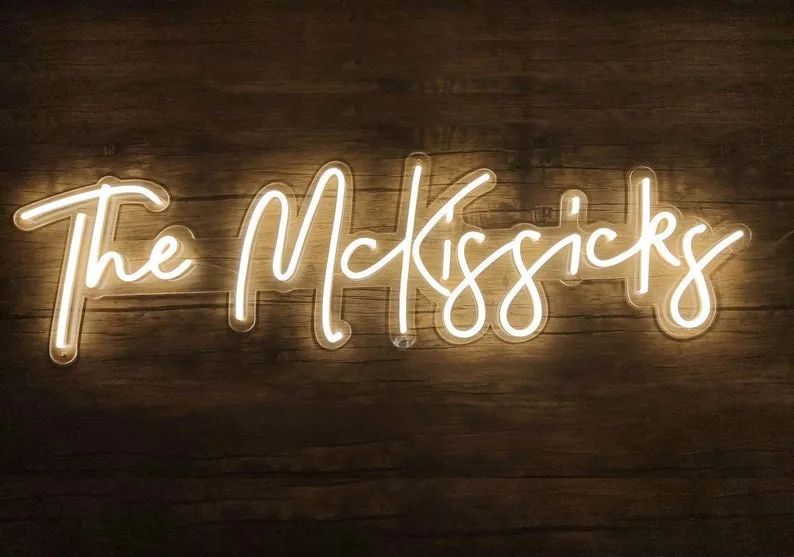 Sure, DIY signboards are pretty cool, but why settle for traditional when you can go all out with a neon sign like this one? Just look at all that color and light!
It's edgy, sassy, and festive all at the same time. I bet that the entire wedding party would love having this sign light up the reception and after-party.
The best part about these neon LED light signs, though, is that you can have them custom-made to spell out the couple's surname!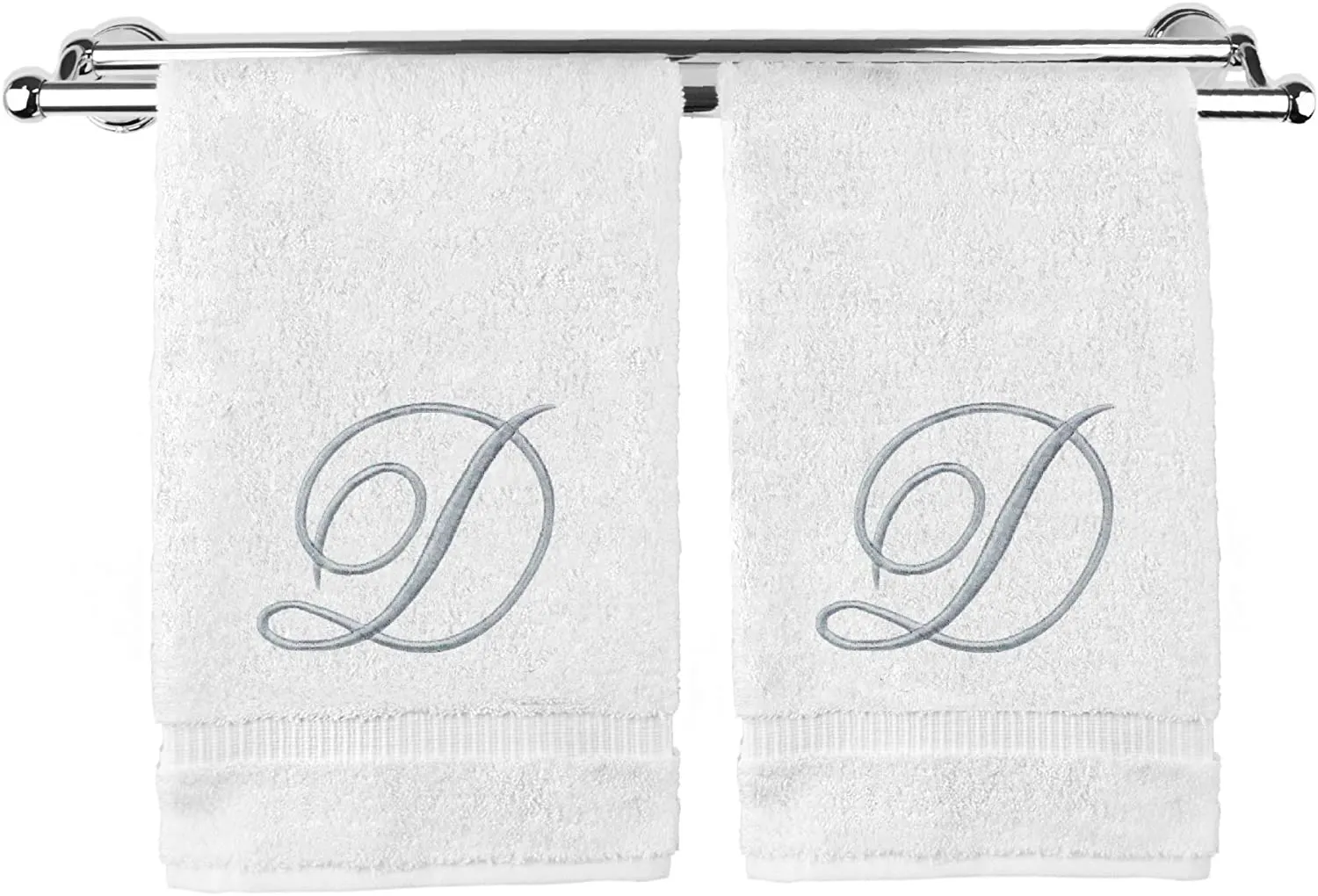 Most newlywed couples will probably be setting up their new homes once they get back from their honeymoons. It can be stressful for them to decorate and make sure they have everything they need.
That's where you come in. Do you know what can be pretty easy to overlook? Hand towels! So grab a set of these monogrammed hand towels to gift to the couple.
It's 100% luxurious Turkish cotton with a soft terry finish that's bound to have you sighing at the soft fluffiness. It's also available in plenty of colors, so you have a lot to choose from.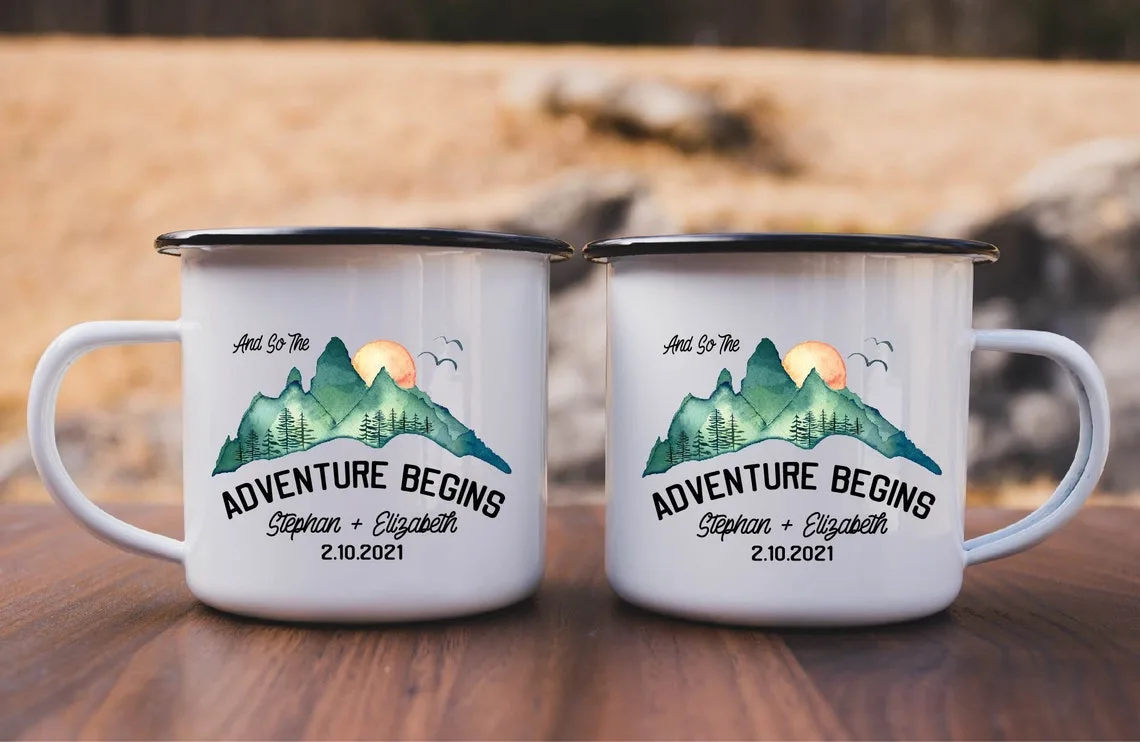 Outdoor weddings are all the rage these days. I remember attending a wedding where the bride and groom went all out on incorporating their wedding with all the splendors of nature.
If you're looking for a wedding gift for a particularly outdoorsy couple who love to hike, camp, and just spend time in the great outdoors, then check out these mugs!
You can also go ahead and personalize these mugs with a message for the bride and groom, something along the lines of, say, "The Adventure Begins!"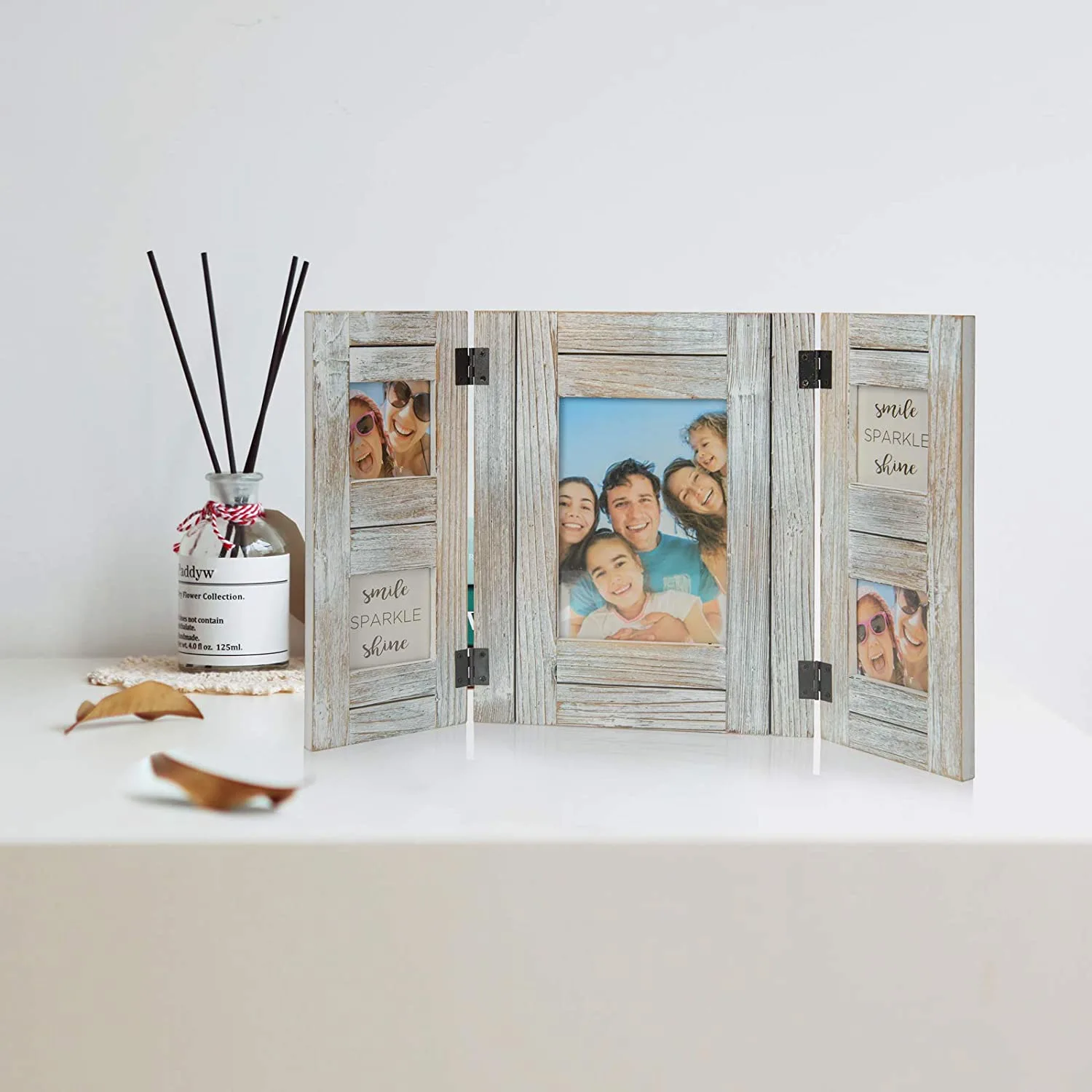 You can never have too many photos around your home, especially when you're a newly wedded couple hoping to make new memories to capture forever. That's why photo frames are always a welcome gift to receive.
This folding picture frame has room for multiple pictures(you can choose between 3 and five). It also has a lovely vintage-finish frame made out of white beach wood, which adds rusticity to it.
If you like, you can go one step further and fill the frames with favorite pictures of the couple or with you and the couple in them, as well.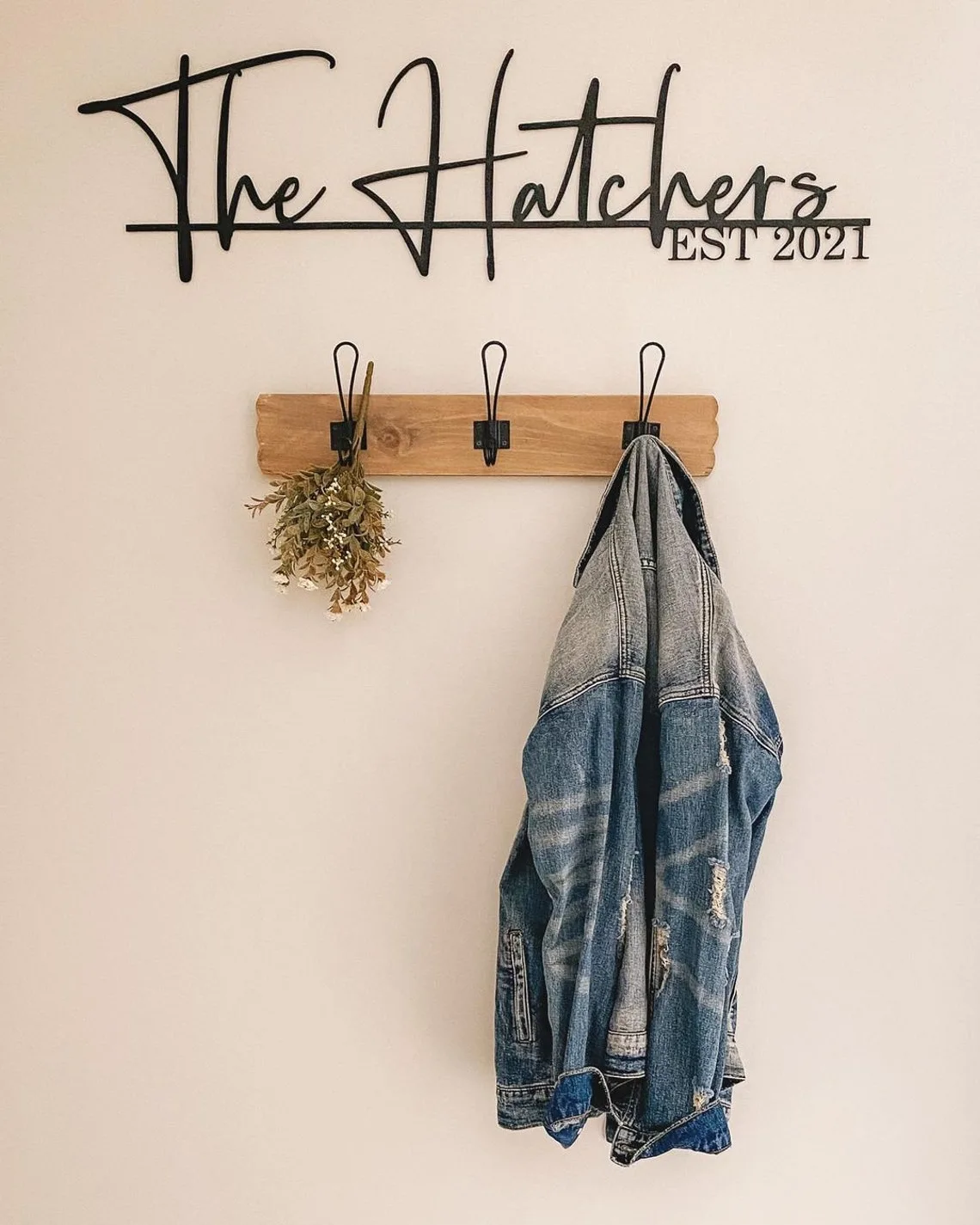 Let's cast it in stone—or metal, as the case is—shall we? When you're thinking about your next great wedding gift idea, why don't you take a look at this metal sign?
It's chic and elegant, yes, but it's also the kind of sign that will go well with just about any decor style or theme. It would look just as good in a rustic country farmhouse as it would in an apartment off 5th Avenue where everything screams mid-century western.
Just have the sign made to read the newlywed couple's surname with the year of their wedding right under it.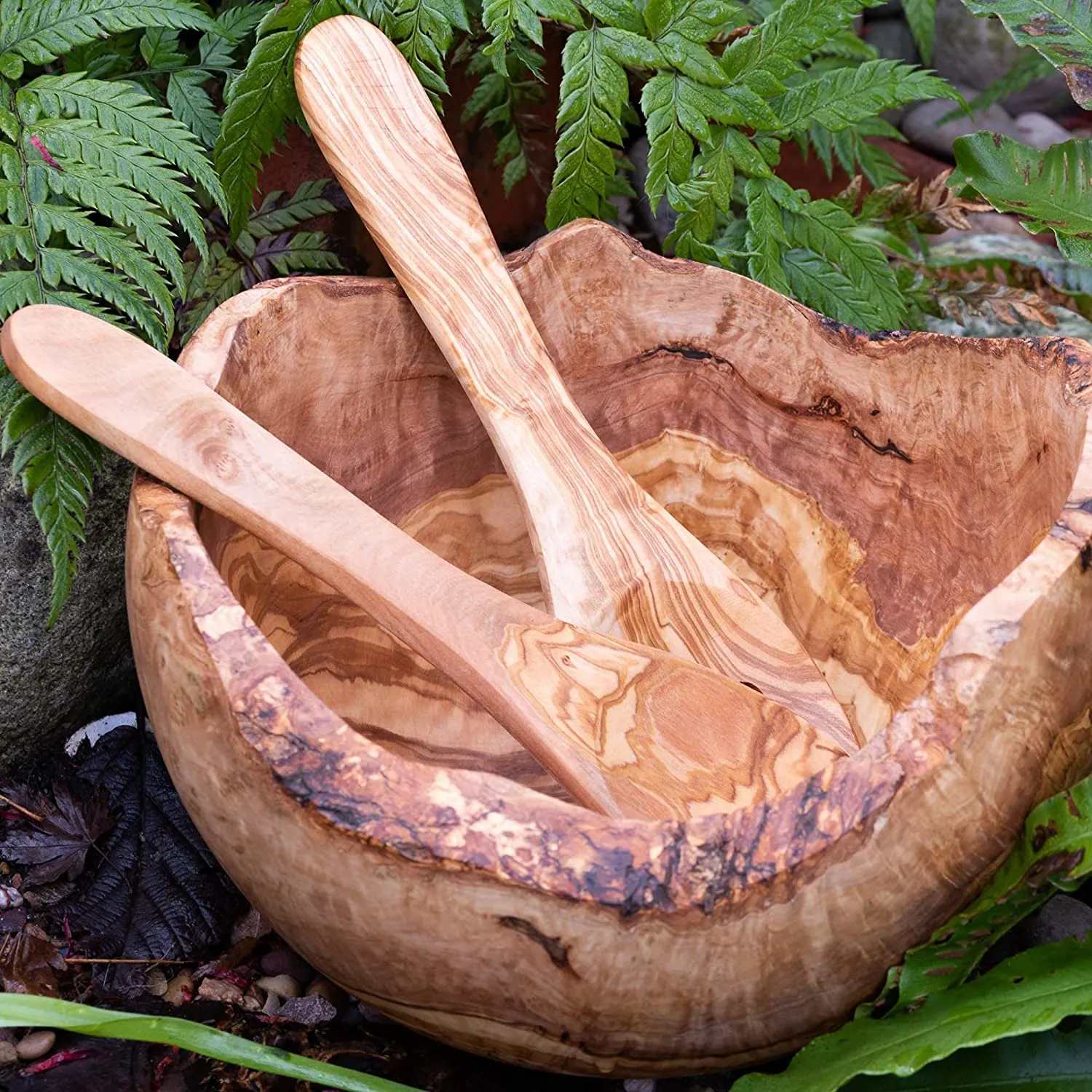 No, no, hear me out: salad bowls make great gifts! They're definitely much better gifts than a gravy boat, truly.
And besides, this isn't just any old salad bowl that you can pick off an IKEA catalog. This one is made of gorgeous olive wood and comes with a matching spoon set.
But it doesn't just have to be a salad bowl. The unique design makes it a lovely centerpiece, too. It can be filled up with potpourri, little colored stones or pebbles, and other baubles and placed at the center of your mantel or dining table.
Here are a couple of ideas for wedding centerpieces you might want to check out: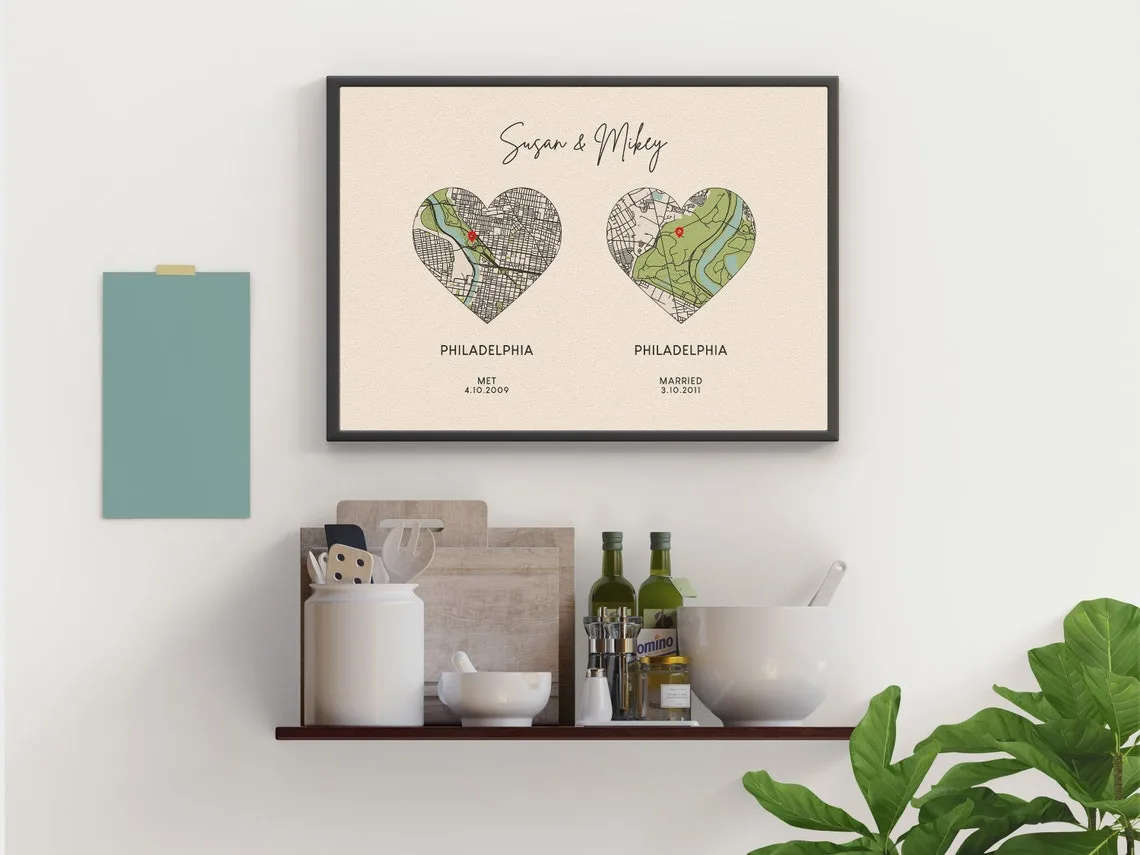 Every couple has a lovely meet-cute story, I'm sure. Often, those the place they first met at, or even the occasion, can hold a special place in their hearts.
So if you're aware of the couple's unique story and if they have such a place they hold dear, then I've got the perfect gift idea for you. Why don't you frame two heart-shaped maps—one indicating the location they met and the latter the place they married?
You can even drop a pin on the map to be as precise as possible. Next, just specify the dates below the maps to indicate when they met and, subsequently, the wedding date!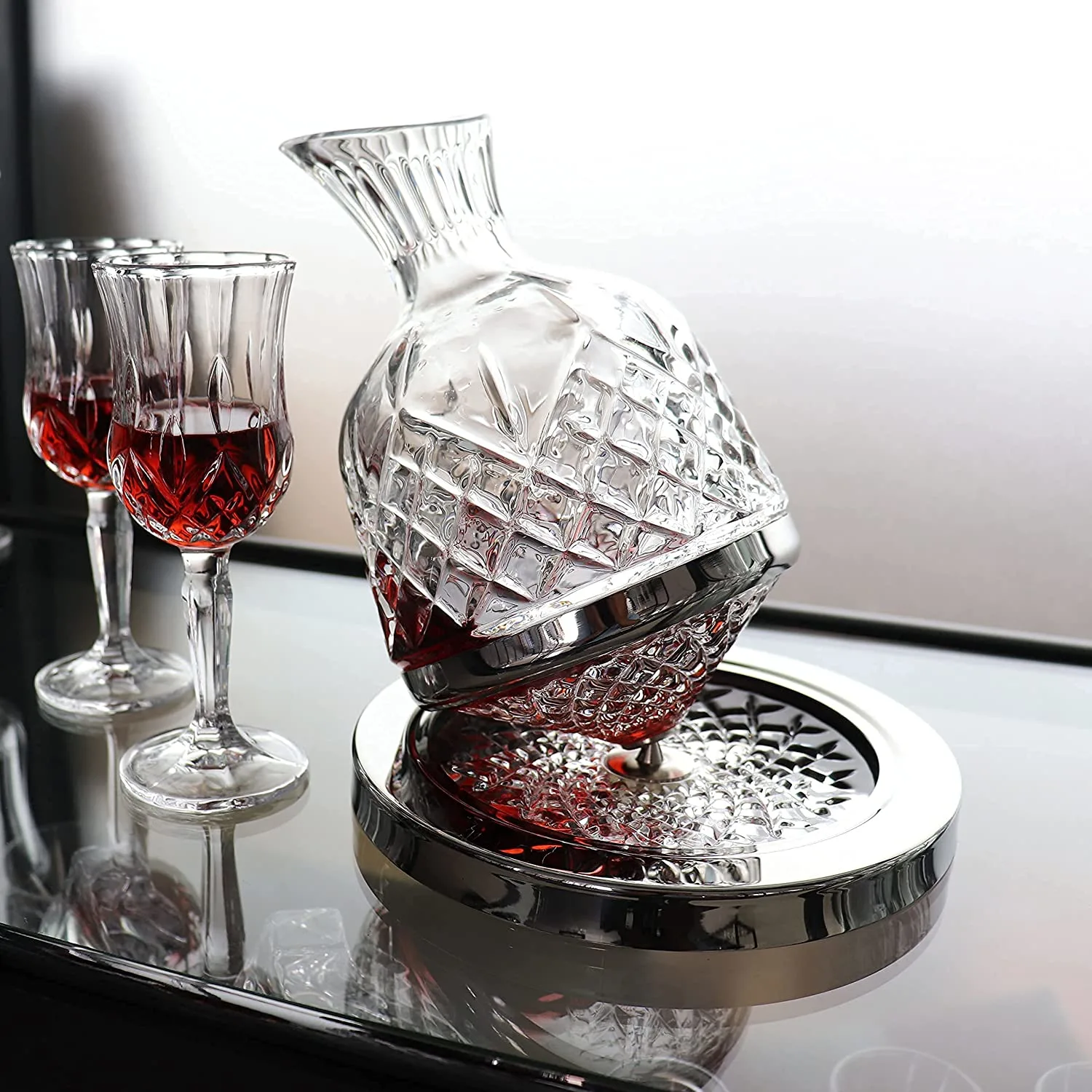 There's nothing quite as classy as having a decanter to help you pour your drinks. It's a sign of true taste and luxury, and class, too. Why not grab a crystal wine decanter for your next wedding gift?
It's sure to class up the couple's home, don't you think? This one comes with a gorgeous rotating tray, as well. The rotating tray makes decanting a 10-minute process.
Besides, just think of how lovely the deep burgundy notes of the wine would look as it reflects off the clear crystal. The entire set is sure to make a lovely groom's gift, too!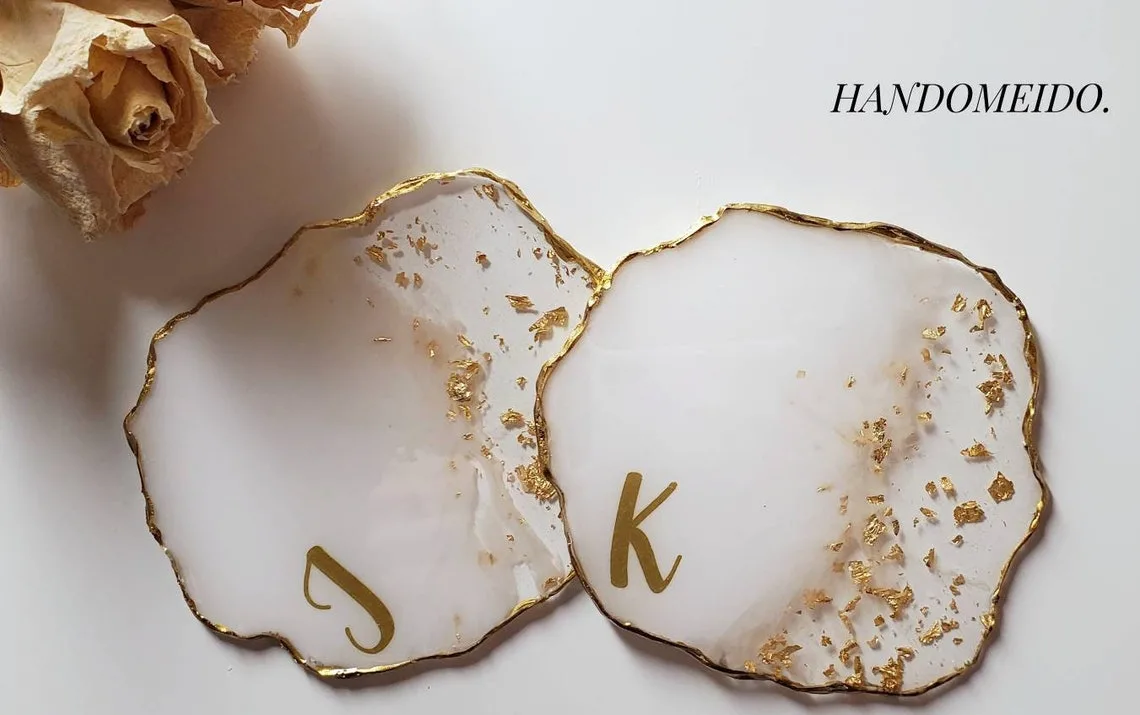 See, didn't I tell you that one could never have too many coasters at home? For this next idea, you're going to be turning toward one of my favorite craft mediums: resin!
Resin coasters are so fundamentally unique. Not only do they look great, but they can also be personalized in so many ways. You can have the newlyweds' initials inscribed on these resin coasters.
Even if they don't use the coasters—I wouldn't either; they're too pretty to use—they can still keep them as keepsakes. These are the kinds of gifts that will never go out of style.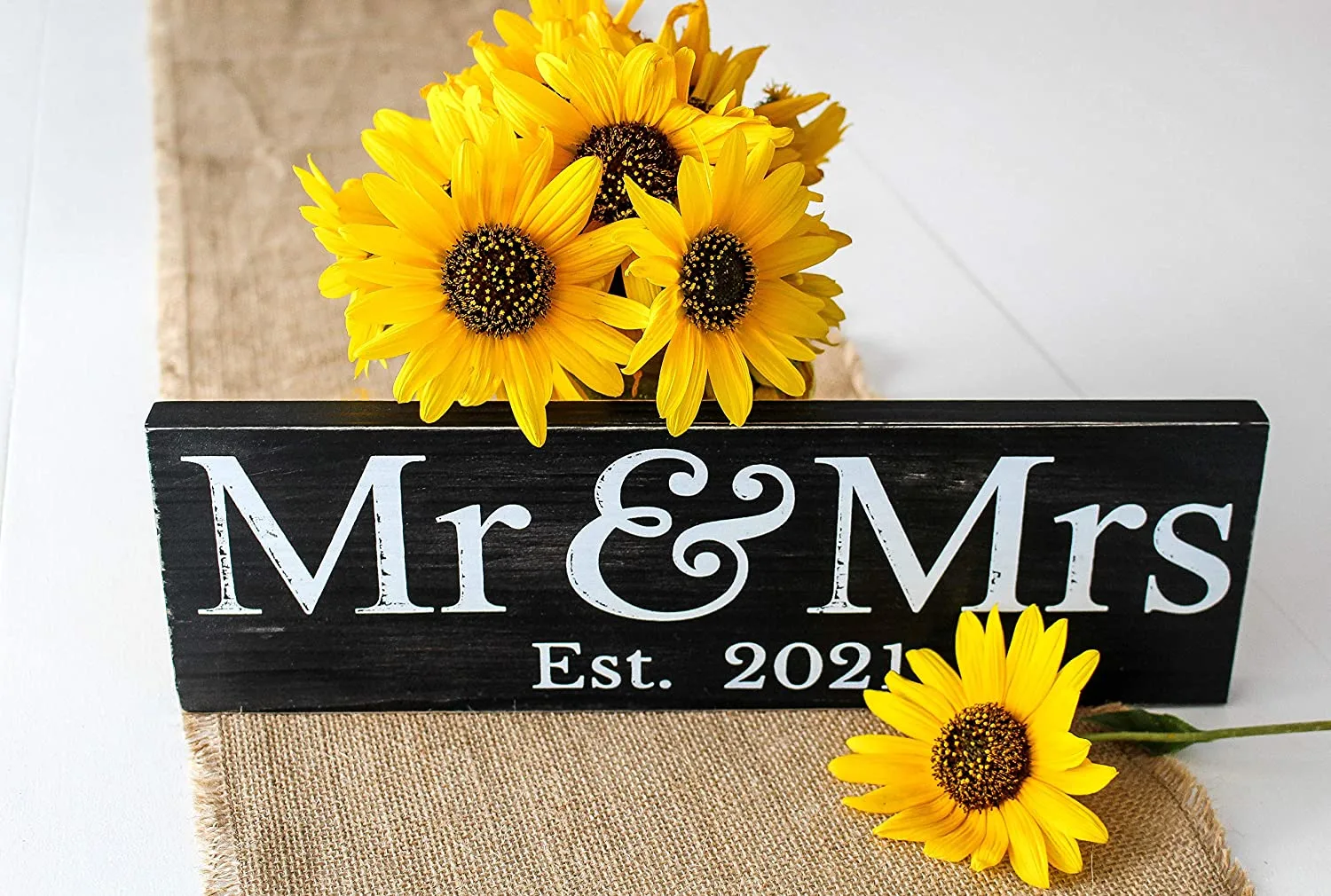 You've already got a great neon sign and a metal surname sign. If you're looking for something a little less personalized, which would make it definitely budget-friendly, then check out this Mr. & Mrs. Sign!
It embodies the farmhouse-chic decor style with its vintage cedar wood finish. You can also consider using it as a souvenir for a bridal shower that can be carried over to the couple's decor when they set up their home!
The sign is ready-to-hang with a pre-attached hook, so all you have to do is wrap it up nicely, and it's ready to be gifted!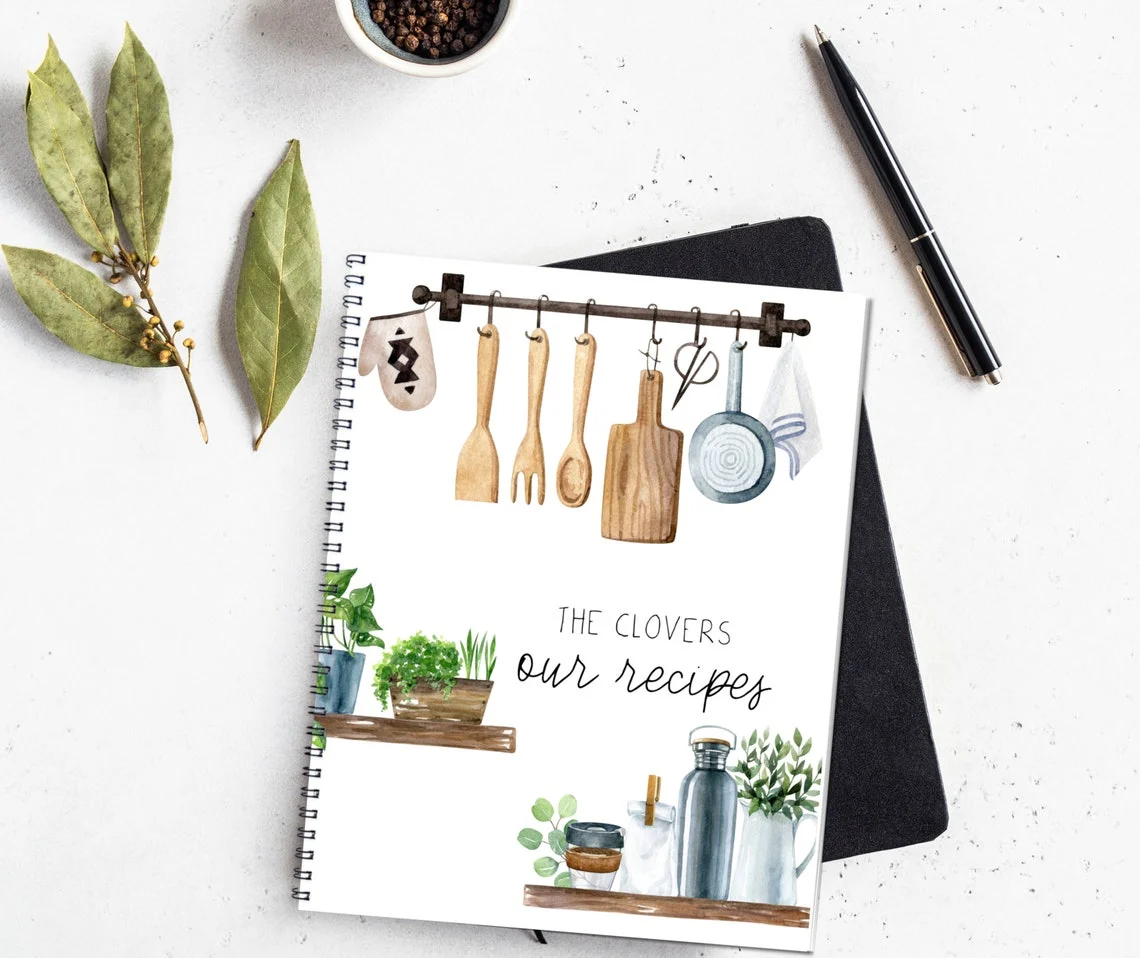 My mother started compiling all her family recipes when her mother gave her her very first cookbook, full of yummy recipes that were passed on through the generations. Now, isn't that just a wholesome and loving idea?
You can help a new bride carry on this tradition by gifting her a lovely personalized recipe book. You can add a few of your own family recipes to help her get started.
The book comes with plenty of room to customize, room to add everything one needs to know about the dish. This includes footnotes, possible allergies, prep time, and even a slot to jot down the best memories revolving around that dish!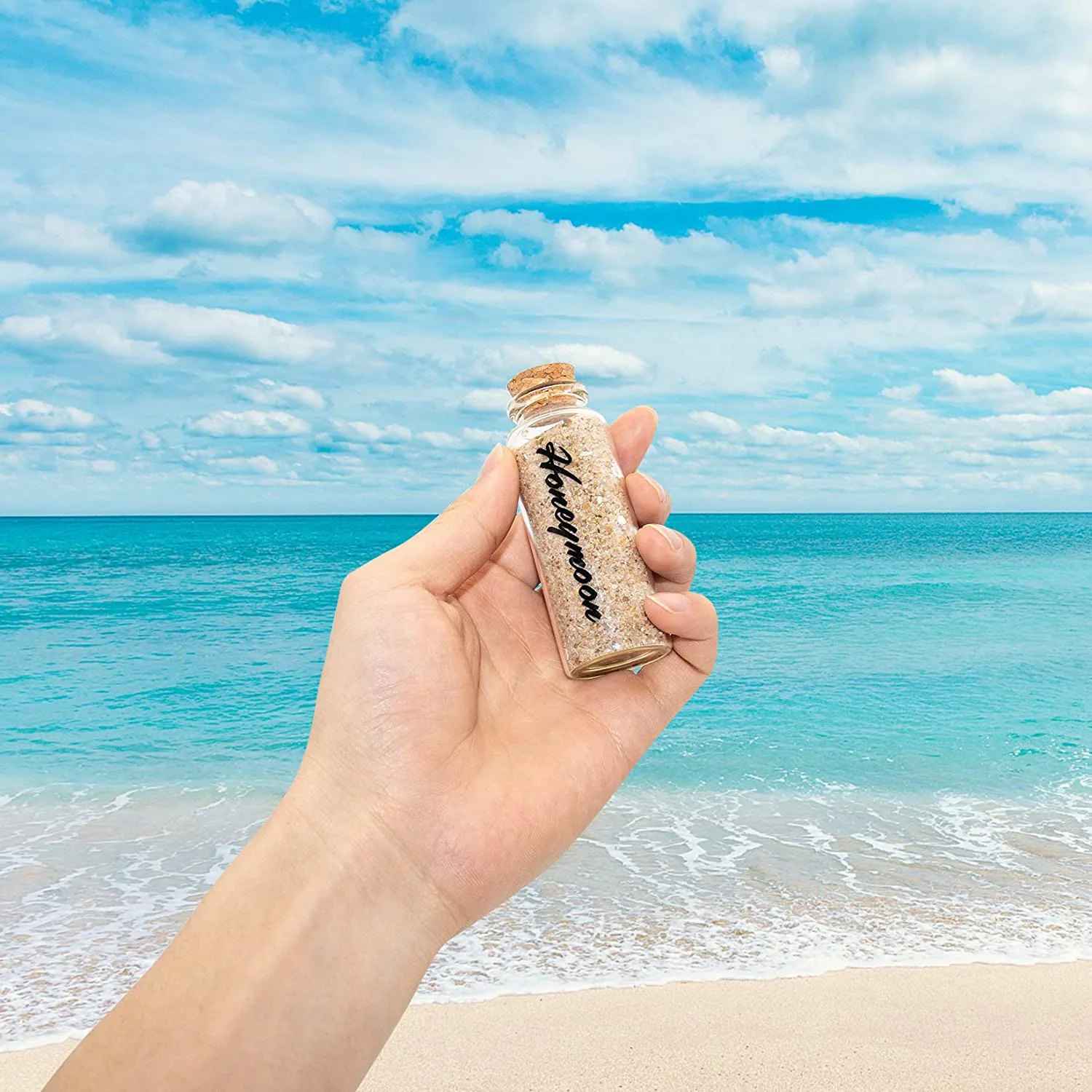 In many cultures, people often carry a bagful of soil from their homeland to always remember where they came from. For this next gift, you can draw inspiration from that custom and add your own twist to it.
This souvenir jar is such an inexpensive idea for a gift, but one that newlyweds will grow to treasure. It's perfect for them to start their stash of memories by collecting soil, leaves, or sand from all the places they've visited.
They can start off with their very first trip as a married couple: their honeymoon!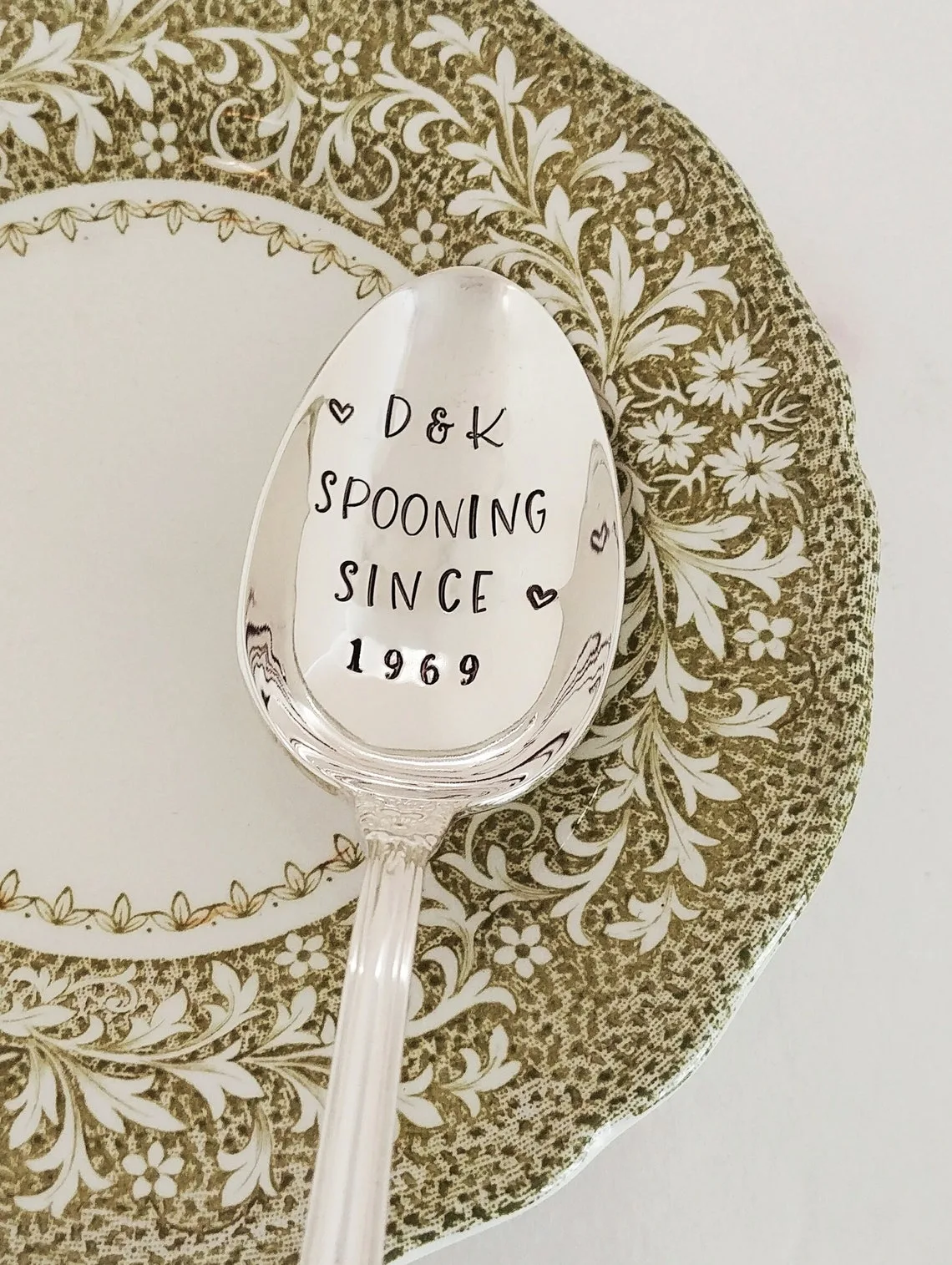 Engraving the surnames or even the initials of a couple onto anything makes it a treasured keepsake. So why not on a set of spoons?
I still have an engraved baby spoon that my uncle gave me to mark my birth, and I love that I have something so precious as a keepsake. It's pretty inexpensive to have the spoons engraved, but you can make it dearer if you splurge and pick out silver spoons.
It's vintage and ornate, but definitely one of a kind. If you like, you can engrave the spoons yourself if you have a kit to help you!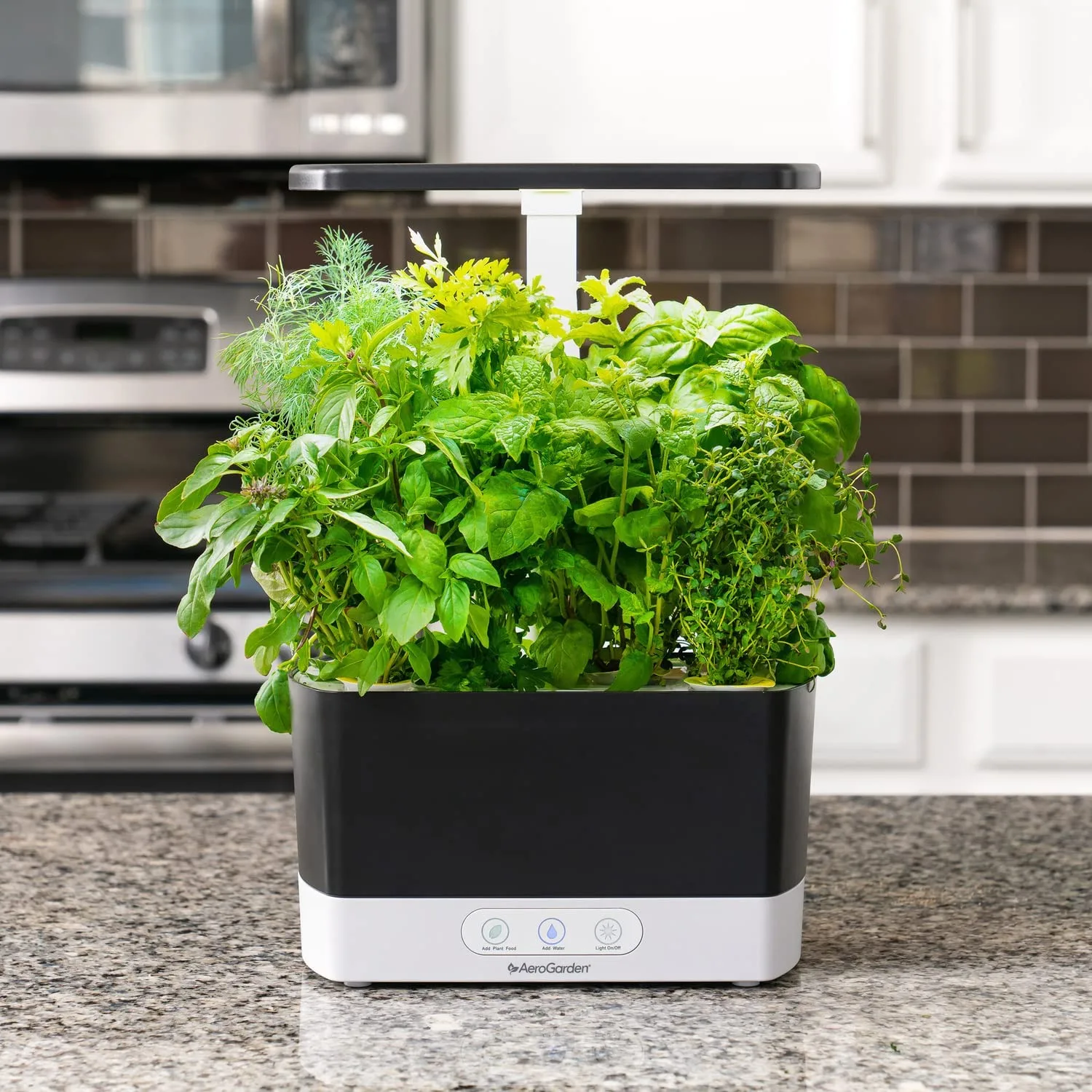 This indoor garden should be made a must-have gift on every bride's registry. Just look at how gorgeous it looks!
It comes with a 6-pod seed kit: dill, thyme, Thai basil, parsley, and Genovese basil! You can grow your very soil and mess-free own herb garden inside your home. That means you'll have fresh, homegrown herbs round the clock!
It's so versatile and efficient, with features that allow you to track and control the supply of light, water, and even plant food. I bet you're going to get one for yourself, too, while you're 'gift-shopping.'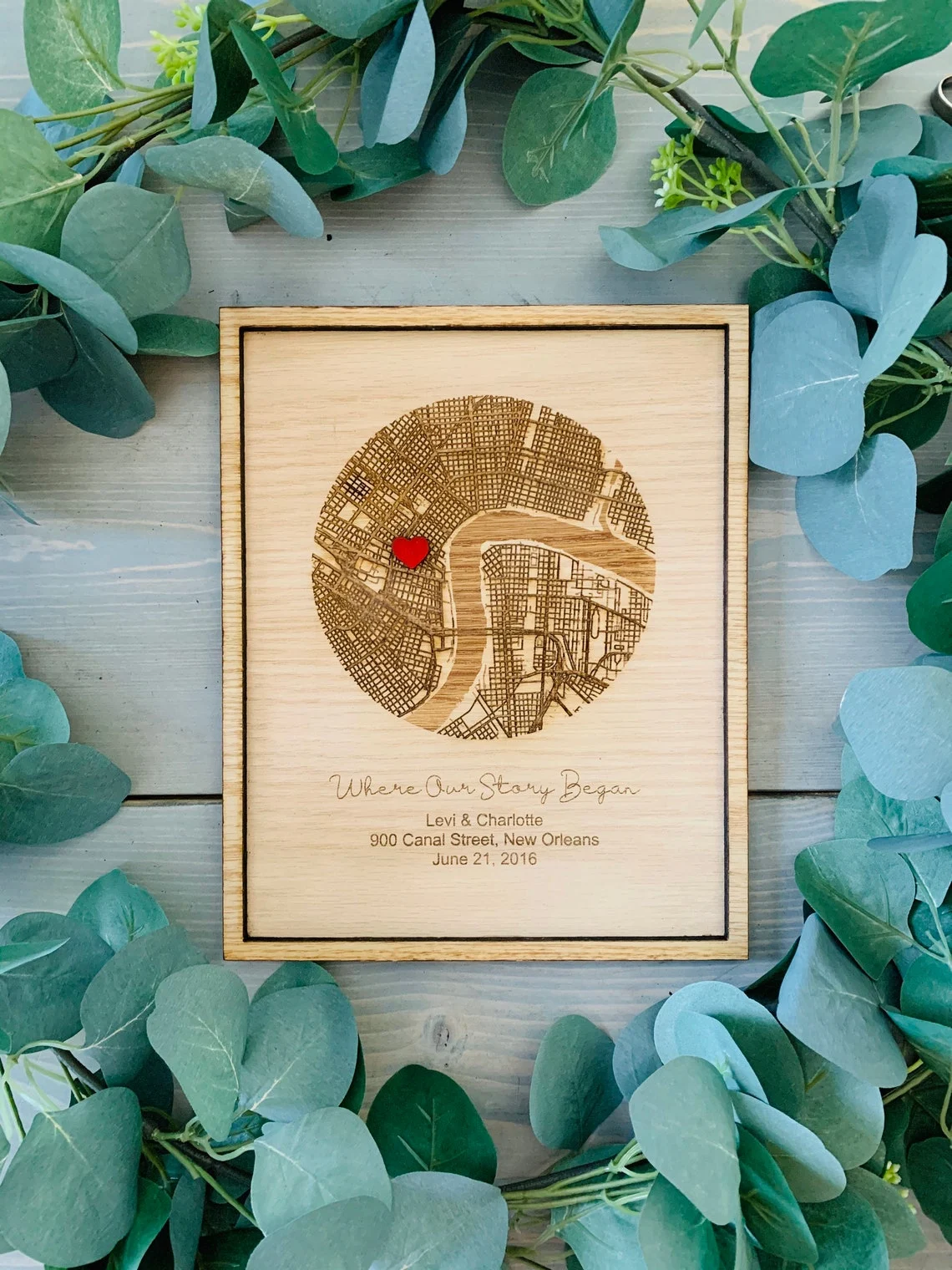 Remember that framed set of maps from earlier? Well, this gift idea is not too different from that one, only way more woodsy.
This customizable map is just what a couple needs to hang up on the bare walls of their first home together. It's also an ideal anniversary gift as well as a housewarming gift.
Just have the details filled out to personalize it, and you're all set.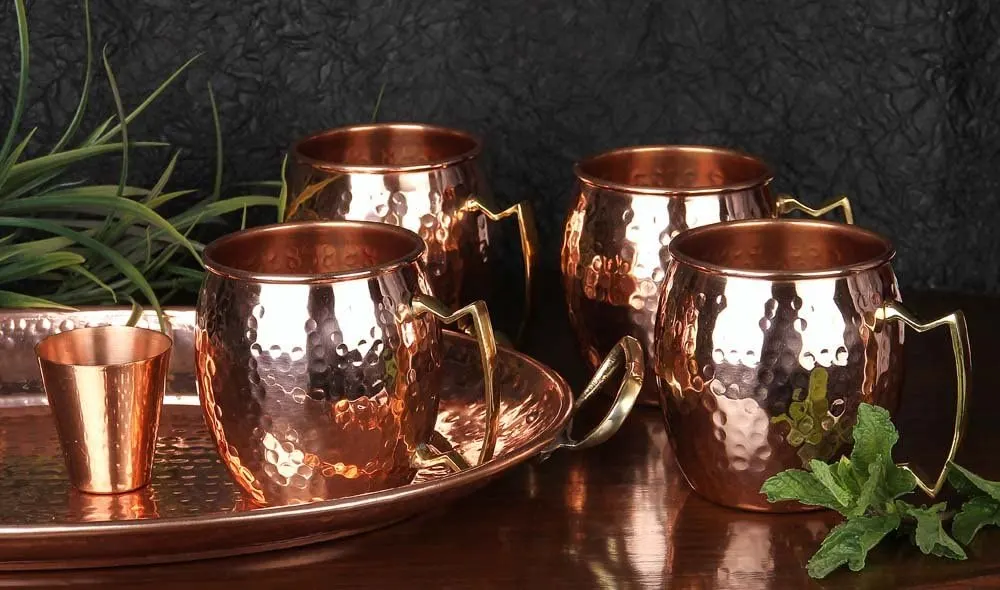 Did you know that copper utensils and dishes have a ton of healing and medicinal properties? Drinking water—not hot or lemony water, mind—from a copper mug will help you flush out toxins and help with your digestion.
So, to get the newlyweds started off in the best possible way, why don't you consider gifting them a set of these gorgeous copper mugs? It's a unique and stylish way to class up their beverages.
This set of four mugs comes with copper cocktail straws, copper shot glasses, as well as a recipe booklet to try out different cocktails, too!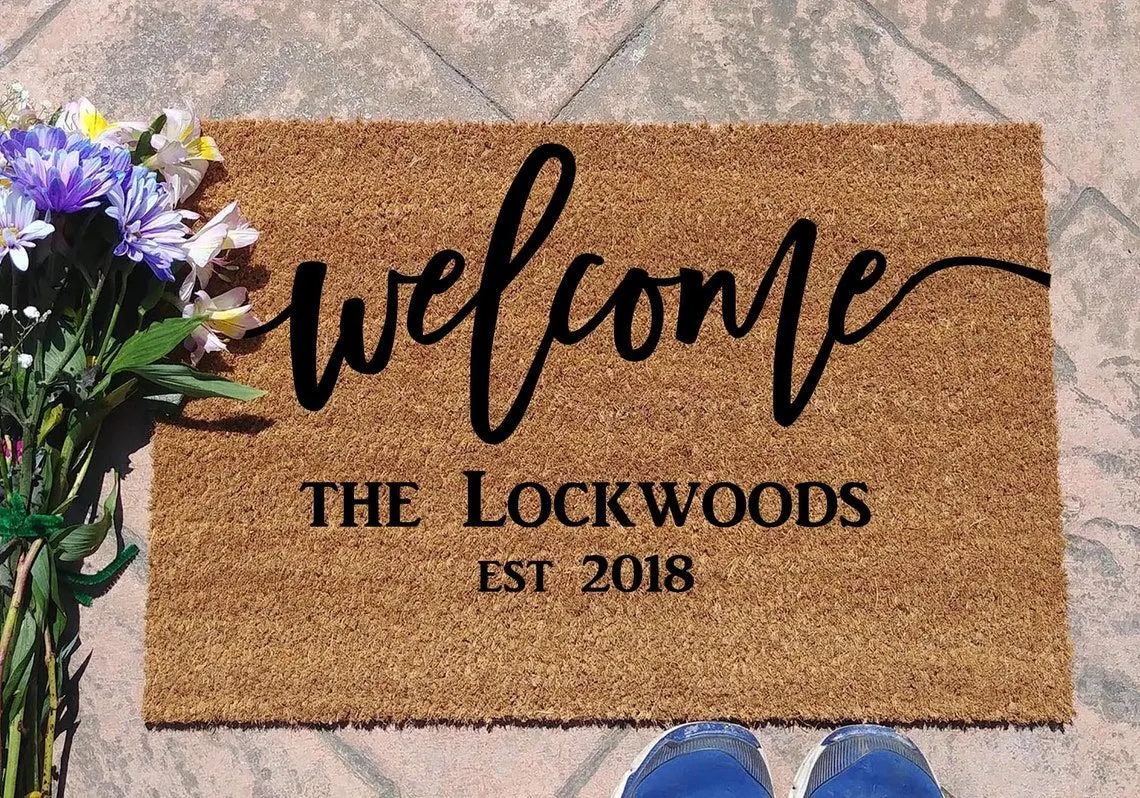 Often, when two newlyweds are setting up their first home as a married couple, they're bound to forget some vital decor items along the way. With big projects like the kitchen and master bedroom to work on and decorate, they might forget something super important.
What's the first thing guests see when they come to their new home? A welcome mat, of course.
You can have this personalized(and customized) welcome mat made for the couple with their surname printed right under the big welcome sign!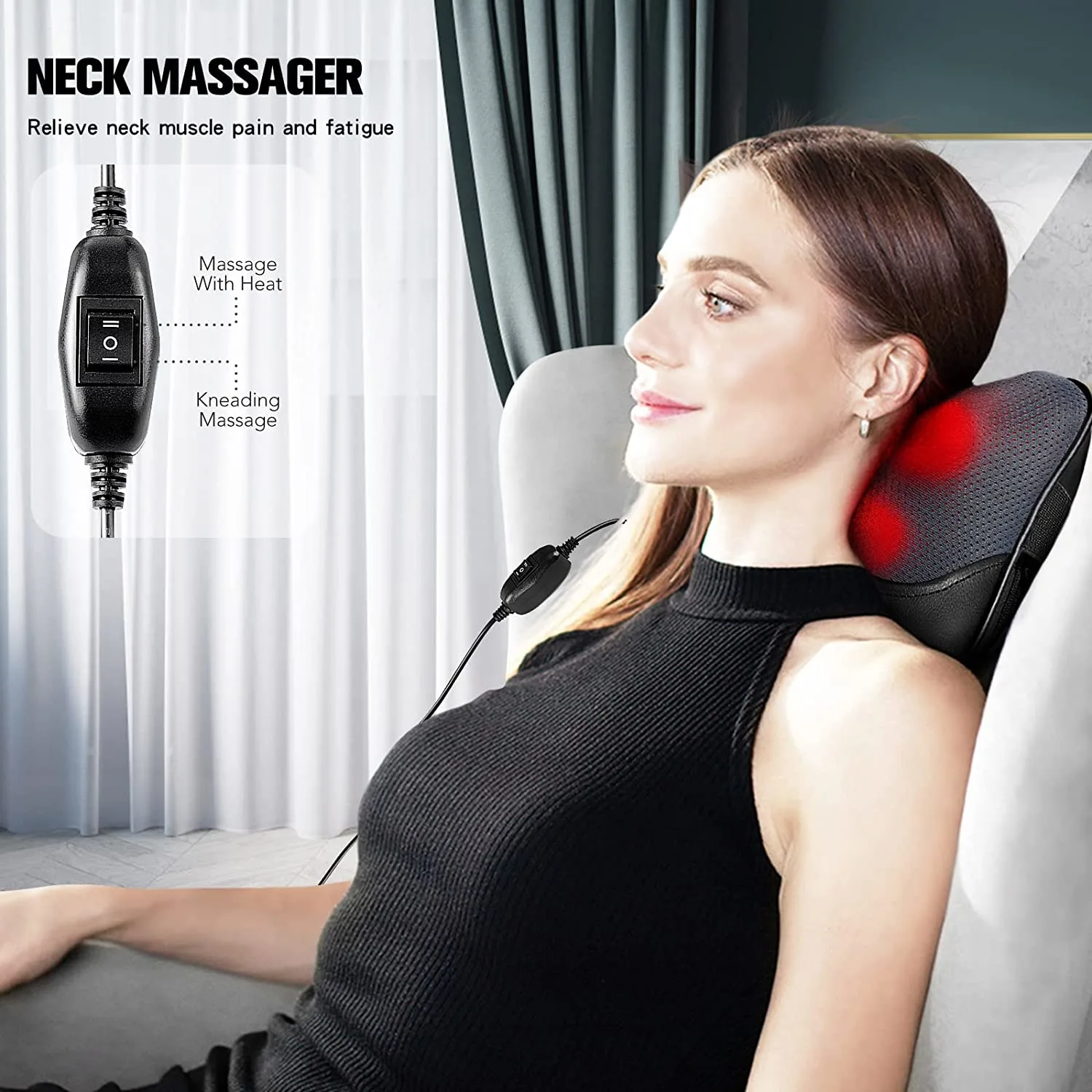 Planning a wedding, the reception, the bridal shower, and all the little parties around the event can be nerve-racking and strenuous. It's quite easy for the bride or groom to get overwhelmed and stressed.
You know what would help them out? You could gift them this nifty little massager pillow that will help work out any knots and kinks in their necks and backs.
It offers a deep-kneading shiatsu massage to loosen the back, lower back, neck, and shoulder muscles. Doesn't it sound like a dream? Maybe you can pick one up for yourself, too!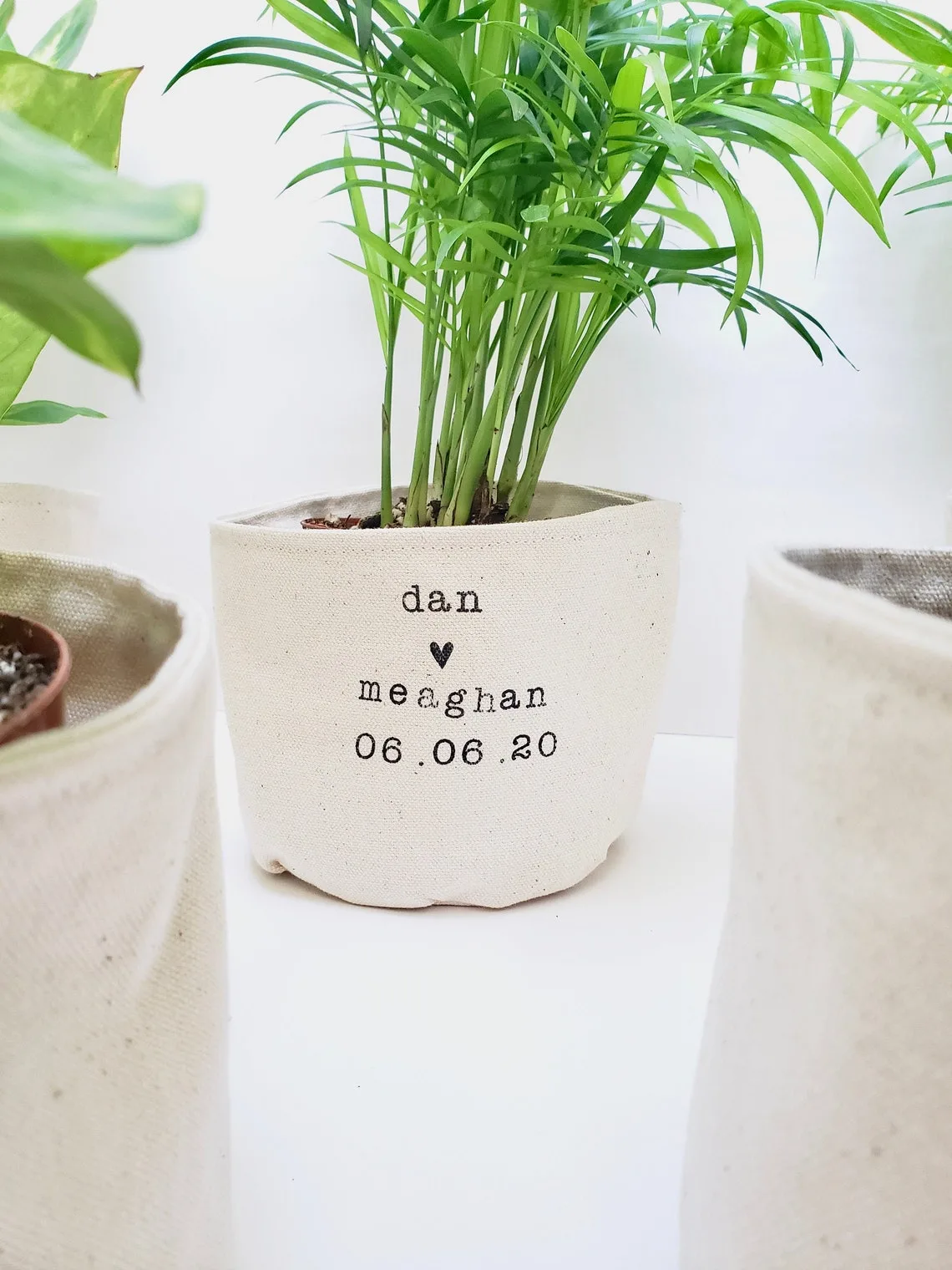 The very last thing on this list of wedding gift ideas is simple, sweet, and endearing: an indoor planter that's been inscribed with the couples' names connected by a heart.
This ivory-colored planter will blend into any home flawlessly without disrupting whatever decor theme or style they have going. It's a personal and considerate gift, one that the bride and groom are sure to love.
If you're looking for more unique gift ideas, then check out these wedding gift ideas!