Want to get a great gift for a special occasion? Whether it's a traditional gift or a modern gift, find the perfect 20th anniversary gift for your loved one!
While all anniversaries deserve something special, spending 20 years together with your spouse calls for something both heartfelt and grand. Here are some inspiring 20th wedding anniversary gift ideas!
We include a bunch of great ideas to mark such a milestone after decades of marriage. A special gift will make this important occasion even more memorial, and you'll feel like you're back on your wedding day all over again.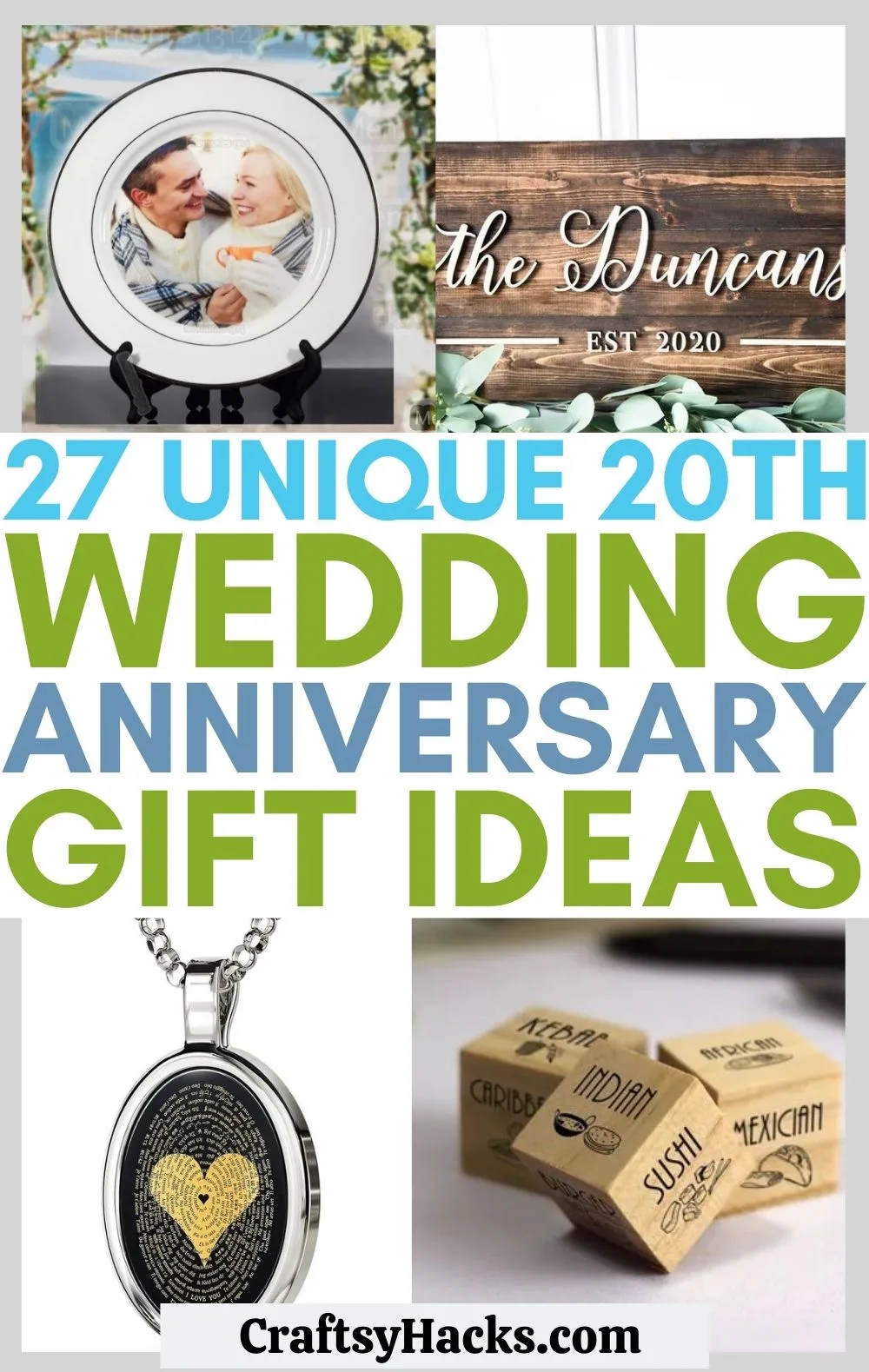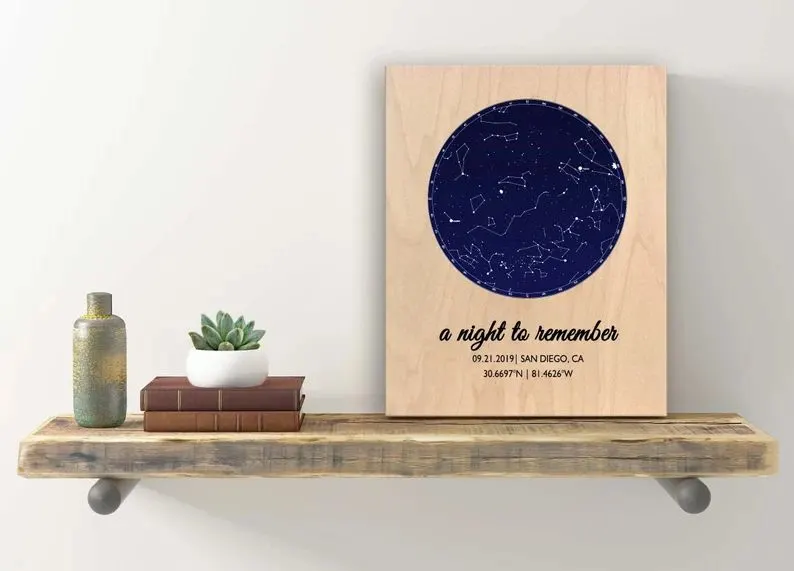 Source: Etsy
Want to freeze the moment you met your soulmate? Well, now you can. And you can also get to gift wrap it for your 20th Wedding Anniversary.
Constellation Art is one of the best 20th-anniversary gifts. Simply give details like the date, time, and location of the moment you want to freeze, and you will get the framed art of how the sky looked at that time.
A moment to cherish when the stars aligned and you met your soulmate, let them know that that one moment changed your life through this unique gift.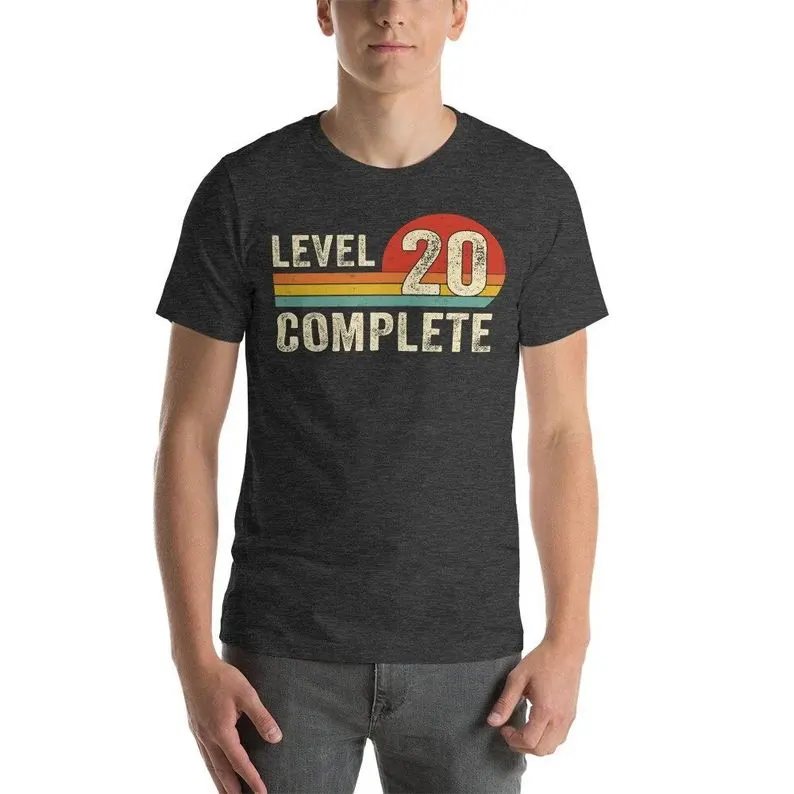 Source: Etsy
For a perky and vivacious couple, we have just the thing to wear on your 20th-anniversary celebrations; the anniversary t-shirt.
This level-20 completed t-shirt is perfect for flaunting your twenty blissful years together. The best thing is that it is unisex, so you both can wear it and match on your big day.
Make a trend out of wearing similar graphic t-shirts at the 20th wedding anniversary celebration and woo the world.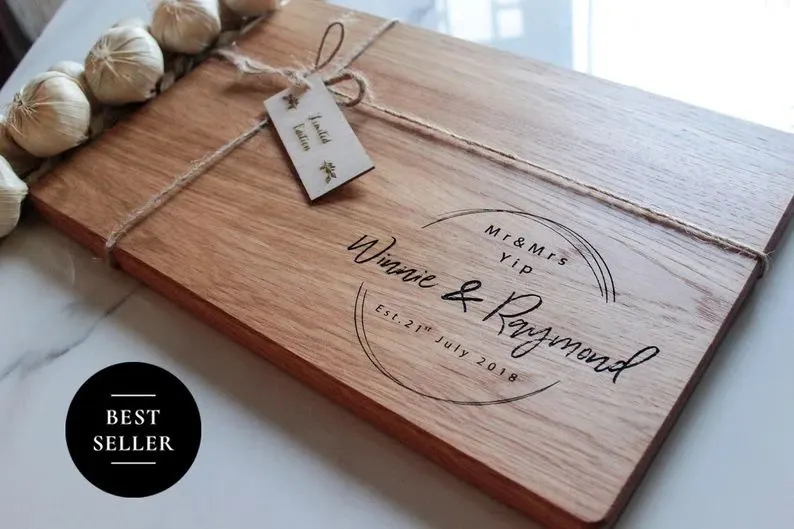 Source: Etsy
I love personalized gifts; you can do so much with them. Add all kinds of dates, sentiments, initials, as well as personalized messages on custom gifts. One such cool custom gift is the solid wood cutting board.
Add the couple's name, or initials, the day they got hitched, even a little blessing if you feel like it, and give it to them. They will be over the moon with such a beautiful and thoughtful modern 20th anniversary gift.
You can get any message engraved on the cutting board. Whether it's a date or an inside joke, the world is your oyster if you are getting this personalized cutting board.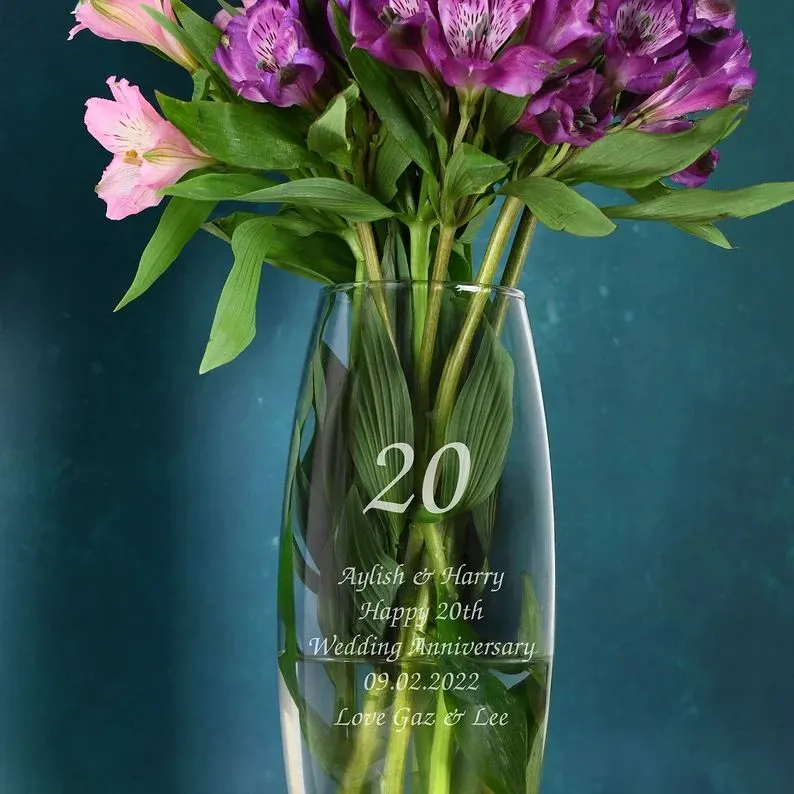 Source: Etsy
Aesthetically beautiful gifts are always received well by women, and if they are personalized, they become the favorites of the house.
For your wife or partner, get this beautiful personalized 20 Years Bullet Vase. You can add as many as five lines to this beautiful vase; it can be anything. You can even go all poetic and add a sweet poem to it as well.
Moreover, the vase comes in a cardstock box, so you can get this gift ready in a couple of minutes. Make sure you take a beautiful bouquet of her favorite flowers to go with the vase as well.
Love this idea? Find more DIY anniversary gifts for your lover here.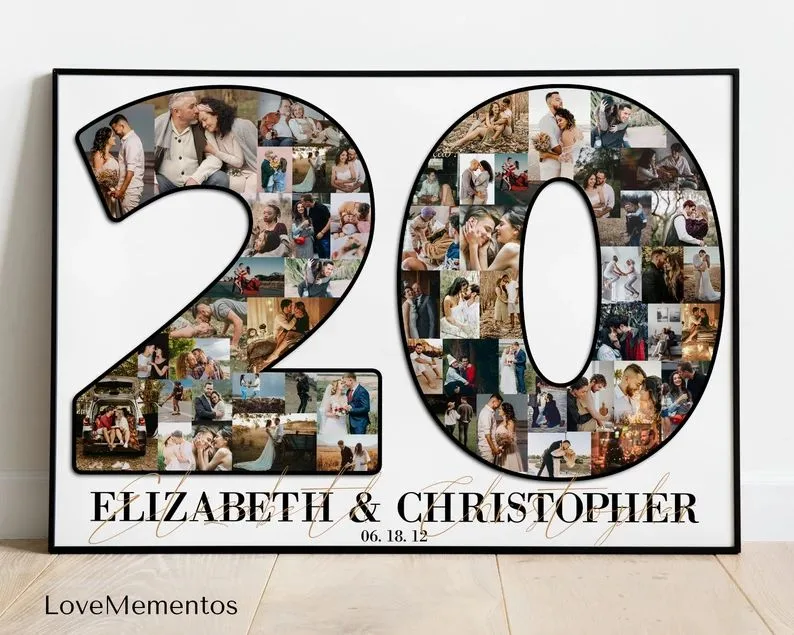 Source: Etsy
A stunning picture collage for the 20th anniversary year is a great way to look back at the beautiful moment spent as a couple.
Moreover, you can revisit these memories any time you please through this gift. It's a beautiful gift from wife to husband, husband to wife, and even from kids to their parents.
Get all your cherished moments in the shape of the number 20 to signify the 20 years sent together. You can also add a message or name underneath the photo frame. It's a thoughtful twentieth anniversary gift.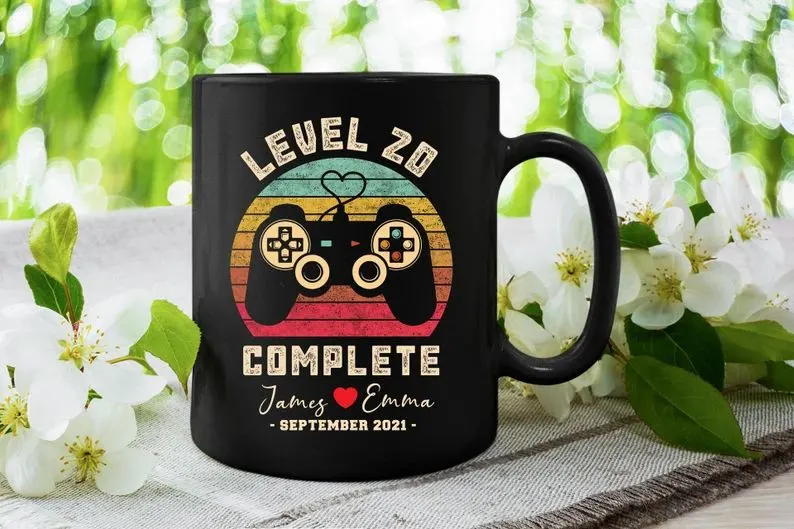 Source: Etsy
If you know your partner's day doesn't start without a hot steaming mug of coffee, you have your gift idea right there; a coffee mug! But, don't just go for any mug; get the "Level 20 Completed Mug".
This graphic mug will make your partner smile every time they sip their coffee; it's the perfect reminder of how far you both have come in your beautiful relationship.
It's the perfect traditional 20th wedding anniversary gift for a gamer as well; you can also add names and dates to this mug. Make the traditional 20th anniversary gift even more special by adding her favorite coffee brand to the mug and wrapping it nicely.
If you're looking for china gifts, this is a perfect choice.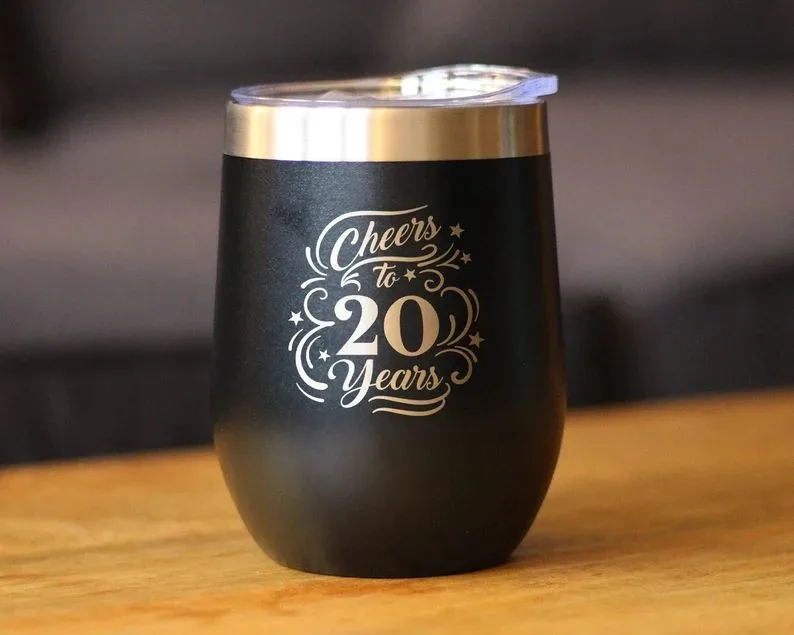 Source: Etsy
Wine Tumbler for the couple who like to enjoy life to the full, this tumble glass will keep your wine cool and your coffee hot. It's also spill and sweat-proof so that you can enjoy your wine anywhere at any time.
Moreover, engraving on the wine tumble glass is etched, not printed, so that it won't wear off any time soon. The glass may last you till your 40th wedding anniversary even.
Celebrate the two decades with a toast of your favorite wine in your new wine tumbler glass.
Check out more anniversary gifts for him.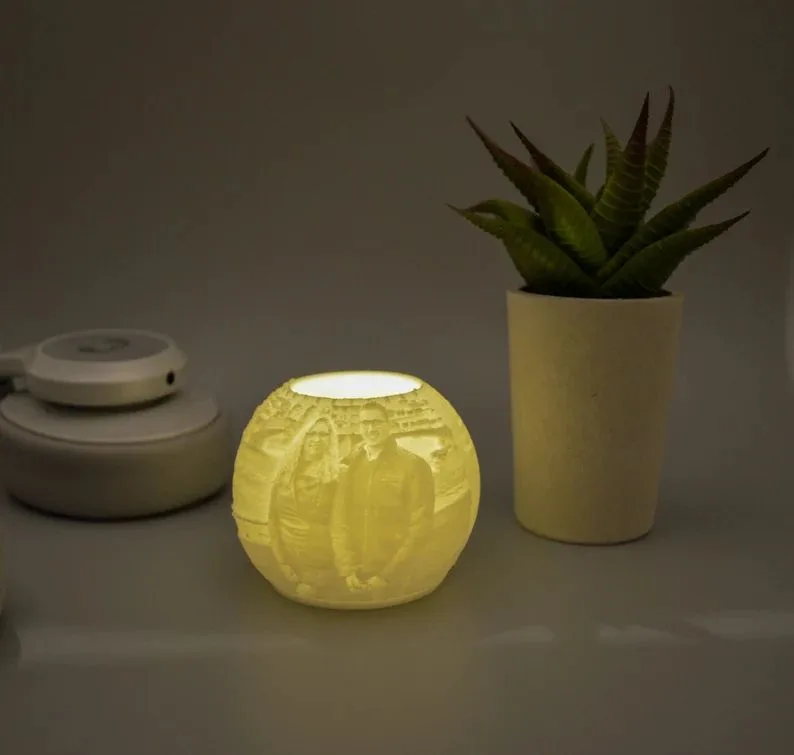 Source: Etsy
Do you want to make your partner's or your parents' 20th-anniversary special? Have a look at this custom photo candle. You can get any picture, message, or quote printed on this beautiful candle.
The Photo Candle is 3D printed Lithophane that is made from biodegradable plastic. The plastic is so thin that when a battery-operated light is added inside the candle, the picture printed on it lights up beautifully.
Beautiful and romantic, this candle photo ticks all the boxes of a perfect anniversary gift.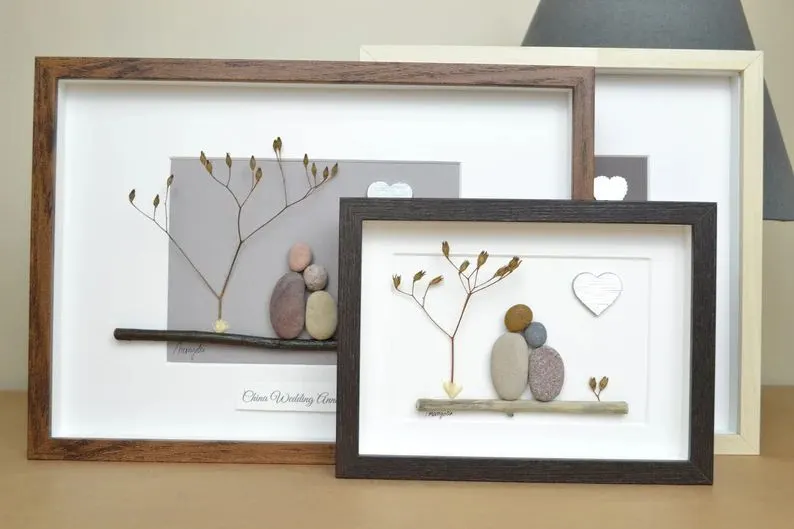 Source: Etsy
Did you know that male penguins give the smoothest pebble to the female penguin they like during the mating season, and if the female penguin likes the male, she places the stone in her nest to signal YES?
This pebble becomes the 1st of many to build the nests for the eggs that come later. This is a beautiful story of how couples should be; let's depict the same in your love story and give your partner something equally gorgeous.
This beautiful Pebble Art makes for the perfect anniversary gift if your partner knows how penguins do things. If they don't, make sure you tell them, they will surely fall in love with you all over again.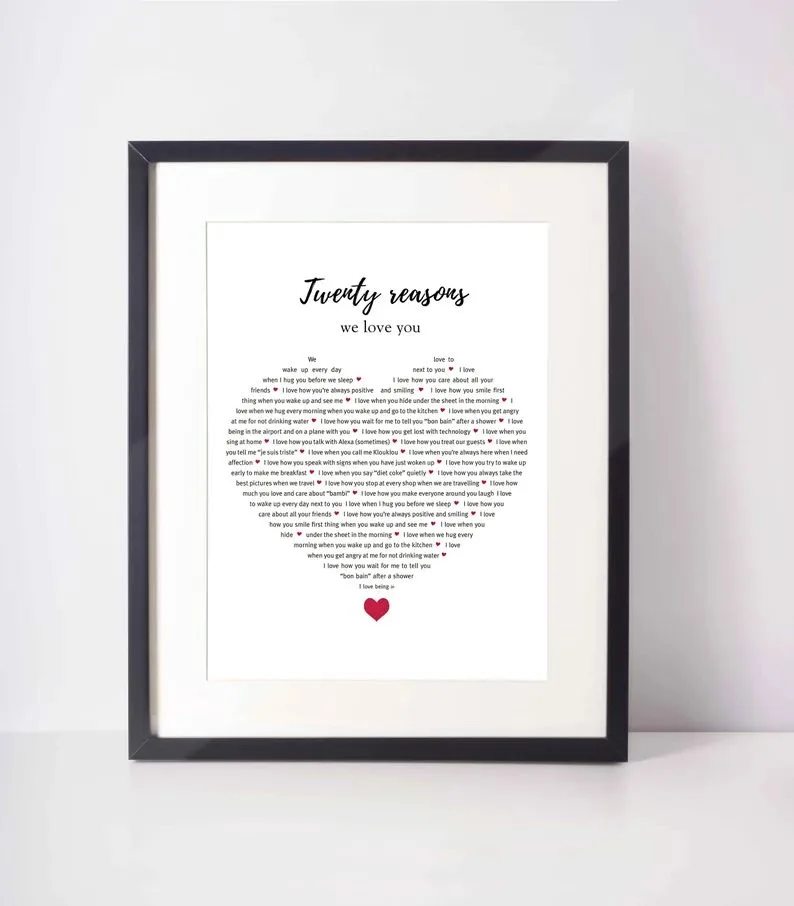 Source: Etsy
Telling your partner why you love them never gets old. They all love to hear things like these. Hence, you should totally get the "20 Reasons I Love You" gift for your anniversary—one reason for each year.
This is a beautifully personalized gift where you can add your own 20 reasons and get them printed in the shape of a heart. Your twenty reasons come packed in a frame that you can hang in a place where your partner can see it day and night.
It's the most ideal anniversary gift, where your partner can know why they are so much loved and cherished.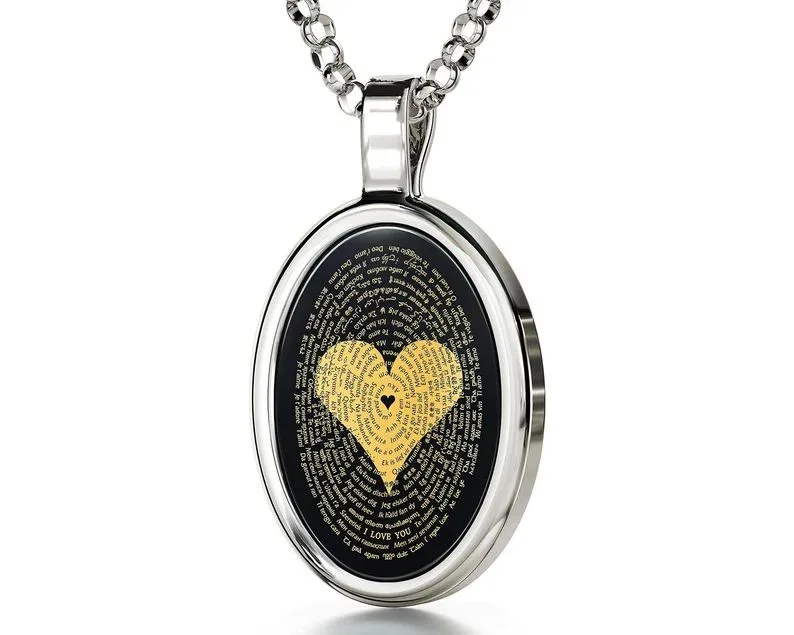 Source: Etsy
Women love jewelry, and when it is custom-made and personalized, they sure will go mad about it. Give your soul mate this gorgeous inscribed necklace with "I Love You" printed on it in 120 languages.
This is a quality gift that she can wear and feel how much you love her every day. The 24k gold inscription is done on a backdrop of a golden heart that adds charm and elegance to the already stunning necklace.
If you are the kindest to get your soulmate jewelry, this is the perfect 20th-anniversary present.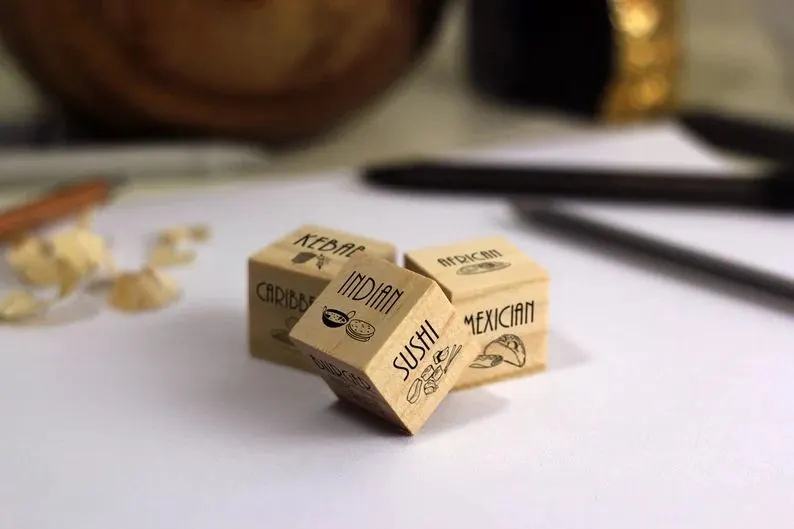 Source: Etsy
There is nothing more frustrating than deciding what to eat when ordering takeout. If you have been married twenty years, there may have been countless occasions when you must have felt this very frustration.
Let's put an end to this charade by giving your partner the ultimate "Takeout Food Decision Dice." This is ideal for witty couples who love to joke with each other and have a lot of inside jokes.
The best part is you can select the custom, decide and add your own takeout ideas. You can add as many as six ideas on your dice. It's the wittiest couple gift ever.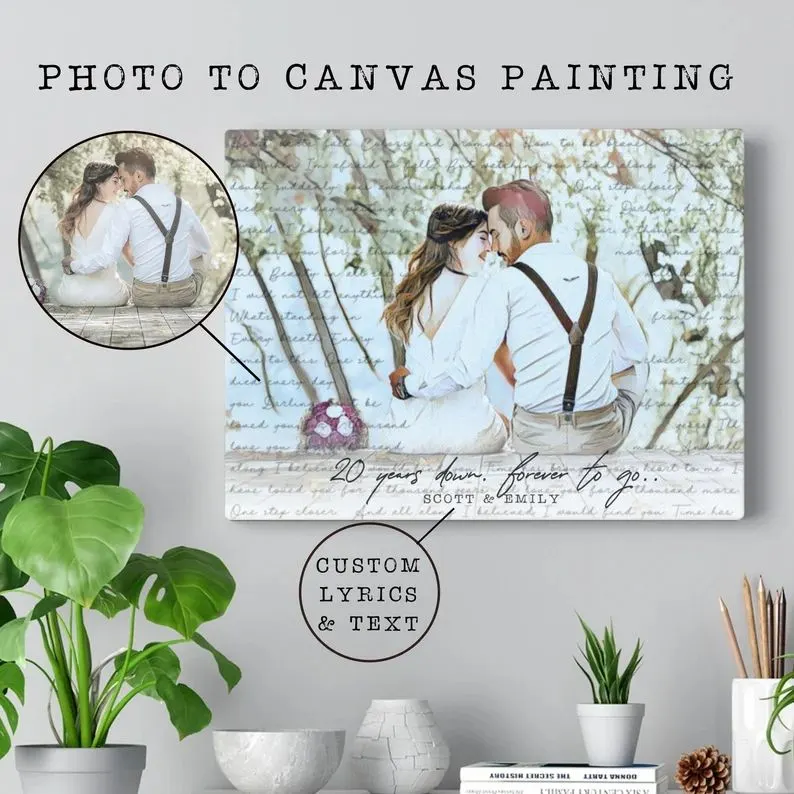 Source: Etsy
Do you have a song that is special to you as a couple? When it comes, son, you both smile at each other? One song that is your's and your's globe for a world of reasons, if yes! This is your perfect anniversary gift; the Song Lyrics Canvas.
Get your picture printed on a Song Lyrics Canvas, give it to your partner and make their day. It's one of the most thoughtful presents, where you remember little things that make life as a couple beautiful.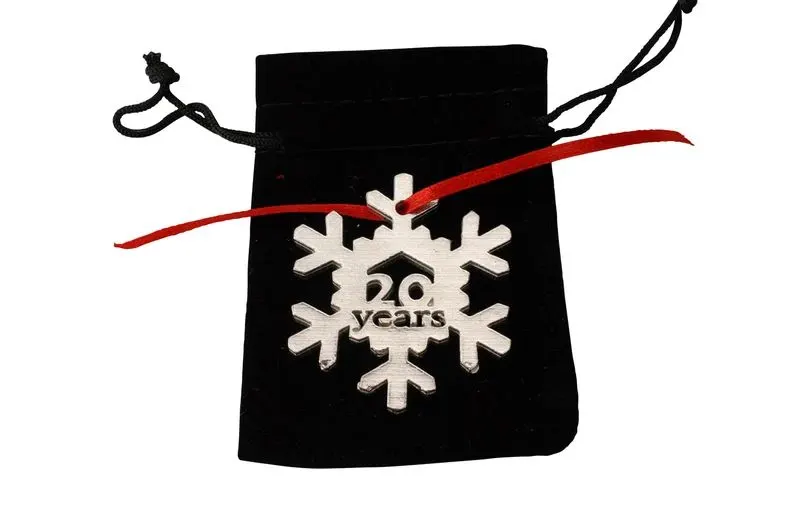 Source: Etsy
If by luck, your 20th anniversary falls on Christmas, or if you are celebrating your 20th Christmas with your partner, we have the perfect 20th-anniversary gift that also doubles as the best Christmas tree ornament.
This lovely Snowflake Cut-out Decoration would look great on your Christmas tree and will be the perfect reminder of your 20 blissful years together.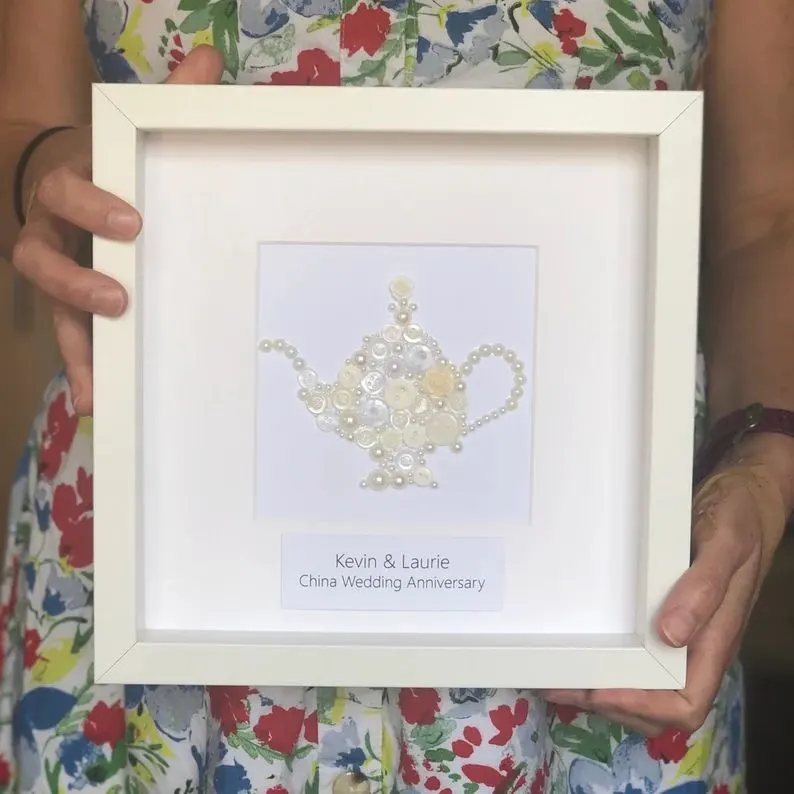 Source: Etsy
What do you give to someone who already has everything? Teapot Art! It's unique and one-of-a-kind china art that is handmade. You can choose any design you want.
This is a beautiful gift that comes within a beautiful frame. You can add personal details to this and make it a memorable one.
You can customize the design as well; if you aren't a fan of the teapot design, beautiful buttons, and beads aesthetically arranged to create an exquisite Teapot art, what can be better than this 20th-anniversary gift?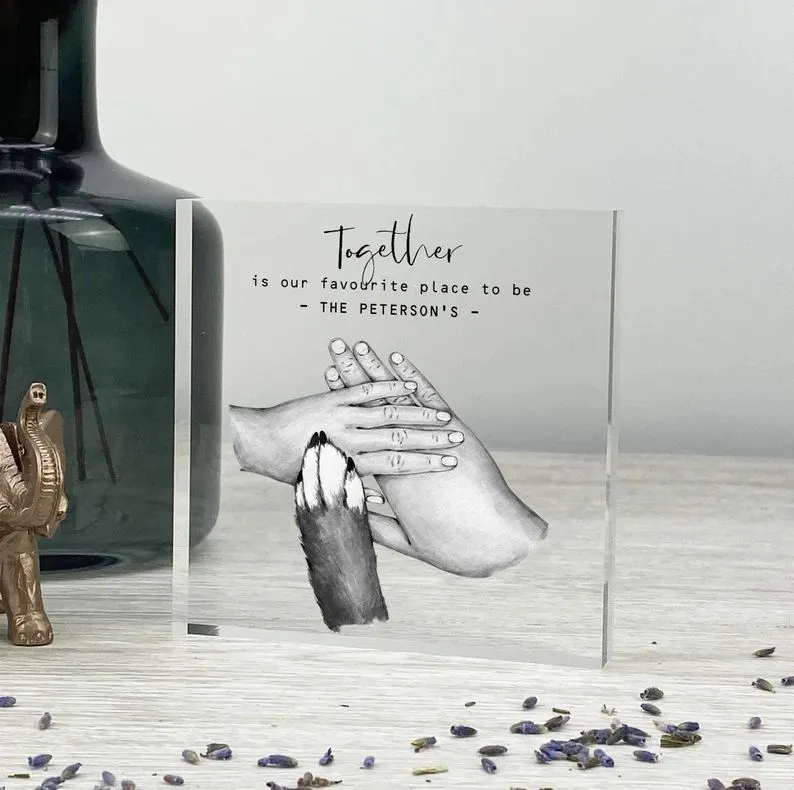 Source: Etsy
Any gift that preserves a memory or a small piece of your life is a worthy gift for the 20th-anniversary occasion. This beautiful acrylic illustration block is one such gift.
Preserve a small part of 20 full years of your life with this acrylic block; you can add a quote, poem, date, or even pictures to this block.
It's highly customizable and a perfect gift for husband, wife, sisters, or parents. You can get your wedding photo printed on this and surprise your partner with a beautiful wedding keepsake.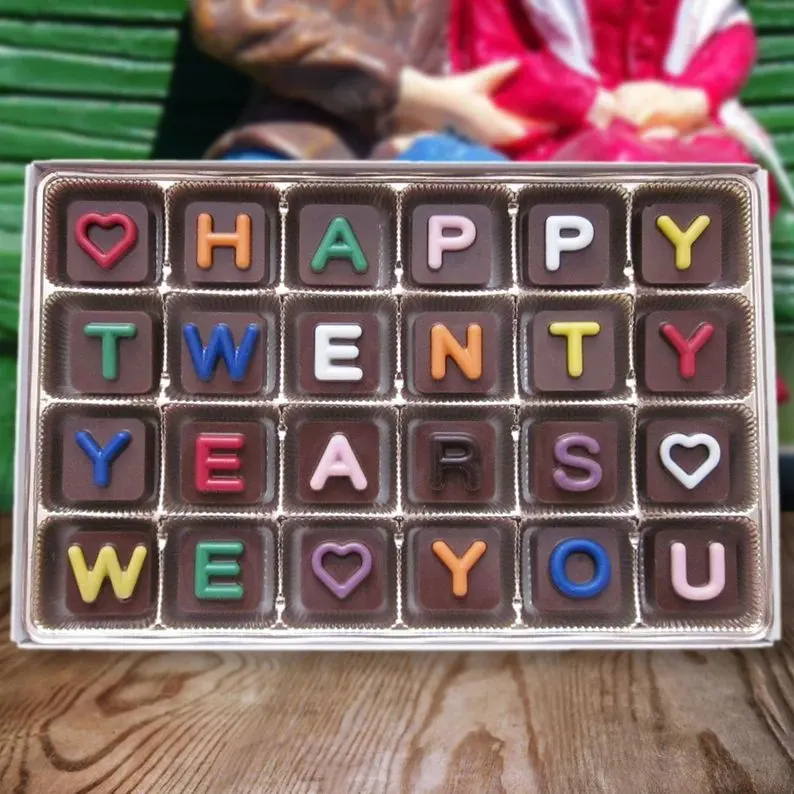 Source: Etsy
Looking for a sweet surprise that is both heavenly, delicious, and unique? We have just the perfect chocolate surprise for you.
This year, on your 20th anniversary, give your partner a delicious box of chocolate cubes. While these aren't customizable, they do come with a "Happy Twenty Years" message, which is perfect for the 20th-anniversary celebrations.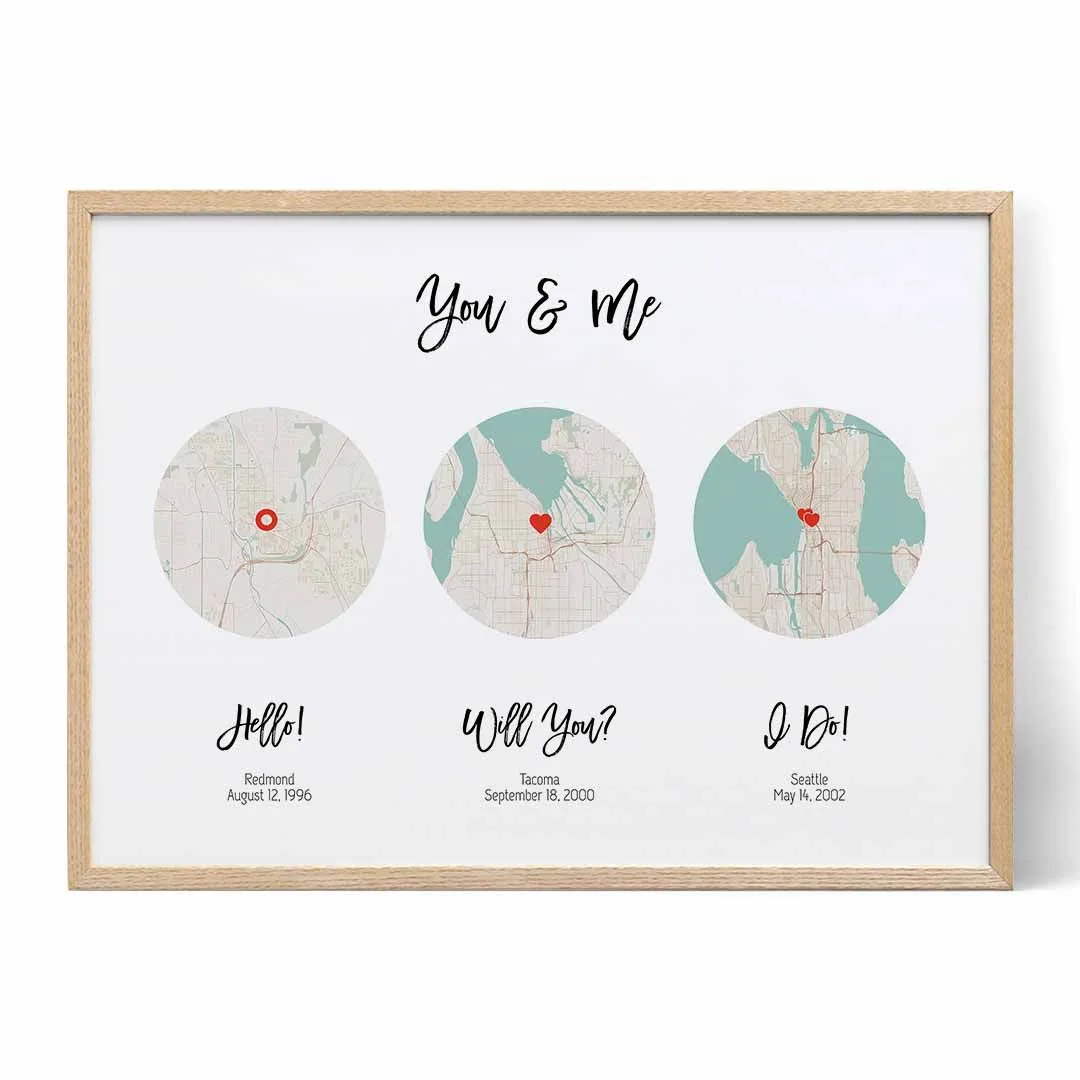 Source: positiveprints.com
The relationship map is a beautiful anniversary gift for the couples who met, dated and finally got hitched. Relive the memory of how you met, proposed, and got married to each other by giving this unique relationship map.
The map is customizable so that you can add your locations for the "Hello," "Will you?" And "I Do." you can add any three or two locations you want. This comes professionally framed, so all you have to do is pick a wall and hang it.
Let the world know how you met and got married; it's the perfect frame to tell your love story to everyone.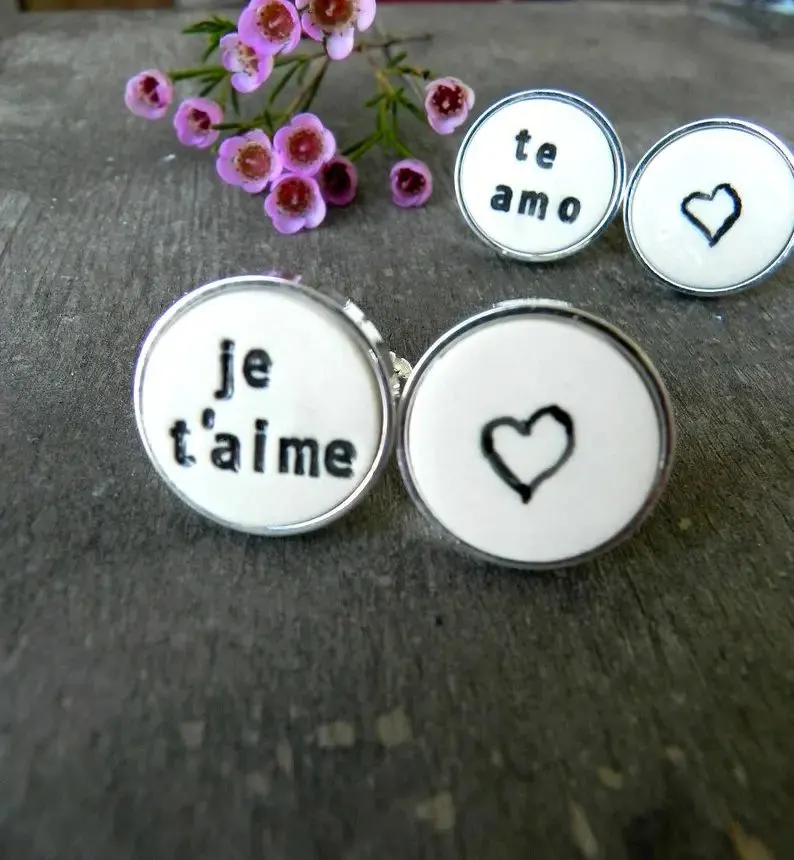 Source: Etsy
Custom cufflinks are the most extraordinary gift ever. They are the most discreet way of owning your man. These custom cufflinks can have anything engraved on them, but they have to be seven letters long to fit perfectly.
You can get Je t'aime, Te amo or Heb je lief as endearments. You can also have a small logo or initial printed on yours if not. It's a beautiful handmade gift for those who love quality and uniqueness.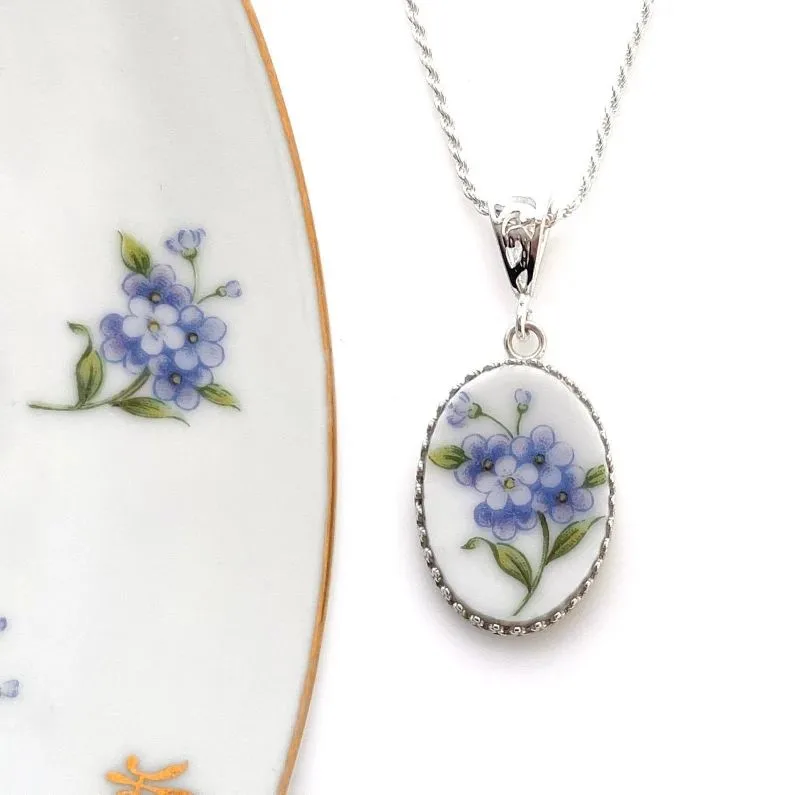 Source: Etsy
This Chinese Forget-Me-Not Necklace is a beautiful way of telling your partner to remember you always. It's such a thoughtful gift; women adore such elegant gifts that come with a hidden meaning.
This charming necklace comes beautifully packed, so you can get it delivered directly to your loved one's doorstep and surprise them on your 20th anniversary.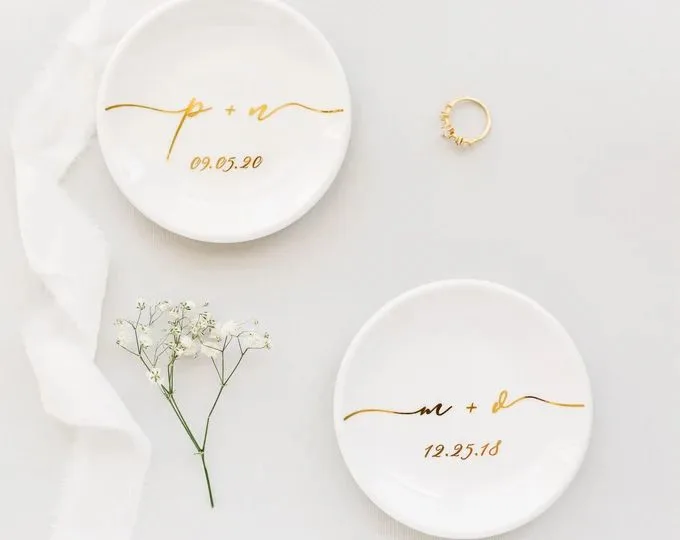 Source: Etsy
Personalized gifts are the most delightful way of telling someone you love them the most. Giving a personalized wedding date gift to your partner on your 2oth anniversary implies that you have loved the past 20 years and are looking forward to many that are yet to come.
This luxurious white and gold Trinket dish is a beautiful addition to your home. Your partner will love putting her most prized jewelry in this dish. It will remind her every day of how much you love her after all these years.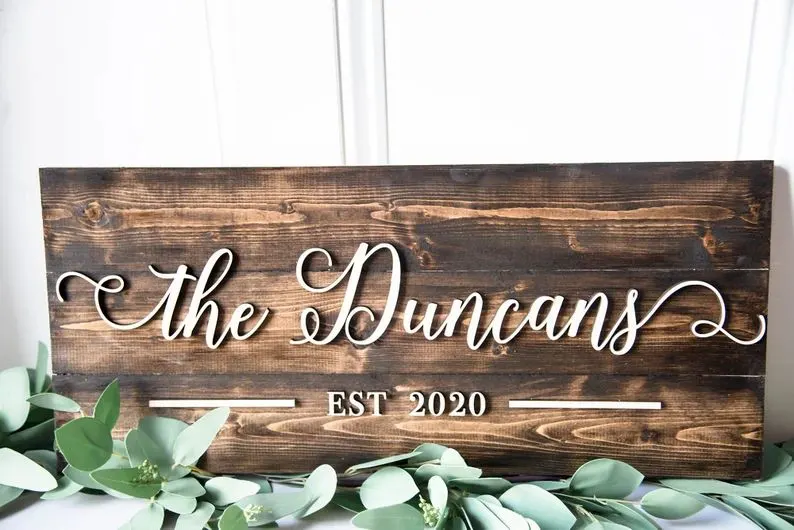 Source: Etsy
A home is made with two people and countless struggles. If you have just bought your own home after many struggles, you must decorate it to the full.
This beautiful last name sign isn't only the perfect anniversary gift but also a mark of how far you have come. It's the perfect signboard for your perfectly built home.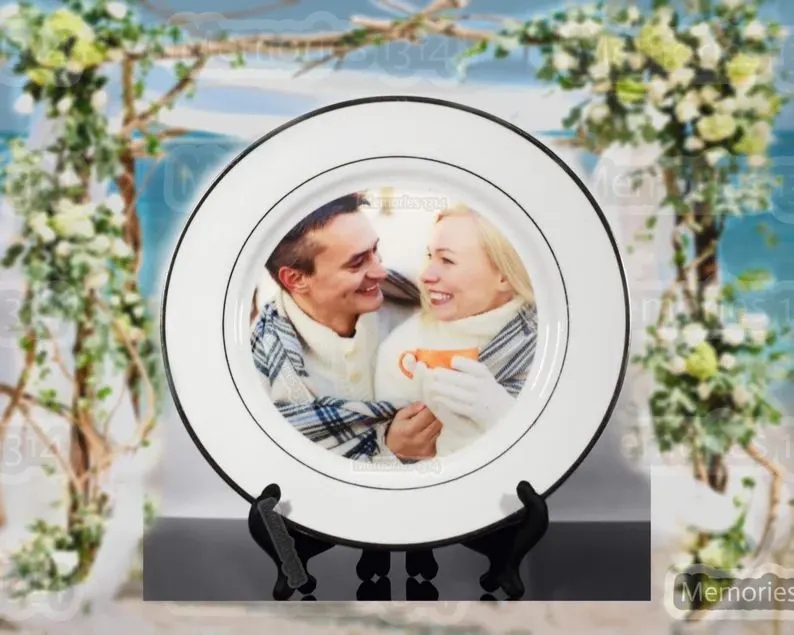 Source: Etsy
Turn your happiest moment into your anniversary gift by printing it on a decorative plate and displaying it on your mantel. It's the most perfect gift for your 20th anniversary.
You can add your wedding picture or your honeymoon picture to this plate. Won't it be exciting to look at all the old pictures to choose one for this gift?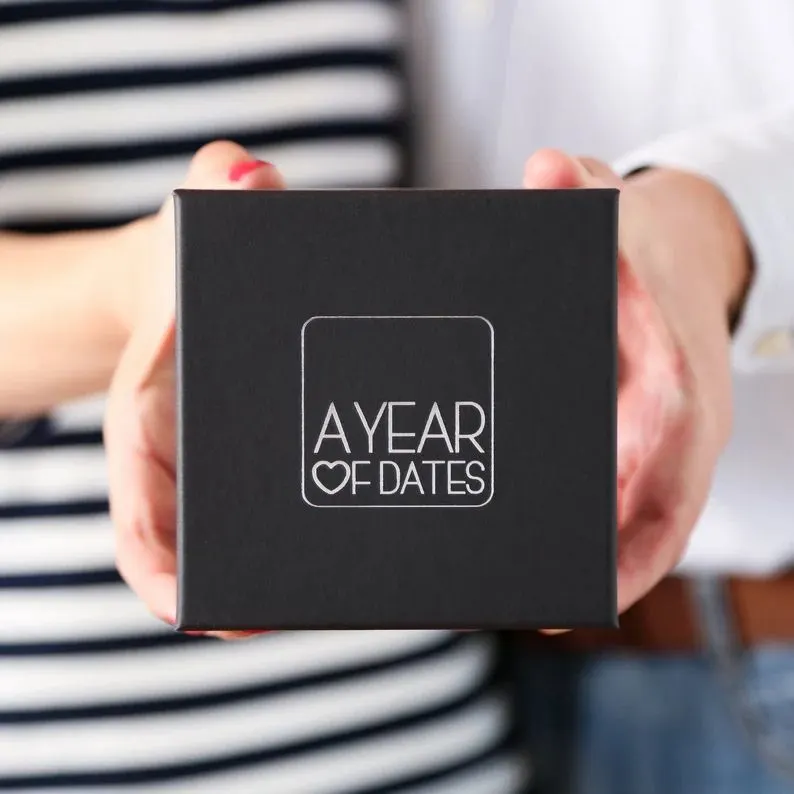 Source: Etsy
This is a brilliant idea to bring the spark back to your married life. After 20 years, the couple gets a bit too comfortable with each other and the routine they have.
Let's change that and get the unique 20th-anniversary gift, this pack of 51 unique date ideas will keep the spark going between you and your partner. For 52, the card is blank so that you can choose your own kind of date.
A year full of beautiful surprises. After a year, you will fall in love with this so much that you will have a hard time breaking this perfect habit.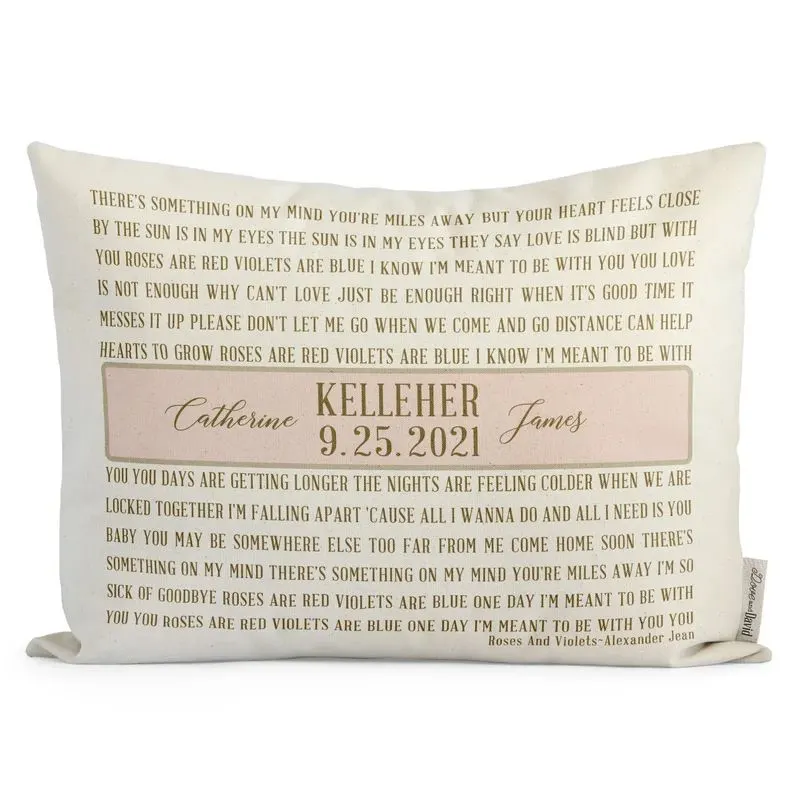 Source: Etsy
Relive your wedding song or vows on your 20th wedding anniversary with this unique custom-made pillow. You can add your names, wedding dates, as well as your wedding song or vows to this pillow.
There are various color and fabric options to choose from as well. This is a wonderful gift for a homemaker who loves to add cozy things to their home. You know your parents will love it, get them this for their wedding anniversary this year.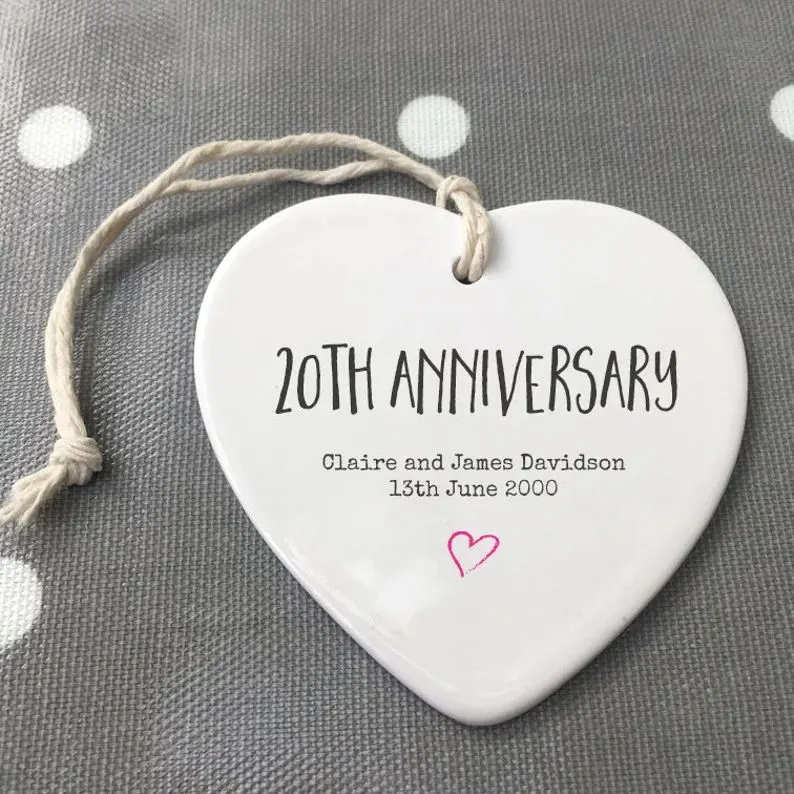 Source: Etsy
Beautiful keepsakes make the best anniversary present ever. This stunning white ceramic heart is just that and more. You can add three lines of text; add your names, date as well as endearment if you please.
This is the perfect anniversary gift as you can customize it whichever way you want. You can even add a beautiful quote instead of names and dates.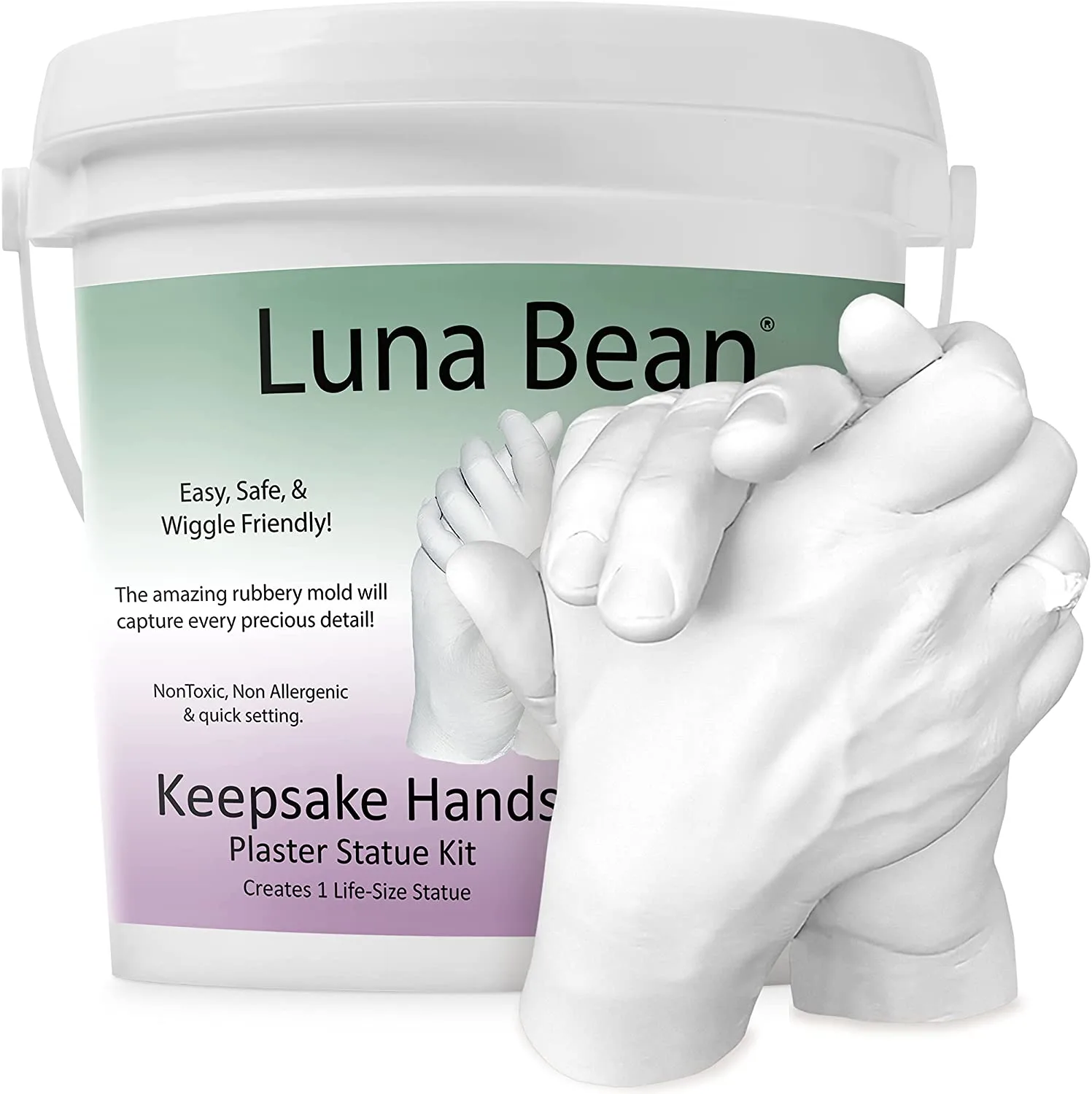 Source: Amazon
The hand casting kit isn't only a fun activity; it's a perfect keepsake for all occasions. You can use this as your 20th-anniversary gift and save a piece of your relationship like this.
We suggest you wear your wedding rings while doing this to make this keepsake even more special.
The 20th anniversary is a beautiful milestone that needs celebrating. However, more than celebrating, it needs a beautiful gesture or a gift that will be a perfect mark of your 20 years together.
Yield: 20th wedding anniversary gifts
27 Unique 20th Wedding Anniversary Gift Ideas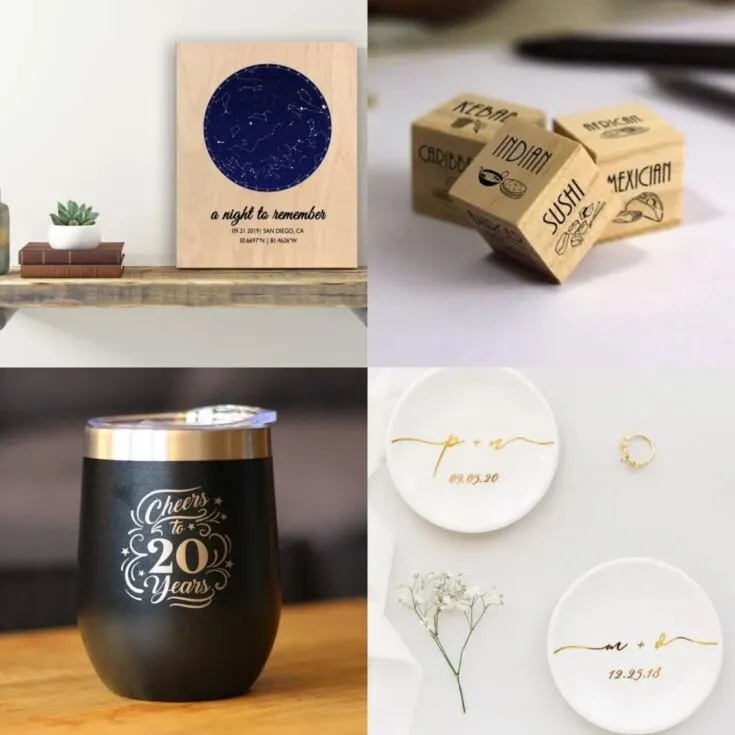 Instructions
Find the gift that will surprise your partner!
Celebrate your anniversary.