Looking for a romantic gift for your significant other to sweep him off his feet? Check out this gift guide to choose the gift that's right for you.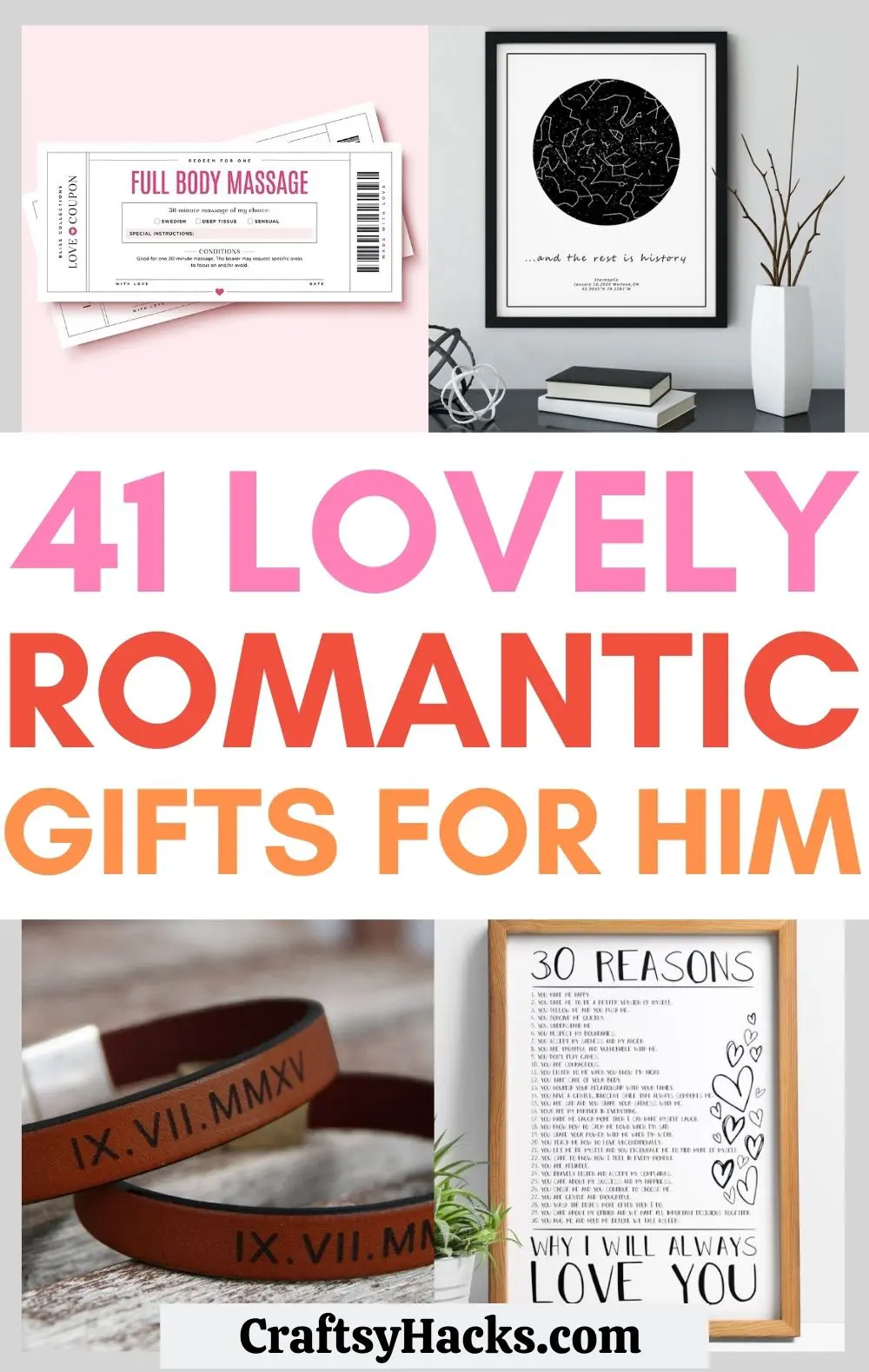 The men worldwide also deserve to be swept off their feet, not just the ladies! From moonlit strolls to romantic dinners, there are myriad ways to show your best guy how much you love him.
One of those ways is to shower him with romantic gifts. Spoil him like he deserves and make him feel like the most special guy on earth, whether or not a designated 'romantic' holiday is coming up.
Whether you're preparing for Valentine's Day, figuring out a birthday present, or you're celebrating an anniversary with your hubby, this list of forty-one romantic gifts might have the gift you're looking for.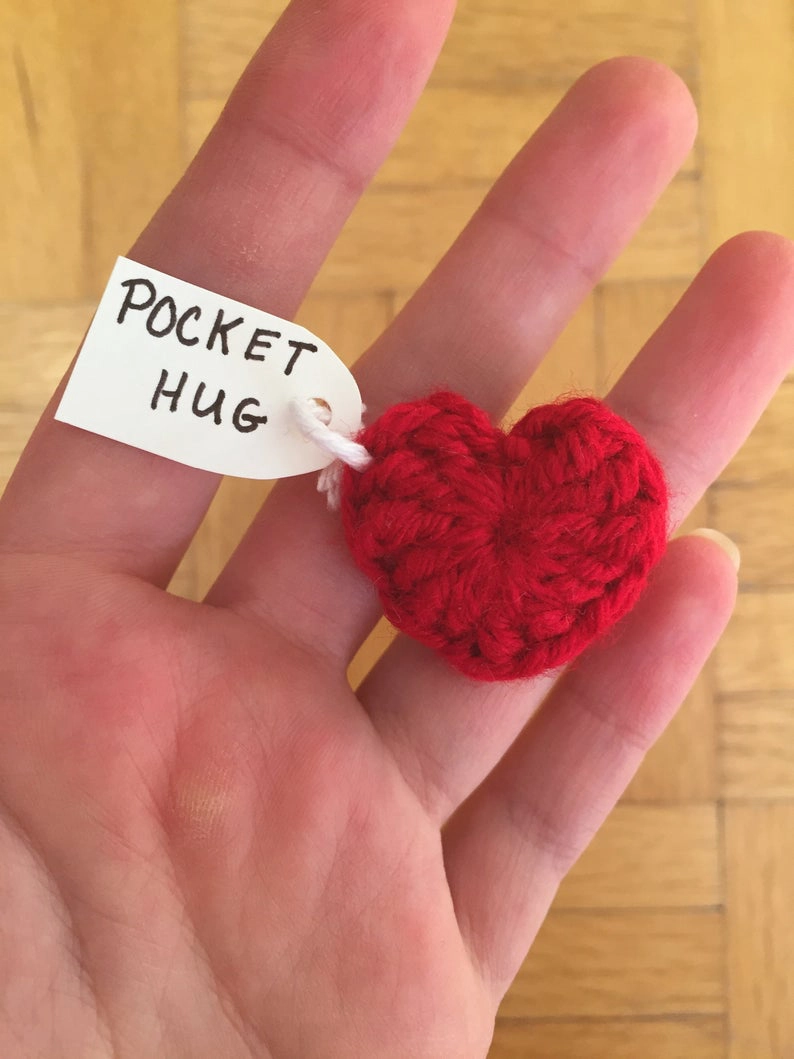 Credit: Etsy
Let's start the list with something adorable. These pocket hugs are the perfect socially distanced gift, but even if you two live together, they make a great little gift to start a day of romance.
If you don't want to buy them, you can also take the time to pick up a crochet needle and make one! There's nothing sweeter or more romantic than a handmade gift, in my opinion.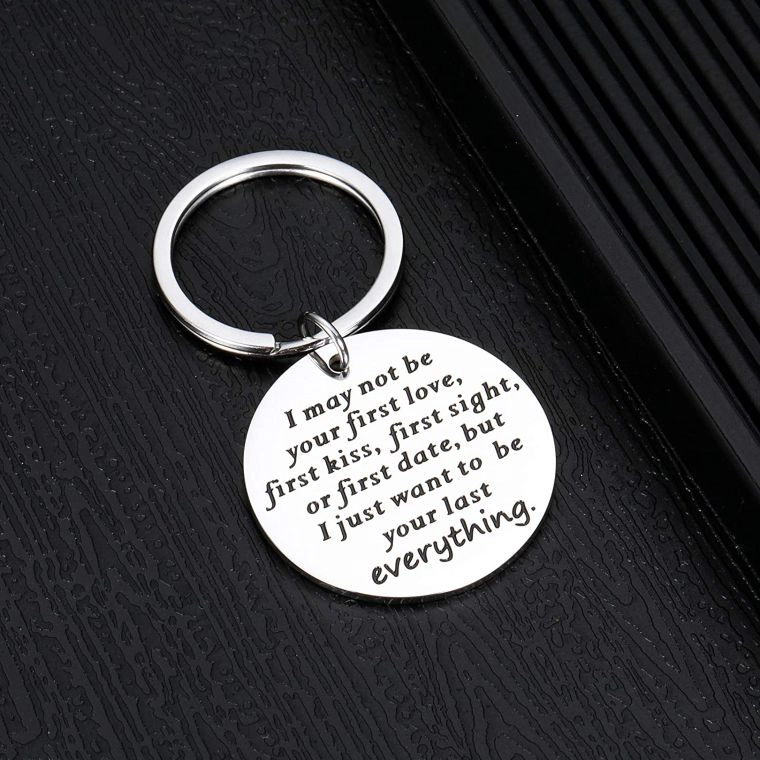 Credit: Amazon
This is the perfect subtle trinket to gift him. Attached to his keys, this little reminder of your love for him will accompany everywhere he goes, putting a smile on his face every time he glimpses it dangling from the chain.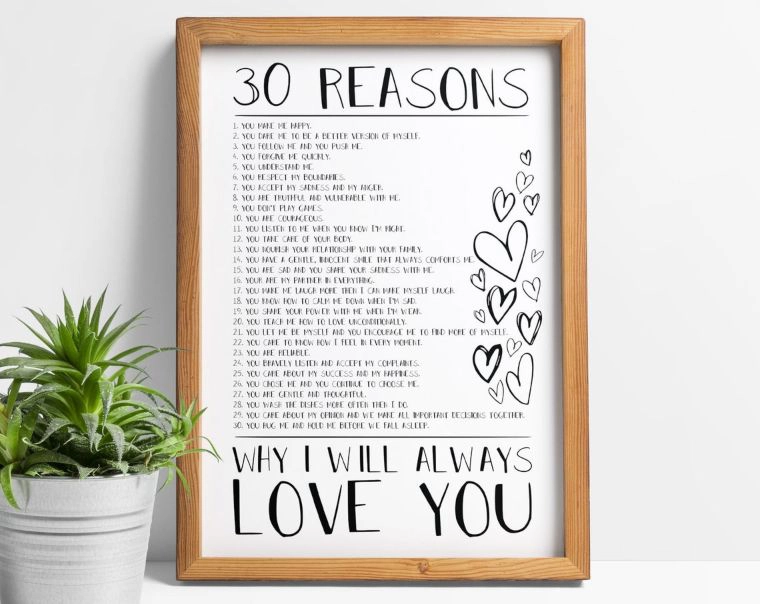 Credit: Etsy
Next up, this framed art piece lists thirty reasons you will always love your man, and if that isn't one of the romantic things every, then I don't know what is.
While the print is made and framed by the Etsy shop owner, the reasons on the page are yours. This is a beautiful way to let your partner exactly what you love about them and what endears them to you.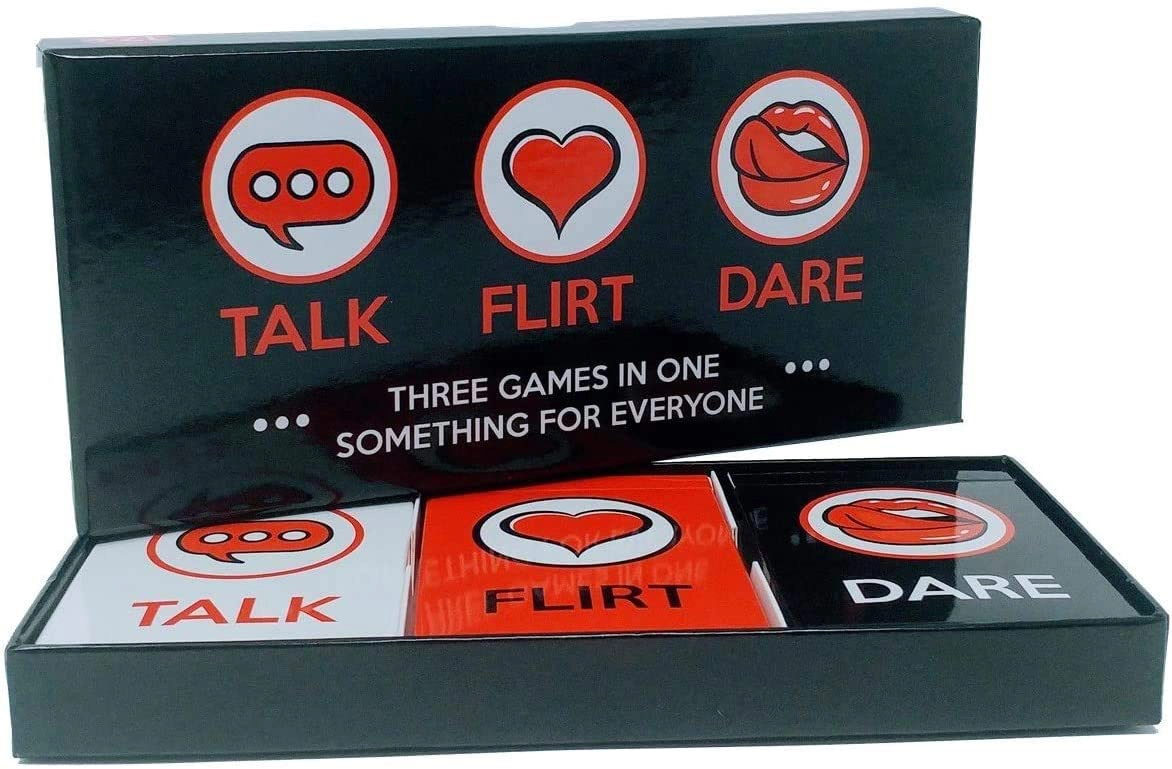 Credit: Amazon
If we're talking about things that will sweep your man off his feet, the Talk, Flirt, Dare Game will do the trick. Featuring many different cards to spice up your date night, he'll love this flirty, romantic game.
Whip out a bottle of the best wine in your possession, put on some music, and have a couple of laughs amid this love-affirming game.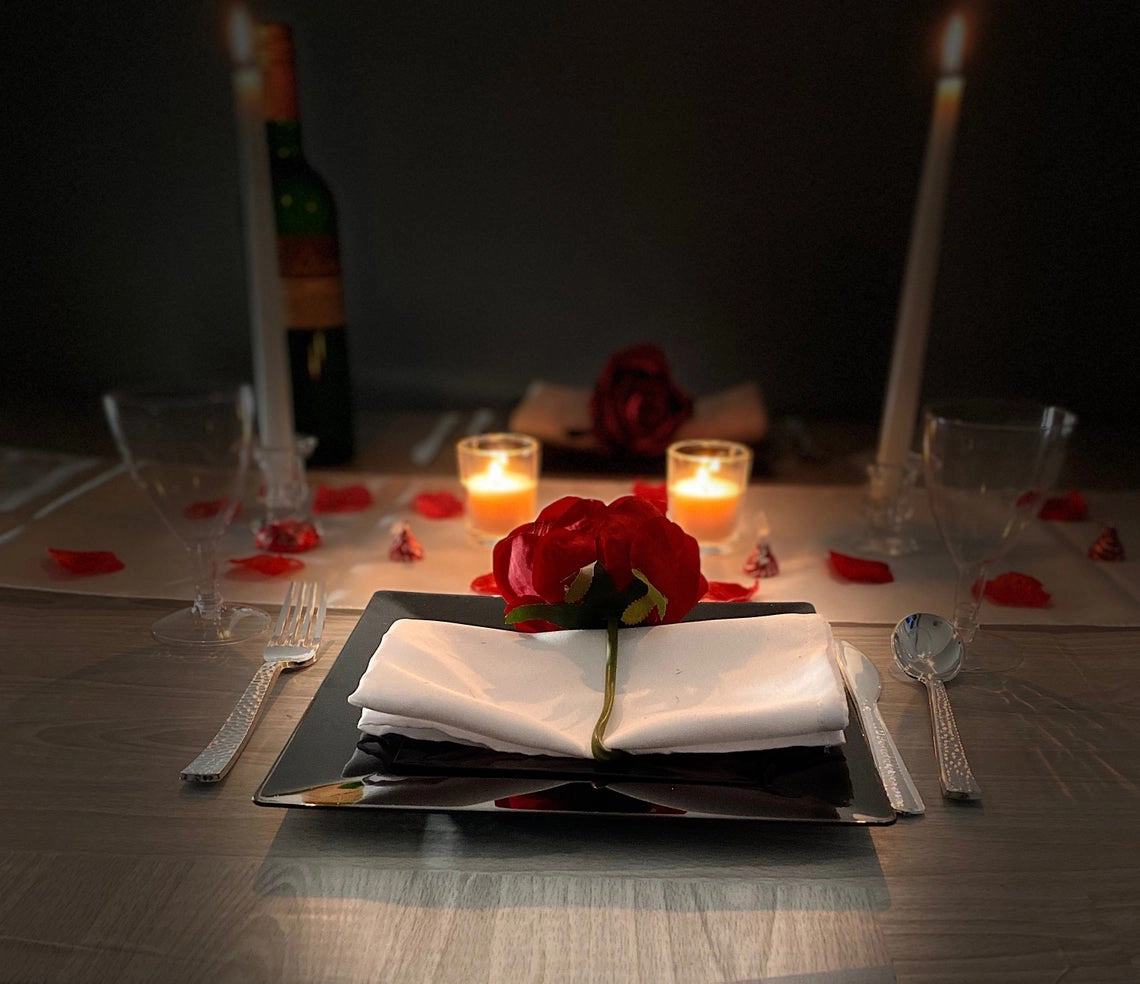 Credit: Etsy
The next gift requires some assembly (in a sense) in that the gift doesn't arrive complete. The Noir Romantic Dinner Box will arrive at your door, containing everything you need to create a romantic table setting.
From there, it's your job to cook your man's favorite meal and pour his favorite drink because the rest of the night will be dedicated to wining and dining!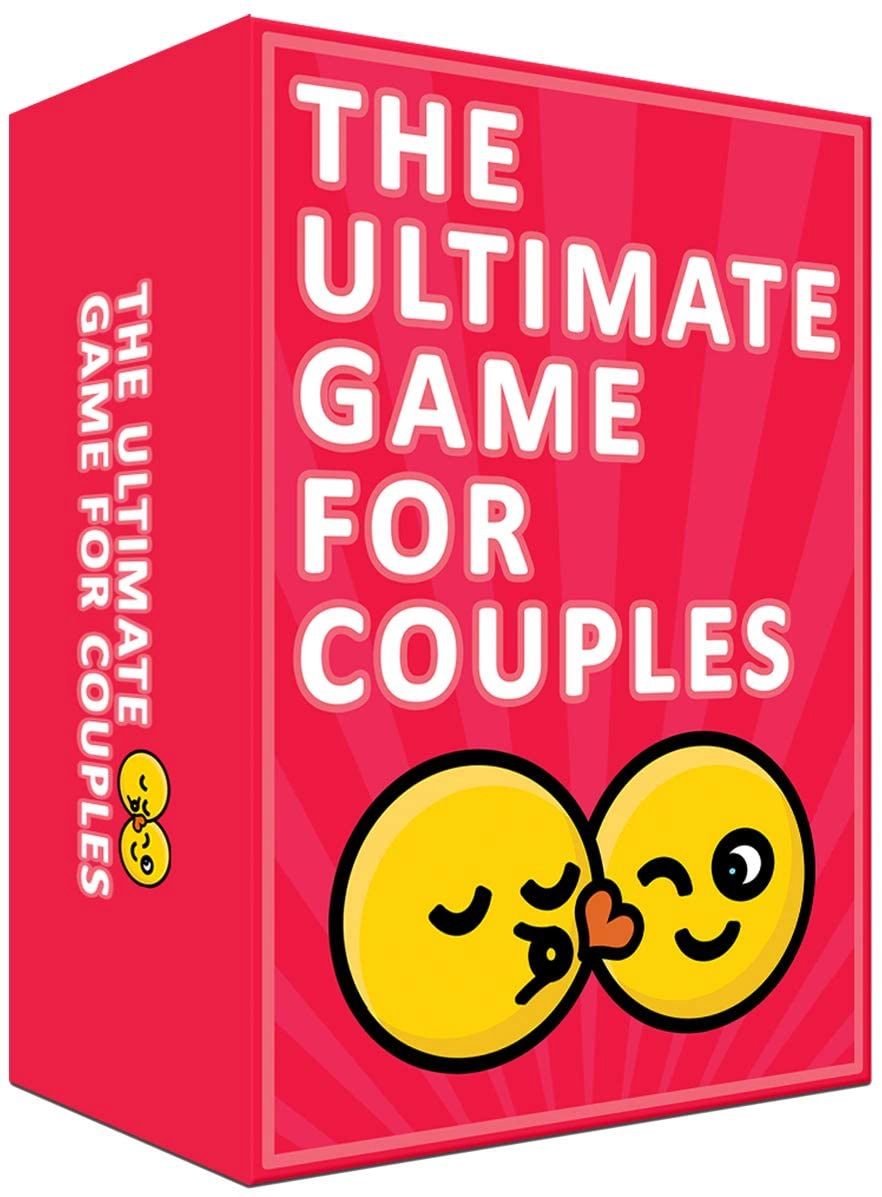 Credit: Amazon
This box of challenges, conversation starters, and fun activities is the perfect setup for a romantic date night together. This has less of a focus on flirtation than the previous game, emphasizing connection.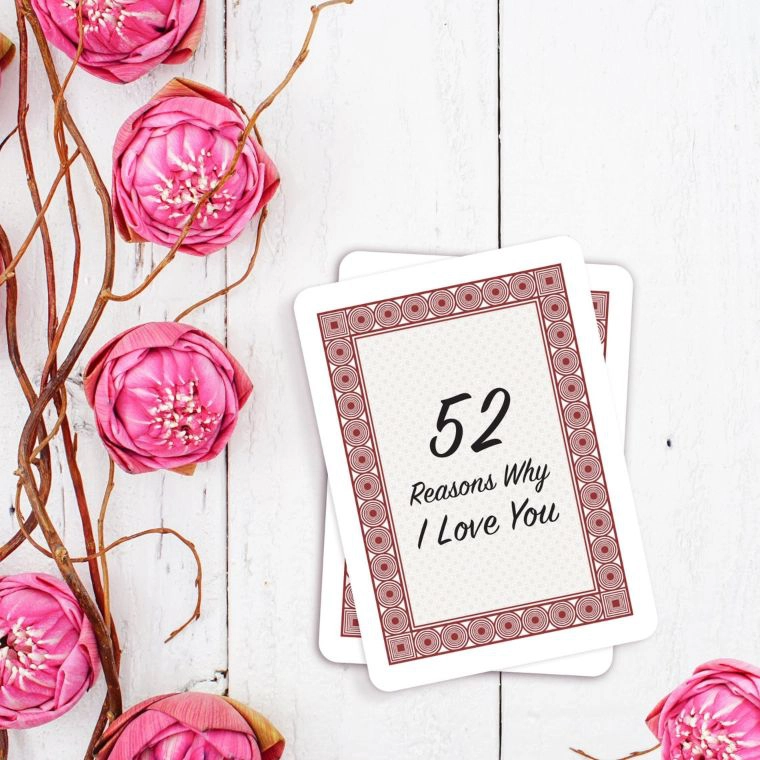 Credit: Etsy
If thirty reasons aren't enough to describe why you love your man, then this deck of cards is your next best choice. Once again, you can send in the fifty-two reasons, so make them as personal and specific as possible!
You can even purchase a pack of blank cards and write all the reasons on them yourself for an even more personal touch.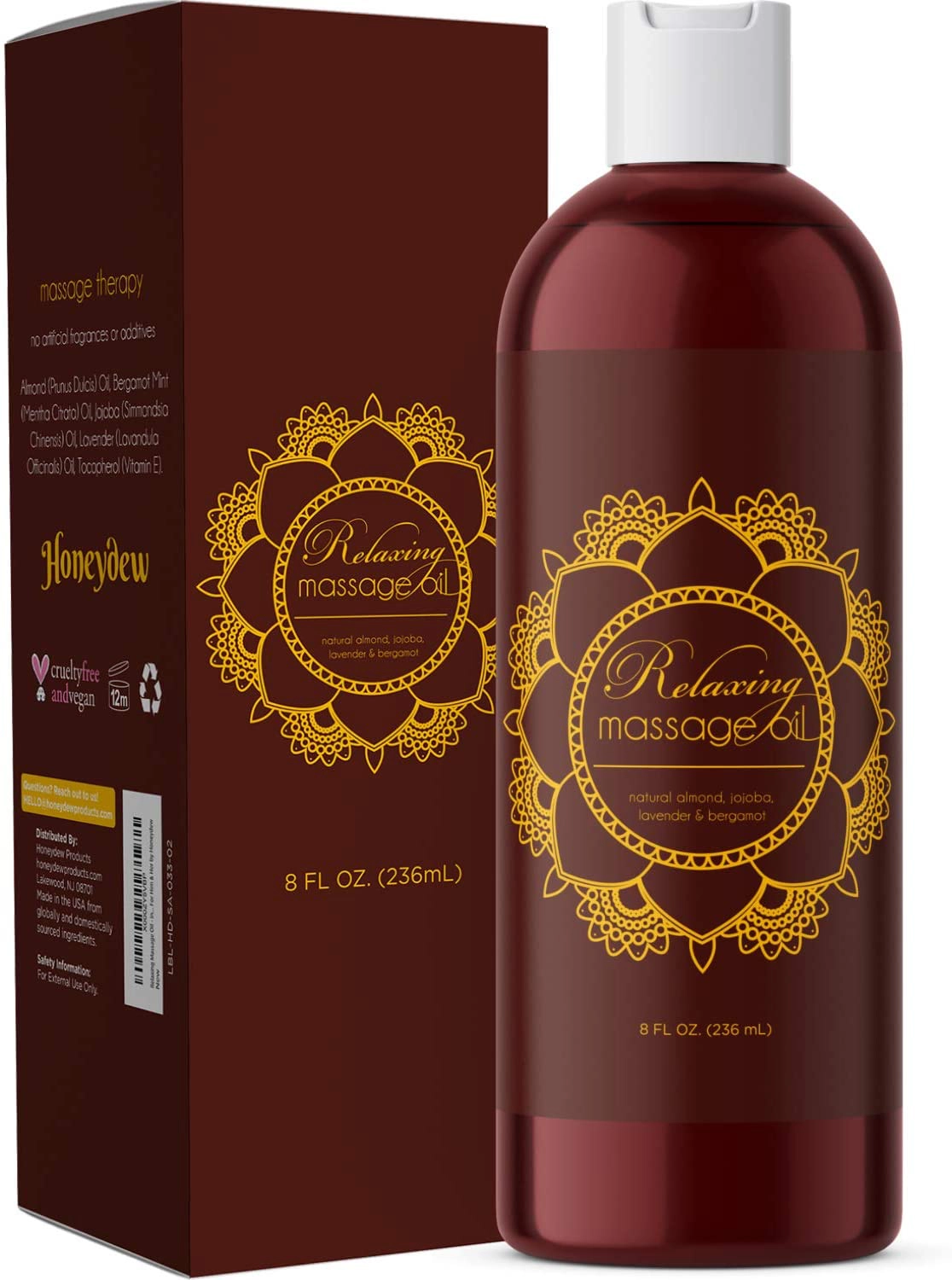 Credit: Amazon
Massages are incredibly romantic, giving you the chance to be close and intimate with your man in a completely new way. Enhance the experience with some relaxing aromatherapy massage oil and some candles.
Credit: Etsy
There's a considerable cliché around romantic coupons, and many people think that they're sub-par gifts. The problem is, those people aren't creative enough! Make them unique!
Creating a pack of custom date night coupons is your chance to let your hubby take the reigns, offering him the opportunity to choose which activity you do, where you eat, or even where you travel.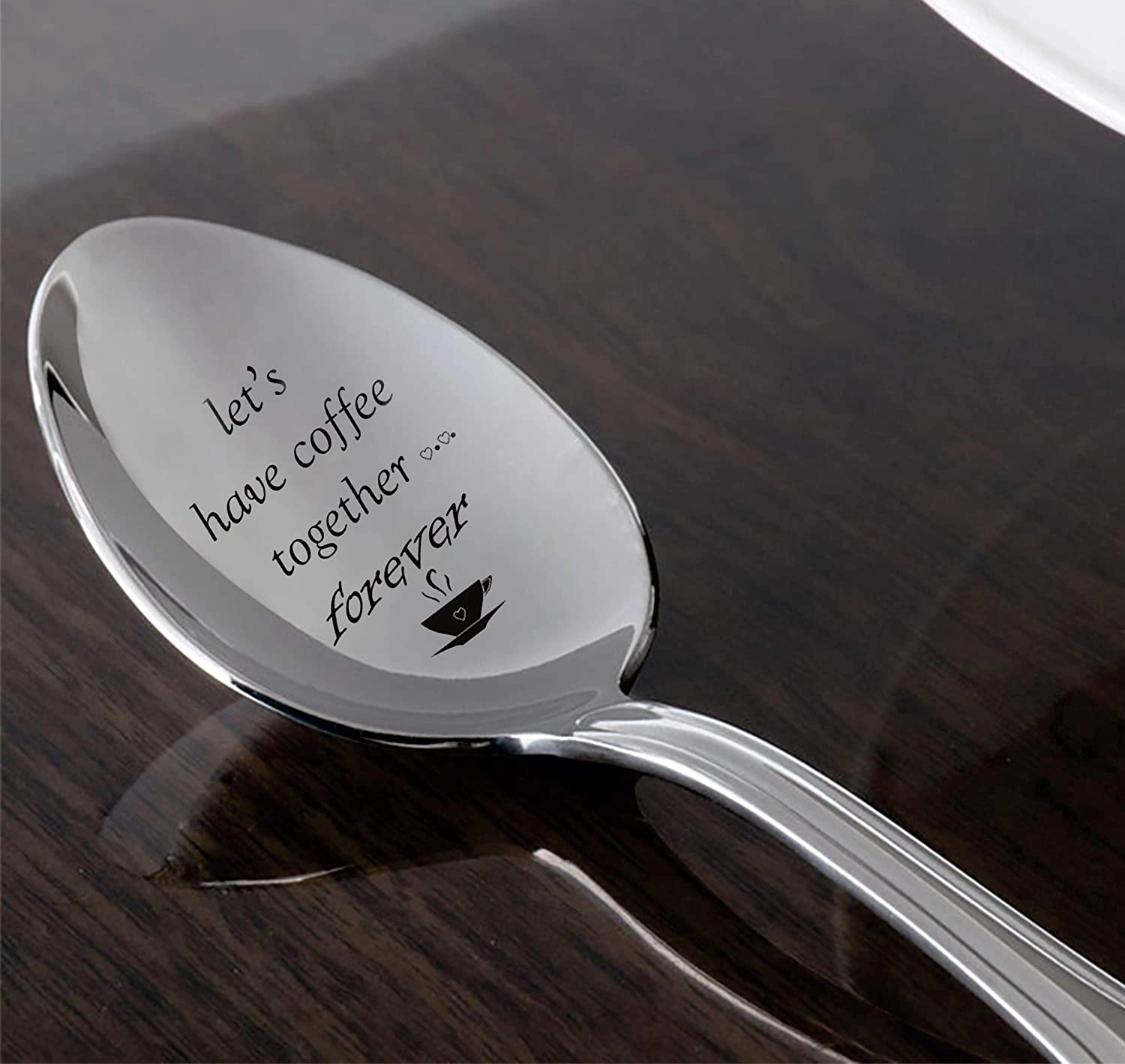 Credit: Amazon
If your man is a huge lover of coffee, this adorable, engraved coffee spoon is perfect. Why? Because it's combining his two favorite things: coffee and you. Let him know that you plan to share a coffee every morning.
It's a promise of commitment, a tiny little token of affection that means a lot in the long run.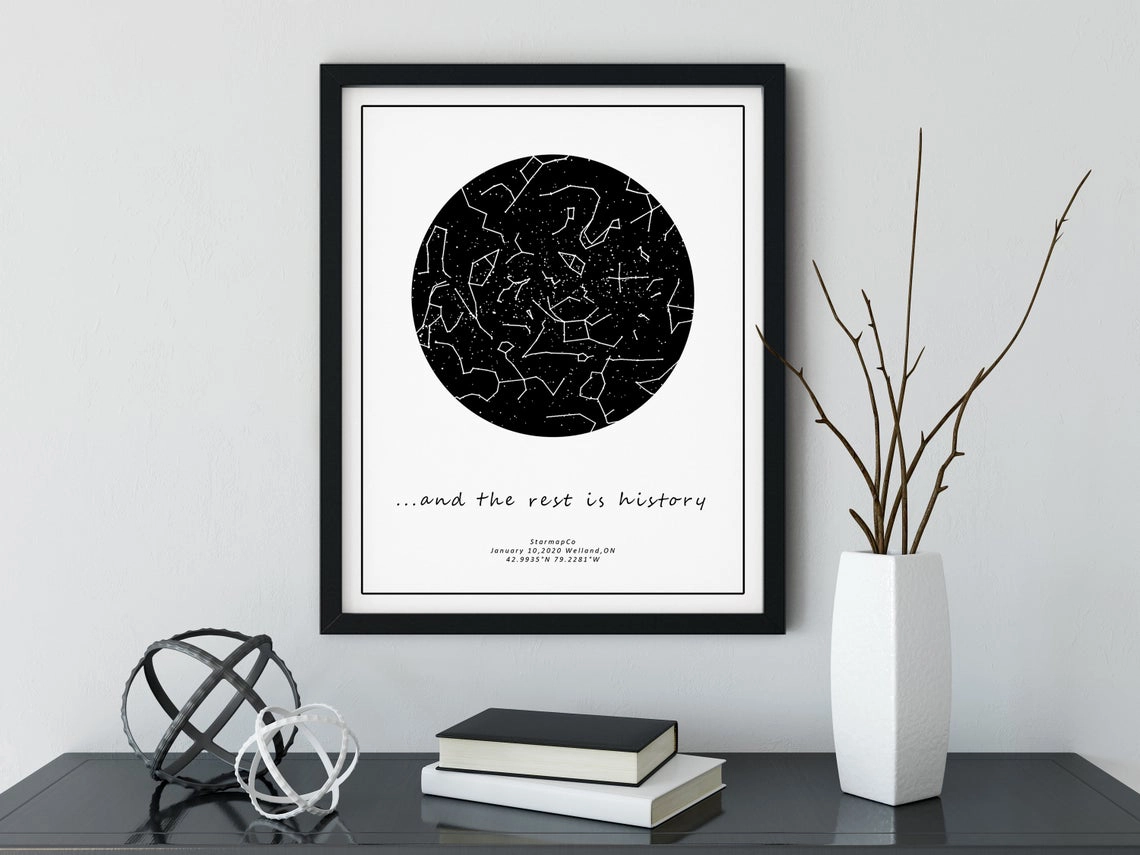 Credit: Etsy
Whether it's the moment you first met, your first kiss, or your wedding ceremony, you can choose to commemorate a core moment in your life with this personalized star map poster.
The map represents how the night sky looked at that crucial moment. It's the ultimate way to freeze that moment in time, look back on it, and use it as a positive memory for the future.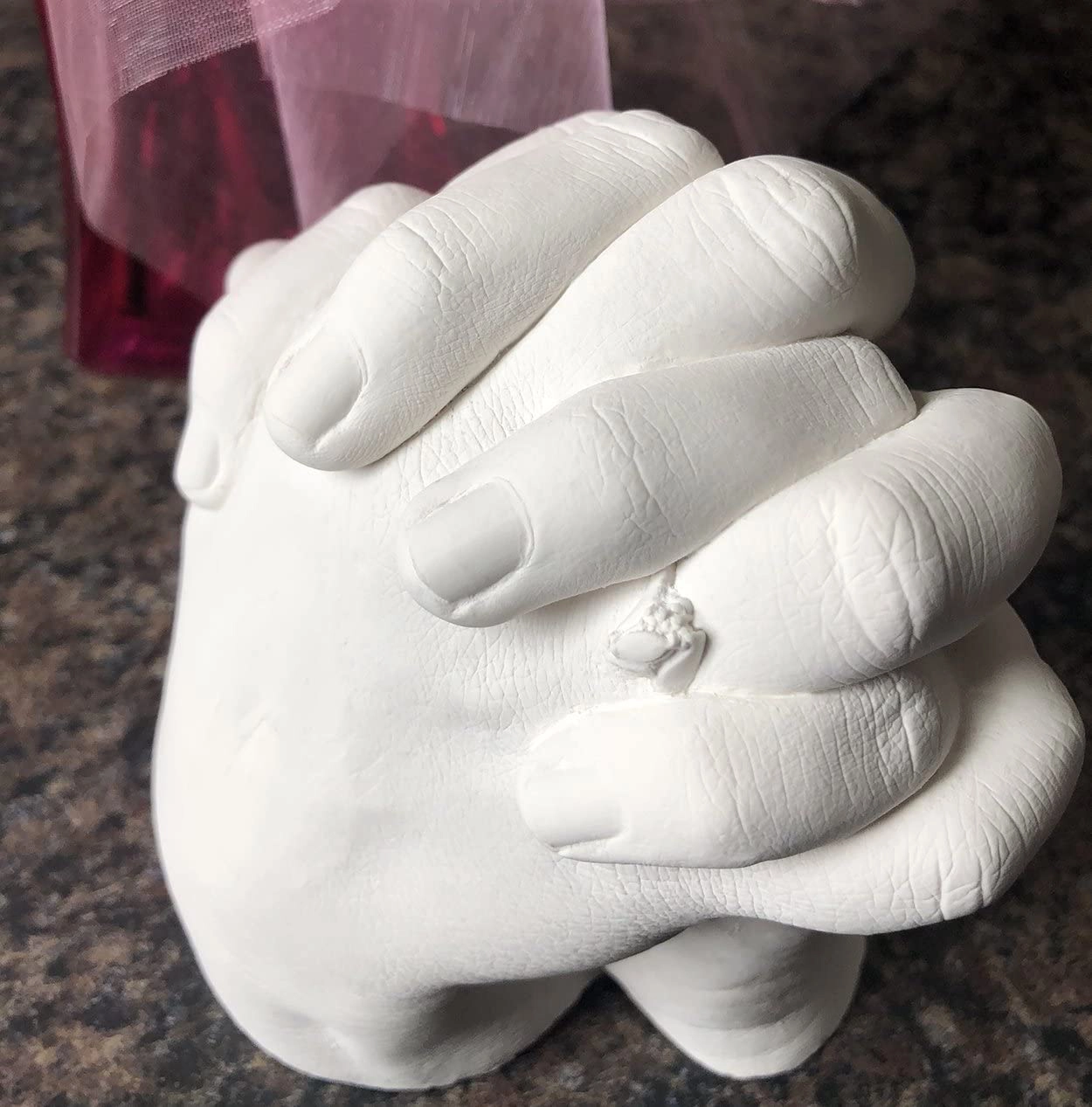 Credit: Amazon
I've mentioned this in other gift guides before, and I keep saying it because of how sweet and romantic it is. You're casting an image of you holding hands with your man in plaster to display. How cute!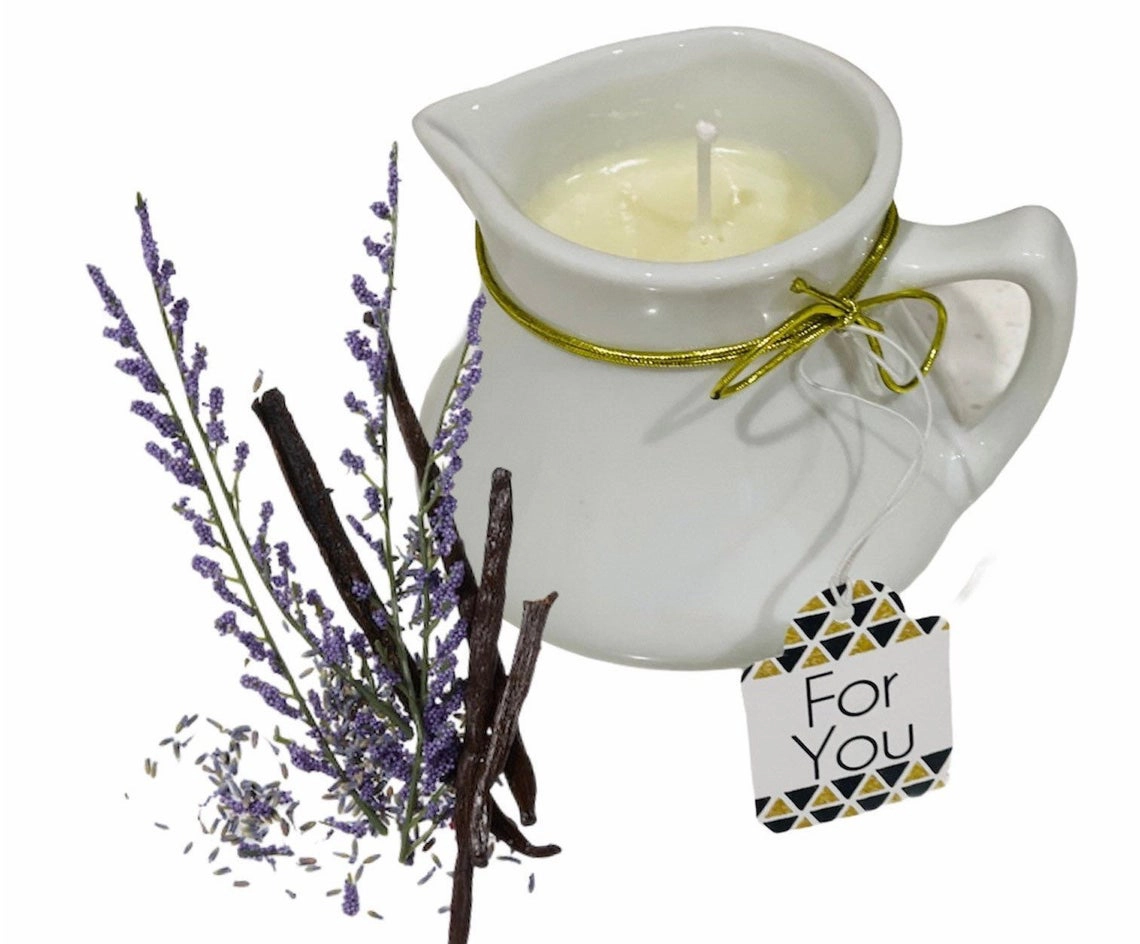 Credit: Etsy
Rather than your standard massage oil, this one is a little bit special. It doesn't come in liquid form. Instead, it's a wax that you have to melt by lighting the wick like a candle!
The hot temperature and delicious scent set the tone for a beautiful night spent together. Just make sure you're careful; this can burn if you don't let the oil cool slightly before use.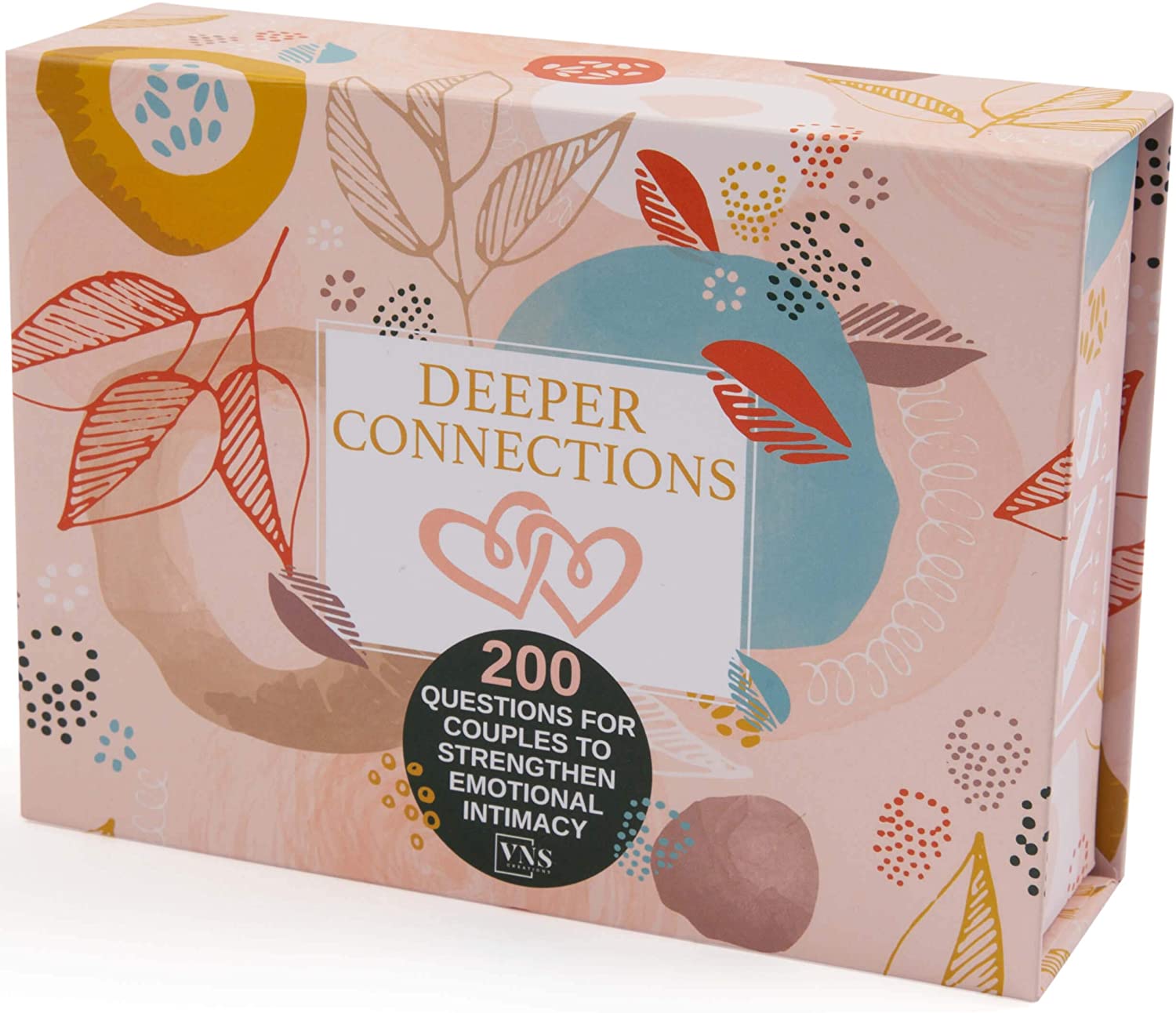 Credit: Amazon
This is another card game created specifically for couples, but this aims to foster intense emotional intimacy. Featuring two hundred questions to inspire deep conversation, this is one for date night.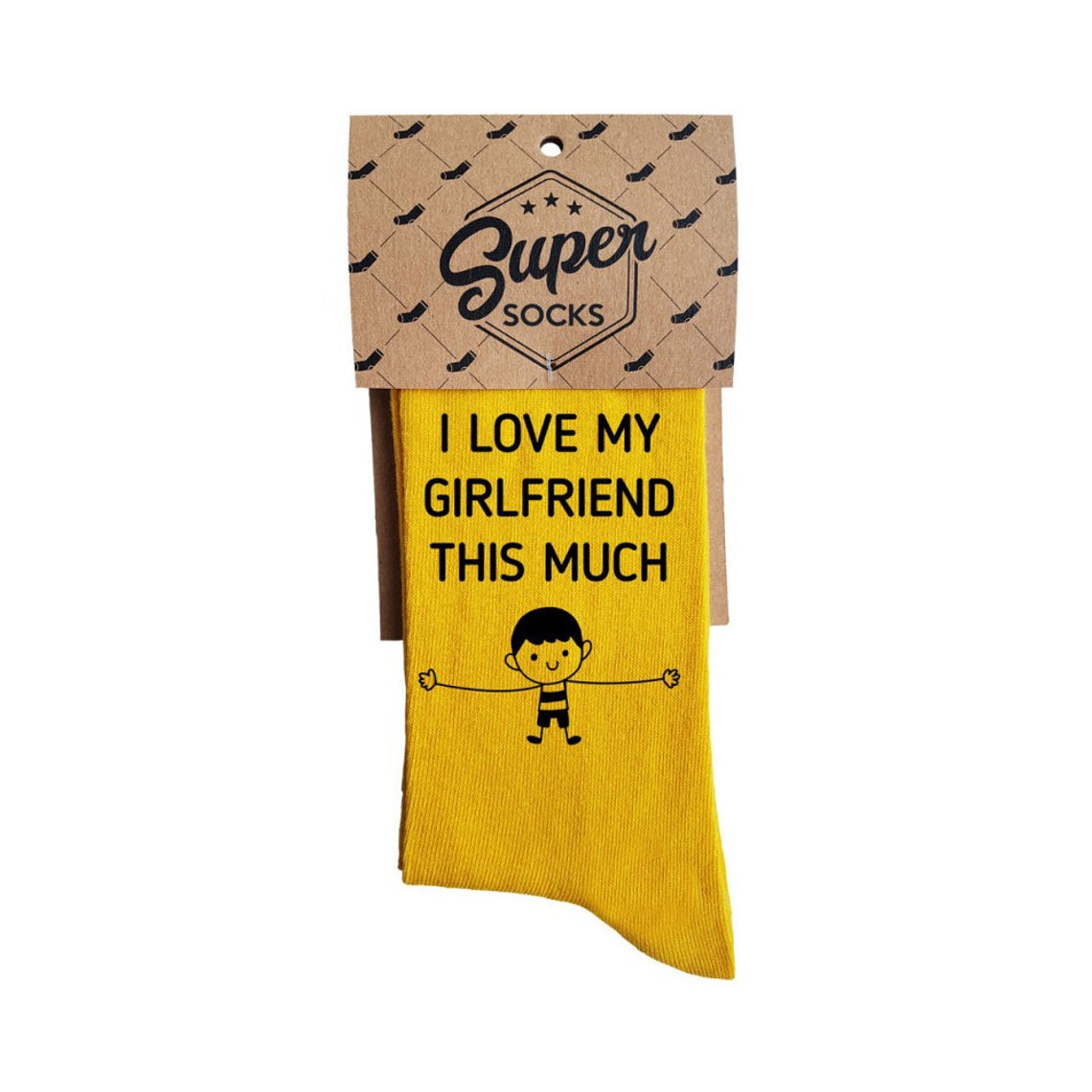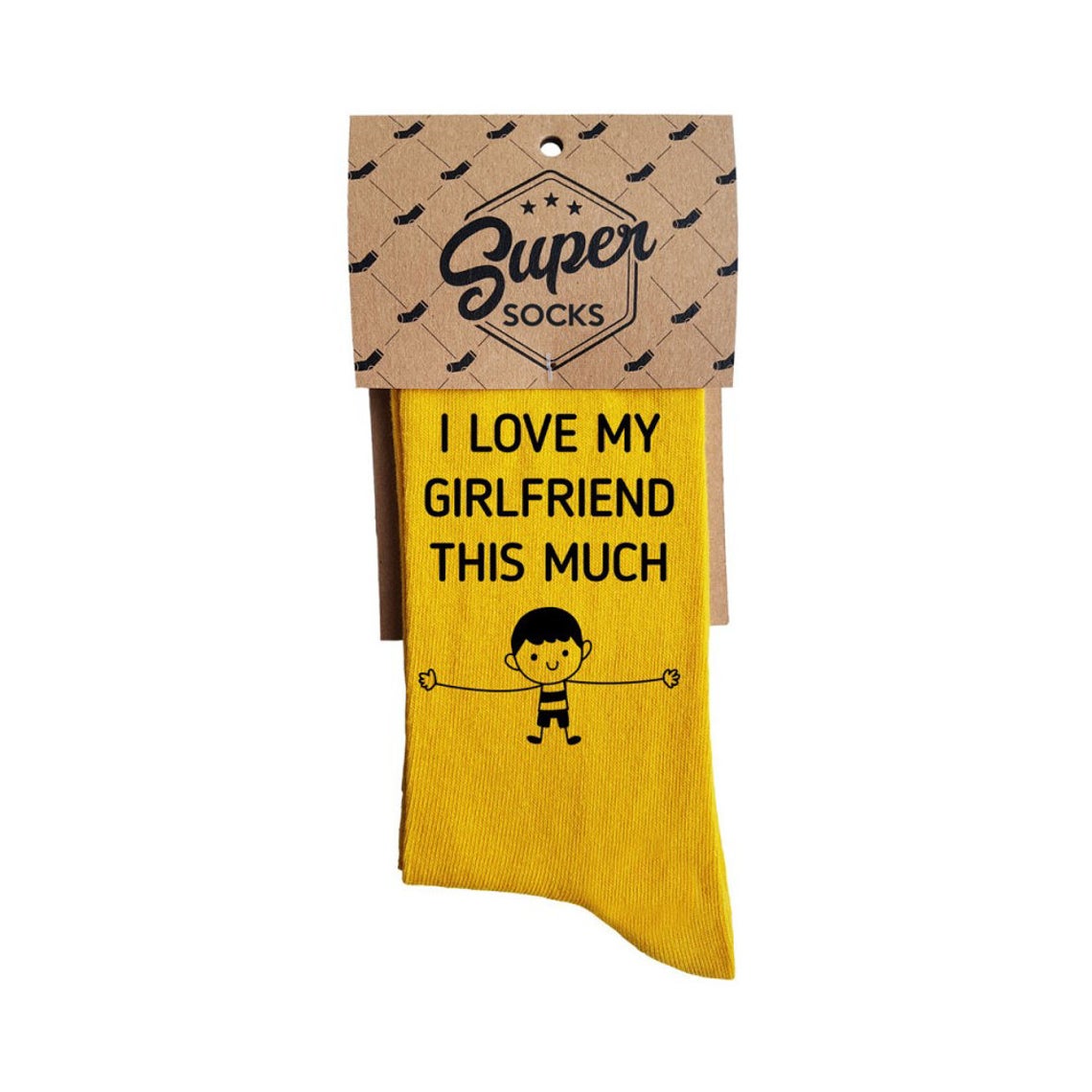 Credit: Etsy
Give him an adorable novelty gift that will give him a bit of a chuckle every time he pulls the socks on. Available in various colors, these sweet socks are a subtle way for him to carry his love out into the world.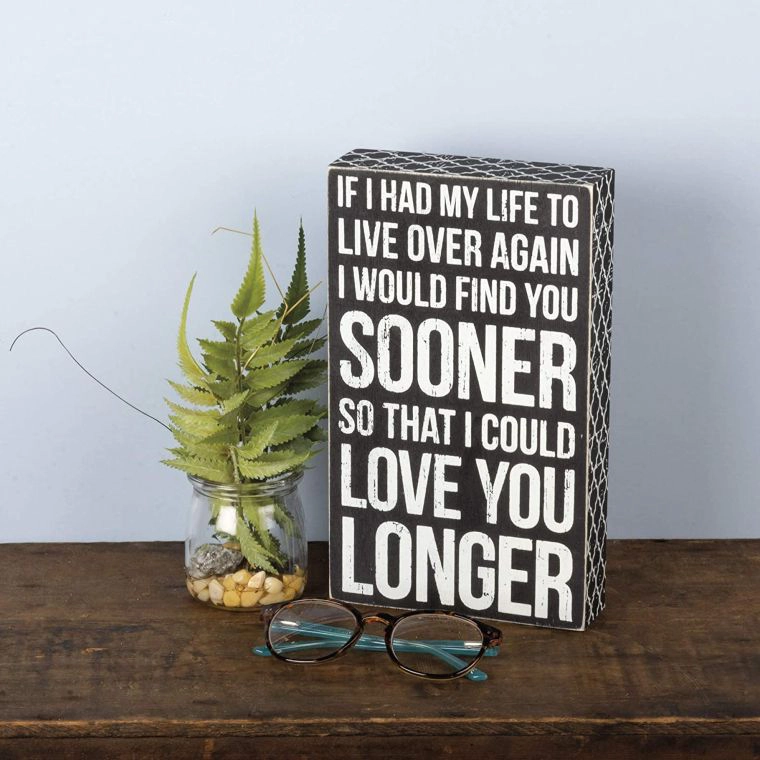 Credit: Amazon
The next gift on the list is less about giving him an item about letting him know how much you love him. The message on this sign is entirely heartfelt, and when displayed, it will remind him every day that…
"If I had my life over again, I would find you sooner so that I could love you longer."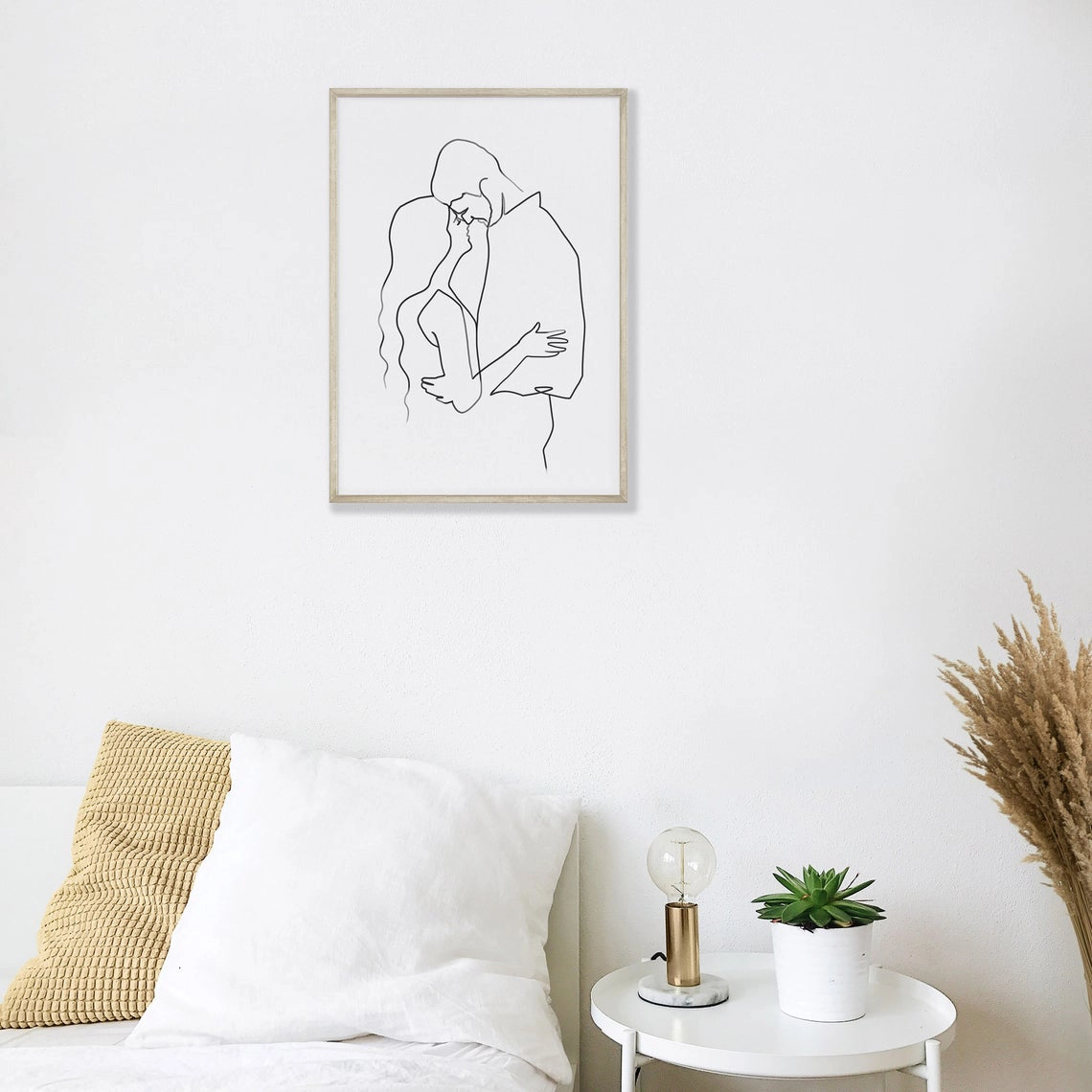 Credit: Etsy
This is another display item, but this time the gift is an image, not a phrase. This romantic couple line art is an attractive way to render your love for your man, drawing on minimalism to create an intimate portrait.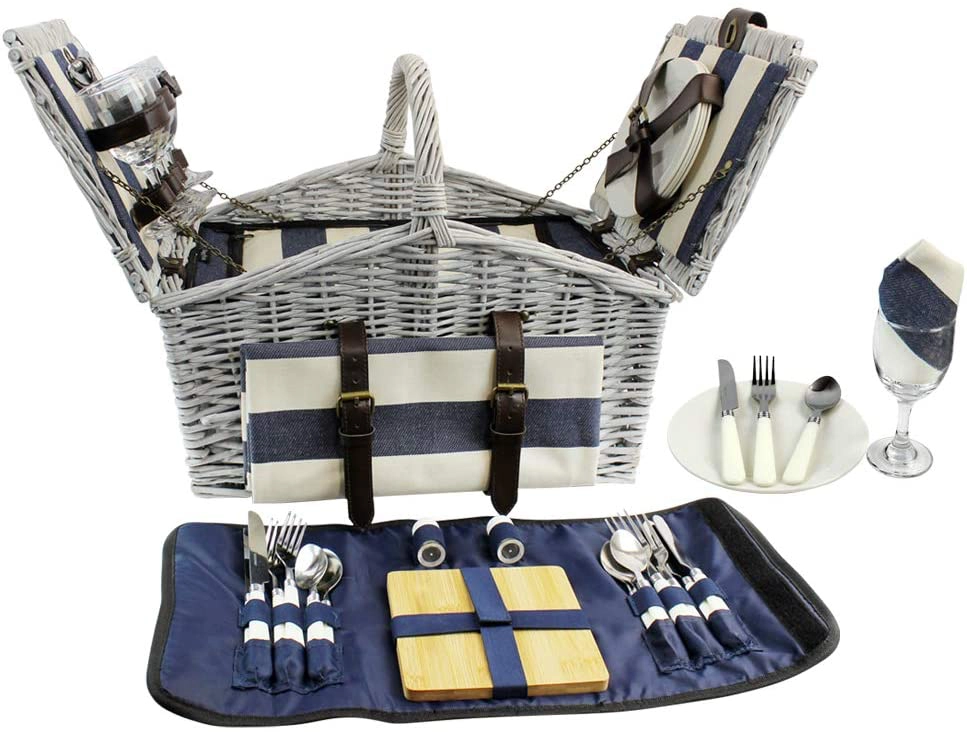 Credit: Amazon
What's more romantic than a picnic date? Nothing. So, the best way to have constant access to a picnic date is to gift your hubby this all-inclusive picnic hamper!
The first time you give it to him, fill it with all his favorite foods, then hop in the car and find a lovely, quiet spot outdoors in which to enjoy your feast.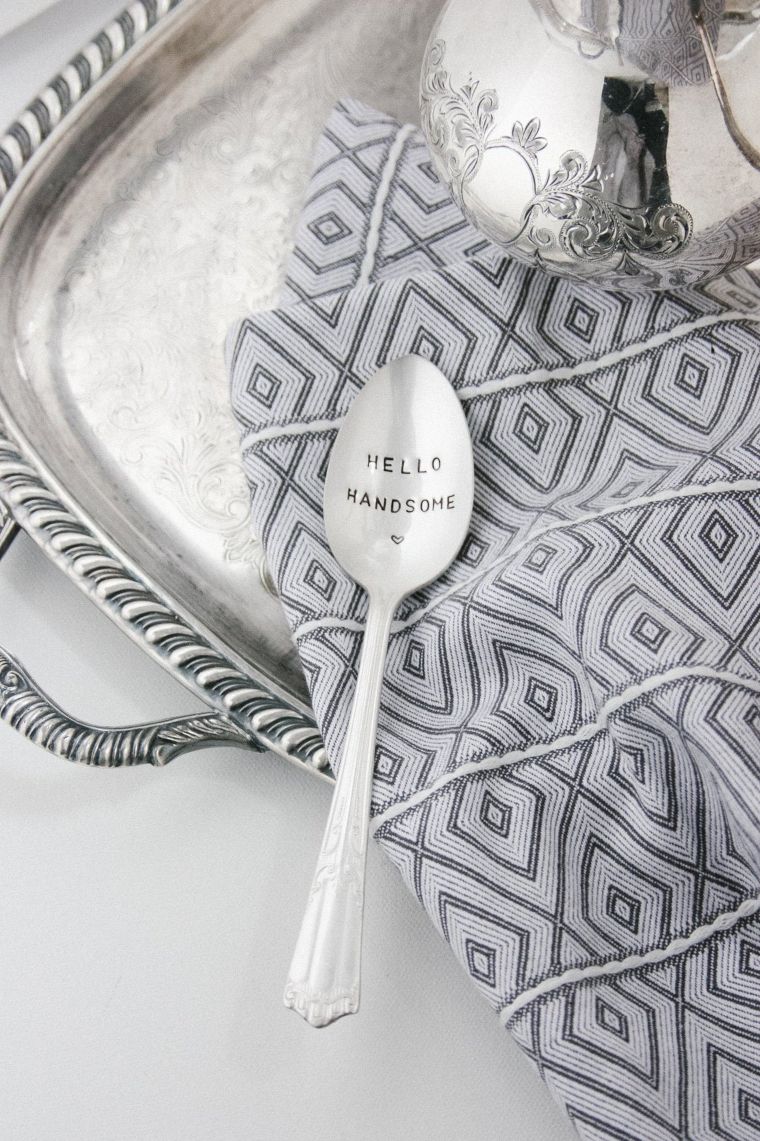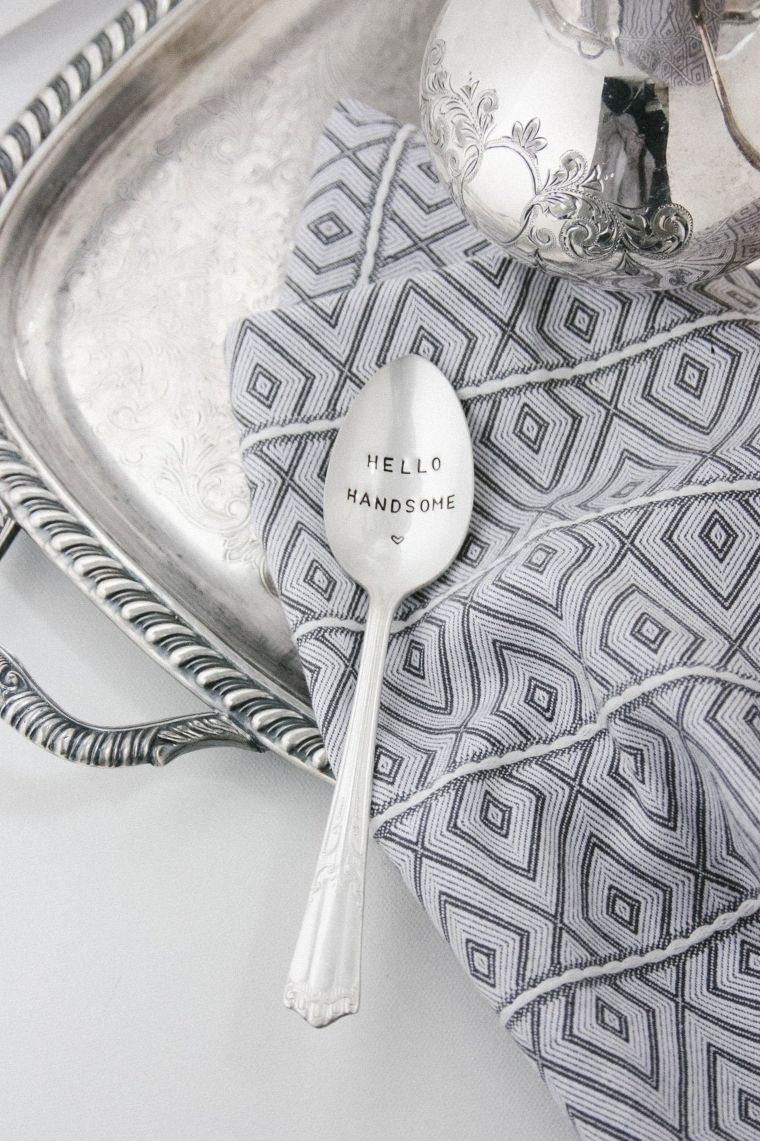 Credit: Etsy
Sometimes, it's the littlest things that hold the most romance. This stamped 'Hello Handsome' spoon is a sweet way to greet your man and tell him he's handsome every single morning, even if you're not there.
This silver-plated spoon is the perfect seed for an extensive silverware collection or as a small cherished item that he can eventually pass down to your little ones.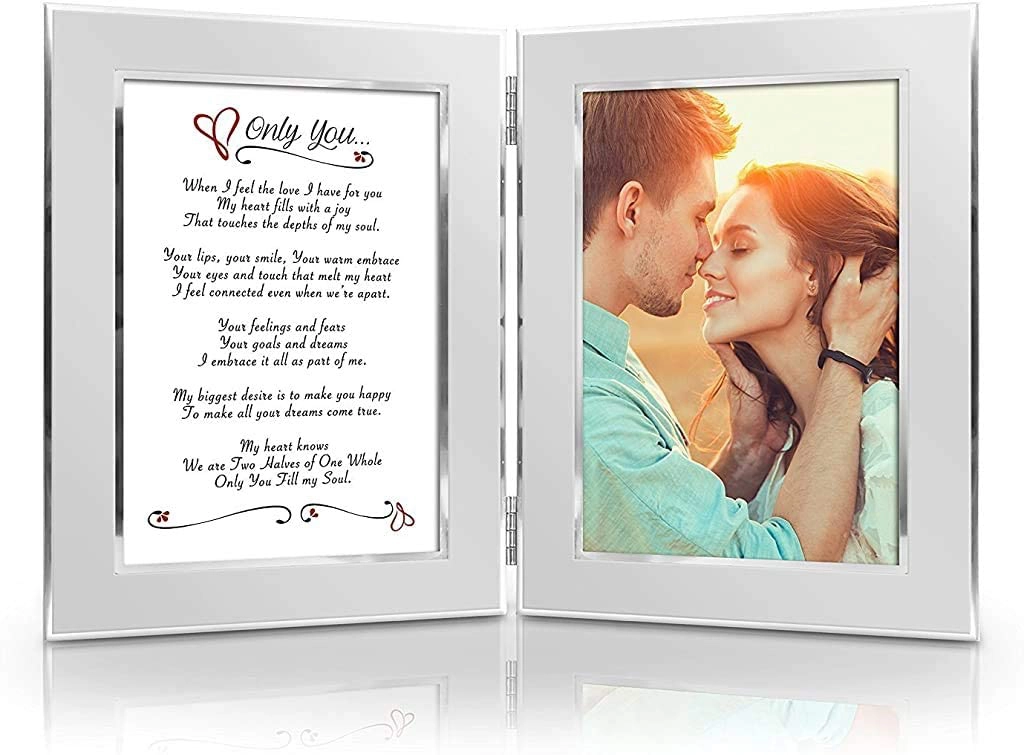 Credit: Amazon
When he's at his desk at work, wouldn't it be great if he could look over and see your face any time he wanted? Well, now he can, alongside your favorite poem to further punctuate the romance.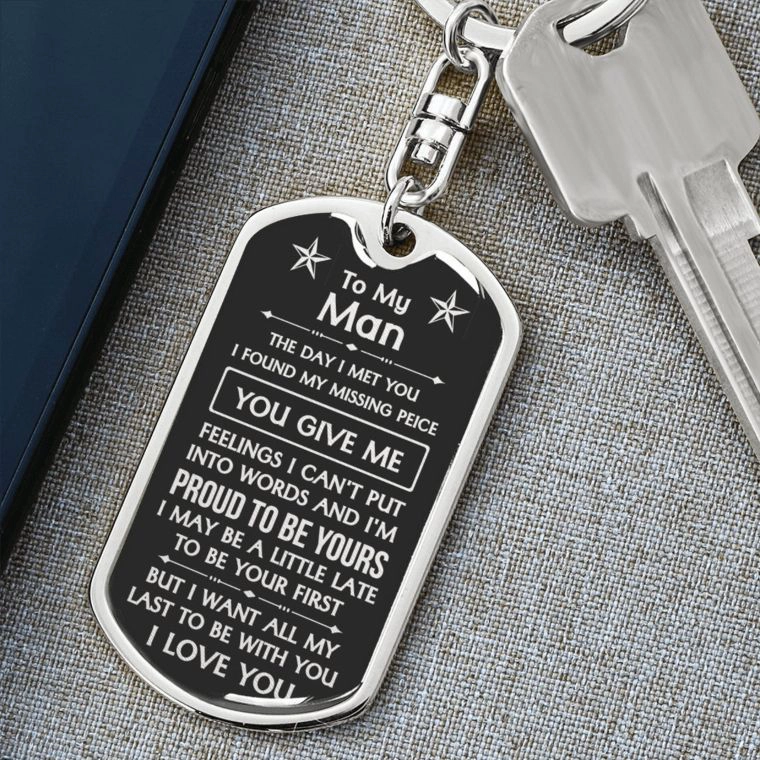 Credit: Etsy
Combining a masculine look with a romantic message, this keychain is another take on this oh-so-romantic accessory. It doesn't just have to be a keychain either.
He can attach it to his phone, a bag, or even an article of clothing if he so desires.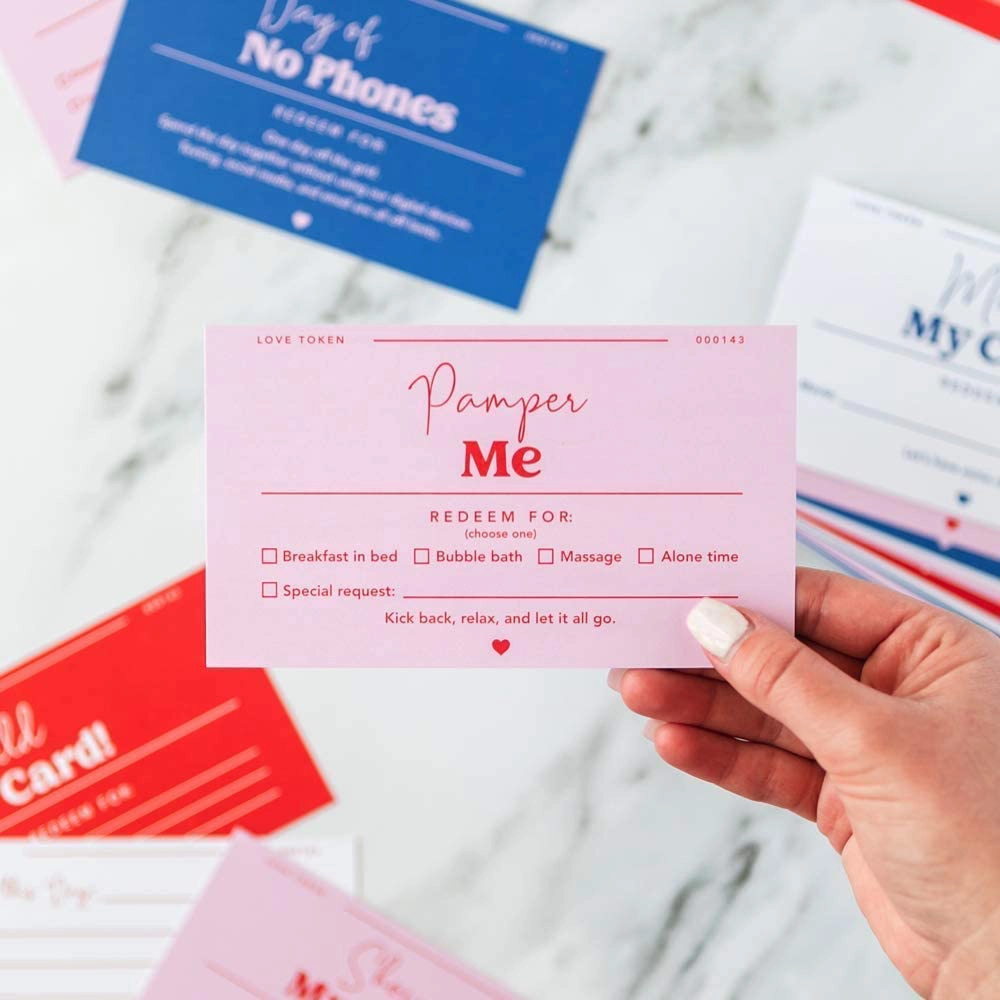 Credit: Amazon
Featuring many different creative coupon ideas, this love coupon book offers you the chance to create so many new memories. From pampering to date nights, everything you can think of shows up.
Once you've completed the task, you and your hubby can sit down to record your memories of the day and hang onto them. Create a photo album, frame them, or keep them to go over years down the line.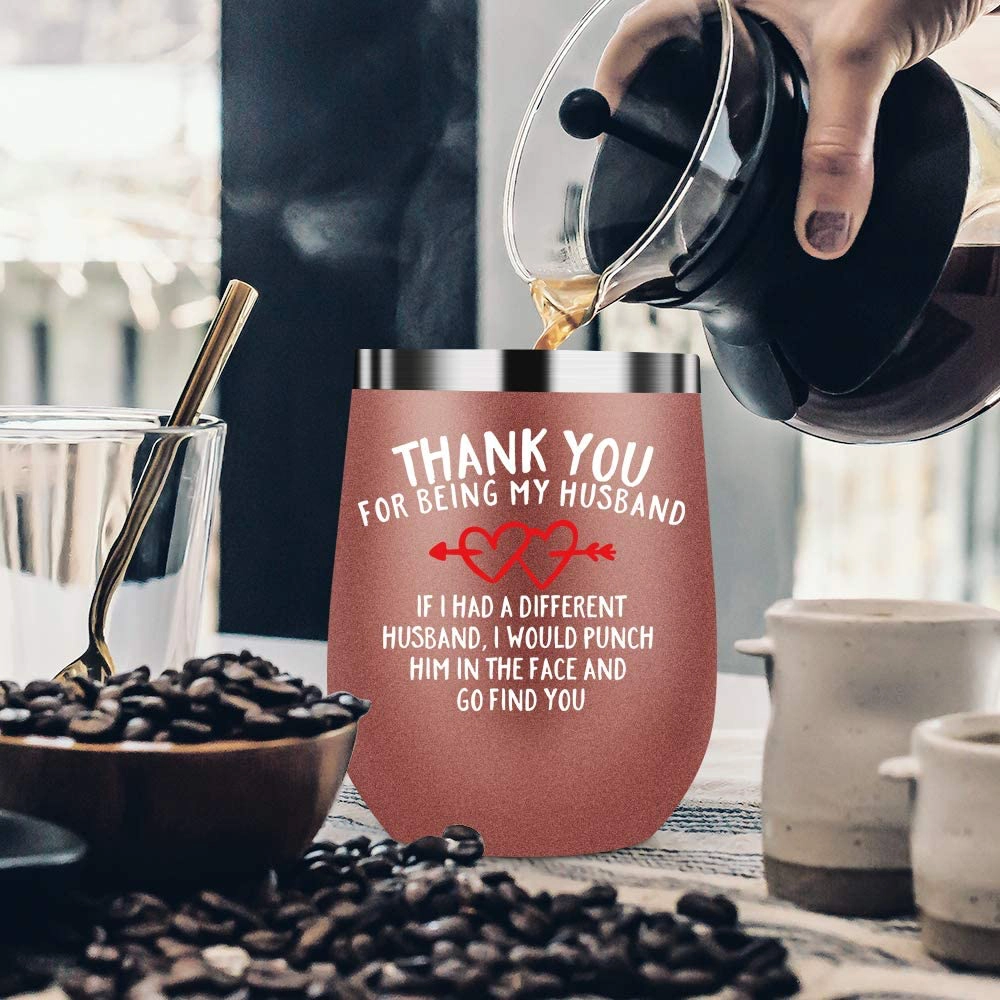 Credit: Amazon
If your husband has a bit of a sense of humor, then you know he'll appreciate this tumbler and use it every day. The sentiment rendered on the side is funny and romantic, and the tumbler itself is super practical!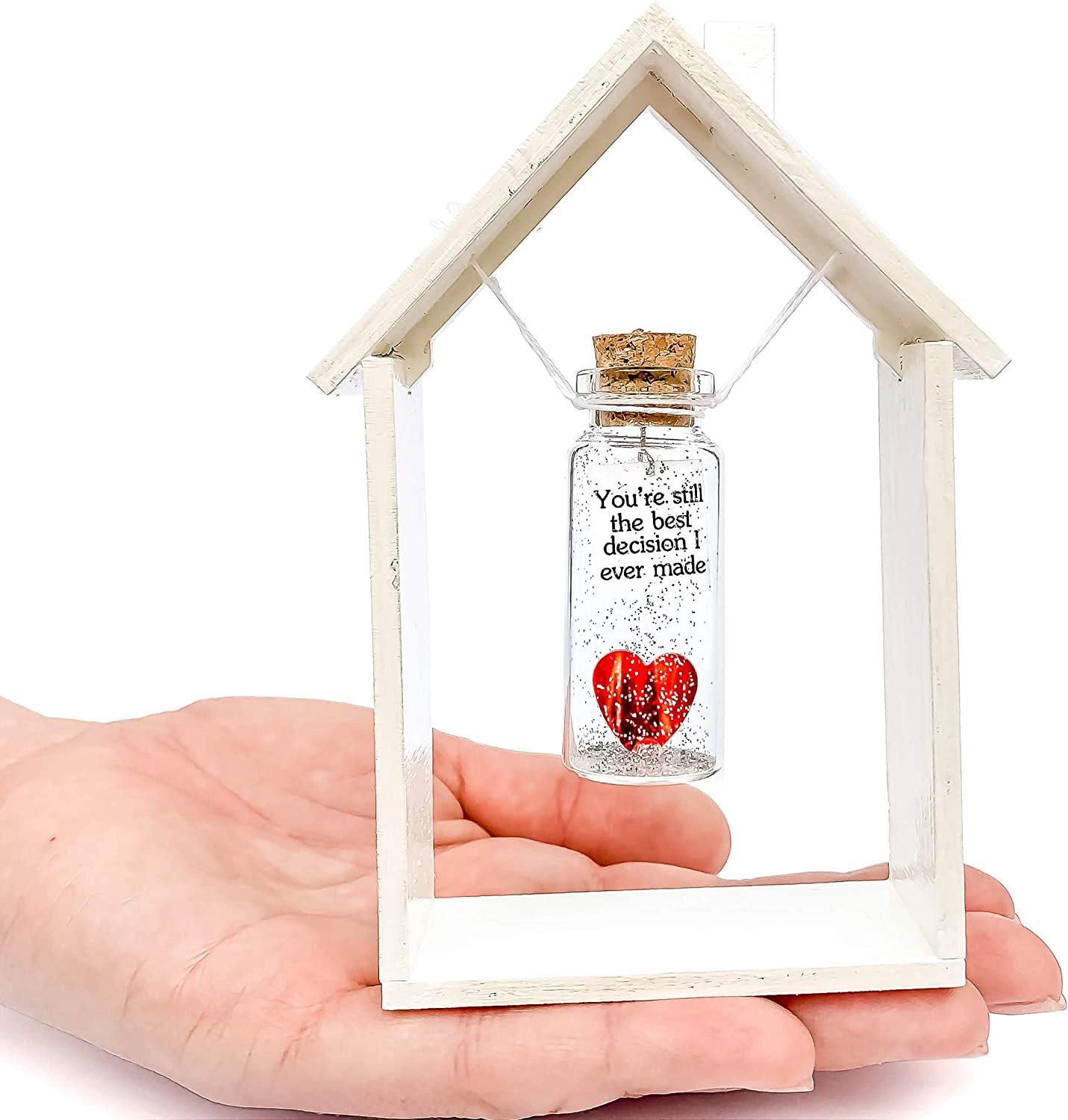 Credit: Amazon
This next gift is a thoughtful way to let your man know you love him with all your heart, in the way that sailors have been doing it for centuries… with a message in a bottle.
A tiny bottle with your message and a heart hangs from a small wooden house, perfect for sitting on his nightstand or his desk at work. This is an elegant piece of décor that he can appreciate on any surface.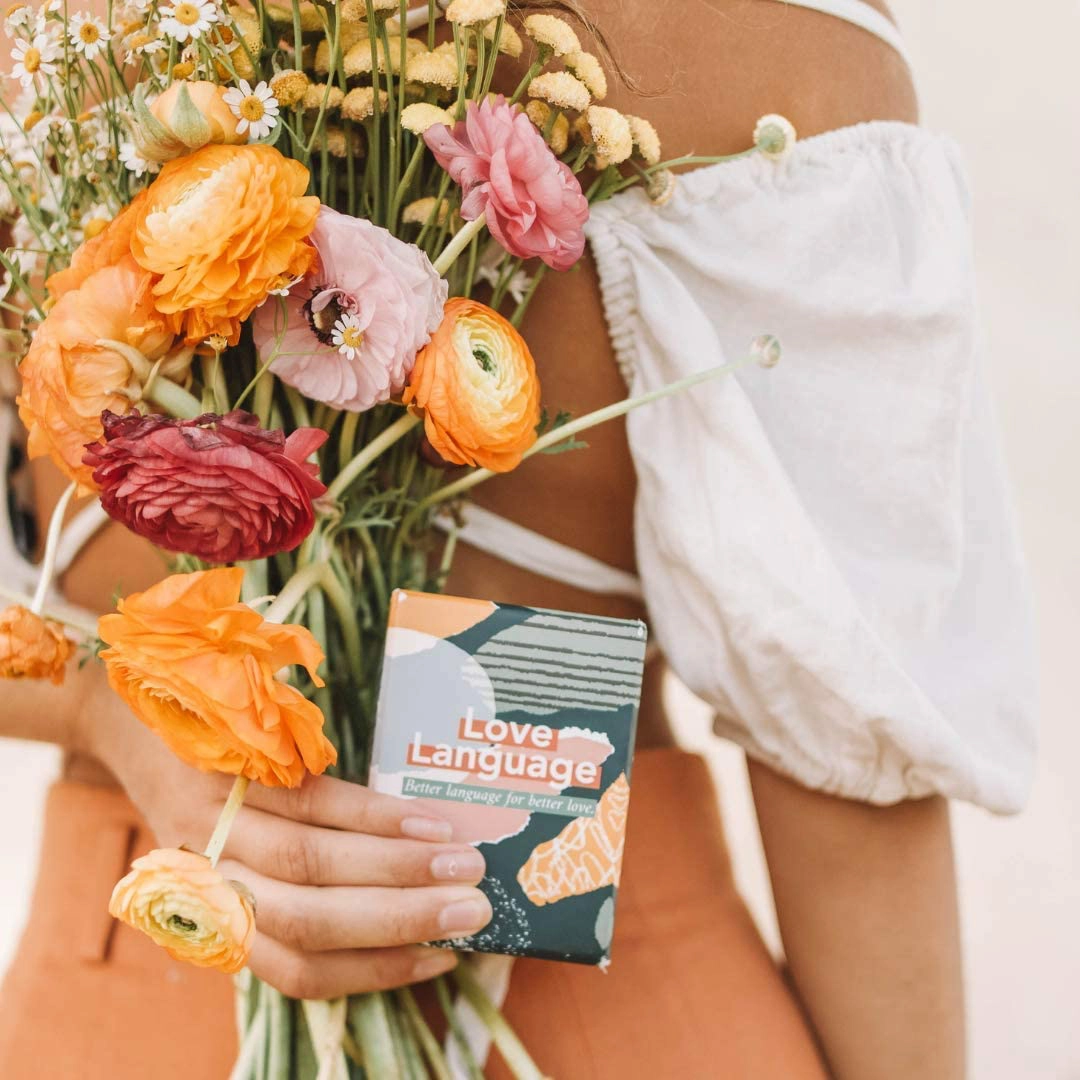 Credit: Amazon
If you and your man haven't taken the Love Language test yet, I highly recommend it! Knowing how your partner expresses love and how they like it described to them is invaluable in a relationship.
Once you know your Love Language, whip out these conversation starters and make a serious effort to deepen your understanding of one another.
With any luck, you'll come out of the conversation with more ways to show your man how much you love and appreciate him!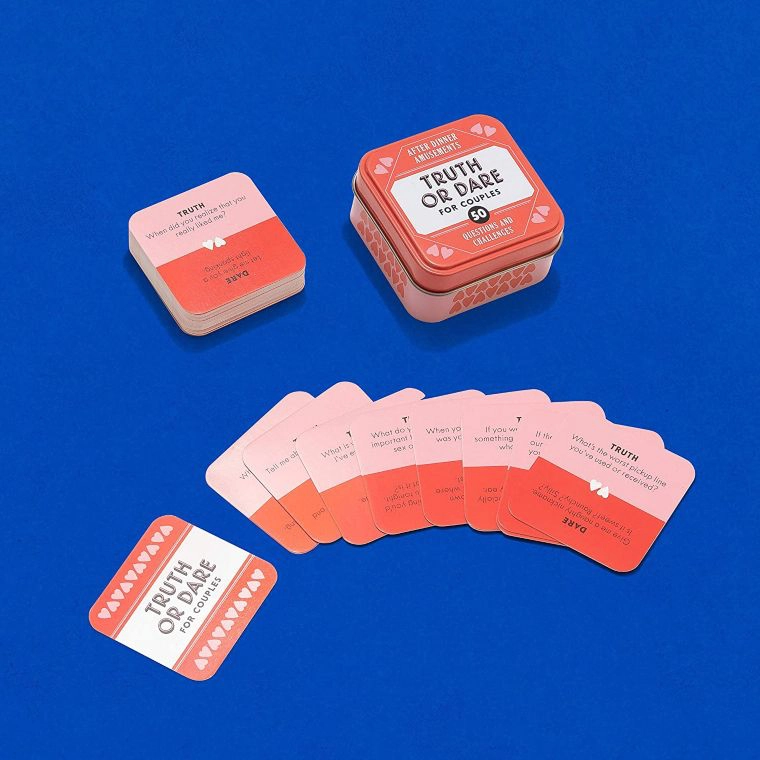 Credit: Amazon
The next gift on our list follows a similar trend to the previous one, but instead of being concerned with love languages, it's a little more concerned with the bedroom.
Present these to your man and play along for a night of raunchy fun. They're perfect for livening up a date night or playing on an anniversary!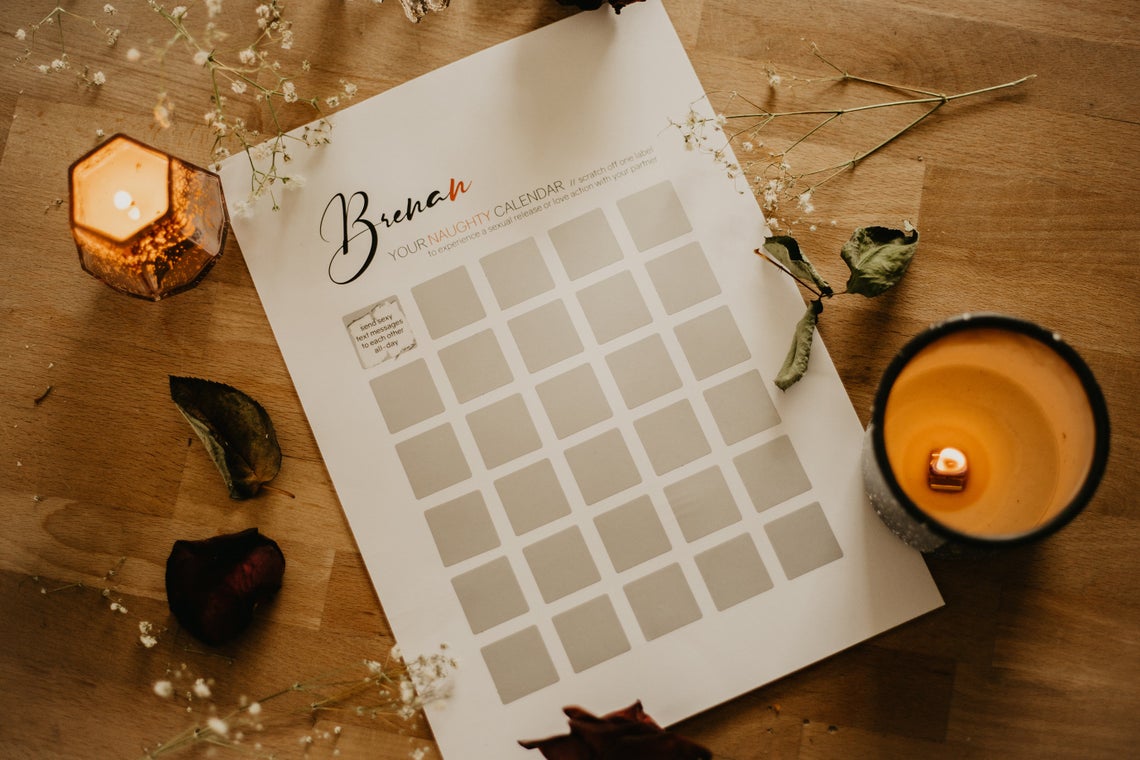 Credit: Etsy
Speaking of naughty gifts, this is an inspired gift idea that will have your hubby grinning from ear to ear immediately. There are thirty scratch-off squares on the calendar, enough for one whole month of fun.
Treat it like an advent calendar and cross one off every day or give your man free reign on how often the squares get scratched off. No matter how you do it, I guarantee you'll make some memories with this one.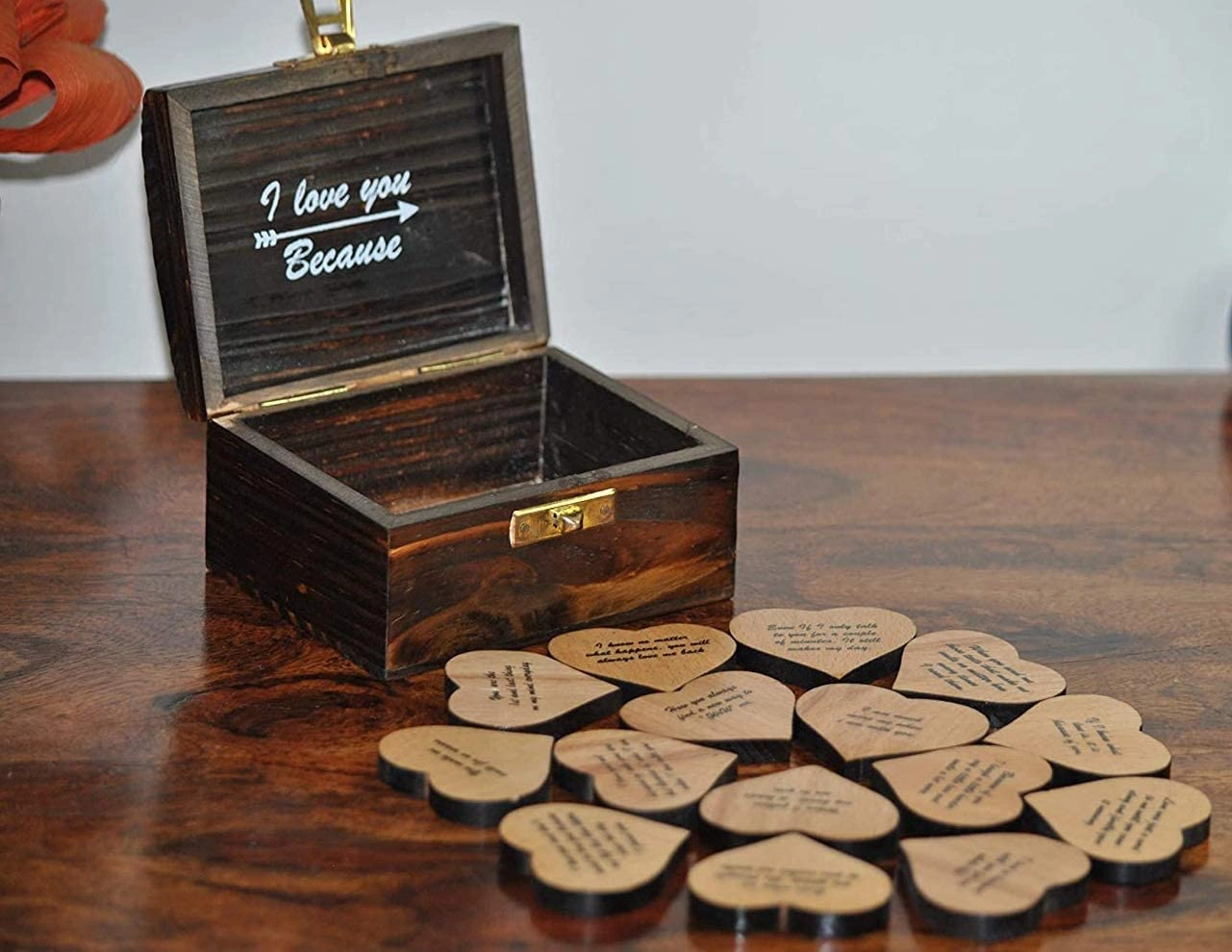 Credit: Amazon
Let's take a hard turn back into the romantic gifts! This wooden box is filled with fifteen wooden hearts, each stamped with a unique way to tell your man you love him.
Having this on his nightstand presents a lovely way for him to wake up each morning. He can pick one outright once he wakes up, setting a positive tone for his day.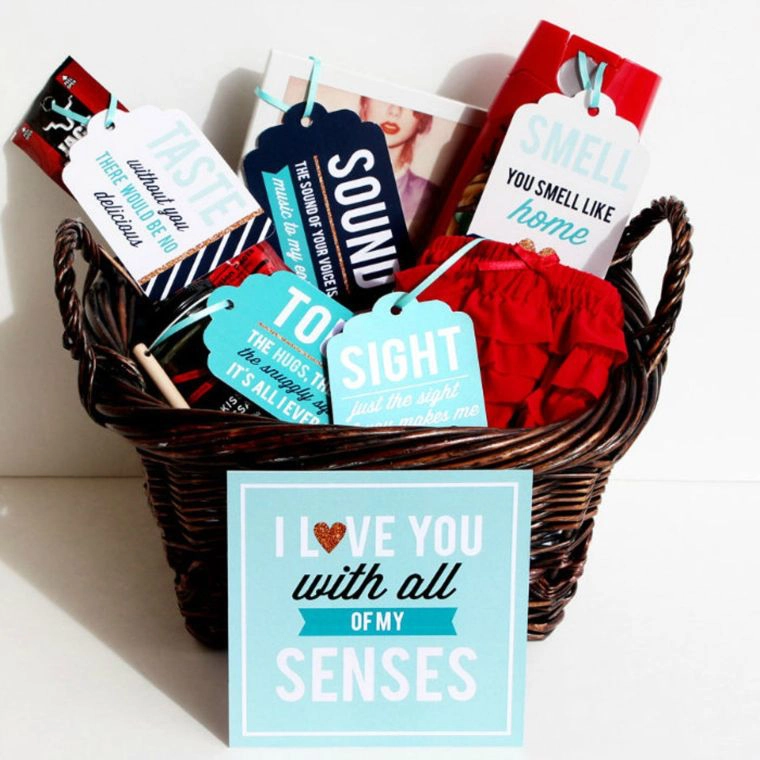 Credit: Etsy
In my opinion, you can never go wrong with a gift box. This one indulges all five of your man's senses, giving him something to touch, taste, smell, hear and see.
The catch is, this gift box comes with the basket and the sense tags, but it's up to you to fill it with all his favorite sensory experiences.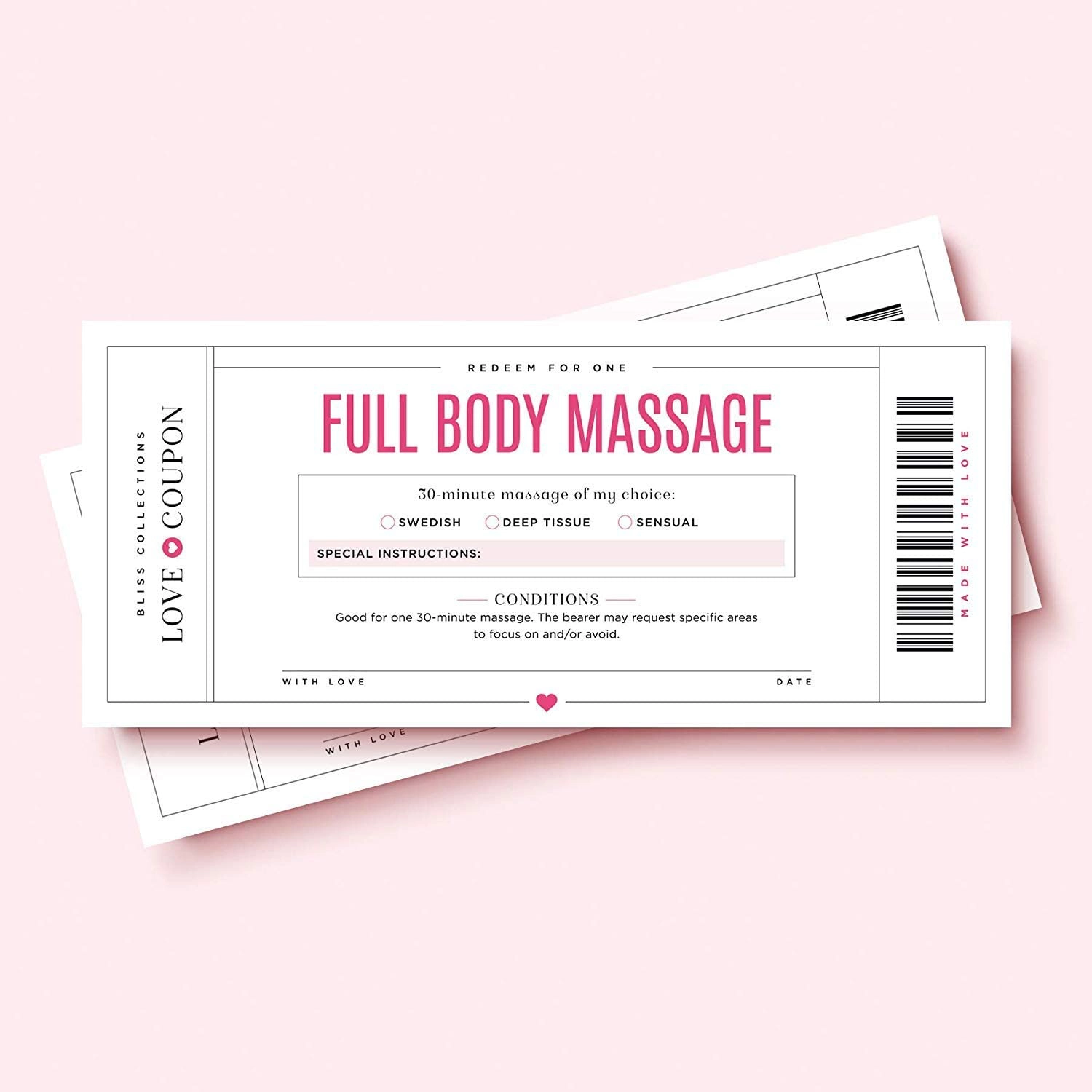 Credit: Amazon
This is another take on the coupon idea, but this time, the coupons span everything from doing chores to an entire 'Yes Day' that you can grant your man.
Watch out. There's also a 'Victory' card in there so he can win the latest argument!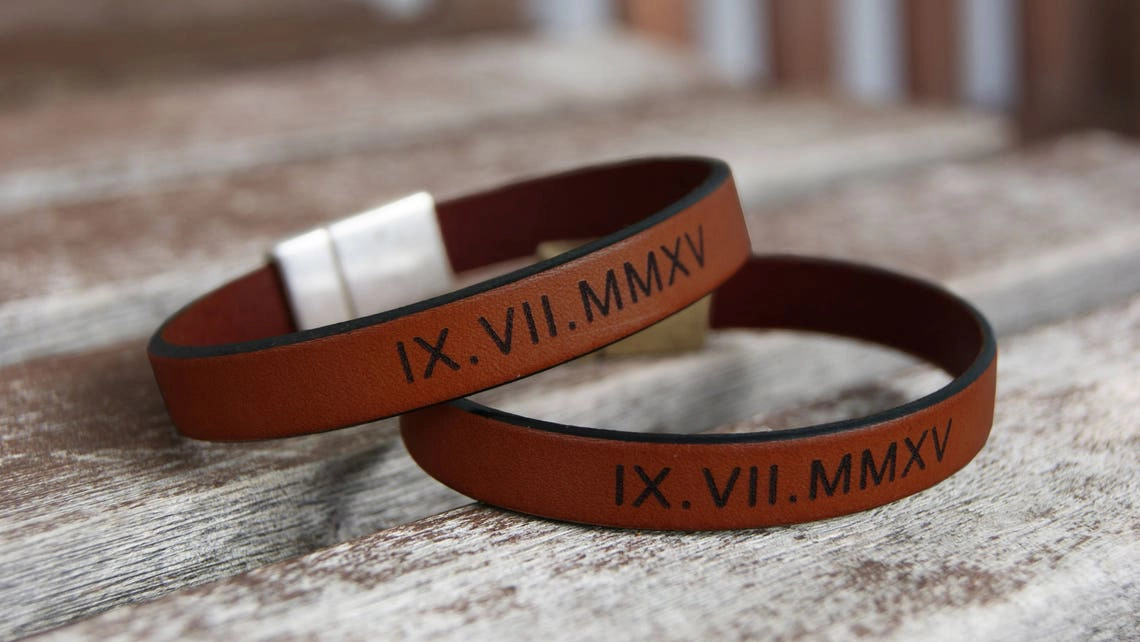 Credit: Etsy
What's better than one customized leather bracelet? Two, of course! Share an accessory in common with your man and step out feeling connected without doing something as extreme as wearing the same outfit.
These quality leather bracelets can have anything monogrammed into them, so think hard about a vital phrase or date you want to commemorate.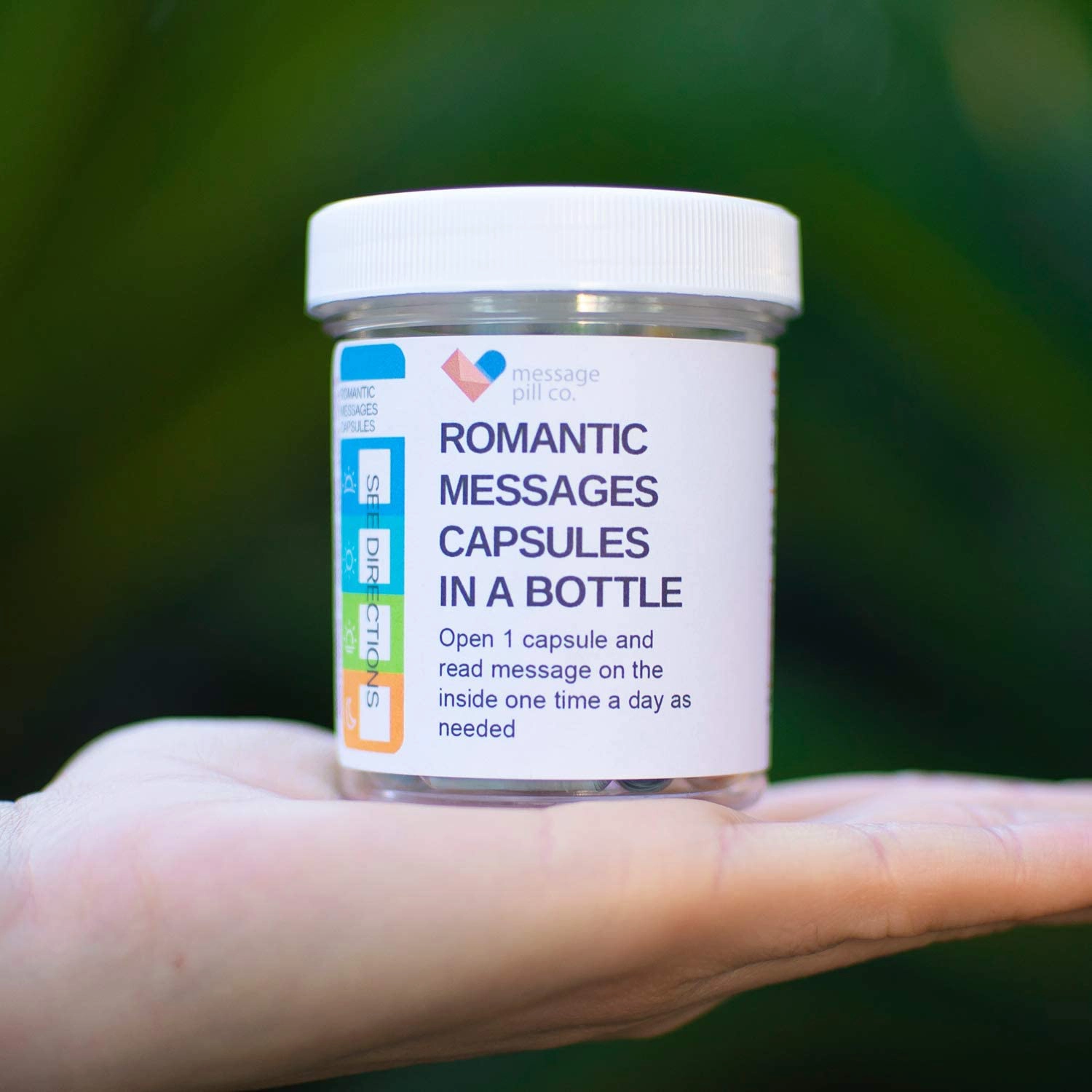 Credit: Amazon
Next up, this gift is perfect for these modern times, where many couples find themselves socially distancing to keep safe. This bottle of capsules contains many pre-written messages of love for your man.
Send the bottle his way, and every single morning, he can wake up and open a capsule to get a lovely, heartfelt message from you.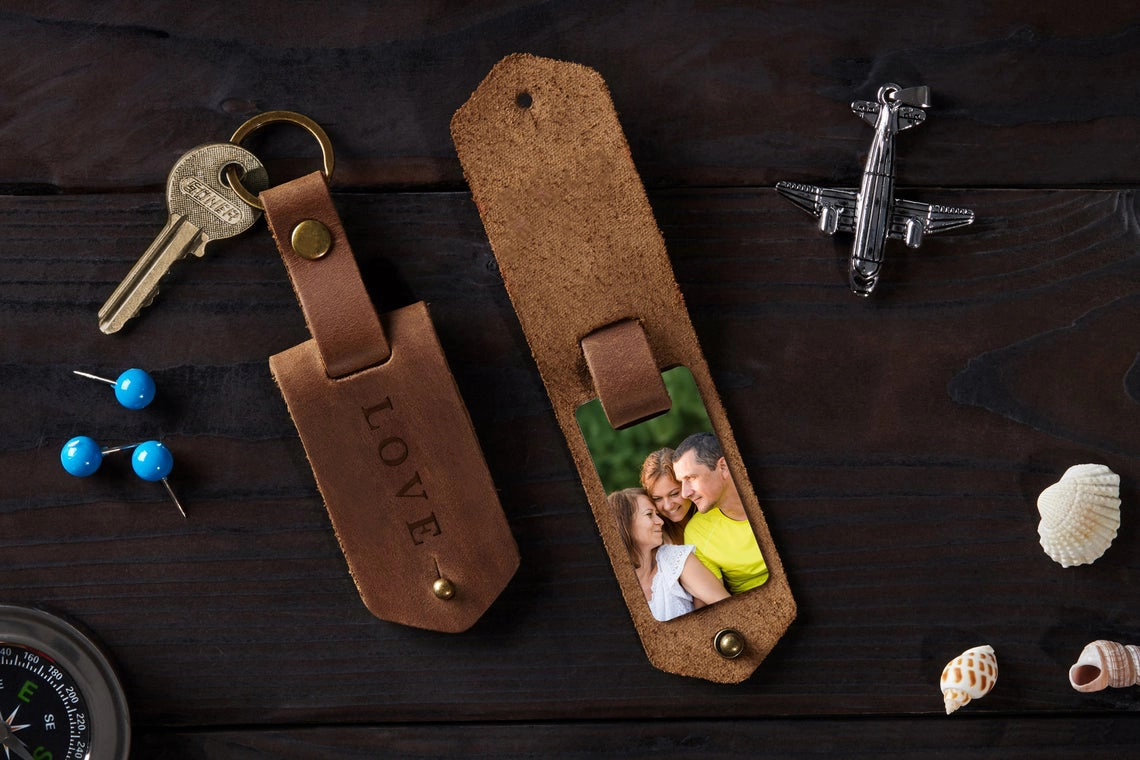 Credit: Etsy
If there's anything better than a standard keychain, it can carry memories with you wherever you go. Give your husband or boyfriend the gift of your favorite photo hanging from his keys.
Even better, that photo will be wrapped up in an elegant leather exterior and monogrammed with his initials. It's an incredibly refined gift for a man who appreciates the simpler things in life.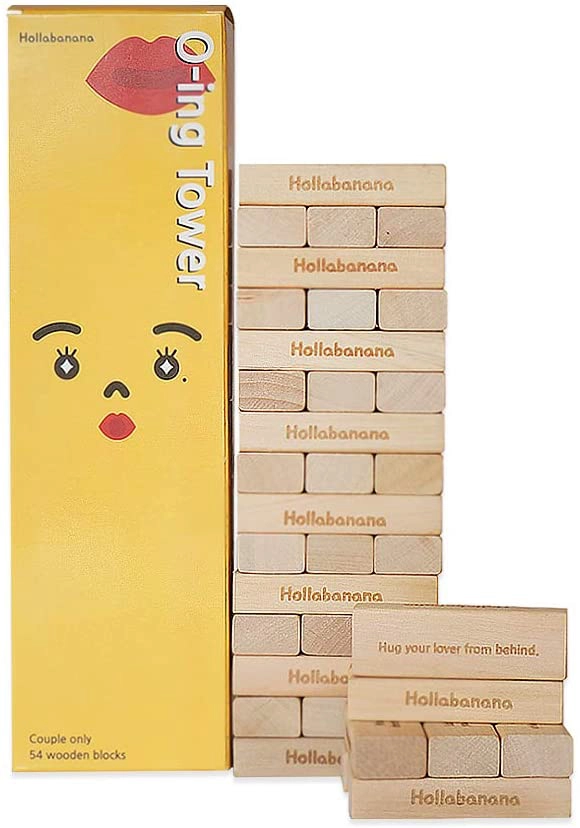 Credit: Amazon
Let's do a complete 180-degree turn to the O-ing Tower, a game of truth or dare that's just a little bit…naughty. This is a game for couples looking to make their date night a little more special.
Each block has truth or a dare printed on it, so your only job is to draw them from the tower and then complete the challenge on the block. Whoever knocks the tower over has to perform the 'penalty.
My suggestion? Make the penalty something enjoyable for your man, then knock the tower over on purpose. That will make his night.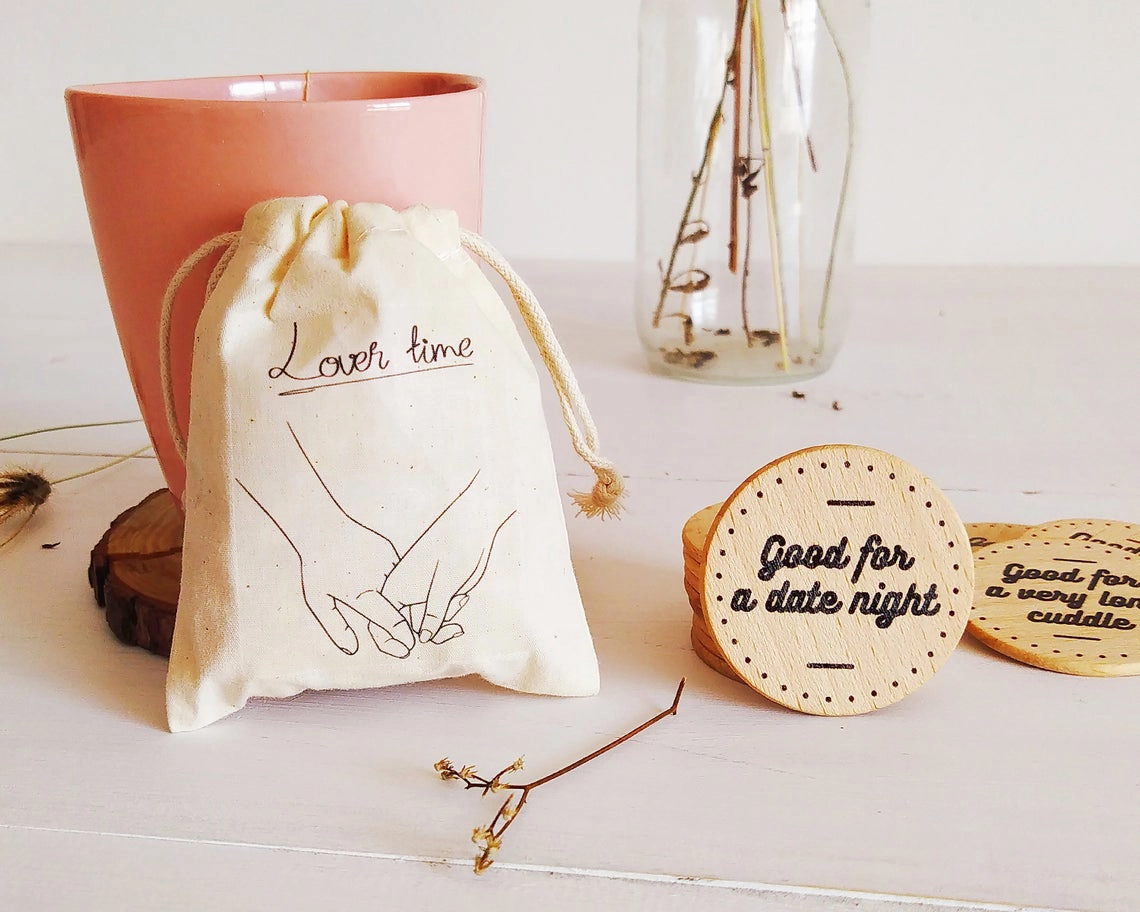 Credit: Etsy
Next up is another coupon-style idea, but this time, it's a jar of wooden coupon discs. Put this on his nightstand as a surprise! Each disc sports a different wholesome activity, such as a 'big hug' or 'breakfast in bed.'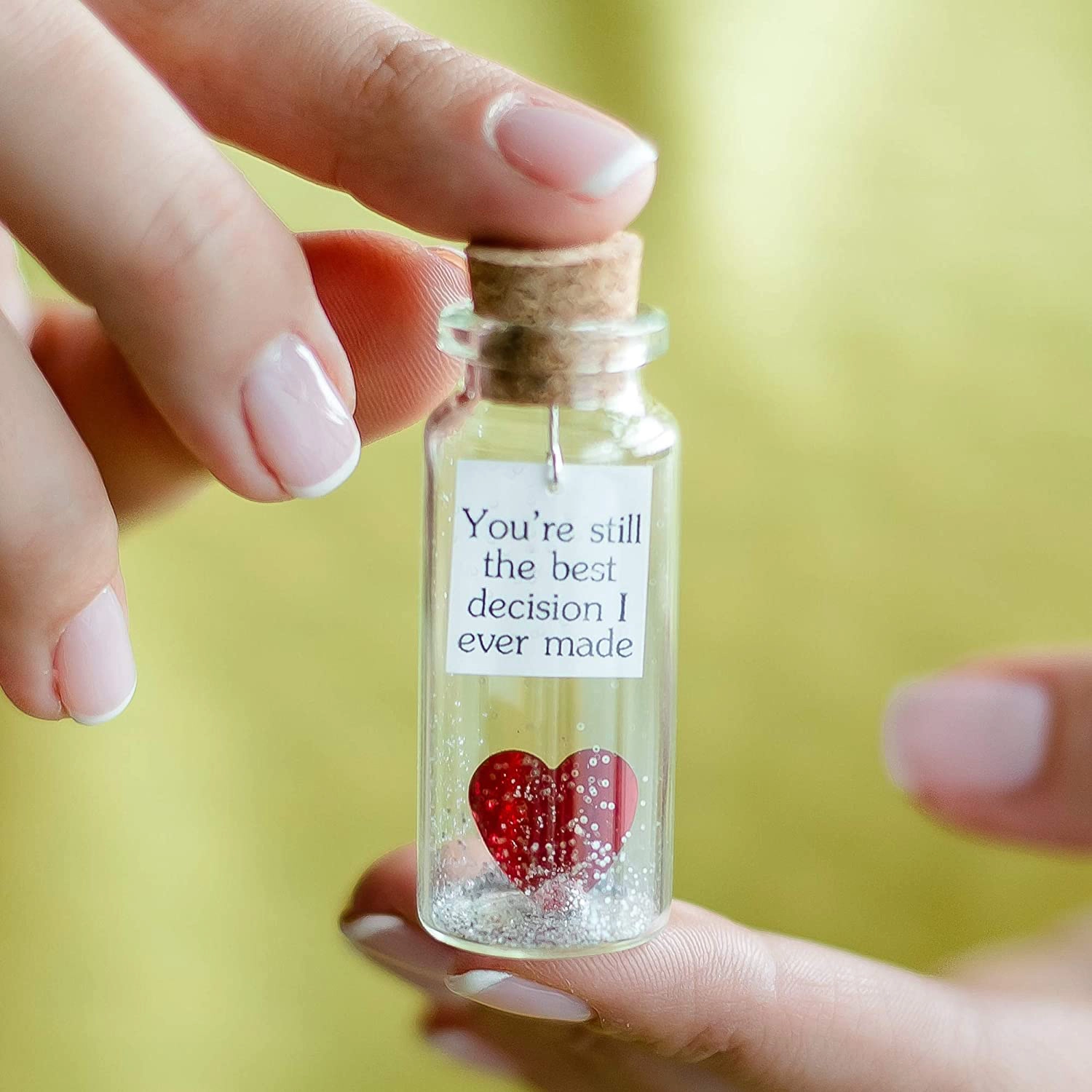 Credit: Amazon
The smallest gifts can sometimes be the most romantic ones, as evidenced by this delightful message in a bottle. He can hang this anywhere that warrants this romantic reminder, like his keys or rearview mirror.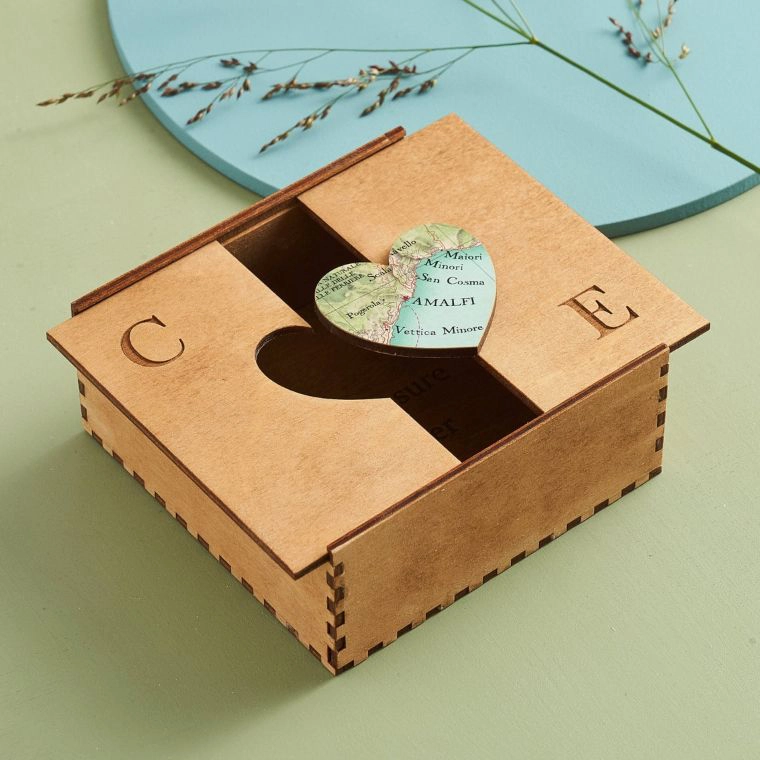 Credit: Etsy
A unique gift meant to commemorate an important location in your partnership, this map heart keepsake box is ideal for a fifth wedding anniversary. But you can give this to him at any time to put a smile on his face.
You designate the location of the map heart, so you can choose anything important to your man that he would appreciate. Ideas include your wedding location, where you first met, or his dream travel destination.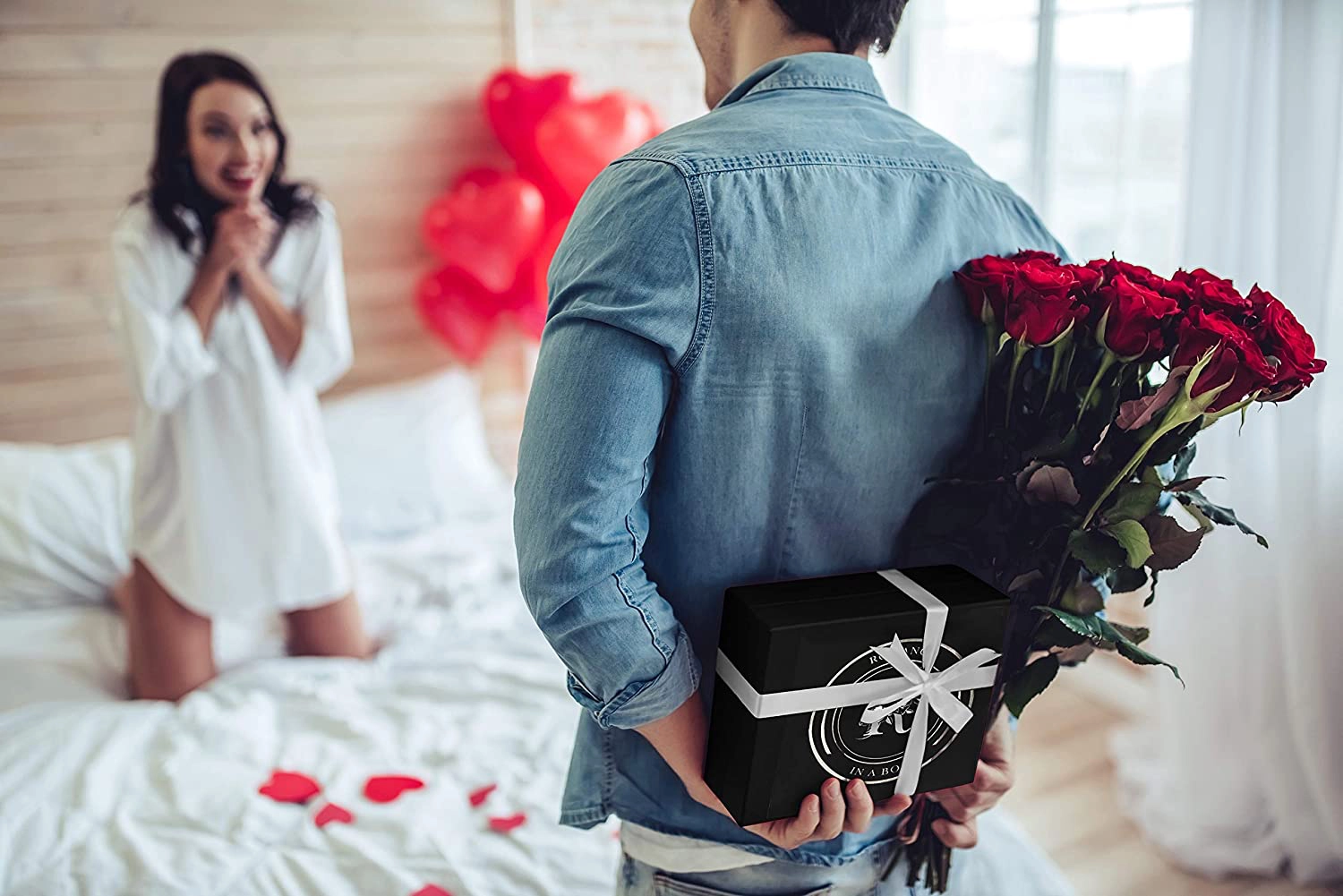 Credit: Amazon
Setting up an evening of romance has never been easier than with this romantic evening gift box. Replete with silk rose petals, bath supplies, candles, and even a greeting card, this box has it all.
Surprise him with a room in your home transformed into a haven of romance, crack a bottle of wine, and let the evening sweep you two away.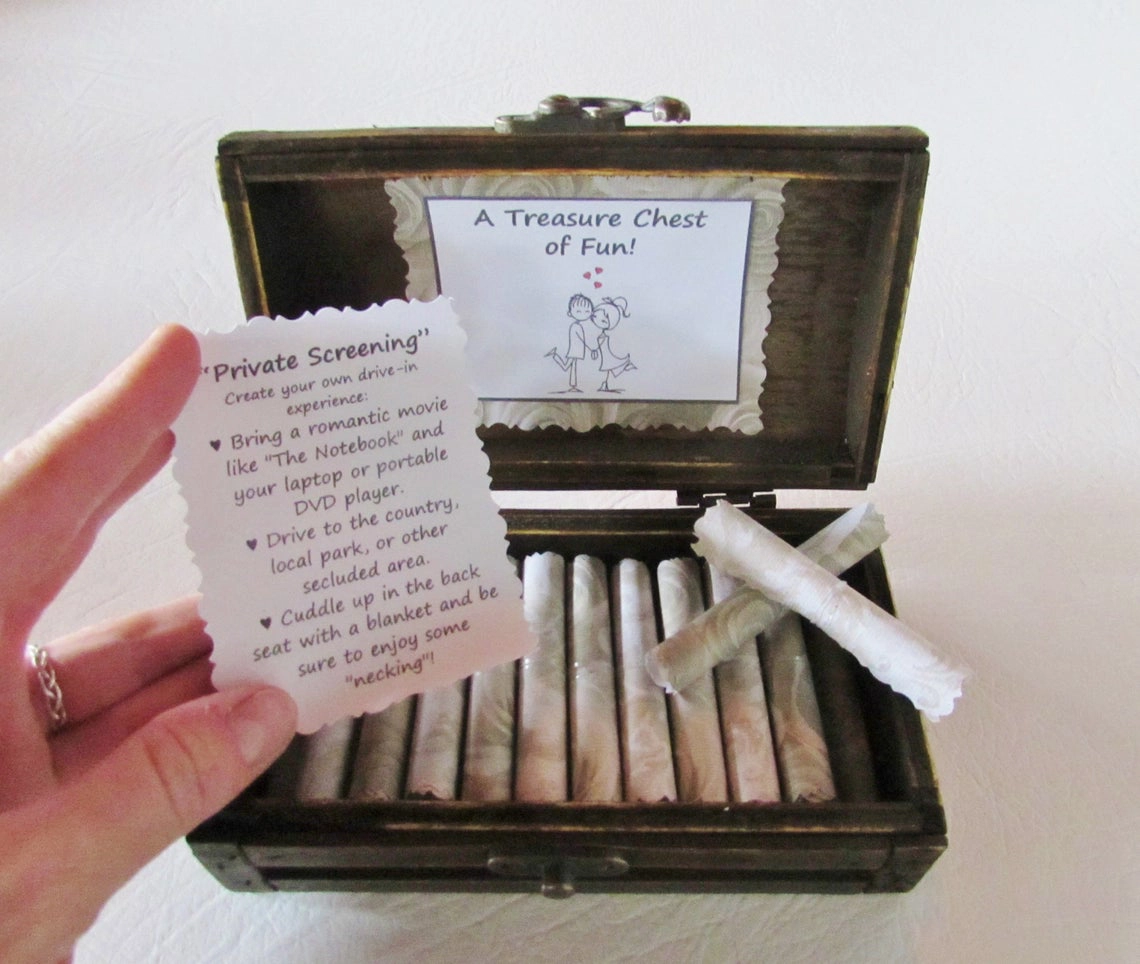 Credit: Etsy
Does your hubby love all things vintage? This treasure chest of fun is the ideal gift for him then! This gorgeous box can be reused once empty, full of romantic date night ideas and some more intimate suggestions.
Each idea or suggestion is written on a rolled-up sheet of gorgeous handmade paper, making each time you unroll one feel almost ceremonial. Nothing like the vintage style to remind you of the importance of time together!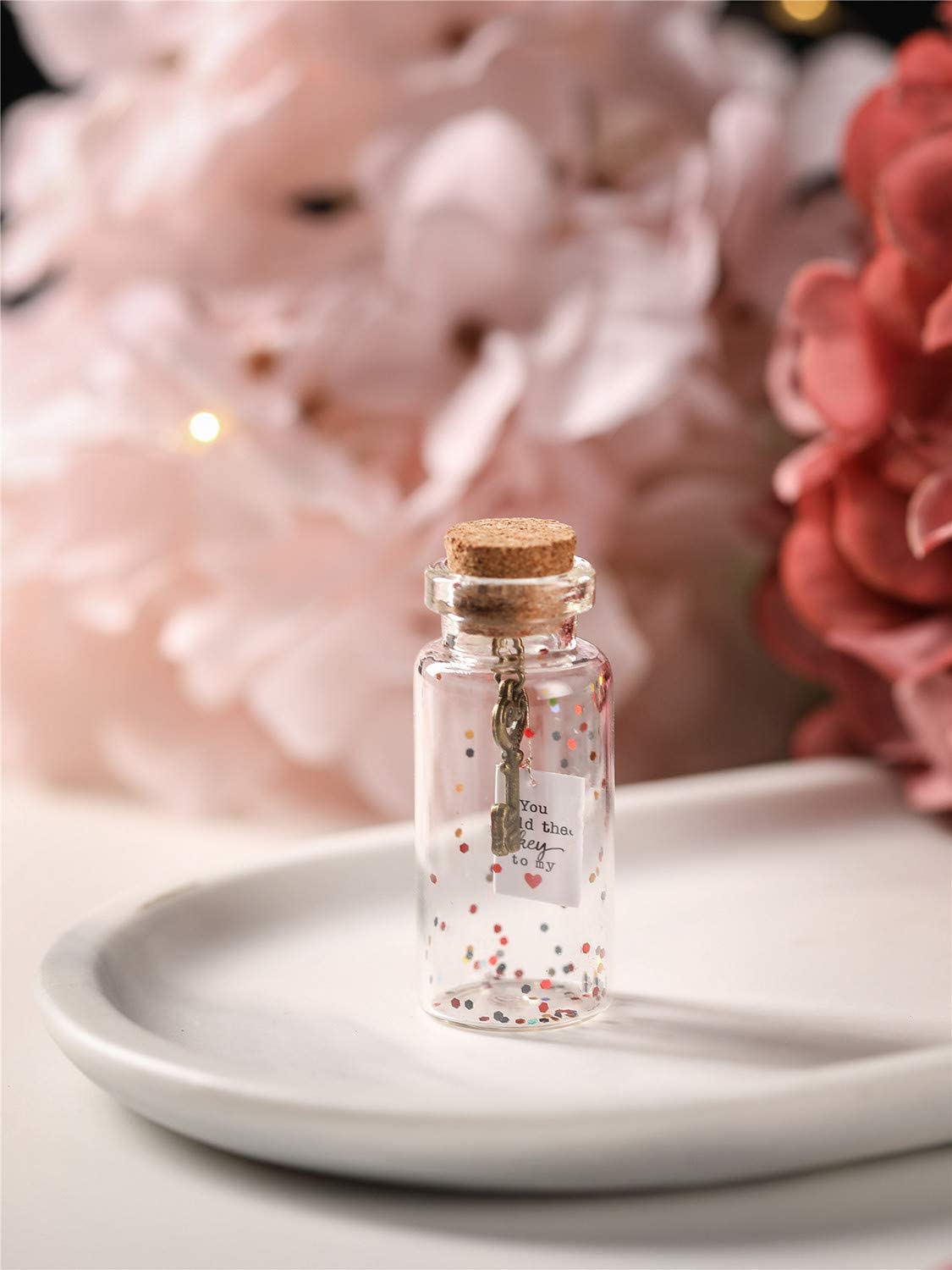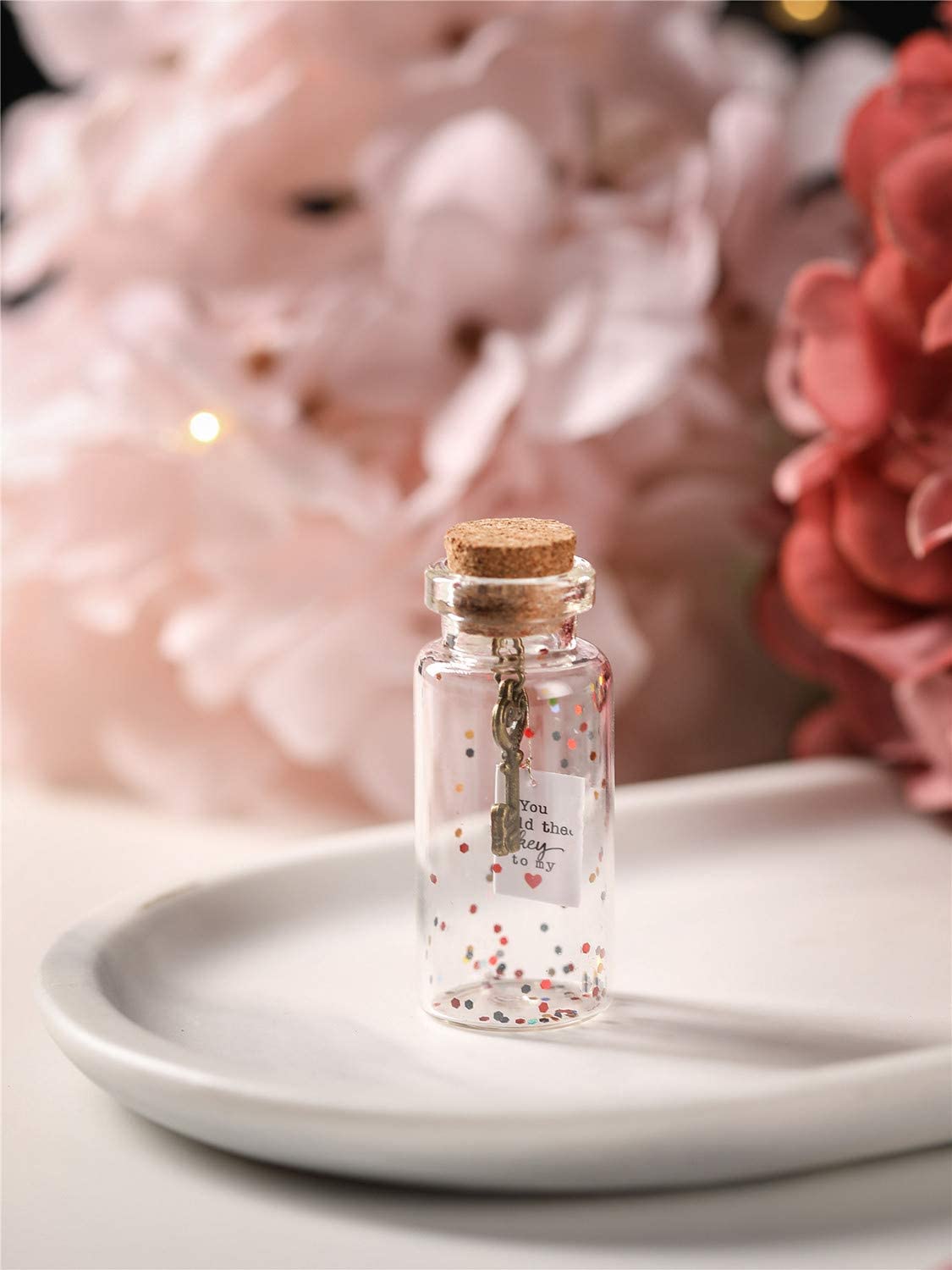 Credit: Amazon
The penultimate gift on our list is perfect as an accompaniment to other gifts on significant anniversaries, birthdays, or holidays. However, it's also great as a little romantic gift given for no reason at all.
Give him the key to your heart. This little bottle symbolizes a strong connection between the two of you; write him a letter to go with it or present the gift on its own.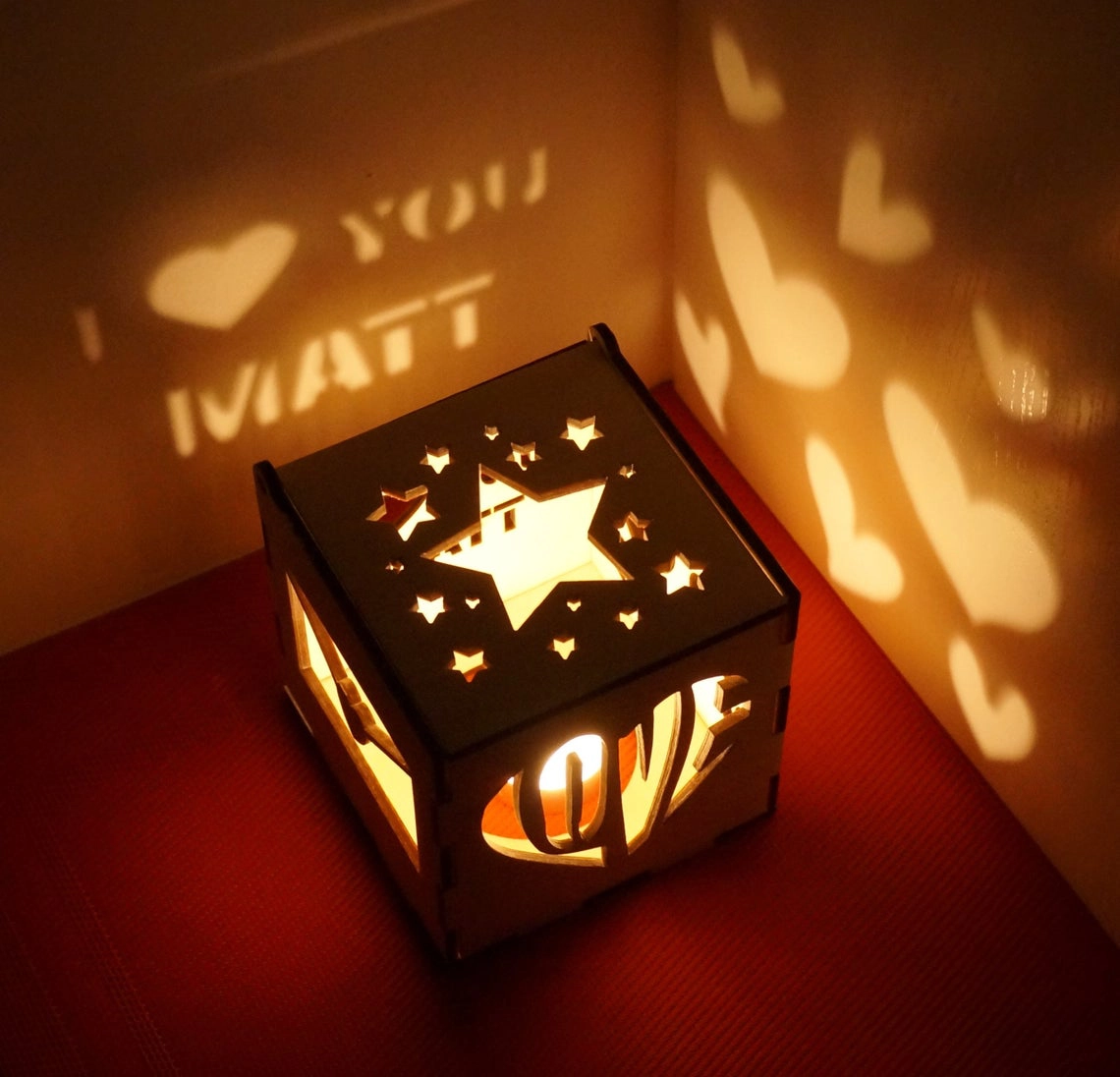 Credit: Etsy
Finally, this romantic personalized candle holder doubles as a shadow box! This is a super sweet anniversary gift idea; light the candle in a dark room and guide him inside for a memorable gesture.
With strategic cut-outs on each side of the box, the walls will be painted with a light show telling your man how much you love him every time he lights a candle inside.
Conclusion
There you have it! There are few things more exciting than hunting down the perfect romantic gift for your partner, so whichever gift you choose, I hope he loves it.
Need more gift ideas? Here are some for your anniversary.
Why are you buying him a romantic gift? Is there a holiday or birthday coming up, or do you want to make him feel a little unique because he deserves to be spoiled? Let me know in the comments!