Make your very own candles! These DIY scented candles are cute, fun to make, and do for a great gift or decoration.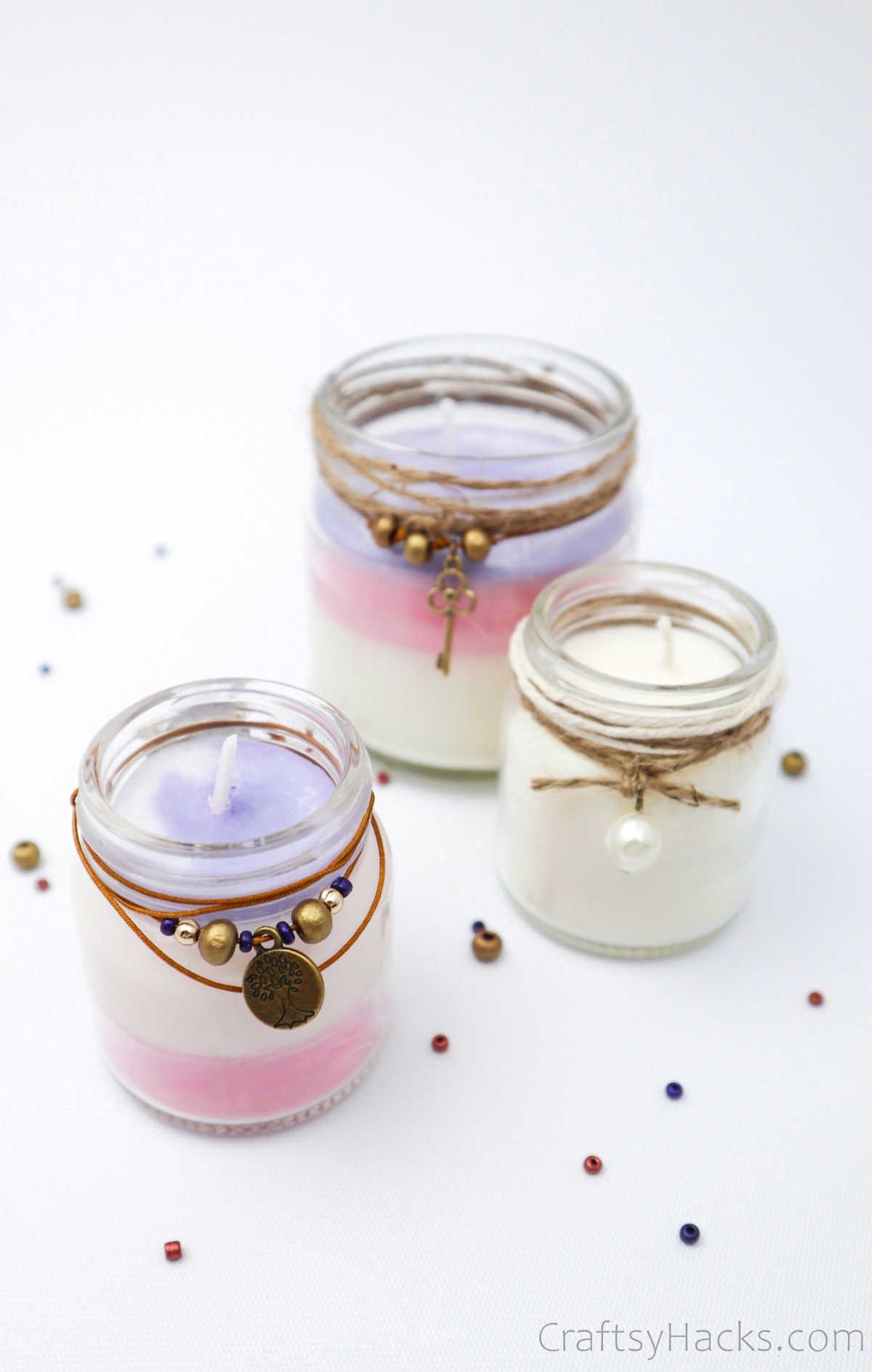 You can never have too many scented candles at home. No, really, you can't have too many! I have a dozen or so scattered around the living room, and definitely twice that in my bathroom and bedroom.
Scented candles just set the mood for the entire space. You walk into a room and light a couple of candles, and voila! The entire place smells like a spa.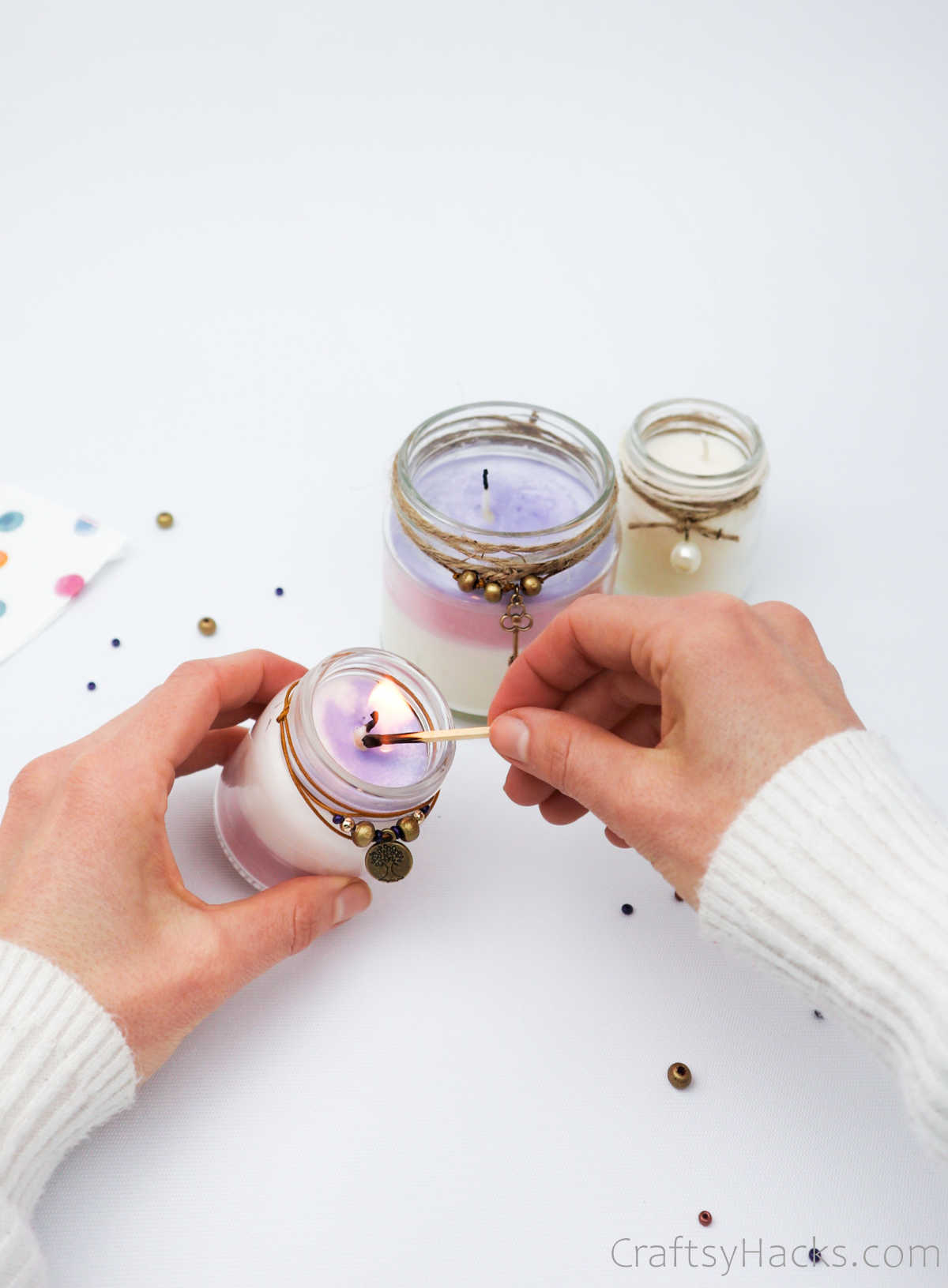 Sure, you can buy them online or at stores, but how about you try making one right at home. It's easier than you think.
I bet you already have a ton of candle jars you've been meaning to recycle, so now you finally have the perfect DIY project to experiment with!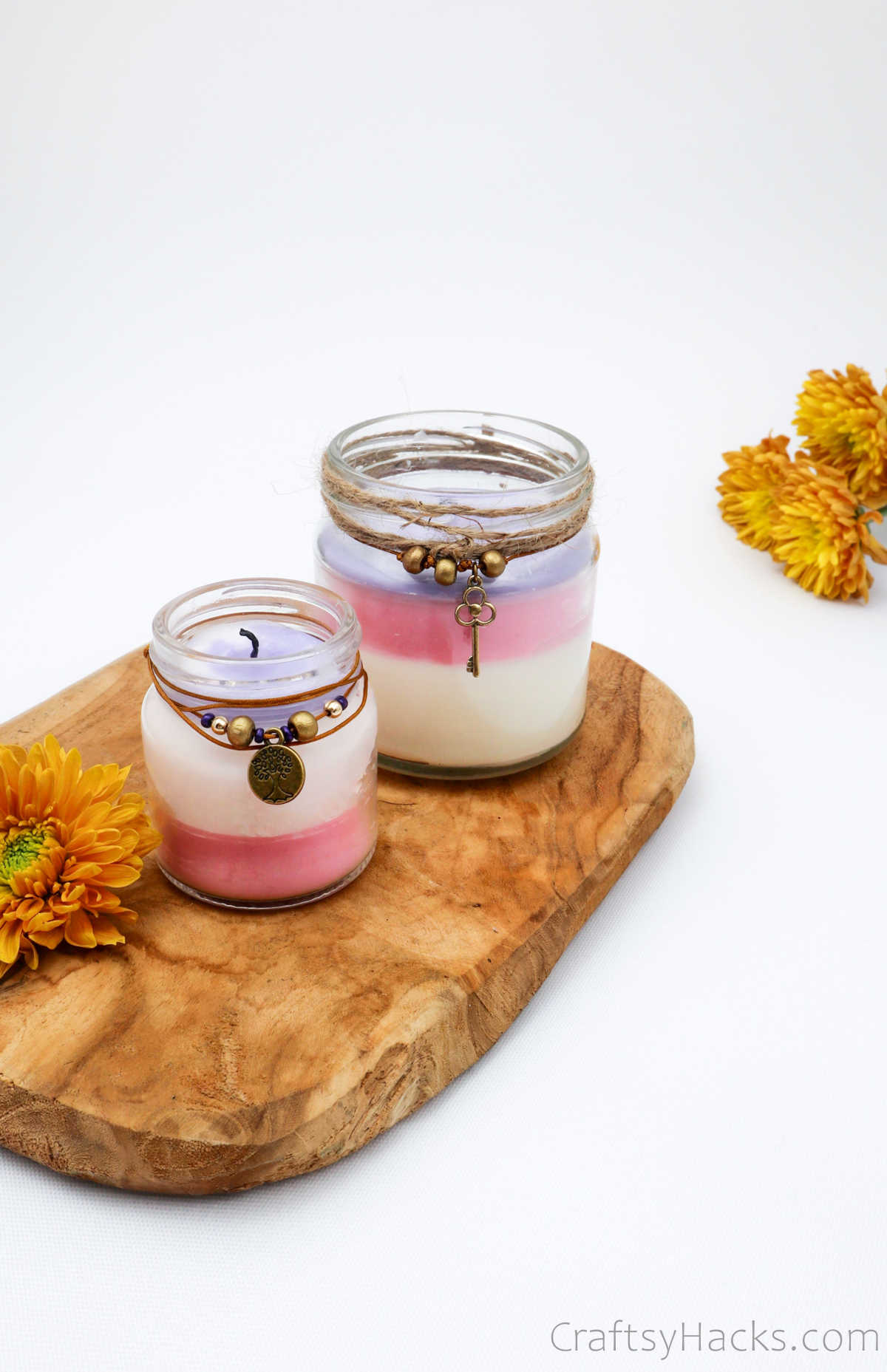 What You'll Need for Candles
Here's a complete list of everything you'll need to make these DIY scented candles:
Mason jars
Soy wax flakes
Wooden skewers
Lolly sticks
Scissors
Old pot
Charms, beads (optional)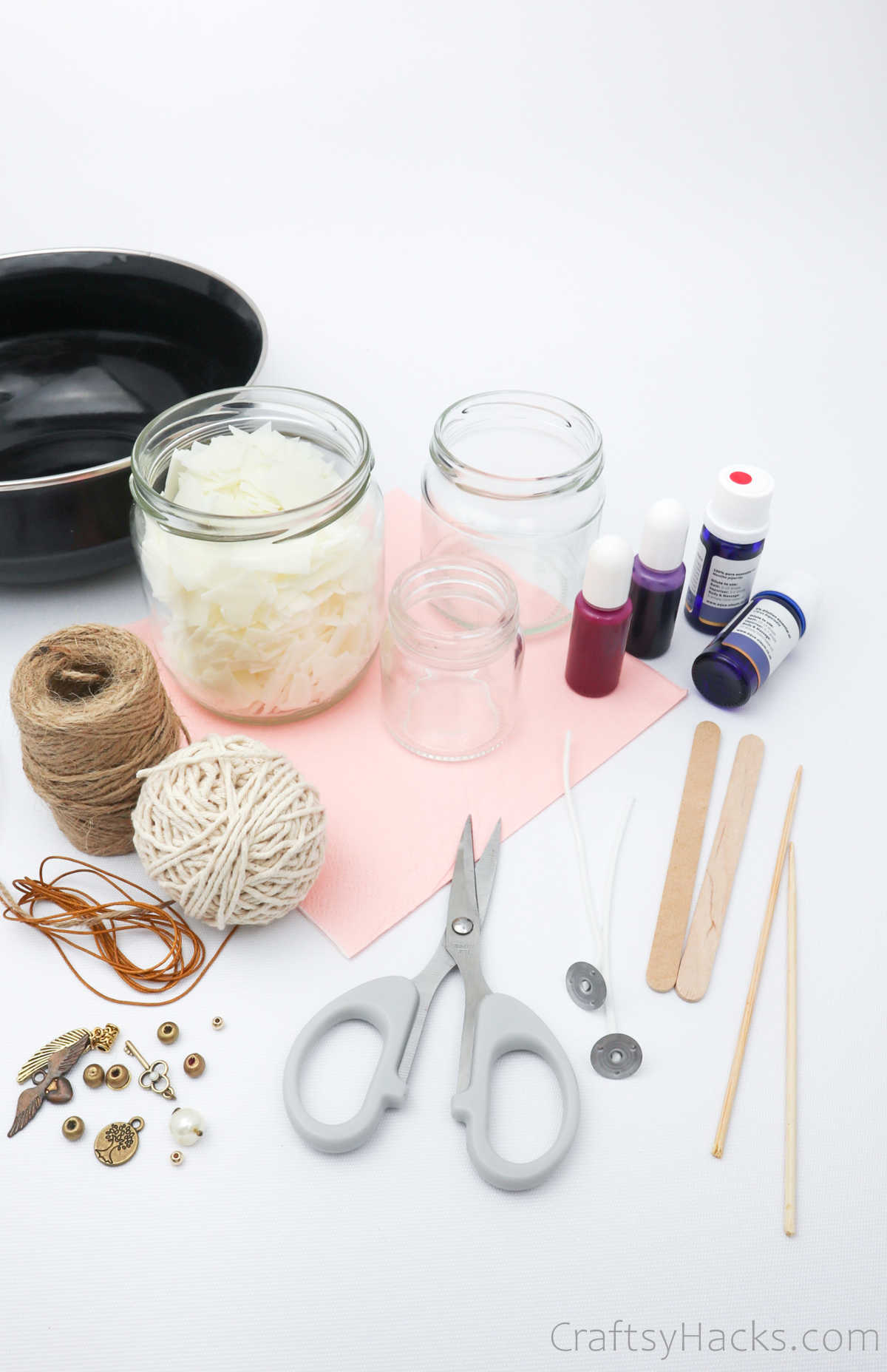 How to Make Scented Candles
Are you familiar with how to make candles at home? It really is a simple process.
Here's how you make them.
Step 1
Have you picked out the jar you want to use? Perfect, go ahead and make sure the insides are clean and dry. Grab a wooden craft stick or a lolly stick and twirl the wick around it.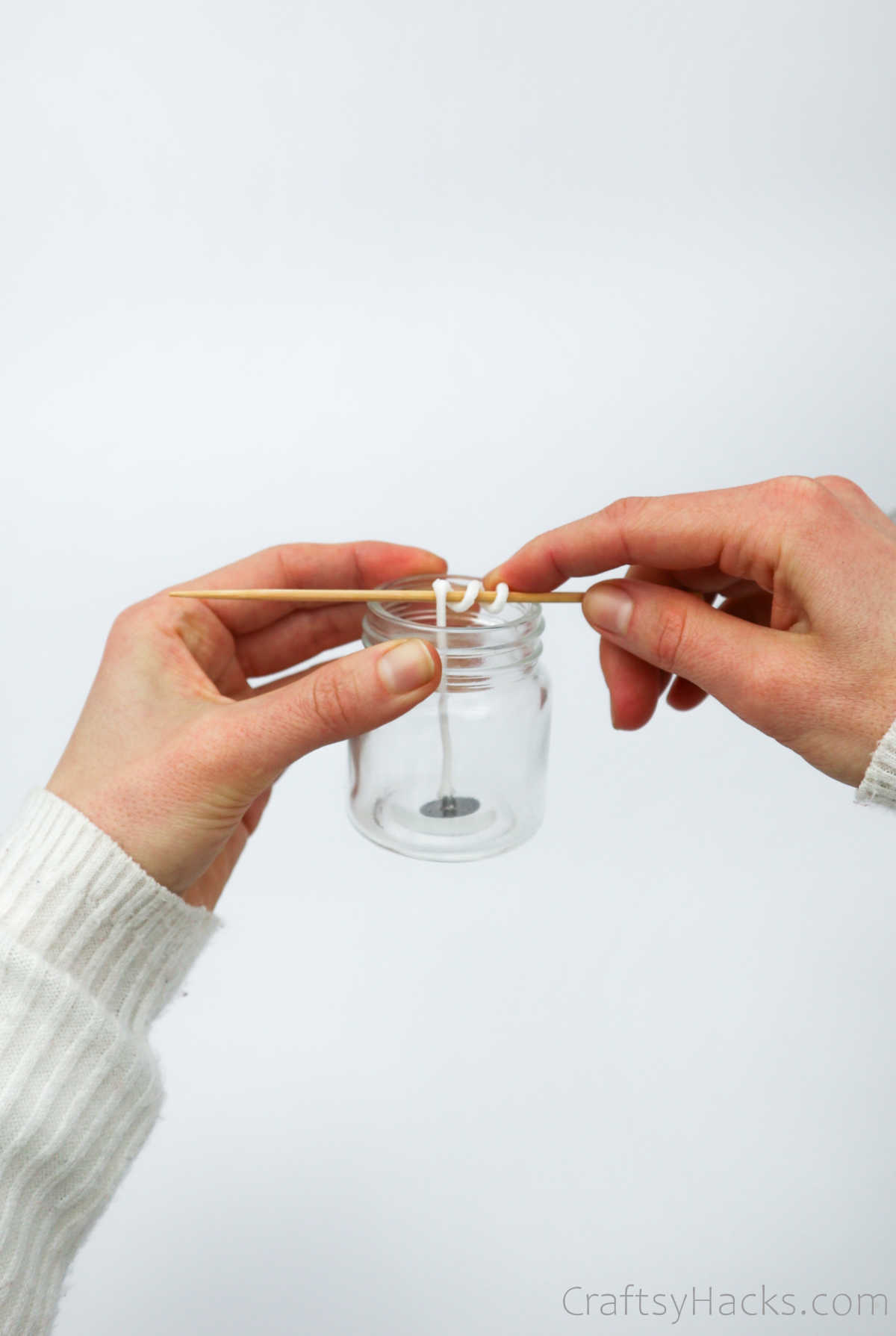 Let the end drop into the jar until the flat metal base sits comfortably at the bottom. Balance the stick on the rim of the jar and subsequently adjust the wick to keep it in place.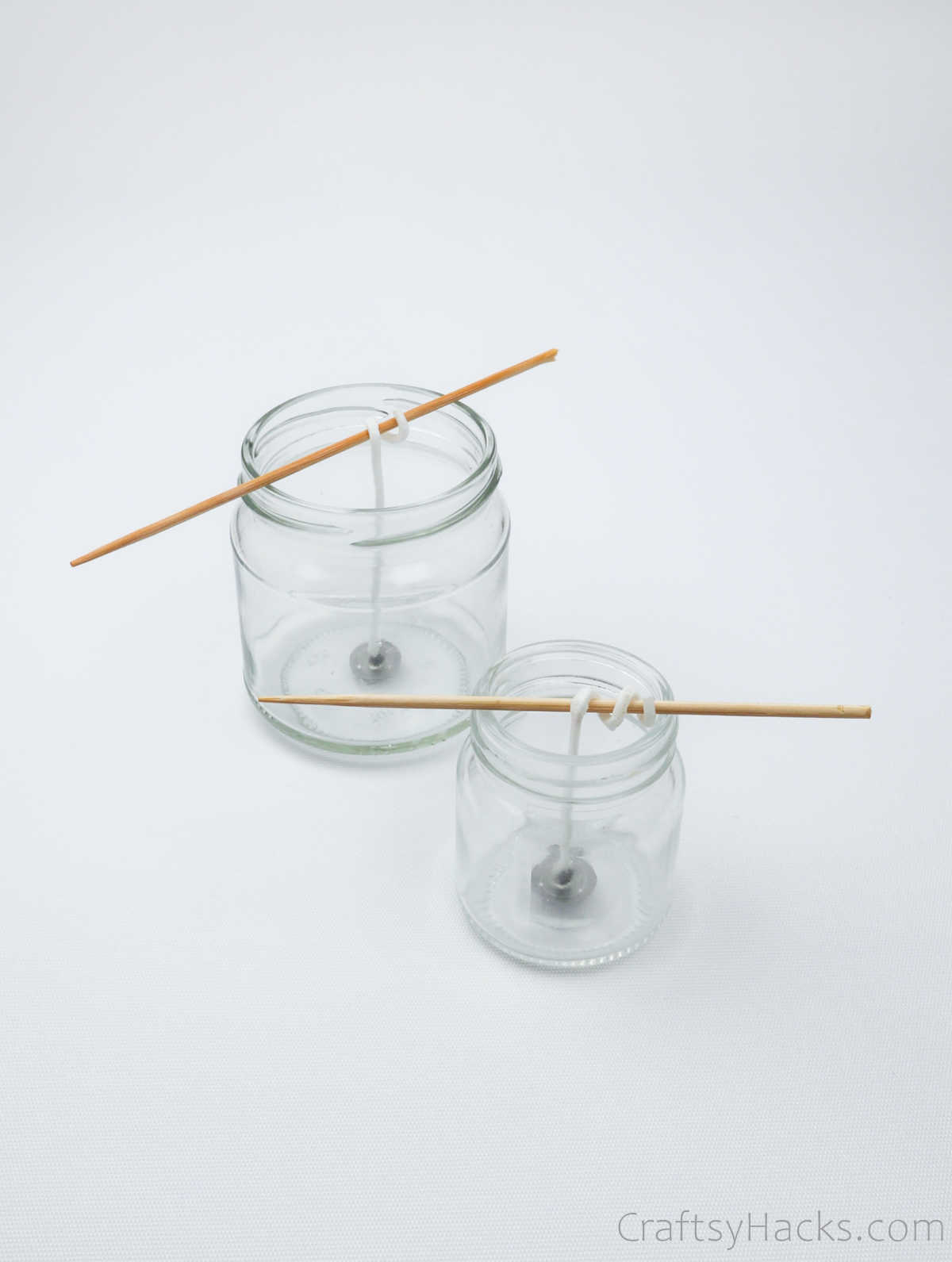 Step 2
In a wide-bottomed saucepan, pour some water and place the wax—not directly in, but rather in a glass jar—in it.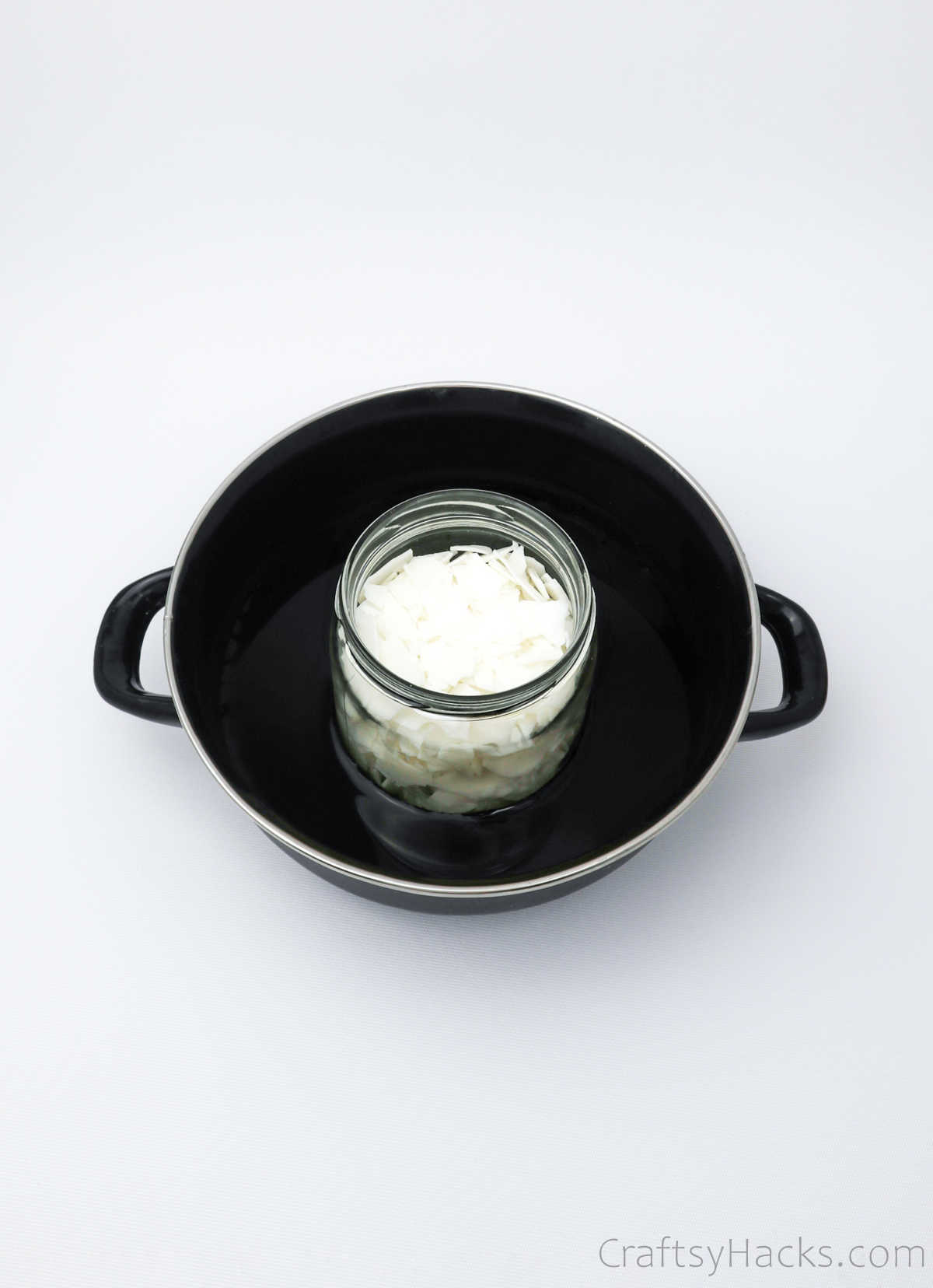 Step 3
Bring the water to boil and watch as the wax begins to melt. Use a stirrer to get rid of any lumps and keep stirring the wax around till you're happy with the consistency.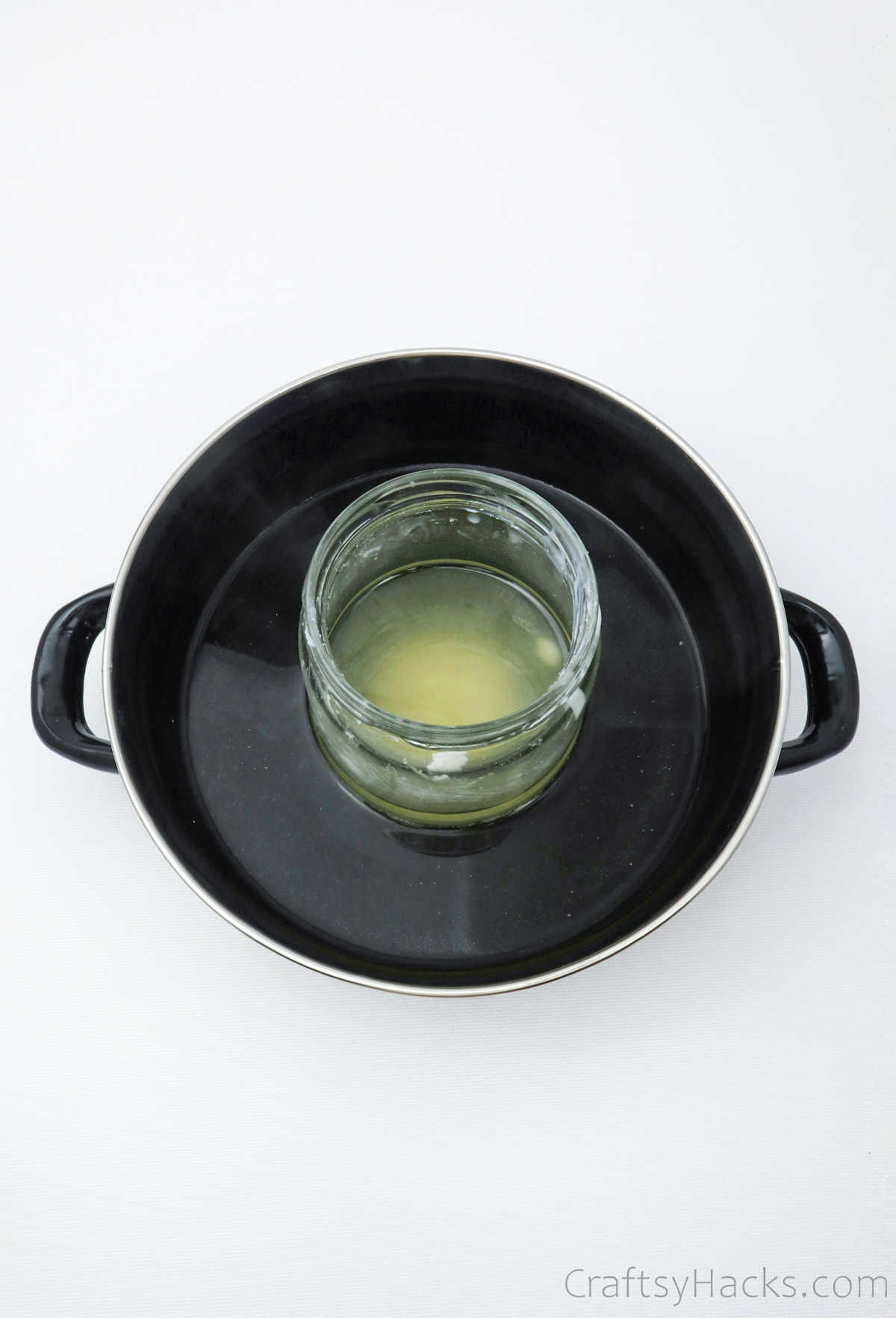 Step 4
Now, add a few drops of essential oil to the wax and keep stirring it around.
Give it a good stir and your wax is ready to pour. Doesn't it smell like a million bucks already?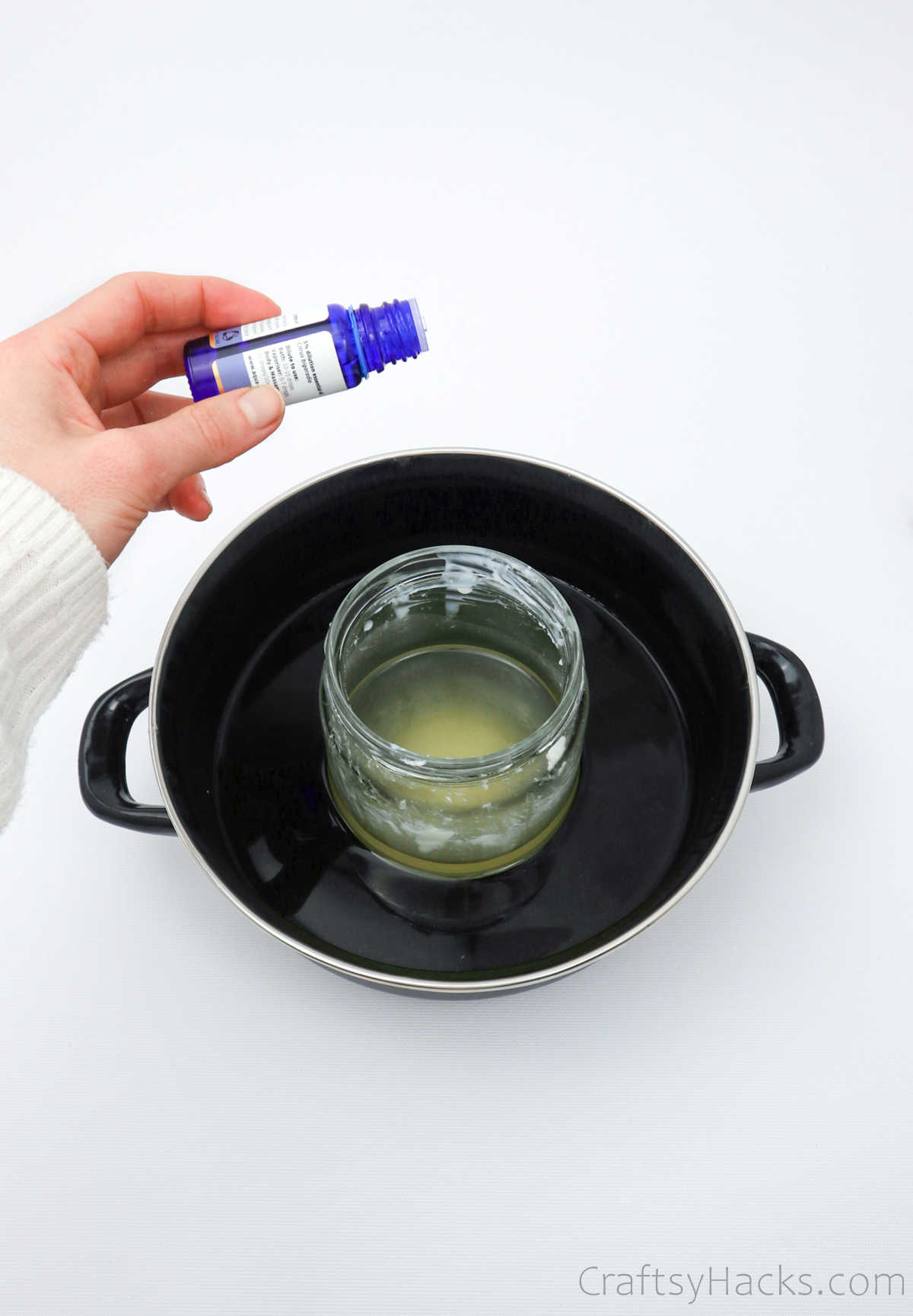 Step 5
Be careful here, as you're handling hot wax when you pour it into the jars. Fill it all the way up and wipe down the rim to get rid of any spills.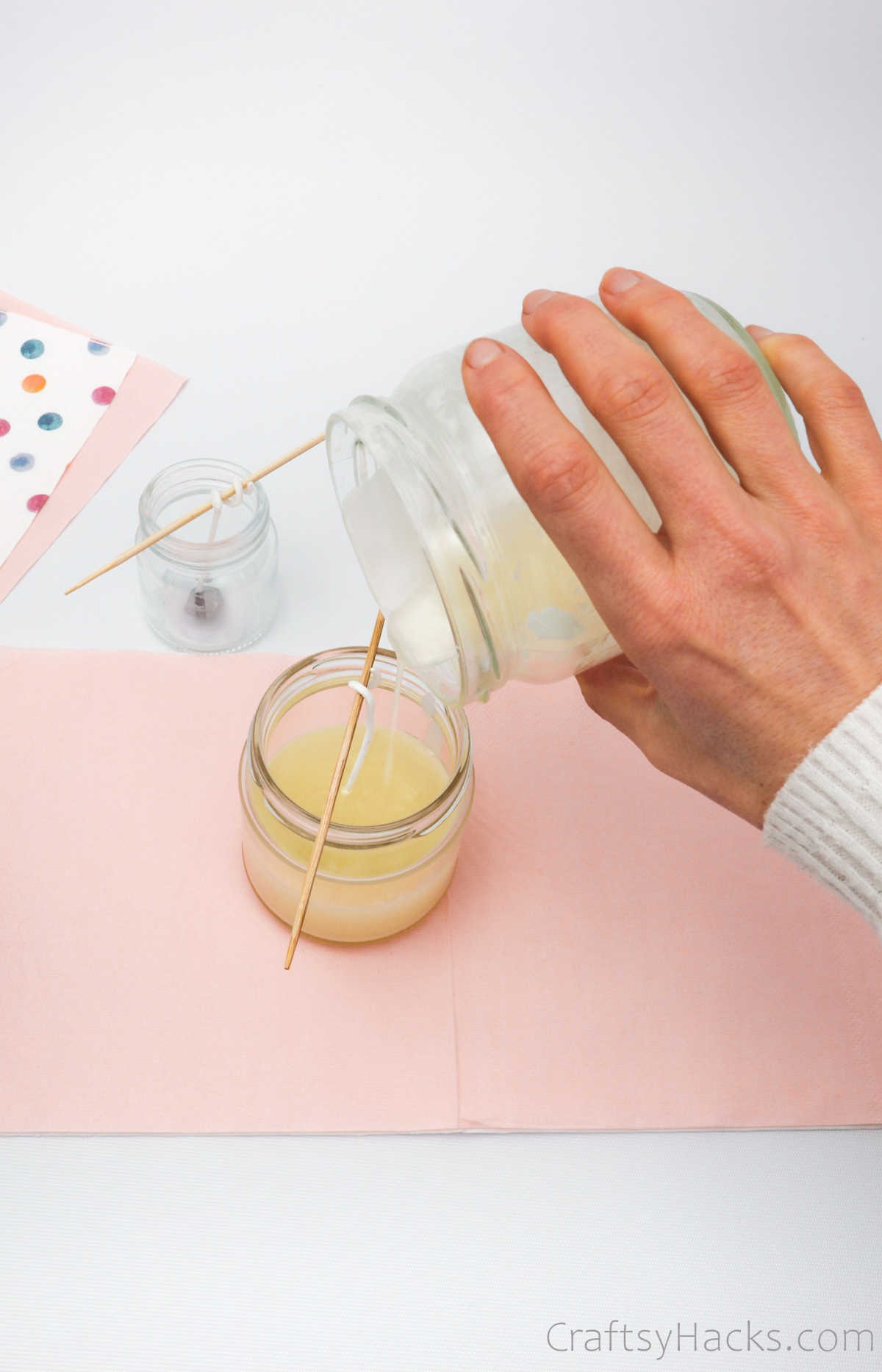 Step 6
You can choose to keep your wax in its natural color or you can use a few drops of colored food dye and stir it around till the color is fully incorporated.
Then just pour the wax into the jar and layer it with different color patterns.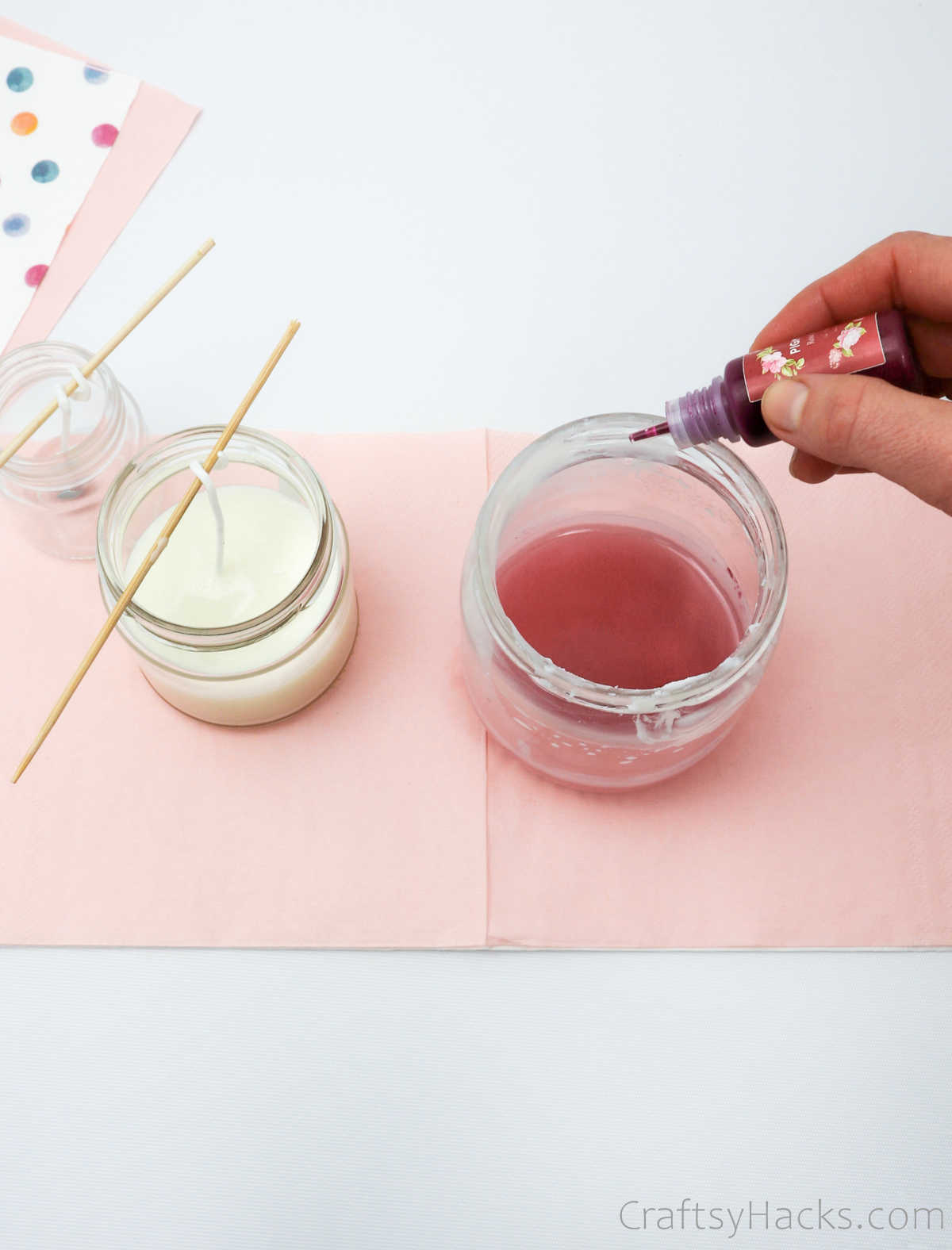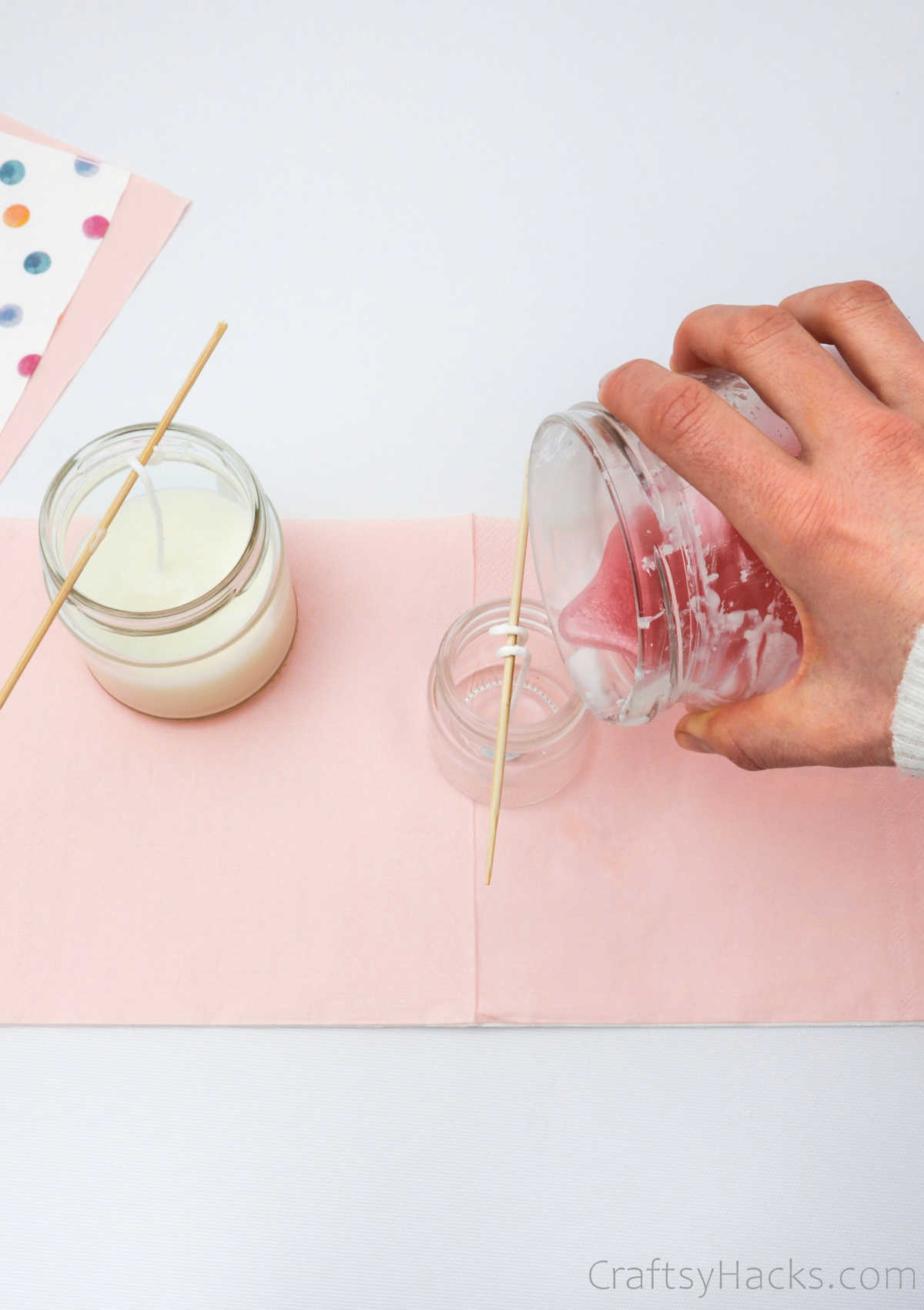 Step 7
Let the wax cool down and allow it to harden. The craft stick holding the wick will secure it in place so you don't have to worry about the wick dislodging.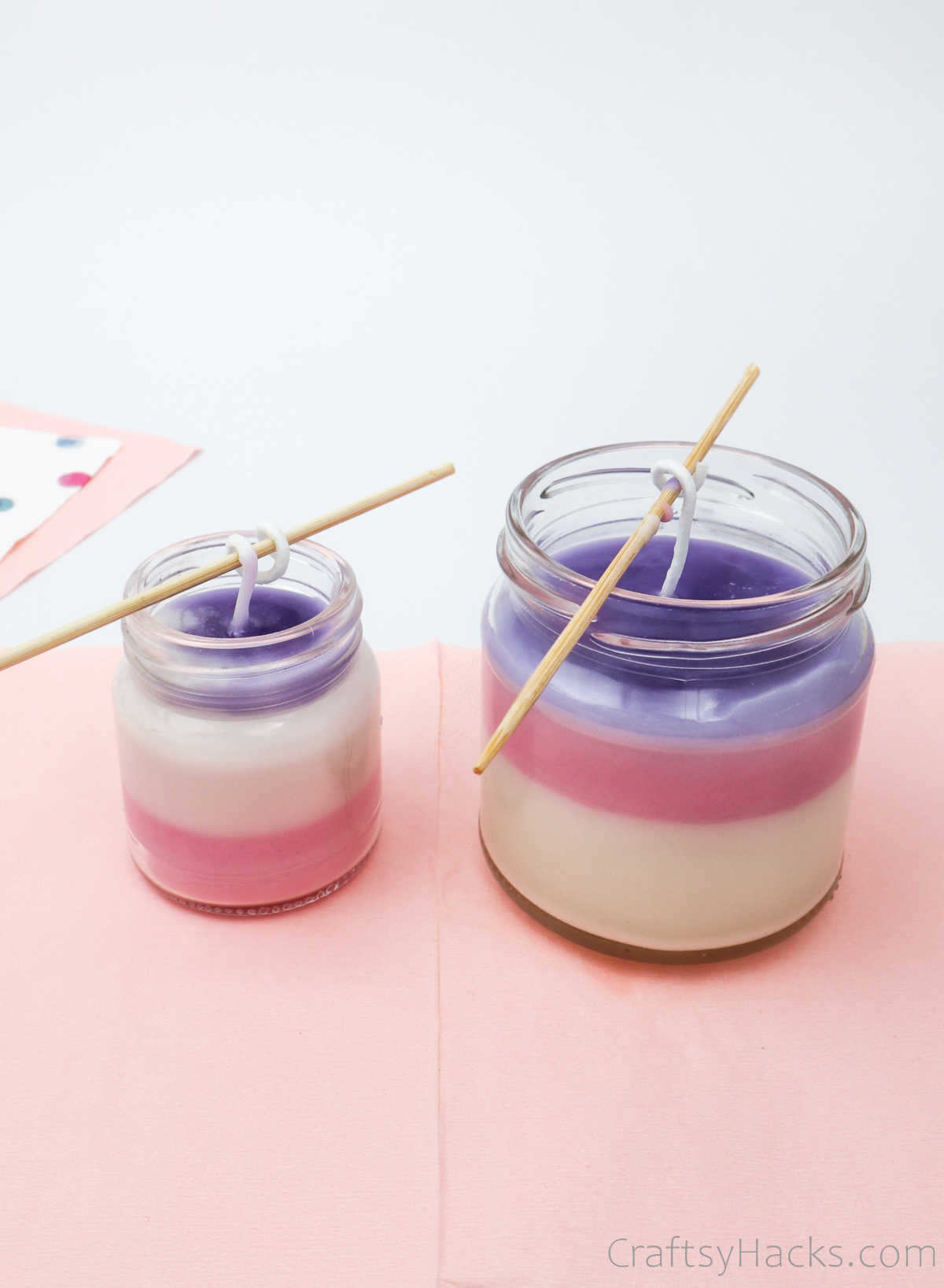 Step 8
Once the wax has hardened, carefully uncurl the wick from the stick and trim the extra ends off.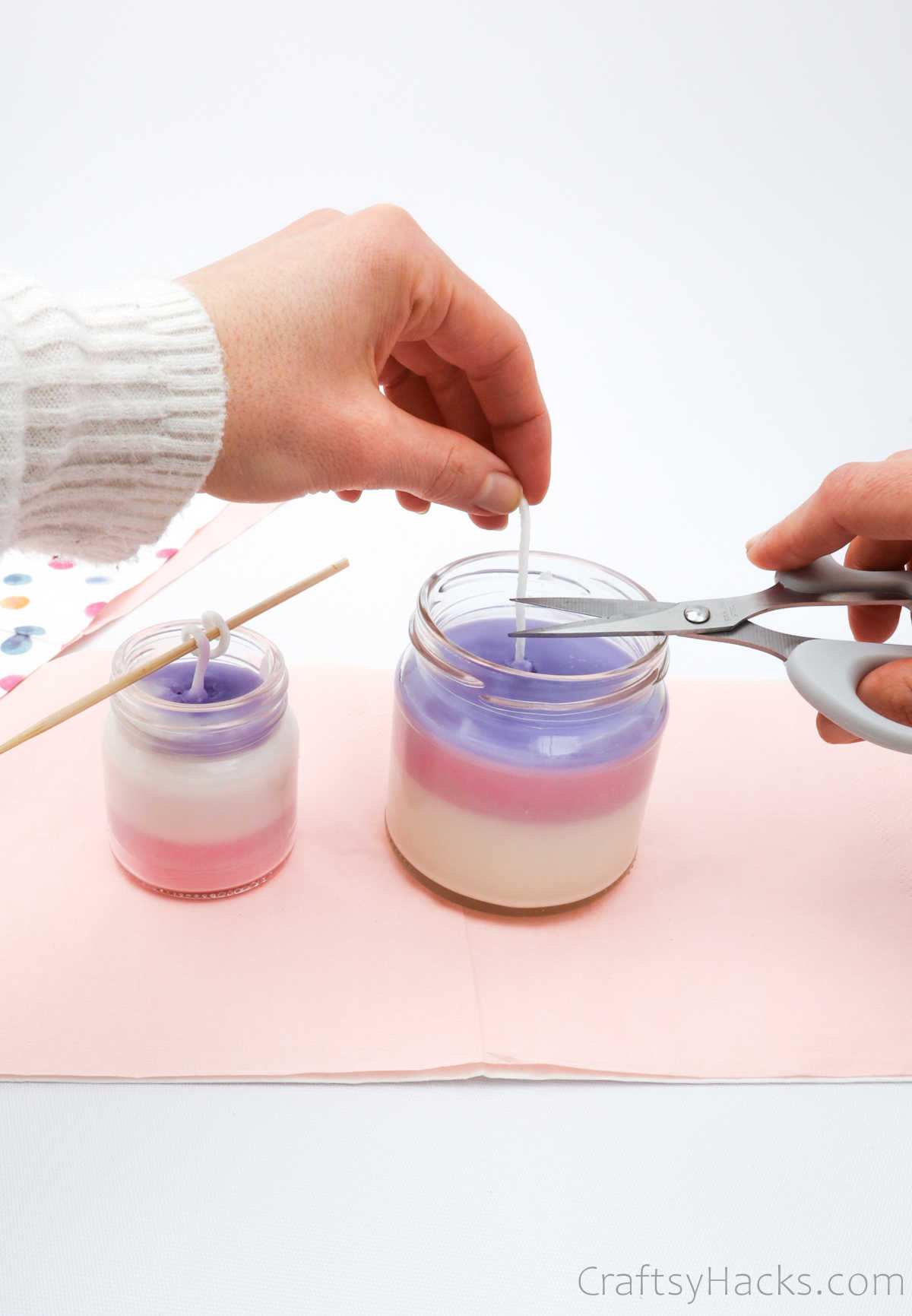 Step 9
You can wrap a length of twine or jute around the rim and also add little beads, buttons, and charms to decorate your candle.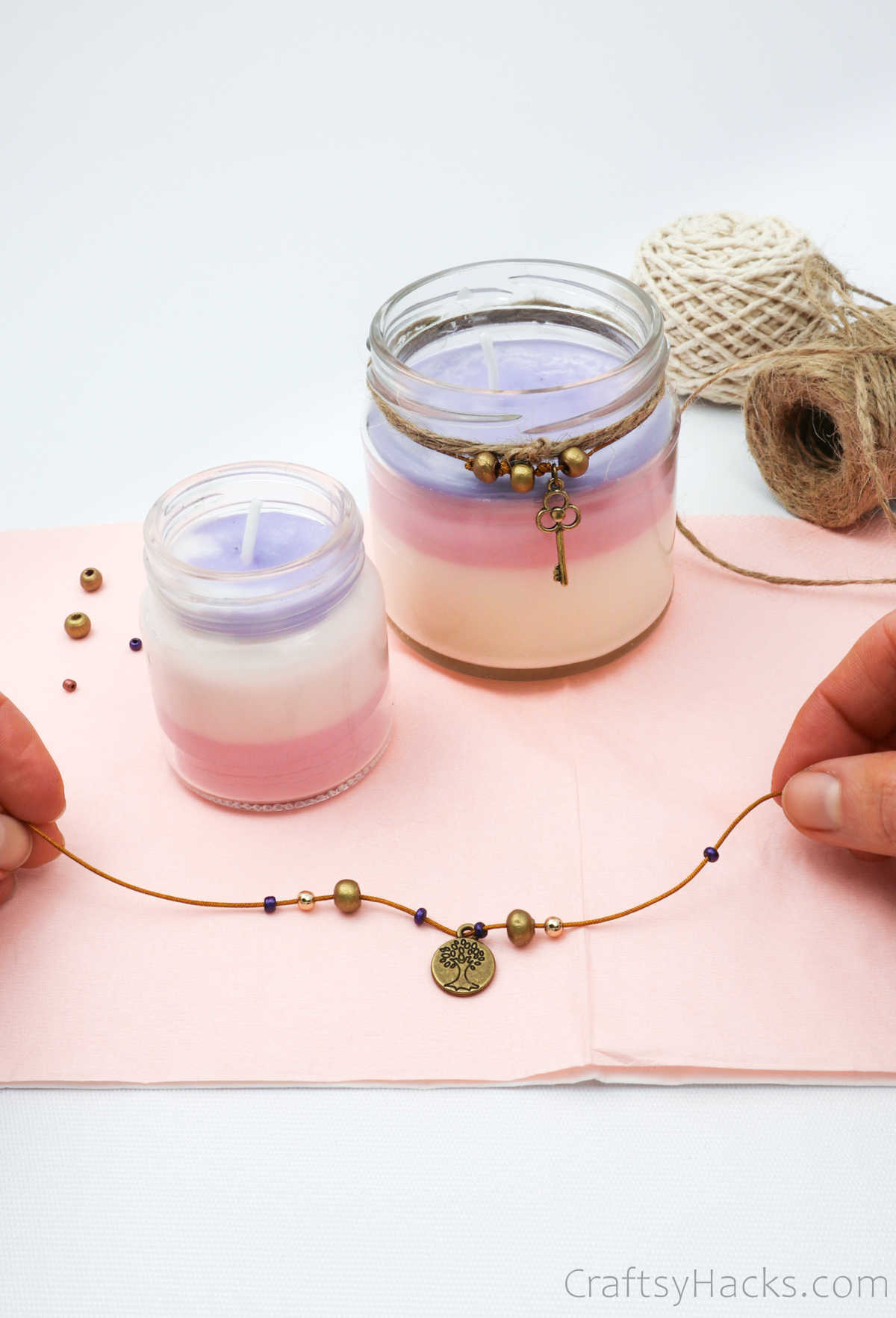 And, there you go, your DIY scented candle is ready to be lit!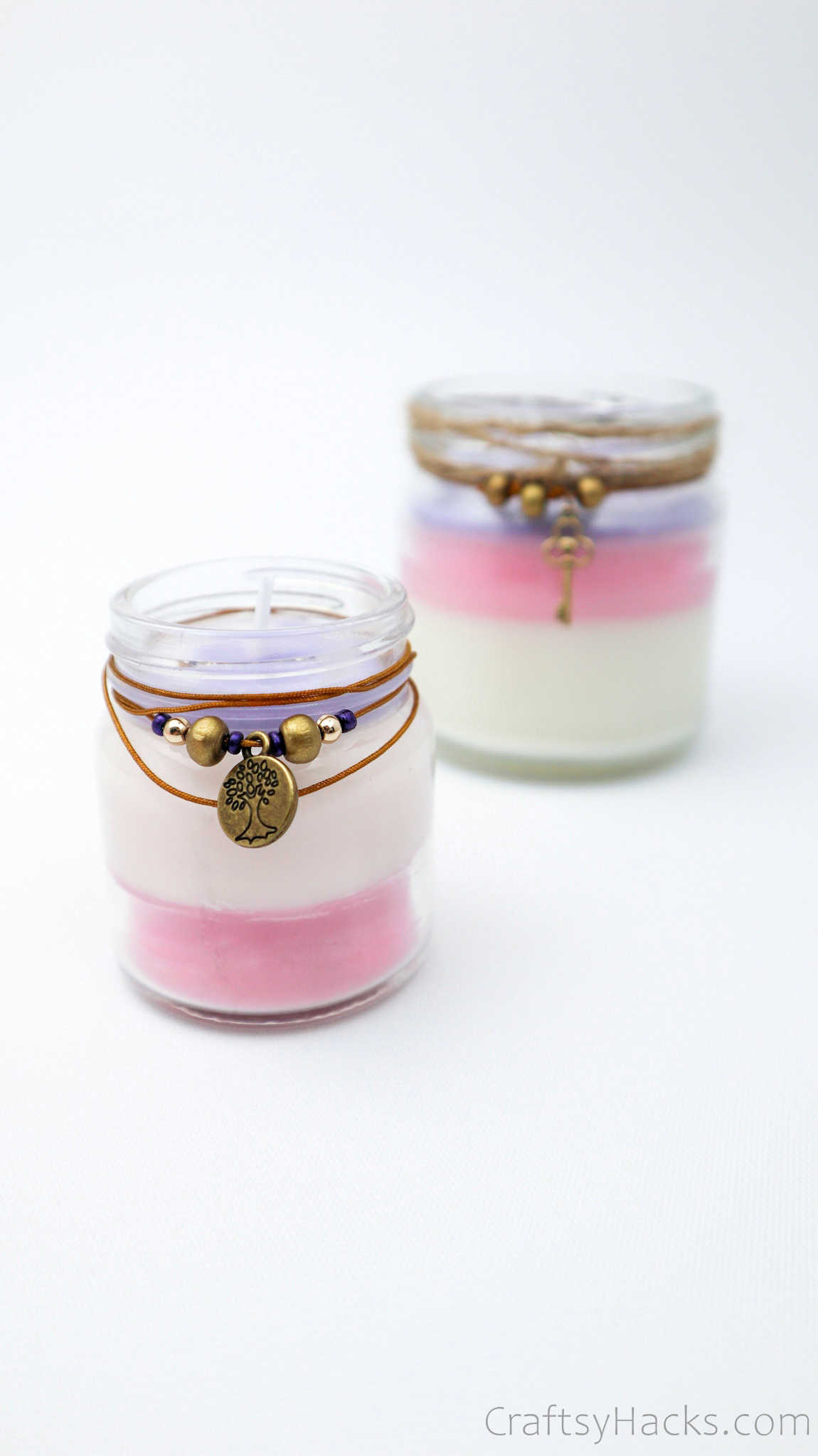 Is It Cheaper to Make Your Own Candles?
Making DIY candles is definitely cheaper than buying them. The only items you need to buy are the wax, essential oils—which I'm sure we all have at home—and the wick.
You can upcycle and repurpose old mason jars, as well, and save a pretty penny there.
Here are 20 DIY spring mason jar ideas you can explore to decorate your home and upcycle old jars!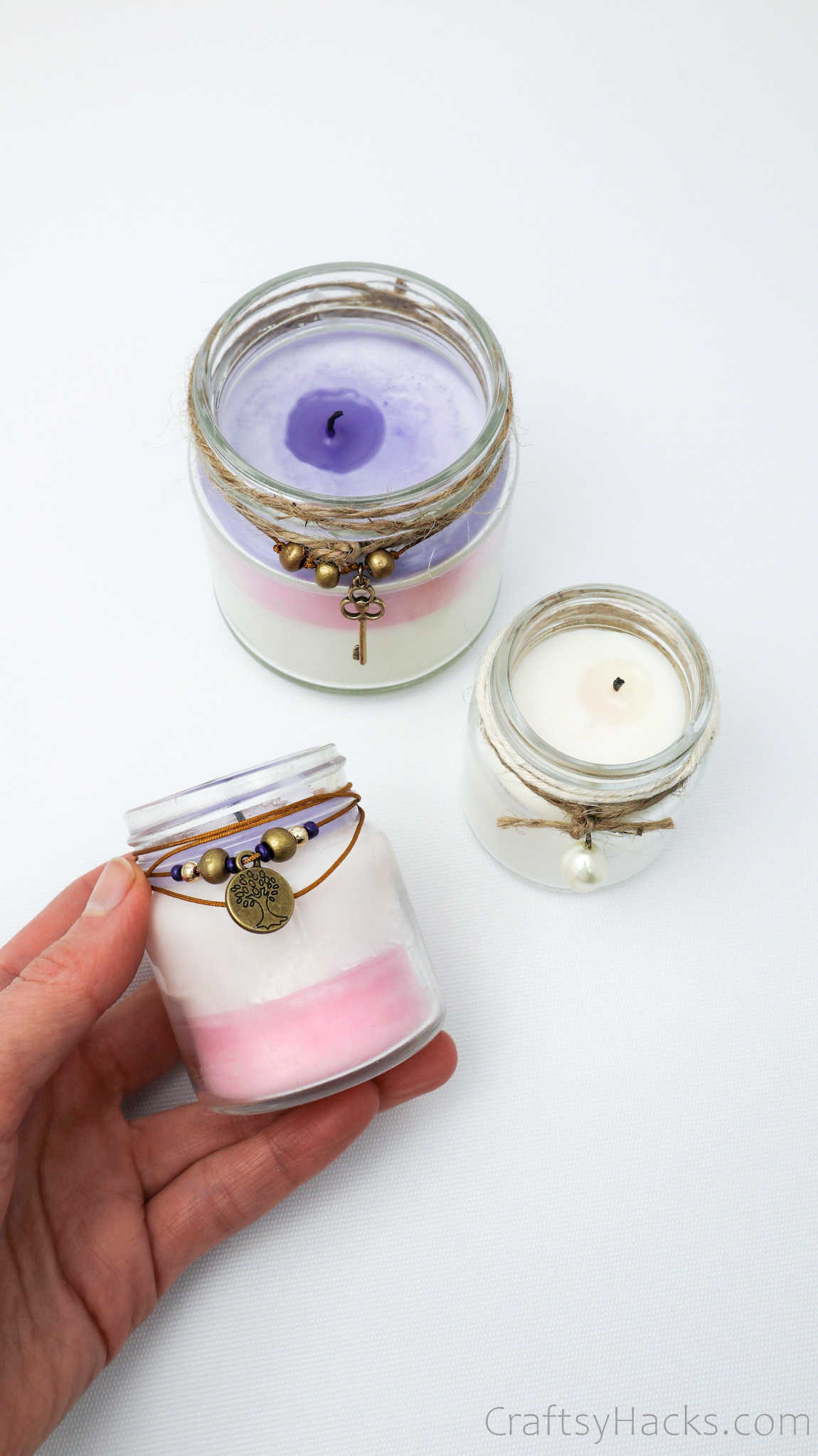 Other DIY Ideas You Might Like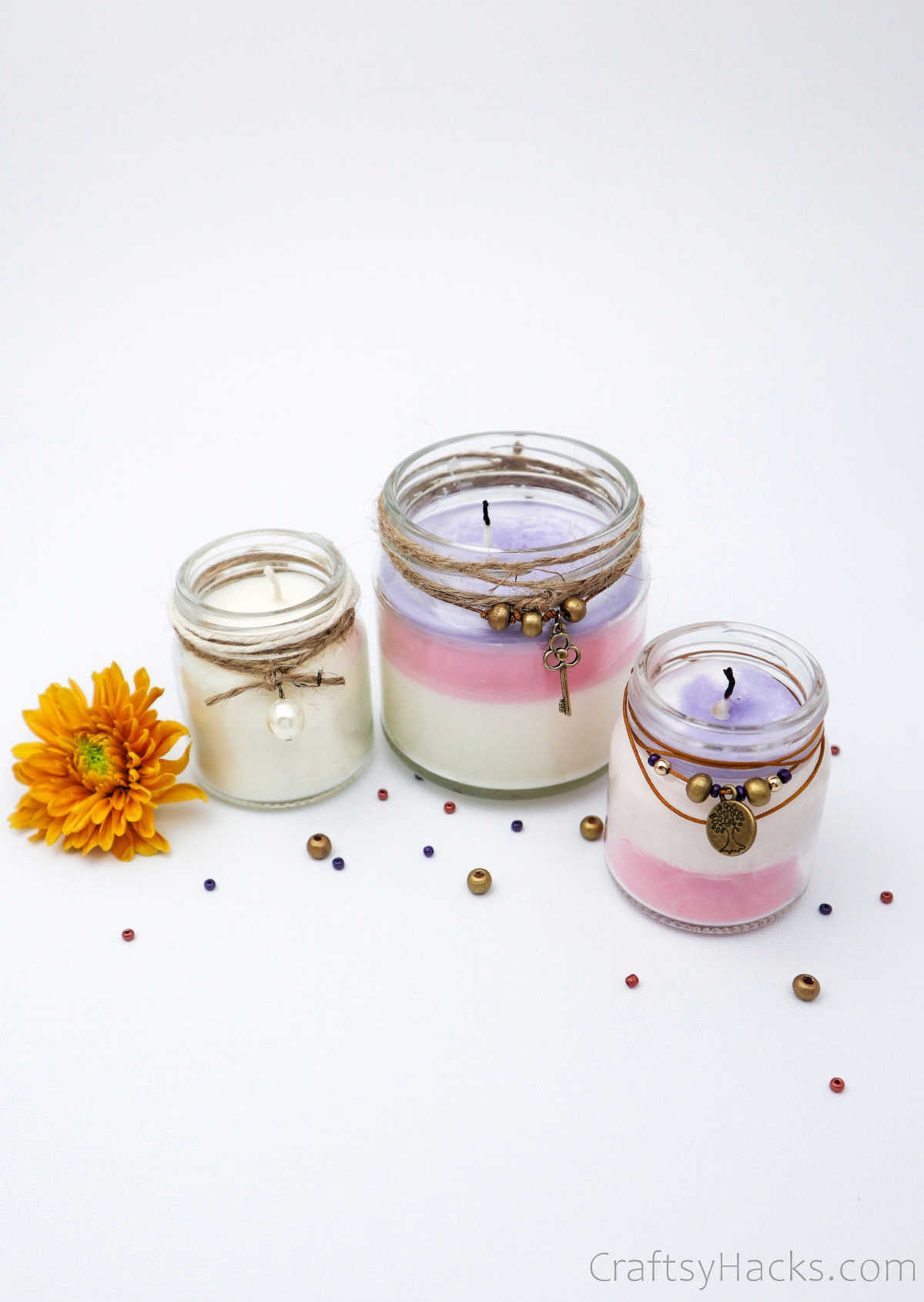 Full Video Tutorial
We also have this tutorial fully on video in case it's easier to follow!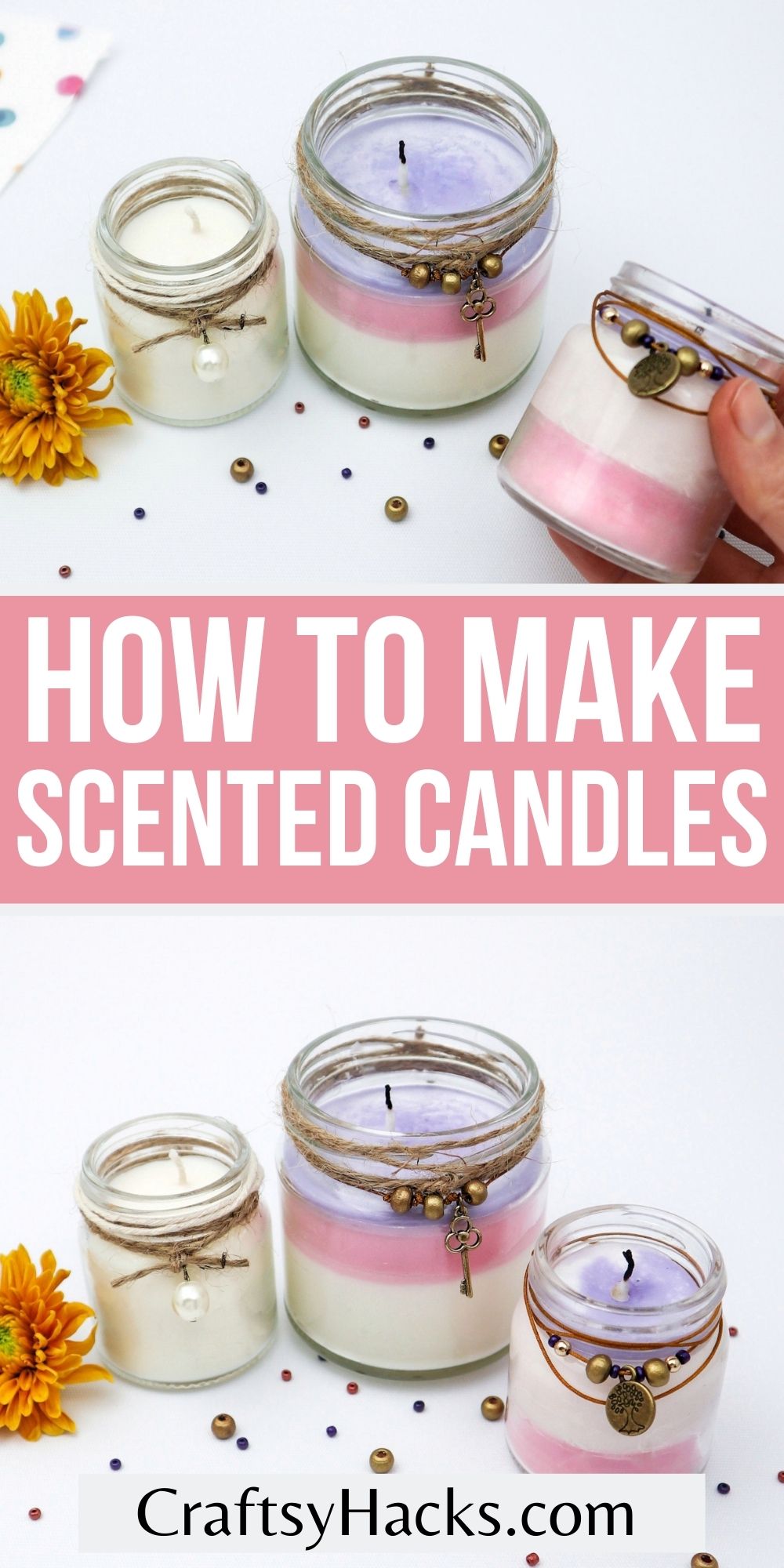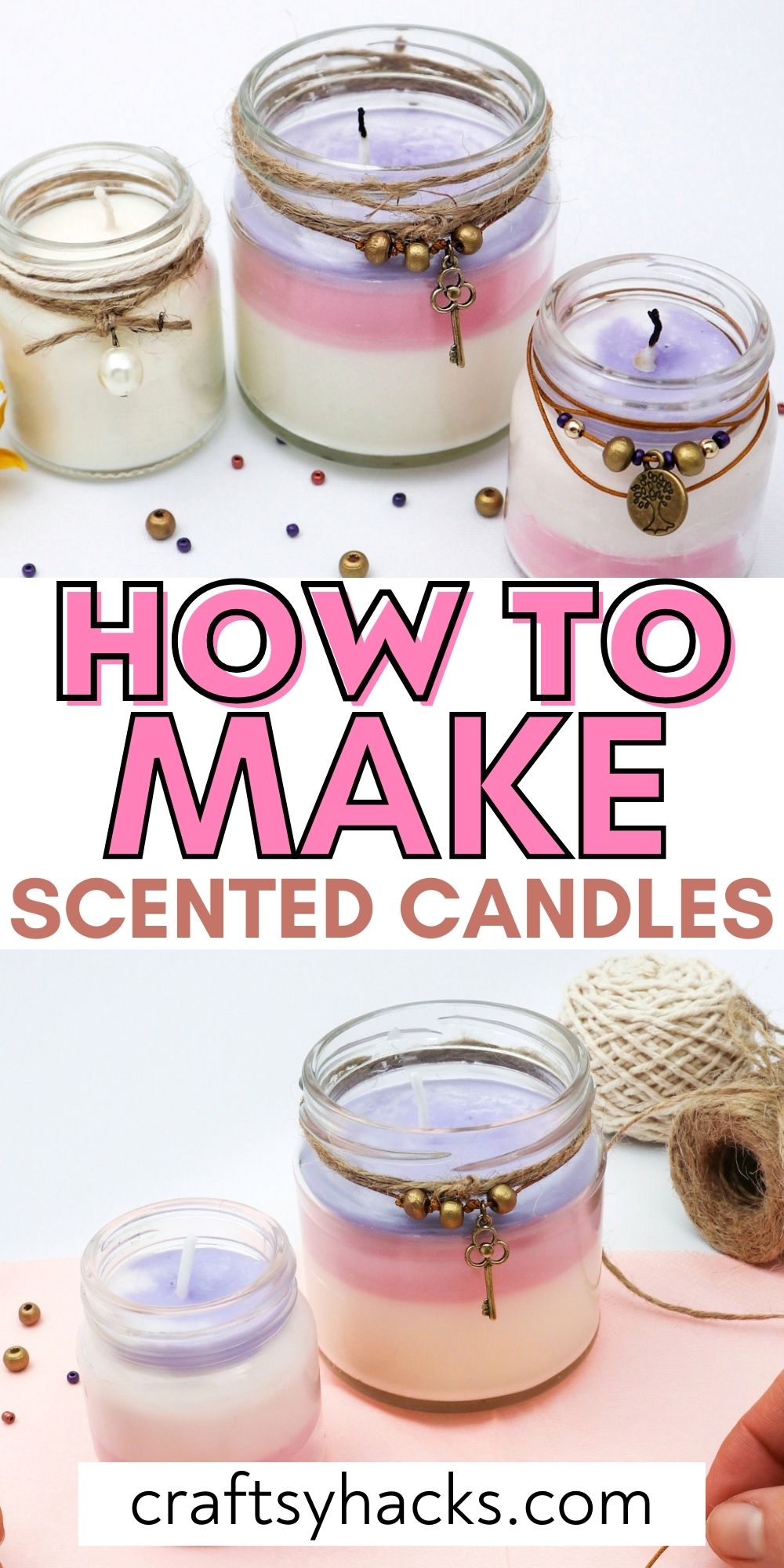 Yield: multiple scented candles
How to Make Scented Candles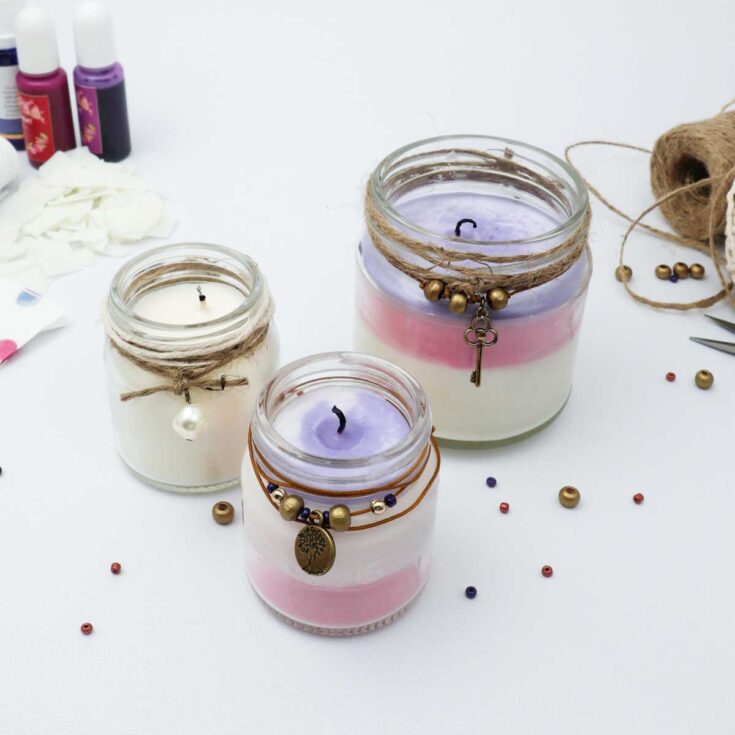 There is nothing more special than your very own homemade candles. These DIY scented candles are fun to make. Check full step-by-step tutorial and take your candle-making game to a whole new level.
Additional Time
15 minutes
Materials
Mason jars
Soy wax flakes
Lolly sticks
Essential oils
Candle dye
Candle wicks
Jute twine
Charms, beads (optional)
Tools
Wooden skewers
Scissors
Old pot
Instructions
Pick out your candle jar and make sure the insides are clean and dry.
Use a craft or lolly stick to balance the wick in place. Make sure that the wick sits snug at the bottom of the jar.
Melt your wax by placing it in a glass jar and into a saucepan of water. Heat the water, and not the wax, to ensure that you don't burn or char it.
Add a few drops of essential oil and give it a good stir to get rid of lumps as the wax melts.
Carefully pour the wax into the jar without dislodging the wick. You can also add a few drops of colored food dye if you like.
Allow the wax to harden and set before trimming off the extra bit of wick.
Decorate the jar however you like with twine, charms, and ribbon.
Light it up and enjoy your DIY scented candle!