Love rock painting? Gather all your stones and get creative with these cute and fun rock painting ideas. Suitable for kids, teens, and adults!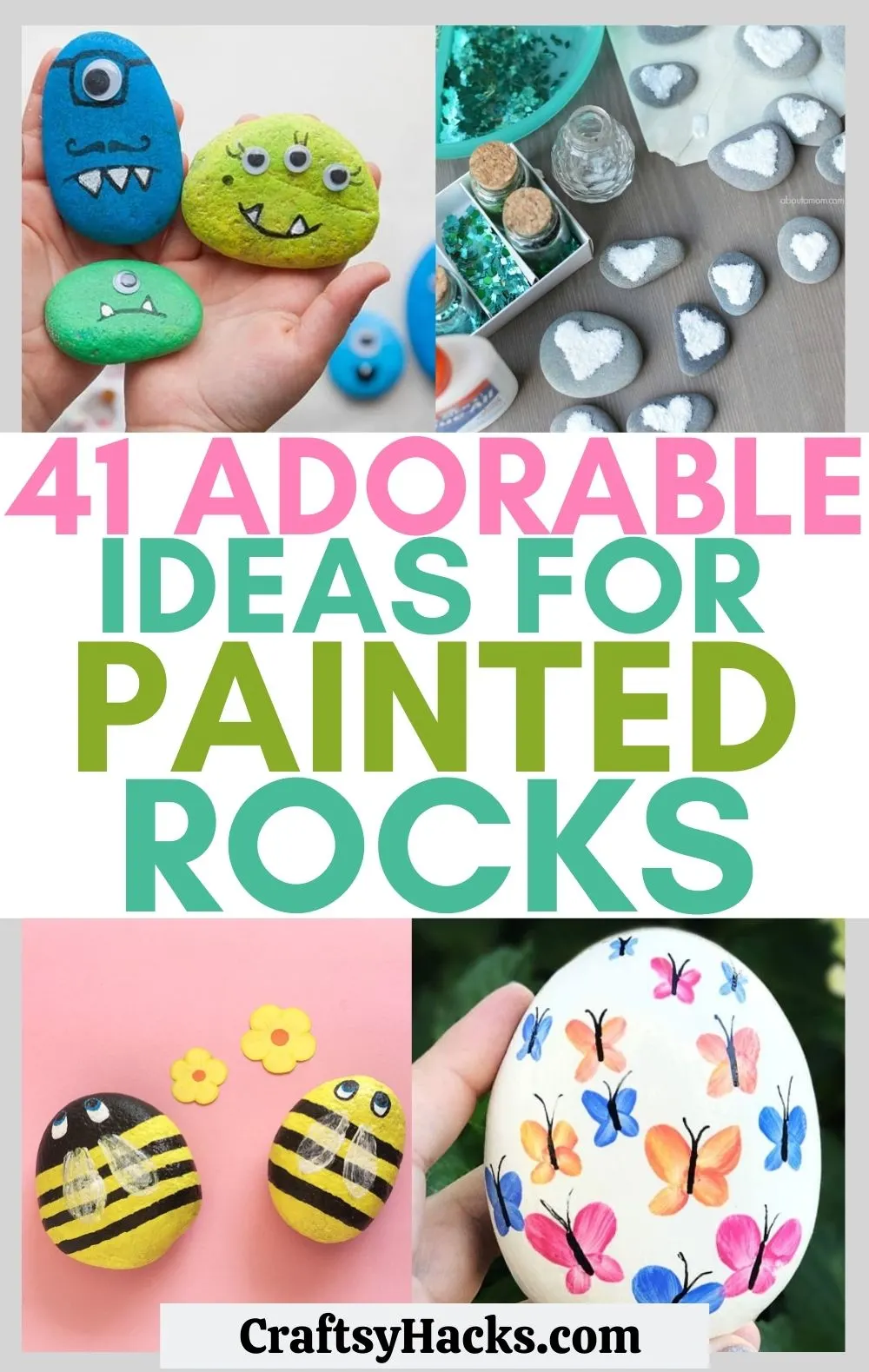 Whenever I think back to my childhood days, I remember the terrific fun I had painting rocks. It was a whole activity that involved going outdoors and actually picking out the rock you wanted to paint and then actually painting it.
That way, you get to decide exactly which rock would be perfect for the craft project in question.
Painting a potato? You'll need a big, round, and pitted rock. Painting a spider means you'll need a flat, wide rock. You get the picture, don't you?
So without further ado, take a look at these 41 painted rock ideas for you to explore!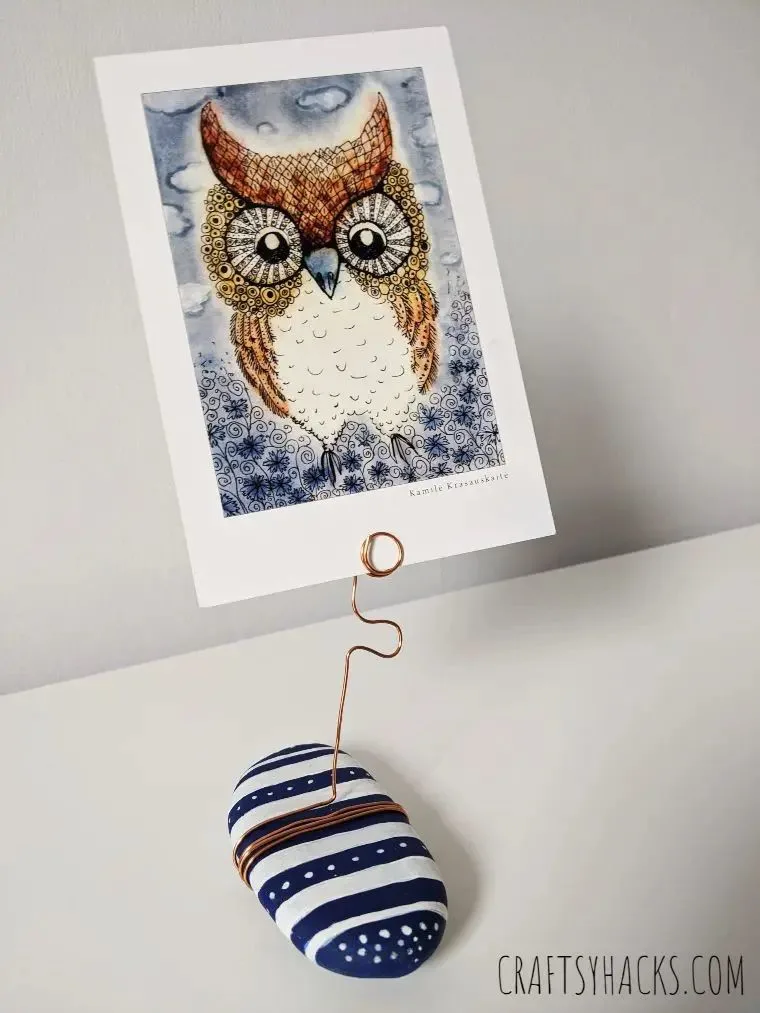 Source: craftsyhacks.com
The best part about these rock photo holders is that they're a twofer project, meaning you get a two-fer-one deal. You get to have a fun painting rocks project, and you can turn those rocks into photo holders.
You'll need to use sturdy wire to turn them into photo holders. Grab this copper wire to get started. Just twist them into coils with room at the top to slide a picture in place.
These would look lovely at a party, and lovelier still as take-aways for the guests.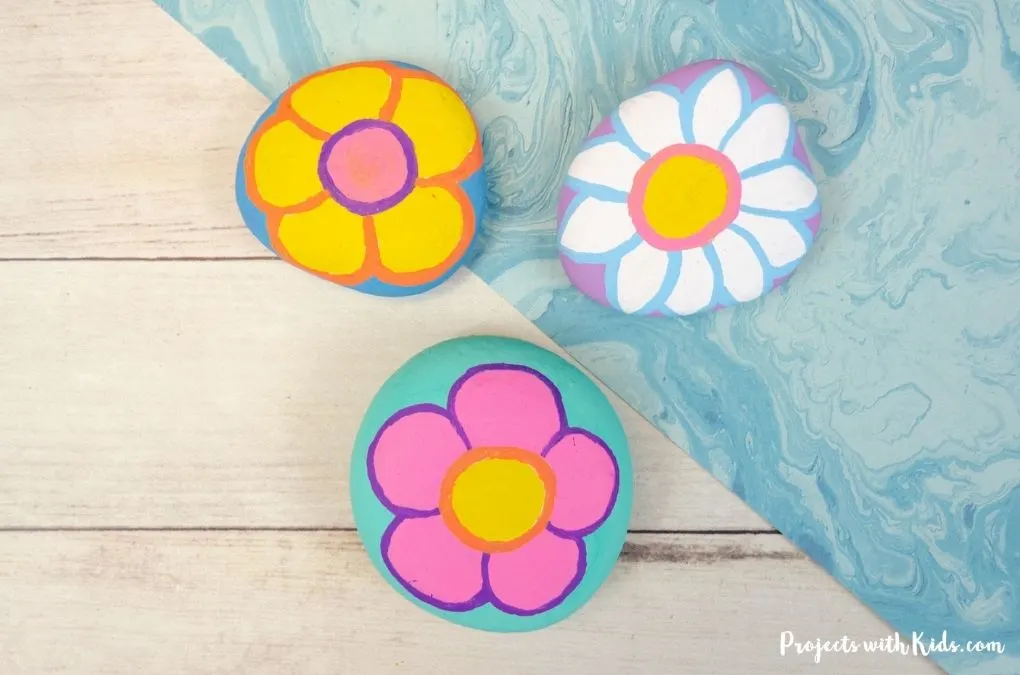 Source: projectswithkids.com
Rock and flowers…you can't get more contrary than that. Rocks are as hard as, well, rocks, and you already know how delicate flowers can be.
But you know what? There's no rule that you can't paint flowers on rocks, is there?
So, let's grab a couple of paintbrushes, pick out some colorful paint and paint some pretty flowers on rocks. You can paint a base coat before you paint your actual flowers.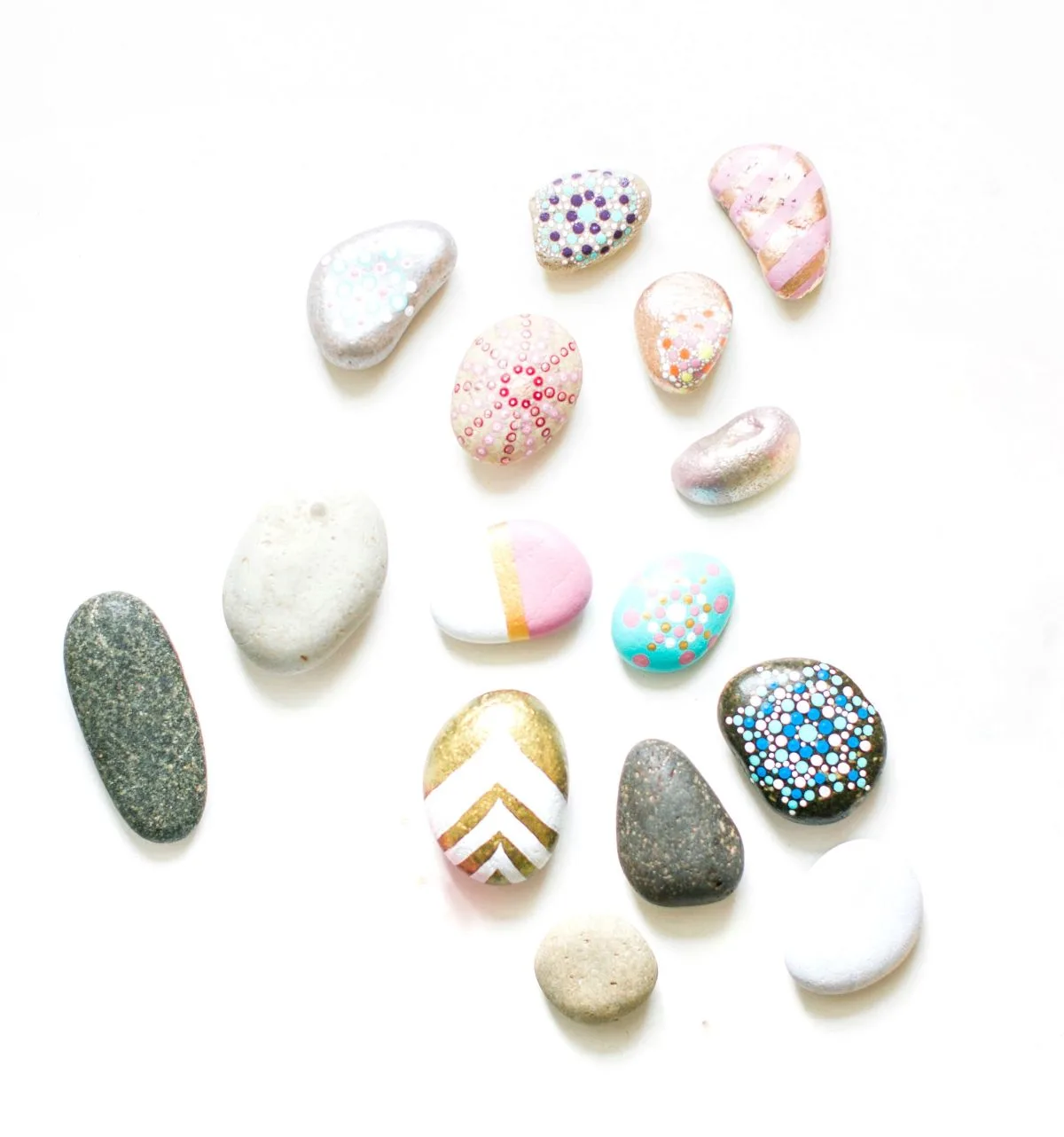 Source: glitterinc.com
In the last couple of years, there's been such a rise in popularity when it came to dot-painting. Everyone's doing it, and frankly, I can see why.
There's something quite therapeutic about painting dots all in a symmetric, almost mandala-like pattern. It's soothing and fun in one go.
So, put on some music—rock, perhaps?—and start painting your rocks. You can invest in a dot painting kit, too, if you like. You can pick one up from here.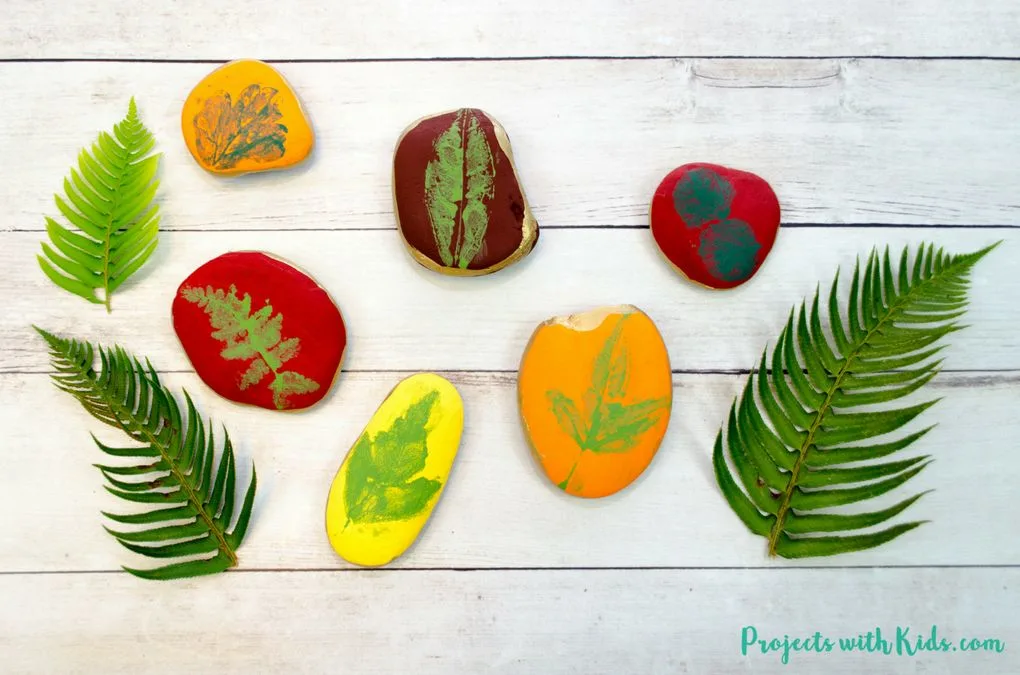 Source: projectswithkids.com
Fall is perhaps my favorite season ever. I love the fall colors—bold reds, warm oranges, and dusky golds.
Don't you just love watching those colors on the leaves, and they're mesmerizing as they sway in the wind and eventually drift to the ground. I think I'd like to capture those fall leaves and colors on a rock—set it in stone, so to speak.
You'll actually be painting leaves with leaves, so pick out your favorite ones from your backyard to get started. If you have a few extra, then you can use them to make this DIY leaf candle holder.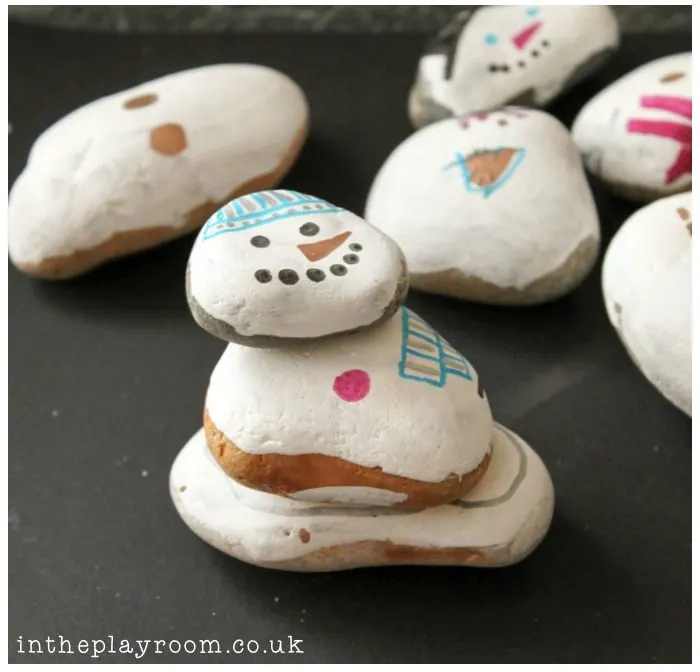 Source: intheplayroom.co.uk
Mix and match snowmen are the bomb! I love how creative this project is. You've got so much room to explore and experiment with different patterns and designs.
You can have happy snowmen, grumpy snowmen, tall ones, stout ones, and even four-tiered ones! It all comes down to how you mix and match.
This is a great activity for toddlers and younger kids. Heck, I'm an adult, and I would love to play mix-and-match snowmen!
Check out these 27 easy Halloween crafts for toddlers!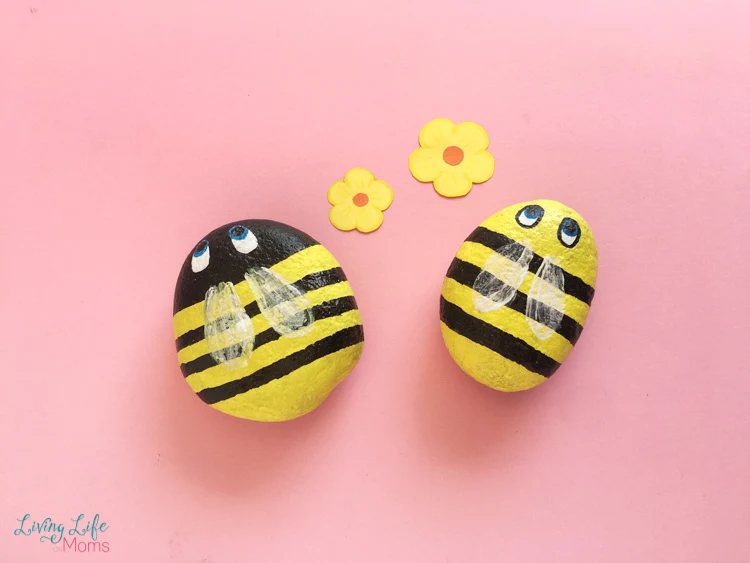 Source: livinglifeasmoms.com
You know, rocks are actually perfect for recreating bees. If you pick the right type of pebble—something round and smooth—then you'll have the perfect canvas to work on.
Think about it—they're both round and curvy, and you can have a ton of fun painting yellow and black stripes on the rocks. Or rather, your kids will.
Don't forget to grab a can of white paint from here. You'll need it to paint the bees' wings. Alternatively, you can use a white paint pen from here to the same effect.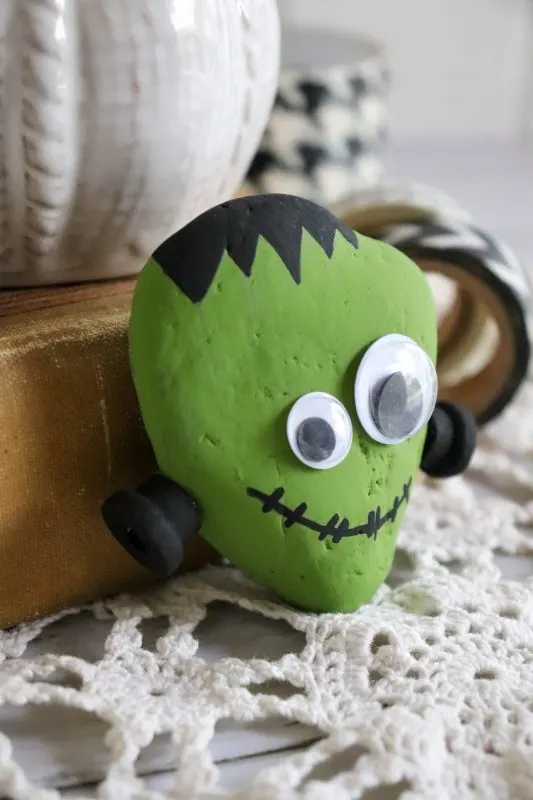 Source: homemadeheather.com
With Halloween just a few weeks away, I'm sure you have a ton of Halloween-themed craft projects and decor ideas lined up. I bet your kids are excited to join in on the fun, too.
So, here's something they're going to enjoy painting on rocks: the Frankenstein monster! This particular rock craft is super adorable. Instead of plain old one-dimensional features for Frankenstein, you can use these googly eyes instead.
You can also cut a small wooden spool from here in half and stick it to the sides of the rock. Check out more fun crafts like this for kids here.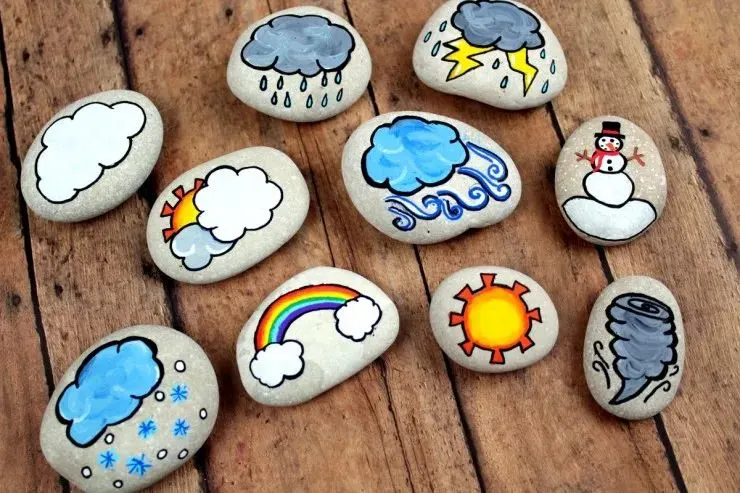 Source: frugalmomeh.com
Teaching a toddler about different seasons and the different weather patterns you'd normally expect during those seasons is a valuable learning experience.
With these weather stones to help you, you can explain the science behind the different weathers and have a fun story session.
How does it usually begin? "It was a dark and stormy night…."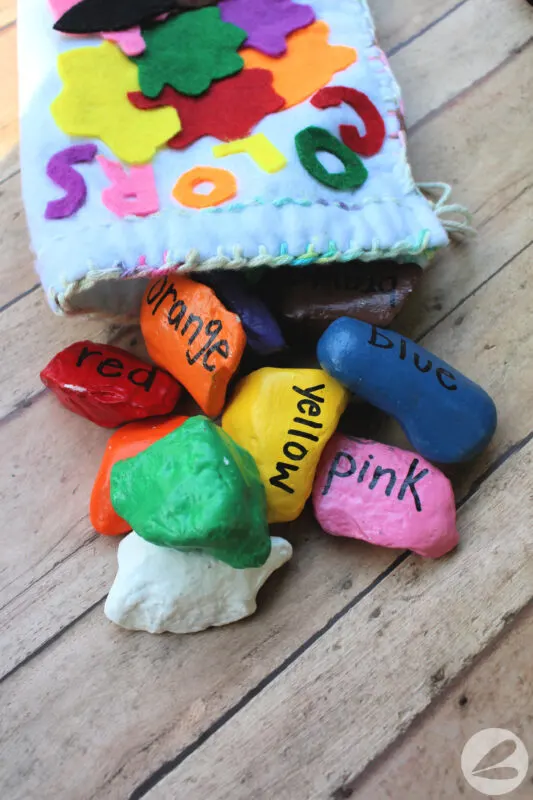 Source: homemadeheather.com
Speaking of learning experiences, rock painting is also a great way to teach your kids about the different colors. You can have a mix and match game to familiarize them with different colors.
If your kids are a little older, you can also teach them how to mix colors. For example, blue and yellow stones would give you green, right?
You can teach your kids how to work out those combinations! Check out more summer crafts here.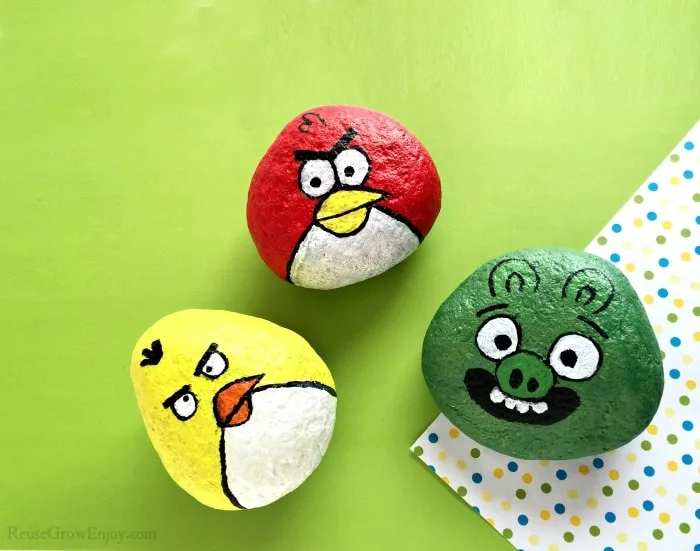 Source: reusegrowenjoy.com
You remember how you could catapult Angry Birds in those games? Well, there's a little bit of an irony here because you're going to be painting angry birds onto the rocks, and no, you can't catapult them.
You'll need a couple of black permanent markers from here, sealer like this, acrylic paint, and brushes. Once you've assembled your supplies, go ahead and figure out which stone works best for which Angry Bird.
Then all that's left to do is paint your rocks, and you're done.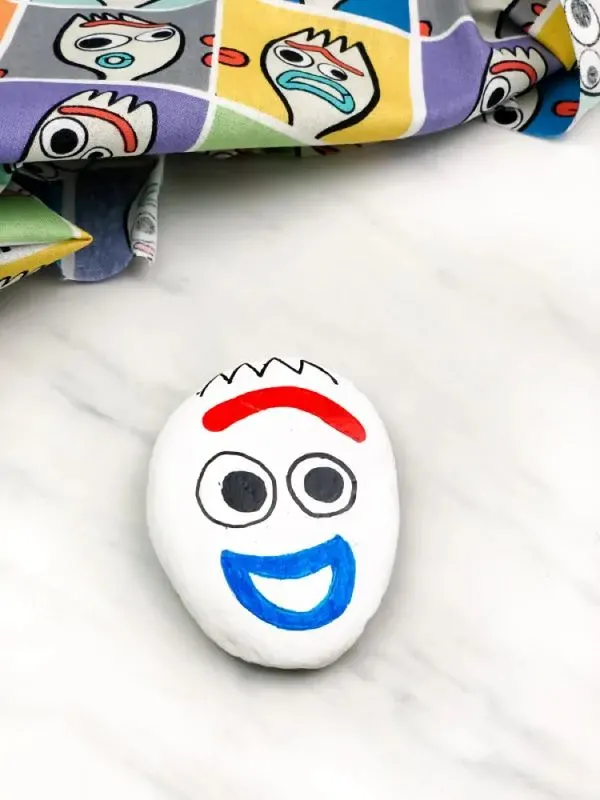 Source: simpleeverydaymom.com
First, grab a bunch of flat rocks and paint them white. You'll need to apply at least 3-4 coats of white acrylic paint and allow the rocks to dry completely before you proceed.
You and your kids can use these paint pens, too. They're much easier to wield than paintbrushes, so you'll be able to paint your Forky designs with more precision and skill.
But if I were you, I'd still lay out a ton of newspapers to catch the spills.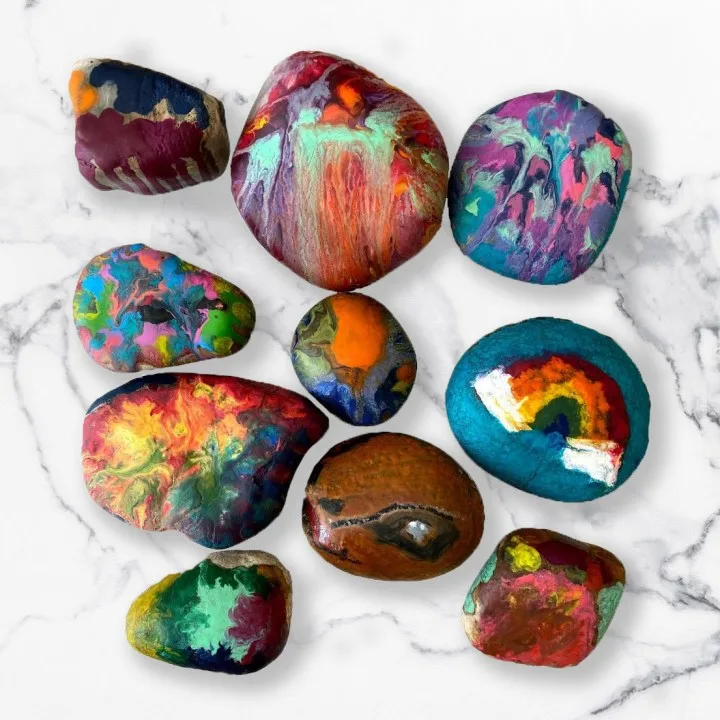 Source: brooklynberrydesigns.com
Hot rock craft is pretty straightforward to work with. But it's super satisfying, and you'll have an absolute ball working with them.
It's basically just heating up rocks in an oven and then drawing on them with crayons. The crayons will obviously melt with the heat, and the activity is as satisfying as it is entertaining.
Grab a pair of oven mitts from here to use when you're handling the heated rocks. Place them on a tray and heat them up.
When you're ready to get started on painting them, you can pick up the crayons here.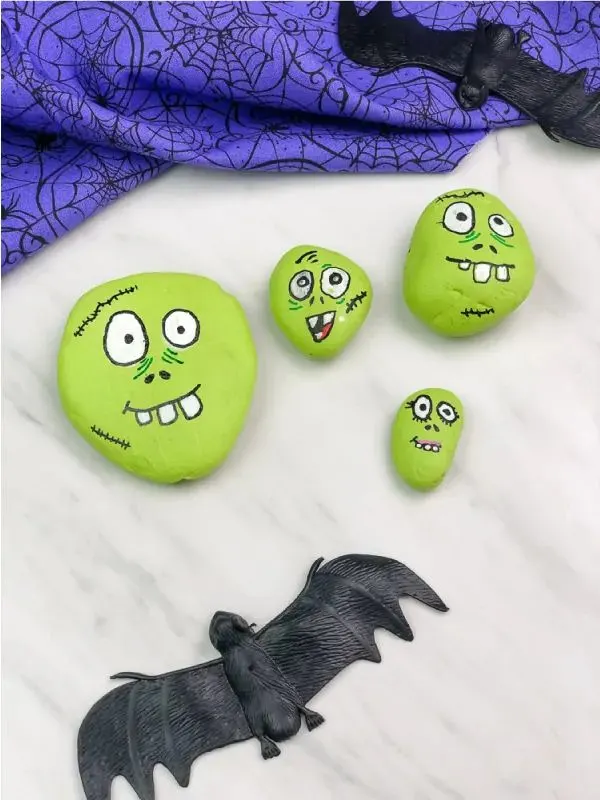 Source: simpleeverydaymom.com
Here's what you're going to do for your next Halloween-themed craft session. You're going to sit your kids down at their work or craft stations.
Give them a plate of cookies to nibble on, a glass of lemonade, or even a bowl of popcorn. Then you're going to set them to work on painting Halloween monsters and creatures on rocks.
They've got an almost endless supply of Halloween monsters to choose from. They can use markers or white paint pens to draw over their painted pebbles. That way, they can draw the monsters more precisely.
Love the craft? Check out more DIY Halloween projects for kids here.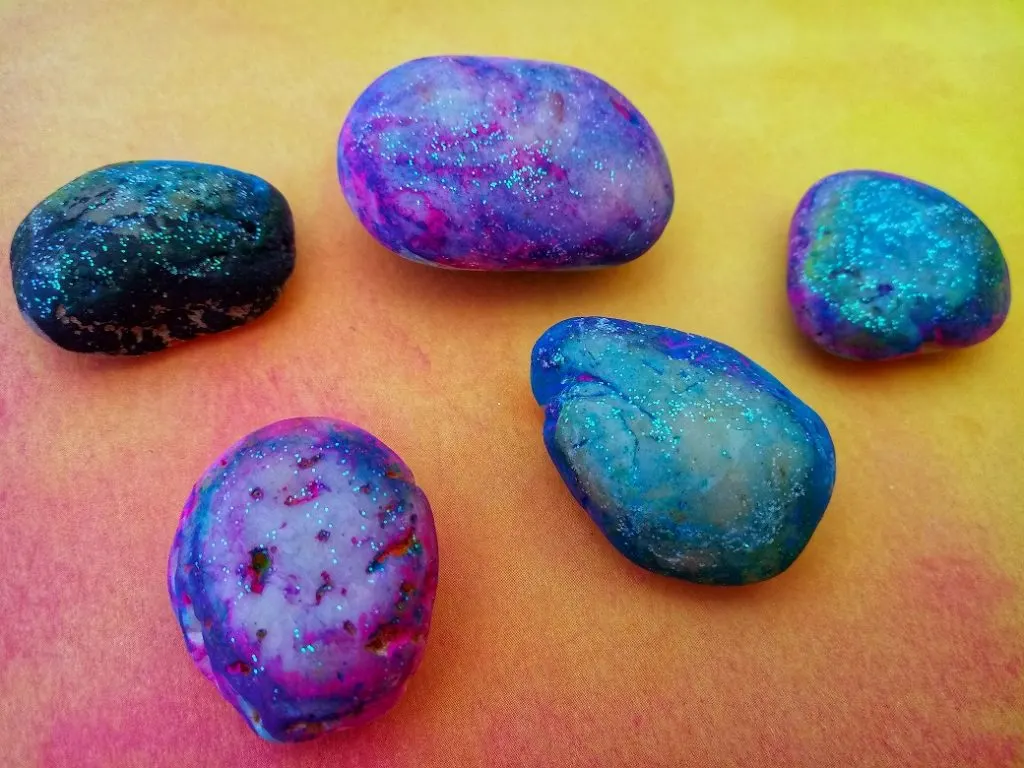 Source: twokidsandacoupon.com
I have a never-ending fascination for sparkly galaxy rocks. I don't think that that is something you ever really grow out of, is it?
Space has such a never-ending and vast array of inspiration and ideas for you to recreate on rocks. And besides, when you're painting the galaxy, you have full and uncontrolled freedom to explore a multitude of color combinations and patterns.
Anything goes with galaxy rocks. So, pick up some glitter glue from here, this parchment paper, and a spray can of clear acrylic varnish to get started.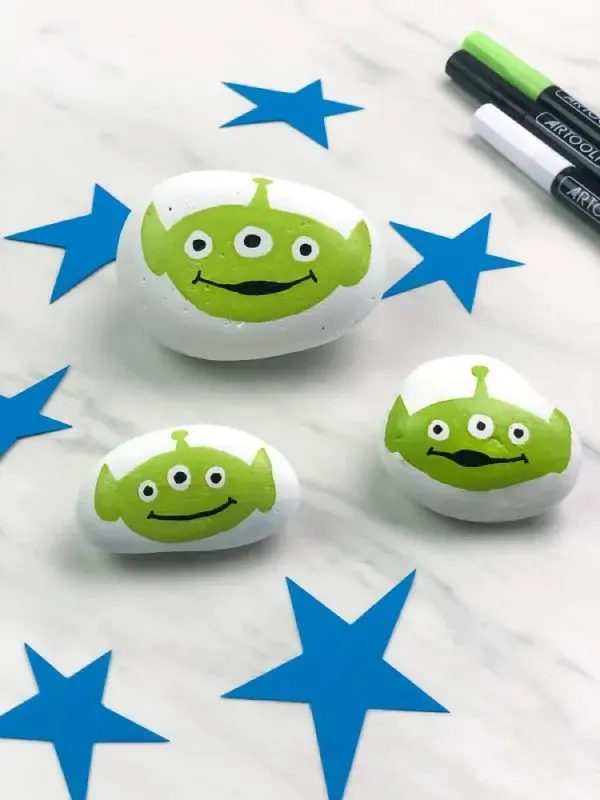 Source: simpleeverydaymom.com
Toy Story was a pretty wild movie, wasn't it? I mean, you had a bunch of so-called normal dolls, then you had dolls from outer space, creepy ones that were missing pieces, and much more.
That's why it's the perfect movie to draw rock-painting ideas and inspiration from. For this project, you're going to be painting the cute little green aliens that were portrayed in the movie.
You know, the three-eyed baby ones? Well, go ahead and take a look at them before you get started on this project.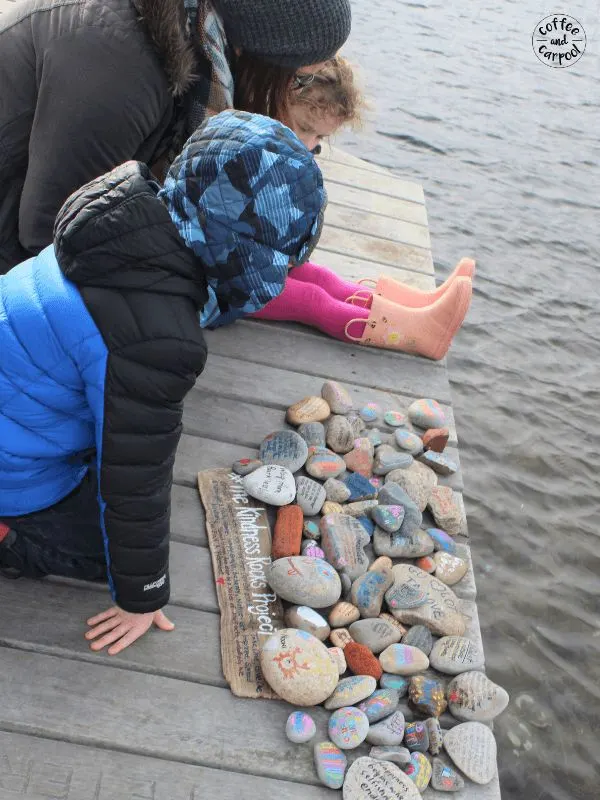 Source: coffeeandcarpool.com
Craft time is such an important way for kids to learn about life. It isn't just all fun and games, you know.
Take these painted kindness rocks, for example. They carry such important quotes and affirmations about kindness and how to be kind and spread it, too.
This simple yet effective way of spreading kindness is a great way to teach your kids about what's really important in life.
The bonus? If you see someone being kind, just throw a kindness rock at them. Either way, it'll get them to stop being mean.
This is a little fun project for all the adults out there.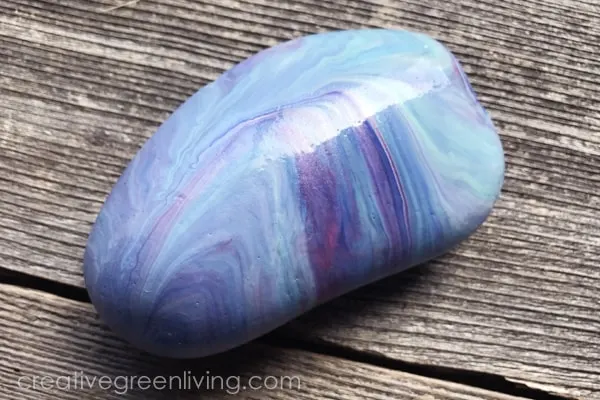 Source: creativegreenliving.com
Marble-finish on rocks are my absolute favorite. They're glossy and classy—my two favorite words during rock painting craft time. It's also surprisingly easy to get that effect, did you know?
So, to recreate that glossy, marbled look on your own rocks, you can try out three different methods: tilted, swirled, or, my personal favorite, dipped.
Take a look at which method suits you best and decide—you can, of course, try all three. Depending on the method you choose, you'll need different supplies.
But when you're done working on your rocks, just remember to seal the paint in with a coating of acrylic spray sealer.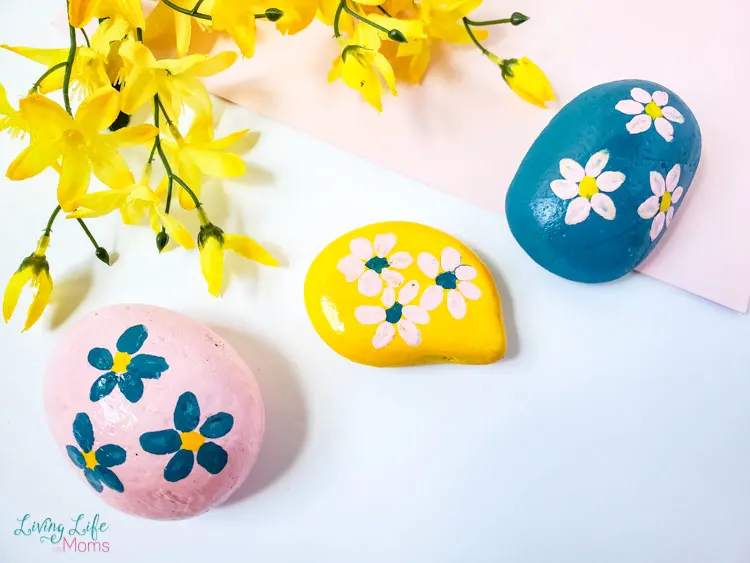 Source: livinglifeasmoms.com
Here's another flower-painted rock project for you to try out. The last one was lovely, yes, but it did lean just a little towards the cartoonish end of the spectrum.
These rocks are more subtle and just a tad bit more elegant. They look a lot like cherry blossoms, daffodils, and daisies, don't they?
Do you know how you can get a better angle when you're painting? You can use slanted brushes. The ones you'll find here are particularly suited for rock painting, so grab them for this project.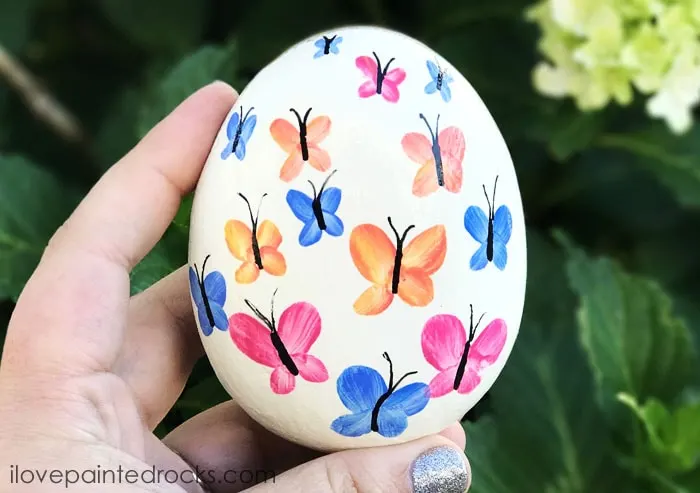 Source: ilovepaintedrocks.com
This rock is so beautiful that I just can't get over it. In fact, the edges are so smooth that it almost looks like an egg, doesn't it?
Case in point: it all comes down to the rock or pebble you pick. Especially for this delicate butterfly-painted one, you should pick up only the best possible rock you can find.
Since you'll be using watercolors, it might help if you practiced painting with that medium beforehand. You'll be able to paint the little butterflies with significant ease if you practice.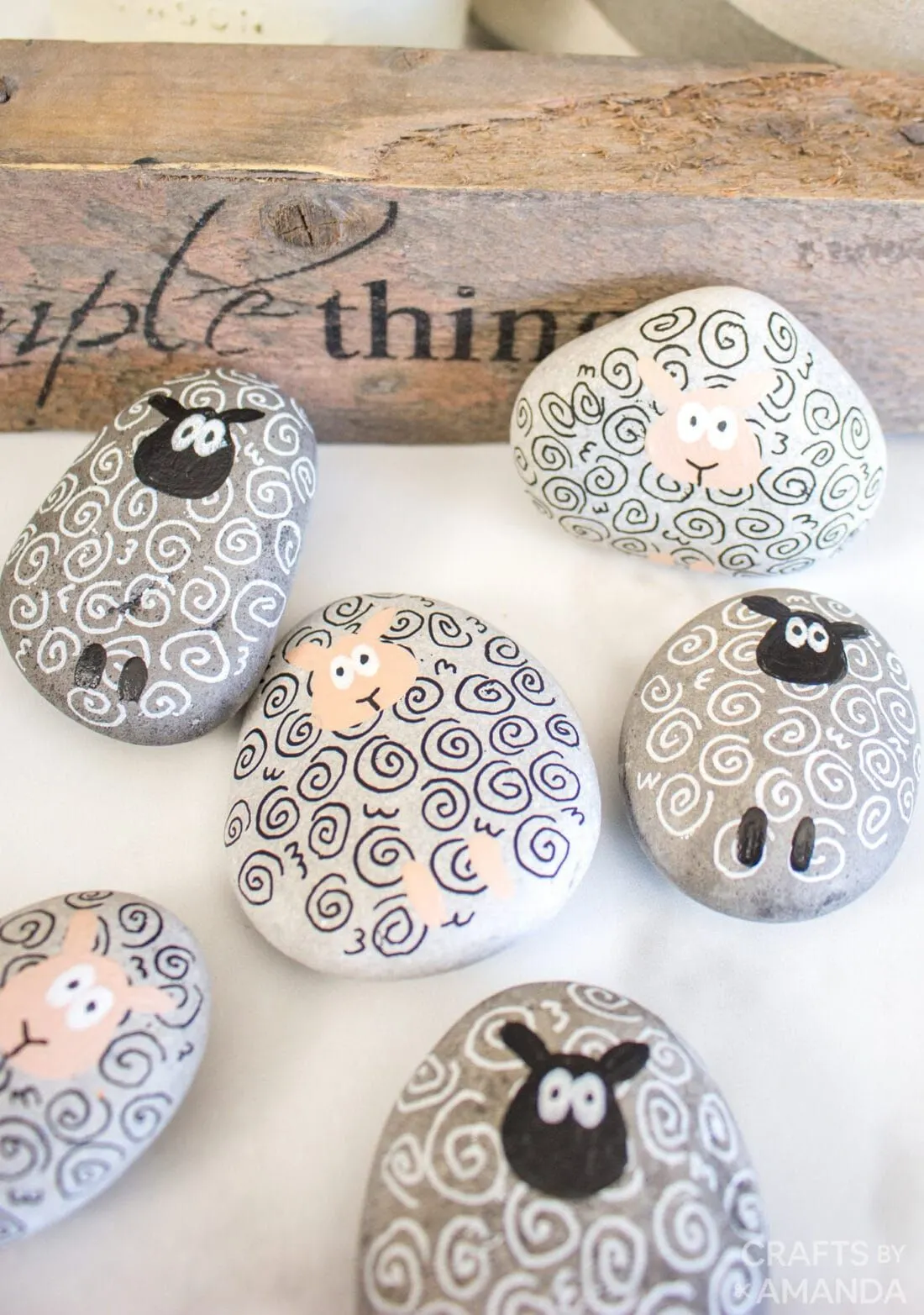 Source: craftsbyamanda.com
No, these aren't just any old sheep that you just happened to see grazing in a field. These sheep are downright adorable. They're fun and quirky sheep, with curly wool that you can paint on with markers.
First, make sure your rocks are smooth, clean, and dry. Then, give it a washed-out finish by painting it with watered-down black paint.
Wipe away the excess paint with a paper towel to enhance that smudgy, washed-out look. Then go ahead and draw—paint—the curly lines.
When you're working on the face, you can go for something simple and effective—but not cartoonish, I think.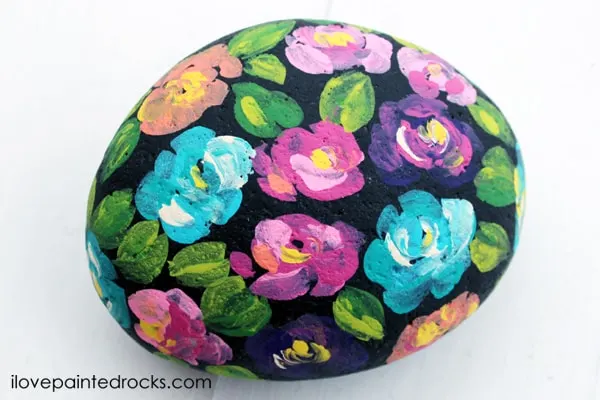 Source: ilovepaintedrocks.com
These rocks are just downright spectacular. Look at those bright pops of colors—blues, pinks, purples, and yellows!
Why don't you pick up some neon paint from here? The flowers would look even starker with neon paint and prettier, too.
Would you believe me if I told you just how easy it really is to recreate those flowers? You can be a novice painter, and you can do it.
Remember when you saw how a slanted tip brush helped to get a much more defined edge when painting? Well, for this project, you'll need to use a round paintbrush from here.
Want to find more low budget projects like this? Check out these Dollar Store crafts.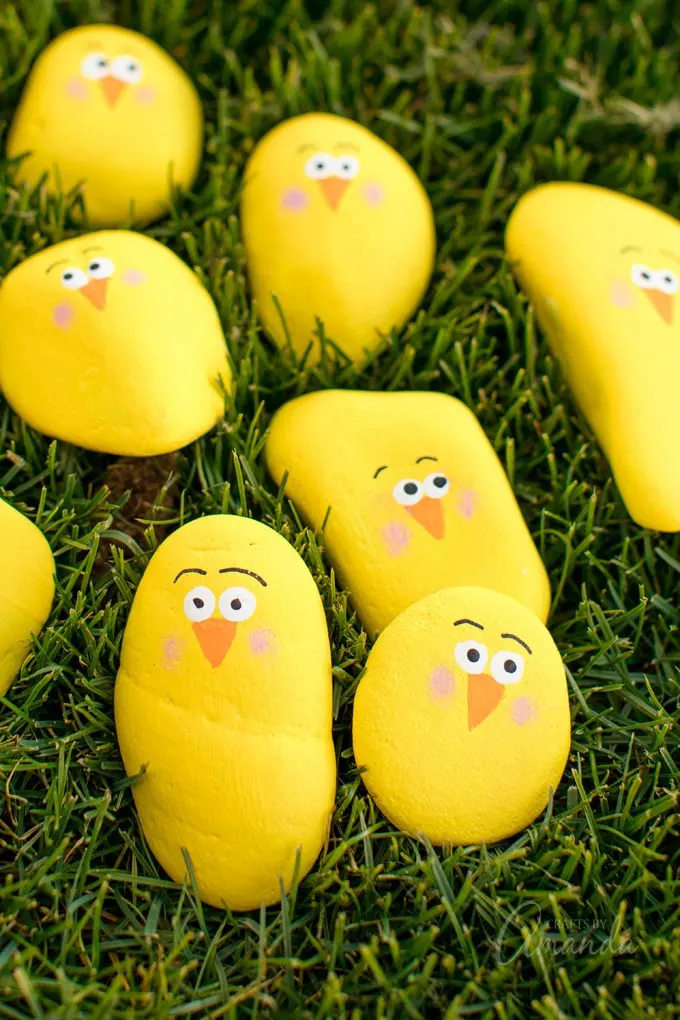 Source: craftsbyamanda.com
Sorry to disappoint you, but no, you won't be painting Adele or Pink on rocks. When I said we'd be painting rock chicks, I literally meant baby chicks on rocks.
These adorable chicks are sure to liven up your room wherever you decide to place them. Just look at how bright that shade of yellow is. You can pick up a bottle of yellow paint like that right here.
When you're painting your rock chicks, you can brush the barest hint of pink next to the beaks. That gives your chicks nice rosy cheeks and really animates their features, don't you think?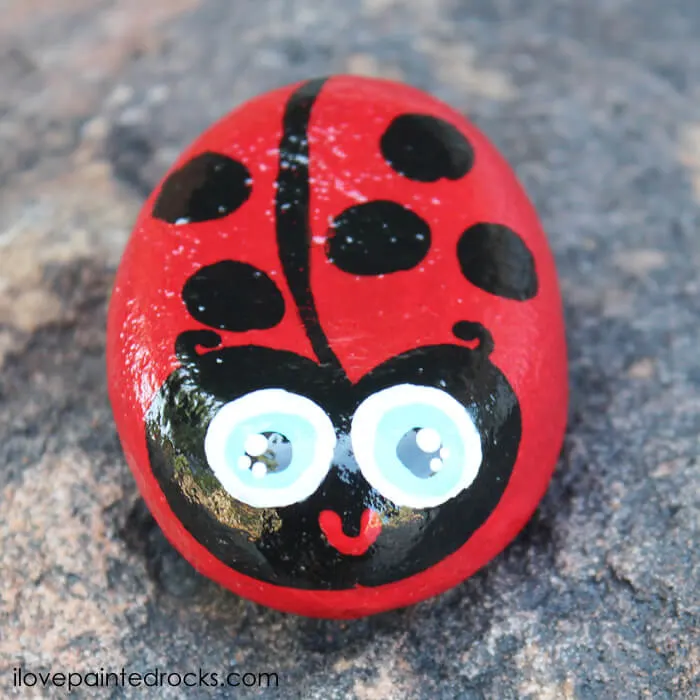 Source: ilovepaintedrocks.com
I know you were waiting to see a ladybug rock on this list, so, without further ado: here you go! Nobody's childhood is ever truly complete if they haven't painted at least one ladybug on a rock.
I have pleasant memories of warm summer afternoons when I've painted at least a dozen of these bugs on stones. If you never have, then it's time we rectified that.
Grab your paintbrushes and a couple of bottles of red and black acrylic paint. Lay out a few newspapers and have a couple of paper towels or napkins at hand.
Somehow, painting these ladybugs always gets messier than it ought to. Get more inspiration with these ladybug crafts.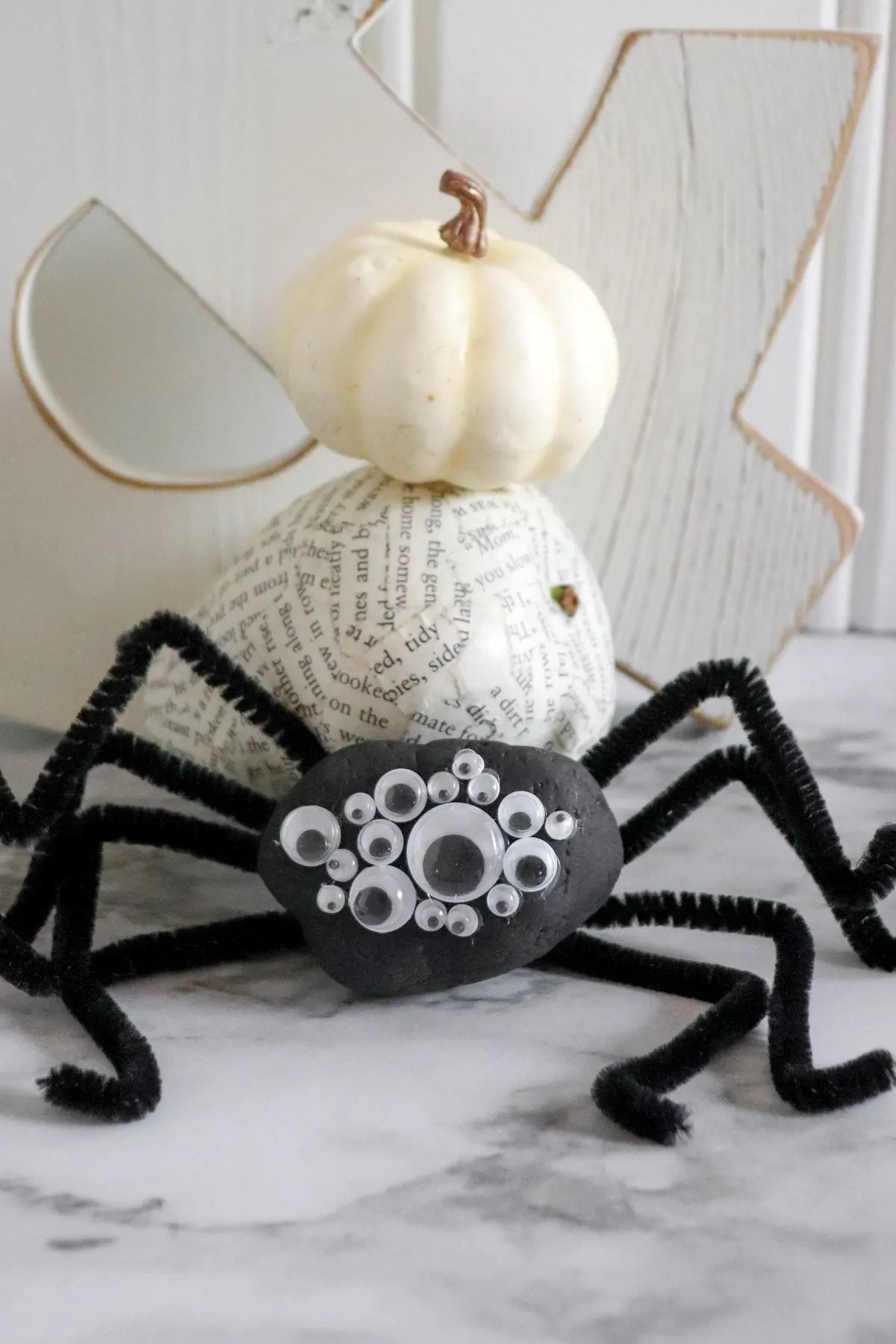 Source: mommymadethat.com
Again, painting spiders on rocks is just as natural as painting ladybugs and bees. They definitely belong on your list of animals or insects to paint on rocks.
It all comes down to picking out the right pebble or rock—something flat and wider in the middle would work best.
Grab a bunch of googly eyes and glue them on the surface of the rock. For the legs, what better way to recreate those eerie, spindly, and hairy legs than a few black pipe cleaners from here?
Me? I'm not a big fan of anything that creeps or crawls, but even I have to admit that they're great craft inspiration. So, why don't you take a look at these spider crafts?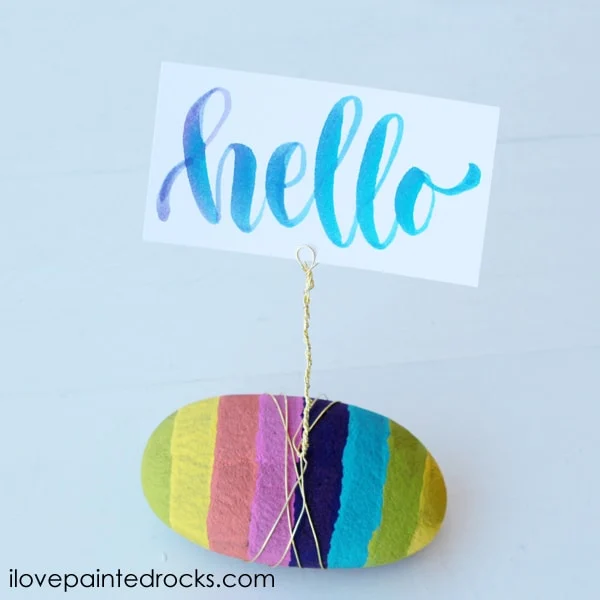 Source: ilovepaintedrocks.com
Here's another photo holder for you to try out. For the actual painting of the rock, you can go with the ever-popular rainbow-striped pattern—you can't really go wrong with that, can you?
Have you thought about how easy it would be to use your photo holders as placeholders, too? You just have to switch out the photo with a name card, and that's pretty much it.
If you're hosting a birthday party for your little ones, then their friends are sure to love these quirky and colorful name cards.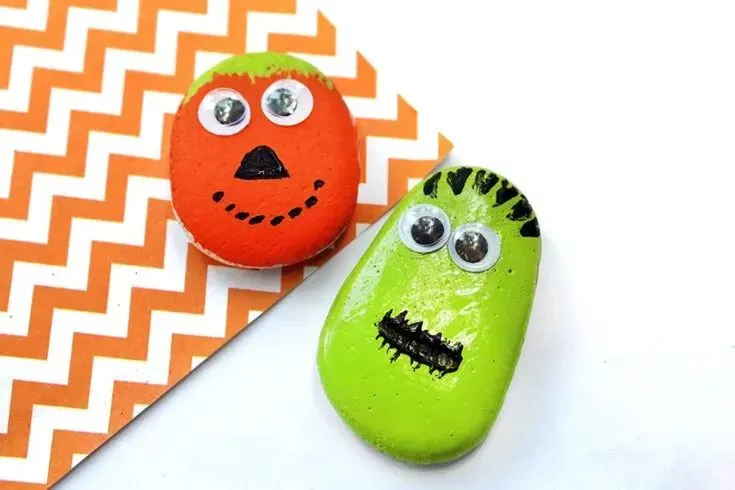 Source: amagicalmess.com
You've seen a couple of Halloween-themed rock painting ideas already, I know. This particular one is best suited for a younger crowd, though, so it might be worth your time to take another look.
Why?
Well, they're super simple to make. Your kids only need to paint the rock with a base coat and paint a few squiggle lines for the mouth and nose, as seen here.
It's also not quite as spooky to make, so your younger kids won't be too put off by the monsters. You can also use googly eyes to make these 'monsters' less spooky.
Check out more Halloween decorations to get some inspiration!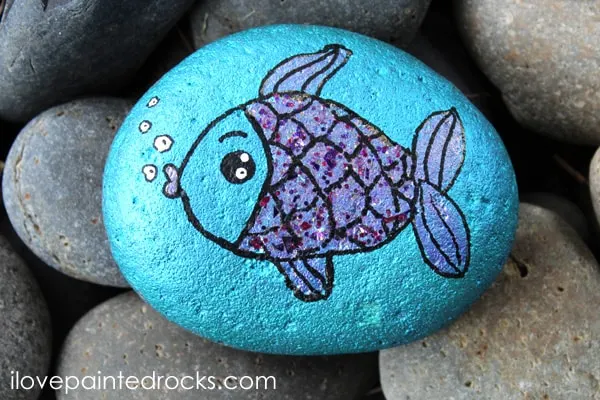 Source: ilovepaintedrocks.com
Do you have a little pond or a birdbath of some sort? I think I have a great idea for a craft project that you can place inside either of those water bodies: painted fish rocks.
You'd have to use water-resistant paint, of course. The ones that you'll find here are specifically meant for rock painting and are, of course, water-resistant.
These rocks would add a ton of color to your little fish ponds. Let's confuse the real fish a little and place them in there just for kicks.
Here's a fish craft for kids that I think might be fun to try out!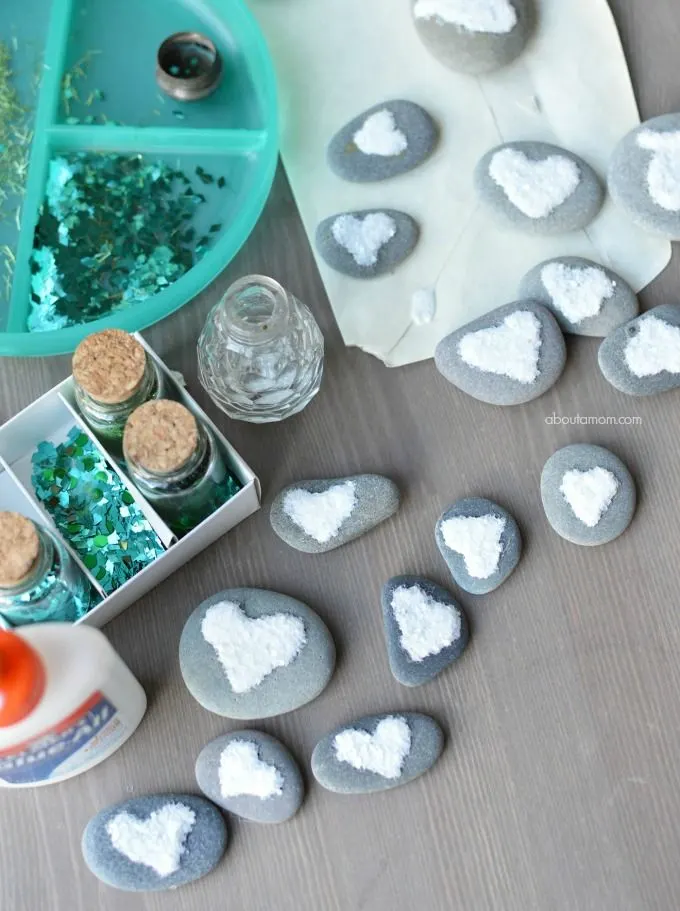 Source: aboutamom.com
Start off by cleaning and rinsing some flat rocks, then lay them out on a flat surface to dry. You can proceed to lay a few sheets of newspapers, at this point, to protect your table.
Draw a few hearts on the rocks and then fill them up with white glue from here. Carefully pat the edges to fix and catch any runny glue.
Before the glue dries, you'll need to add glitter—a lot of glitter. This is where you can really go all out.
You can add plain white or clear glitter, or, if you want a bit of color, you can add colored glitter over the glue.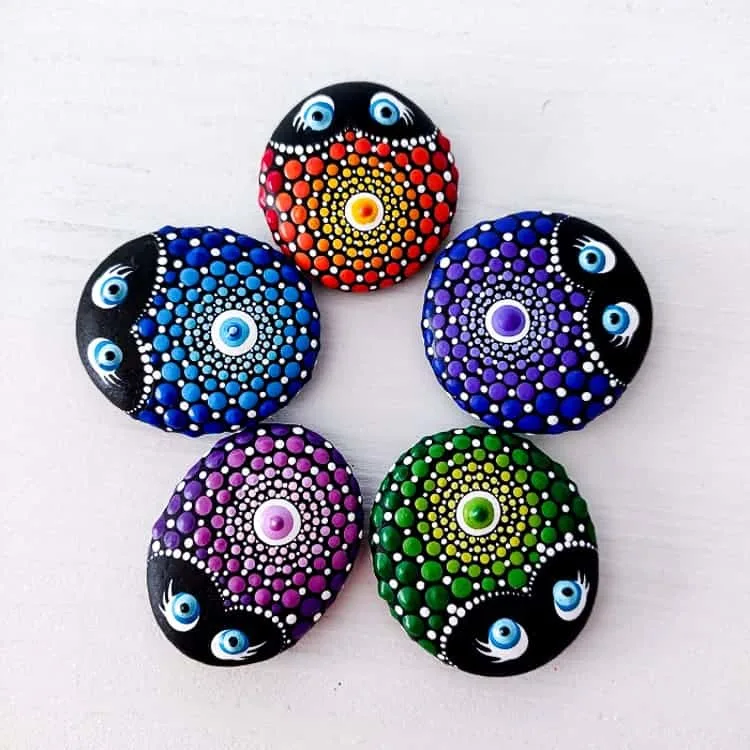 Source: thethingswellmake.com
Remember that dot painting kit you bought earlier? Well, let's put it to use once again with this mandala ladybug.
You know the drill: pick out a flat and smooth rock. With dot painting, you'll need as smooth a surface as you can possibly have to make sure the pattern is fully visible.
Don't forget to give the stone a base coat first!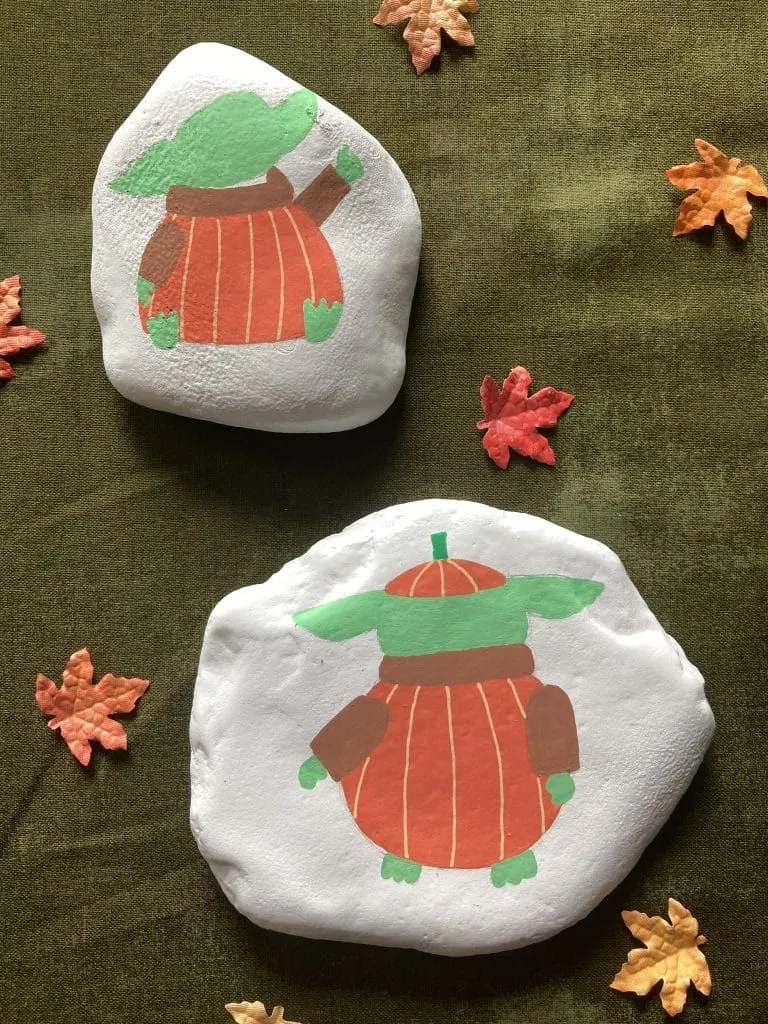 Source: funhappyhome.com
I can't tell you how much I adore Baby Yoda. Who would have thought that wise old Yoda as a baby would look so adorable?
Baby Yoda is super easy to paint, don't you think? You just need to get the shape of the head and ears right, and you're nearly there.
But hold on; why don't we…tweak this a little? It is just a few weeks from Halloween. Why not embrace that and put Baby Yoda in a pumpkin suit?
No, really, I think Baby Yoda clad in a pumpkin suit with a little pumpkin hat, holding a trick-or-treat pumpkin bucket, would be too cute for words!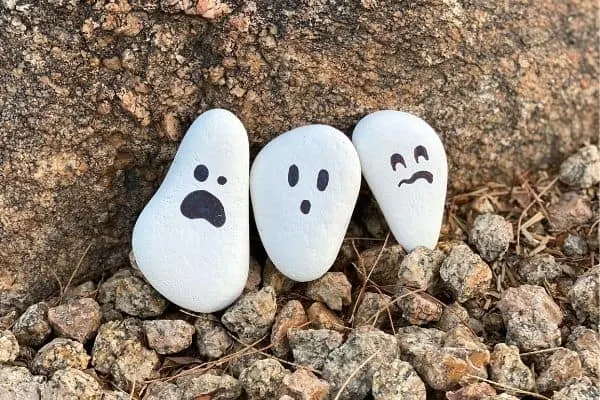 Source: mombrite.com
When you've made your way through all the monsters, ghouls, goblins, and creepy crawlies, there's only one major Halloween contender left to paint on rocks: ghosts.
Oddly shaped stones and pebbles are perfect to pass off as shapeless ghosts, don't you think? The pebbles you pick out can be just about any shape you like, albeit smooth enough to paint.
After at least 2-3 coats of white paint, you can grab a black permanent marker and draw your ghosts' faces on the surface.
Before you know it, you'll have at least a dozen of these ghosts to help you decorate your home for Halloween.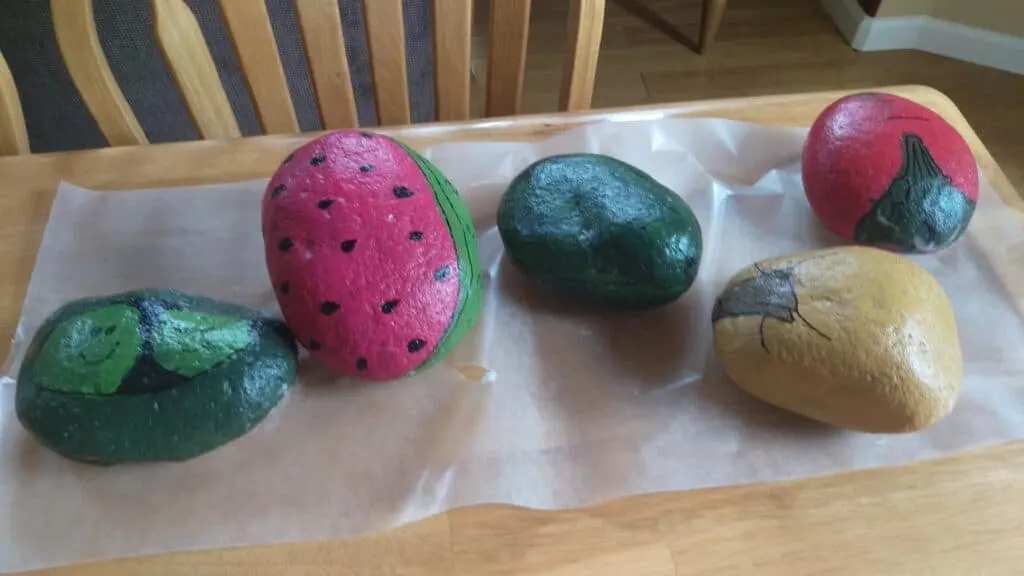 Source: savingtalents.com
When you have a nice outdoor garden, you have to have some way of identifying exactly what you are growing. While a vegetable garden is easy enough to keep track of, a flower garden can get a little tricky.
To avoid any confusion in either case, just go ahead and paint these rocks to use as labels. They'll blend right into the garden setting—they are rocks, after all.
But don't let's stop there. Instead of just marking your fruits and veggies with their names, why don't you actually make the rocks into them altogether?
You can paint strawberry rocks, tomatoes, melons, potatoes, and more! Isn't that super creative?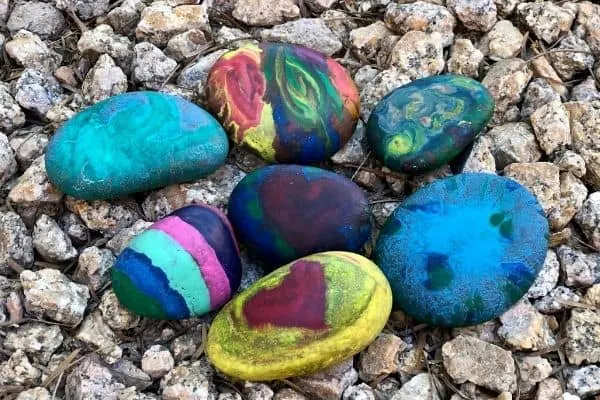 Source: mombrite.com
Remember when you worked on that heated rock painting craft? Well, we're going to do something similar here.
I bet your kids have a ton of broken crayons lying around. You usually end up dumping them, but hold on for just a while; I think you'll find a much better use for them with this project.
Heat your stones in the oven and when they're ready, carefully remove them(wear oven mitts!) and place them on a paper plate.
Now, grab a bit of crayon and start 'painting' the rocks. The crayon will melt when it comes into contact with the hot stone, so be careful not to burn your fingers!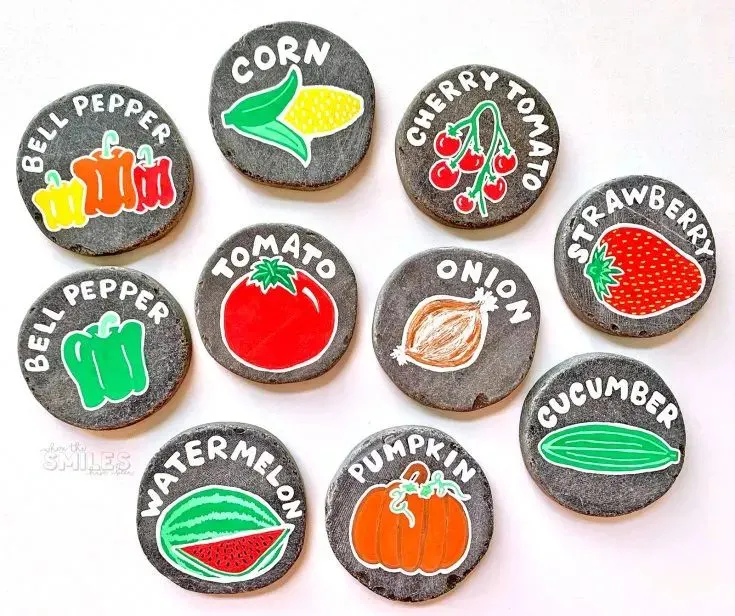 Source: wherethesmileshavebeen.com
Here's another way to mark your gardens. Instead of painting the entire rock into a veggie or a fruit, you'll be painting them onto the rock.
You can also use white paint or white paint pens to spell out their names to make it easier still to identify the plants in question.
Why don't you take a look at these flat rocks? They're so flat and rounded that they look pretty much like badges. They'll be perfect to use as garden markers.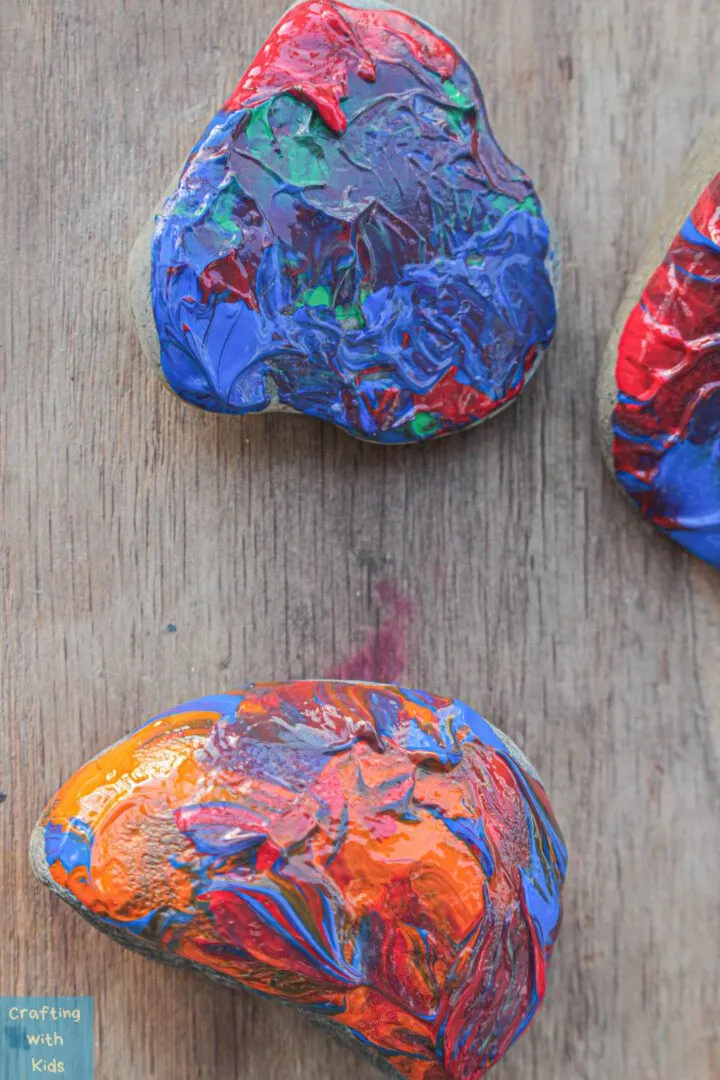 Source: craftingwithkids.net
These rocks are super satisfying to 'paint.' You're essentially going to layer different colors of paint and swirl them around to create a pattern.
This is where you can truly embrace your inner Jackson Pollock or Van Gogh—if you can recreate the swirls of Starry Night here, that is. You can use a paper plate or a plastic tray as your palette.
When you're happy with the pattern, press a flat rock over it and hold it in place for just a bit. Then, carefully so as to not smudge the pattern with a fingerprint, pull the rock away and place it on a flat surface to dry.
You can use a pouring medium from here to create more fluidity in your marbled look. You'll also need these wooden skewers to help you swirl and mix the paint.
Source: wherethesmileshavebeen.com
Can we all just stop for a minute and appreciate the true genius of this craft project? I think they're my absolute favorite item on this list—even more so than the mix and match snowmen.
Grab a small canvas bag to use as your board. You can use a black sharpie to work on the grid. Make sure that the lines are thick and visible.
When you're done, you can start painting the rocks into their respective X's and O's, with a corresponding color if you prefer: red for X and blue or green from O.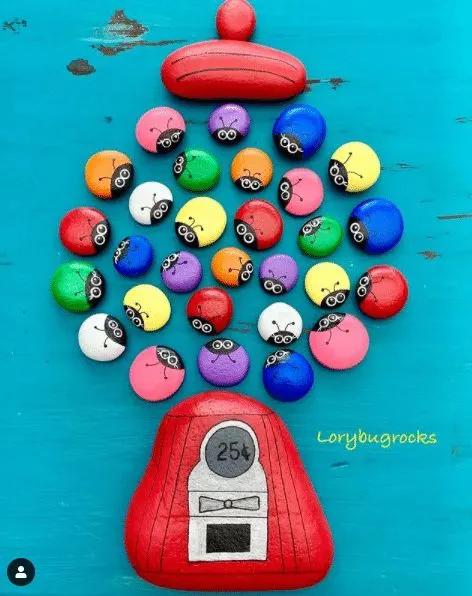 Source: rockpaintingguide.com
Who said that ladybugs could only be red with black polka dots? When you're working on a craft project that involves painting rocks, anything goes.
So, that means you can have a purple with pink polka-dotted ladybug if that's where the wind and your creativity take you. Just remember to pick out rocks that are as rotund as they can be.
If that doesn't please you, then forgo all sense of logic and reality and paint a square rock into a green and white ladybug. The world is your oyster, and these rocks are only yours to paint—so go absolutely crazy with colors!
Take a look at these 21 ladybug crafts you might enjoy making.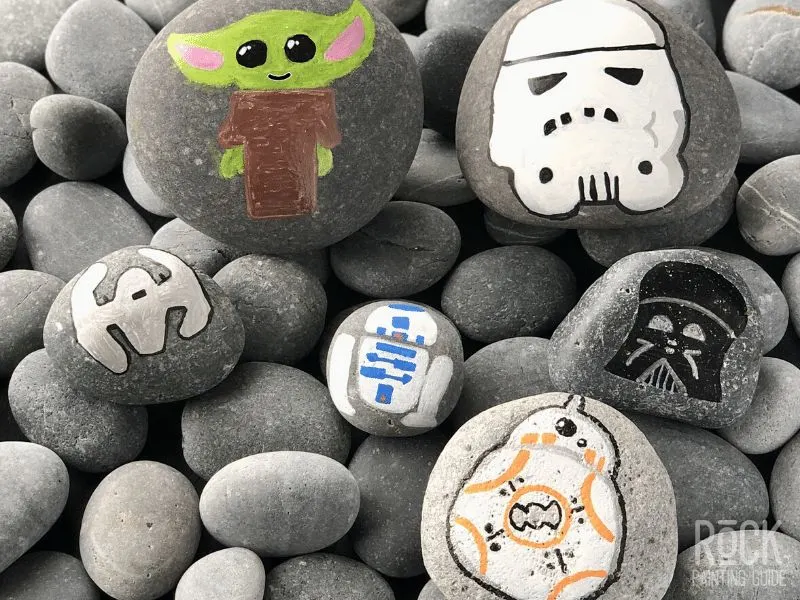 Source: rockpaintingguide.com
If you want to add to your Baby Yoda rock painting collection, then now's your chance. You can have an entire collection of Star Wars characters—and even the Enterprise—at the end of this project.
If you've got a young kid at home, there's a good chance that he or she's a Star Wars fan. There's something about the series that really brings out the kid in even the most somber of adults.
Follow these step-by-step instructions to guide you with your drawing. Don't worry—even if you're not too good at sketching, you're sure to pull off this particular series.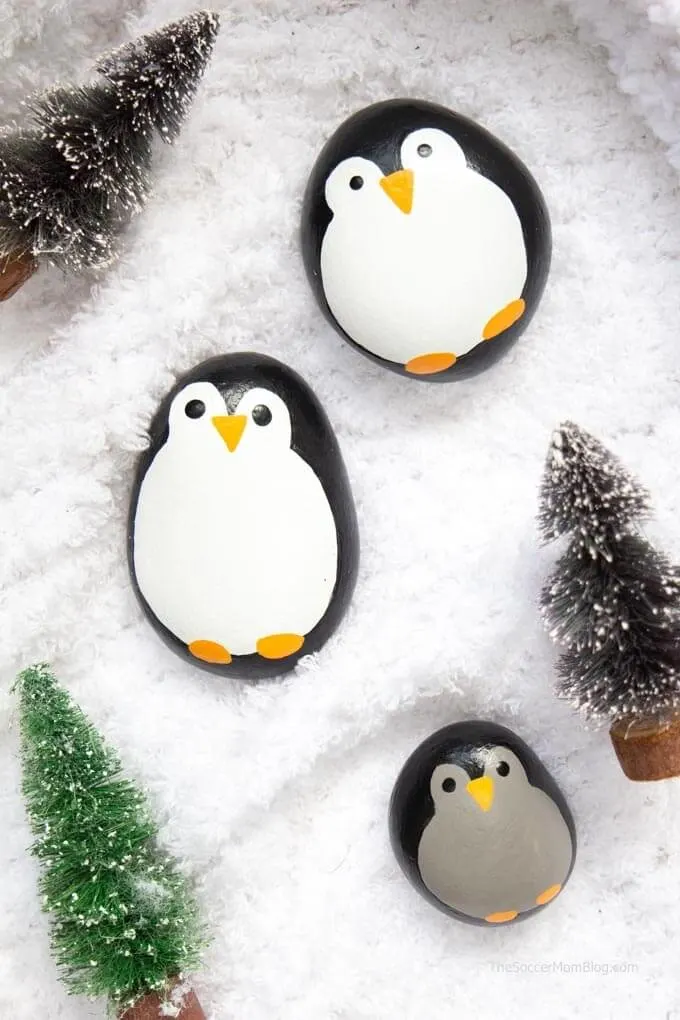 Source: thesoccermomblog.com
Speaking of things from outer space, have you given much thought to how whacky penguins truly are? They're cute and cuddly, sure, but they're a strange species, penguins are.
So if you're fascinated by them, then here's a wonderful opportunity to embrace that love for these birds. You can paint them onto rocks.
Did you know that a penguin will spend days looking for the perfect pebble or rock to present to its mate? There's something there that's truly unique.
It's absolutely vital you set that in stone!
Check out more penguin crafts here.
Source: campingforfoodies.com
I don't know about you, but when we went camping back in the day, we'd have a ton of activities to keep us occupied. We'd go out into the 'wilderness' and forage for pretty leaves, branches, and stones.
But what do you do with those stones? Well, if it's a rainy day at camp, then you can pull out your paints and brushes and get started on painting the rocks you collected.
Of course, you can use the leaves and twigs as embellishments. Depending on the type and size of the rocks you picked up, you can paint just about anything—it's the activity of painting with your friends that's important.
Source: thebestvinylcutters.com
Let's wrap up this list with one last Halloween monster rock painting craft project. Again, just like the last one you saw, these rock paintings are not too spooky. So that makes it perfect for even the younger kids to join in on the fun.
You can make a five-piece monster set. Pick out five differently shaped stones first, and pick out five different colors. Go ahead and paint your monsters with different colors, features, and distinctive marks.
Perhaps one eye could be smaller than the other? Perhaps one of your monsters has only one eye in the first place? One of your monsters could have fangs, and the other two? How about you make them twins?
Take a look at these 20 easy Halloween crafts for kids for more creative ideas.