Halloween is almost here! Time to get creative and make your very own Halloween crafts with your toddlers. These are easy, creative, and fun to make.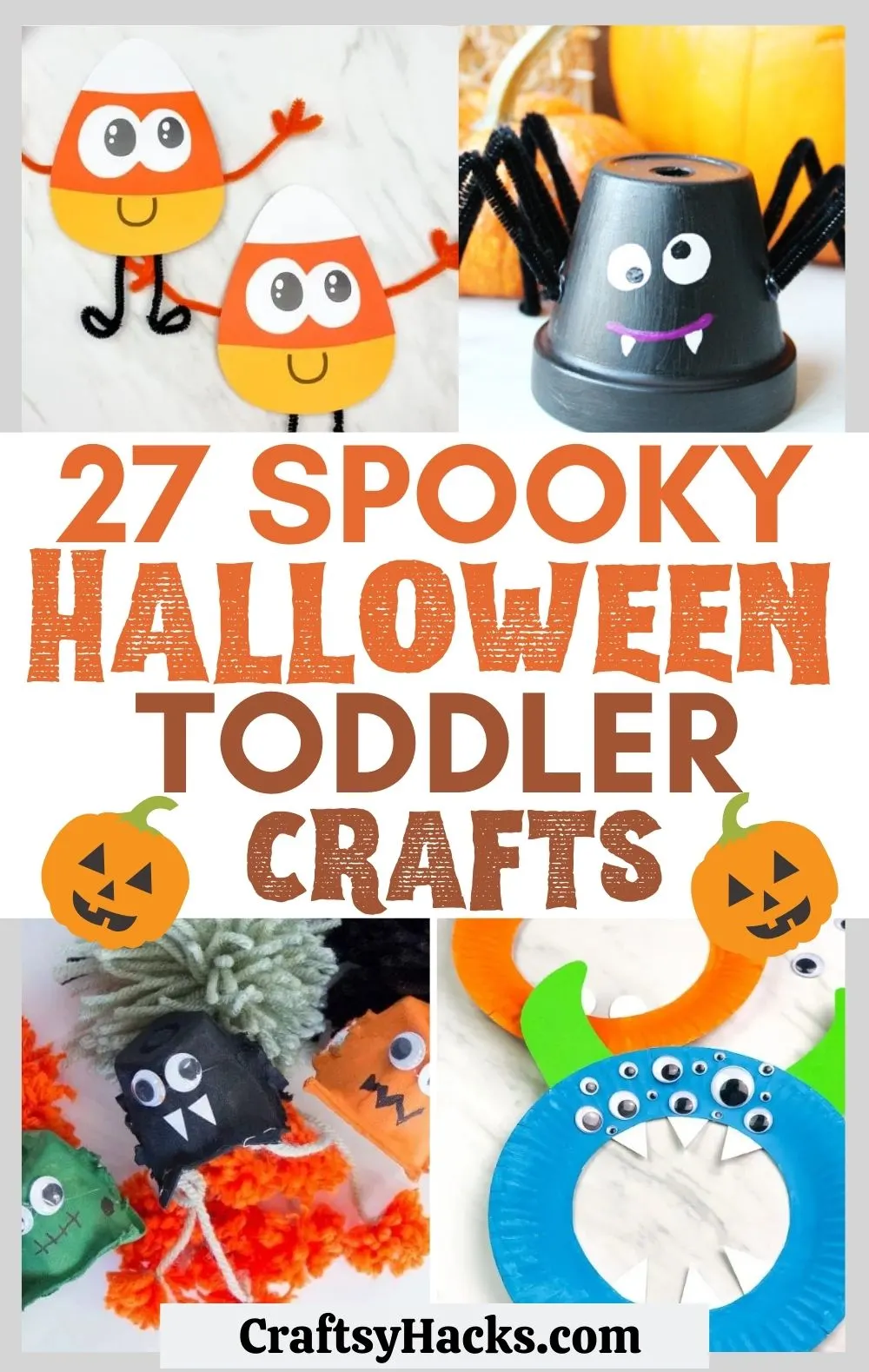 With the fall season giving us absolutely no time to prepare for Halloween, it's time to rope every member of your household into decorating and craft time. This includes every man, woman, teen, tween, child, and yes, even your tiny toddler.
It's never too early to start your kids on their creative journeys, and craft time for toddlers is just the way to do it. It can be a wonderful opportunity to give them a fun and learning experience in one go!
1. Pumpkin Craft For Preschoolers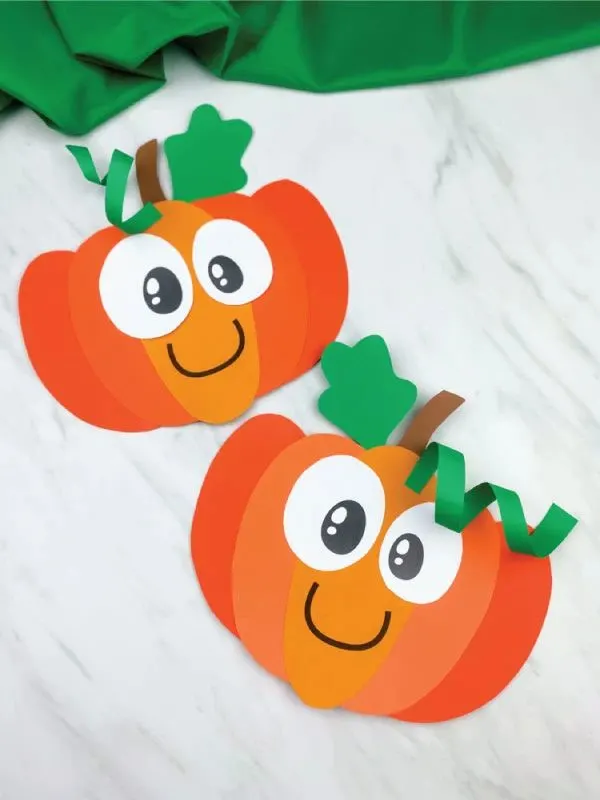 Source: simpleeverydaymom.com
Toddlers love pumpkins. You know, if you sit them up next to a big enough one, you'll notice they're about the same size, and they're equally plump and chubby!
This paper pumpkin craft is super easy to make, and you probably already have everything you'll need. You can use colored craft paper, cardstock, or even just construction paper for this craft.
You can download the printable template to help you and your toddler with this project. Alternatively, you can draw your own version of the pumpkin; don't forget to give it nice big eyes!
2. Tide Pod Container Pumpkin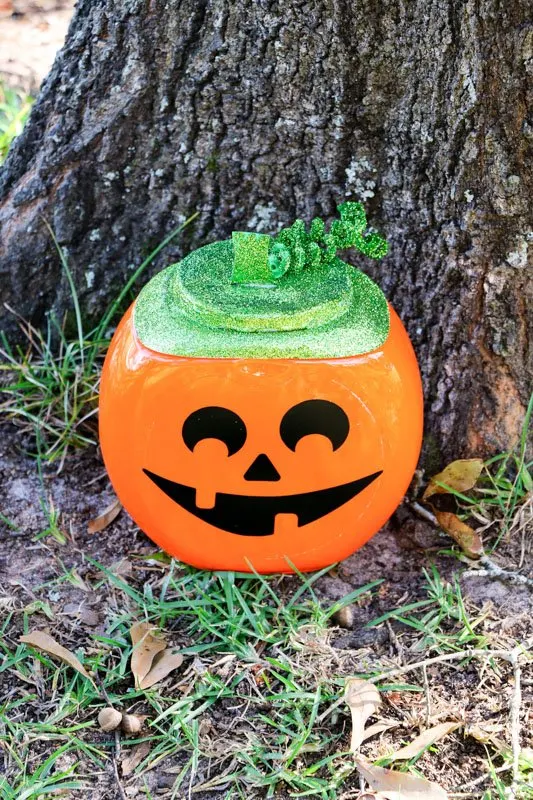 Source: consumerqueen.com
I switched over to Tide's laundry pods last year, and I've found the perfect way to repurpose old pod container boxes! The boxes are naturally orange and just curvy enough to use to make your Halloween pumpkins!
Make sure you wash your container(s) thoroughly before you let your toddler handle it. For the pumpkin tops, you can paint the lid a nice bright and glittery green.
The chenille stem you see can be recreated with pipe cleaners. The ones you'll find here are specifically suited for stems and vine tendrils.
3. Monster Eye Sensory Bottles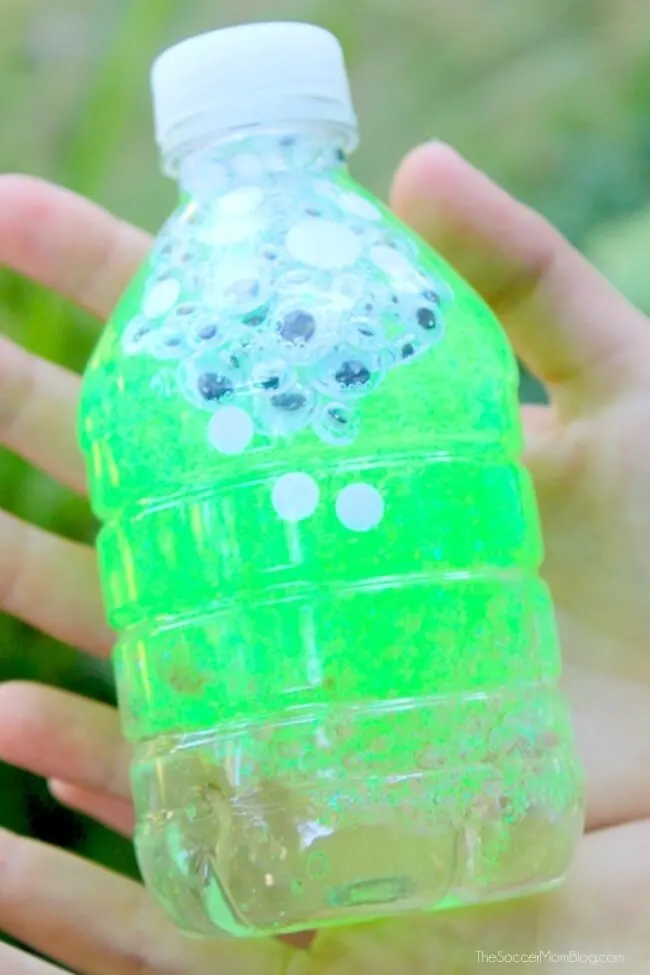 Source: thesoccermomblog.com
Keeping your toddlers occupied can be a Herculean task. They can get pretty distracted easily, but you know, when you see a tantrum brewing, distraction is exactly what you need.
These quirky sensory bottles are just the right touch of spooky to contribute to your Halloween craft project. They're colorful, yes, but these googly eyes are what really add to the sensory effect.
You can switch out the googly eyes with these spider embellishments or even just colored rubber bands. Decorate the water bottles you picked out, toss these embellishments in, and you're all set.
4. Halloween Window Clings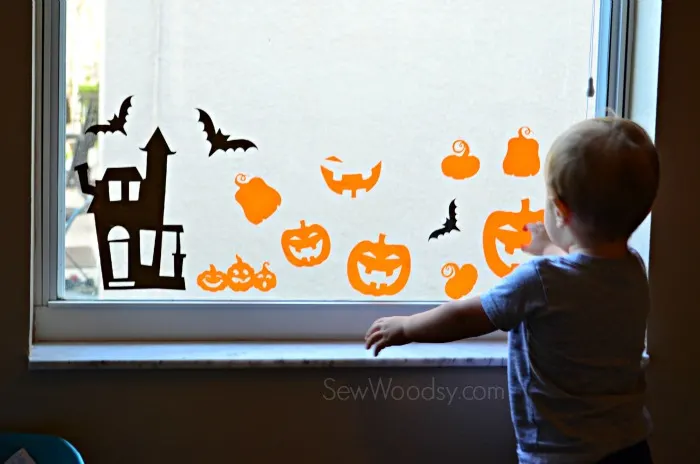 Source: sewwoodsy.com
Window clings are so very underrated, don't you think? I still get this wave of child-like excitement when I spot them on window decorations.
Do you know what else would make me happier? Actually making them! This is the perfect Halloween craft that young ones will particularly enjoy, too.
If you don't already have one, consider investing in a Cricut machine to help you with your craft projects. You'll also need colored vinyl and transfer tape like this.
5. Magnet Pumpkin
Source: homemadeheather.com
Toddlers love playing with magnets. You can introduce them to magnets during this next craft project when you make magnetic pumpkins in honor of Halloween.
You'll need a few snap lids, which I'm sure you have lying around your home. You'll also need orange acrylic paint, brushes, some green felt, googly eyes, and magnets from here.
Go ahead and gather your supplies. Once you have finished painting your snap lids and you're absolutely sure you like how they've turned out, go ahead and decorate them.
6. Paper Plate Spider Web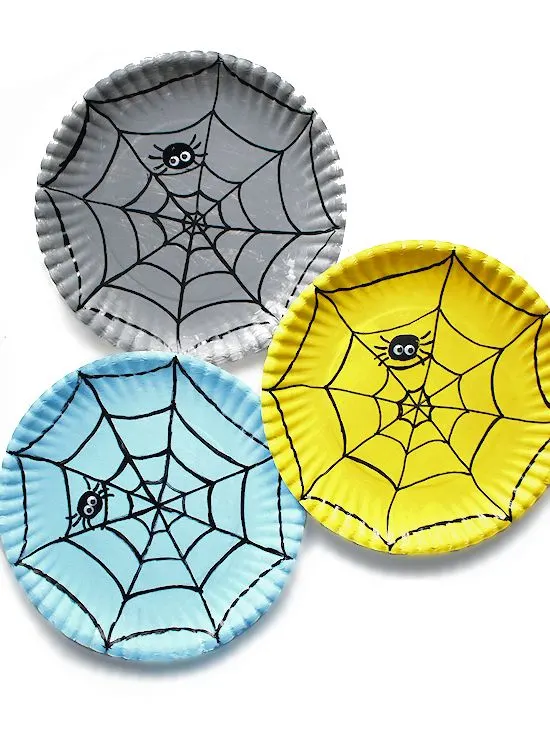 Source: ourkidthings.com
Don't you think that it takes a rather steady hand to be able to recreate the pattern of cobwebs? Toddlers, I think, can benefit greatly from this exercise.
You can help them practice the cobweb drawing on regular paper beforehand. Once they've got the hang of it, you and your toddler can grab markers and draw the webs on the paper plates.
You can also draw a cute little spider on the paper plate. Alternatively, you can stick a craft spider or mini toy spider on it, as well!
7. Halloween Spider Garland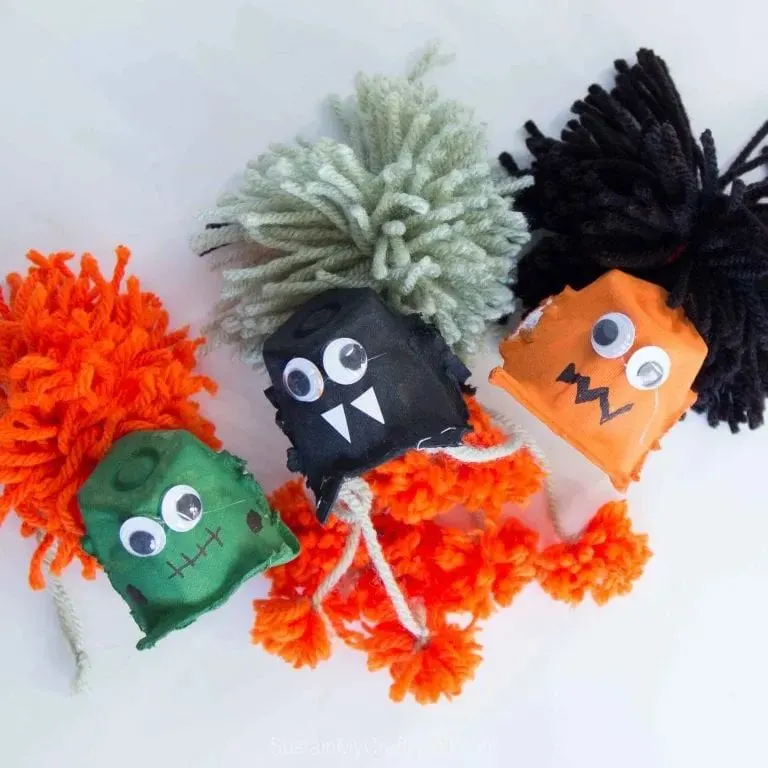 Source: sustainmycrafthabit.com
This spider garland doesn't have the run-of-the-mill spider, no. You've got bright pumpkin spiders, a few Frankensteins, and other spooky Halloween-themed ones!
You'll need a couple of paper egg cartons, some paint, googly eyes, black markers, a pencil, a hot glue gun from here, and finally a stapler.
You'll also need to buy some yarn from here if you don't already have any at home. They'll help soften the spiders a bit if they prove too spooky for your toddlers.
Here are 27 spider crafts your bug-loving child will adore!
8. Spiderwick Chronicles Spiderweb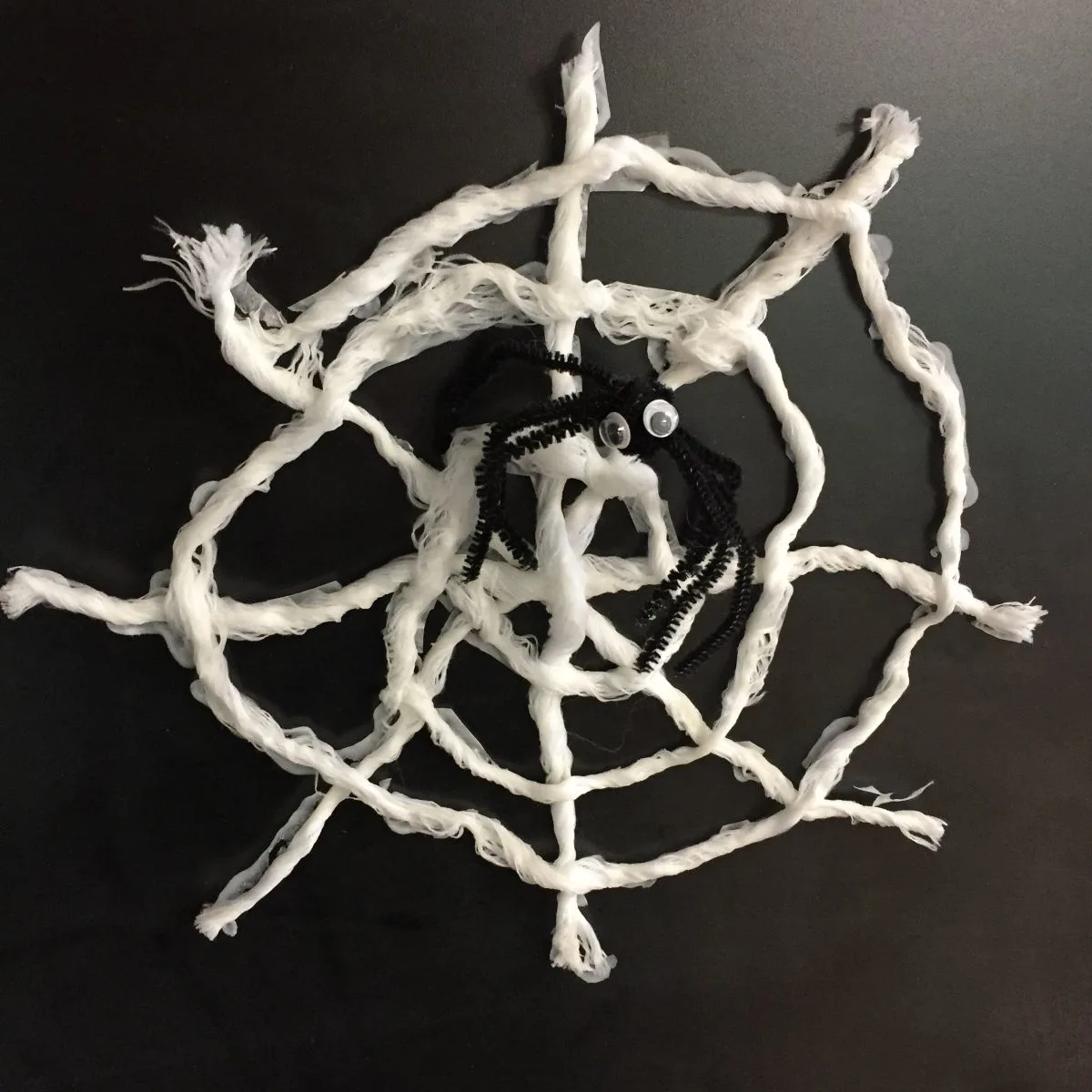 Source: theplaybasedmom.com
There's something altogether spooky about using this white wooly yarn to recreate a spider's web. While the actual web itself is often too fine to be seen, this chunky white yarn makes it eerie and perfect for Halloween.
You'll also need some wax paper from here and a couple of pipe cleaners. Once you've gathered your supplies, you can go about assembling your spider's web with your toddler.
Here's a quick tip: you can switch out wax paper with parchment paper or even freezer paper, and both would work just as effectively. Also, consider using white craft glue rather than your typical clear glue for an added boost to your spider web.
Check out more Halloween decorations here.
9. Apple Stamp Pumpkin Painting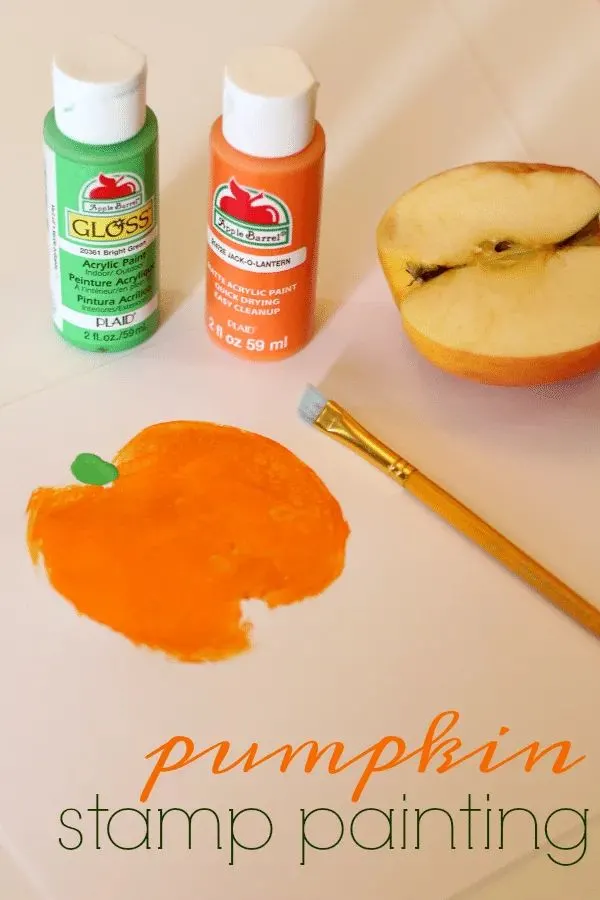 Source: soeasybeinggreen-blog.com
Right, go on and grab these craft supplies for this project:
Orange and green paint
Paintbrush
Paper
An apple
Once you've got all of that, cut your apple in half and paint it orange. Use a brush or your finger to paint the tip of the apple green—this will be your pumpkin's stem.
This is a relatively less messy craft project, but you'd still be wise to lay out newspapers to control any spills and messes. Go ahead and enjoy a fun craft session with your toddler.
Check out more Halloween paper crafts here.
10. Pumpkin Spin Painting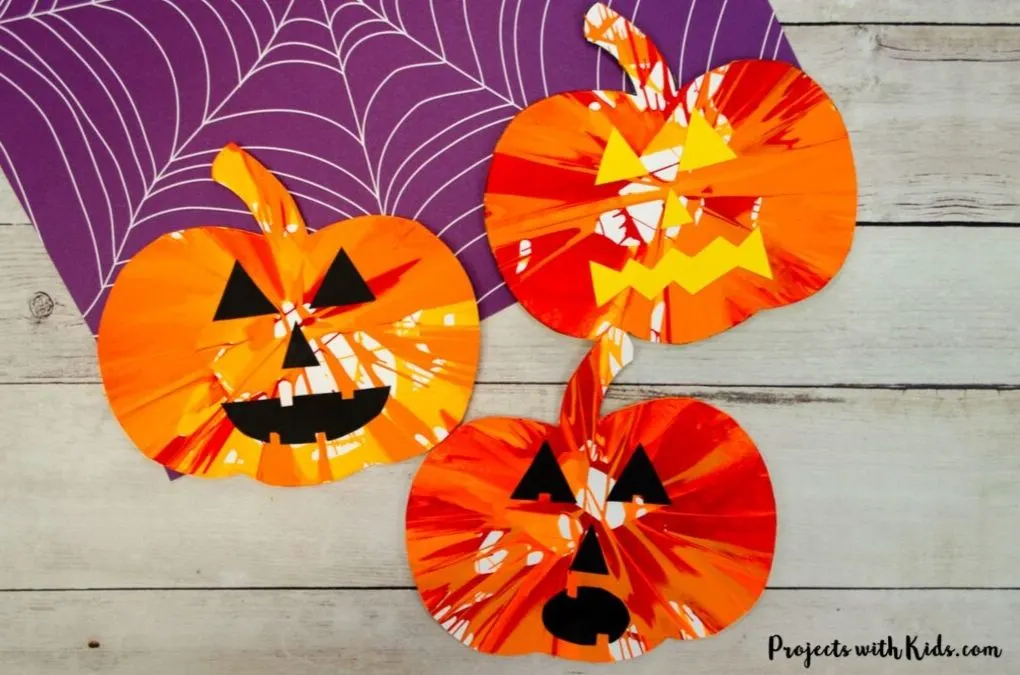 Source: projectswithkids.com
Don't you love spin art? It's interesting, innovative and it's also just downright fun. You can be sure that your toddler, and the older kids, are sure to love this craft project!
You can help your kids practice and perfect their technique. The key is to use a ton of colorful paint to jazz the painting as much as possible.
You can use a salad spinner like this to help you create this artsy picture! Print out the pumpkin template ahead of time—one that fits perfectly in your salad spinner!
11. Yarn-Covered Pumpkin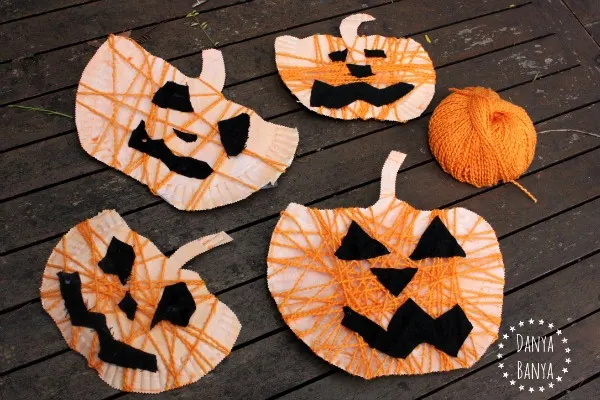 Source: danyabanya.com
Wrapping yarn is a great way to encourage motor skills in young toddlers. It's also quite adorable—babies with yarn are quite like little kittens playing with yarn.
You'll need a paper plate and a pair of scissors. This part of the craft—cutting a pumpkin out of the paper plate—is for you to do. Your toddler can enjoy the yarn wrapping while you do the grunt work.
Your toddler can paint the paper plate a nice bright orange to add another bit of fun to your craft session. You can even add black felt for the eyes and mouth rather than merely draw them.
12. Zombie Slime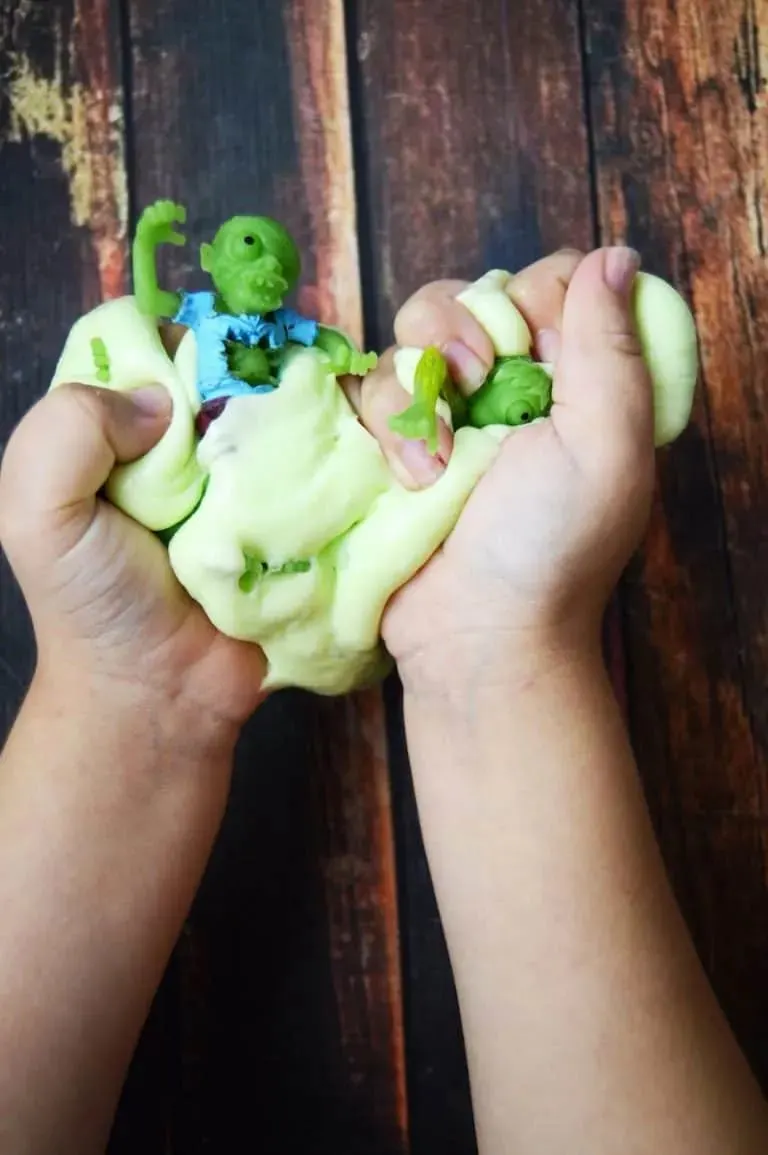 Source: diycandy.com
What goes best with zombies other than the usual blood and gore? Slime, of course! So let's make this creepy, slimy zombie slime for your toddler to play with!
If you have little boys in your home, then you definitely have at least a dozen of zombie toys. Go ahead and grab them, or just pick a few up from here. You'll also need baking soda and some school glue.
You can pick out a few shades of food dye and color your slime a nice gory red or eerie green! Look here for a box of neon gel food coloring.
13. Tie-and-Dye Coffee Filter Monster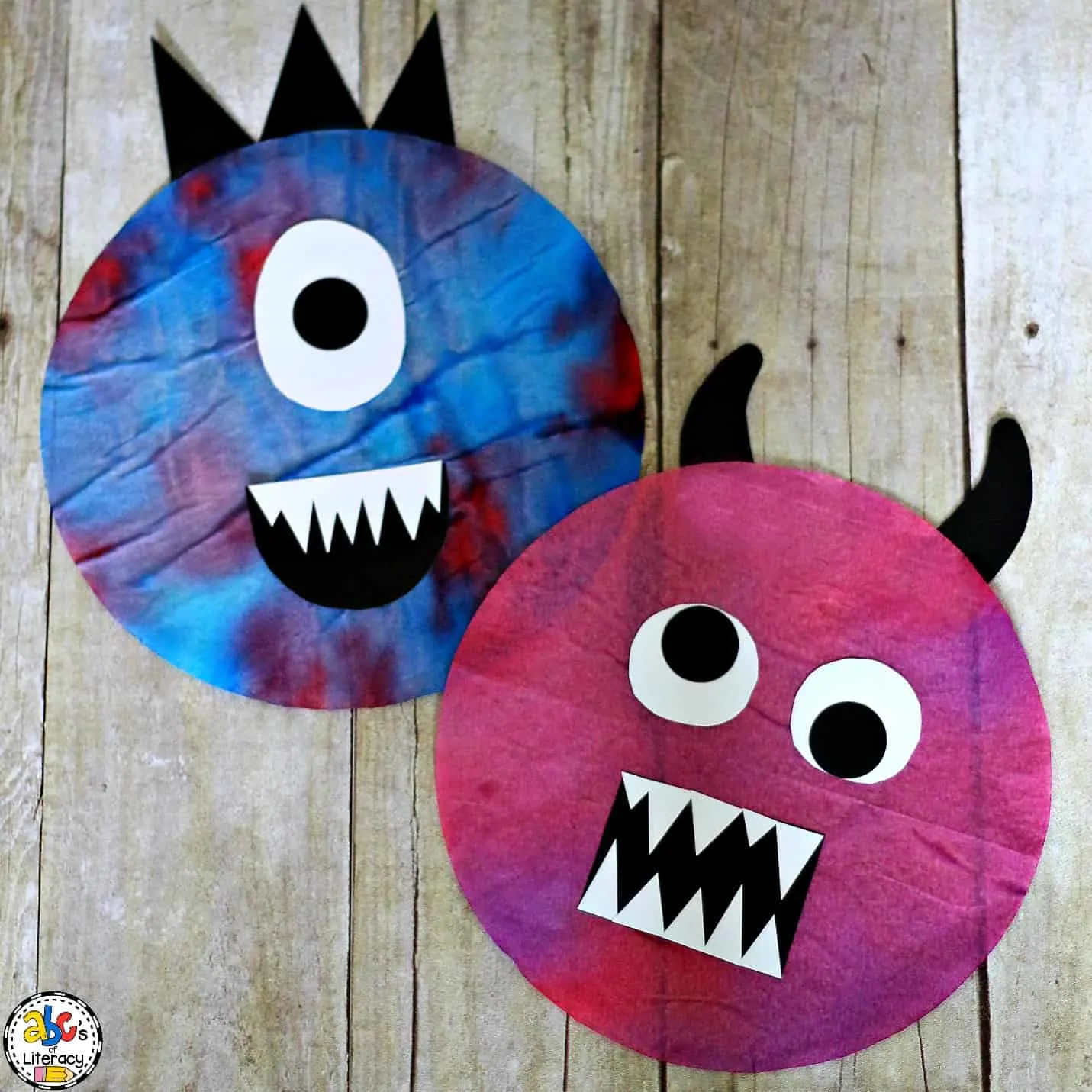 Source: abcsofliteracy.com
Tie-and-dye is always a fun and easy craft project. Kids of all ages love it, and you can get your toddler interested in it, too.
Since it's Halloween-themed, you can recreate some goofy-looking monsters out of these coffee filters. You can also use washable markers or just regular dye if you already have it at hand.
Before you begin, don't forget to lay out a ton of newspapers. Tie-and-dye is fun, but it can also get super messy. Add kids to the equation and that there is a certified paint disaster waiting to happen!
14. Flowerpot spiders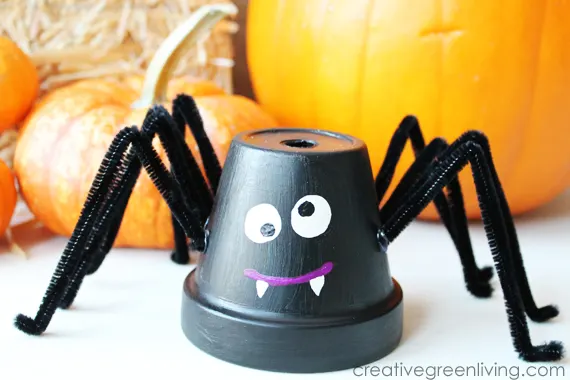 Source: creativegreenliving.com
These flower pot spiders are quite easy to make. They're also pretty inexpensive; you can pick up your supplies at a dollar store nearby for a buck apiece.
The best part is that these pots are pretty durable decorative pieces. Not only do they make for a great craft project with your toddler, they're also a great way to keep older kids occupied.
If you're wondering how to recreate those long and spindly legs, don't worry. Pipe cleaners are always the best craft material for spider legs! Check out these 27 pipe cleaner crafts ideas for more inspiration.
15. Halloween Rock Painting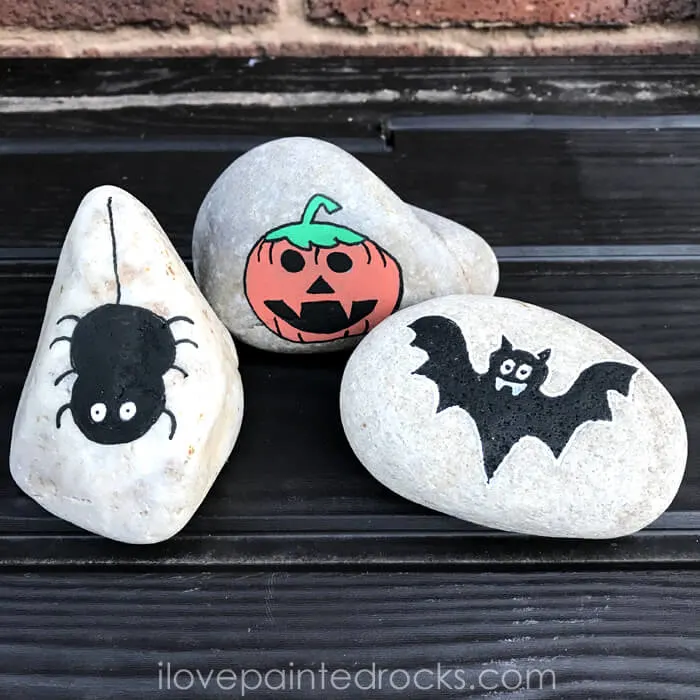 Source: ilovepaintedrocks.com
These are what you can call Halloween story stones, but really, it's just rock painting with a twist. Find me a kid who doesn't enjoy rock painting, and I'll eat a hat.
Here's a list of motifs you can try out in honor of Halloween: spiders, jack-o-lanterns, skulls, bats, and scarecrows, to name a few.
You can also use flat pebbles to the same effect. Just grab your paints, brushes, and any other supplies you might need and get started on painting your rocks!
If you like, you can even use your painted rocks to display photos. How? Check out how to make these DIY rock photo holders!
16. Skeleton Craft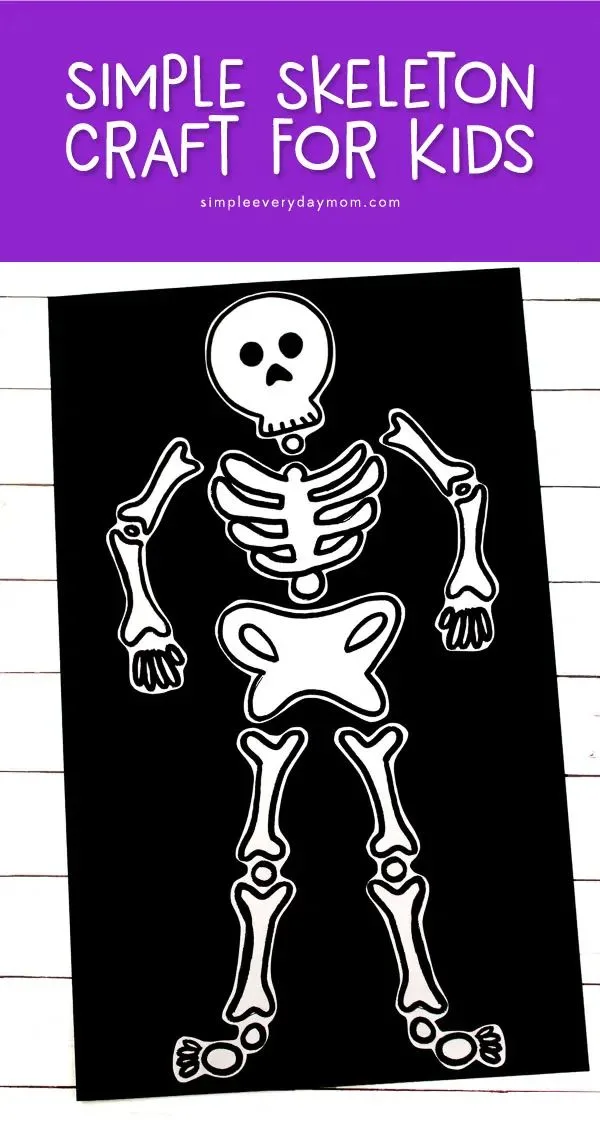 Source: simpleeverydaymom.com
Speaking of skulls and skeletons, how about this easy Halloween skeleton craft for your toddler for the next DIY project? It can help you get into the spooky Halloween spirit in a jiffy!
Here's what you'll need:
Black Cardstock or Thick Black Paper
White Paper
Scissors
Glue
You'll also need to download, print, and subsequently cut the skeleton template provided. This part definitely calls for adult supervision, or rather an adult to do the actual cutting of the skeleton
Here are 20 spooky Halloween paper crafts for you to explore.
17. DIY Toilet Paper Roll Spiders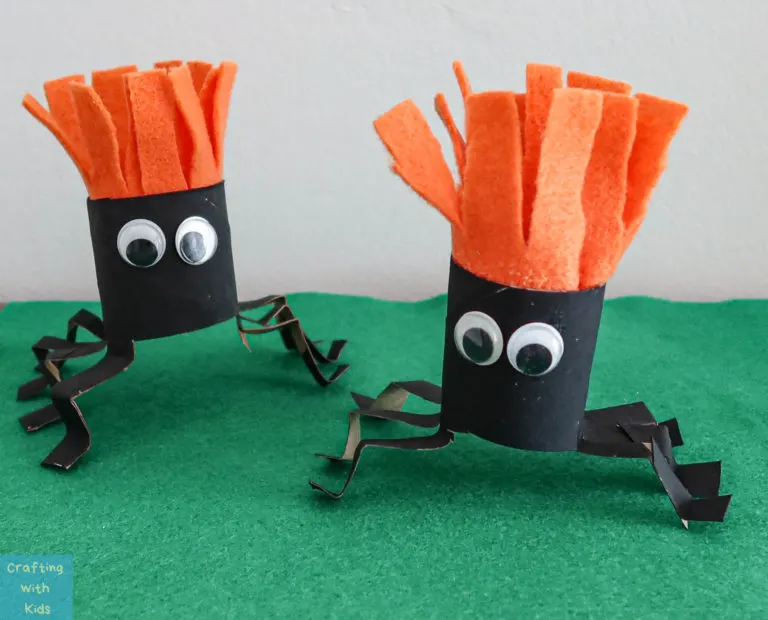 Source: craftingwithkids.net
We've got a ton of spider-themed craft projects for toddlers on this list. They're just too darn cute to pass over.
These TP spiders have a lovely shock of orange 'hair' atop their heads. They also have large googly eyes that give them a rather owlish look.
You can use black pipe cleaners and twist them to make legs. I tell you, this really is an easy craft project!
18. Puffy Halloween Ghost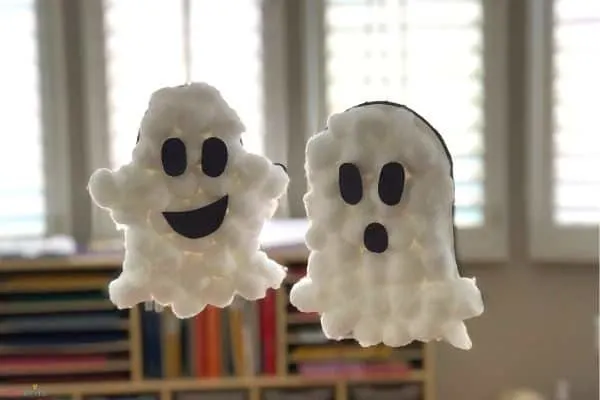 Source: mombrite.com
You can't help but love this adorable, poofy ghost. I think he's cuter than even Casper! This craft project is probably best for toddlers and preschoolers because they're just so easy to make.
In fact, they can work on the entire project independently with the most simple supervision needed from an adult. There's even a template attached to help them along the way.
Pick up some cotton balls from here and your cardstock—preferably black. You can also use black yarn for this project, although that's left up to your preference and is completely optional.
19. Bat Silhouette Craft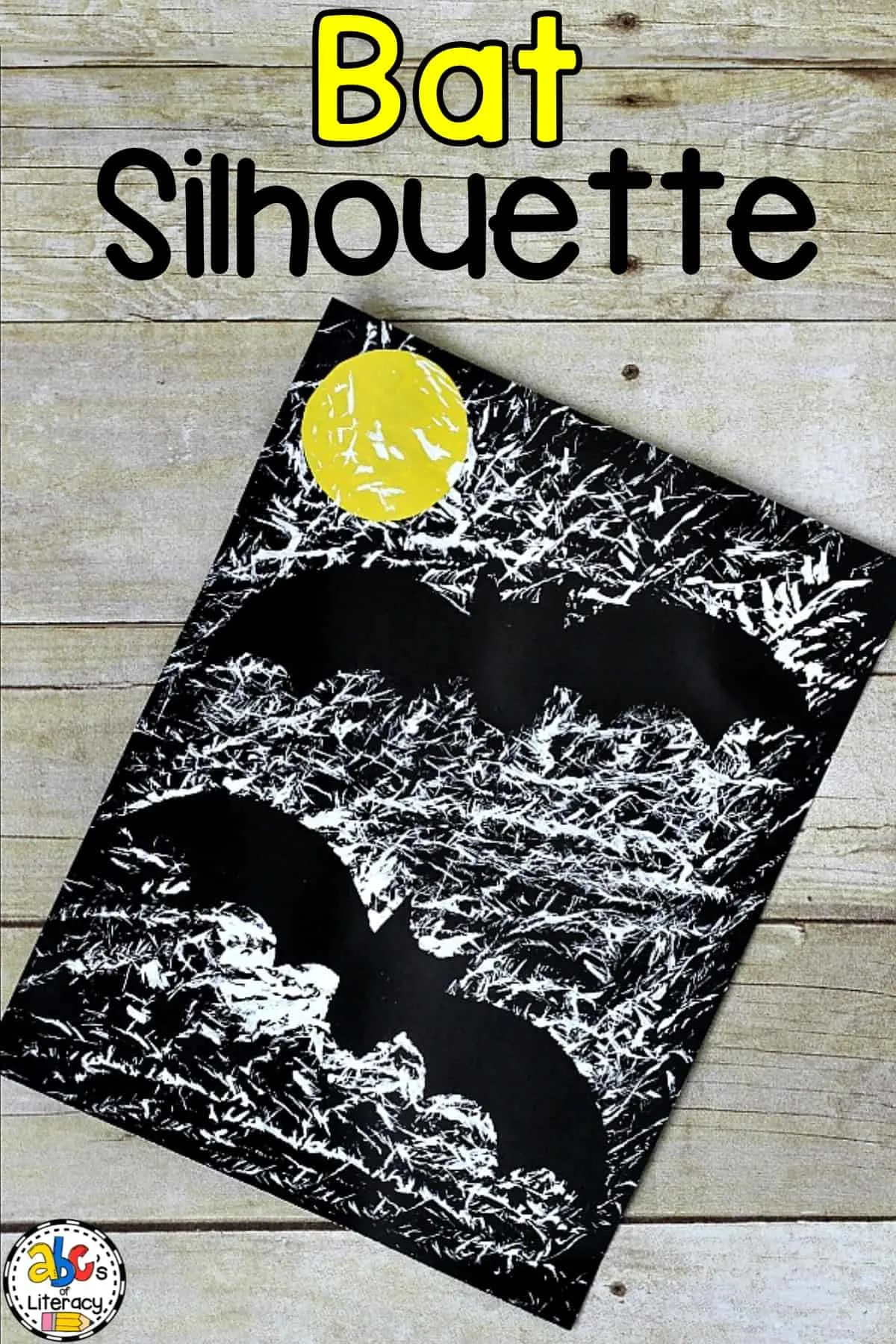 Source: abcsofliteracy.com
There's nothing quite as chilling as the shriek of a bat on a foggy Halloween night. That will forever be a Halloween night classic, but it's perhaps too spooky for your toddlers to experience just yet.
Instead, how about you sit them down for a nice craft session and make this bat silhouette? You can regale them with a spooky tale or two and enjoy each other's company, too!
Grab some white paint, black and yellow cardstock tape, scissors and finally, a paper plate. You'll also need a few bat-shaped cutouts. You can download and print the provided template.
20. Paper Plate Jack-O-Lantern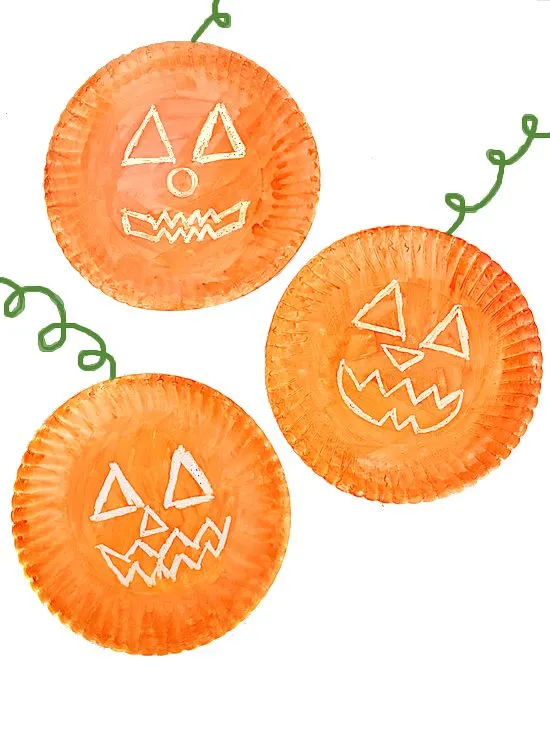 Source: ourkidthings.com
This paper plate Jack-o-lantern is perhaps too similar to a plain old paper plate pumpkin. But that's not entirely true, though.
Where the paper plate pumpkins you read about earlier had big googly eyes, this one's more spooky, with the classic jagged mouth and triangle-shaped eyes.
You can twist a green pipe cleaner and hot glue it in place if you like, as shown in the picture. You can alternate between using white paint or just plain old chalk when you're painting the face.
21. Paper Plate Monster Craft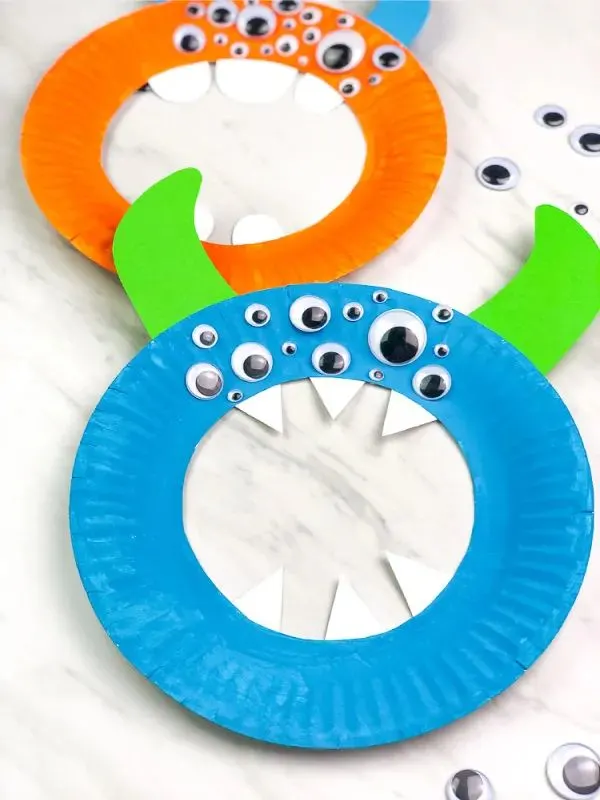 Source: simpleeverydaymom.com
I hope you still have a few paper plates left for this next craft. If you don't, you can just pick up a packet right here. Perhaps you should consider buying stock in paper plates—we seem to be using quite a lot of them!
This is quite an innovative monster in the way that the teeth have been fashioned. You can cut out the entire body of the plate, leaving just the rim, and use it as the monster's mouth
There's a monster template provided that you can download. You can use it to help your toddler along the way.
22. Halloween Luminaries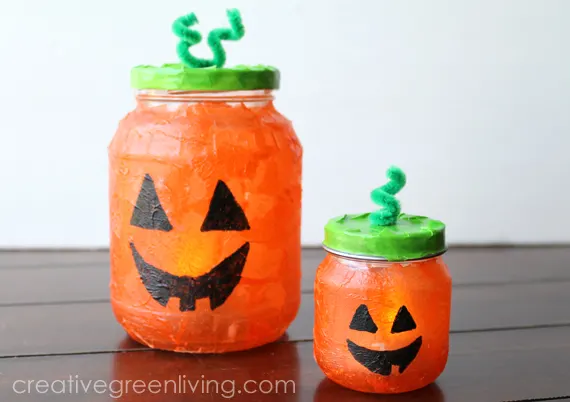 Source: creativegreenliving.com
There's something quite old-world and magical about luminaries. There's an air, an aura of mystery and enigma. What better way to add to the mystery surrounding Halloween than with these Halloween Luminary jars?
Pick out an empty mason jar from your pantry—I bet you have one that you can repurpose and use for this project. If you don't just pick out one from here.
You'll also need to buy colored napkins or tissue paper. Finally, to light the jar up, you'll need this battery-powered tealight. You can also fill the jar up with fairy lights if you like!
Check out more Halloween decorating ideas here.
23. Candy Corn Halloween Rocks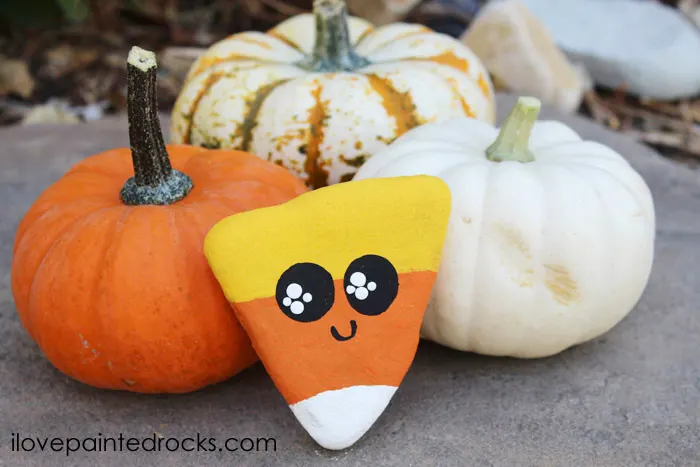 Source: ilovepaintedrocks.com
Candy corn is quite pretty, now that I think of it. It's also the perfect fall candy with perfectly appropriate fall colors. If your toddler loves candy corn, then you can recreate them with a little craft session filled with rock painting!
You probably already have everything you'll need for this project. But what about this clear spray sealer?
Once you've gathered everything you need, start painting your triangle rock with a base coat of orange. Then work your way up, allowing enough time for each coat to dry before moving on to the next one.
24. Tin Can Ghost Wind Chime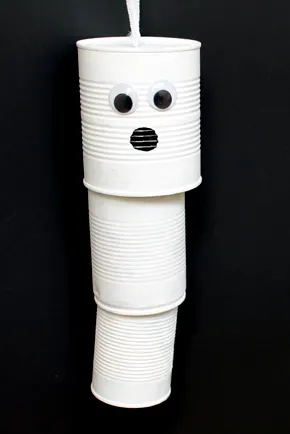 Source: creativegreenliving.com
This is perhaps the most interesting craft project on this list. These wind chimes are a wonderful sensory craft project to introduce to your toddlers.
They're also super easy to make, inexpensive, and you'll have one made in under an hour. You can use old empty cans—three per wind chimes.
You'll also need large googly eyes, a hammer, a screwdriver, and finally, a white chenille stem from here. Unless you want a quirky and colorful ghost(I do!), you should probably stick to white paint for the cans.
25. Paper Plate Witch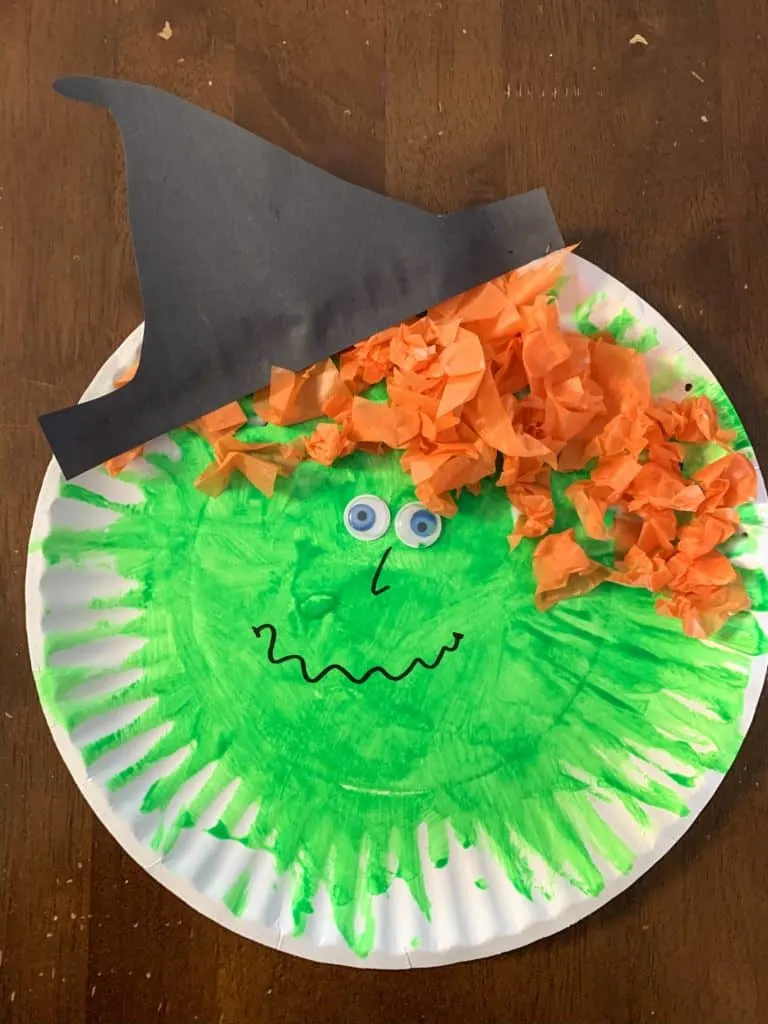 Source: thekeeledeal.com
I guess we're really working our way down the list of Halloween-related craft projects we can make using paper plates. Next on that list is this redheaded, green witch.
Doesn't she look like someone right out of The Wizard of Oz? But I have to admit, the curly ginger hair—colored tissue, of course—is quite stark and does stand out.
You can glue a couple of googly eyes—wonky, of course. You can also cut out some black cardstock into a hat to perch atop the mop of red curls.
26.Candy Corn Paper Craft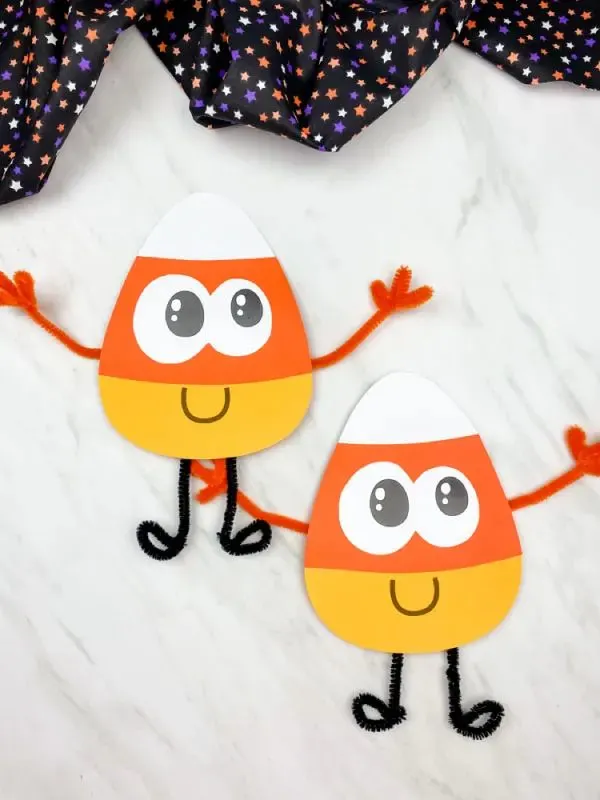 Source: simpleeverydaymom.com
Candy corn really is a popular fall candy, isn't it? The kids all love it, and it's such a fun candy to make into a craft project.
This project comes with a downloadable template to guide you. You'll also need to pick out some colored cardstock, a few pipe cleaners to twist into arms, tape, markers, and a pair of craft scissors.
Before you glue the different pieces together, assemble your project to make sure the parts all go together. Only then should you glue them all in place and attach the pipe cleaner arms.
27. DIY Unicorn Pumpkins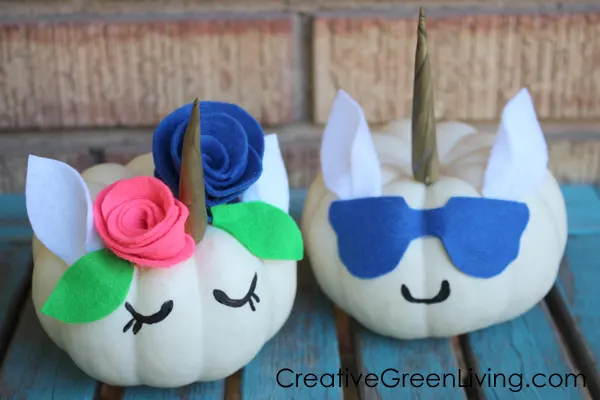 Source: creativegreenliving.com
Well, now I've seen everything. Unicorn pumpkins—there are two words I never thought I'd use together, but there you go. They're even better than this unicorn toilet roll craft!
I can't get over how utterly unique this craft is. It's just too cool for words. I mean, did you see the paper sunshades on that second unicorn/pumpkin?
You can start by buying a couple of these white pumpkins and deciding just how you want to 'dress' up your unicorn. Do you want sassy and sweet or cool and savvy? It's all up to you and your toddler!
Don't forget to check out these 27 fall crafts for kids if you want more craft ideas!