It's that time of the year again! Autumn! Keep your children busy with these easy, fun fall crafts for kids, and enjoy the creative process.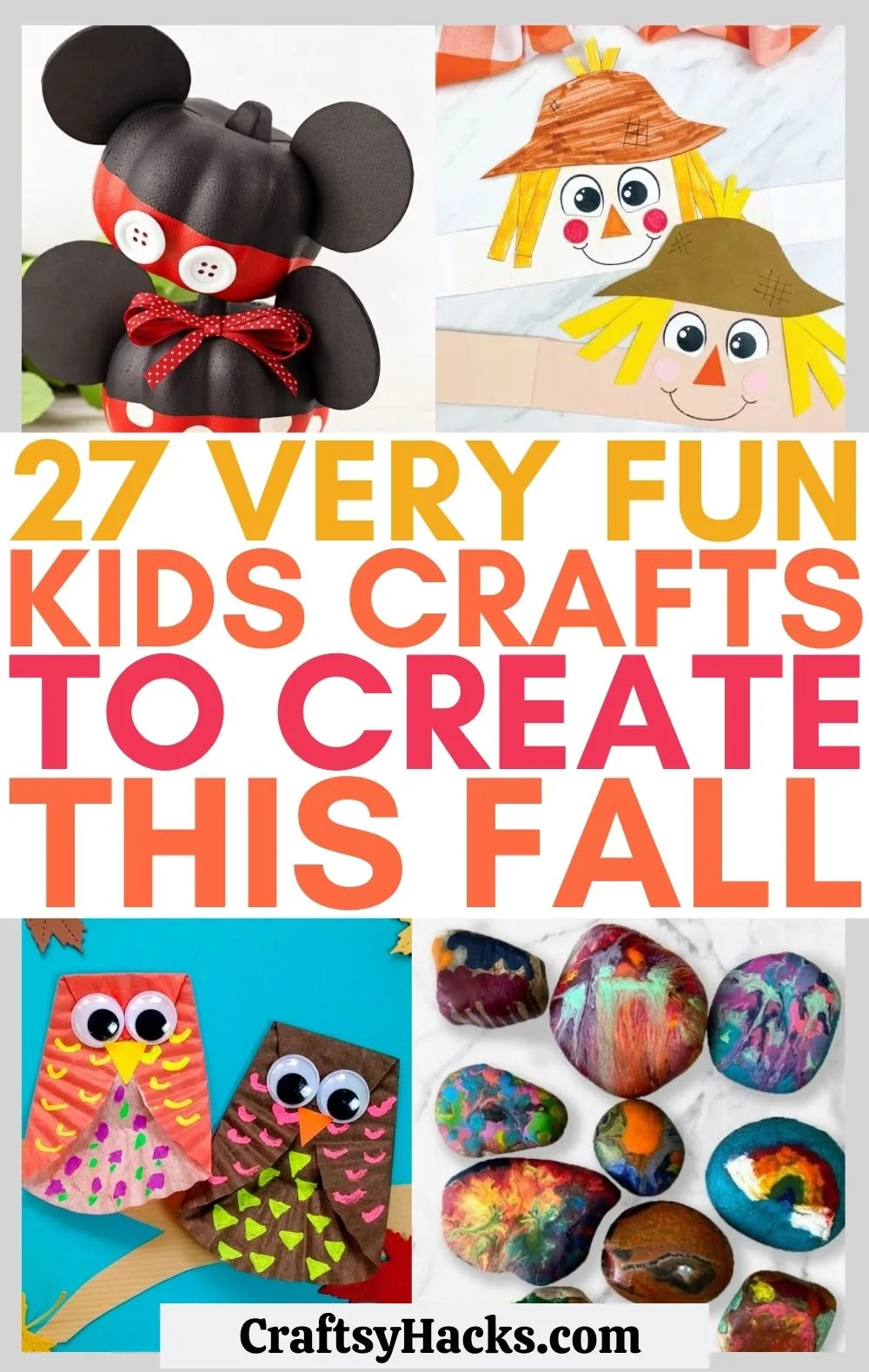 Fall doesn't just mean the leaves turn color and fall off trees. Fall means pumpkin spiced lattes, carving Jack O'lanterns, getting ready for Halloween, planning thanksgiving, and a ton of seasonal activities.
The fall season also means a ton of new craft projects and ideas. It means you get to decorate your entire home for the new season.
Can't you just see all those amazing craft projects you can line up? Especially if you have kids, fall craft projects and DIY ideas are a great way to help them learn, have fun and develop important skills.
So, let's not dawdle; here are 27 fall crafts for kids!
1. Fairy Toadstools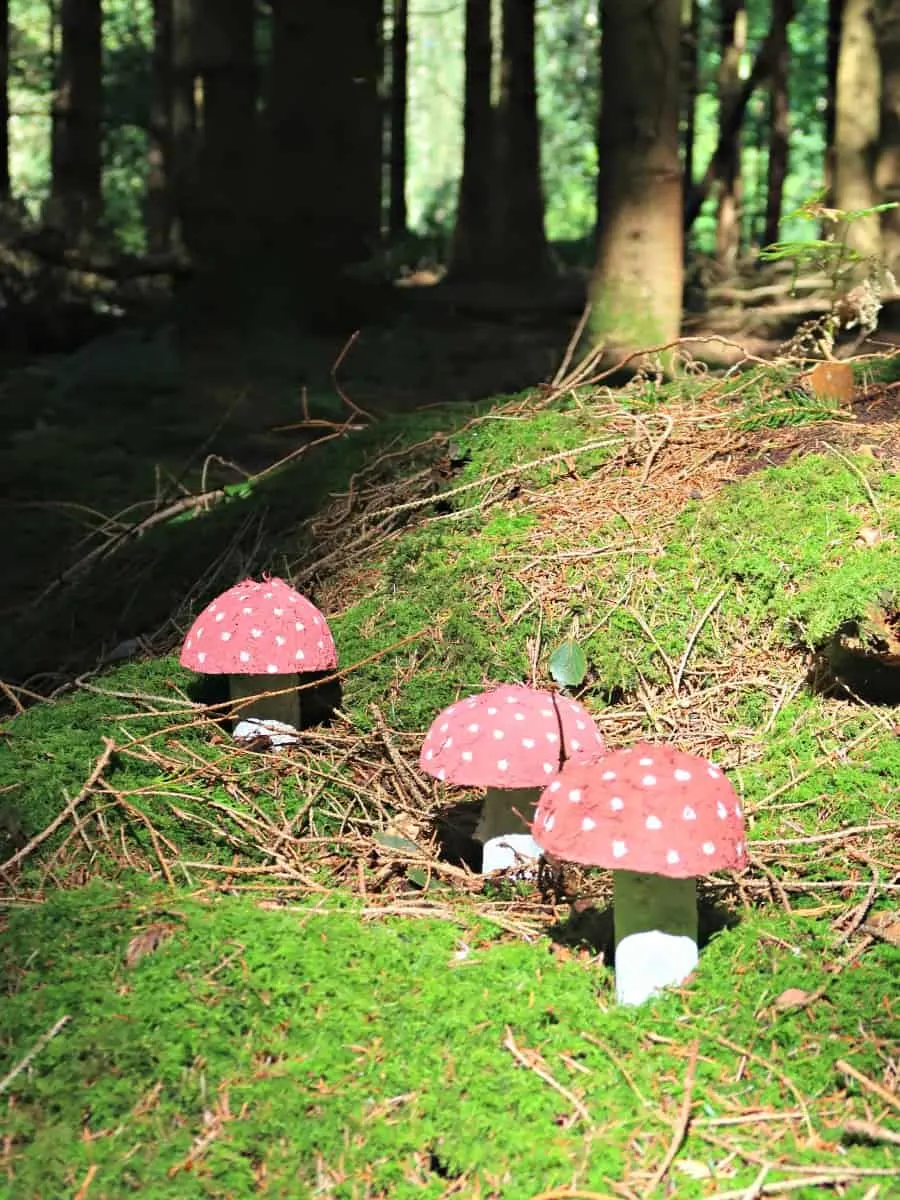 Source: craftinvaders.co.uk
Fairies and toadstools hold a never-ending fascination for the little ones. They represent an integral part of make-believe fairy tales that you can recreate during craft time.
These fairy toadstools are quirky and artsy, too, made from completely degradable and natural materials. When you set them up in your garden, you can be rest assured that they will break down over time and truly become one with nature.
You'll need some milk-based paint from here, a couple of coconut shells, and some wood pieces or branches to get cracking.
2. Leaf Painting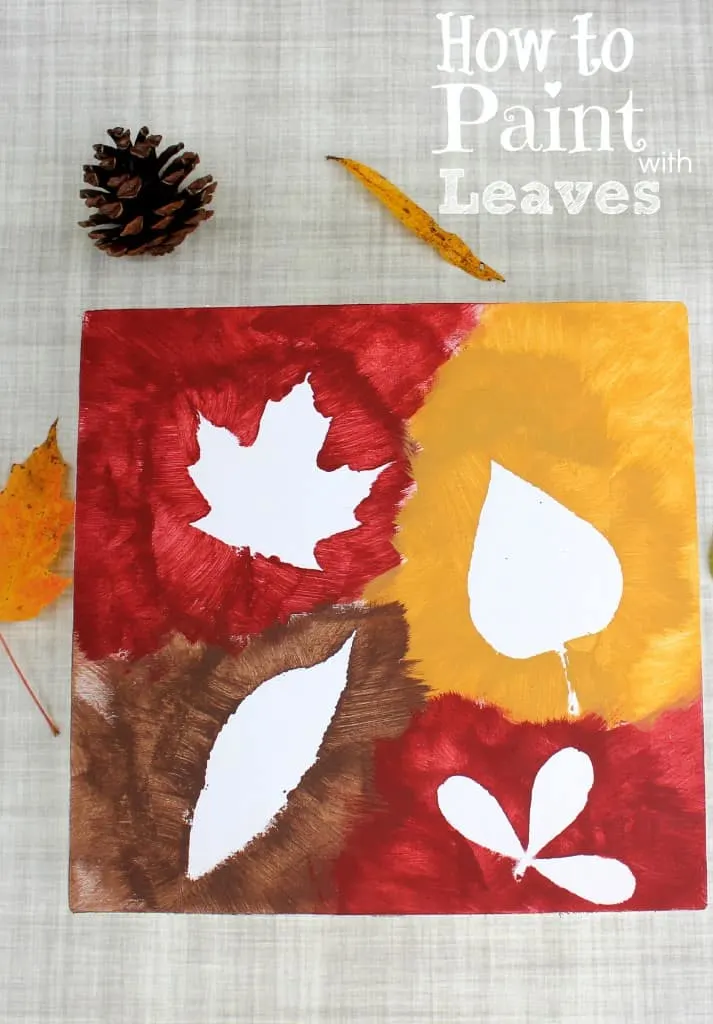 Source: confessionsofanover-workedmom.com
Leaf painting is another must-try craft project. It's also one of the easiest to set up.
Even the process of collecting leaves can be an activity for the kids. Take them to a park and let them do what all kids love best: go scavenging through dirt and mud and collect treasures—and leaves.
You probably already have all the supplies you need: paintbrushes, paint, and of course, leaves. You'll also need cardstock from here.
This DIY project is a great classroom craft!
3. Forest Fairy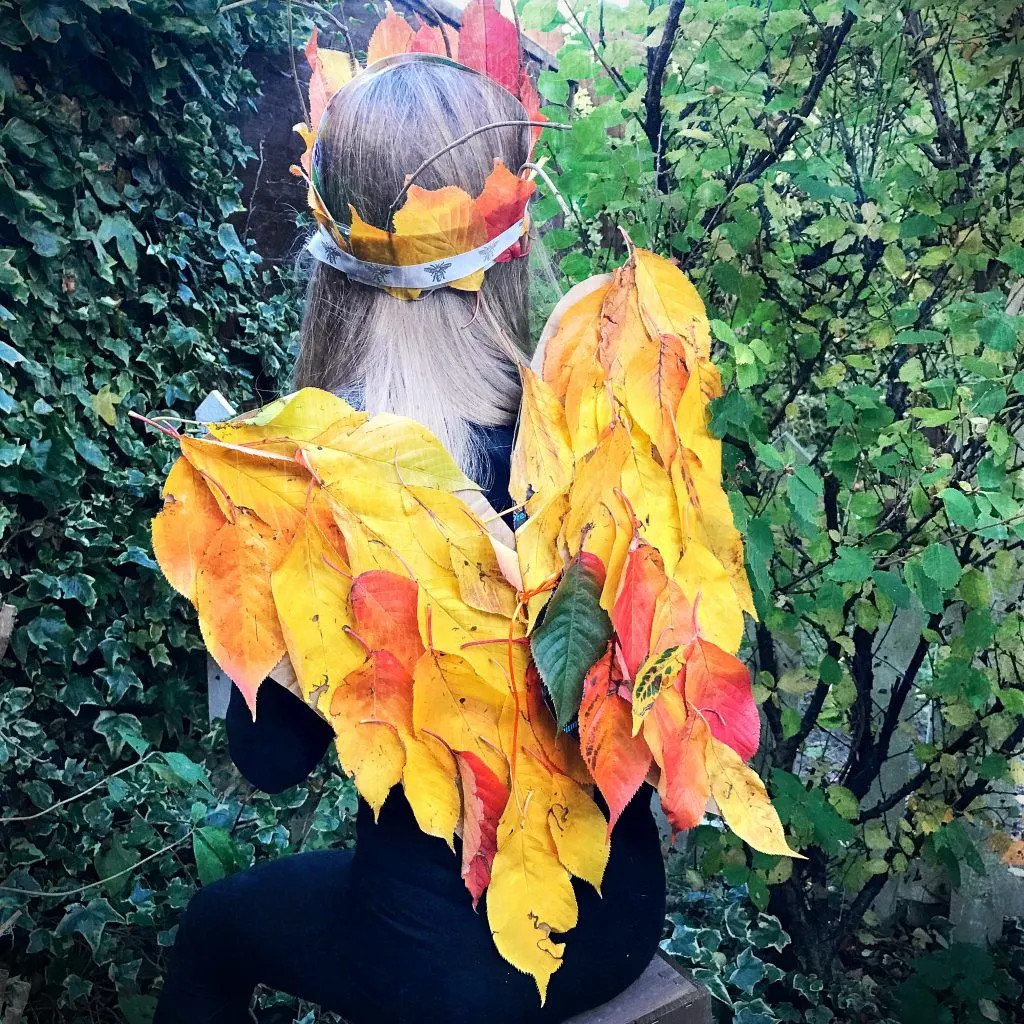 Source: daisiesandpie.co.uk
Didn't you have those fleeting fantasies as a kind of dressing up as a fairy and flying away into the woods to meet your fellow fairy mates? Do you know what was missing from this dream?
These gorgeous fall fairy wings and crown, that's what. You can't fly away without your fairy wings, can you?
Have your kids gather a ton of fall-colored leaves, sycamore seeds, pine cones, and odd twigs. You'll also need some ribbon like this and some sticky tape from here.
4. Leaf Veins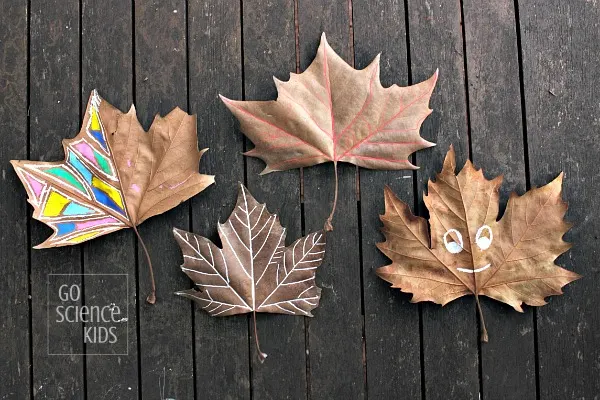 Source: gosciencekids.com
Leaves hold a ton of intricate and delicate patterns on their surface. The veiny lines that run along the surface are pretty amazing to behold.
How about a craft time activity that involves painting those veins? It's a fabulous way to teach kids about painting within the lines because they're going to be painting the lines themselves!
Tracing the veins will require quite a bit of time and concentration, so set out a plate of cookies and get started!
5. Wooden Pumpkin Ornament
Source: homemadeheather.com
Ornaments don't just belong on Christmas trees. They can brighten up just about any space you set them in.
These wooden pumpkin ornaments would look lovely hanging in your kids' rooms from their night lamps or dressers. What better way to look forward to Halloween than with these ornaments?
You'll need some wood slices from here, to begin with, and paint and brushes, too.
6. Autumn Leaf Garland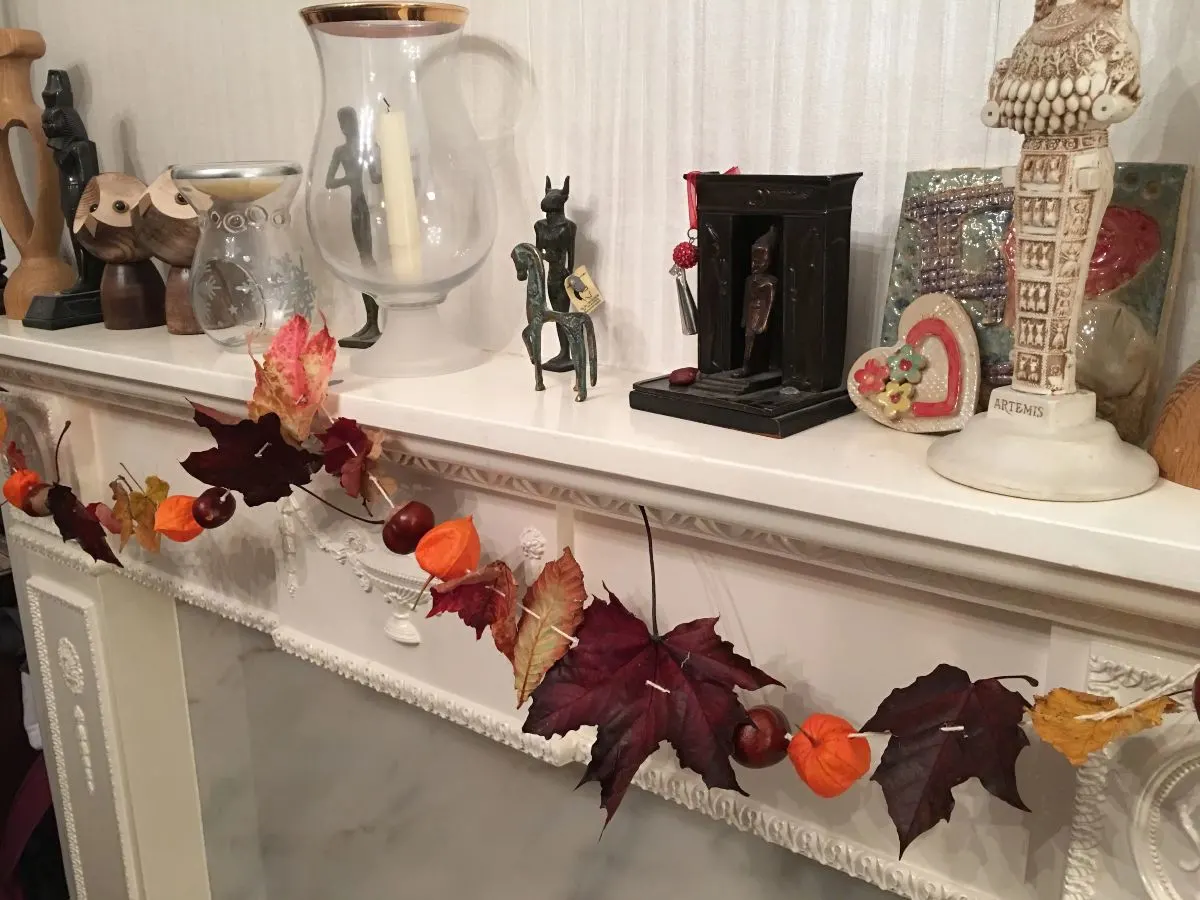 Source: arosetintedworld.co.uk
I love spending time in the garden. While spring and summer months are lovely and warm, spending time in the biting fall months can get pretty uncomfortable.
But that doesn't mean you can bring the garden to you. This is a craft project for the kids that can recreate your fall garden and allow you to enjoy your time outside—inside!
Have your kids go tromping outside to gather your garden essentials: leaves, twigs, acorns, dried berries, and the likes, Then string them through some sturdy burlap twine from here to create a wreath.
7. Pumpkin Handprint and Photo Keepsake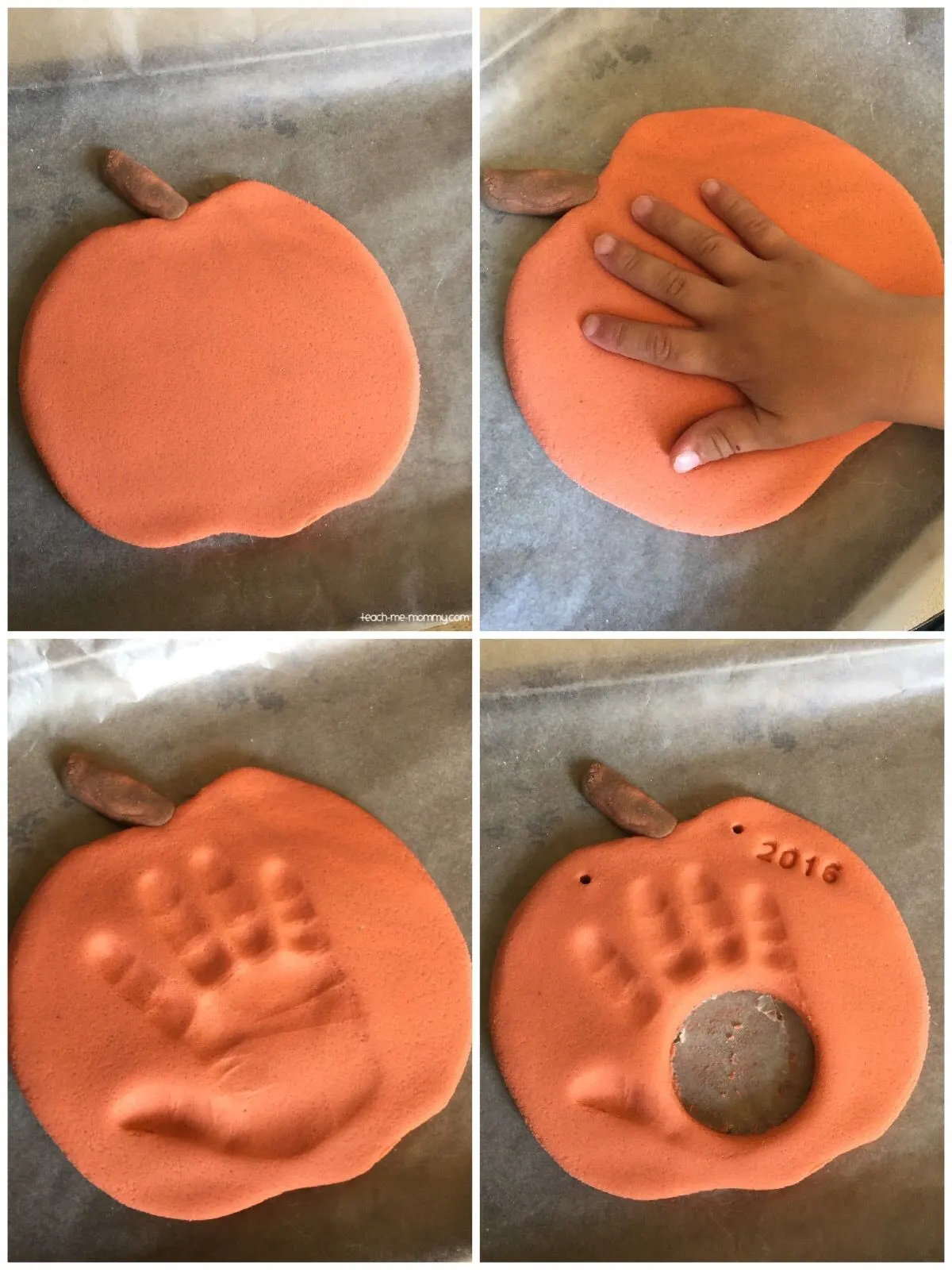 Source: teach-me-mommy.com
Handprint craft projects are just as easy and fun as leaf painting. This pumpkin handprint will also be a fond keepsake and has just enough mess-factor to really entice the kids.
You already have everything you'll need for this project on hand(ha!) so let's get started. Mix equal amounts of flour and salt with half the ratio of water to form your salt dough.
Let the kids squish and play with the dough. You can also use these food dyes to brighten things up.
8. Handprint Kitchen Towels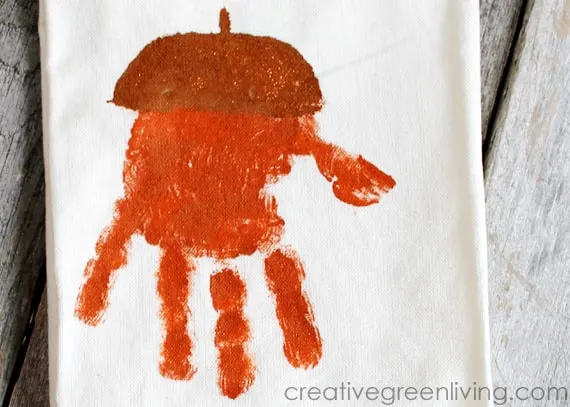 Source: creativegreenliving.com
Here's another handprint craft project and this one's as simple as they come. You don't even need cardstock, just some kitchen towels from here for the base—and kitchen paper towels to catch any spills and mess.
Since you're using kitchen towels, they can also be kept as keepsakes for you as a parent to reminisce about over the years. So grab your paint, your towels, and your kids' handprints to get started on making these handprint acorns.
9. Spider Craft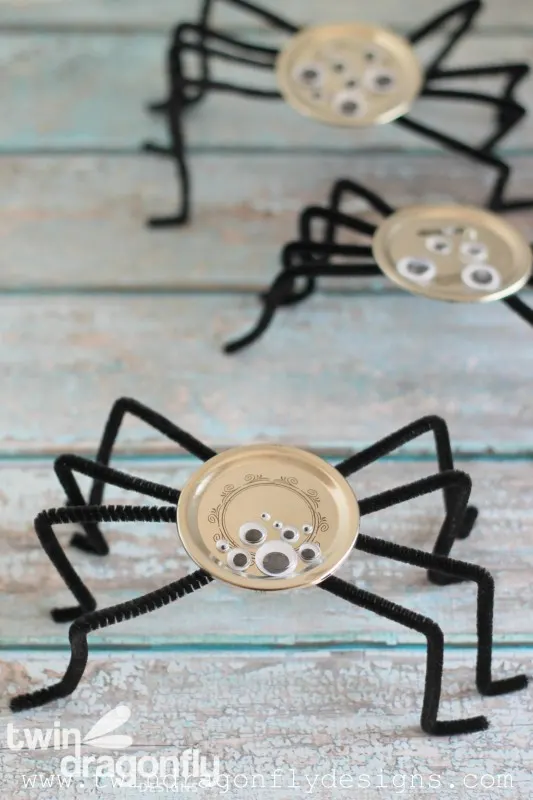 Source: homemadeheather.com
Spooky spiders are an integral part of Halloween tradition and decor. Halloween decor can never be complete without a spider or two dangling down from some faux cobweb.
This spider project needs a few snap lids, pipe cleaners from here for the legs, and some of these googly eyes. You will also need your trusty hot glue gun and some craft glue to get you set up.
Check out these 27 pipe cleaner craft ideas if you have some pipe cleaners leftover. You can also take a look at these 27 spider crafts that your bug-loving child is sure to adore.
10. Pumpkin Cat
Source: simpleparenting.co.uk
What if I told you that you can make a pumpkin cat and bring together two integral parts of Halloween: black cats and pumpkins?
You'll need a craft pumpkin, some cans of spray paint, and a couple of no-flame tea lights. Go ahead and grab your supplies.
You might also want to lay out some newspapers to catch spills as this craft project can—and will—get messy.
11. Hot Rocks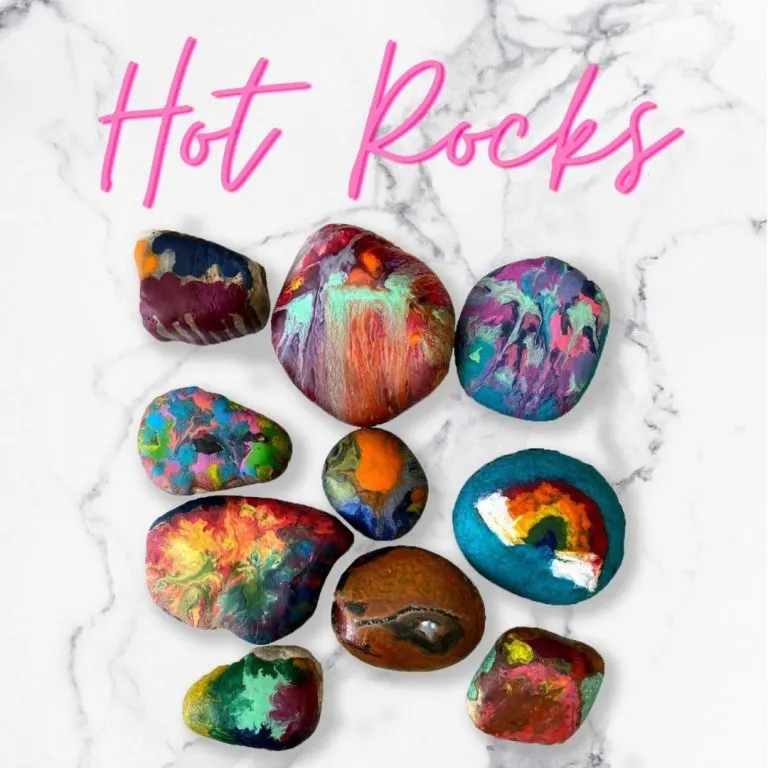 Source: brooklynberrydesigns.com
Playing with hot rocks is a really fun activity to keep the kids occupied. They're just so darn satisfying to handle that you can have your kids busy for hours.
Hot rocks are just rocks that have been heated before your kids can draw on them. The crayon you use will welt and that mess-factor alone can delight your kids into a few hours of craft time.
Grab a pair of oven mitts from here as well as these tongs and get started right away!
Love the craft? You might also like these DIY rock photo holders!
12. Bat Craft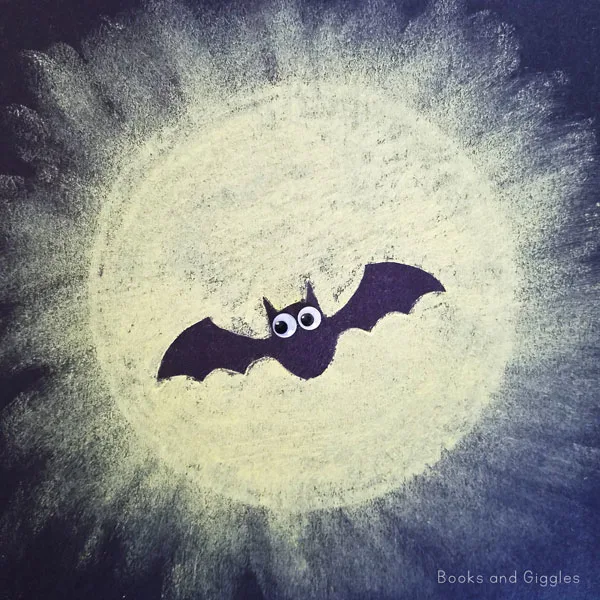 Source: booksandgiggles.com
Spooky bats for Halloween? Sign me up, please! Don't you just love having these winged creatures dangling down from the ceiling as a part of your Halloween decor?
I do!
They're super easy to make and even preschoolers can get in on the craft time fun and make a dozen of them. You'll need black construction paper, googly eyes, some white or yellow chalks, and also some bat stickers if you want them.
13. Cupcake Liner Owl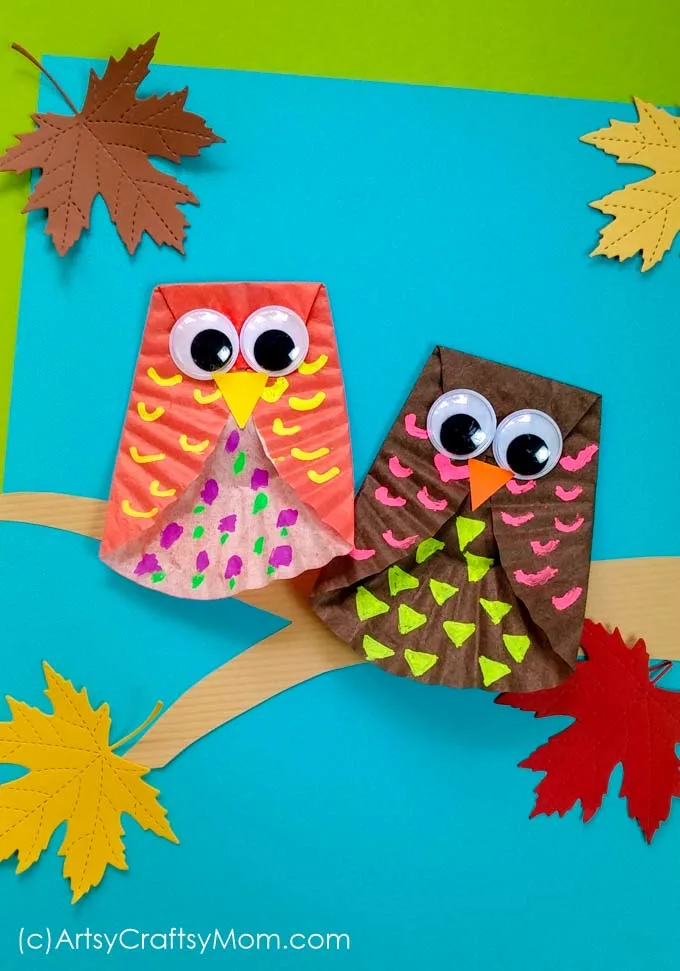 Source: artsycraftsymom.com
I love using kitchen supplies and materials during craft time to recreate some amazing animals. This time around, let's use cupcake liners from here to make some adorable owls—fall-themed, of course!
With some craft paper sheets in yellow, orange, red, and brown to add to the fall colors, your cupcake owl will look good enough to eat. You can also use some leaf embellishments to really set the scene.
The final touch is, of course, googly eyes for the owls.
14. 3D Paper Pumpkin Craft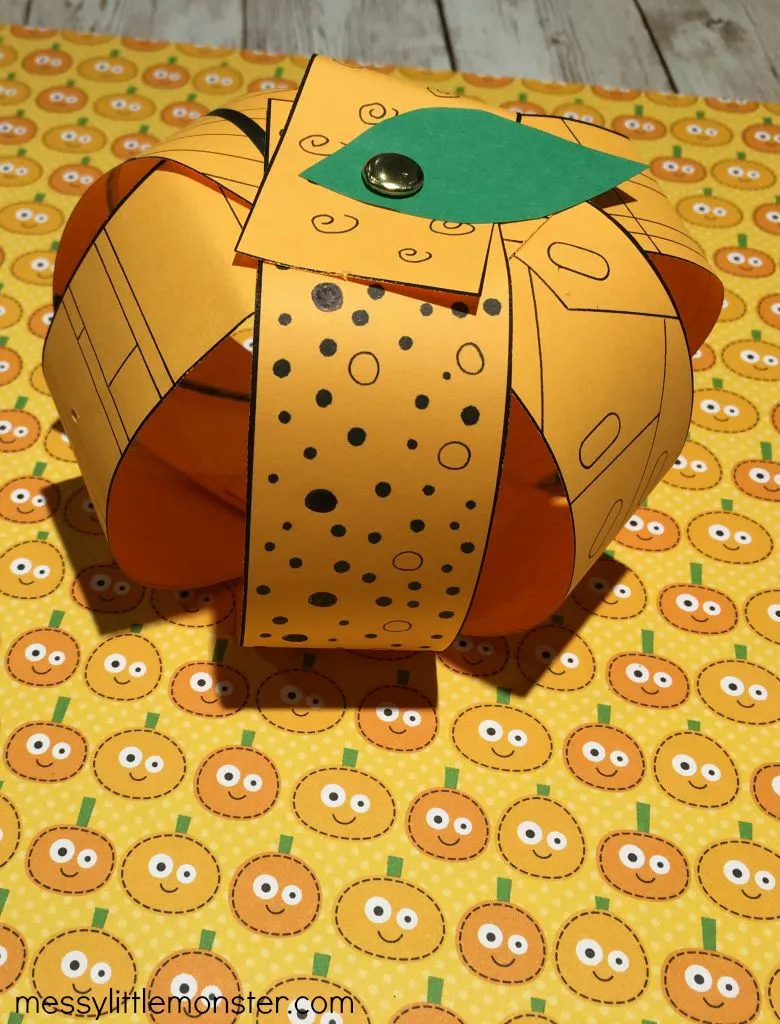 Source: messylittlemonster.com
While painting on paper is a super fun craft activity, sometimes, you really want something more…tangible. Something 3D, perhaps?
Let's take a look at how to make this 3D pumpkin in the spirit of Halloween. It's unique and quirky—the perfect craft time project to keep your kids occupied.
You can wing this project or you can follow the pattern after you download the handy template attached. Once you and the kids have got the hang of it, you can make a dozen of these to decorate your home.
15. Pointillism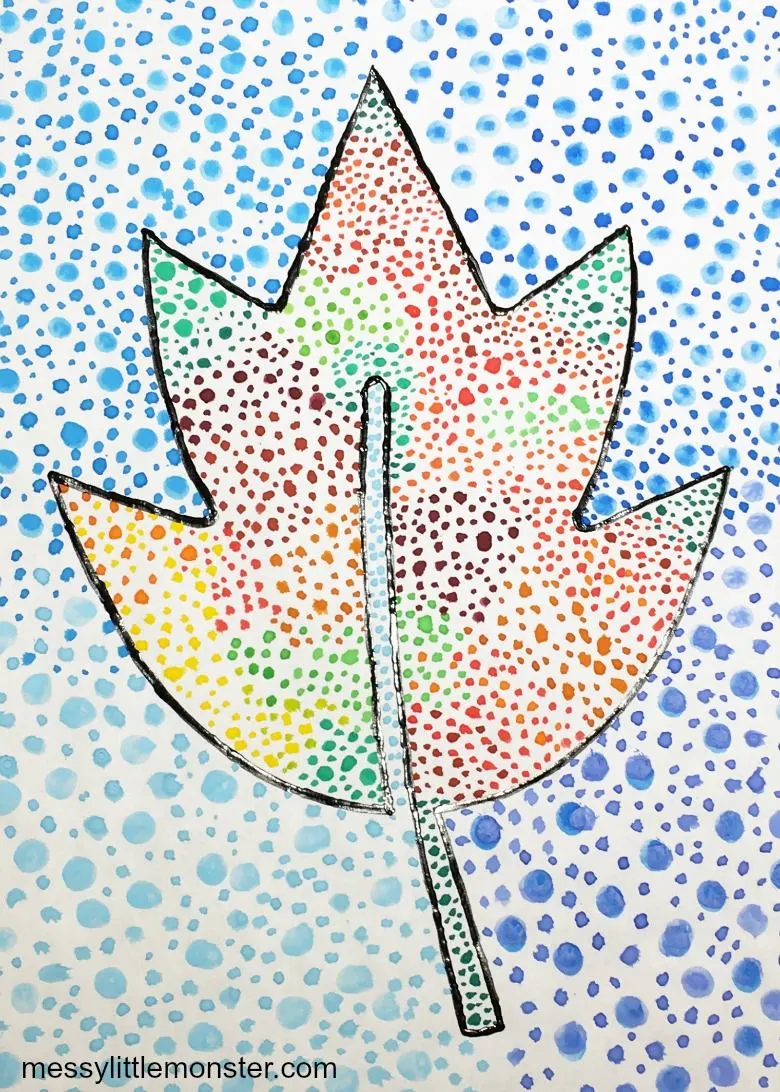 Source: messylittlemonster.com
Have you ever heard of pointillism? It's a painting technique that is unique and beautiful, where you fill your drawing or art with little 'points' of paint—ergo the name.
Here's a maple leaf drawing that you can use this technique on. You'll need some acrylic paint from here, some brushes, and also some black markers from here.
Help your kids trace out the maple leaf and also teach them the little intricacies of pointillism!
16. Fall Tree Craft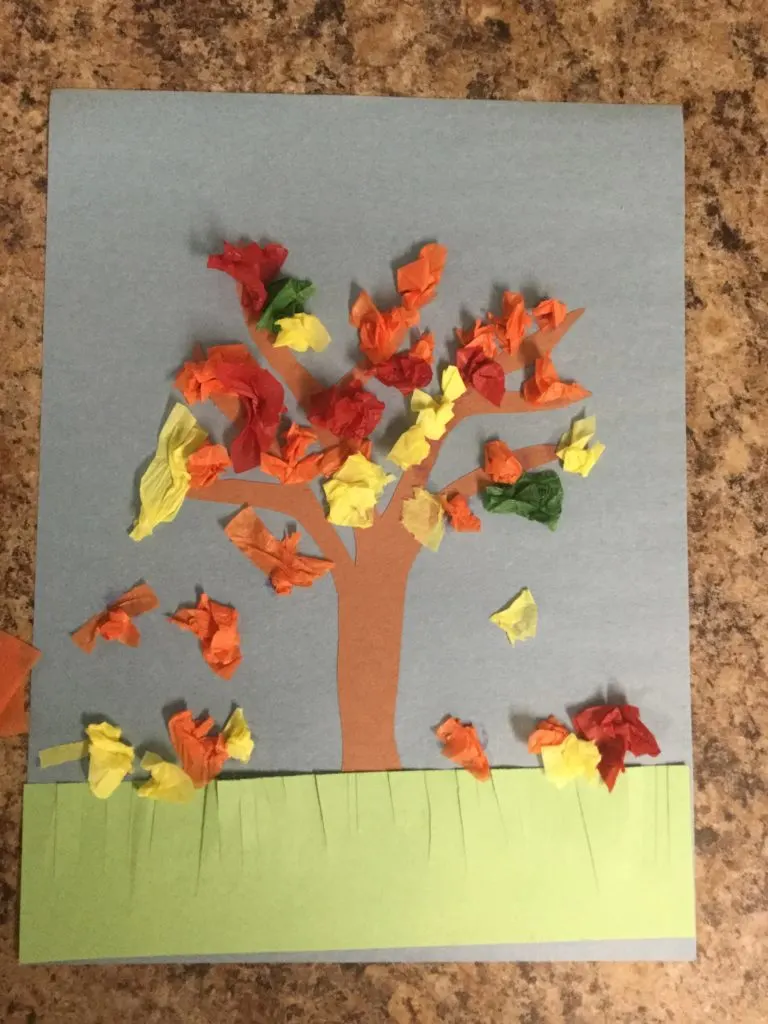 Source: theplaybasedmom.com
Fall trees are majestic and beautiful to behold. Even in the autumn of their lives, with the leaves falling away and the knowledge of winter being just a few months away, they still stand tall.
Let's use this craft project as a tribute to those stately trees and help them celebrate the seasonal changes. Grab some construction paper, some colored tissue paper, and a pair of scissors to begin.
Also, check out these construction paper crafts. Also, if you have any colored tissue paper left, check out how to make tissue paper pom poms for another craft project.
You can find more tissue paper crafts here.
17. Salt Painting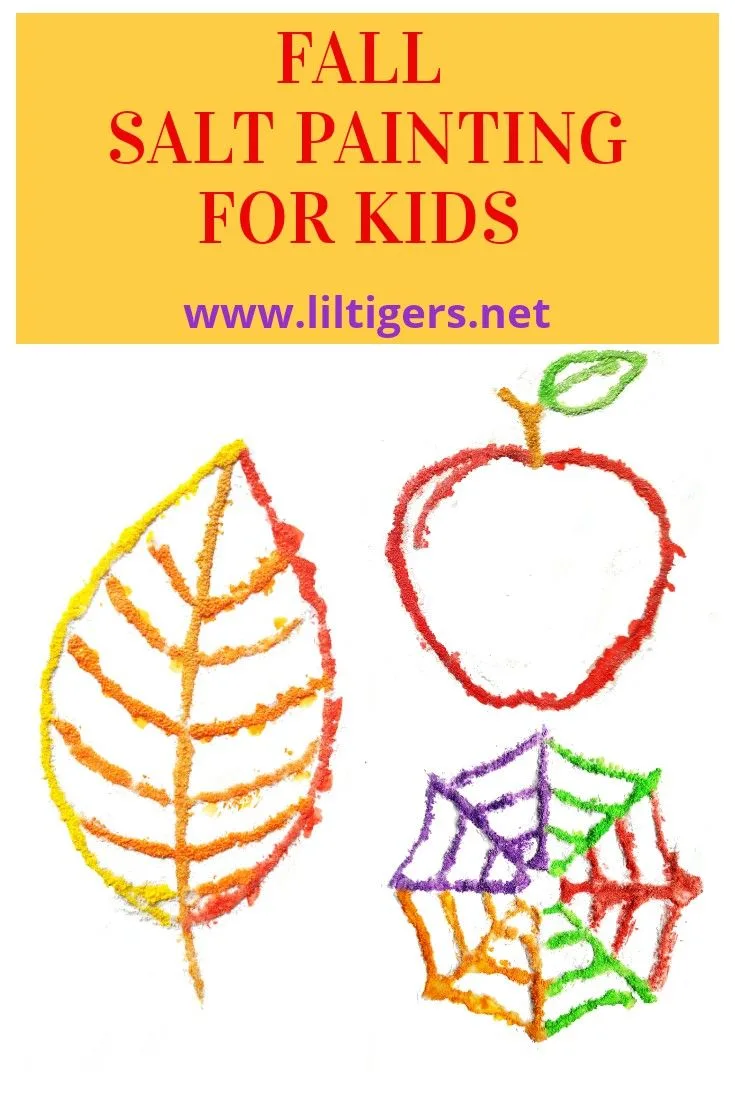 Source: liltigers.net
Have you ever tried salt painting with your kids? No? Then here's your chance! Salt painting can make for some of the best craft projects ever.
You only need a few easy-to-find ingredients: salt, liquid glue, cardstock, watercolors, and brushes.
Plan your design, assemble your materials and also prepare your salt paint before you get started!
18. Pumpkin Seed Painting Craft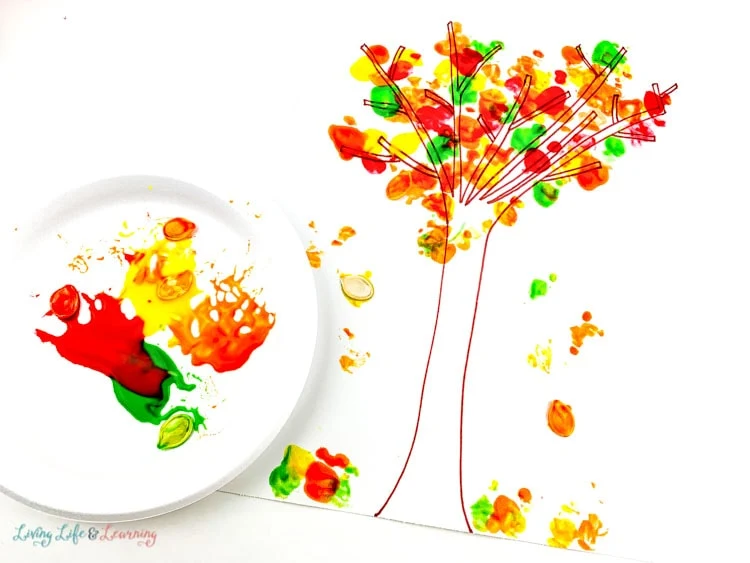 Source: livinglifeandlearning.com
Growing up, I had a ton of pumpkin-based snacks, baked goodies, and treats around Halloween to keep me well fed and satiated. My favorite treat was—and still is— pumpkin seeds.
So, for this craft, you'll need to buy some pumpkin seeds from here. If you're using seeds directly from the pumpkin, then make sure you wash, clean, and dry them completely before you use them.
Go ahead and pop a few in your mouth, I'm the last one to judge you!
19. Scarecrow Wreath Craft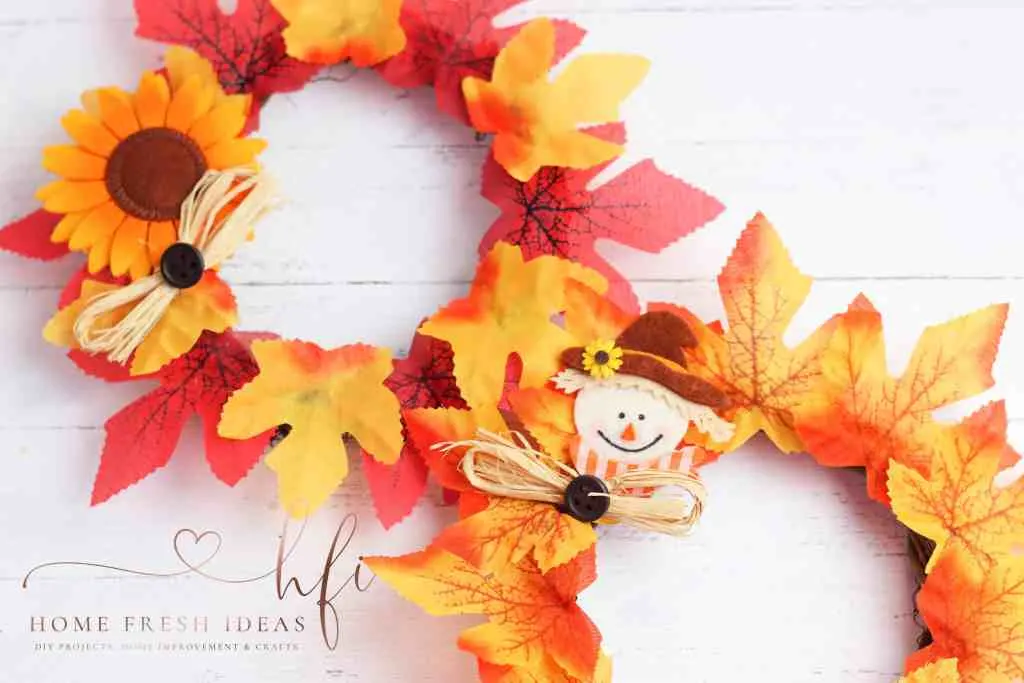 Source: homefreshideas.com
Scarecrows and Halloween are like peanut butter and jelly—they just make sense. But since this craft project is for kids, let's simmer down the fear factor with the scarecrows.
This scarecrow fall wreath is just too adorable to be scary and that's okay. It more than makes up for that by being bright, colorful, and easy to make.
You'll need a wire wreath form from here to get you started.
20. Corn Craft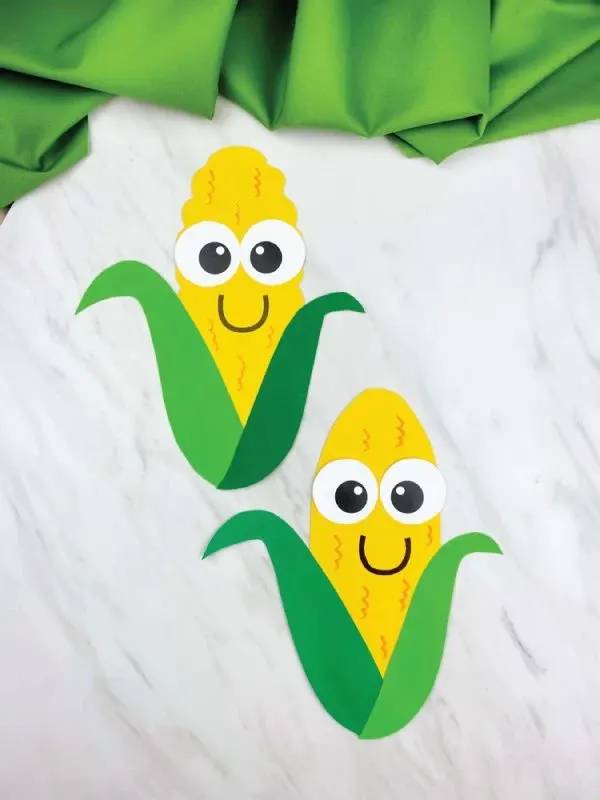 Source: simpleeverydaymom.com
Let's take a look at this really simple corn craft for the younger kids to make. It's adorable and you hardly need any supplies to make it.
You might want to download a corn template to help you, but that's pretty much it. In fact, it is so easy that you can just wing it!
21. Autumn Tree Painting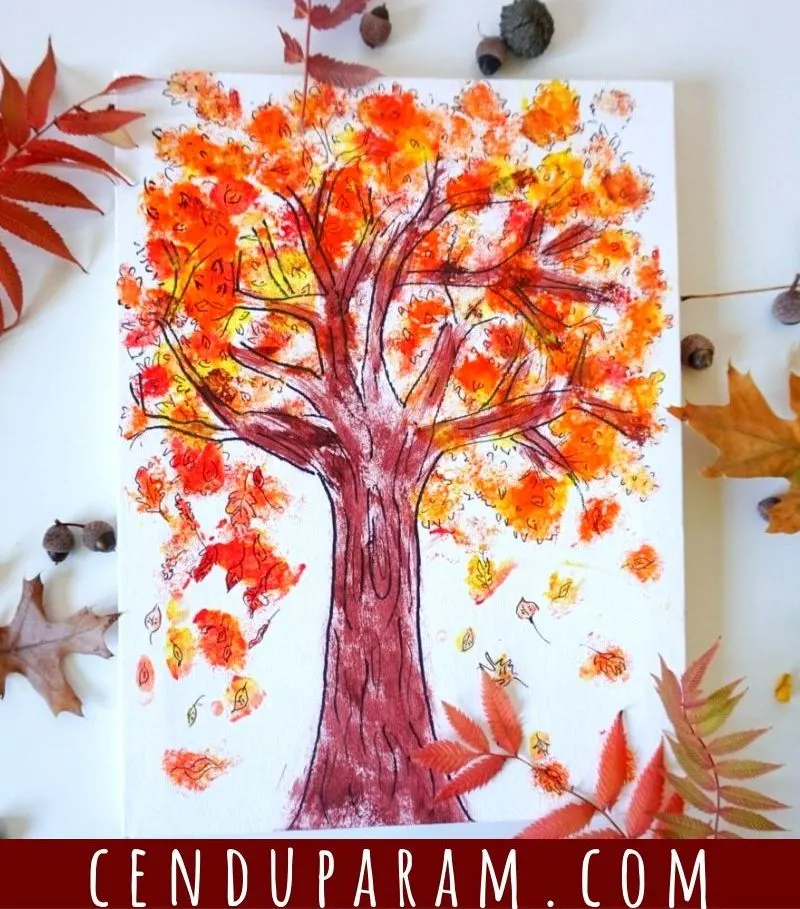 Source: cenduparam.com
There are just so many ways to depict the falling of leaves during fall. The very act itself is a sensory form of art. Painting fall trees is actually a wonderful sensory craft project that you can work on with younger children.
The bright pops of red, yellow, and orange from leaves and their subsequent descent to the ground can be a learning experience. Especially when a child is sensitive to certain textures or movements, this sensory craft can step in and do what needs to be done to teach him.
So grab some cotton balls from here and let's get painting!
22. Scarecrow Headband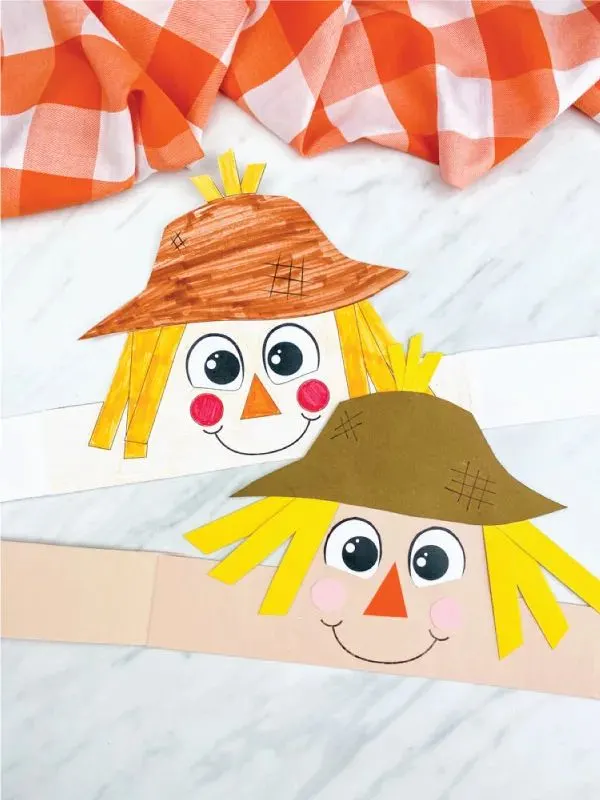 Source: simpleeverydaymom.com
All kids love a good dose of romping around and playing pirates and fantasy tales. With Halloween around the corner, it's time to let the dragons rest and rustle up a good scarecrow or two.
A scarecrow headband can go a long way to supplement your child's imagination when playing with friends. A tiara can make a princess, an eye patch can make a pirate and this scarecrow headband can transform your kid into a scarecrow!
Love the headband? Check out this DIY headband we've made or find more paper crafts here.
23. Fall Leaf Red Squirrel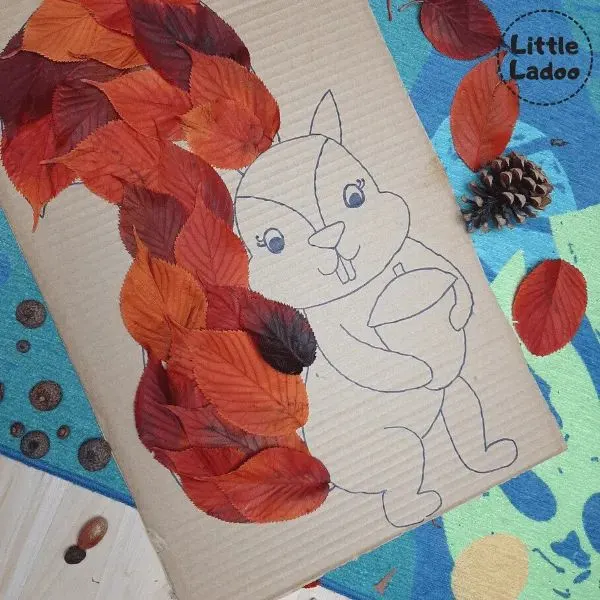 Source: littleladoo.com
We don't quite see squirrel crafts that often, do we, unless it's something to do with pinecones? Well, here's one that's super cute and easy to make.
This project will only take you around 15 minutes to make and you'll only need:
Fall leaves
Black marker
Glue stick
You can download a template or pattern for your squirrel to help you along the way. The leaves you pick out will help add texture and color to your squirrel's tail.
You can choose to leave the body of the squirrel as is, or you can jazz it up with paint.
24. Autumnal Sun Catcher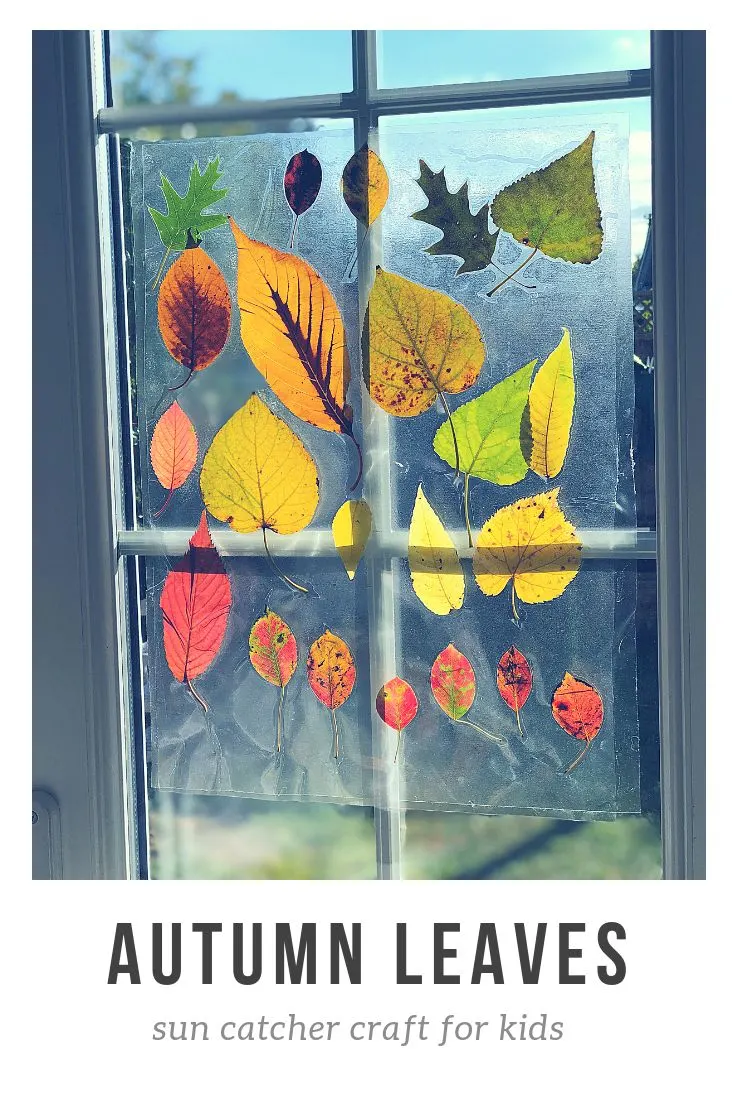 Source: the-gingerbread-house.co.uk/
Don't you just love suncatcher? I know I do. They're gorgeous and almost ethereal in the way they catch the golden light and bend it to their will.
Fall suncatchers are the best. You already have such wonderful colors at play—red, brown, gold, yellow, and orange. Now add all those colors and the light from the sun.
You've got pure, sheer beauty and magic.
25. Pressed Flower Bookmarks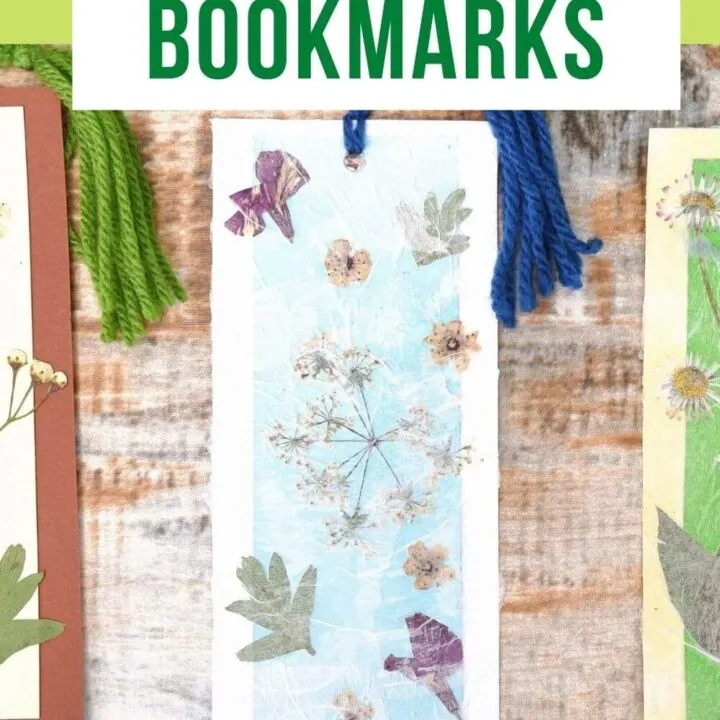 Source: liltigers.net
Pressed flowers make the best bookmarks. The delicious irony is that you actually need a book to make a pressed flower! How perfect is that logic?
Pick out your favorite flowers and even little bits of herbs to dry and press. Alternatively, you can just buy pre-pressed flowers here and save yourself the trouble.
But teaching your child the process of pressing flowers is something you must do. It can teach them that patience can be rewarding.
Love the bookmarks? Check out these DIY bookmarks for kids and these bird bookmarks.
26. Button Photo Frame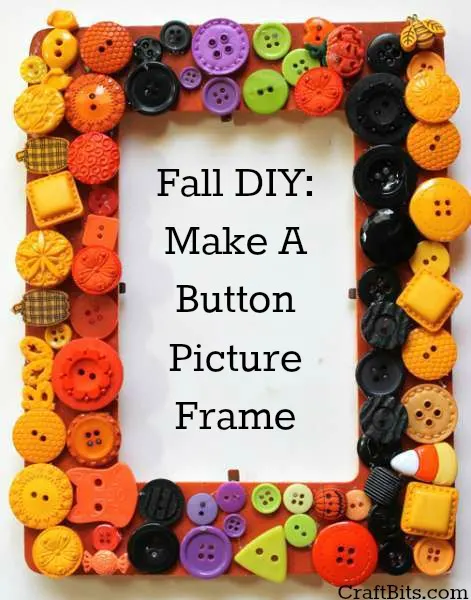 Source: craftbits.com
To begin this project, grab a plain picture frame. You can find a ton of these at your nearest Dollar Tree for just a buck. Then, grab some buttons, embellishments, and odd bits and ends to decorate your frame.
You'll also need some acrylic paint—preferably red or orange to keep with the theme, and some hot glue, too.
Once you paint the wooden frame, give it enough time to dry and apply another coat if required. Make sure that your frame is dry before you continue!
27. Mickey and Minnie Mouse Pumpkins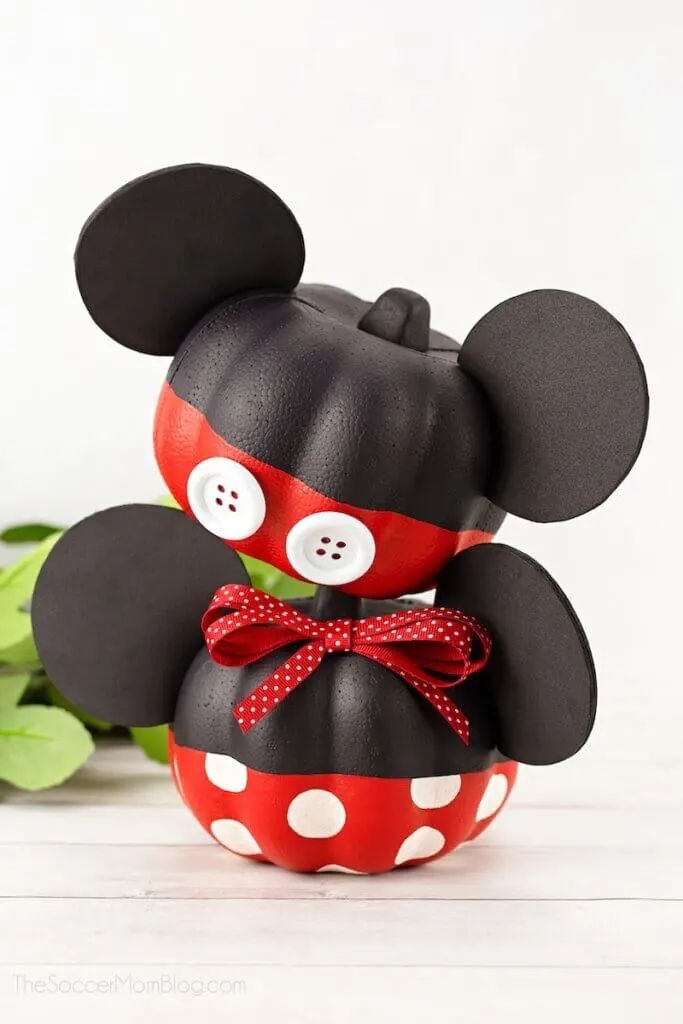 Source: thesoccermomblog.com
All you Disney lovers out there, this craft project is especially for you. Mickey and Minnie's heads and ears are the perfect shapes to recreate using pumpkins, don't you think?
It's like they're asking to be set in pumpkin, so let's give them what they want. Pick up some foam pumpkins from here as well as some black and red paint—signature Mickey and Minnie colors!
Check out these 20 easy Halloween crafts for kids for more inspiration!