Get craft in the classroom with the kids! These classroom crafts are fun little projects the children can make on their own with a little bit of guidance.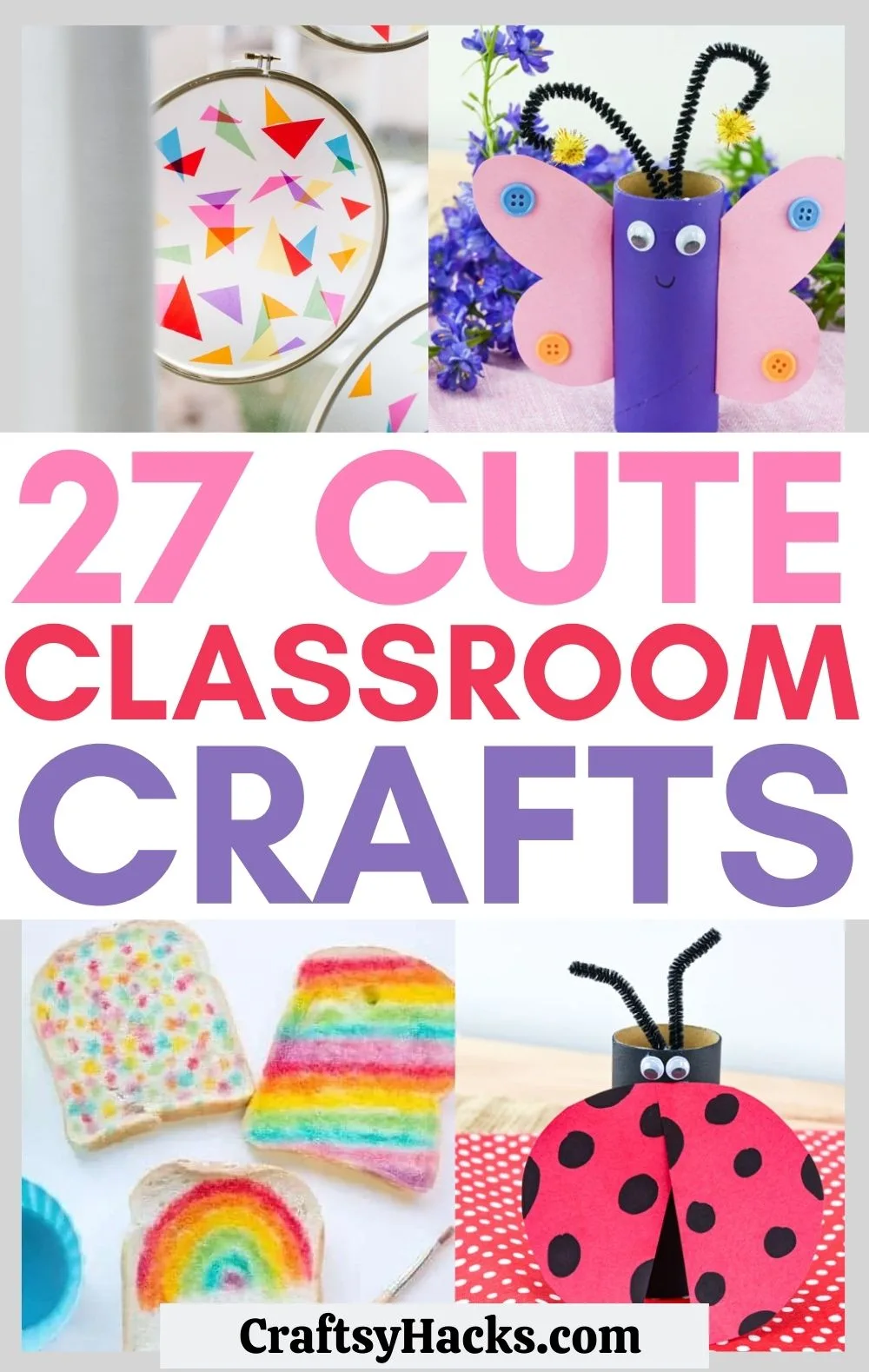 There's a ton of creative craft sessions that you can plan for kids during craft time in the classroom. Depending on their age, and the type of DIY craft project you pick, you can use this as an opportunity to develop vital motor skills.
It is also an opportunity to teach them
1. Paper Envelope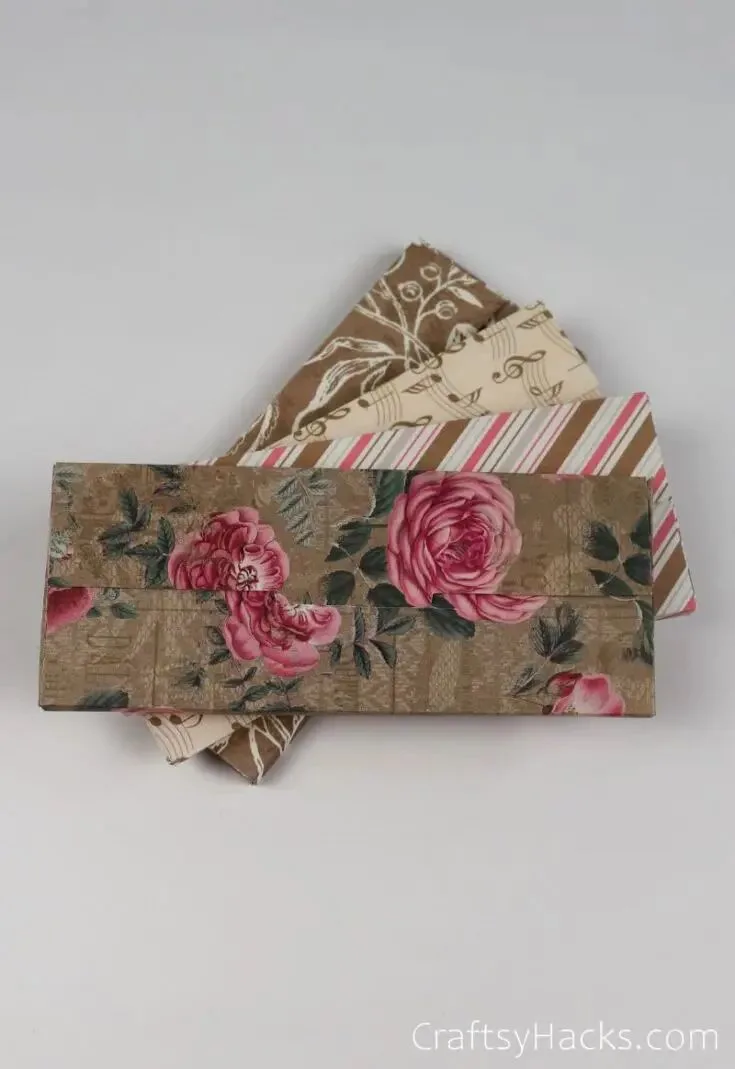 Source: craftsyhacks.com
Don't you just love pretty envelopes? They're always a great way to dress up greeting cards, gifts, and other trinkets. The downside is that good-quality envelopes are difficult to find, and when you do, they're pretty expensive.
You can make your own DIY envelopes from your favorite paper! Pick out some thick patterned scrapbook paper from here—something that will be stiff and sturdy.
So try these out for next Christmas day, birthday, or other special events!
2. Toilet Paper Roll Ladybug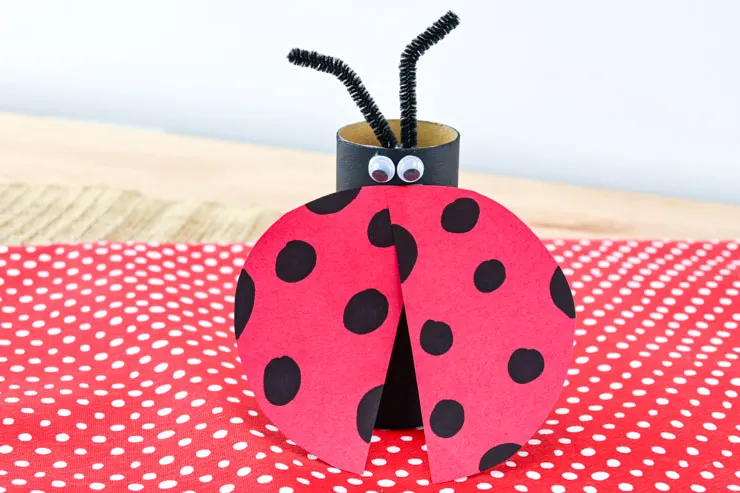 Source: consumerqueen.com
Do you have any empty toilet paper rolls still lying around? I've got a super cute DIY classroom craft for you!
This toilet paper roll ladybug craft is a great rainy day activity when the kids are stuck inside during recess, and you need to keep them occupied. It's a quick and easy DIY, and you can make one of these ladybugs in under 15 minutes!
You'll need to help the younger kids when they're handling the cutting, but it's also a great way to introduce them to the process. Grab some of this craft paint and get started!
Here are 21 ladybug crafts for bug lovers to enjoy.
3. Egg Carton Caterpillars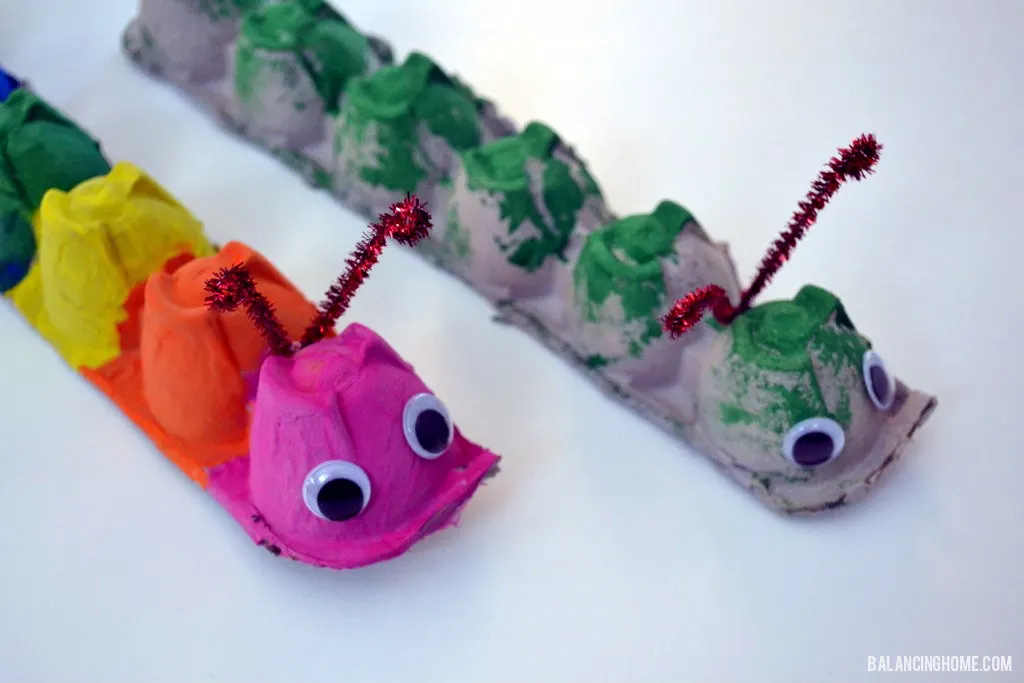 Source: poofycheeks.com
What's that one thing you always have to keep dumping into your garbage at home? Empty egg cartons, of course!
How about you save a few of them for a fun and innovative DIY craft project? Egg carton caterpillars are super fun to make and give kids the opportunity to really let their creativity shine through.
You can spruce your carton caterpillars up with these googly eyes and some pipe cleaners from here. You can also use a rainbow of colors to make your caterpillars bright and fun!
4. Fish Craft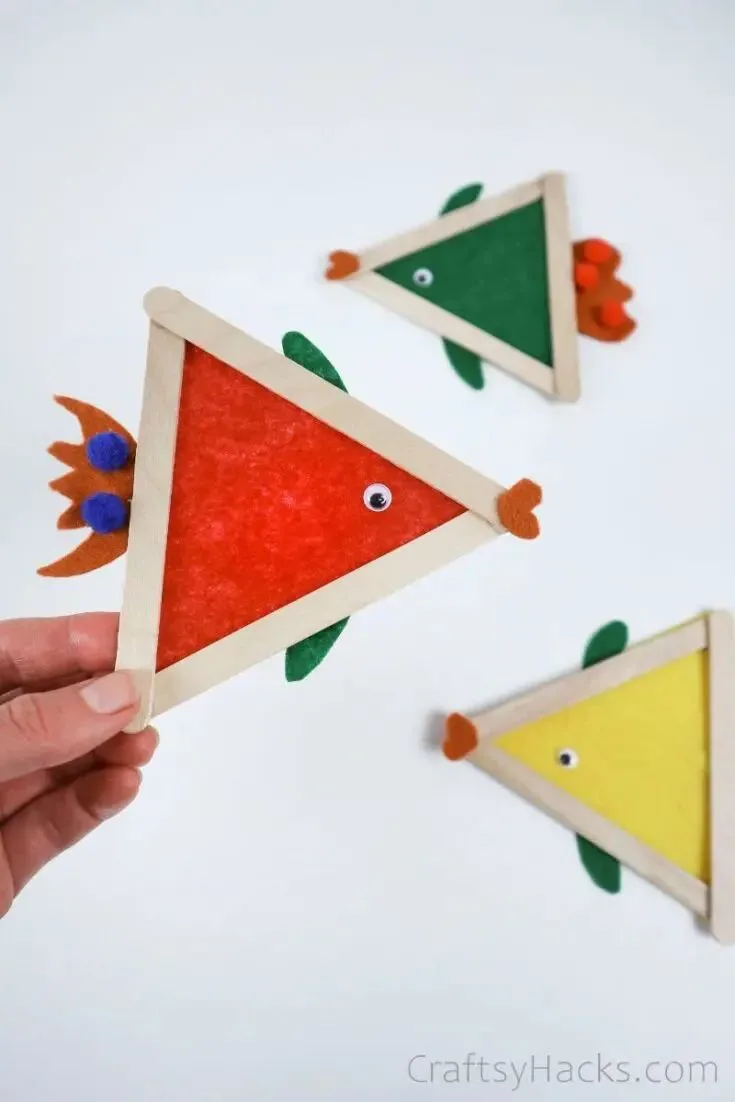 Source: craftsyhacks.com
Do you know a great way to teach a classroom full of eager kids about the ocean and sea creatures? Through craft time, of course, with this popsicle fish craft.
You'll need a few sheets of felt fabric, some popsicle sticks from here, and some googly eyes. You'll also need a ton of craft glue(look here), so keep in mind that your classroom full of kids is going to end up with sticky fingers.
Lay out some sheets of newspaper before you get started. Once you're done, you can send these pretty fishes home with your kids for them to hang in their rooms!
5. Rainbow Water Experiment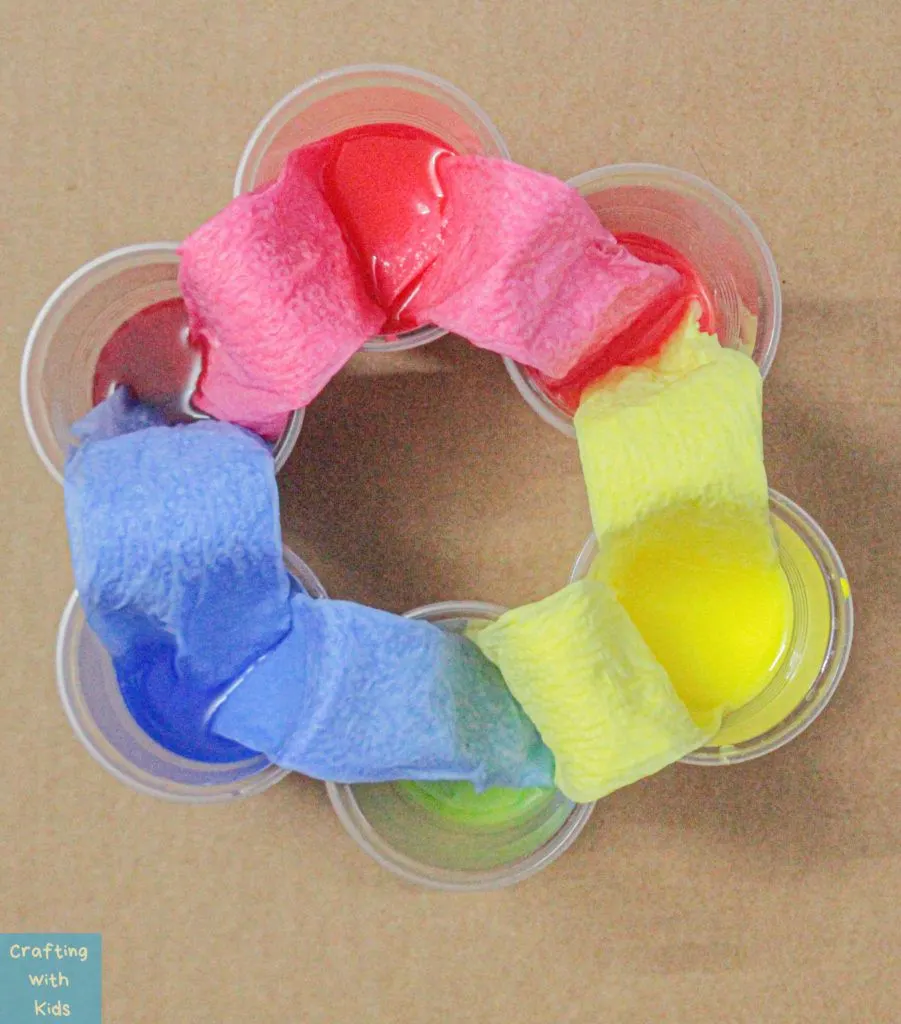 Source: craftingwithkids.net
Craft time is the best time to explore and experiment with different creative projects. A productive craft session should always be a learning experience with a takeaway for the entire classroom.
Here's a super cool way to introduce your class to capillary motion, or the ability of fluid to flow into spaces due to gravity. Using colored water, you can show kids how water climbs up these paper towels and moves against gravity.
Learning with visual aids like colored water can make even the dullest of experiments super fun!
6. DIY Snow Globes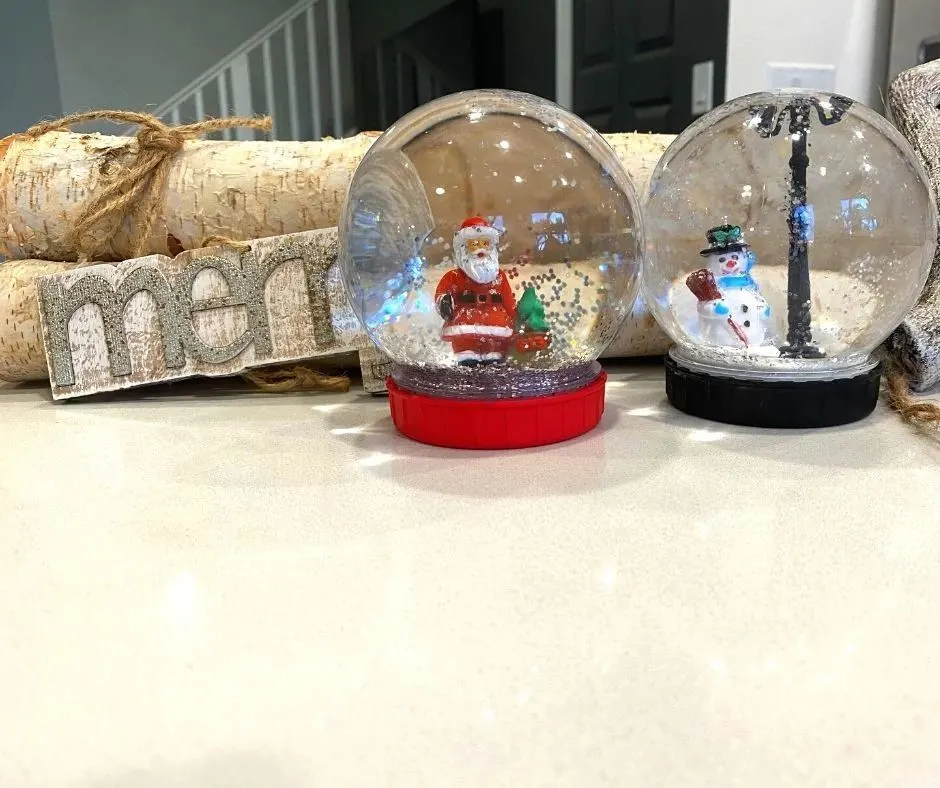 Source: swankyden.com
You can always pick up a souvenir snow globe at the nearest gift shop. They're cheap enough, yes, but why would you buy one when you can make your own DIY snow globe right at home?
It's the perfect opportunity to capture a memory in a magical and snowy manner. You can pick out your toys, color the water, add sparkle…your options to customize are endless!
You can find plastic or glass-domed containers at a dollar store, or just look here!
7. Bookmark with Paper Clips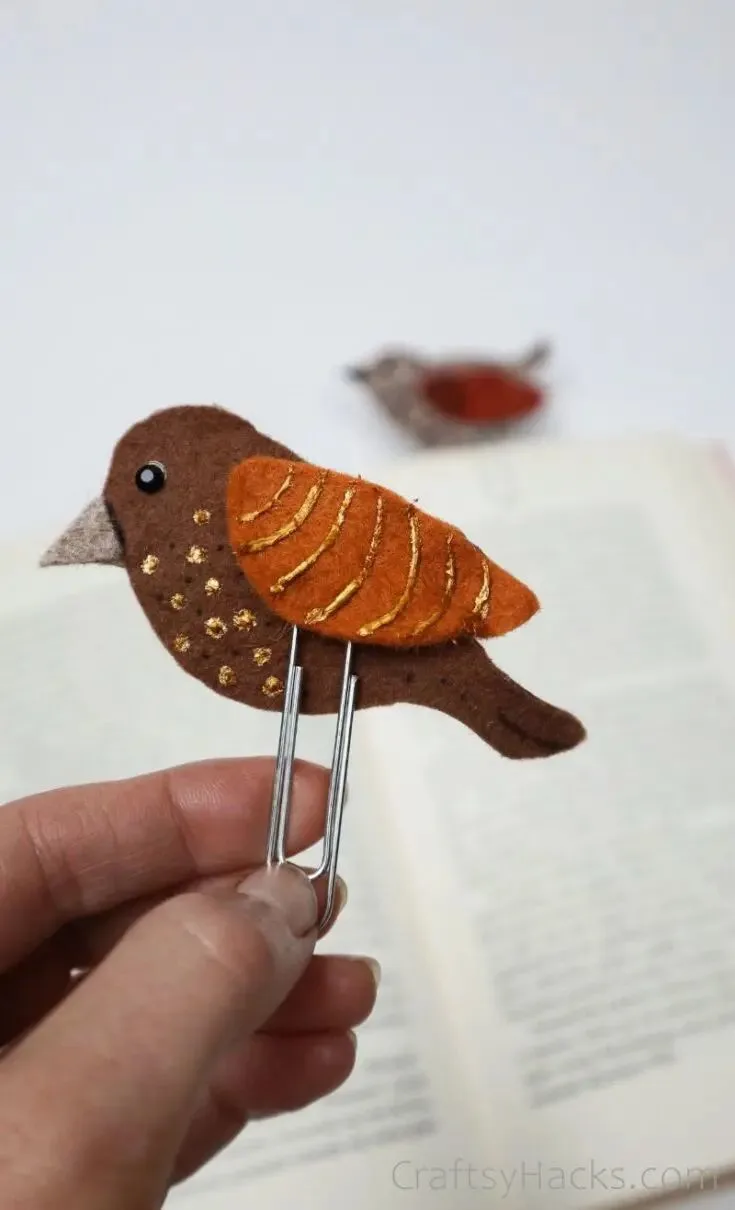 Source: craftsyhacks.com
I've always believed that kids should be introduced to the joys of reading at a young age. The best possible method to do that is to entice them with creative and unique bookmarks.
This DIY bird bookmark with paper clips is unique and pretty easy to make. I bet you have a ton of scrap fabric leftover from previous DIY projects.
Why don't you pick out your fabric and follow the pattern to cut out the different components for this bird bookmark? Once you're done with this step, you can finish it up by gluing them together and decorating them.
Check out more scrap fabric projects here.
8. Cactus String Art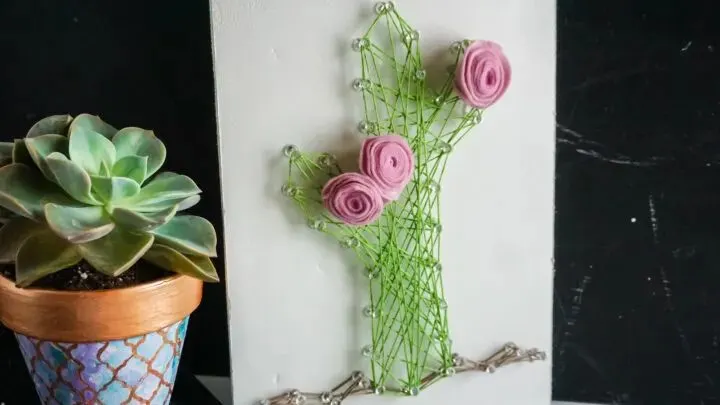 Source: marocmama.com
String art is definitely easier than it looks. You might think that working with so much string to form intricate loops is complicated, but it really isn't.
All you have to do is hammer your nails in place to create the outline for the cactus. Once they are secured firmly, start twining your string around.
Keep wrapping the string along until you're happy with the shape that has emerged. You can make it as opaque or as minimalistic as you desire.
Top it off with a couple of pretty flowers, and you're all set.
9. Cat Newspaper Art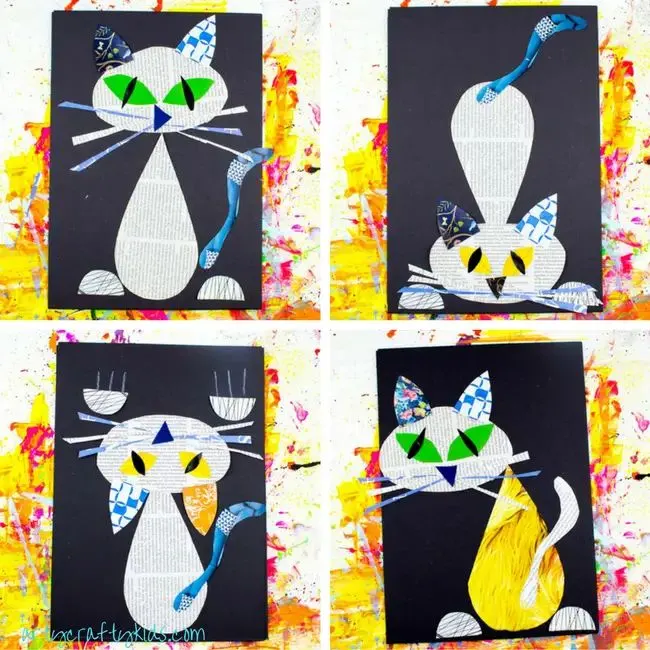 Source: artycraftykids.com
When you're in need of a quick and easy craft project, you can always turn to newspapers to help you save the day. So this time, let's take a look at how to make these cool cat newspaper art for the kids in your class.
You'll need newspapers, of course, as well as a few sheets of sturdy cardstock paper to stick the cat on. You'll also need a ton of craft glue and some brushes to help you stick the different components in place.
So get started on cutting the different components for your cat! Also, check out these 27 cat crafts that your kids will love!
10. DIY Bookmarks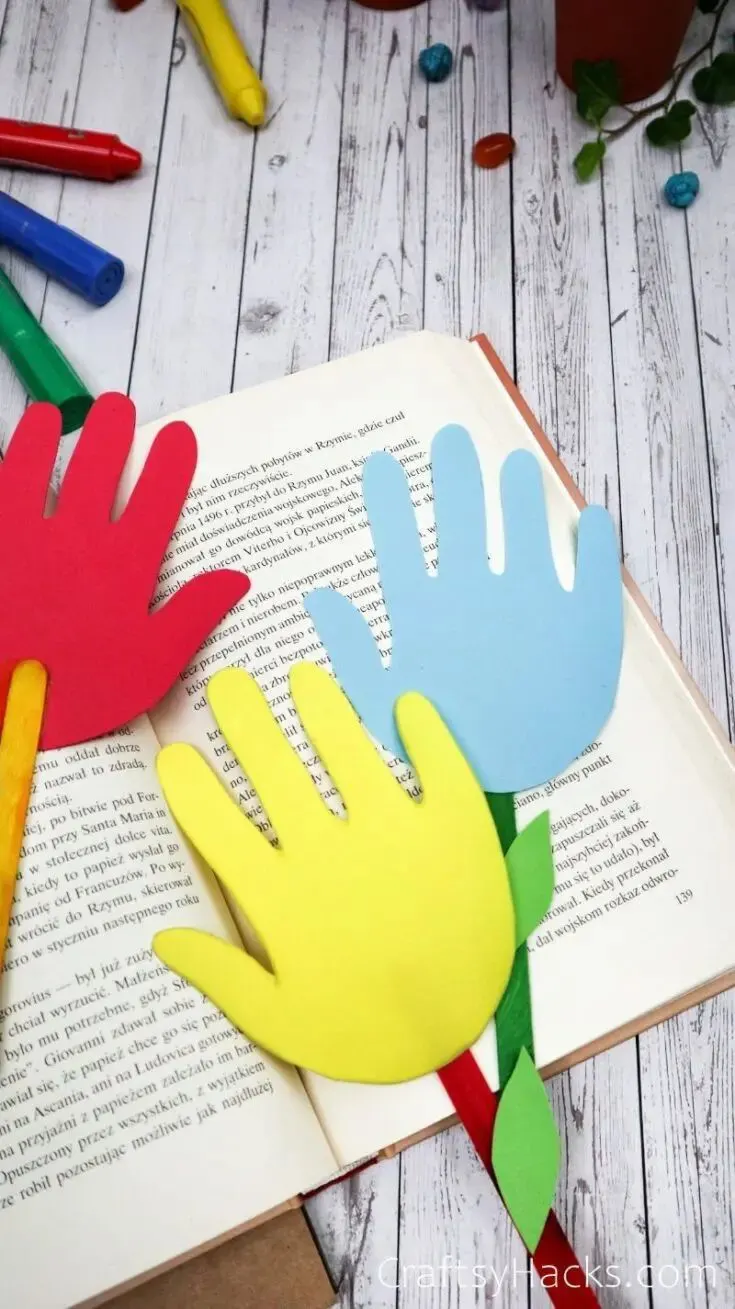 Source: craftsyhacks.com
Handprint crafts are the easiest go-to solution for a rainy day craft session. These handprint bookmarks are cute and easy to make, as well.
On a sheet of paper, have your kids trace an outline of their palms with the flat side facing down. Point out how tricky those nooks in between the fingers can get and help them through the process!
Next, help them cut out the outline of their palm and stick them onto a popsicle stick. You can also jazz up the stick with a few paper cutouts of leaves and vines, as seen below!
Check out more popsicle!
11. Toilet Paper Roll Butterfly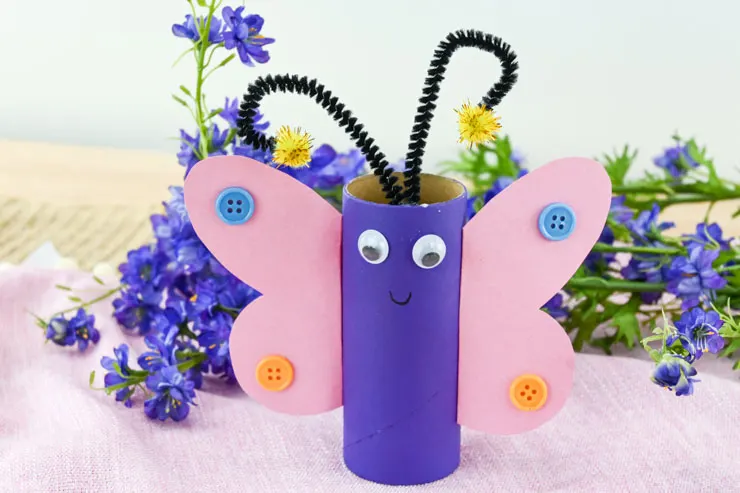 Source: consumerqueen.com
Here's another toilet paper roll craft for you to try out: a crafty butterfly using just the toilet paper roll, some googly eyes, construction paper, and adhesive.
Select the main color for the body of the butterfly and paint the toilet roll accordingly. Allow it to completely dry before attaching the wings, googly eyes, and even little pipe cleaner antennae!
You can add a little sparkle and bling, and voila, you just turned a toilet paper roll into a really amazing craft project!
Love toilet paper roll crafts? You might like this unicorn craft!
12. 3D Paper Snowflake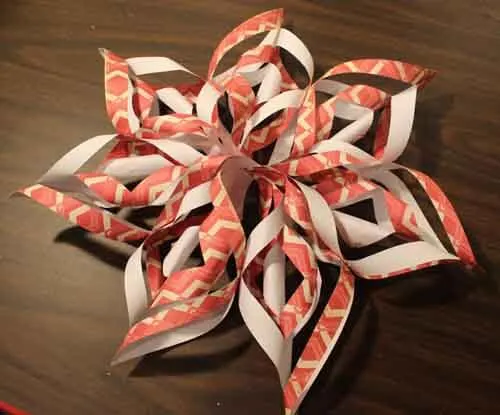 Source: needlepointers.com
Snowflakes are ever so hard to catch. You hardly see them in their true form, which is such a shame, don't you think?
So what's the solution? Well, craft time is where you make all the magic happen, so let's make a 3D paper snowflake. This one will last much longer, and you can use it to decorate your Christmas tree, too!
You'll need some heavy and sturdy scrapbook paper or craft foam like this to start with. You'll also need a sturdy pair of scissors and some of these glue dots.
13. Paper Picture Frames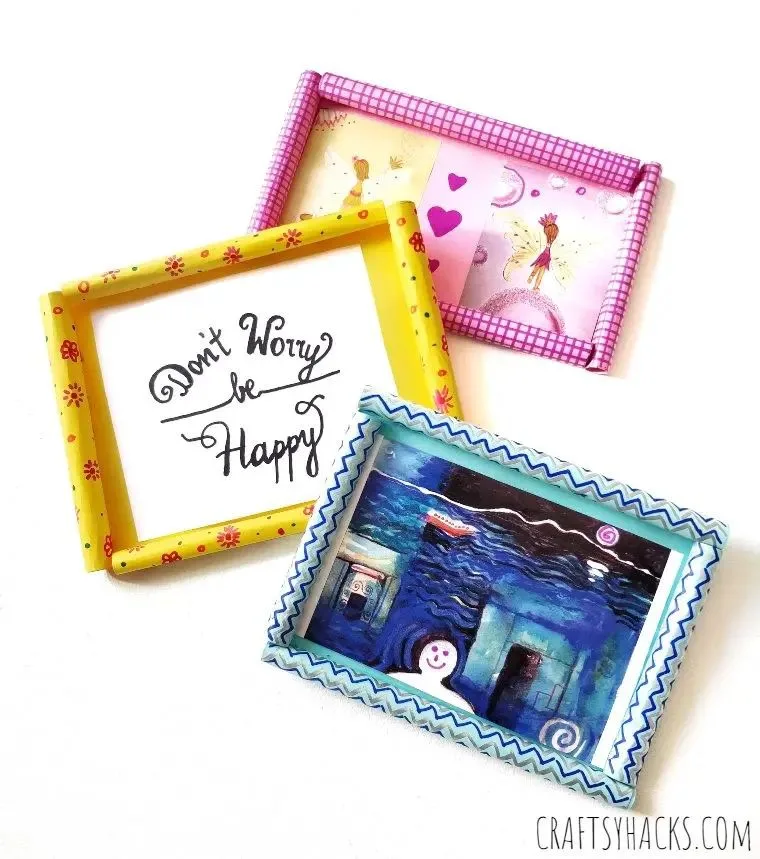 Source: craftsyhacks.com
Take a look at these 3D picture frames! They are super easy to make, so how about you reserve them for your next classroom craft time?
This is a great gift for the kids to make. You can send these back home with them to display on their mantel or shelves!
You'll need some A4 sheets, glue, scissors, permanent markers, and some crayons. You will also need to figure out if you want a patterned frame, in which case you will need patterned paper.
Pop in a happy message or a picture when you're done and celebrate a successful craft project done right with the kids!
Check out more paper crafts here.
14. Robot Puppets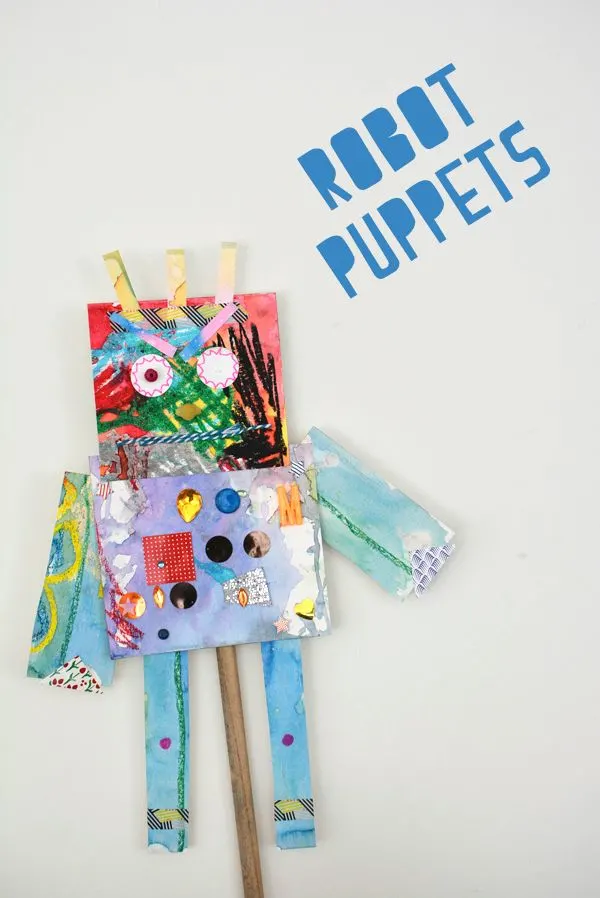 Source: mericherry.com
There's an inexplicable and never-ending fascination that boys have for robots. It doesn't matter how old they are but give a boy a robot, and you'll see him turn into a kid and play with them!
So let's make a robot puppet that younger kids can enjoy. The creative process is completely unrestricted, which means that their robot puppets can be absolutely unique and perhaps even whacky!
Grab some washi tape from here and get started!
15. Toilet Paper Roll Bunnies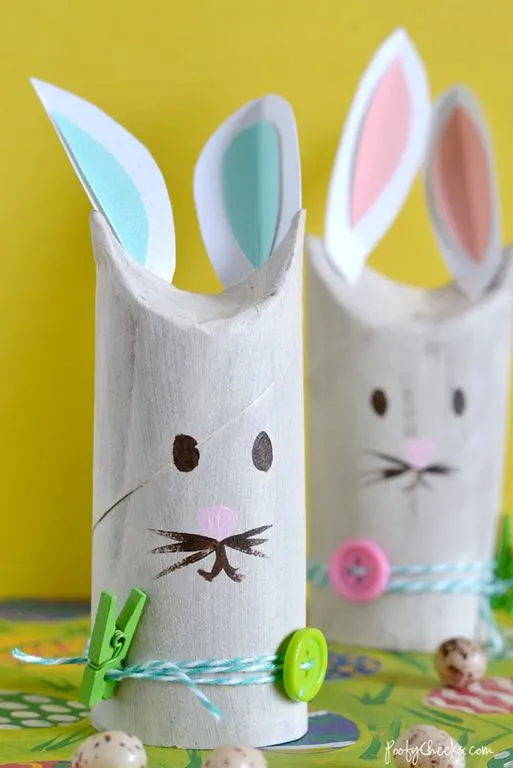 Source: poofycheeks.com
We've made toilet paper roll ladybugs and butterflies, and now, let's take a look at how to make this toilet paper roll bunny. You'll need a few toilet paper rolls, of course, as well as some white, brown, and pink acrylic paint.
Grab your paintbrushes as well as some of this rubber cement. You can also pick up some twine from here for decorative purposes. Once
If you've gathered all your supplies, you're all set and can start making your toilet paper roll bunnies right away!
Here are more fun toilet paper roll crafts you didn't know you needed!
16. Paper Wallets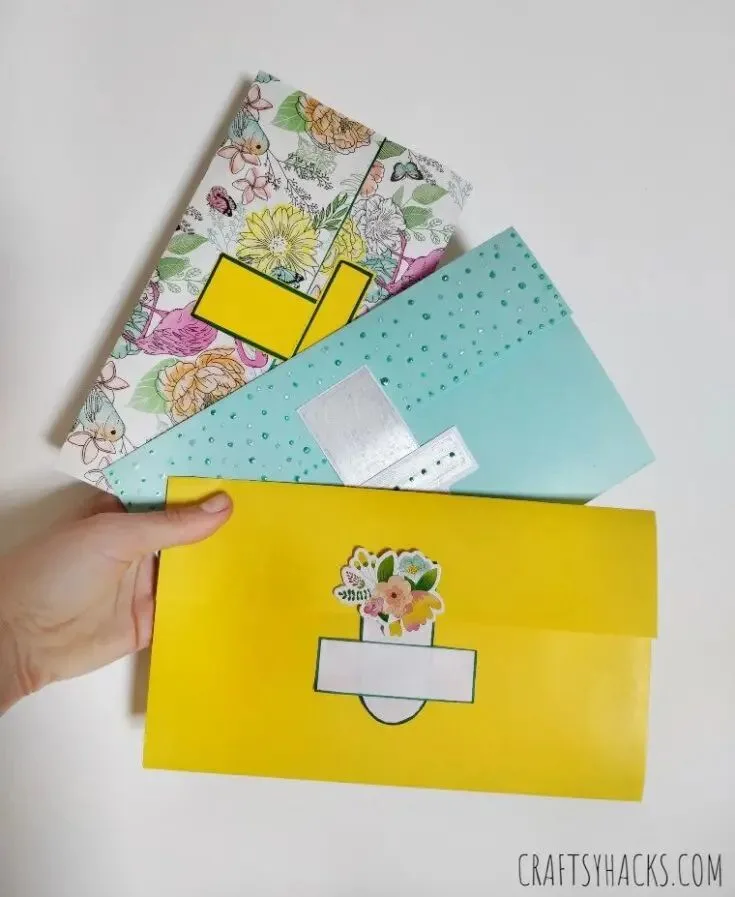 Source: craftsyhacks.com/diy-paper-wallets/
Paper wallets are a great craft for the kids to make at school. It's a very effective way to rope them into crafting.
When you're done making this DIY paper wallet, you can slip a dollar bill in there for your kids as a reward. You can think of it as a way to entice them away from their gadgets!
You probably already have everything you'll need to make these wallets right at home, so you don't have to worry about assembling your supplies. Just pop a couple of decorative stickers when you're done to jazz up this cute DIY wallet!
17. Straw Blown Peacock Painting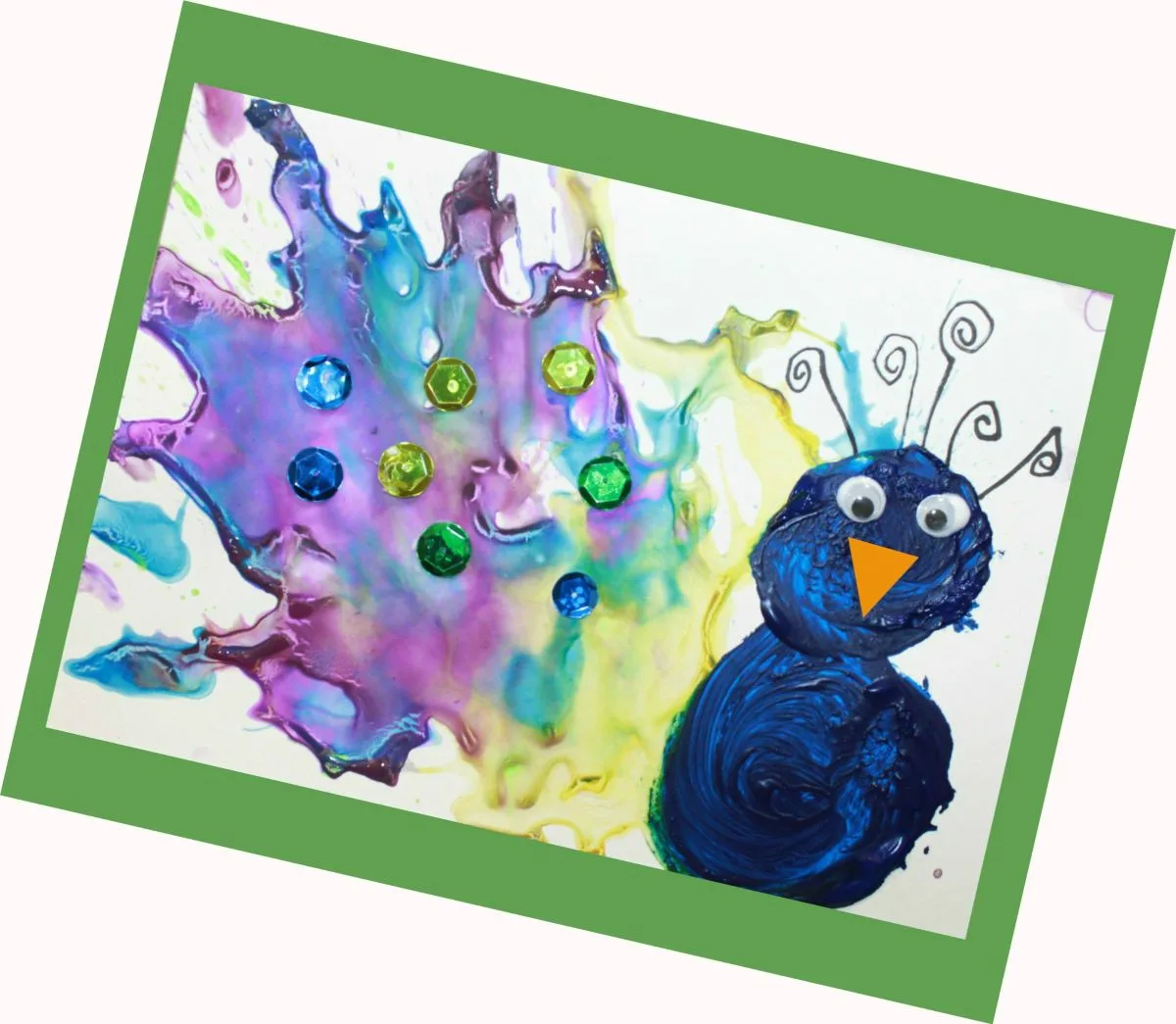 Source: thepinterestedparent.com
I doubt there is a single person out there who wouldn't enjoy playing around with colored water and blowing through straws. So why not make it a fun craft session for the kids?
Sure it gets messy, but that's why laying out a dozen newspapers everywhere to catch spills and splatter is super important. You can use little sippy cups to mix the colored water and also find your straws right here.
However, you can also use reusable straws and teach the little ones about sustainable living, too, while you're at it!
18. Bread Painting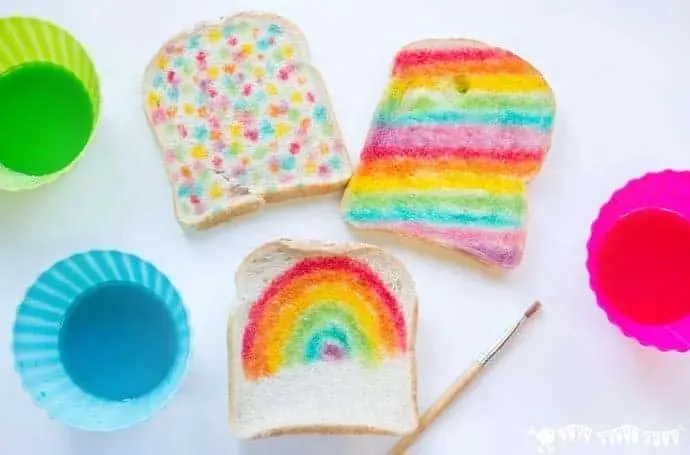 Source: kidscraftroom.com
Bread painting- does that sound super fun, or what? How awesome would it be to actually eat your craft time project?
But wait, is it really edible? What will you need?
You'll be using edible paint to decorate a nice thick slice of bread, and it's perhaps one of the wackiest DIY craft projects ever! You'll need some gel food color, granulated sugar, plastic bowls, and of course, your bread.
White bread would be ideal for this project as it will soak up the color much more effectively. Just make the dye as thick and sugary as you can so that the bread won't soak up too much of it and become soggy!
19. Paper Bag Jellyfish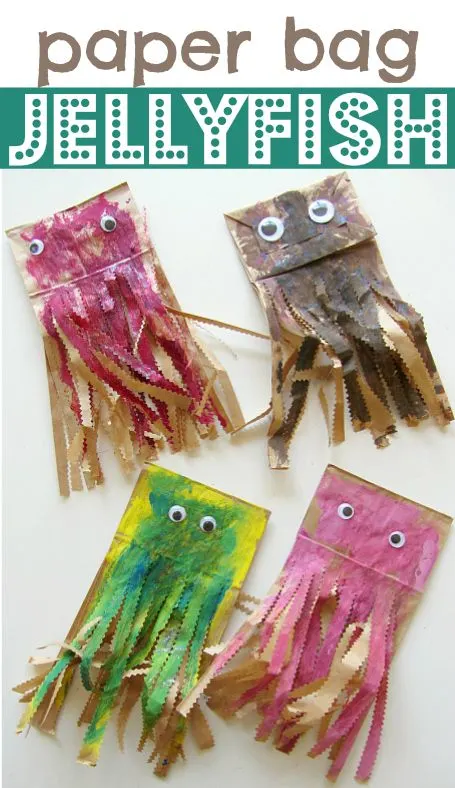 Source: notimeforflashcards.com
Paper bags are a staple at every household that packs school lunches for kids. It's also a great crafting material and versatile to boot.
There's a ton of creative DIY crafts you can make from paper bags, and this jellyfish is simply one of them. Bonus, you'll be able to teach your kids about jellyfishes in the process, which is a definite educational opportunity!
So grab your paper bags from here and get started!
20. Leaf People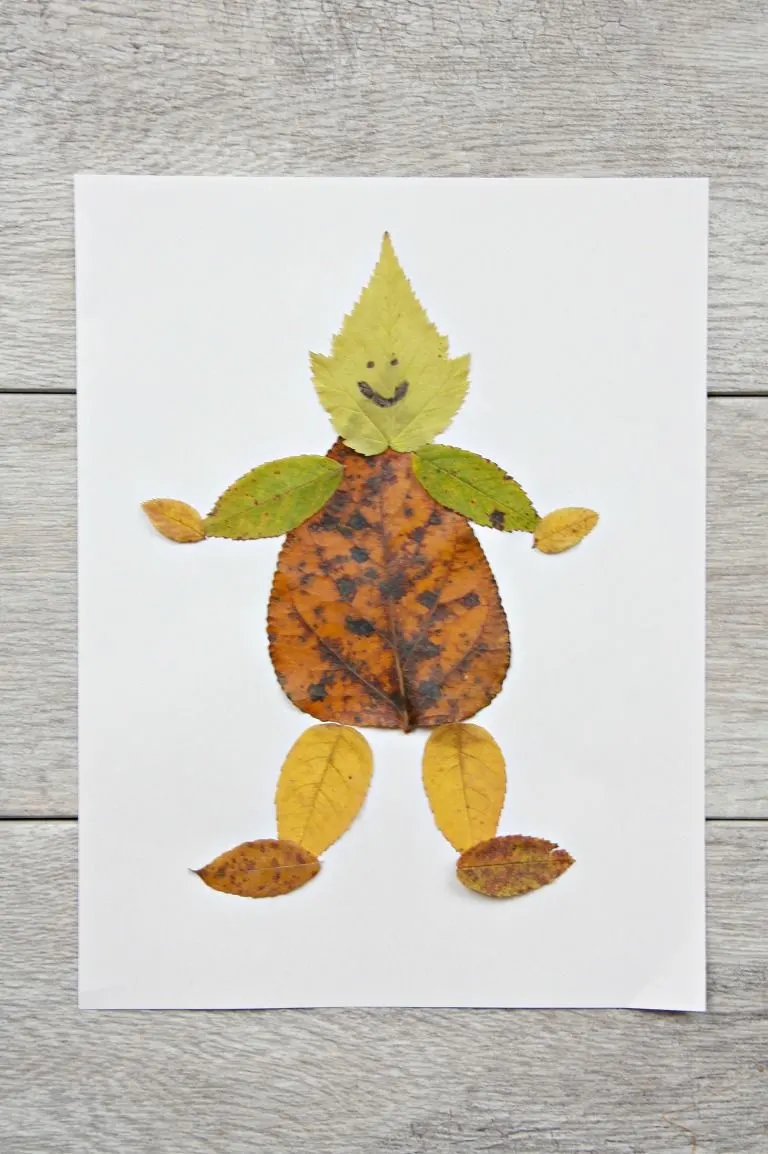 Source: mymommystyle.com
With fall right around the corner, the leaves are changing color, and you've got a myriad of autumnal colors to brighten up your day. When you go for a walk, or take the kids to the park, have them gather some colorful leaves for this leaf-people craft project.
You'll also need some white paper for the background, glue, and markers, or googly eyes for the faces of the leaf people. This craft is so easy that you hardly need a walkthrough.
You can choose to have this project laminated or just tack them up on your refrigerator for your kids to enjoy!
Also, check out this DIY leaf candle holder for another leafy DIY.
21. Butterfly Wings Design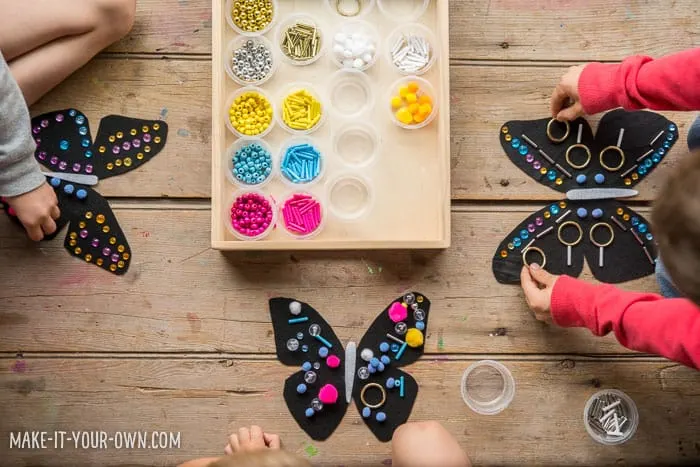 Source: hellowonderful.co
For this craft, you'll need to download and print the given butterfly template, to begin with. Alternatively, you can just eschew the template and draw your own butterfly.
Cut out the outline and pin or tape them over your felt fabric to begin working on them. Apply adhesive to the wings and decorate with beads, sparkle, and other embellishments.
22. Puffy Paint Ice Cream Cone Craft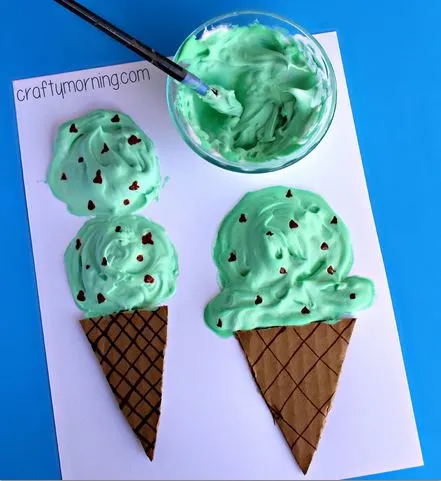 Source: craftymorning.com
If only this puffy paint ice cream crone were real. I mean, it certainly looks real, but don't go taking a lick or nibble.
So here's what you'll need for this DIY: green, red, and brown paint, glue, barbasol shaving cream, white cardstock paper, cardboard, scissors, and finally, paintbrushes.
The best part of this craft project is mixing the shaving cream and glue with the food coloring to make the ice cream. It's simply the best to play around with this mixture, so lay out some newspapers for when you get too carried away and want to avoid any spills.
23. Snow Paint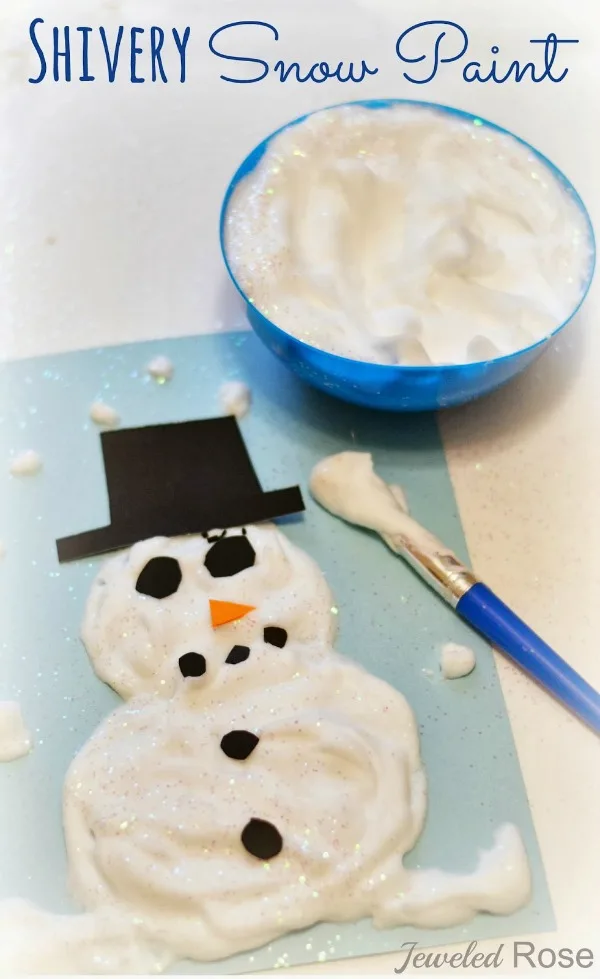 Source: growingajeweledrose.com
Don't put away that can of shaving cream or your bottle of Elmer's glue just yet. We're going to look at another foamy, snowy DIY craft project.
This snow paint is the perfect ingredient to make your Christmas themed crafts and decorative items. It's the closest you can get to bringing that real snowy look to your decorations!
Here's a really cool tip: just add a few drops of peppermint extract and a dash of iridescent glitter or buffalo snow to really up the ante!
24. Woven Rainbow Fish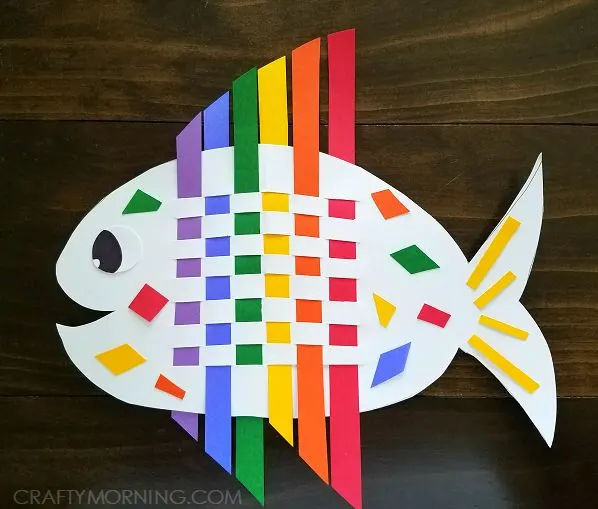 Source: craftymorning.com
Woven craft projects always add an extra layer of creativity to craft time. You can weave a basket pattern onto just about anything if you've a mind to do so.
For this craft, you'll be making a woven rainbow fish. You'll be using strips of colorful paper to do the actual weaving and just plain white paper as the backdrop for the fish.
You can add extra scraps around the body, the tail and the fins. Don't forget the google eye as the final touch!
25. DIY Journal Cover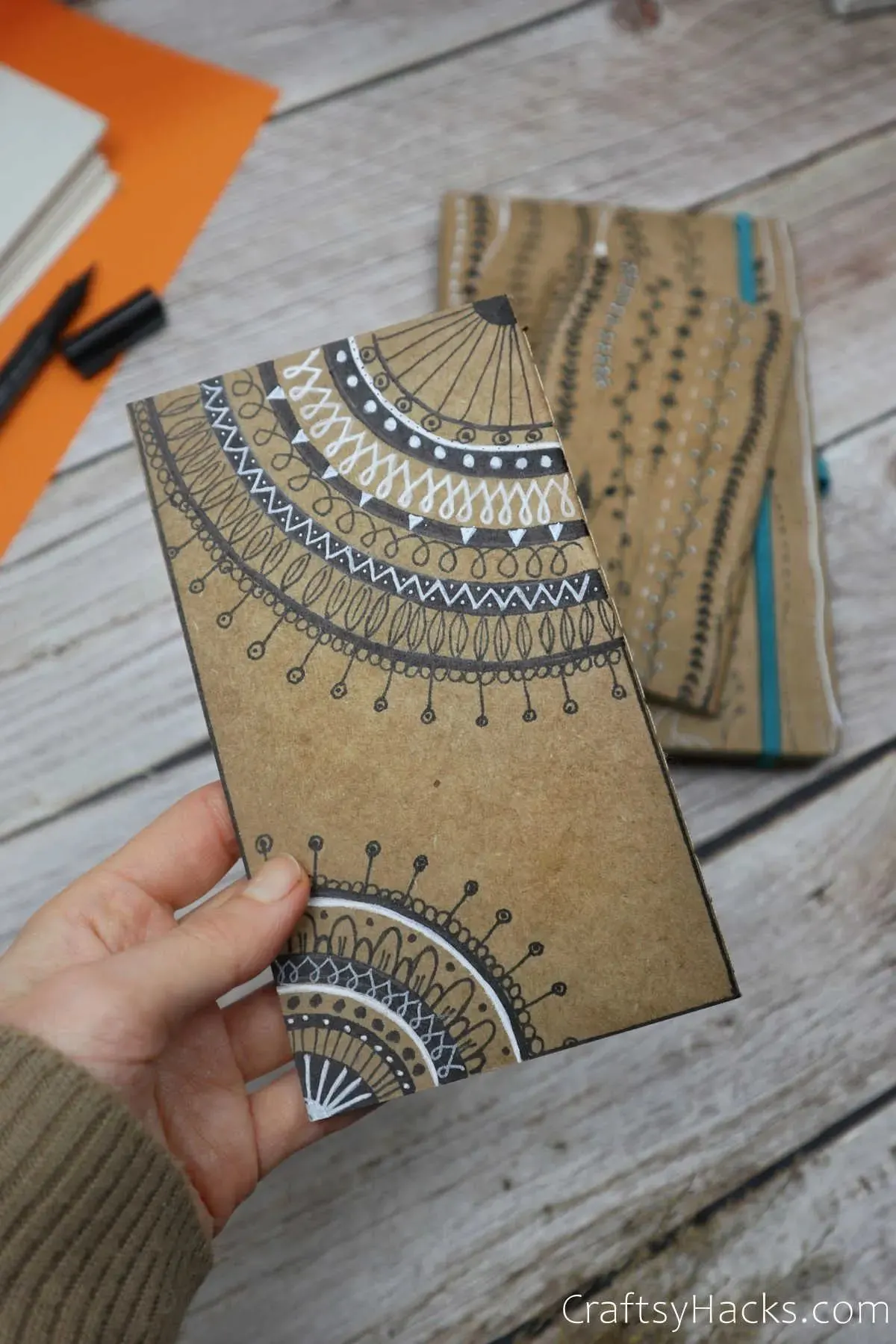 Source: craftsyhacks.com
What's a better way to start a school year than by making your very own journal covers. This craft is perfect for a bit more grown-up pupils!
The children can start journaling their journey through school and just have a little bit of fun making something that will last.
This is also a great craft for teens.
26. Stained Glass Suncatcher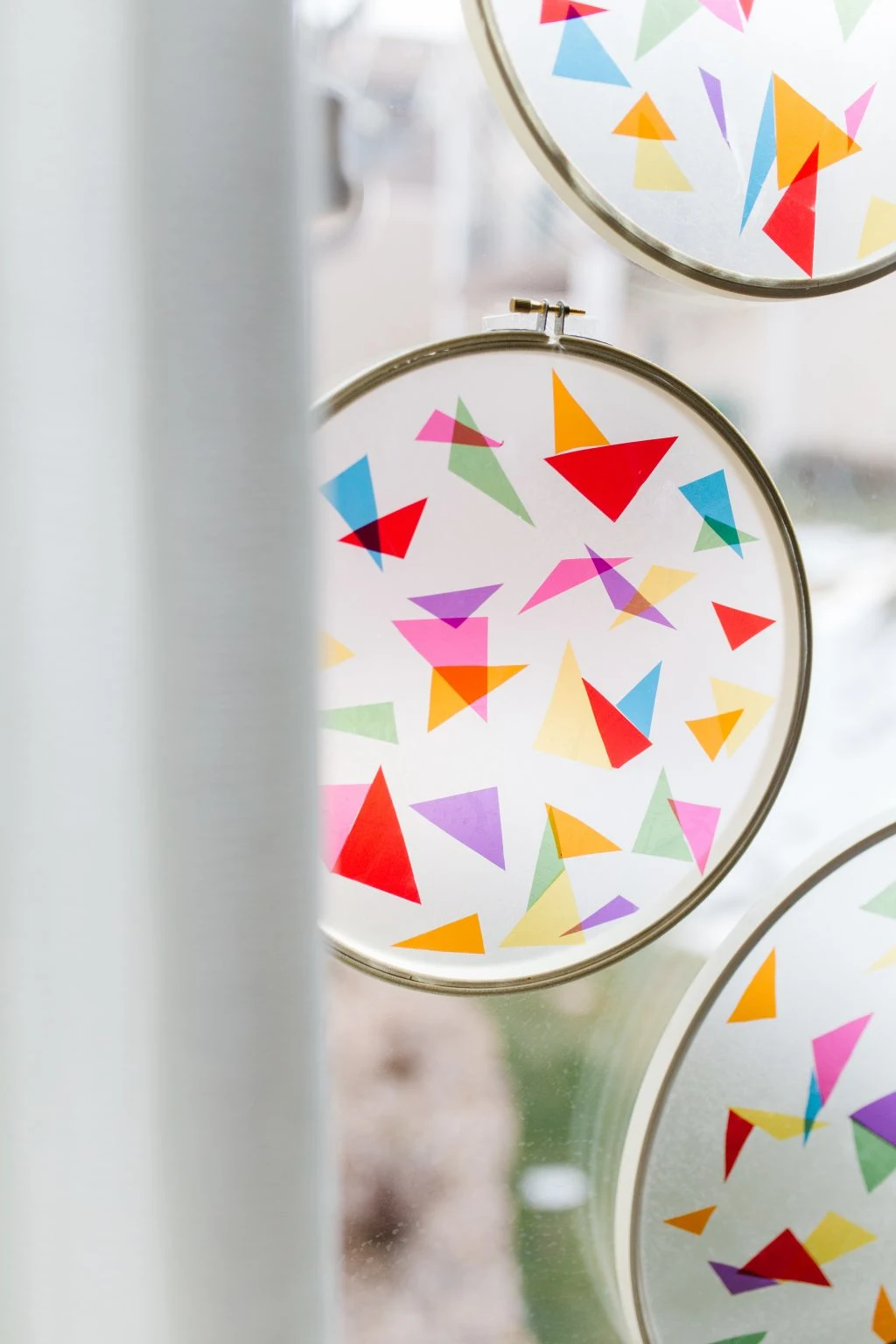 Source: prettylifegirls.com
Speaking of sunny and cheerful, how about this stained glass suncatcher craft? The kids are going to love it!
I bet they'd enjoy watching the rays of the sun bouncing off this beautiful suncatcher and enjoy making this craft even more.
You'll need this embroidery loop for the frame of your sun catcher. Go ahead and cut out some colorful paper bits, too, to decorate this craft.
27. Painted Garden Flowers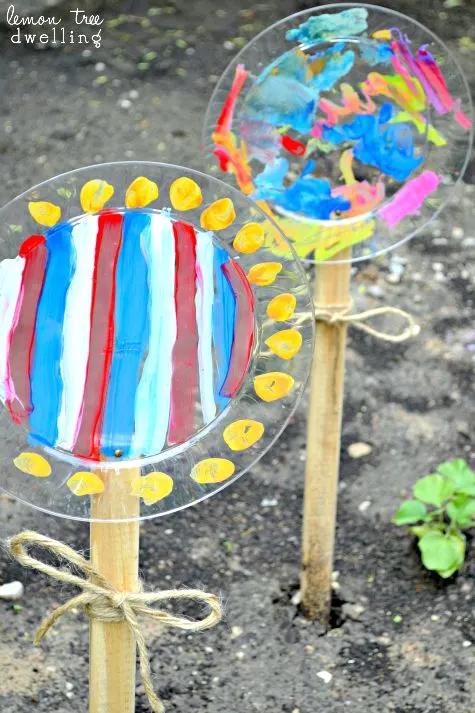 Source: thegirlcreative.com
When you've got a lovely vegetable garden in your backyard, it is natural to want to expand on that to include flowers, too. But if it isn't quite the right time to plant the flowers you want, then this painted garden flower craft is your answer.
You'll need a few of these wooden garden stakes to begin with, and some of these clear plastic plates. Go ahead and paint the plastic plates.
The kids will have a ball decorating these plates. It will be a wonderful opportunity for them to contribute to their home garden, too!
Check out these 31 summer crafts for kids for more craft time inspiration!