Encouraging your kids to craft? Get them engaged with these little ladybug crafts that will be a fun activity not only for the children but the whole family.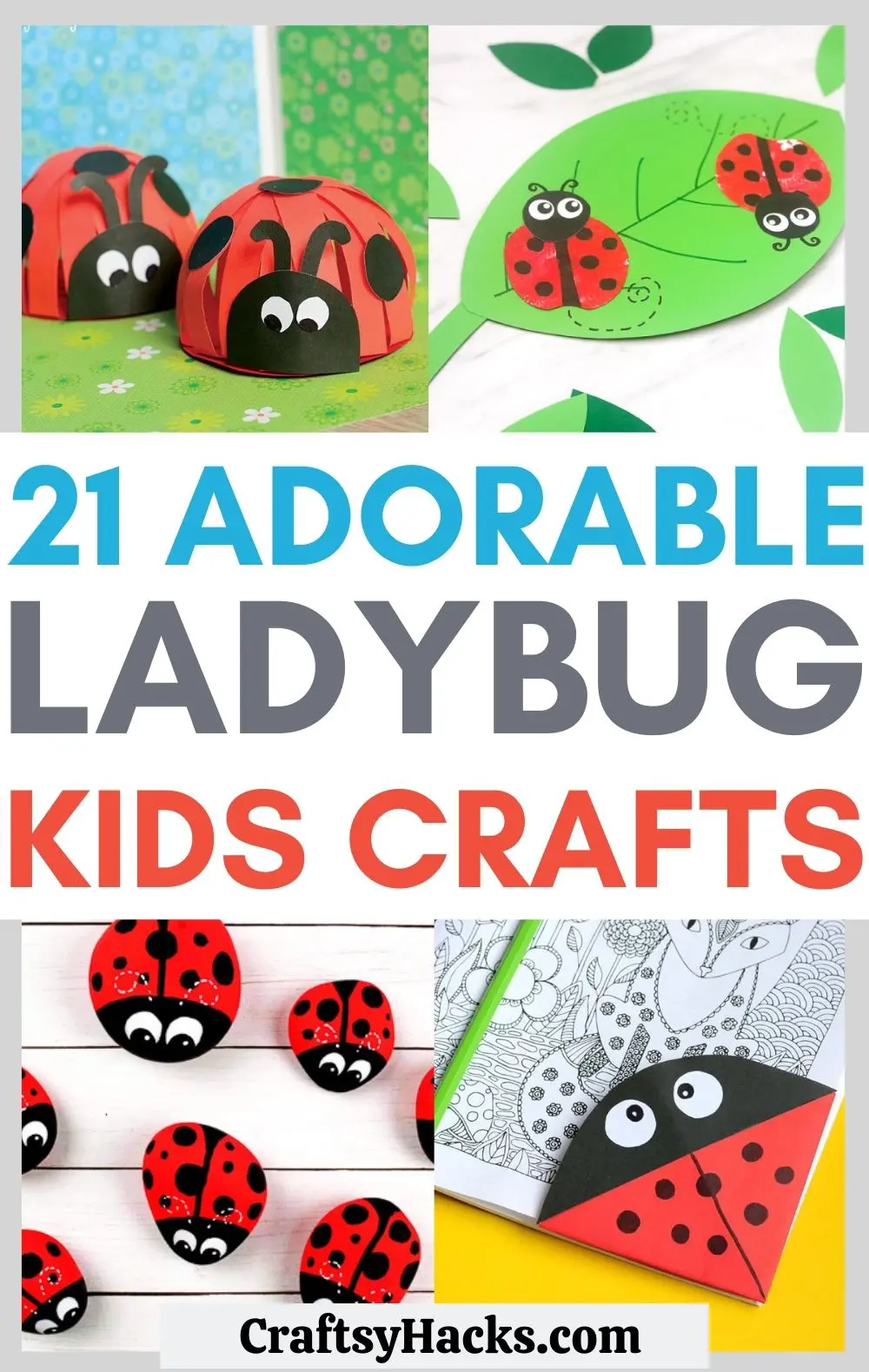 I don't know about you, but I consider the ladybug to be the cutest of all insects. They waddle along, minding their own business, they don't bite, and they're delightfully colorful.
They're also a lot of fun to learn about, especially for a child. So, if you've got a little one who's exhibiting some interest in the insect world, here are 21 crafts you can do to encourage them!
1. Apple Ladybug Stamp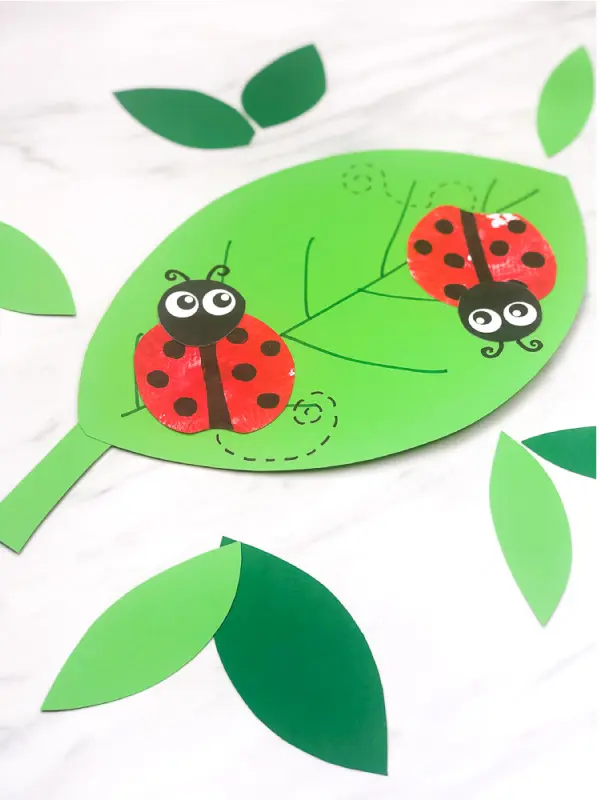 Credit: simpleeverydaymom.com
The apple stamp is a staple of childhoods all over the world, and for a good reason. They're so easy to make, fun to use, and you can carve them into pretty much any shape you like.
The original tutorial made two ladybugs sitting on a green leaf with the stamp, but your child can use it to stamp a ladybug onto anything they like. Make book covers, bookmarks, or even backpack art.
Keep in mind that you might want to cut the apples in half yourself to avoid any mishaps.
2. Felt Ladybug Brooch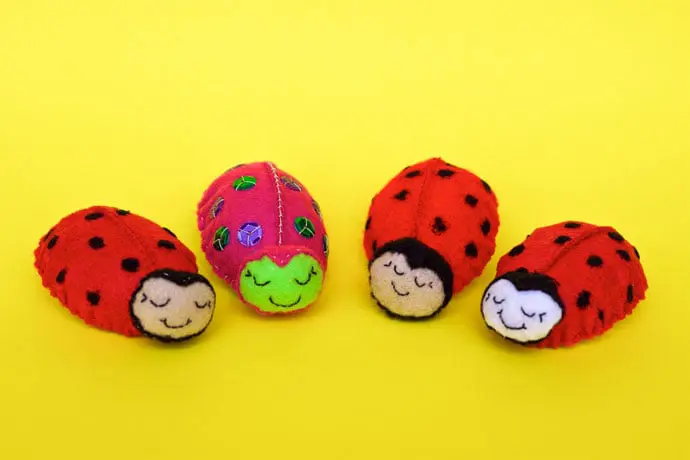 Credit: mypoppet.com.au
Here's one to help your kids learn how to sew! This adorable ladybug brooch only uses felt, which is super easy to work with. The stitches are very simple, so they're great for little ones new to the game.
You can use leftover felt to stuff the ladybugs or hobby fill if that's more your style. If you have any safety pins lying around, you can use those to attach the brooch. Otherwise, use a brooch back pin (here).
3. Ladybug Rock Pets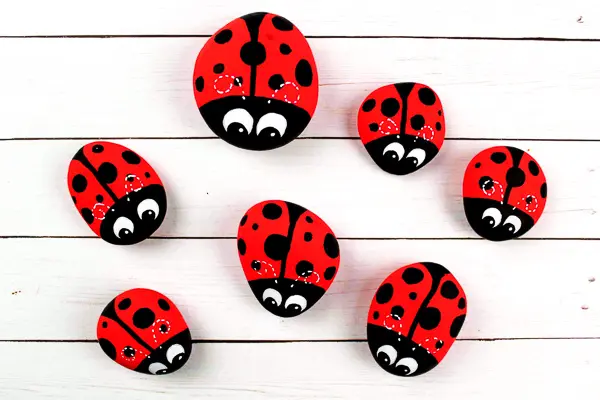 Credit: simpleeverydaymom.com
Keeping a real ladybug as a pet would be pretty tough (what do they even eat?). However, this ladybug rock art lets your kid keep a ladybug as a pet without the danger of squishing it.
This is a great activity to do outdoors in some nice weather, so wait for the sun to shine and head into the yard with some paints. Hunt down a rock of the right size and get painting!
If you want the paint to last longer, I always recommend spraying the finished bugs with a layer of clear enamel spray paint to protect them (find it here). Now they can handle anything your kids do.
Paint alongside them and make something for your desk with these DIY rock photo holders.
4. Coffee Filter Ladybugs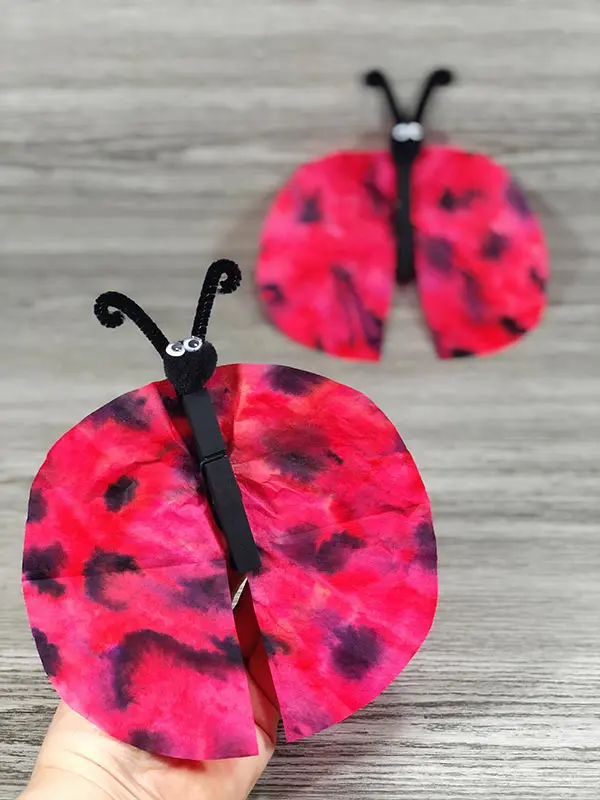 Credit: darcyandbrian.com
This one's perfect as a last-minute craft on a rainy day, and it will look adorable on the fridge. All you need are some coffee filters, pipe cleaners, googly eyes, and washable markers like these.
Sit the kids down in front of the TV on a drop cloth and let them get to work. Minimal adult supervision is needed for this craft, although you will have to handle the antennae gluing.
5. Ladybug Paperclip Bookmark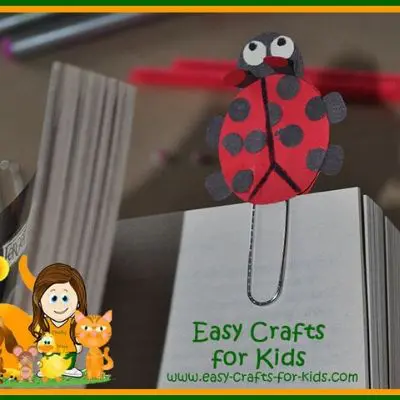 Credit: easy-crafts-for-kids.com
Promote a good attitude towards reading and add a cute touch to a book all at once with this paperclip bookmark. You can use this technique to create any shape you like, so they're great as gifts.
If you're keen to make these in a larger size, grab some upsized paperclips like these and make a paper ladybug in a corresponding size. Once done, slot it into their favorite book. Easy!
6. Paper Weaving Ladybug Craft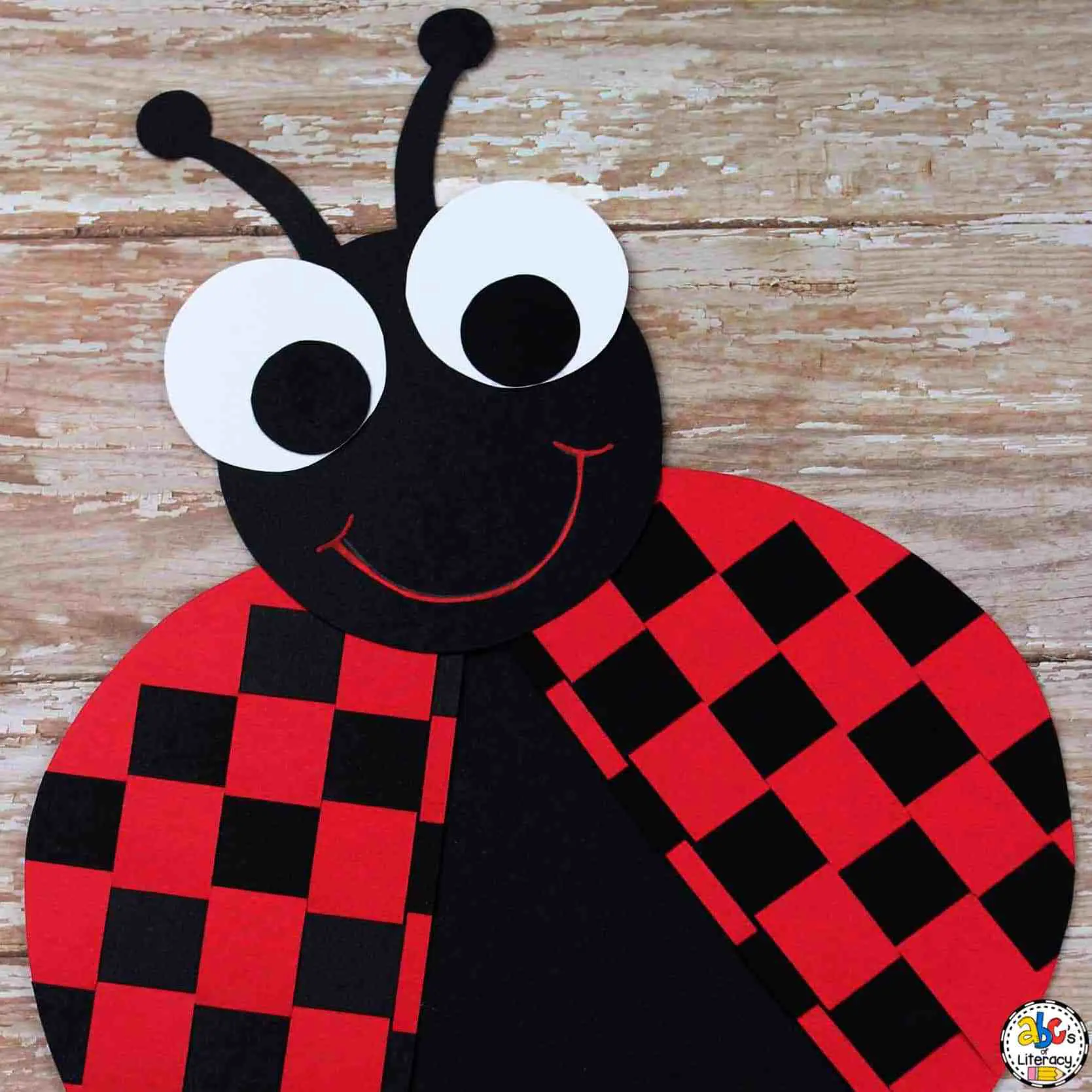 Credit: abcsofliteracy.com
This craft is both engaging and entertaining, providing a fun and easy way to work on your children's developmental skills. Paper weaving is easy to teach, and the result is well worth hanging on the fridge.
This is ideal for slightly older kids who can understand the concept of weaving better. All you need for this craft are different colors of card stock alongside some glue, scissors, and a marker. Easy peasy.
Don't worry, the crafts don't stop there. Check out these fun crafts for kids for more ideas.
7. Upcycled Plastic Ladybug Spoons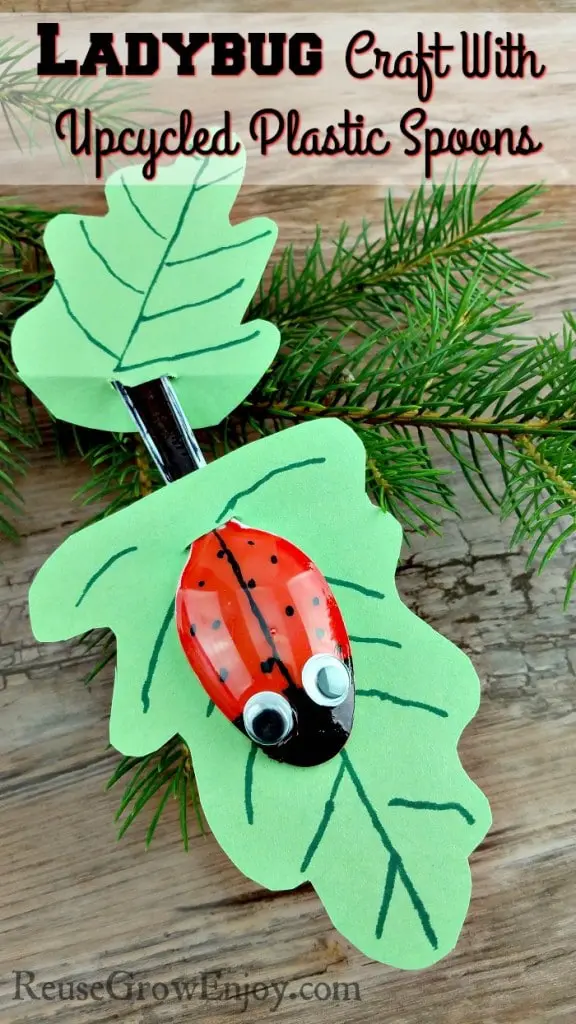 Credit: reusegrowenjoy.com
Plastic spoons aren't great for the environment, and it's frustrating when they come with your takeout order even though you didn't ask for them! Not to worry, this adorable craft reuses them in the best way.
These little ladybugs make an adorable accent for your child's bedroom window. Or, if you're a kindergarten teacher, they're a great craft to teach en masse. Parents will be delighted to receive these!
8. Egg Carton Ladybugs
Credit: creativegreenliving.com
Speaking of sustainable crafting, these egg carton ladybugs are perfect for your child's next birthday party. The supplies are inexpensive and easily accessible, not to mention they're gentle on your wallet.
Once you have all the pieces laid out, the kids can go ham with minimal supervision. Just make sure you cut out the individual egg carton sections beforehand.
Consider using paint markers like these to minimize the clean-up on your part.
9. Ladybug Puzzle Craft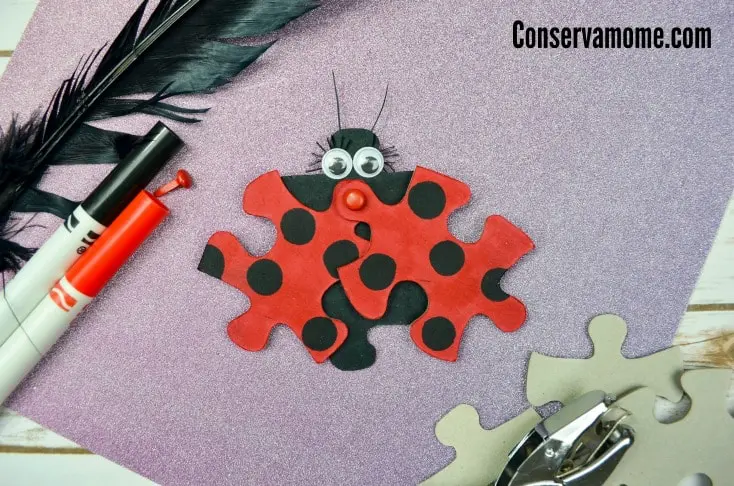 Credit: conservamome.com
I guarantee this craft isn't what you first thought it was. This isn't a ladybug puzzle to assemble, it's an adorable ladybug figurine made out of puzzle pieces! It's so creative, inexpensive, and easy to make.
I'd recommend this for kids of any age. They can handle the coloring while you handle the hole punching, so it's a great way to spend some quality time together. The result is also fun to play with.
Make a day of it, and craft something of your own alongside your little one. How about this DIY headband from an old t-shirt?
10. Recycled Ladybug Catcher Jar
Credit: creativegreenliving.com
Rather than creating an inanimate ladybug, why not take your child's educational experience to the next level? Help them to make this recycled ladybug catcher, complete with a themed lid!
It lets them get up close and personal with these delightful insects, offering a hands-on learning opportunity that's so valuable. Make the jar, then head into the backyard for some bug catching.
You can even try leaving the jar outside on a nice day and sprinkling some bug attractant (like this) in it. While this doesn't guarantee a ladybug will show up, it will teach your little one about the diets of insects.
11. Ladybug Hat Craft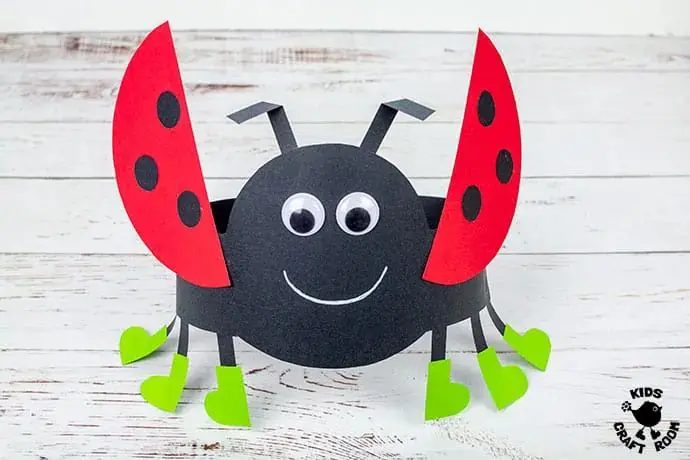 Credit: kidscraftroom.com
Then again, why catch a ladybug when you can be a ladybug? With the help of some cardstock and a little creativity, you and your children will be sporting these ladybug hats in no time.
For younger kids, I recommend cutting out a lot of the pieces first before assembly. These hats can be adjusted to suit any sized head, so if you want to join in on the fun, nothing is stopping you!
12. Paper Ladybug Dome Pets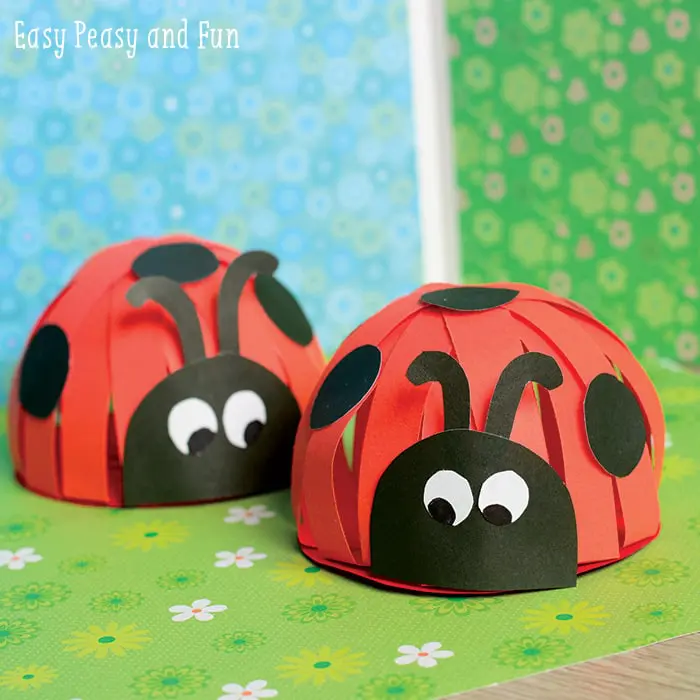 Credit: easypeasyandfun.com
In my opinion, this craft is one of the cutest ones on the list. With some strips of paper and some cleverly placed black dots, your child can create an adorable round ladybug companion for their room.
Since there are no complicated shapes to cut out, this is a fantastic craft for any kids who have just graduated with safety scissors. If you don't have any, these are a great option for little hands.
Luckily, this isn't the only papercraft your child can test their new scissors on! Whip them out for these DIY paper wallets too.
13. Ladybug Clear Slime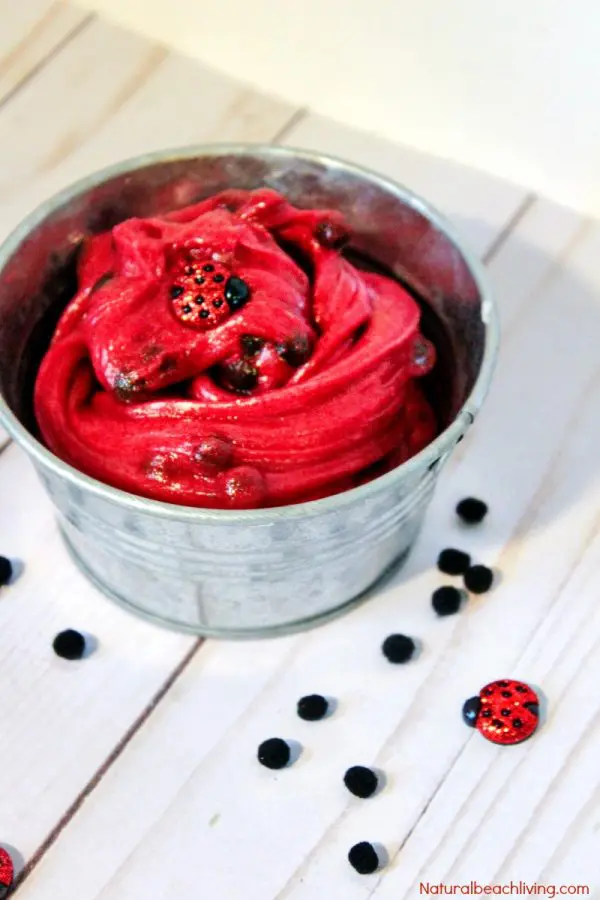 Credit: naturalbeachliving.com
While slime has lost some of the popularity it gained a few years ago, I still think it's a wonderful way to teach your kids some basic chemistry. After all, combining fun with science is the best avenue to learn!
This ladybug clear slime uses contact solution, clear Elmer's Glue, water, and your choice of colorings. The original tutorial used red glitter and black pom poms, but the materials are up to you.
14. Recycled CD and Handprint Ladybug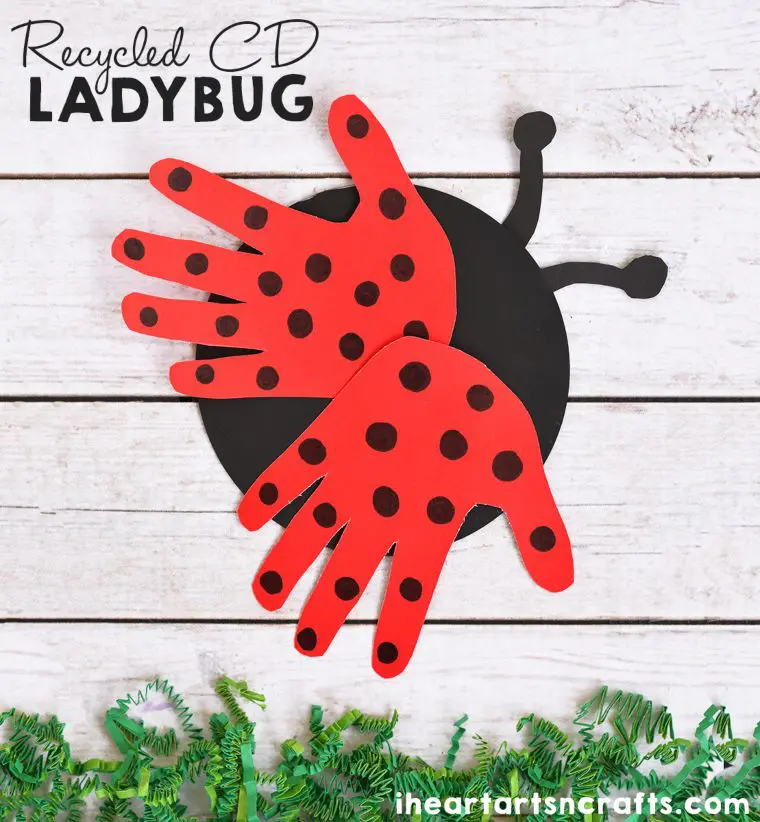 Credit: iheartartsncrafts.com
When it comes to making memories, there's almost nothing better than creating a piece of art that captures your child's handprint. Years from now, you can look at this and remember how small they were!
Most modern homes have a spare CD or DVD lying around that would be perfect for this ladybug. Sitting down and making this with your kid even gives you a chance to reminisce about the good old days.
The tutorial mentions you can either use acrylic paint or construction paper to turn the CD black. However, I think matte black spray paint (which you can find here) would also do the trick.
15. Ladybug Corner Bookmark
Credit: easypeasyandfun.com
Instead of mounting a ladybug on something to create a bookmark, why not just make one in the form of the insect itself? Little bug lovers will adore these tiny corner bookmarks!
In fact, they're the perfect way to encourage your child's interest in reading. Pick up some colorful origami paper (here's a good pack) and spend the afternoon figuring out the instructions together.
Complete the figure with some dots and eyes, and you're all set! The words will practically fly off the pages.
16. Ladybug Spoon Puppets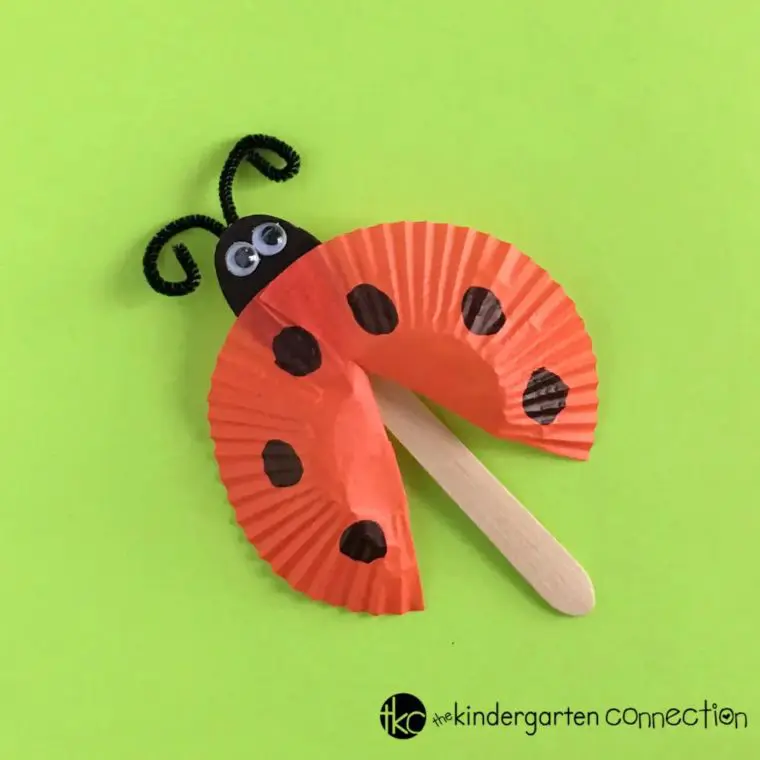 Credit: thekindergartenconnection.com
This next craft will undoubtedly find its home in a kindergarten classroom, as it's perfect for putting on little skits or plays. The puppets are also super simple to put together without supervision, which is ideal.
Wooden spoons can be somewhat hard to come by, so make sure you pre-order them here before heading into class. You'll also need some red cupcake liners, a marker, and some self-adhesive eyes.
Invite your students to be as creative as they want. You might even want to build an activity around learning the lifecycle of a ladybug. The possibilities are endless!
17. Toilet Paper Roll Ladybug Craft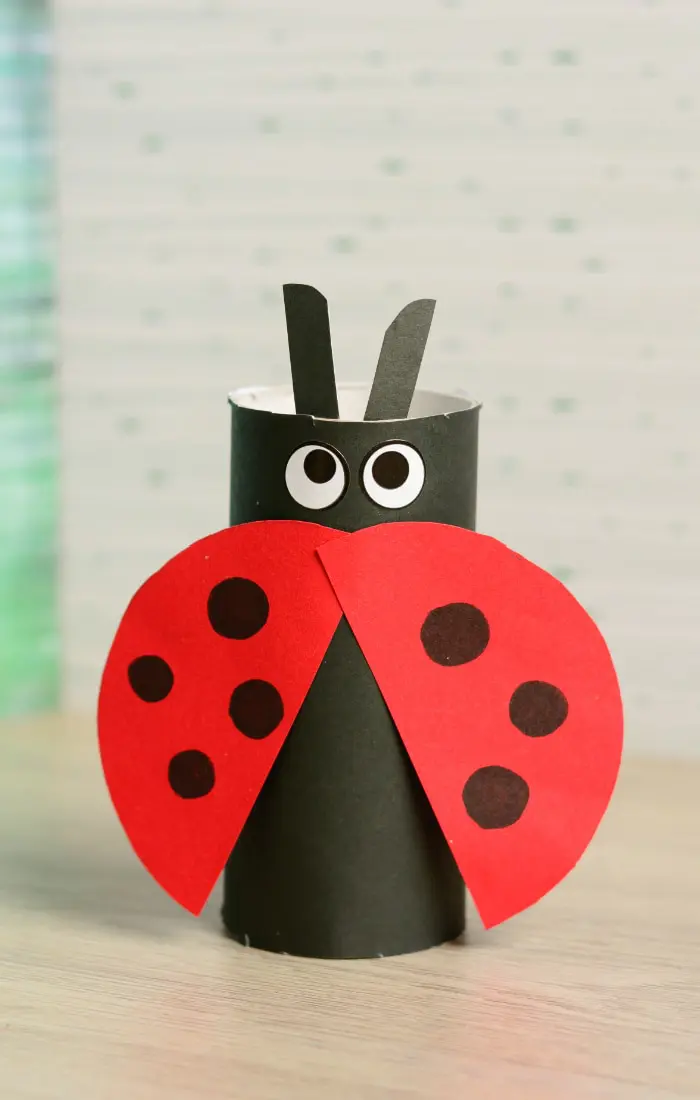 Credit: easypeasyandfun.com
If you or your kids are stuck at home, this toilet paper roll ladybug could be just the ticket to brighten your day. You'll definitely have all the supplies you'll need to make this one (as long as you have toilet paper).
Simply sit your little one down for some quality time with their scissors and some cardstock. Make it educational by introducing some ladybug fact or keep it as a fun and light crafting afternoon.
Are you still stuck for some activities? You can use the leftover paper for any of these paper crafts.
18. Potato Stamp Ladybugs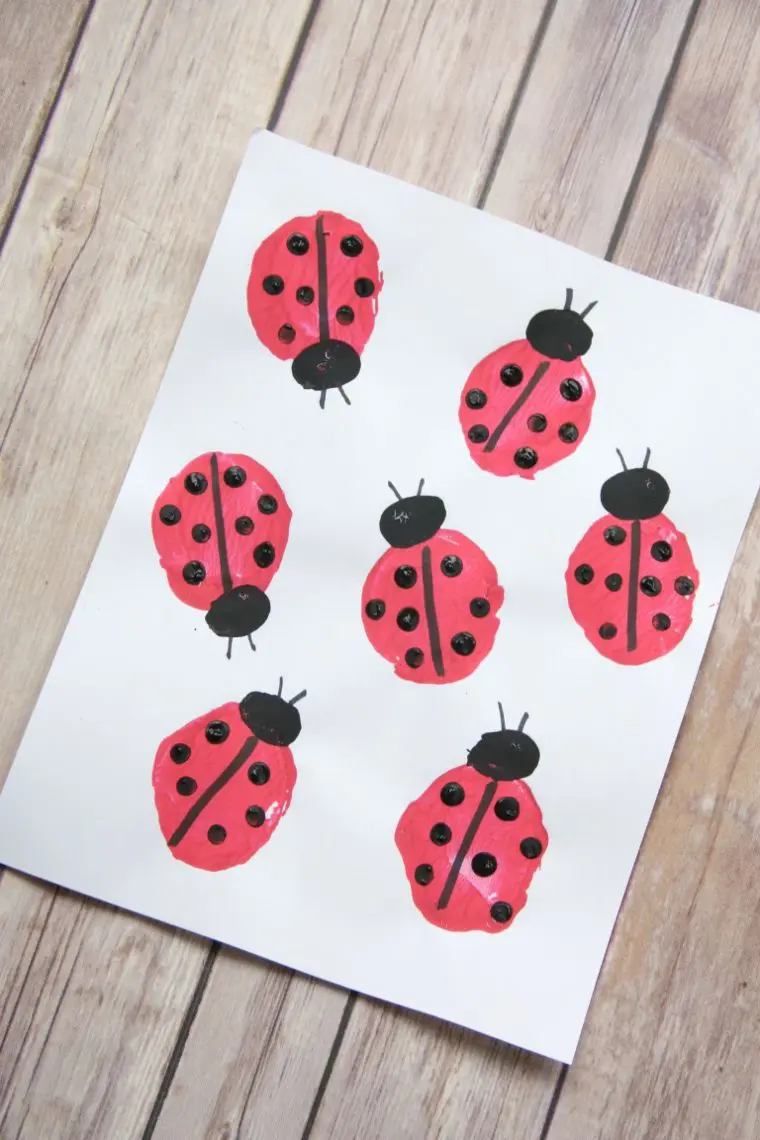 Credit: mymommystyle.com
Here's another craft that's perfect for when you're stuck at home. While you will have to sacrifice a potato, the sight of your kid's stamp art will make the cost worthwhile.
Aside from ladybugs, you can take this chance to create a whole range of different bugs. Teach your child about spiders, bees, butterflies, and more with the powerful potato stamp!
19. Upcycled Ladybug Bowl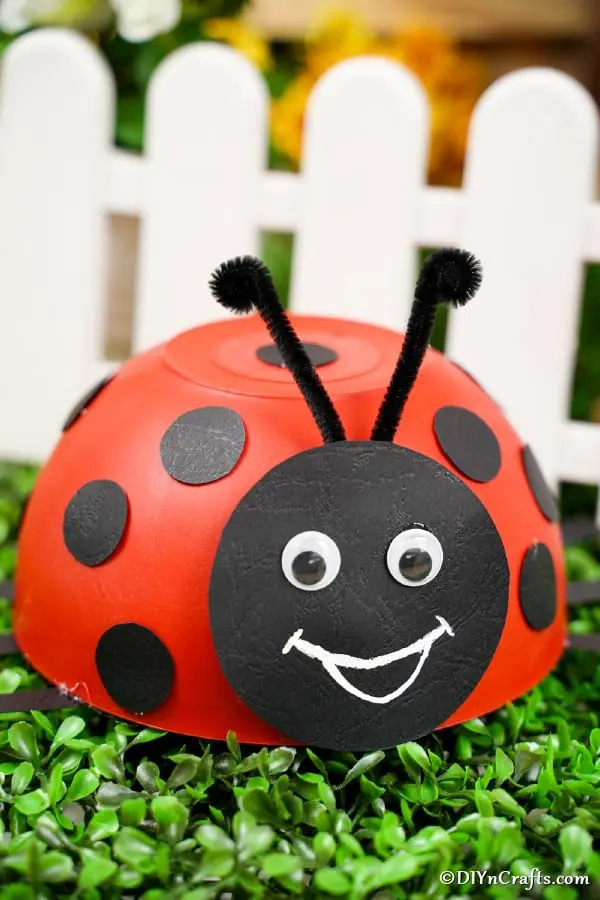 Credit: diyncrafts.com
Add some bright spring décor to your dining room table or even your garden with this adorable ladybug bowl! You can use myriad sizes to create a ladybug family or even create different bugs.
The great thing about this upcycle is its versatility. You can make almost any animal under the sun with this technique, and all you'll need is some spray paint and foam sheets (like these). Easy peasy.
20. Paper Plate Love Bugs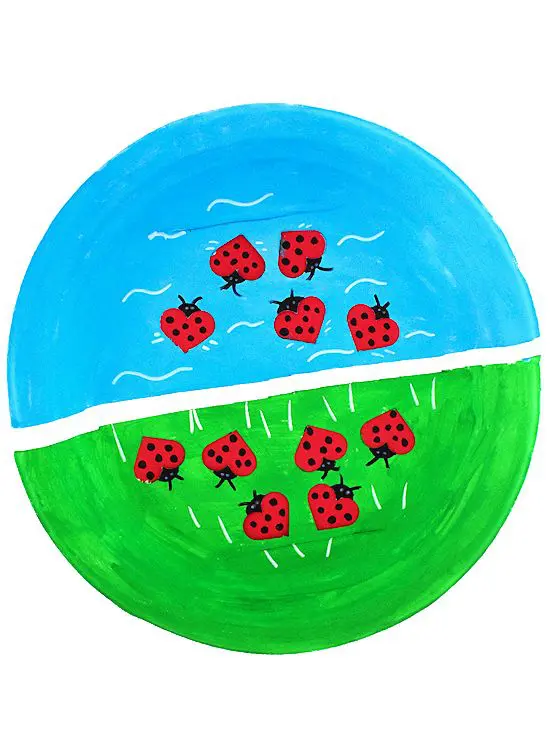 Credit: ourkidthings.com
Struggling to get your child to eat their vegetables? This love bug paper plate is here to save the day! Divide the paper plate amongst the food groups, and make eating their veggies fun again.
If you find that the paper plate version works very well, why not take it a step up and make a real plate? Ceramic plate painting kits like these offer an easy gateway to personalized dishware.
21. Ladybug Rocks for the Garden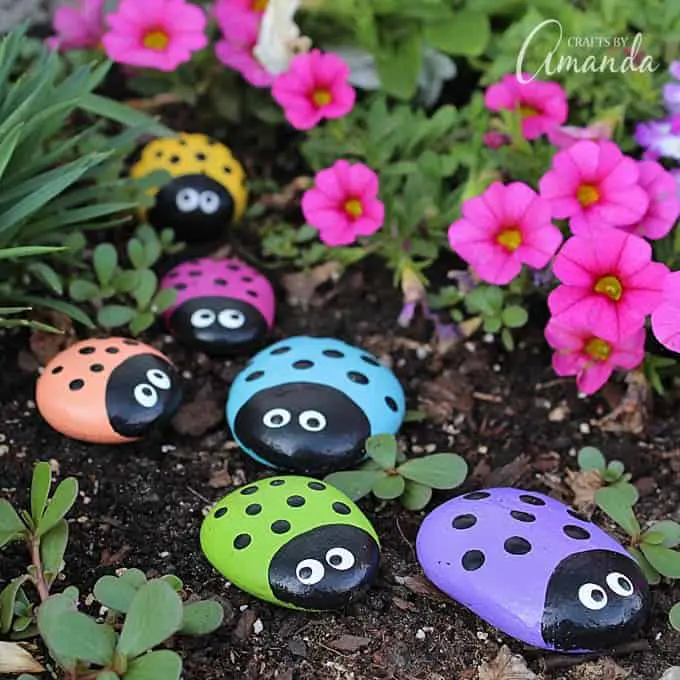 Credit: craftsbyamanda.com
Finally, here's a craft you can do with your children when it's sunny! Drag the craft table outside along with some acrylic paints, then go rock hunting. Palm-sized rocks are perfect, but multiple sizes will add interest.
These colorful ladybugs look absolutely adorable trekking their way through your garden's underbrush. You can also take the chance to teach your child about these' bugs' role in the ecosystem!
No matter where you are or which supplies you have, there will be something on this list for you. Spend some quality time with your kids, learn about ladybugs, and decorate all at once.