Are you a cat-loving family? Well, these cat crafts might be just what your little ones need! So, get creative and make it a nice family activity.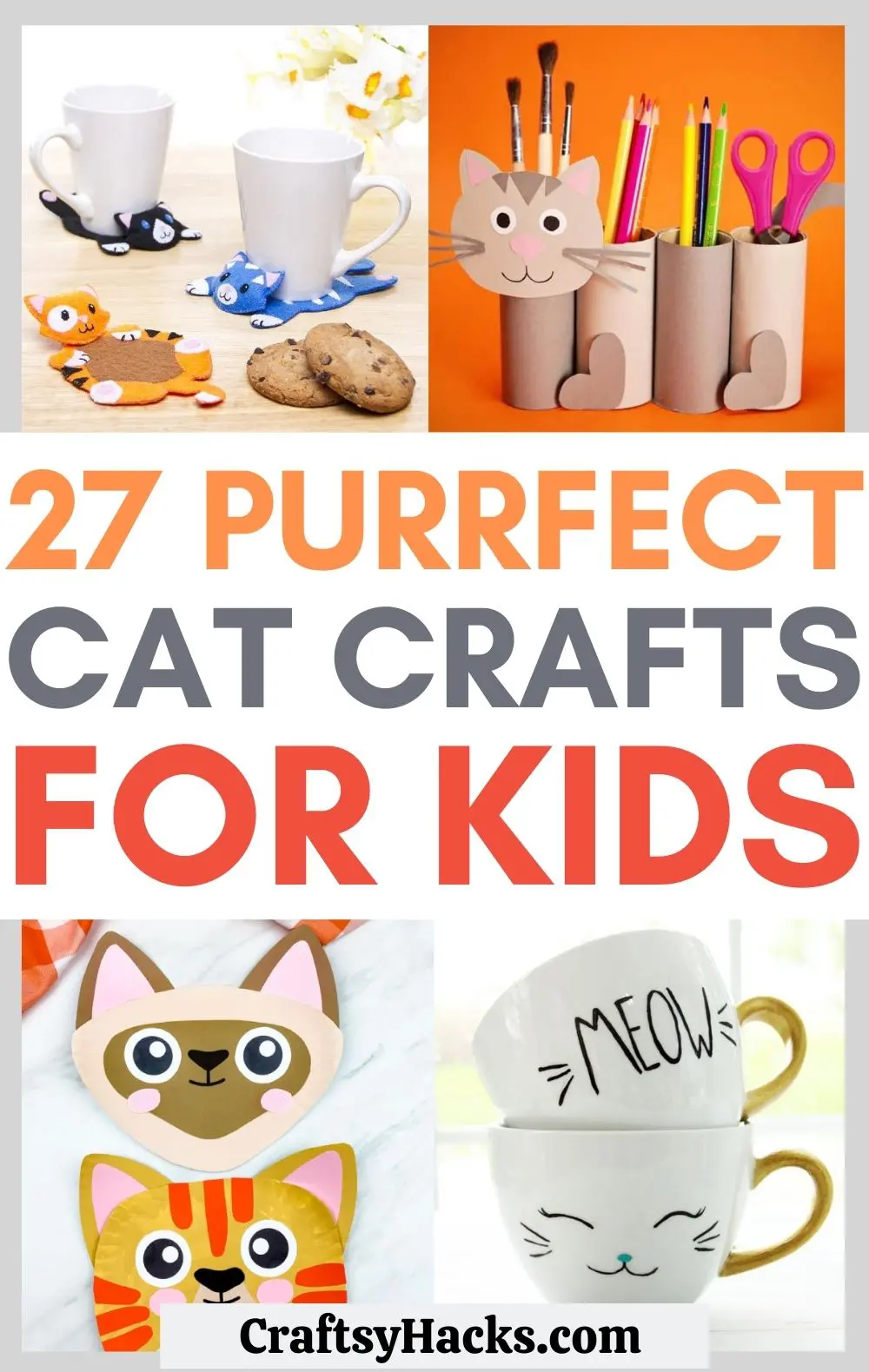 Right now, kids all over the world are begging their parents for a kitten, and I certainly can't blame them. Cats are adorable, providing companionship on even the rainiest, darkest days.
Whether your family has a cat right now (or whether your child is asking for one), these cat-themed crafts are a great way to honor these furry friends.
Teach your kids about the responsibilities that come with owning a kitty with any one of them. Take the time to make it educational, and when the time finally comes to get one, they'll be ready for it!
1. DIY Scrap Wooden Cats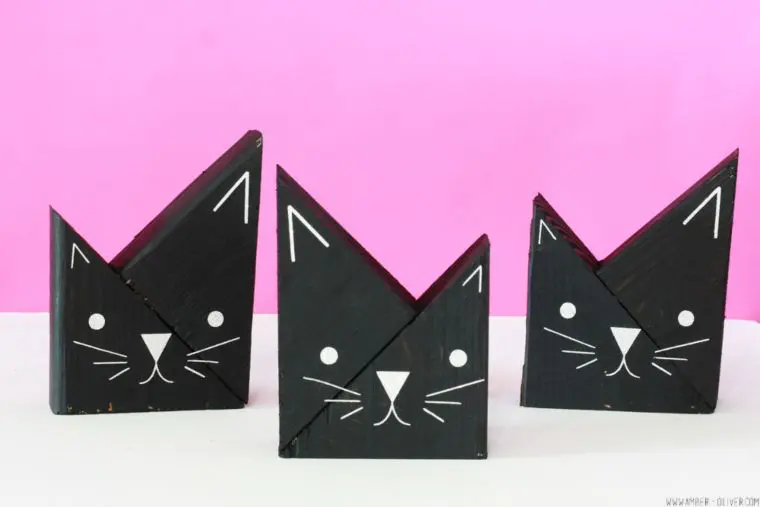 Credit: amber-oliver.com
Got some old wood hiding in the shed and not sure what to do with it? If you cut them into triangles, these wood scraps will quickly become an adorable decorative element in your home.
This is a great craft if you're trying to get your child to share your love of woodworking. Teach them about the basics of different tools, wood grains, and more as you pull this project together.
2. Paper Plate Cat Craft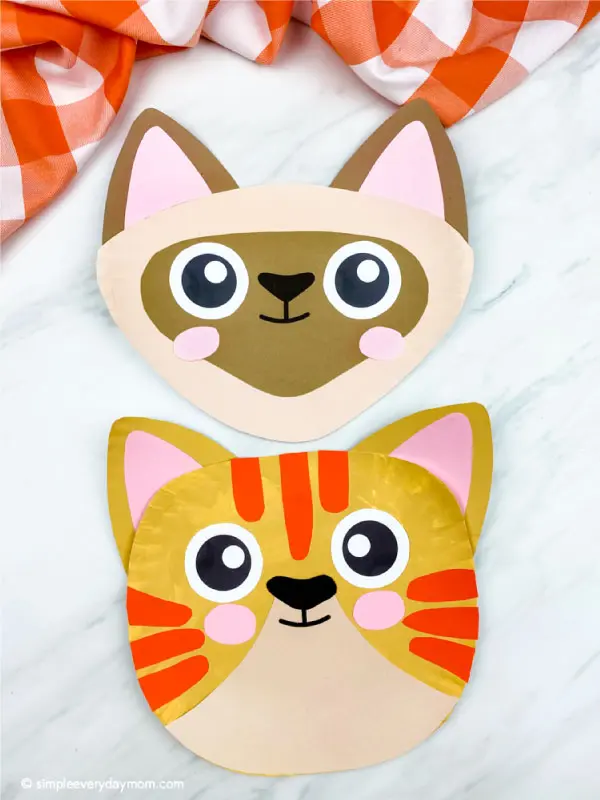 Credit: simpleeverydaymom.com
From birthday parties to the kindergarten classroom, these paper plate cats will find a home anywhere. Thanks to the inexpensive components, these are great to make on a budget.
I always recommend sticking with biodegradable paper plates like these instead of the standard bleached ones. It's more environmentally friendly, and it makes your craft look a little more natural.
Speaking of crafts done on a budget, here are Dollar Store crafts for kids that won't set your wallet on fire.
3. DIY Cat Grass Planter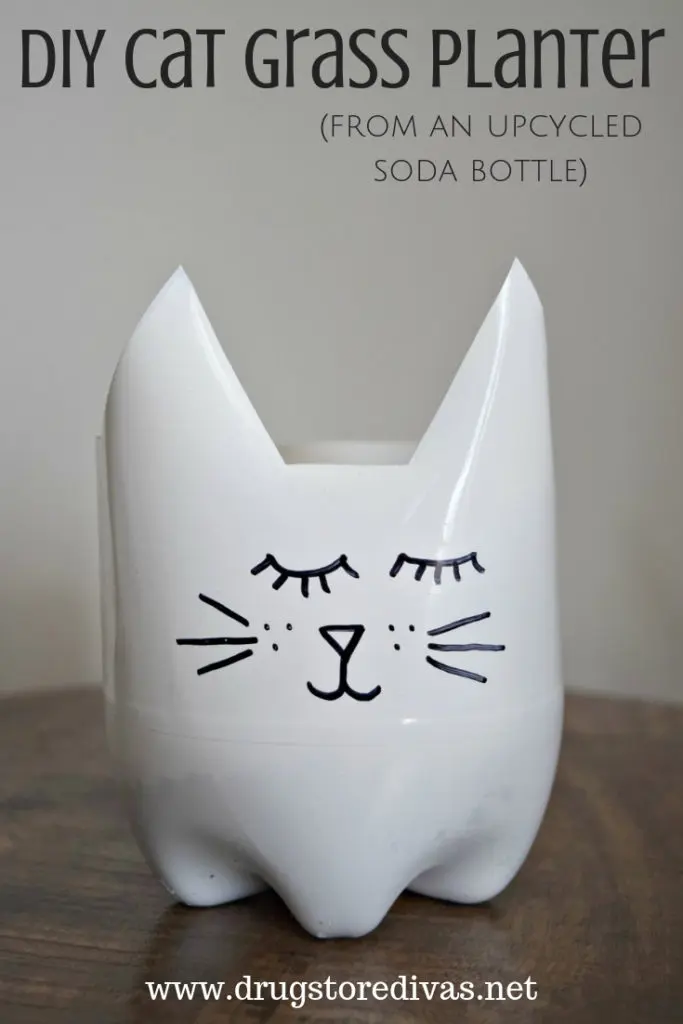 Credit: drugstoredivas.net
If you have a furry little friend running around your neighborhood, there's a clever way to bring them to your doorstep every day. Not to mention, this planter's made from an old soda bottle.
Cat grass (here) is great for cats to nibble on (they love the taste and smell). Making this with your child has the added benefit of teaching them the basics of gardening, including how to get seeds to grow.
Make sure you blunt the edges of the soda bottle to prevent any unexpected cuts to the cat or child.
4. Hand-Painted Cat Gift Boxes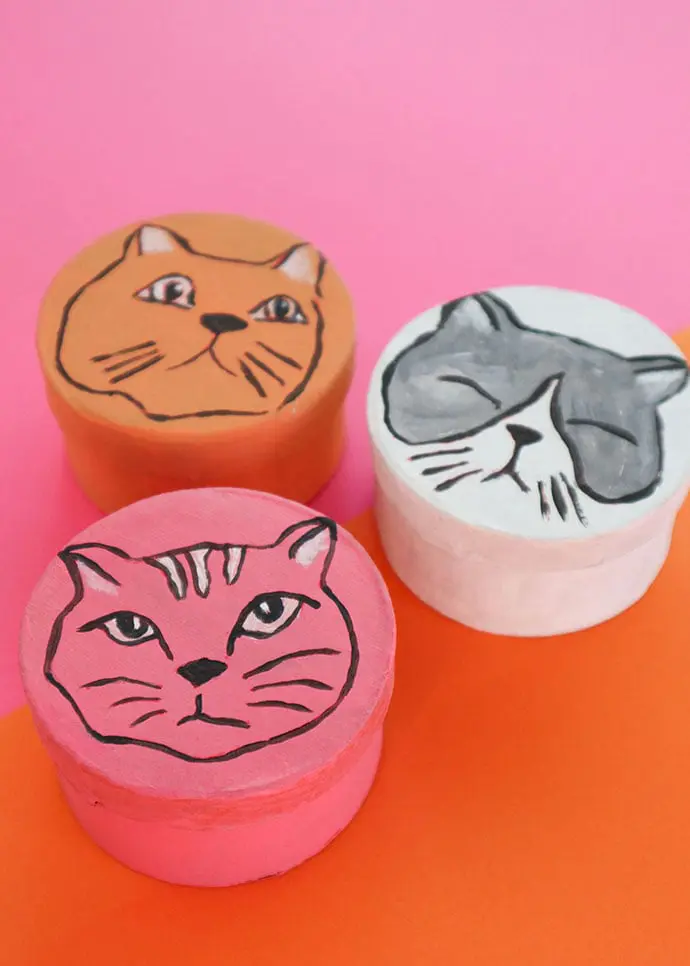 Credit: mypoppet.com.au
Next, up, these hand-painted cat gift boxes are perfect as the vehicle for a gift to your resident cat lover. Help your child make them for their grandparents, their friends, or even their other parent.
I love this craft because you can use it for a box of any shape and size, although I love the round ones. All you need is the box, some brushes, and acrylic paints in your chosen colors (these are good).
Don't worry if you need further gift-wrapping inspiration. There are suggestions galore in my Christmas gift wrapping ideas article.
5. Black Paper Cat for Halloween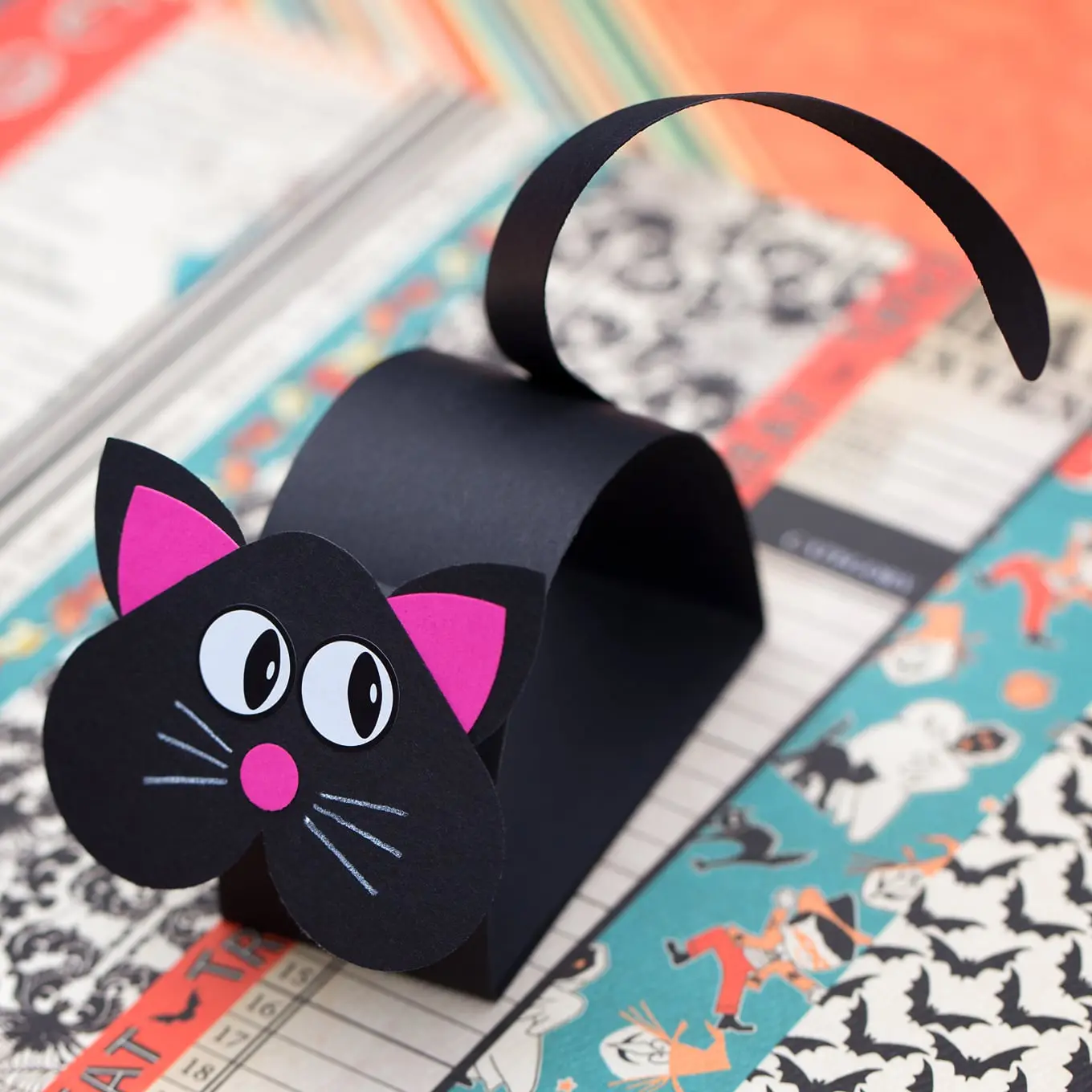 Credit: firefliesandmudpies.com
If you can't get your child a cat this year, then this black paper cat is the next best thing. With an adorable round face and tiny body, it's so cute your little one will never let it go!
I love the idea of making a whole cluster of black cats, one for each member of your family. Personalize them with different colors or ear shapes to mirror your family members' appearances.
For this craft (and any other papercraft), I highly recommend investing in a rotary paper cutter (find it here). They're safe to use for kids, and they make cutting out tricky shapes a whole lot easier.
6. Peeking Cat Bookmark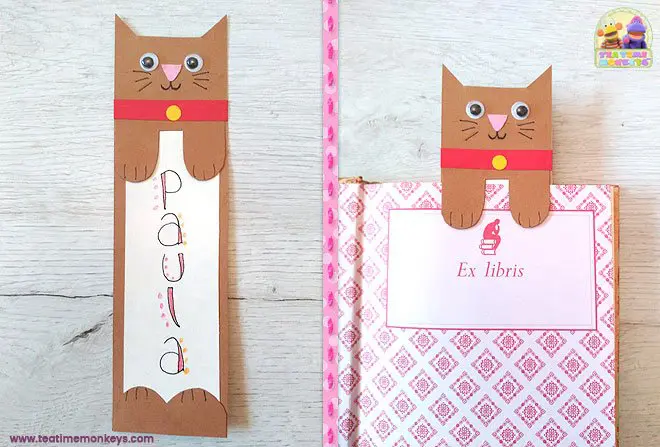 Credit: teatimemonkeys.com
Combine a love of cats with a love of reading! These adorable bookmarks include your child's name on them. So, not only do they mark their place in a book, but they also help lost books to be found again.
The craft mentions that the googly eyes are optional, but I think you should definitely do them. They add so much life to the little craft (it's almost like the cats watch you as you read). Grab some here.
7. Cat Paper Roll Desk Organiser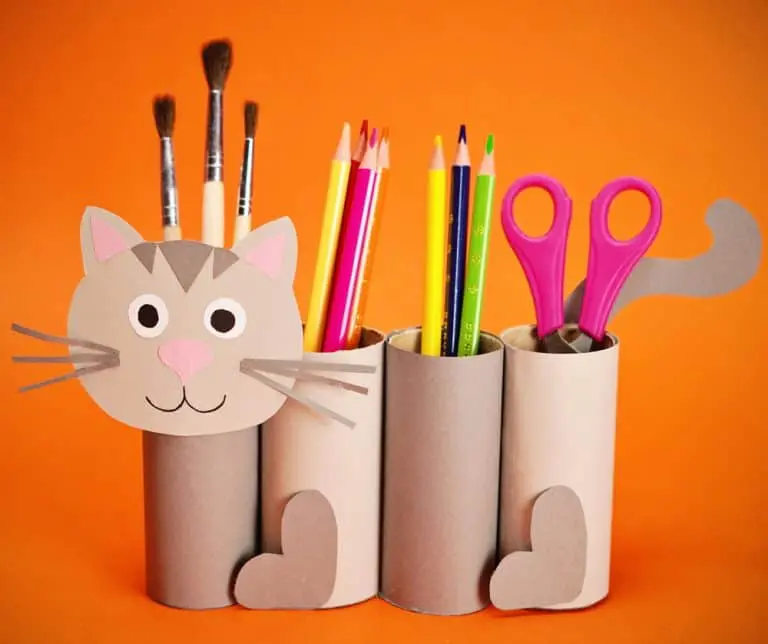 Credit: hellowonderful.co
This craft would be at home in the midst of a kindergarten classroom or in your child's bedroom, and that's what makes it so great! It engages kids in cleaning and organizing, but in a fun and relatable way.
Not to mention, it's a fantastic way to use up any old toilet rolls you have lying around. Reusing is a crucial part of sustainable crafting! Plus, it means the organizer costs barely anything to make.
If this isn't quite your child's style, why not browse through these toilet paper roll crafts for some more ideas?
8. Felt Cat Purse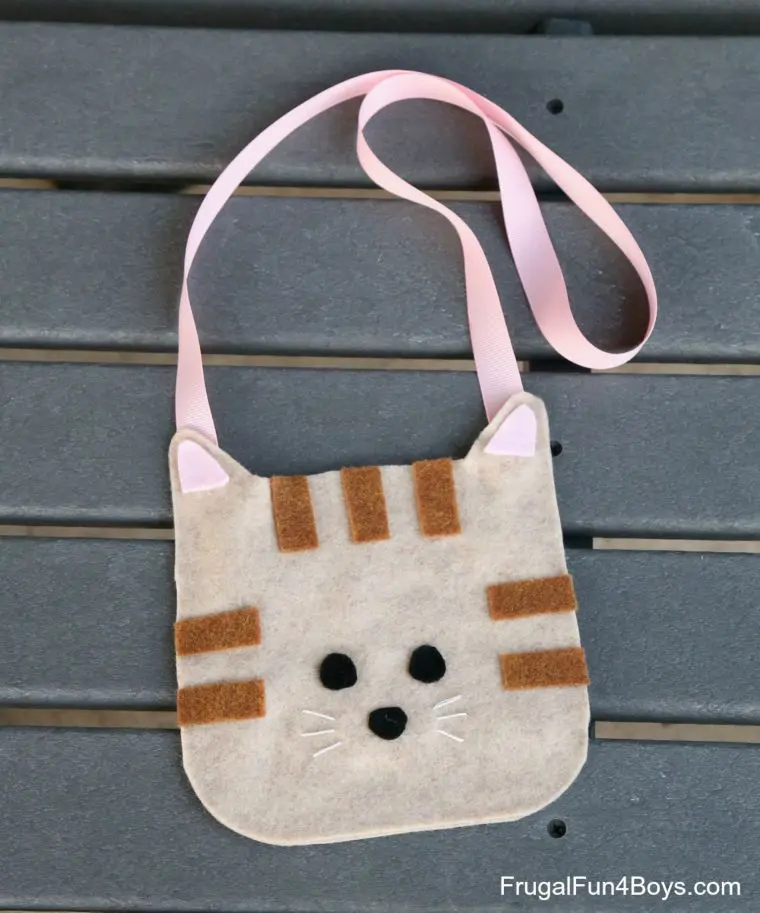 Credit: frugalfun4boys.com
Here's a fun way to teach your kids the basics of sewing while embracing their love of cats at the same time. While there's no needle and thread involved, pattern making is a crucial part of the process.
However, if they intend to carry anything marginally heavy in the bag, I'd suggest sewing the felt together instead of gluing. Let them choose the bag's colors from a felt pack like this one to get started.
9. Fabric Cat Coasters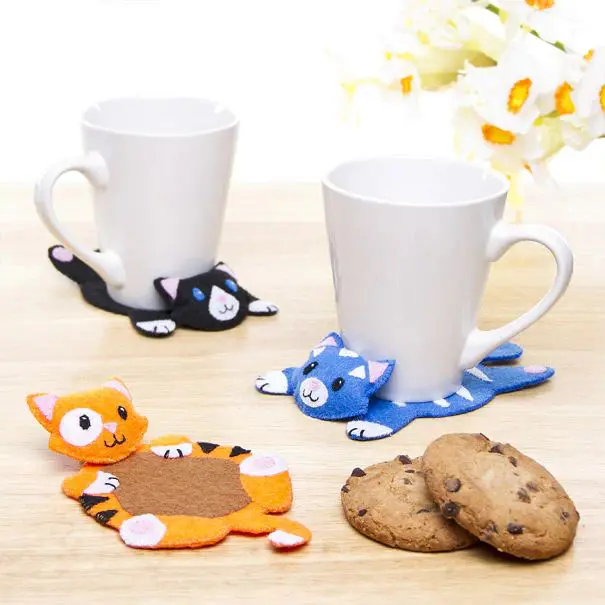 Credit: bakerross.co.uk
A theme I've noticed with parenting is that teaching your kids the importance of coasters is nigh-on impossible. So, the key is to make using coasters fun rather than a chore. Enter, kitty coasters!
These are another great beginner's sewing project, although they're probably suited to kids eight and up. Once again, all you need is some felt in the right colors, a needle, and some thread.
10. Tissue Paper Plate Cat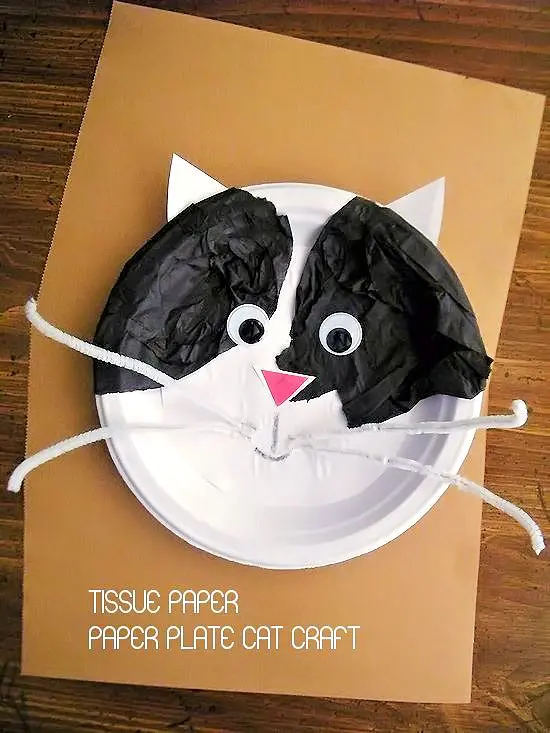 Credit: ourkidthings.com
This craft is fun, simple, and pretty much impossible to mess up! Get that furry texture with some well-placed tissue paper and top it off with some whiskers, a nose, and a smile.
You can opt for standard Elmer's glue as your bonding agent, but I find Mod Podge to be a much better alternative. It helps your child's design last longer, and it's just as affordable. Grab some here.
11. Pussycat Paper Bag Puppet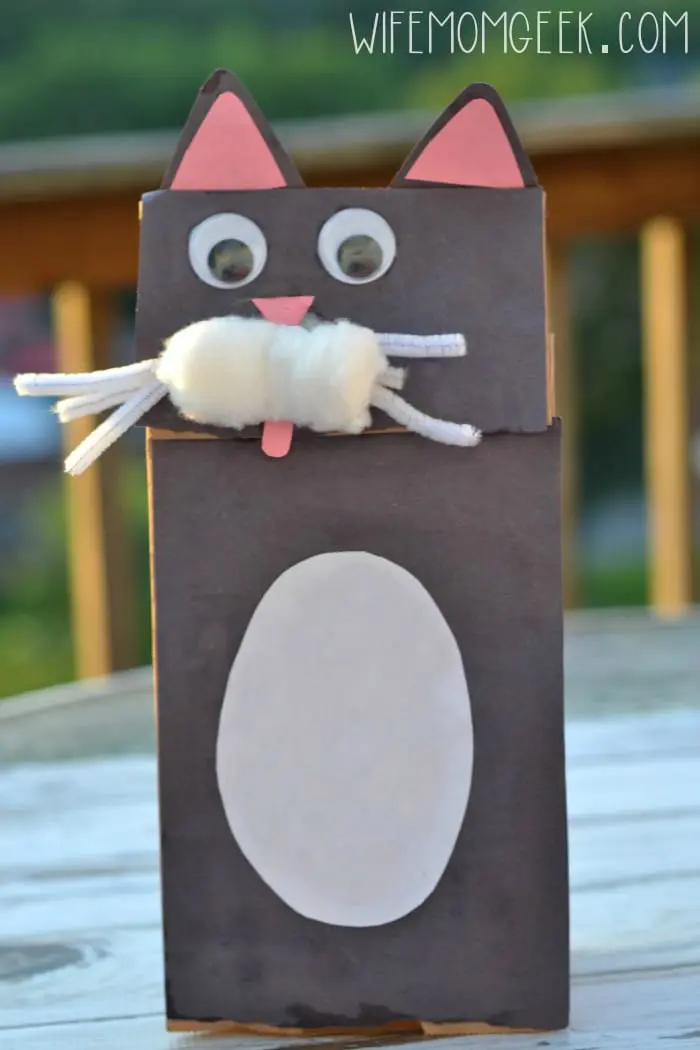 Credit: gluesticksgumdrops.com
Paper bag puppets hold a special place in the pantheon of crafting. They're simple to make, but the hours of fun had by kids with these on their hands cannot be counted!
These are purr-fect for birthday parties and classrooms alike, especially if you pair them with an activity! Get the kids to learn about cats and act out what they've discovered with the puppets. Adorable.
12. DIY Dishwasher-Safe Cat Mugs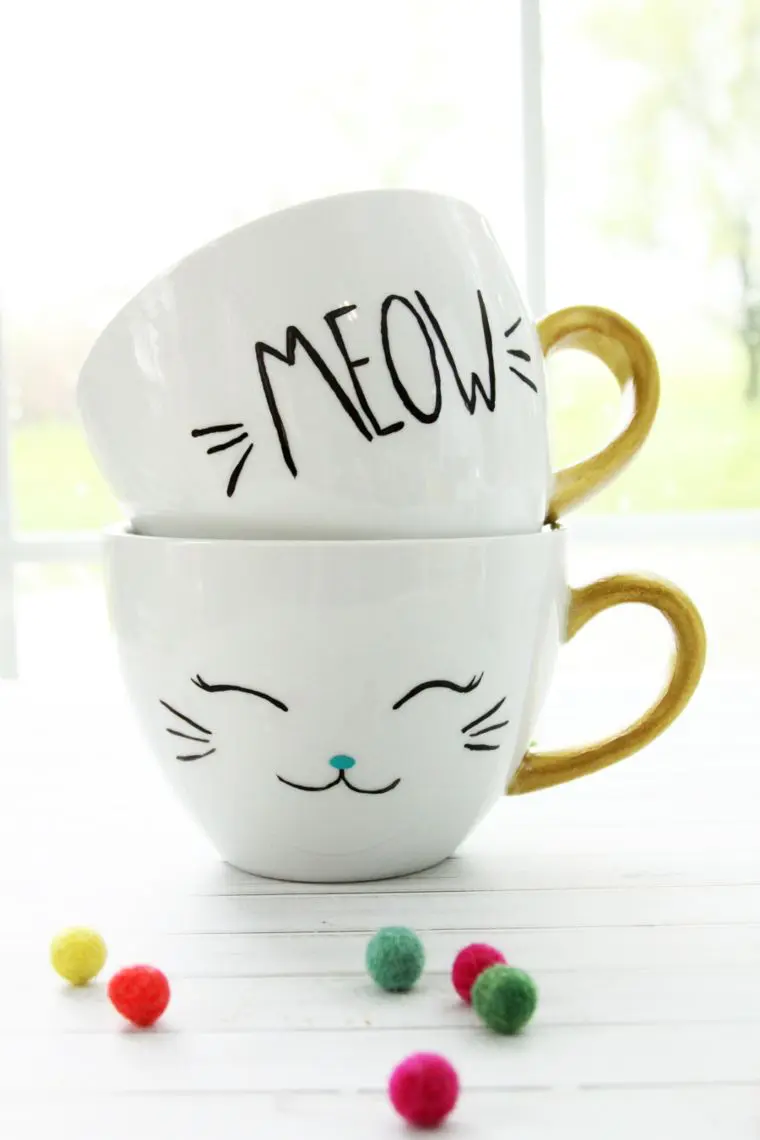 Credit: flamingotoes.com
The kids might enjoy these, but this craft is meant more for the adults in the family. If you love cats, you deserve some adorable DIY projects for yourself!
These mugs also utilize Mod Podge as a protective layer, but the design comes from the FolkArt Enamels paint range (find it here). You can customize these mugs to suit your individual taste!
Speaking of some more adult-oriented DIYs, why not give these DIY rope coasters a go?
13. Paper Plate Cat with a Tail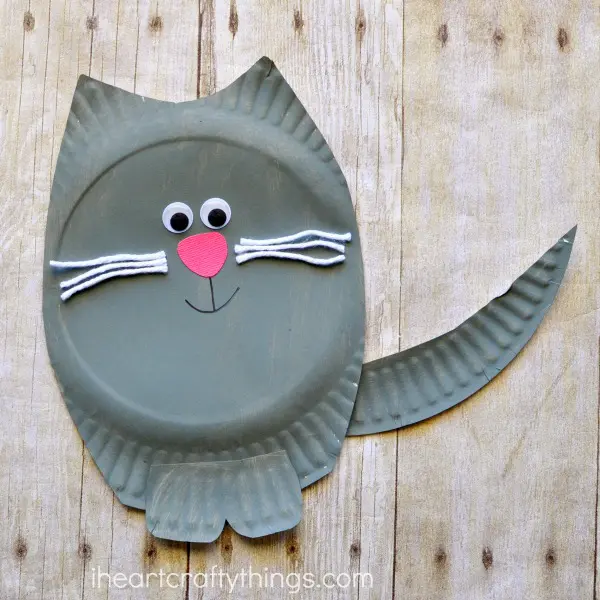 Credit: iheartcraftythings.com
These are super simple to make, so they're ideal for any age range. In addition, they don't require a lot of parental supervision! Just plop your kids down in the sight of you and let them get to crafting.
I do recommend putting a drop cloth down before the painting ensues, as things could get messy pretty quickly. This one's good for an indoor setting like your lounge or dinner table. Happy painting!
14. Minimalist Paper Strip Cat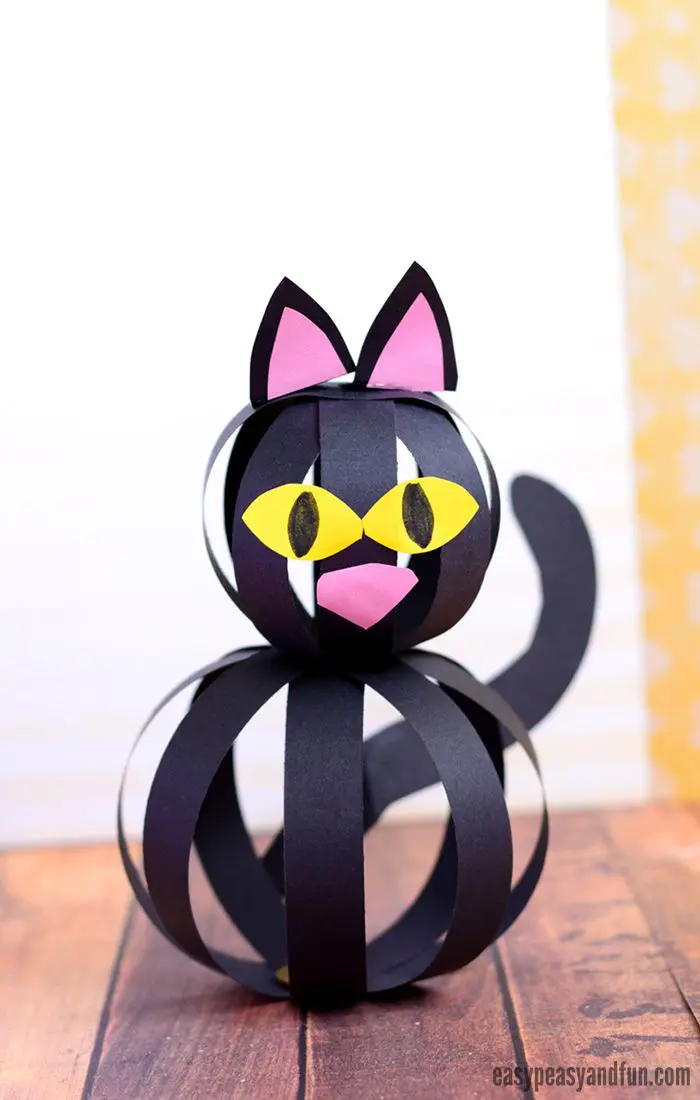 Credit: easypeasyandfun.com
Ever wondered like a snowman would look like if it were a black cat? This craft is the answer. Comprised of two balls assembled from black paper strips, this is the ideal Halloween craft.
All you need is paper and glue, but I recommend picking up a straight cutter like this if you don't already have one. They make cutting straight lines so much simpler, and your kids can use them safely.
15. Macaroni Cat Necklace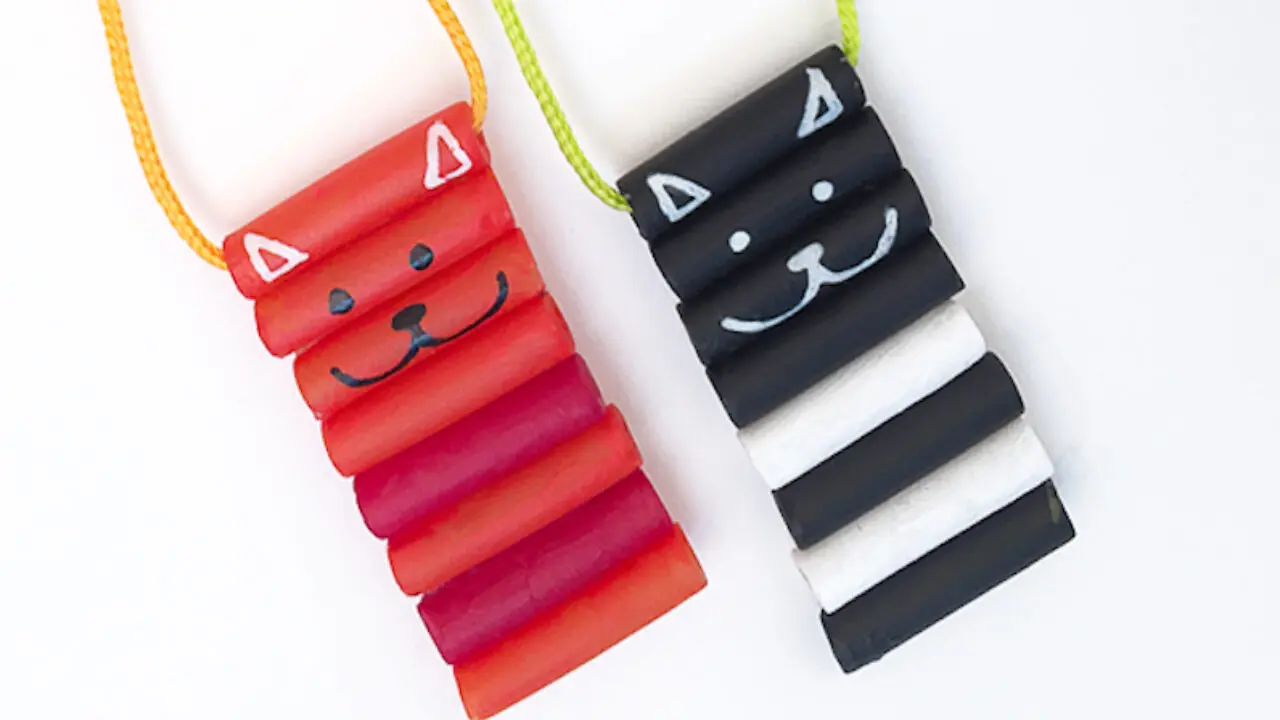 Credit: pbs.org
Pasta is one of the most underrated craft materials out there. It's cheap, it's versatile, and you can usually find a bag of it hiding in your pantry. Using some macaroni or penne shells, you can make this necklace!
Sit the little ones down with some paint and pasta, giving them free rein to paint any color on the shells they choose. Then, you can take over and glue them into a line ready for a cat's face.
String the shells onto a shoelace, tie the ends together, and you're done! Haute couture at its finest.
16. Felt Cat Bookmarks
Credit: happinessishomemade.net
These adorable cat bookmarks only need fifteen minutes of your time, and they're a fantastic scrap-busting project. Encourage a love of reading in your child by presenting them with one of these.
If you're not the greatest at hand cutting, a Cricut machine like this one might be your next big craft investment. Otherwise, proceed with scissors and felt glue to bring this bookmark together.
17. Fork Painted Black Cat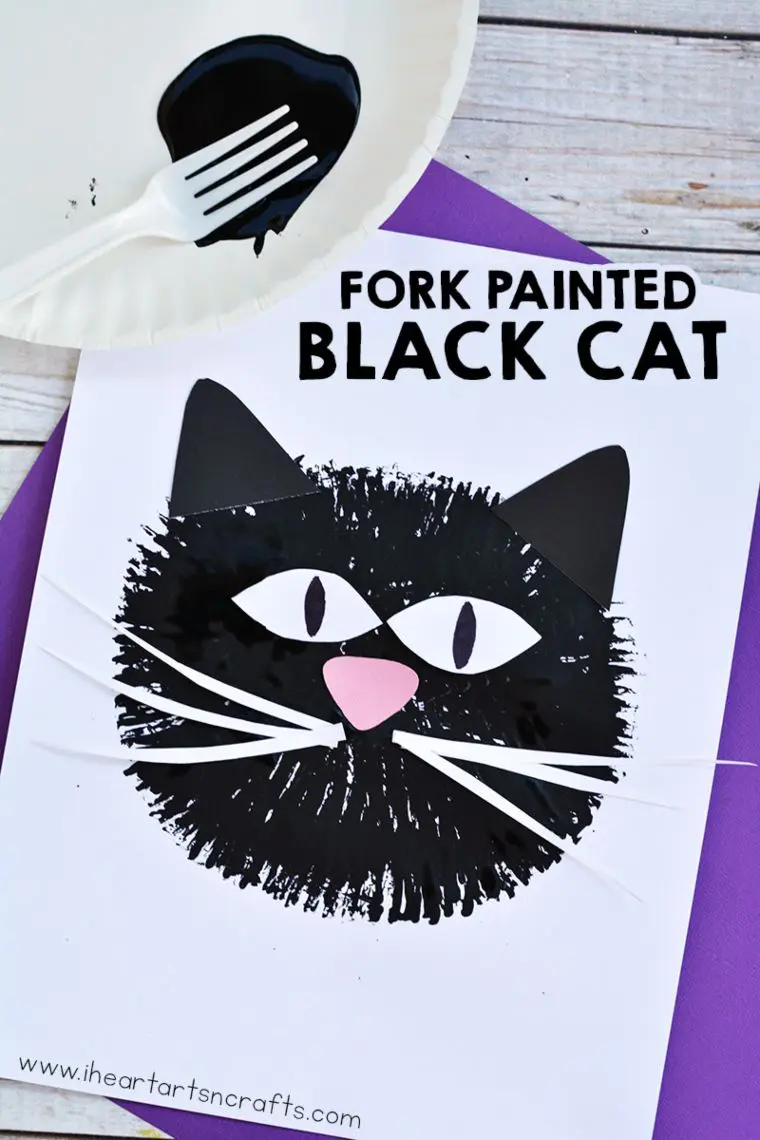 Credit: iheartartsncrafts.com
Bet you've never heard of using a fork as a brush before, have you? This craft is so simple it's almost impossible to mess up, plus your kids can have a good time messing with some paint.
While the paint only creates a black blob on the page, the key to this craft lies in some strategic eyes, ears, and whiskers. Let the paint dry, glue the appendages on, and mount proudly on the fridge door.
If your child is old enough for scissors then just supervise, but you can always handle it for them too. If they enjoy this craft, here are other paper crafts to try with them!
18. Standing Scared Black Cat Figurine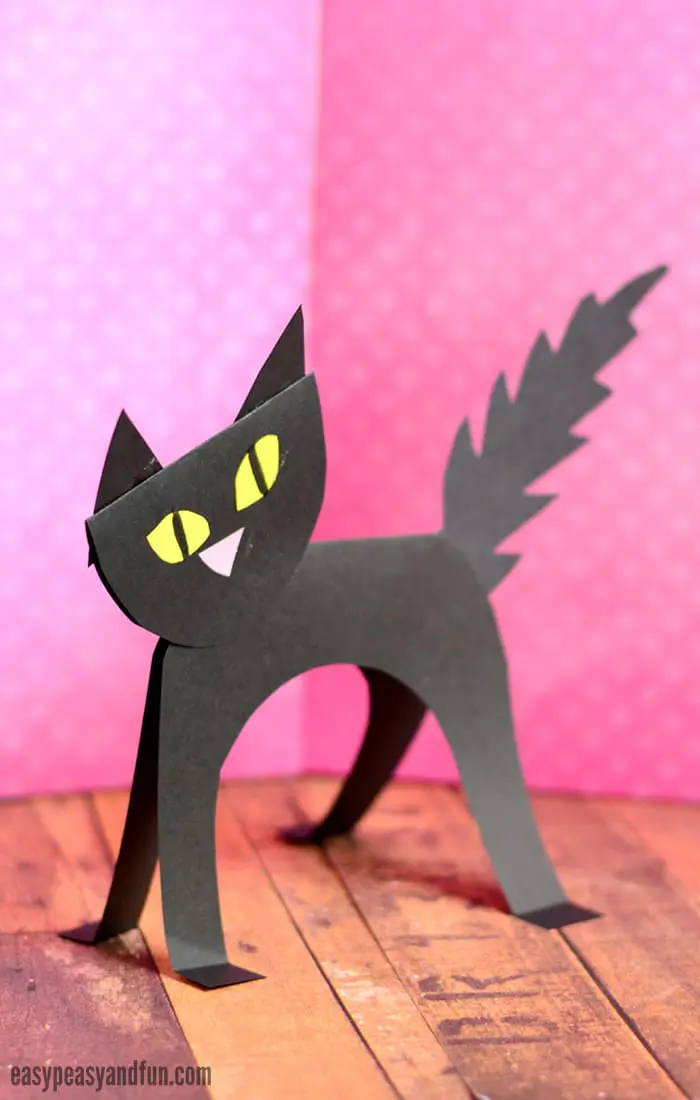 Credit: easypeasyandfun.com
While it's not a cat purring in their lap, this paper figurine can adorn your child's nightstand to lend somewhat of a feline presence to the room. Make sure to use construction paper, not weak printer paper.
This is a great way to develop your little one's cutting skills! Prop it on their nightstand, leave it on the dresser, or make a game of hiding this delightful feline around the home for your child to find.
19. Recycled Bottle Cat Container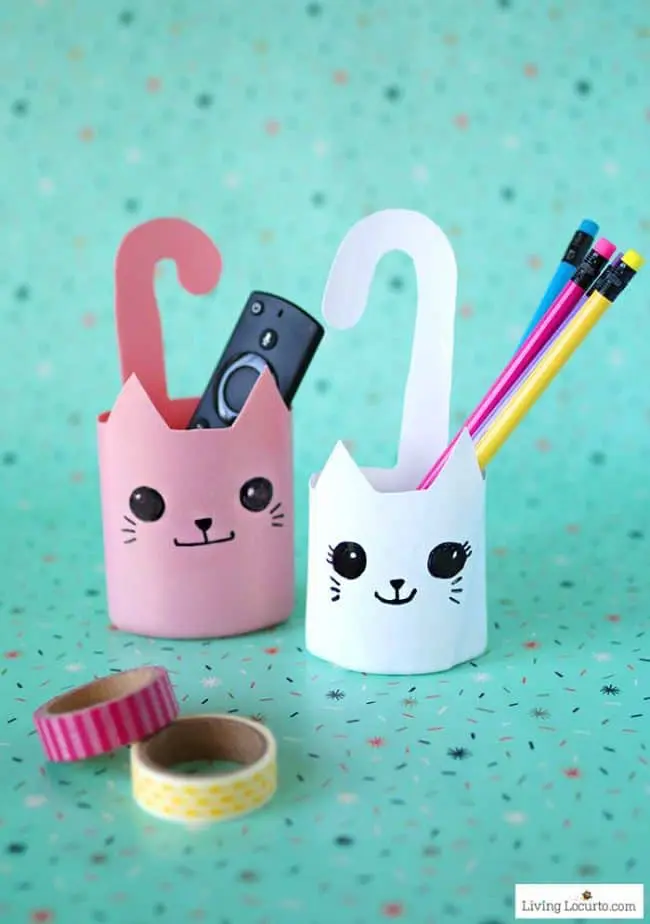 Credit: livinglocurto.com
In my opinion, this is one of the cutest crafts on this list, and it's so sustainable! Put those recyclable bottles to better use and give them a new life as a desk organizer/container.
If you're tackling this craft, now's the time to invest in an Exacto knife (here). It aids your control, giving you a better shape for the finished product.
While you can gift these containers to your kids to help them with clean-up time, keep their little fingers away from sharp edges and blades while you work.
20. Easy Origami Cat Companion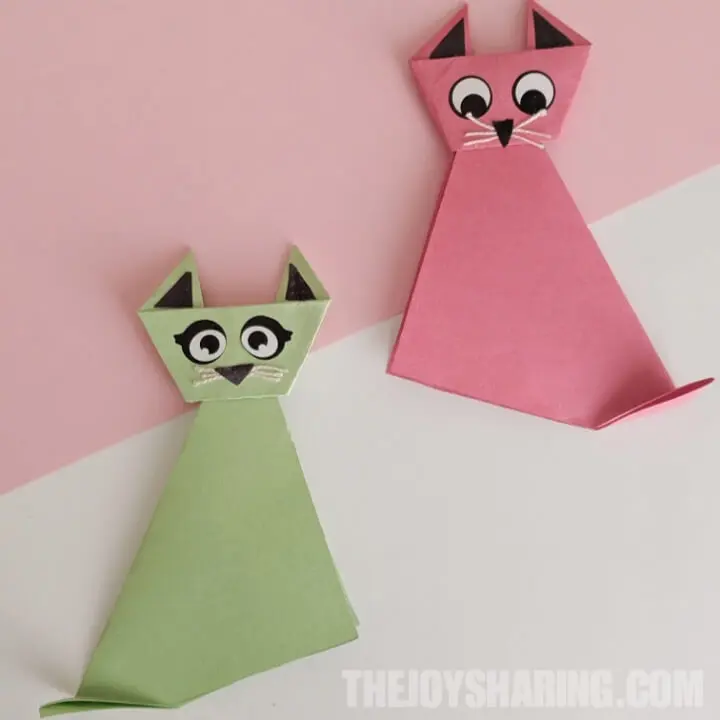 Credit: thejoysharing.com
Blue, yellow, pink, black…. make this easy origami cat companion in any color under the sun. It's perfect for improving your kid's spatial reasoning. Plus, they'll love showing it off to their friends!
While you can square off some colored printer paper or construction paper, double-sided origami paper is always best for folding projects. They're not expensive, so you can pick up a bulk pack here.
21. Handprint Black Cat Craft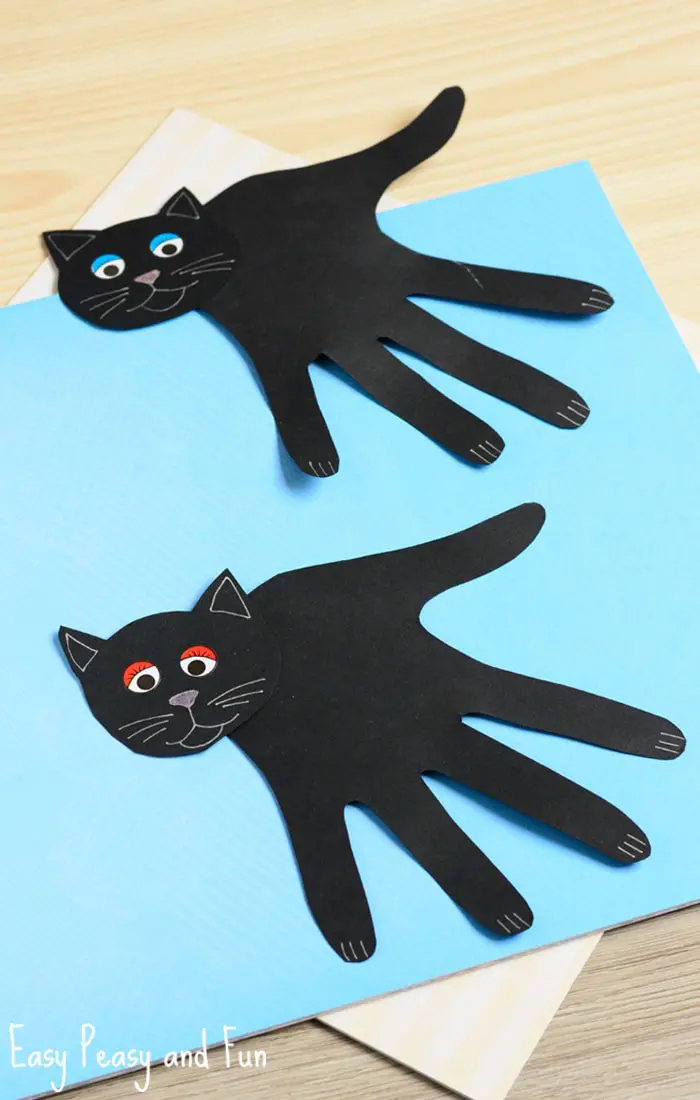 Credit: easypeasyandfun.com
Making a craft using your child's handprint is like capturing a moment in time. You can look back on the finished product for years, reminiscing about younger days, and how cute they used to be!
This papercraft is so easy to churn through in an afternoon, and it ends up looking adorable. Get your child to trace their hand on some black paper, then cut it out and draw the cat on top. Easy!
Don't worry, that's not the only papercraft I have in store for you. Check out these DIY Paper Wallets for Kids to Make!
22. Air Dried Clay Cat
Credit: nurturestore.co.uk
Setting up an afternoon of fun with some air-drying clay is—in my opinion—one of the best ways to spend some time with your kids. Use the results as a paperweight, a doorstop, really anything you like!
Of course, the main component of this craft is the air-drying clay, which you can find here. While you can let them go at it with just their hands, your kids might benefit from a small clay working kit (here).
Alternately, set them loose with a homemade salt dough to create these salt dough ornaments.
23. Paper Cat Origami Cup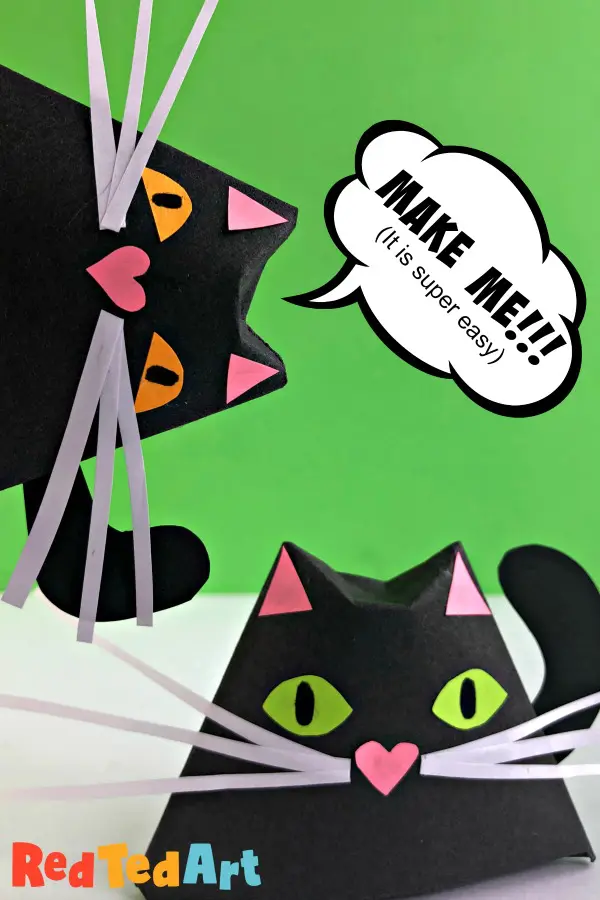 Credit: redtedart.com
While this cup certainly won't hold any liquid, this convex kitty is great as a finger puppet (or even just as a decoration). They're so cute, and as decorations, they'll last forever.
If you need to bring these kitties together quickly, whip out some double-sided tape instead of the glue. It holds immediately, and there's no risk of a sticky mess made in a rush. Grab some here.
24. 3D Cat Card DIY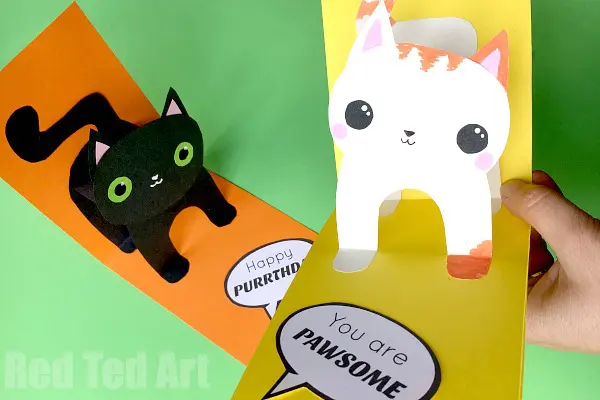 Credit: redtedart.com
These pop-up cat cards are the perfect accompaniment to any gift your child gives (or to a gift you're giving them!). They're very easy to make, but the result is stunning! You'd almost swear they were store-bought.
Choose to add a speech bubble with your favorite cat pun in the card or leave the space blank for a heartfelt message. If the recipient has a cat of their own, why not try making a replica for the card?
25. Adorable Origami Cats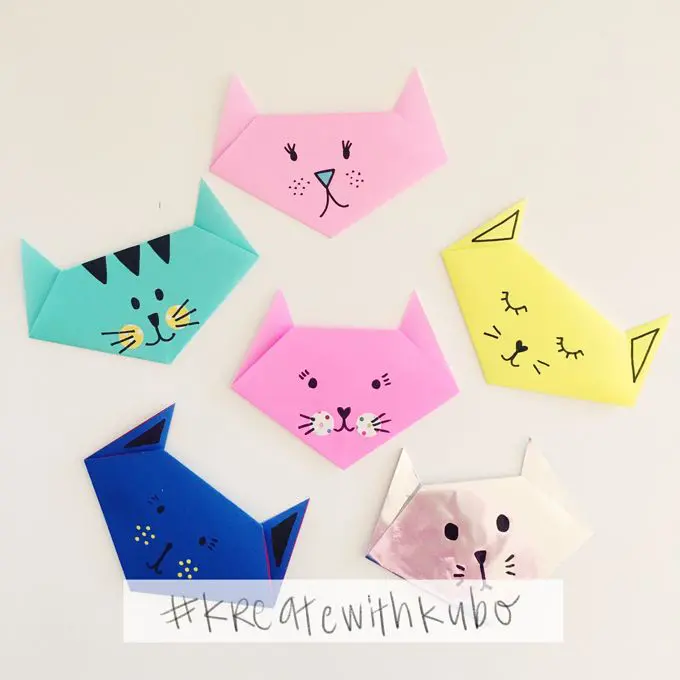 Credit: fatmumslim.com.au
We've already had a lot of folding paper projects on this list, but these origami cats were too adorable to leave out of the running. Since they're simple, these are great to learn with your kids.
Rather than cutting out tiny pieces of paper to adorn the cat faces with, why not use stickers (like these)? The variety of patterns means you can make each new face different, just like real cats!
26. Toilet Paper Tube Cat Family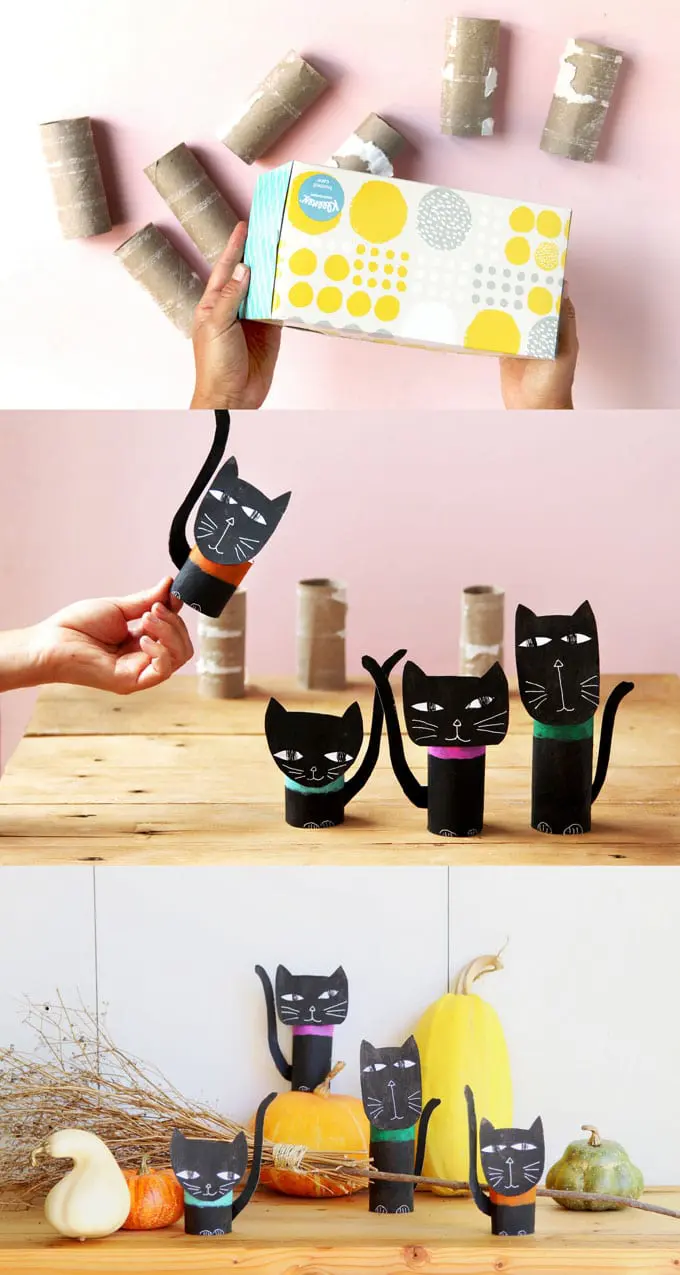 Credit: apieceofrainbow.com
Next up is a craft that's perfect for the whole family. Block out a weekend afternoon, gather everyone to the dining room table, and give new life to some old toilet paper tubes.
While the original craft uses black paint, you can use a broad array of colors to represent everyone in your family. Personalize them with little accessories, and you can even try making speech bubbles!
27. Paper Plate and Clothespin Black Cat
Finally, we end the list with a decoration sure to inspire some spook (no matter the time of year). This craft is super inexpensive, as you most likely have everything you need in your house already.
Thanks to the clothespins, you can prop this cat anywhere in the house and it will watch over your family. Take it one step further by painting the eyes glow-in-the-dark to symbolize their night vision.
If any of these crafts strike your fancy, let me know in the comments below! These are perfect for all year round, and they're a great way to develop both your kid's cognition and your relationship with each other.
Of course, you also need some crafts to keep you going, so make sure to check out these craft projects for adults. And, as always, happy crafting!