Get crafty with these penguin crafts! They're a fun project to do with the kids!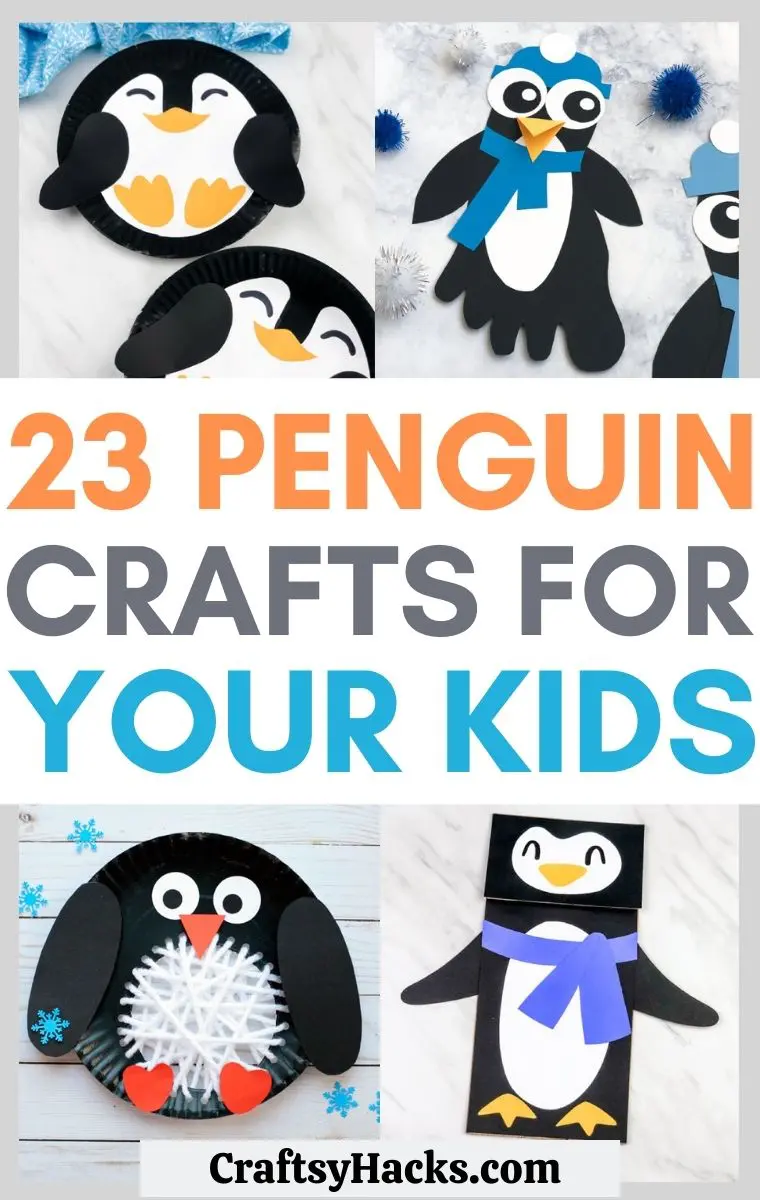 No matter the time of the year, why not bring a hint of the animal kingdom into your home with some penguin crafts?
These are great for every season —winter or not. Also, they're the ideal way to engage your kids with some lessons about the natural world.
Help their development and decorate your home at the same time! Check out these 23 perfect penguin crafts for kids to try.
1. Upcycled Cardboard Penguin Family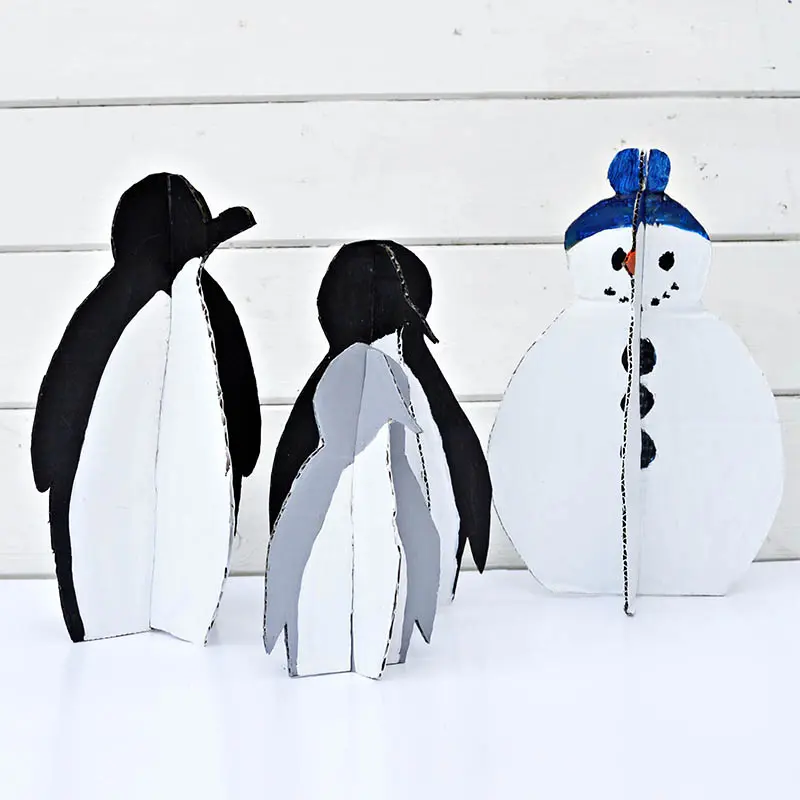 Credit: pillarboxblue.com
These upcycled penguin cardboard figures are so easy to make and customize.
In fact, you can make one for each member of your family and display them all together! Not only are these figurines fun and educational, they're also sustainable since you're recycling old cardboard.
Make sure to pick up some chalk paint (here) and poster paint in a couple of colors (here's a good kit). So, you and your kids can go wild on the customization.
2. Penguin Paper Bag Puppet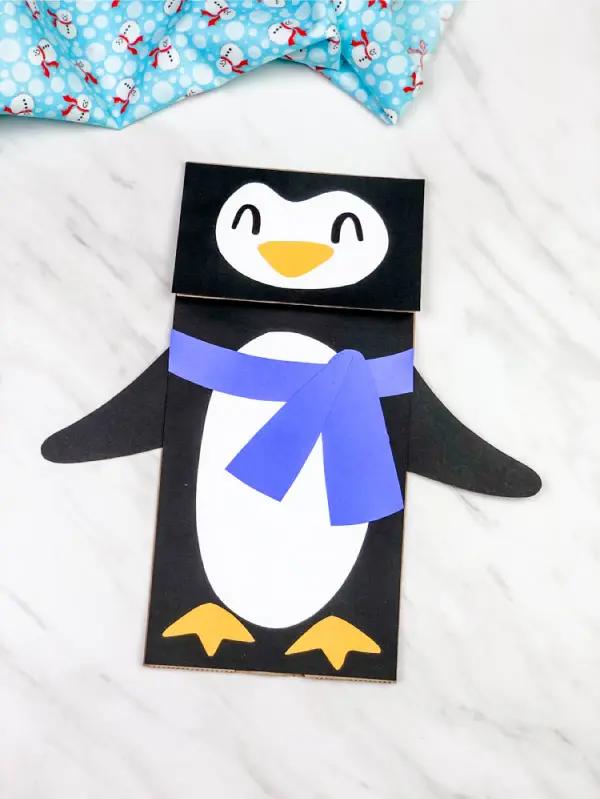 Credit: simpleeverydaymom.com
Perfect for telling the story of Noah, having some playtime, or as a classroom craft session. These penguin paper bag puppets are easy and affordable to make.
Once they're all done, have the kids put on a puppet show about the things they've learned about penguins! This is a super fun educational activity and can even help to encourage good public speaking.
Check out more crafts that kids will love!
3. Paper Plate Penguin Craft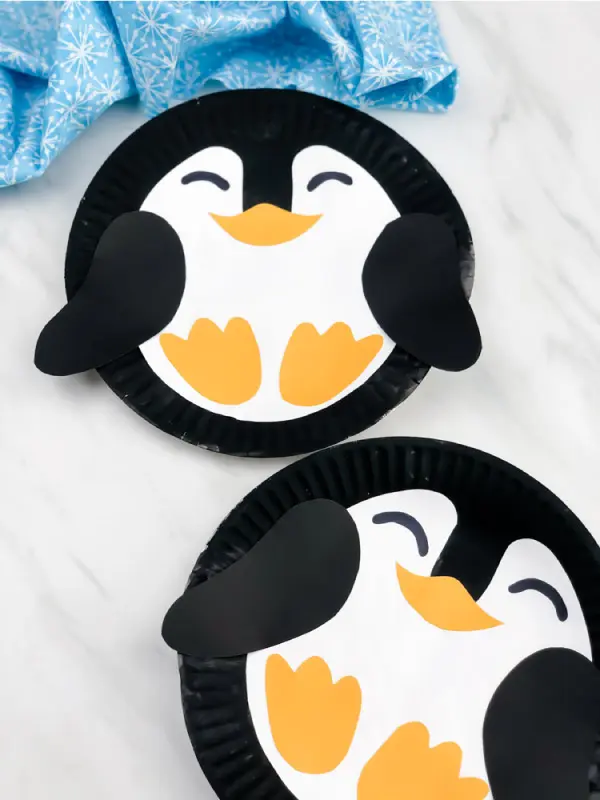 Credit: simpleeverydaymom.com
These penguin paper plates are so cute I almost want to make them for myself! If your child is a winter baby, these penguin plates could be the perfect way to celebrate their next birthday.
All you need is a good stock of paper plates (choose compostable ones like these). Also, some colored card stock, glue, and paint.
Sit down with your little one to teach them what goes into party planning!
4. Penguin Rock Pets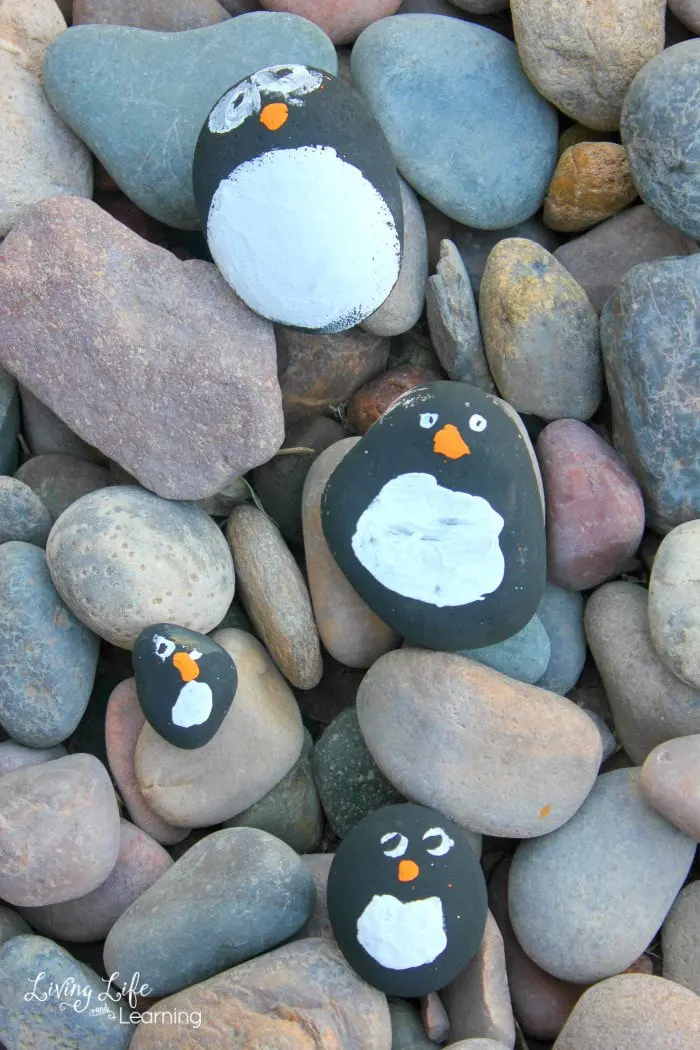 Credit: livinglifeandlearning.com
They say bringing a pet into the house is the best way to teach your child some responsibility. But, maybe they didn't know about rock pets!
Teach your kids about cold weather animals while making penguin pets.
This super-affordable craft's main component can be found in your backyard. So, it's perfect if you don't want in the run-up to the expensive holiday season.
Whip out some paint and paintbrushes to make the perfect penguin pet. Once it's painted, make sure to spray with some clear enamel-like this to keep the paint safe and unchipped.
5. Patricia the Hungry Penguin
Credit: theeducatorsspinonit.com
Patricia the Penguin is the perfect learning tool for teaching the letters and sounds for "p". Dynamic learning tools help kids engage with their education, making it fun, and helping them to focus!
Fish an old cereal box out of the recycling and transform it with the help of some construction paper and paint. Patricia only eats paper with the letter "p" on it, so she's an awesome learning tool.
Curious about some other paper crafts to help your child learn? Try any of these 20 Paper Crafts That Will Inspire Anyone.
6. Five-Fold Origami Penguin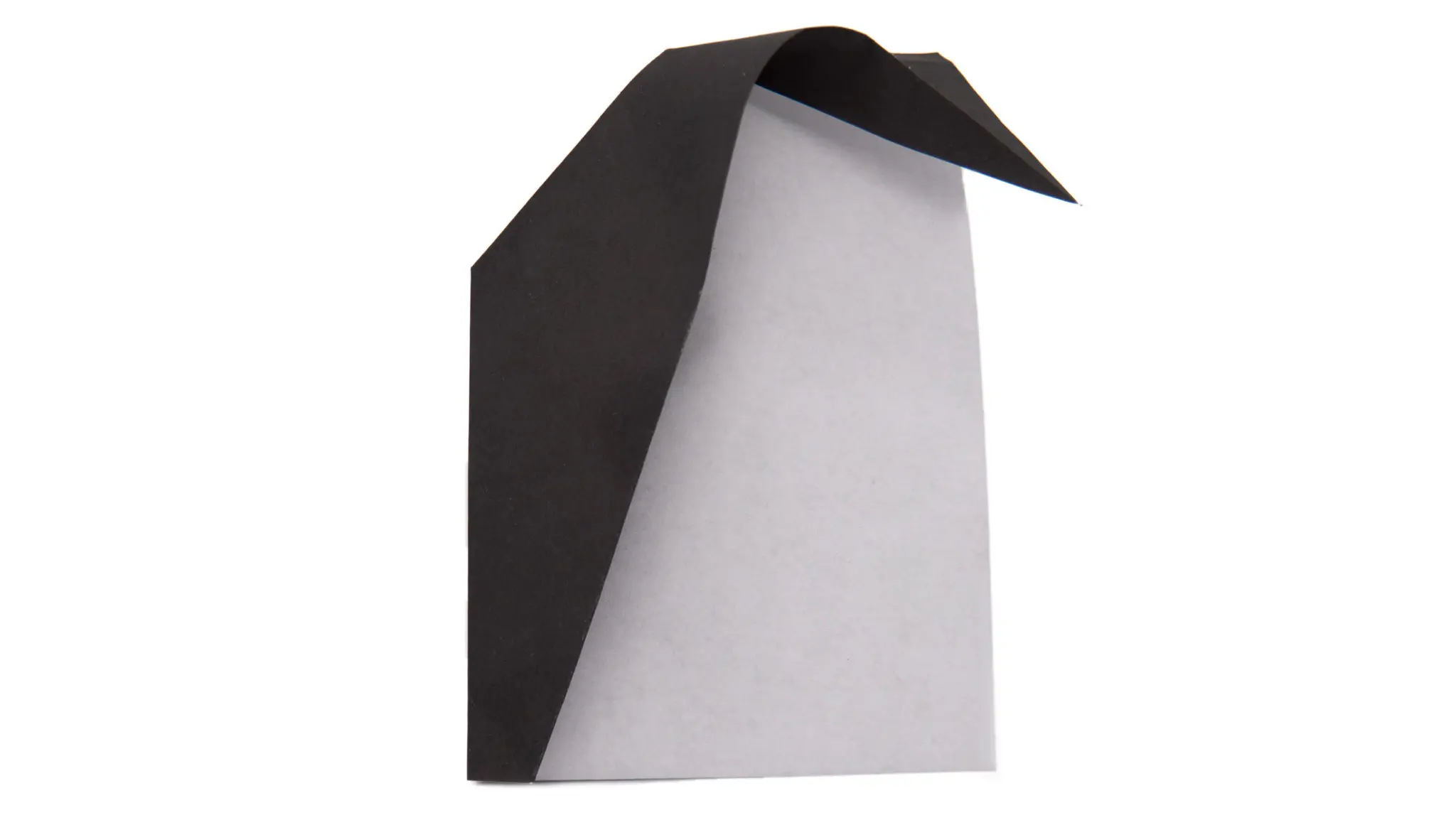 Credit: origamiexpressions.com
When it comes to childhood development, one of the best activities to take on is origami. Each new fold teaches your child something new about spatial reasoning, thus helping them to grow!
This cute little origami penguin is very simple, requiring only five folds. So, it's a fantastic introductory origami project.
A quick note: make sure to invest in high-quality origami paper, as the color can crack and flake off with the cheaper kinds. This black origami paper from Folded Square is perfect.
7. Paper Lunch Bag Penguin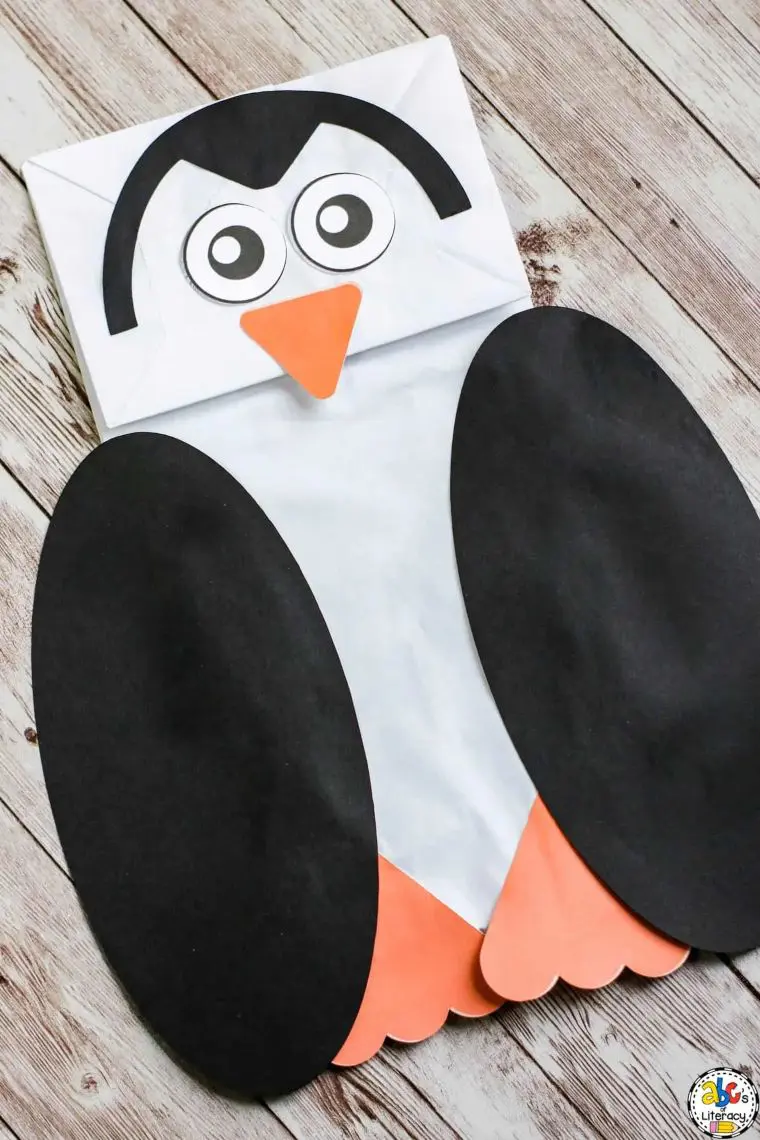 Credit: abcsofliteracy.com
Whether your child is in school or still stuck at home, this paper bag penguin is a great way to brighten up their lunchtimes with their favorite wintertime animal.
Pack their lunch in the completed bag and send it along with them. Once they've eaten, it's an adorable puppet they can use to put on plays with their friends!
8. DIY Wooden Penguin Ornament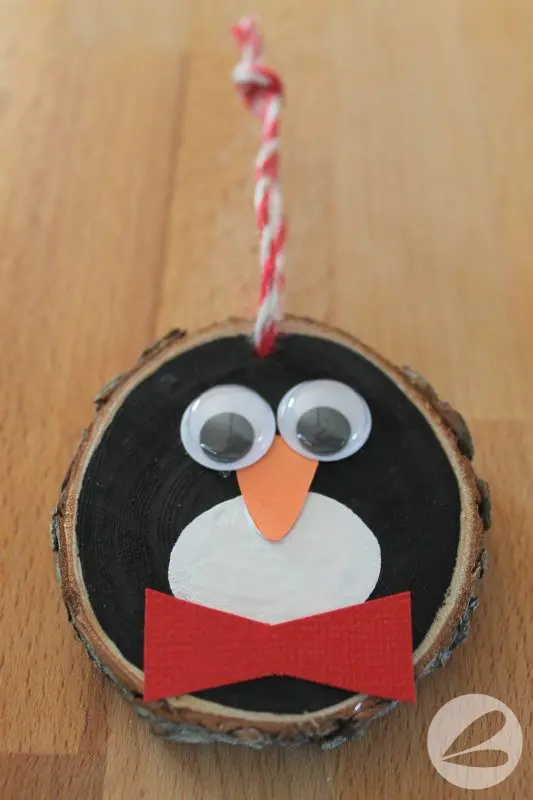 Credit: homemadeheather.com
Bring a little wintertime fun indoors by making this wholesome wooden penguin ornament with your child. Sit down on the day you trim your tree and whip out the supplies for a day of family Christmas fun!
These ornaments are super simple, and they always come out looking great. Make sure to buy wooden circles with a pre-drilled ornament hole (here) for the string if you don't have a drill at home.
Complement your new ornaments with any of these 20 Dollar Store Christmas Crafts!
9. Penguin Rock Family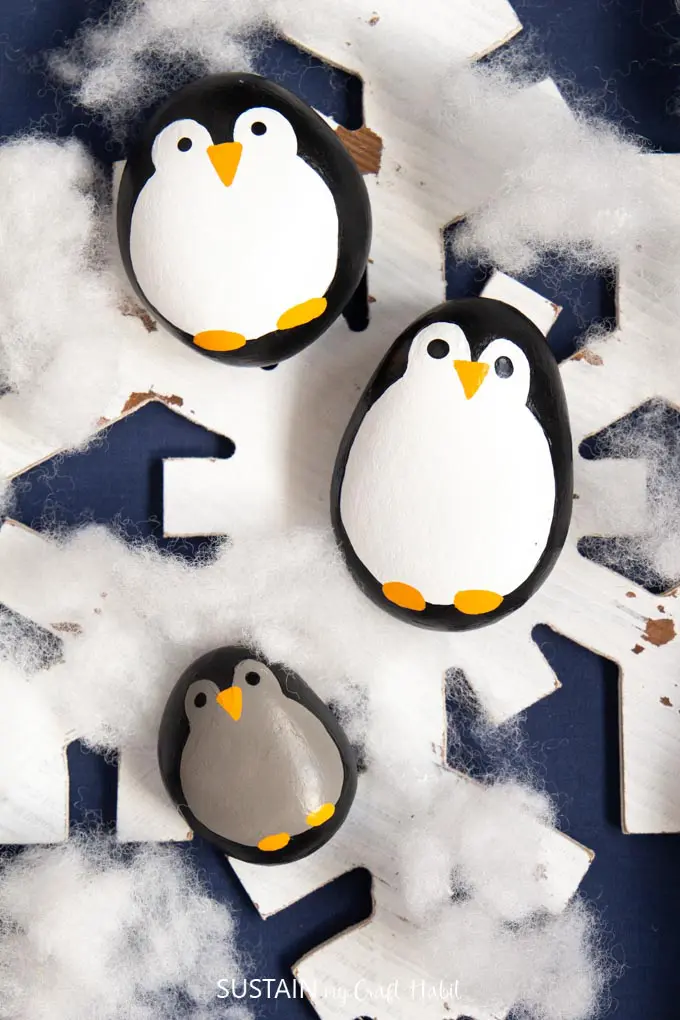 Credit: sustainmycrafthabit.com
Here's another take on penguin rocks. This time, it's an entire family of penguins!
Render your family as rock penguins with this adorable Christmas craft.
If you're really looking for these rocks to shine, pick up some Decoart Multi-surface Satin Paint. They have the same colors specified in the tutorial, they're durable, and they look amazing.
Not only is this great for teaching your child about a new animal, it's also a great activity if they need a little help understanding family dynamics. Go nuts and paint the entire extended family!
10. Toilet Paper Roll Penguins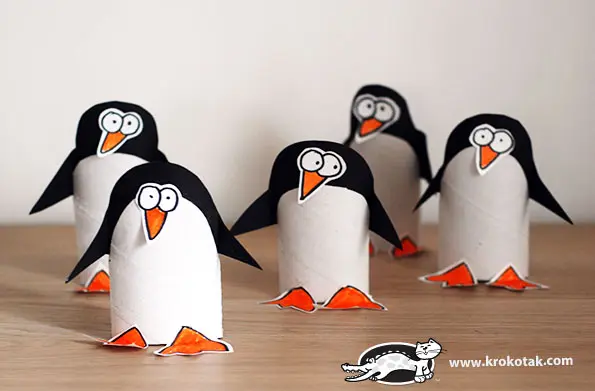 Credit: krokotak.com
In the quest to make your home an enjoyable wonderland for your little one, don't neglect the bathroom! These cute toilet paper roll penguins are perfect for lining the bathroom shelves.
Upcycle those toilet paper rolls into a contingent of winter creatures. If you don't already have white toilet paper rolls, pick up some white spray paint like this. So, you can alter them before you start crafting.
Curious about some other ways to use toilet paper rolls? Here are more toilet paper roll crafts to try.
11. Water Bottle Penguin Craft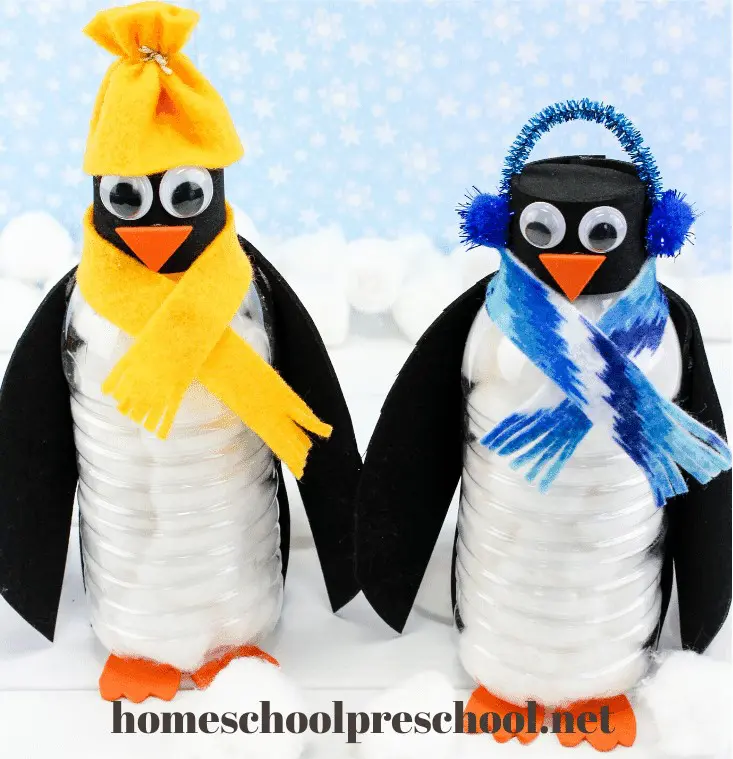 Credit: homeschoolpreschool.net
Here's another upcycling craft to put the sustainability spirit into your family activities. This water bottle penguin is adorable, offering easy decoration for a kid's space anywhere in the home.
Make sure you have a quality glue gun at your side for this one (like this one). That's because working with porous surfaces like plastic and foam can make other glues reluctant to stick.
In fact, if your kiddo wants to do the gluing, pick up a cold glue gun and let them get to work too!
12. Popsicle Stick Penguins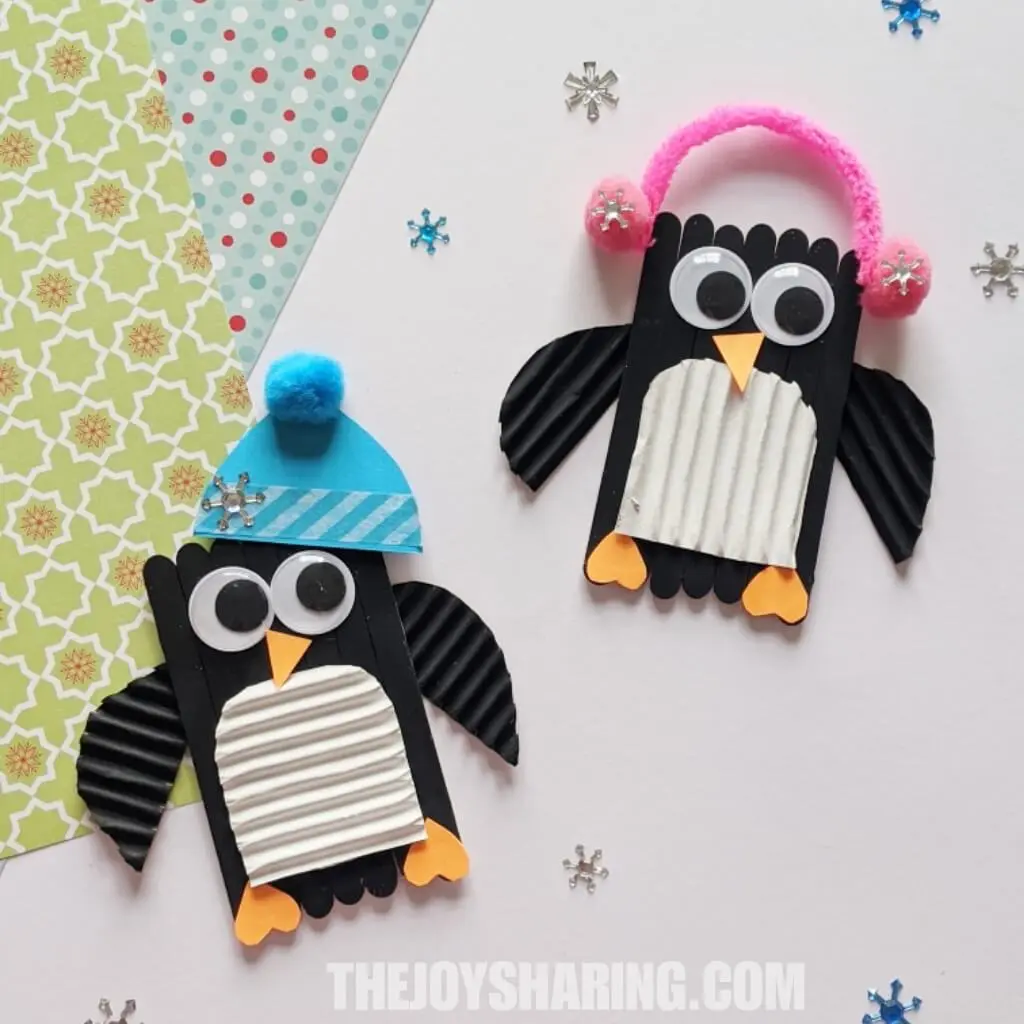 Credit: thejoysharing.com
Got some leftover popsicle sticks from all those wintertime treats? Put them to good use with these popsicle stick penguins!
These cuties even have their own earmuffs to keep them warm. Assembling the penguins themselves is super easy, perfect for doing with the kids.
Pick out some colored cardstock for the accessories. You can even add some snowflake jewels like this for some sparkle.
These little penguins aren't the only way to use those leftover popsicle sticks. Check out more popsicle stick crafts here.
13. Pop Up Penguins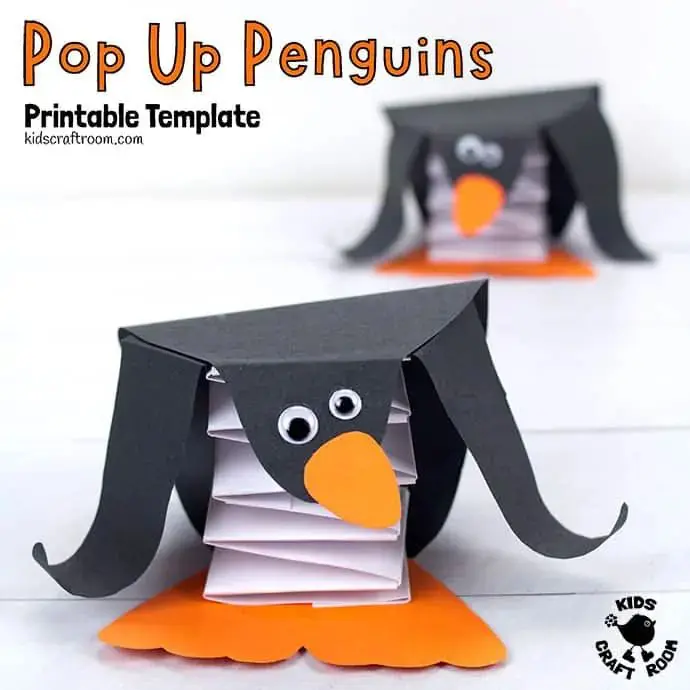 Credit: kidscraftroom.com
These adorable pop-up penguins need only cardstock to come to life. They're another great way to develop your little one's spatial reasoning as you craft. I call that a win-win.
Whether you run a kindergarten classroom or you're a parent, this is an ideal craft because it doesn't require too many supplies. Not to mention, you can let your kid take care of most of it!
14. No-Sew Sock Penguin Craft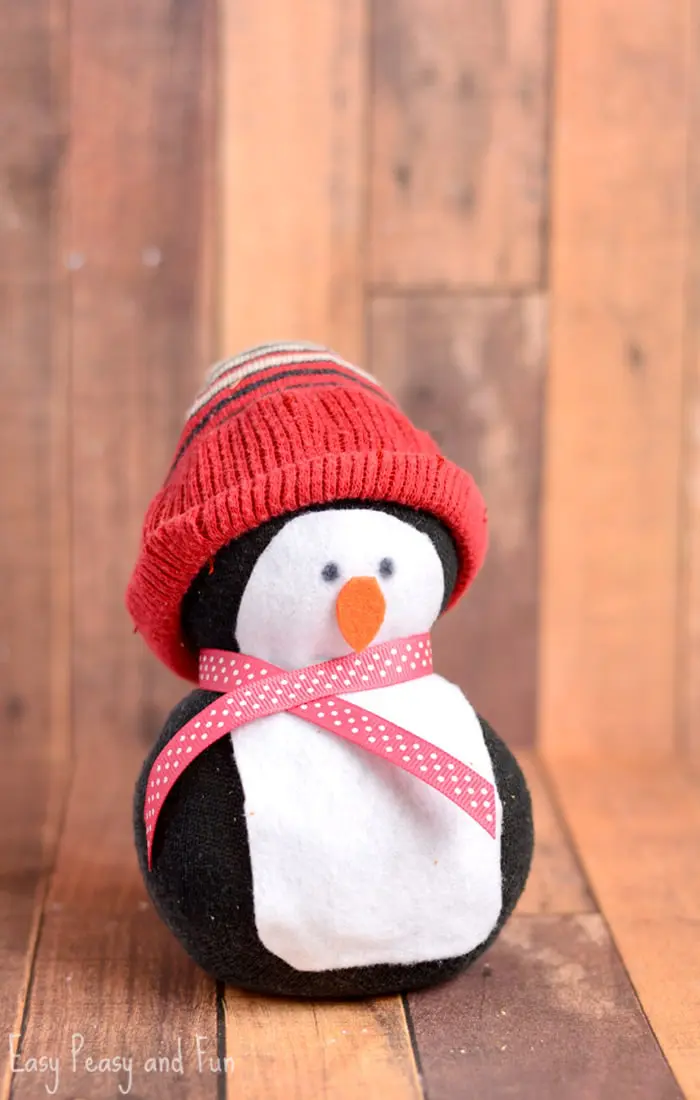 Credit: easypeasyandfun.com
Rather than buying a pre-made penguin stuffed toy for your little penguin-lover, why not upcycle a basic black sock? Make it into a toy that will carry memories with it forever?
Thanks to the no-sew design, this little stuffed companion is easy to make with children of all ages. The result is cushy, cuddly, and adorable (perfect for hugging).
You can either use rubber bands or embroidery floss like this to tie off the head shape. It's up to you. Make sure you pick up another sock in a contrasting color to create an adorable penguin beanie!
Want to try this technique, but with a different animal? Here are sock plushies to try out for your tot!
15. Plastic Spoon Penguin Ornaments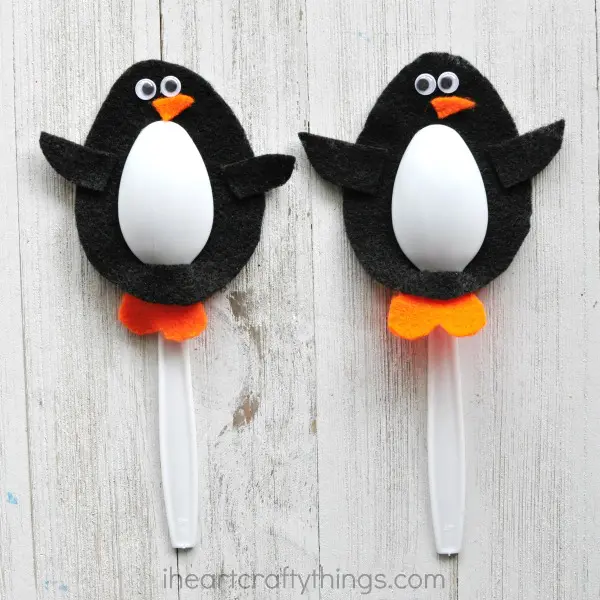 Credit: iheartcraftythings.com
Christmas ornaments don't just live on the tree! If you're looking for an adorable touch to add to your centerpieces, look no further than these plastic spoon penguin ornaments.
Using some black and orange felt, a hot glue gun, and some googly eyes, you can easily transform some basic spoons into cuddly penguins. Prop them in their own Winter Wonderland for a cute centerpiece!
16. Cotton Ball Penguin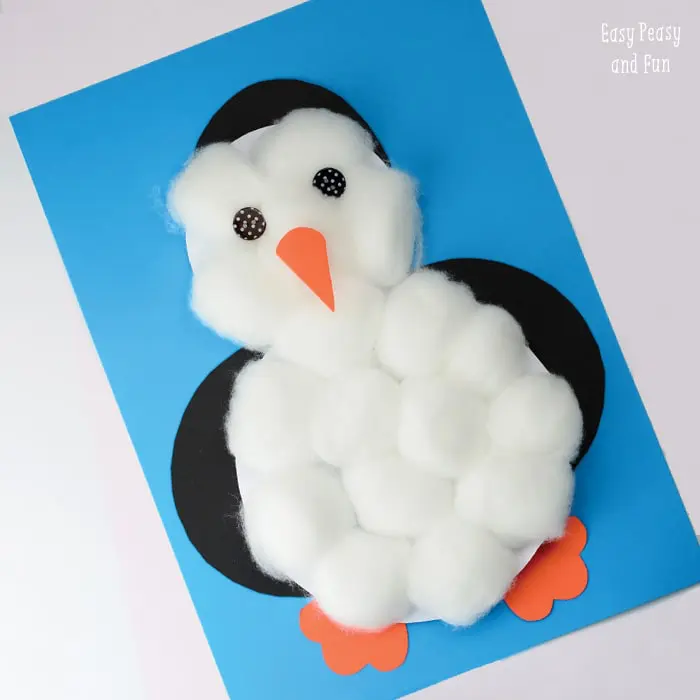 Credit: easypeasyandfun.com
Perfect on any size and any surface, this cotton ball penguin is an ultra-adaptable craft that's perfect for any child who loves soft, cuddly things.
Using some inexpensive cotton balls, you can make a large penguin as a poster or make a smaller one as a gift card. The choice is up to you and your little crafter.
17. Penguin Family Salt Dough Ornament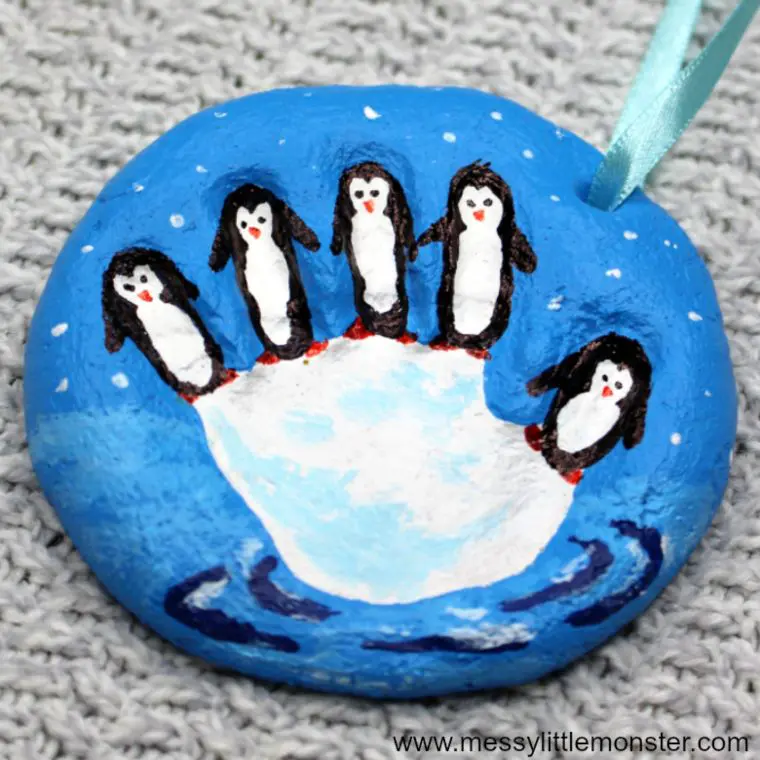 Credit: messylittlemonster.com
Making ornaments out of salt dough is such a nostalgic, traditional Christmas time activity. Pass on the tradition to your little one by crafting these penguin family salt dough ornaments!
The basic ingredients are staples in any household—flour, salt, and water—but the decoration elements are what make it special. Pick up some acrylic paints and markers to create the perfect ornaments.
You can make these ornaments in all manner of shapes and sizes. Just check out these DIY salt dough ornaments for some inspiration.
18. Cute Footprint Penguin Paper Craft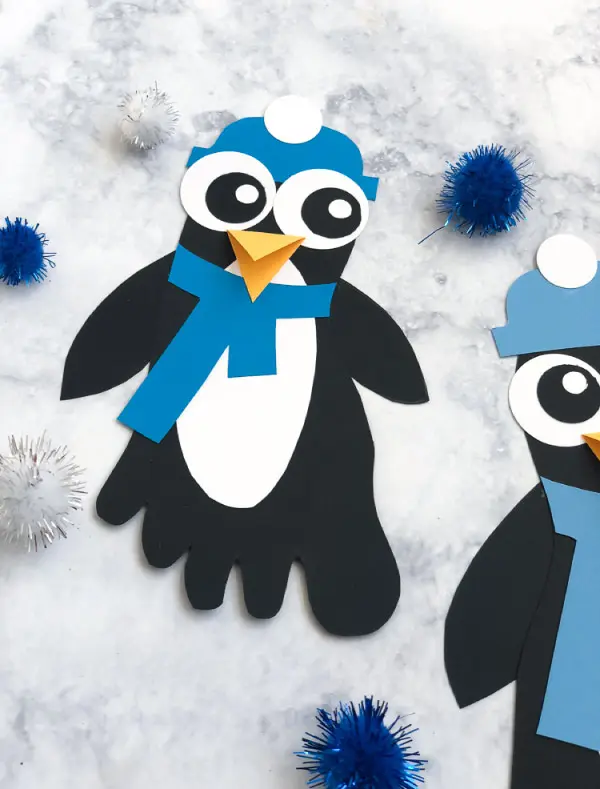 Credit: simpleeverydaymom.com
Here's a way to create a memory with your child that will last the ages. Even after they've outgrown these little crafting projects, you'll have the memory of their little footprint forever!
This clever craft uses the shape of your child's footprint as the penguin's body. Decorating it with other shapes cut from construction paper to form the full penguin.
If you're using thick paper, make sure to grab some glue that will last, like this Elmer's CraftBond.
19. Egg Carton Penguins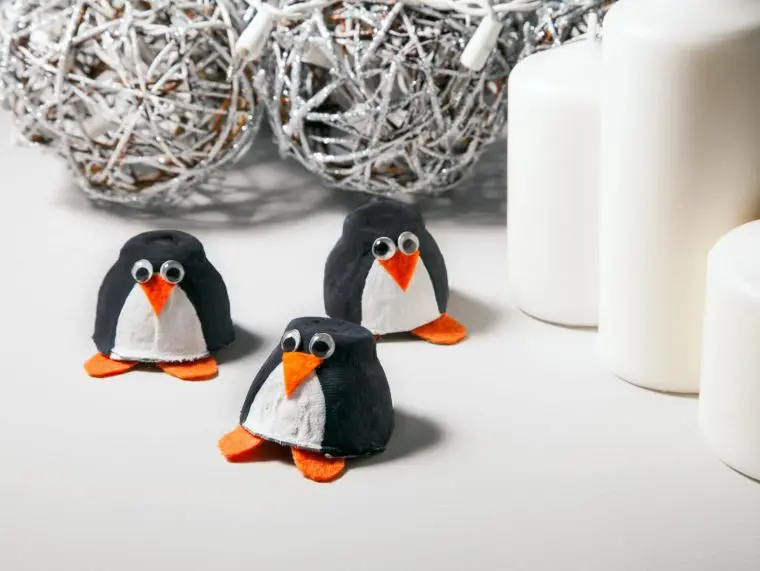 Credit: kiwico.com
Sitting on the presents, hidden between candles, chilling out in the fridge, these tiny penguin friends are the perfect ornament for any part of the house. Not to mention, they're so easy to make!
Once you've made the penguins, you can make a game out of hiding treats in them and sending your kids on a hunt around the house.
20. Little Penguin Buddy from a Clear Ornament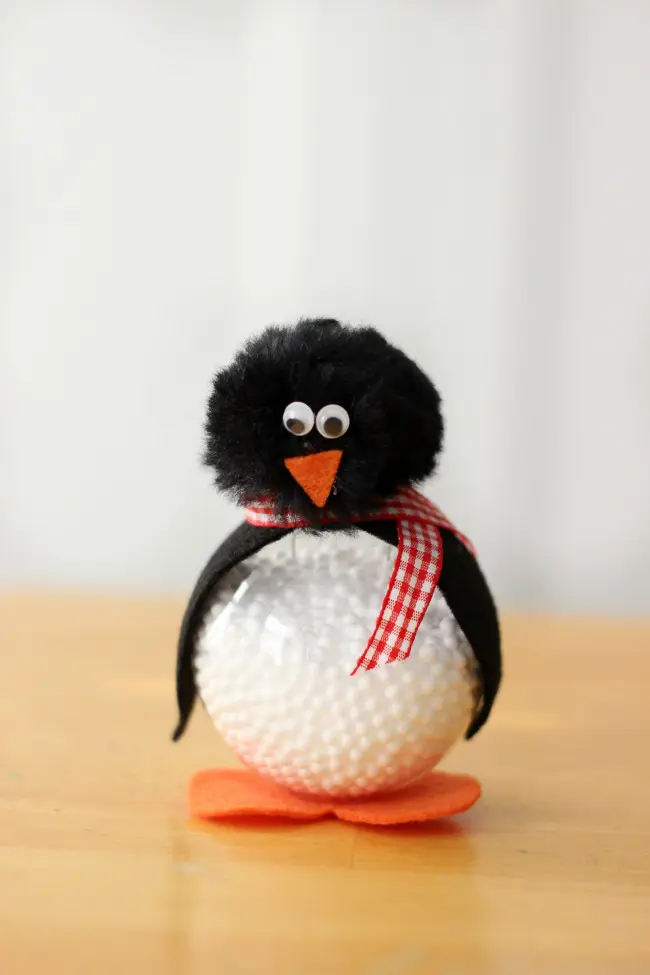 Credit: gluesticksblog.com
Who said clear ornaments can only be hung on trees? This clever crafter found a way to turn a clear ornament into a standing penguin decoration, perfect for sitting on the mantelpiece.
All you need to get this done is a clear ornament (like this), some polystyrene balls, a black pom-pom, and some felt! The result?
A sweet companion for the chilly months, and a fun project with the kids.
21. Miniature Cork Penguins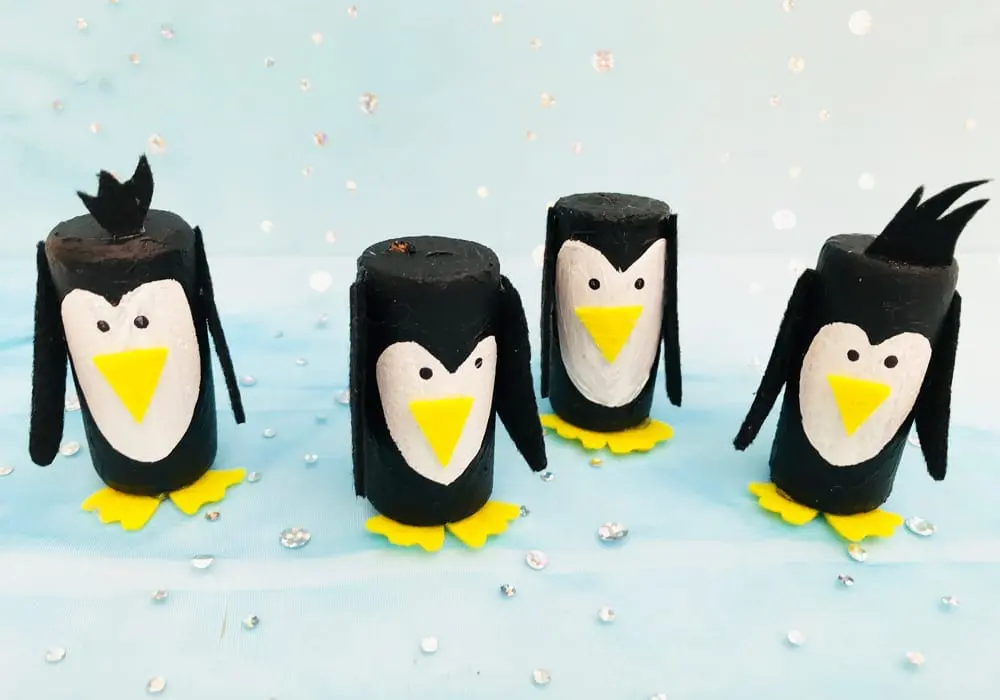 Credit: masandpas.com
Speaking of tiny penguins, here's a method for making your leftover wine corks into these wintertime birds. Don't worry if you don't have corks. You can buy packs of them here.
You can make these in minutes with some paint and a little felt. There's no formula, so how these penguins turn out is totally up to you and your kid.
Craft your whole family out of penguin wine corks!
22. Fun Penguin Hat Craft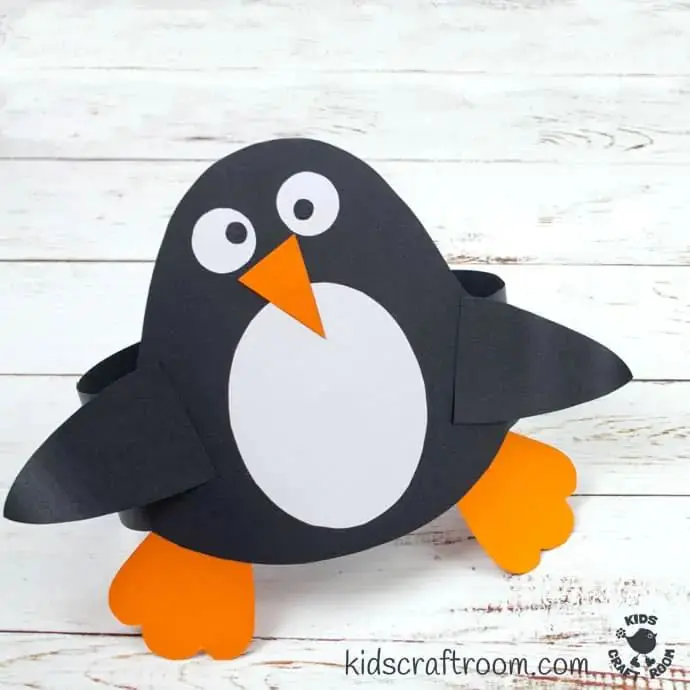 Credit: kidscraftroom.com
Whether you're in the lead up to Christmas, a teacher in kindergarten, or a parent planning a penguin party, this is the craft for you. Your kids will love running around pretending to be penguins!
In fact, this is a great craft to do at a birthday party. It keeps the kids engaged, gives them a fun result they can play with, and doesn't require intense adult supervision.
Plus, it's budget-friendly.
23. Woven Penguin Paper Plate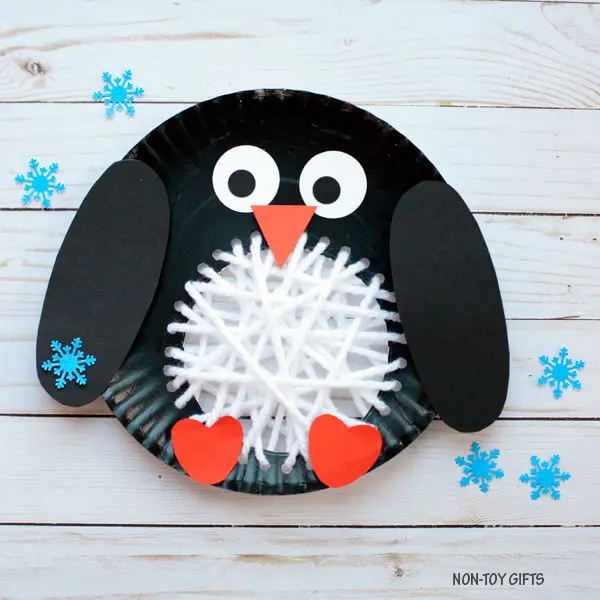 Credit: nontoygifts.com
Finally, this woven penguin paper plate is a unique and exciting craft to take on with your kids the next cold winter day. It's light enough to hang on their wall easily, and it's absolutely adorable.
All you need for this craft is the paper plate, some construction paper, white yarn, a single hole punch, and a yarn needle for weaving.
Not only does this craft deliver a great result, but it also helps with your child's spatial development and reasoning. You get the best of both worlds!
Conclusion
Which one of these penguin crafts was your favorite? Share them with your friends and loved ones!