Use Dollar Tree vases to turn them into beautiful home decor pieces. These low-budget projects are fun, creative, and great when you want to create a centerpiece of your own.

Decorating your home on a budget can feel like an impossible task, especially with homewares' prices always trending higher. Luckily, DIY home décor is all over the internet.
When it comes to floral arrangements, you need a vase that can match your home décor. The flowers are changeable, but the vase is not. So, how do we create a gorgeous flower vessel to fit any room?
Well, follow along with any of these twenty vase tutorials, and you'll have no problem! Let's get into twenty-one of my favorite Dollar Tree vase ideas.
1. DIY Vintage Pottery Vase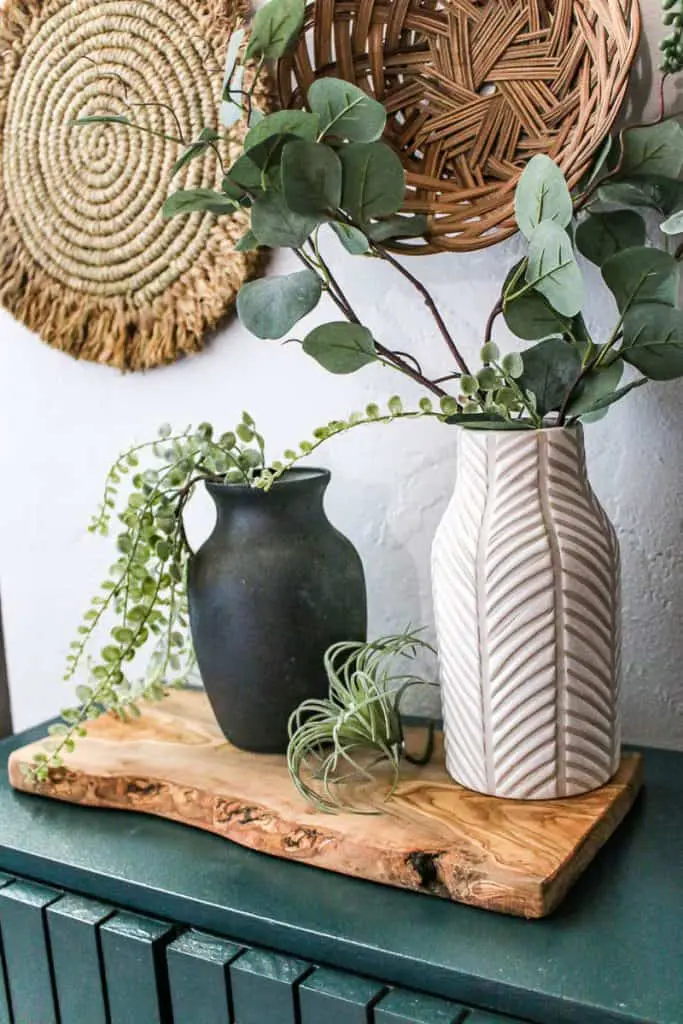 Credit: makingmanzanita.com
Vintage pottery will dress up any home, bringing an element of antique sophistication. The problem is, high-quality vintage pottery can run into the hundreds of dollars, especially for matching sets.
Luckily, a creative crafter came along and figured out how to turn an old glass vase into its vintage pottery counterpart. You need quite a few spray materials, but you can use them all again for other adult projects.
Some of the spray paints you need include a white primer (here), a flat color enamel (here), and a matte sealer (here).
2. DIY Hobnail Milk Glass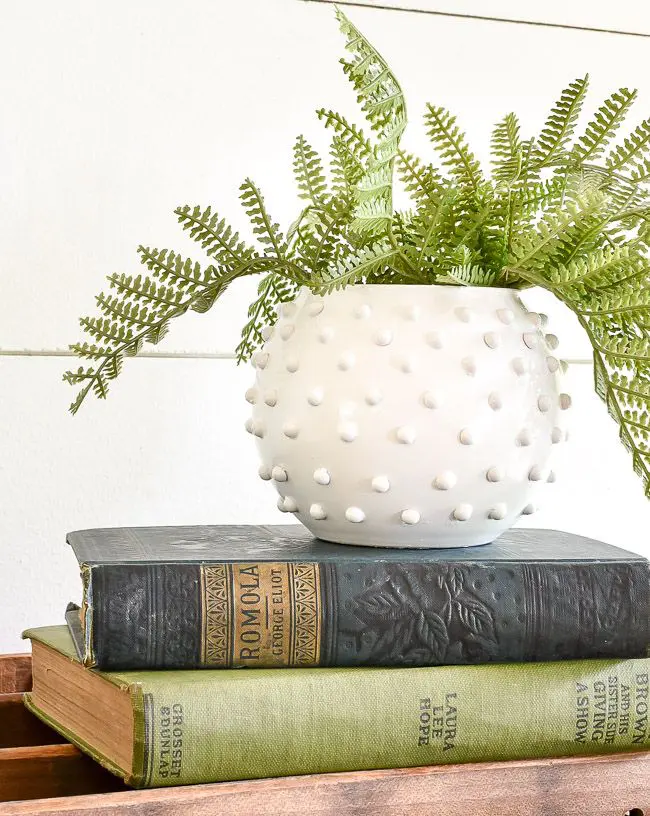 Credit: littlehouseoffour.com
This unique vase uses a Dollar Tree glass vase with some pearl stickers (here) to create a hobnail look. Spruce up pretty much any succulent, greenery, or fern with this austere white beauty.
I'm particularly fond of clean white décor in a bathroom or kitchen, and this vase would work perfectly in either case. One essential for this craft is the Dap RapidFuse glue (find here), which holds beautifully on glass.
This vase would go beautifully with any of these DIY Dollar Store centerpieces, so why not take a look?
3. Gold Color-Blocked Glass Vase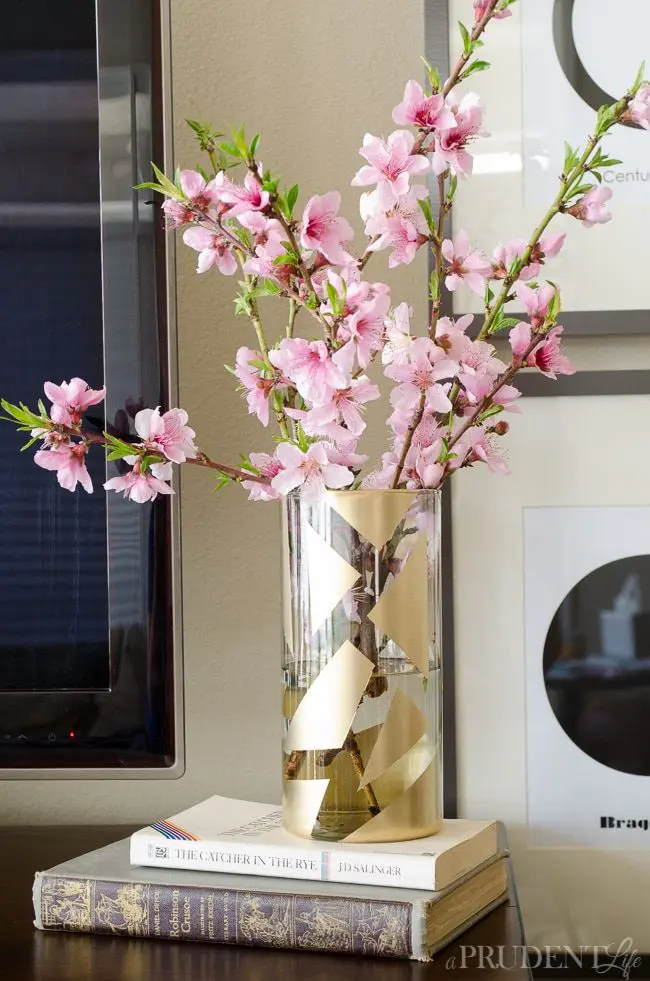 Credit: polishedhabitat.com
A standard pillar vase is a perfect canvas for many crafts, thanks to its simple shape. This craft requires barely anything to make! All you need is gold spray paint, a clear matte enamel, and some masking tape like this.
I love how the crafter finishes it off with a branch of gorgeous flowers. It adds this lovely natural look, contrasting beautifully with the modern look of the tall vase.
4. DIY Hurricane Candle Holder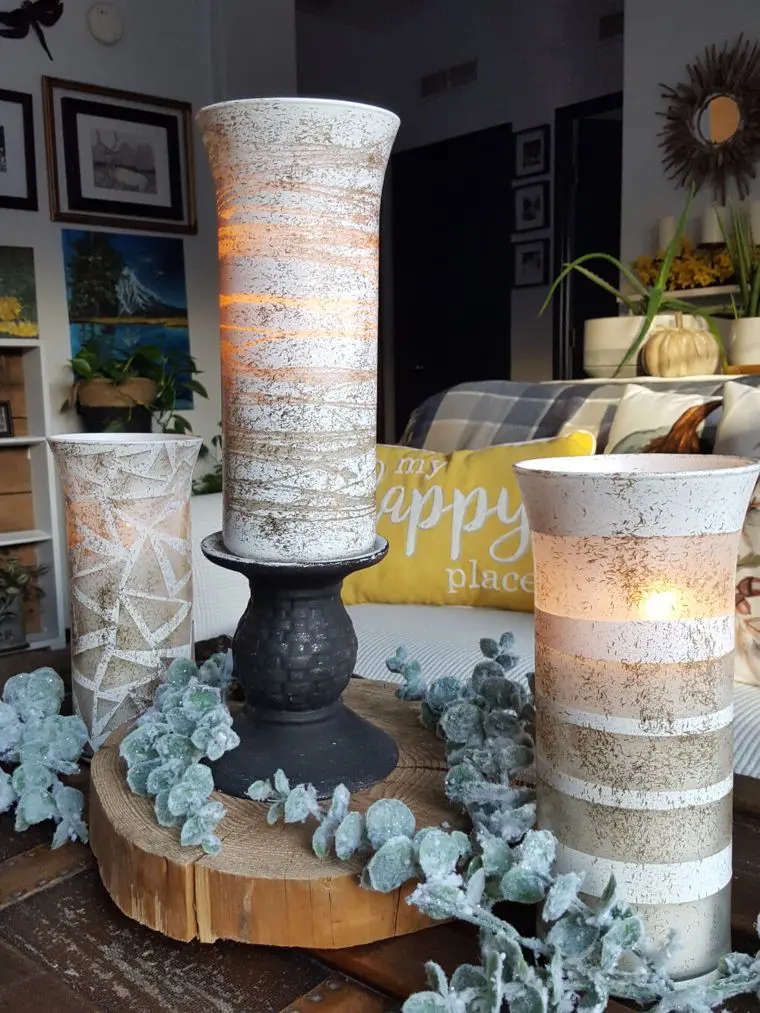 Credit: olympicnest.com
A hurricane candle holder is named for the swirling shapes, making candlelight flicker as if in a wind-storm. I love these because they add so much interest to a potentially boring home décor item.
Not to mention, you can use it as both a candle holder and a vase. Making your own hurricane candle holder is super easy. All you need is some painter's tape or jute twine and your chosen spray paint.
If you've opted for the jute twine, you might be a farmhouse nut like me. Use your spare twine to create another type of vase… the twine-wrapped vase!
5. Buffalo Plaid Vases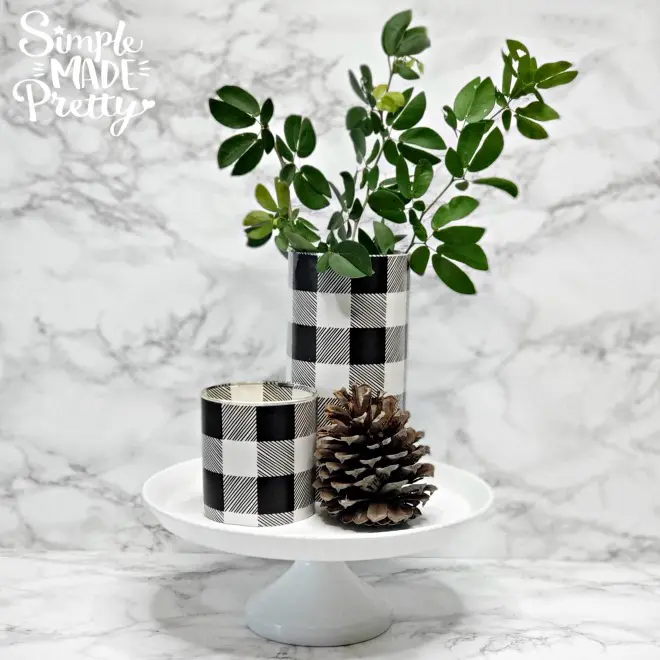 Credit: simplemadepretty.com
The buffalo plaid trend is sweeping the nation, and for a good reason. This bold design contrasts beautifully with vibrant greenery, which is why I love it so much.
The pop of color is so different from other minimal designs. You can go for any plaid color, but I recommend black and white for year-round décor.
Red buffalo plaid is perfect for the festive season! The craft uses wrapping paper like this, but you can also use vinyl.
6. Easy Dollar Tree Gold Dipped Vases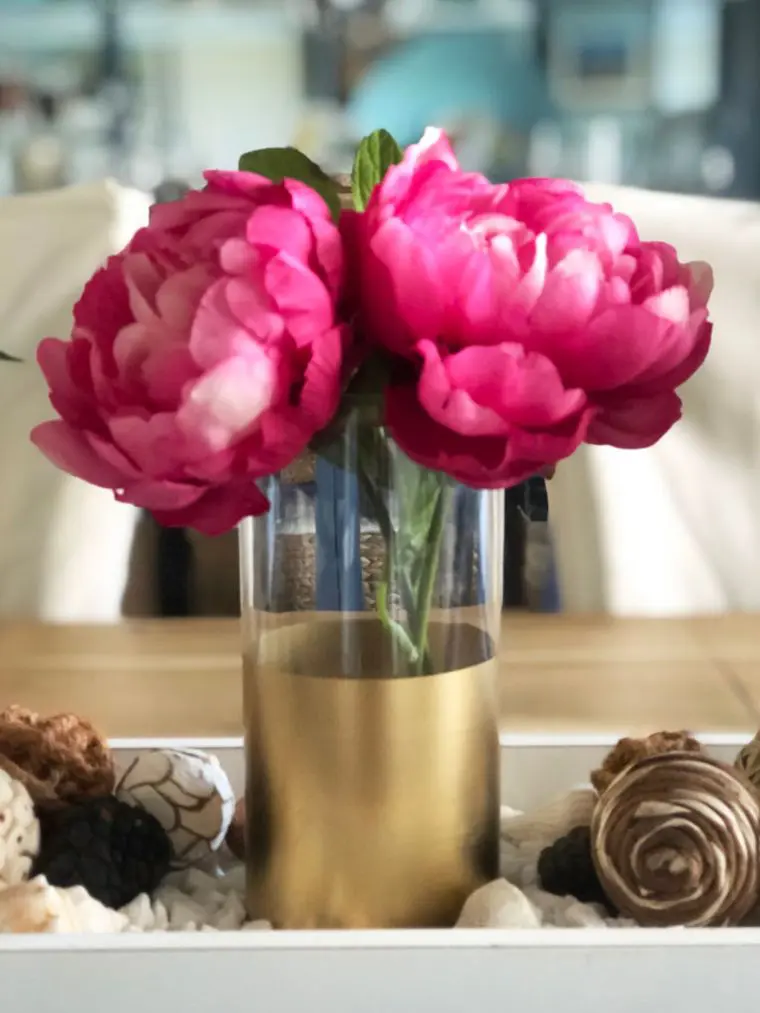 Credit: thehousehouse.com
Once again, we're using those lovely tall, cylindrical Dollar Tree vases to create modern home décor. This time, we're 'dipping' the vases using gold spray paint and painter's tape.
You can literally slap this together in an hour! Create vases of different sizes for a dynamic centerpiece or line the center of your table with three vases of the same size. The possibilities are endless.
7. Rustic Vase Makeover
Credit: shescraftyandsheknowsit.com
This vase makeover would be perfect as a Mother's Day gift because it carries a special message along with it. Combine some gorgeous blooms with a heartfelt message for the ideal present.
The idea is to stamp letters on muslin or linen, giving the message a rustic look. Back it with some lattice jute ribbon (like this) for a different country chic touch.
Suppose your mother isn't really a flowers kind of woman. Why not create these DIY macrame leaf earrings to expand her accessories collection?
8. Chic Photo Memory Vases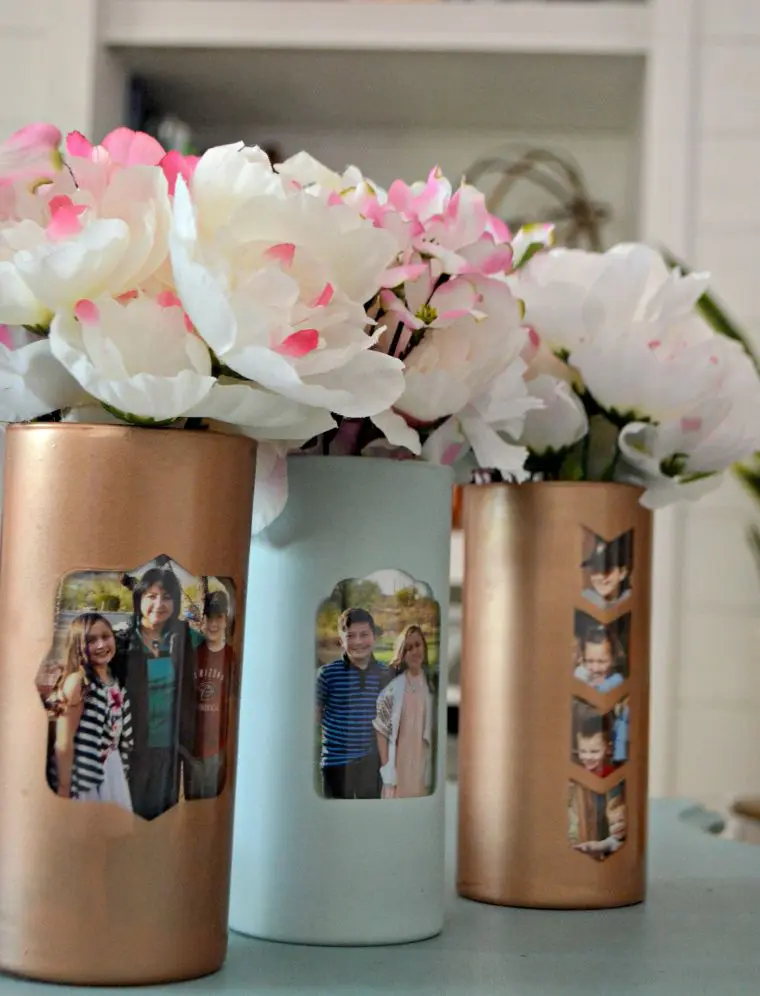 Credit: hip2save.com
This craft uses a large sticker to create a 'frame' shape on a spray-painted vase. I can't get over how brilliant this craft idea is! So, as long as the vase you choose is clear, this DIY will work for you.
While this is ideal as a gift idea for Mother's Day or Christmas, this is also an innovative way to decorate your home with family pictures.
To keep your photos safe on the vase's interior, spray with clear enamel like this. Check out more Dollar Store decorating ideas here.
9. Dollar Tree Twine-Wrapped Vase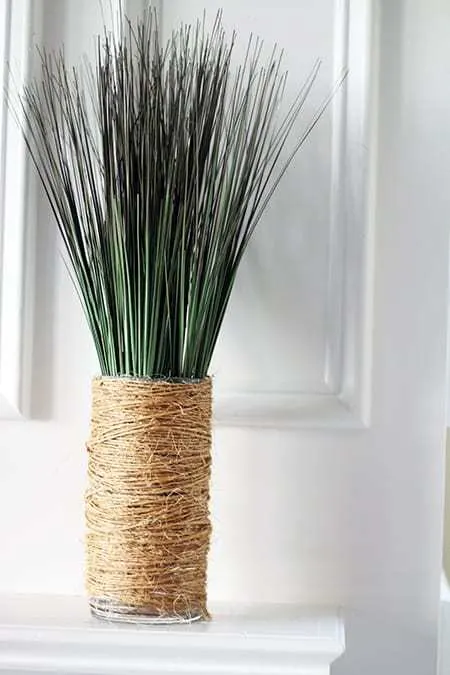 Credit: passionatepennypincher.com
If we're talking about cheap home DIYs, you can't go wrong with a roll of thick twine, a hot glue gun, and a tall glass vase. You can find all these supplies at your local dollar store for less than five dollars.
This vase blends perfectly into a farmhouse décor scheme. That shabby chic look is really coming back!
One thing to keep in mind is you'll need many hot glue sticks, so make sure you grab a bulk pack here.
10. Miniature Flower Vases from Salt and Pepper Shakers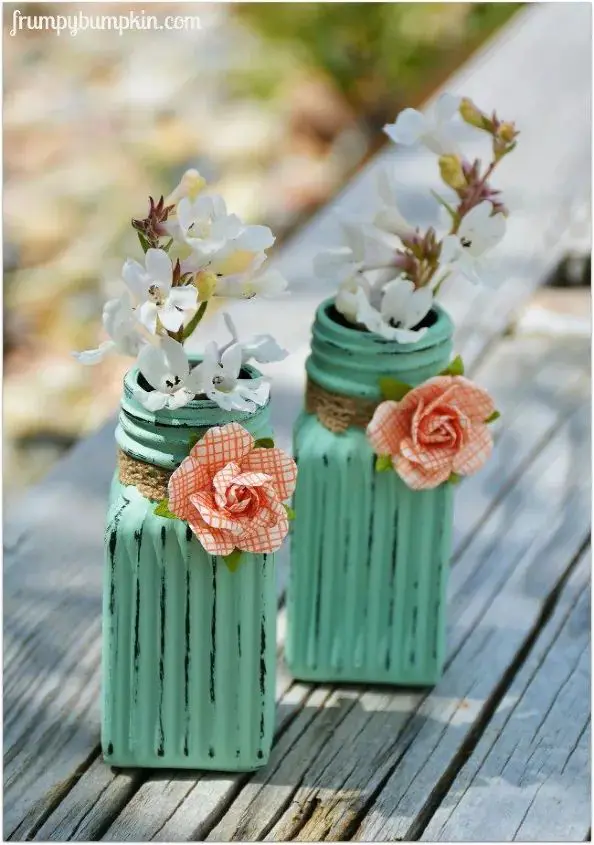 Credit: hometalk.com
These sweet miniature vases are perfect for smaller spaces in your home, embracing that rustic charm that shabby chic décor is known for. You can find old salt and pepper shakers at your local thrift store.
If not, you can always grab some from the dollar store! Once you have the shakers, all you need to do is apply a chalkboard paint layer. Then, spray it with chalk paint like this and gently sand to distress them.
11. Fake Ming Dynasty Vases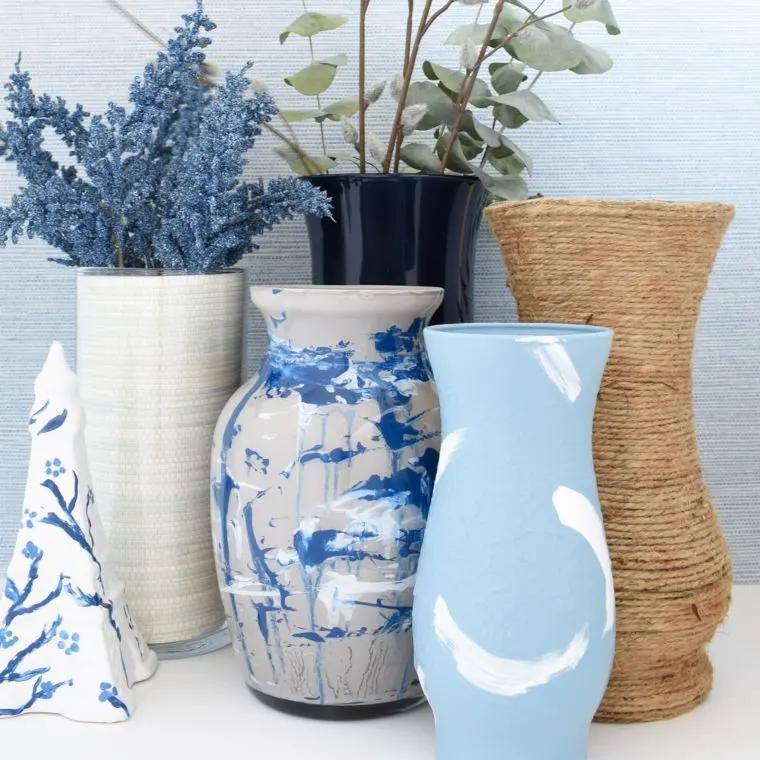 Credit: tmoorehome.com
Always loved the look of Chinese ceramics but found the price tag a little too overbearing? You're certainly not alone there. I'm also fond of the characteristic blue and white look of this pottery.
Luckily for us, someone came up with an abstract take on this ancient art form. So, DIY-ers like us can make our very own loose interpretations using cheap vases, craft paint, and spray lacquer like this.
12. DIY Confetti Dollar Store Vase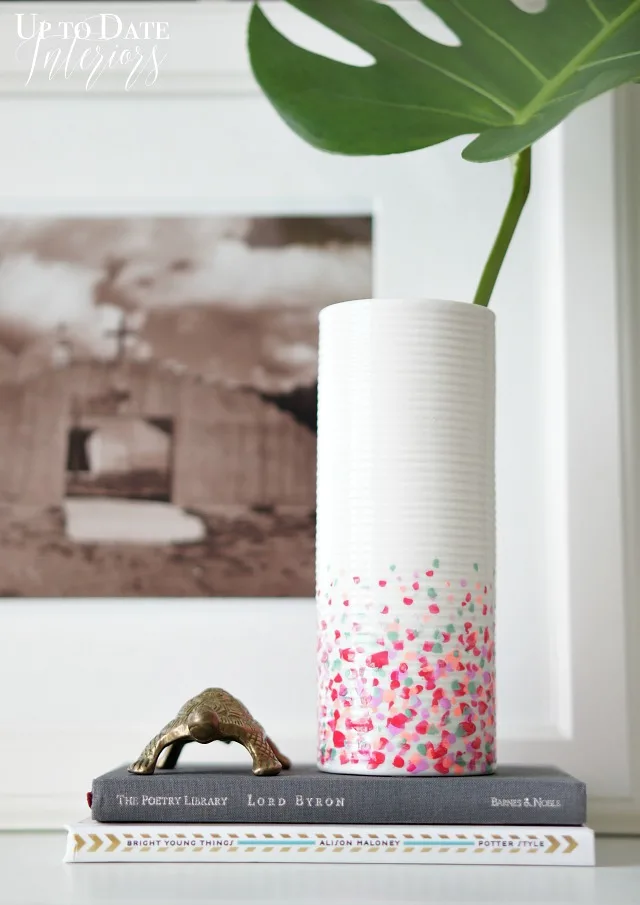 Credit: uptodateinteriors.com
Here's something a little different from the rest of the list. Instead of following a rustic or modern trend, this DIY confetti vase is vibrant and playful, adding a touch of sunshine to any corner of your home.
Since nail polish is already a lacquer, it's perfect as a medium for vase decoration. If you're a nail polish enthusiast, I guarantee you have all the supplies you'll need to make this.
13. Designer-Inspired Modern Vase Tutorial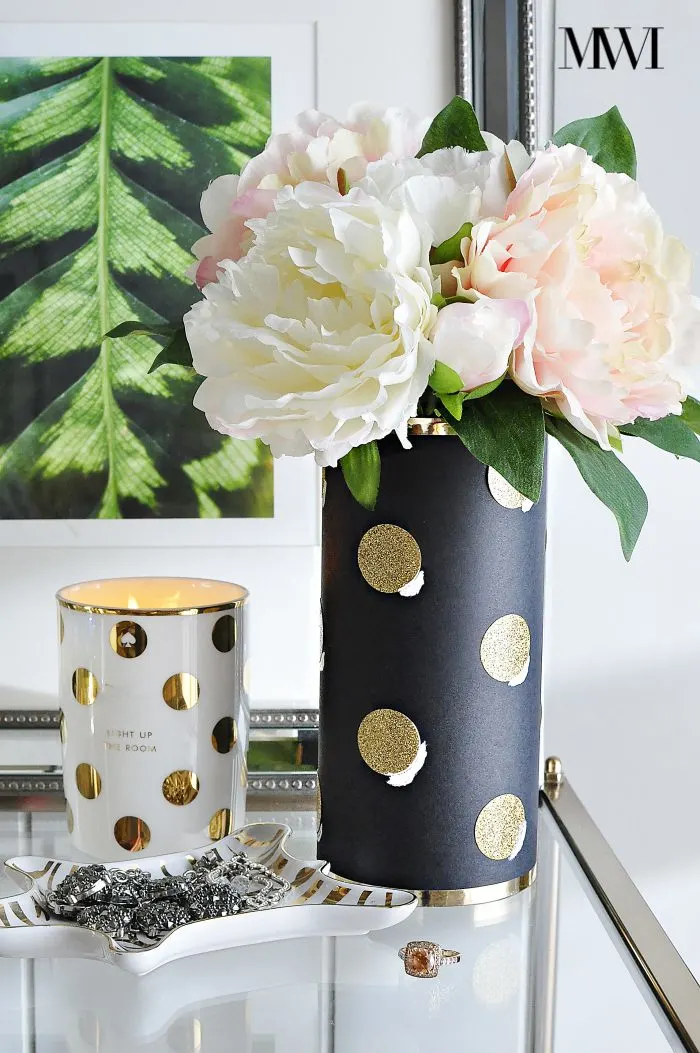 Credit: monicawantsit.com
This vase is inspired by Kate Spade, a designer known for using black, white, and gold to make gorgeous designs. The best part is that each of her creations is mostly crisp and minimal but just a little messy.
To achieve this look, this genius crafter uses gold envelope seals, a white acrylic marker, and a sheet of black cardstock. This comes together so quickly, but it looks absolutely incredible.
Loving this tutorial? You might also enjoy these Dollar Store planter ideas.
14. Pastel Pink Dip Dyed Spring Vases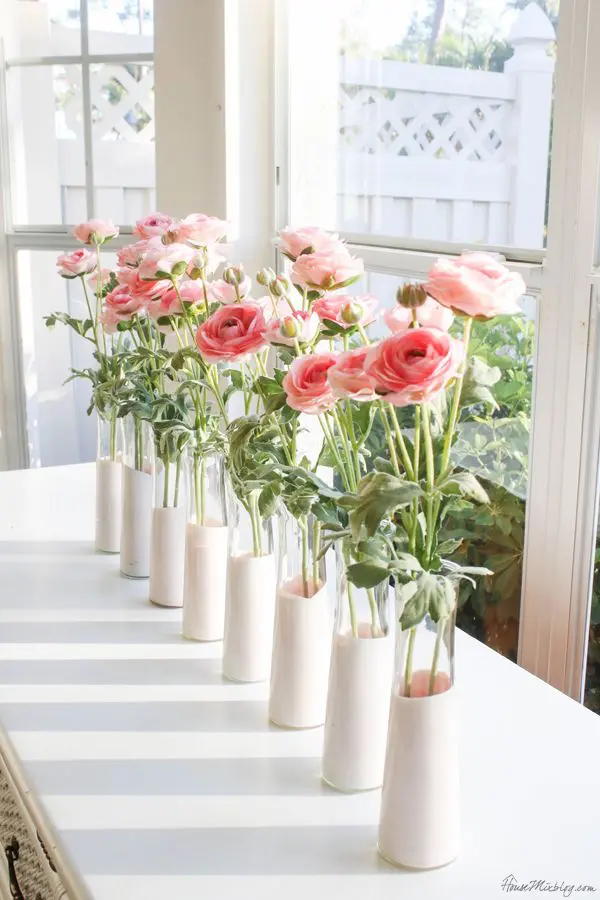 Credit: housemixblog.com
Here's another take on dip-dying, except this one actually uses a dipping technique. All you need is some pale pink paint and your dollar tree vases (I love conical glass ones).
When it comes to the colors you pick, choose anything that resonates with springtime. Pale yellow, pale green, pale blue, anything pastel works! Pick some fake flower stems to match, and you're done.
This is a great project for teenagers.
15. DIY Polymer Clay Vases
Credit: littleyellowwheelbarrow.com
Next up, here's a vibrant vase with a lot of texture. Test your clay skills against this project!
While the original tutorial uses clay to make flowers, you can create anything you like. Waves, trees, dunes.
This craft uses polymer clay like this and clay shaping tools to create gorgeous shapes. However, since polymer and glass don't mix very well, you'll need to sand the glass before gluing.
I recommend high grit sandpaper, which will give you a lot of substantial, tacky surface area.
16. Metallic and Geometric Tall Vase
Credit: thecraftpatchblog.com
Personally, I'm a sucker for anything metallic. So, when these metallic and geometric vases caught my eye, I knew they needed to be on this list.
They look super tough to make, but they're actually effortless! Using a dollar store vase as your base, simply wrap some metallic gold craft paper around the vase and stick it down.
You can get this kind of paper in packs, so it's easy to choose your favorite and run with it.
If you love metallic things as much as I do, you'll also love these DIY wire rings. They come together so quickly, but they last forever.
17. Anthropologie Knock-Off Vase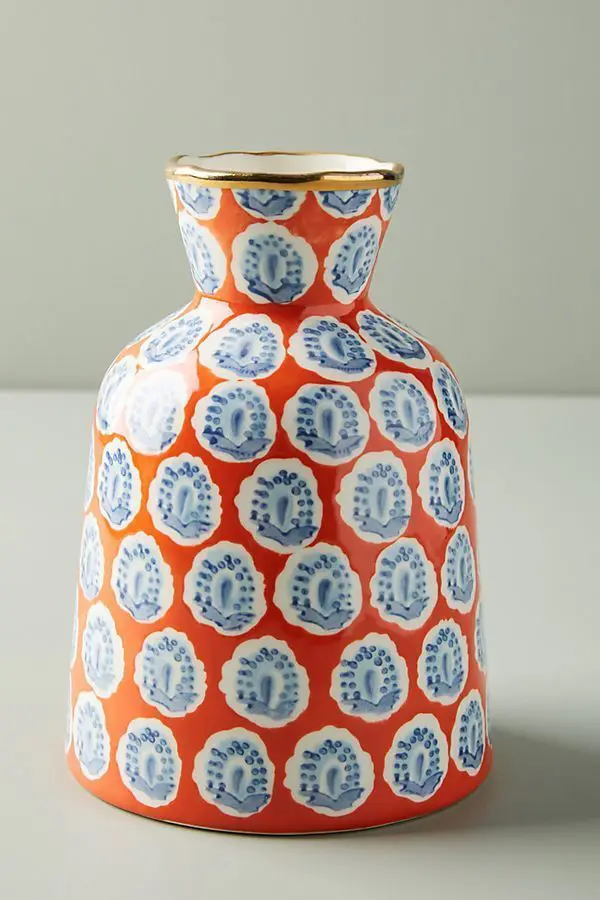 Credit: deliciousanddiy.com
I don't know about you, but the price tags on most Anthropologie homewares is a little too rich for my blood. That's why I'm so excited about this gorgeous knock-off vase that you can make yourself!
Not only does it cost so much less than the original, but it's also adaptable to any shape you like. All you need to bring the vase to life is a set of acrylic paint like this, some resin, and a steady hand.
18. Pottery Barn Knock-Off Urns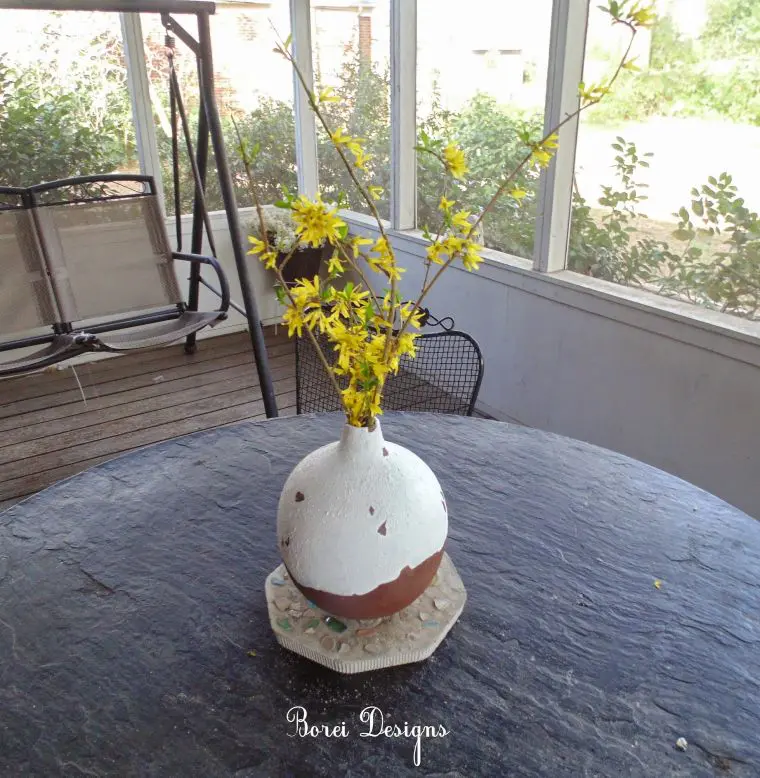 Credit: boreidesign.com
Speaking of replicating expensive homewares with DIY, how about these Pottery Barn knock-off urns? They're the ultimate upcycle.
Find any glass containers your friends or family don't want, then get to upcycling. The first goal is to make these glass vases appear as if they're made from terracotta using some Terra Cotta Specialty finish by Martha Stewart.
From there, it's about getting creative with white paint.
Before you know it, you have an urn that looks like it leaped straight from the pages of a Pottery Barn catalog.
19. Fall-Themed Dollar Tree Vase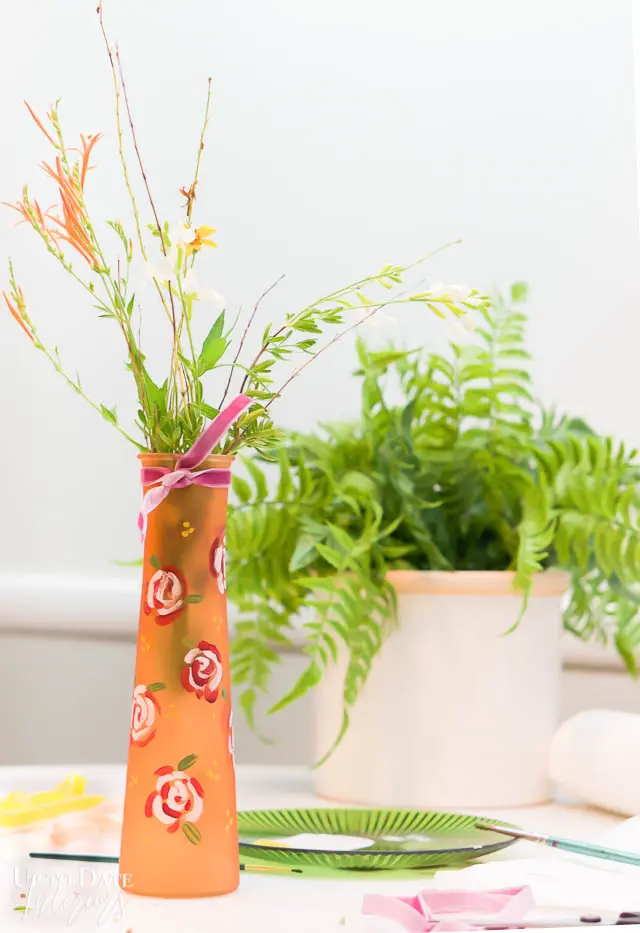 Credit: uptodateinteriors.com
This vase may be homemade, but it certainly doesn't look like it. Thanks to some adorable design elements, this looks like you picked it up at any local homeware store. That's what I call DIY.
All you need for this craft is your creativity and some acrylic paint because the design comes from your imagination! Follow along with the tutorial or go on a tangent; the choice is ultimately yours.
20. Modern Farmhouse Dollar Store DIY Vase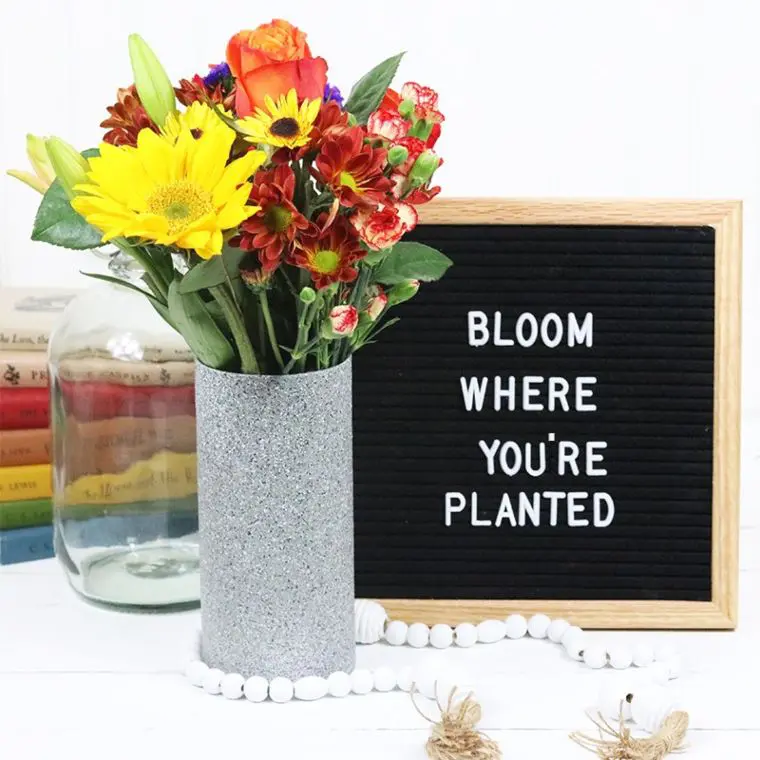 Credit: thecottagemarket.com
Combining all the best elements of farmhouse décor and modern silhouettes, this vase is one for the ages. This gorgeous vase looks like stone, and the bright pop of color from flowers offsets it perfectly.
After you've sprayed your dollar store vase with some protective enamel in white, all you must do is cover the vase in Rustoleum's stone texture spray. It immediately takes on the appearance of a pebble!
Once you're done, all that's left is to arrange a beautiful bouquet in the vase.
Conclusion
Which ones of these vases are you favorite? Are you going to make any of them?