Got a small space that could do with more storage? Check out these storage ideas for even the smallest room.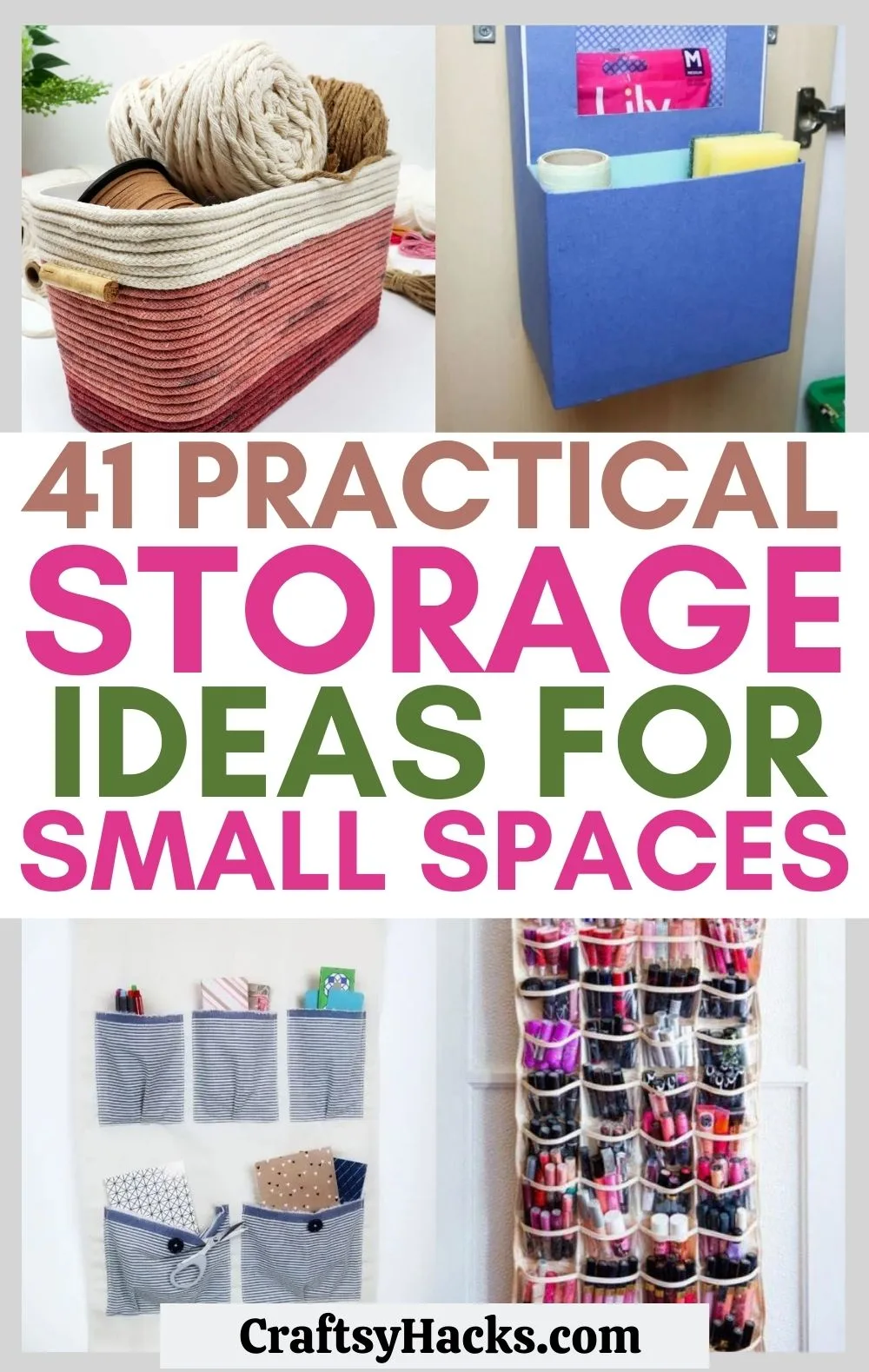 Trying to squeeze your stuff into a small space can not only be frustrating. But it can make your home, kitchen, or bathroom look and feel cluttered.
Studies have shown that a cluttered home can give way to anxiety, so why not give yourself peace of mind by decluttering? Check all the reasons why you should stay organized.
You don't need a lot of money or time to put together some quick hacks to store your belongings when you're in a small space. Maximize the room you have and enjoy a clean, organized home no matter how much room you have!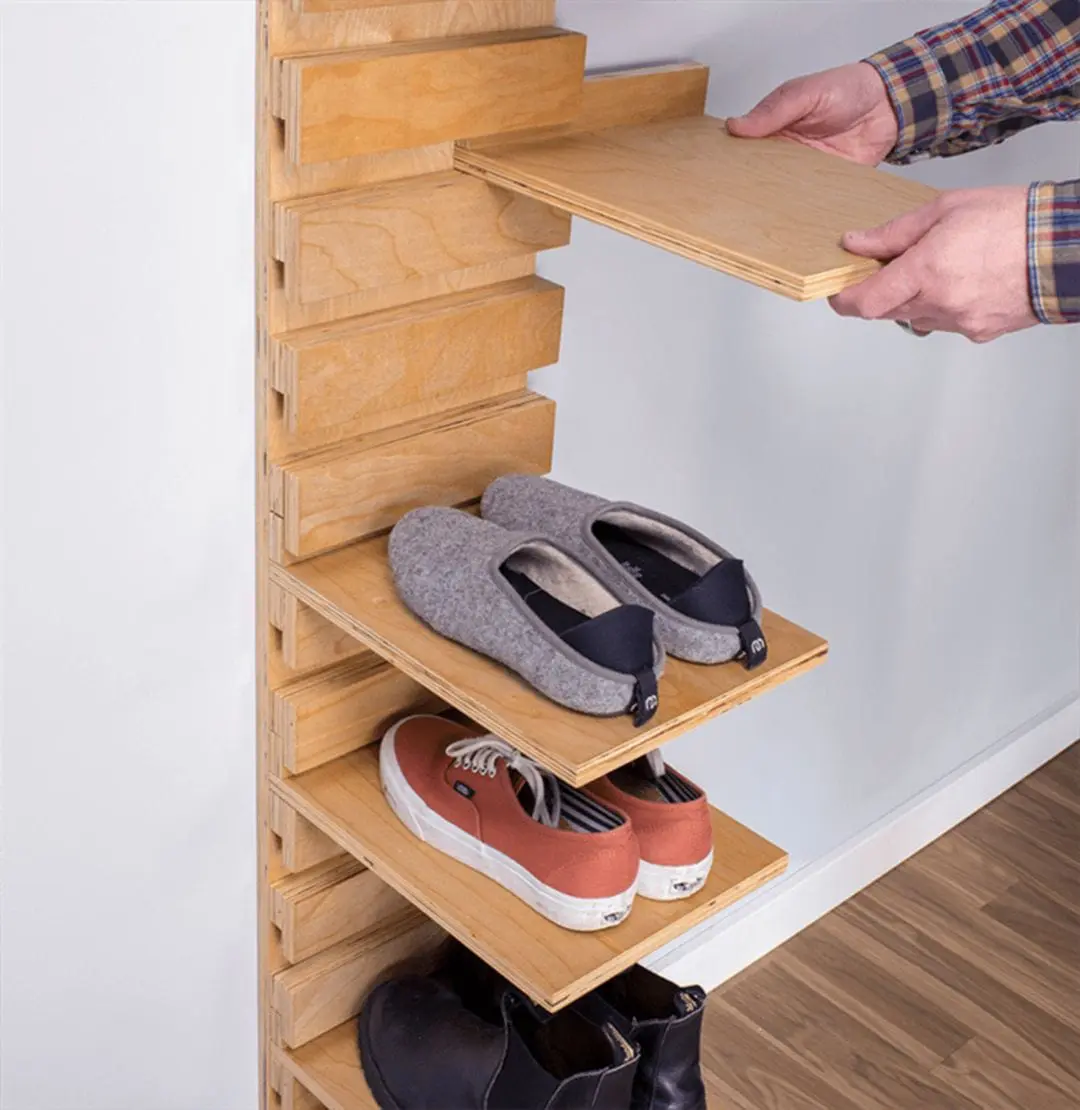 Credit: decoor.net
Like most women, you may enjoy shopping for shoes and have a collection of sneakers, flats, and heels that you love. However, shoving shoes into your closet means you can't enjoy the footwear you own.
Eliminate the search for shoe storage by hacking your own dream shoe rack and get your favorite pairs off the floor and organized! One of the most helpful suggestions, when you're short on space, is to use vertical space instead of horizontal. This DIY shoe rack borrows from that.
What's great about this idea is you can customize it to meet your own needs. Whether you're storing a few pairs or more, you can create as many spaces as you desire. Also, you can hack the rack to store boots, heels, or flats, no matter how tall they are.
To make this rack, follow this DIY, which uses a single piece of plywood along with a few common tools. Or, you can purchase your own vertical closet shoe rack here.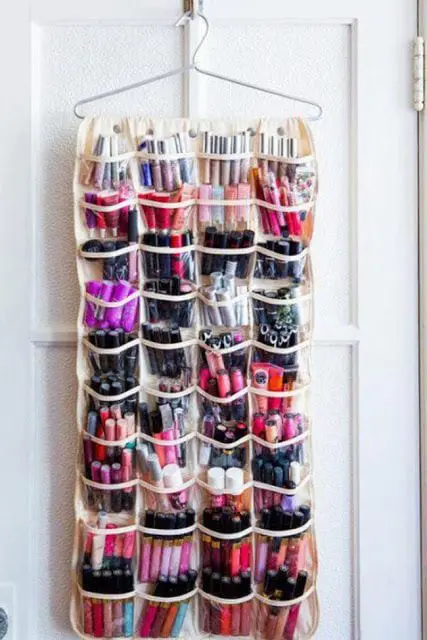 Credit: pinterest.ph
It's easy to get overwhelmed in a small bathroom. When you have a lot of makeup, you'll find yourself running out of space on your vanity or bathroom counter quickly.
You may lose track of your favorite products or have a hard time keeping all of your lipsticks and glosses together. Fortunately, there's a simple and cheap solution to this issue.
Find a transparent over the door hanger here. Load up the pockets with everything from makeup brushes and eyeliners to hair accessories, mirrors, and even your curling iron and straightener.
This handy hack will clean up your bathroom counter in a snap, and you'll never lose your perfume samples, lip balm, or deodorant again.
Here are more ways to organize all your beauty products.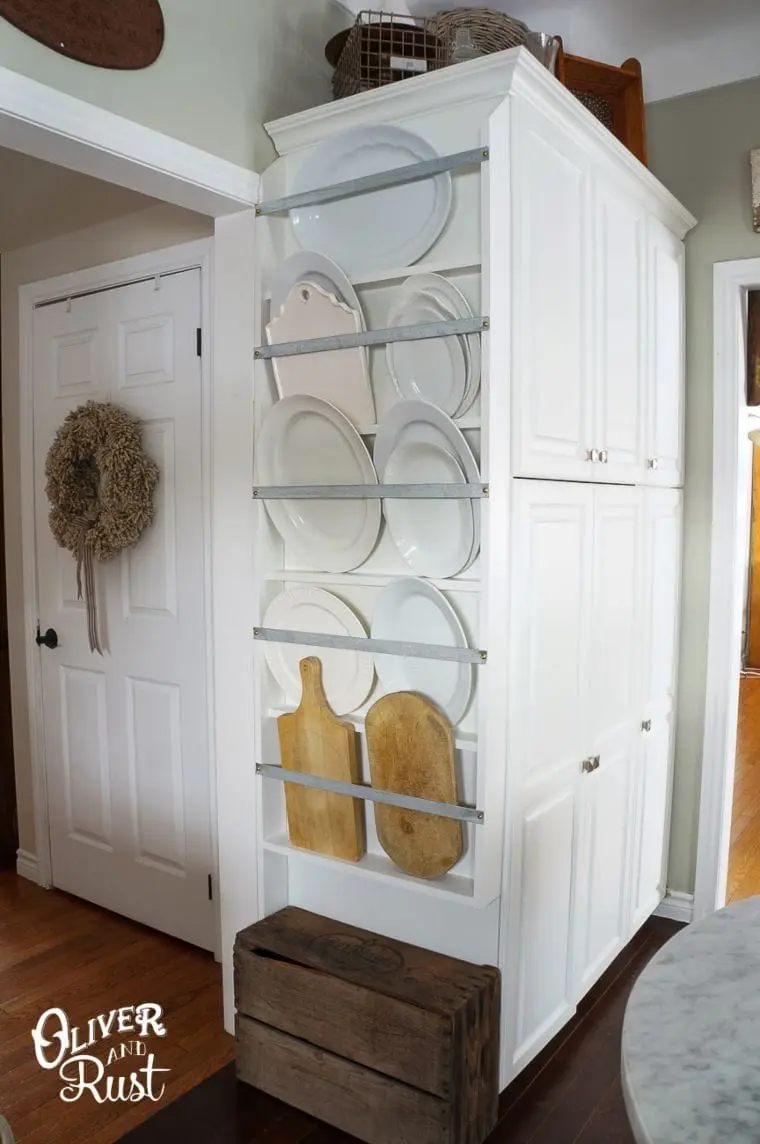 Credit: oliverandrust.com
Large kitchenware such as cutting boards and serving platters take up precious real estate in your kitchen cabinets or drawers. They're also hard to stack with smaller plates and bowls, which can create a dangerous situation.
Instead of trying to balance everything, why not give these platters and oversized pieces storage solution using a doorframe? Keep them where it's easy to reach them.
Also, avoid breaking any precious platters.
To build your oversized platter/cutting board vertical storage, follow this easy DIY. Grab a few tools, such as a measuring tape, nail gun, and some paint. Voila!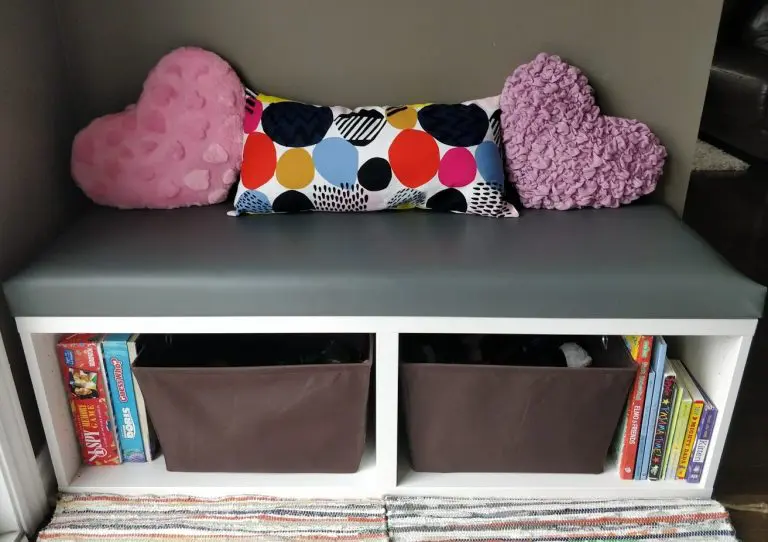 Credit: feelingnifty.com
One of the first rules of saving space is using pieces of furniture that can perform more than one function. That's you can minimize the number of items in your home.
This bench is perfect since it not only works as a cute spot for your kids to sit and read. Also, houses their books underneath in the cubbies.
You can make this area more organized by adding compartments. These can hold everything from notebooks and paper to pencils, crayons, and puzzles. So, when playtime is over, everything goes neatly back under the bench with no floor space taken up.
This is a great example of multifunctional furniture, and you can find a bench here. For more organization, grab a couple of these storage bin cubes and slide them under the bench to keep loose things from getting in the way.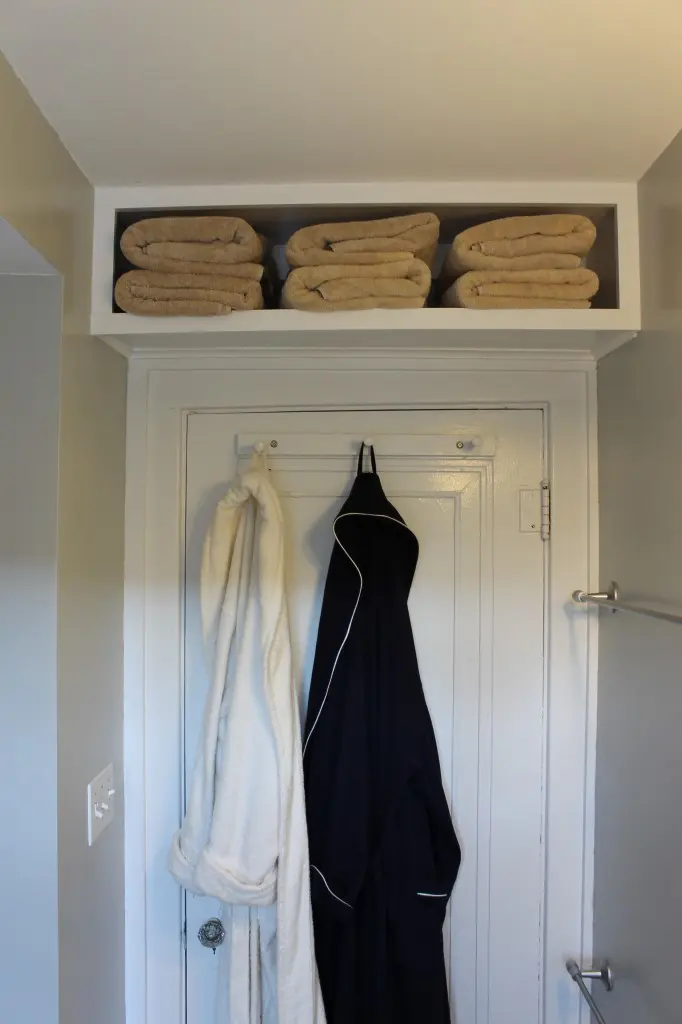 Credit: the2seasons.com
So, your bathroom is tiny, and your linen closet is overflowing. Let's face it; towels are bulky, and blankets take up a lot of space.
Why not reorganize your linen closet and get some towels out of there? You probably never thought about going upwards in terms of storage. But, it's likely one of the most creative ways to hack extra space in a little bathroom.
Building a shelf above your bathroom door allows you to use a wasted bit of space that nobody ever uses. That means you can make the most of every square inch of this sacred space in your bathroom!
Check this DIY and grab some wood, a few tools, and a coat of paint and you have room for some spare towels that gets them out of your crowded closet. Learn more about bathroom organizing ideas like this here.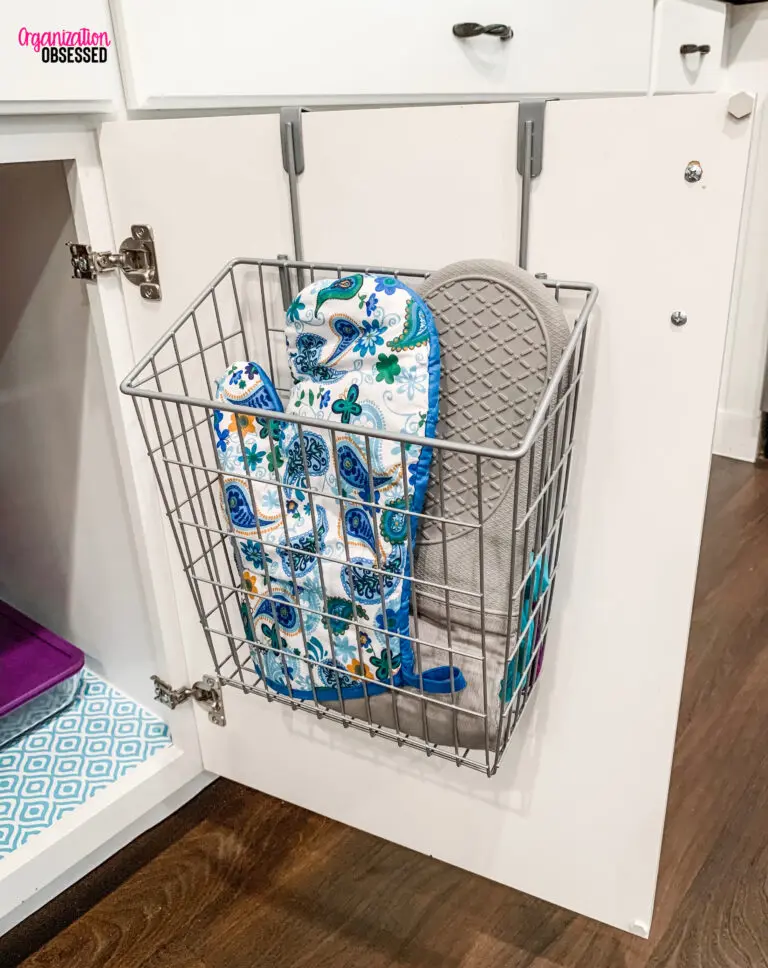 Credit: organizationobsessed.com
Oven mitts and potholders are difficult to organize. You can put them in a drawer, but you can't stack them up perfectly.
You can hang them on hooks, but they may get dirty or dusty. Instead, keep them neat and out of the way using hidden, behind the door storage. It is a great way to utilize wasted space in your kitchen.
Purchase one of these cheap metal racks and toss your oven mitts inside your cabinet door. Out of sight, out of mind, out of the way.
More kitchen organizing ideas like this here!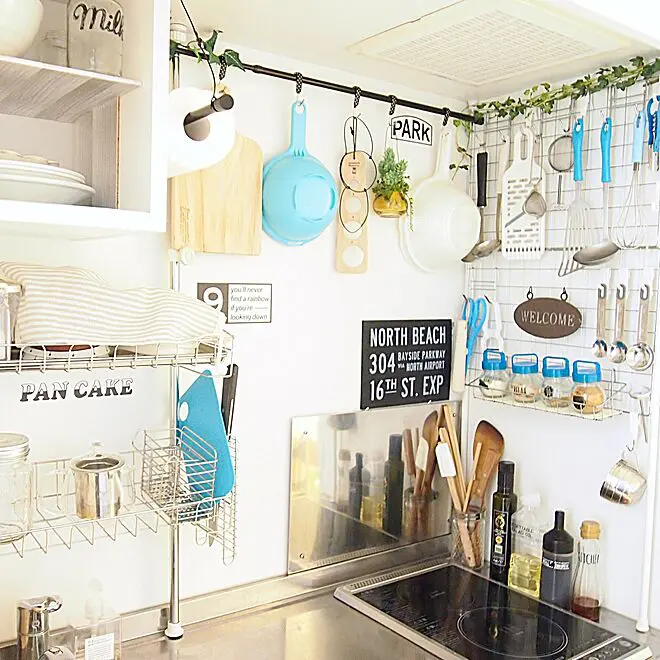 Credit: roomclip.jp
Take a look at your kitchen. You likely have drawers overstuffed with oversized utensils like spatulas, slotted spoons, and pizza cutters.
What if you could clear out your drawers and clean off your counters of everything from small pots and pans to your whisk and tongs? That's what a utensil rod can do for you.
Keep big kitchen supplies from taking up too much of your storage space by installing a rod on your kitchen walls. Have a lot of things to store?
Add a rod to more than one wall, and you'll be amazed at how much drawer and cabinet space you'll have once you get these things vertical. Find one kitchen rack like this here.
Now that your kitchen cabinets are emptier, use these organizing tips to keep them in order.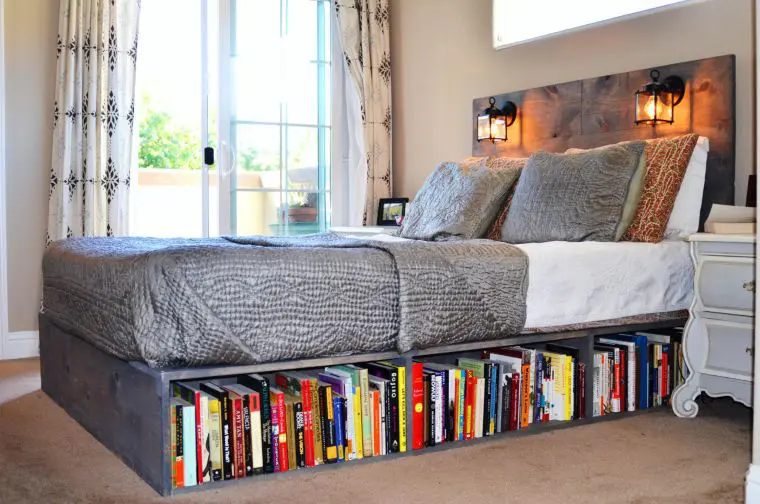 Credit: cdn2.imgbb.ru
The media takes up a lot of space in a small home. When you're short on storage space, every square inch counts. This is another instance of when multifunctional furniture comes in handy.
This bed is similar to a trundle-style bed that holds drawers you can use to store clothing. But, instead of drawers, these empty spaces are perfect for on-the-fly bookshelves.
You could also use this space for DVDs, video games, or just about any other type of media, and it looks cool, too.
See all of your books without having to dig through a packed shelf by creating your own easy bookshelf bed, or buy one here.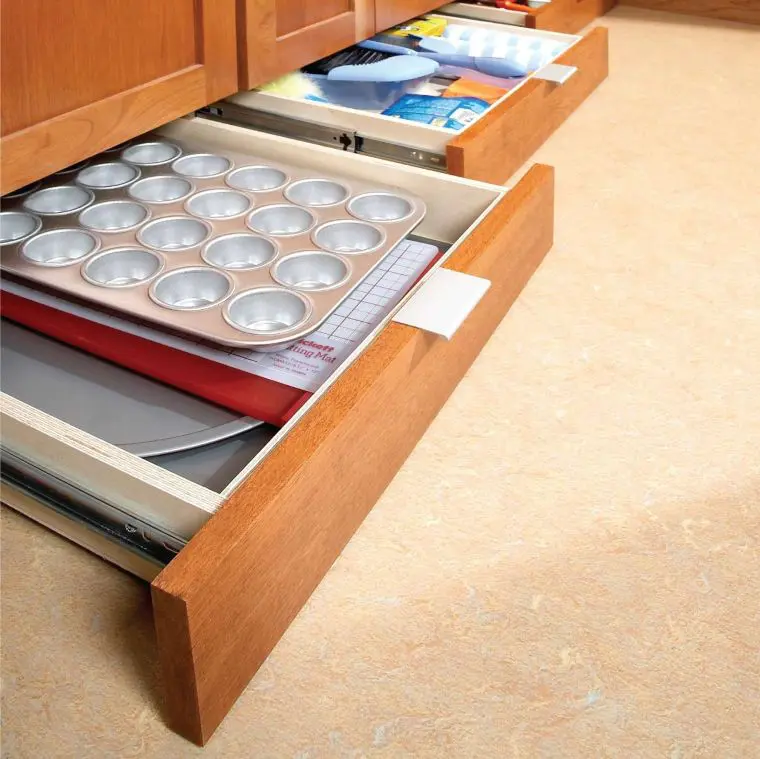 Credit: familyhandyman.com
Increasing storage in a kitchen can be challenging. But, when you make a point to use the space, you can find ways to store all types of items.
Building drawers underneath your kitchen cabinets means you're taking advantage of that small bit of space between the bottom of your cabinets and the floor. If you add drawers under every cabinet, you could give yourself four, six, or even eight extra drawers to fill with supplies!
Follow this simple weekend DIY, and make sure you have necessary things. That includes drawer pulls, drawer slides, and some tools.
You can have an expanded kitchen in less than 24 hours!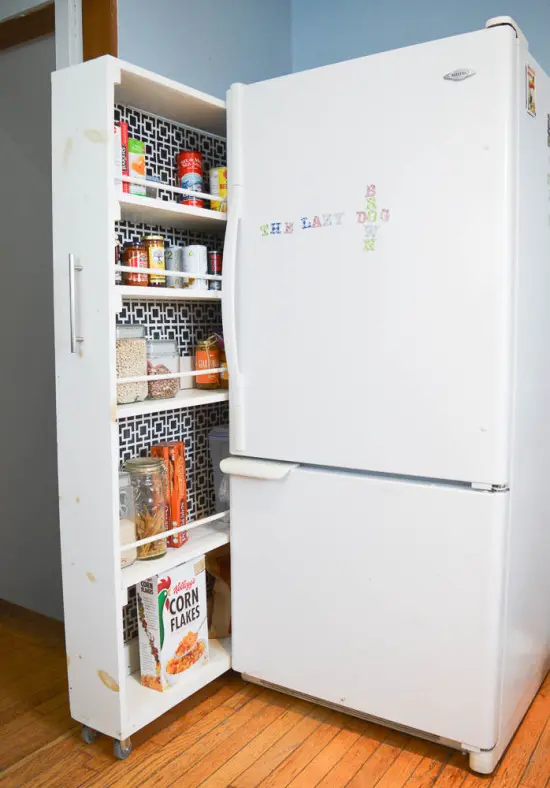 Credit: diypassion.com
Living in a small apartment or home forces you to get a little creative in terms of storage, and this genius idea makes use of that teeny-weeny space between your fridge and the wall.
Extend your pantry or give yourself a makeshift pantry if you don't have one at all. Put together this simple DIY pantry on wheels.
This slim, sleek storage stash rolls out when you need it, then rolls back into hiding when you don't.
The best thing is you can paint it to match your refrigerator, so it doesn't look out of place. Sneaky storage!
If you love this idea, you will want to check some of these pantry organizing tricks.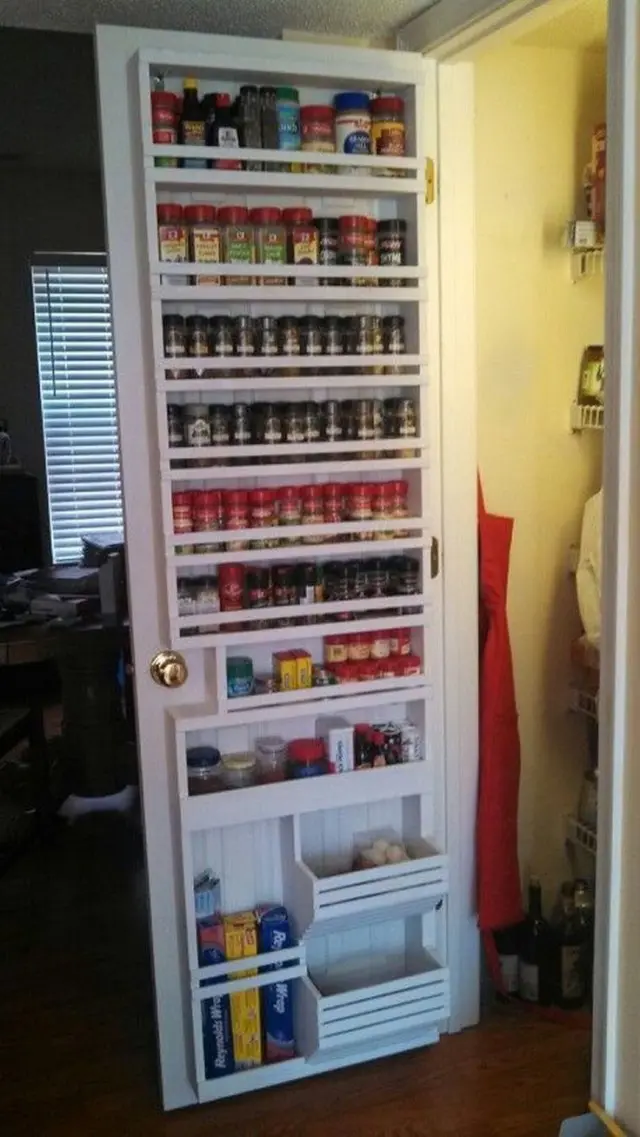 Credit: centophobe.com
Feel like you'd have to be a magician to gain extra storage space in your mini kitchen? Well, you don't need a magic wand to transform your pantry in a spot with double the space.
Shelves on the inside door of your pantry give you a ton of extra room for slim storage. That's for spices, rolls of foil and wax paper, or even vegetables like onions.
Multiple-sized bins can house everything you usually put on your counter, creating a neater-looking kitchen with a bit more breathing room.
Follow this DIY and build your addition to your existing pantry, or purchase a pre-made one here.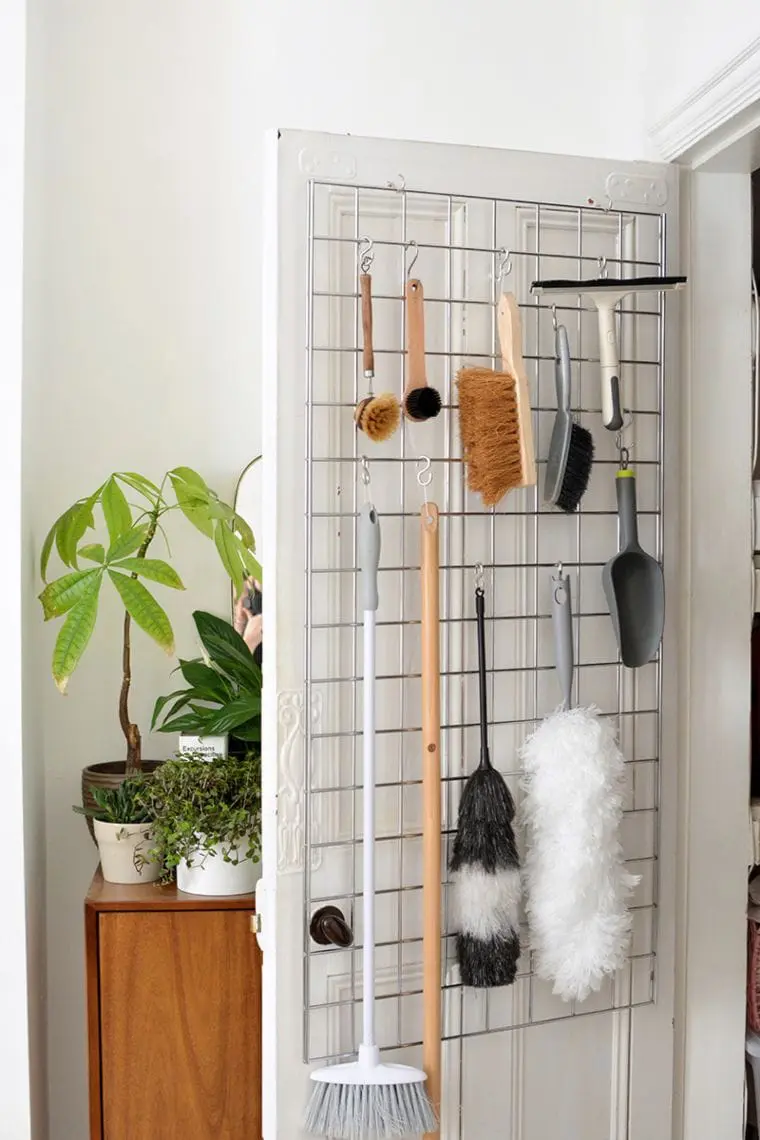 Credit: burkatron.com
You only need two things to change up your chore closet completely. Tired of fumbling for dusters, scrub brushes, brooms, and mops? Perhaps, trying to keep them in a closet, but they keep falling out?
Free up closet space and make housework a cinch when you use this steel grid. Also, add some everyday S-hooks you can hang on the inside of your chore door to store everything you can and neaten up this space.
You can also use this hack to pick purses and accessories up off your closet floor.
Here are more ways to organize your closet!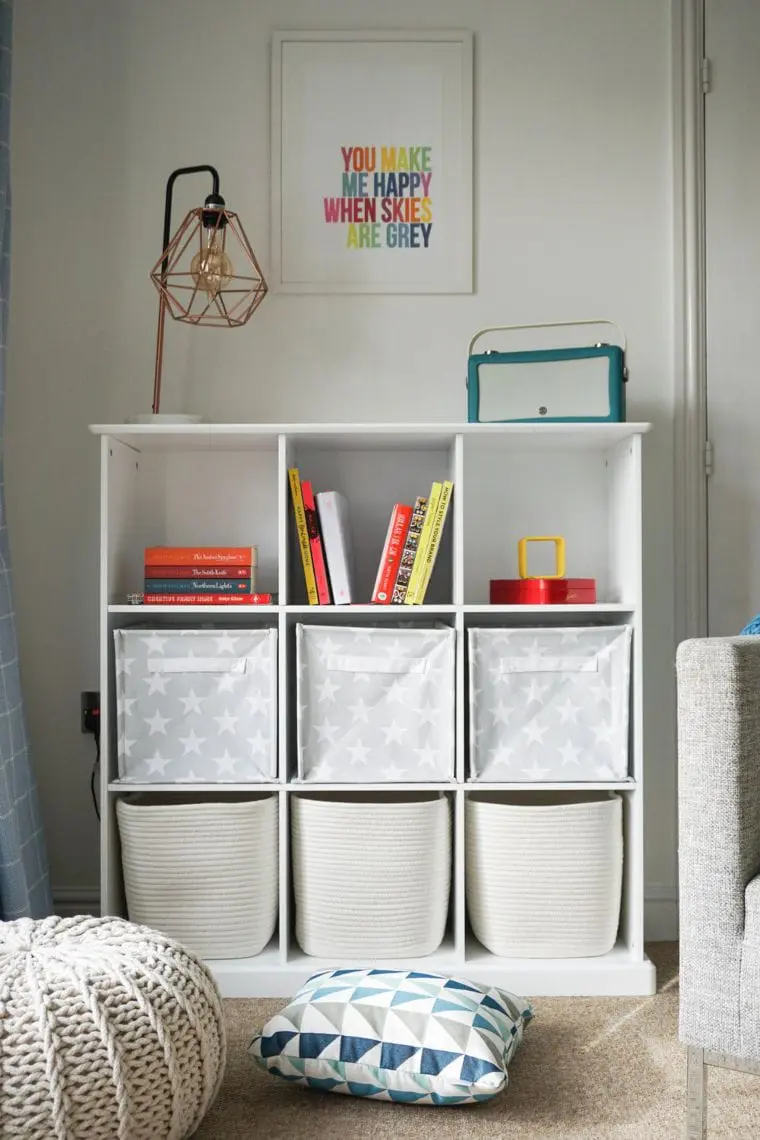 Credit: theordinarylovely.com
Cubbies with cubes are one of the most versatile storage tools you can use in your home. They can expand your storage in any room.
You can put them in your child's room to hold books, toys, or puzzles. You can use them in your office to hold supplies.
Also, you can even put them in the game room and add controllers, video games, and remote controls to them. Change them up to complement your design scheme by picking the colors of cubes that best fits your space.
Find a cubbie here and fabric cubes here and get organized!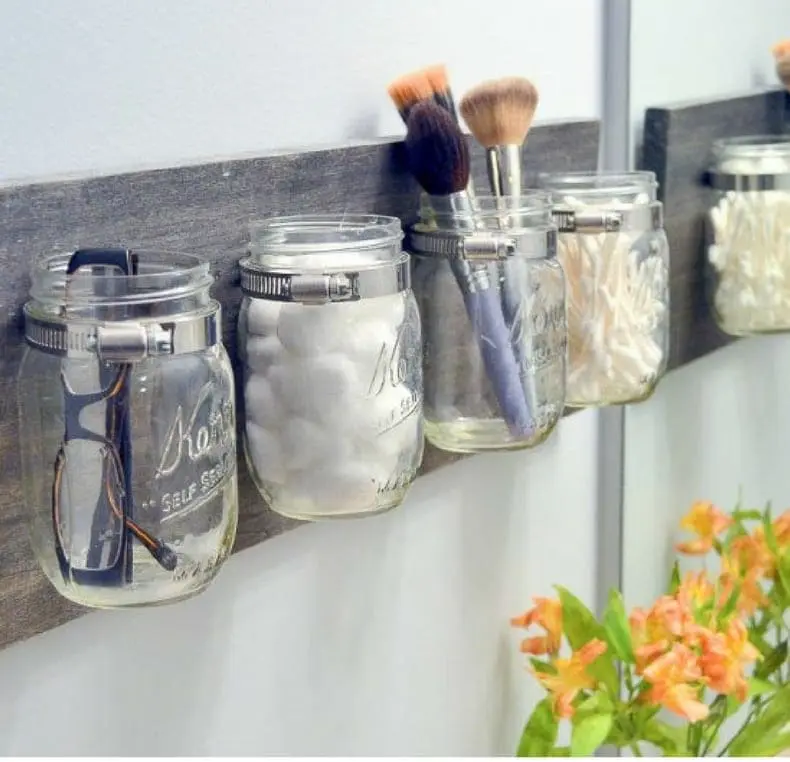 Credit: thediyplaybook.com
Having a hard time keeping cotton swabs, balls, and even bobby pins rounded up and ready for use? With this smart storage solution, you'll have everything you need at arm's length.
Use this DIY, and with the aid of some hose clamps, wood, mason jars, and tools, you can have a stylish mason jar storage rack for your bathroom. The coolest part is that mason jars have a shabby chic look that upgrades the style quotient in your bathroom.
You can also use mason jars to organize small items that are all over the place!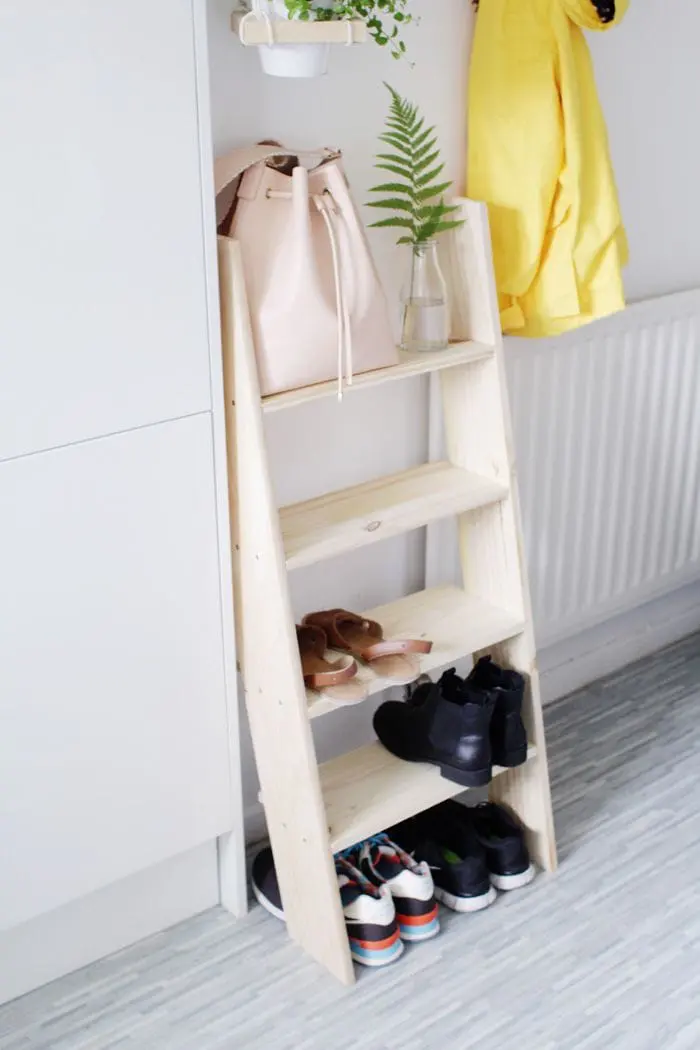 Credit: designsponge.com
Not only does a little ladder look cute in your house, but it's not just a decoration. It does double duty, like so many other helpful hacks on this list, making it indispensable.
Use this small shelf for shoe storage in your closet or entryway. It'll make it easy for you and your family to slip shoes on and off right next to the door.
That way, when you're in a hurry, you always know where your shoes are, and you don't have to hunt for them.
Find the DIY here, or buy a ladder storage rack here and get shoes off the floor right away!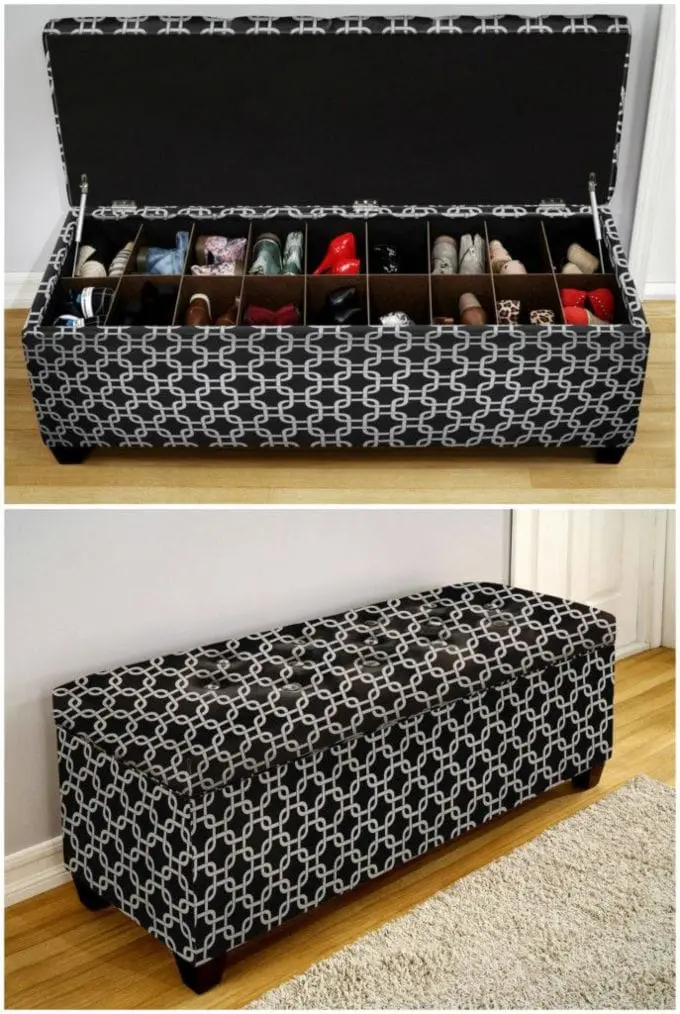 Credit: mylistoflists.com
Speaking of multifunctional furniture, here's another bench with a bonus. Lift the lid of one of these soft, comfortable benches, and you'll find lots of space for stashing your shoes.
You can put one of these benches at the foot of your bed. Also, in your entryway, or just about anywhere.
Nobody has to know what's inside because it's disguised with a functional piece of furniture that looks great.
Find a bench to expand your home storage possibilities here. This is also just a great bedroom organization hack!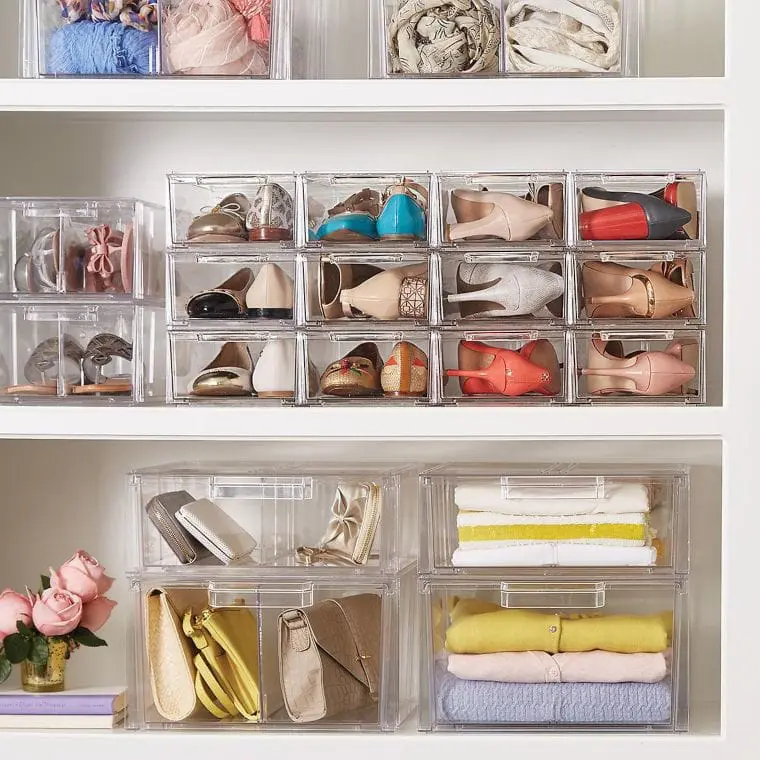 Credit: containerstore.com
When you have multiple pairs of shoes, it can be hard to dig through and find the one pair you're looking for. However, clear stackable shoe storage makes it easy to find the pair of shoes you want at a glance.
This minimizes the time you spend looking for your shoes. Also, keeps your pairs perfectly neat and organized.
Bonus tip: take an instant photo of each pair and tape it to the side of the box to readily identify shoes in clear containers rapidly.
Find clear shoe bins here and grab an instant camera here. Start enjoying your entire shoe wardrobe today!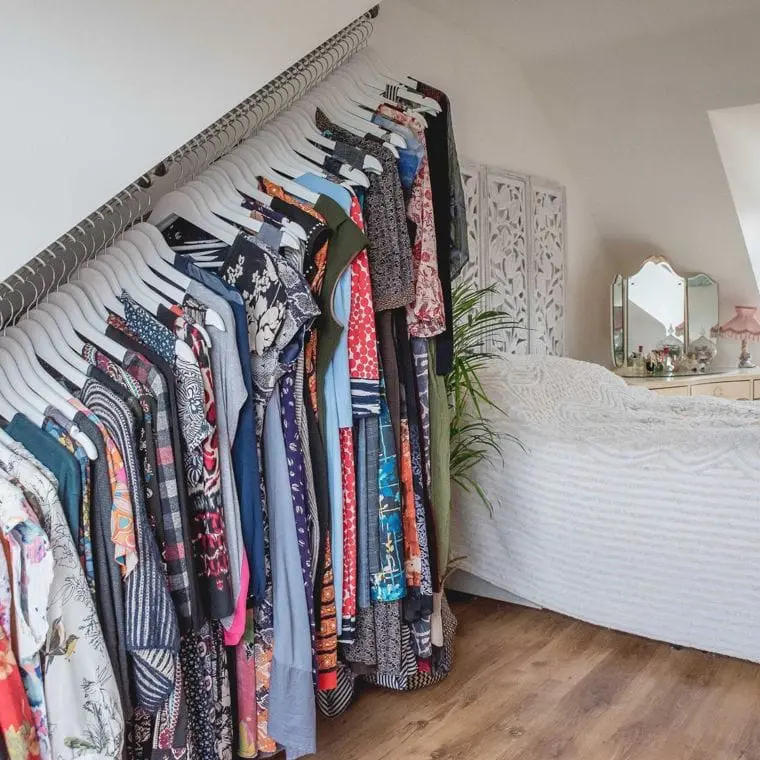 Credit: instagram.com
Maybe you live in a studio apartment or a loft, and your whole place is the size of a walk-in closet. If you lack closet space, you can create a closet just about anywhere in your space with the aid of a clothes rod.
You can mount these to the wall of any room and instantly have a place to hang shirts, pants, and dresses…no closet required.
Find a closet rail here and grab some hangers, too. You don't have to miss out on organizing your clothes just because you don't have a dedicated closet.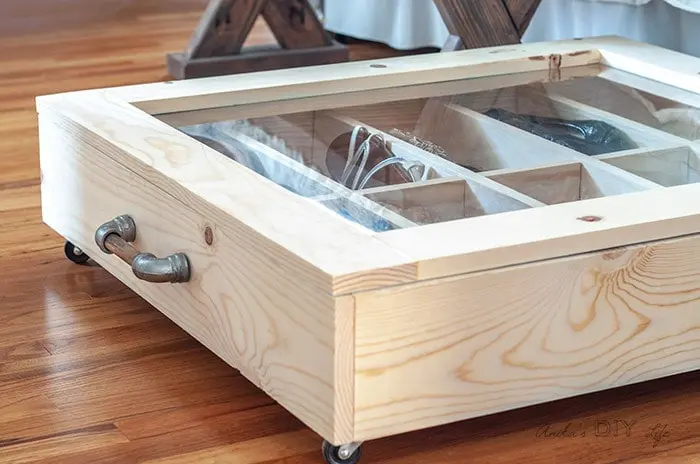 Credit: anikasdiylife.com
Most of us try to keep the area under our bed clean and free from dust and debris. But it's a great place to store things you don't have room for!
When you have a small closet, or you simply need more room for shoes, under the bed organizer can be a saving grace. You can pull it out when you need it, grab your shoes, and roll it back underneath the bed.
It's hidden under your bed, and you have a whole new way to store shoes. Find one of these amazing additions to your bedroom here.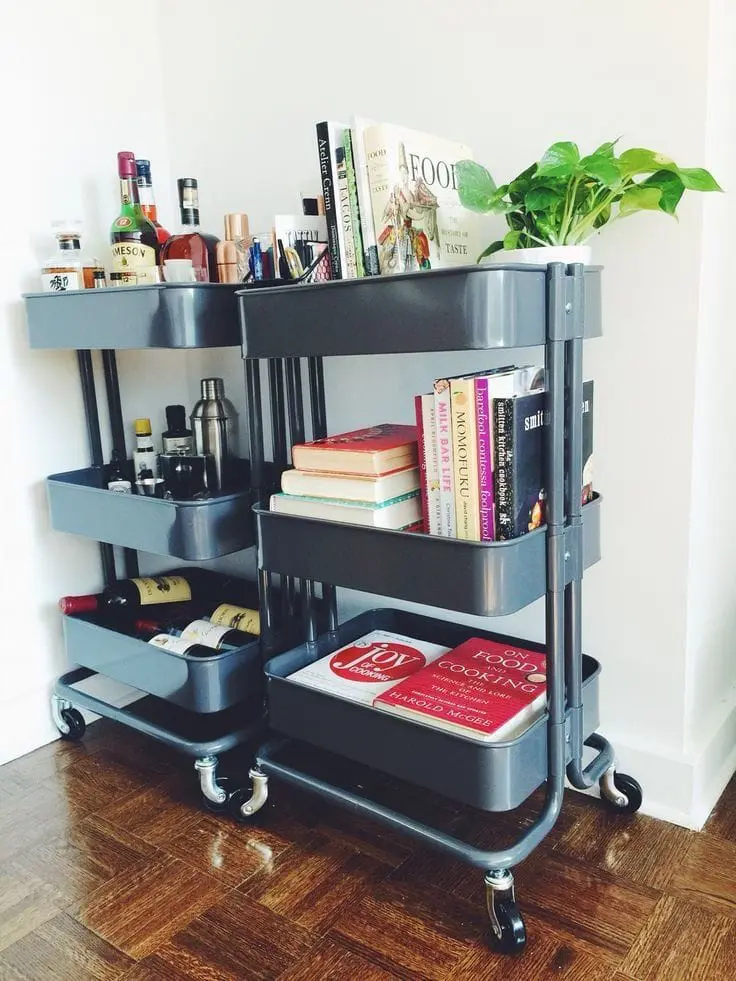 Credit: onecrazyhouse.com
You can do a variety of things with a rolling storage cart. Create a makeshift wet bar with a shaker and cocktails. Or make it a boredom buster and add books, DVDs, and a couple of snacks and put it in your bedroom.
Keep makeup on it in your bathroom, or store shampoo or towels on a rolling cart. You can sit one in your kitchen and load it with spices or plastic storage bins for leftovers.
These versatile storage options are a great choice if you need portable storage you can easily take from room to room. Find yours here.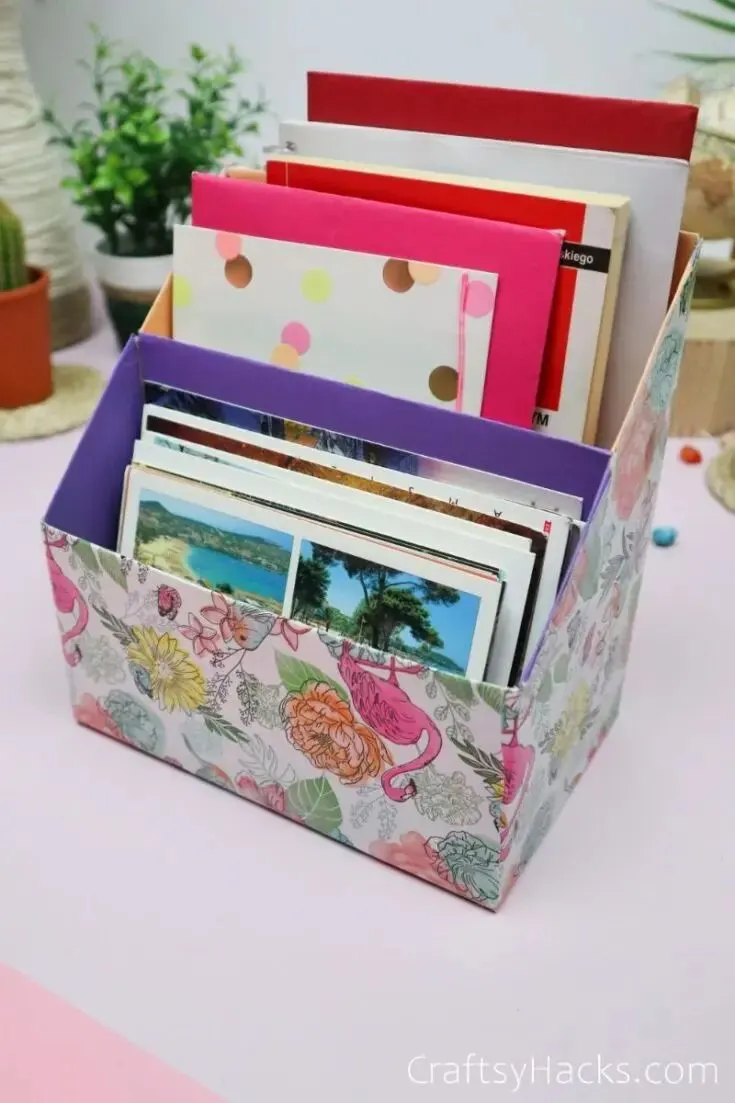 Credit: craftsyhacks.com
Desk organizers can be quite pricey when you buy them at office supplies stores. Instead, you can always upcycle empty cereal boxes that you have lying around at home.
Sustainable craft projects like these are not just easy to make but will see you through a good long time of wear and tear. Don't forget to pick out some bright wrapping paper for the exterior.
Grab some wrapping paper from here, a couple of cereal boxes and some double-sided tape to get started.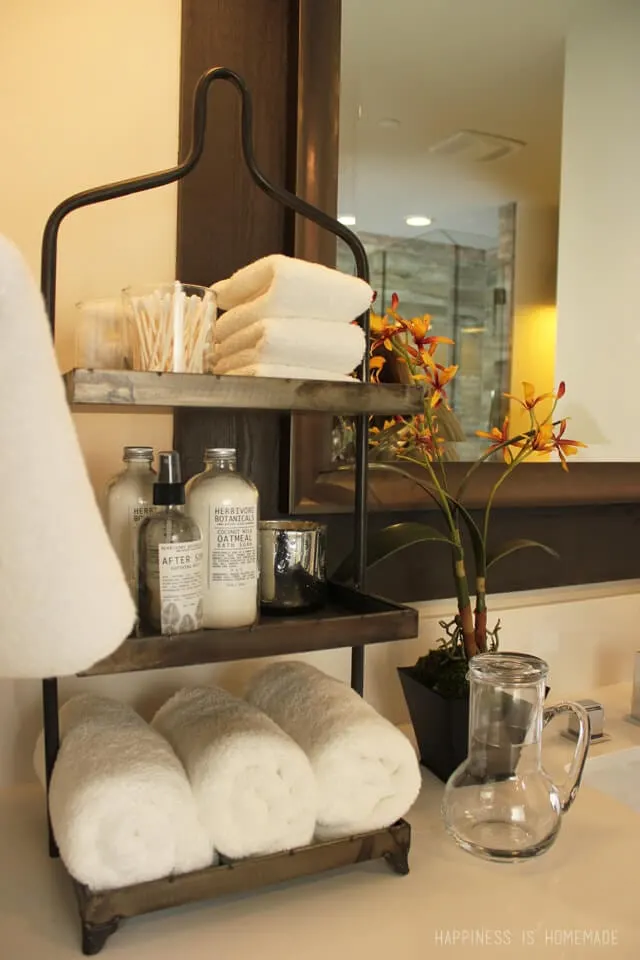 Credit: happinessishomemade.net
Do you have a ton of empty counter space that you want to make better—or the maximum possible—use of? Then why don't you invest in a multi-tiered stand like this to help you organize your countertop space effectively?
You can use this in your kitchen to store your spices. You can also use it as a decorative stand for your seasonal decoration to place on your kitchen island.
Alternatively, place it next to your bathroom sink and stack towels, bath products, and more in your bathrooms!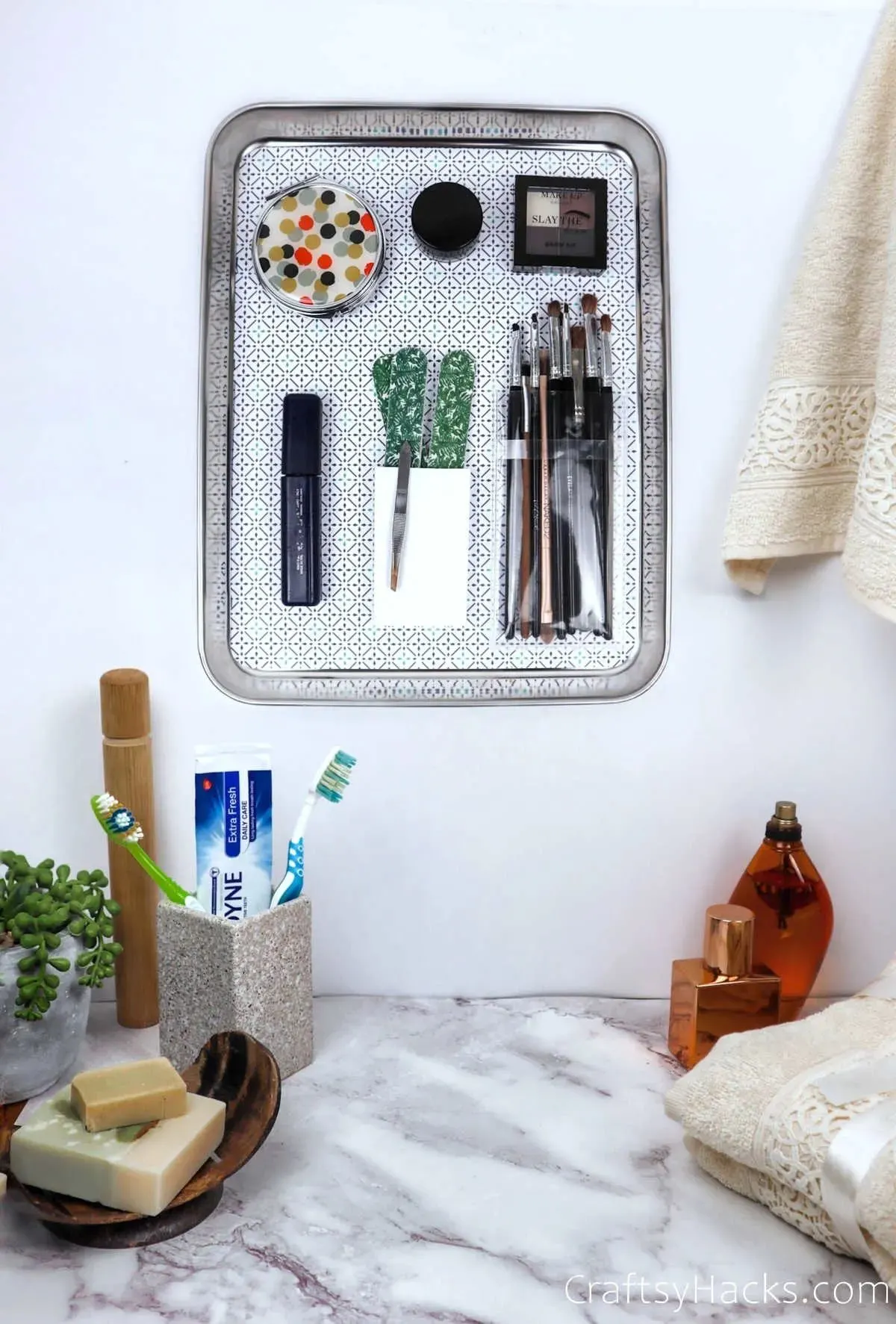 Credit: craftsyhacks.com
If you've got not more space to use, you can always utilize the walls! Make your very own magnetic organizer and organize your beauty products!
What a wonderful way to create space when it felt like there isn't any.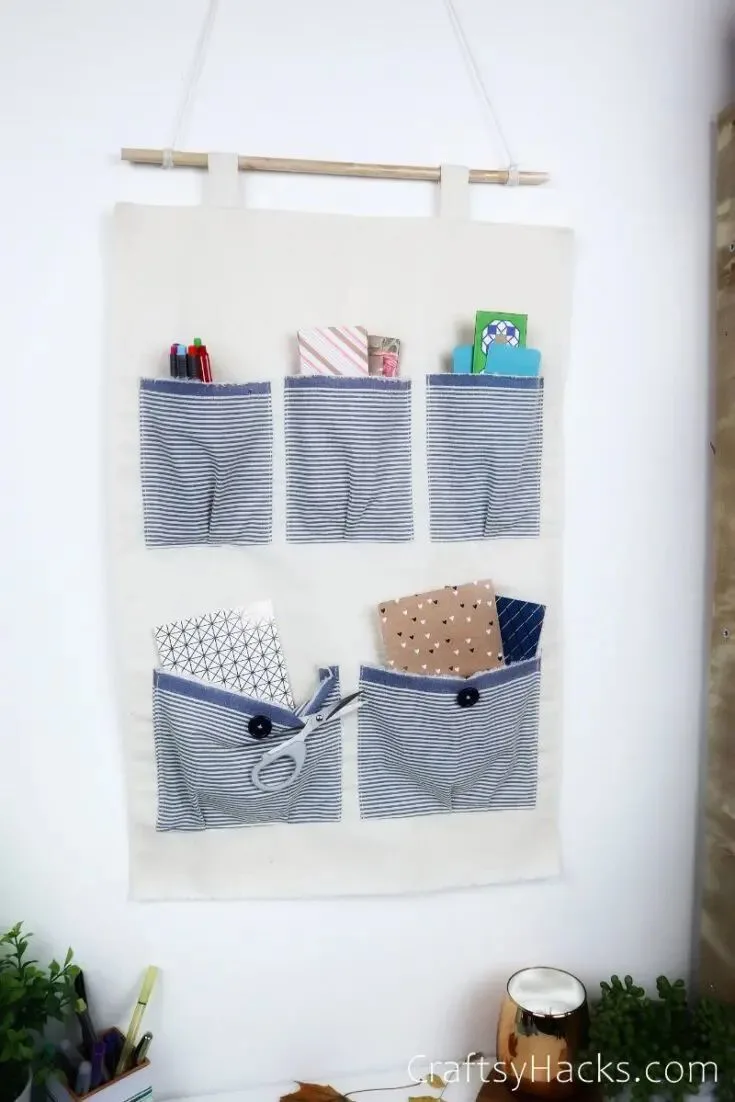 Credit: craftsyhacks.com
These DIY hanging organizers will fit into just about any room, be it the kitchen, bathroom, bedroom, closet, or office. As long as you have a little space on the wall to hang it from, this organizer can adorn any space you like!
Since it is a DIY, you can customize the size, dimensions, design as well as exactly how many pockets and sleeves you want. Grab this wood dowel and get started.
This is a great organizer for your closet.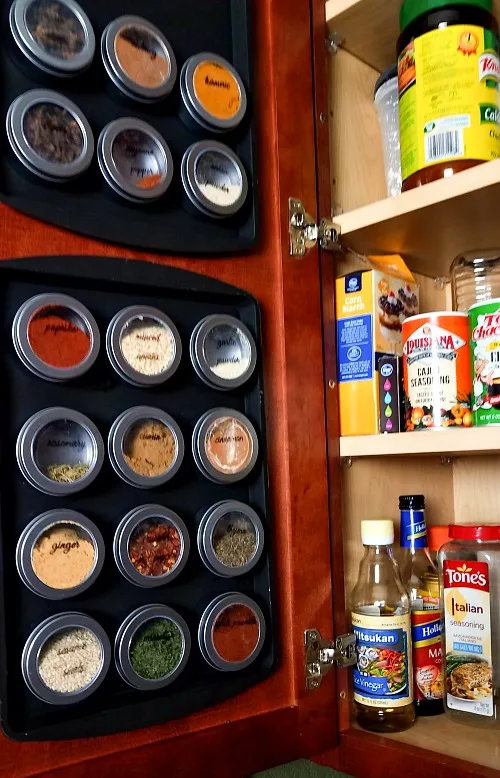 Credit: acultivatednest.com
A spice rack or cabinet can become a frustrating maze to operate unless you keep it clean and organized. Here's a simple project to help you do just that!
All you need are a few magnetic containers, clear packing tape, and some spray paint cans in the colors of your choice. You'll also want to print out your labels with a label maker from here or just write your own in a clean and coherent script.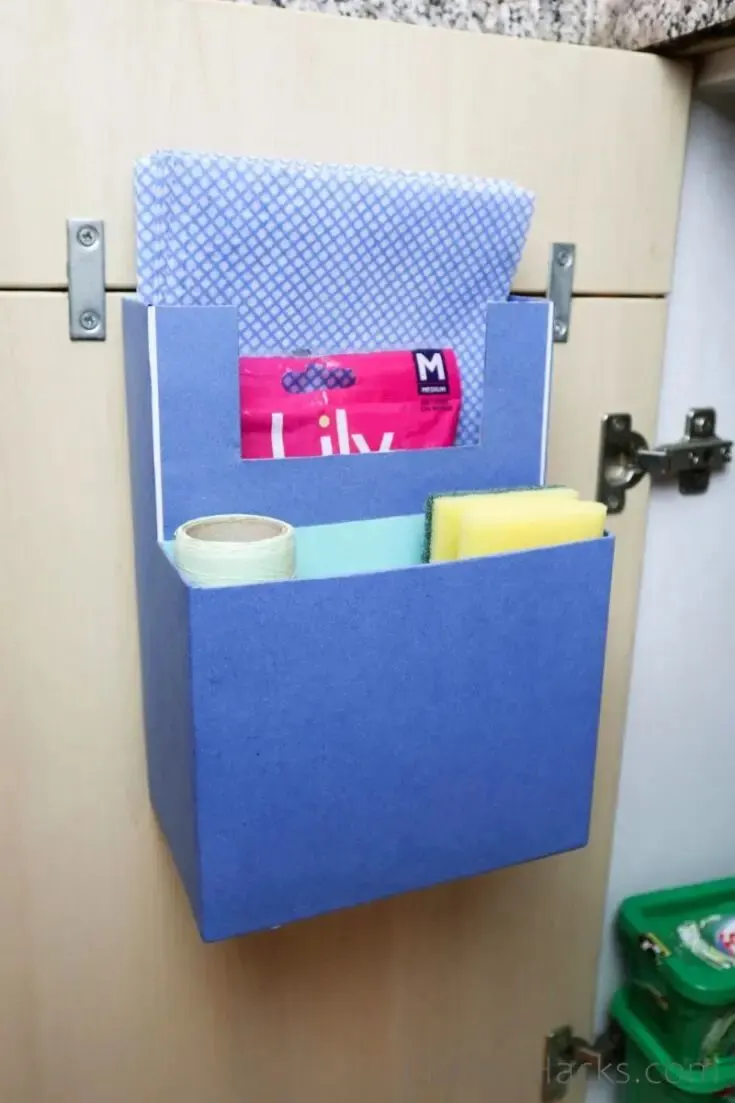 Credit: craftsyhacks.com
Here's another use for empty cereal boxes: cabinet organizers! With some deft cutting and some crafting skills, you can once again transform cereal boxes into these wonderful storage units.
They can be fitted in just about any cabinet or cupboard, be it in the cupboards under the sink, your pantry door, and more. If you fit this under your sink, you'll find that you have easy access to your paper towels and scrubs!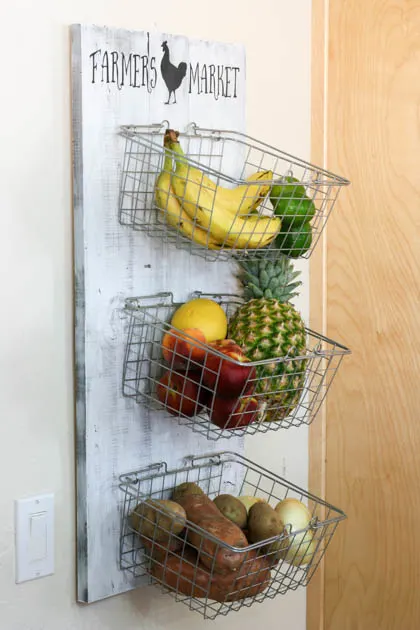 Credit: prettyhandygirl.com
You cannot store fresh produce away into drawers in your kitchen. They need room and fresh air to breathe, not some stuffy and dark drawer where they can go rotten.
You can't just dump them in a bowl on your counter. These wire baskets can help you with every single one of your fresh produce-related storage needs.
You can screw them onto the back of the kitchen or pantry door and secure them in place.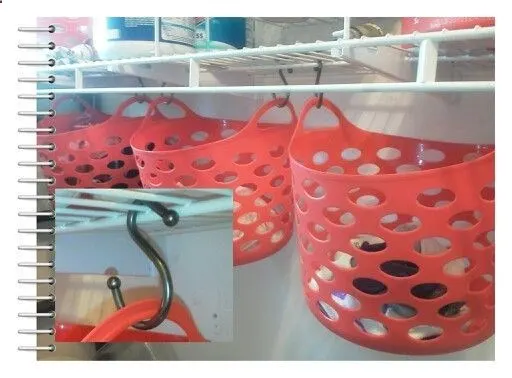 Credit: diyenergy.co
Another room in every house that can constantly be in chaotic disarray if not properly organized is the laundry room. With all those clothes to sort, divide, and put away, you'll need all the help you can get.
Check out some plastic laundry baskets from here to help you with that sorting. You can install a rail over your laundry machine and hang these baskets from them with a few hooks to secure them.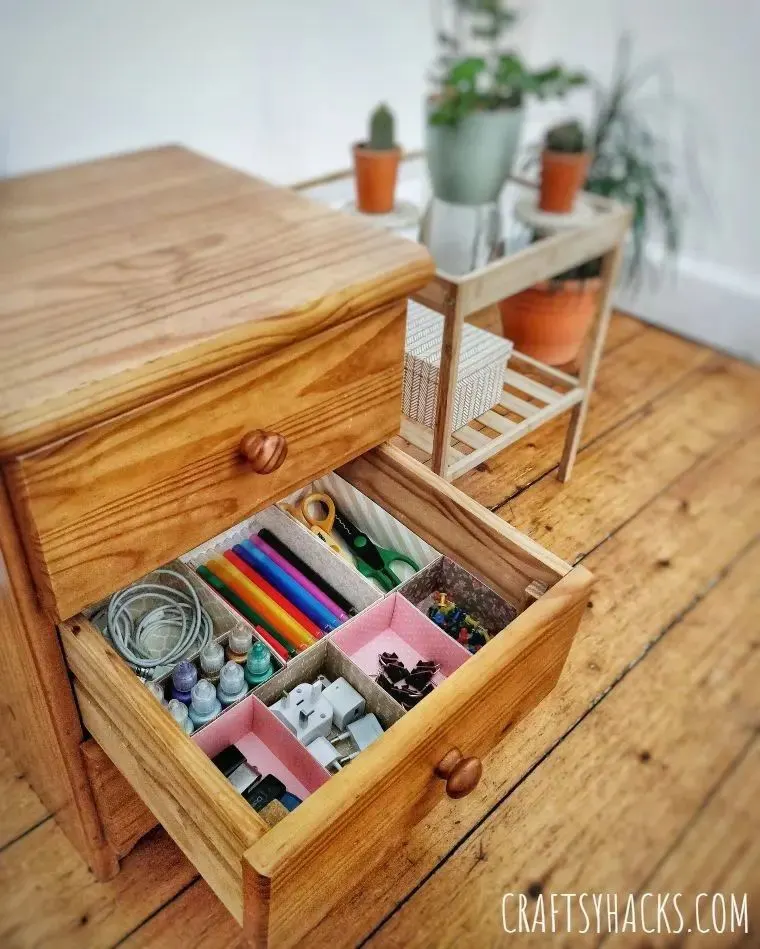 Credit: craftsyhacks.com
The insides of your drawers—be it in the kitchen, your office, living room, or the bathroom—will get messy, no matter how careful you are. That's why you need to divide the space in your drawers to control that mess.
By segregating the space into different pockets, you'll find that everything has a designated spot it belongs to.
Never again will you have reason to just dump all your charger wires in a mess. Instead, tuck them away into their spot and there you go!
Credit: craftsyhacks.com
If you have a dozen or so magazines on your desk, then here's a cool way to put them away and avoid clutter on the tabletop. You can make yet another storage unity out of cereal boxes to hold all the magazines and books you have.
These organizers are also a great place to store your daily mail. You Can make one just for your mail, or you can make another compartment in the first one to the same effect.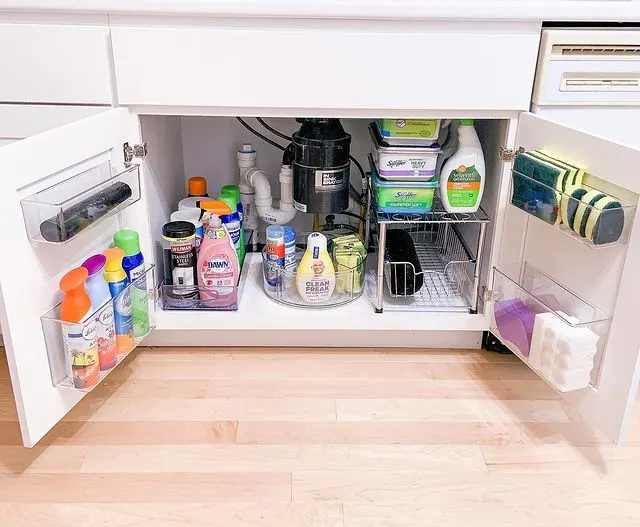 Credit: Instagram
Under the sink storage is perhaps the most underutilized and under-organized space in your home. It can get super easy to just dump all your cleaning supplies in there without putting them away in their rightful places.
Check out the organization system in place in this particular picture. You've got drawers and racks for every single cleaning supply as well as a ton of pockets lining the door.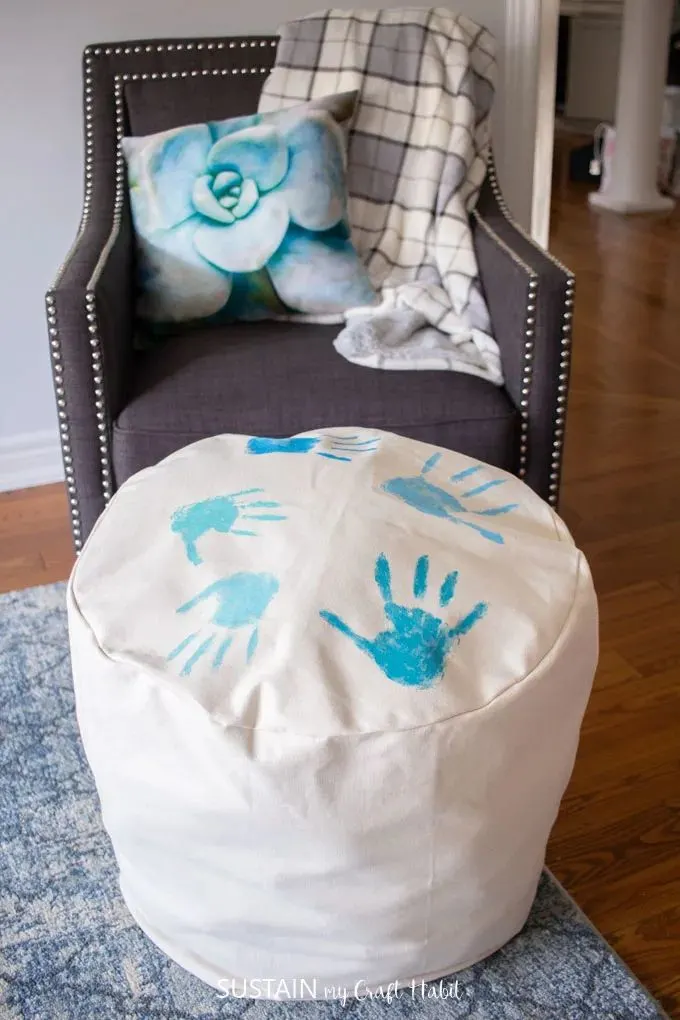 Credit: sustainmycrafthabit.com
Are you handy with a thread and needle? Then here's a unique way to organize your space: a DIY storage ottoman!
For a kid-friendly house, this little storage hack can work wonders. Cleaning up behind your kids and picking up their toys is a thing of the past. Have them do it all, and enjoy the process of stuffing their goodies in this big ottoman!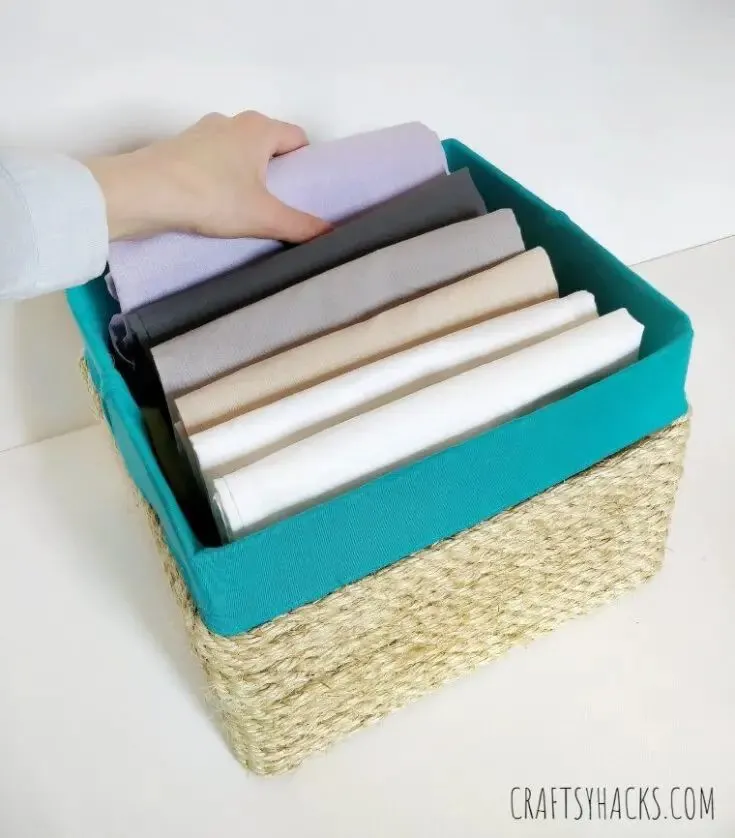 Credit: craftsyhacks.com
Do you have any cardboard boxes lying around? I've got the perfect DIY project for you to try.
Grab some of this manila hemp rope to begin. You'll also need a length of fabric, or an old shirt or two you don't mind cutting into.
Now just follow the instructions and start creating your DIY rope basket. Trust me, they'll see you through a ton of your storage needs.
Feel free to use this organizer to store blankets.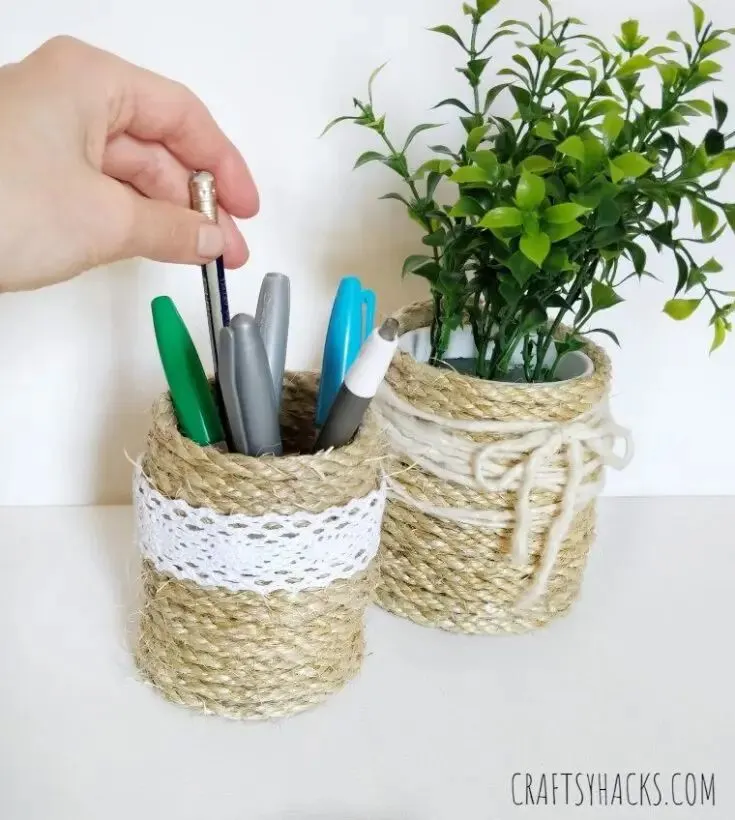 Credit: craftsyhacks.com
Here's another desk organizer that's been jazzed up with some rope, jute lace trim(look here), and even some lace trimming(look here).
These desk organizers can hold your pens and pencils, yes. But here's a little creative tip: you can also use one or two as a planter and add a little light and color to your desk.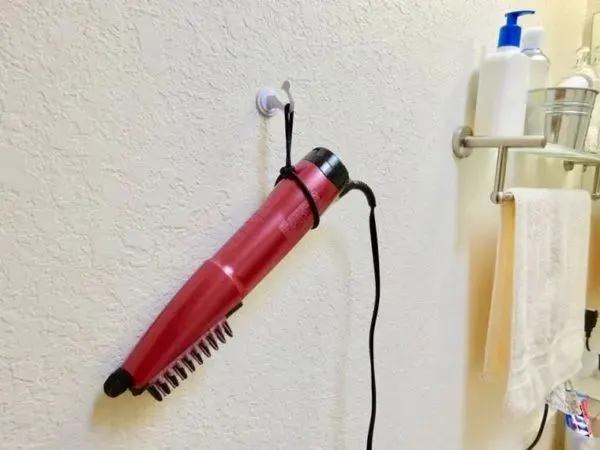 Credit: singlegirlsdiy.com
You need to be super careful when using a hairdryer in the toilet. You can't just tuck it away anywhere you like; not only is it dangerous, it's also not convenient.
A wall mount can help you remove any hassle you might have in this regard. You can use this hack to store your hair curling iron, flat iron, and the likes.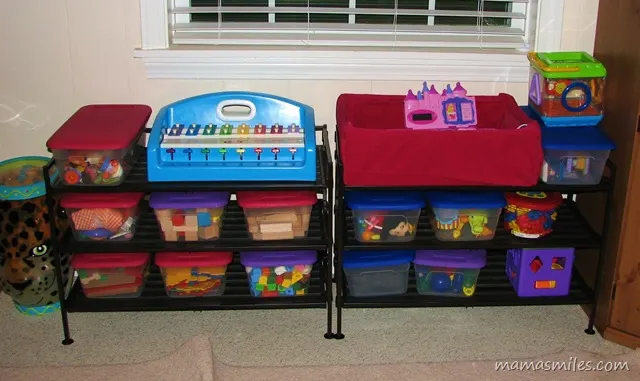 Credit: mamasmiles.com
Sometimes, all you need to do to organize your space is to go back to the basics. What better way to put away your kids' toys than this simple three-tier rack with all those boxes to keep everything in place.
It's so important to teach young ones to pick up after themselves and this toy storage unit is the solution.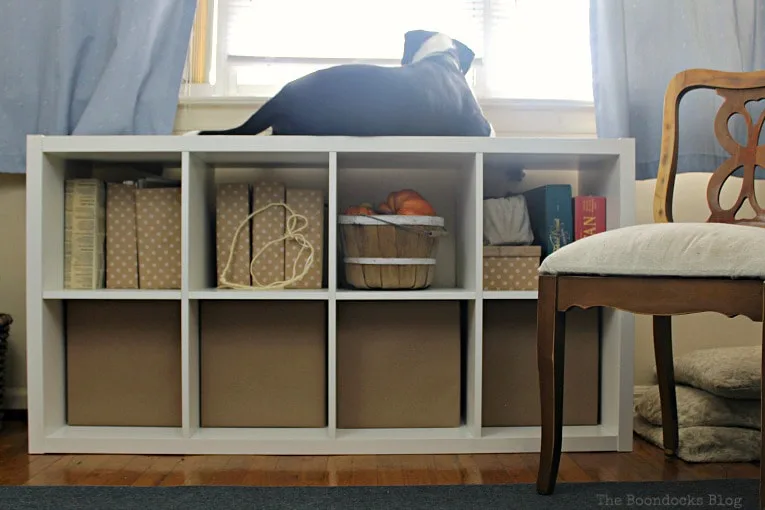 Credit: theboondocksblog.com
This cardboard paper cube organizer is affordable, easy to recreate and can help you declutter without compromising or diminishing your overall decor. Here's a list of things you'll need for this project:
Liquid glue
Gift wrapping paper
Gather your supplies and get started on assembling your cube organizer right away!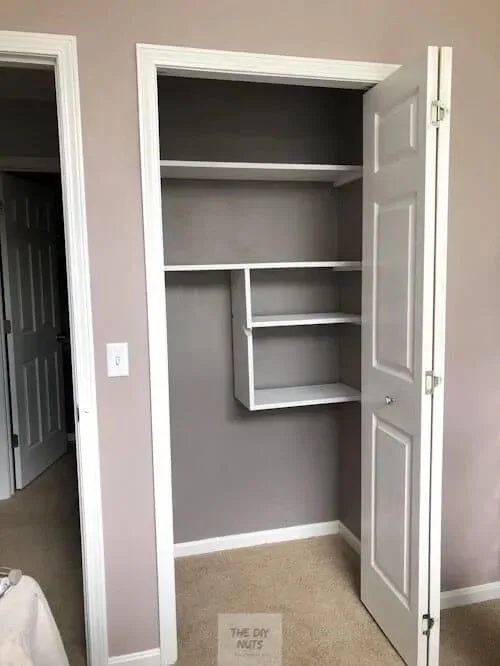 Credit: thediynuts.com
If you've got a closet with a ton of vertical space and room to hang, then you'll need to optimise that space with some racks and shelves. Otherwise, you'll just have a lot of underutilized rooms that can be put to much better use.
These simple shelves are utilitarian, yes, but with the right wood stain and the right organizational hacks, you can transform it into a lovely display or work of art!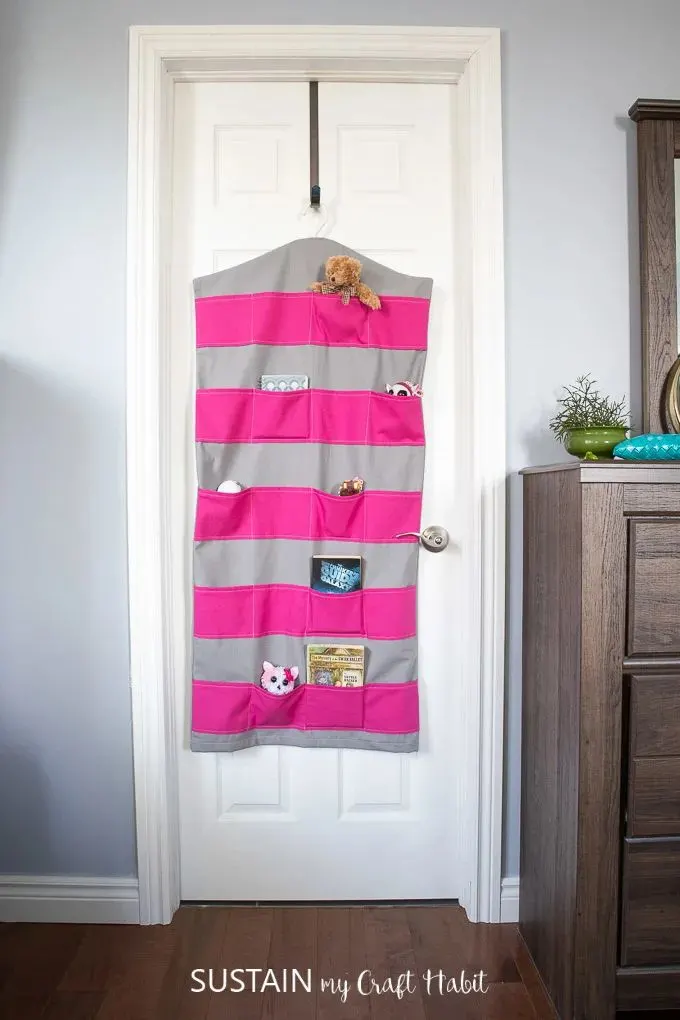 Credit: sustainmycrafthabit.com
Don't you love over the door storage hacks? When there's a ton of space behind the door, you're honor bound to make the most of it, no?
This simple hanging toy storage hack is just another extra pocket of space to keep your kids' toys and knick knacks. Alternatively, you can hang it up in your bathroom, closet, pantry and office to the same effect.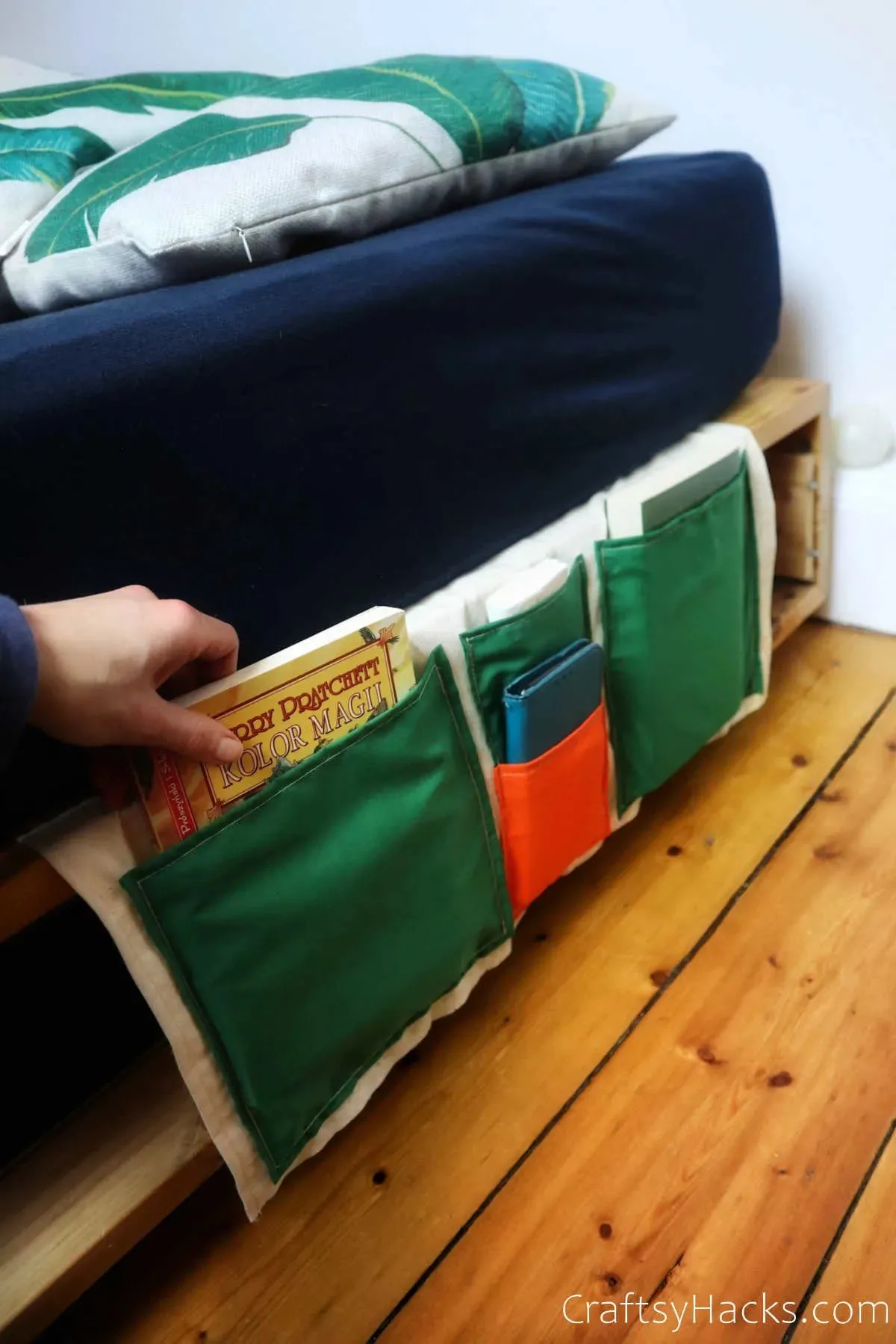 Credit: craftsyhacks.com
Have you ever tried making of these? This is such a lovely organizer where you can keep what you value the most!
A perfect storage unit for your phone, notebooks and more. Perfect for small bedroom or children's room.
Credit: craftsyhacks.com
If you're on a low budget and just want to create a lovely looking organizer that will fit in with your room décor, make this rope basket.
It's great for storing all sorts of little things that just don't fit anywhere else!
Conclusion
Have you found any of these hacks useful? Let me know which one you're going to use to increase your storage space at home!