These closet shelving ideas will take your closet game to a whole new level. Use them to organize and declutter your space, and transform your home into a blissful place.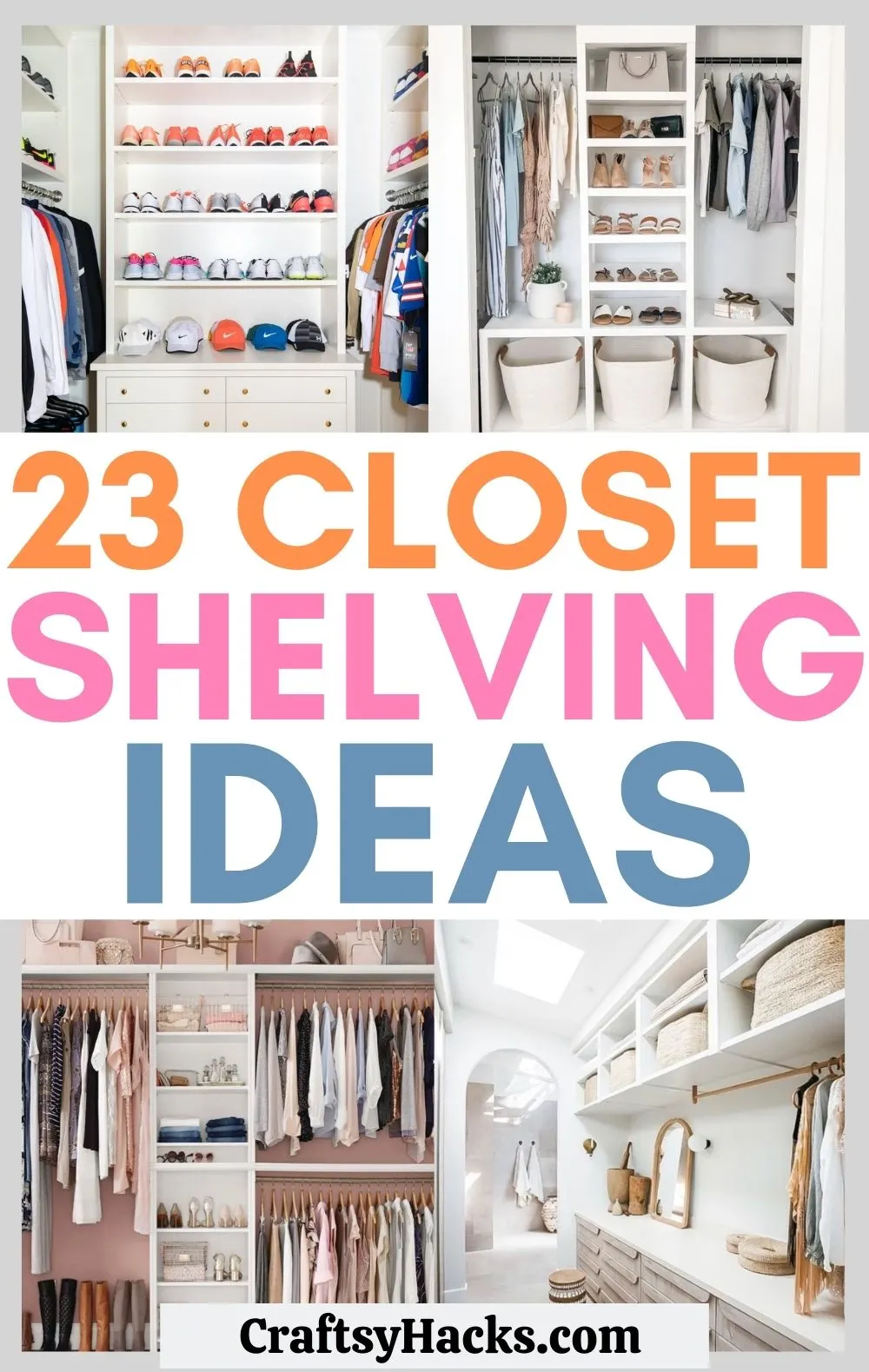 Whether you're blessed with a lot of closet space or scrambling to find enough shelves, the key to proper closet organization always lies in your shelving. Not how many frames you have, but how you divide them!
Each of the ideas on this list takes on this dilemma in a new and exciting way. So, if you're eyeing your closet with more than a bit of frustration each morning, I suggest giving it a makeover.
Discover the storage potential hiding in your closet with these twenty-three closet shelving ideas!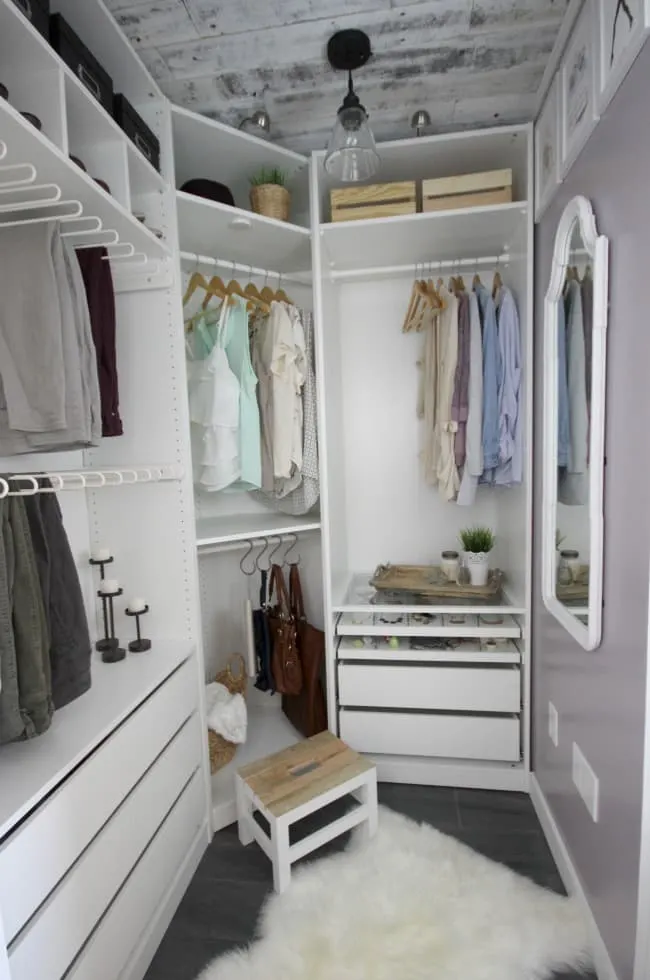 Credit: lovecreatecelebrate.com
If you have an awkward corner in your closet or a small bedroom in need of extra storage, a corner unit is for you. You can get different kinds, but I recommend grabbing one with both hanging and folding room.
To make the most of this corner unit, invest in a small decorative item to blend it into your wider closet. Are you going modern? Go for an industrial fixture.
Prefer shabby chic? Vintage trays and succulents for you.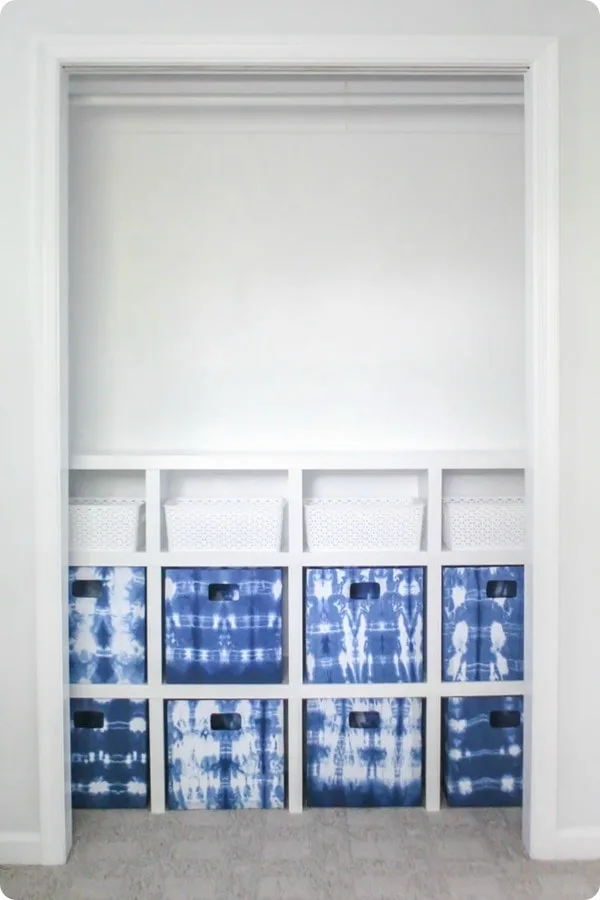 Credit: lovelyetc.com
Here's another way to make more out of less. The cube organizer is a perfect combination of form and function, offering a minimalist way to store your folded items. This hack is ideal for the kids' room!
The key to this idea lies in dividing your possessions to cut off clutter at the source. That means you'll need storage bins that fit your cube organizer (and, of course, your style). Try these on for size.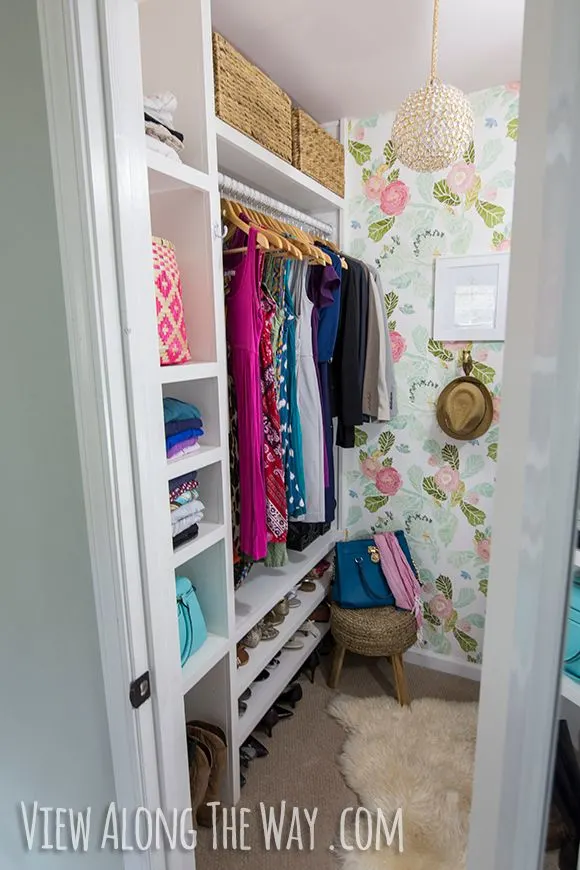 Credit: viewalongtheway.com
I don't know about you, but one of the most significant closet clutter sources is undoubtedly my shoes. Over the course of the week, they scatter across the floor, continuing to look worse and worse.
I bet many other people struggle with this too! Therefore, it makes sense to create some dedicated shoe shelves beneath your closet's hanging area. If you don't have them pre-installed, try these out.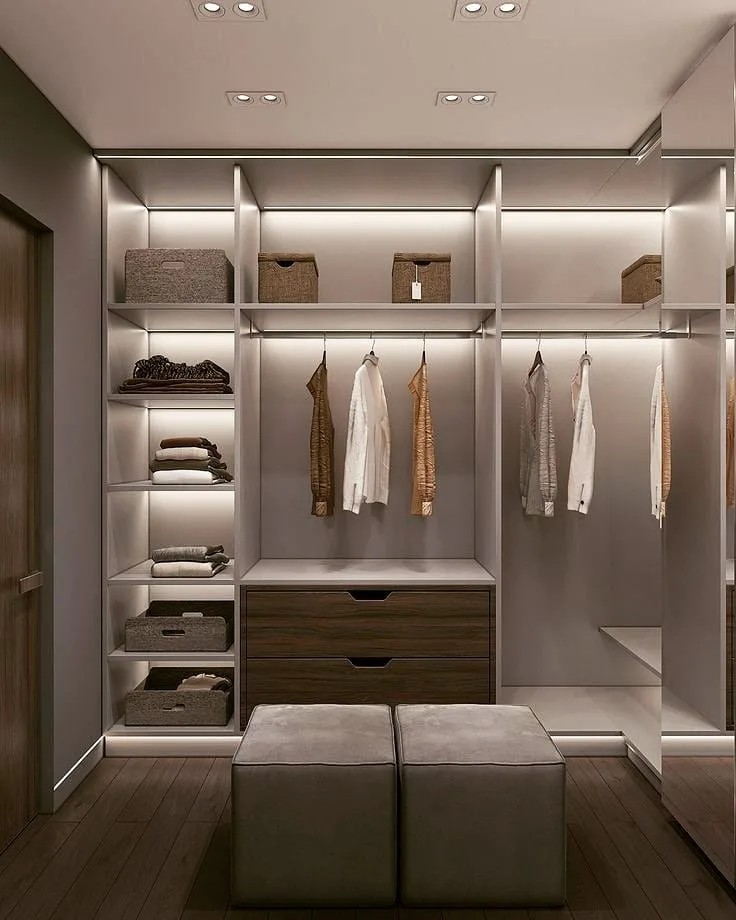 Credit: Instagram
A quick and simple way to make your closet seem more luxurious is to add some lighting under the shelves! LED strips hooked up across the entire wardrobe create a softly lit, almost shop-like effect.
You can talk to your local electrician about getting these installed and hooked up to a single light switch. However, if you want a similar result on a budget, using these dimmable strip lights is your best choice.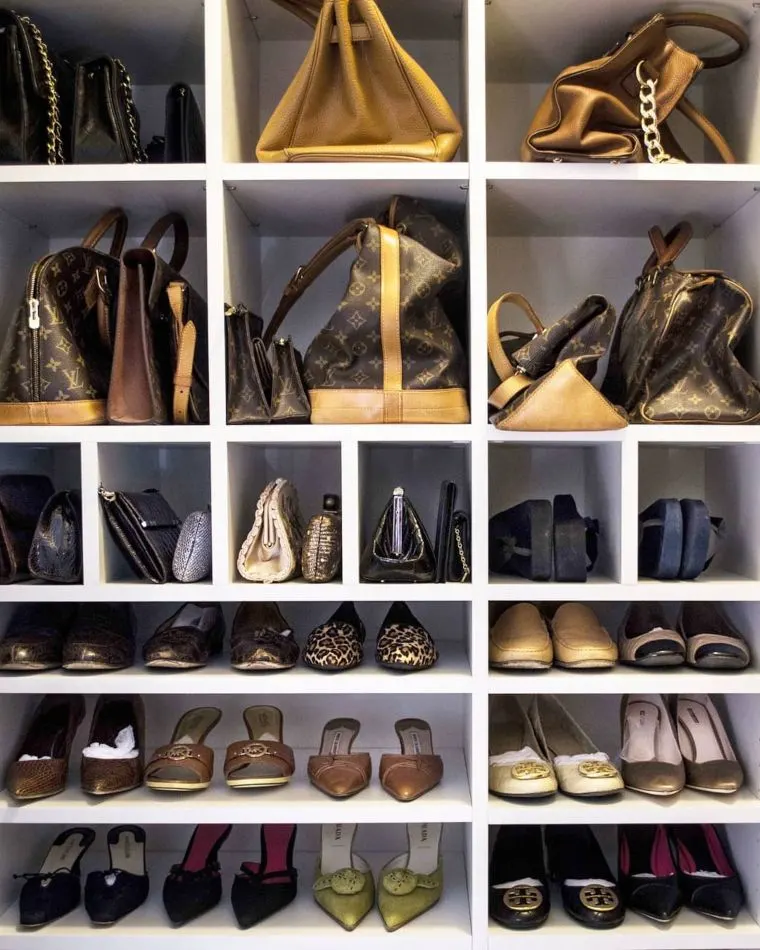 Credit: Instagram
Purses and shoes inherently go together when assembling an outfit, so it only makes sense to pair them in your closet too. This cubed accessory organizer is the perfect solution to your early morning outfit woes.
See everything you have all at once, so you never have to hunt for matching accessories again. Creating a display like this is super simple! Order a custom cabinet or combine shoe racks and a small cube shelf.
Are you stuck for shoe storage ideas? Don't worry about it; this list of incredible shoe storage hacks has you covered.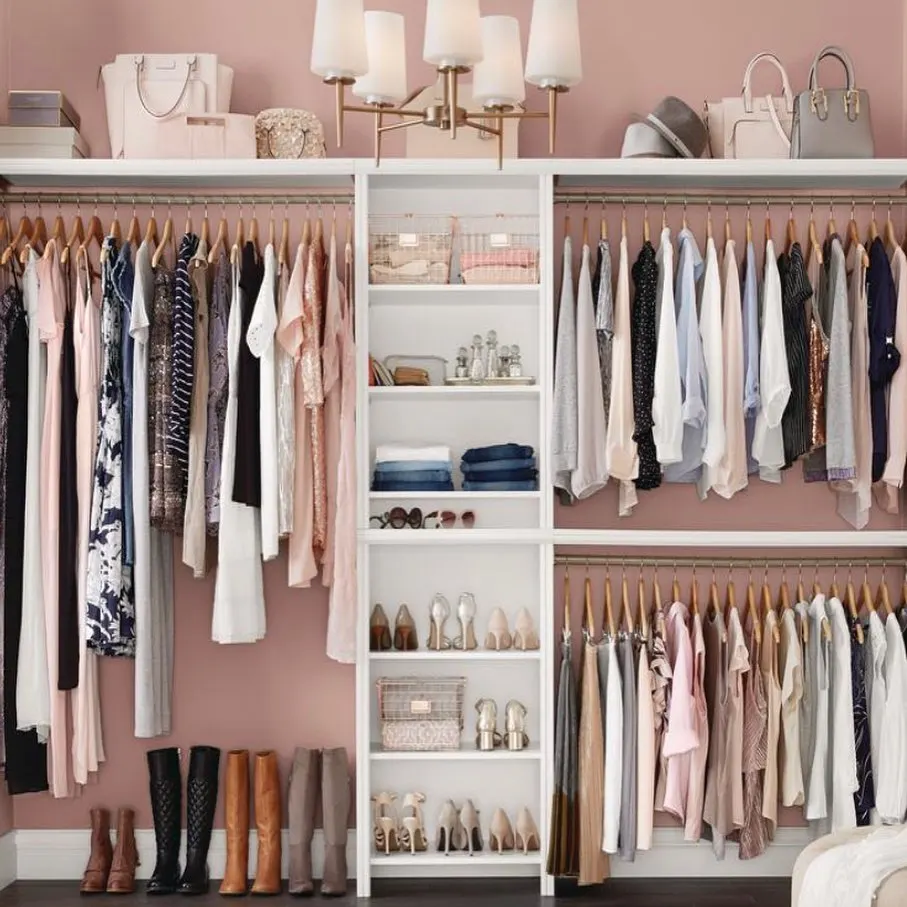 Credit: Instagram
Every closet needs a spot for the folded clothes, shoes, or accessories to live. Rather than finding a place for those things last minute, why not center the entire closet's structure around these core elements?
This structure is ideal for shared closets (in the master bedroom, for example). One side for each person is not only aesthetically pleasing, but it's also a great way to minimize clutter.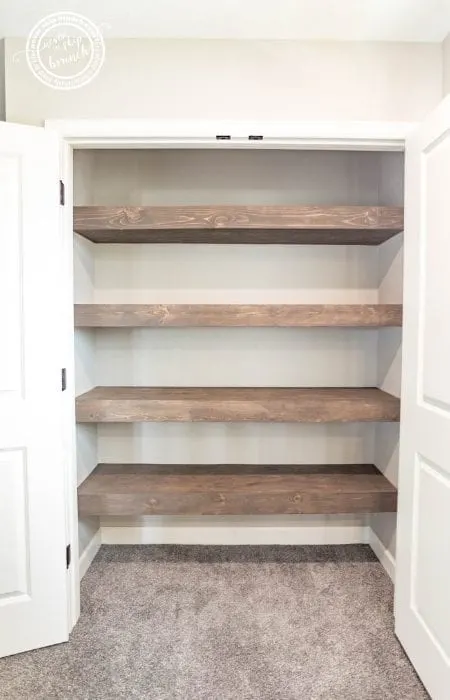 Credit: neverskipbrunch.com
I don't know anyone who's a genuine fan of those ugly wire shelves that come in closets. They're typically unsightly, and they don't make you feel like you want to keep the space clean and organized.
That's where these floating wooden shelves come in. Using gorgeous, reclaimed timber, create enough shelves to accommodate your clothing needs without overfilling the space.
Oil the wood with this to finish.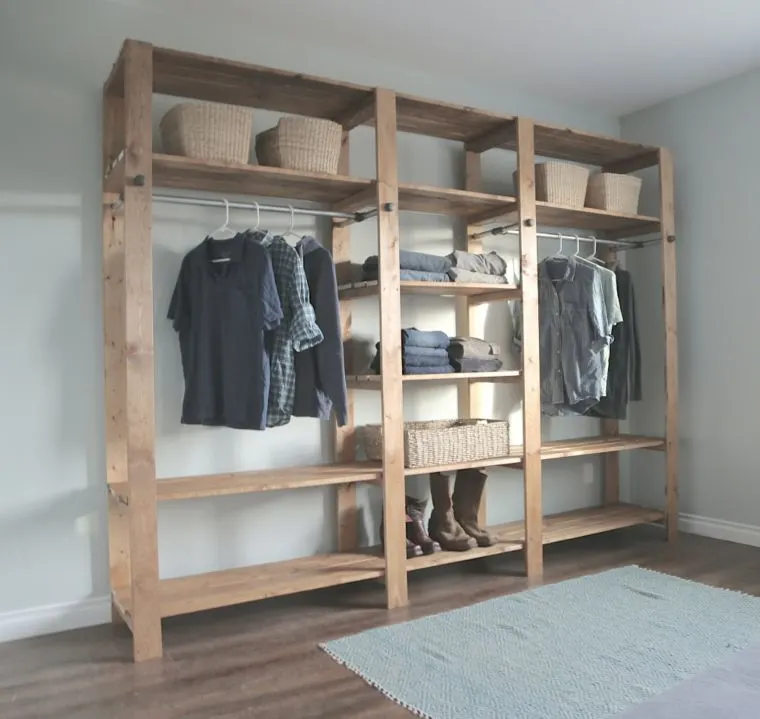 Credit: ana-white.com
If your bedroom doesn't already have a closet installed, you can take your rustic aesthetic to the next level with an open-air, wood frame closet. Featuring rough textures and light colors, this is a gorgeous piece.
I recommend populating the closet with little bits and pieces that turn it into a room feature. Decorative and organizational elements like these wicker baskets are perfect for creating a clean look.
For even more control over the final look, create some rope baskets from spare cardboard boxes.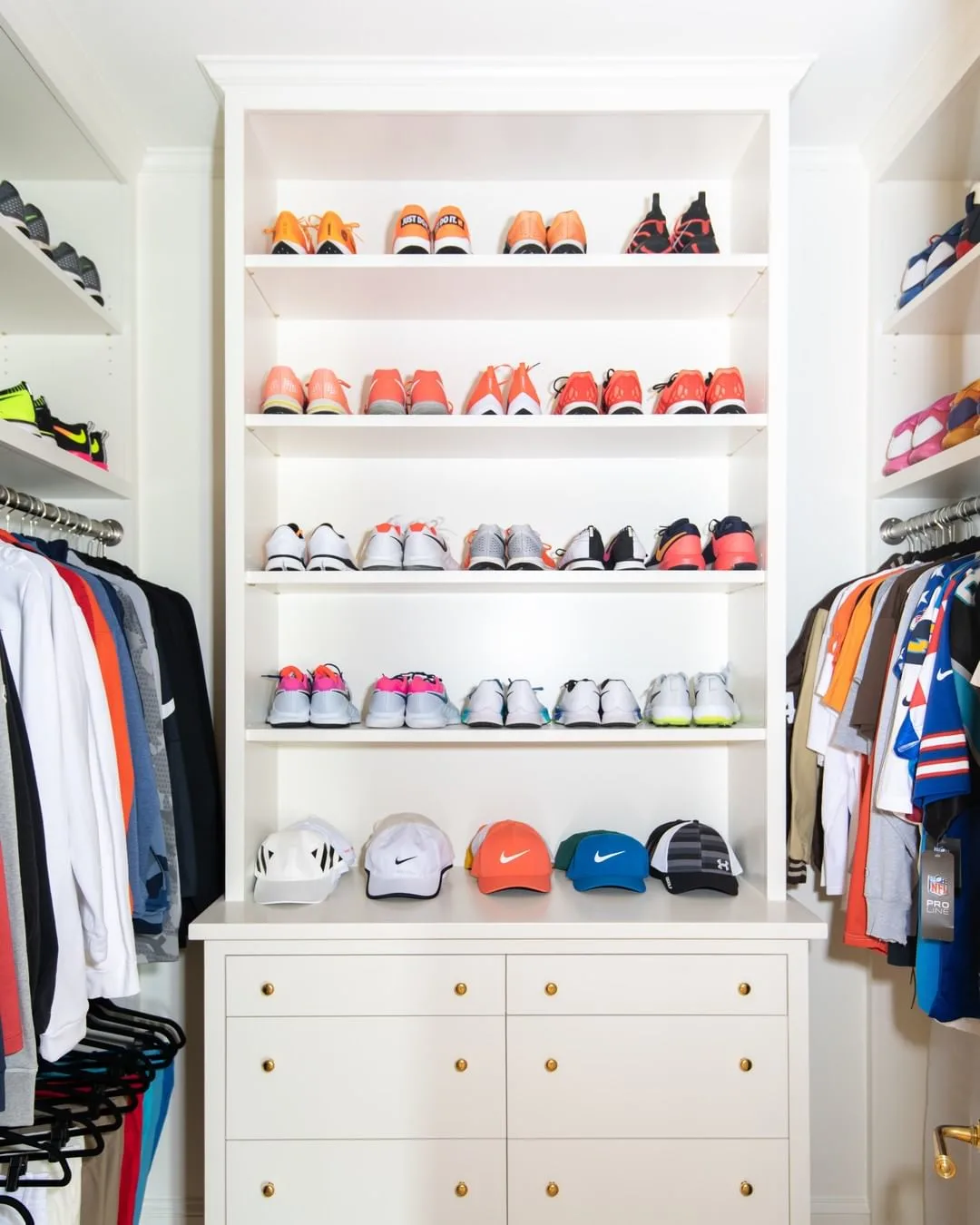 Credit: Instagram
If you're a shoe collector, then you understand the impulse not only to store your shoes but display them. This ultimate shoe storage wall does just that, offering a focal point for your closet with ample shoe space.
Make this an even more epic fixture by installing color-coded strip lighting on each shelf. After all, shoes add that last touch of pizzazz to your outfit, so it's only fair that we return the favor!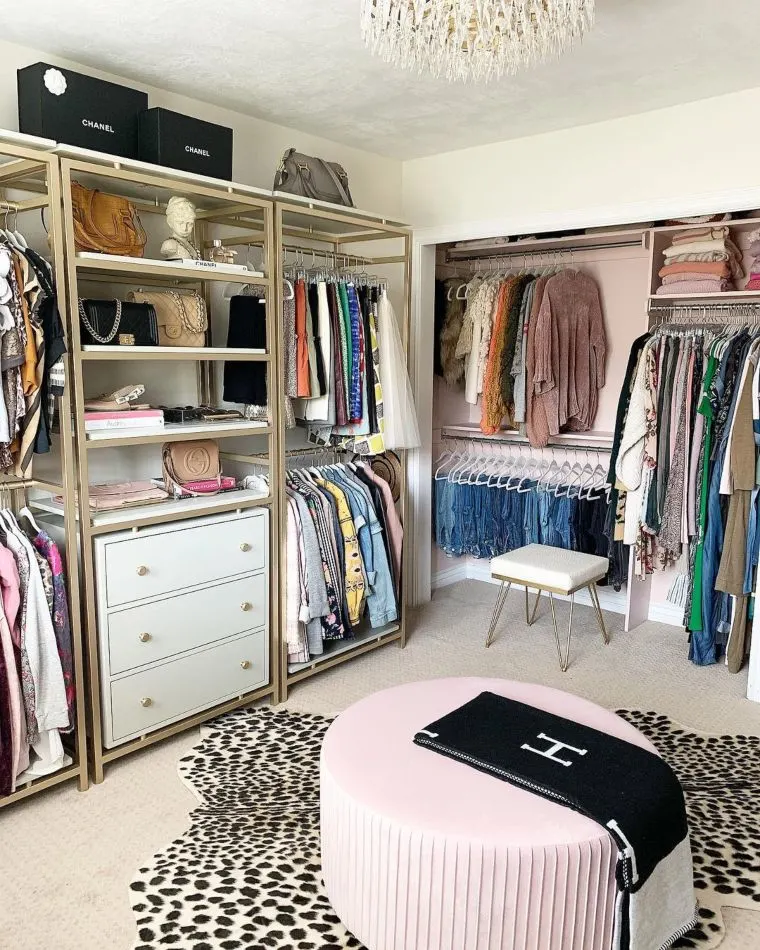 Credit: Instagram
Has your child just moved out? Repurposing an old craft room? Just sick of not having enough space for your belongings? The solution to all these problems is to give that old room new life as a walk-in closet!
This will take a lot of work, but the result is worth it. I've found that the finishing touches make a difference. For example, you can anchor the room's center with a decadent ottoman like this for a pop of color.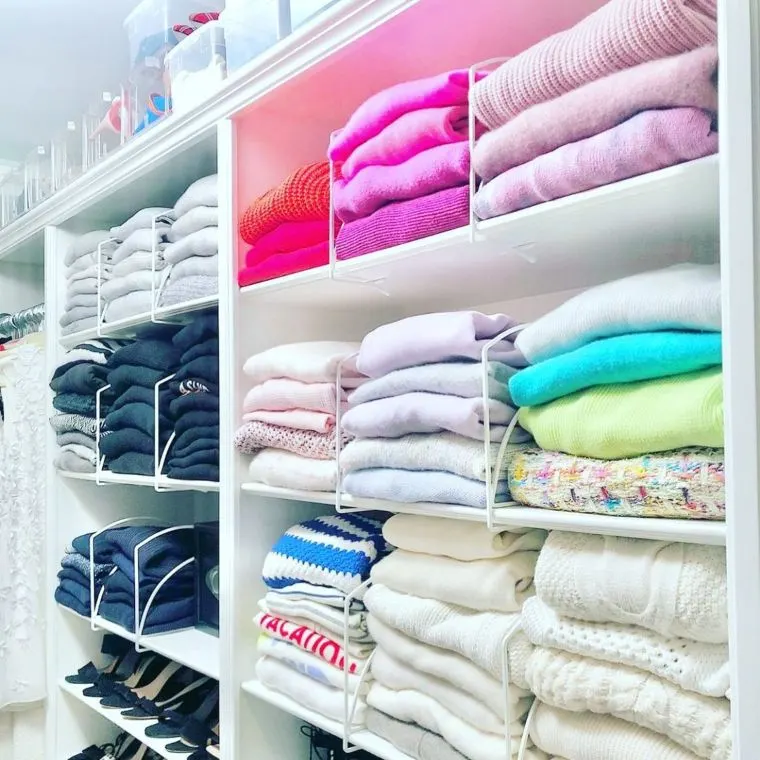 Credit: Instagram
Having extended flat shelves does offer a lot of storage space, but it can also be a nightmare to keep different clothes piles separated! Well, struggle no more thanks to these genius inventions: shelf dividers!
Color code your folded items with ease or keep your shorts separate from your t-shirts. Use these dividers on any shelf, and I've found them very good for maximizing space without clutter.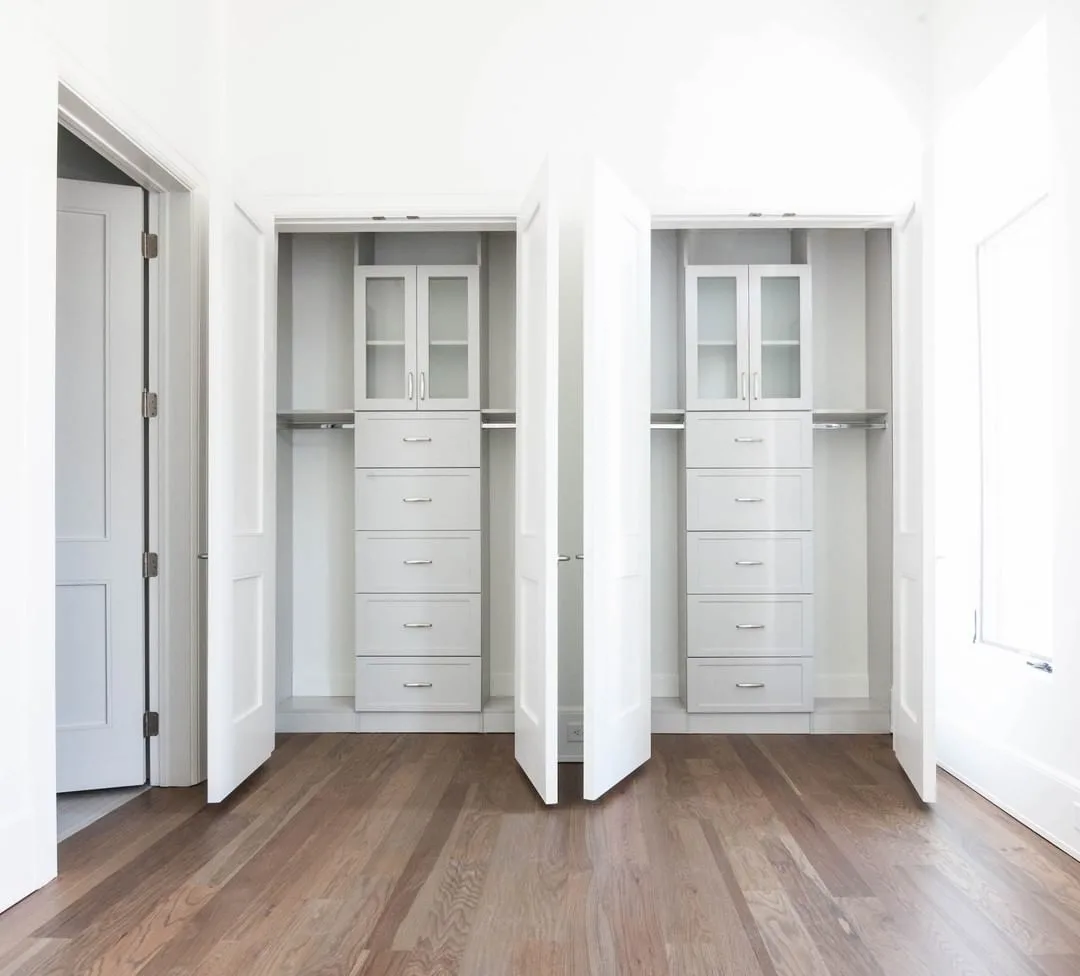 Credit: Instagram
Next up, we have the perfect hack for transforming a master closet into two separate spaces, ideal for the kids' room. By placing a wall in the middle, you create a distinct space for each child's clothes.
Not only does this help them choose clothes in the morning, but it also gives each child a personal sense of responsibility. It's their job to keep the closet clean, not their sibling's!
This isn't the only kids' room idea I've got rolling around; check out twenty-five ways to organize children's toys.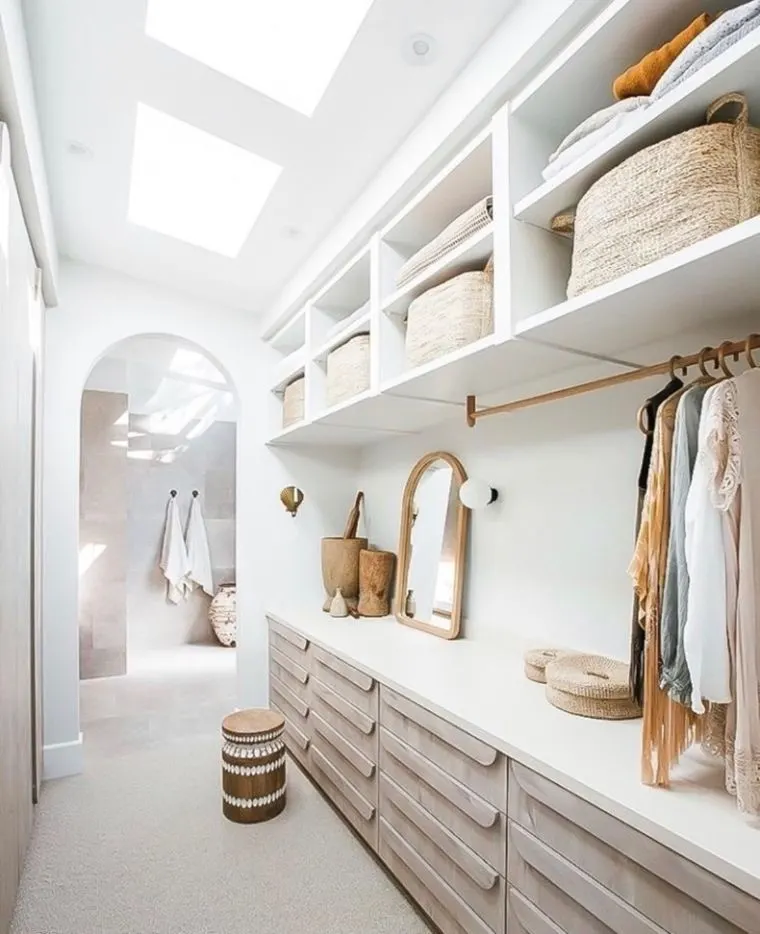 Credit: Instagram
If you're lucky enough to have an ensuite bathroom, chances are your closet is right next to it. Well, why not take advantage of their proximity to create a dedicated vanity space for your morning routine?
Install a long and low countertop with ample drawers, then pair that with a short hanging rod like this and some floating shelves above the space. These will act as your closet while the rest of the counter is free.
Add a mirror, some accessories, and a stunning vanity stool to complete the look.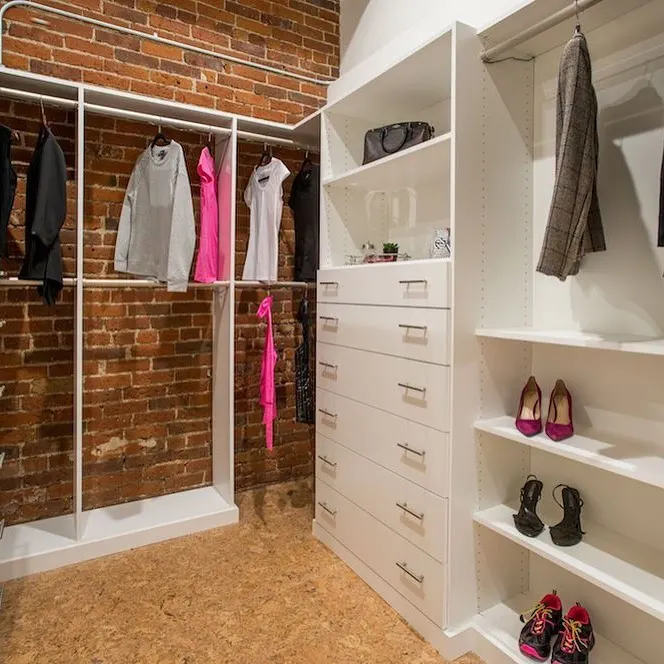 Credit: Instagram
What's better than one level on which to hang your clothes? That's right, two stories. Creating a dual-level hanging space in your closet reduces the number of clothes you'll have to fold, immediately freeing up space.
After all, clothes don't take up as much space while they're hanging! Building a closet system like this can be as simple as mounting a tension rod (here) within a gutted bookshelf; you can also employ an expert.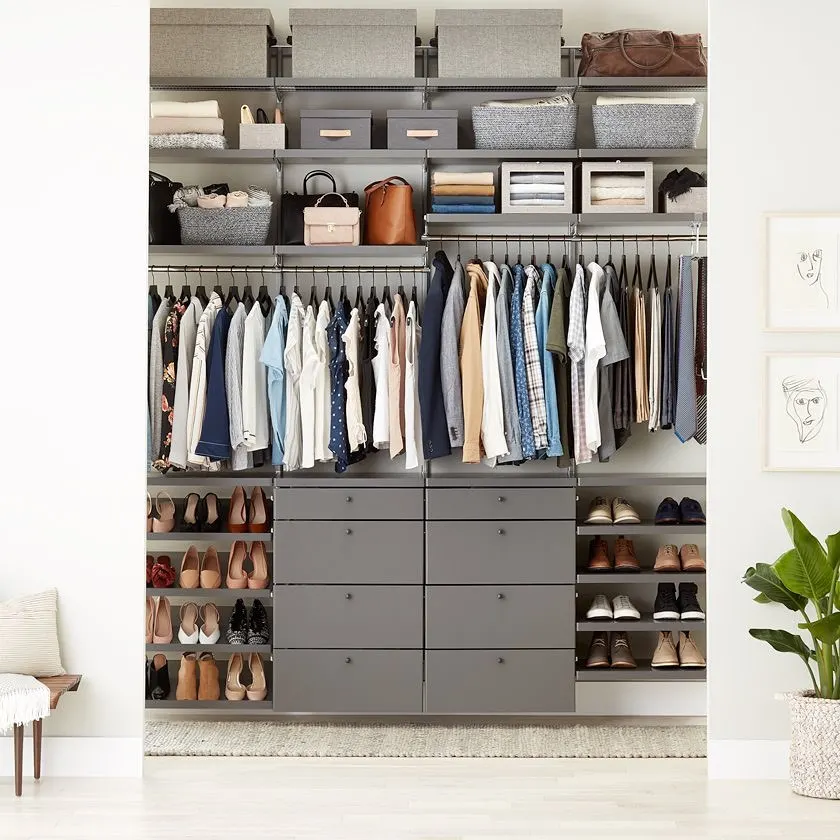 Credit: Instagram
Earlier in this list, I discussed how to dedicate an entire wall of your closet to shoes. Well, why not take it one step further? Dedicate an entire wall of your bedroom to an open-air closet!
With this closet system in play, you'll always have a full view of which clothes you own, how soon you need to do laundry, and whether clutter is building up. Add clear drawers like this for complete transparency.
This tactic will also encourage you to keep your closet extra organized. Need some tips to get it done? Check out these fantastic ways to organize your closet.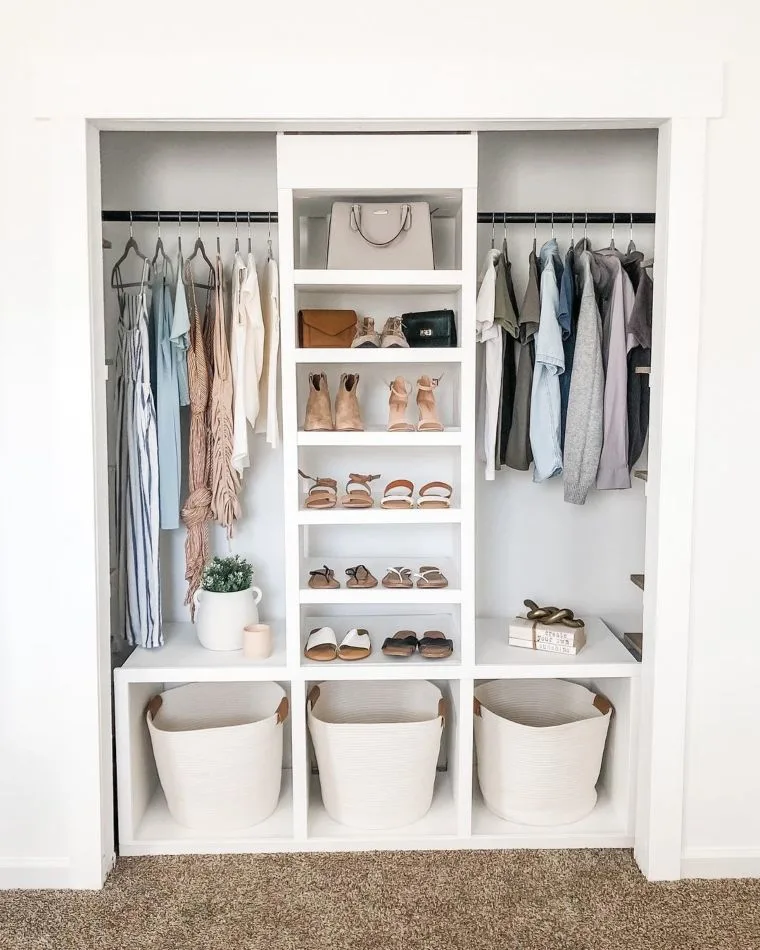 Credit: Instagram
If you can't dedicate an entire wall to your closet, then the next best thing is to remove your existing closet doors. This idea opens the space up so much, granting you the freedom to organize!
Once again, using a bookshelf as your closet's focal point brings attention to your favorite accessories while discouraging clutter. A bookcase like this is the perfect place to start.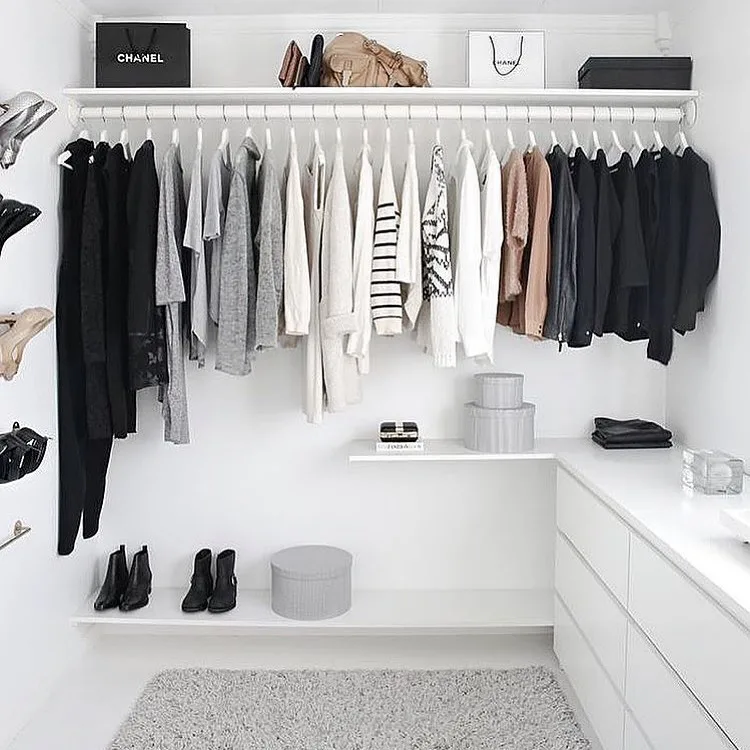 Credit: Instagram
A floating closet rail elongates your walk-in space, making it feel taller and more open. Installing one of these rails is ideal if you enjoy a minimal wardrobe, as it will put all your items on display at once.
If you live a more maximalist lifestyle, this is a great excuse to go through your clothes and pick out the ones toward which you gravitate. Feature these on your hanging rail to get a better sense of your style.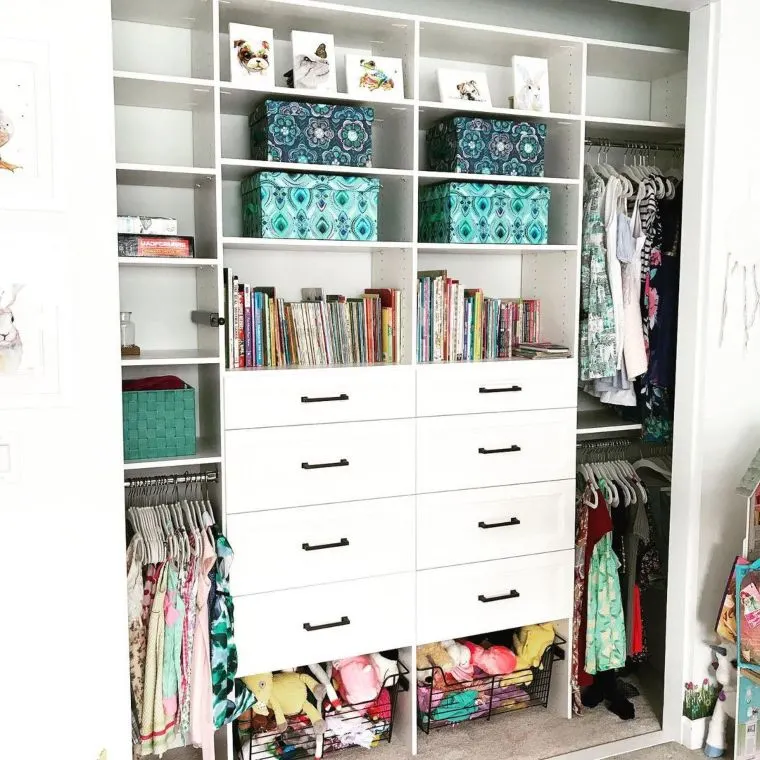 Credit: Instagram
Children's closets are not doomed to mess and clutter, not if you know the suitable systems to put in place for them. It's all about creating organizational systems that make sense to them. Get them in on the process!
This closet uses the built-in bookshelf format to store a little girl's clothes and her books, some toys, and some choice memorabilia at the top. Wire bins like these are great for toy storage.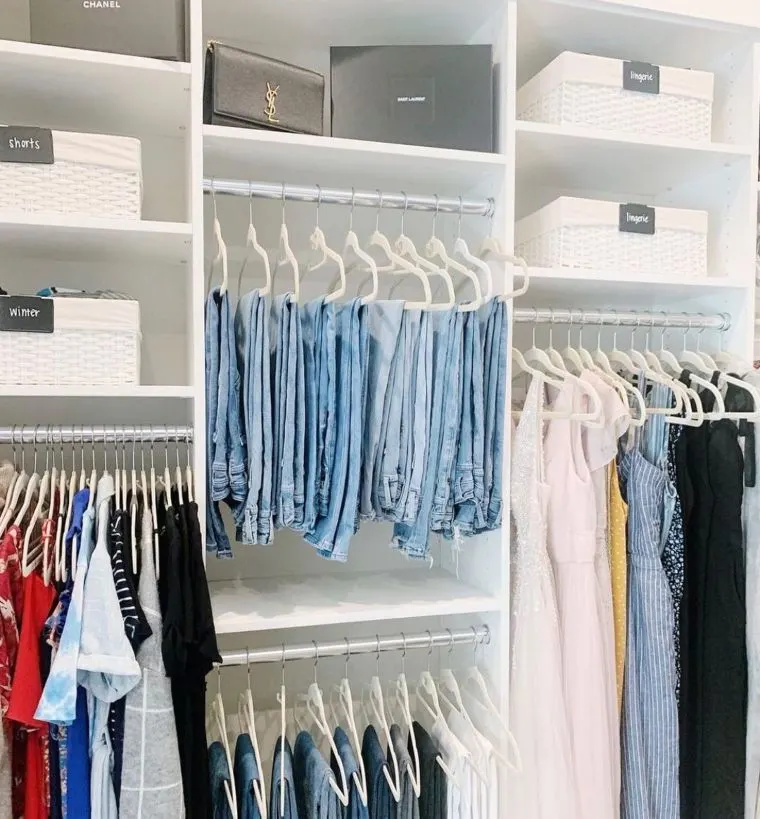 Credit: Instagram
As we grow, our clothing collections' breadth tends to grow with us, to the point that we rotate clothes out depending on the season. Luckily, storage bins like this and labels are here to help organize our lives.
Using storage bins is a fantastic way to group similar items while maintaining a sleek look on the outside. In fact, choosing the right storage bin can make or break your closet's general aesthetic; choose wisely!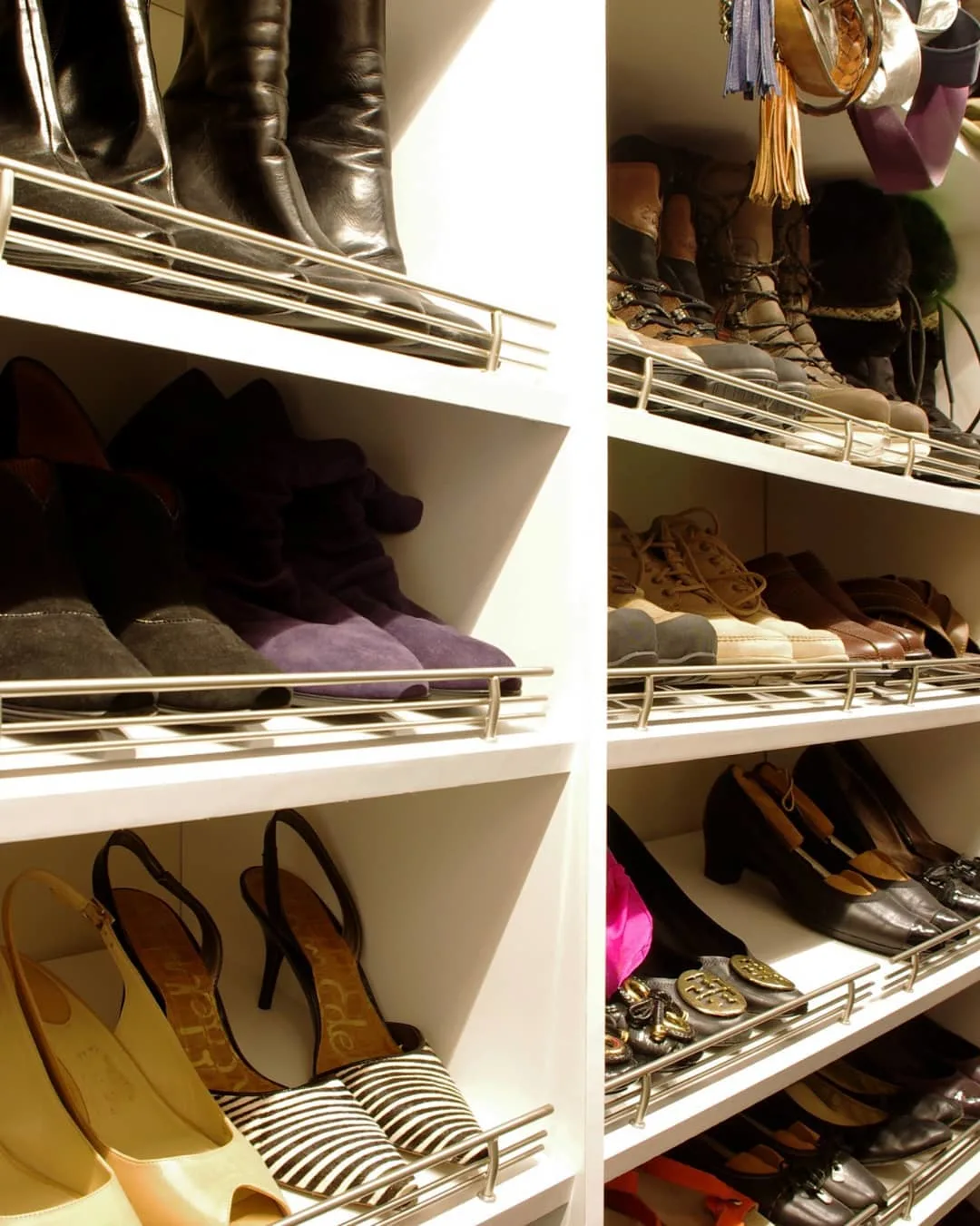 Credit: Instagram
If you liked the shoe wall from earlier in this list, then this iteration will have you shaking in your boots with excitement. Tilted shoe storage is excellent because the tilted angle displays the entire shoe).
Guard rails at the front keep your shoes from slipping off, and you can supplement these with fairy lights, strip lights, or even a paint job with a color of your choice. I'd recommend a matte black like this.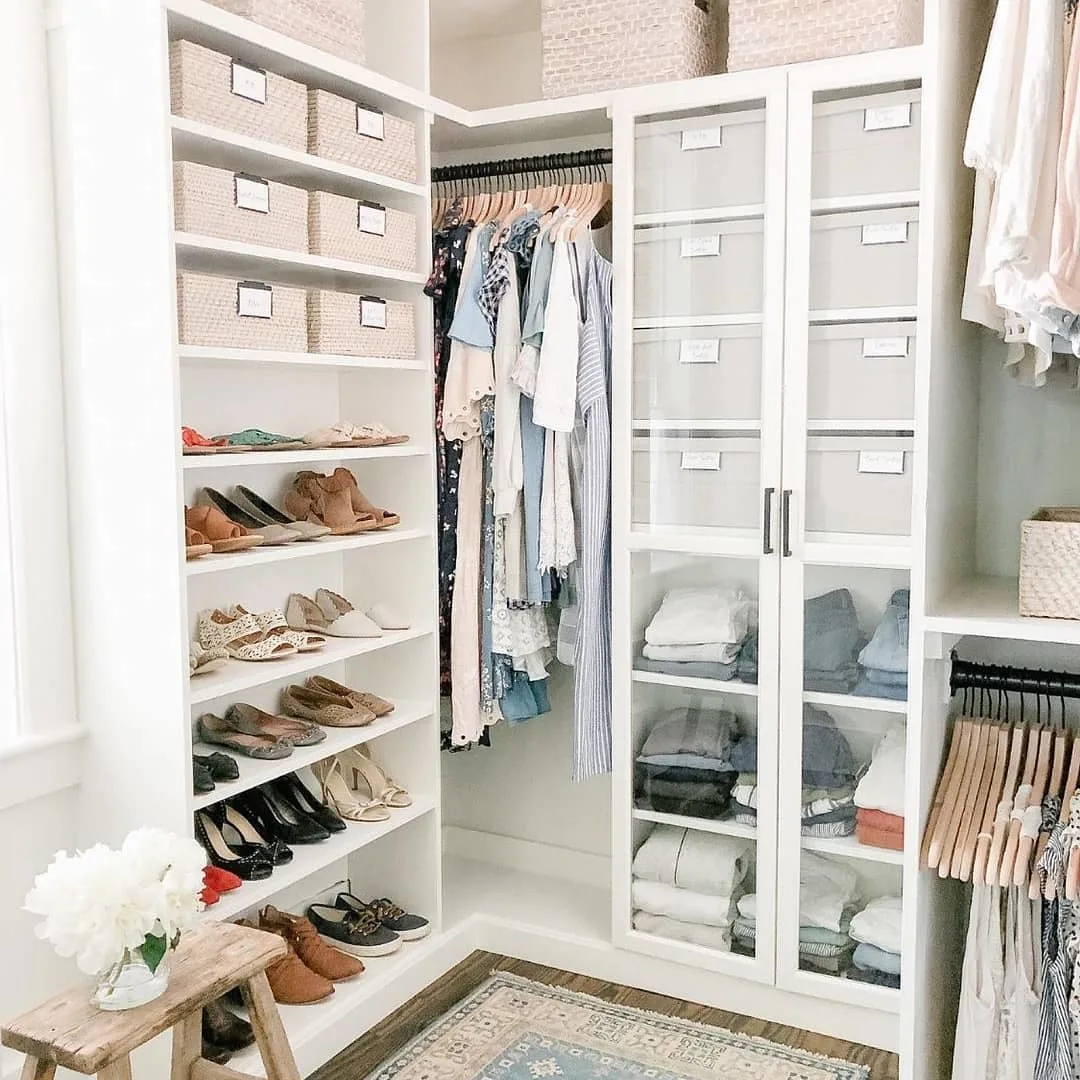 Credit: Instagram
Clear doors and panels help you to keep an eye on your closet system, ensuring it doesn't fall into decay as the week goes on. Not only that, but it also helps you see everything you have when building outfits.
In this example, the transparent closet's top half is dedicated to color-coordinated storage boxes. The bottom has been slated for pants storage.
With suitable materials, you can turn any cupboard into one with clear doors! You'll need some acrylic sheets (here), an adhesive like Gorilla Glue, and your jigsaw to remove the existing panels.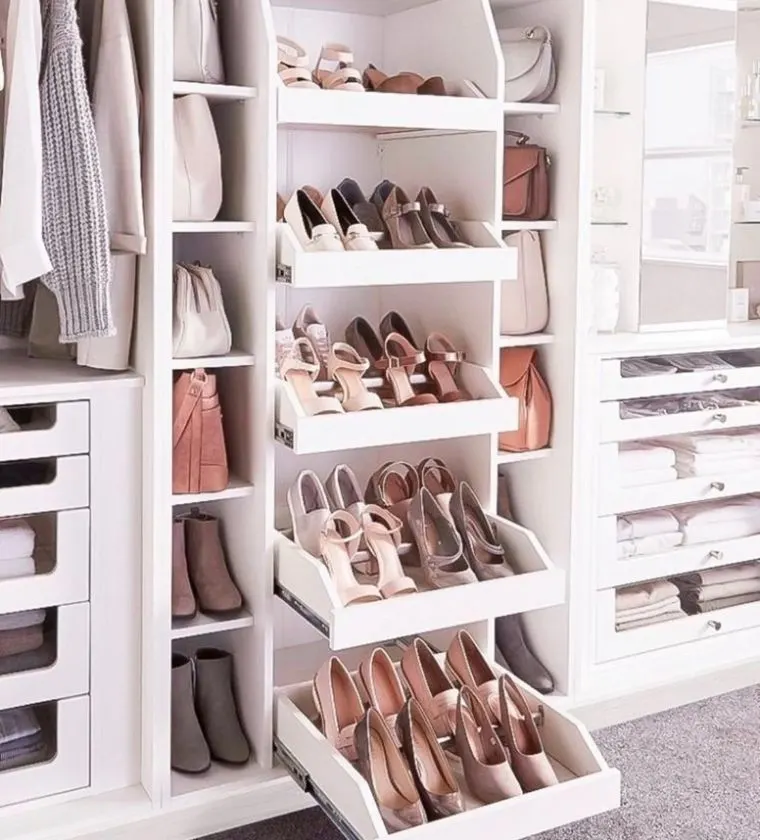 Credit: Instagram
Combine shoe storage with slide-out drawers for the ultimate intersection of form and function. These deep-set drawers allow you to stack shoes two deep, maximizing both space and appearance with ease.
If you struggle with a small bedroom and an extensive shoe collection, this is the perfect solution to your space-saving problems. Find more small bedroom organization suggestions here.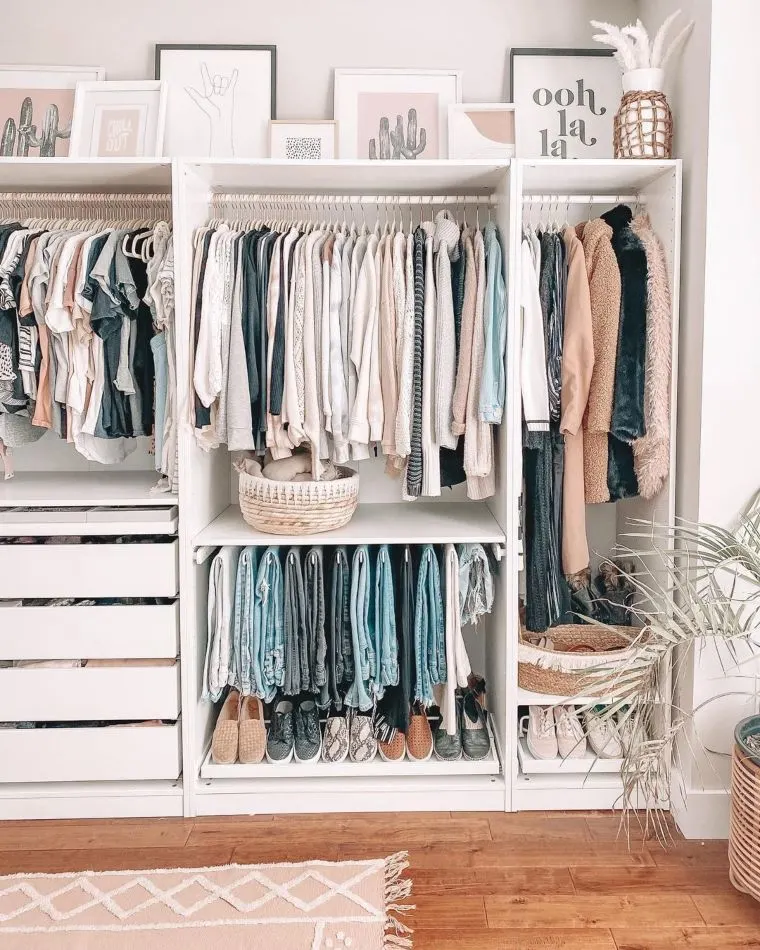 Credit: Instagram
Finally, one of the quickest ways to immediately upscale your closet is to update the hangers. Having a full rack of hangers that are all the same type makes your entire closet system feel more coordinated.
I recommend choosing metal hangers like these, as they offer the slightest touch of glam while hanging your clothes beautifully.
Conclusion
So, which closet shelving ideas are making their way into your homes? Do you have any rituals of the closet organization to make it easier on you? Let me know below!