Organize the pantry on a budget with these organizing ideas. Simple, practical, and fun to make!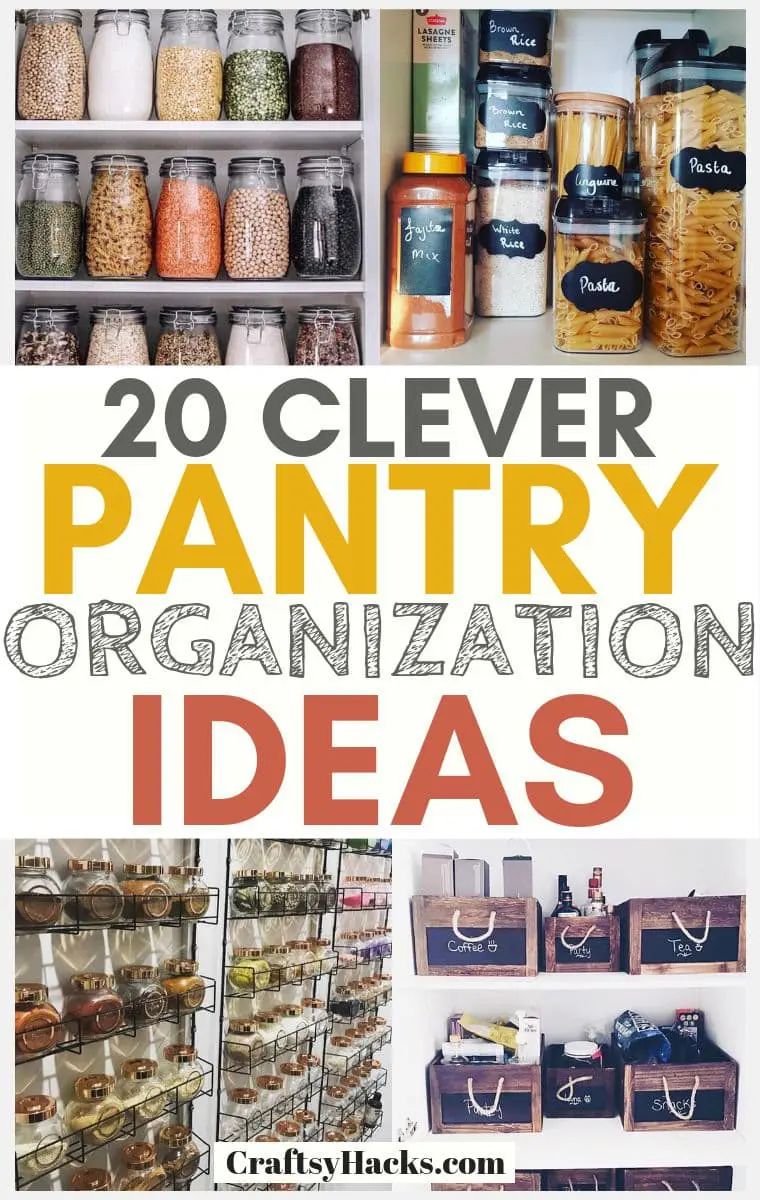 The perfect pantry situation is at the top of everyone's wish list.
Instead of admiring the beautiful pantry setups, we're seeing all over Instagram and Pinterest, you'll be happy to hear that you can actually achieve similar results with a little DIY.
Need some more inspiration for your new pantry setup? Here are 20 pantry organization ideas to upgrade your current snack situation!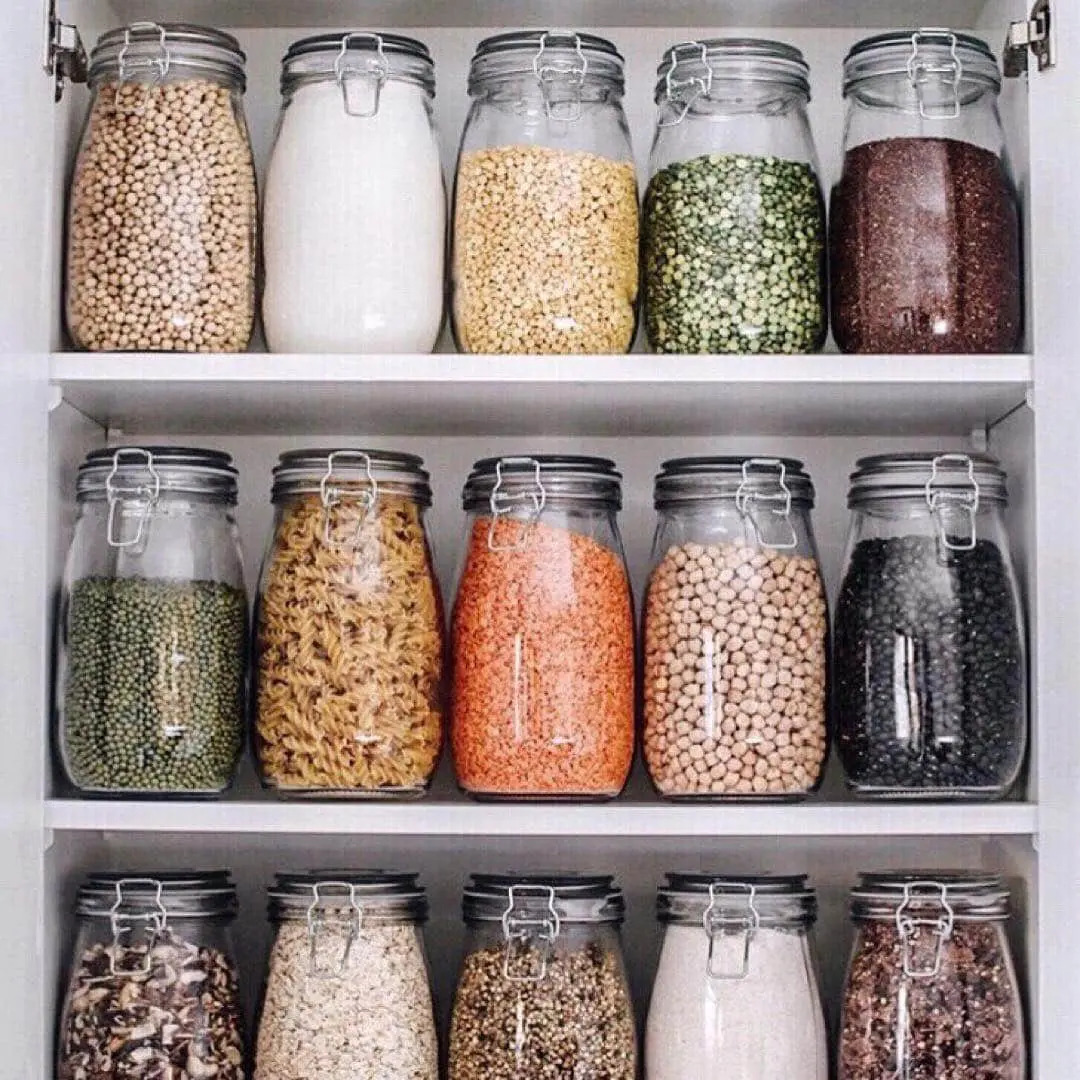 Credit: Instagram
Keep things modern in your home by using glass jars to store your snacks, dry ingredients, or pretty much anything else in your pantry that can fit!
All you need to do is empty out your snacks into these jars and toss out the packaging from it. This is a great way to reduce the clutter in your pantry and to enhance the aesthetic appeal.
Another bonus? The airtight seal from a glass jar with a lid can keep everything from going stale and it makes it a lot easier for you to get to your snacks (uh-oh).
Get the glass jars here and use them to organize your kitchen too.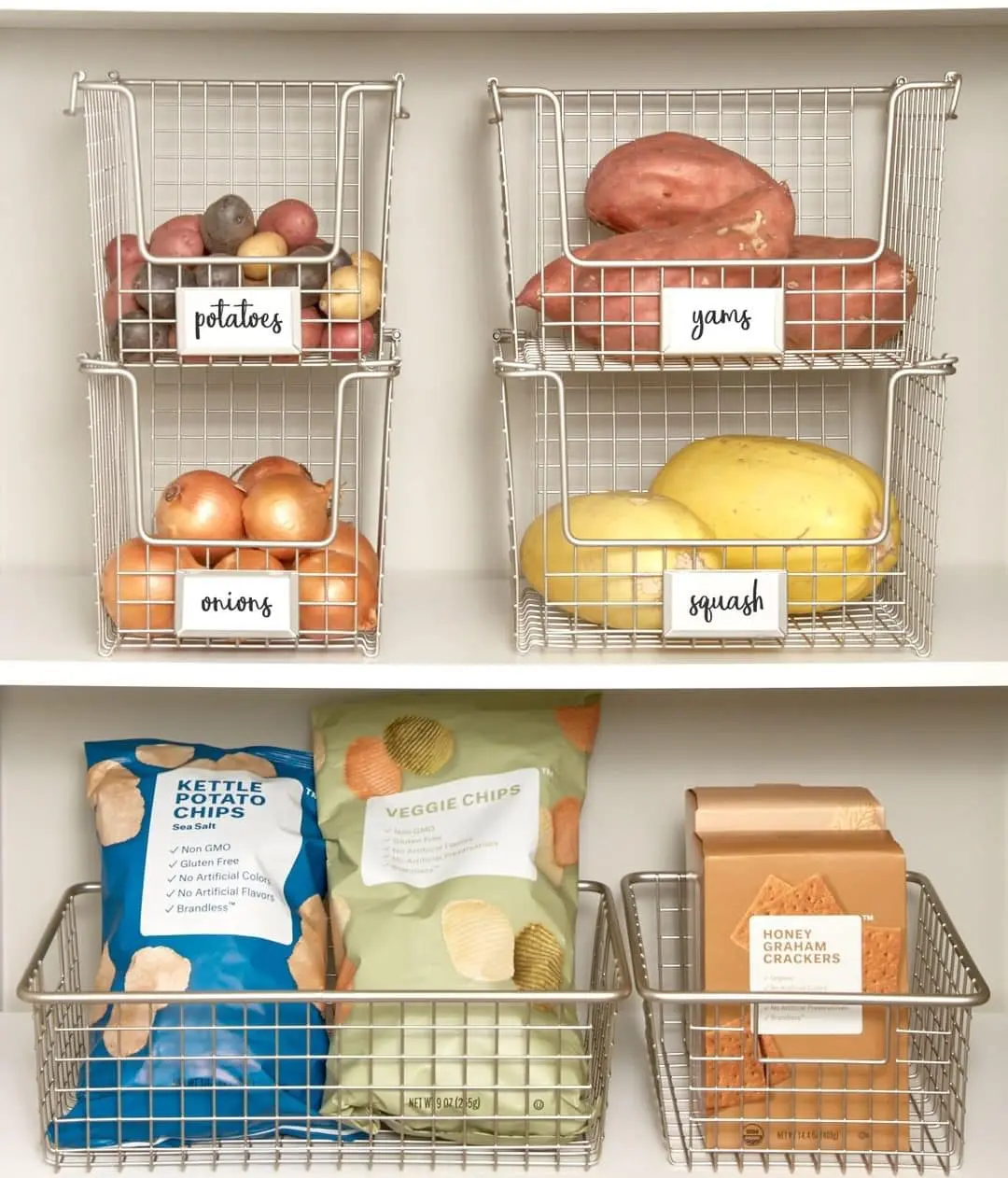 Credit: Instagram
Use metal wire baskets to organize all the stuff you got going on in your pantry! Metal baskets are great for keeping similar items all in one place.
Also, they have great storage capacity for holding items of all sizes. The best thing about using metal wire baskets in your pantry?
They look great on the shelves and there are plenty of color options to choose from (silver, white, rose gold) for you to achieve the right aesthetic. You can get them here.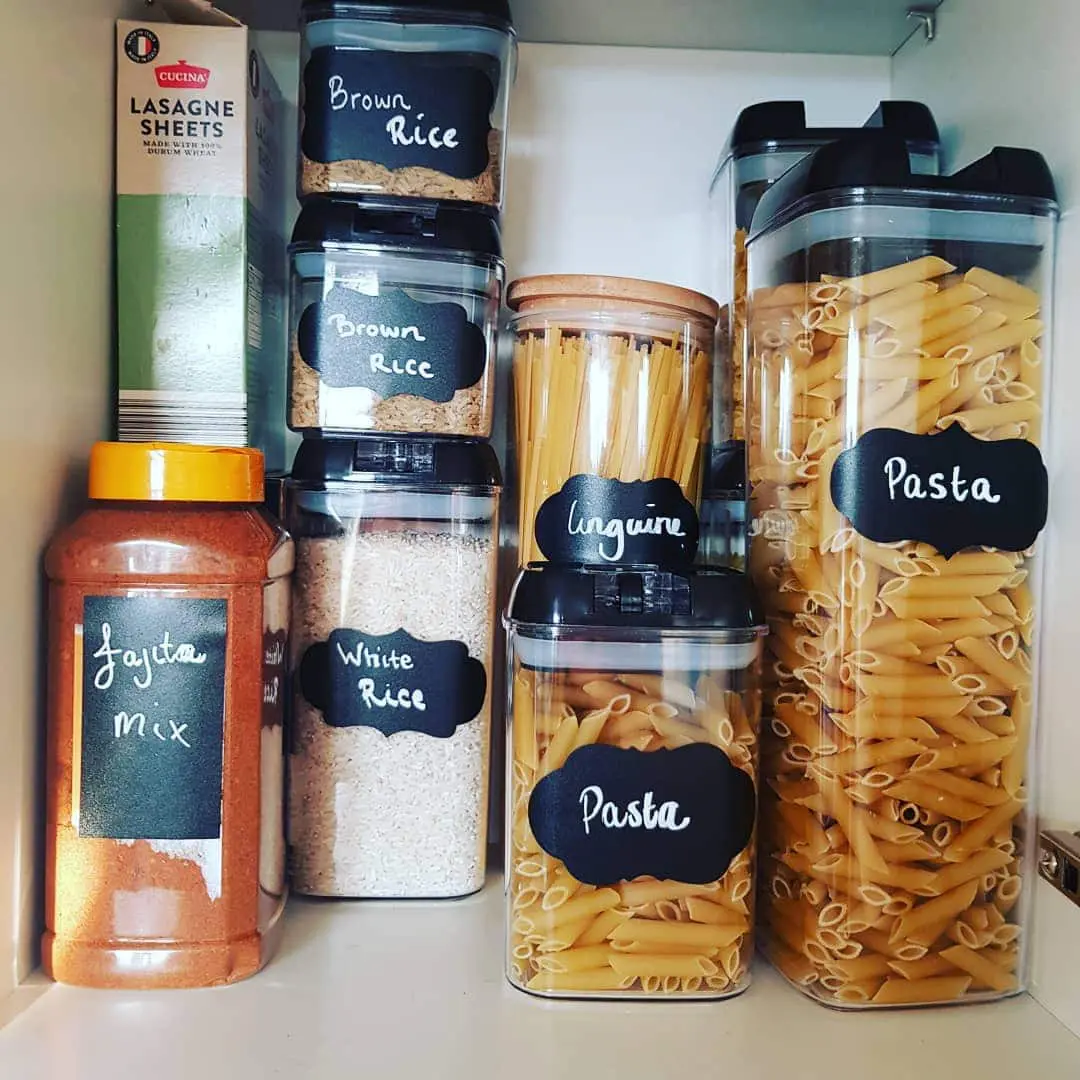 Credit: Instagram
Aside from emptying out your snacks and other dry ingredients into their own separate containers, use chalkboard labels to organize them. You can get a set of these for a very small price here.
Labeling your containers makes everything look more cohesive and it's easier on the eyes. It's both visually appealing and you can find whatever you're looking for with a quick scan.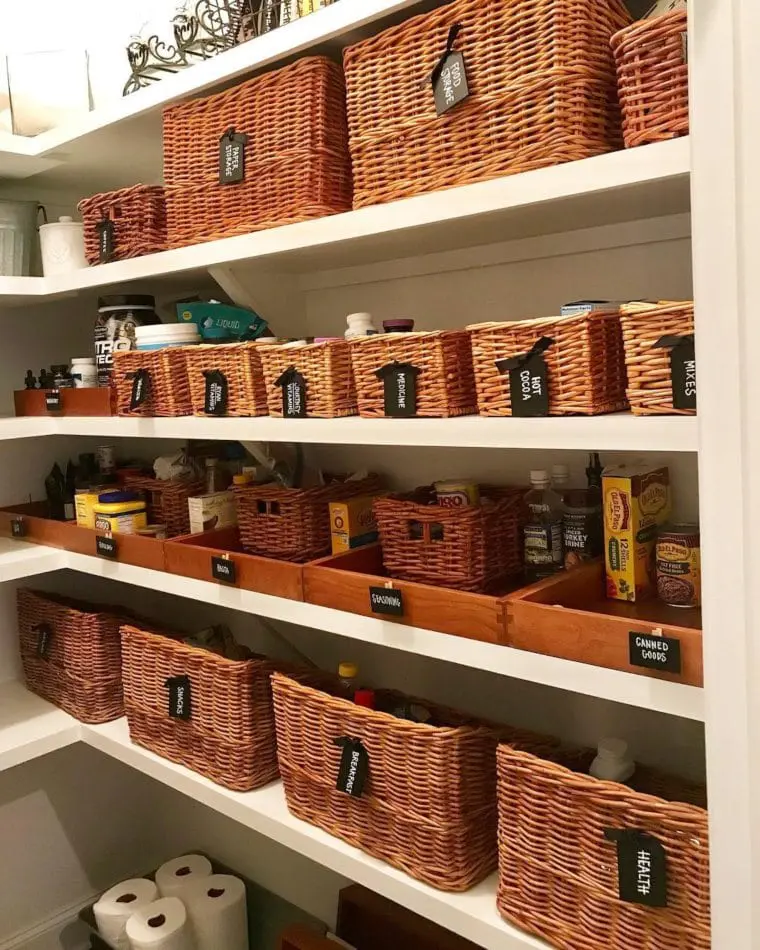 Credit: Instagram
Other than plastic containers or metal wire baskets, wicker baskets are another great storage option for your pantry. You can get these in multiple colors here.
Wicker baskets add a charming farmhouse quality to your pantry and they work well for sorting larger items.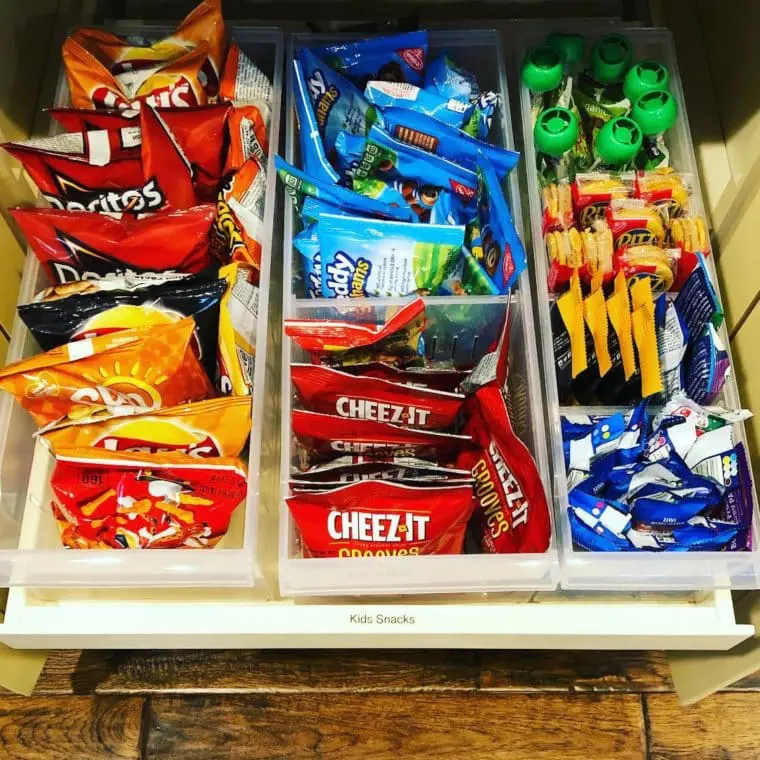 Credit: Instagram
We're on a mission to get rid of all the clutter you've got going on in your pantry – the first stop? Your drawers.
You actually have a lot of space to work within your drawers, you just have to know how to make good use of it. Add plastic storage bins into your drawers to create separate compartments for all your storage needs.
I personally love these since you can easily pull them out.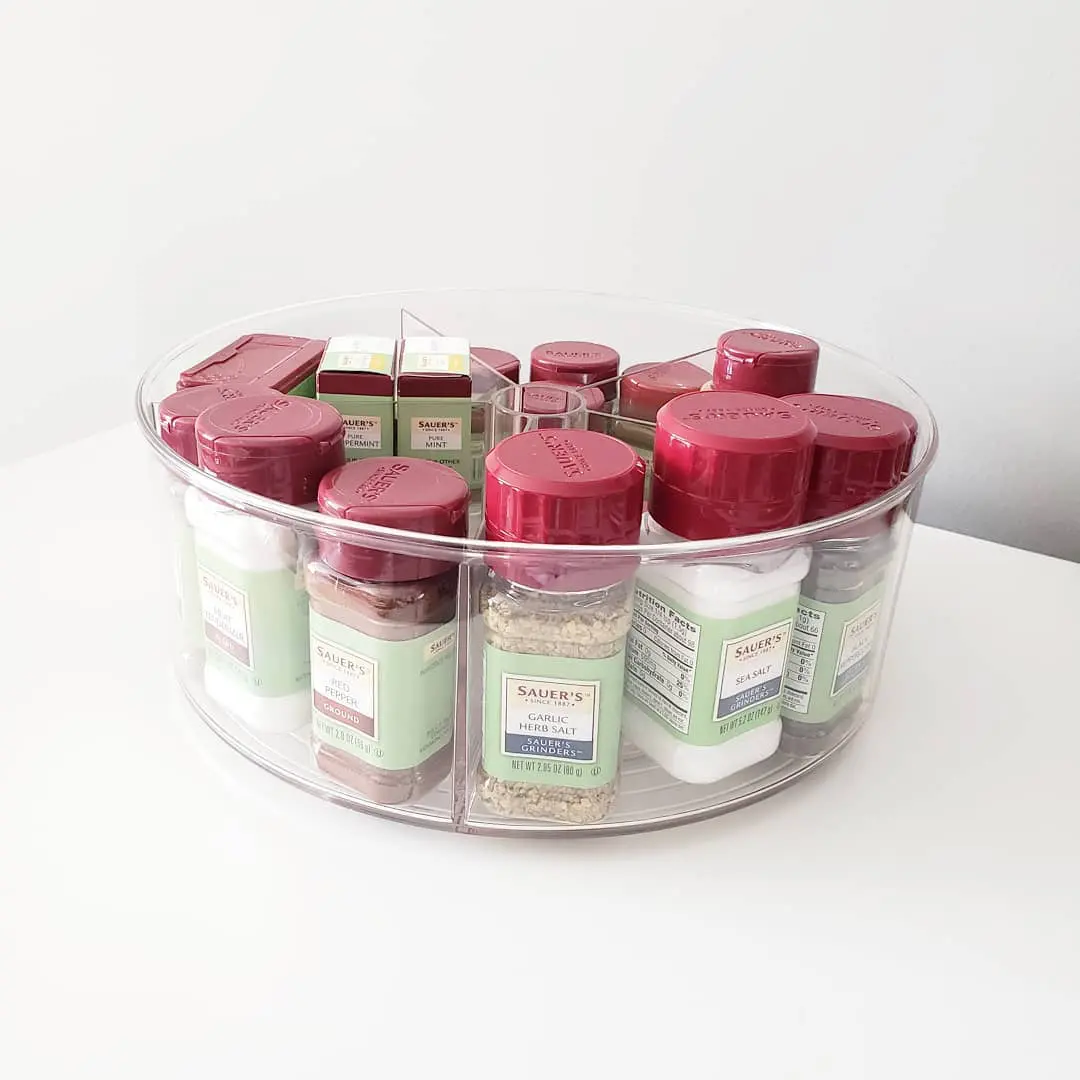 Credit: Instagram
It's a lot easier to prepare your favorite recipes when you know exactly where all the ingredients are! Get yourself a turntable to keep all your spices and condiments in one place.
A spinning organizer looks great on your counter space and it helps to maximize storage space by getting rid of all the clutter on your shelves. You can use it to organize your fridge and increase storage space in your kitchen cupboards.
7. Large Containers
These large containers are a definite staple item for any kitchen or pantry. They work well for creating deep compartments in large drawers.
Also, you can place them in your fridge to organize your produce.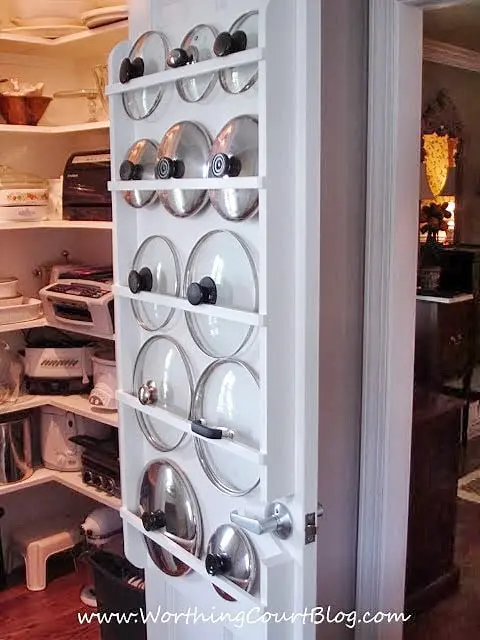 Credit: worthingcourtblog.com
This impressive storage hack looks great and it serves a very important functional purpose. Forget about going through all that fuss and loud 'clanking' when trying to find the right lid for a pot.
Use this creative DIY project to maximize the storage space in your kitchen and pantry. Just think about how much space you'll have after clearing out all your pot lids!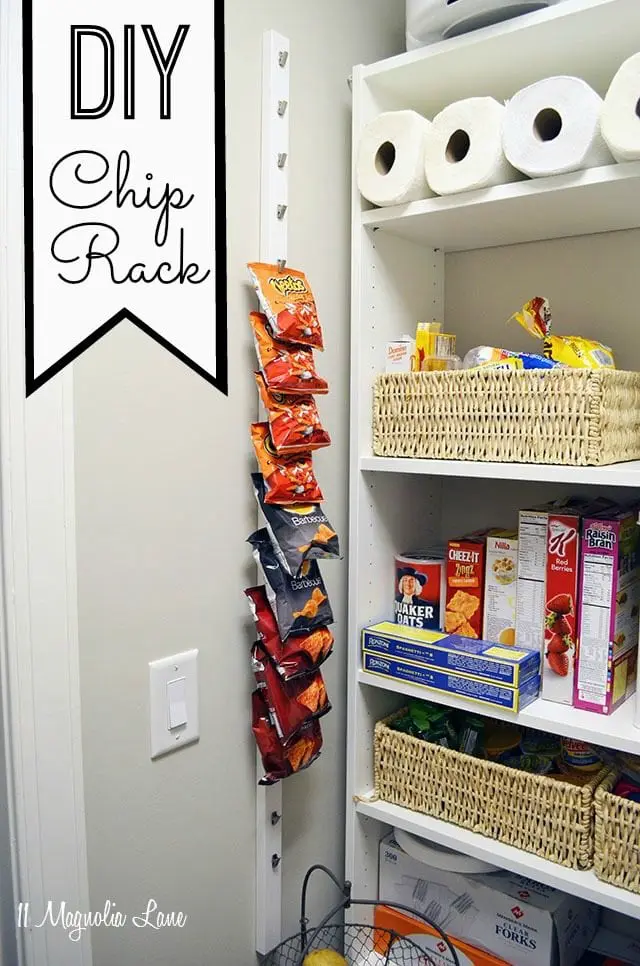 Credit: 11magnolialane.com
Okay – kids or no kids, everyone needs a chip rack in their house.
A chip rack takes the concept of maximizing storage space to a whole new level. Think about how much space you're going to save by installing a chip rack into a tiny corner of your pantry.
This pantry organization idea also makes it a lot easier for you to get to your snacks and monitor the supply.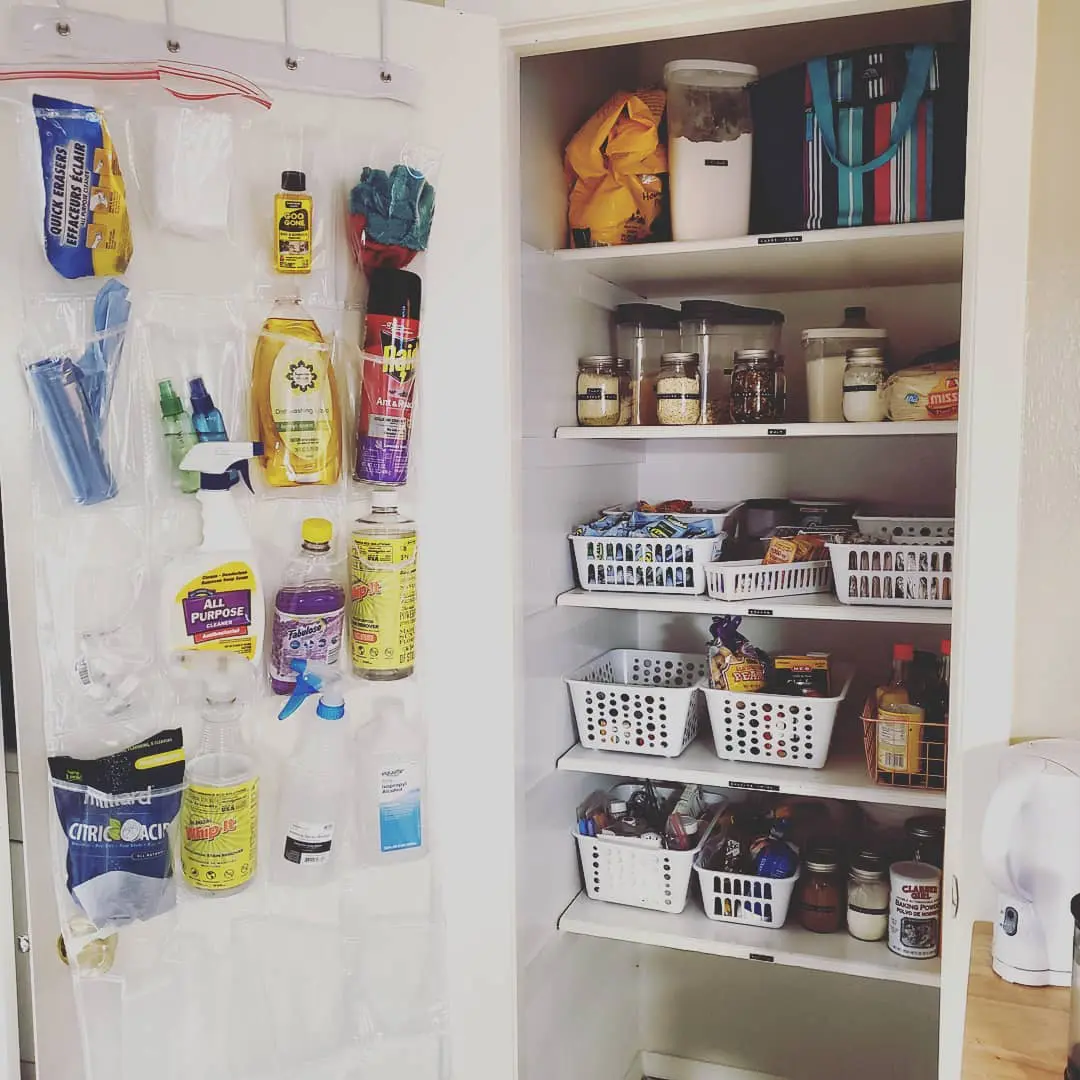 Credit: Instagram
A list of pantry organization ideas just isn't complete without showing our cleaning supplies a little love!
Most of us have a love-hate relationship with cleaning supplies. They need to be close by because we always need them, but when it comes to home décor – they don't look that great in any space.
Here's the simple solution: Get yourself a transparent over-the-door organizer to keep them hidden behind the door!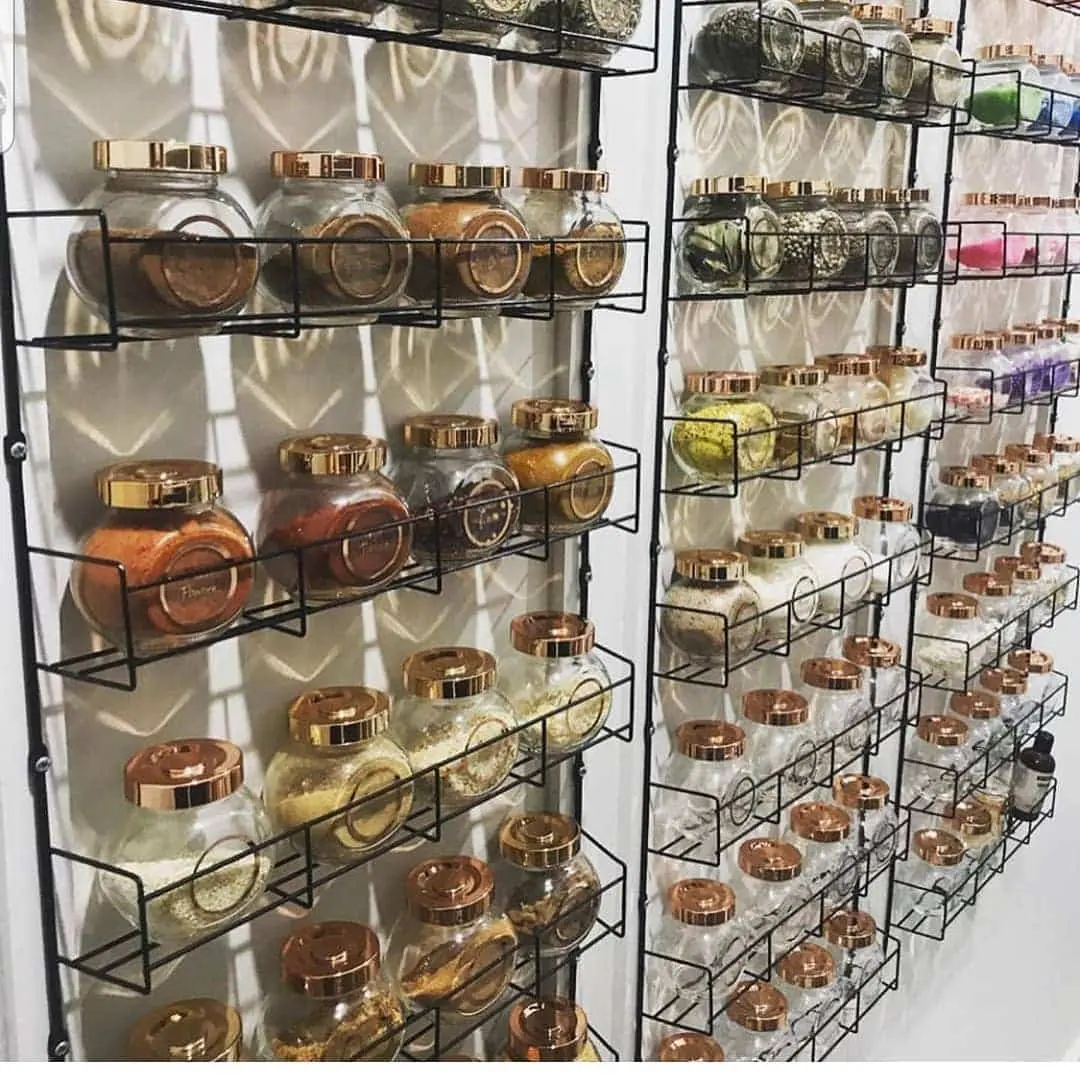 Credit: Instagram
This organization idea is a major game-changer.
An over-the-door closet organizer with shelves looks incredibly sleek and modern in any pantry.
And it does a great job of maximizing storage space! You can get one here!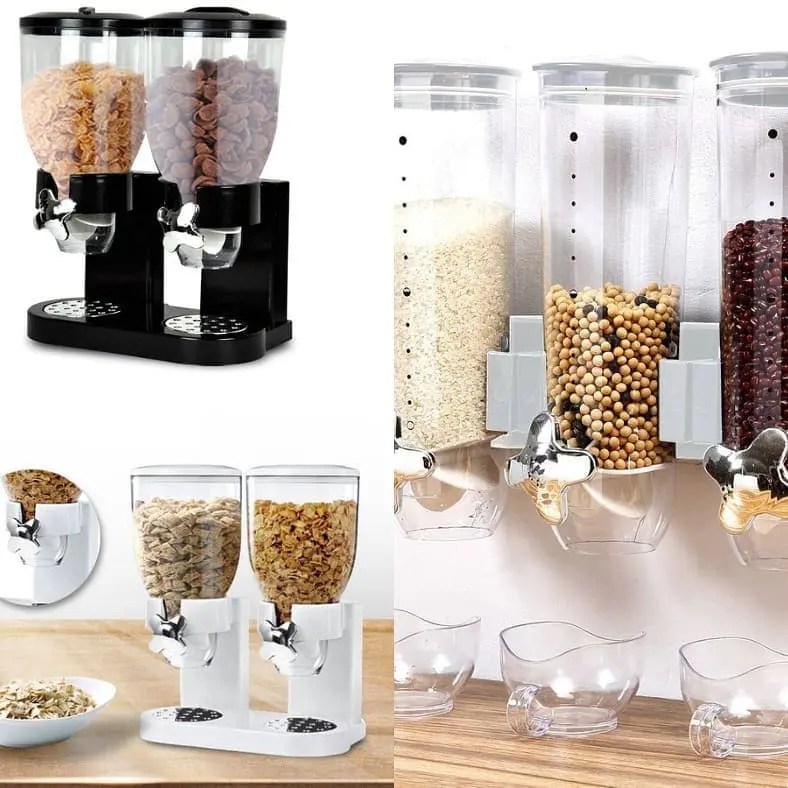 Credit: Instagram
There's really no reason not to have a cereal dispenser in your home. It gets rid of all the clutter from having a ton of cereal boxes on your shelves.
Also, it keeps your cereal from getting stale. Oh, it's also a pretty fun way to pour cereal into your bowl in the morning.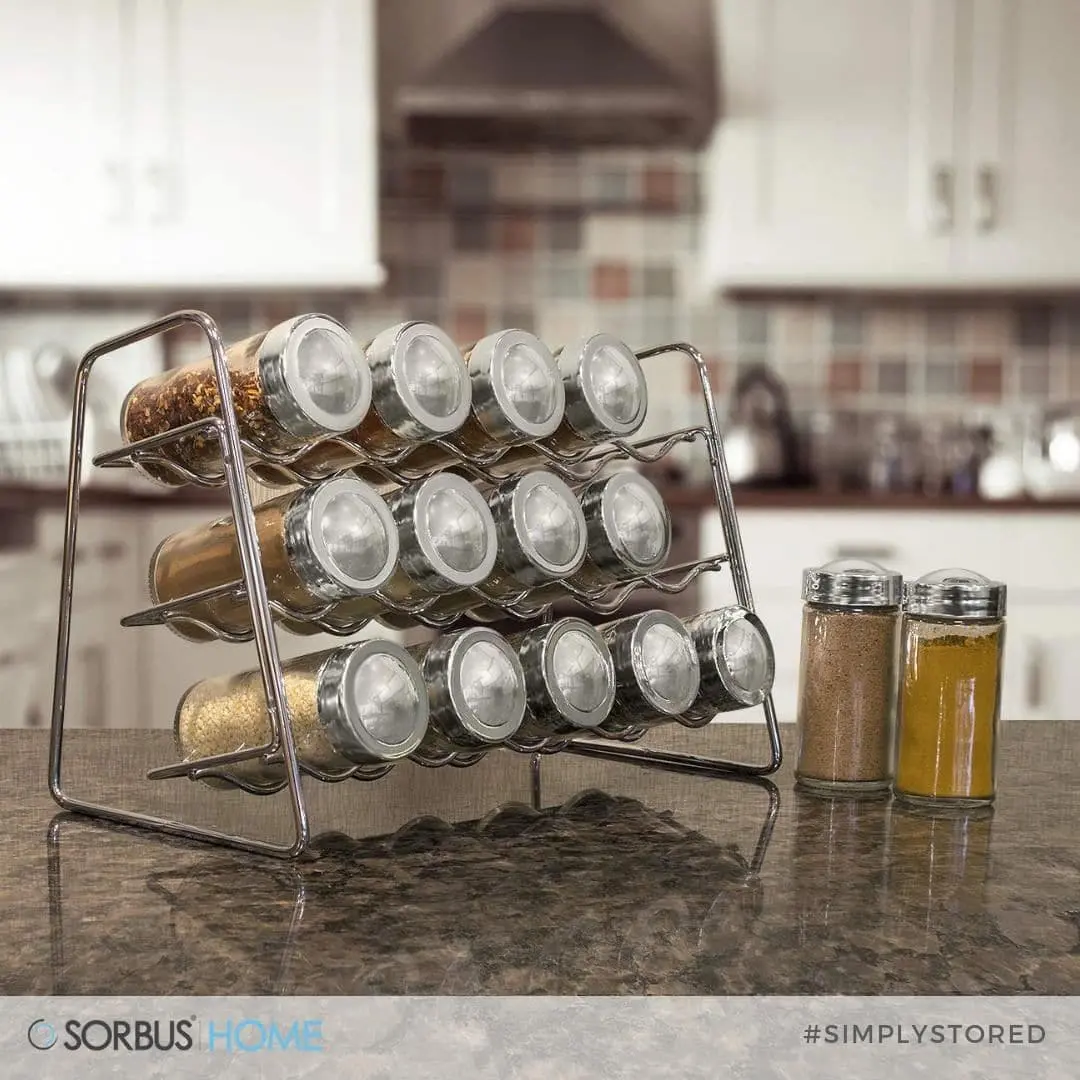 Credit: Instagram
A 3-tier spice rack looks great on any counter space.
With a 3-tier spice rack, it's a lot easier to find whatever you're looking for and it really helps to minimize the clutter you've got going on in your pantry.
Looking for a spice rack with a sleek design? This spice rack includes 15 glass bottles to store your spices.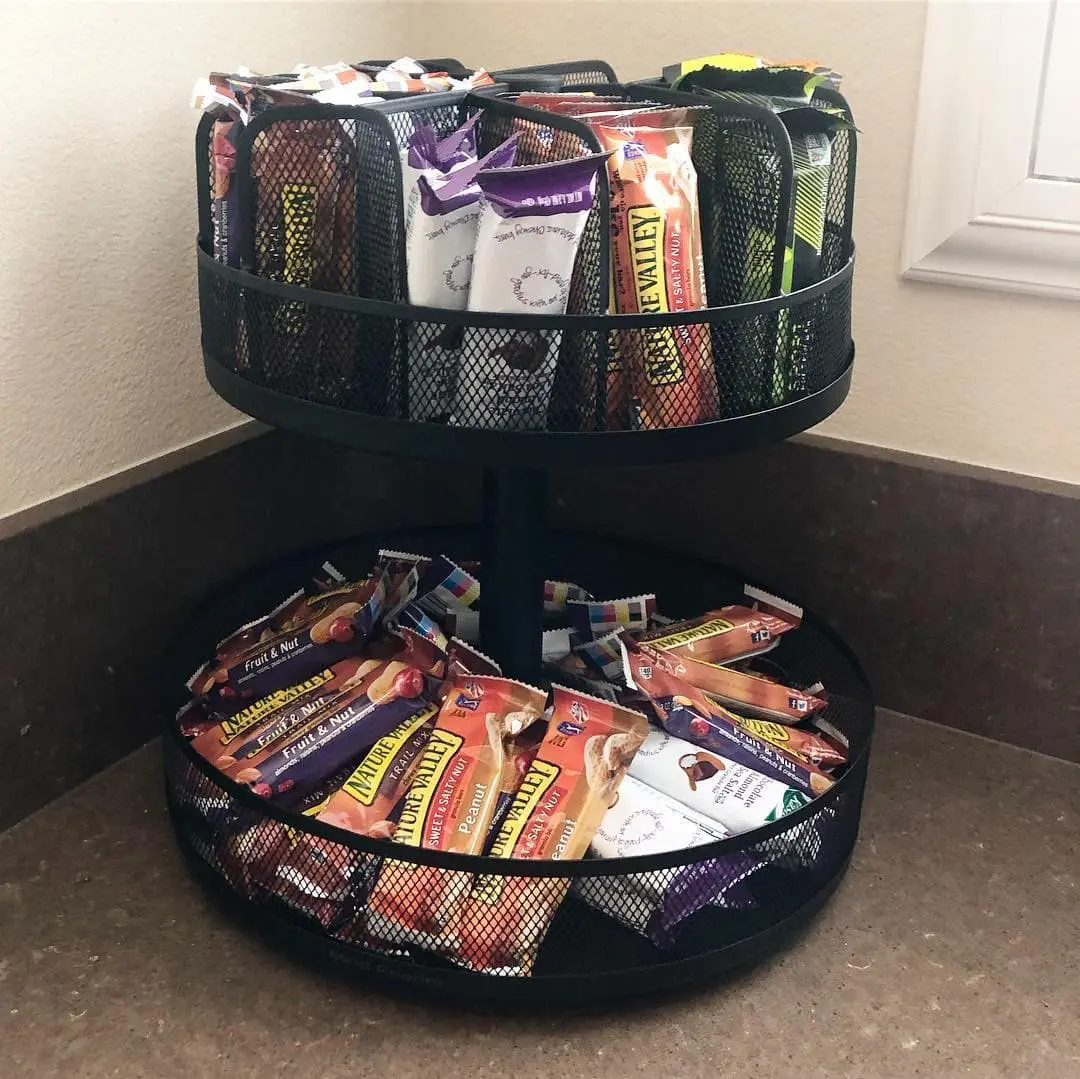 Credit: Instagram
This 2-tier snack organizer makes it so much easier for you to organize the smaller snacks in your pantry. That includes cereal bars, chocolate bars, or even tiny bags of chips.
This is a great way to free up some space on your shelves and it makes it easier for you to grab a snack when you're on-the-go.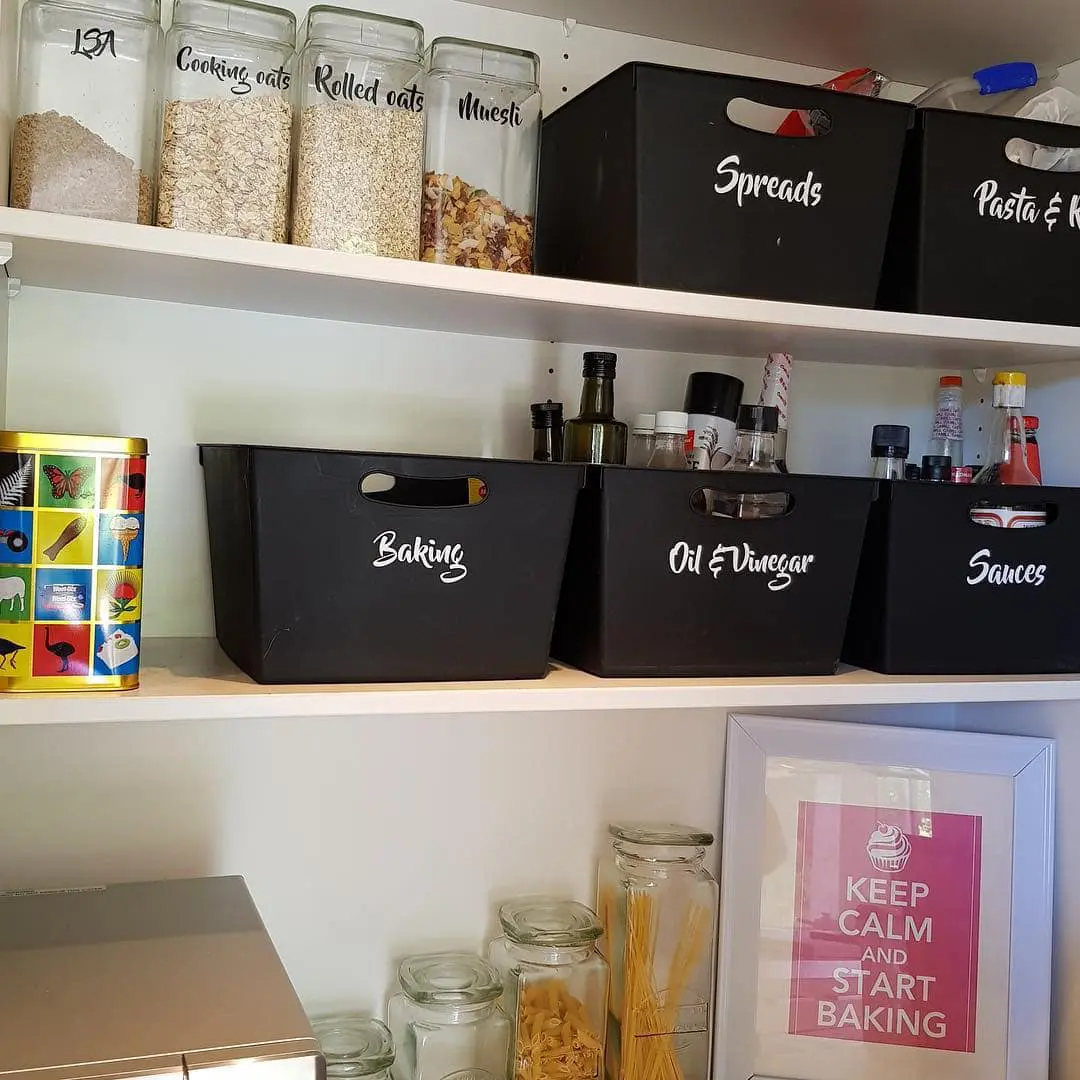 Credit: Instagram
Bring more uniformity to your pantry by using the same label decal to label all the containers, jars, baskets, and bins in your kitchen space.
Besides adding a cohesive aesthetic to your storage space, this makes it a lot easier for you to locate items in your pantry.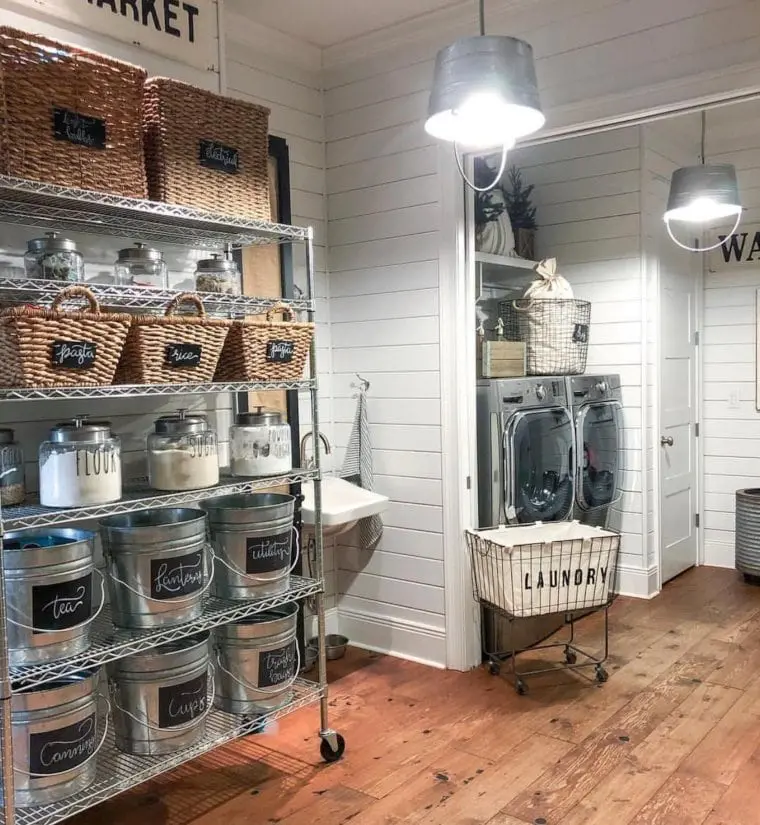 Credit: Instagram
Instead of spending a fortune on storage baskets and plastic containers, head to your local dollar store to stock up on galvanized metal buckets! This hidden gem usually comes in many different sizes and they're great for all storage purposes.
Besides organizing your snacks, it's also a great way to keep all larger items in one place, including cleaning supplies.
Another plus? Without even trying, bringing a couple of galvanized metal buckets into your pantry situation instantly adds a charming, farmhouse quality. You can also add a personal touch to the metal bucket with label decals.
It's definitely one of those great Dollar Store organization ideas.
Credit: organized-home.com
Everyone needs a pegboard organizer in their pantry. It looks great and it's one of the best ways to organize the household items or kitchen supplies.
Especially the ones you're always reaching for, such as a small cutting board, scissors, or even baking utensils.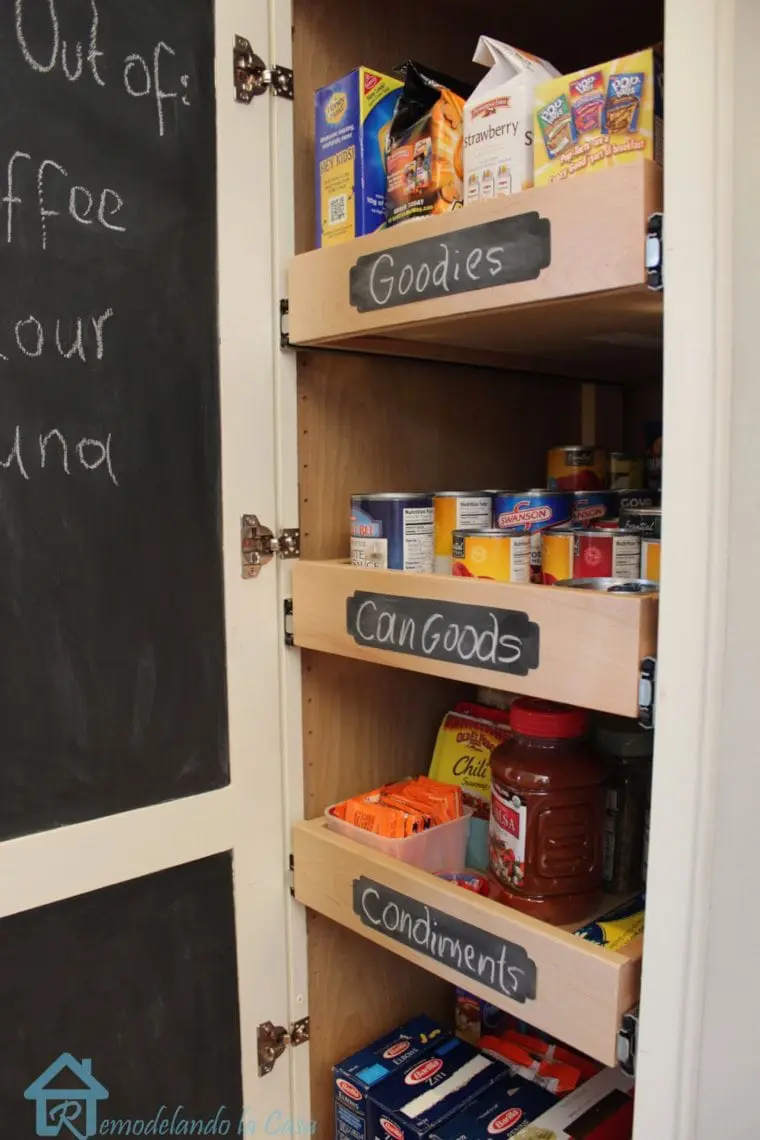 Credit: remodelandolacasa.com
Out of sight, out of mind – this sentiment rings true when you find an expired can of food in the obscure depths of your pantry shelves.
Make it easier for yourself to get to items by replacing regular shelves with pull out shelves!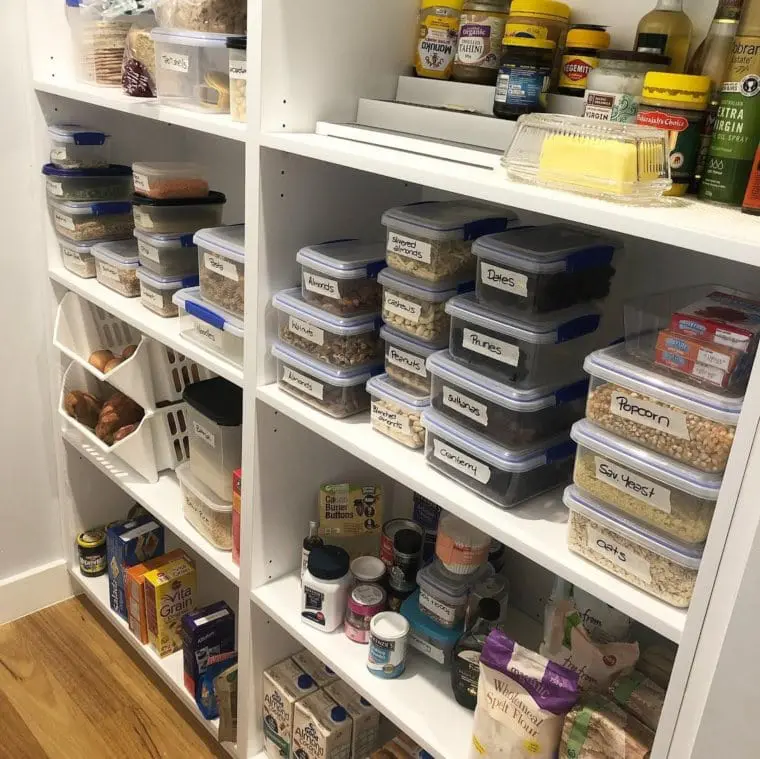 Credit: Instagram
Aside from keeping your leftovers safe and organizing your meal prep, you can do a lot more with plastic food containers! They offer an incredibly simple way to store smaller snack items and dry ingredients in your pantry.
What's great about using containers in your pantry is that they really don't take up a lot of space. Because they're designed to be stacked, you can save a ton of space on your shelves.
To save a couple of bucks from buying label decals, just use masking tape and a permanent marker to create labels! These plastic food containers are great.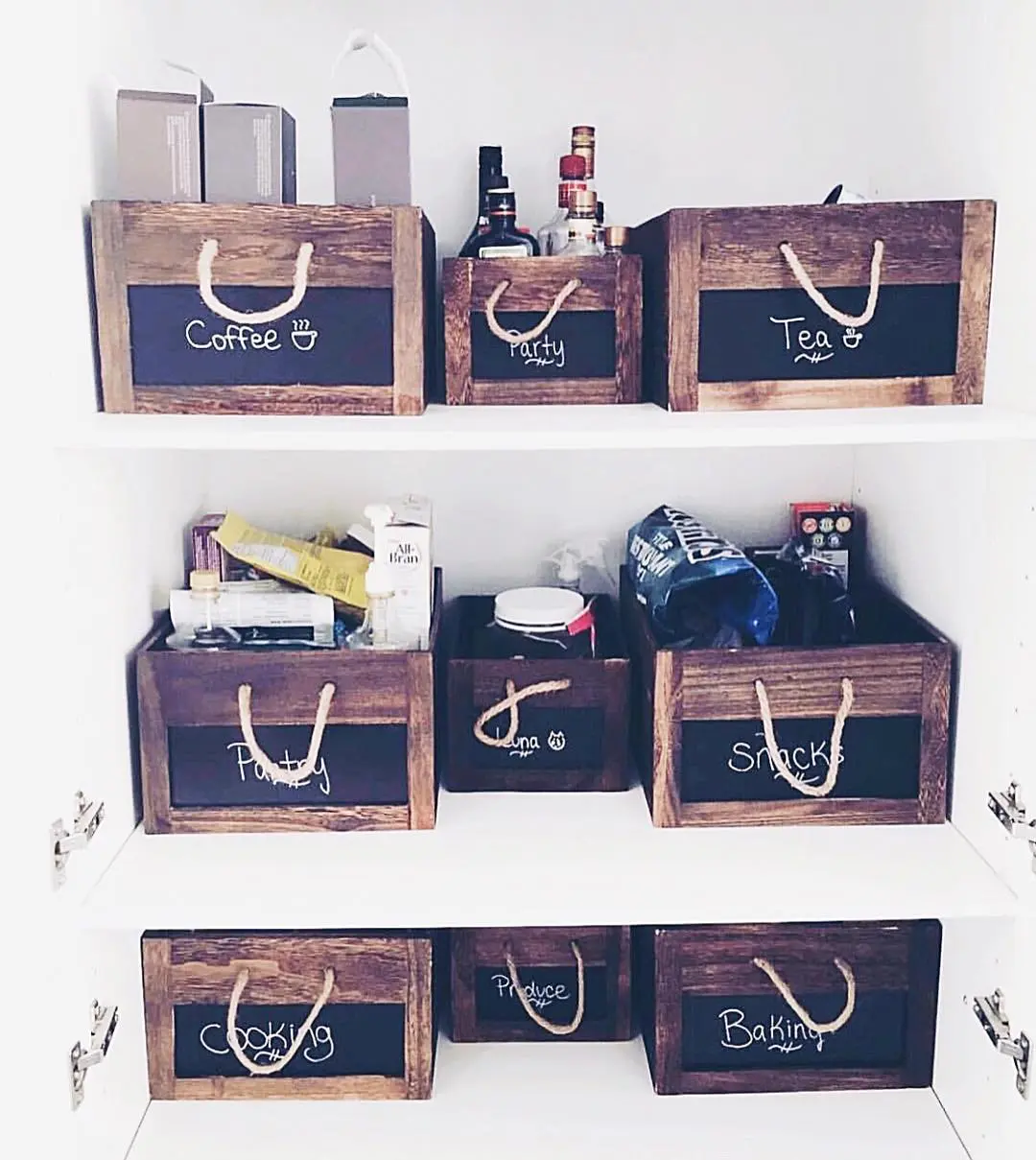 Credit: Instagram
Wooden crates are a fantastic alternative to wicker baskets when it comes to sorting the larger items in your pantry. There are crates that come with handles or even a chalkboard front panel.
But, from the description, you already know it's not going to be cheap. Why spend a ridiculous amount of money on fancy wooden crates when you can just DIY it!
You can easily find wooden crates at your local dollar shop or craft store. Give your wooden crate a makeover with some stain or paint.
Add some elegance to the rustic vibe by painting your crates matte white! It's also pretty simple to add a few handles to your crates. All you need is a bit of rope.