Upcycle cereal boxes to make this DIY cabinet organizer. Perfect to increase storage in your kitchen, under the sink.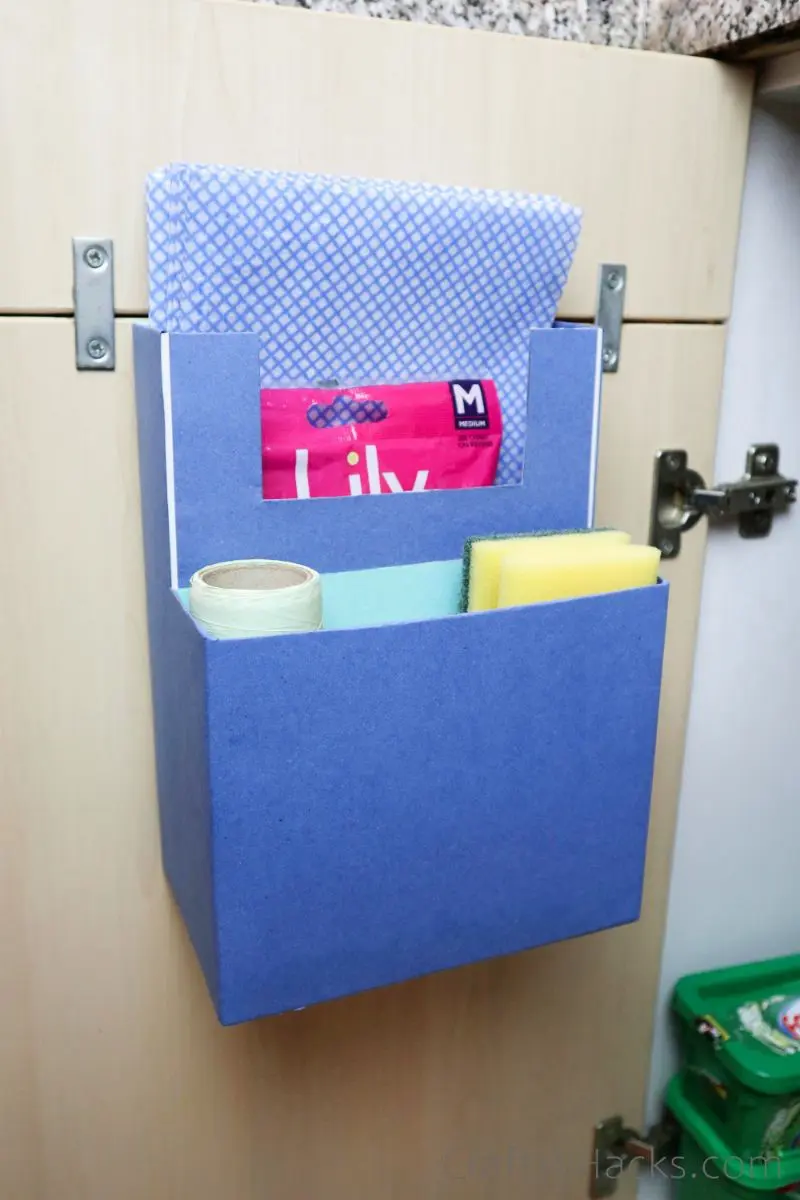 If you're like me, then you also think a house with sub-par storage is just… the worst. Especially in the kitchen, where we store so many cleaning supplies!
If the area under your sink has no shelves like mine, then there's a lot of space just going to waste. Eventually, I got sick of the clutter under my sink and came up with this nifty hack.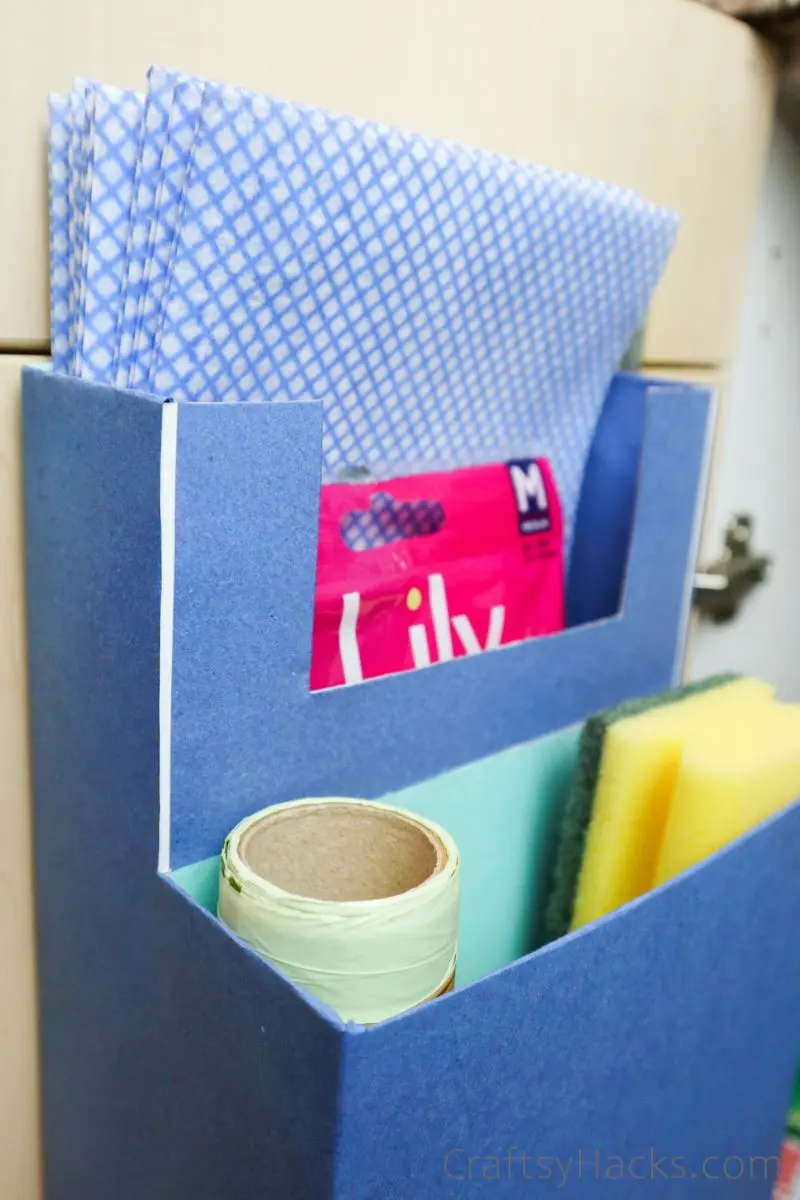 Using some old cereal boxes, card stock, and some adhesive strips, you can create a hanging shelf for the area under your kitchen sink. This is so simple to make, so cheap, and takes no time to complete.
Follow along with me, and by the end of this DIY project, you'll have a new place to stash those stray washcloths and supplies. Let's go!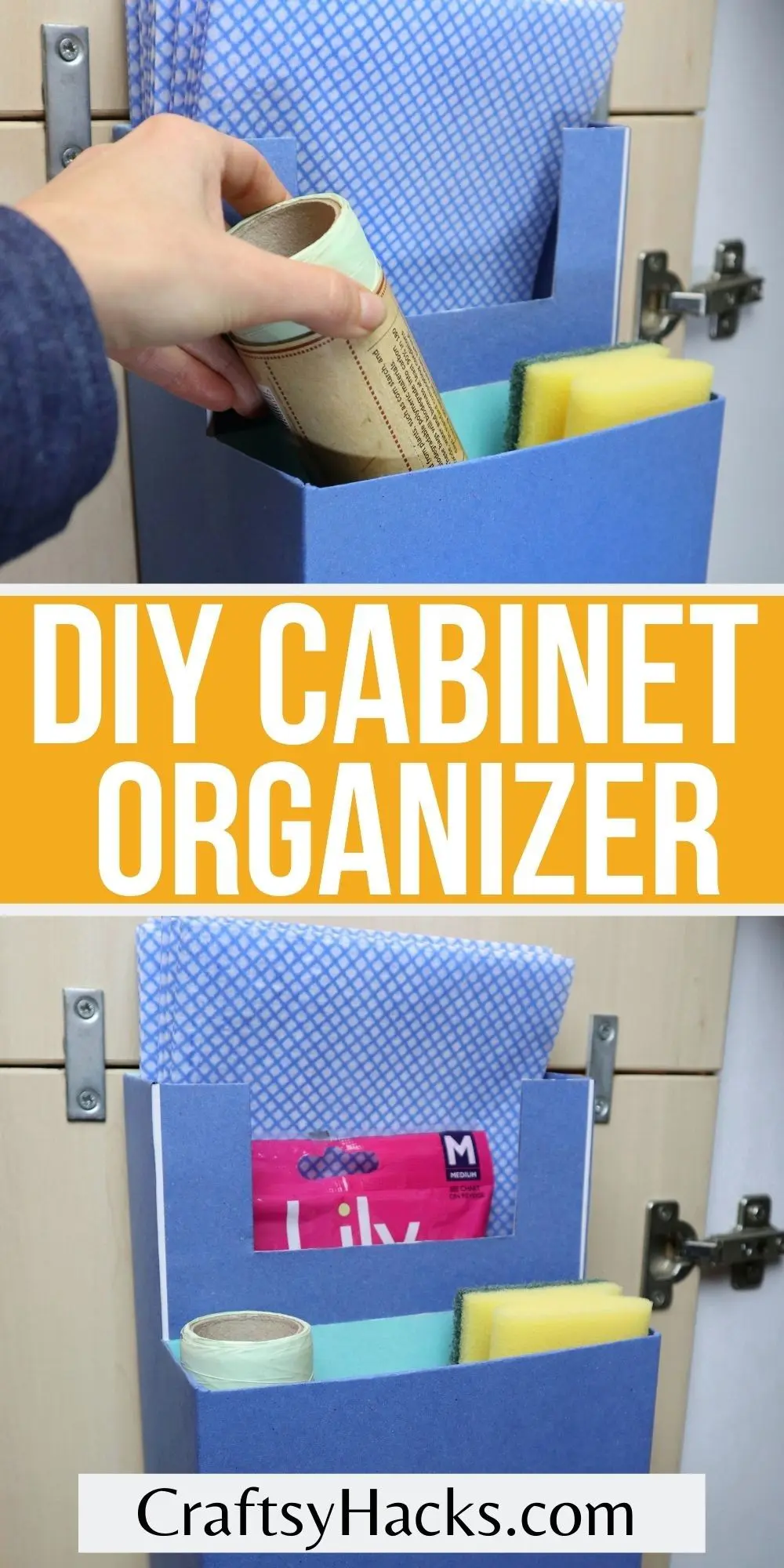 Supplies for the Organizer
Thick paper (or wrapping paper)
Paper (for the inside of the organizer)
2x Cereal Boxes
Glue
Ruler
Pencil
Cutter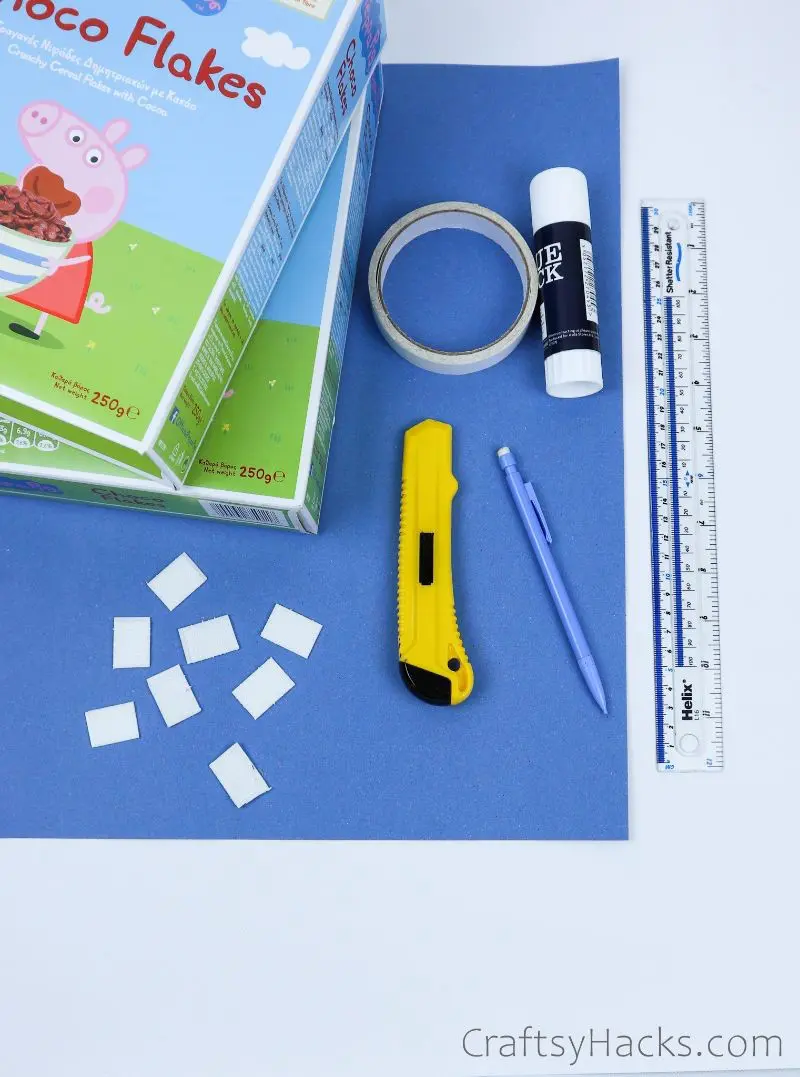 How to Make an Organizer
Alright, let's get organizing!
Step 1
Start by gathering all your supplies. It's best if the cereal boxes are the same size. However, you can use a smaller one for the front pouch if that's all you have.
Step 2
Whip out your pencil and a ruler to draw a line across your first cereal box. This will be the front slot on your organizer. I chose to draw mine just over halfway up, but you can change the size if you like.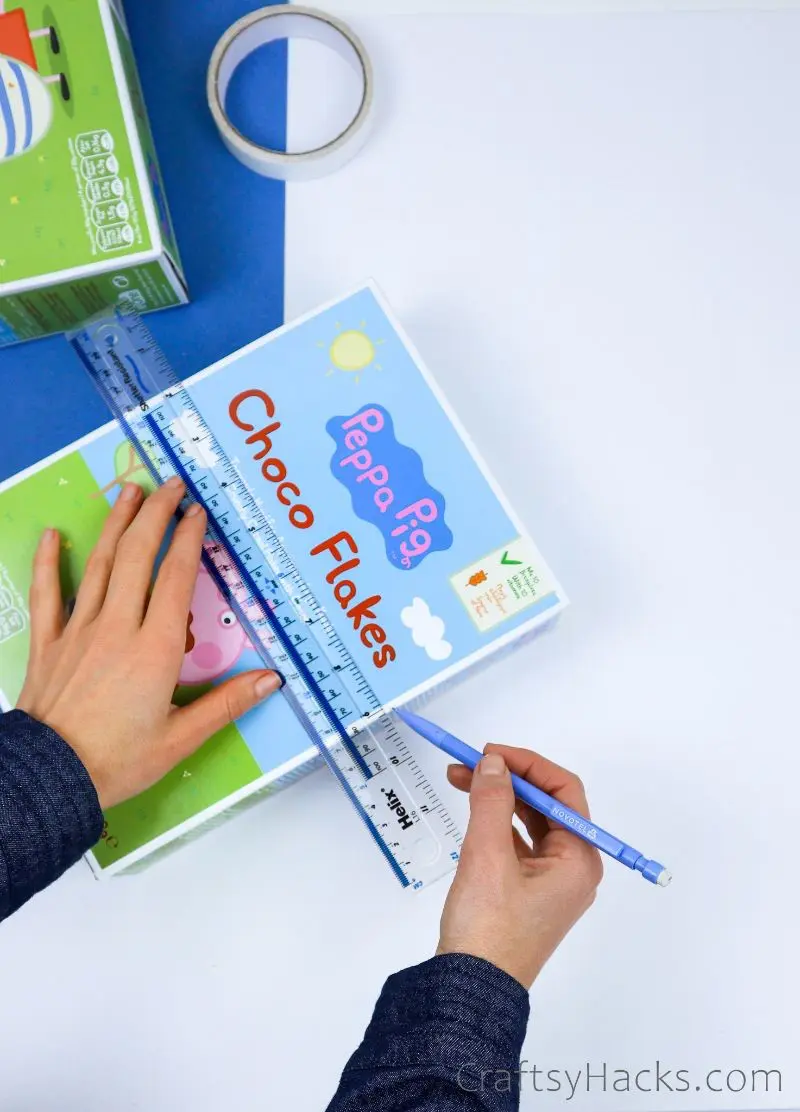 Step 3
Using your craft knife, cut through the cereal box on all four sides, leaving it with an open top. I find a craft knife works best to keep the lines straight, but you can use scissors as well.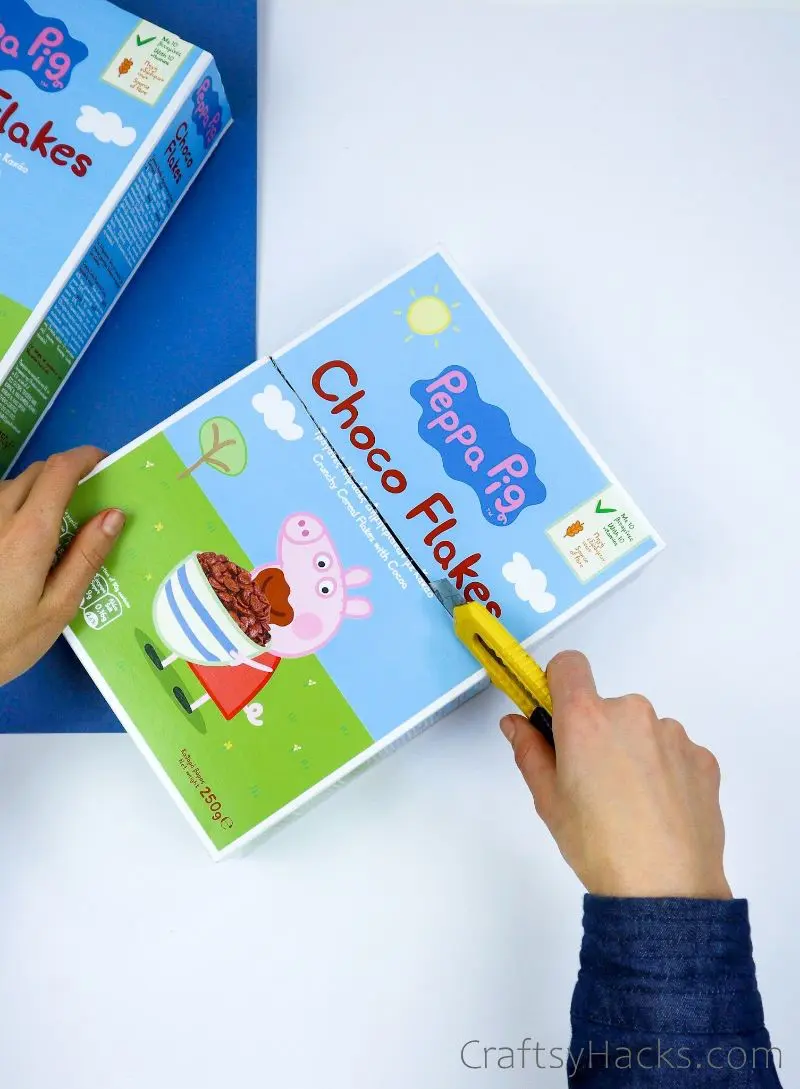 Step 4
Do the same thing for your other cereal box. Make this one taller than the first, as we'll be cutting a notch into it later. You can use the image below for a reference on how much bigger to make it.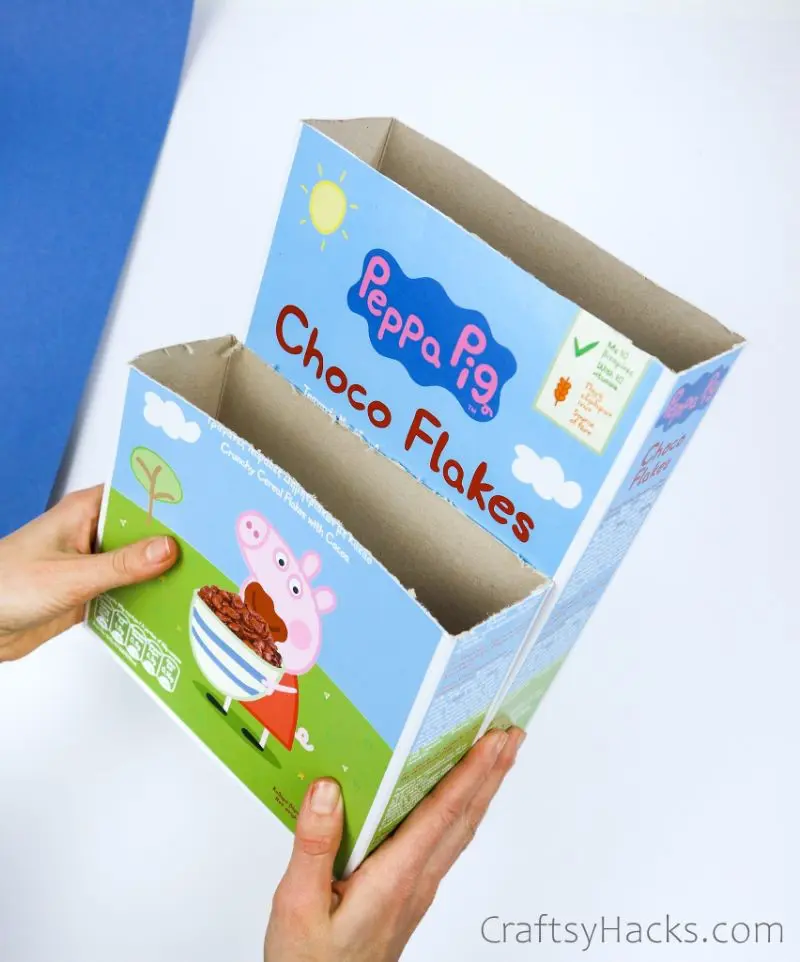 Step 5
Next up, let's start customizing! I chose blue for my organizer (it's so clean and calming), but you can make your creation in any shade that strikes your fancy.
Simply cut a sheet of construction paper the width of the tall box. You don't need to cover the entire thing, though! Just cut it long enough to reach behind where the smaller box will sit. Glue it down.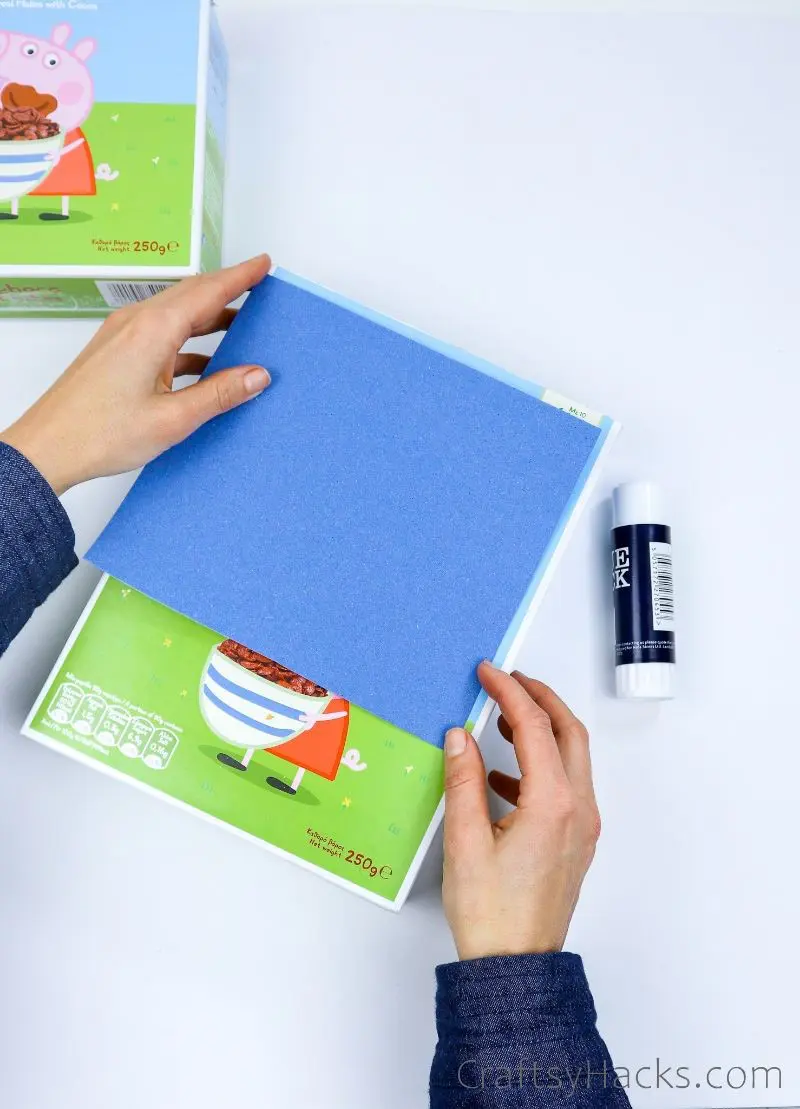 Step 6
Then, we're going to use some adhesive strips to mount the smaller box. I recommend drawing a light line where the little box's top will reach to make sure you don't overshoot.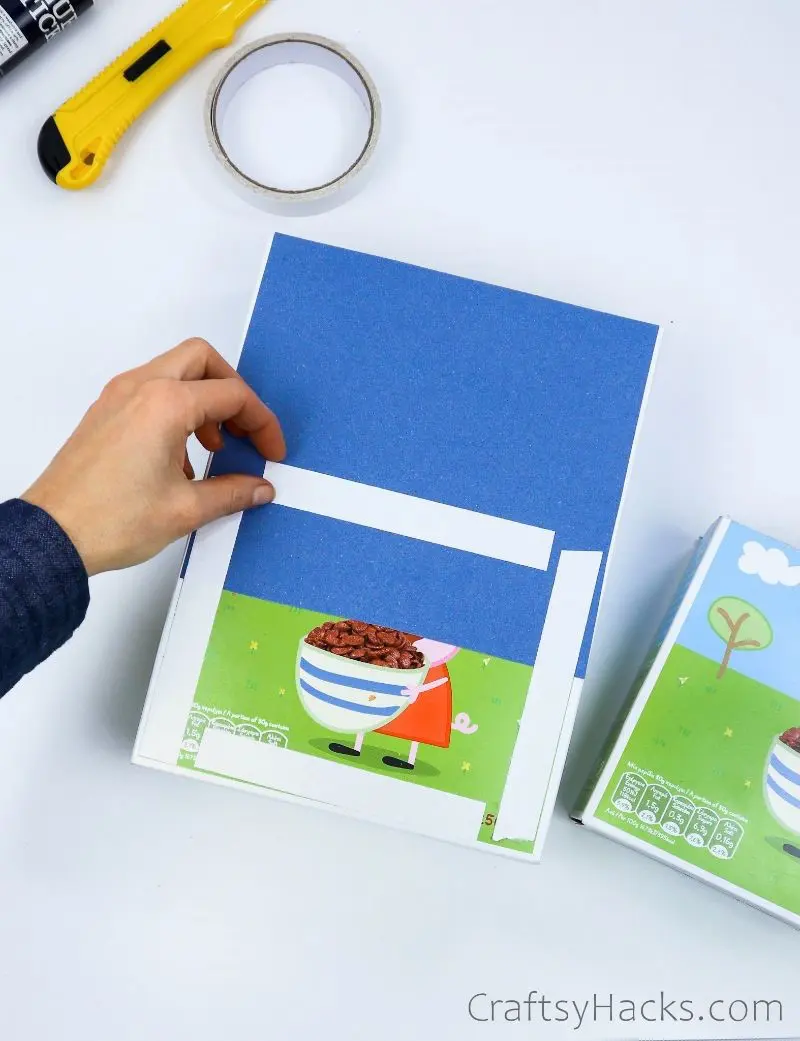 Step 7
Mount the small box, taking care to line up the edges as closely as you can. We want the organizer to look like a single piece.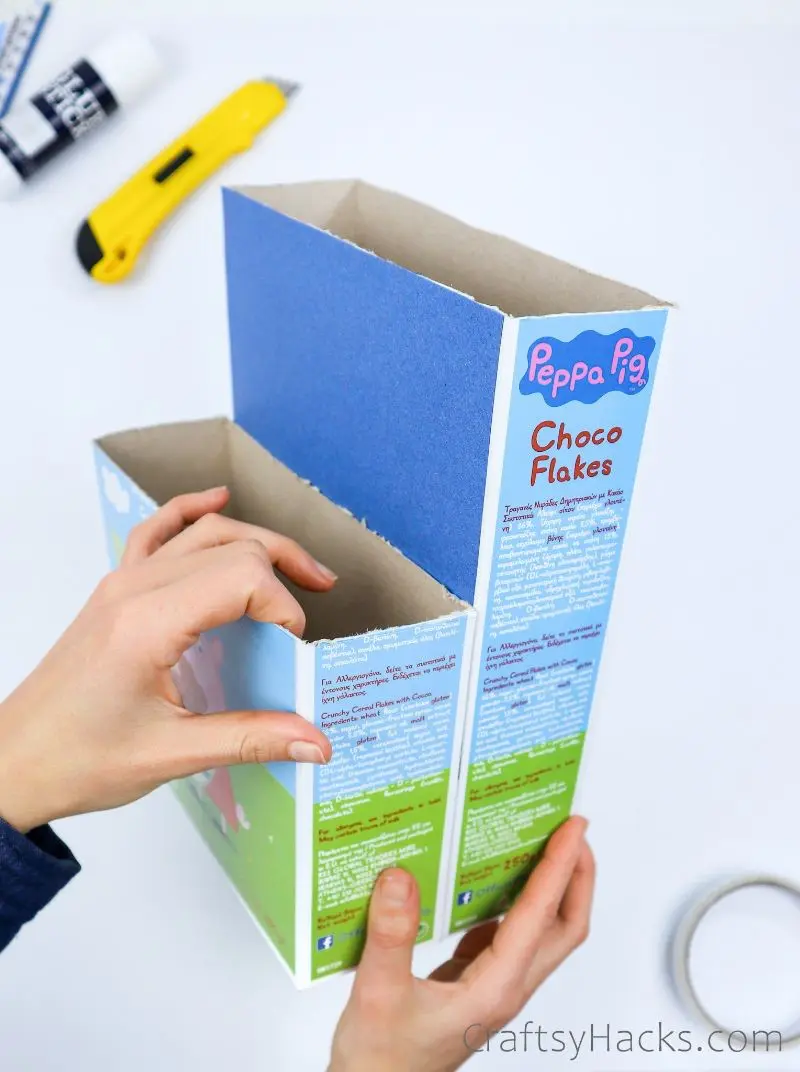 Step 8
Next on the agenda is a notch. Start by drawing a rectangle on the top box, taking care to keep the edges even. I drew mine about 1.5 inches in from every side except the top.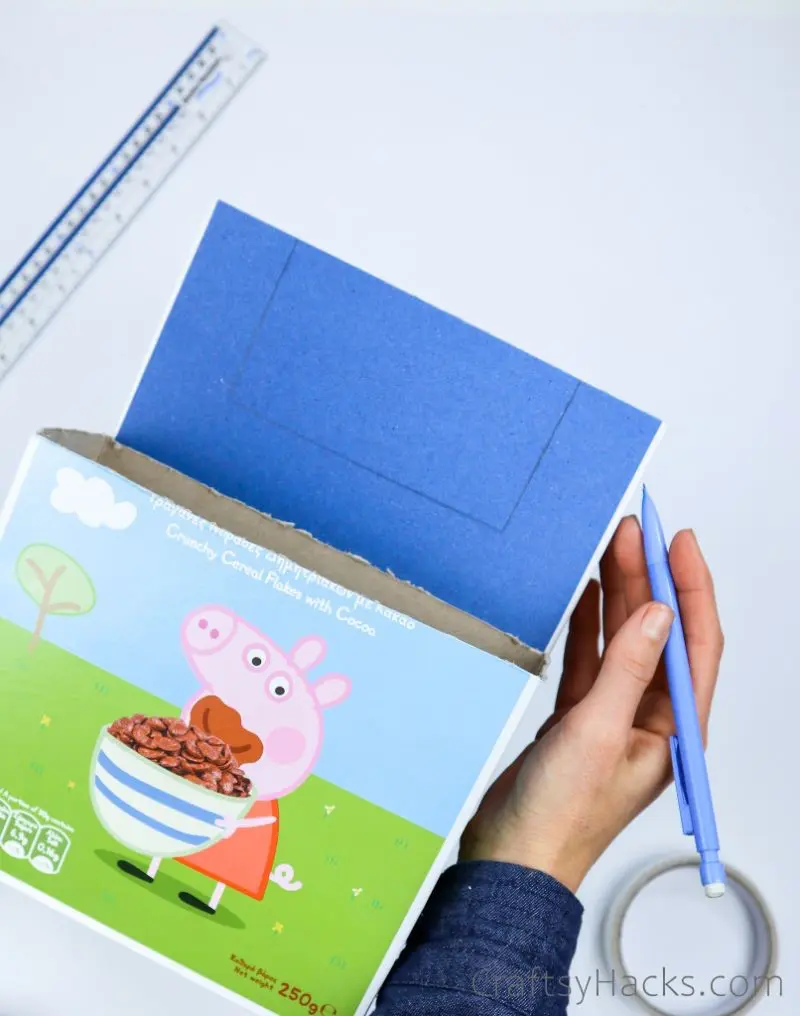 Step 9
Then, whip out your craft knife! Cut carefully along your rectangle lines to create a window. If you're confident with a craft knife, consider making the corners rounded for a sleeker look.
It should end up looking like this.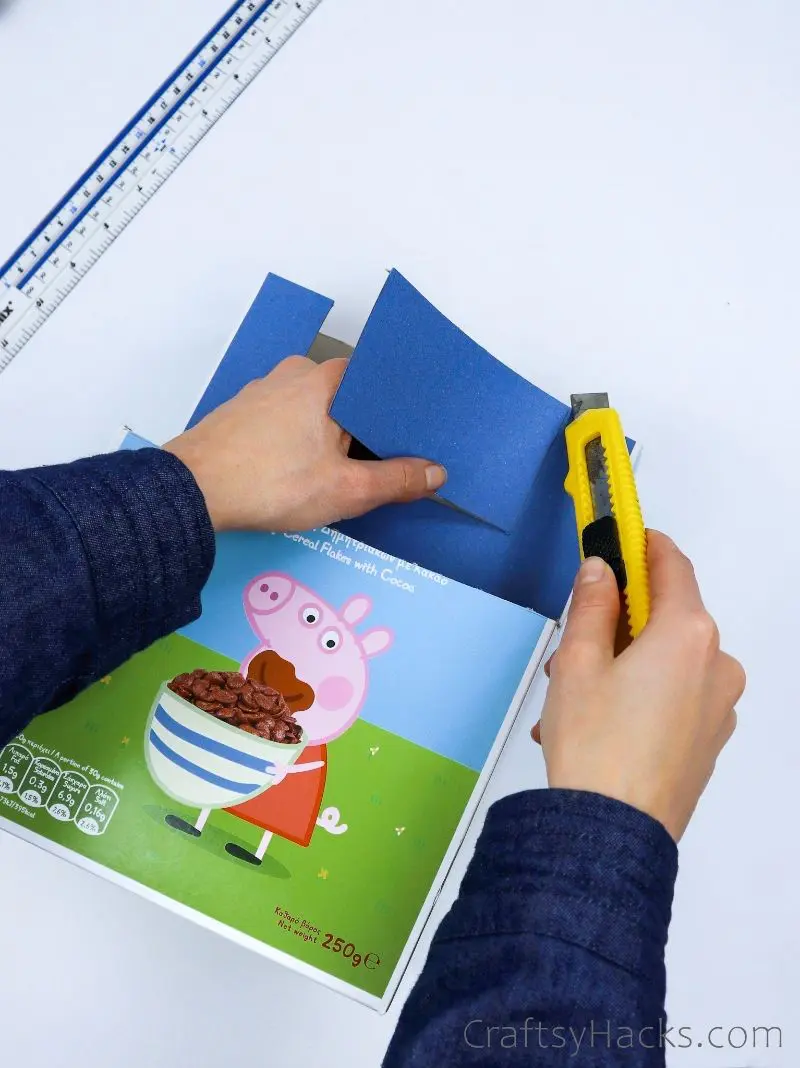 Step 10
Following that, we will cover up the smaller box with the same blue paper we used on top. I used adhesive tape again, as this helps the edges of the piece lie flat.
You can use a full sheet of paper and simply wrap it around the box, or you can cut individual panels and glue them one by one. It's up to you, but I went with the former. Don't worry about the back!
You should have something that looks like this.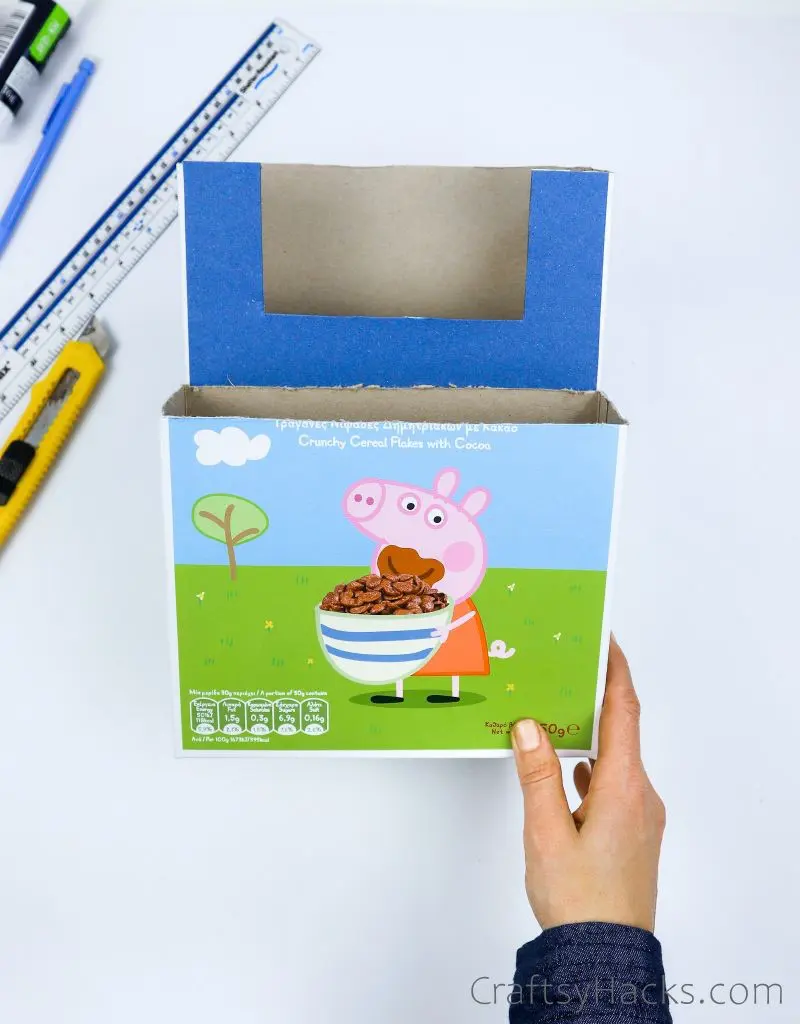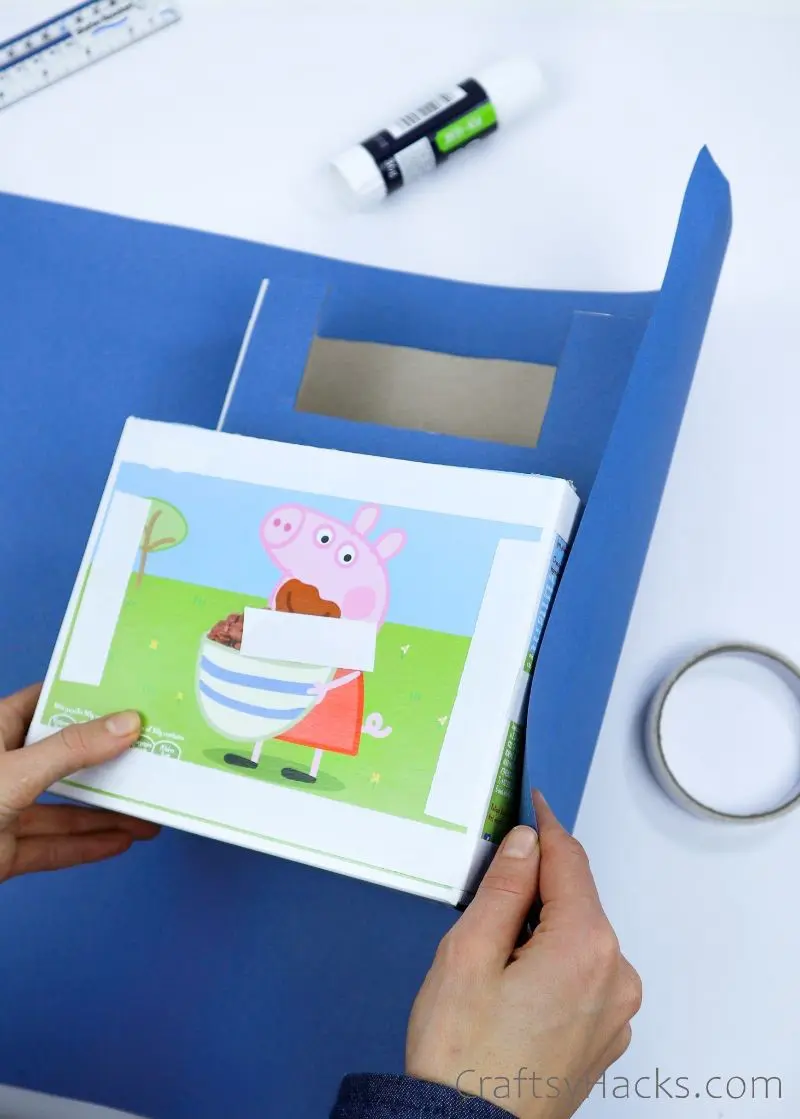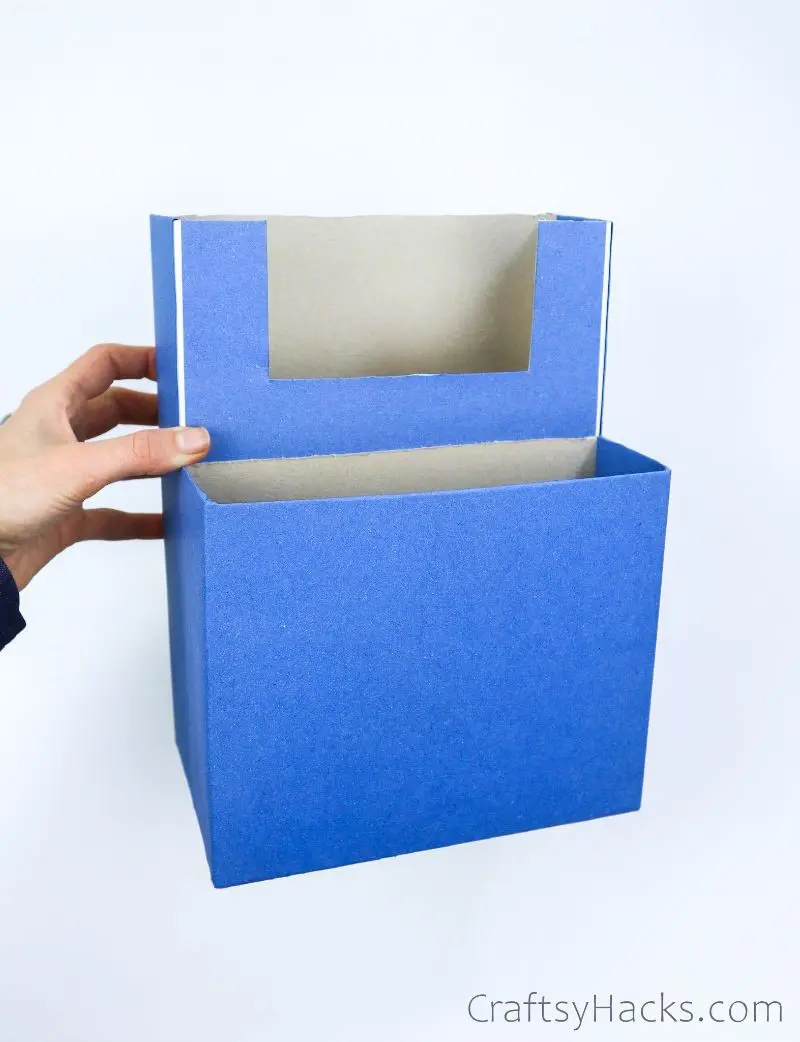 Step 11
Now, we can't forget the inside! Let's cover that nasty cereal box grey. Using a contrasting or lighter shade of paper, line the interior back of both segments. I just used the tape again here.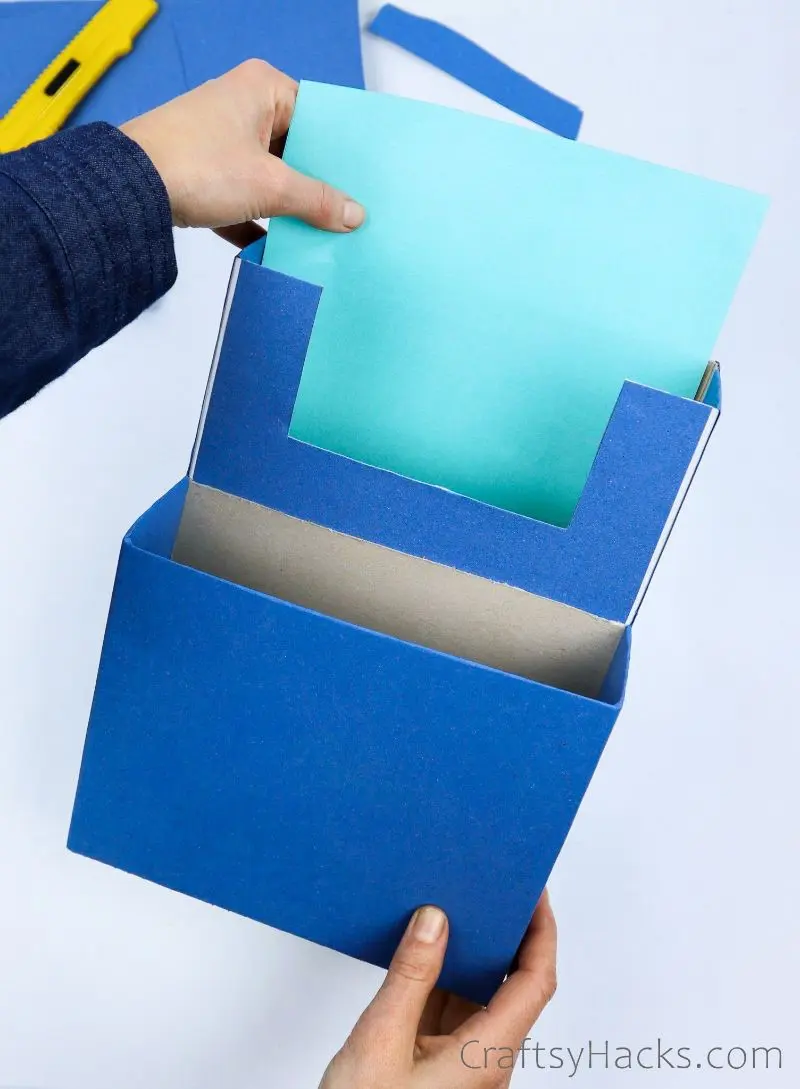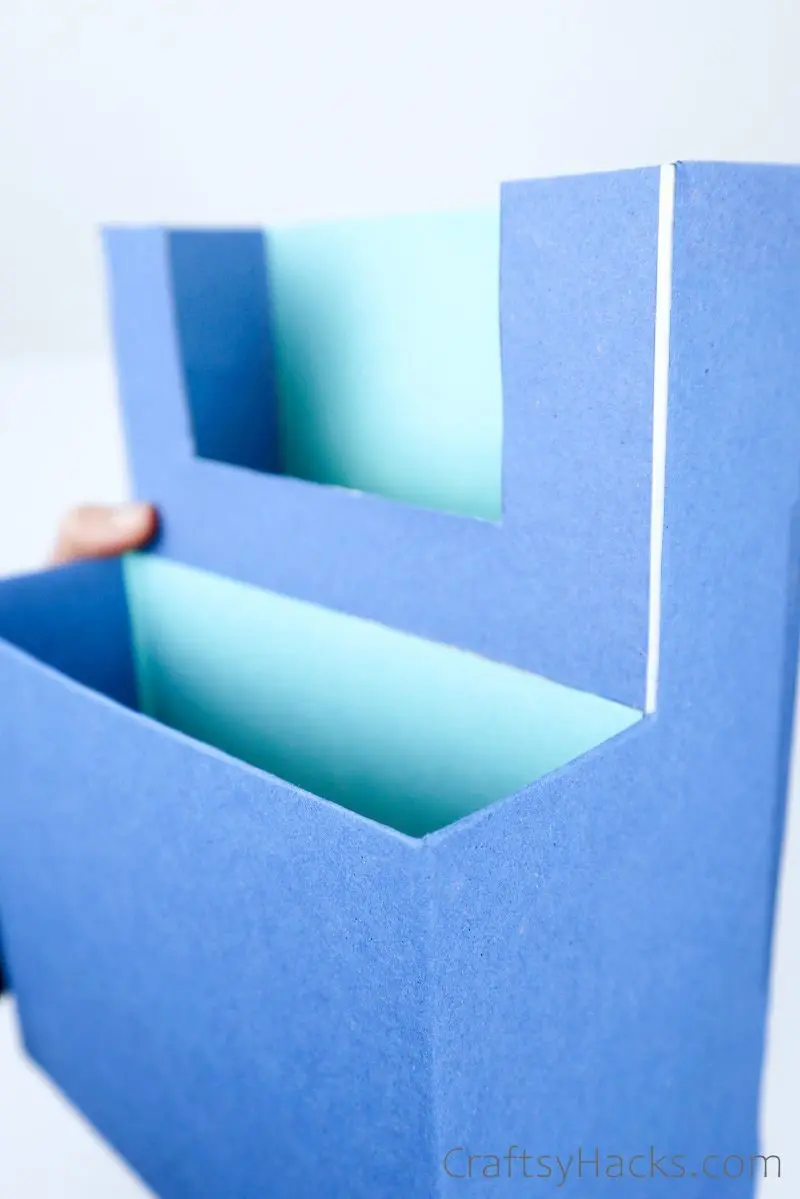 Step 12
Once you have something that looks like this, you've officially created your organizer! All that's left to do now is mount it inside your kitchen cabinet door.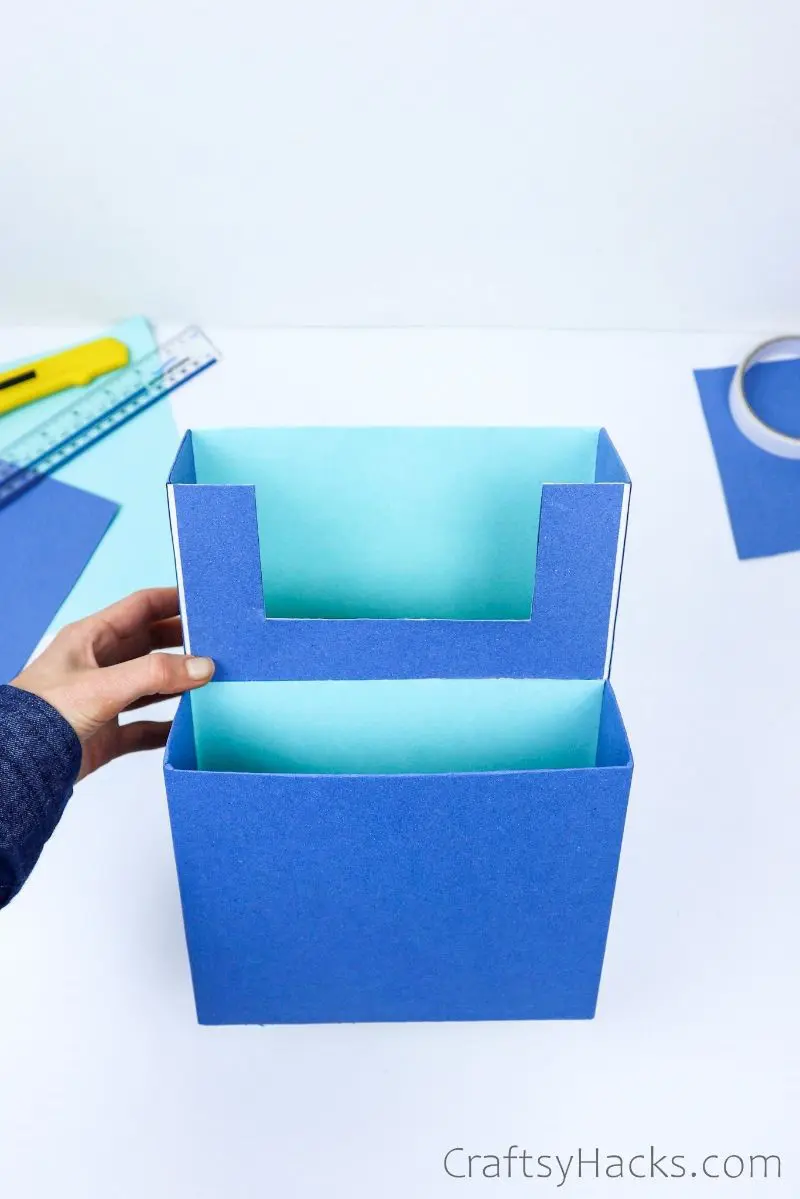 Step 13
I used Velcro mounting strips to hang my organizer. If you're unsure about the spacing, I recommend using a pencil to lightly trace your organizer's shape onto the door. Use that as a mounting guide.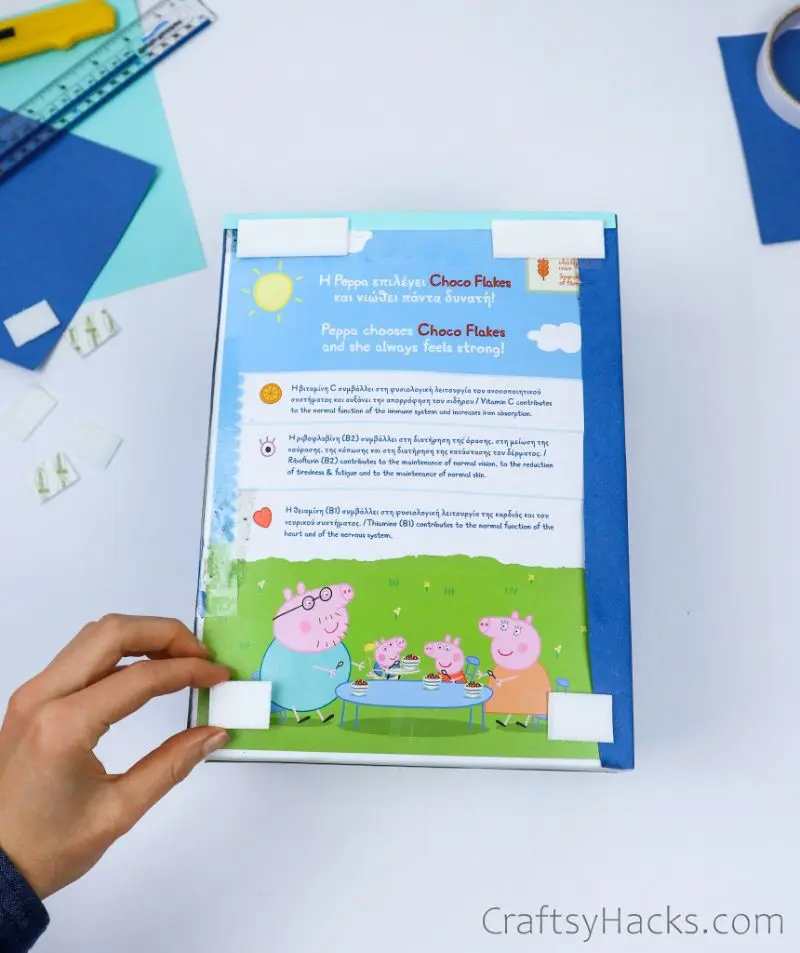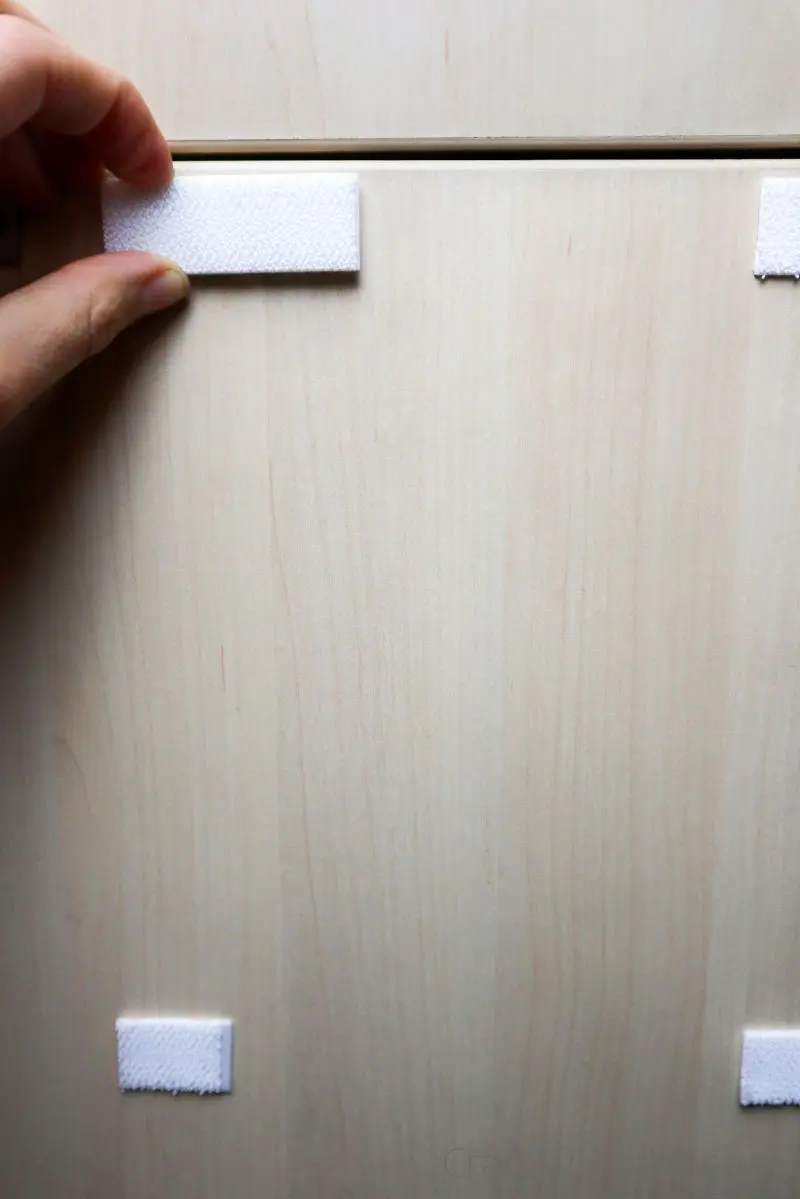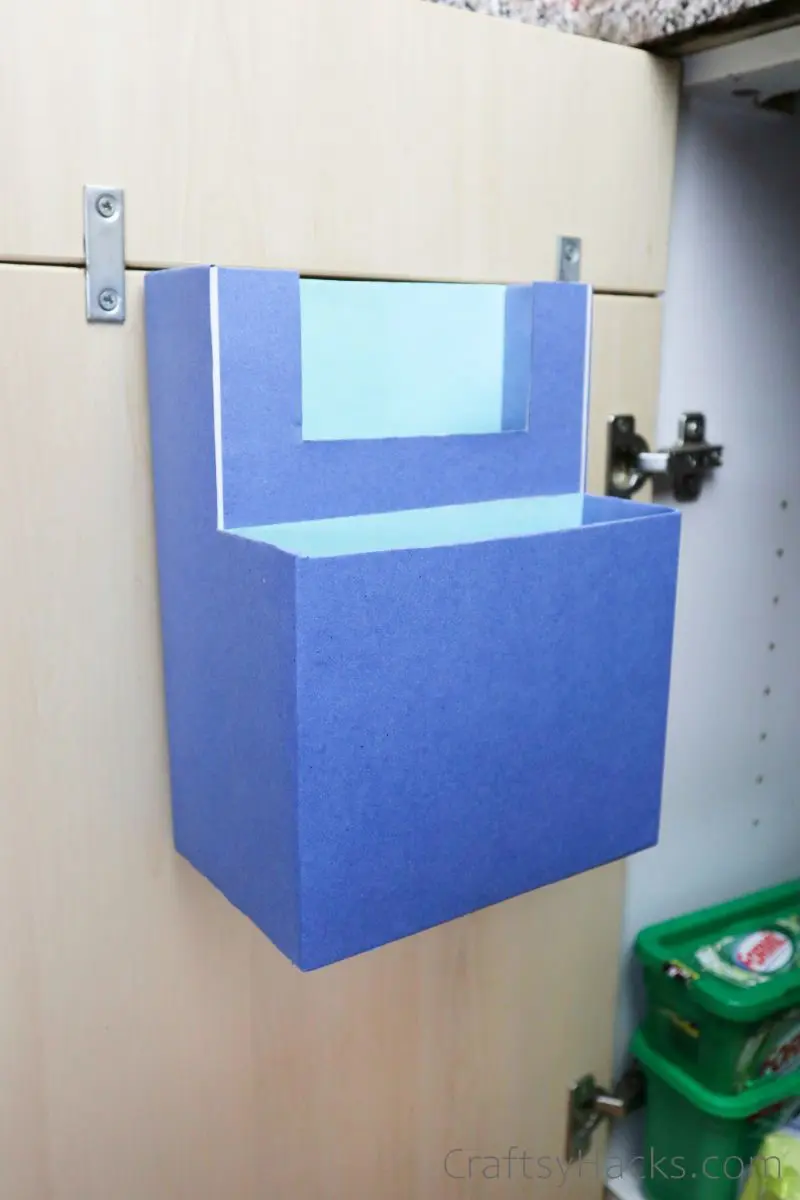 Step 14
There you have it! A completely customized, super helpful kitchen organizer for your cramped, storage-free spaces.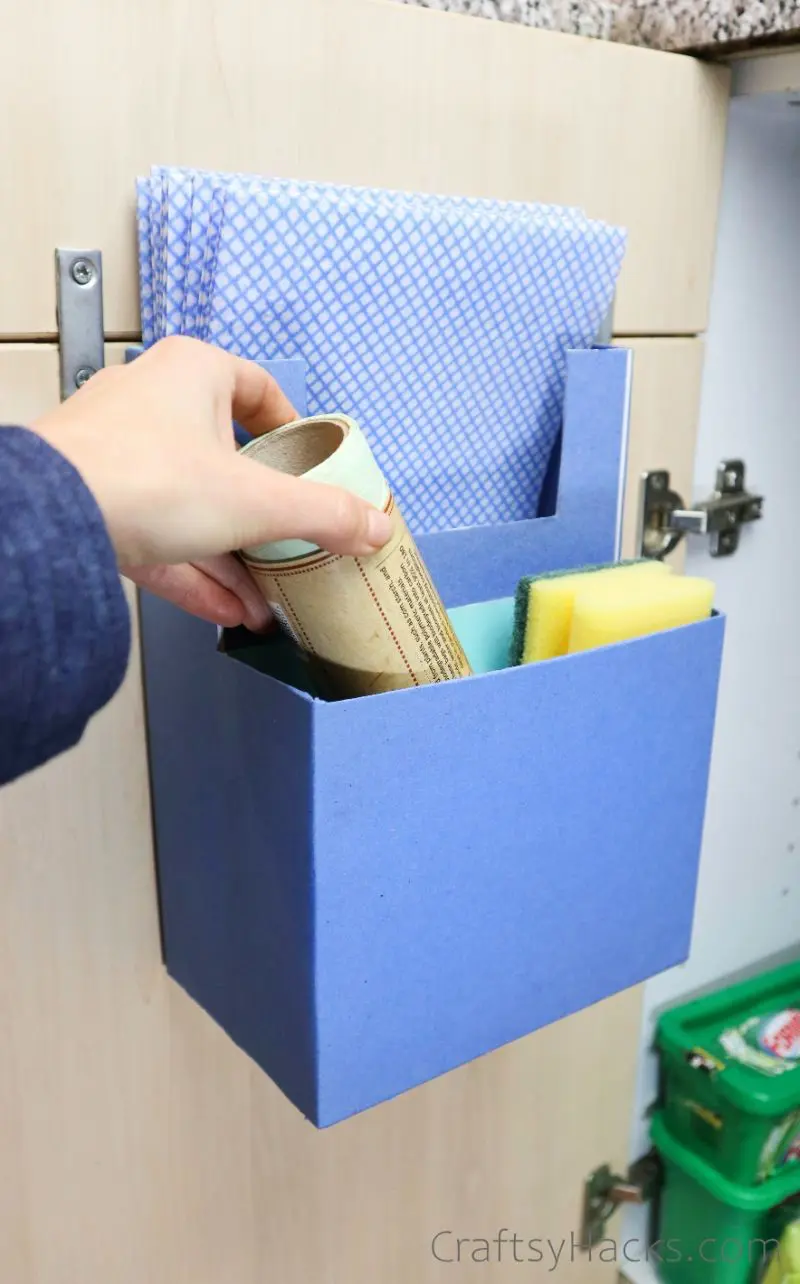 What to Store in This Under Sink Organizer?
This organizer is perfect for the lighter things in your cleaning repertoire. There's a little slot for everything, from new sponges and dishrags to garbage bags and scrub brushes.
If you're hanging this in your pantry, you can use it for lighter items. Mount it on your fridge as a convenient spot for all your mail or bills.
Here are more pantry organizing ideas if you need them!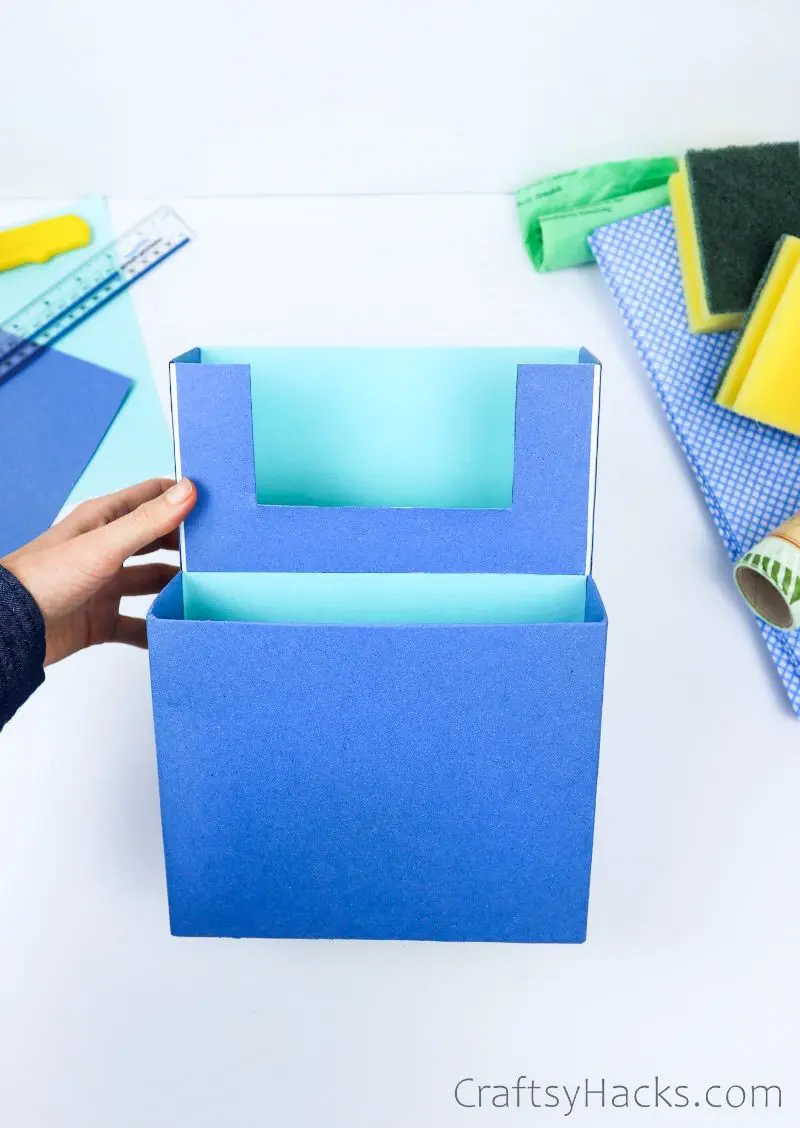 Just be sure to store only dry objects in the organizer, as it will quickly degrade if used to store wet sponges.
Organize Kitchen Cabinet Without Shelves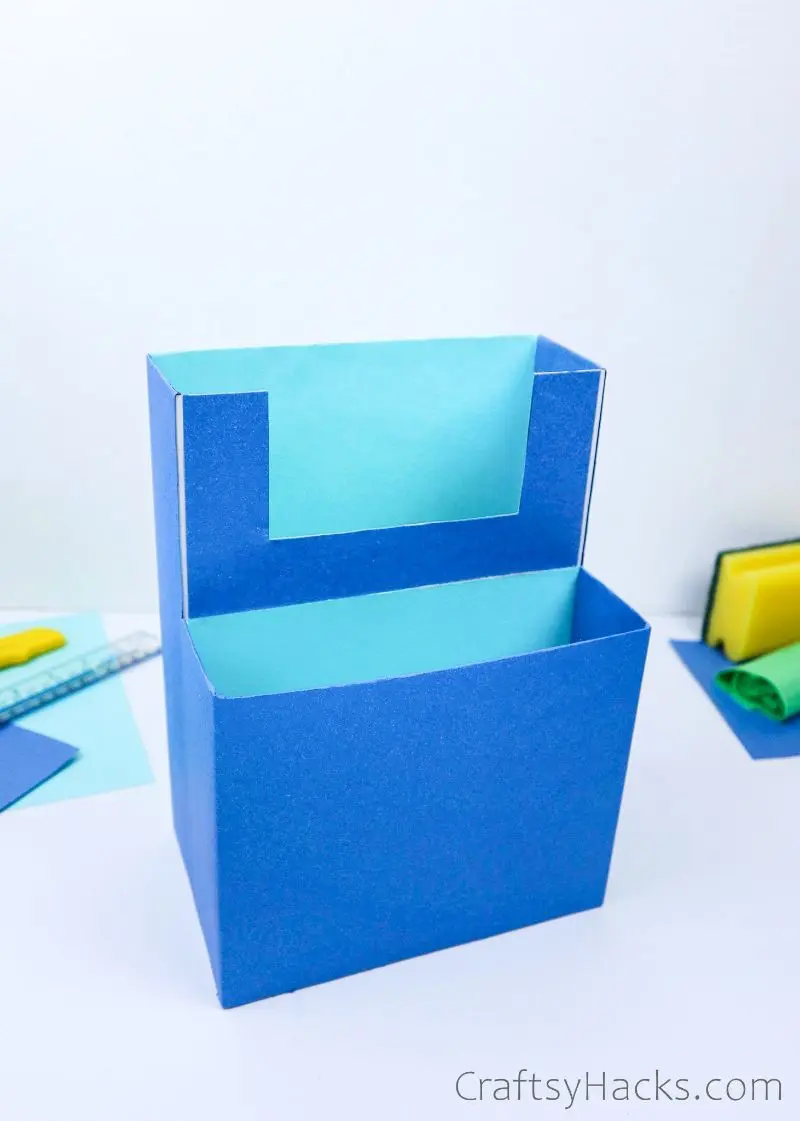 This is absolutely perfect for decluttering underneath your kitchen sink! Many under-sink areas have no shelves, but you don't have to spend a lot of money to remedy that.
You can even make multiple organizers and use them for different items if you store a lot underneath your sink. They're a great way to re-use old boxes.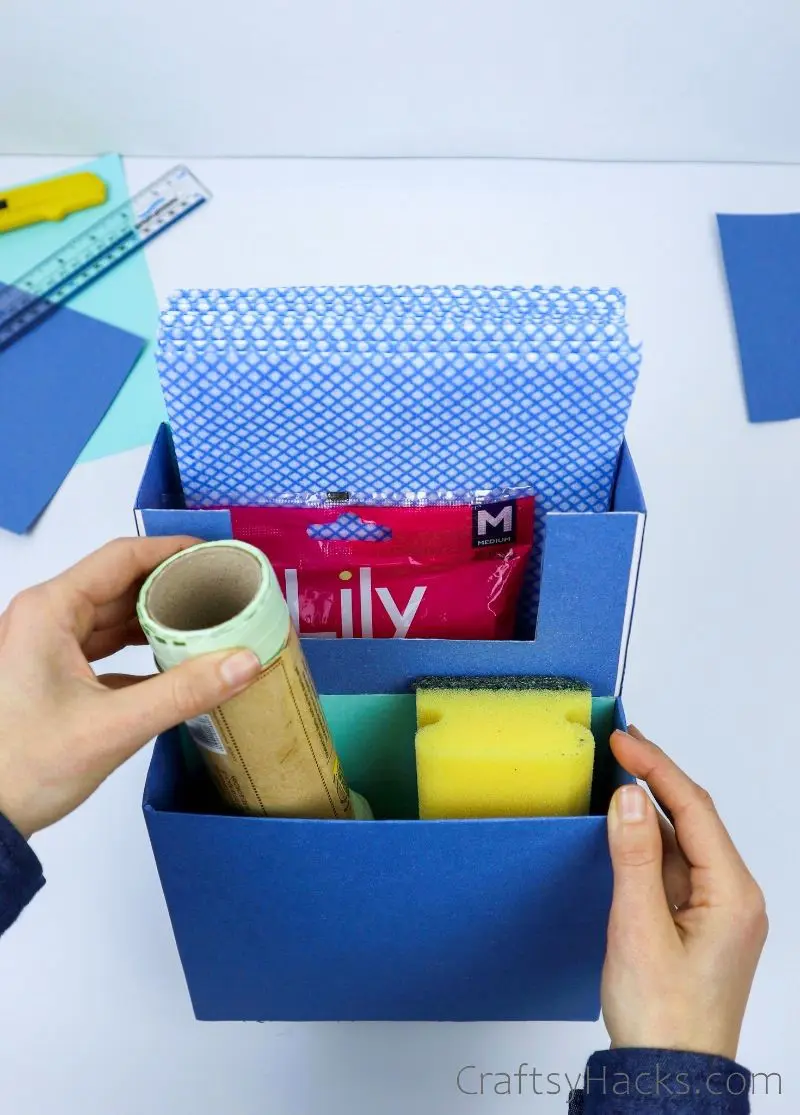 If you're going to store heavier objects in the organizer, make sure to use more adhesive strips or opt for a more robust mounting medium.
Now you won't have to dig through mess to find the last clean dishrag, and no more cringing when you open the door. Go forth and organize your kitchen cabinet to your heart's content!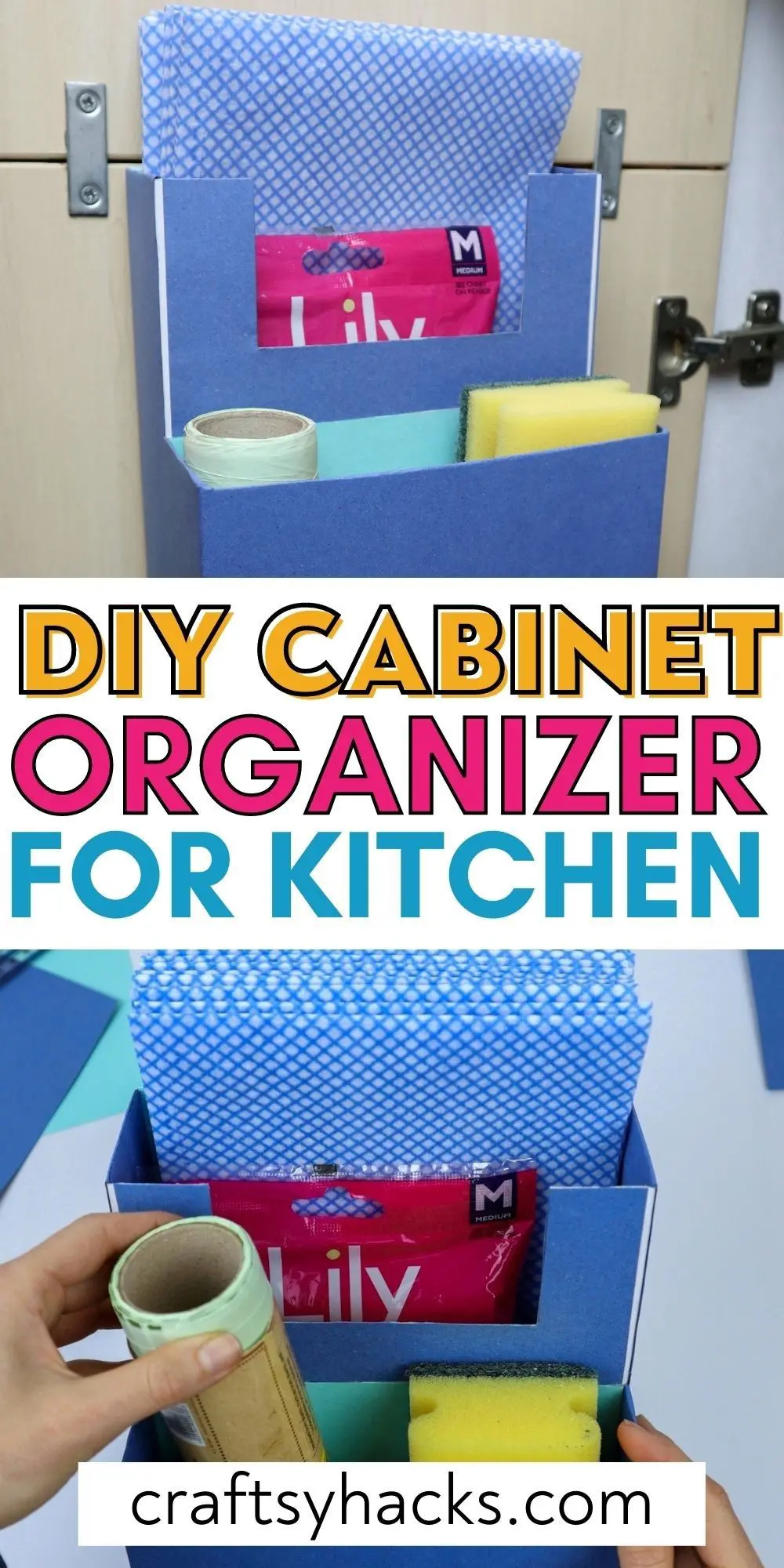 Other DIY Organizers
Yield: 1 cabinet organizer
DIY Cabinet Organizer for Kitchen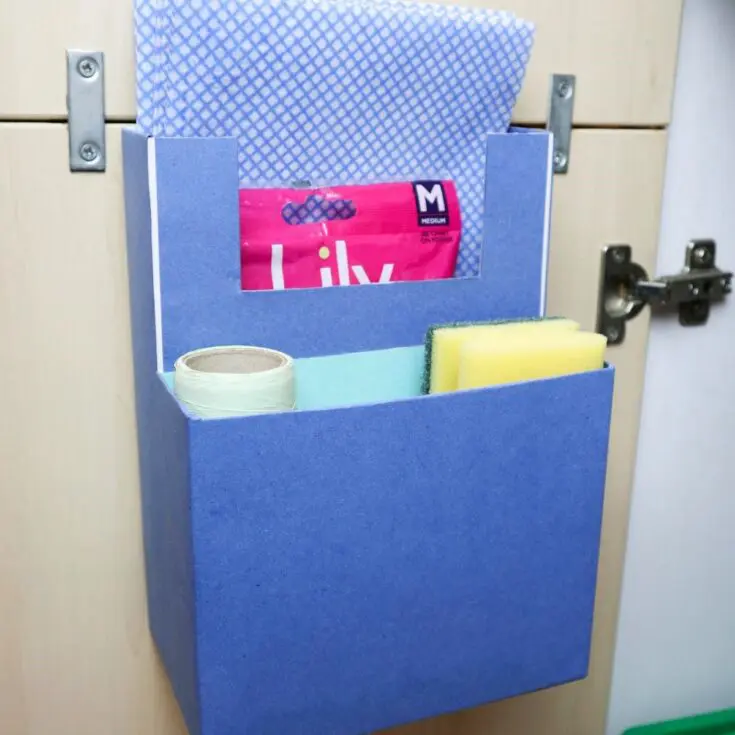 Use old cardboard boxes to make a DIY cabinet organizer for your kitchen. A great way to increase storage space and reuse those boxes.
Materials
Thick paper (or wrapping paper)
Paper (for the inside of the organizer)
2x Cereal Boxes
Tools
Double-sided tape
Glue
Velcro self-adhesive strips
Ruler
Pencil
Cutter
Instructions
Collect your materials.
Cut both cereal boxes to create an open-top, with one shorter than the other.
Cover the top of the taller box in your chosen paper using glue.
Mount the small box on the large one with adhesive tape.
Carefully draw and cut out a rectangular window in the taller box.
Using adhesive tape, cover the rest of the box (except the back) with your primary color paper.
Using a contrasting color, line the interior back of the boxes.
Finally, mount the organizer using some Velcro strips. A quick, cheap, and super effective organization hack done in no time at all!