Organize the kitchen with these Dollar Tree hacks. Keep your kitchen neat and decluttered with just a couple dollars.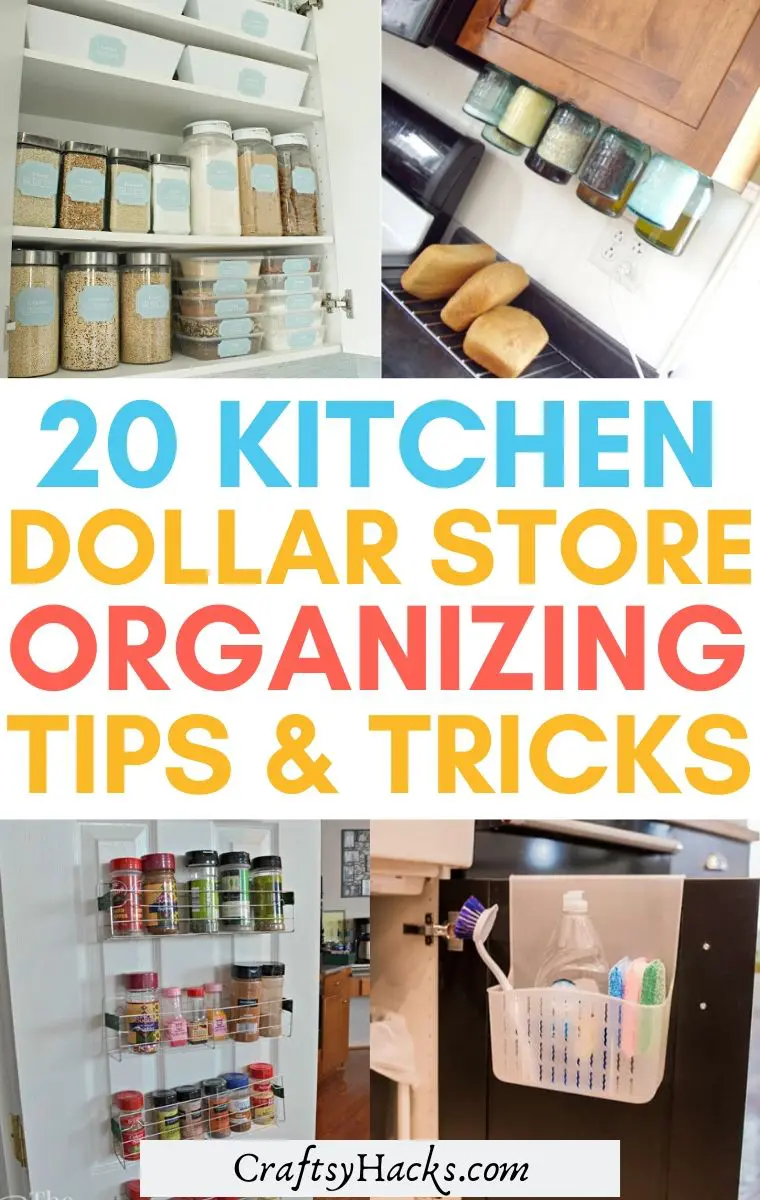 Do you dream of having a neat and organized kitchen where every item is in its place? You have probably thought about taming that kitchen mess once and for all.
But, you simply don't know where to start. It seems like your kitchen has built a life of its own and sometimes, you feel like it's hiding things from you.
Or maybe the problem is you don't have extra money to spend on kitchen organization? Luckily, there are some great Dollar Store items that will allow you to organize your kitchen easily and without breaking the bank.
Here are 20 ways to organize your entire kitchen with supplies from the Dollar Store!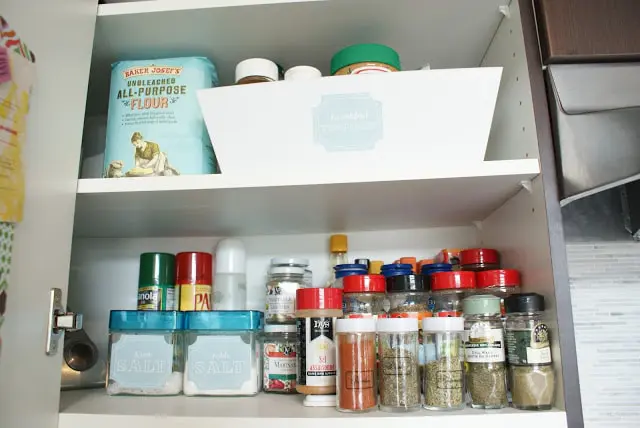 Credit: pbjstories.com
Corral your cans by turning them on their side and placing them in a metal magazine holder (like this golden wire one). This way, you'll free up some space in your kitchen without having to install shelves.
You can also just use these magazine holders for organizing your office space.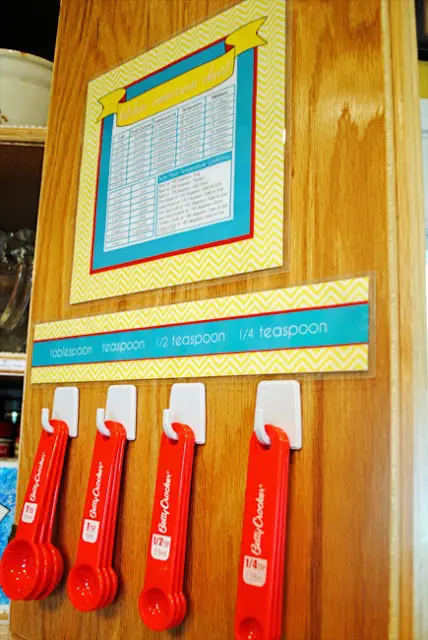 Credit: ishouldbemoppingthefloor.com
If you like cooking and spend lots of time in the kitchen, then your measuring spoons need to be at hand. Keeping them in a basket on your countertop is not a solution, because your kitchen will soon become a mess.
Kristi from I Should Be Mopping the Floor found a genius solution. She made a great system which is located on the spice cabinet.
She used self-adhesive hooks (like these) to organize her dollar store measuring spoons. Also, complemented them with a conversion chart for quick reference plus fun labels for the spoons!
Here are more ways to use command hooks to organize your home!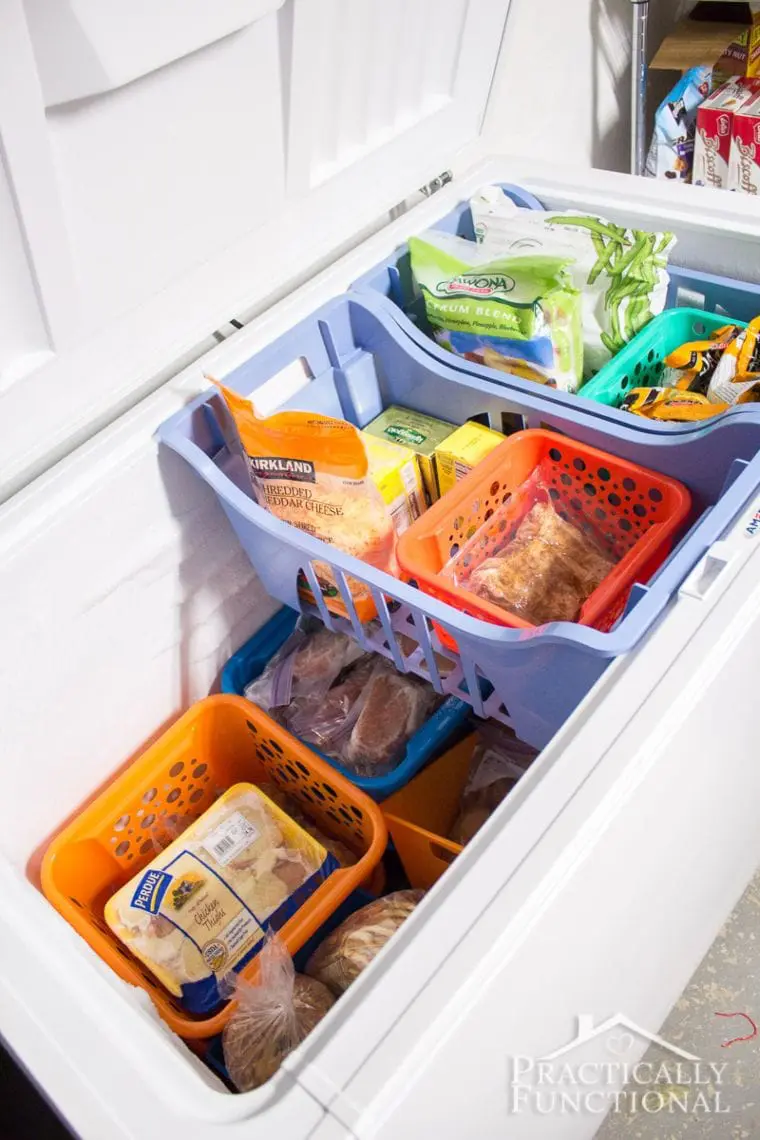 Credit: practicallyfunctional.com
Chest freezers are popular because they can hold so much food in a relatively small space. However, they're also infamous for easily accumulating food clutter.
Organizing your chest freezer isn't easy, but if you don't do it soon, you'll end up digging down for your frozen items, which can be very frustrating.
Jessi from Practically functional managed to organize her chest freezer with only 12 plastic bins (like these ones here) from the dollar store!
Here are more organizing tips for your fridge!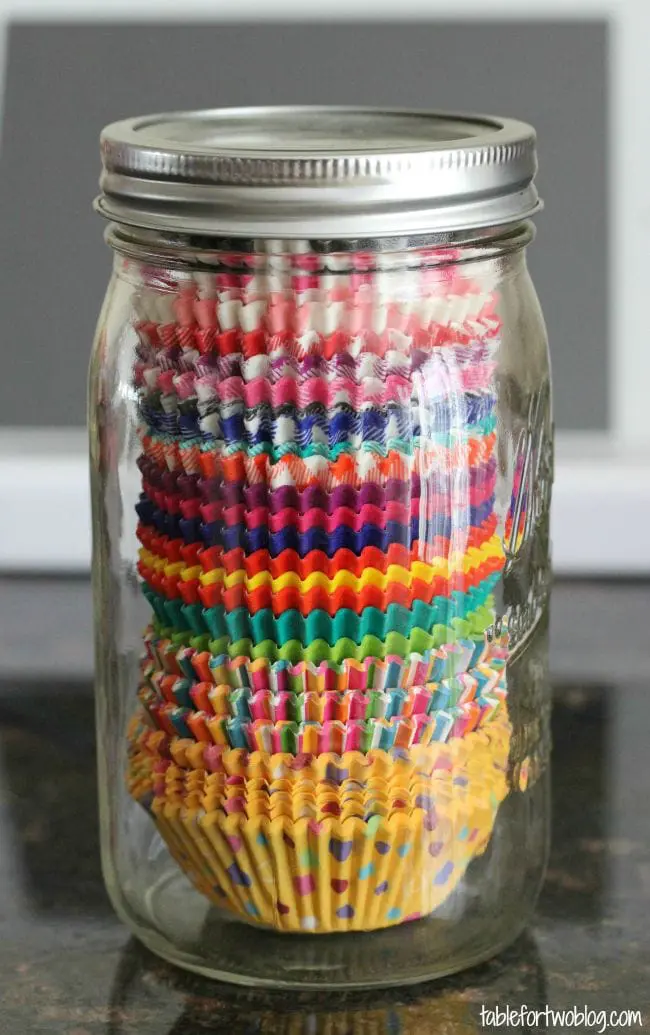 Credit: tablefortwoblog.com
Cupcake liners are awesome! They're so great for dressing up your cupcakes and adding color to your parties.
But the problem with cupcake liners is that when you need them, there are only a few left. Or you just can't find them in the kitchen mess.
So, here's a perfect solution – a mason jar. Mason jars are clear, they come in different sizes, and you probably already have a few in your pantry. If you don't, get your mason jar here.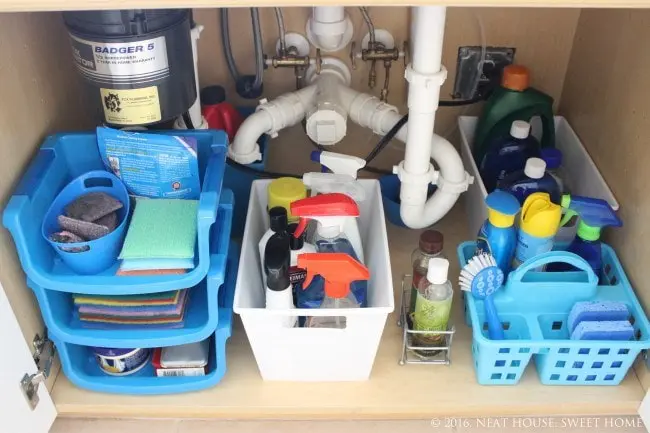 Credit: neathousesweethome.com
Oh, that dreaded area under the sink! Why is it so hard to keep it organized? Is it because it's dark, hard to access, or because there are so many pipes?
No matter what the reason is, it always ends up in big chaos of plastic bags, cleaning supplies, and God knows what else!
If you're looking for a weekend project, this one will cost you only $8! You'll need a plastic caddy, a few locker bins, and a couple of stack and nest storage units.
Here are more kitchen organizers you might want to make yourself!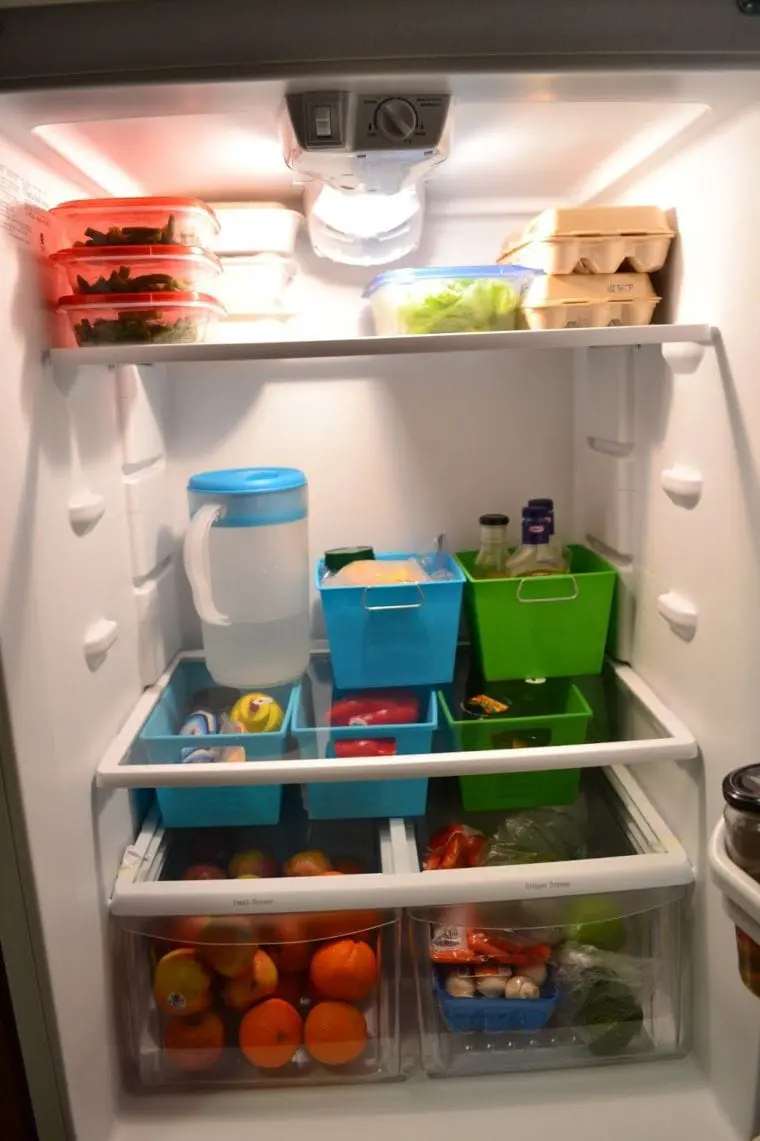 Credit: thedomesticgeekblog.com
How's your fridge doing? If you're ready to say it's fine, wait until the holiday season is over.
It will probably look like a post-apocalyptic scene with all those bags of produce stuffed in the corners, jars of mayonnaise stacked on top of each other, pans everywhere, cartons of juice squeezed in between.
Not this year! With the right tools (a.k.a. plastic baskets like these ones here), fridge organization can be as easy as one, two, three.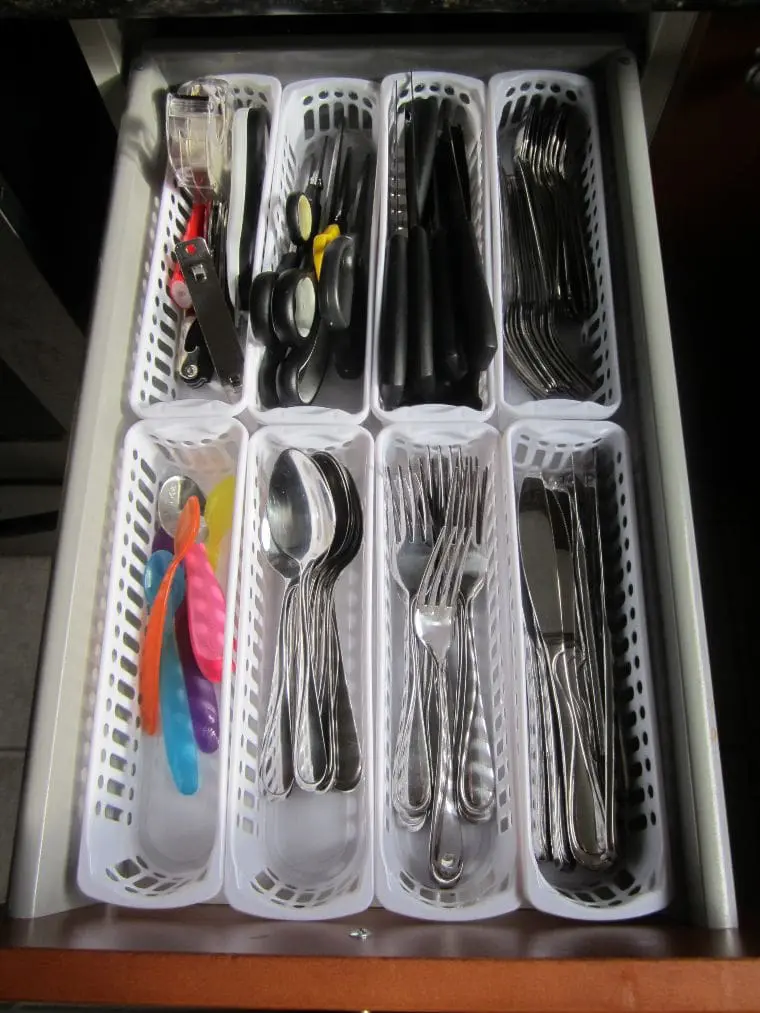 Credit: theelmlife.wordpress.com
If you have gotten into the business of organizing your kitchen, you'll soon find that drawers can be the hardest to tackle. This is so because we keep them closed and the mess is out of sight.
So, we hope that one day we'll wake up and it won't be there. Well, stop hoping and start working.
Lindsey from Elm Life organized her cutlery drawer in a matter of minutes with a few dollar store baskets (like these ones here).
Check out more ways to organize your kitchen cabinets.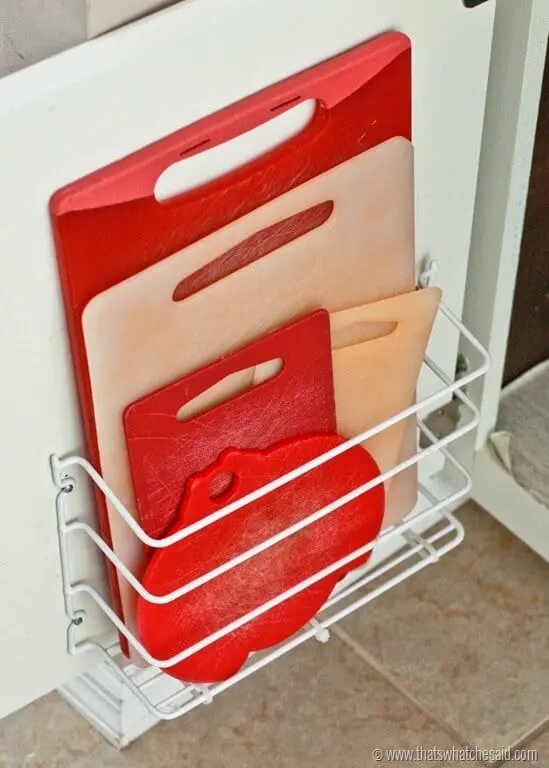 Credit: thatswhatchesaid.net
If you're looking for a way to keep your cutting boards accessible and, at the same time, out of the way, check out this DIY cutting board storage.
It's made with a wire organizer (like this one here) and some zip ties (like these). Perfect for small kitchens!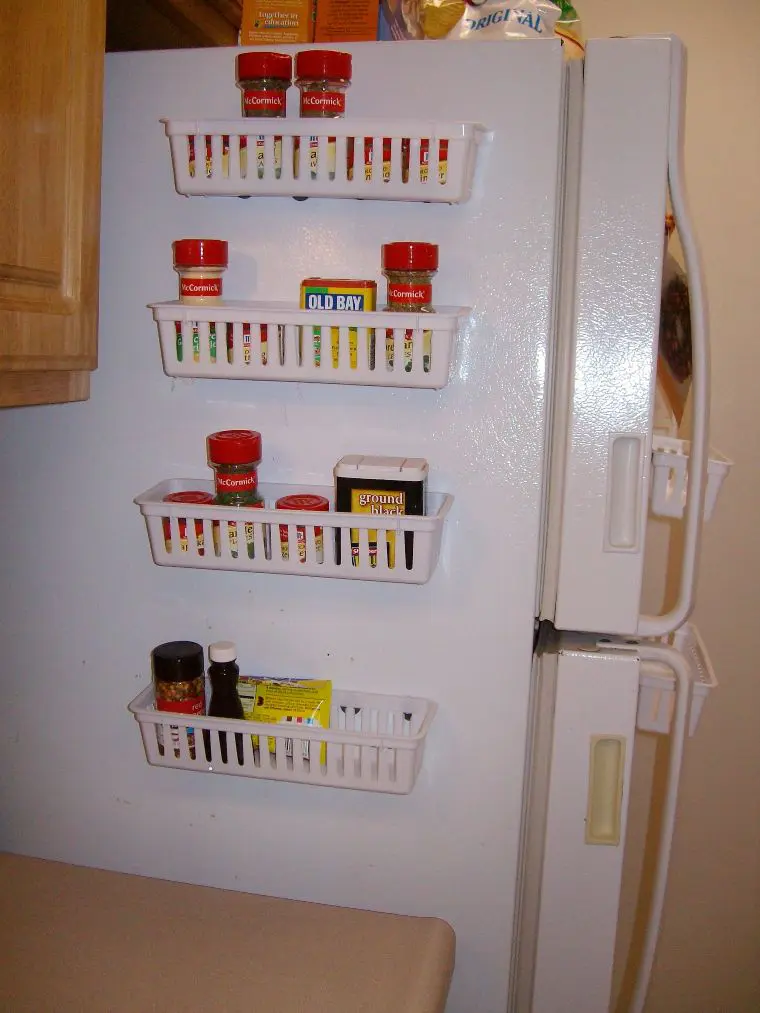 Credit: instructables.com
When you're cooking multiple meals (hosting a Christmas party, anyone?), the last thing you want is looking for that bottle of oregano you bought yesterday.
You'll go through the entire spice cabinet and make a huge mess, only to realize it's been on the countertop the whole time.
Yes, the meal is saved, but your nerves are wrecked. Play it smart and keep the spices you're using regularly within reach with this DIY magnetic spice rack project.
To make it, you'll need 6 pencil holder organizers, a pack of round magnets, a hot glue gun, and hot glue sticks.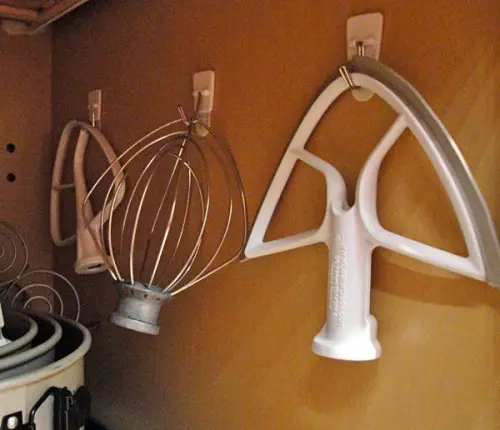 Credit: thehyperhouse.com
In general, baking supplies are tricky to store. Whisks, cookie cutters, sprinkles… There are so many oddly-shaped things to store!
But of all treat-making supplies, mixer attachments are probably the trickiest because you need to make sure they don't get lost. The solution? 3M hooks (like these ones here).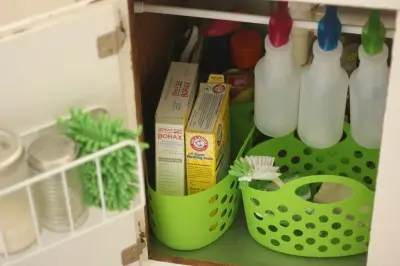 Credit: amynewnostalgia.com
Want another under-the-sink organization idea? I'm sure you do because all that mess isn't going to go away on its own!
Amy from New Nostalgia managed to tame the chaos with a few plastic containers and an inexpensive tension rod (like this one here).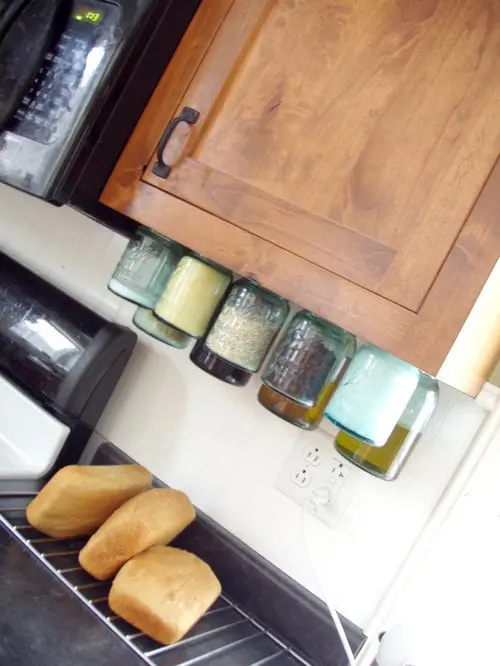 Credit: houzz.com
Aren't mason jars the greatest invention ever? Whether you use them for canning or various DIY projects and crafts, these jars are just so versatile!
But how do you keep your mason jars in order? Vanessa from Houzz has a brilliant mason jar storage project idea.
To make it, you'll need a power drill, metal drill bit, some screws, and tape measure.
You can use mason jars to organize small items too!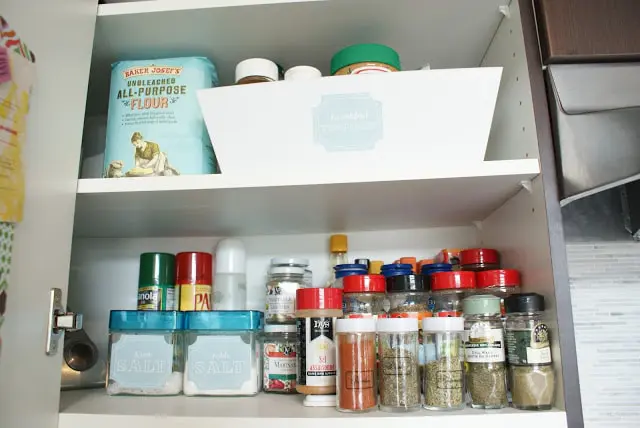 Credit: thesocialhome.blogspot.com
If you're reading this article, chances are, you have a spice cabinet that is messy. This makes it difficult to find what you need when you need it.
Enough with that! Run to your nearest Dollar Store and buy yourself some little glass spice jars (like these ones here).
Now, these spice jars are nothing special, but you can easily make them stand out. Paint the lids with metallic spray paint (like this one here), and stick some cute labels on each bottle. See?
You can use them to organize your pantry too!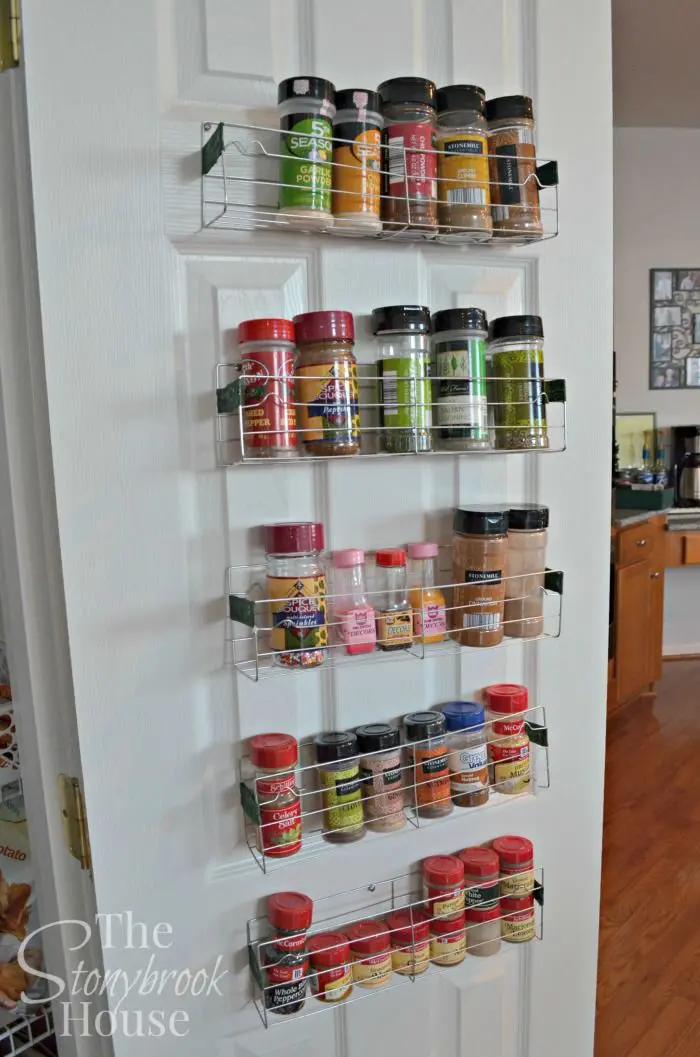 Credit: thestonybrookhouse.com
We're not done with spice organization! Because, if you're constantly jazzing up your meals with a pinch of this and a dash of that, you'll need your spices neat and close at hand
Check out this DIY spice rack made with cooling racks (like these ones here)!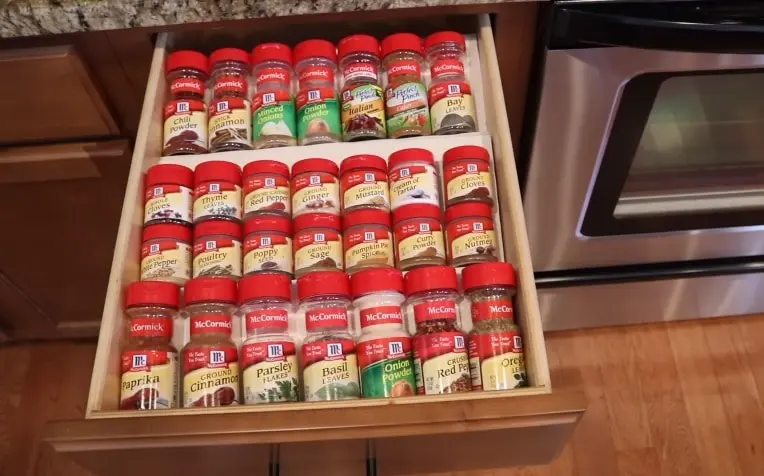 Credit: youtube.com
Another alternative is to make your very own tiered spice drawer organizer.
The best thing about this organizer is that you can customize it to your particular spice bottles. Not to mention, it's super-cheap.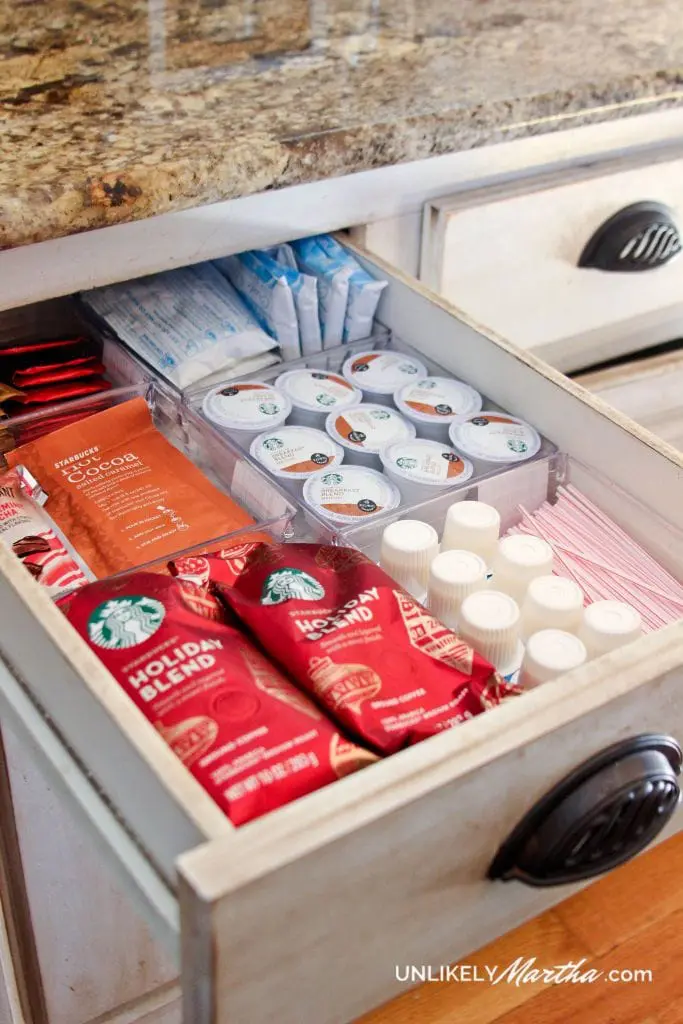 Credit: unlikelymartha.com
Are you one of those people who can't imagine their mornings without coffee? If so, you'll need to have all the necessary ingredients readily available in the kitchen.
If you decide to add a coffee station, pick up a few clear boxes (like these) from the Dollar Store and place them in the drawer. They're perfect for holding stuff like tea bags, hot chocolate, creamer, stirring straws, and k-cups.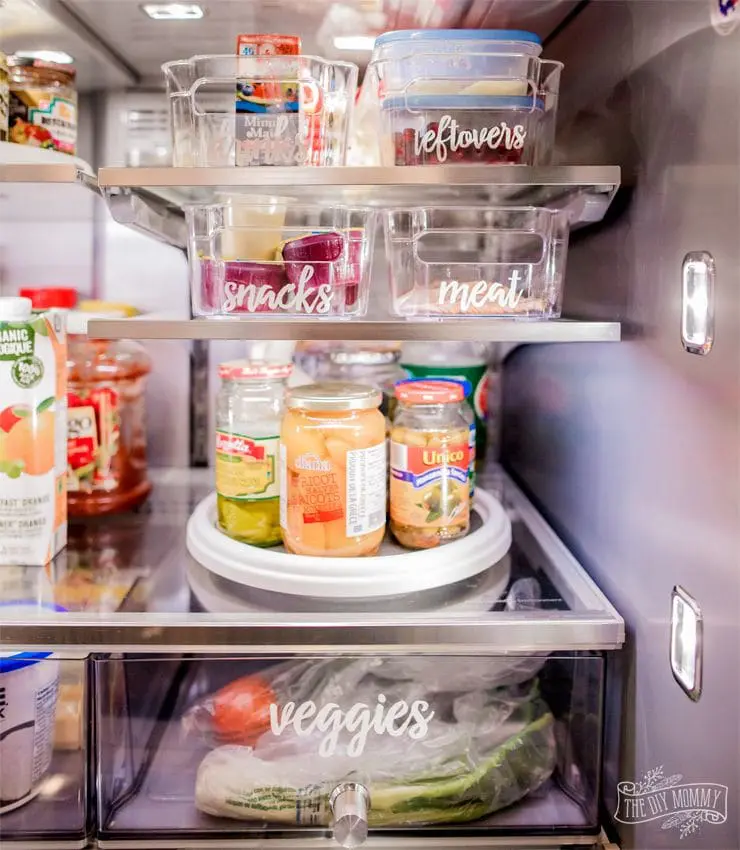 Credit: thediymommy.com
Here's another awesome idea to help you organize your fridge – a turntable.
Use turntables in the fridge to store condiments and jars of jam on the high shelves. This way, things won't get lost in the back of the fridge and you'll be able to find everything easily!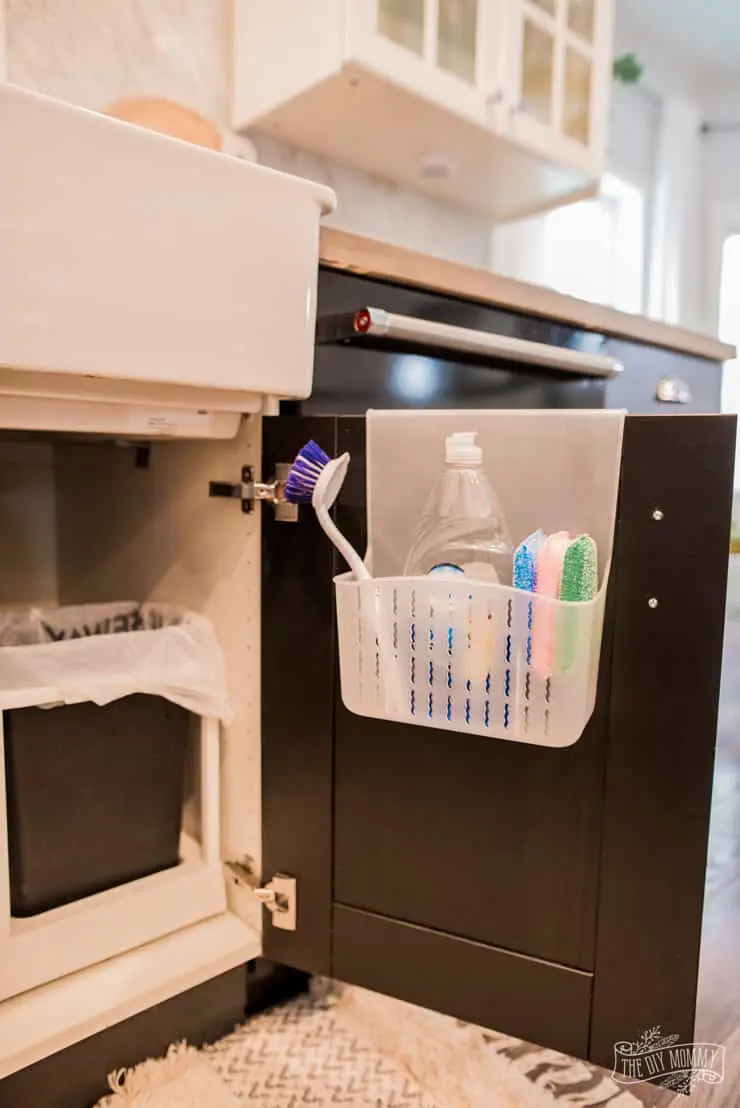 Credit: thediymommy.com
When it comes to organizing the area under the sink, over-the-door caddies (like these) can really work wonders.
Use them to store your dish brush, dish soap, and dish scrubbers. Your under-the-sink cabinet will finally become functional and look neat.
You can also use them to organize bathrooms!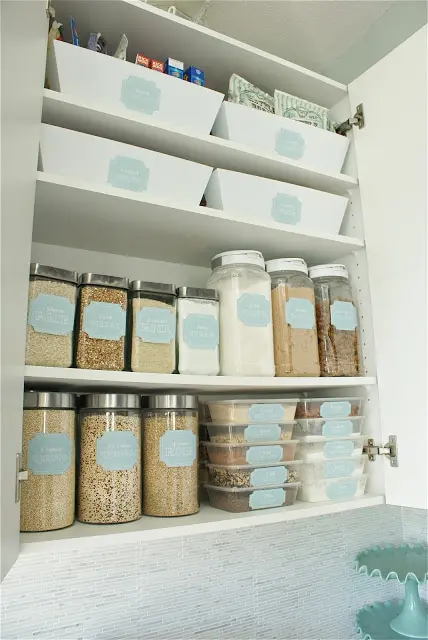 Credit: thesocialhome.blogspot.com
The thing with kitchen pantry cabinets is they can quickly become a disaster area. No matter how hard you try, the fact remains that the space is small. So, all those food containers and forgotten items somehow always manage to turn into a jumbled mess.
Jennifer from the Social Home Blog found a way to tackle the mess for under $50!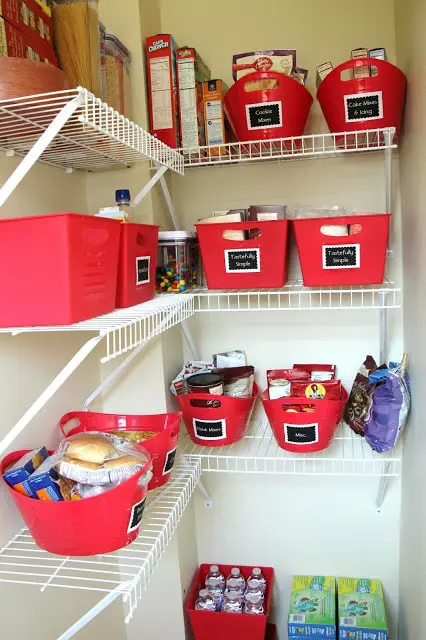 Credit: lovelylittlelife-hannah.blogspot.com
Even if your pantry is larger than a single kitchen cabinet, you could always use a little more space. If you're a fan of bolder colors, get a bunch of these red containers.
This way, everything in the pantry will have a specified place. Hannah from Lovely Little Life used chalkboard labels (like these ones here) to take the pantry organization to another level.
Don't these labels look awesome on the red containers?
Conclusion
There you have it! 20 cheap and easy ideas to keep your kitchen neat and tidy.
Which one did you like the most? Let me know in the comments below. Also, you can learn more about why organizing is good for you here!