Transform your bedroom with practical IKEA furniture hacks. That's how you decorate your bedroom on a lower budget!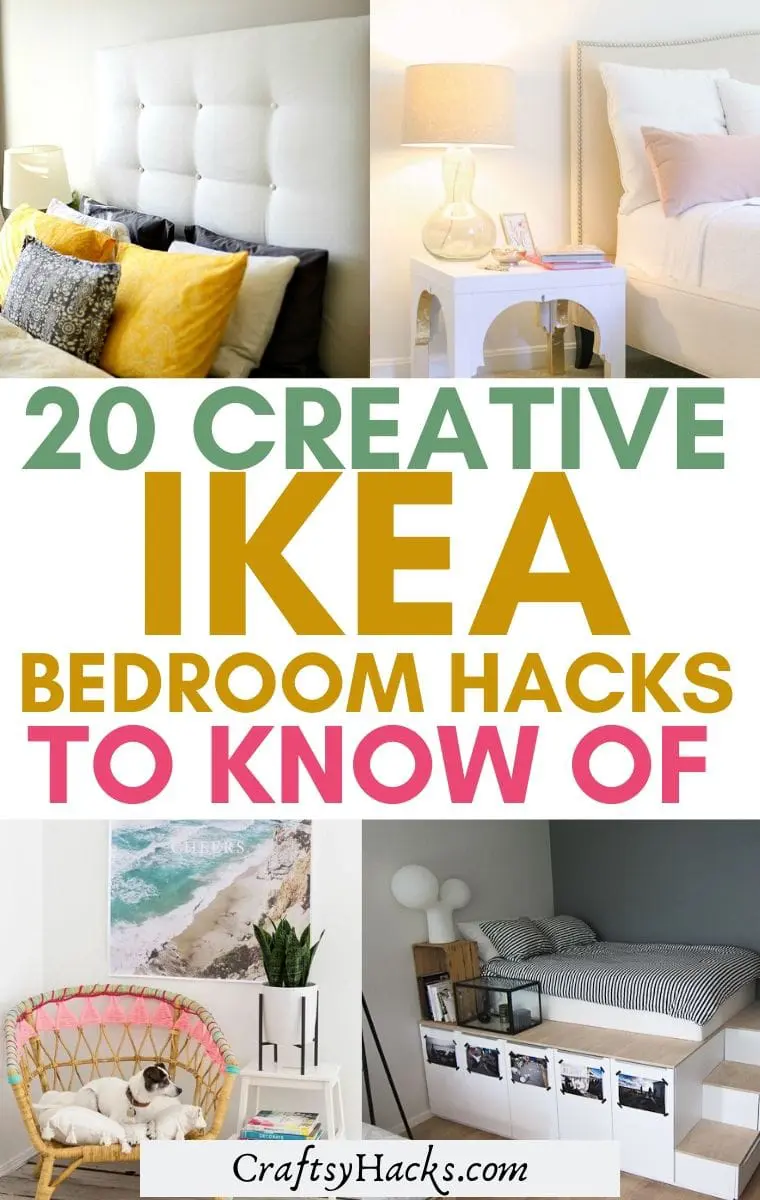 If you're looking for functional & budget-friendly furniture for your bedroom, these IKEA hacks are the perfect solution.
These DIY projects will help you turn even the most standard (read: dull) pieces of furniture into cool home décor items.
I've rounded up 20 awesome IKEA hacks that will give your bedroom a touch of individuality and personality. Here you'll find custom made desks, platform beds, benches, headboards, shoe closets, and much more.
1. Give a Rustic Look to Your Malm Bedframe

Source: hestershandmadehome.com
Whether you are a fan of something boho or something alternative, your bedroom needs a focal point. And what better focal point then the Malm bed frame? It is simple, affordable, and most importantly, hackable.
If you're not into the modern style, this rustic hack is perfect for you. It requires covering the frame and headboard in grey wood vinyl planks like these ones here.
Easy and effective bedroom makeover!
If you're loving the rustic look, try these shabby chic kitchen décor ideas.
2. Turning the IKEA Kallax into a Nightstand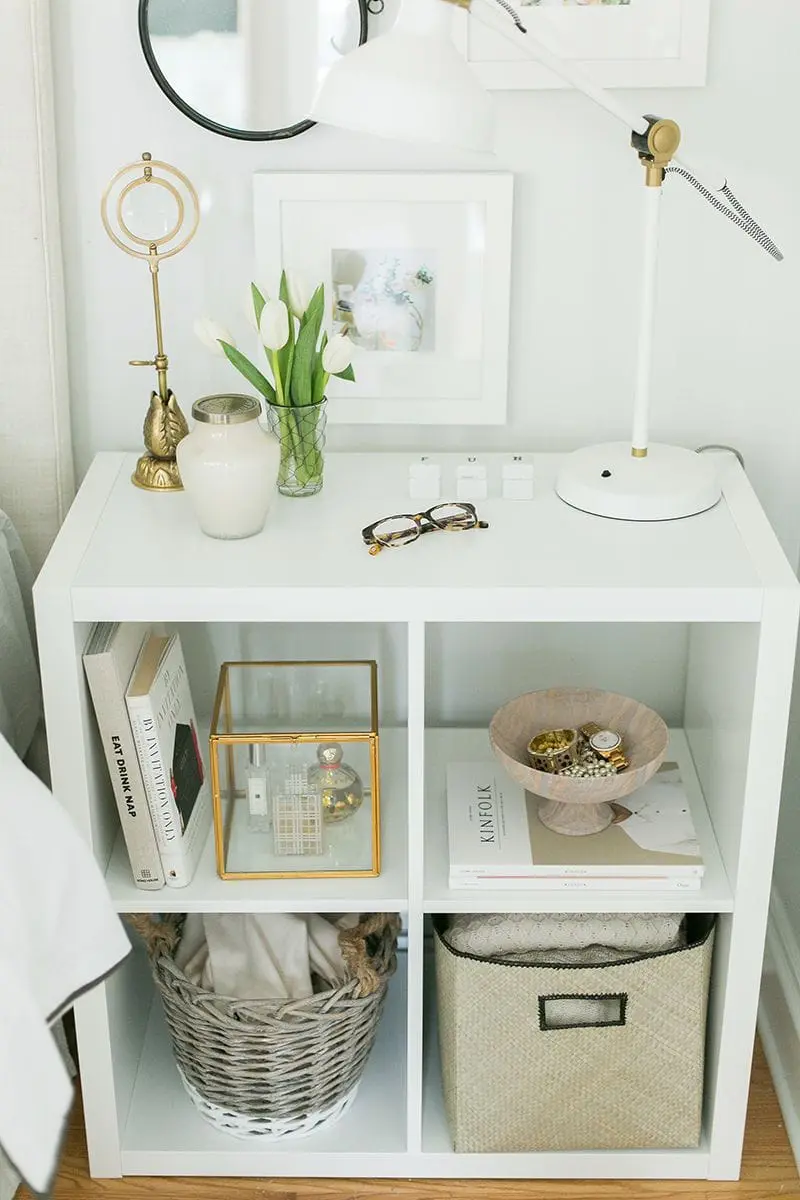 Source: theeverygirl.com
The Kallax shelf unit makes for a perfect nightstand. It's not very big, so it can fit even in the smallest corner of your bedroom.
On the other hand, it's comfy enough to accommodate plenty of things. You can also add some colors or stencils, insert cubbies or baskets (like these) for extra storage.
Loving the Kallax hacks, check some more of these here.
3. IKEA Malm Chest for a Custom Made Desk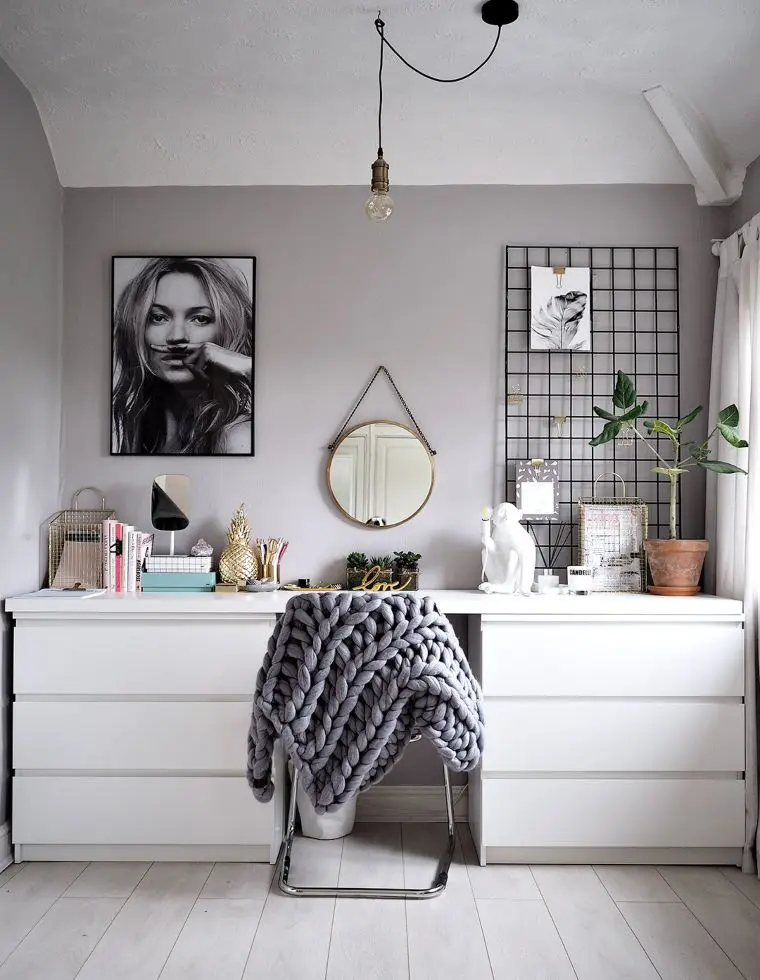 Source: lustliving.co.uk
If your workspace is located in your bedroom, you need a clean, minimalist item that will be functional without taking too much space.
This Ikea hack combines two IKEA Malm chests of drawers with a worktop to make a custom-made desk or makeup station, and I'm obsessed with it!
Here are more IKEA desk hacks you can try.
4. DIY Platform Bed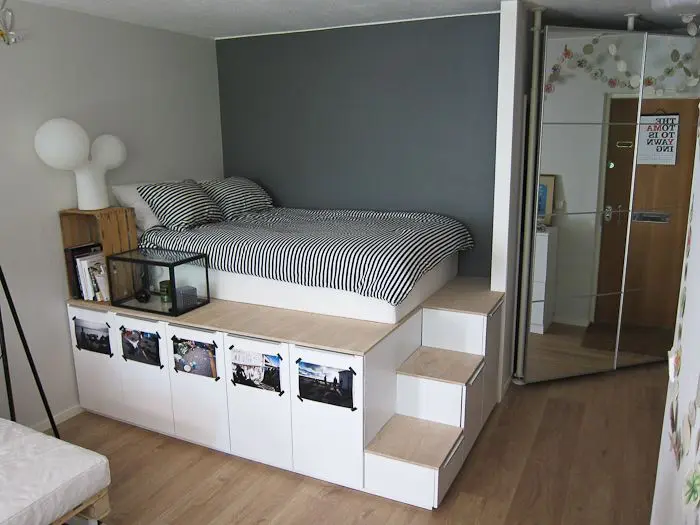 Source: ohyesblog.wordpress.com
This DIY project will help you turn IKEA's kitchen cabinets into an amazing raised bed with tons of storage space underneath. A perfect solution for those who live in small apartments or have limited closet space.
To make this platform bed, besides the cabinets, you'll also need some lumber, carpet, paneling, and knobs like these.
5. Update Your IKEA Aneboda Wardrobe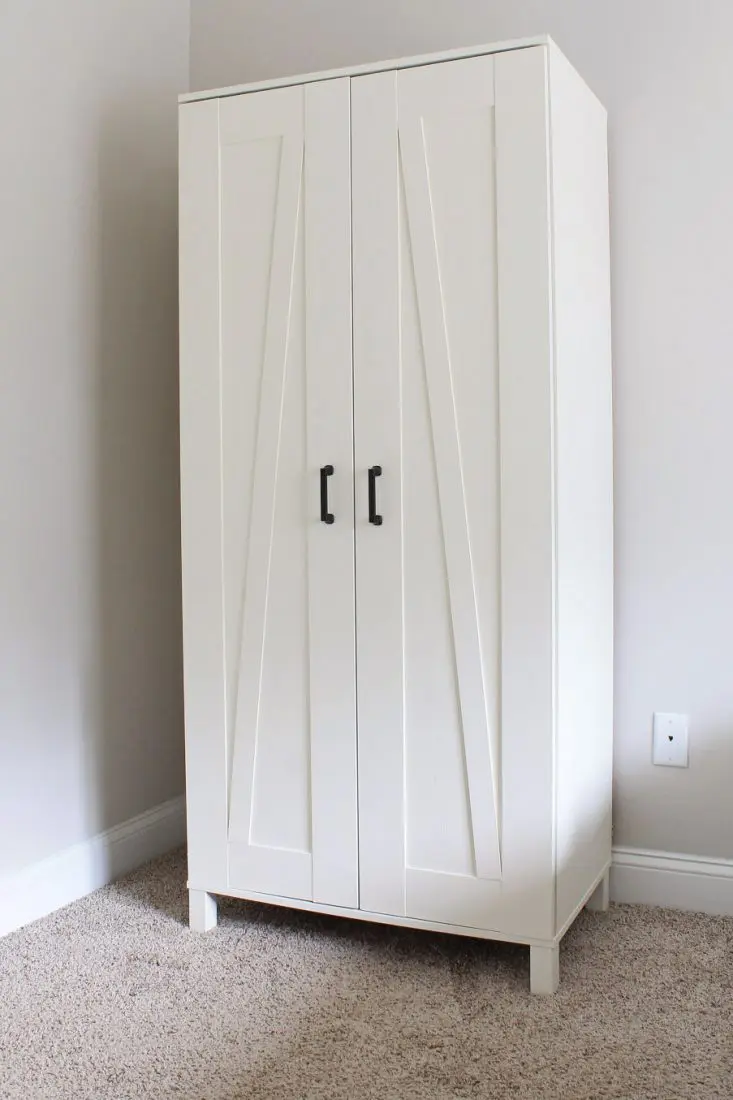 Source: angelamariemade.com
Here is a hack that shows you how to transform your Aneboda Wardrobe into a rustic, farmhouse-style wardrobe. I have to admit, this is not one of those super-simple DIY hacks as it requires you to use some serious tools.
But on the bright side, the whole makeover will cost you less than $50!
6. Add Brass Pulls to Your IKEA Brimnes Bed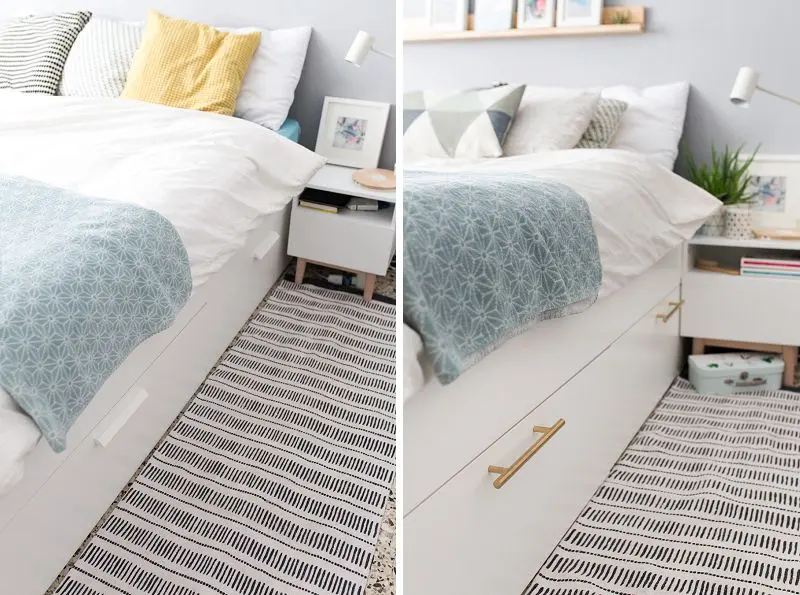 Source: one-o.it
When it comes to decorating your home, details can make a huge difference. Exciting hardware like hinges, pulls, handles, and knobs, is a simple and affordable way to upgrade even the plainest of bedrooms.
This hack is especially good for small spaces. IKEA's Brimnes bed frame has four fairly large drawers (perfect for s storing chunky sweaters or bedsheets).
But, the plain white pulls are sooo dull. So why not swap them out for some new, gold-spray-painted ones?
If you're looking for gold spray paint, here is one I often recommend.
7. IKEA Billy Shoe Closet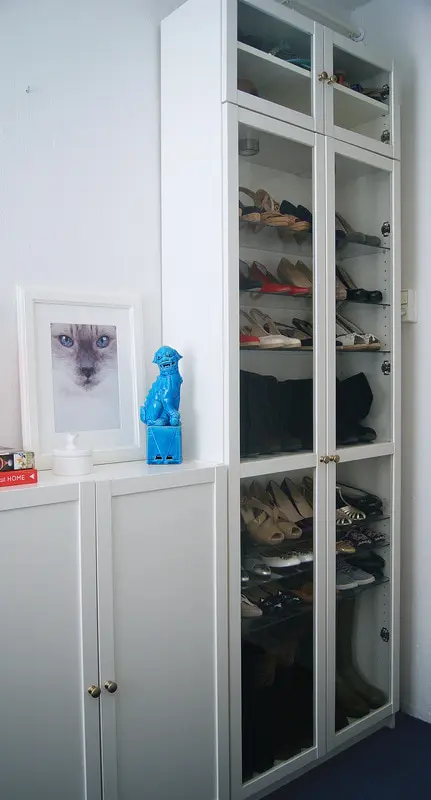 Source: tatianasdelights.com
When your shoes are done piling up in the hallway and start taking over your bedroom, you know it's time for a change.
This hack gives the good old IKEA Billy bookcase a facelift to turn it into a fancy shoe closet your shoes deserve!
Here are more IKEA organizing hacks like these.
8. IKEA Mandal Headboard Hack That Won't Damage Your Wall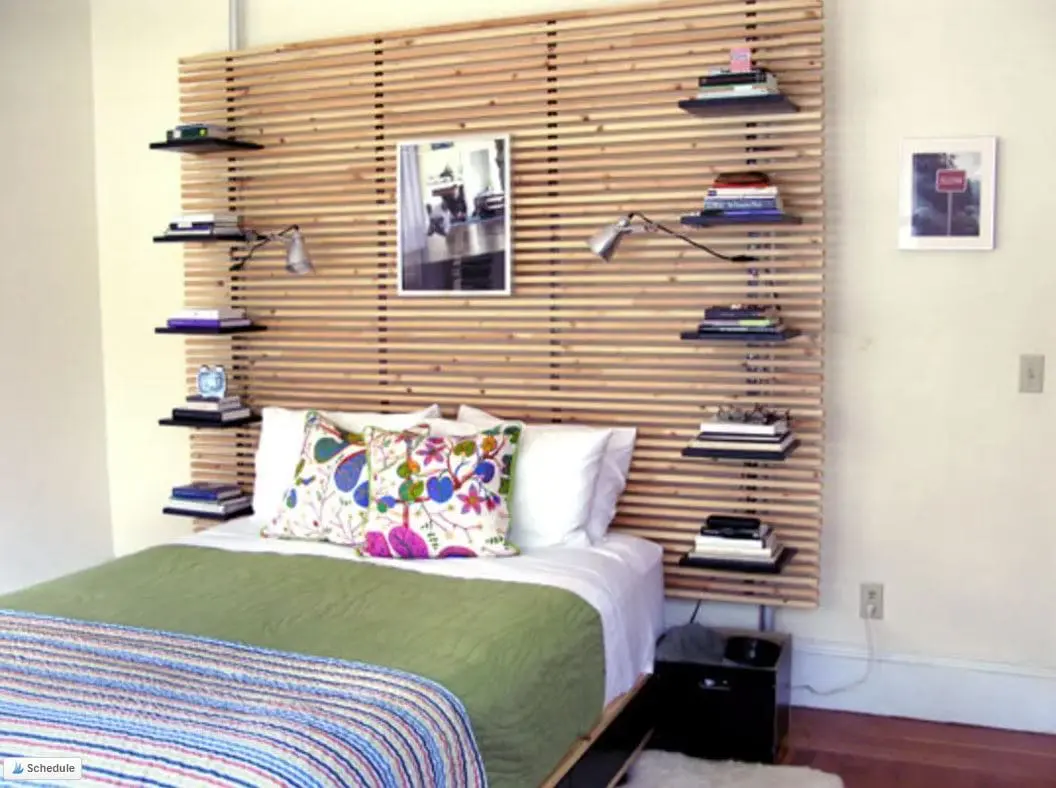 Source: apartmenttherapy.com
The Mandal headboard is a great way to add style and storage to your bedroom. And this hack uses not one, but two headboards for a stunning wall installation.
The best part is, you can mount the headboards on Ikea Stolmen posts, which require only six holes in the ceiling. For comparison, the instruction manual requires at least a dozen holes in the wall.
An effective (and temporary) storage solution for your bedroom! Here are more IKEA tricks to decorate home on a lower budget.
9. Under Bed Drawers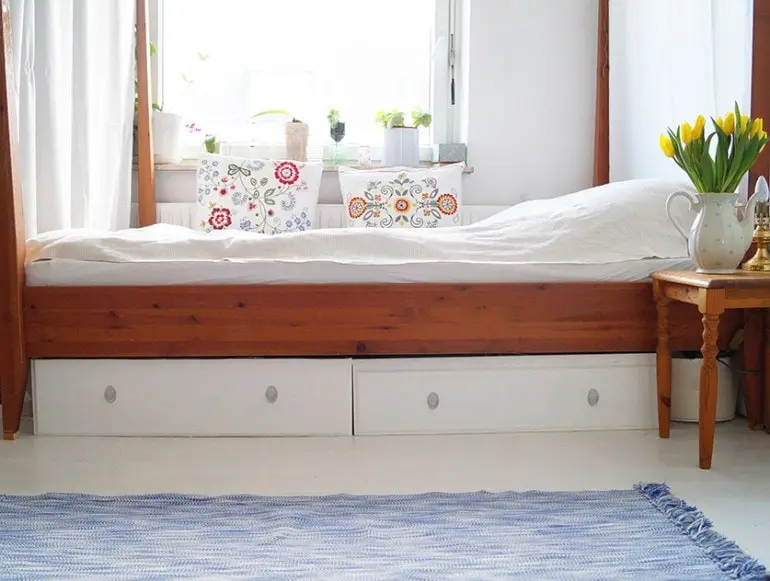 Source: nur-noch.com
Are you ready to finally clean the mess under your bed? All you need to do is turn an old IKEA dresser into under-bed drawers.
Your drawers may still be chaotic but no one will be able to see the mess! For this DIY project, besides the RAST dresser, you'll need white paint like this and grey paint and a good quality circular saw.
10. Turn a Bed Slat into a Wall Hanger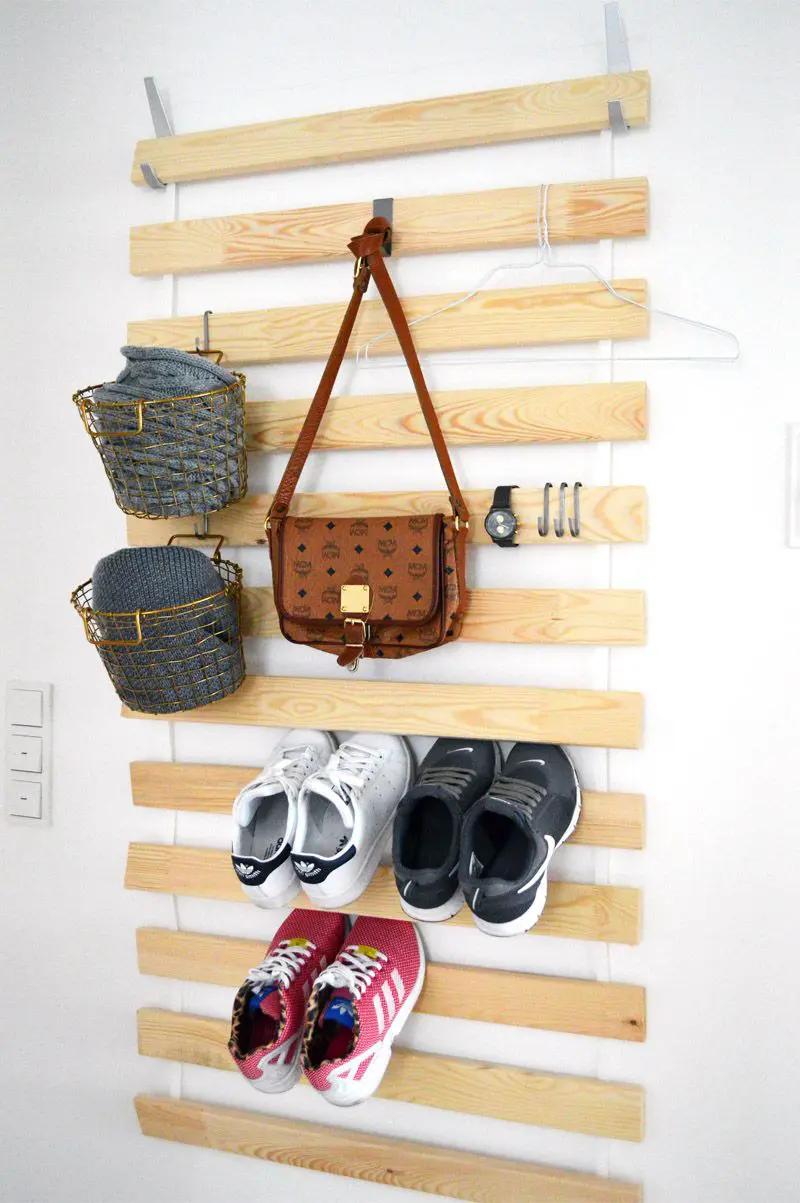 Source: ichdesigner.com
If you don't have much space for furniture to keep your bedroom tidy, take the organization to the walls! The best part about this hack is that it requires no building at all.
You don't need to put boxes together or install shelves. Just use a few screws (like these) to mount an IKEA bed slat and over-the-door hooks (like these ones here) to create super-organized storage.
11. Headboard Made from Benno DVD Tower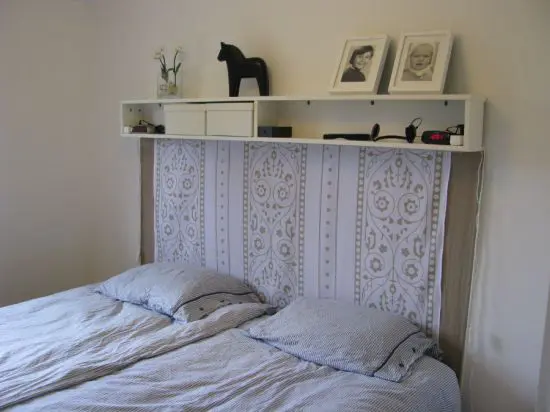 Source: ikeahackers.net
Under-bed storage is great but it tends to fill up pretty quickly. So what do you do?
Storage headboards! This Benno DVD tower turned headboard will provide you with some much-needed space behind the bed for books, lights, alarm clock, etc.
12. IKEA Bedside Table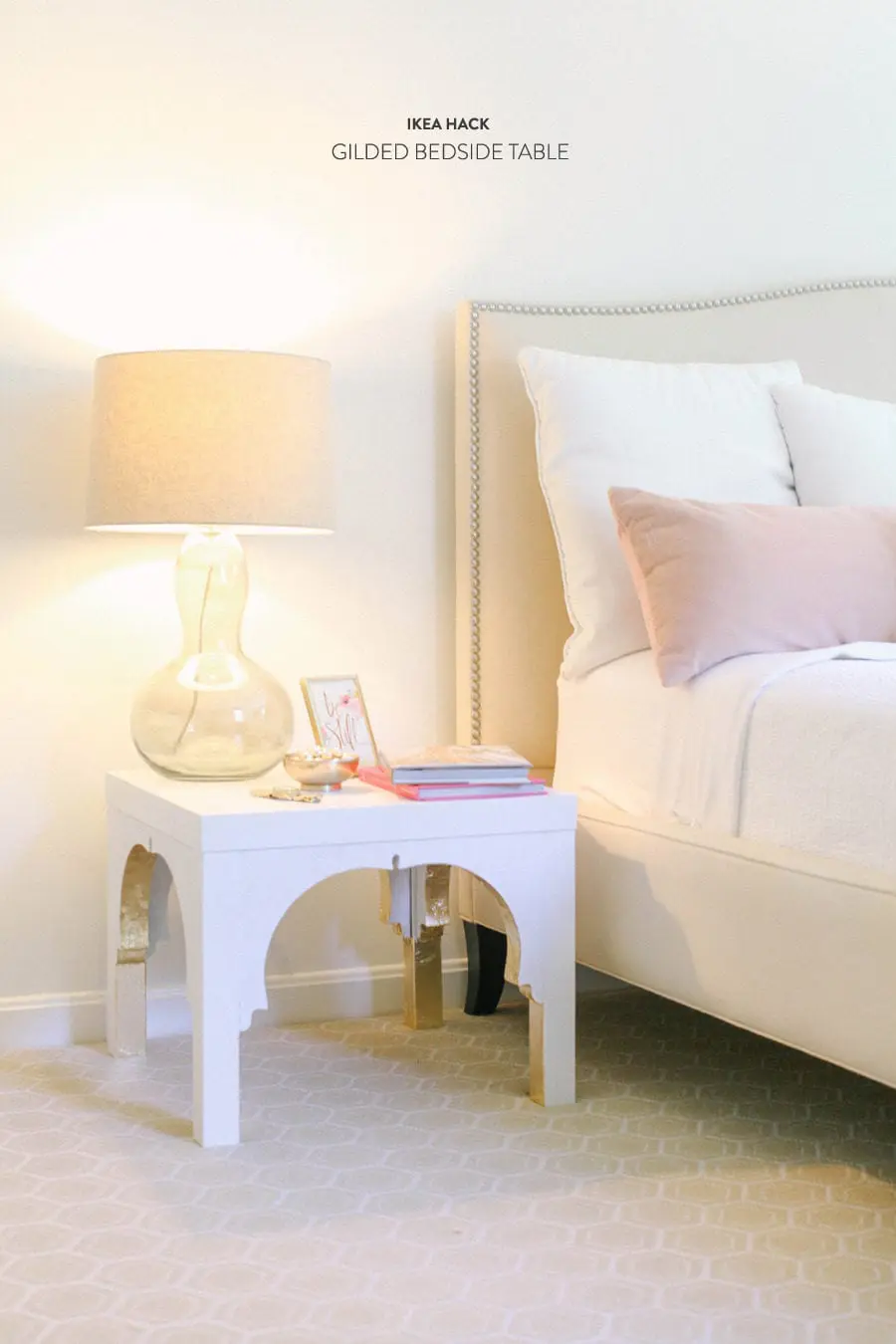 Source: stylemepretty.com
Nightstands are always by our side, ready to serve us by storing our fav books, magazines, glasses, lamps… They're simply irreplaceable.
Very often, a unique nightstand can turn your bedroom from blah to absolutely beautiful. So, if you're looking for a nifty way to refresh your bedroom, check out how to turn a plain $9.99 IKEA bedside table into a glam nightstand.
13. Upholstered Headboard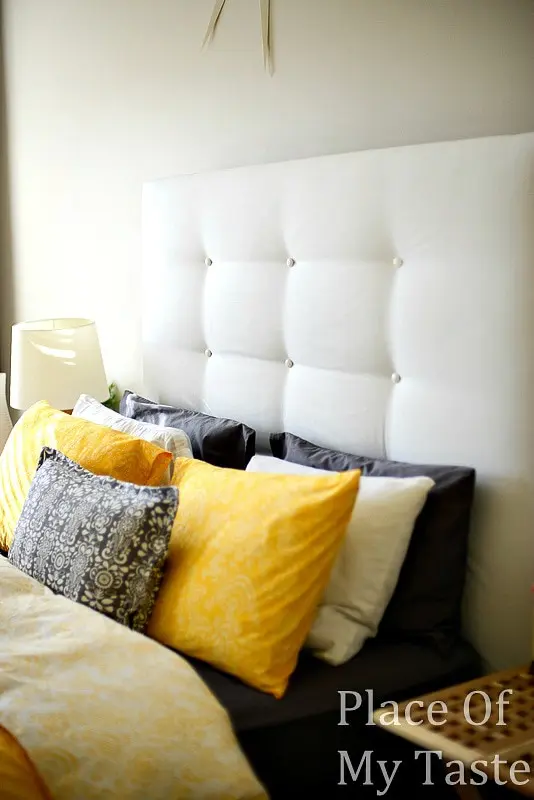 Source: placeofmytaste.com
Are you bored from seeing the same design in your bedroom? Get ready to add a high-end touch with this DIY upholstered headboard.
This project uses an IKEA Shelving unit, 2 x 4 two longer pieces of wood, drill, screws, staples and staple gun, thick batting, fabric, hot glue gun, and buttons.
Here is a hot glue gun I recommend and this staple gun.
14. DIY Wire Basket Side Table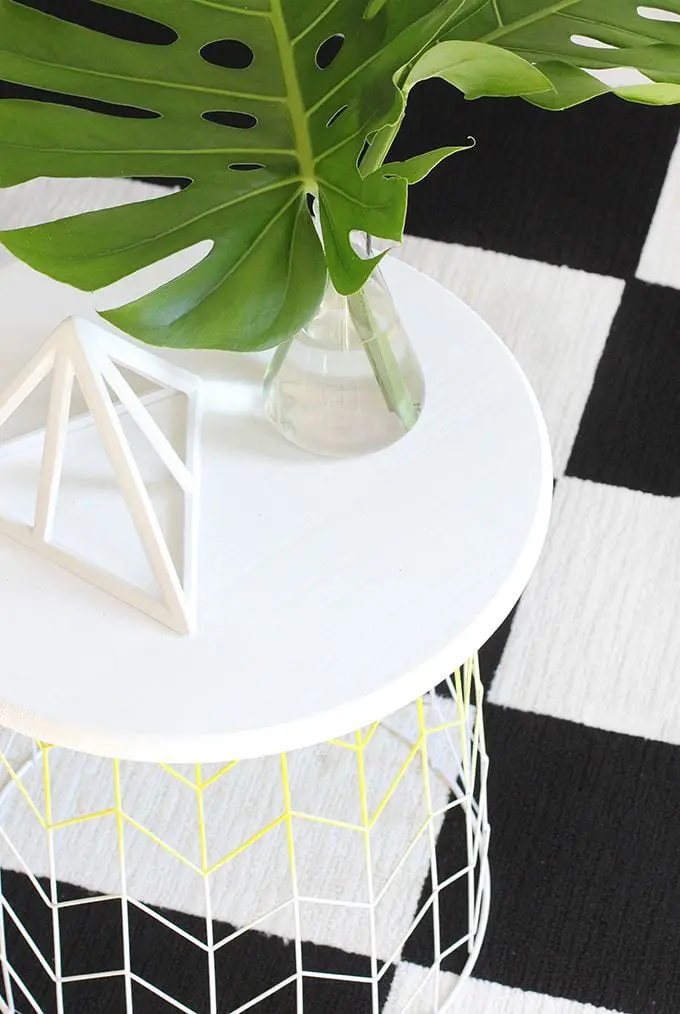 Source: ispydiy.com
This DIY wire basket side table is so simple and cheap to make. It doesn't require any special tools; all you need is an IKEA wire basket, round wood tabletop, spray paint, whitewash stain, and some wood glue like this.
If your decor taste changes, you can easily switch up the look by replacing the tabletop.
15. Ikea Nordli Nightstand Revamp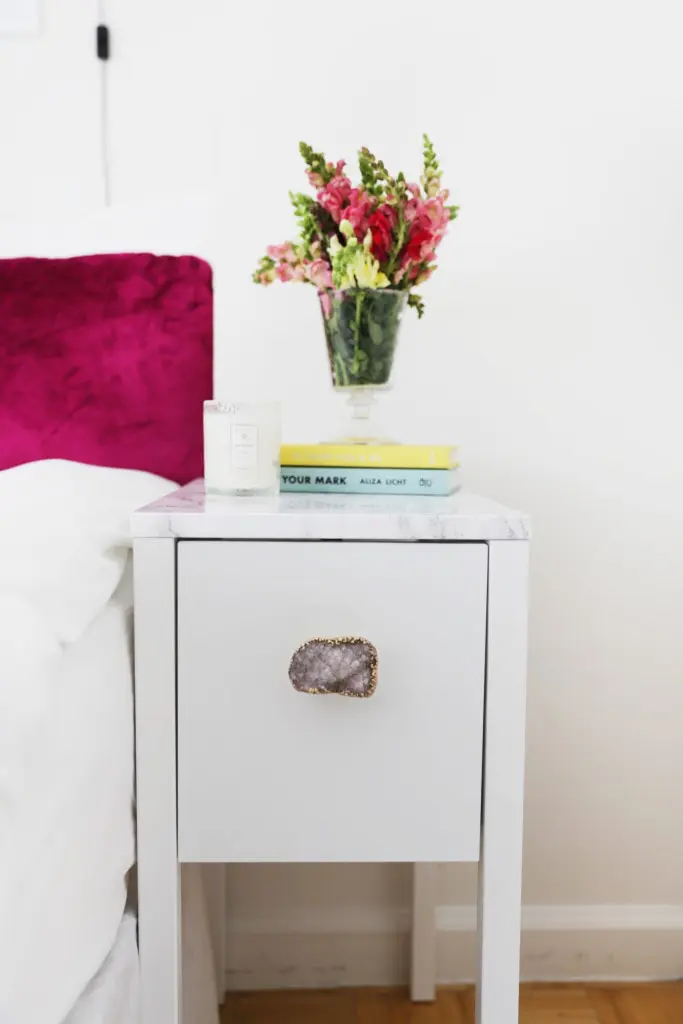 Source: madebymonique.com
For those who favor simplicity, the Nordli nightstand is a perfect solution. It's small yet very practical.
But on a second look, maybe it's a bit too simple.
Monique from the Made by Monique blog spruced it up with an unusual drawer pull (find your inspo here) and some leftover marble contact paper (like this one).
16. Gold Upholstered Bench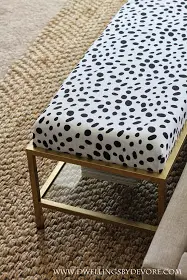 Source: dwellingsbydevore.com
An upholstered bench adds function, character, and beauty to any space. Use it for extra seating, a place to tie your shoes, or just to add a touch of instant charm.
This IKEA hack is very easy and budget-friendly. Don't forget to pick a fabric that matches your personality, style, and décor (get some serious fabric inspo here).
17. Mudcloth Upholstered Bench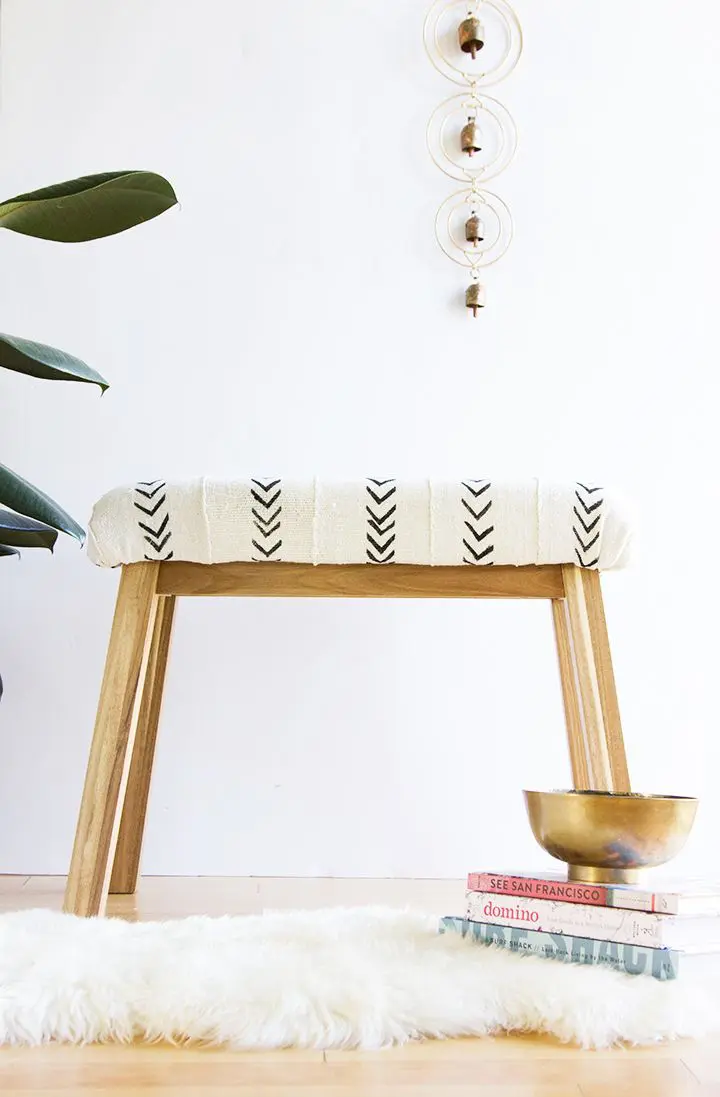 Source: aliceandlois.com
The traditional handmade Malian cotton fabric dyed with fermented mud is absolutely gorgeous and very durable. This makes it perfect for pillow covers, draping over your sofa, or for furniture upholstery.
If you have time for an afternoon project, check out this DIY project by Alice and Lois. They used foam, padding, and a staple gun to turn a plain Skogsta wooden bench into a beautiful bedroom décor.
If you need mud cloth fabric, here is my favorite one.
Try more furniture makeover ideas here.
18. Turn Your Dresser Into a Rolling Desk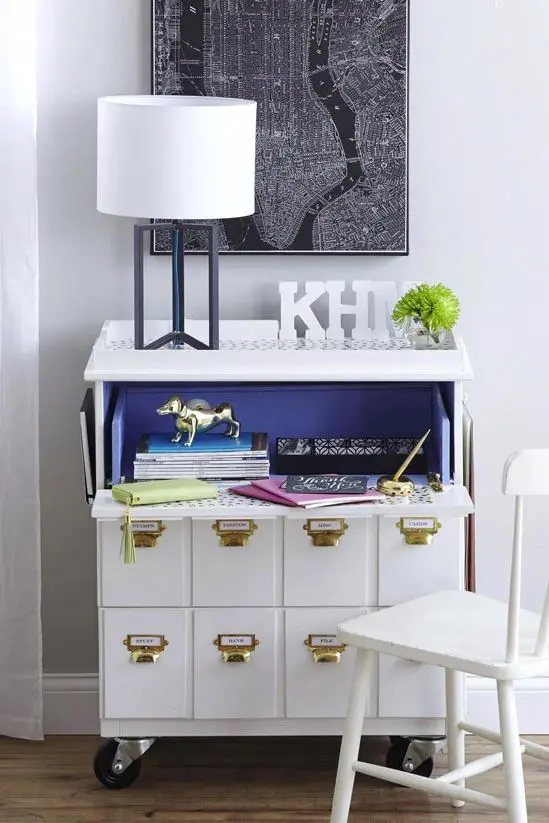 Source: inmyownstyle.com
If you happen to own a less than desirable dresser, or one that you don't really need, think about repurposing it! IKEA's Tarva dresser can be transformed into many different ways and be used for more than storing your T-shirts and socks.
For instance, Diane from In My Own Style turned this simple dresser into a beautiful rolling desk.
19. DIY Chair Makeover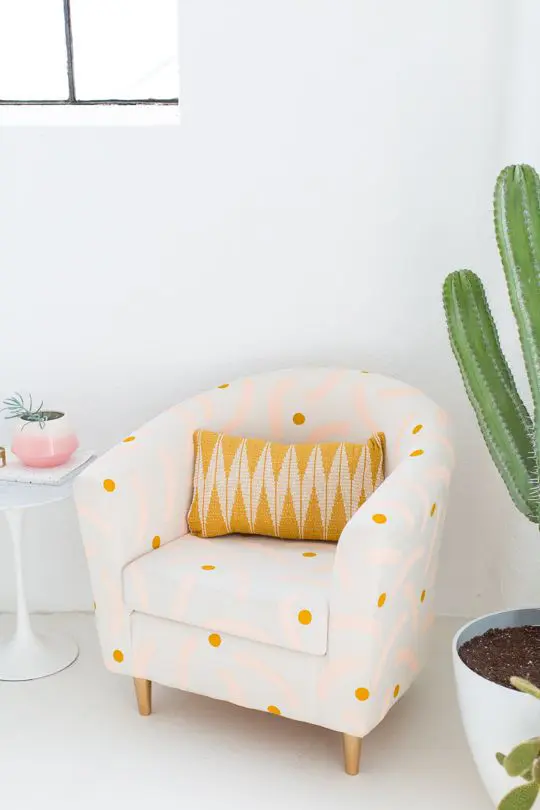 Source: sugarandcloth.com
Are you ready to put your painting skills on a test? This DIY hack is perfect for those who have an old chair they love and can't get rid of (don't we all?).
Also, those who'd like to have a unique piece of furniture in their bedroom.
Ashley from Sugar & Cloth used a foam brush like this, foam pouncer, fabric paint, and gold spray paint to turn her old plan Ikea armchair into a real piece of art!
20. Rattan Chair Update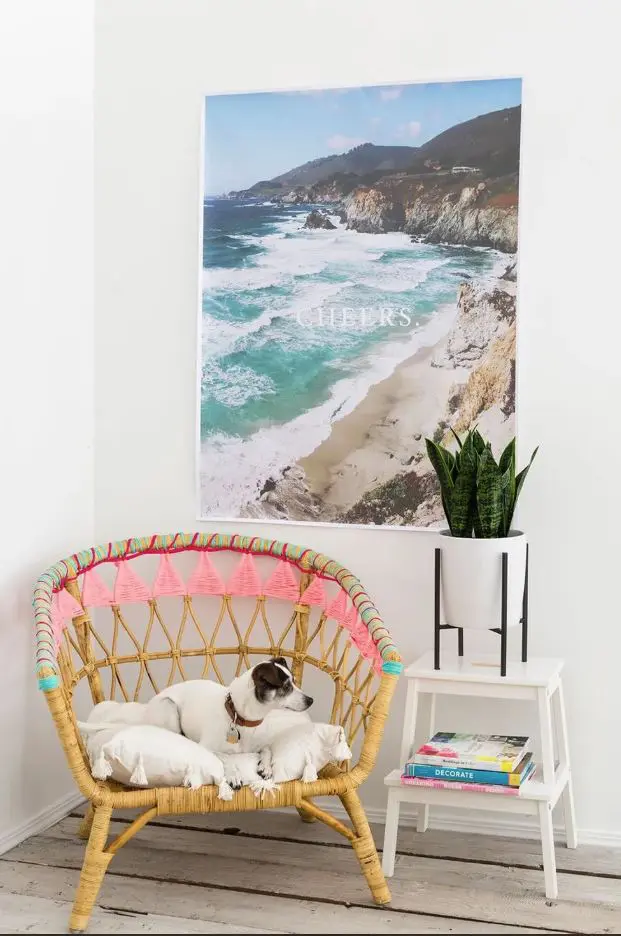 Source: brit.co
If you have a rattan chair that has seen better days, here's how to transform it into a whimsical yet useful accent for your home or garden.
Besides the IKEA rattan chair, you'll also need some yarn like this, strips of jersey, scissors, and wood glue like this one.
Conclusion
Which one of these IKEA bedroom hacks did you like the best? Let me know in the comments below.