Organize home with these IKEA hacks. IKEA furniture is budget-friendly, so great to keep your home decluttered.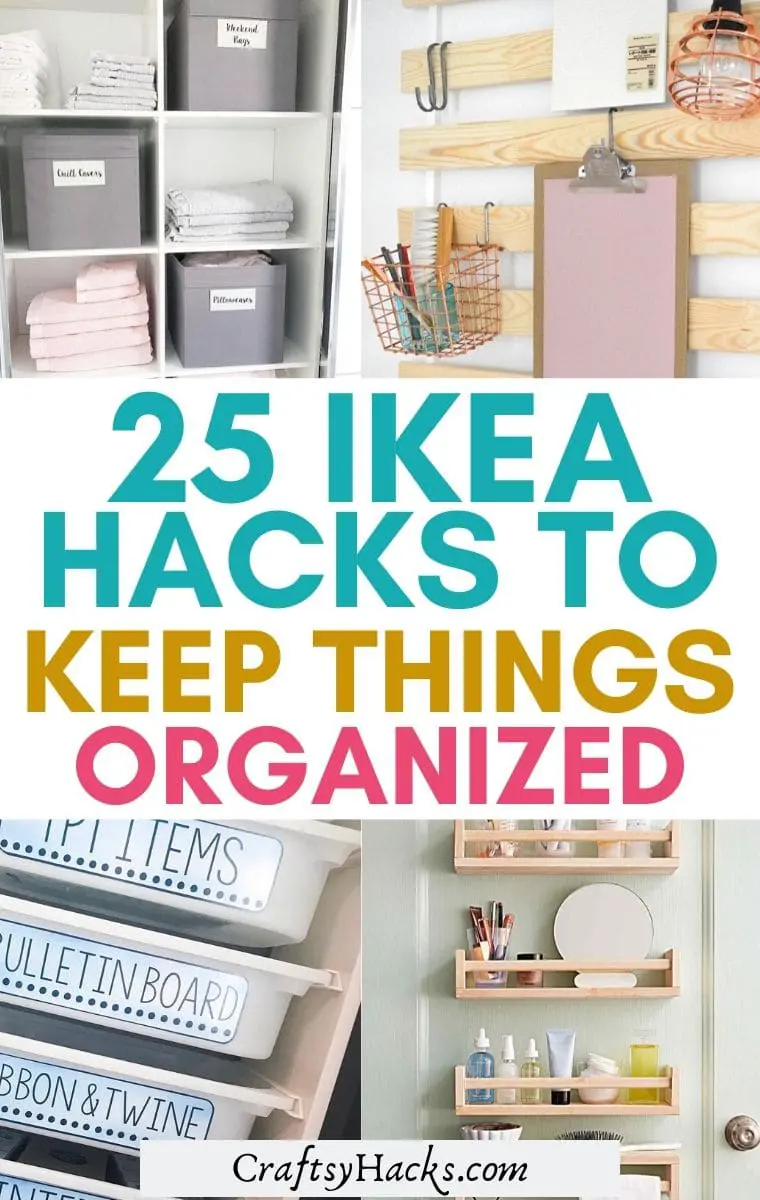 No matter how hard you try, certain spots in your home are somehow always messy. Your closet, vanity, and desk drawer for sure, am I right?
Of course, every room could use some extra space to keep things neat and tidy, preferably without breaking the bank.
Whether you need extra space for your shoes, makeup, or crafting supplies, these IKEA hacks offer affordable and practical solutions to reorganize your home.
1. IKEA Kallax Storage Bench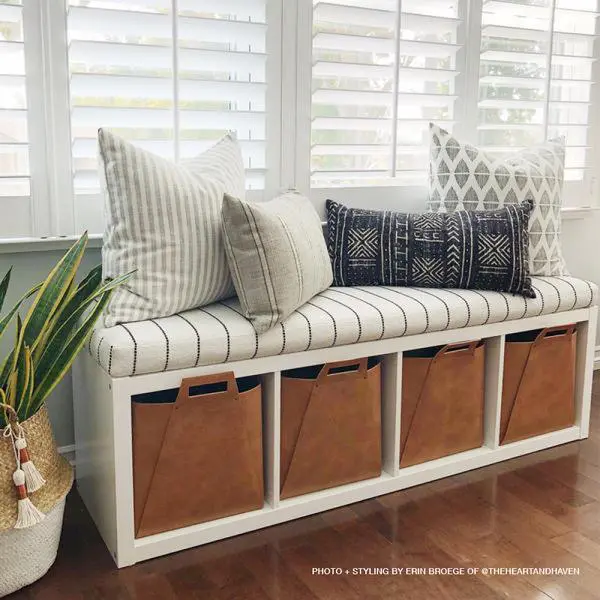 Credit: tonicliving.com
Turn the popular IKEA Kallax bookshelf into a super-functional and stylish seating bench with storage. You can use this bench in your kitchen, entryway, mudroom, or any other space that could use extra seating.
It's very easy to make, without any fancy tools or help from professional carpenters. Besides the Ikea Kallax shelves, you'll also need high-density foam, plywood board, upholstery material (like vinyl), hook and loop Velcro strips, spray adhesive glue, and a staple gun.
Here are more IKEA Kallax hacks like this one.
2. IKEA Spice Racks for Bathroom Storage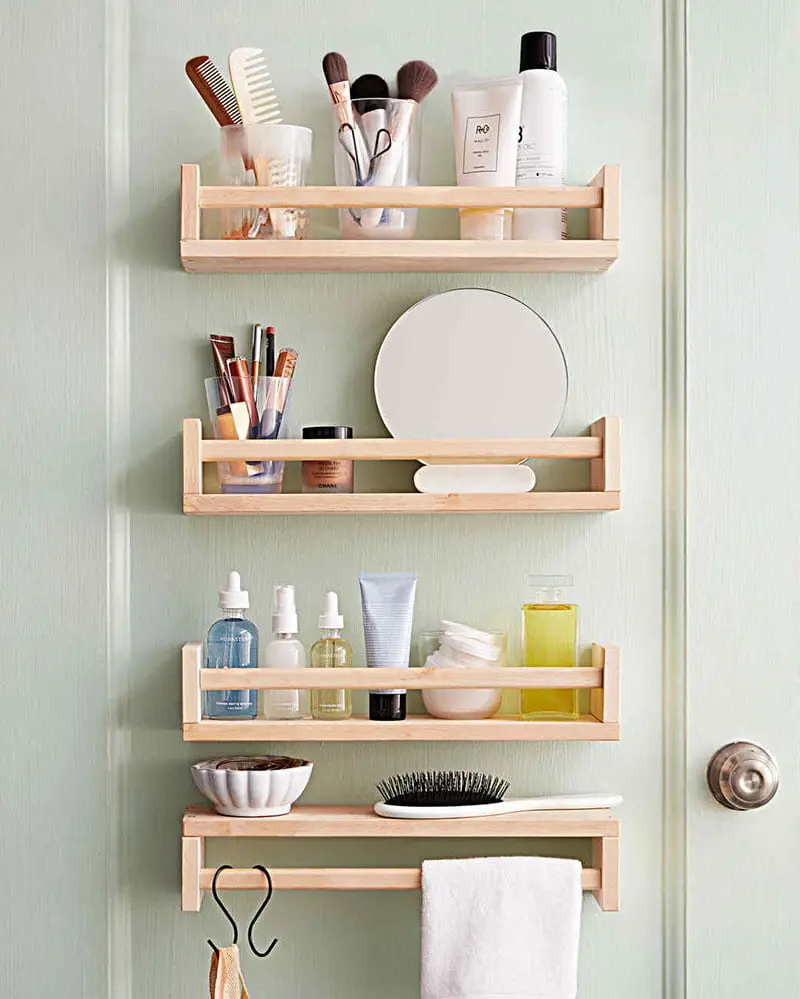 Credit: marthastewart.com
Take IKEA's Bekvam spice racks into your bathroom and mount them on the back of a closet door.
Use them as storage for all of your makeup and hairstyling products or your towels. To add a personal touch, paint the wood in your favorite color (find your favorite shade here).
Here are more IKEA bathroom ideas!
3. Turn a Bed Slat into a Wall Hanger
Credit: ichdesigner.com
Installing a wall hanger is hard to do without putting lots of holes in your wall. Unless you have an old bed frame you want to recycle. Or $10 in your pocket to invest in this IKEA Sultan Lade bed slat.
You can put this stylish wall hanger anywhere you need for extra storage. Your bathroom, kitchen, living room, or even your patio.
Repurposing this bed slat will give you plenty of wall storage options. Use two hooks to hang the slat against the wall (just make sure the hooks can handle heavy).
You can customize it with paint, extra hooks, or metal wire baskets like this one here. You can also hang clothes, magazines, and books directly over the slats.
This is a good storage or décor project for your bedroom.
4. Organize Your Drawers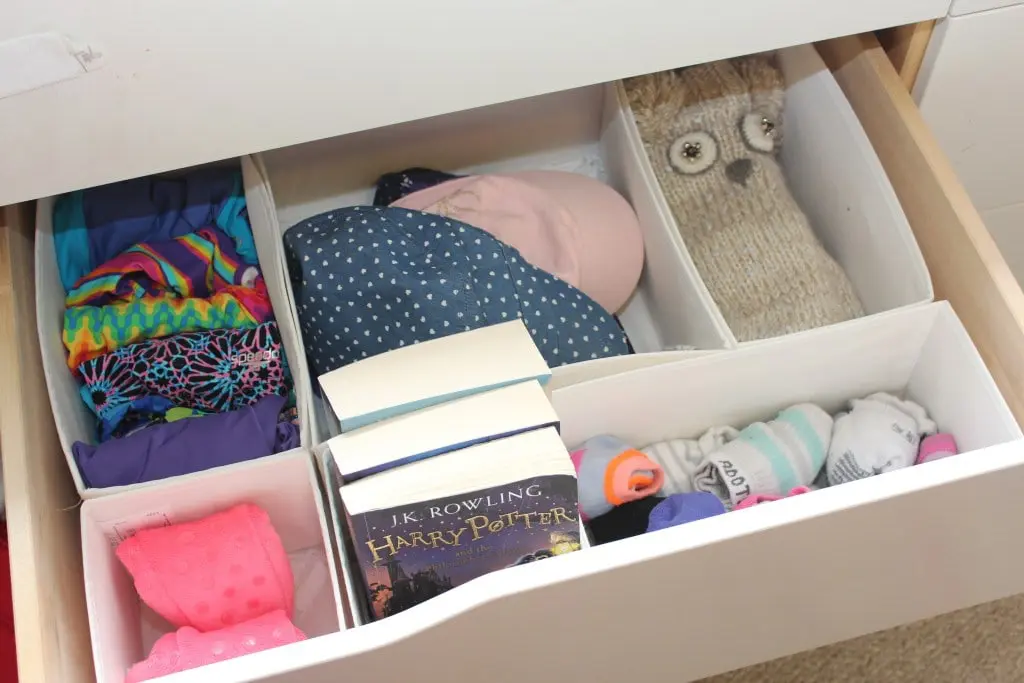 Source: feelingnifty.com
Do you have a junk drawer? I must admit that I had one not so long ago. It was so stuffed, but no matter how much I tried to divide and sort, it always went back to being messy.
That was until these amazing IKEA Skubb boxes helped me to finally bring order to my chaos. You can use them to sort accessories, socks, lingerie, cosmetic products in the bathroom, or toys in the kid's room.
This is what I call divide and conquer! Here are more IKEA hacks for your desk, in case you need more space to organize your documents.
5. Variera Boxes for Bathroom Cabinets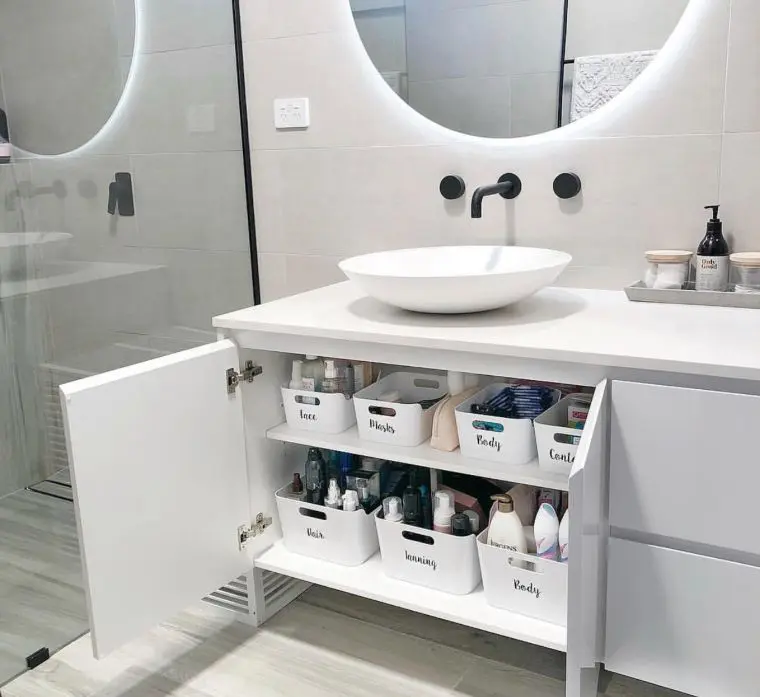 Credit: justanothermummyblog.com
You can use the Variera boxes to store and organize pretty much everything: your bathroom, laundry, pantry, etc.
There are a couple of different sizes, which is super-convenient.
If you're using them in your bathroom cabinets, you can use the smaller size for products that don't need much storage, like face products and contacts.
6. Trofast Storage for Your Home Office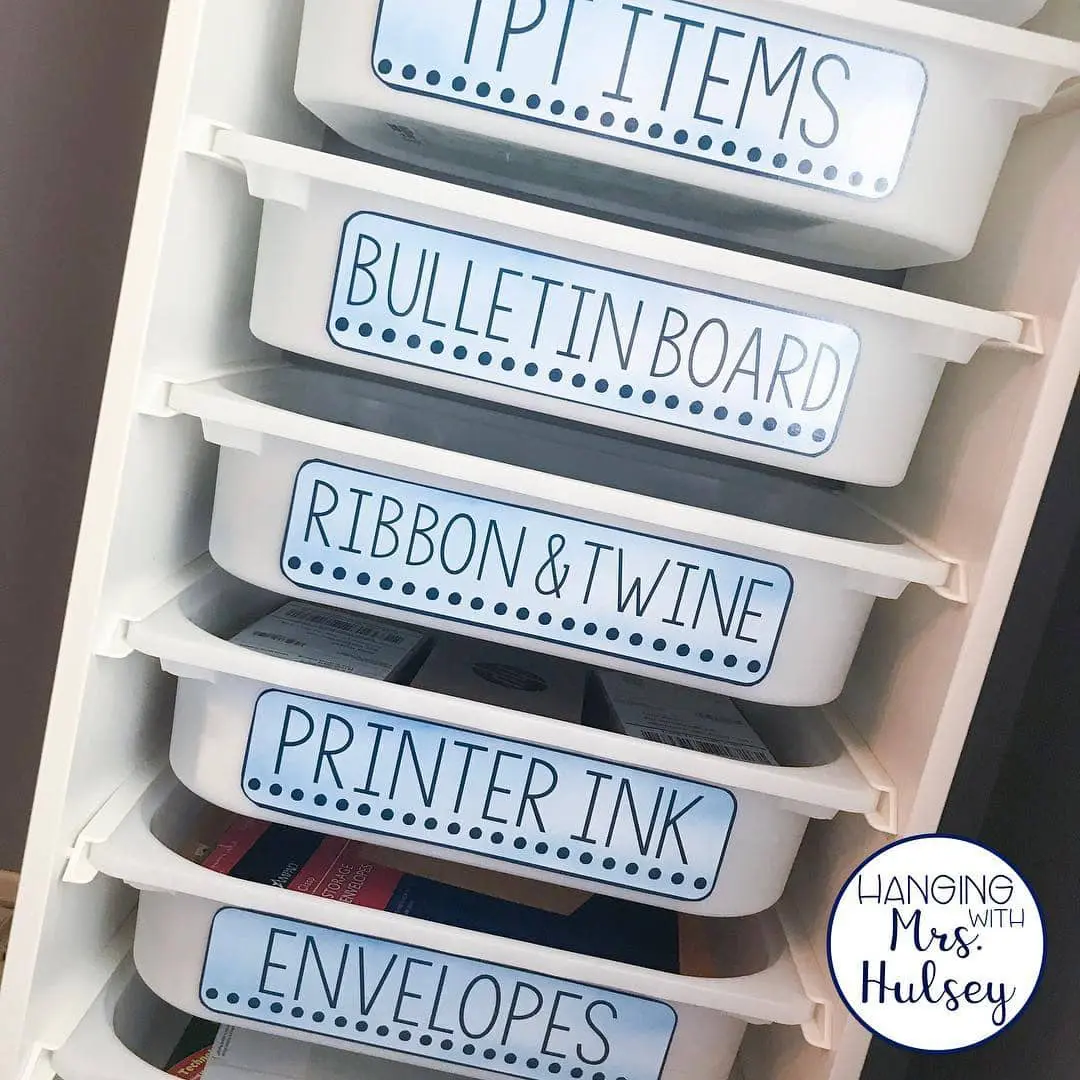 Credit: instagram.com
Are you a crafter that dreams of a beautifully organized craft space? Or maybe you're struggling with a mountain of office supplies?
IKEA Trofast is a great solution for storing all your crafting supplies or office essentials. It provides tons of storage space and helps you organize your working space.
To make things even neater and easier, add a simple label on each plastic box.
7. Hanging SKUBB Storage for Clothes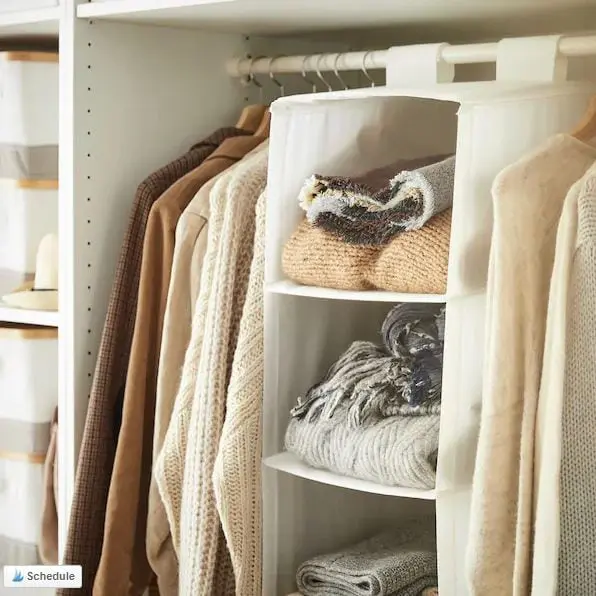 Credit: ikea.com
A beautiful, large walk-in closet filled with all your shoes, clothes, and accessories is a dream. In real life, most of us have much smaller, crammed closets filled to the top.
If sifting through all that mess is driving you crazy and you're ready for a change, the IKEA Skubb hanging storage is the perfect solution to get the most out of your small closet.
8. STUK Hanging Shoe Organizer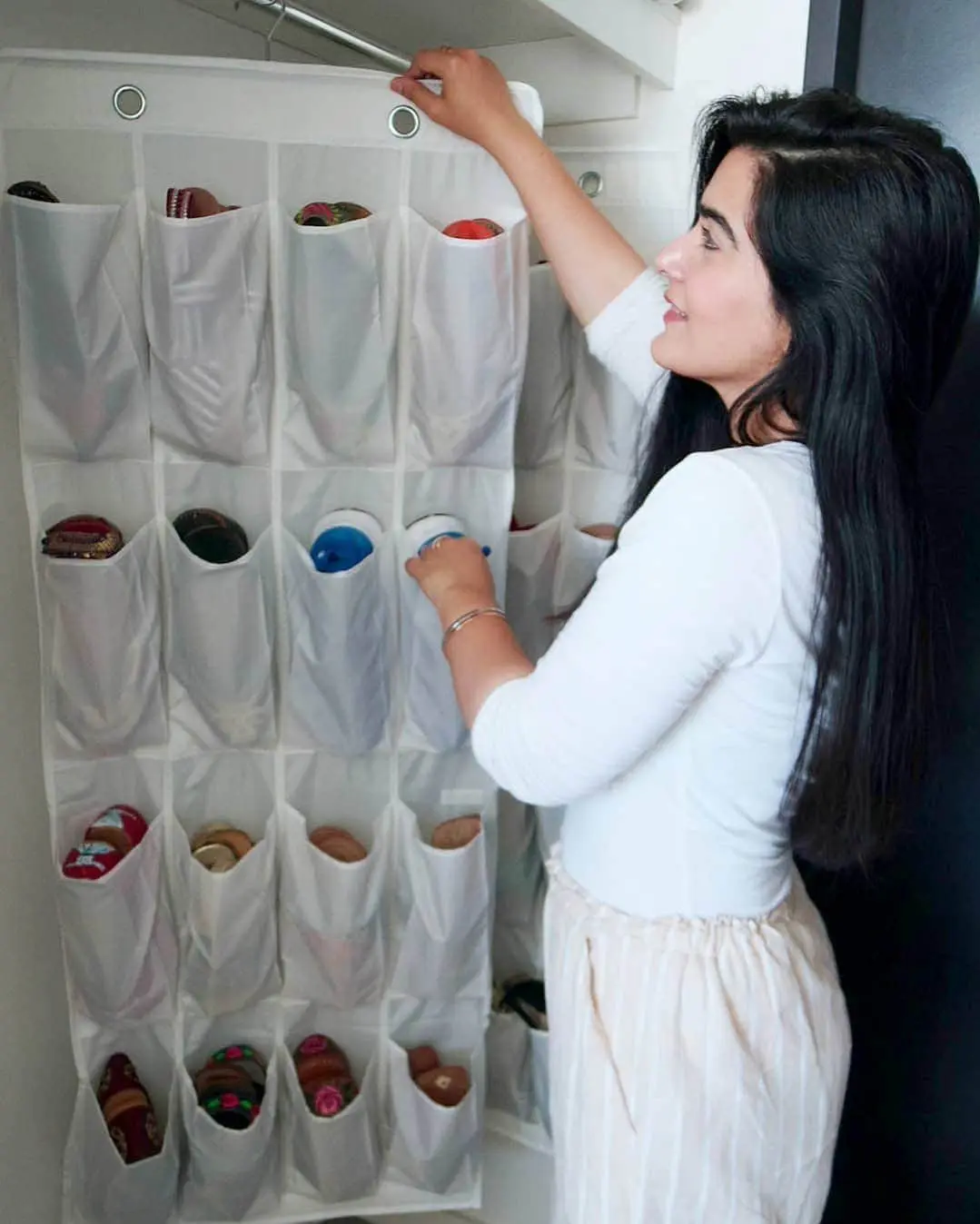 Credit: instagram.com
This over-the-door shoe organizer is the perfect hack for small spaces. You can use it to keep so many items neat and clutter-free.
It doesn't take up much space and since it hangs over a door, you can keep it on the inside of your closet.
You can repurpose your Stuk hanging shoe organizer to hold winter hats and gloves, sort your kid's LEGOs by color.
As well as keep stain removers and clothespins in the laundry room, or for onesies, socks, and diapers in the nursery!
9. IKEA Spice Racks for Organizing Baby's Room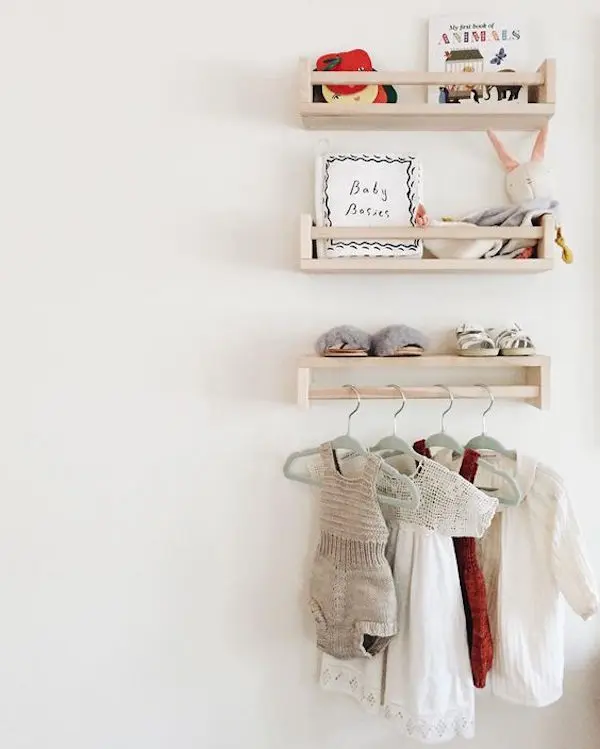 Credit: citymom.nl
The life of new moms is stressful. That's why you need a great hack to help you organize baby clothes and avoid frantic searches in emergency situations.
Turn IKEA's spice racks upside down to transform them into clothes hanging rods. A simple idea to keep all those cute little clothes organized in a way that is easy and convenient for you.
Use spice racks for a perfect IKEA kitchen hack too!
10. Komplement Tray for Jewelry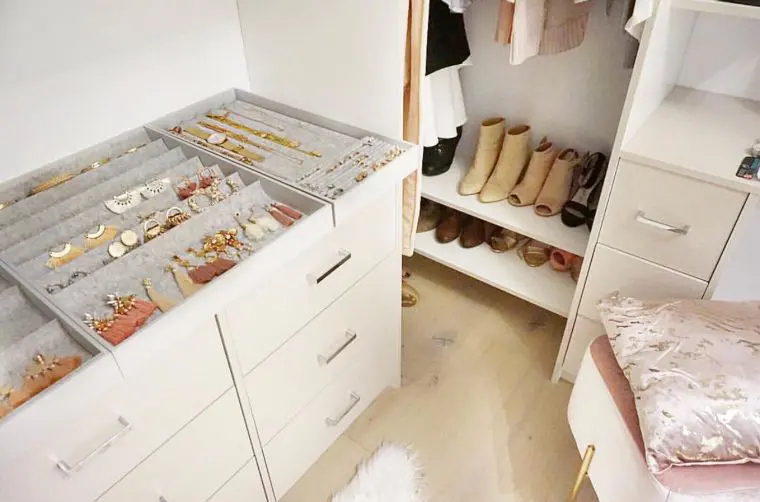 Credit: justanothermummyblog.com
Your necklaces are all tangled, you have no clue where your favorite bracelet is, and you can only find one of those black earrings. Sounds familiar?
If you're looking for a creative way to store your collection of jewelry, IKEA's Komplement tray is the perfect solution.
It's big enough to fit all of your jewelry, yet appropriate for a small space. It also has a clean, contemporary feel, and is totally affordable.
All boxes checked!
11. Drona Boxes for Linen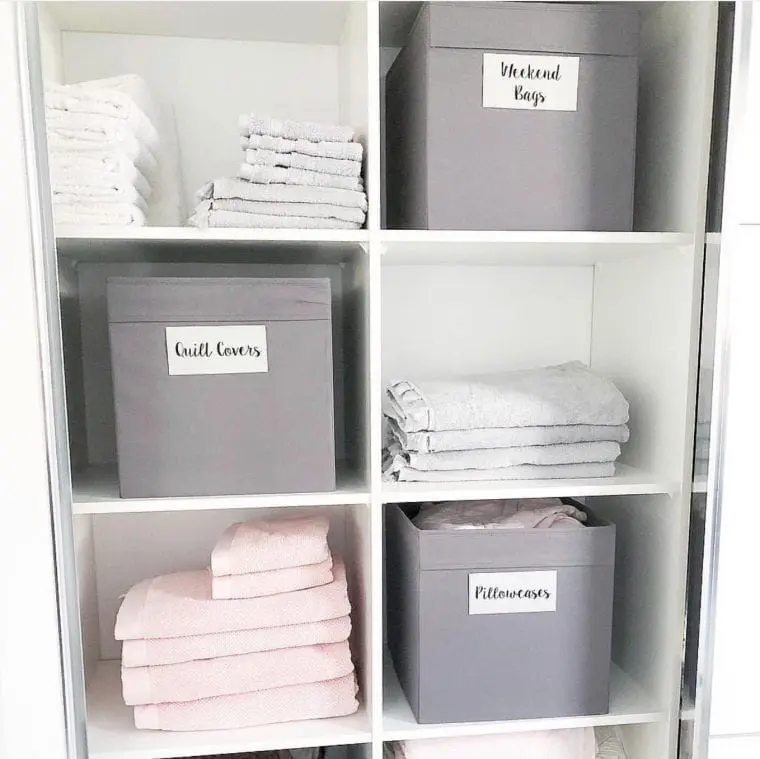 Credit: justanothermummyblog.com
Most homes have only one main linen closet or cabinet, which easily turns into a "junk drawer" for the entire house. This can easily overwhelm the space and make it difficult to find what you need.
Use IKEA's Drona boxes to make this space more user-friendly. Besides functionality, these cotton-covered boxes will also add a stylish touch.
To make the space even more functional, use labeled acrylic tags like this one.
12. Back-of-Door Makeup Organizer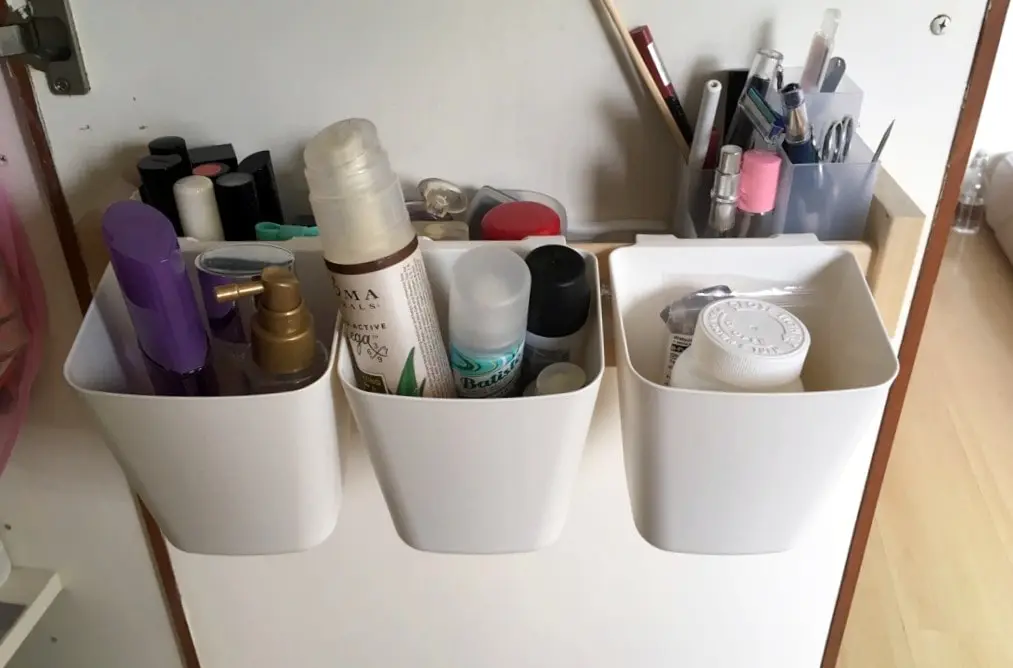 Credit: ikeahackers.net
Whether you have a huge collection or you're a type of person who buys only the essentials, keeping your makeup organized is crucial.
I mean, why settle for any lipstick shade just because you couldn't find your favorite one in a cluttered drawer?
This back-of-door makeup organizer is made of cheap Sunnersta containers hanging on a short Bekvam spice rack. Can you believe it?
All you need to hang this organizer is a few wood screws. So simple!
13. Seamless Double Hemnes Shoe Cabinet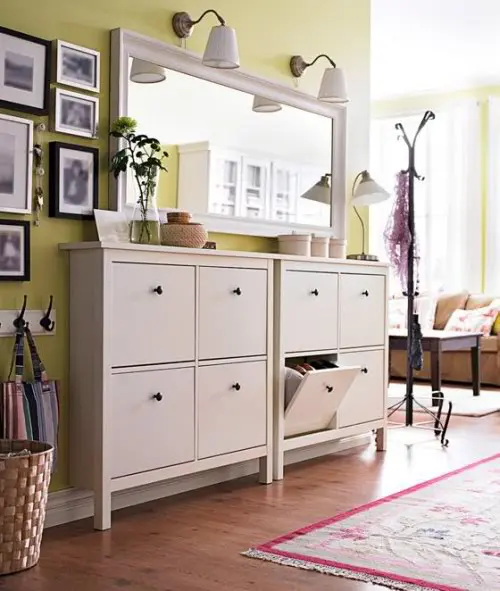 Credit: scraphacker.com
IKEA's Hemnes collection is a perfect option for tiny front entrances. If you have enough room for two, even better.
However, having two Hemnes cabinets will require some 'hacking' to set them up side by side. As the top shelf has a bit of an overhang, you'll have to cut one side of both units to prevent a gap between them.
To be honest, this hack does require some work (it involves a miter saw like this one). But it a great storage solution that will keep your entrance clutter-free and organized.
Here are more great IKEA hacks for lower budgets!
14. Broom Closet Organization Hack with Spice Racks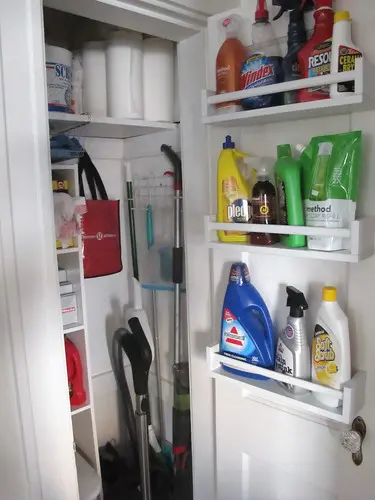 Credit: projectshannon.blogspot.com
Don't let your broom closet become a dumping ground for everything you want out of sight. Use the Bekvam wooden shelves mounted on the door to store all your cleaning supplies.
Want an extra tip? Maximize the vertical wall space to save some precious square footage on the floor for heavy items that cannot be hung.
Keep your dustpans, brooms, and mops elevated with a wall-mounted organizer. That way, bulkier items like buckets, as well as your vacuum can fit below.
15. DIY Painted Basket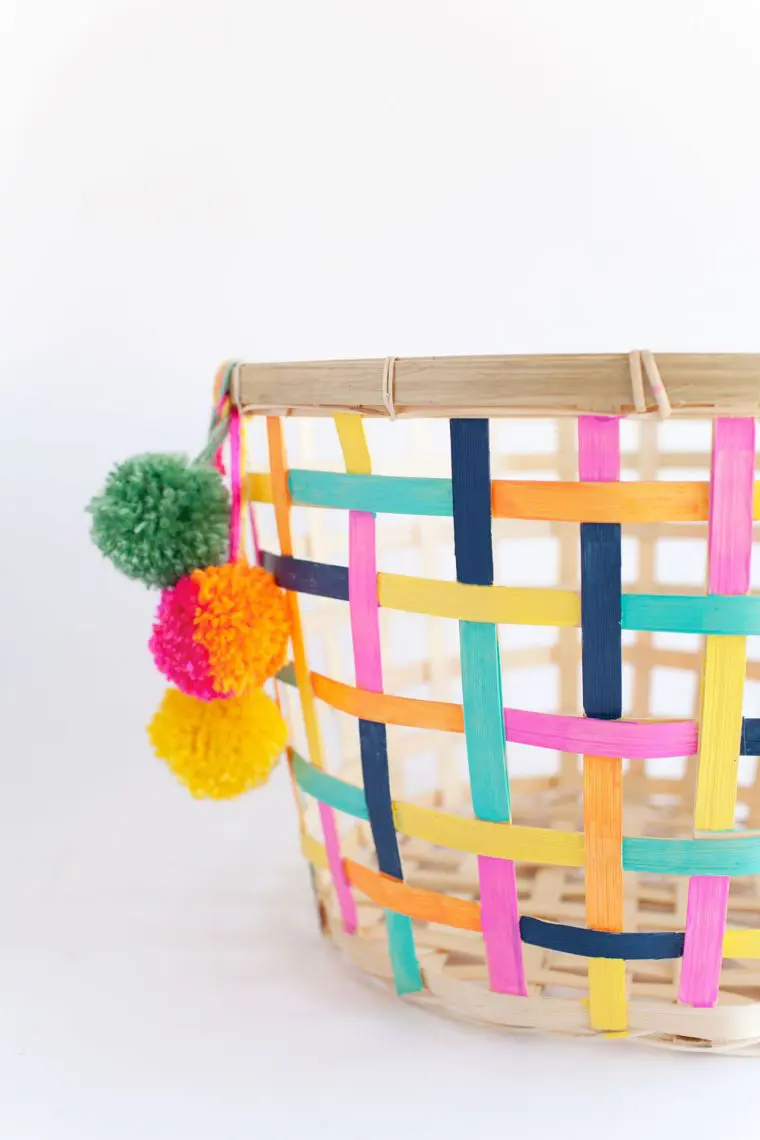 Credit: tellloveandparty.com
I love using baskets to give everything a special spot! Whether to keep toys, blankets, books, a bunch of random items, they are a great way to stay organized.
This hack shows how to give a plain basket from IKEA a colorful makeover with some paint and pompoms like these.
16. Kallax School Bag Storage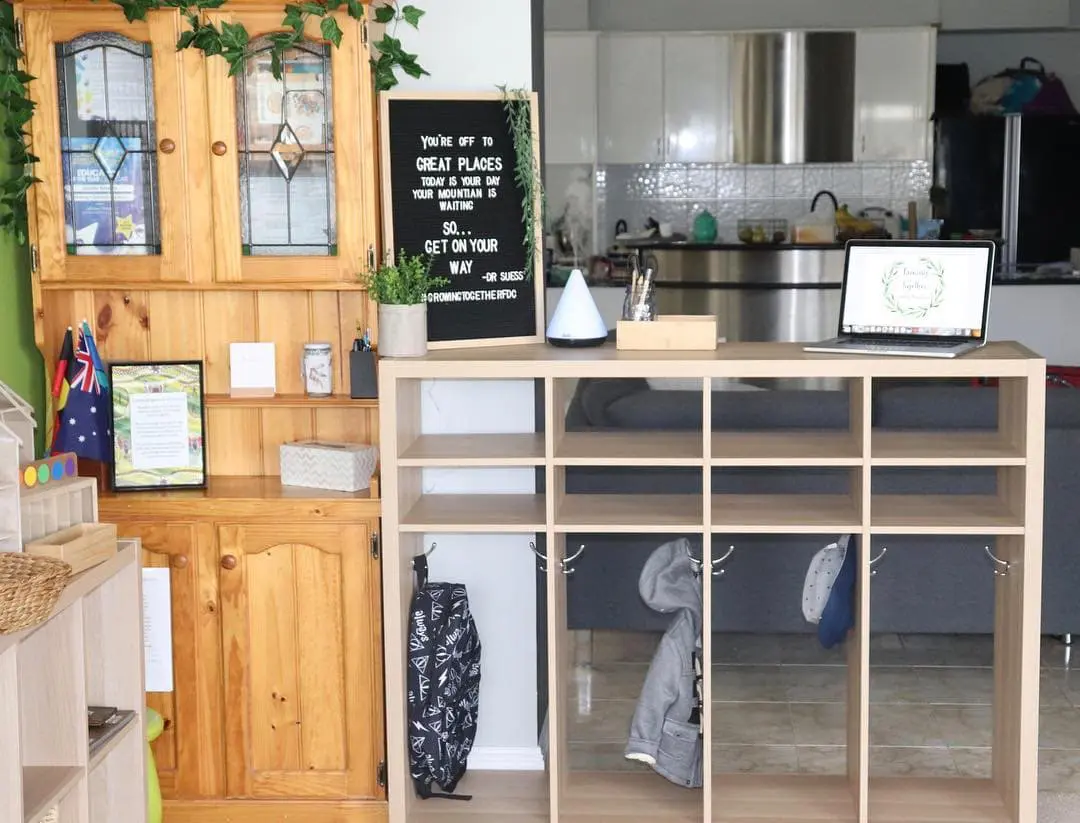 Credit: ikeahackers.net
When your little ones start going to school, you'll have to find a place for their school bags. No, keeping them on the pantry floor isn't a good idea, as you'll have to kick them around every time you are looking for something.
The solution? This IKEA Kallax hack.
By using some coat hooks, measuring tape, and a drill, you'll create super-functional storage space. Besides your kids' school bags, you can also use it for coats, hats, keys, books, and lunch boxes!
17. DIY Pegboard for Craft Room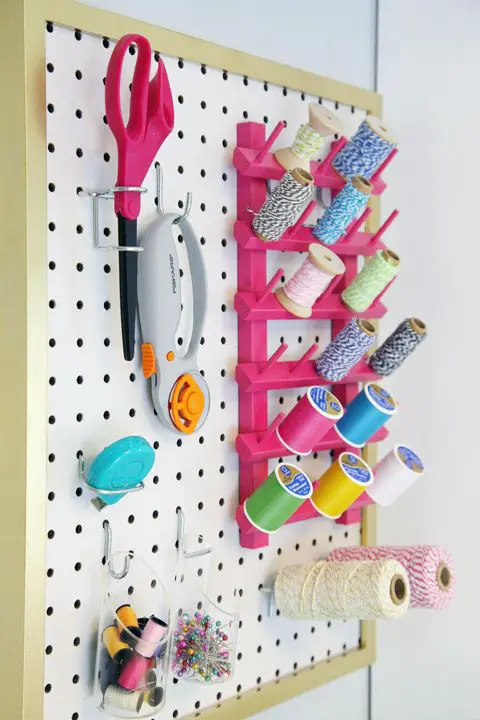 Credit: iheartorganizing.com
You need a functional storage solution for your crafting supplies, but you're tight on space? Then you're going to adore this big DIY pegboard!
You don't even need a separate craft room – just some wall space!
Besides a pegboard, you'll also need a Ribba frame from IKEA. Measure and cut the pegboard to the size of the frame, then pop it inside. Done!
18. DIY IKEA Spice Rack Redo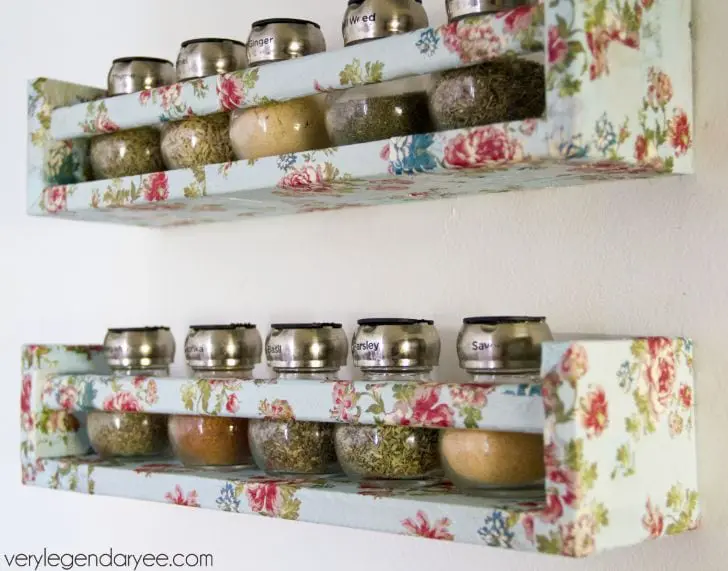 Credit: verylegendaryee.com
Who said the Bekvam spice racks needed to be boring? One of the most popular and affordable Ikea classics can be easily customized in any way you can imagine!
Tiffany from VeryLegendAryee used beautifully designed napkins and glued them with Mod Podge to the spice racks. The result? Absolutely romantic racks to house all your spices!
If you love more ideas like this, check these shabby chic kitchen décor ideas that are also practical.
19. IKEA Raskog Cart for Kids Art Supplies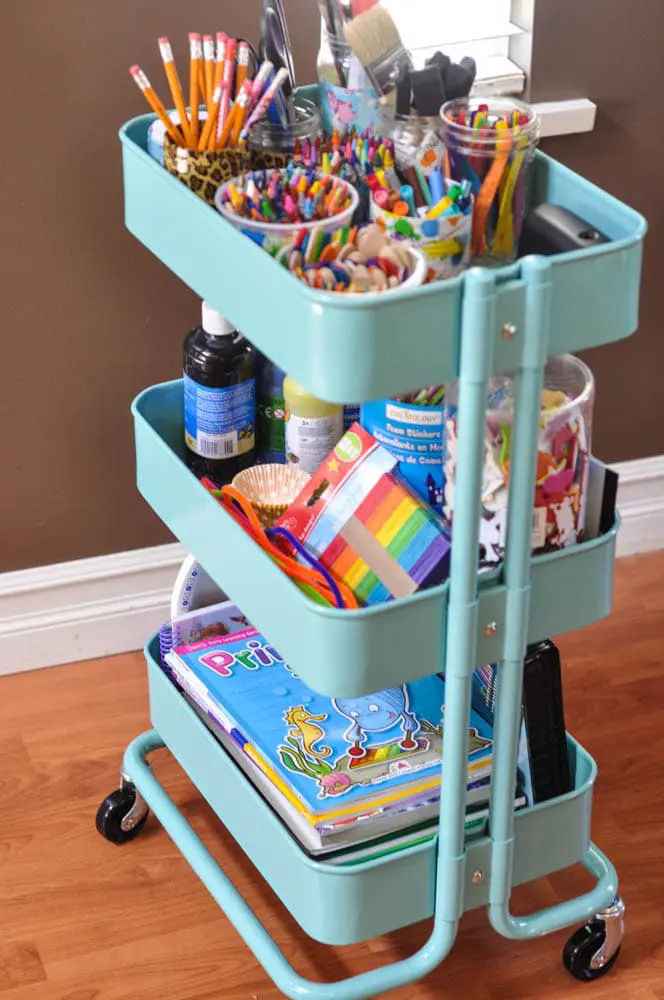 Credit: suburble.com
If you're struggling with how to organize your kids' art materials, crayons, and markers, here's a great solution. Create an Art Cart with IKEA's Raskog.
This Art Cart can be easily rolled to wherever your little ones are working and allow them to use their creativity whenever the mood arises!
20. Family Command Center IKEA Hack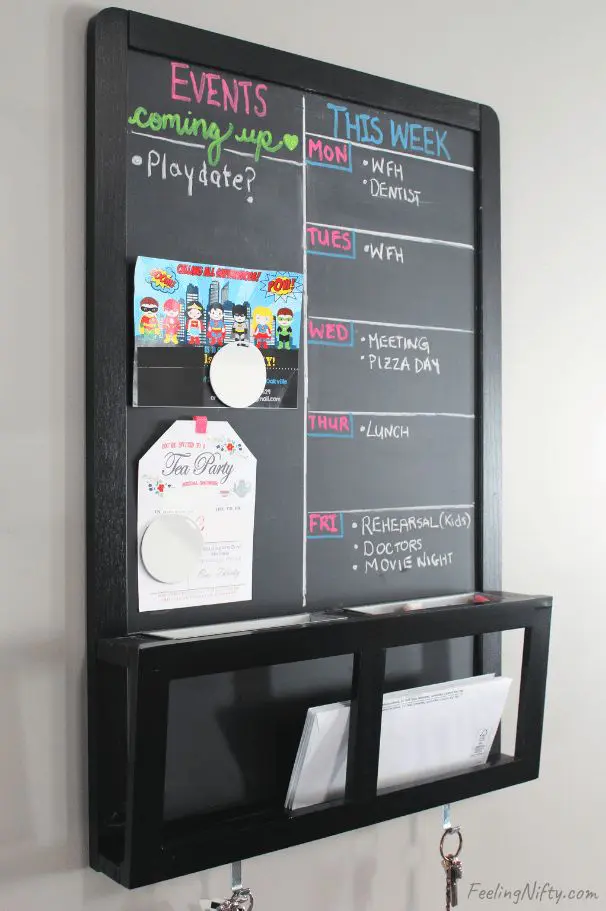 Credit: feelingnifty.com
Family command centers have become very popular over the past few years. In case you don't know what it is, a family command center is a system for organizing everything in your household.
You can use it for calendars, shopping lists, receipts, chores, notes…everything in one place.
This hack works great for small spaces. The whole set up includes Ikea front opening frames, Ikea Hemnes cabinet, Ikea Luns chalkboard wall organizer, and Ikea magnets.
You can decorate it with these chalkboard pens, colorful scented candles like these, and pen holder mugs (as seen on Feeling Nifty).
21. Trones Shoe Holder for Paper Storage
Credit: heyletsmakestuff.com
Do you sometimes feel like you're drowning in paper? I can relate!
When I started looking for a way to organize my paper, I went through some pre-built storage solutions but they were quite pricey. So, as always, DIY saves the day.
Simply repurpose a couple of IKEA's Trones shoe holders. They hold tons of paper and fit everything from regular letter size to 12 x 12 scrapbook paper.
Just make sure to install them using anchors (like these) so they'll be able to carry the weight of the paper.
22. Shoe Storage Hack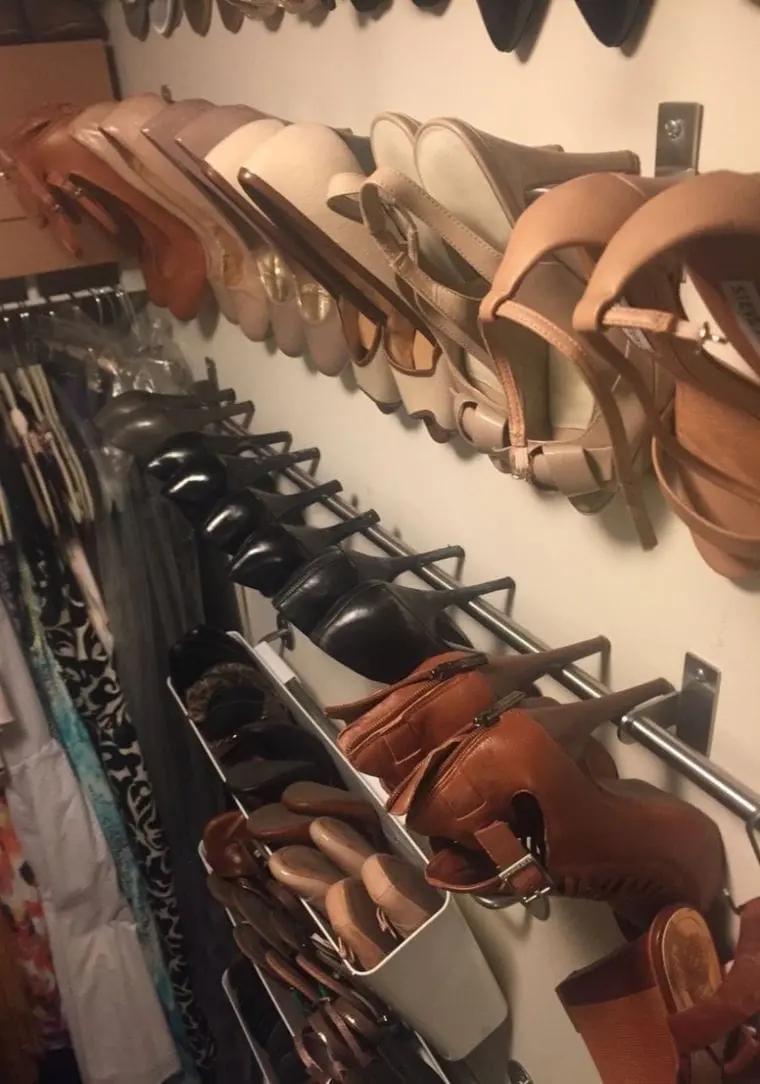 Credit: ikeahackers.net
Girls just want to have lots of shoes. Right? But when our wish comes true, we're faced with a true shoe explosion.
Shoe storage can be a big problem as there isn't enough space for storing all family members' shoes.
What's more, finding a quality storage product that won't take up too much space (or have a big price tag) is almost impossible.
If you want a clever and affordable solution, here is a superb hack. To make it, you'll need some IKEA rails, 3 Variera storage boxes, 2 Variera utensil holders, 5 pieces Grundtal S-hooks, and 10 pieces Bygel S-hooks.
23. Mug Holder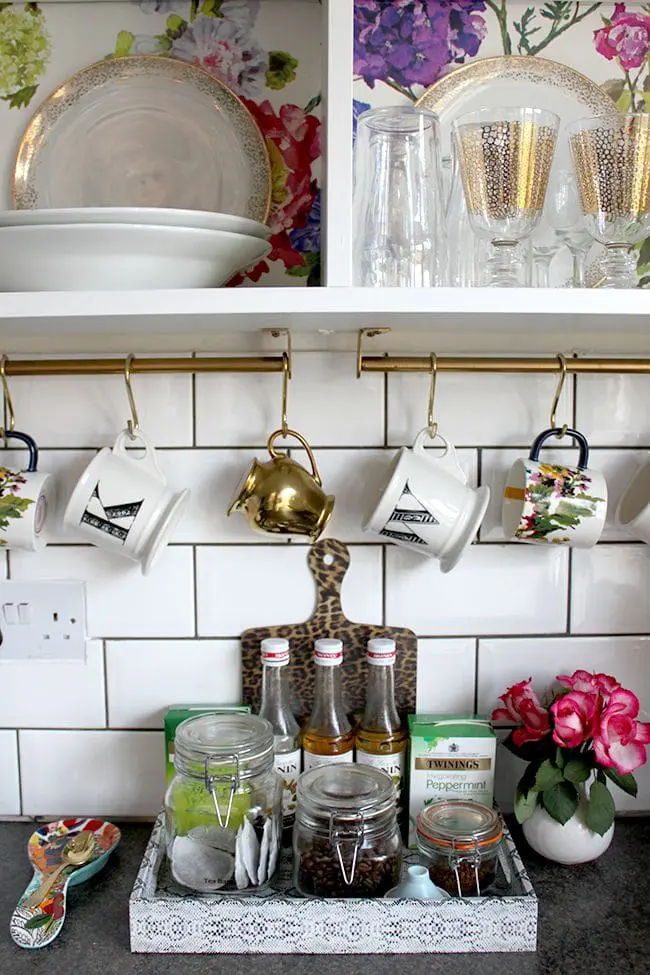 Credit: swoonworthy.co.uk
Having a coffee mug holder can free up quite a lot of space in your cabinets. It's also a great way to display your favorite mugs for everyone to enjoy.
This glamorous mug holder, combined with a high-quality coffee machine like this one and all the necessary supplies, creates an inviting area to make your favorite drink and relax.
To create it, all you need is an IKEA Grundtal rail and gold spray paint!
24. DIY Kitchen Island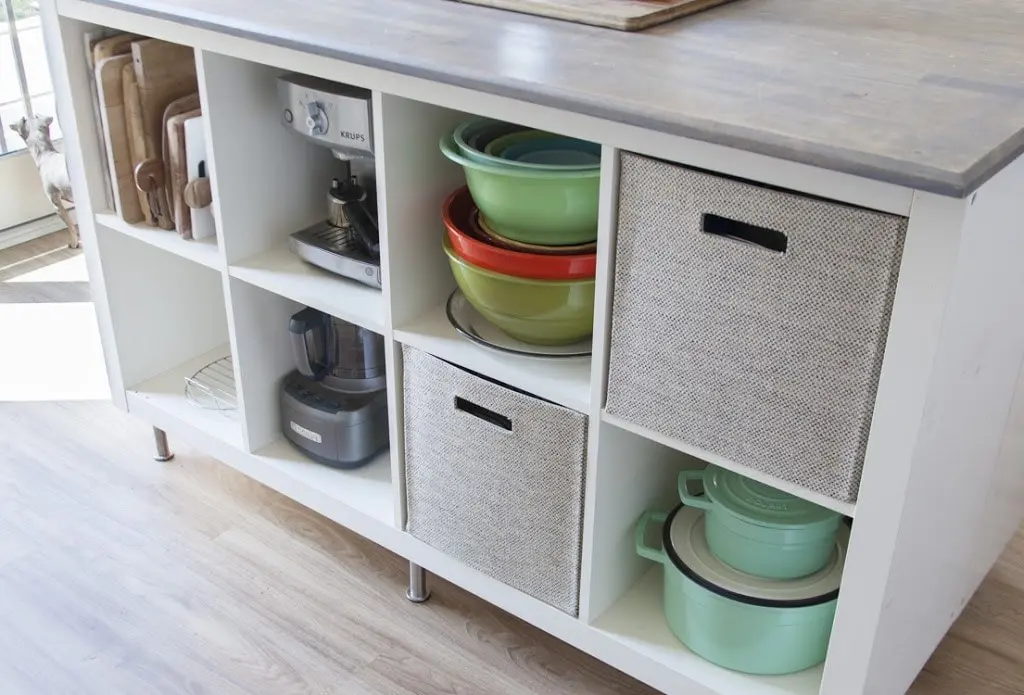 Credit: kreatinghomes.com
You want a kitchen island but you're tight on money? Rush to IKEA to buy some cool stuff you can repurpose.
Kate from Kreating Homes used her old Kallax (formerly Expedit) bookcases to create this amazing kitchen island.
She repurposed old metal legs, as well as an old tabletop. (If you don't have old legs and old tabletop, get brand new ones here and here).
Later, she added a lid holder like this to the side, a couple of magazine holders to keep water bottles, and fabric storage bins for the less attractive items.
25. Bygel Rail for Organizing Cupboard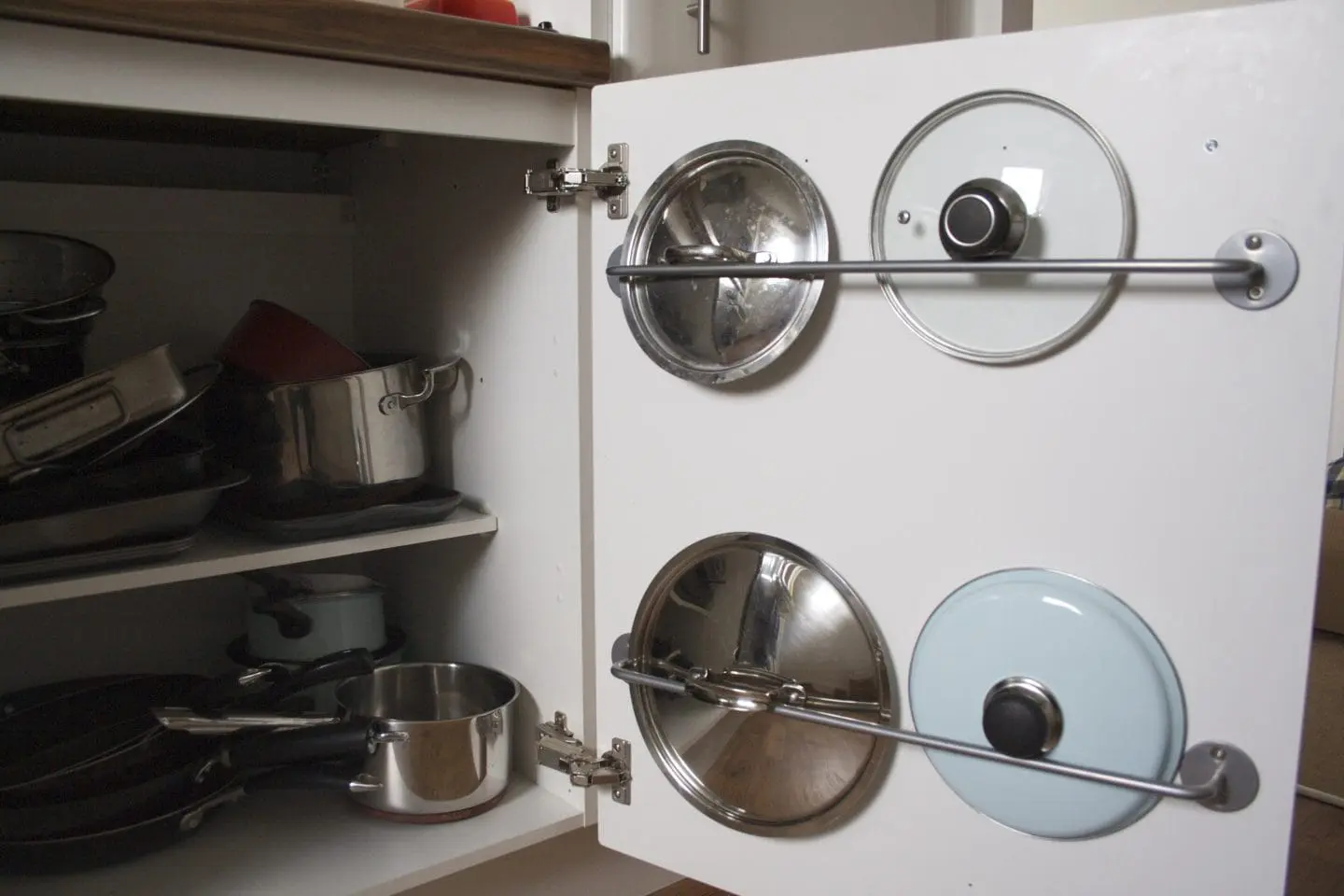 Credit: apartmentapothecary.com
Pots, pans, and lids are probably the most difficult pieces of kitchen equipment to handle. They are quite big and bulky, but you use them often, so you need to find an easily-accessible space to store them.
Attach Bygel rails to your cupboard door to hold the lids and you'll have no trouble finding the right lid for the right pan ever again!
Conclusion
Which of these IKEA hacks is your favorite? Let me know in the comments below.