A great way to keep your home decluttered is to store your blankets right. These blanket storage ideas will give you some inspiration to keep your home organized.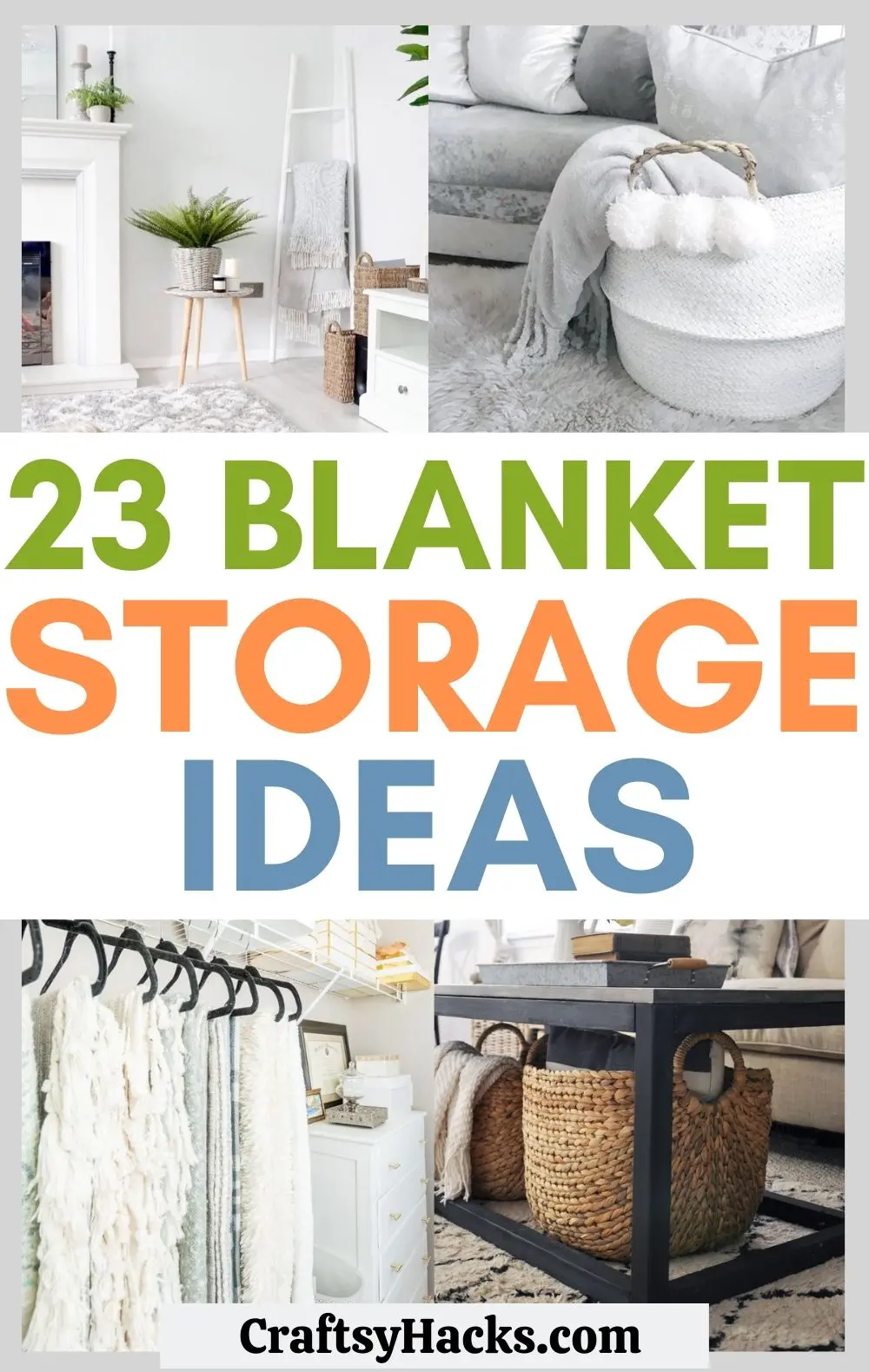 Blankets are one of those things you tend to accumulate over the years without realizing it. Before you know it, you're overwhelmed by fabric on all sides, and you're faced with an organizational nightmare.
Not to worry, there are many ways to keep your blankets in check. Check out this list of twenty-three genius blanket storage ideas to corral those cozy comforters for good (and access them easily).
1. Cozy Blanket Basket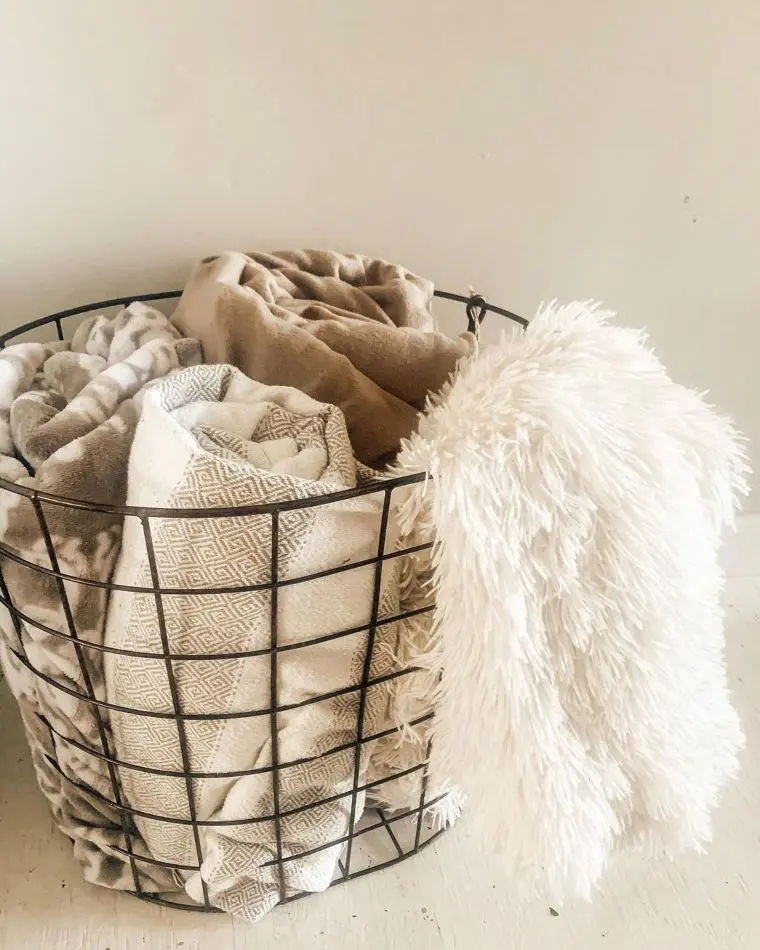 Credit: Instagram
Let's start with something ultra-simple. If you have a good collection of blankets, a go-to storage idea could be a large basket you keep in your living space. This would ideally live right next to your couch.
Whip out a blanket whenever the mood strikes you, then roll it up and put it back when you're done; simple. This large wire basket is ideal for storing blankets as it lets them air out after you've used them.
You can also update your basket to reflect your style; maybe use a cardboard box instead of a wire one and wrap it with rope to create something unique? Check out a tutorial on this technique here.
2. Blanket Wall Rack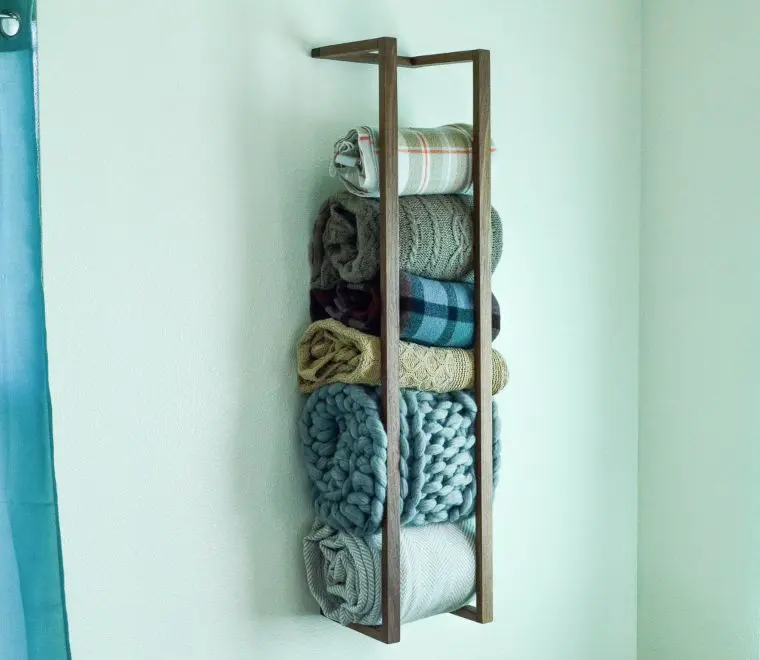 Credit: Etsy
Next up, here's a simple way to upgrade your blanket storage without breaking the bank. Instead of cluttering your floor space with another piece of furniture, take it to the wall with this stylish rack.
I love this idea because it's so versatile; you can adapt the rack to suit your home's décor while retaining the same functionality. If you're looking to save money, you can even make it yourself with 1×2 timber (here).
3. Rose Gold Ladder Storage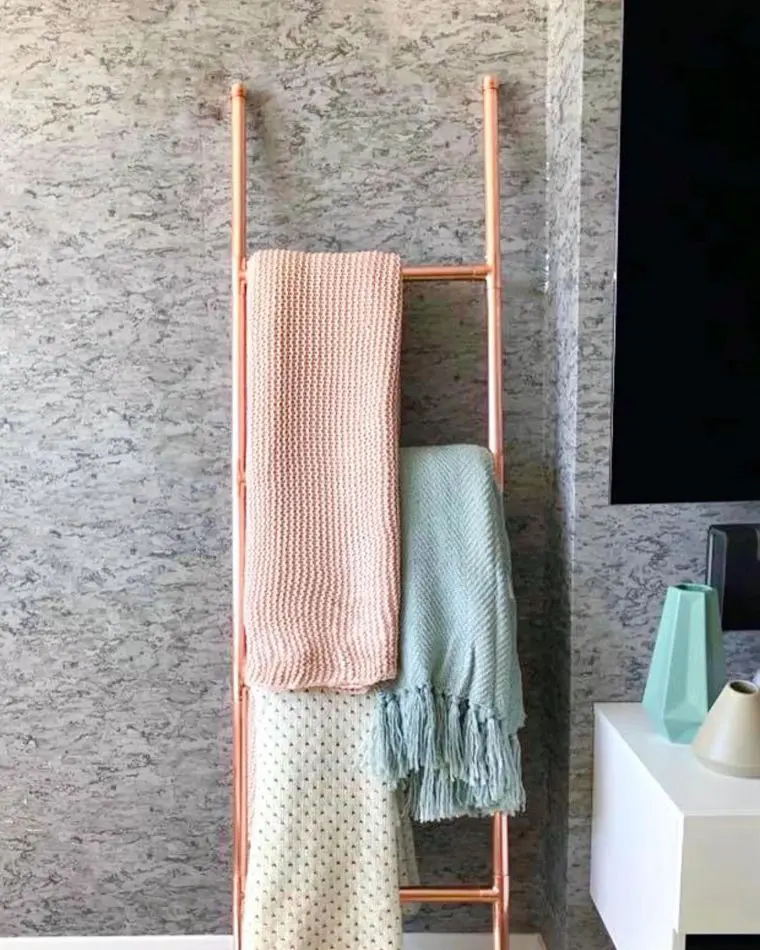 Credit: Instagram
The ladder storage technique is suitable for bathrooms, but that doesn't mean it won't work for your living room. You need to upscale it a bit! I recommend picking up a trusty ladder and jazzing it up.
For example, transform this ladder by spraying it with rose gold spray paint like this. Cover that with a layer of clear acrylic varnish for durability, and you have a space-saving storage solution that looks great.
4. Comfortable Blanket Chest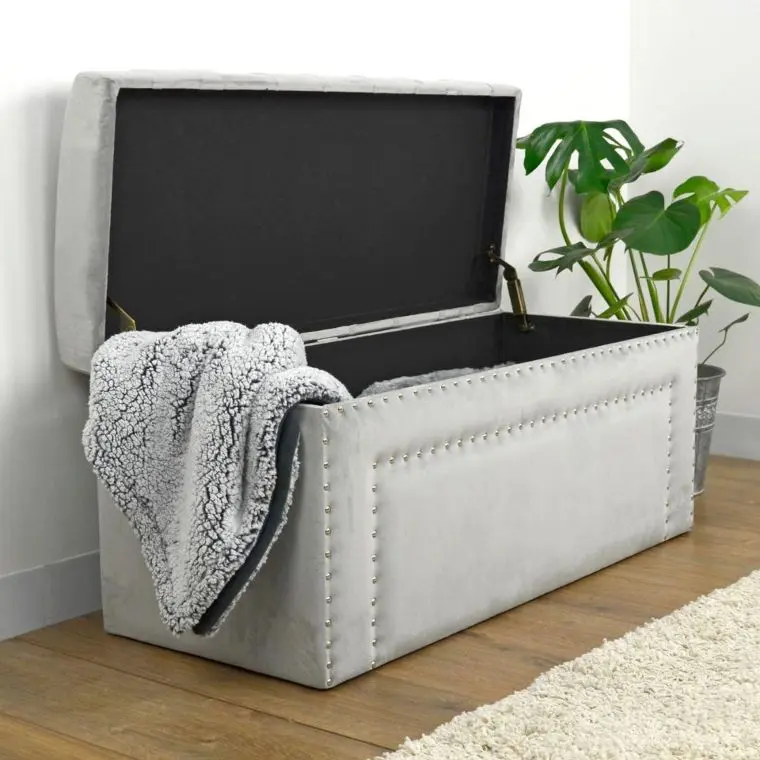 Credit: Instagram
My philosophy is, if you're going to add a piece of furniture to the living room, it had better be comfortable. Luckily, this blanket chest absolutely fits the bill! Hide your blankets within and enjoy the soft surface for sitting.
If you'd like to expand your upholstery skills, you can create your version using a standard chest and some velvet by the yard (here). Grab your upholstery stapler, some batting, and set aside a day for the project.
5. Farmhouse-Style Blanket Crate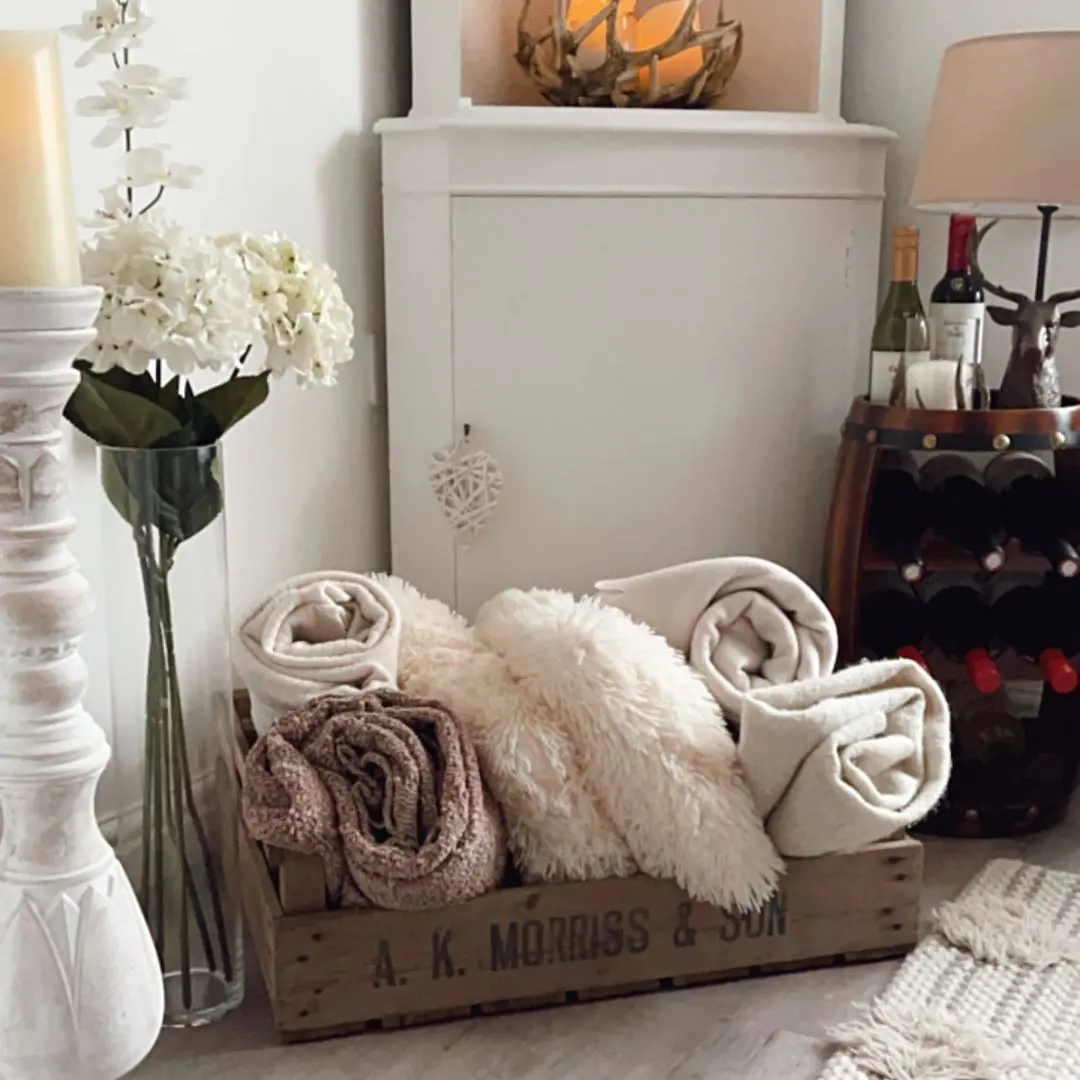 Credit: Instagram
This next idea embraces farmhouse style with verve, featuring a lovely, distressed crate to hold your various blankets and cushions. Piled in this wooden trough, these blankets look like they're the décor!
It's easy enough to find a crate like this online (this one, for example), but you can also craft one yourself using reclaimed timber. This is also a fantastic approach for storing towels in your linen closet.
6. Hollow Wicker Coffee Table
Credit: Instagram
This is a personal favorite blanket storage method because it's just so… dang… clever! This wicker end table provides airable storage for your blankets to prevent mustiness, while the surface makes a great table.
A wicker or rattan table like this is particularly suited to homes with a beachy, bohemian, or coastal vibe. If that's your home's décor style, or if you've been looking for a change, this could be the piece that brings it together.
7. Shabby Chic Tallboy for Your Blankets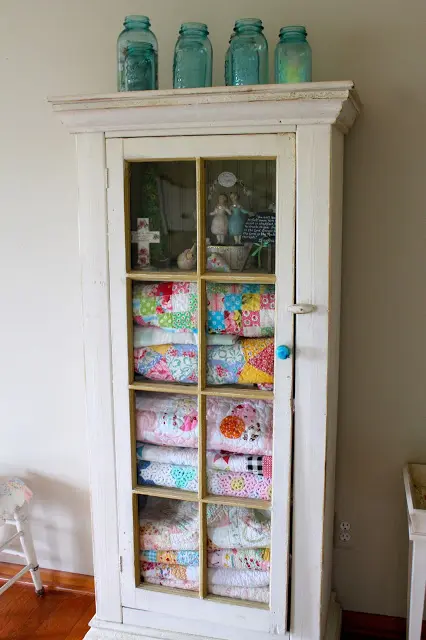 Credit: sewnwithgrace.com
Next up, here's a quick and easy way to increase your blanket storage exponentially. This specifically goes out to lovers of the shabby chic style (of which I am one).
Head to your local thrift store or check your basement for a vintage glass cabinet in need of some TLC. Trust me; they're everywhere. Now comes the fun part! Use chalk paint (here) and sandpaper to distress it.
8. Art Décor Geometric Blanket Basket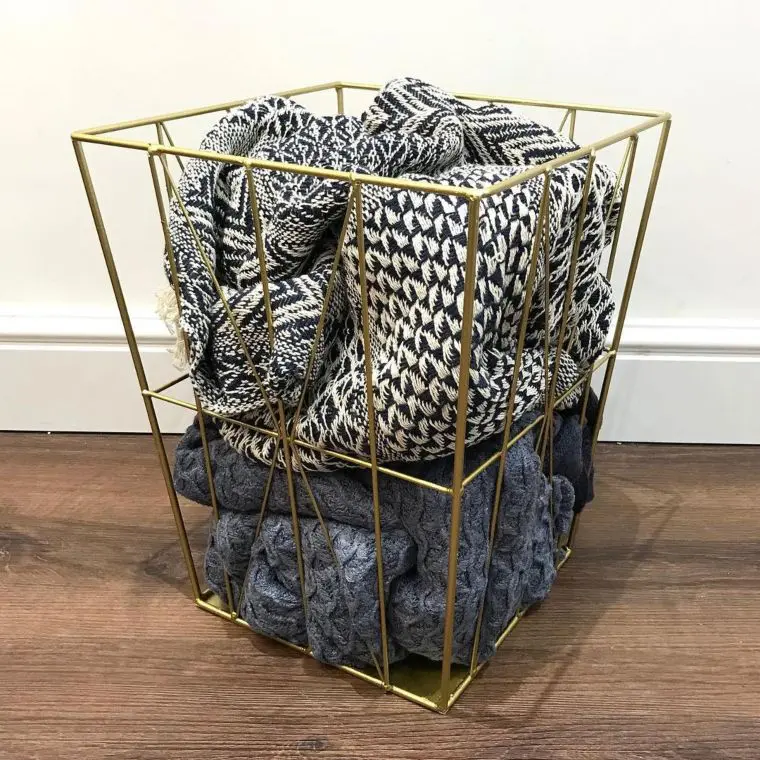 Credit: Instagram
The Roaring Twenties have long passed us by, but the echoes of art deco style will stay with us forever! This gorgeous gold basket is an easy way to dress up your blanket storage, and it doesn't require a lot of money.
Pick up a geometric gold basket like this online or from almost any home goods store. Alternatively, make yourself one using a standard wire basket and some gold spray paint (this will save you a few dollars).
9. Scandinavian-Inspired Blanket Basket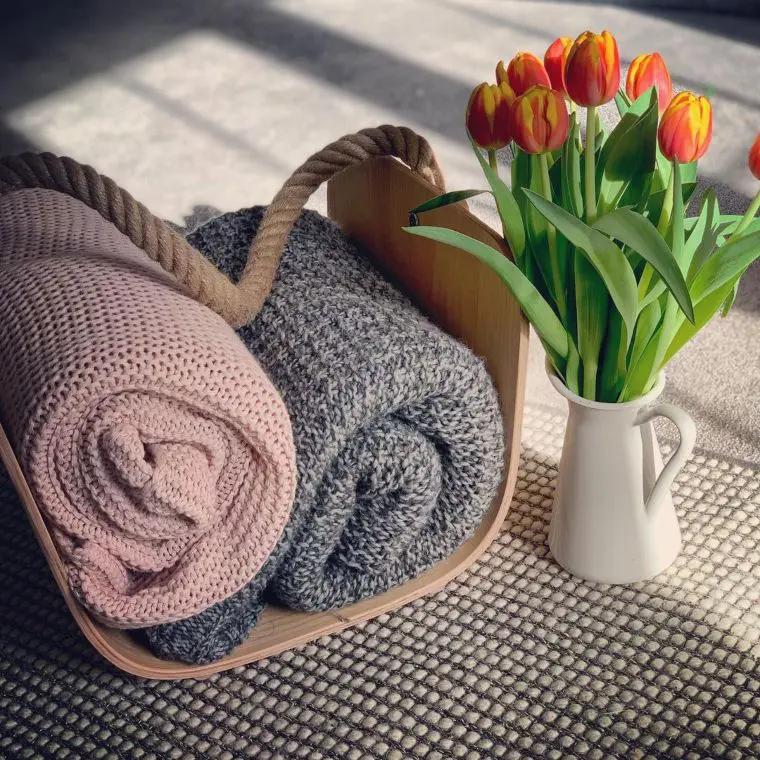 Credit: Instagram
IKEA is truly the motherland of home improvement, and this blanket basket is no exception. If you have a couple of thin blankets you use regularly, this idea will work perfectly for your coffee or end table.
Grab an IKEA blanket basket and keep your thin blankets rolled up inside it. While the basket is in use, it looks so cozy and inviting, but bare, it retains that simple elegance for which we all love IKEA items.
You could also use this organizing idea for your bathroom.
10. Create a DIY Wall Rack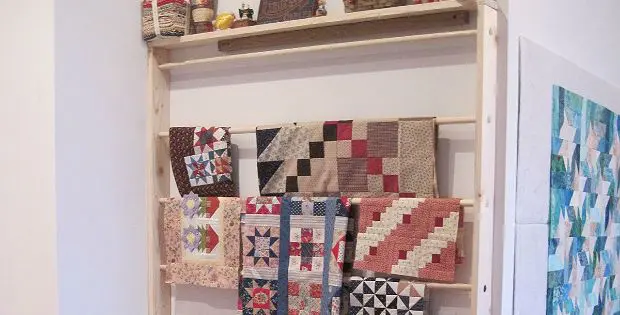 Credit: quiltingdigest.com
For number ten, we have a DIY wall rack that takes less than a day to knock together, but you'll be using it for a lifetime. This rack takes up very little floor space, so you can store blankets without sacrificing room.
Create a simple frame of your wall's width, then mount wooden dowels (here) at regular intervals down the edge. If you happen to use a lot of fabric, this is also a fantastic hack for your craft room!
This could also be a nice item for organizing a laundry room.
11. Velvet Hanger Throw Closet
Credit: kelleynan.com
Keeping throw blankets well-aired, wrinkle-free, and clean can feel like a nightmare if you have more than one in your home. Luckily, this velvet hanger idea is perfect for all three purposes.
Update your linen closet to feature a strong tension rod like this, then invest in some velvet hangers to keep your blankets on. It is easy to take out and easy to put back in its place; that's what makes for good storage.
12. Industrial Farmhouse Coffee Table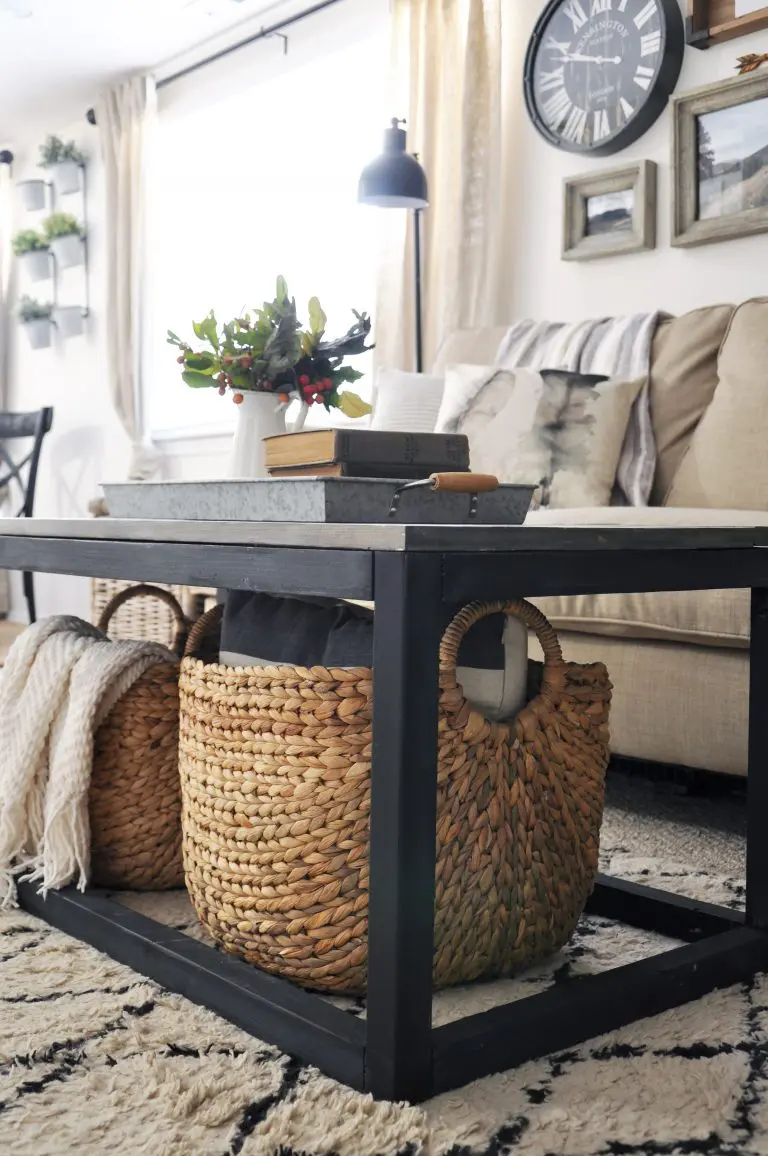 Credit: cherishedbliss.com
Having an elevated coffee table in your living room presents the opportunity to store things under it, and what better to put there than blankets? Wicker baskets are the ideal thing for the job, and they add to the look.
If you don't already have an industrial-style coffee table, they're super easy to acquire. Grab one online here or update your existing coffee table with some pewter spray paint like this and black acrylic paint.
13. Wall-Mounted Industrial Blanket Ladder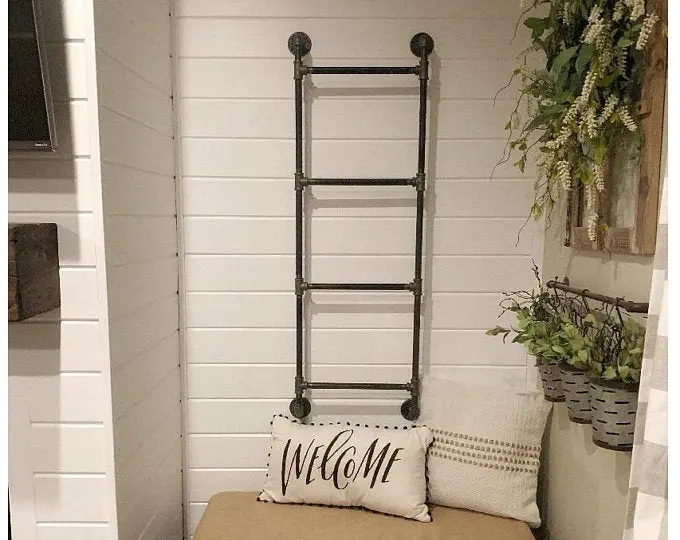 Credit: Etsy
At lucky number 13, we have another homage to industrial style: the pipe blanket ladder. Pipe assemblies are all the rage right now among DIY enthusiasts because they're easy to make yourself.
Create a lot of storage space in a small footprint. All you need is some copper (here) or PVC piping (here) to piece together into a ladder. However, if you don't feel like making this yourself, they're easy to find online.
14. Copper Quilt Stand
Credit: Etsy
This gorgeous quilt stand is a must-have for small spaces. It slots in effortlessly between your wall and your couch, so you can quickly snatch a blanket from it on a cozy night in.
Even better, this stand doesn't look terrible when bare; it just looks like a piece of art. Use it to hang your stockings at Christmas, your towels on beach days, or your rain jacket when it pours.
15. Subtle Wire Basket Coffee Table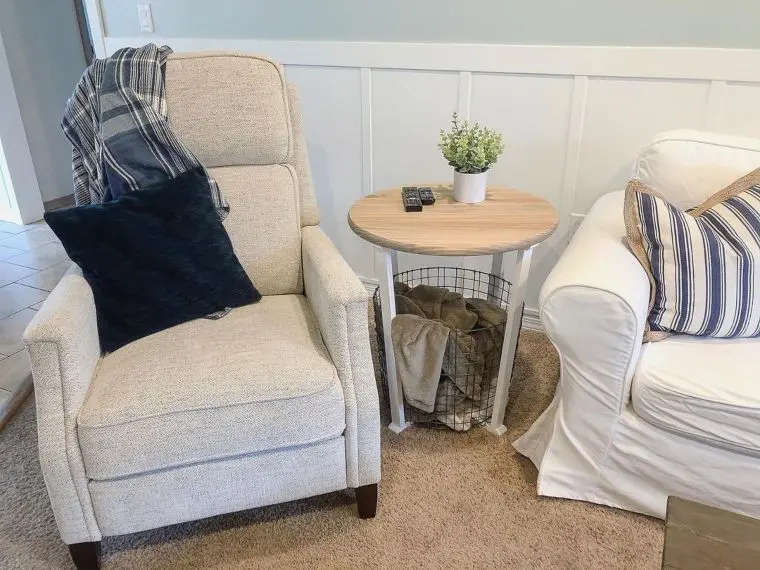 Credit: Instagram
This next hack is perfect for a beginner woodworker. There are minimal cuts and joins, plus the result looks like something out of a magazine, so you'll get a considerable boost in woodworking confidence.
A large wire basket stands as the base of this coffee table, while a removable countertop sits on it as a lid. Store your blankets in this basket for a subtle storage solution guaranteed to have your guests gasping.
16. Upcycle a Vintage Cabinet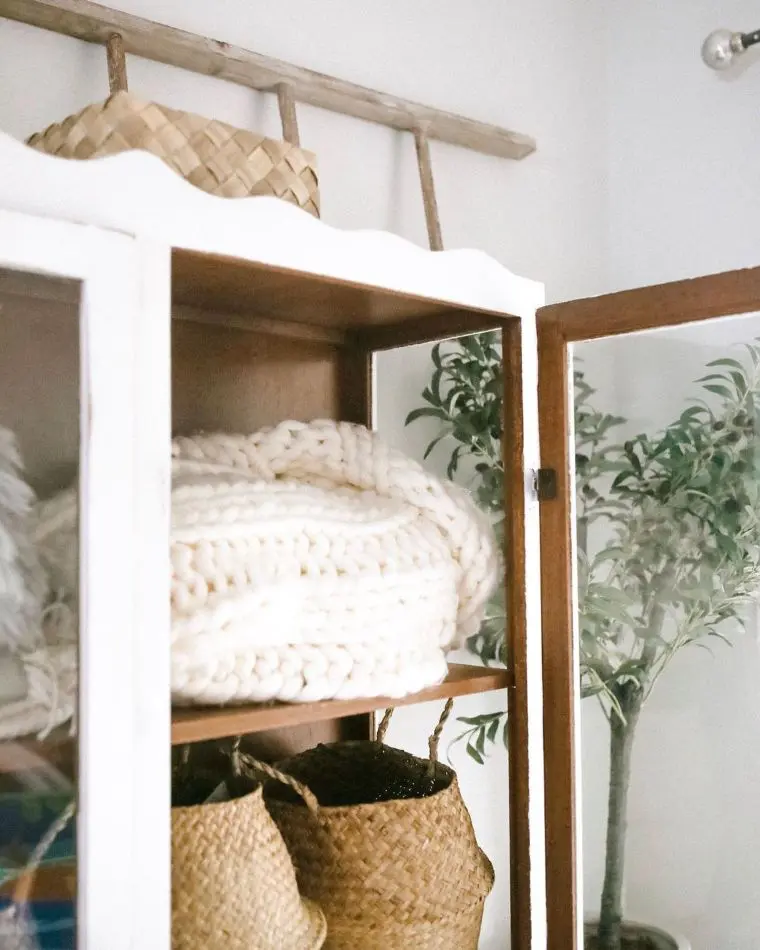 Credit: Instagram
If you have an old vintage cabinet desperately needing some tender loving care, this next idea is for you. Transform it into a stunning cabinet ready to not only hold your blankets but display them in all their glory.
Depending on the state of your cabinet, this project might be as simple as a new coat of paint. If your wardrobe has all-wooden doors, consider replacing the central panels with glass panes for a refined touch.
For that job, you'll need a glass cutter (here) and some patience, but you'll learn a lot in the process! Check out more practical storage solutions here.
17. Recycle an Old Barrel or Basket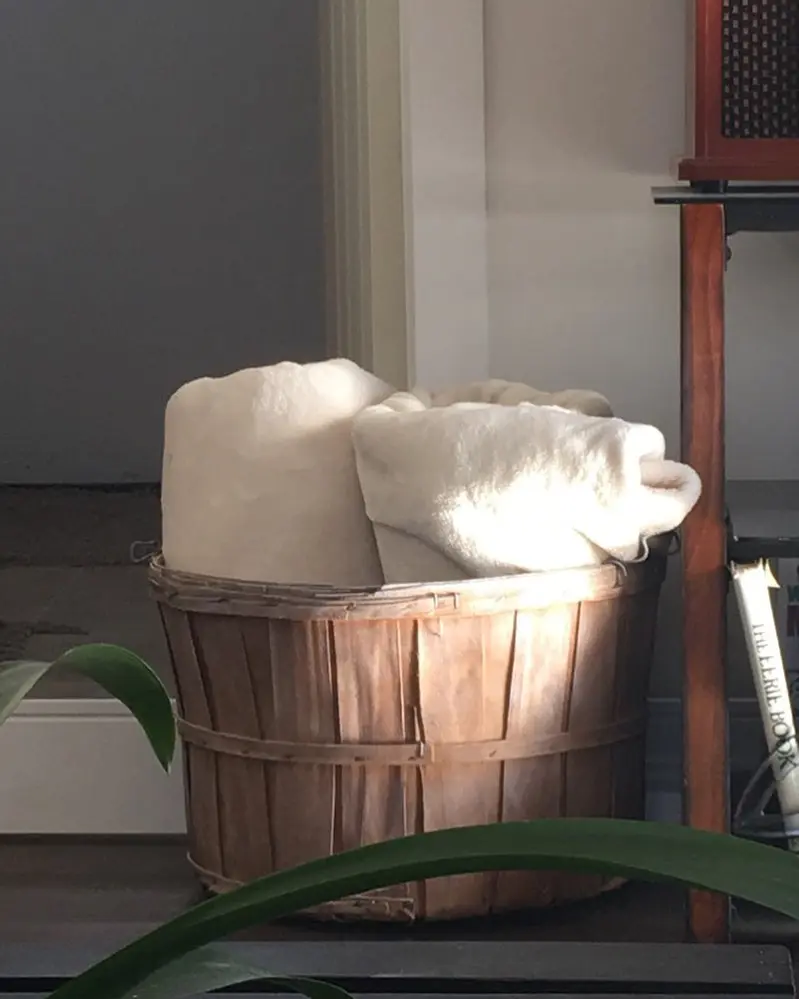 Credit: Instagram
Speaking of upcycling outdated items, this old barrel or basket would make a stunning addition to your living room… with a few adjustments. The contrast of hardwood and soft blankets is so rustic and lovely.
If you have an old piece you're planning to use for this, I recommend investing in a clear matte spray acrylic (here). This will keep the tiny splinters off your nice, clean blankets and prevent any fraying.
18. Repurpose a Magazine Rack
Credit: Instagram
Just because someone creates an item for a particular purpose doesn't mean you can't use it in other ways. That's right; if you can find a magazine rack large enough, these beauties make perfect blanket holders.
This crafter went with white rattan for their rack (here), but there are so many different kinds. Take it modern with a sleek black stand, go art deco with gold geometry, or use wicker for a boho vibe.
This is a great organizing idea for small bedrooms.
19. Go Simple or Go Home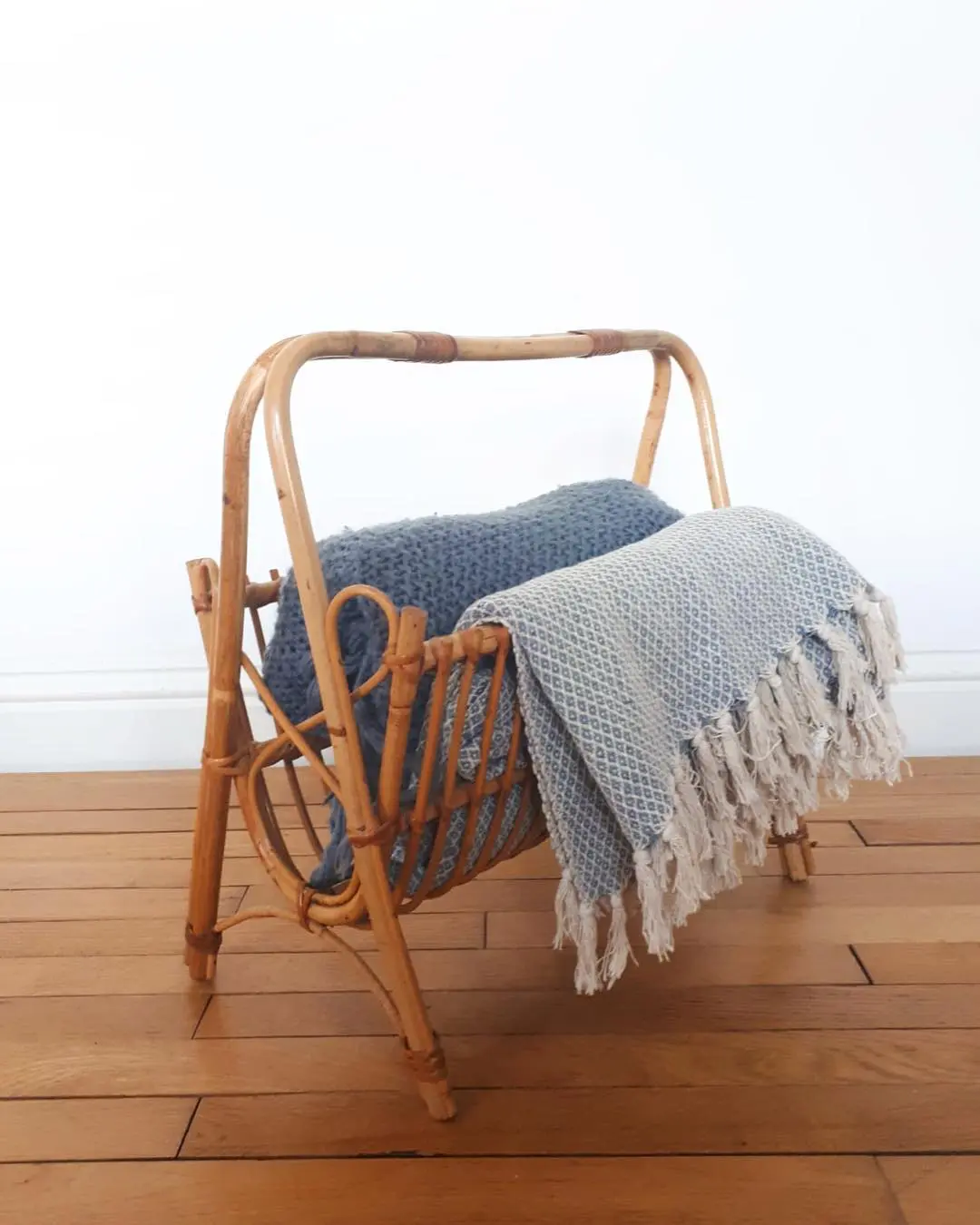 Credit: Instagram
As mentioned previously, there are so many different magazine holders, racks, and baskets from which to choose. This broad range of choices allows you to customize your style endlessly.
This simplistic take on blanket storage reminds me of days spent at the beach when I was younger, and that's what the style does. Embrace nostalgia and simplicity in one with a combination of soft linen and wicker.
20. Industrial Basket Table with Handles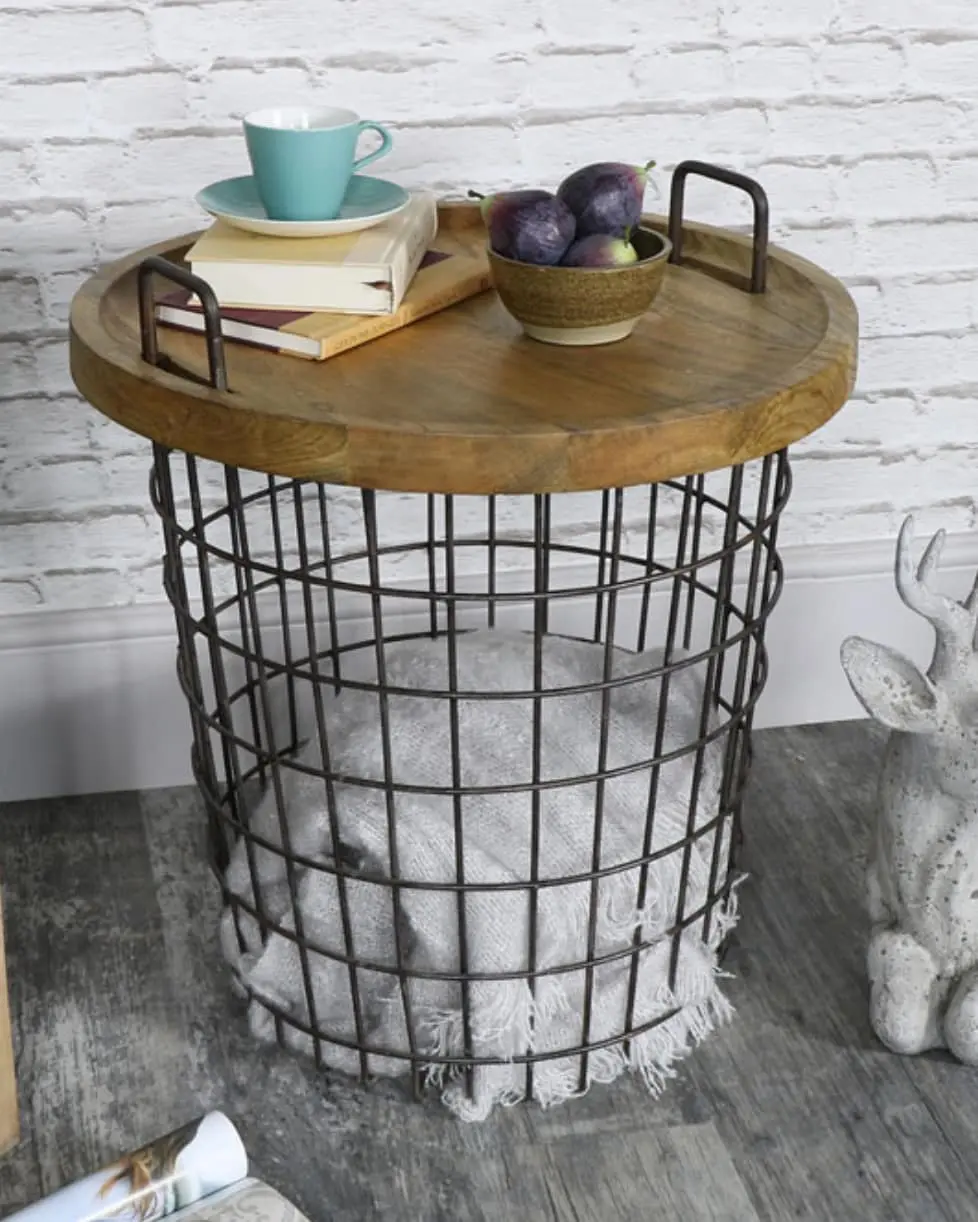 Credit: Instagram
This is another take on the basket coffee table earlier, except this one is a little different. There are no table legs to be seen, and handles are sprouting from the tabletop's sides for easy portability.
You can purchase baskets like these pre-made online, then craft your wooden tabletop to suit your needs. I love the rim on this one, as it keeps objects from sliding off while you move the table around.
21. Plant & Blanket Ladder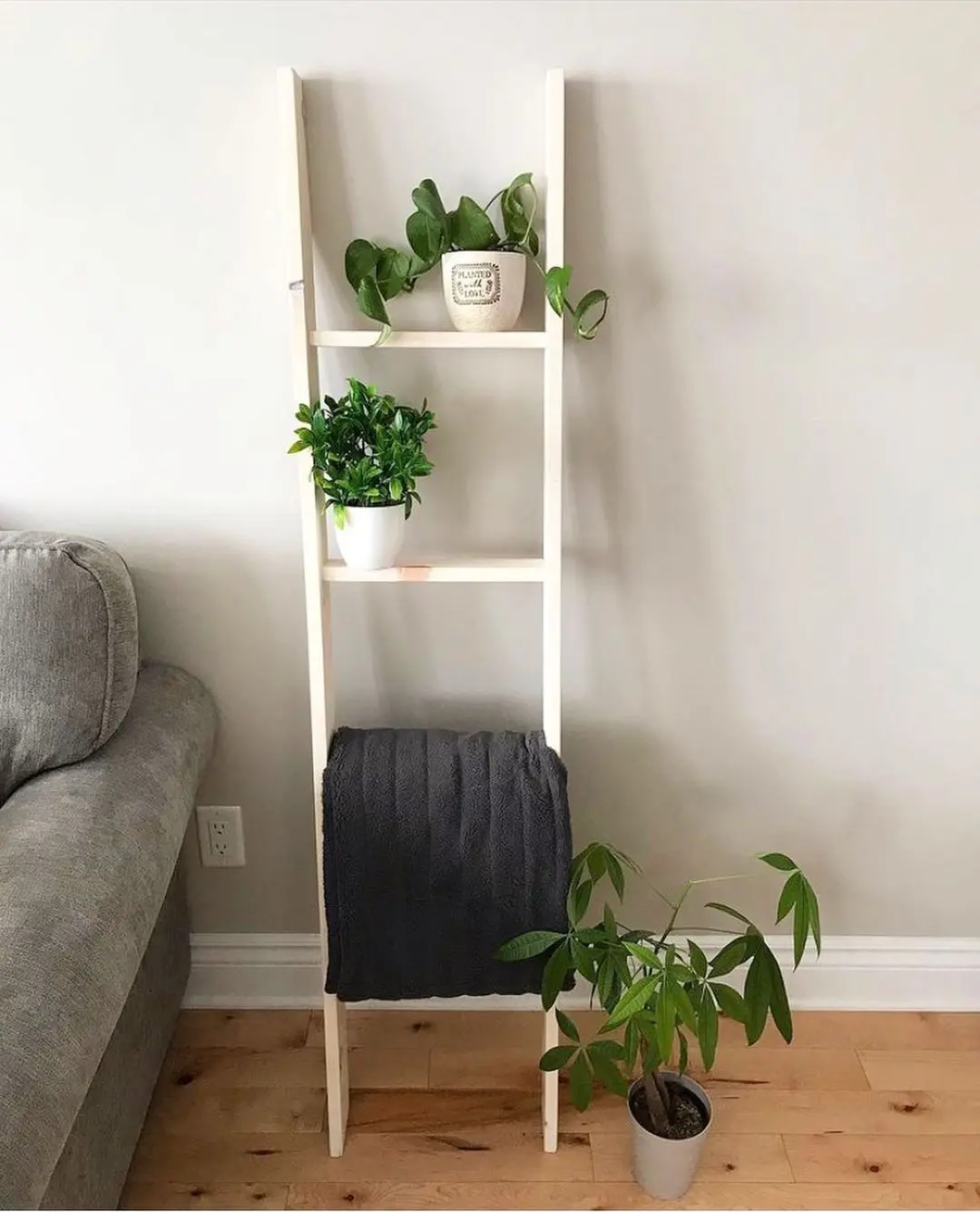 Credit: Instagram
The easiest way to dress up a plain shelf is to add some greenery, and the same goes for a blanket ladder. Grab an old wooden ladder and distress it with some white chalk paint, sandpaper, and elbow grease.
Now, dress it up with your blankets and some beautiful plant life. There are many fake plants to choose from, but if you choose a living one, grab something with large palms like a monstera for ultimate impact.
22. Monochromatic Blanket Basket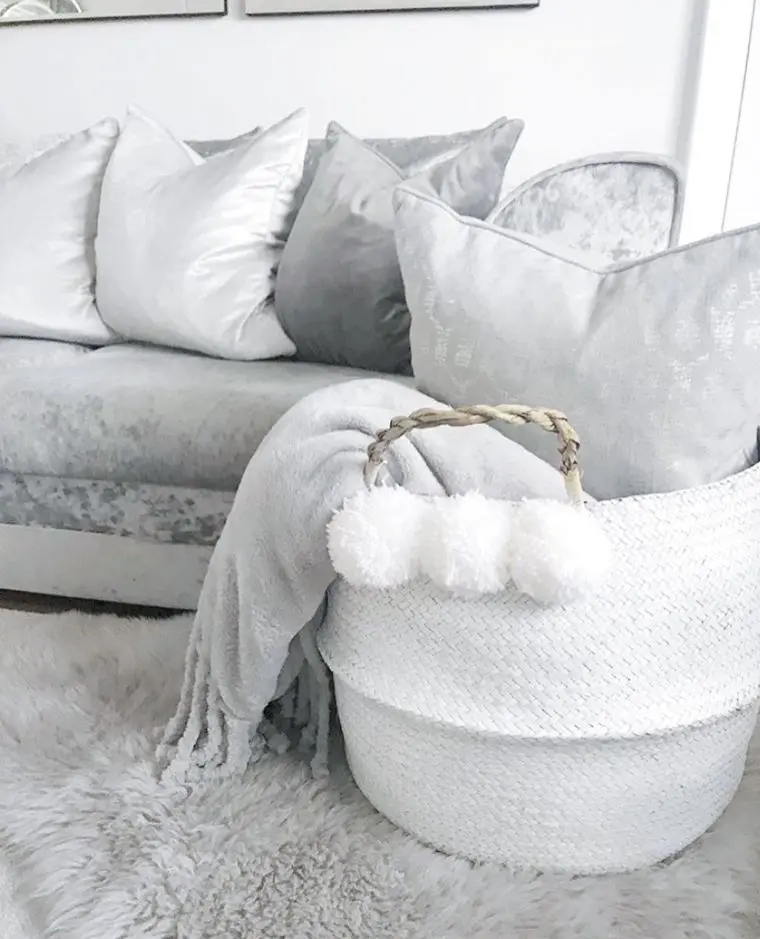 Credit: Instagram
As in the fashion industry, if you make something monochromatic, you elevate it immediately. The same applies to your living room! If you're up for renovating, pick out a color you love and stick with it.
Shifts in tone and shade add depth, but the idea is to use the same color for every cushion, piece of furniture, and rug. That goes for your blankets too.
23. Dress a Corner to the Nines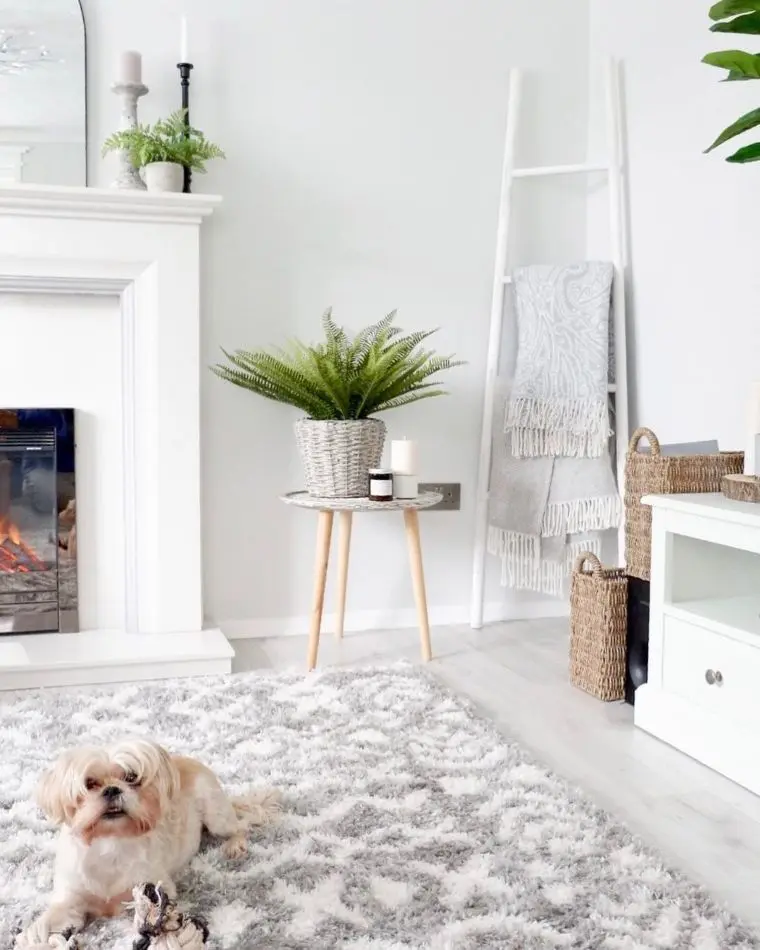 Credit: Instagram
The blankets could be their very own art piece in the living room; you need to dress them right! Allocate a corner to storing your blankets, then settle in for a day of rearranging.
I recommend trying out different levels, as that adds a lot of visual interest. Set up your blankets on a tall blanket ladder, then punctuate the scene with some greenery and candles on a low table. Voila! A masterpiece.
Conclusion
Do any of these blanket storage ideas appeal to you? I'm a year-round blanket user, so I'm bringing at least one of these into my house. What about you? Let me know in the comments below!