Got a small bedroom at your rental? Here all the ways you can increase storage space without any drilling!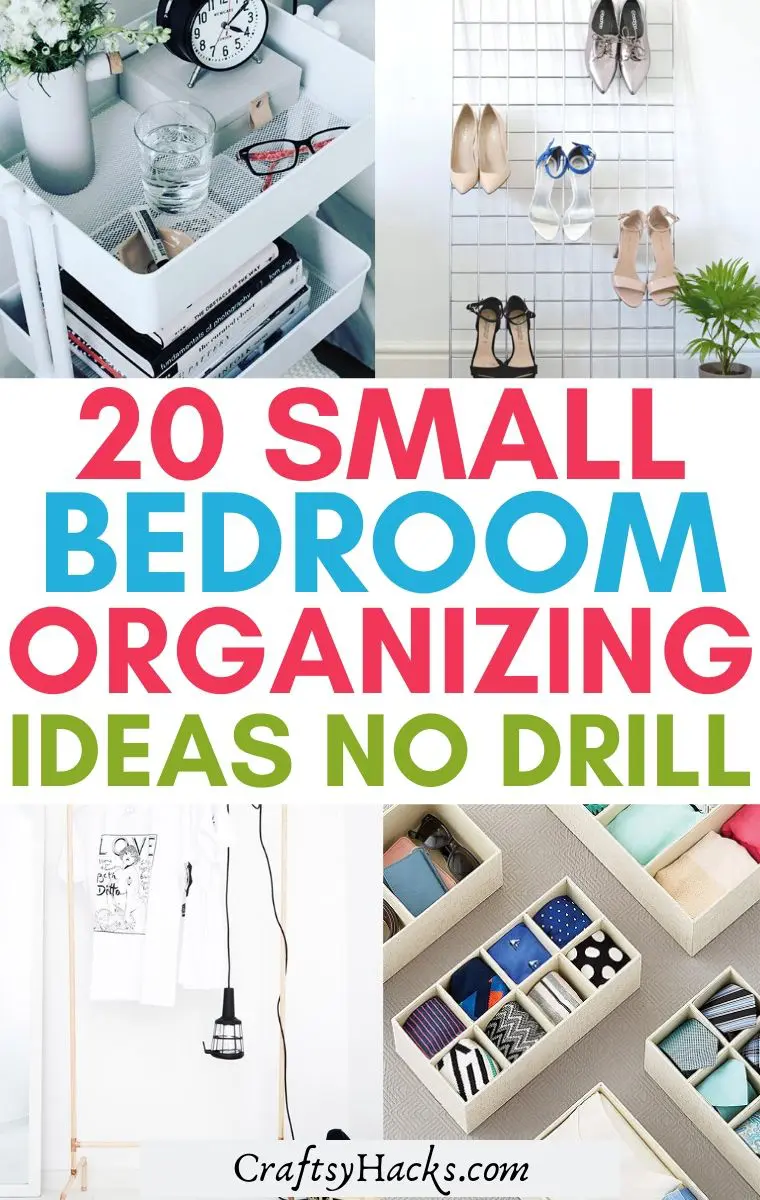 Living in a rented room or an apartment is challenging, especially when you're not allowed to drill or dent the walls or ceilings. Freestanding cabinets are an option, but they actually take up too much space.
To help you out, we've collated 20 alternative solutions to your small bedroom organizing dilemmas.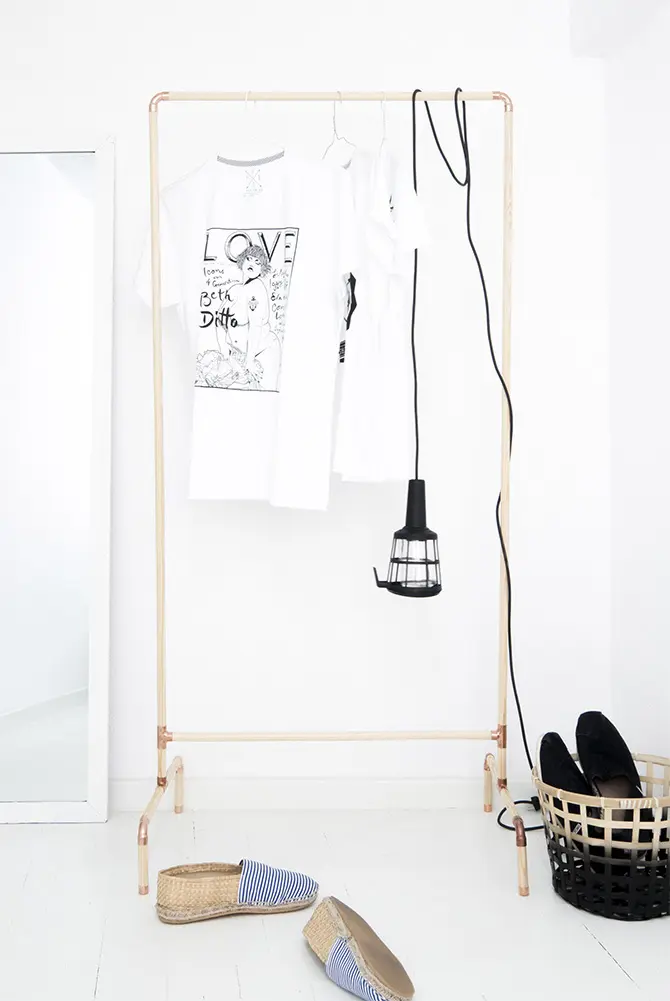 Credit: minimalcrafts.com
Having a room with limited space makes it harder to organize and keep your clothing items neat and wrinkle-free. Since a cabinet takes up too much space, try creating your own simple clothes hanger.
You will need these copper plumbing tubes and round wooden sticks. Simple, functional, stylish, and, most of all, space-saving.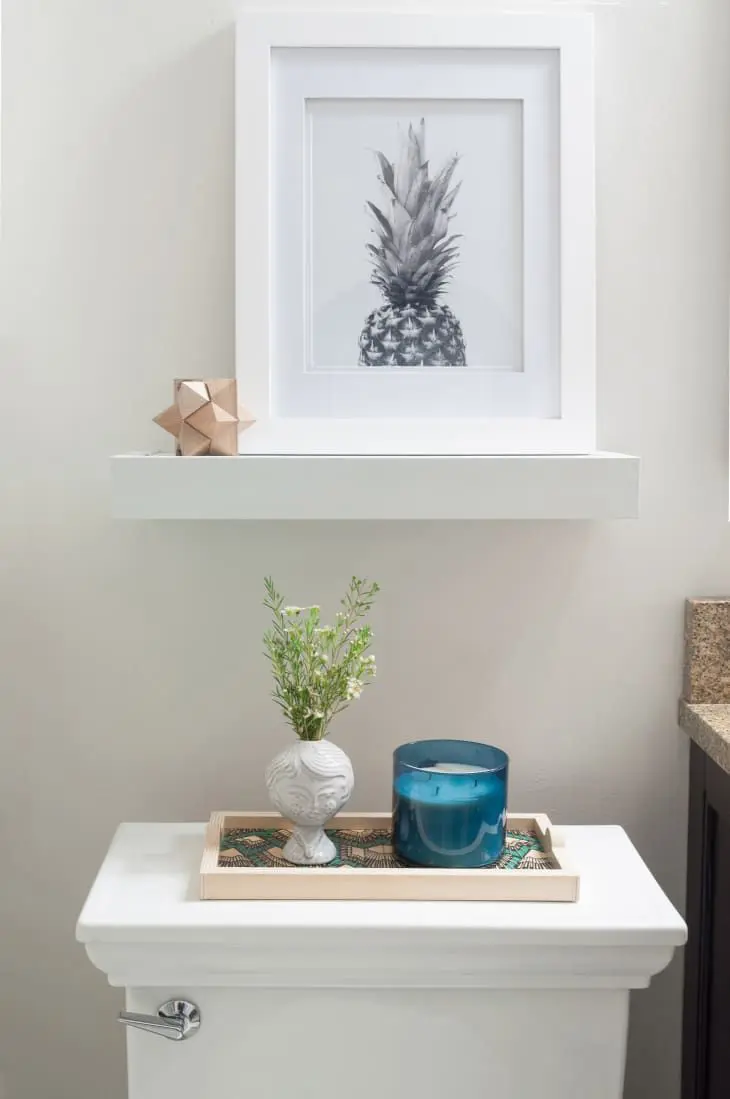 Credit: apartmenttherapy.com
You can add more storage to your cozy space in less than five minutes. Simply get yourself a self-adhesive floating shelf here.
The simple design fits anywhere in your home, from the bathroom to the kitchen, to your bedroom. It's a versatile must-have for any small space.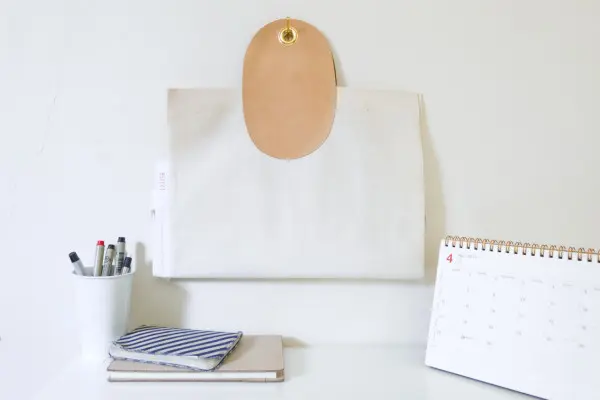 Credit: design-milk.com
Letters or receipts can quickly clutter your desk, and sometimes you'd wish you could just throw them away. A portable hanging wall pocket creates a dedicated place for these essential papers without occupying too much of your working area.
Aside from sewing pins, a craft knife, leather glue, and iron, you'll need a few other things:
Canvas.
Leather elbow patches.
To see the step-by-step process of this DIY project, click here.
Check out more office organization hacks here.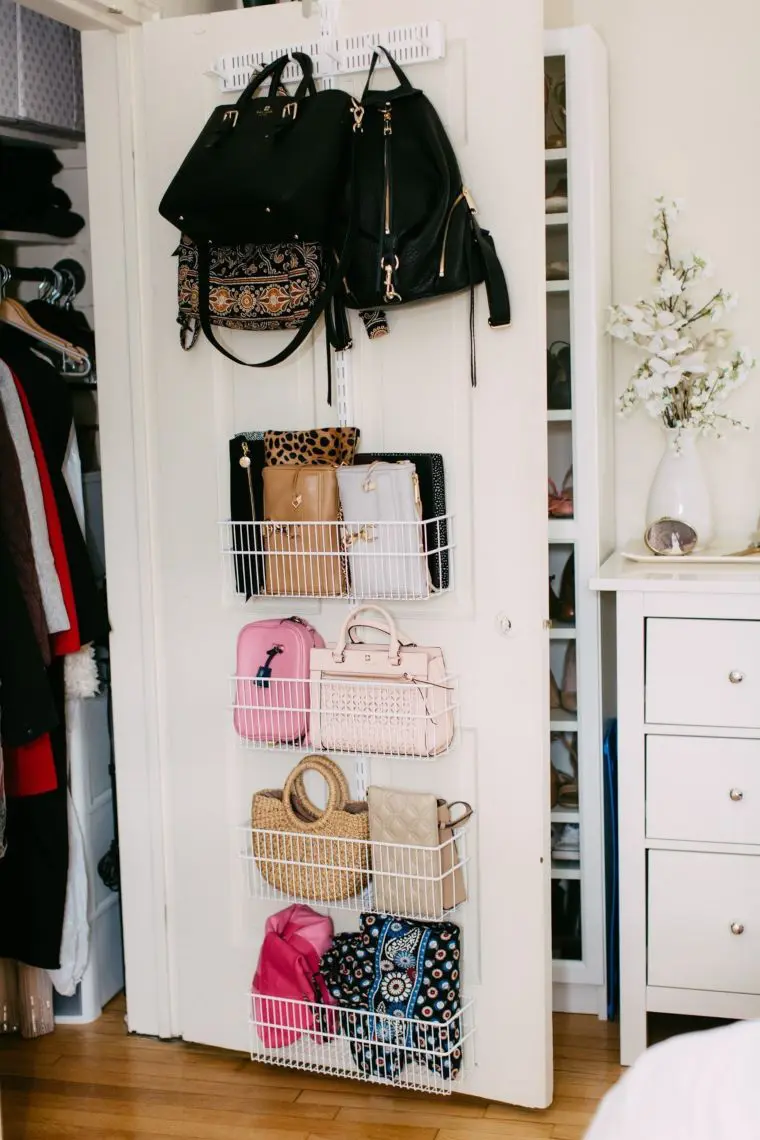 Credit: wellesleyandking.com
Many people had tried this before but did it the other way around, exposing the clutter and creating an eyesore instead of a neat storage solution.
With this over the closet door's storage system positioned towards the closet interior, you create an accessible storage solution without creating an overwhelming look in your room.
You can choose between this basket style or this mesh rack design to hold your accessories. This idea works just as well in the kitchen and other parts of your home.
Check out more ways to organize your closet!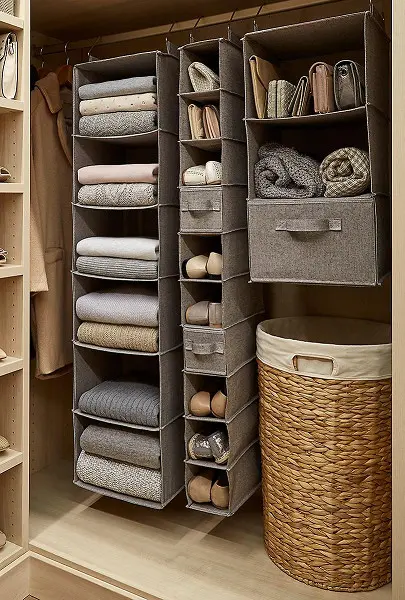 Credit: livingly.com
If you move around often, you'll find this functional closet organizer your new best friend. It's a reliable and portable storage solution for your accessories.
These are great for cabinets that don't have shelving as it easily hangs on a horizontal pole or wire. Here's where you can find shoe shelves.
Get more practical storage ideas for small spaces here.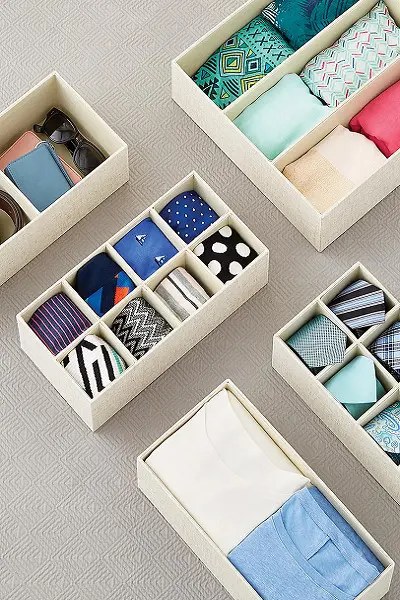 Credit: livingly.com
When you're late for a meeting, the last thing you need is finding your Monday tie from a pile of garments. Avoid that morning stress and get your essentials organized with drawer box organizers like this.
These are simple yet effective dividers that can neatly organize your ties, undergarments, socks, and other linens in your dresser.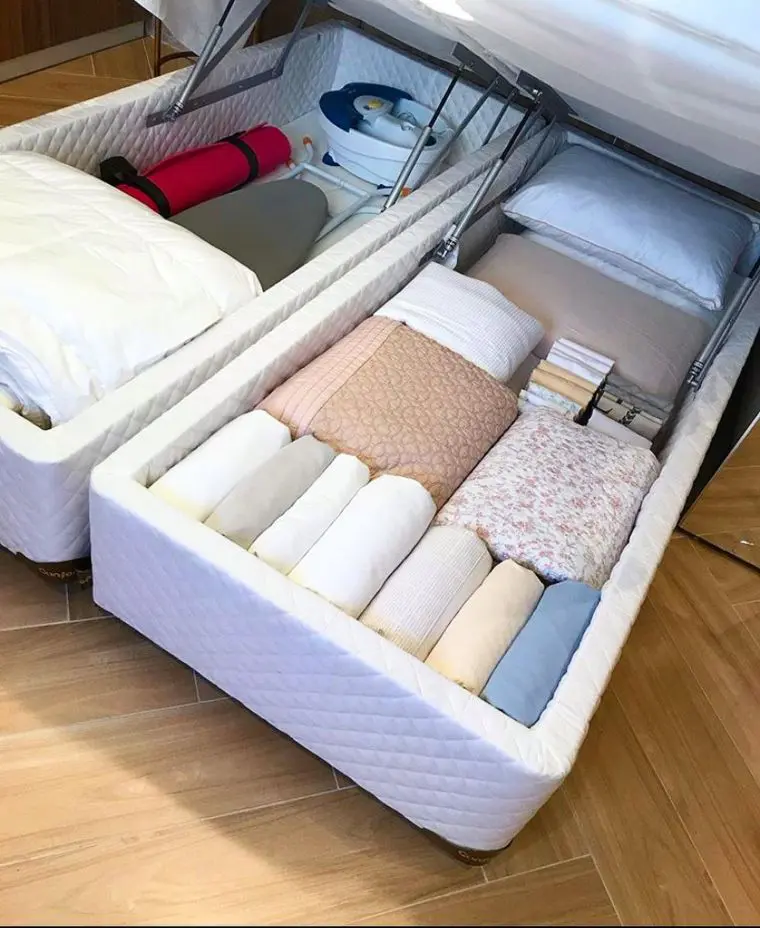 Credit: Instagram
Underbed storages are an extremely useful storage solution. But it can be a bit hard on the back, especially if you to access it often.
Prevent unnecessary backaches by getting yourself an easy-to-install pneumatic storage bed lift mechanism available here.
Check out more ways to organize a small bedroom here.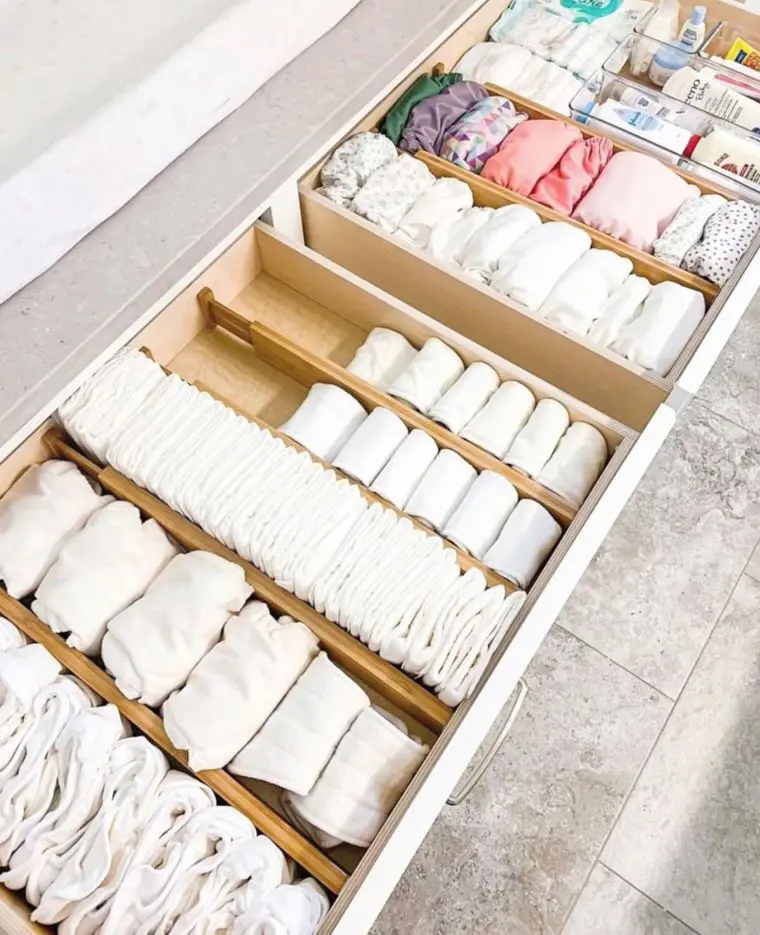 Credit: Instagram
You know the struggle of trying to fit their cute clothes onto large drawers compactly if you have young babies.
The good news is, I found these fantastic adjustable wooden dividers. They make nursery organization so much easier!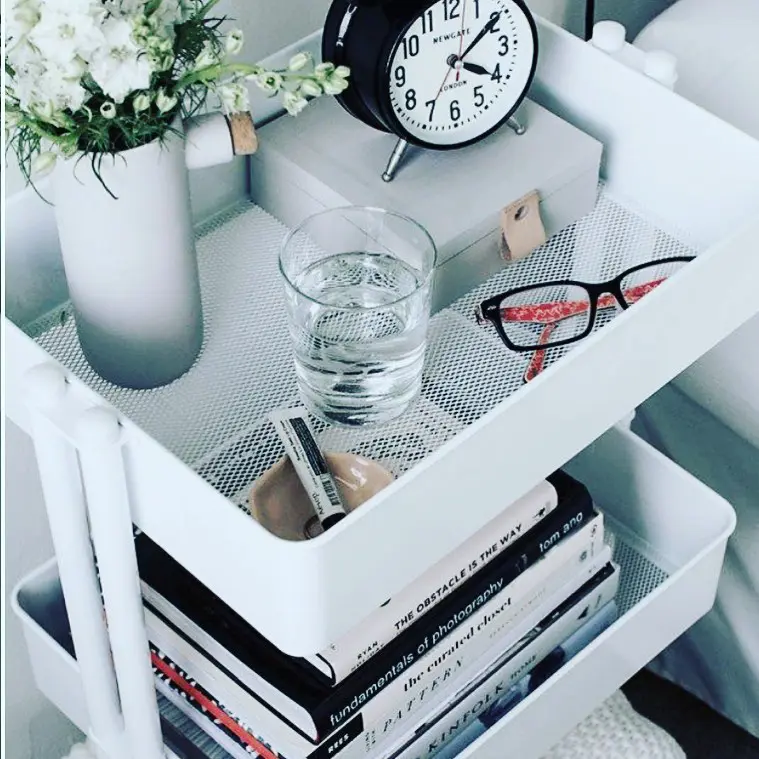 Credit: Instagram
Wish you had more space on your nightstand? This nightstand rack organizer might do the trick.
Unlike the typical nightstands with a single drawer, you can stack these organizers, however high or low you want them to be. You can also see through the screen rack, so you don't need to scramble rummage through your entire drawer to find what you need.

Credit: stackpathcdn.com
Aside from racks, you can also use buckets like these to hang vertically on the back of your door. Use some all-purpose clothesline, and this strong-hold self-adhesive hook to complete this storage solution.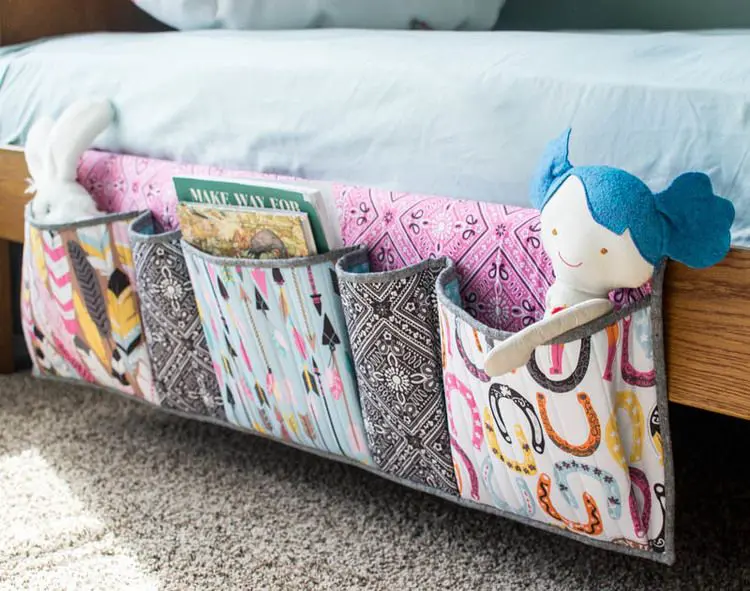 Credit: sewcanshe.com
Your bedside is probably the last area you would think of for storage space. But if your bedroom is tight on space, you'll always find ways to maximize your area.
Have a read through this guide to learn how to craft this adorable bedside pocket organizer. To make it more attractive, use colorful and varied quilting fabric, like these.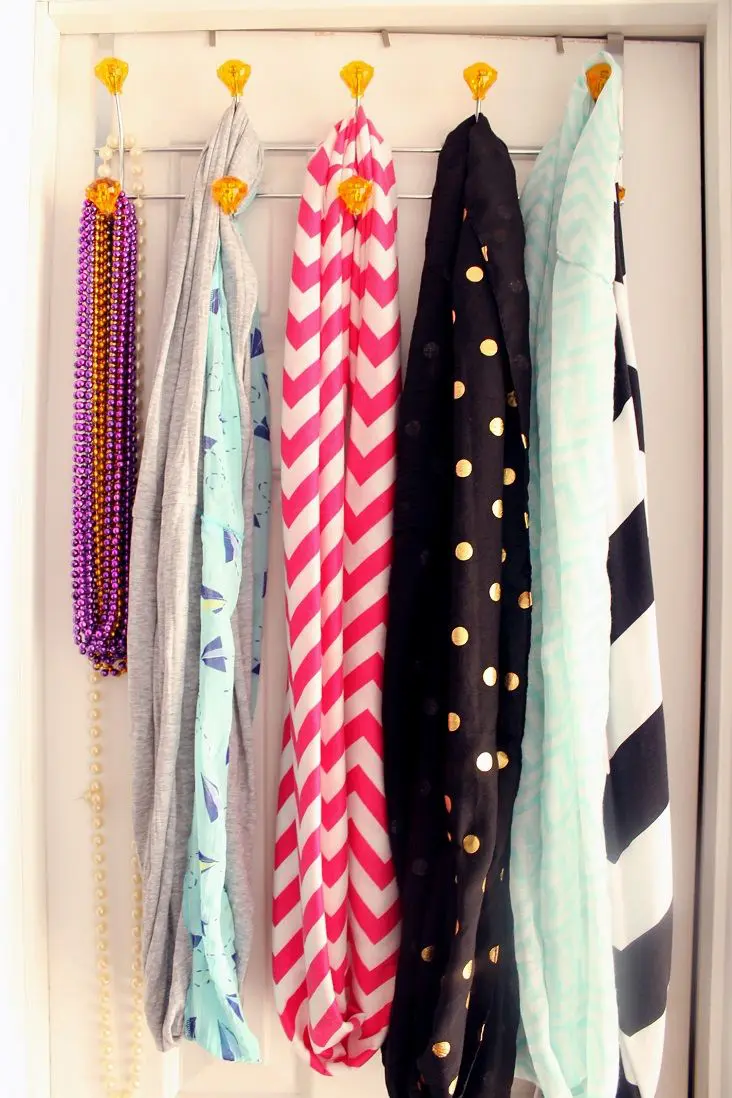 Credit: forrent.com
Making use of your door's back can help your storage cabinets breathe a little, especially if you have loads of items cramped in a very tight space.
Some back-door storage ideas include:
Hooks where you can slip sling bags, hats, and jackets.
Door shoe holders not only for shoes, but you can also place smaller items, such as belts or ties.
Clear plastic shoe holders are great for storing smaller items.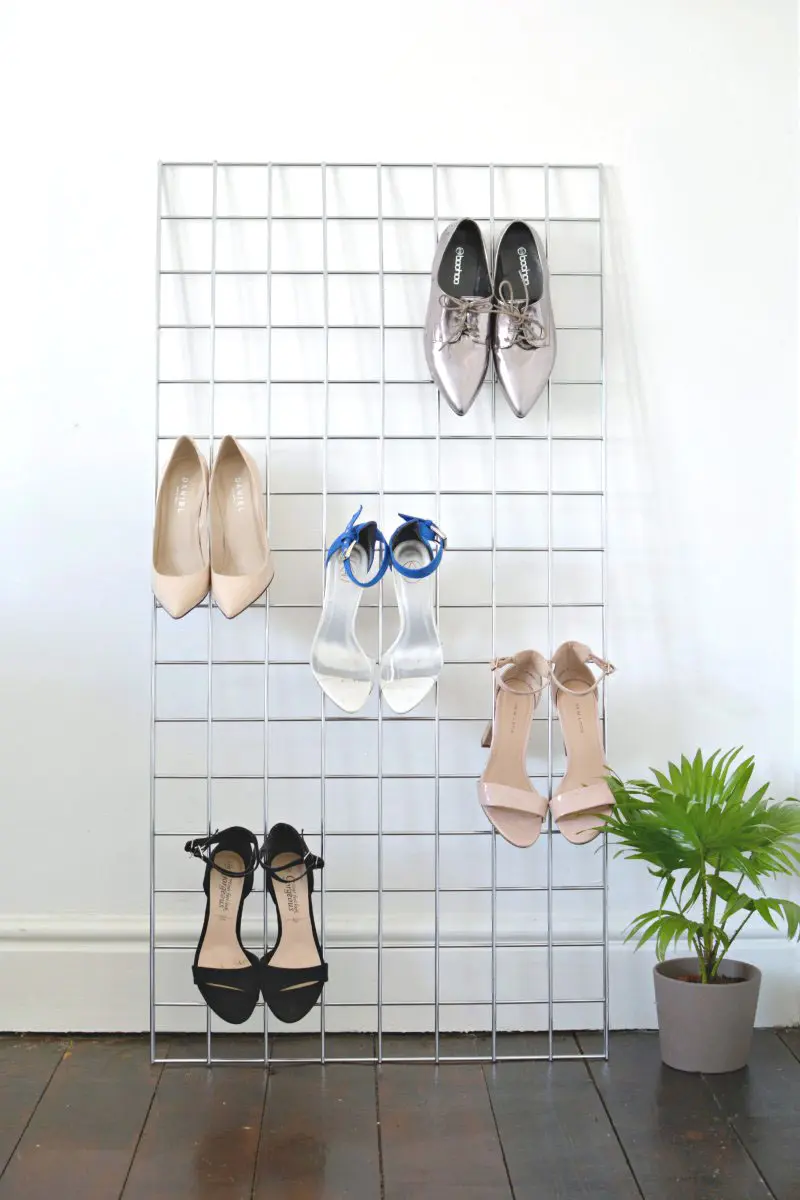 Credit: burkatron.com
If you're struggling to find a shoe rack that doesn't take up so much space but sturdy enough to hold over a dozen pairs of your heeled shoes, this DIY shoe rack is for you.
Simply lean a metal grid panel, such as this, on your wall, and voila! You can place your heeled shoes through the squares. Make sure though your heels can pass through easily.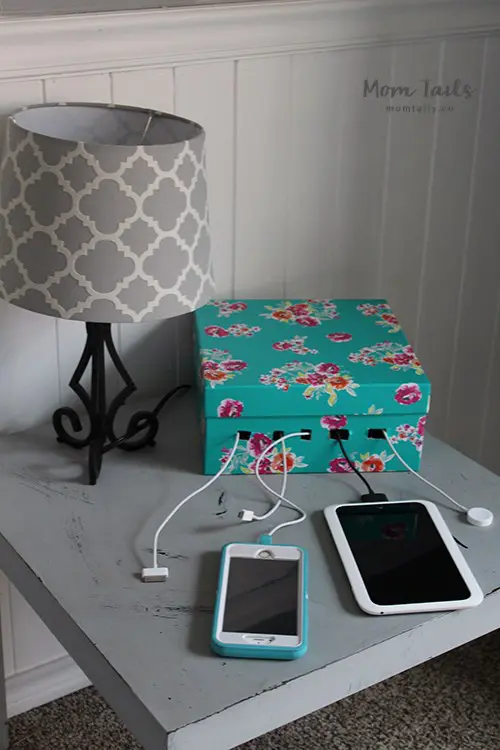 Credit: momtails.co
Conceal your spaghetti-like eyesore of cables with this simple DIY charging station. All you need is a gift box, box cutter, and a power strip.
An alternative to the gift box is a standard shoebox wrapped with patterned paper. Just ensure the gift box is enough for the power strip to fit in.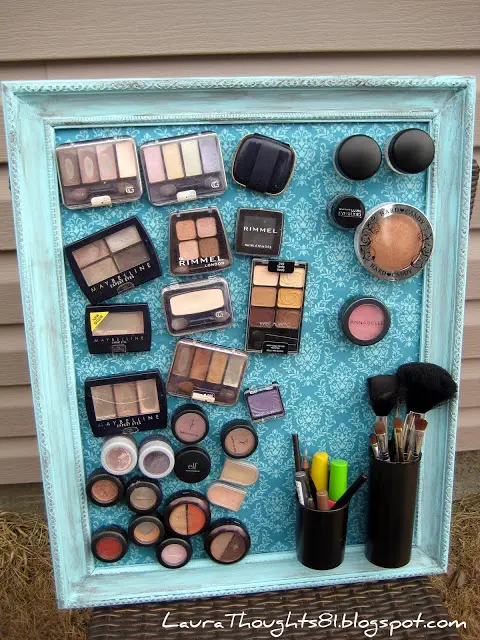 Credit: laurathoughts81.blogspot.com
Losing or breaking makeup items can be costly, not to mention an added cleaning chore. Did you know you can organize your makeup items using a magnet board?
You will need an old picture frame, a metal sheet, patterned fabric, and some craft magnets like the ones available here.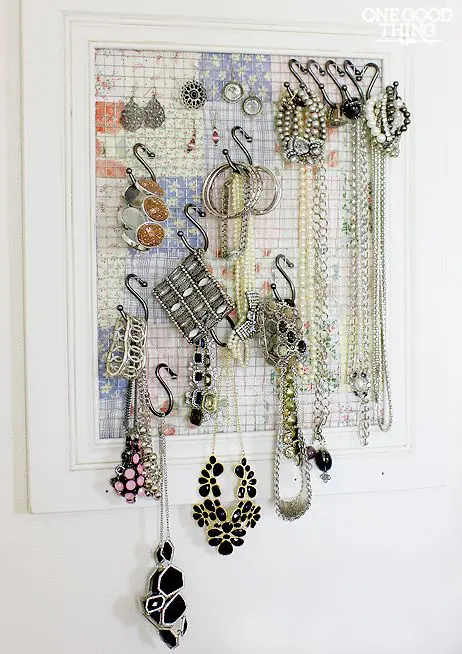 Credit: onegoodthingbyjillee.com
We love jewelry, and the number of these trinkets we've collected through the years is a testament to this.
But don't you just hate it when your necklaces, rings, and bracelets get tangled upon each other? Yes, even if we meticulously placed them in our jewelry boxes or hung them on a grid mesh, they always seem to find a way to wrap around each other.
You may have yet to try using an embroidery thread rack like this to hold your gorgeous accessories. What I love about these embroidery racks is that they come in various sizes so that you can get one to match your jewelry collection count.
Simply hang this on the back of your door or lean on the wall atop your dresser.
Check out ways to organize your beauty products here!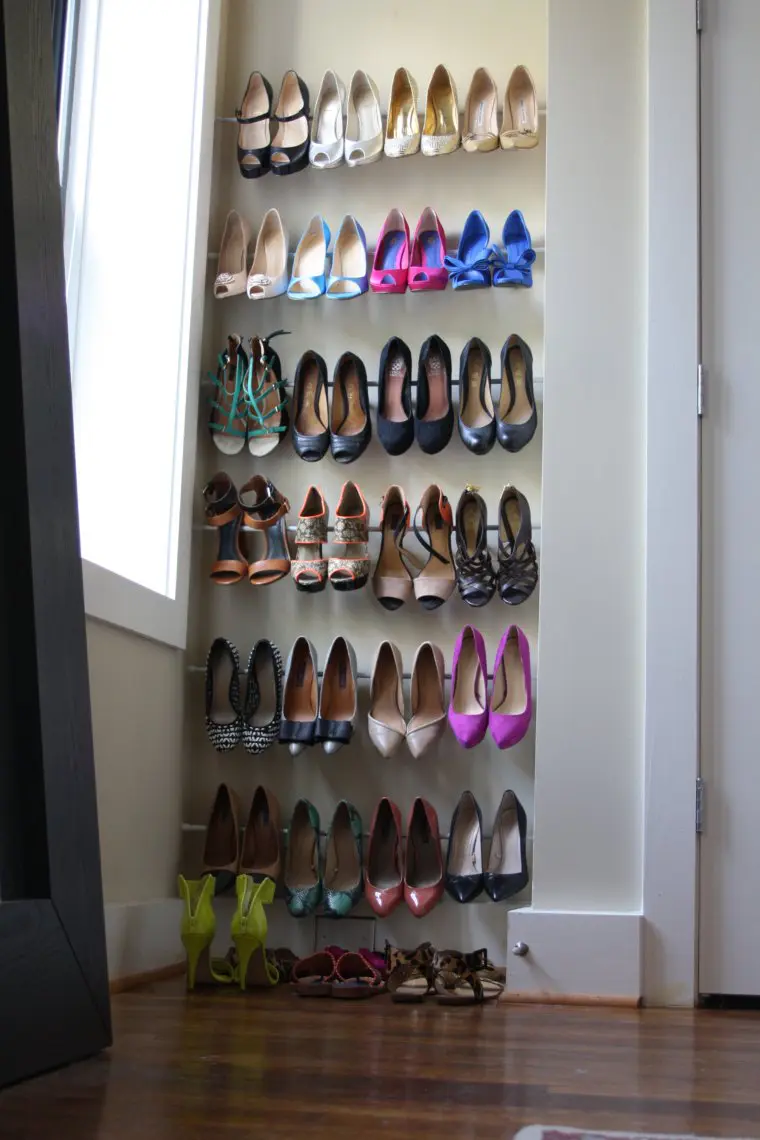 Credit: aloyallove.com
Us girls can never have too many shoes, which is why ample shoe storage is a must. Of course, being the women that we are, we refuse to accept that a limited space equates limited shoes. No way.
Here's the trick. If you have a small niche or nook in your house, get yourself some tension rods here and install them there. Super easy instant shoe rack!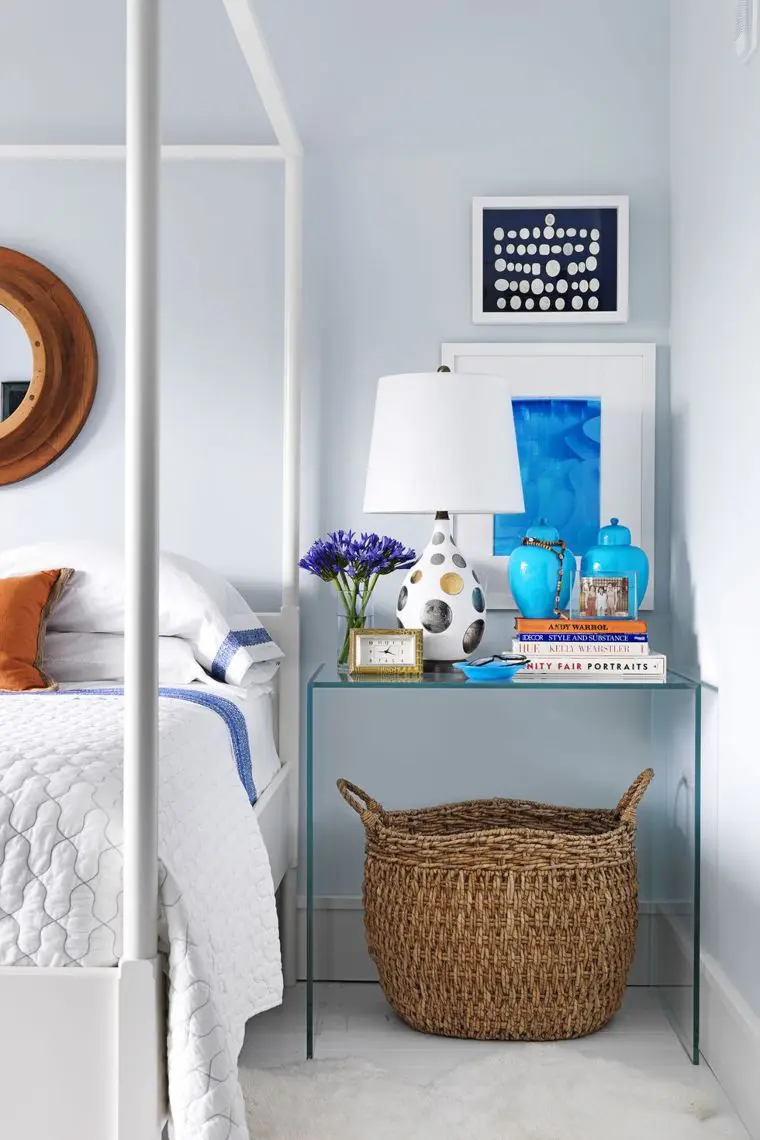 Credit: goodhousekeeping.com
A storage basket or bin is not only decorative. It is actually very functional at hiding almost anything. A quick, neat fix, the decorative hamper can be placed under a table or neatly placed on tiers of shelves.
You don't need any tweaking on a hamper box since the organic texture is enough to leave your living space tidy and homey.
Another great thing about hamper boxes is that they come in various shapes and sizes, like this 7-piece wicker hamper kit.
If you're averse to spending too much, you can also DIY your baskets. Here's my quick and easy tutorial showing how you can transform an old box into a gorgeous rope basket.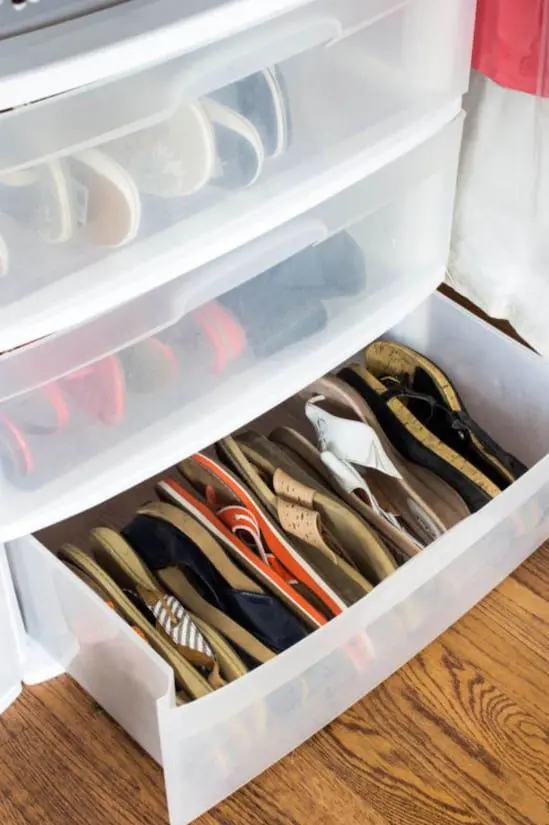 Credit: Pinterest
Plastic drawers seem to be a staple in small spaces. It is probably because they're lightweight and easy to assemble (and disassemble to create more space).
The great thing about plastic drawer organizers like this is that it has varying compartment sizes allowing you to store a combination of clothing, shoes, and accessories.
Most of them also have wheels, so they're quite easy to move around if needed. Perhaps the only downfall is that they're made of plastic, but then again, that makes them more affordable than the wooden or metal ones.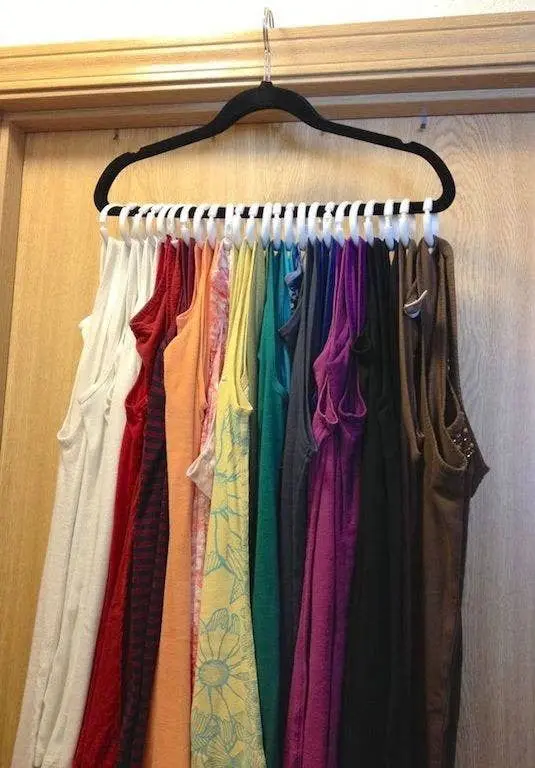 Credit: Pinterest
Hanging multiple clothes is a tricky business, especially if you are super short on wardrobe space. Stay organized and save space by using over door hooks, found here.
You can line several of these plastic hooks to hang frequently used garments such as towels and scarves. They're also useful as kitchen or hand towel racks.
Conclusion
I hope this list encouraged you to try one or two or more of these simple yet useful organizing ideas for your tight space. Remember to share these tips with fellow renters to help them maximize the most out of their cozy rooms.