Love getting BUJO inspiration? Try these minimalist bullet journal spreads for your journal to function the way you want.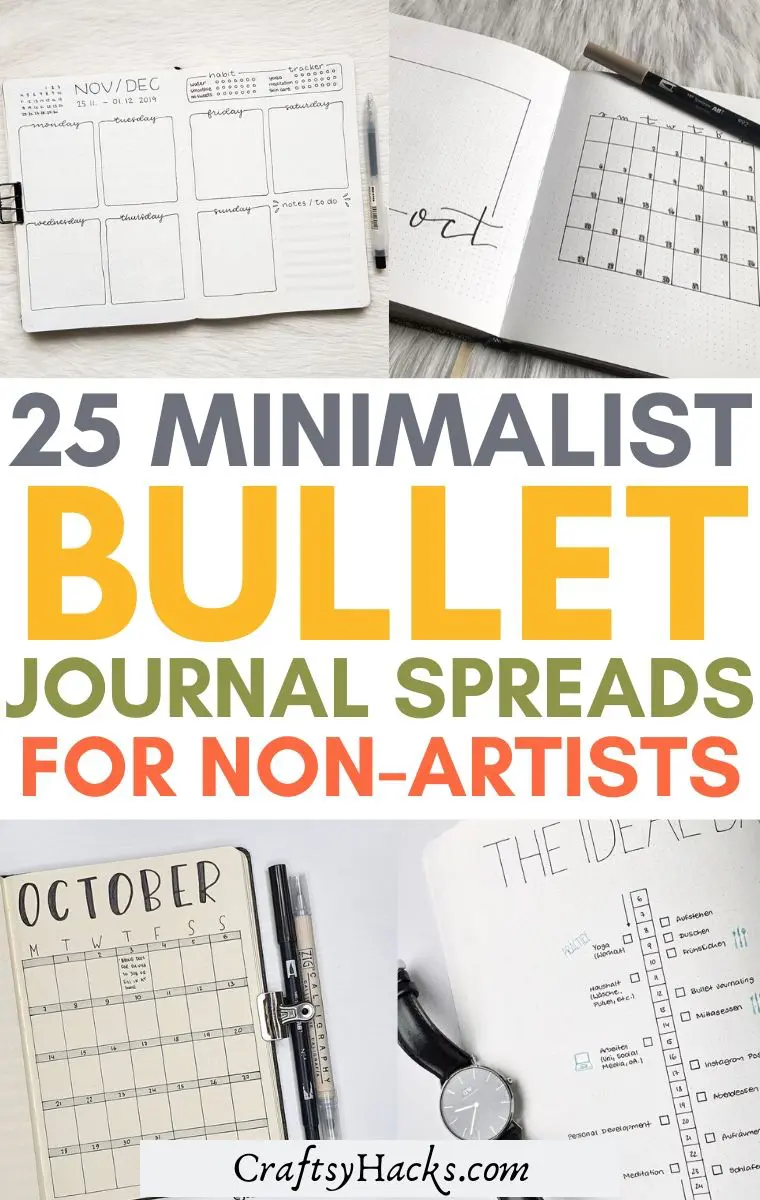 Love the way a bullet journal (or "bujo") looks, with its stickers, tape, and colorful blocks, but don't consider yourself crafty or artistic? Luckily, you don't have to be either to create a bullet journal that is both practical and helpful.
Bullet journals let you keep track of everything from your workout to meal planning. Color-coded pages let you keep tabs on your sleep, activities, and moods.
Don't feel like you can't have a bullet journal because you can't create some big, elaborate spread.
Scale it down and make a minimal bullet journal with the help of these simple, scaled-down ideas. Buy beautiful pens to make the lettering special.
Some of the supplies you'll need for your bullet journal:
1. Hassle-Free Horizontal Layout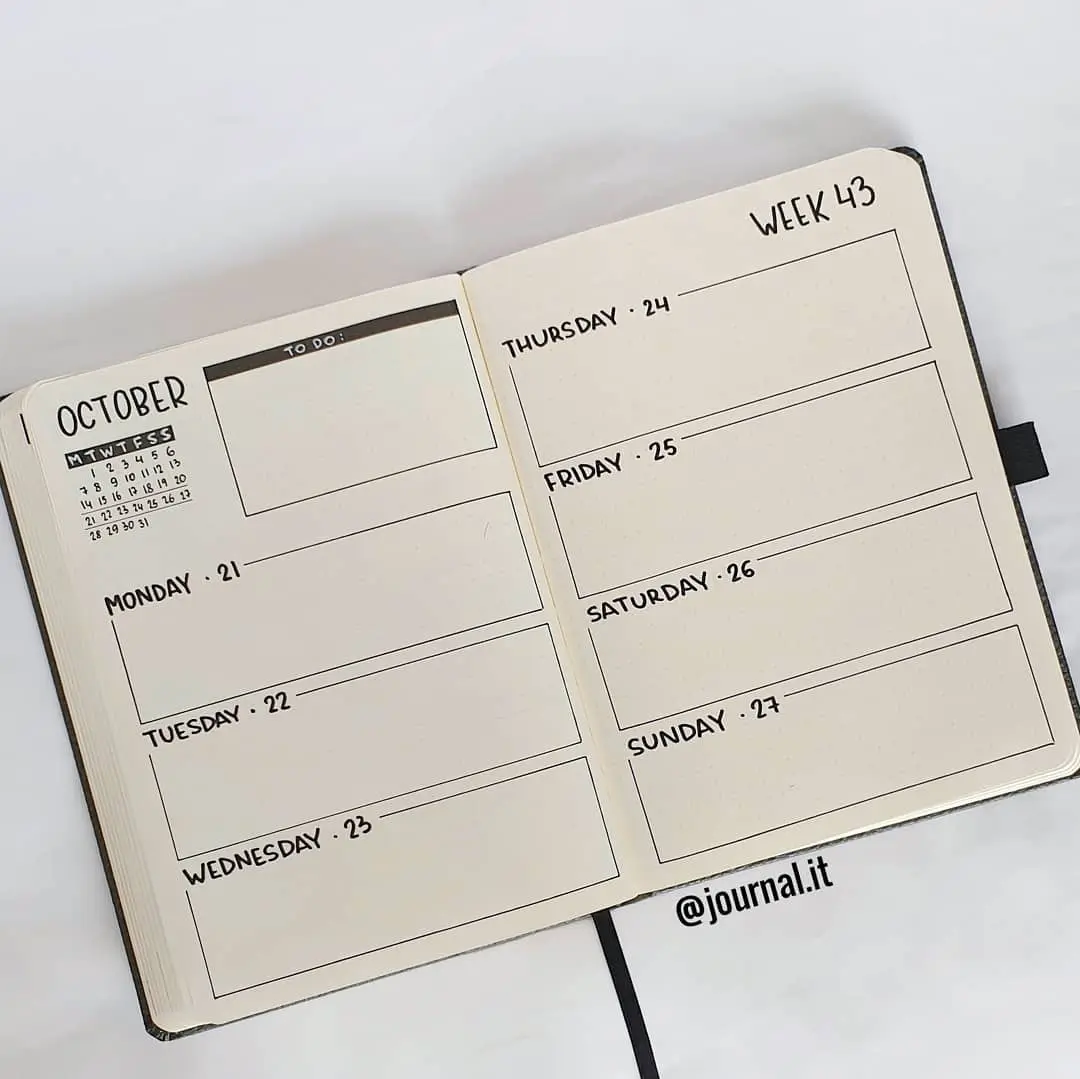 Credit: instagram.com
Horizontal blocks divide each day of the week. With a spread for every week, you can easily keep up with your day-to-day activities at a glance.
This easy-to-read, stress-free layout isn't too busy or overwhelming. This makes it a breeze to fill in with your appointments, work schedule, or classes.
Use colorful pens like these for each type of activity or decorate the pages with your favorite stickers or stamps. Up top, keep a small monthly calendar you can refer to.
Then, you don't have to flip backward and forward between the weeks of the month.
2. Stylish Squares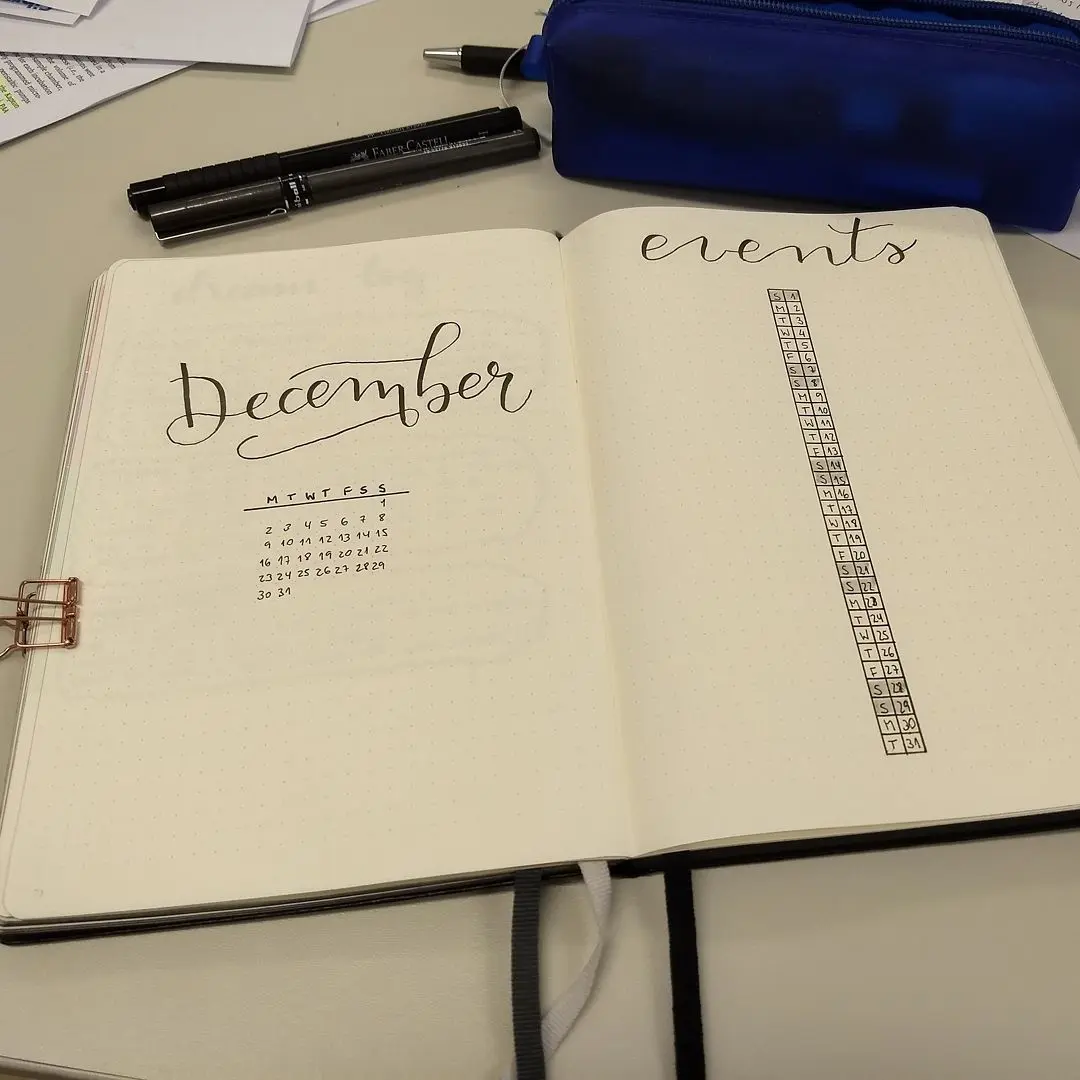 Credit: instagram.com
Small squares let you look at the whole month without the mess. Fill in the blocks with colors to track your events, and use the bigger calendar on the opposite page for reference.
This bare bullet lets you fill in whatever you desire on the blank portions. Make lists of goals, add decorations, or write down important things you need to do for each month.
You may want to keep the white space the way it is. It can be very calming for your brain to see wide open spaces when you use your journal.
Check out more amazing bullet journal ideas here.
3. Bare Bones Blocks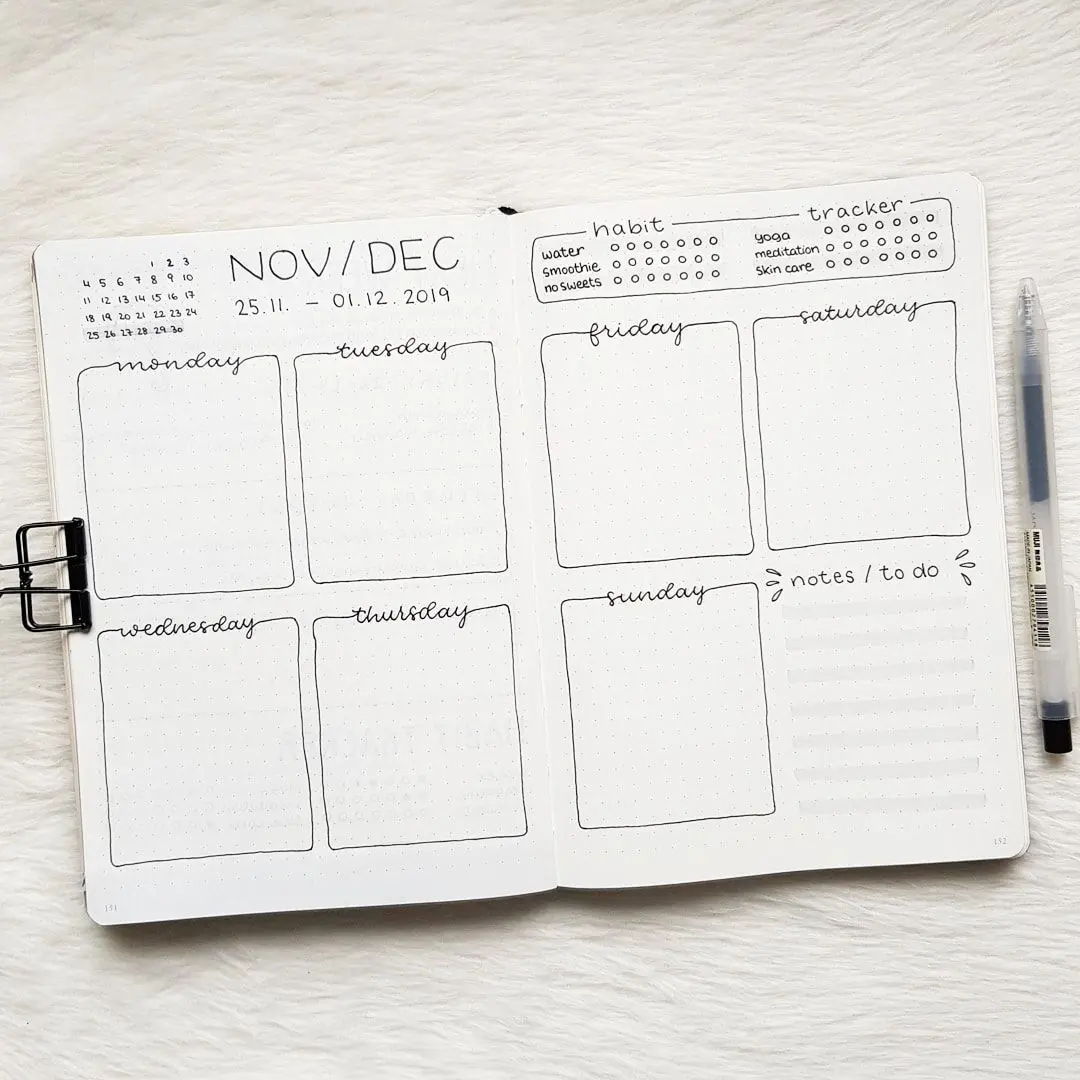 Credit: instagram.com
Oversized blocks give you plenty of space to write. Each week is divided into two roomy pages, and you'll see the small spot above the days to track your habits.
A block at the bottom lets you jot stray notes or doodle. You can also add important events, birthdays, or appointments.
You don't need to be artistic for this bare layout. But you may find the white space inviting enough to fill it in.
4. The Magic of Minimalism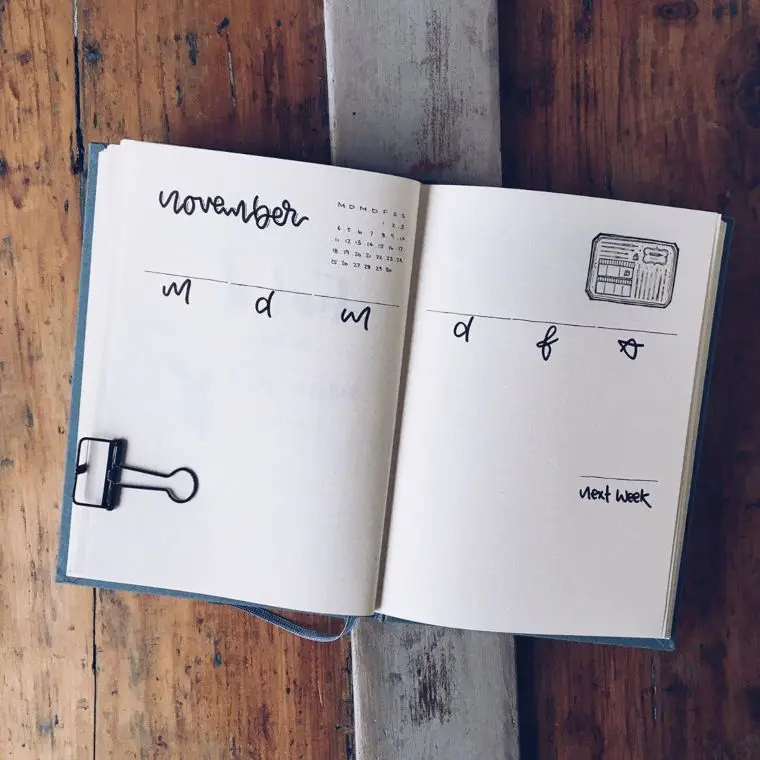 Credit: instagram.com
Check out this page that's wide-open for your thoughts and notes. If you don't like being confined to boxes, this layout is perfect for you.
Write as big or small as you like or make lists if that's your thing. You can also feel free to use as much of the space as you desire for each day.
This layout gives you the freedom to make space your own; no artistry required.
Use such minimalistic templates to track your habits!
5. Beautiful Bullets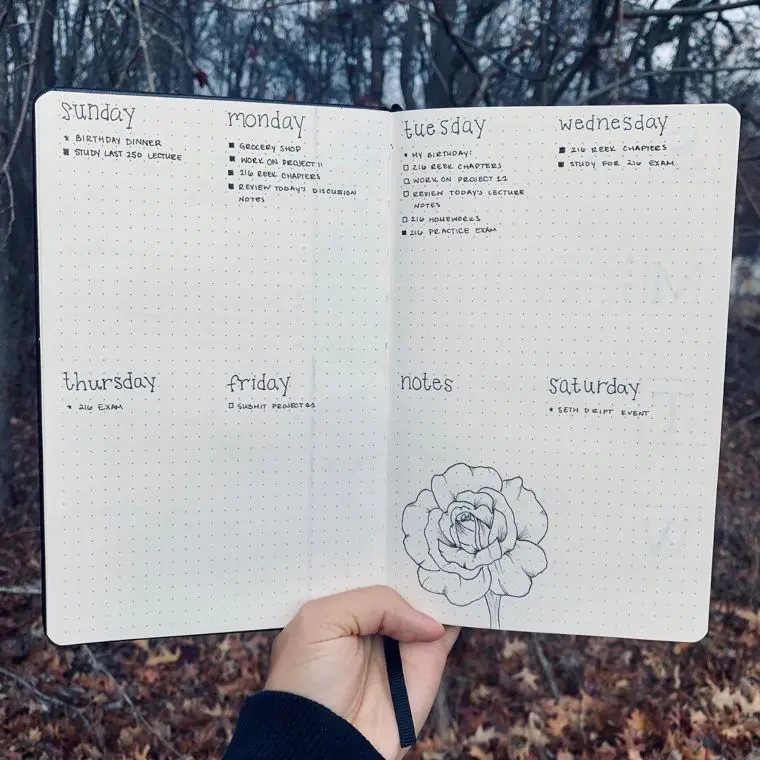 Credit: instagram.com
If your cursive is small, this lovely layout works for you. Use small bullet points to keep track of daily activities.
There's plenty of space to make lists, keep up with goals, or track your habits. Decorate the pages as you like with doodles or washi tape or keep it clean.
A spot that's open is just right for notes. This serene space works well for organized brains and keeps you from becoming overwhelmed with your week.
6. Great Grids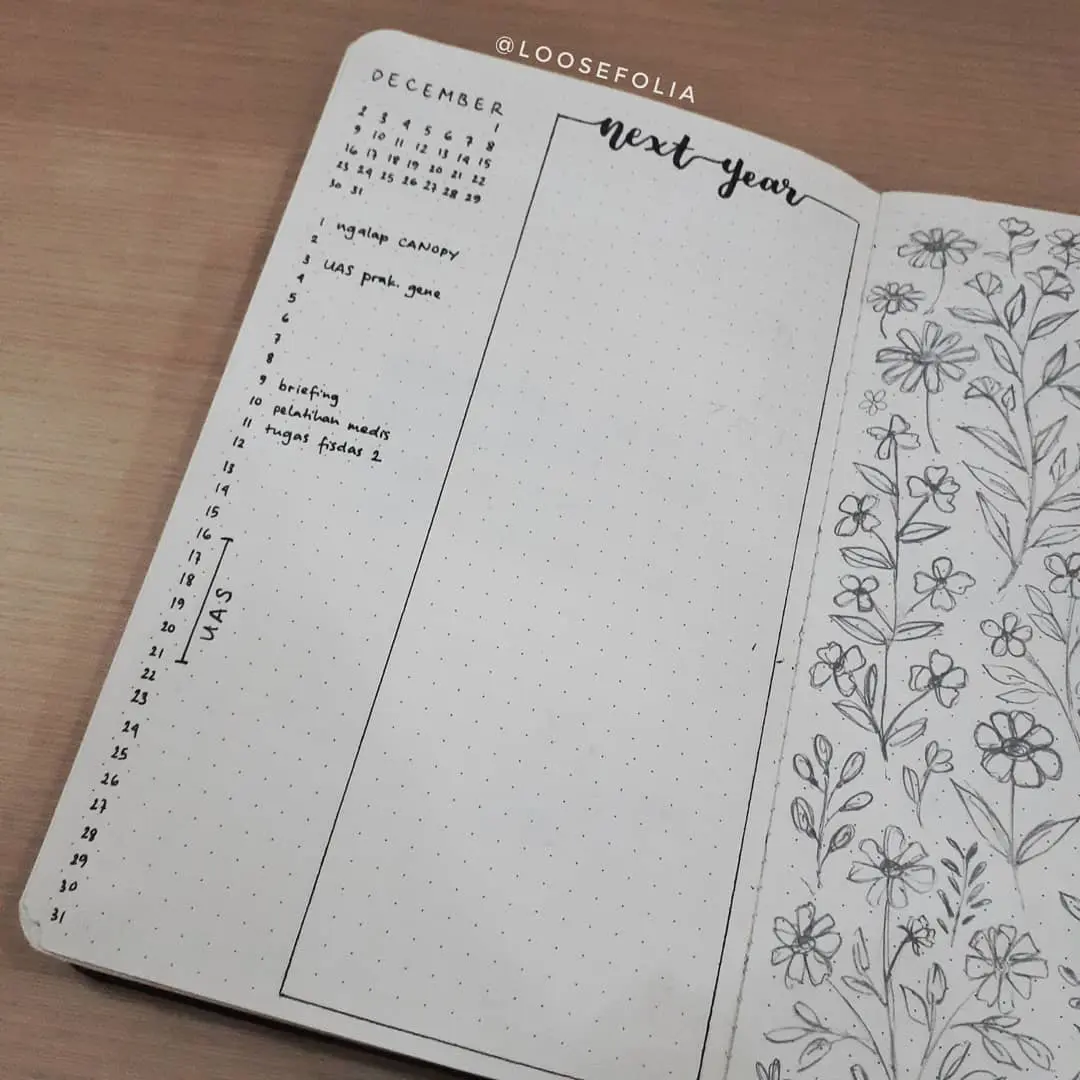 Credit: instagram.com
Use the grid lines as a guide to making the month one long list. Divide up the days with numbers.
The free spaces let you jot down your thoughts and goals. You could also use the space to highlight events or important reminders.
Keep the opposite page free to let your mind wander. Keep yourself calm by leaving free areas.
7. A Year at a Glance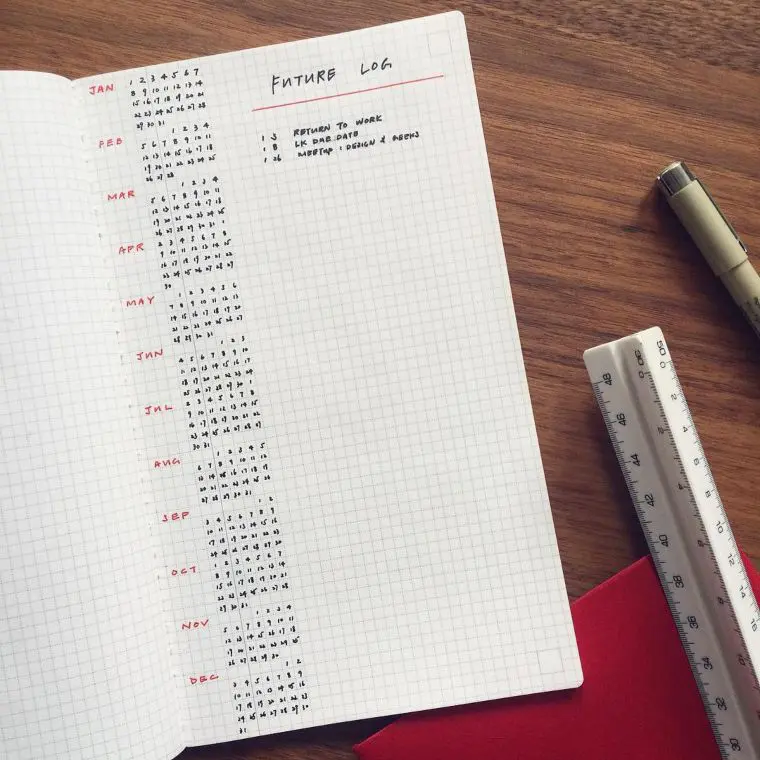 Credit: instagram.com
Wish there was a way to plan for a year at once? That's where this beautiful layout comes in.
A year-long calendar on one side lets you look at the entire year at once. This makes it a breeze to track your goals for the next 12 months neatly on one page.
Use the grid to make small monthly calendars. Reference the list to stay mindful of your goals.
The neat, crisp, and clean design is beautiful and uncluttered. Avoid anxiety and get joy out of journaling.
Get more bullet journal future log ideas here.
8. Picking Patterns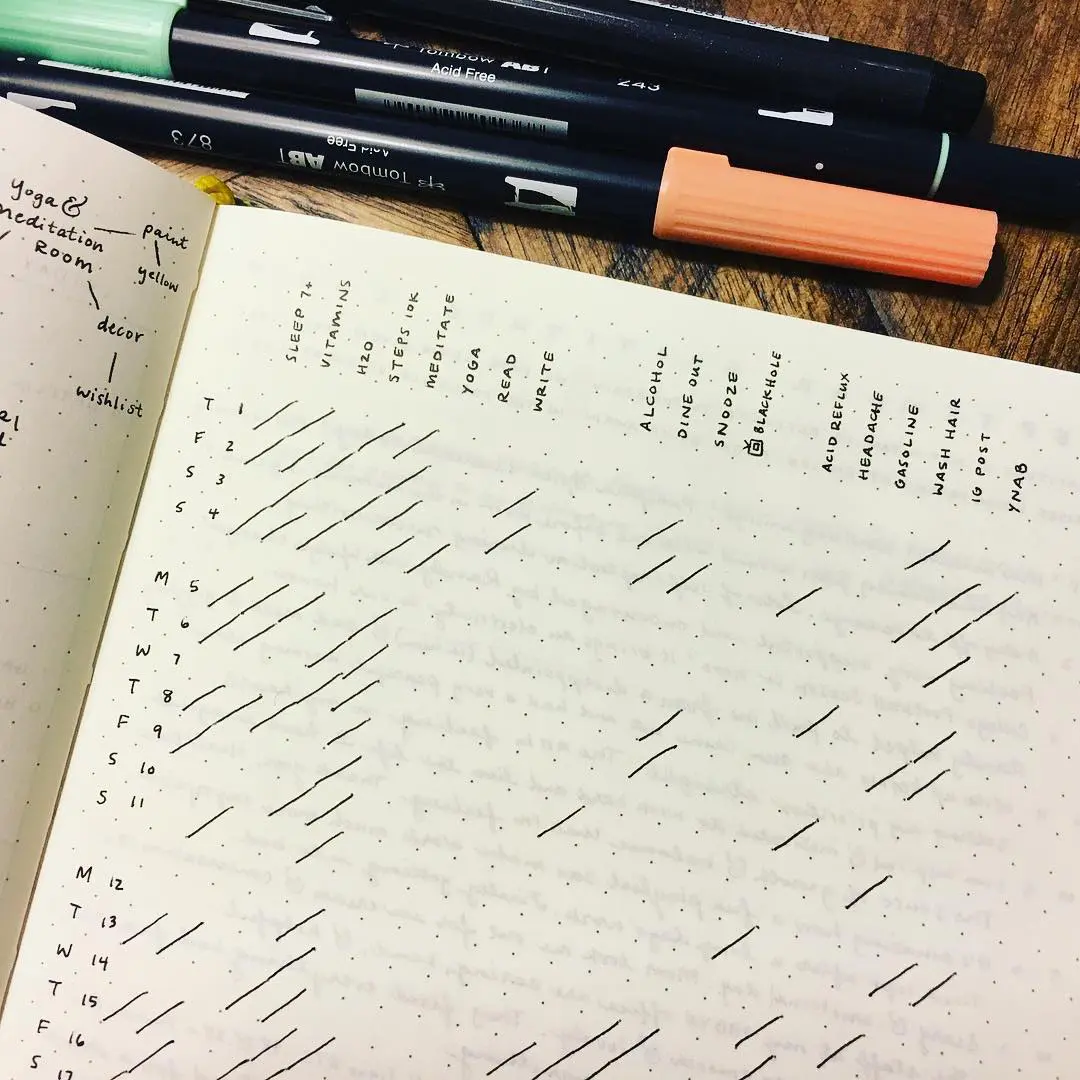 Credit: instagram.com
Many people use a bullet journal to track their habits and activities. This layout is perfect for that.
You'll see all of the days of the month on horizontal lines. Across the top, you add your habits or practices.
A simple, elegant checkmark keeps you updated on that week's activities. Keep it neat so it's easy to keep track of each month.
Use bullet journal templates like these to track your mood as well.
9. Daily Dreams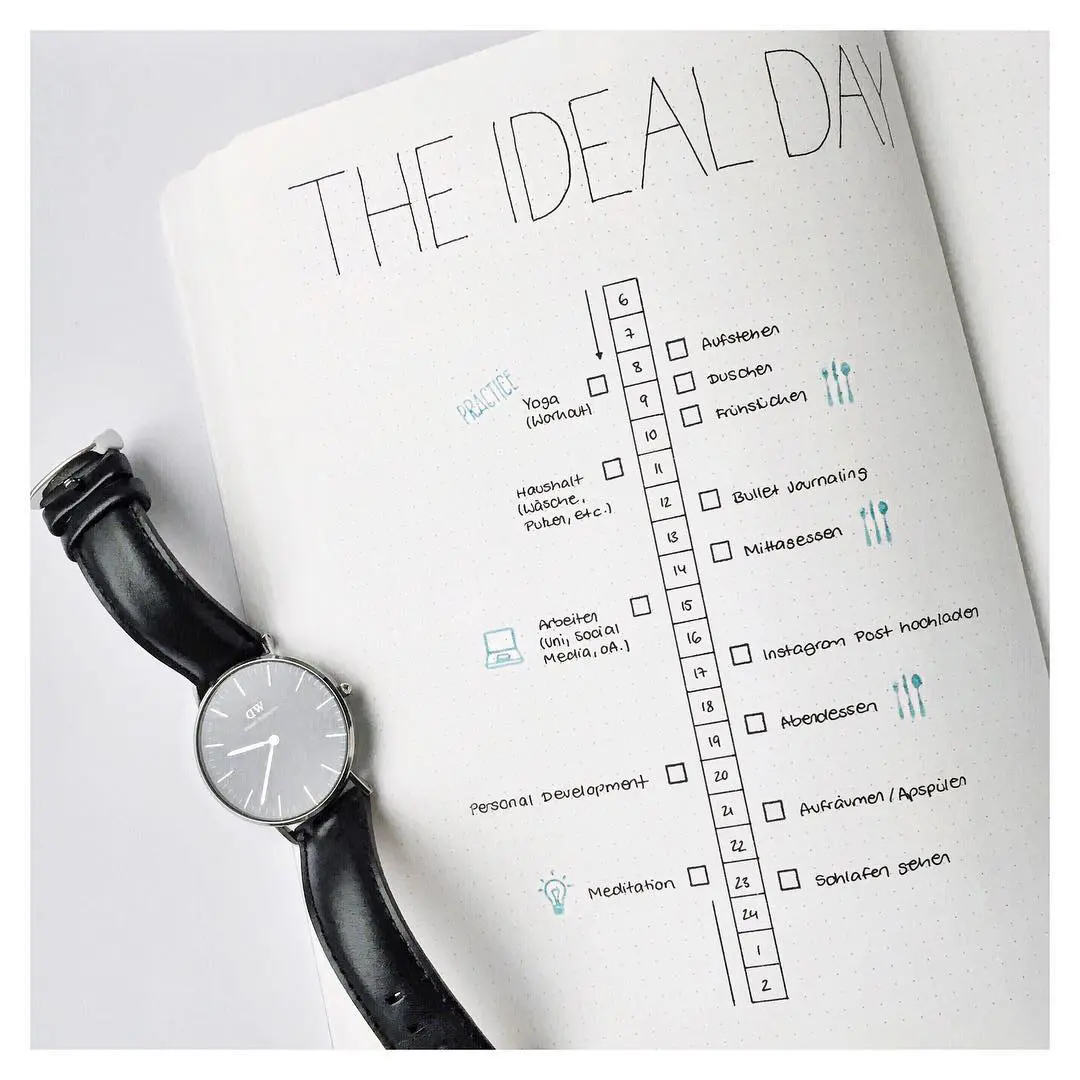 Credit: instagram.com
Plotting out a perfect day just got easier. Grids help you create perfect squares.
Use stencils like these to adorn each activity or task. Check off the activities to keep up with what's left.
This stark but stylish layout makes it a pleasure to keep up with daily goals. You may see emerging patterns that contribute to your moods and health.
10. Detailed Dashboard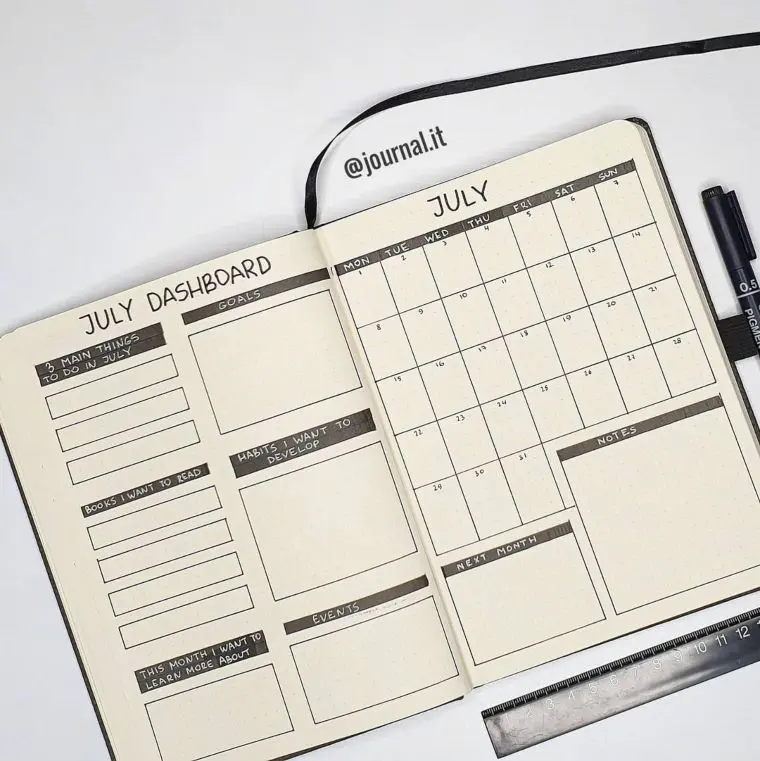 Credit: instagram.com
A two-page spread that keeps you organized but not overstressed; this bullet layout is perfectly practical.
Oversized squares let you keep up with monthly activities. Bigger portions allow you to freeform your goals, events, and everything else that's on your mind.
Use a large bullet journal to keep each month planned out peacefully. You don't have to go overboard to stay organized each month.
11. Perfect Page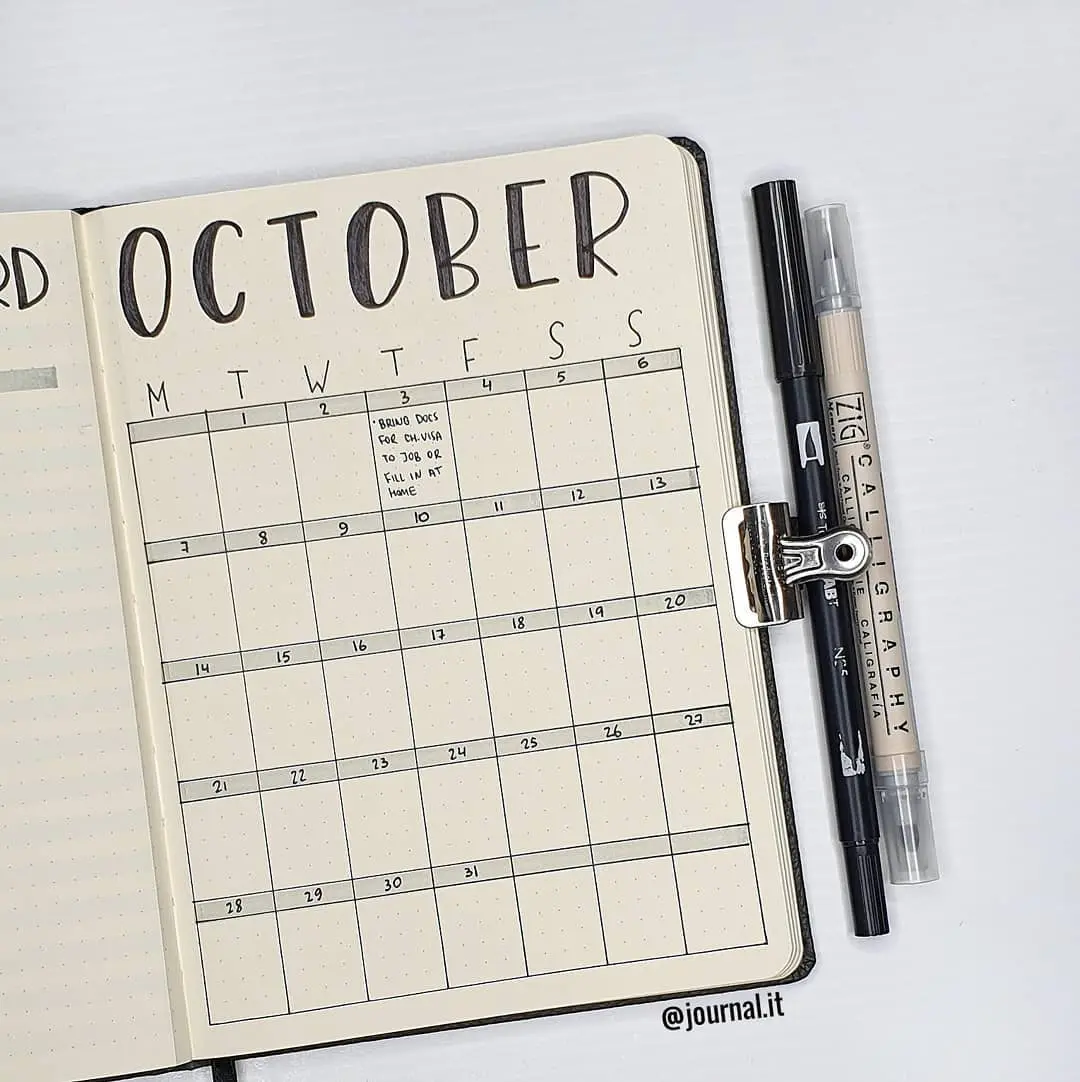 Credit: instagram.com
Use calligraphy pens to connect grids and make the month a one-page layout. This simple spread is pleasing to the eye.
Boxes are big enough to write in tasks. The opposite page is free for your notes.
Your entire month is all on one page. Change up the colors to suit your moods.
You could use these as well to track how much you're spending every month. Just write down what you've spent that day.
More financial bullet journal spreads here!
12. Methodical Mealtimes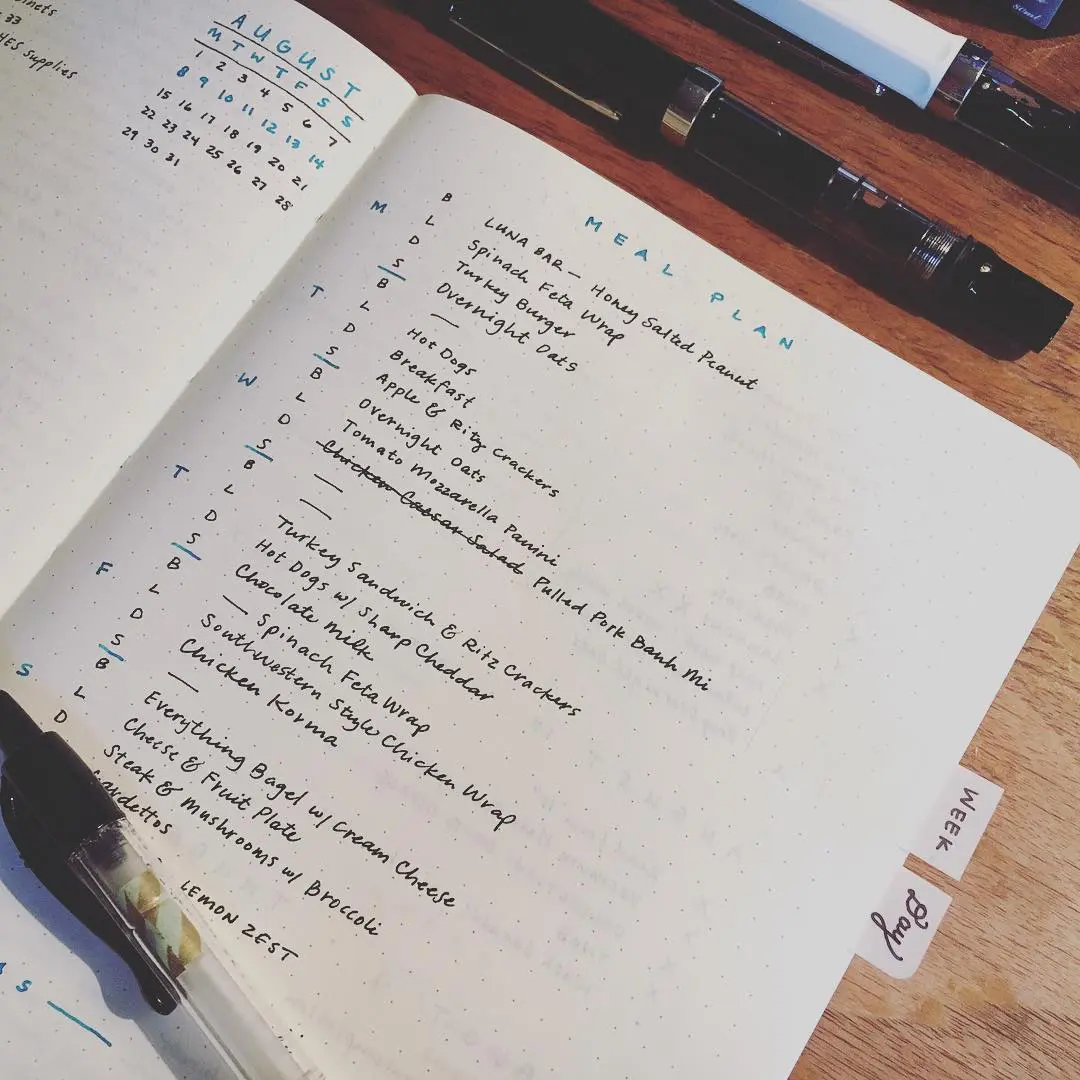 Credit: instagram.com
Meal planning doesn't have to be difficult. Keep easy-to-read daily logs of your diet.
Use these as a guide for shopping and meal planning for the month. Keep track of the meals you make each week.
This allows you to vary your diet and stay abreast of your calorie intake, too. Perfect for dieting or trying to stay dairy or gluten-free.
If you're interested in everything healthy lifestyle, check out these fitness bullet journal spreads.
13. Future Forecast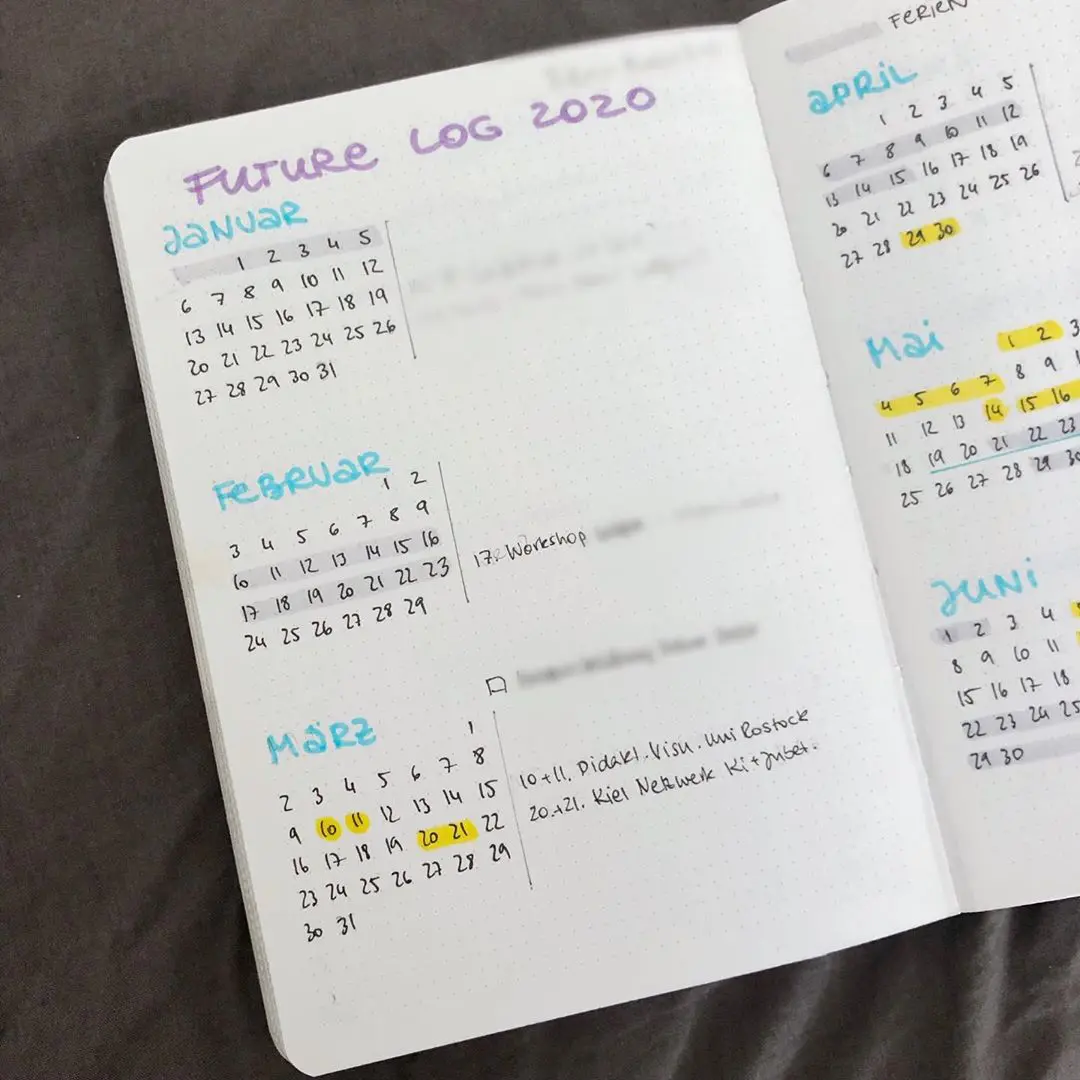 Credit: instagram.com
Keep your goals in sight. Create a no-nonsense layout that puts three months on each page.
A small calendar of the month lets you reference the days. In the open space next to it, add your goals, dreams, thoughts, or activities.
This breezy, easy bullet layout keeps clutter to a minimum. Give your brain a break with a simple, sleek style.
14. Very Vertical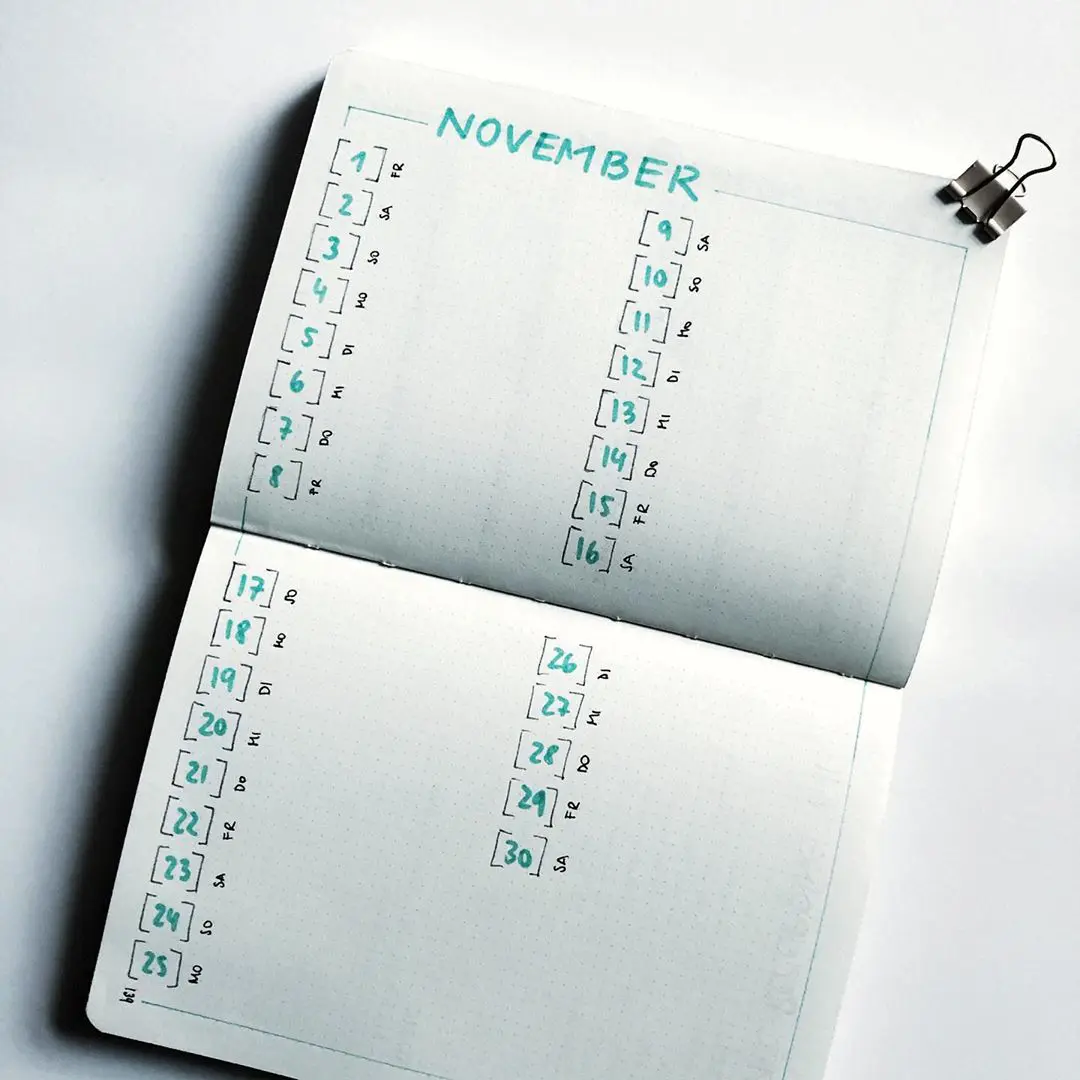 Credit: instagram.com
Like more room to write? Flip your journal sideways and use vertical space instead.
This layout lets you list your days with space next to each date. Use your grid pages to make each day as large as you like.
Then, the allotted lines can hold anything from activities to tasks. Leave a space at the bottom to make notes or add decorations.
15. Tiny Trackers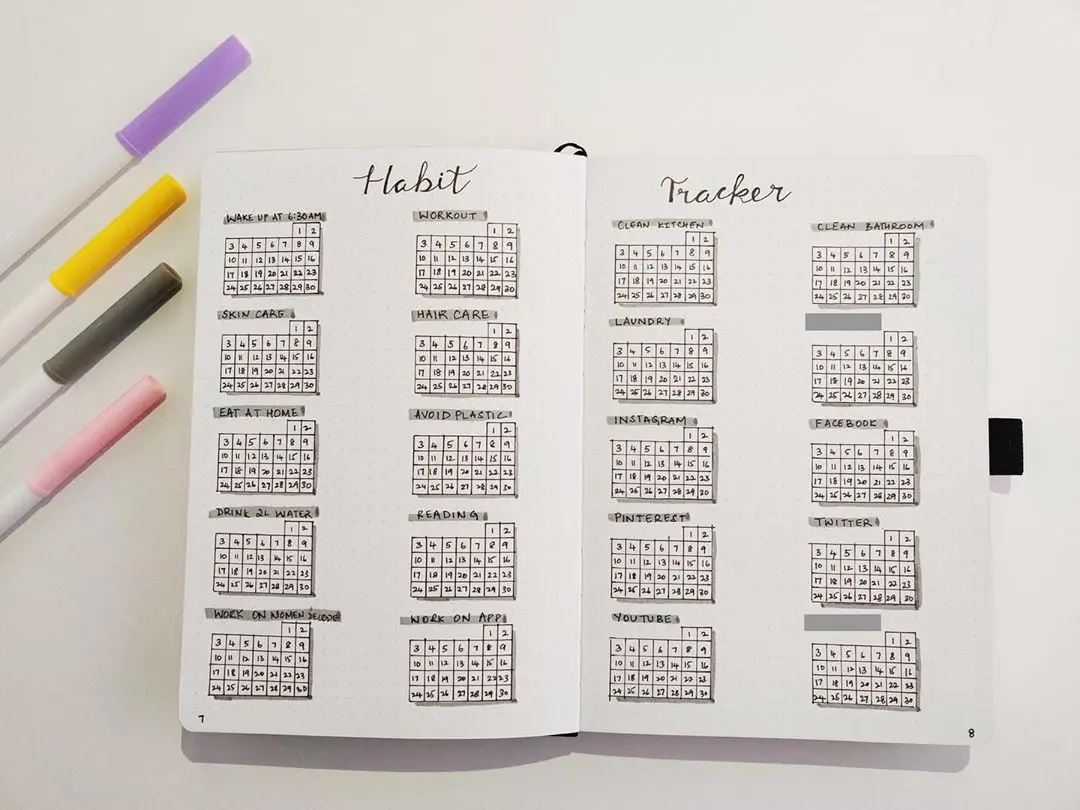 Credit: instagram.com
Track your habits at a glance in your bujo. For each habit, use the grids to make a small calendar of the month.
This two-page spread lets you fill in the block for each day of the month you exercised, meditated, or used Pinterest.
Later, look back at your habits for the year. This can be a great way to organize your time or see how you spend your days to manage them better.
16. Room to Breathe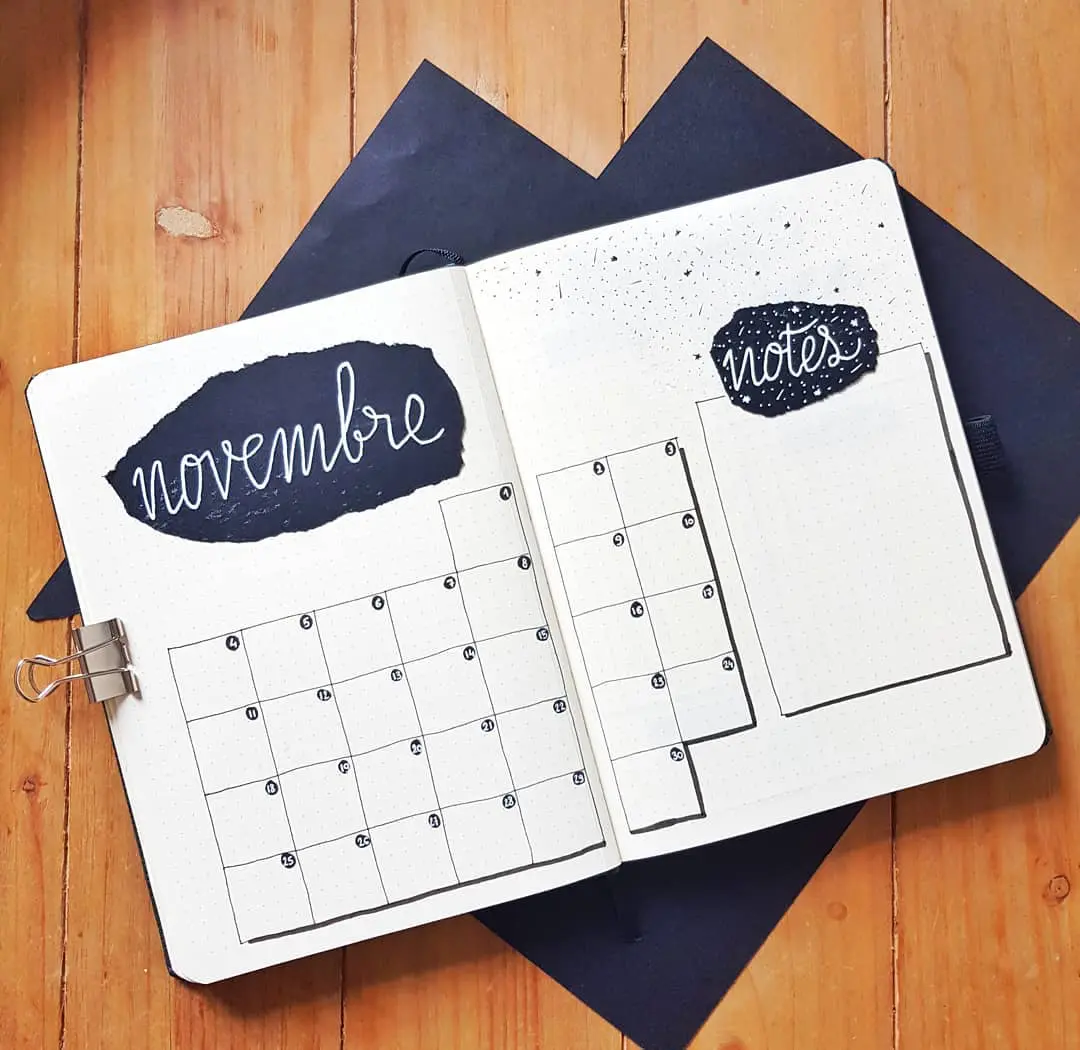 Credit: instagram.com
Live large with big blocks across this beautiful two-page spread. Two pages give you plenty of room for each month.
Bigger blocks let you doodle in your daily activities. This works well if you write in larger cursive or enjoy decorating your days too.
Perfect for an anxious mind, all the room of this layout is soothing. You may want to decorate it or leave it free.
17. "X" Marks the Spot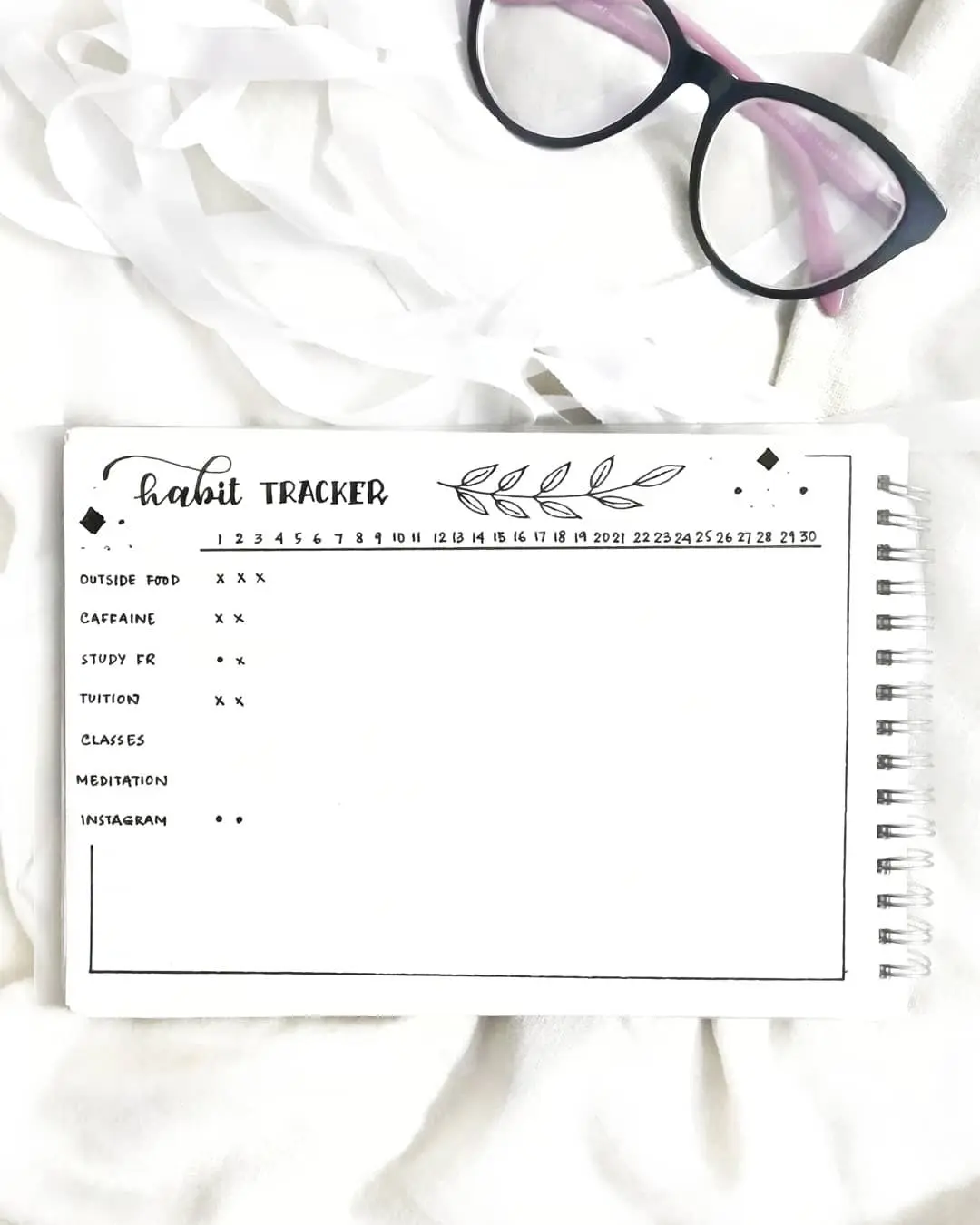 Credit: instagram.com
The easiest way to track your habits, write all the days across the top. List habits along the side.
Make an "X" where they intersect. Check out each day at a glance.
No muss, no fuss. Space around lets you fill in what you like or draw.
18. Arrange Activities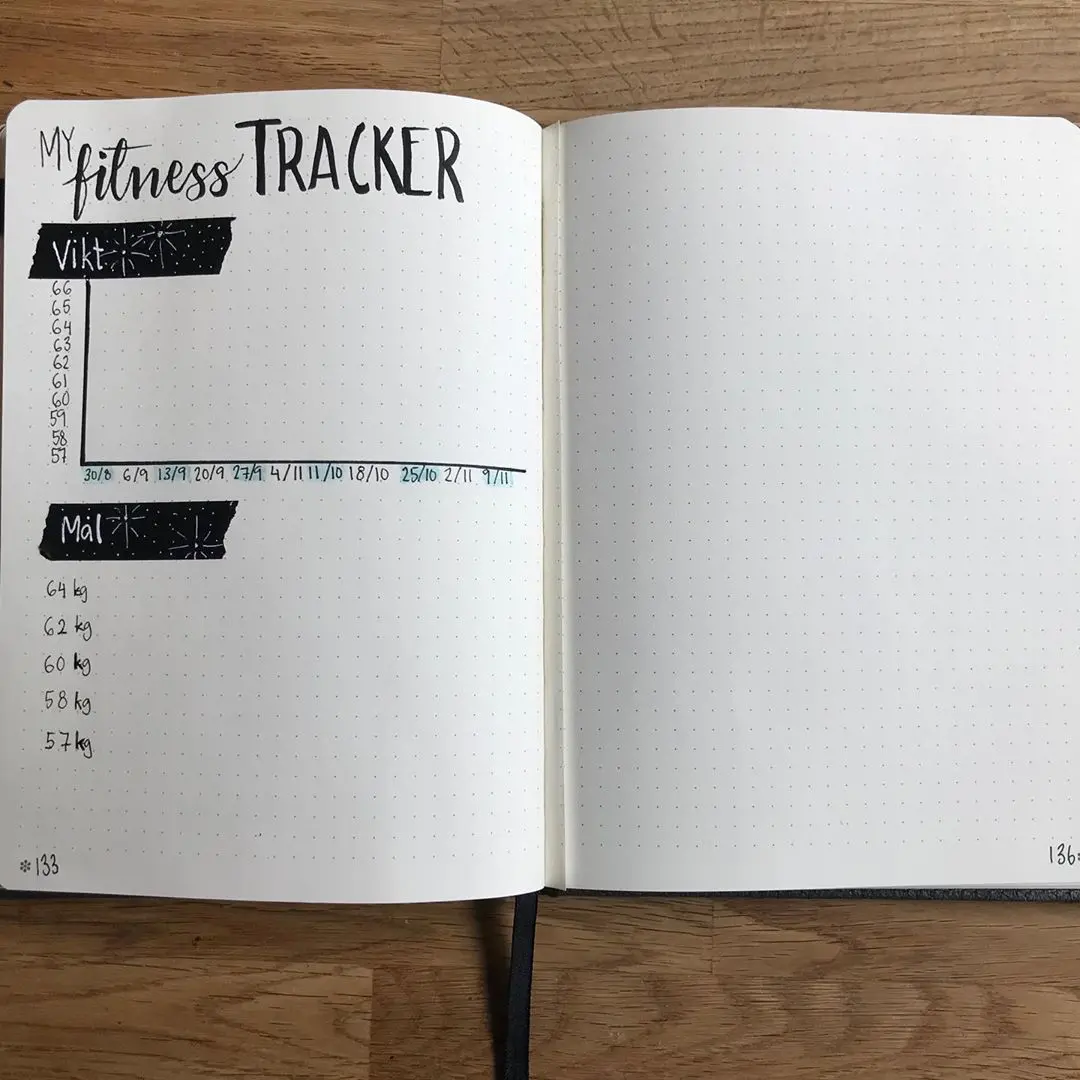 Credit: instagram.com
Want to keep up with how many days a week you work out? This bujo layout does the work for you.
There's no need for embellishment when it comes to exercise. List your activities and the days.
Plot the points when you did which one. Track training with simplicity with this streamlined style.
19. Clean Calendar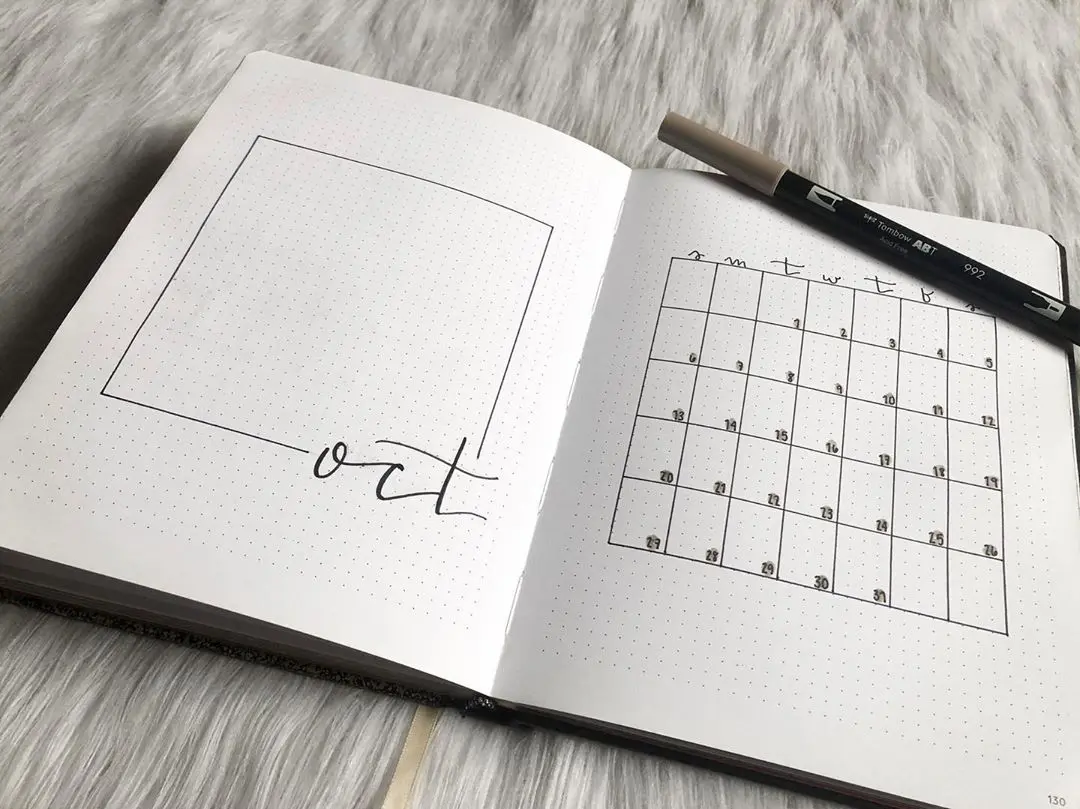 Credit: instagram.com
Make your month the focus of this page. Use blocks to make an oversized monthly calendar to use as you like.
The opposite page of each month is open and free. This lets you allow your mind to wander as you want.
Why restrict your sense of creativity with too much clutter? Keep it simple, and avoid stress when journaling.
20. Bold Bujo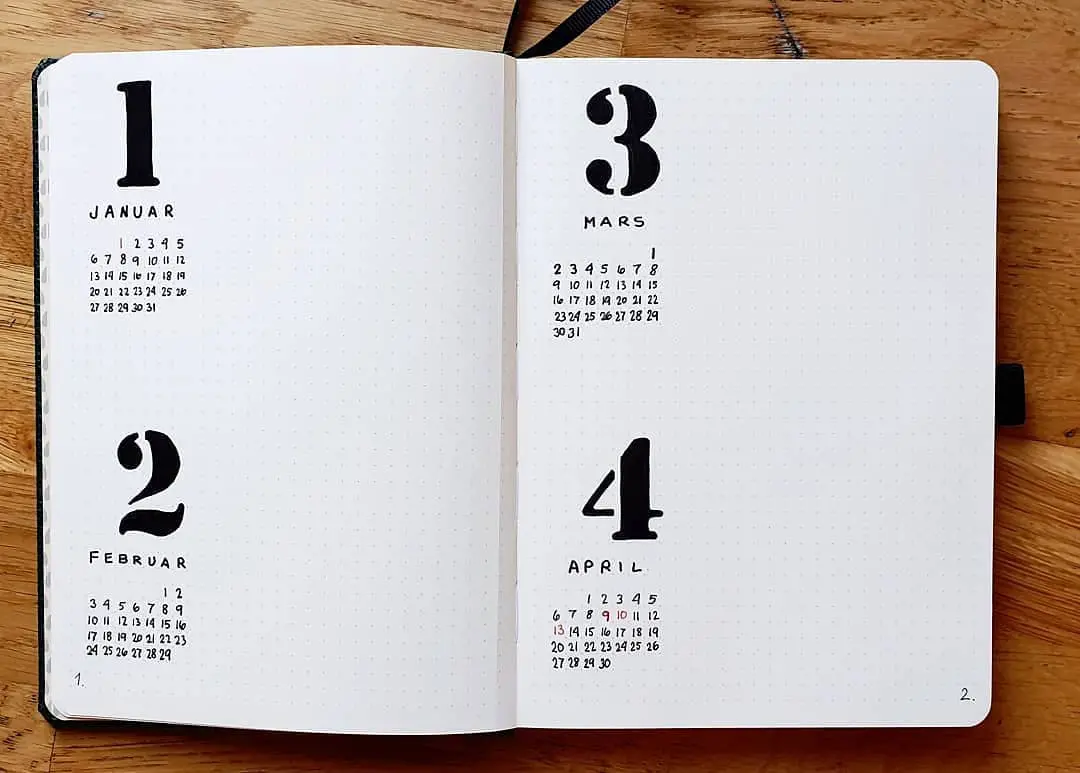 Credit: instagram.com
Oversized numbers make a stylish statement with this layout. Lots of free space lets you scrawl how you like.
A mini-calendar for each month shows the month at a glance. Plan your year with only two months per page.
This keeps things neat without crowding too much information. It's also chic without being too overbearing.
21. Neat and Clean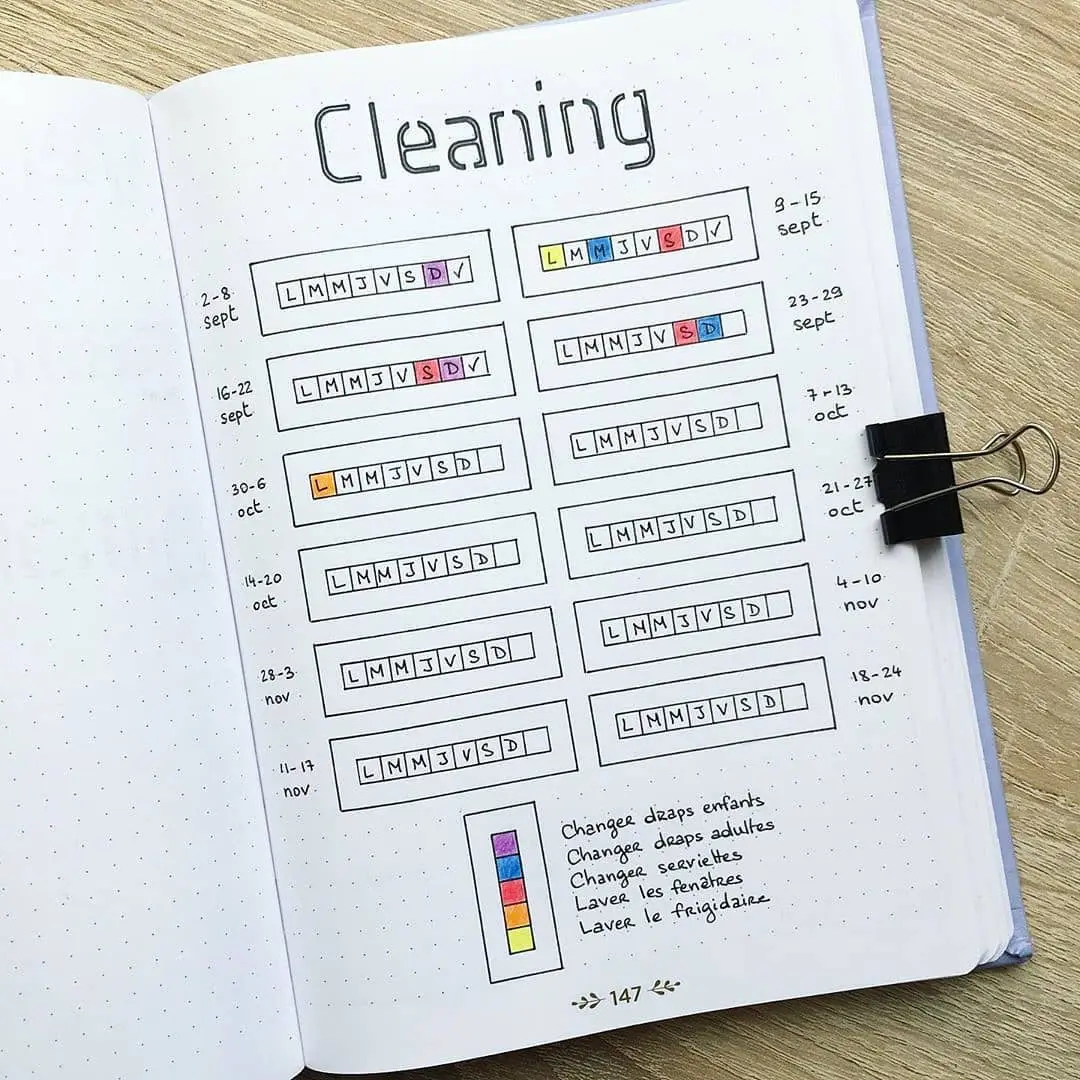 Credit: instagram.com
Can't remember when you changed the sheets? Keep track of deep and daily cleaning with this layout.
List your monthly chores and make smaller grids to fill in. This ensures you keep up with your home each month.
Pleasing to look at, each color signifies a different task. You'll love the shading in the squares, knowing you completed each task.
Check out more of the cleaning schedule ideas for your bullet journal here.
22. Stylish Six Months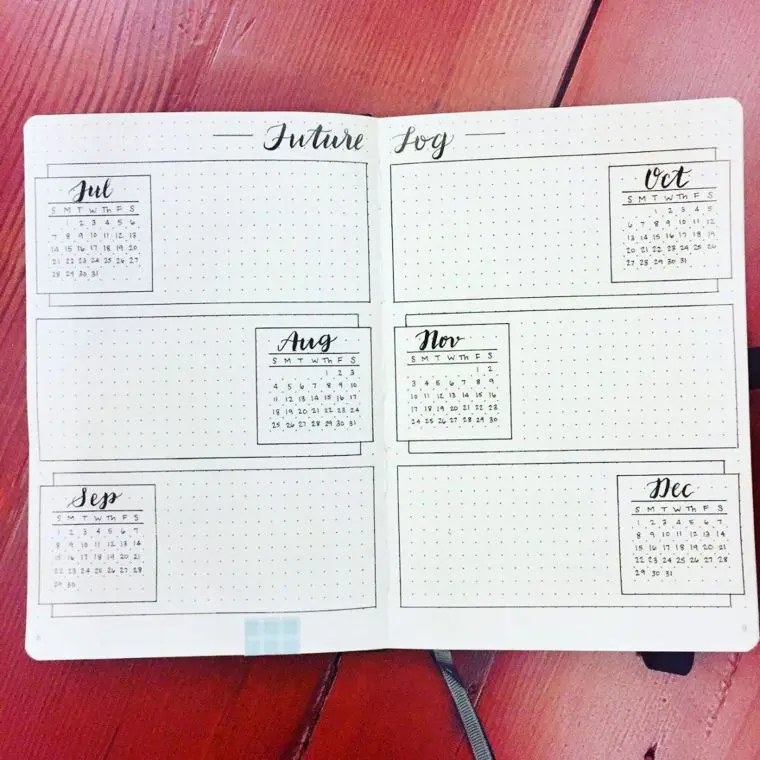 Credit: instagram.com
Take a long look at half the year within a two-page spread. Three horizontal blocks give you lots of room for your goals and dreams.
Each month, keep track of what you want to do. Look back later and see what you accomplished.
Great for large writers, doodlers, or adding stamps and stickers to jazz up the pages. You won't feel confined to tiny spaces.
23. Tracking ZZZs With Ease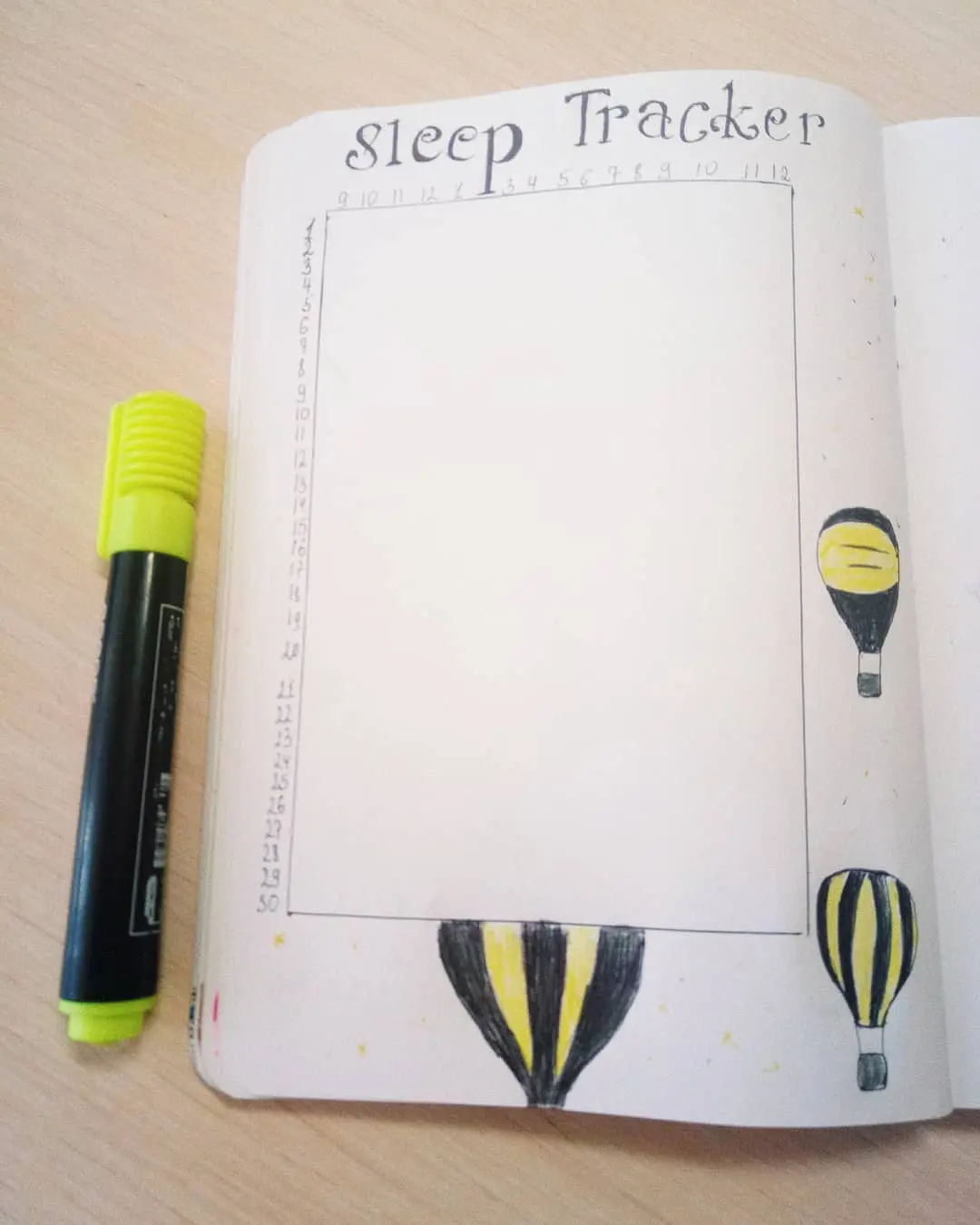 Credit: instagram.com
A simple plotting design lets you track your sleep schedule. Find patterns that correspond with your productivity or mood.
Use the grid as a guide to making an oversized graph. Sleep hours go up top, and days go on the side. A fine-tip pen tracks hours slept.
Make notes or doodle drawings around the graph. Or, jot things down you can do to sleep better.
24. Streamline Sleep and Healthy Habits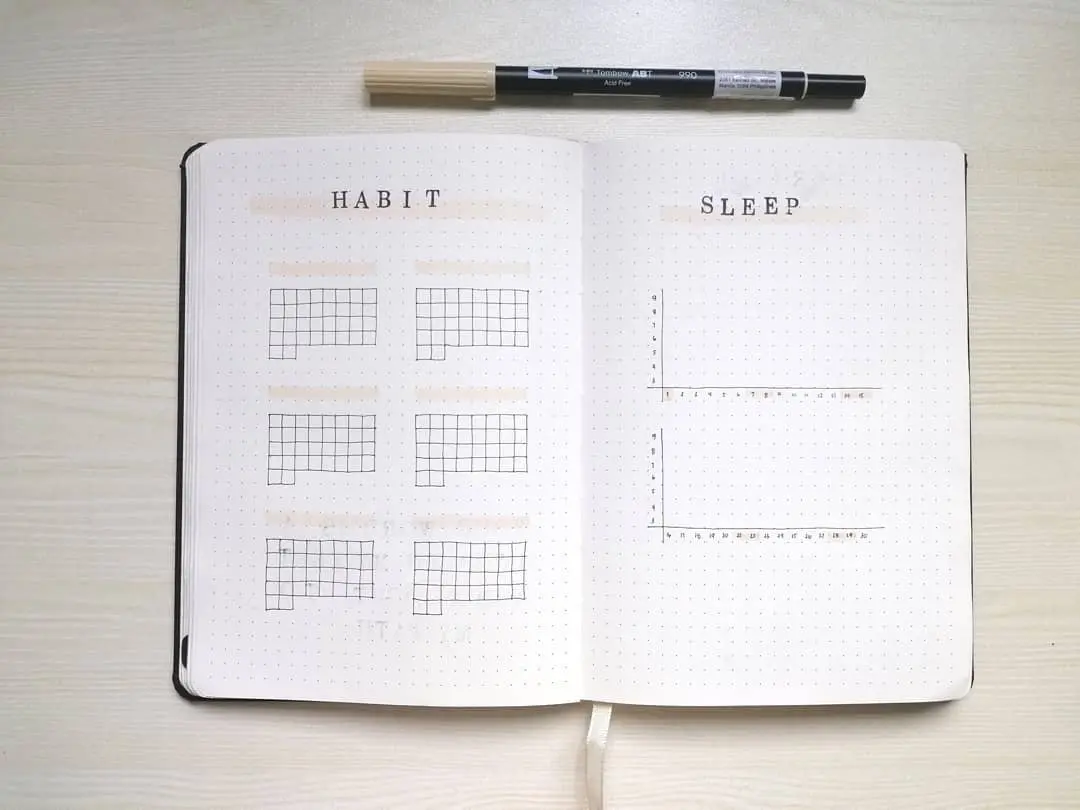 Credit: instagram.com
Keep track of habits and sleep using this two-page simple spread. Use one page for each, and create small grids to block in for habits.
Use plots on small graphs for sleep. Plenty of space around keeps you relaxed while you track.
Use black ink or add pizazz with the colors of your choice for different tasks or hours slept. You could also pick a small stamp or sticker to denote each habit.
25. Quick Quote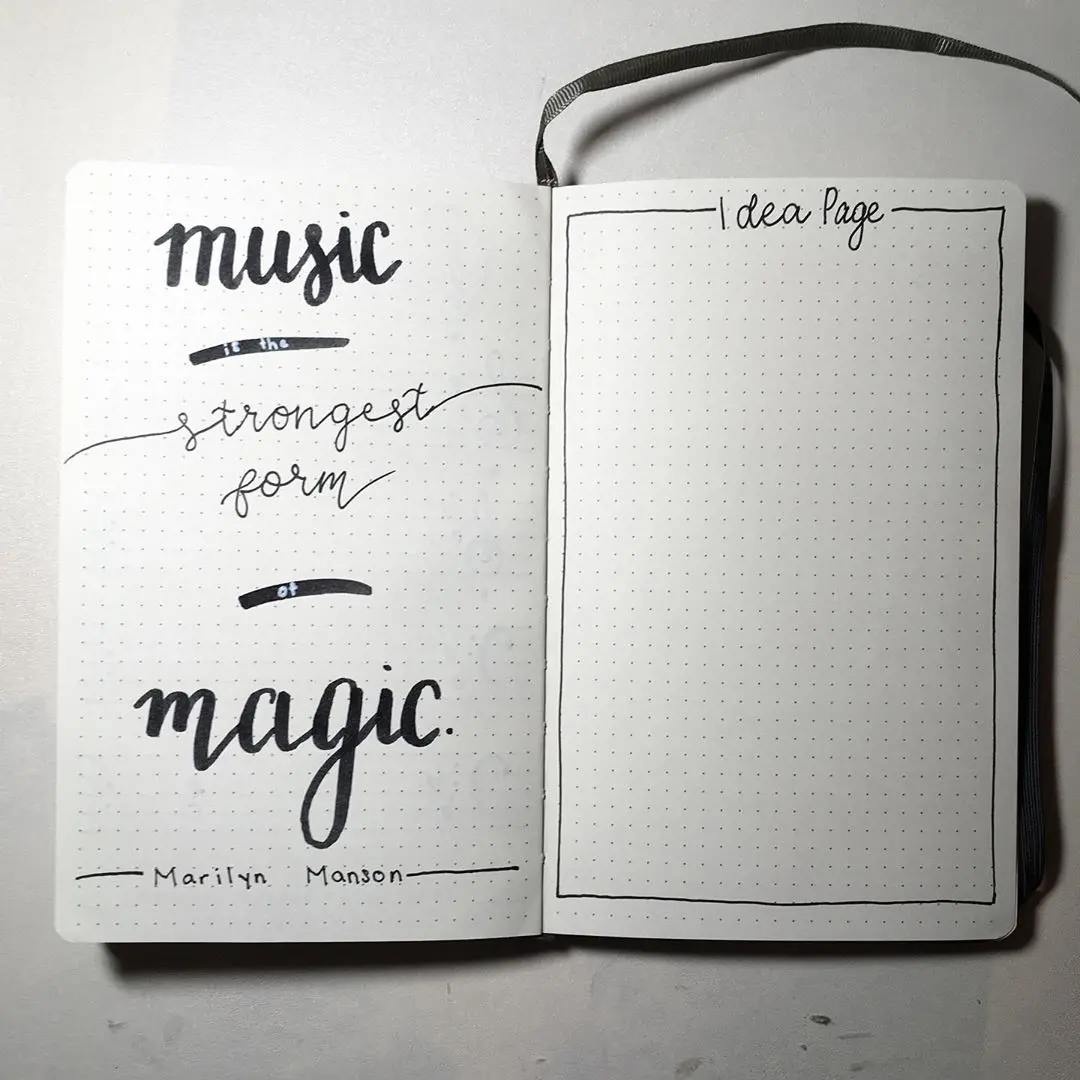 Credit: instagram.com
Have an artist, writer, or poet you admire? Pick your favorite quote by that person and add it to a blank page.
On the other side, leave free space for your mind to wander. Be inspired by the quote on the opposite side.
You can do these for each week or each month. Use colors and decorations you like to get your productive, creative juices flowing.
Conclusion
Which ones of the bullet journal templates above are you going to use? Let me know in the comment section below! Let's share our favorites!