Bullet journal spreads for future logging can be extra useful. Check out these layouts!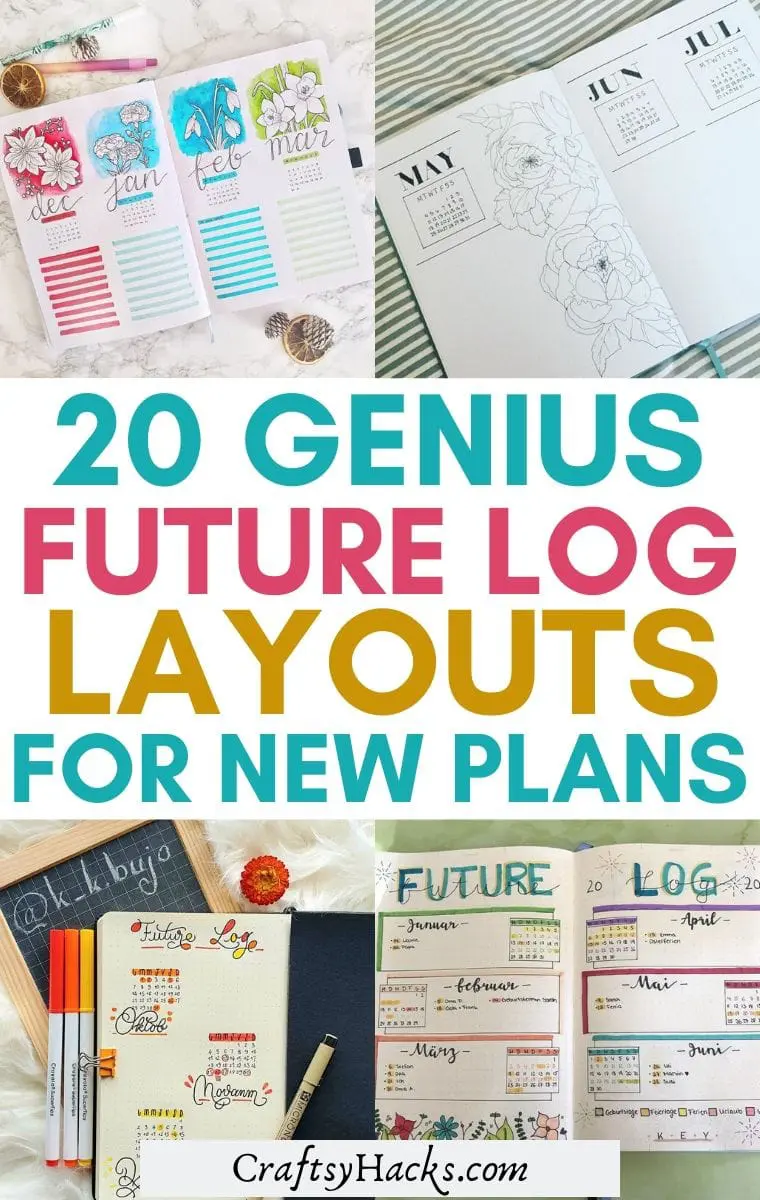 The Future Log is one of the first spreads in every bullet journal.
Future logs are great for planning out your entire year and marking all the birthdays, holidays, trips. You can also use your future log to track important events. That includes appointments that are planned in advance.
You can also track your long-term personal and business goals.
In other words, your future log will make planning easier and make you super-productive!
However, future logs should only serve as a reference for your weekly and monthly spreadsheets. A simple mention in the future log should be enough.
But, you should have a more detailed spread elsewhere in your bullet journal. Anyway, here are my top 20 future log ideas.
1. Bullet Journal Year Spread with Notes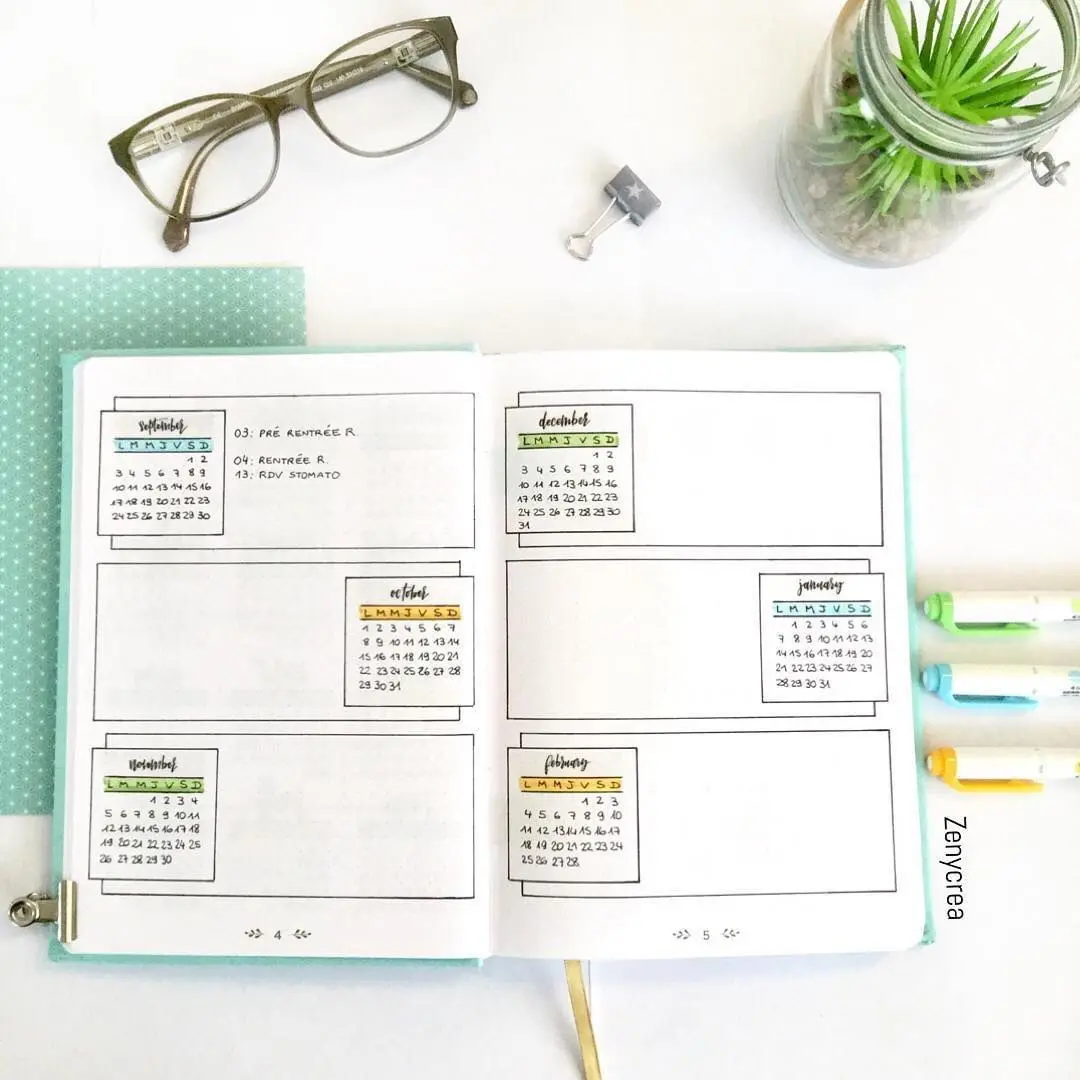 Credit: Instagram
If you need more space to write notes on your bullet journal yearly calendar, this style will suit you. This future log design will take up four pages of your journal.
But, it will definitely keep all of your important dates well organized. The log will provide plenty of space to add notes and remarks for every month.
2. Future Log Style with an Inspirational Quote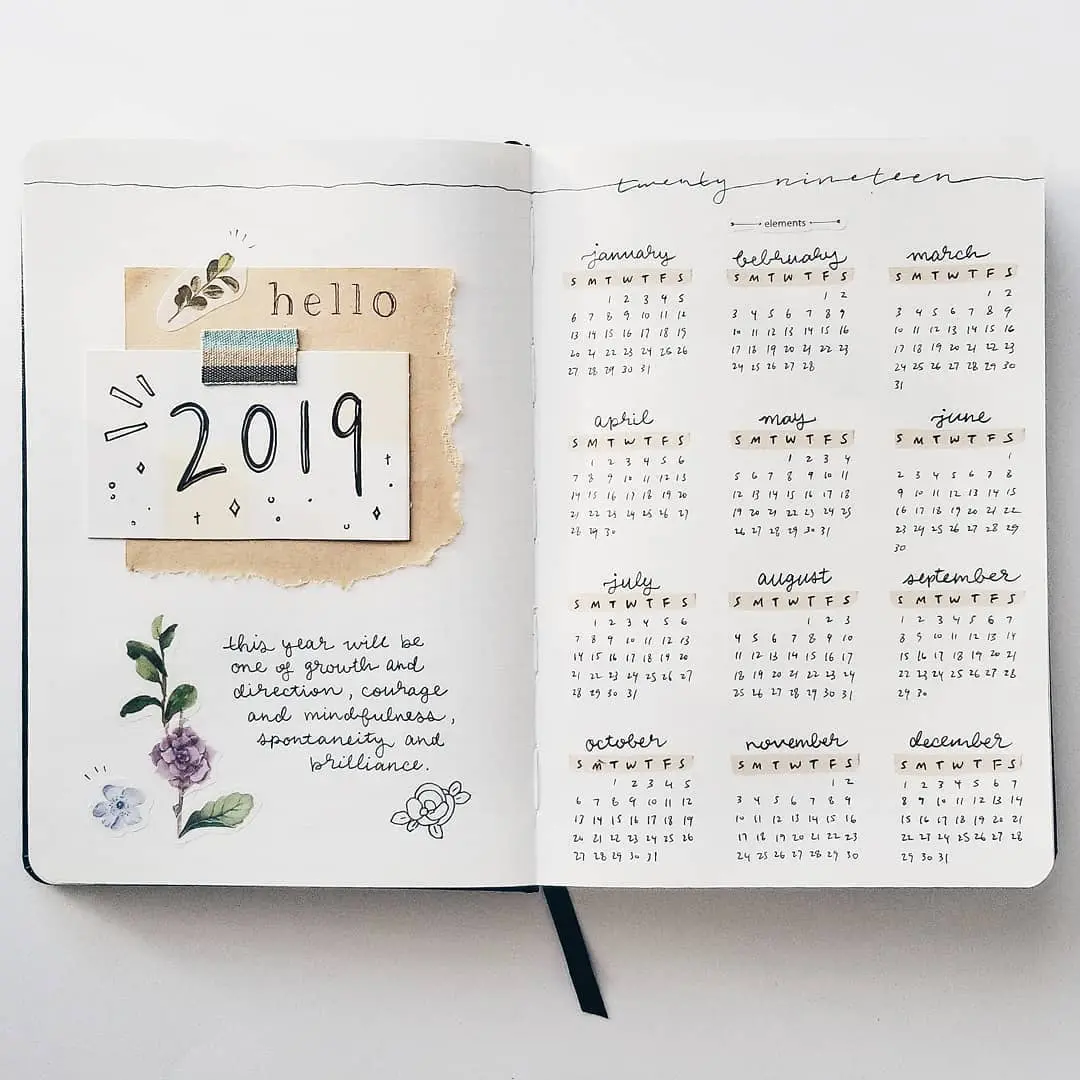 Credit: Instagram
This future log style features a beautifully lettered inspirational quote (get your inspo on this little book here) to start the year right.
Add a few flowers and your favorite color, and every time you open your journal, you'll be filled up with positivity!
3. Golden Touch Future Log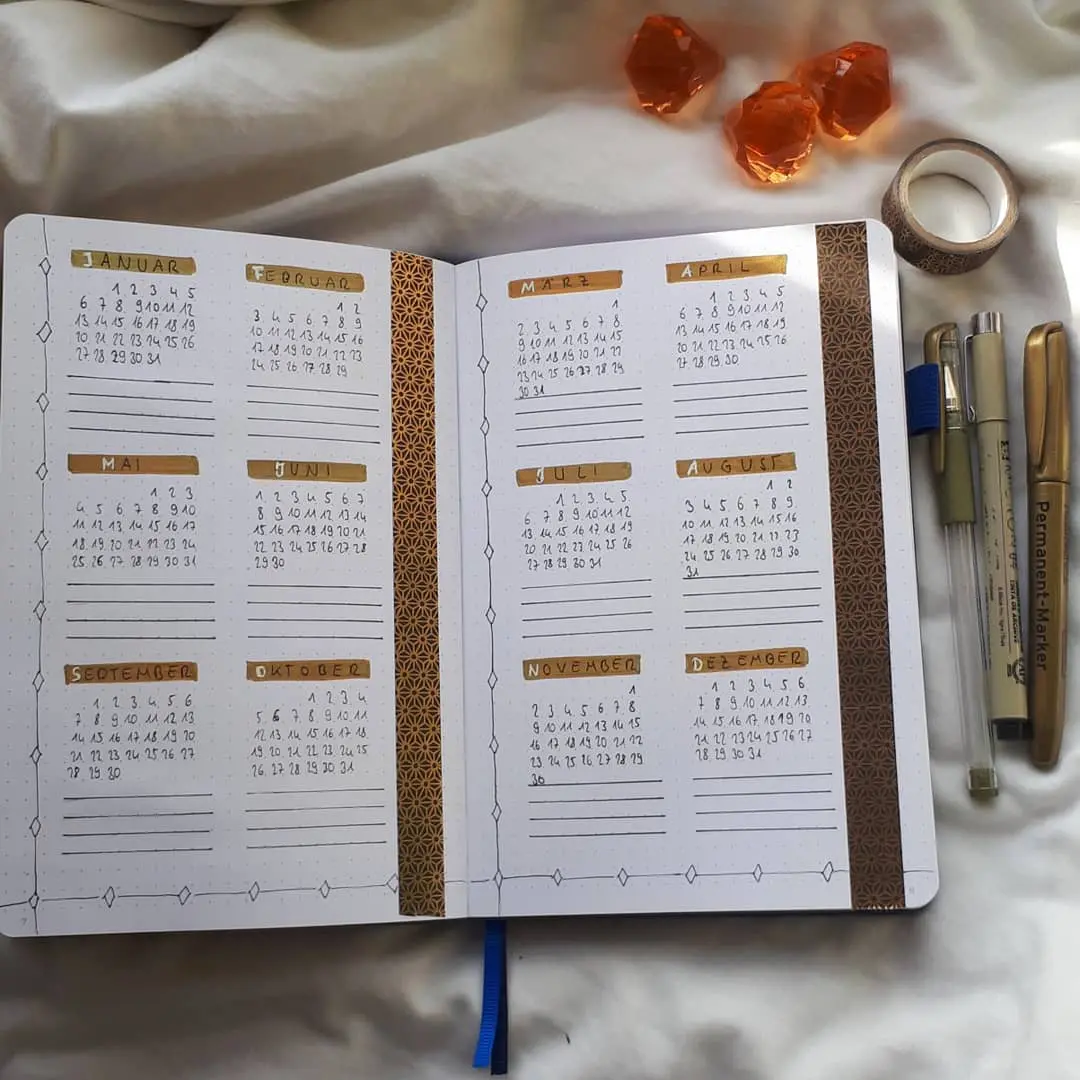 Credit: Instagram
If you want to add some warmth and subtle shimmer to your future log, go for gold. It's beautiful, shiny, and so classy.
You can use gold paint, stickers, ink, washi tape, etc.
Stack up on stickers here. There is so much choice, all you need to do is use your imagination!
Also, if you start mingling with washi tape, check out these beautiful patterns.
4. Minimalist Future Log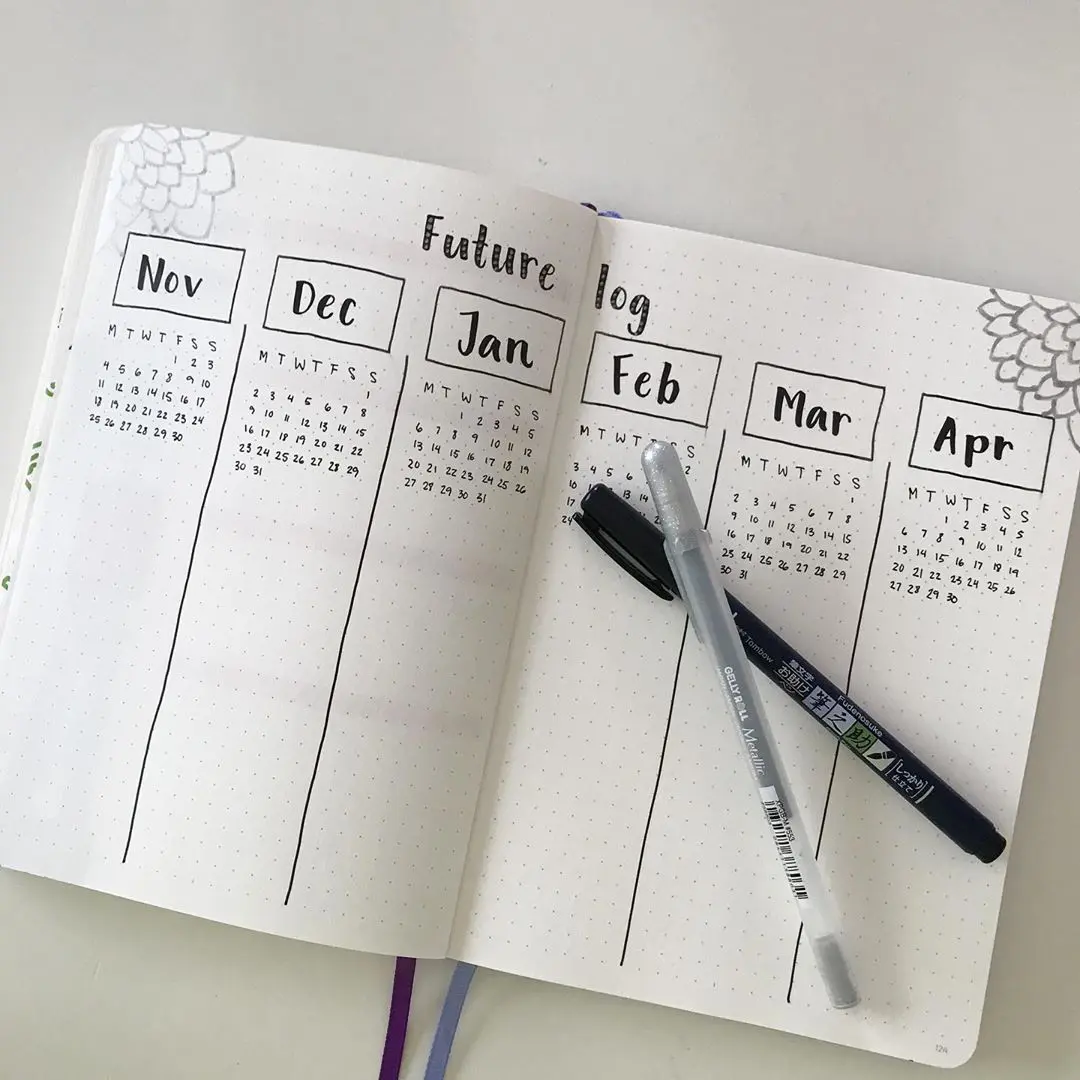 Credit: Instagram
Minimalist spreads are simple and provide lots of whitespaces. They work best if you have plenty of things to plan for.
Get more bullet journal ideas here.
5. Floral Future Log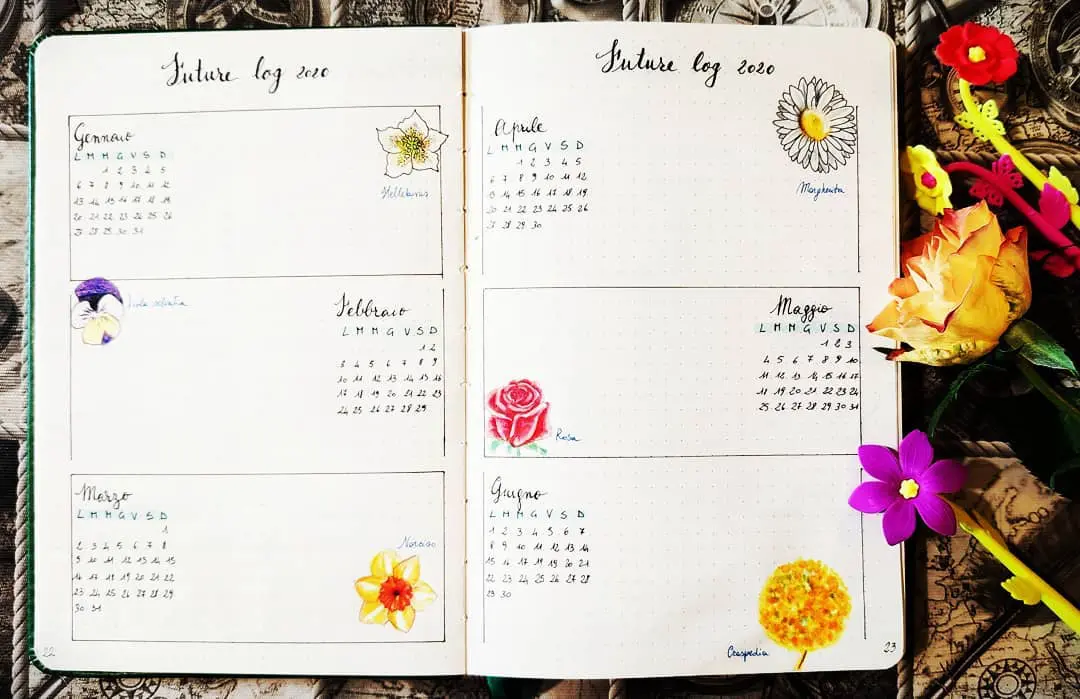 Credit: Instagram
One way to make your future log incredibly beautiful is by adding some gorgeous flowers. Incorporate your favorite blooms and they'll make you smile every time you open your bullet journal.
If you don't know how to draw flowers, use flower washi tape like this, these flower stencils, or just find a simple drawing tutorial and give it a try.
Here's a wonderful step-by-step drawing handbook I recommend.
If you want to start tracking your fitness goals, check out these fitness bullet journal templates. Feel free to use flower patterns to decorate these templates.
6. Colorful Future Log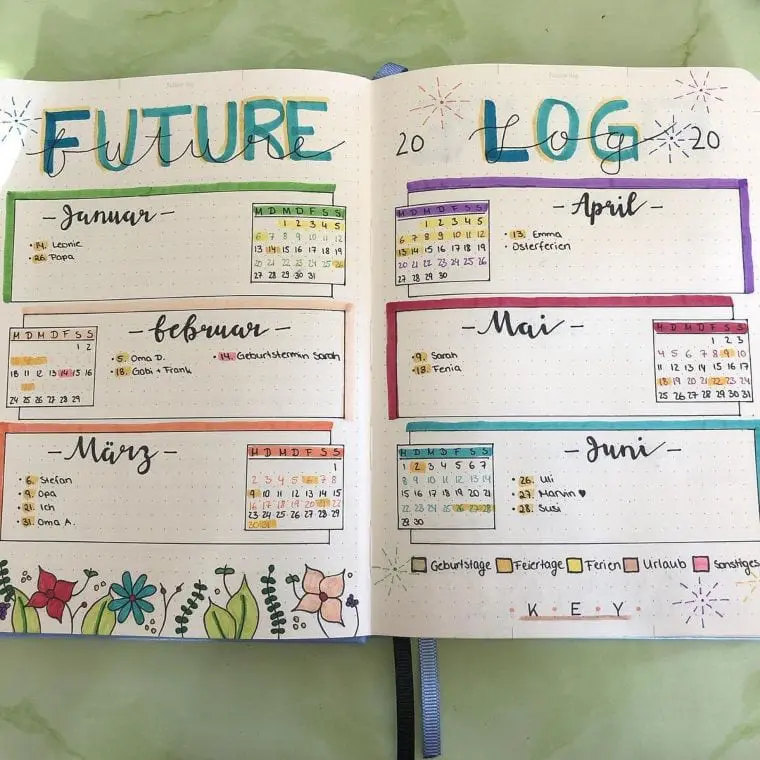 Credit: Instagram
If colors work as visual aids for you, use them on a six-month future log set up to help you see what's ahead at a glance. Color the important dates for an easy overlook.
If you have plenty of different events coming up, add a key at the bottom of the page to prevent confusion.
7. Monochromatic Flower Future Log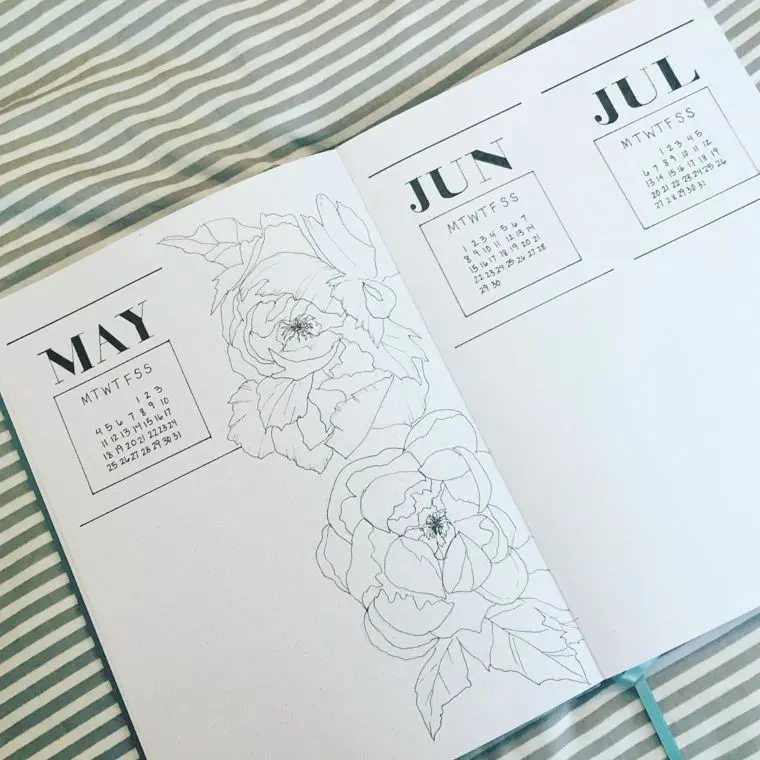 Credit: Instagram
Flowers don't have to be colorful in order to be beautiful. This simple future log spread uses monochromatic flowers and a striking header font for an amazing look.
8. Future Log for Busy Bees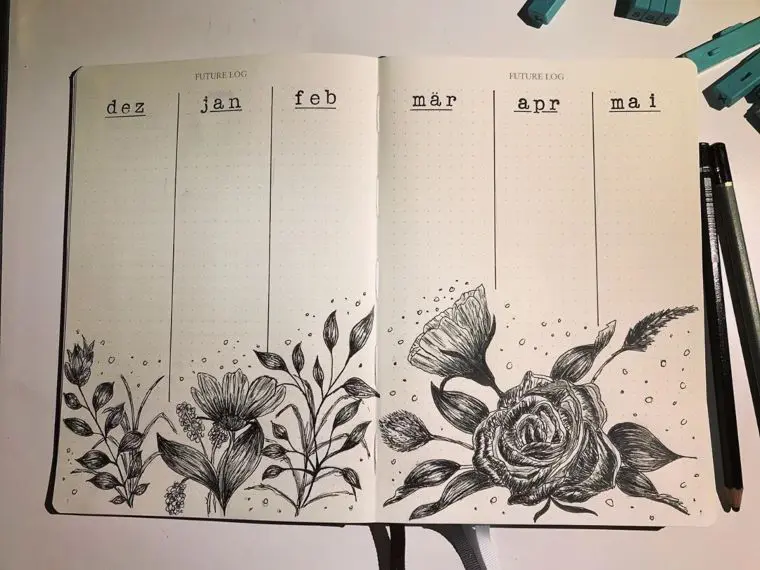 Credit: Instagram
Speaking of gorgeous monochromatic flowers here's another spread that uses them, only this one doesn't include a calendar.
This style works when your months are quite busy and you need really long descriptions of each item.
Use this one to schedule cleaning as well!
9. Calendex Bullet Journal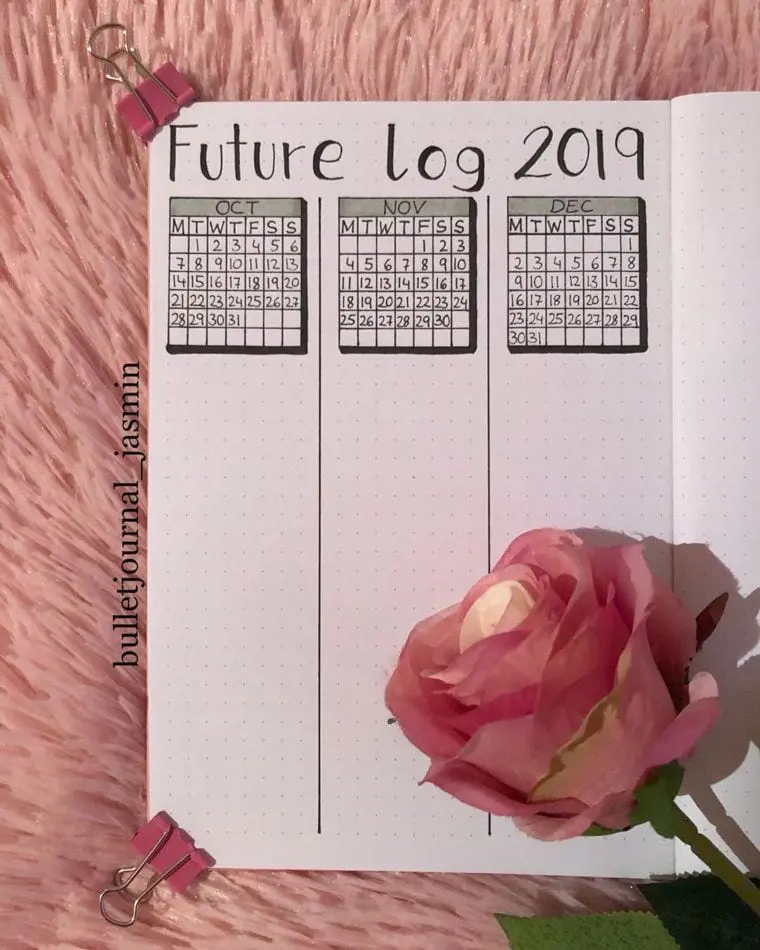 Credit: Instagram
This future log style gives you a bit more room to add your future events. It's simple, minimalistic, and very clean
So, I recommend it for those of you who really find it hard to stay organized and not make a mess.
Something like that can also work well for tracking habits.
10. Colorful Future Log with Months-of-the-Year Stamps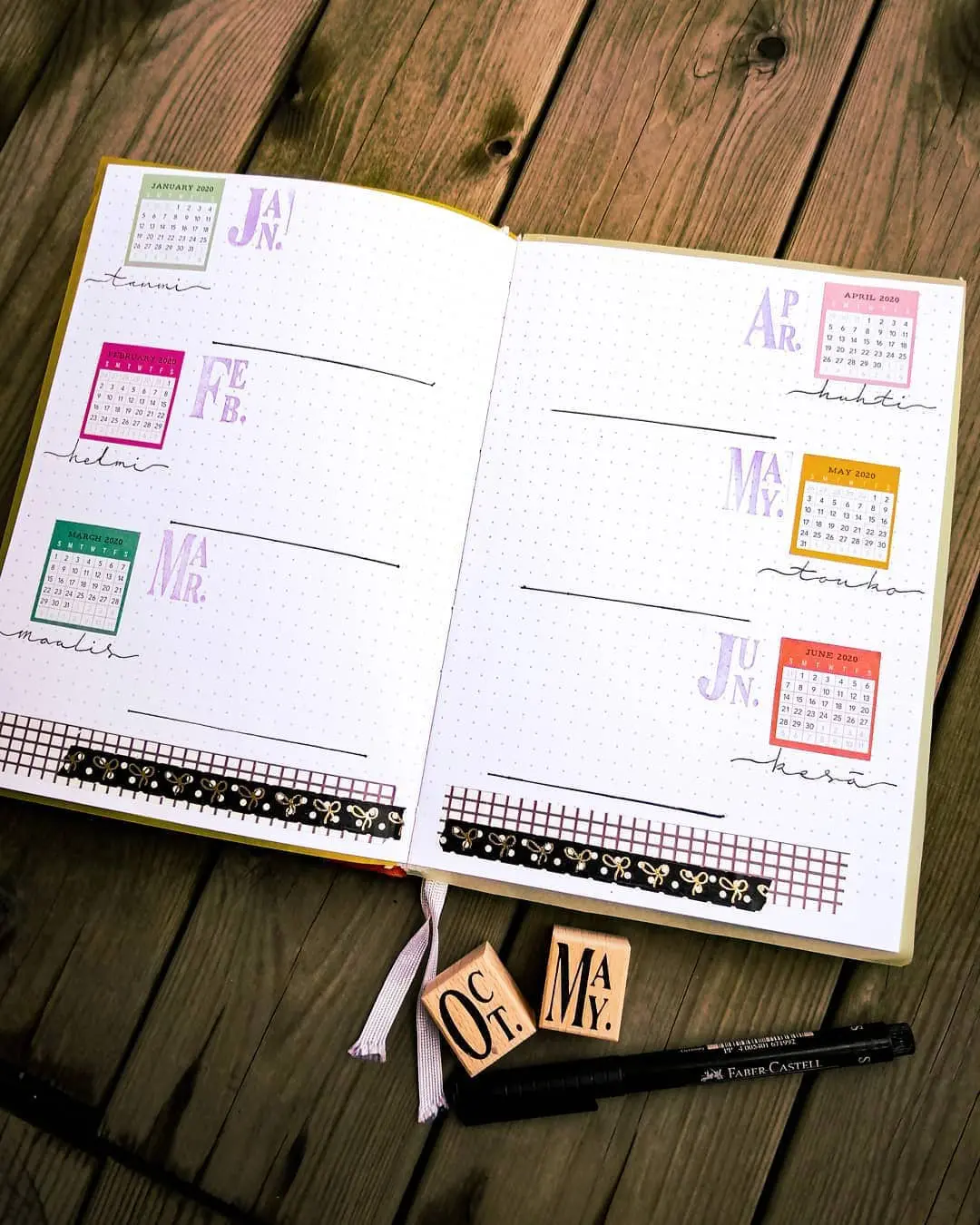 Credit: Instagram
To create this future log, add 12 boxes across two pages to accommodate each month of the year. Add a colorful border to each month as well.
Use a special rubber stamp for each month (like this one here) to the side of each box.
11. One-Page Mini Future Log Spread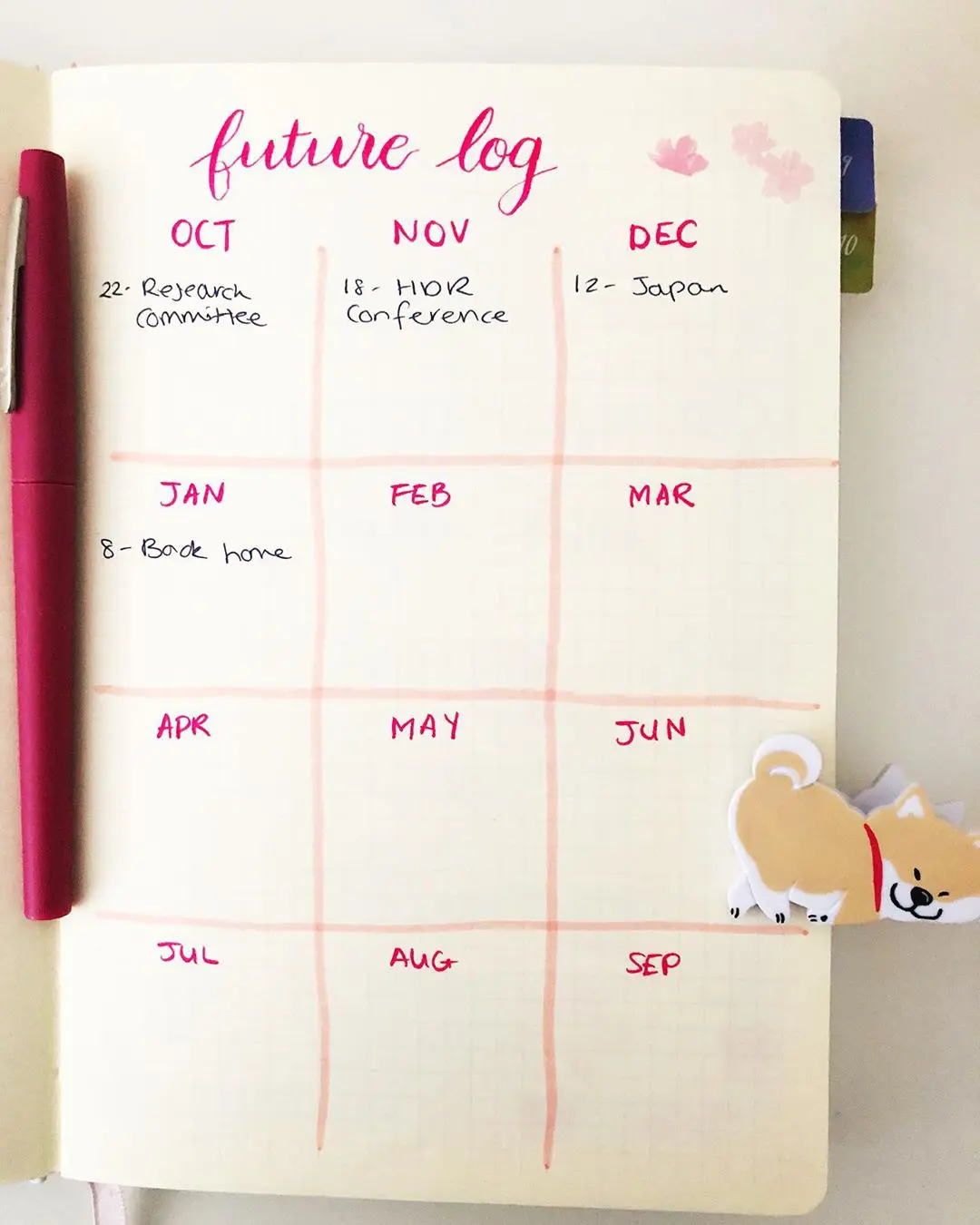 Credit: Instagram
This is definitely one of my favorite formats because for me, having a one-page overview is a very important part of a future log. The only problem you might have is space.
To make sure you fit all 12 months on a single page, you'll probably need to sacrifice decorating your future log. You can also use this style for separate future logs (for instance, a future log that is dedicated only to birthdays).
12. Future Log with a Page for Each Month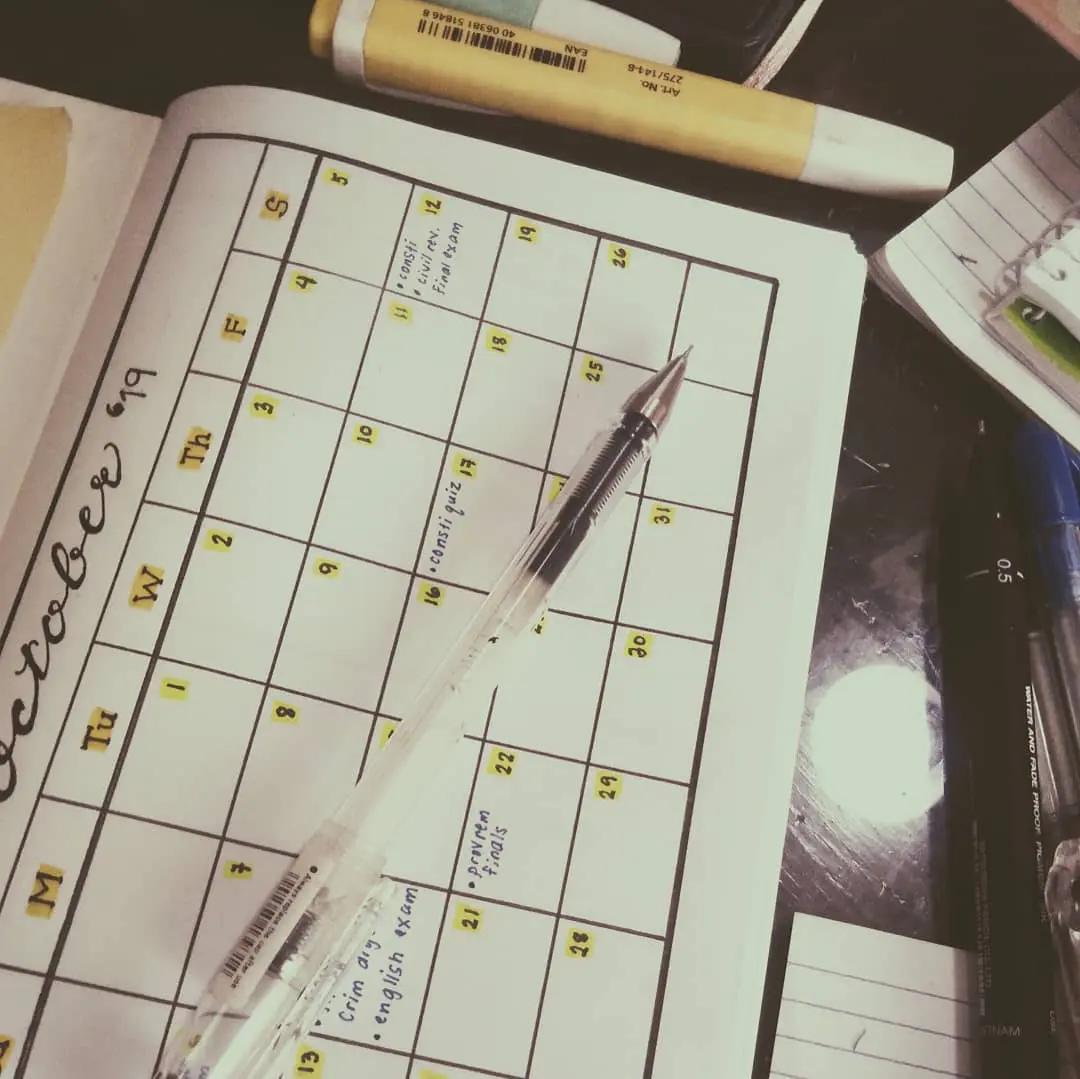 Credit: Instagram
If you have lots of things to plan for, then 12 months on the two-page spread will probably look messy and cluttered.
You'll need a calendar that's big enough to write in and lots of space underneath for detailing your events.
13. Future Log Spread with Your Favorite Photo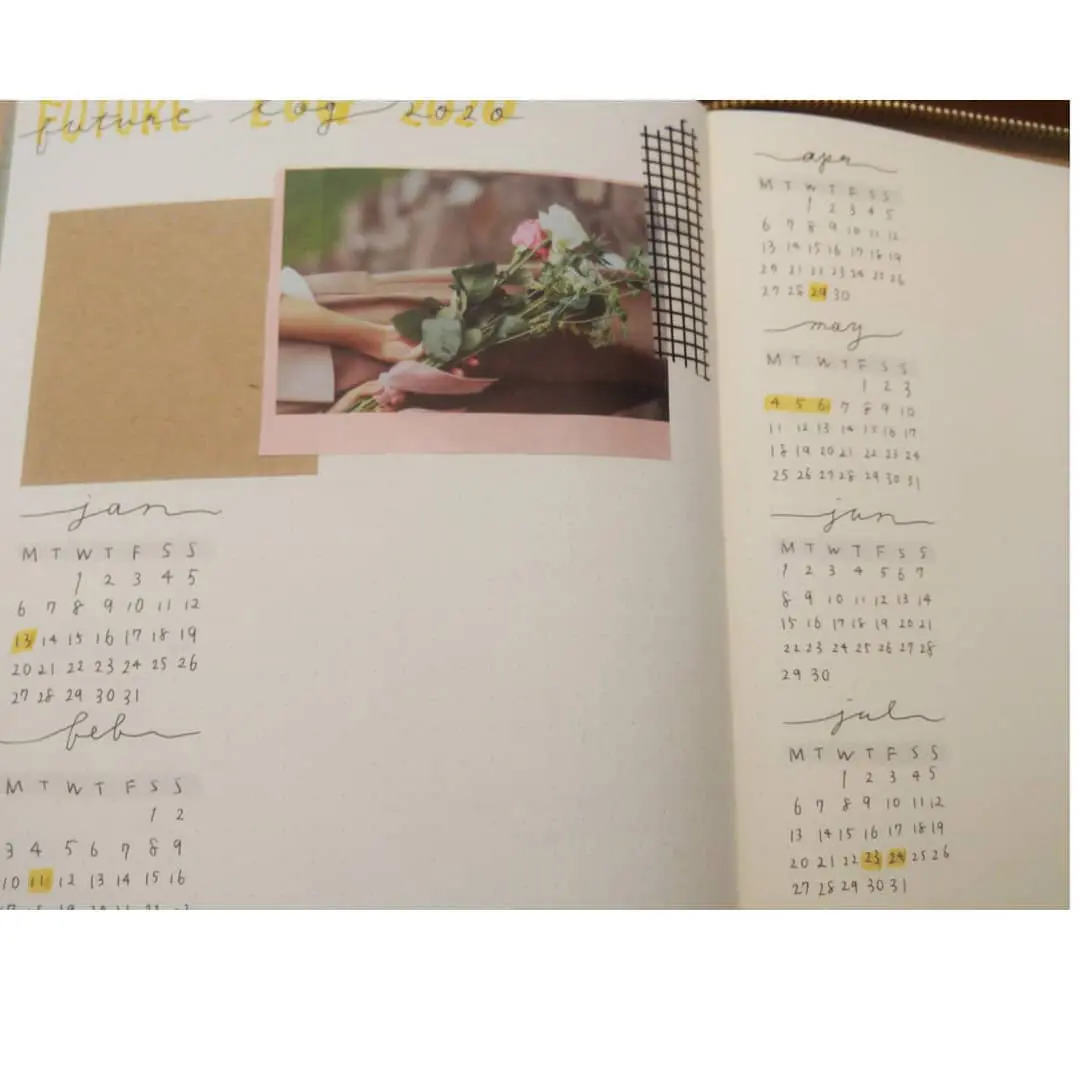 Credit: Instagram
Most of us are snapping away with our smartphones throughout our day, so why not incorporate memory keeping into your future log?
And what better way to keep your memories than adding your favorite photo where you can see it every day?
To print your fav pics on the go, check out this wireless mobile photo mini printer.
14. Artistic Future Log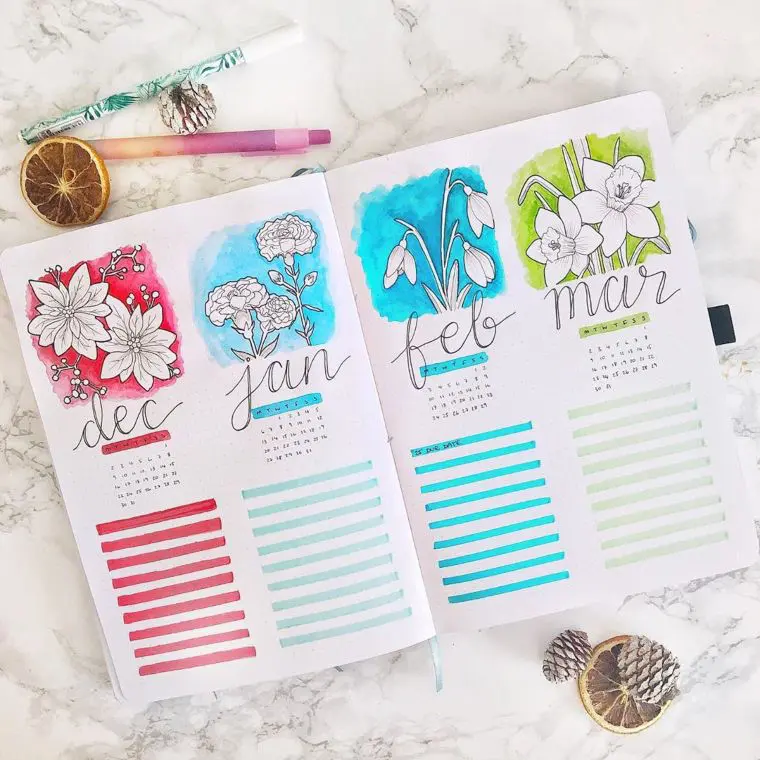 Credit: Instagram
In this spread, each month has its own flower and color to keep things super neat and organized. Not to mention, it looks gorgeous, almost like a mini piece of art!
15. Two-Month Overview Spread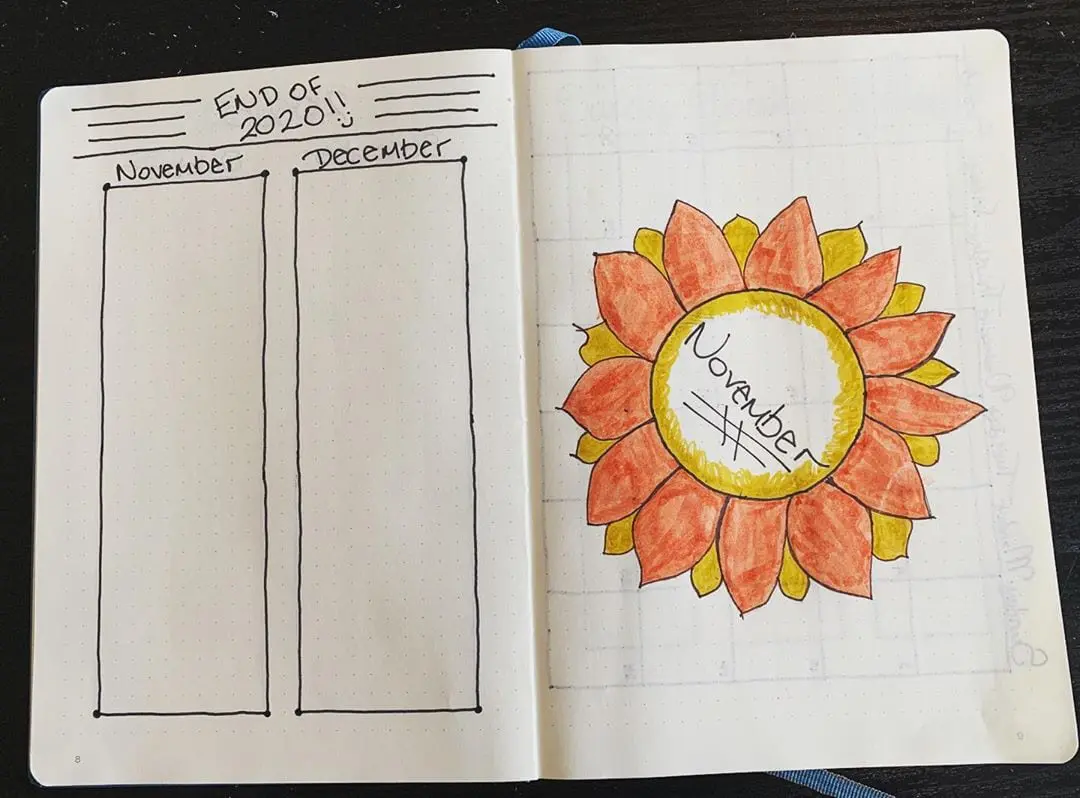 Credit: Instagram
Here's another future log example for those who have lots of appointments and events to keep track of. In this version, there is a 2-month future log on the left and a beautiful drawing on the right.
If done this way, your future log will take up 12 pages of your bullet journal, but you'll be able to fit all your future appointments into the space allowed and avoid making a mess.
16. Color-Coded Future Log
Credit: Instagram
Color-coding is one of the best ways to further organize your future log and have a clear view of the different topics/categories you create in it.
Create your own color-coding system by deciding which categories you'd like to color-code in your future log and then allocating a color to each of them.
Add your color-coding system on the first page in your bullet journal, so that you can refer to it any time you want to use it.
Get more inspiration for your bullet journal with these creative finance tracking layouts.
17. Future Log with Mini Calendar Stickers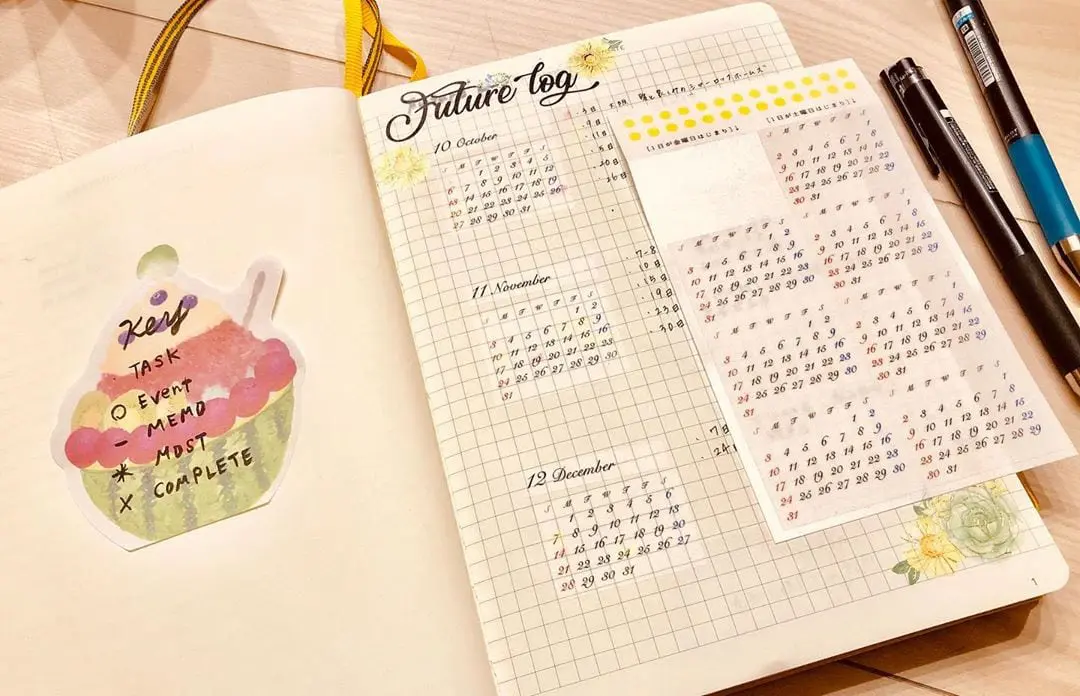 Credit: Instagram
To save yourself some time, you can use stickers that have mini-calendars printed on them. I love these stickers because there are lots of font styles and colors you can choose from.
Plus, they're easy to move around in case you change your mind!
This future log also includes a key on the left to help you simplify your task lists. It is also placed on a beautiful cupcake sticker which makes the whole future log spread super-cute!
Get your own cupcake sticker here.
18. Magazine Photo Future Log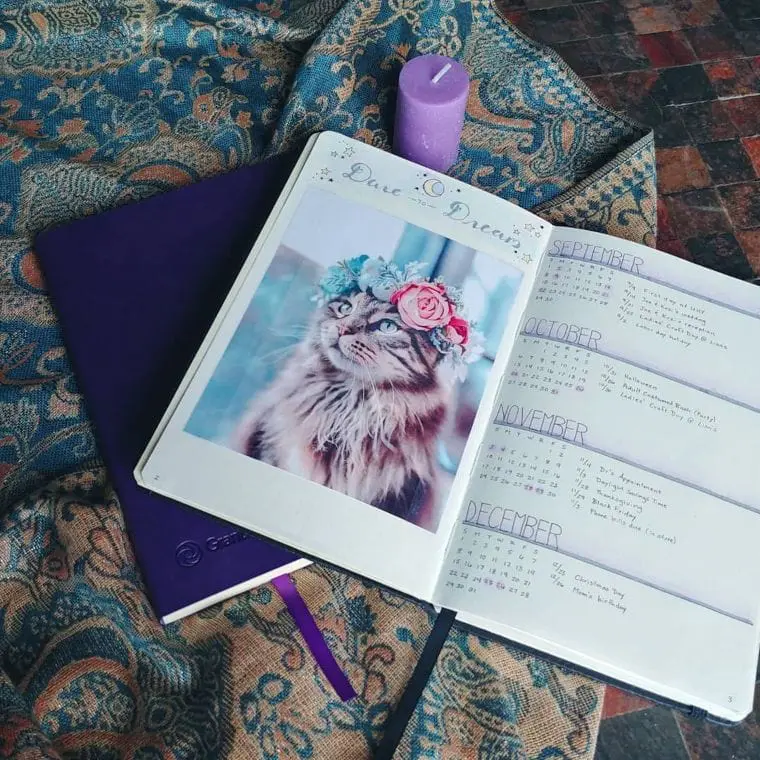 Credit: Instagram
Here is another future log idea that uses photos, but this time it covers the entire left side of the future log.
To achieve this look, you can take your favorite photo, enlarge it, and print it.
Combine it with beautiful handwriting, doodles, and stickers (these are my favorite) to create an interesting look.
19. Autumn Future Log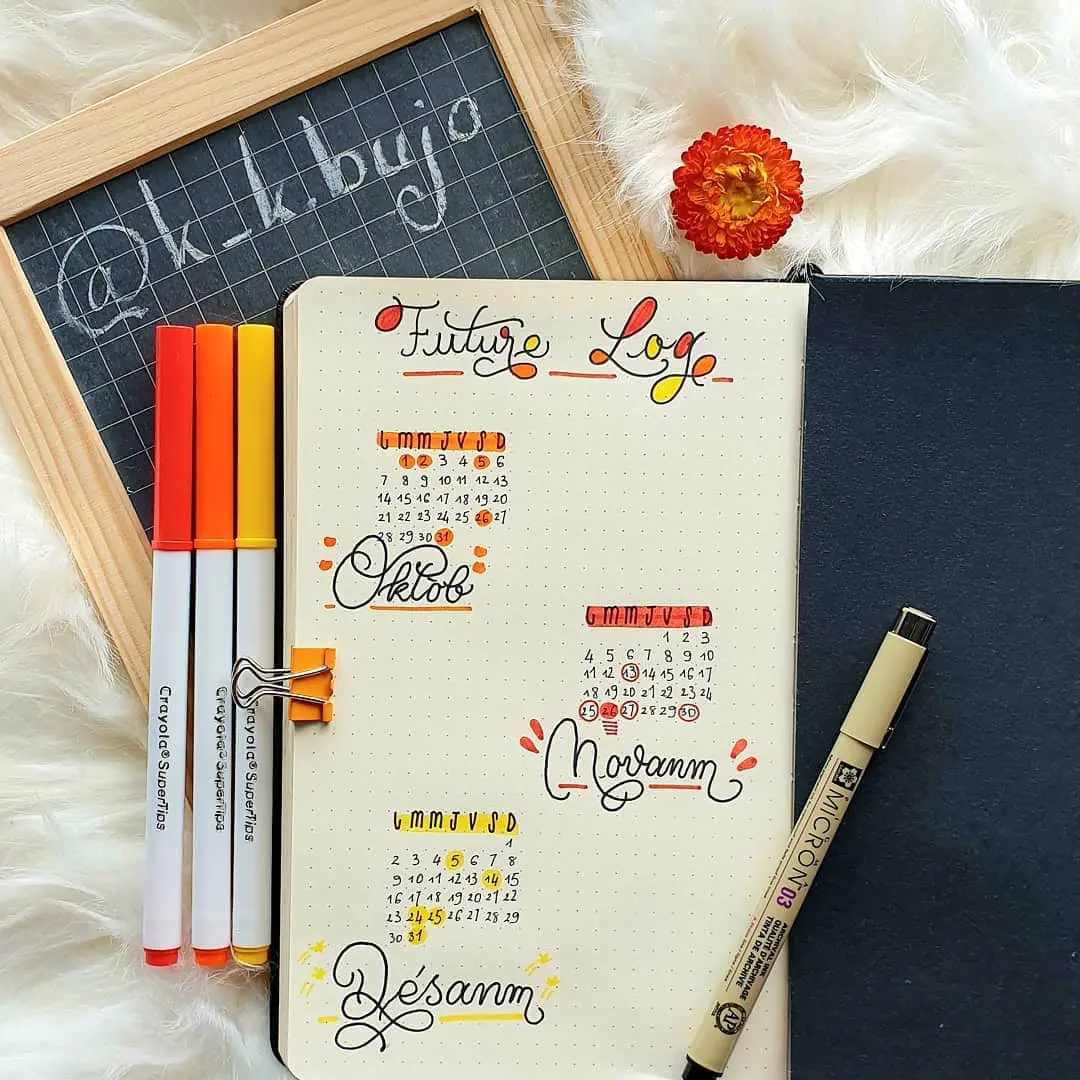 Credit: Instagram
For most of the year, I'm pretty meh about this color scheme. However, once October is here, I want everything to be yellow, red, and orange (plus a bit of brown).
If you don't want to use these colors for the entire future log, use them only for the autumn months.
But stock up on all hues, just in case. Here's a pack of 800 crayons that will last you forever!
20. Urban Gal Future Log
Credit: Instagram
Here is a future log style for all urban gals. It features a red city skyline silhouette (I found something similar here).
Place these stickers above the space for monthly calendars.
Conclusion
Which one of these future log ideas do you like best? Let me know in the comments below.