Get hold of your finances and save money with these finance tracking bullet journal ideas. Easy, creative, and practical!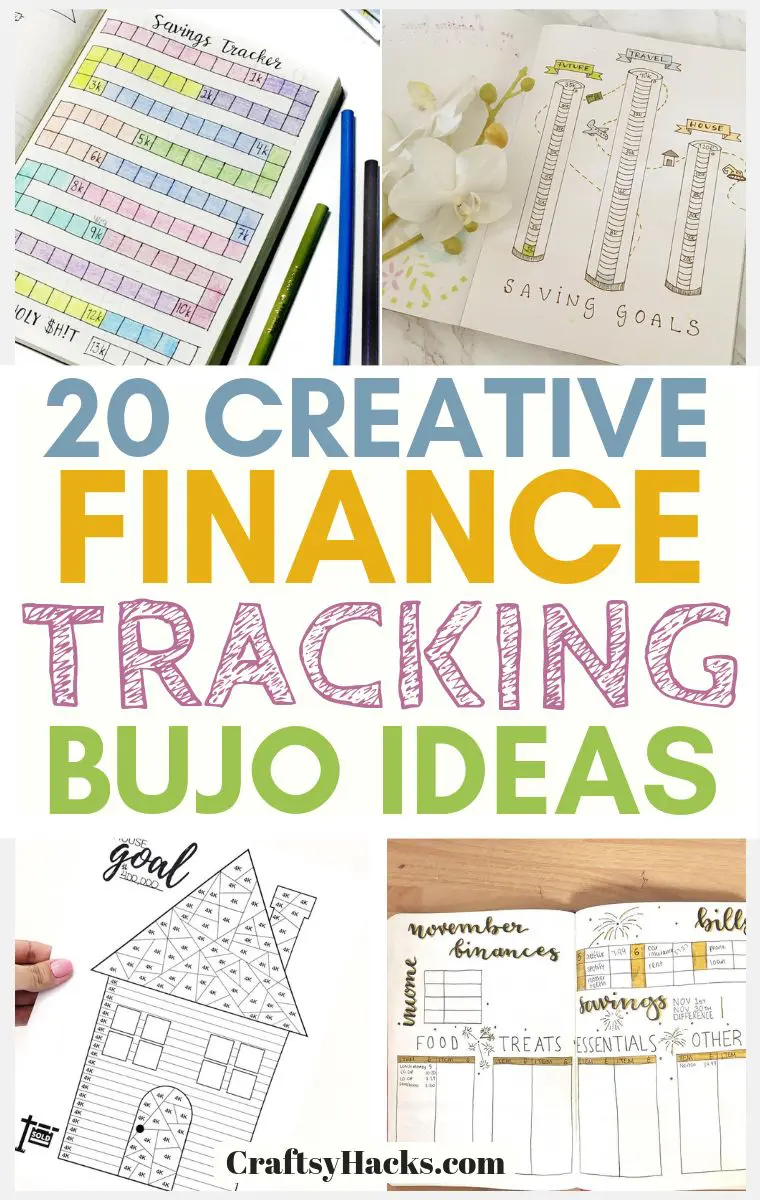 It's never too late to start saving and get your finances in order. While you can use a lot of online tools to do that, there is nothing quite as special as having a plan in your journal.
So, today I'm going to share a few bullet journal ideas that I believe will help you to make better financial choices. Start saving for that dream home, dream car, or just a new computer.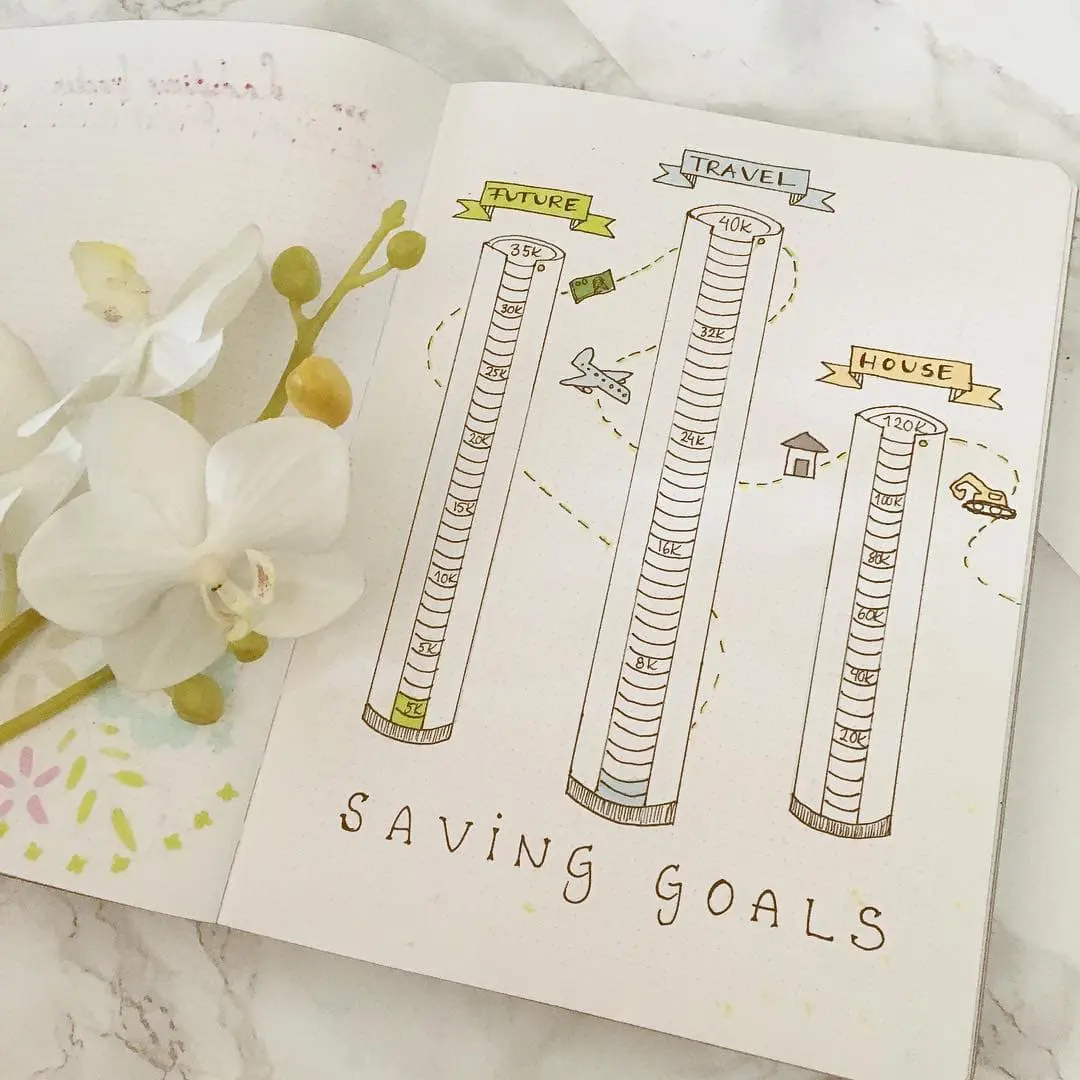 Credit: Instagram
Have multiple saving goals? Stack up those coins and start filling them in will color.
The more colored the stack, the better. Have fun coloring these up and seeing your stack of coins filling up.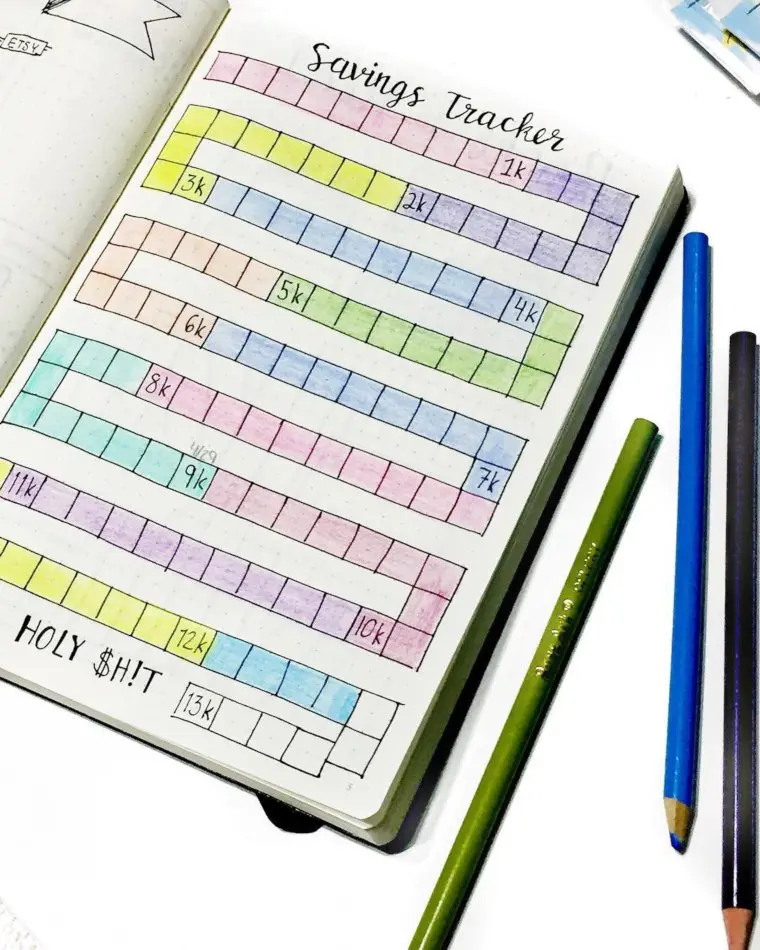 Credit: Instagram
There is nothing better than a challenge to save a certain amount of money. You can start this savings tracker and color squares in different colors once you reach a certain benchmark.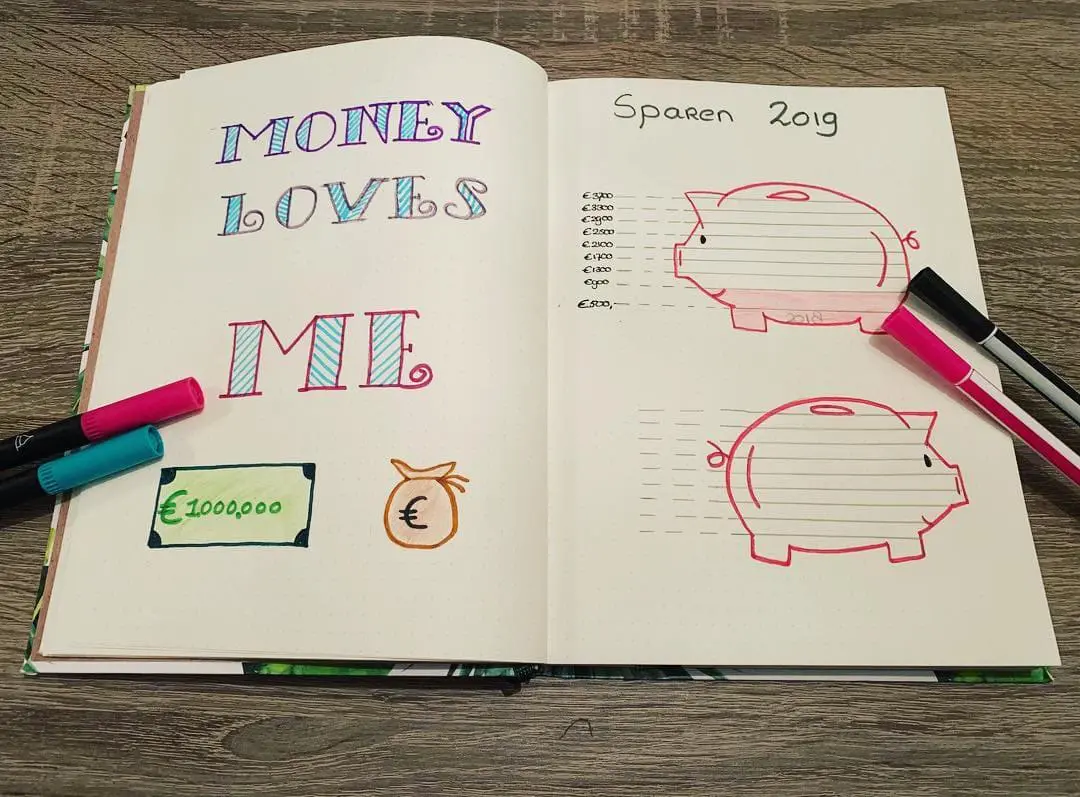 Credit: Instagram
If you're the type of person who believes in the law of attraction, write down a positive affirmation. You never know how much it could influence you to save more and be more frugal with your finances.
So, set big goals and start writing down those affirmations!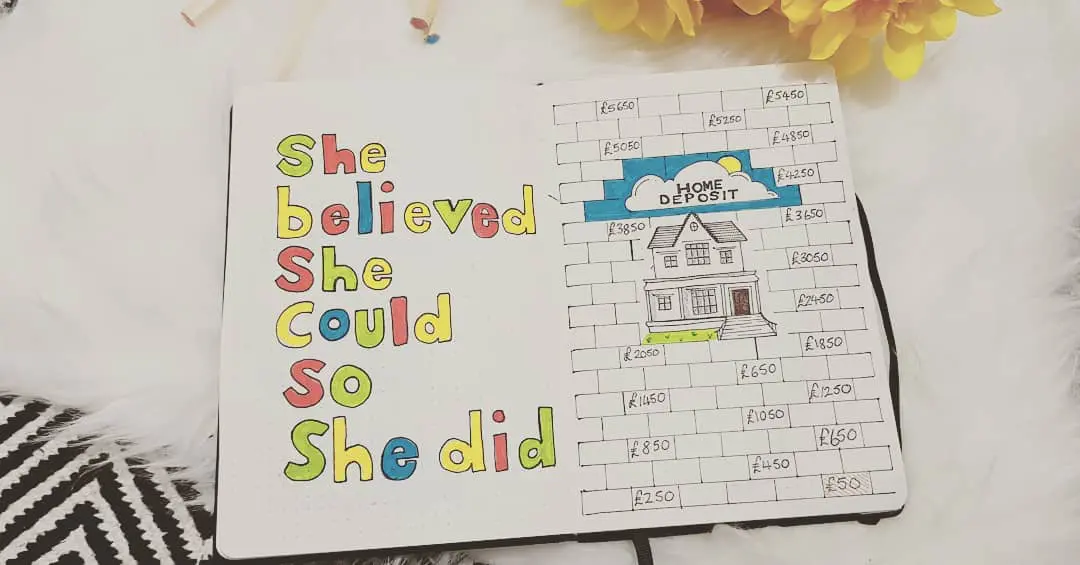 Credit: Instagram
Have a dream to save for a house? Or struggle with a lack of inspiration to somehow get that money?
Write down a few inspiring quotes, draw your dream home, and start saving! A little bit of inspiration has never hurt anybody.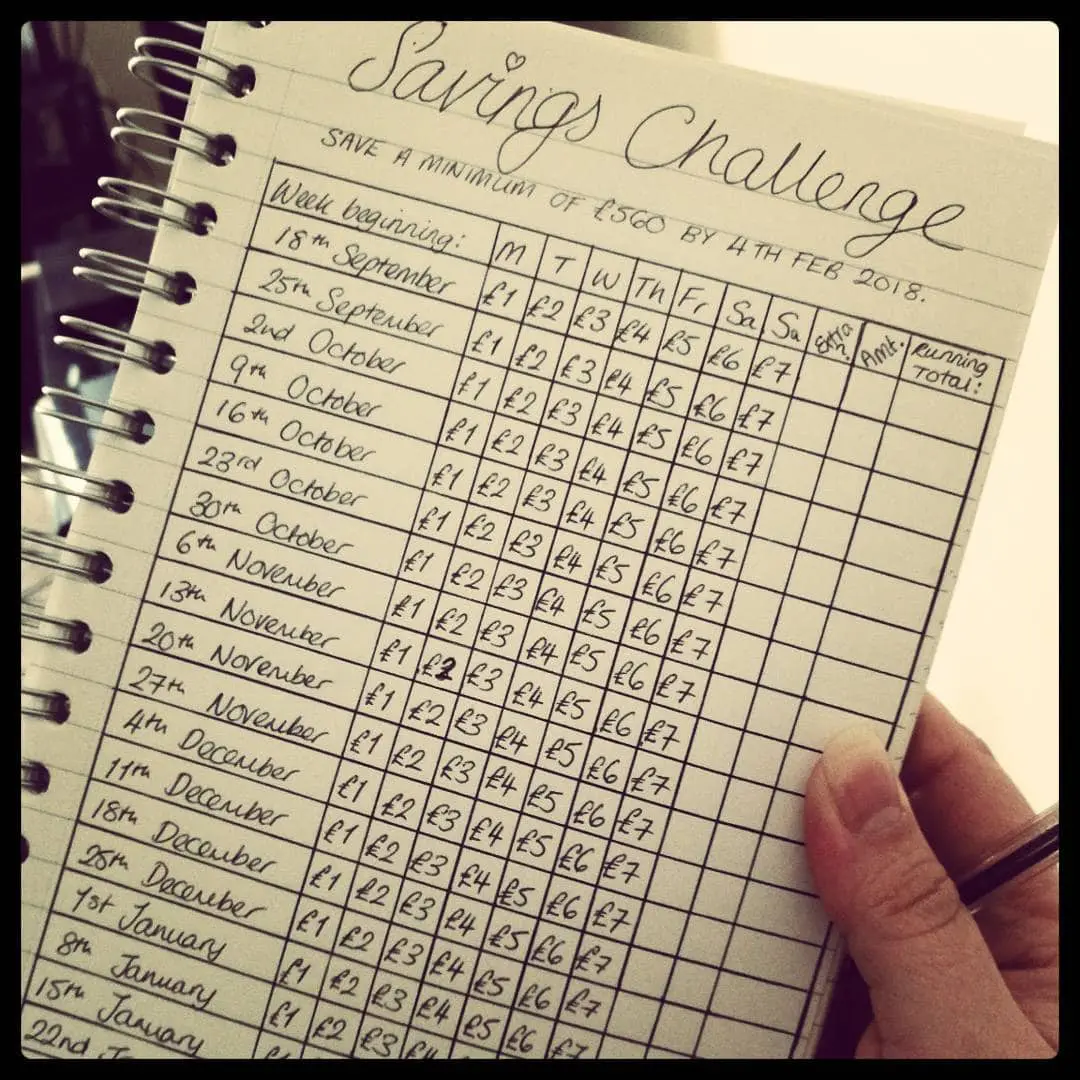 Credit: Instagram
How much do you think you can save in one day? Start with that and increment the amount for each day of the week.
Yes, perhaps you'll have to sacrifice a glass of wine with your friends on the weekend but you'll end up with a larger number in your bank account!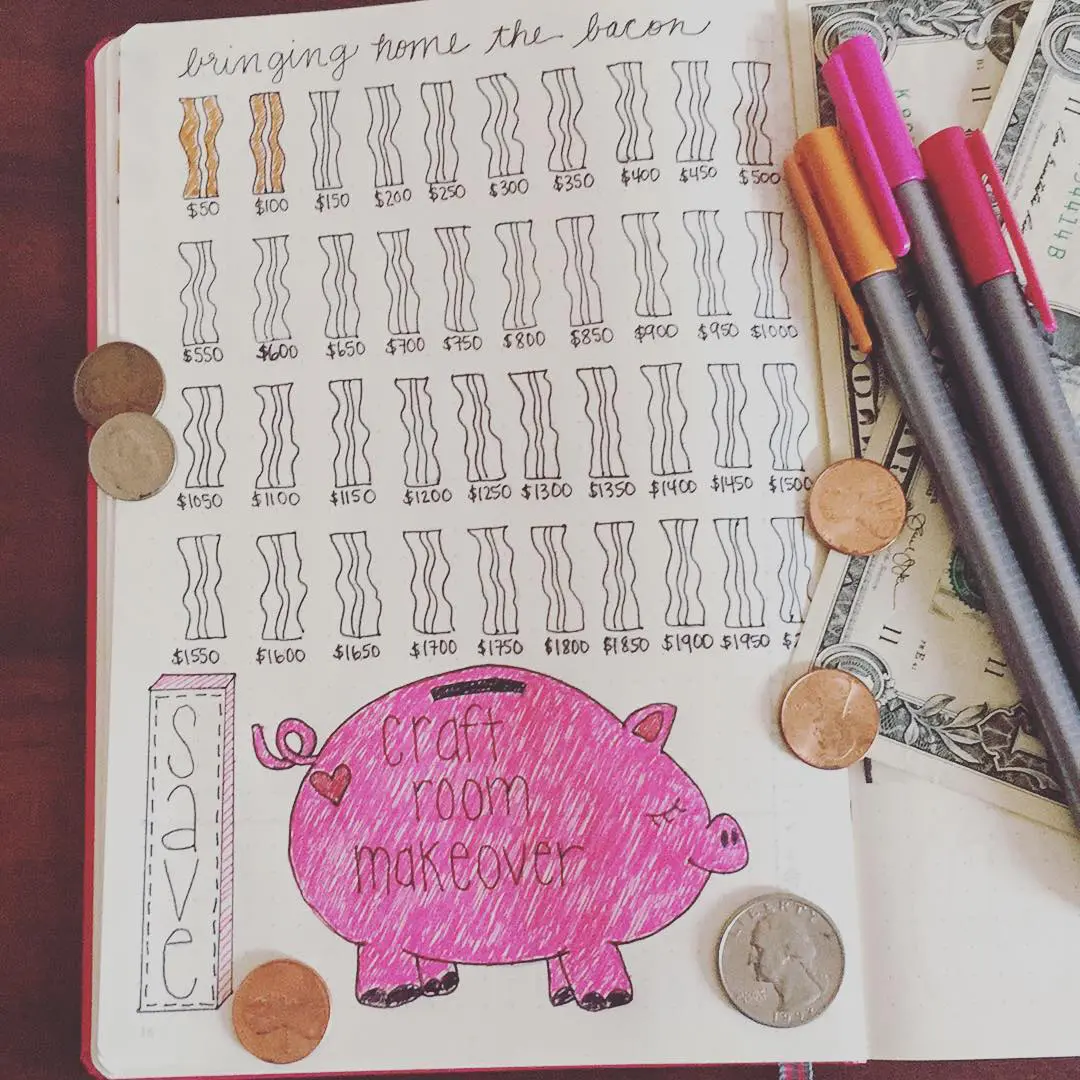 Credit: Instagram
Want to renovate your room, your kitchen, or the whole house? Start saving today and do it creatively.
I've absolutely loved this template idea. And if you're a fan of bacon or just food in general, you'll love it too!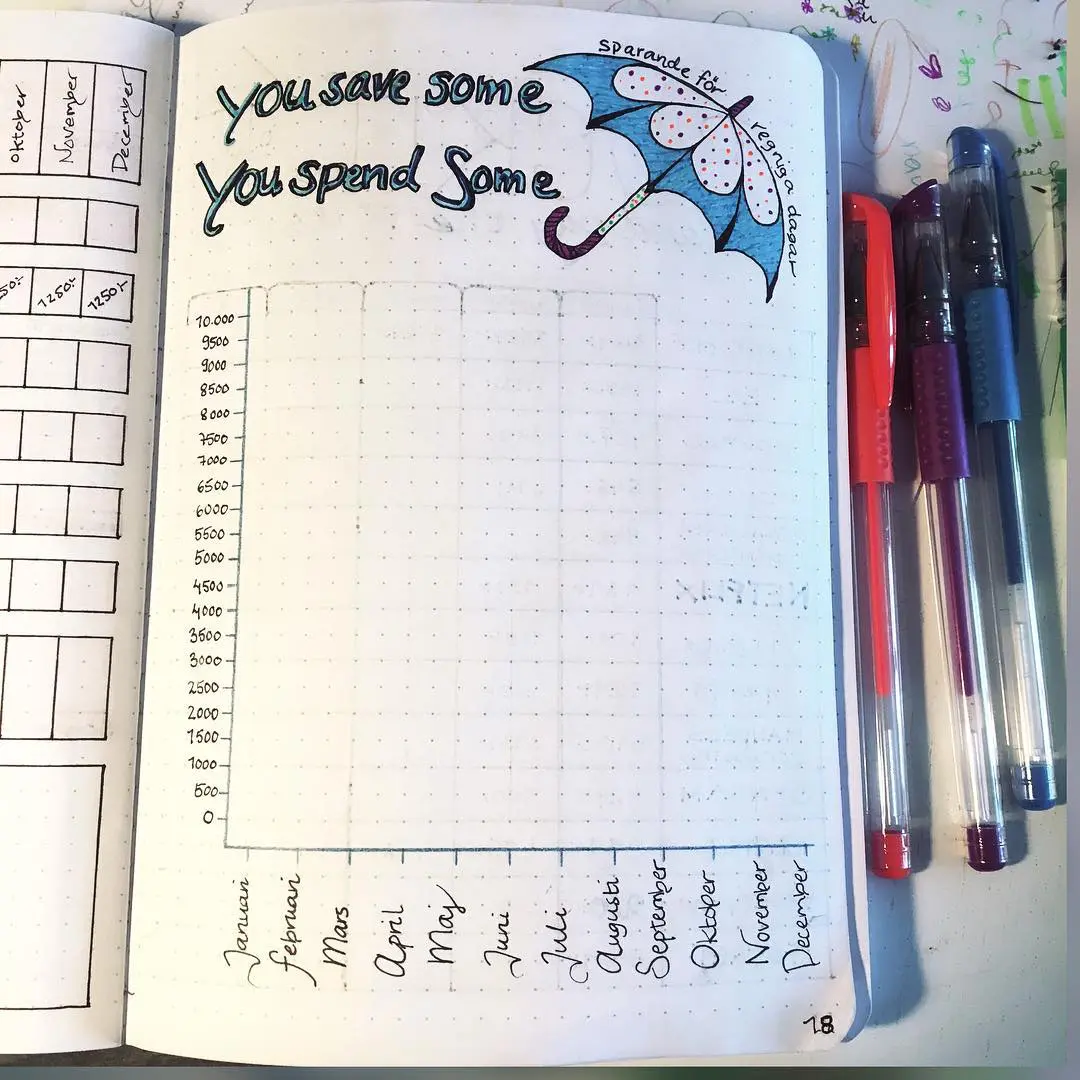 Credit: Instagram
Draw your own graphs and see how much you're spending each month. You could very well use those to track your savings too.
Great for overall knowledge of how you spend money throughout the year. You might notice that you get to keep less money during holidays because these tend to get expensive!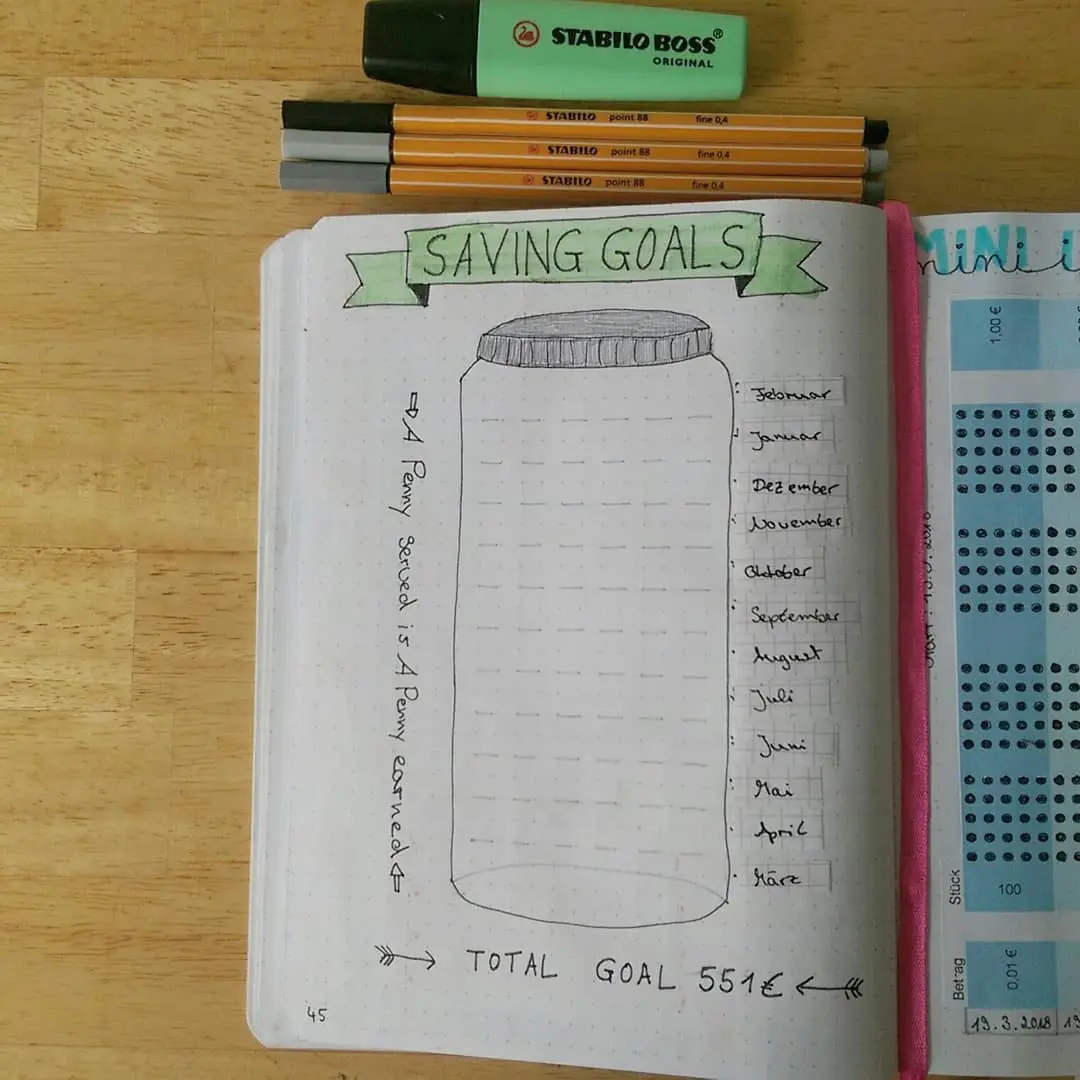 Credit: Instagram
Not so long ago, people used jars to save up some cash. Whenever they had a leftover dollar or two they would just drop it into the jar.
Not so long ago, people used jars to save up some cash. Whenever they had a leftover dollar or two they would just drop it into the jar.
Well, you can use the same idea in your bullet journal and start saving your money even if it's just digital!
Credit: startamomblog.com
Have you ever considered saving $1 more each week? That would help you to start slow and give you time to come up with creative ways to earn more money.
It's also just an amazing challenge to try that will result in a nice sum of money.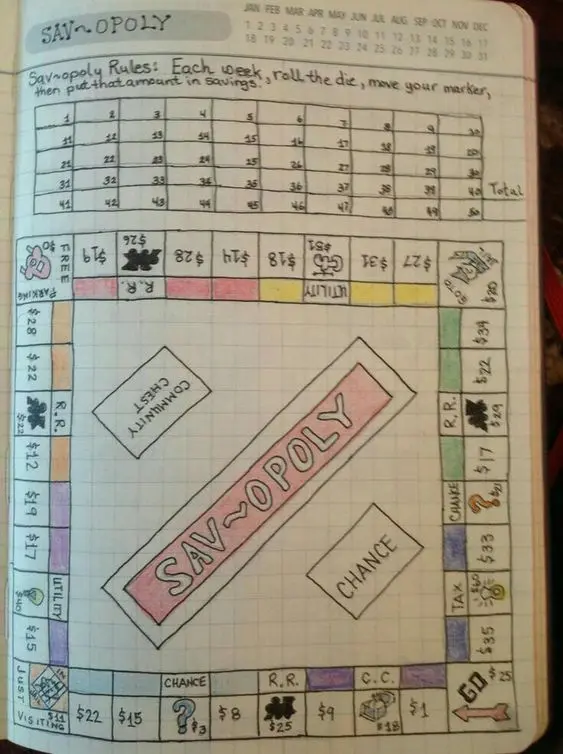 Credit: Pinterest
If you're a monopoly fan, this template is just for you. You can make the process of saving money a fun game!
The only difference in this game is that you'll get to enjoy the fruits of it too. Money!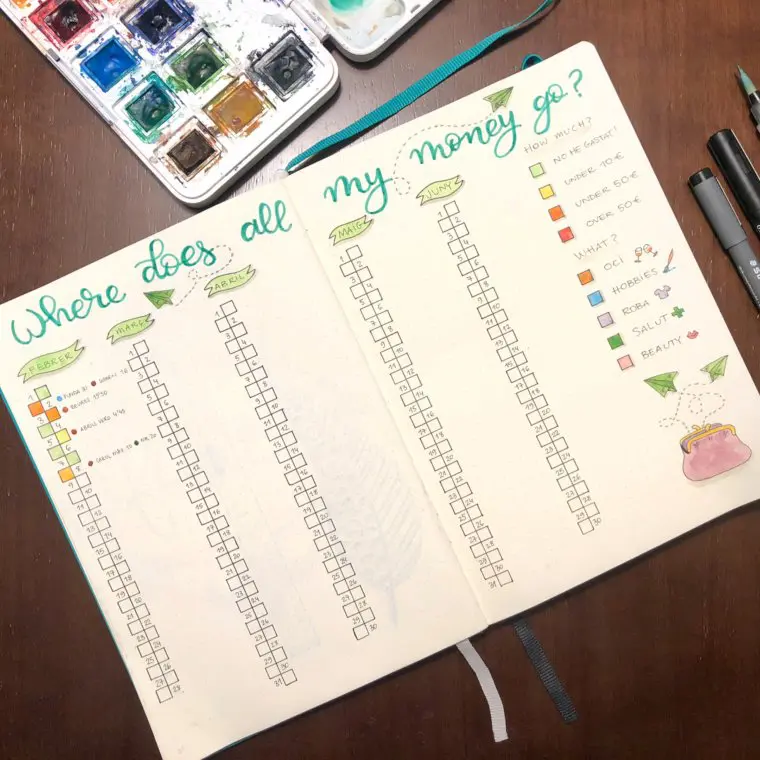 Credit: Instagram
If you tend to spend way too much and deep in your heart, you know it, you'll probably love this template. So, where does your money actually go?
Use the magic of colors to track how much you're spending on what. Perhaps you'll realize you're spending way too much money on things that aren't necessarily important.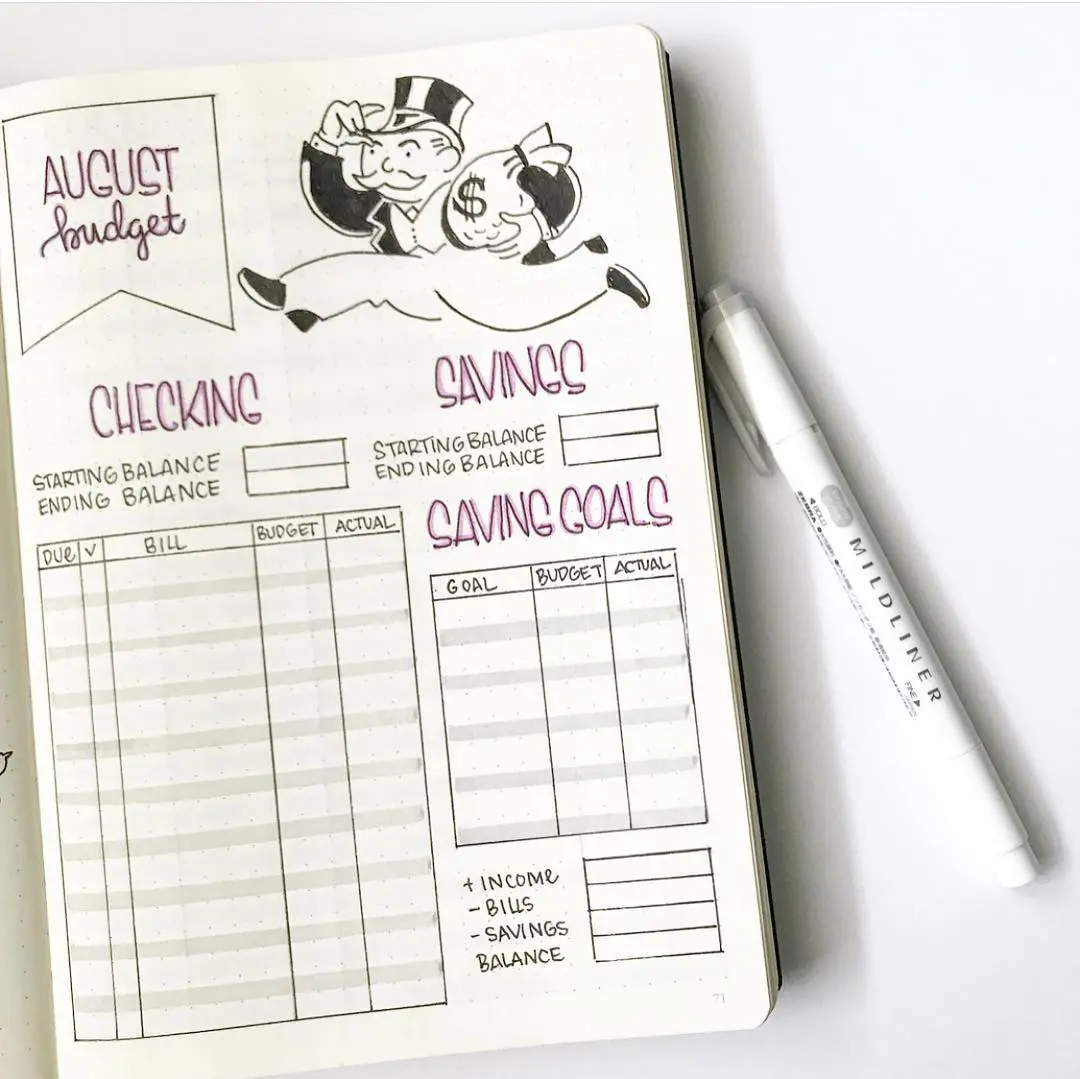 Credit: Instagram
Write down what balance you're starting with and go from there. There is nothing more satisfying than seeing the ending balance being significantly higher than the starting one.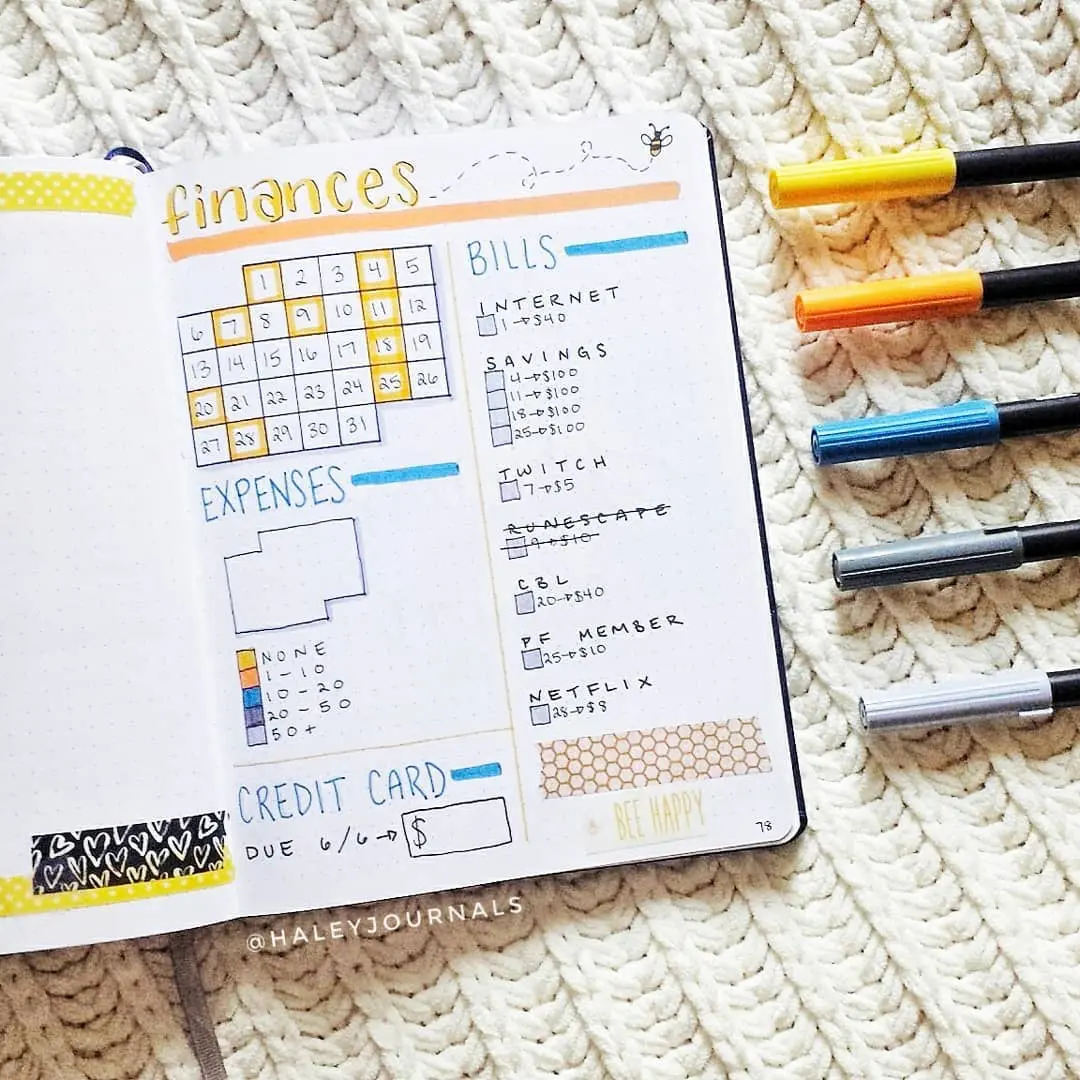 Credit: Instagram
I'm absolutely loving the choice of colors in the template. The idea, like in most of these, is similar.
What I love about it is that the creator chose to use a few patterns here and there. Thus, don't be afraid of getting creative, and using more than one color!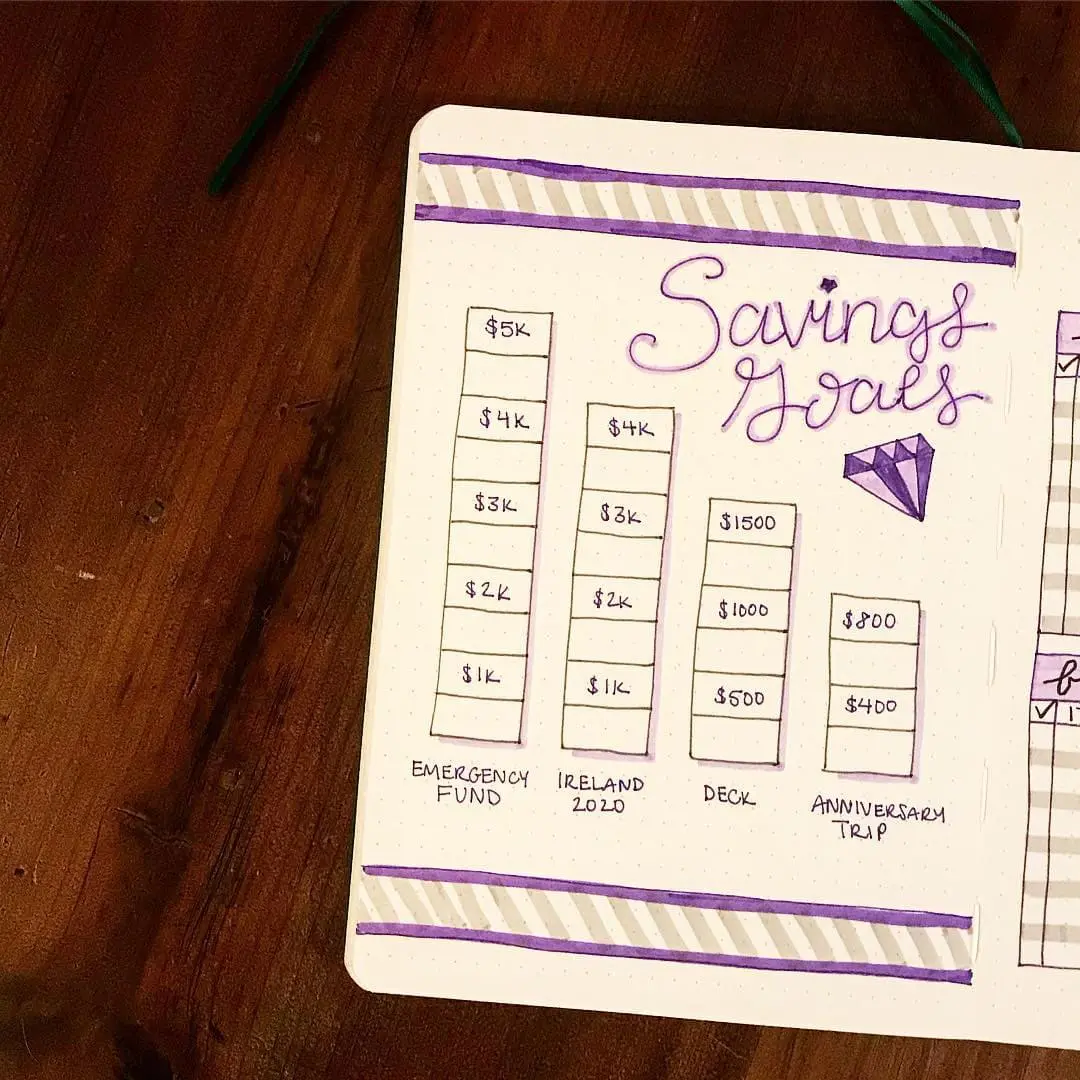 Credit: Instagram
Set your priorities straight. What is it that you need to save on the most?
Start filling up the most important charts first. Also, this little template gives you a chance to save for multiple things at the same time.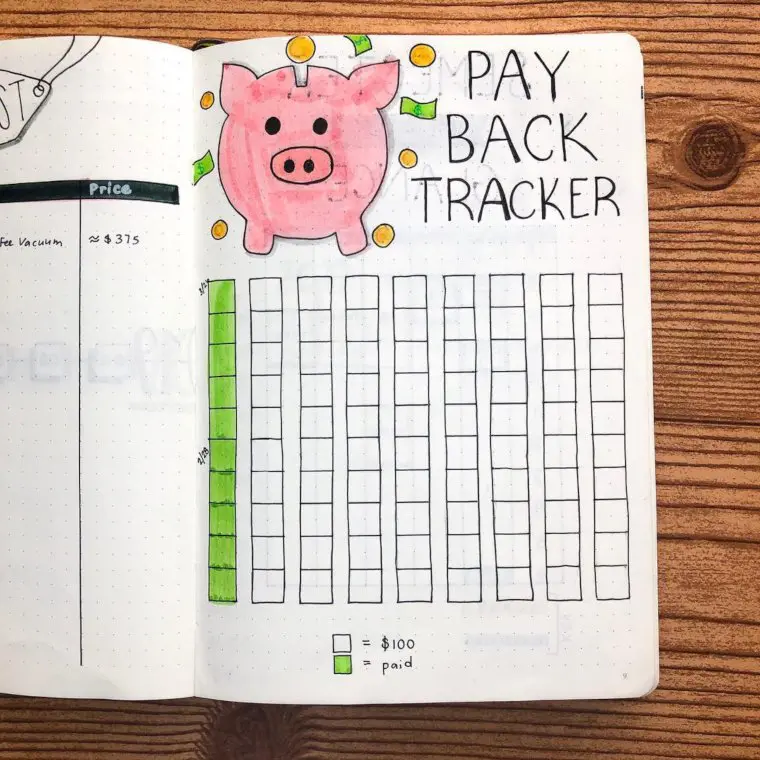 Credit: Instagram
Have a debt to pay? Start tracking how much you've been giving back today.
Make sure each square represents a value, draw as many squares as you need, and make sure you're filling them up. After you pay off your debts, you can start thinking about saving for your dream trip or house!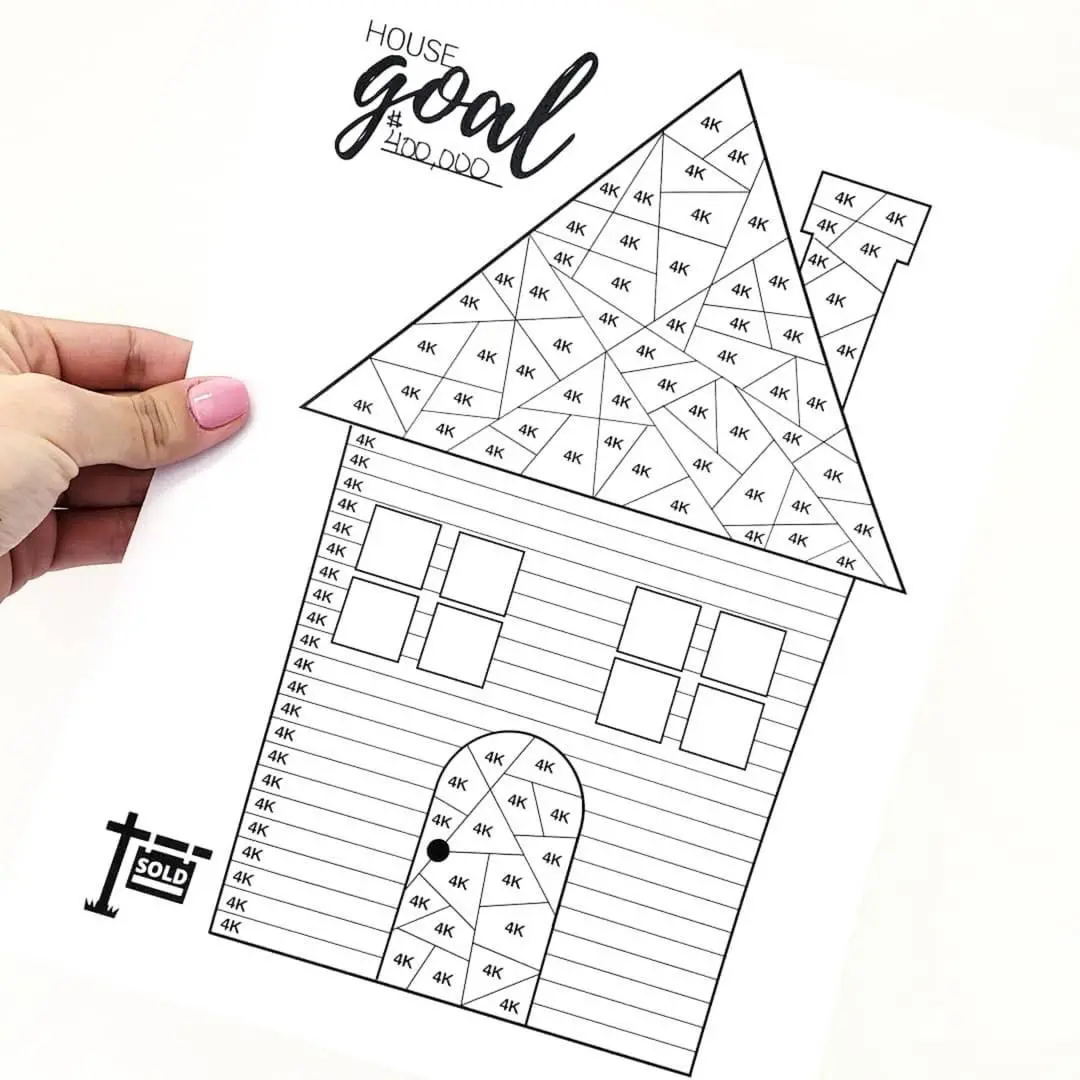 Credit: Instagram
Saving for a house or a car? Why not draw one and make sure it's getting more and more colorful every month?
This little bujo idea offers a perfect way to encourage yourself to save on something big.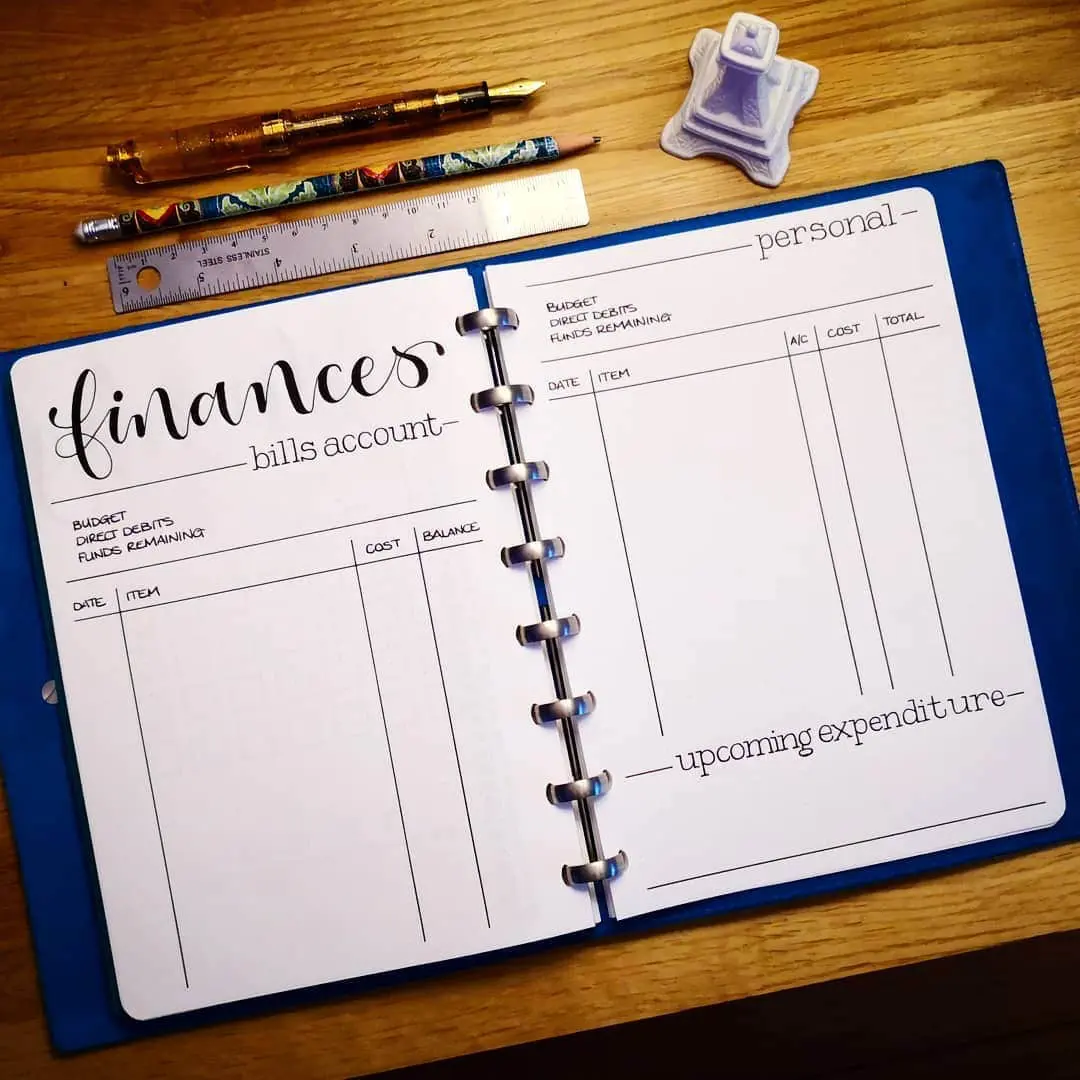 Credit: Instagram
If you love the minimalistic approach when it comes to your bullet journal ideas, then keep it simple. This template shows how much you can achieve with just a black pen.
Master a new font to keep your financial records fresh and elegant!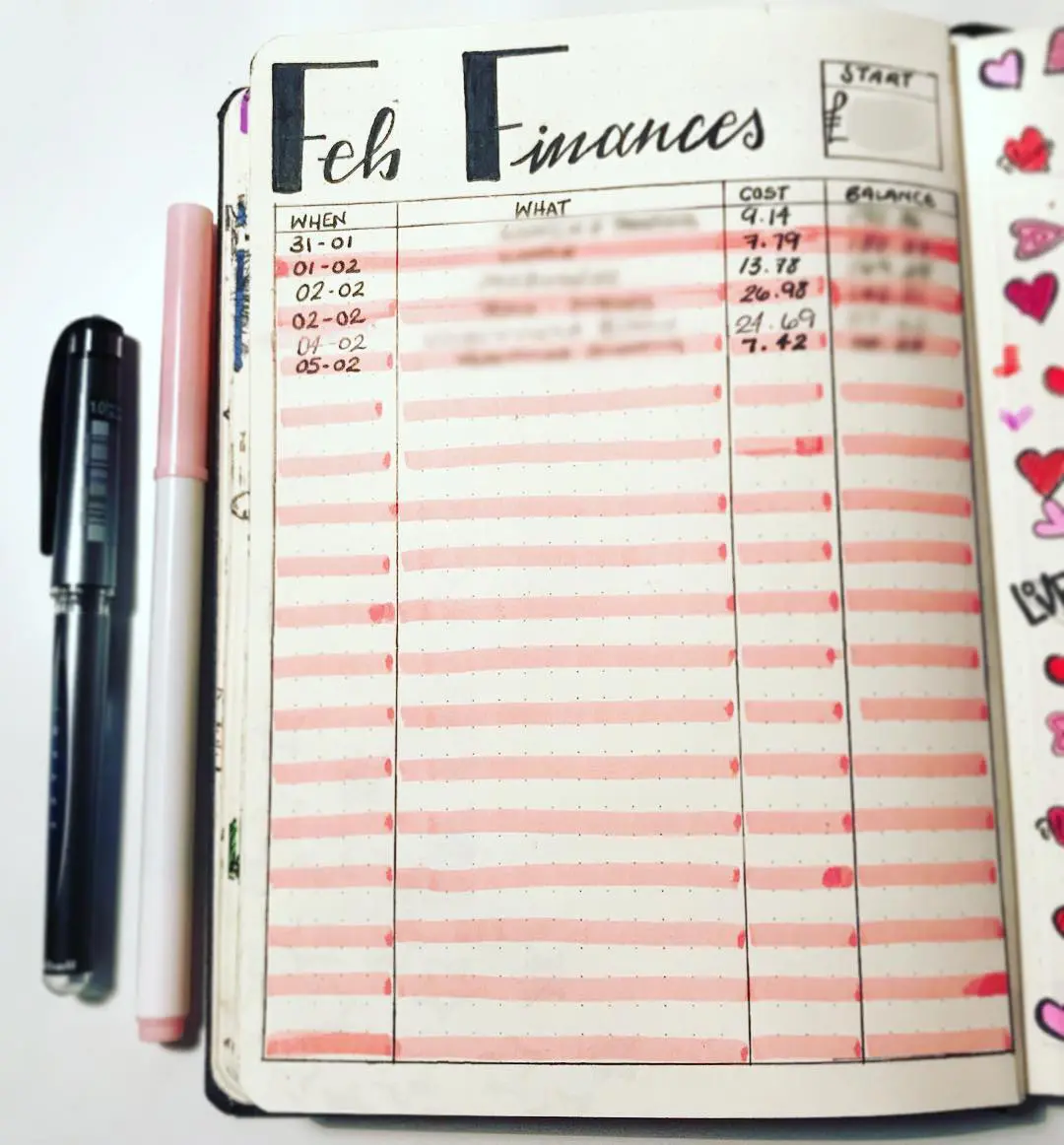 Credit: Instagram
Here is another great idea: each time you spend some money, note down your balance. Having an idea of how much it is that you have in your bank account can serve to be fruitful when saving money.
Also, it'll give you a chance to practice your math skills!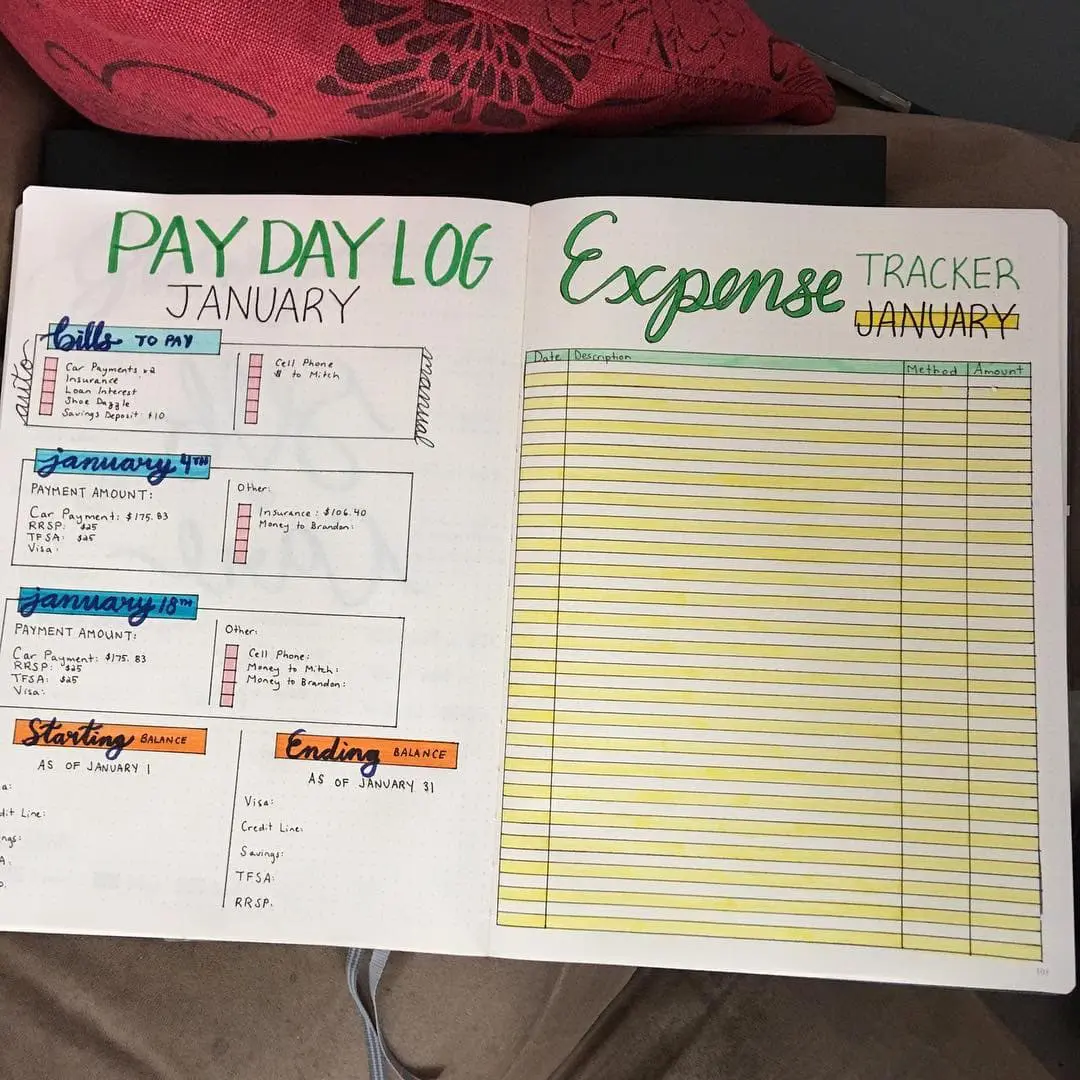 Credit: Instagram
Log all your earnings, especially if you're a freelancer and you get more than one payment per month. Note down the bills you have to pay and keep on tracking those expenses.
A simple, yet practical bullet journal template that's not hard to follow!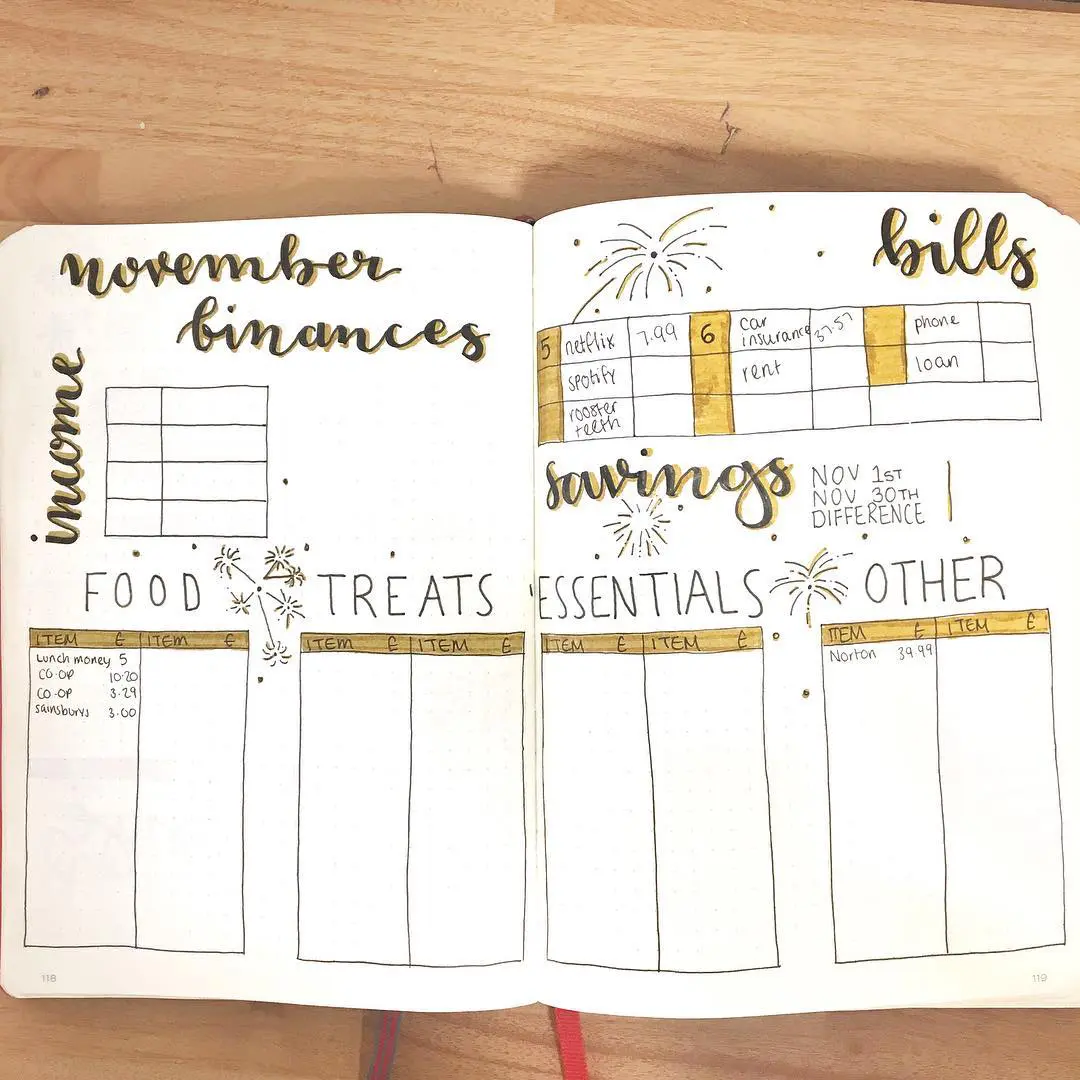 Credit: Instagram
Understanding how much you're spending on clothes, food, bills, and other essentials is important. It might give you an insight into what areas of life the money could be saved on.
Perhaps you're spending too much on your clothes? Perhaps you're eating out too much?
Categorize your expenses to make a better decision regarding your savings in the future.