Track your moods with bullet journal spreads. Figure out what's causing what and have a hold of your emotions.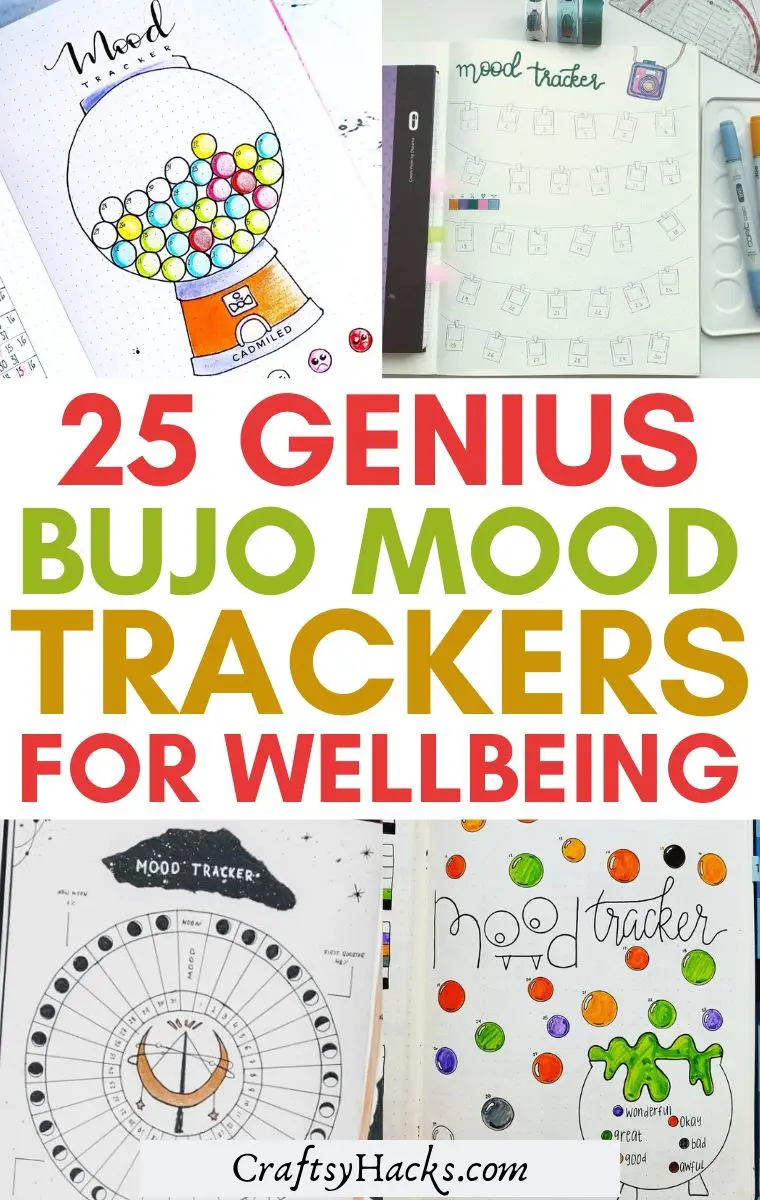 Mood trackers are a great way to keep track of your emotions on a daily basis. They can also help you figure out what causes your mood to change or identify when you tend to be especially moody.
When you have this insight, you'll be able to plan and prepare for those tricky days. Perhaps, you'll finally find some time to meditate and relax, go to the gym, or sleep a bit longer.
And since you'll be looking at your mood tracker every day, why not decorate it and make it beautiful? To start things right, get a nice bullet dotted journal kit like this one here.
Loving the variety of color options! Otherwise, here are 25 awesome ideas to track your mood.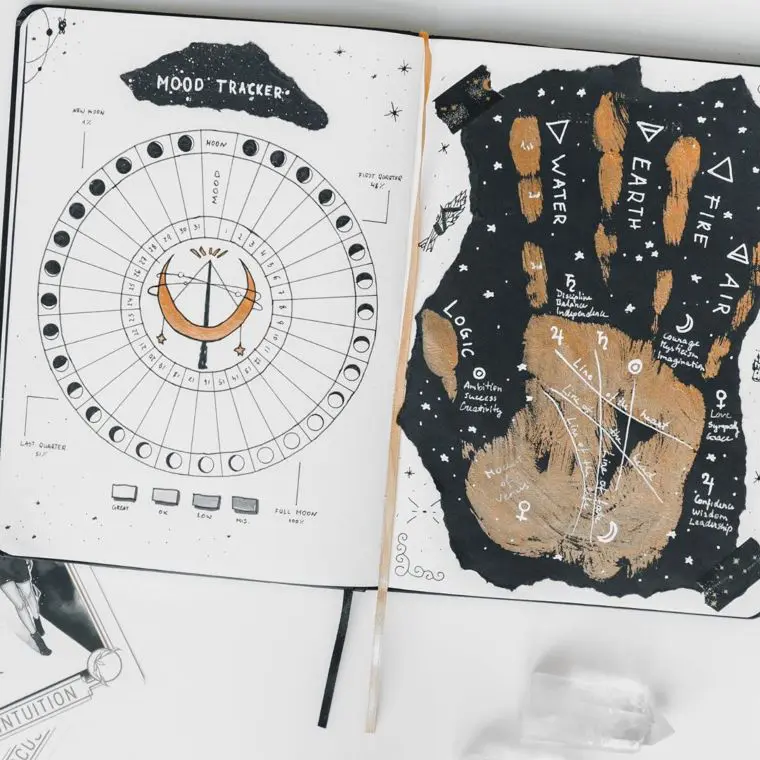 Credit: Instagram
Did you know that the Moon can affect your mood? The idea that the lunar cycle can influence our behavior dates back thousands of years.
It has been largely dismissed by modern science though.
However, some experts do agree that the moon's energy can amplify our emotions, just like the changing tides! This beautiful moon mood tracker will help you find out if you're one of those people.
You can draw it yourself or, if you're not so skillful, find a printable template online.
Find out more about the effect of the moon on your health, mood, work, and relationships in this book by Yasmin Boland.
Also, check out some of these habit trackers for your bullet journal.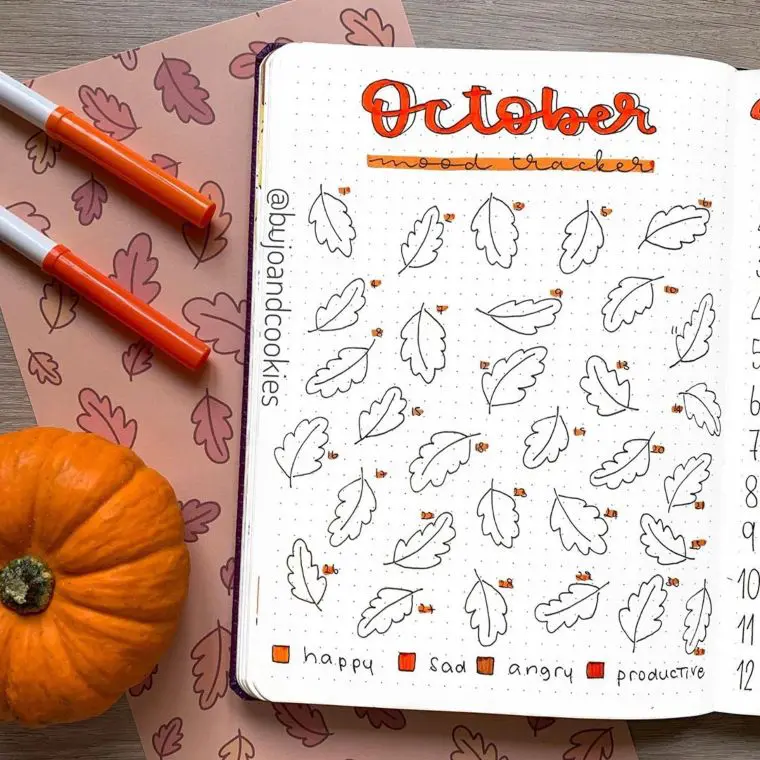 Credit: Instagram
In autumn, the days get darker and shorter, and nature goes to sleep. So, having a beautiful mood tracker for these months can really cheer you up.
While coloring this leafy mood tracker, you'll wish you had mood swings every day just to get the page as colorful as the season itself!
Here are some good quality marker pens I often use and recommend.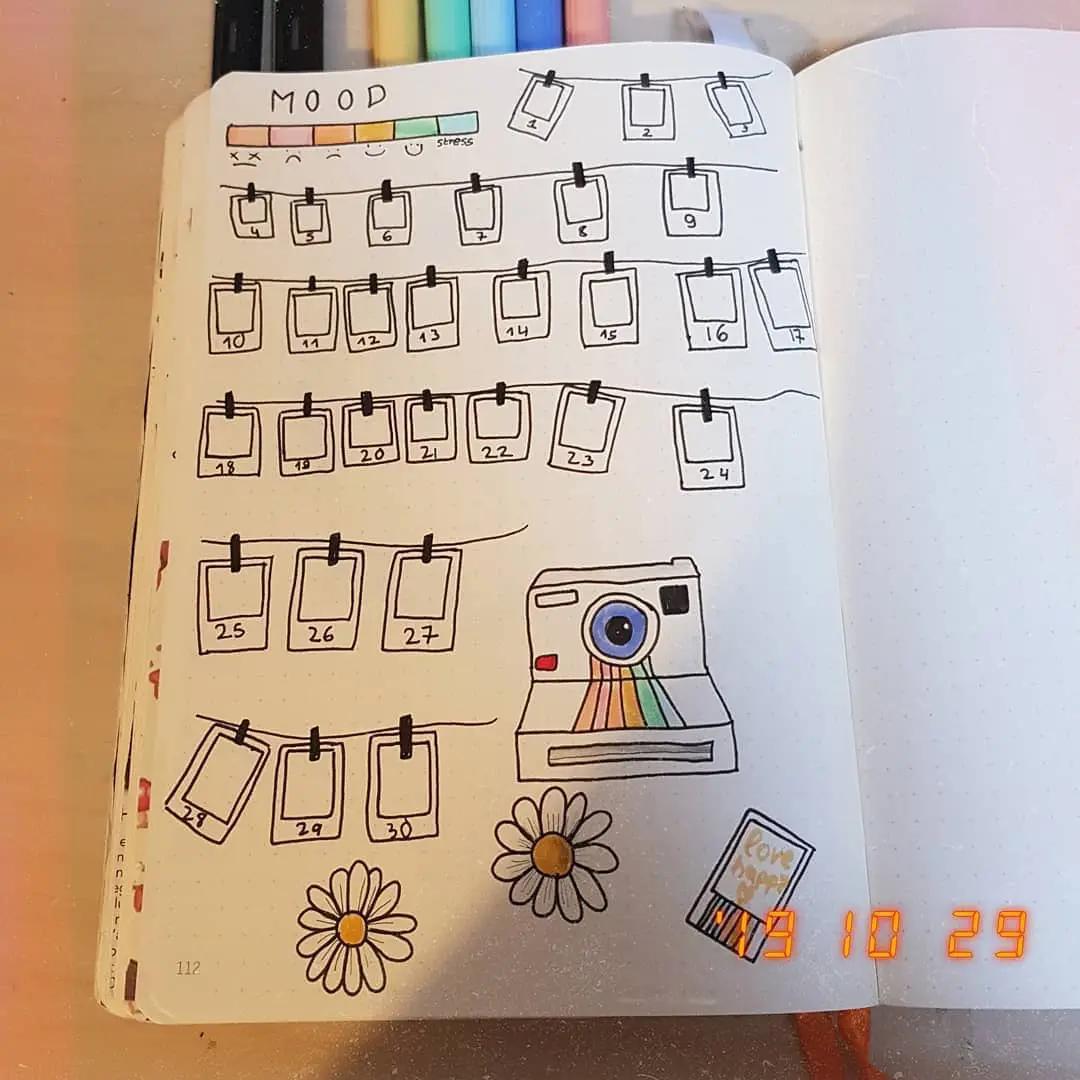 Credit: Instagram
The rainbow polaroid camera in this mood tracker is goals!
If you need a simple mood tracker layout that you can quickly set up, this one is for you. The overall concept is very simple but looks so good.
At the end of the month, when all the polaroids are colored, not only is your tracker going to look awesome, but you will also get a good picture of your mood changes and emotions.
Check out more of the bullet journal ideas you're probably going to like here.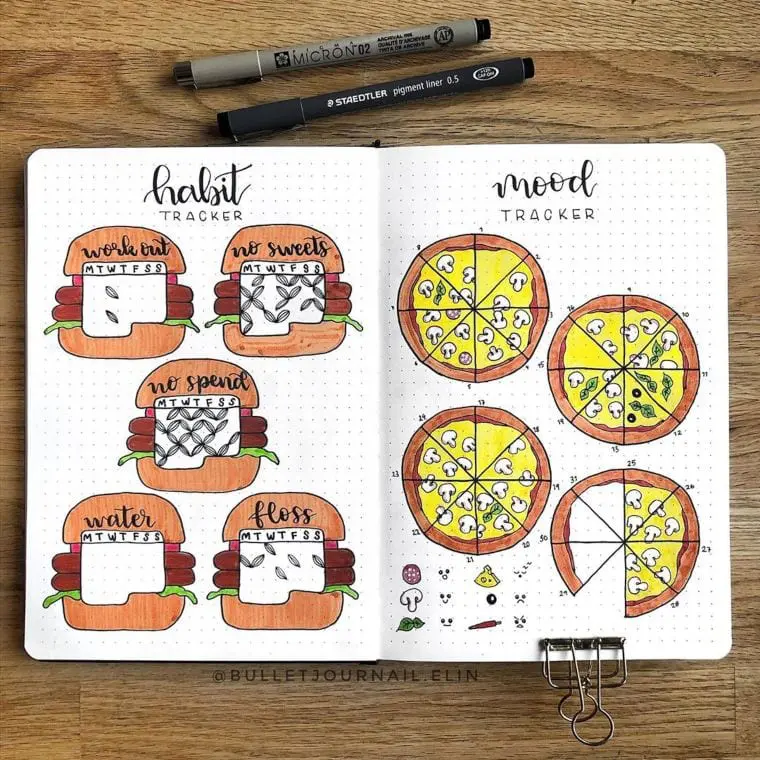 Credit: Instagram
This layout is a great way to keep track of how food affects your moods. Your food-and-mood diary will help you determine which foods to have.
Also, which ones you should probably avoid altogether.
Not only can this help improve your overall health, but it will also help you create better-eating habits to improve your wellbeing in the long run.
If you aren't very artistic, this art handbook will surely inspire you and bring out your creativity.
These fitness bullet journal ideas will help you to get used to a healthy lifestyle faster as well!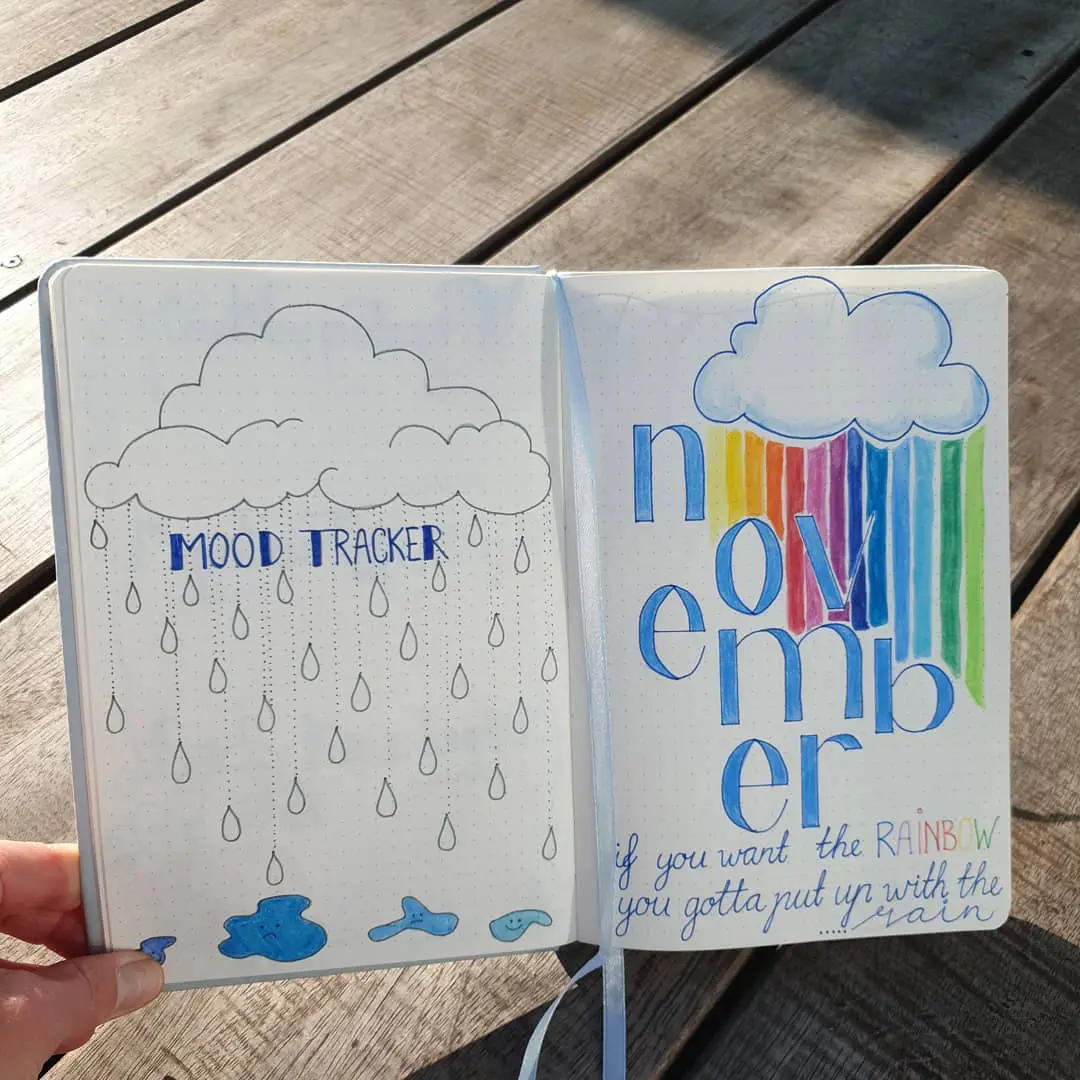 Credit: Instagram
November is a rainy month, so it's only natural to choose rain as a theme. But don't risk making your mood tracker too depressing.
Add a rainbow and an inspirational quote and the pages will instantly cheer up.
Get your daily dose of motivation and positive quotes from this positive thinking book.
And remember: "There would be no rainbows without sunshine and rain."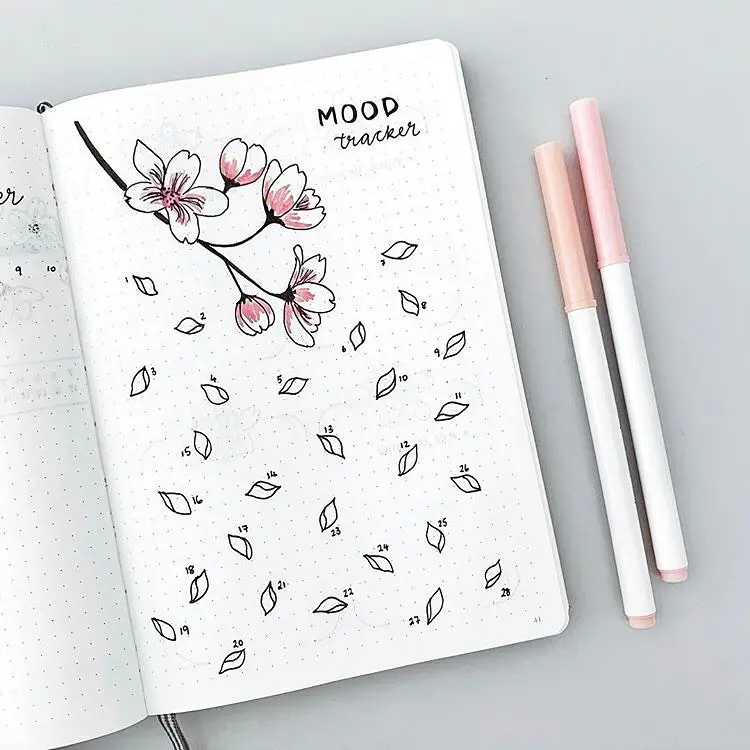 Credit: Instagram
This super-cute mood tracker is so simple and to the point. It allows you to color, doodle, or write in the flower petals to depict each day's mood.
If you want, you can also add a key to make it easier for you to track your moods.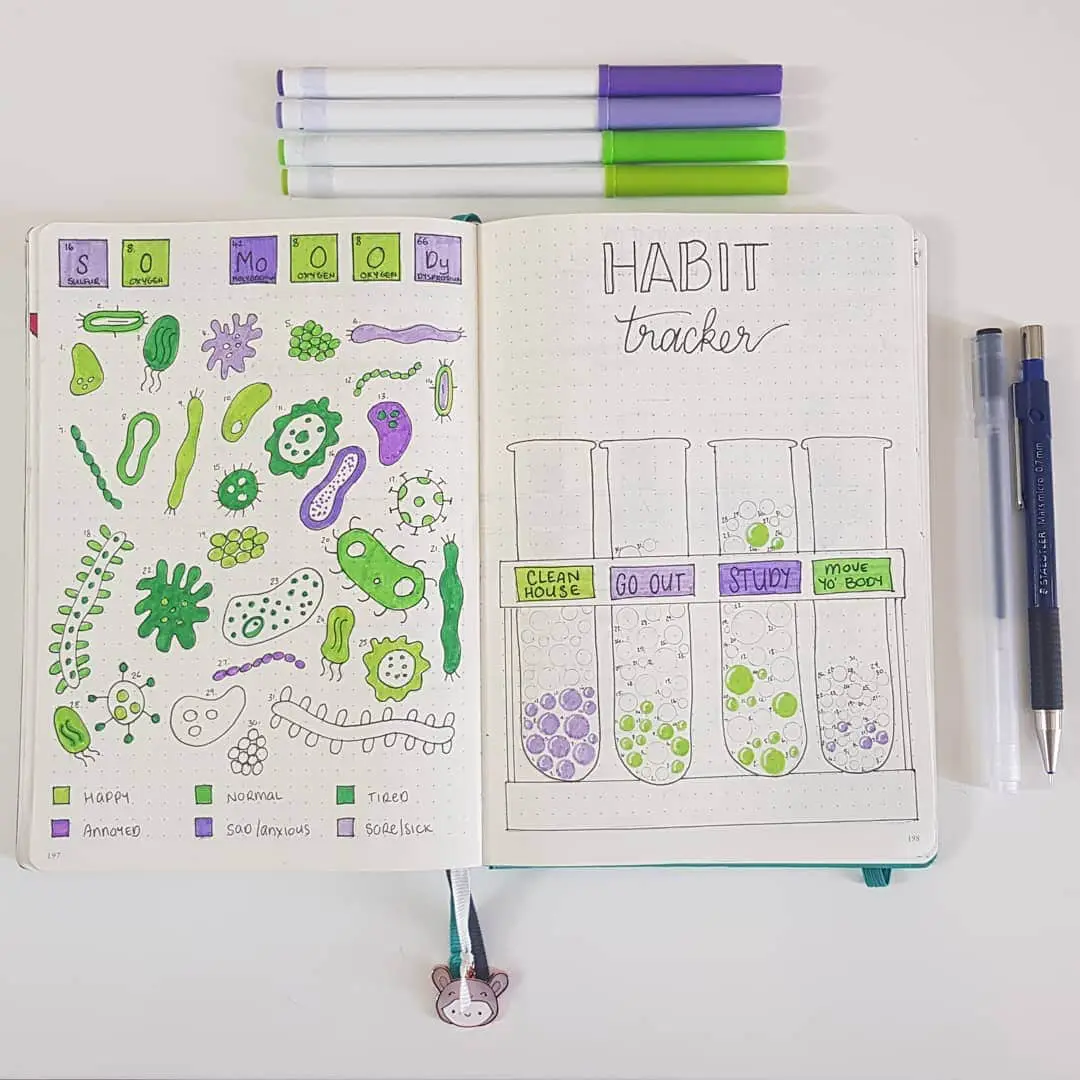 Credit: Instagram
Scientists have confirmed: "Self-tracking mood could facilitate gaining knowledge and awareness of one's mood patterns and thus help maintain emotional well-being." (source)
And what better way to pay proper homage to science that supports our mood tracking habits than by creating a science-themed mood tracker?
Also, you could use your scientific mind for better financial planning. Use these finance trackers just for that.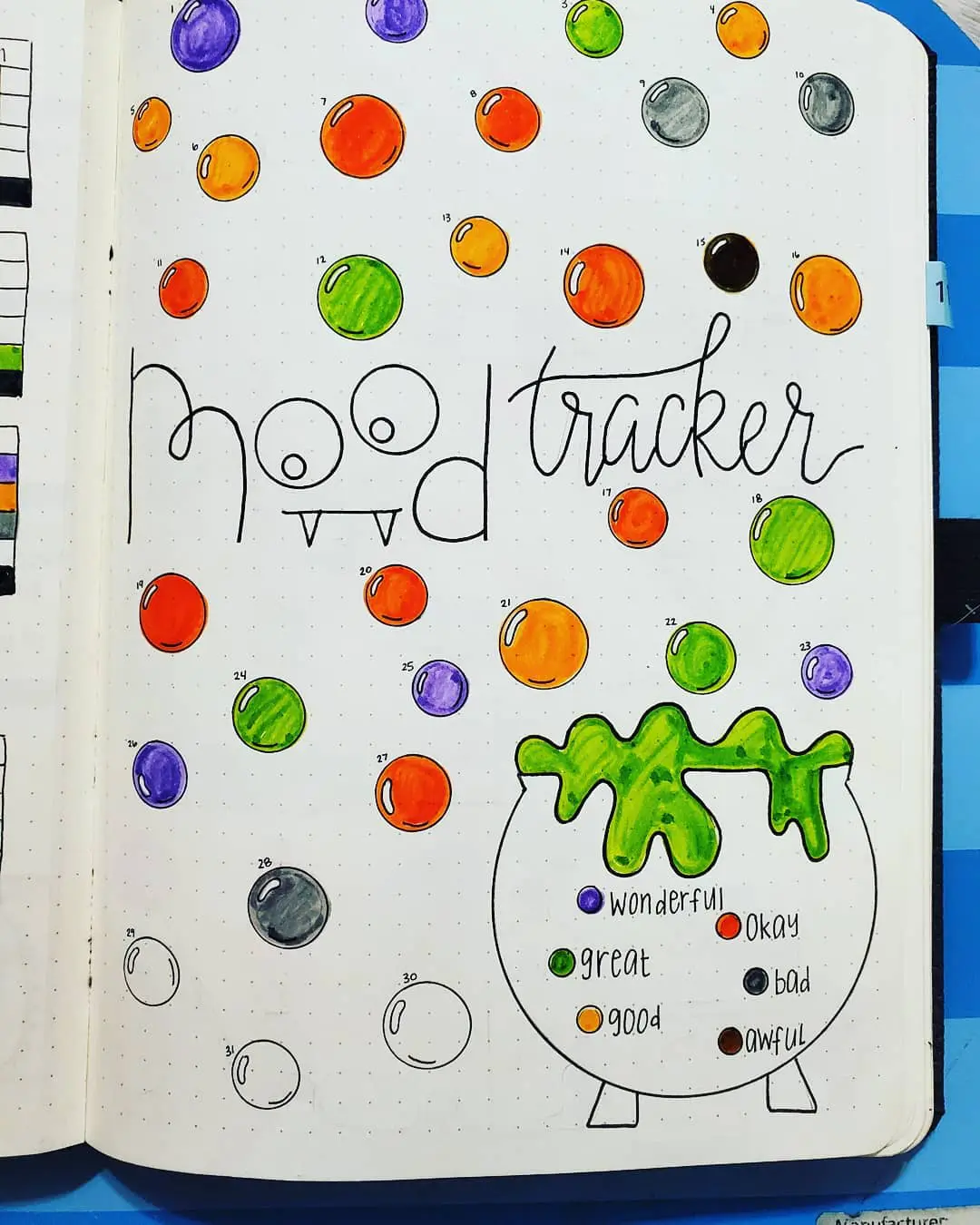 Credit: Instagram
You can also choose a Halloween theme for your October mood tracker: pumpkins, candy, spider webs…the possibilities are endless! Check out these amazing Halloween stencils that you can use to decorate your bullet journal.
This witches brew themed mood tracker is my favorite. A big pot of brew with a simple key of bubbles coming up to represent each day of the month.
Als, a slightly spooky vibe from the peeking monster.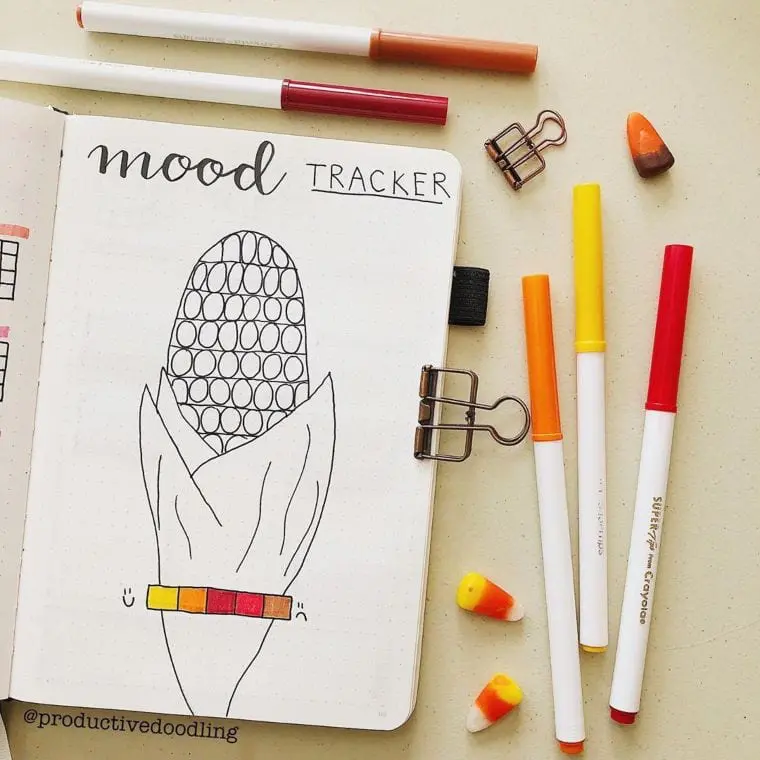 Credit: Instagram
If you're not a fan of all things Halloween, dedicate your mood tracker to corn. This seasonal veg is found at its best during autumn.
It's also one of the most popular symbols of Thanksgiving, so it makes perfect sense.
I love the super-simple color key that graduates autumn colors to show the different moods.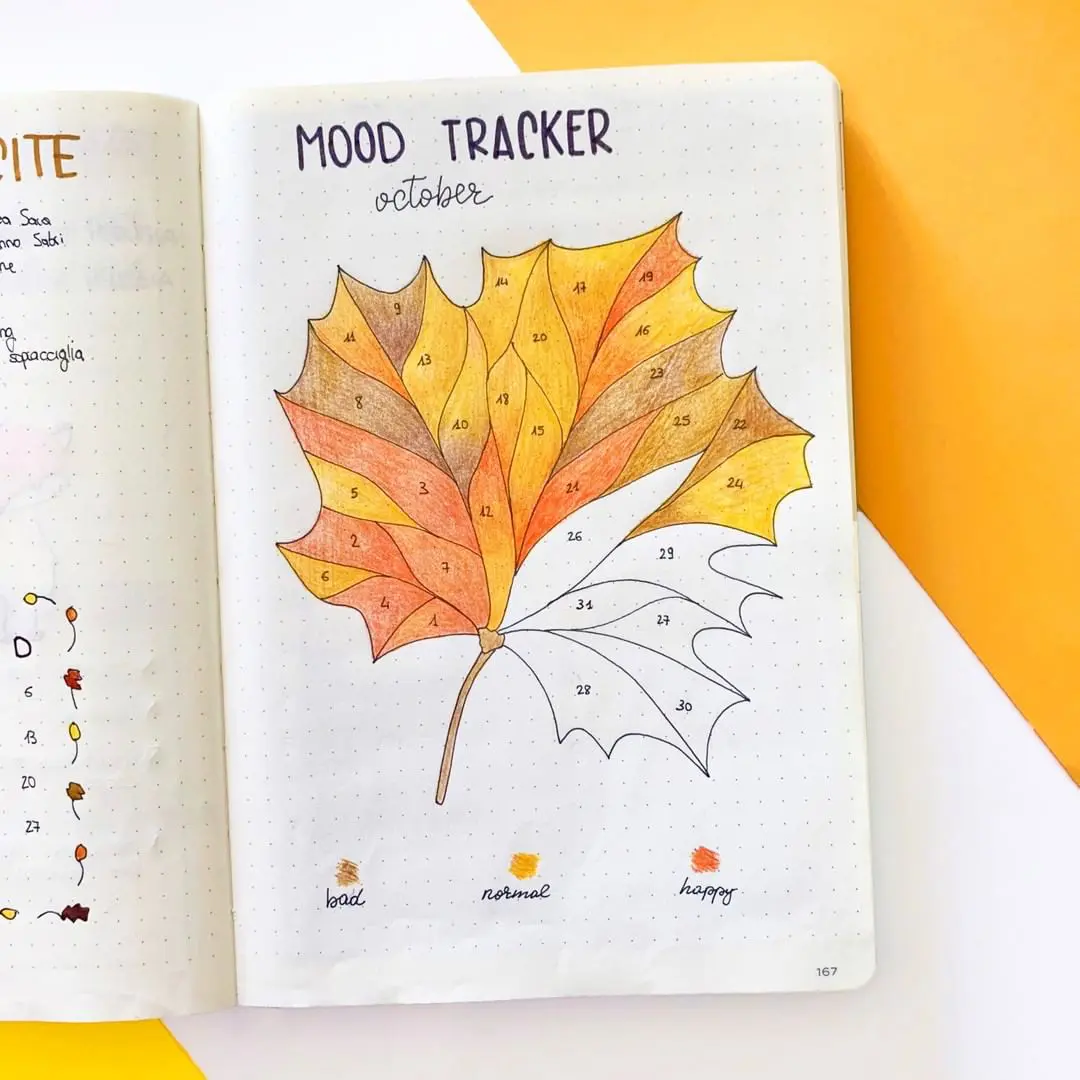 Credit: Instagram
Here's a more 'traditional' mood tracker for the autumn months'. The month is represented with a big autumn leaf.
The moods are each a different shade of yellow, orange, and brown.
A perfect layout for fall!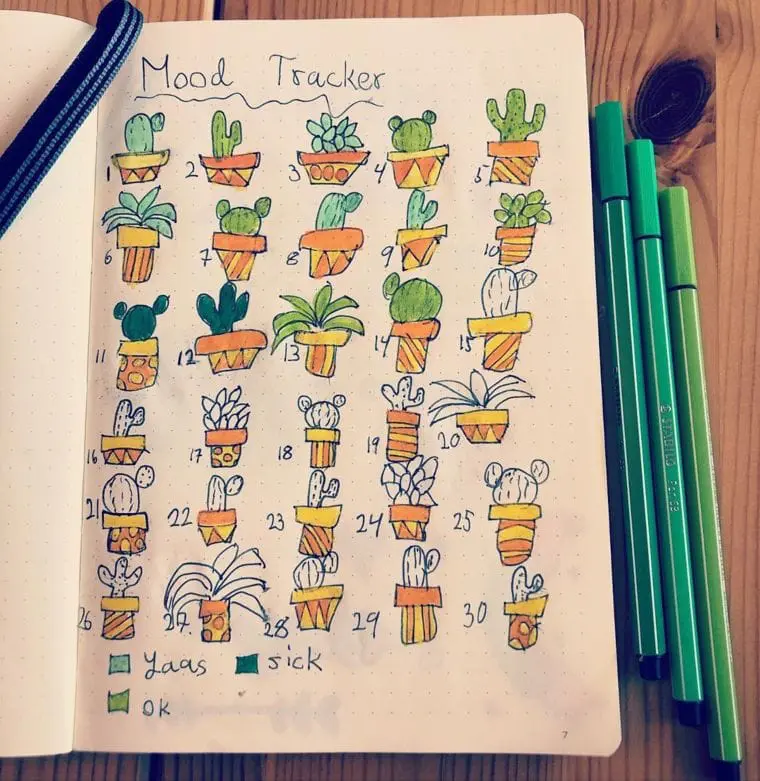 Credit: Instagram
You can never have too many plants in your home, or in your bullet journal, am I right?
To create this oxygen-packed mood tracker, you only need basic drawing skills and sharpie pens in a few different shades of green, like these ones here!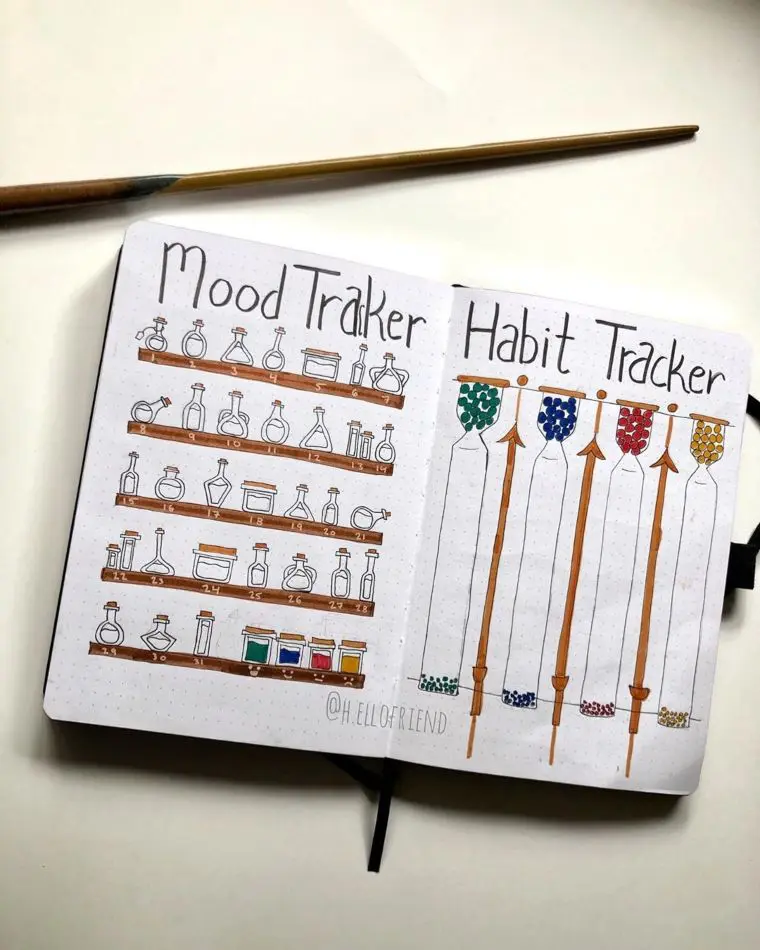 Credit: Instagram
If you're a huge potter head, this mood tracker is just for you. Shelves full of unique-looking tubes, bottles, and vials (get creative!), ready to be filled up with different potions.
This mood tracker allows you to brew your own daily potions by pouring in multiple ingredients depending on your emotions.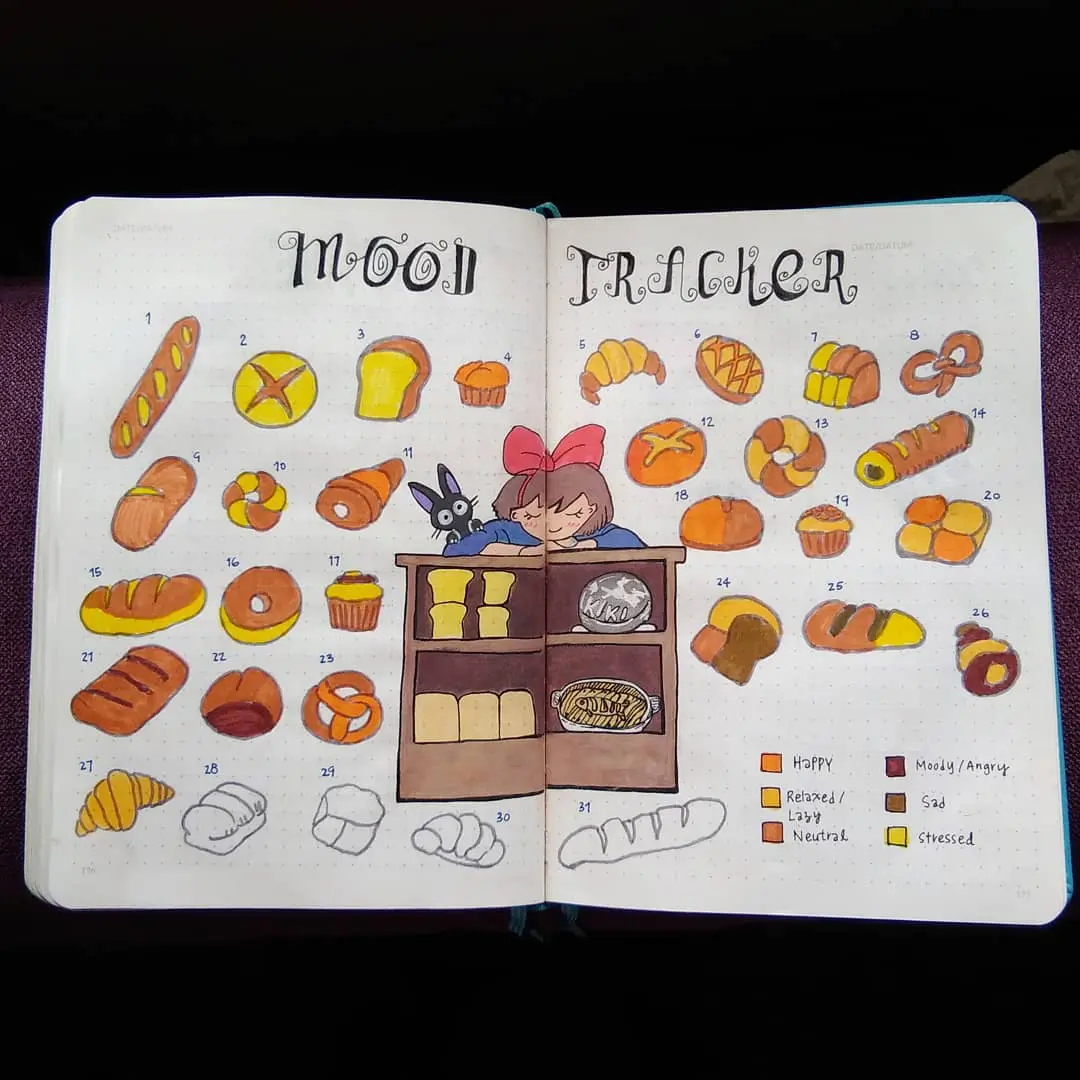 Credit: Instagram
Do you love food as much as you love keeping track of your emotions? Here's your chance to blend your two passions – 'cook up' a food-inspired mood tracker.
While the summer months are reserved for ice-creamy and fruity trackers, the colder months require cozier foods like fresh-out-of-the-oven bread, bagels, and pastries.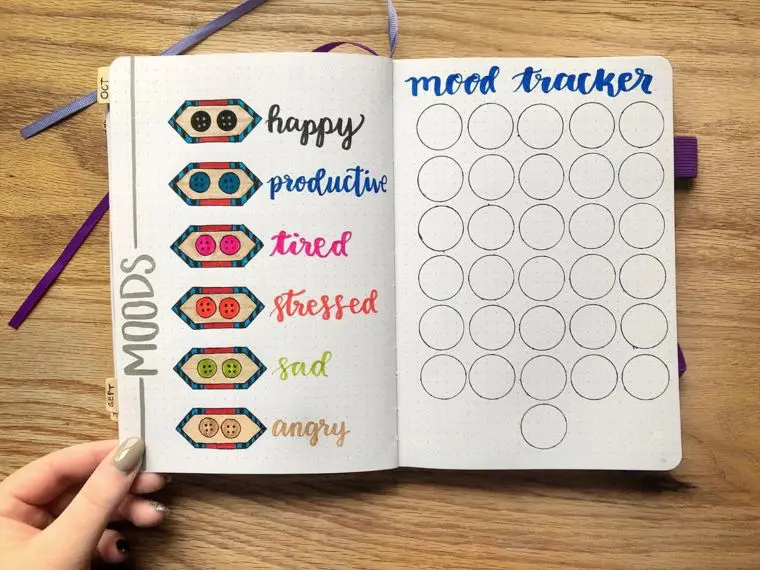 Credit: Instagram
How stunning is this mood tracker? The button's color key is prominent. In plain sight, they make things super-easy.
The colors used make the mood tracker look positive and joyful, and the lettering is absolutely gorgeous. If you want to upgrade your handwriting and create beautiful lettering projects, check out this Lettering and Modern Calligraphy Beginner's Guide.
If you're obsessed with sewing, this layout is totally your style!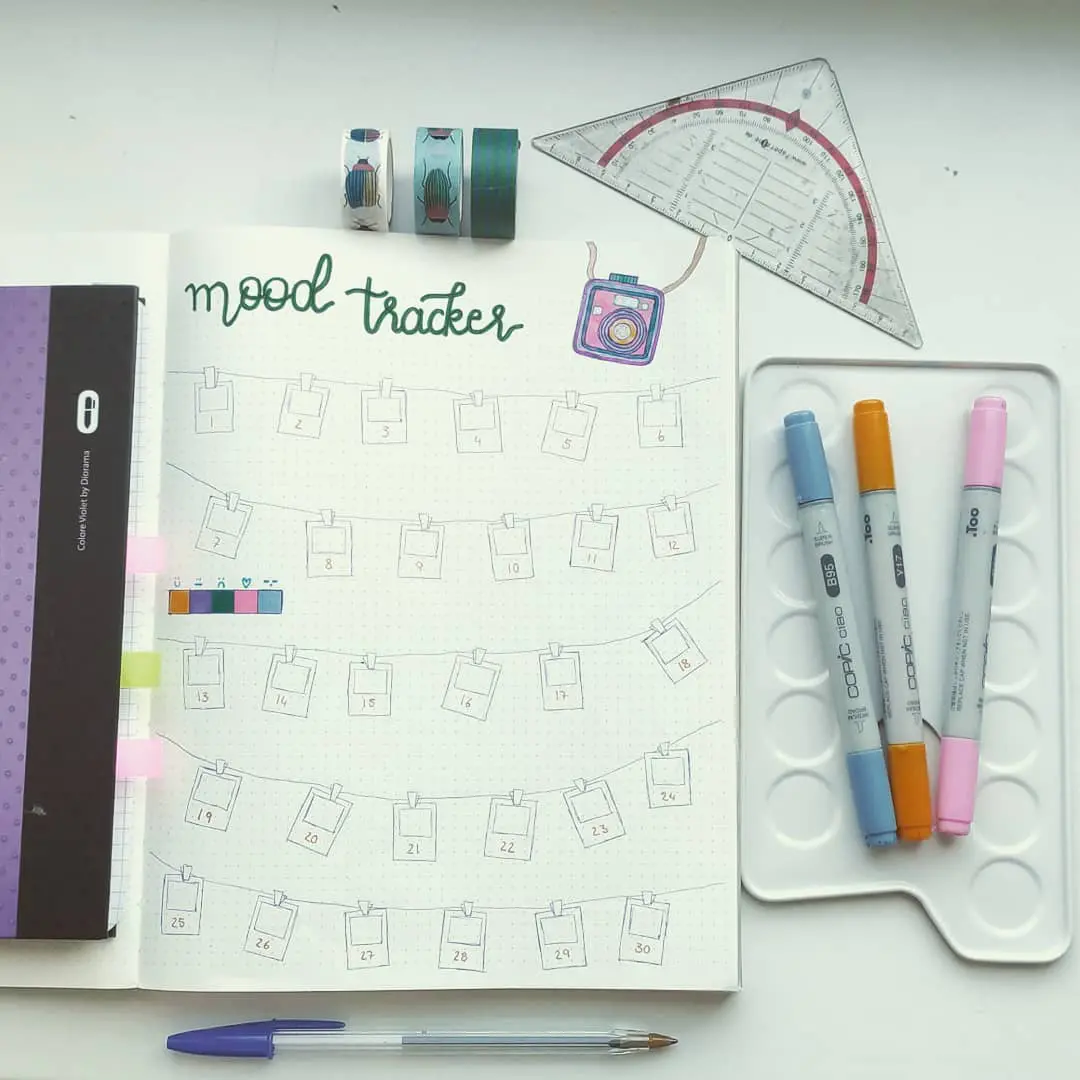 Credit: Instagram
If we're going to talk honestly, do we really have just one mood throughout the whole day? Some days, my mood changes hourly!
What I love about this polaroid mood tracker is that it allows you to show those mood shifts with more than one color.
Everything about it, from its colors to the layout, and the possibility it gives you to color the day with more than just one emotion makes it one of my favorite mood trackers ever!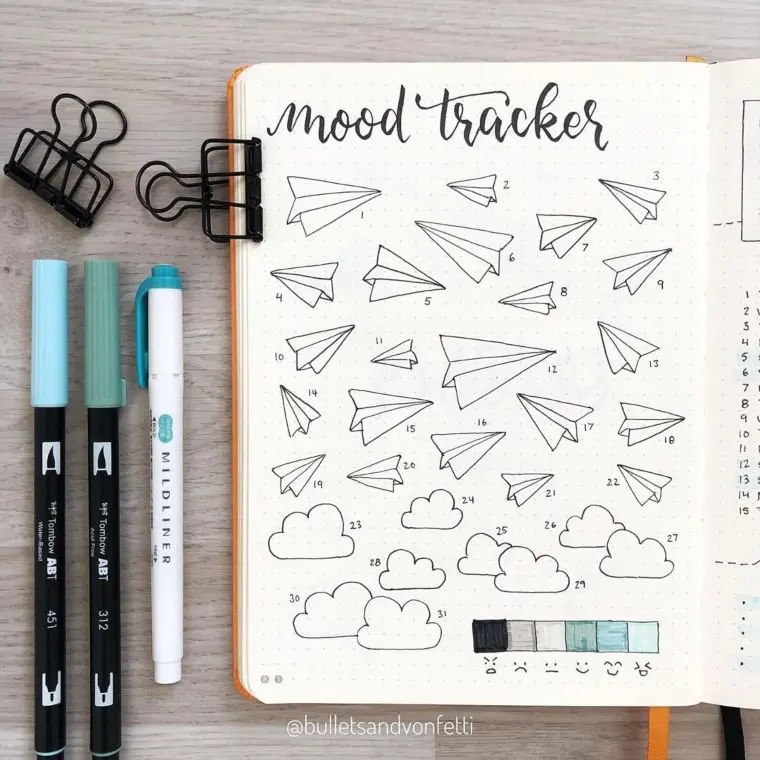 Credit: Instagram
This paper plane mood tracker is a one-page tracker. It has the mood key located at the bottom of the page, where there are 6 different mood indicators in beautiful blue and grey shades.
As paper planes aren't so easy to draw (at least for me). You can find them as printables online.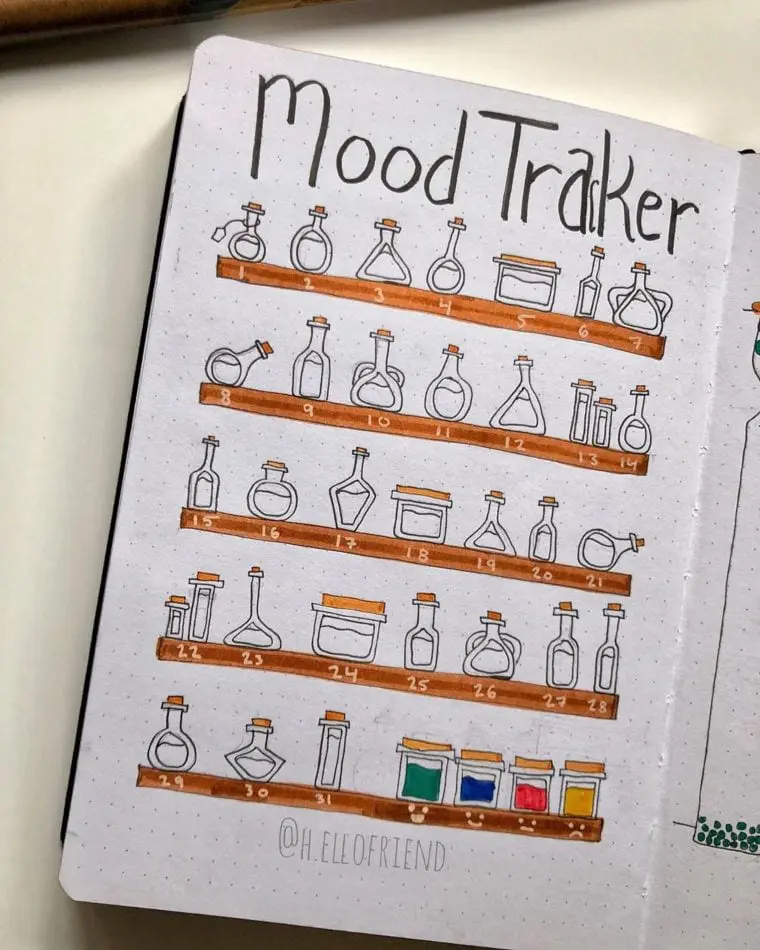 Credit: Instagram
This chemistry-inspired mood tracker looks like a shelf of some witch or magician!
So, even if chemistry and science aren't one of your favorite subjects, you can easily use it as a fun Halloween theme.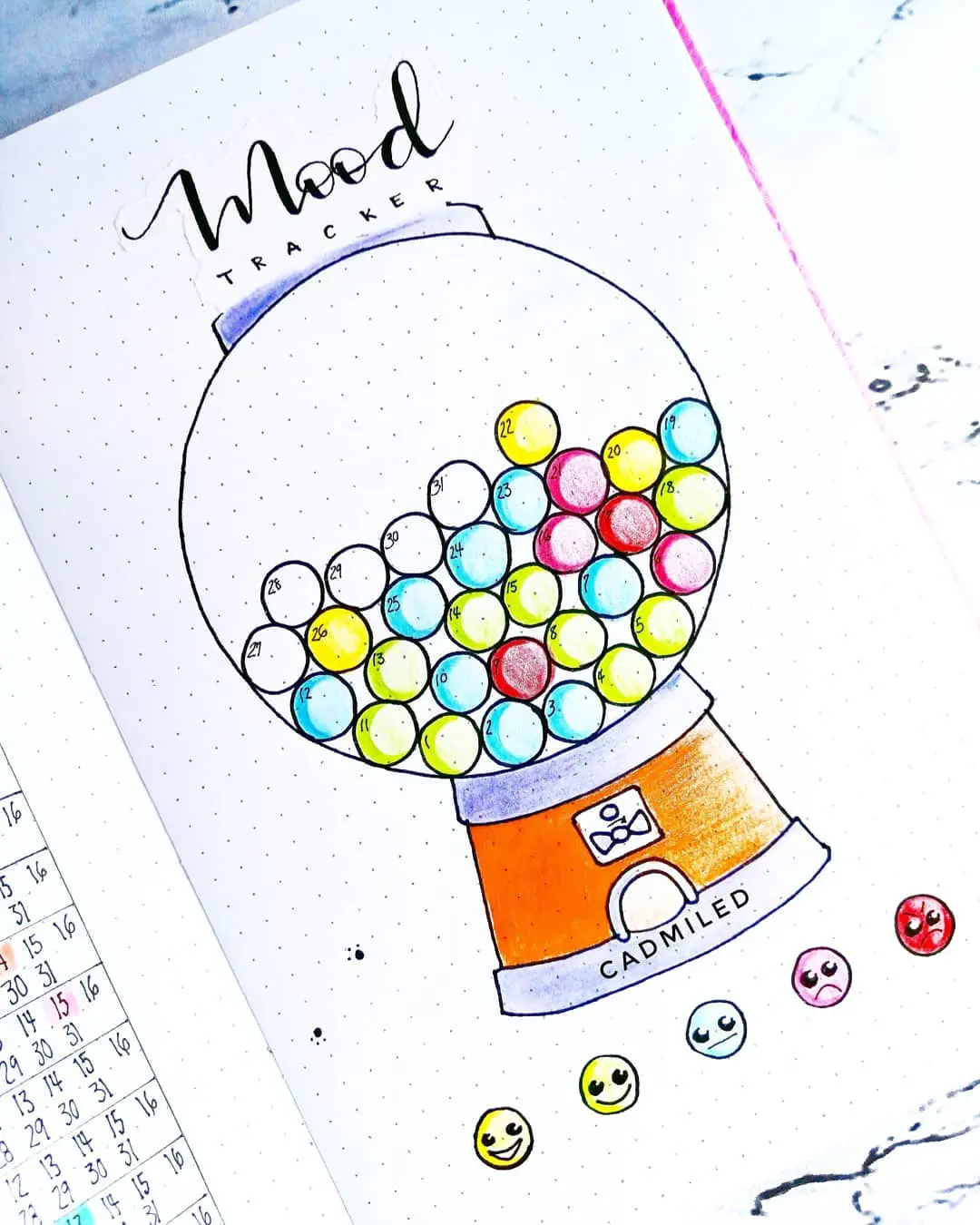 Credit: Instagram
Don't lose your marbles – track your mood shifts with this adorable gumball machine. Gumball machines aren't so difficult to draw.
But, there are also tons of printables you can use.
You can pre-draw your gumballs inside the machine and then just color them.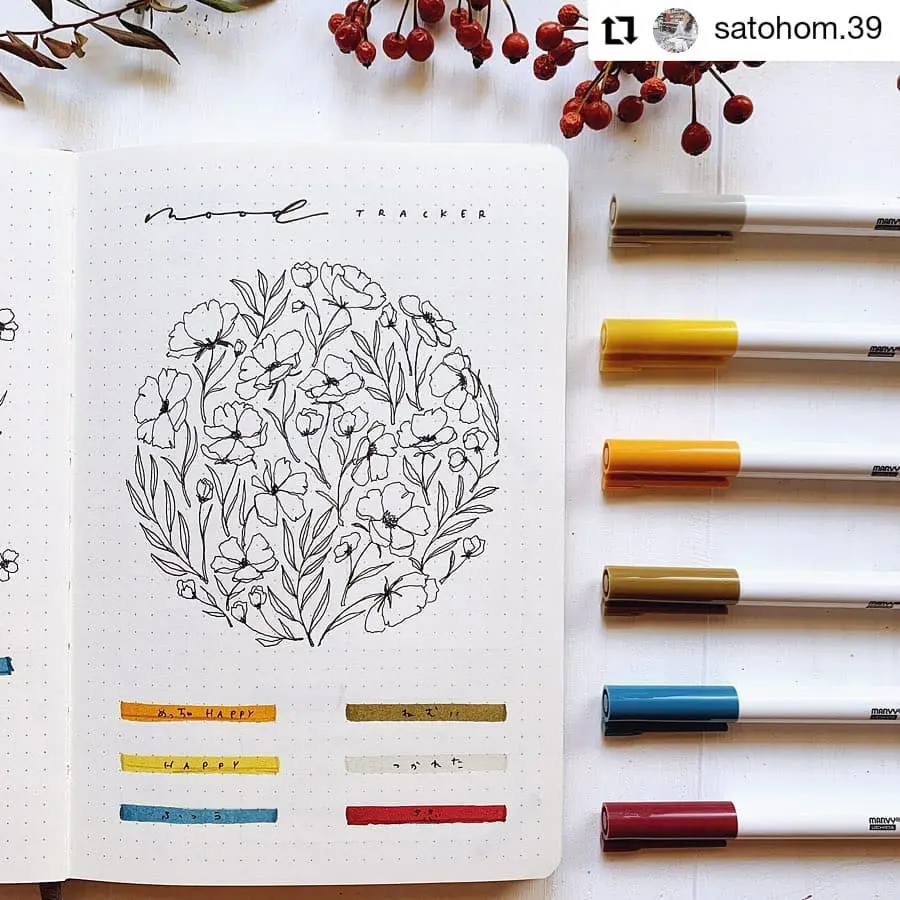 Credit: Instagram
Flowers are a great theme for spring or any other time of the year, why not? Winter flowers?
So cool! This floral bunch is an excellent example of how even sad days can look so beautiful at the end of the month.
Get these metallic paint pens to have more fun with your bullet journal designs.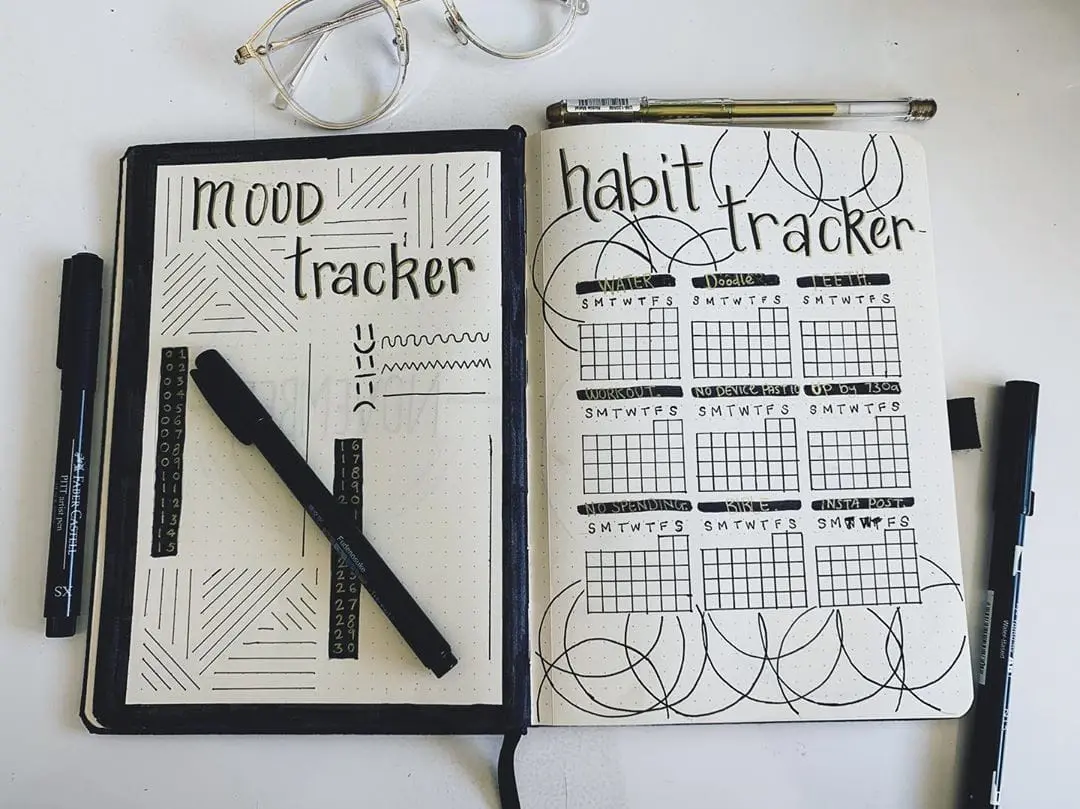 Credit: Instagram
This black and white mood tracker is ideal for those of you who like a modern and minimalistic look. Also, if you just want to create something quick and simple.
The clean lines and controlled restraint just look so classy!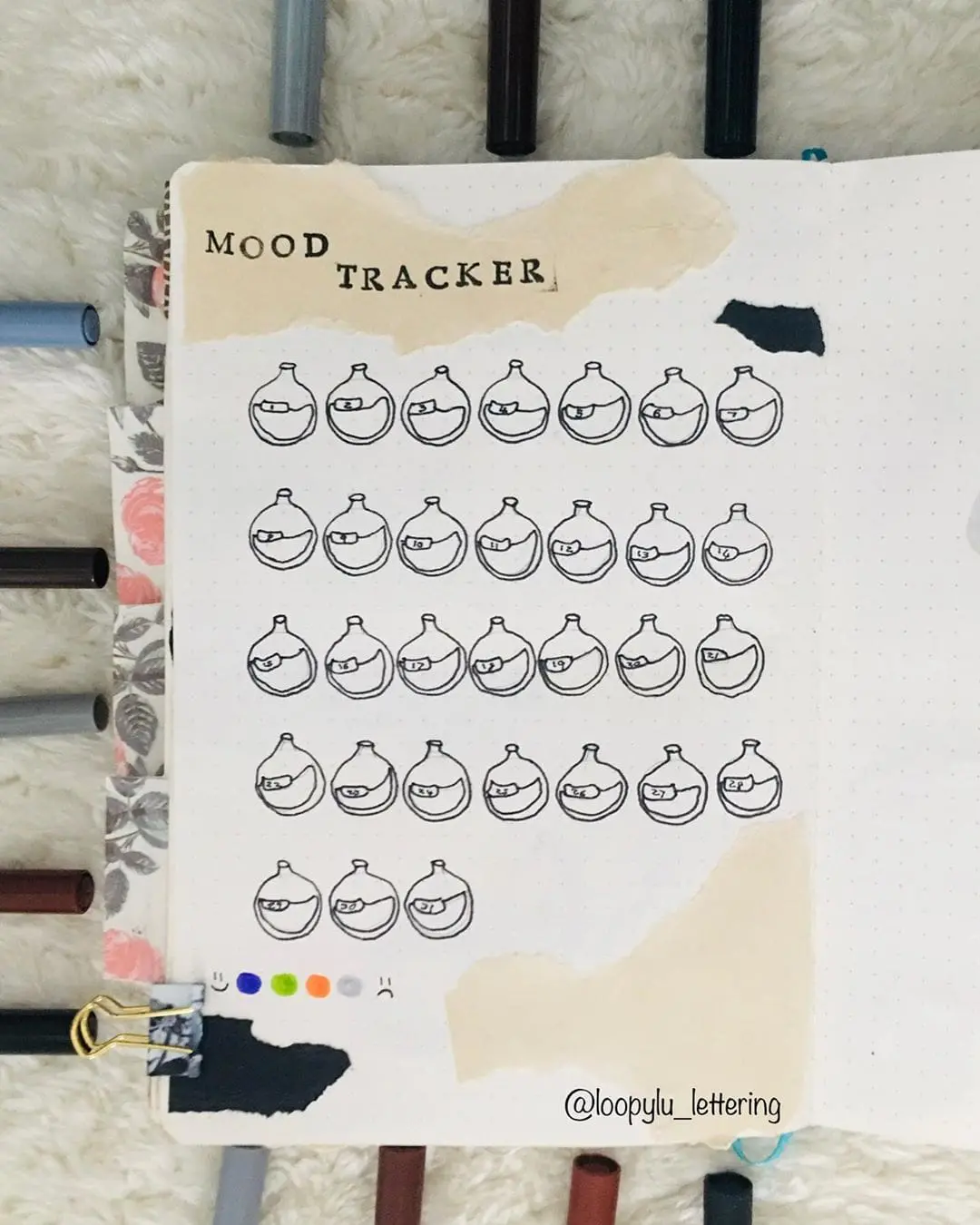 Credit: Instagram
If you love bullet journaling but you aren't a great illustrator, here's something simple for you. This mood tracker is made of similar bottles that are super-easy to draw.
But even despite the simplicity, you can rest assured that the finished result will be a very pretty page!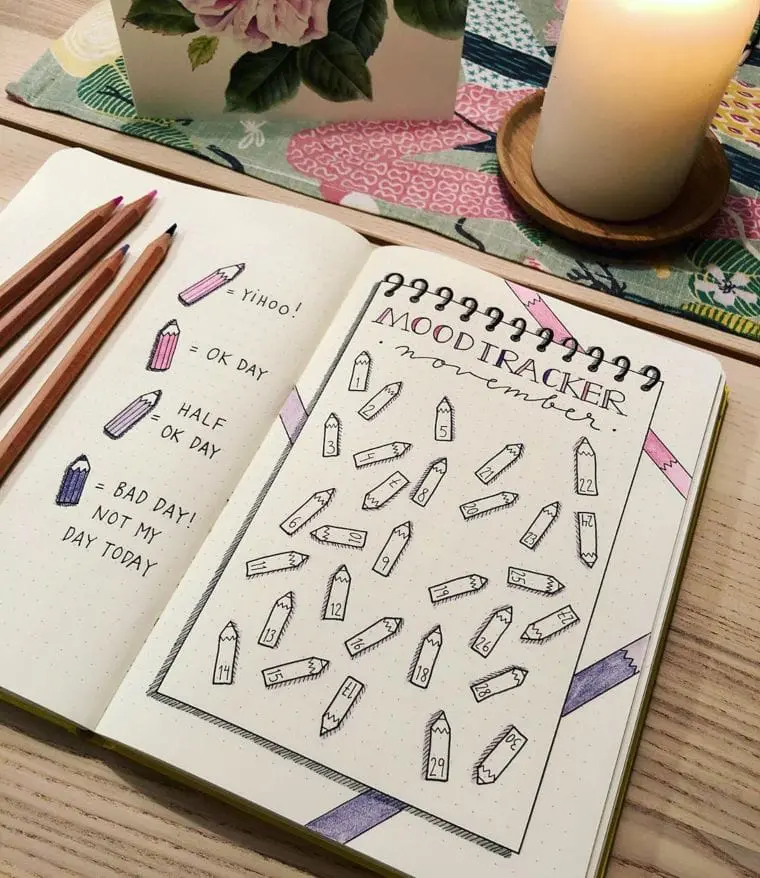 Credit: Instagram
Track your month's emotions by coloring these cute little pencils.
I love the choice of pinks and purples!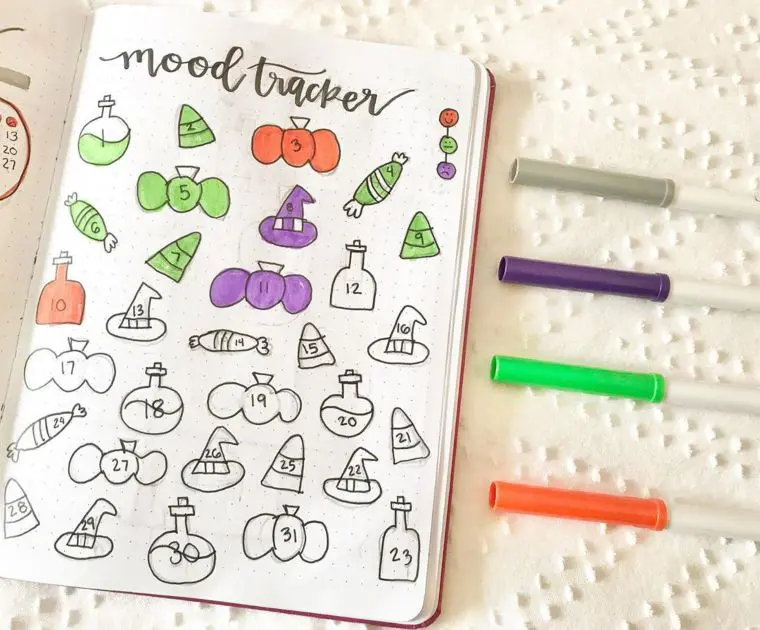 Credit: Instagram
Here's another Halloween-themed mood tracker.
If you're not very artistic, these easy doodles of pumpkins, candies, witches' hats, and potion bottles will help you decorate your October journal page.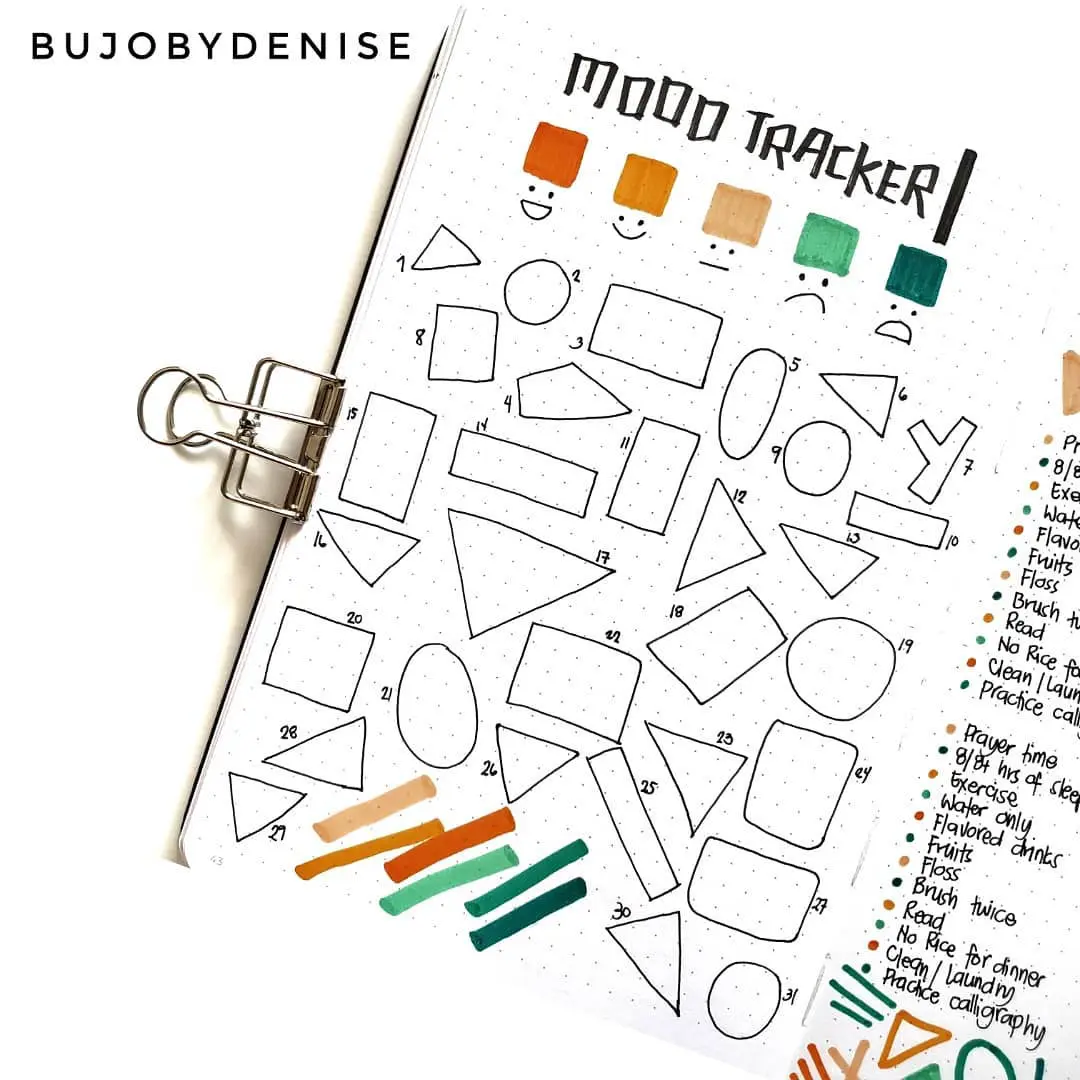 Credit: Instagram
Create different geometric shapes (triangles, circles, ovals, squares, rectangles…) and color one each day.
Easy, at-a-glance mood tracker, your future self will thank you for.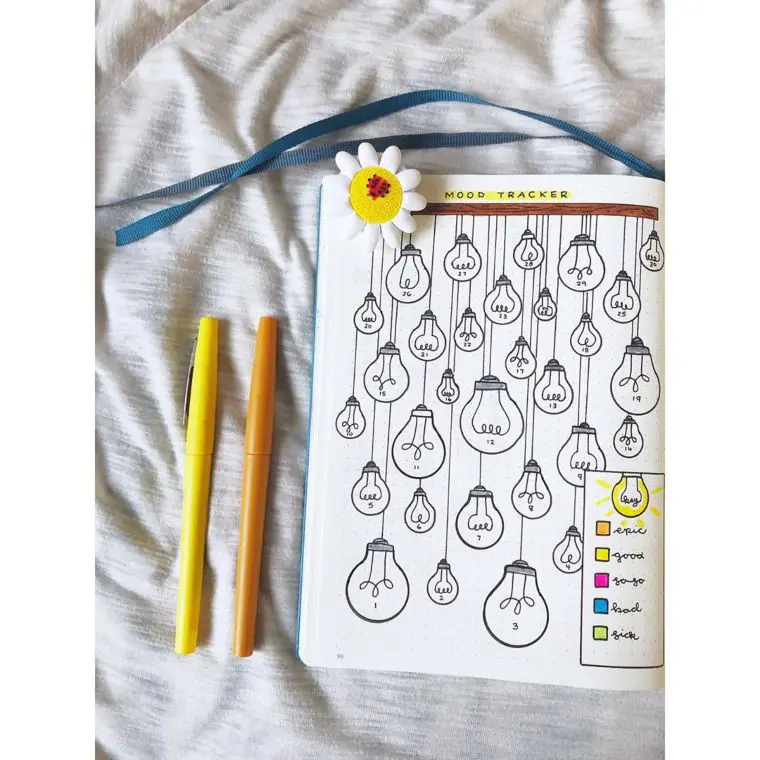 Credit: Instagram
Isn't this a bright idea for a mood tracker? The light bulbs in different shapes signify the days of the month, and the different colors indicate whether your mood was sick, bad, so-so, good, or epic.
This mood tracker will definitely light up your life!
Conclusion
Are you going to use any of these mood tracker ideas? Let me know in the comment section!