Cannot stand the clutter at your home anymore? You're in the right place! Check out these wonderful organizing ideas that will help you transform your home into something beautiful, decluttered, and clean.
Get all the organization inspiration you need!
Admit it; you need help. We all do.
There comes a time when you just want to declutter your home and space, and if you are thorough enough, you hope your things will stay where you keep them. For at least a week.
Here are 47 Ingenious Organization ideas to help you explore and experiment with different ways to sort and store your things, and make sure they stay sorted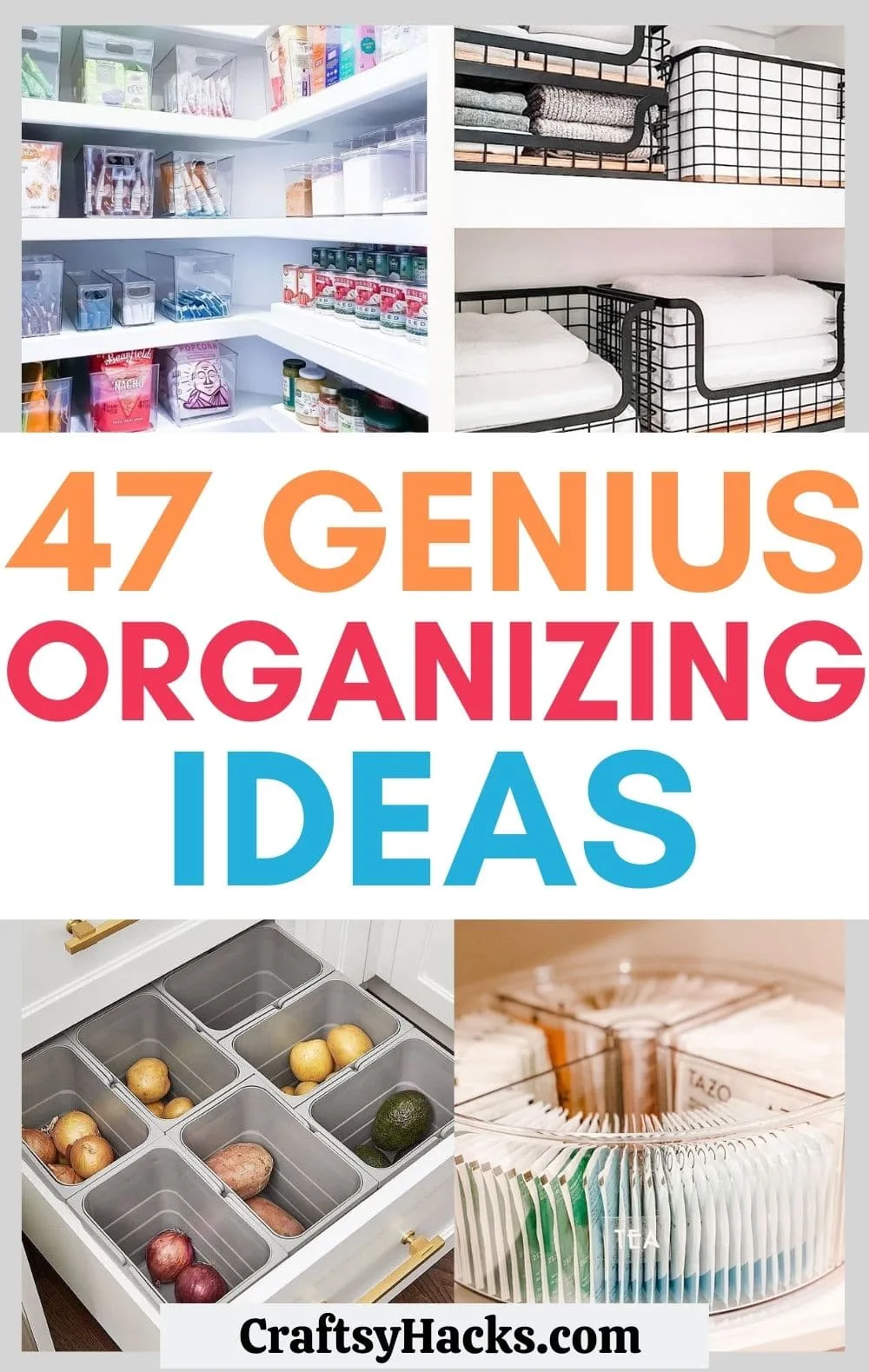 1. IKEA Expedit Fabric Covered Boxes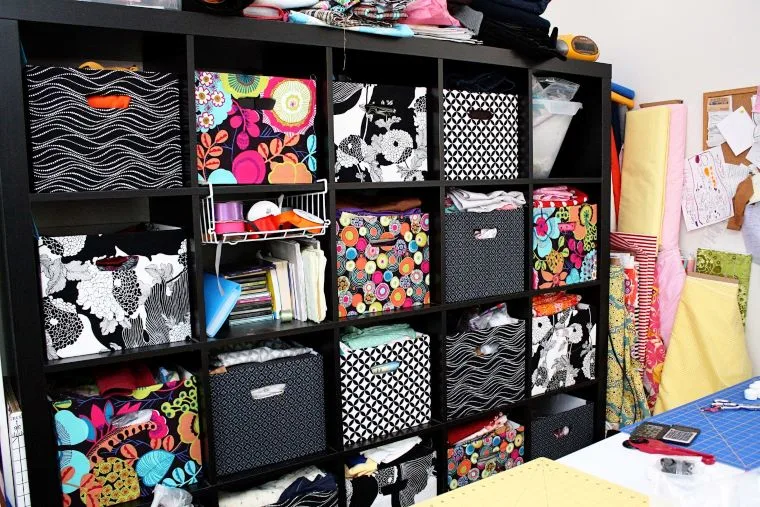 Credit: raegunramblings.com
There's always something that needs to go into a box and put away on a shelf. You probably have an entire row of file boxes stacked against the wall. Why not make them look a little pretty?
Instead of having to buy a dozen or so of those fabric-covered boxes that IKEA carries, you can make one right at home.
Supplies you'll need:
Fabric, around 15"x13X per box
White fabric to use as lining
Tape
File Box
2. Refrigerator Rack Organizer
Credit: Instagram
It's almost time for dinner, and you're in a hurry to throw something together quickly. You decide to check what you have in the refrigerator.
You open the door and find rows of neatly chopped, boxed, and stacked veggies and fruit….ha! Admit it, your refrigerator's a mess, and it's time you did something about it.
Why not buy some refrigerator rack trays to help you organize the inside of your vegetable drawer? You can find them here.
3. Medicine cabinet organizer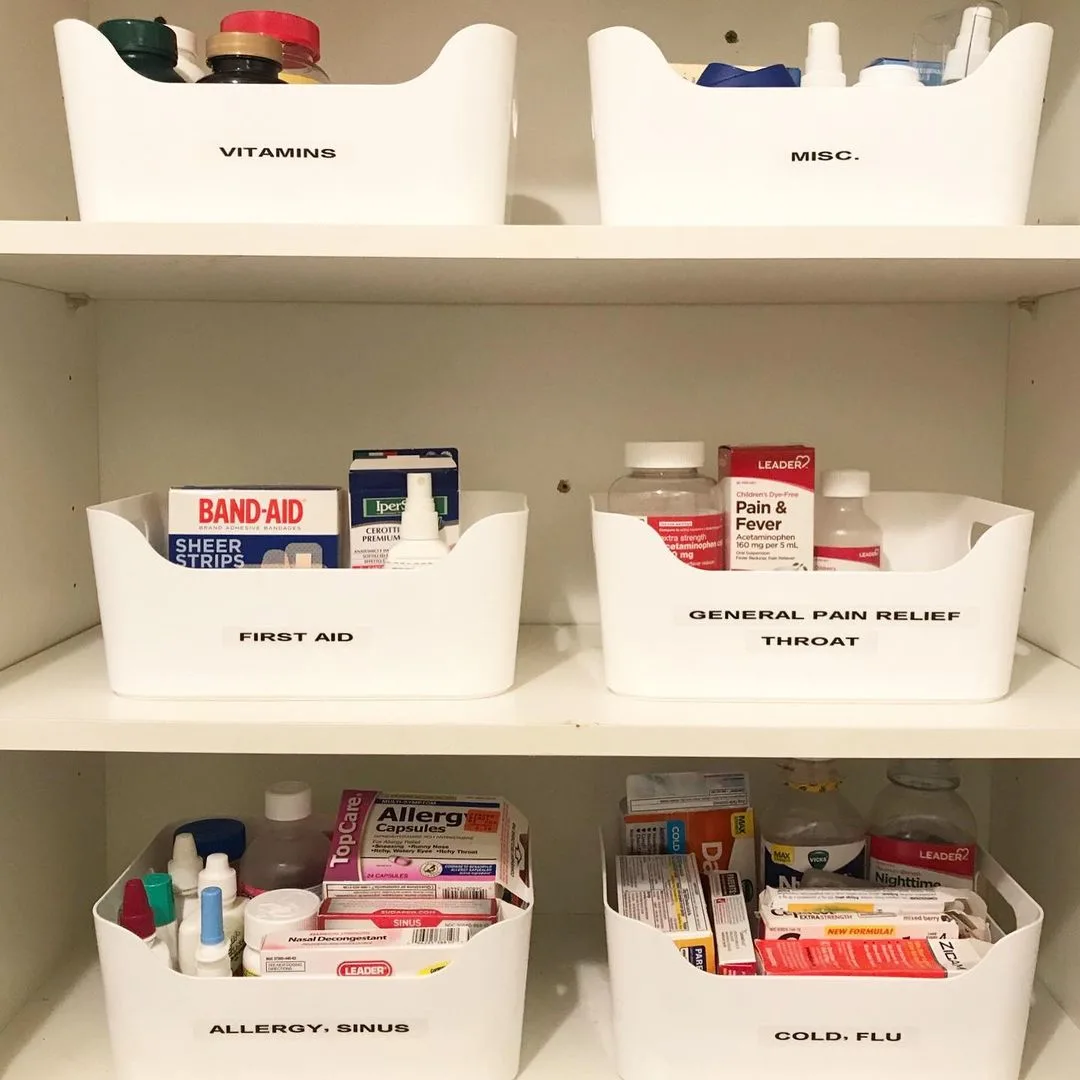 Credit: Instagram
I can't stress how important it is to have your medicine cabinet organized. You do not want to be pawing through the cabinet for a bandaid and end up with rash cream.
It's time to buy some vanity trays like these and organize that cabinet.
Here are some ways to group and store your medicines:
First Aid
Allergy or Sinus
General pain relief
Vitamins
Cold, Flu, Throat
Miscellaneous
4. Wicker Basket Pantry Organizer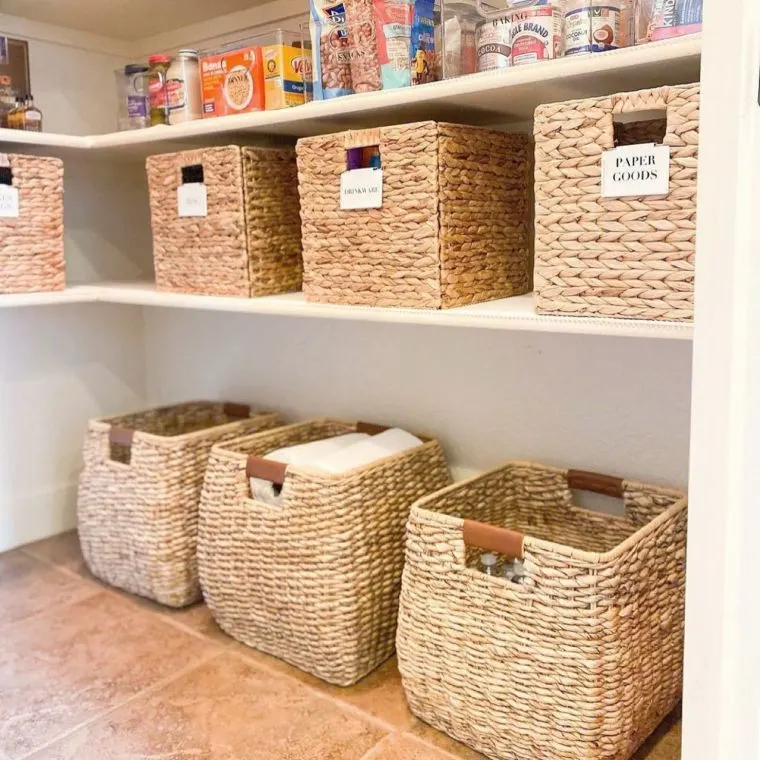 Credit: Instagram
You don't want food to spoil just because you didn't store it the right way. And you definitely don't want your cleaning supplies and toilet paper getting mixed up with your cereal boxes and cans of beans.
You can just line them on your shelves until they groan under the load, or, instead, you can sort them into these wicker baskets.
They look great and keep your pantry organized.
5. Upcycled cereal boxes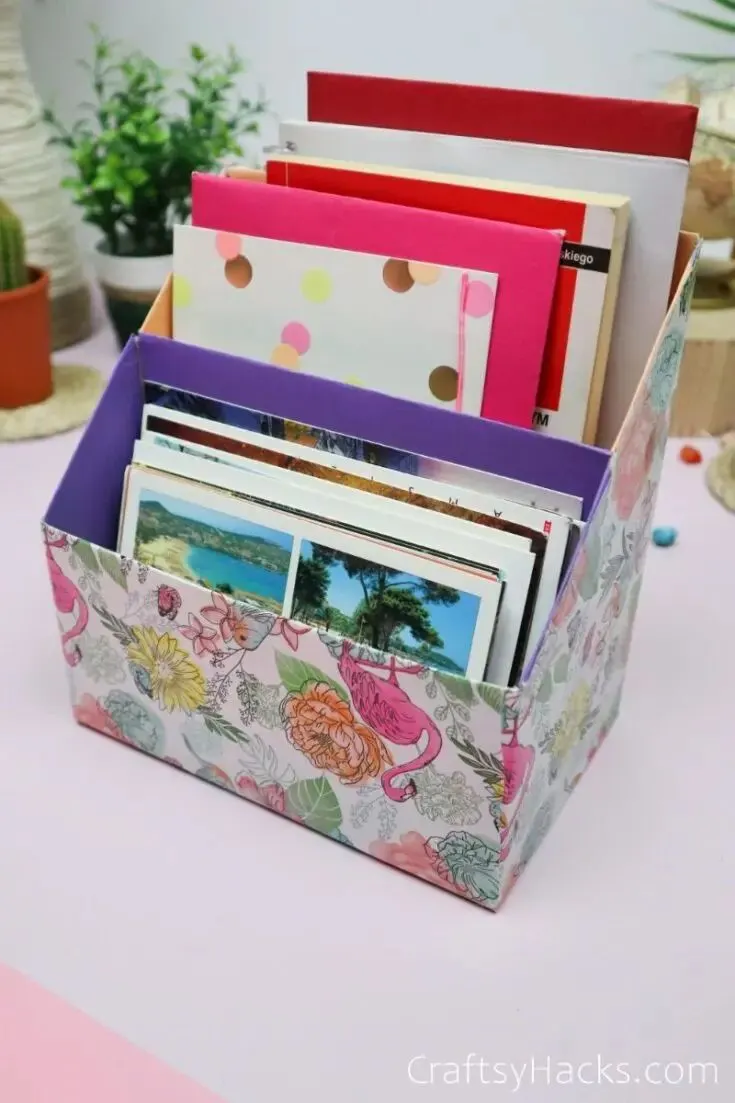 Credit: craftsyhacks.com
Why would you want to be spending money on buying desk organizers when you can just make them out of empty cereal boxes?
I bet you can make a box of Cap'n Crunch look like a million bucks.
Grab a roll of your favorite wrapping paper from here, and some double-sided tape here and get started!
6. Cool and Clean Pantry Organizer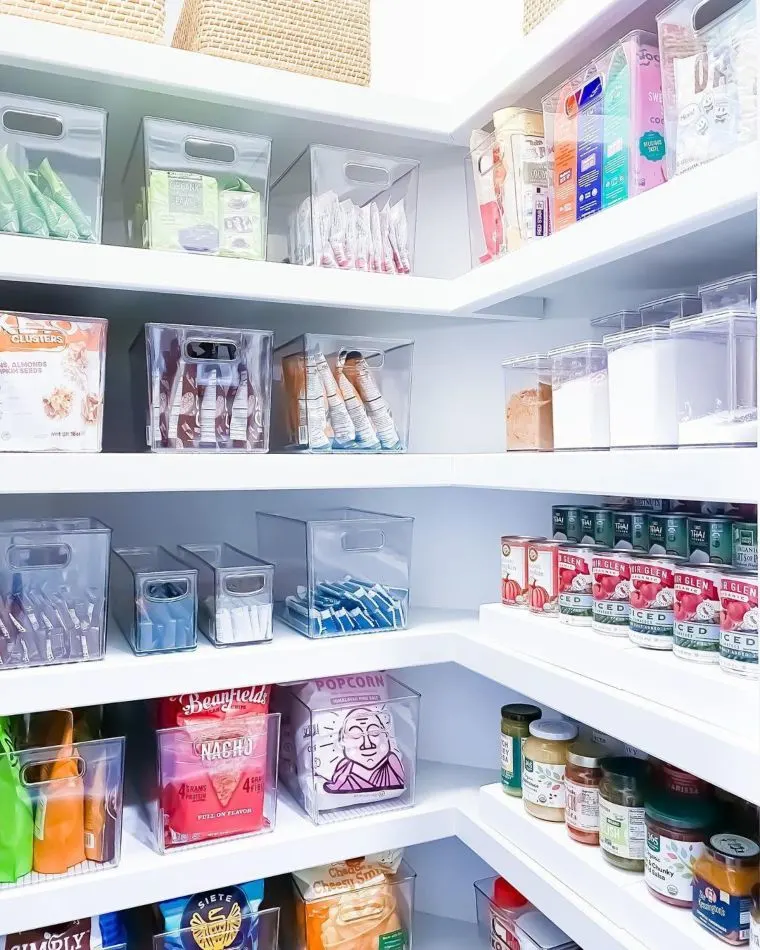 Credit: Instagram
I always like to group my pantry supplies. I stack my canned goods along one shelf, pickles, olives, jams, and condiments on another, and all my beverages—bottled or packaged—all in one row.
Something else I do? I use container bins with handles like these to store my snacks: my popcorn kernels to one side, cookies and crackers on one end, and an entire shelf just for my cereal.
7. Tea Organizer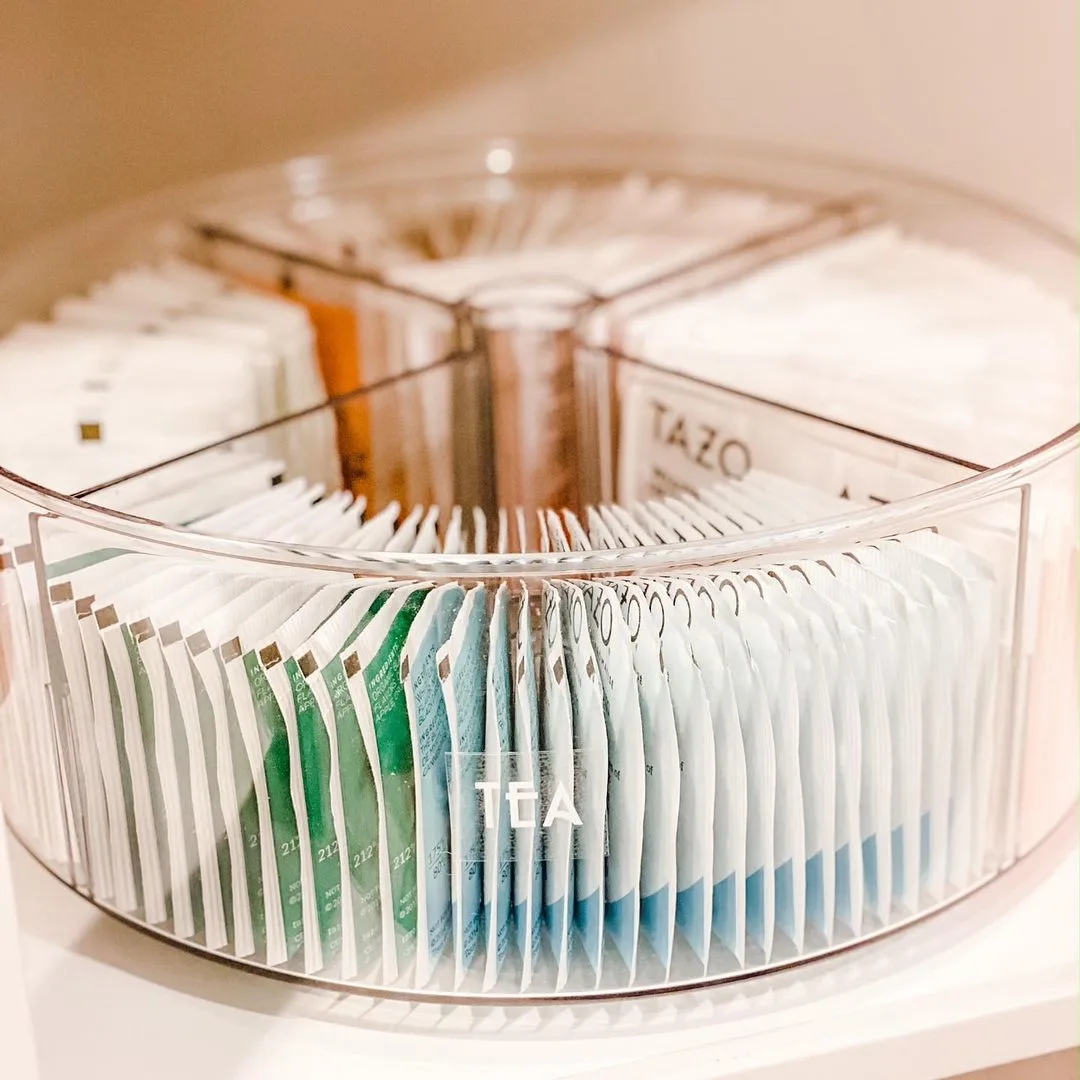 Credit: Instagram
A cup of tea every night, and while the kettle's boiling, you usually paw around your cupboards for a box of teabags, right?
Have you seen this neat organizing hack to store your tea bags. You can find this four-compartment organizer here. You can even get one for your dresser and keep your accessories in them
But I love seeing those tea bags neatly lined up in there. If you have more than just one brand of tea you use, this divider tray is the perfect solution.
8. Vegetable Drawer Organizer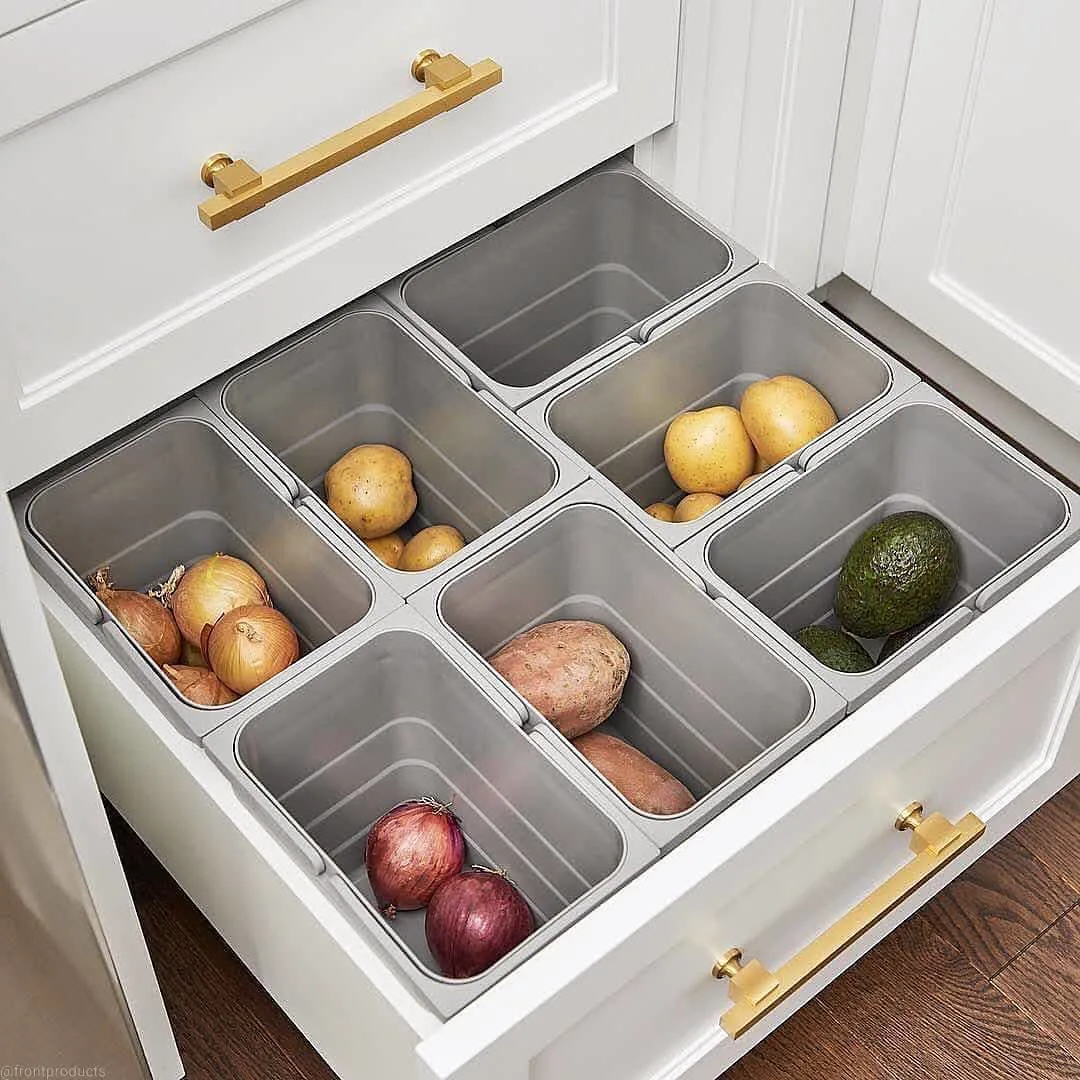 Credit: Instagram
You probably don't like to keep your onions, garlic, ginger, potatoes, and other root vegetables in the refrigerator. Do you store them in the pantry?
Or do you have a bottom drawer next to your stove where you've lined up newspaper and just dumped your veggies in? Not anymore, you don't.
Find yourself some stackable storage bins like these, remove the lid and fit them into your drawers. They make great dividers, and they're easy to remove and clean.
9. Stationery drawer organizer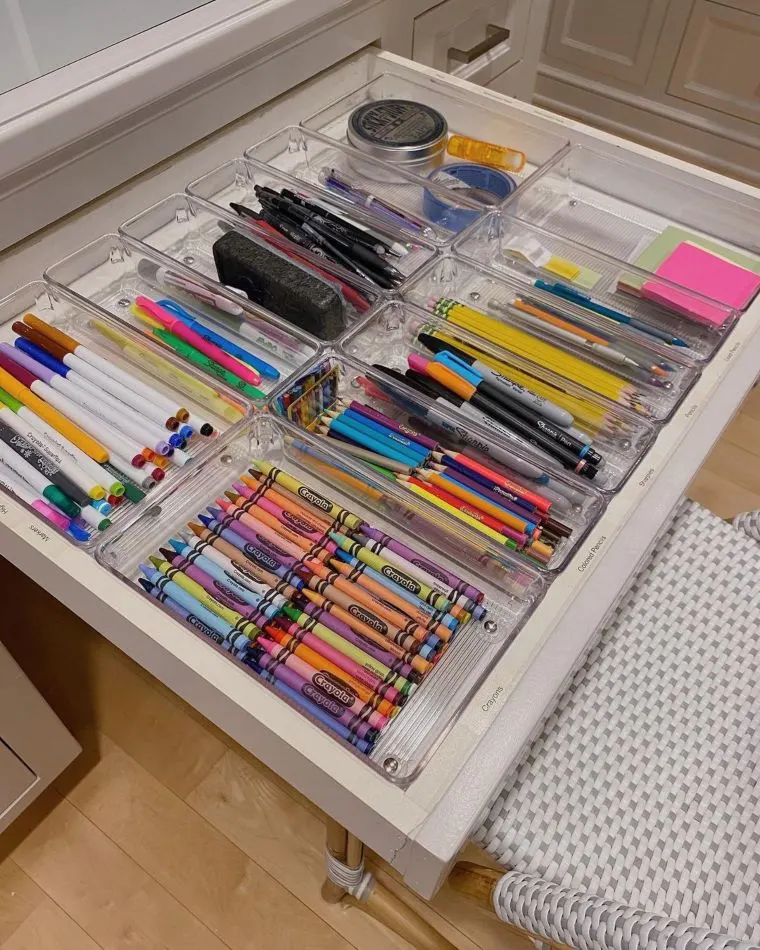 Credit: Instagram
Right, it's time you went on a trip around your house and found every stray pen, pencil, marker, post it or crayon. Why? We're going to make room for a one-stop stationery drawer.
You can buy clear plastic trays at every dollar store for under a buck, or if you want a standalone desk shelf, look here.
Now it's time to sort your supplies into the following category:
Pens
Pencils
Crayons
Sketches and markers
Office supplies
Post-its and sticky notes
Miscellaneous items like paper clips, pushpins, and stapler pins.
10. Hanging Organizer With Pockets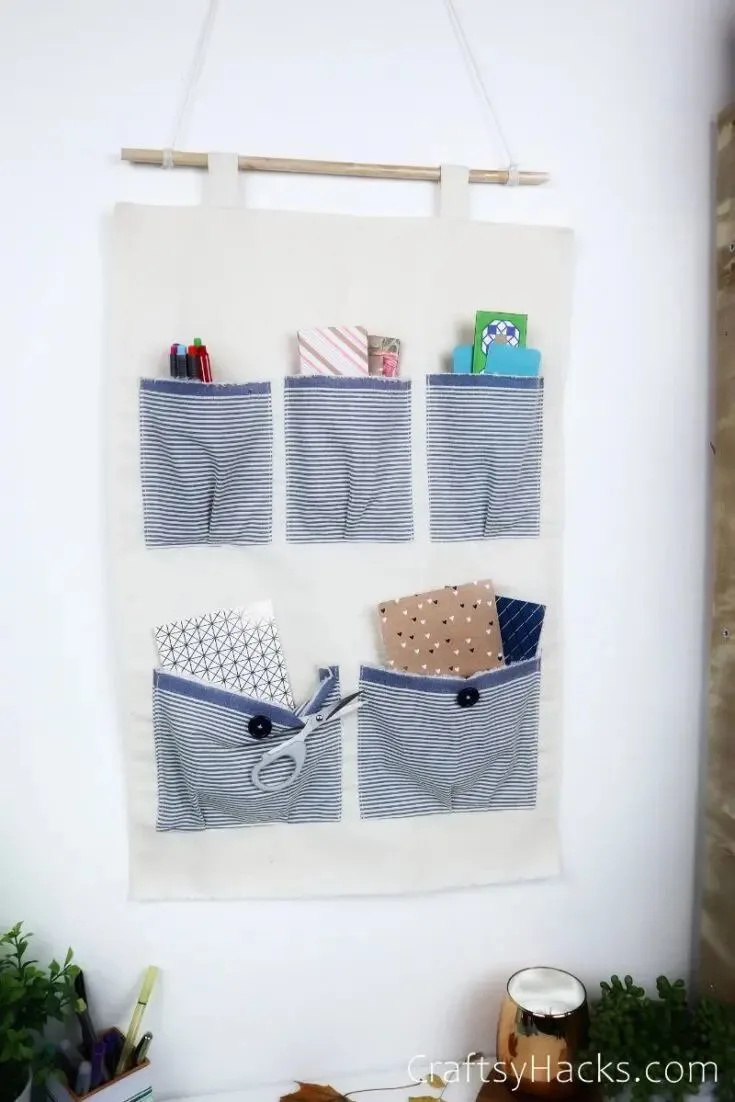 Credit: craftsyhacks.com
Are your desk drawers full? No more shelf space and definitely no free spot on your desk to place yet another organizer?
Here's an idea. You know that hook you have behind your door? Why not hang your supplies in a hanging organizer with pockets?
Better yet, why not make one yourself? Set up your sewing machine and get started!
11. Bathroom Supplies Organizing Hack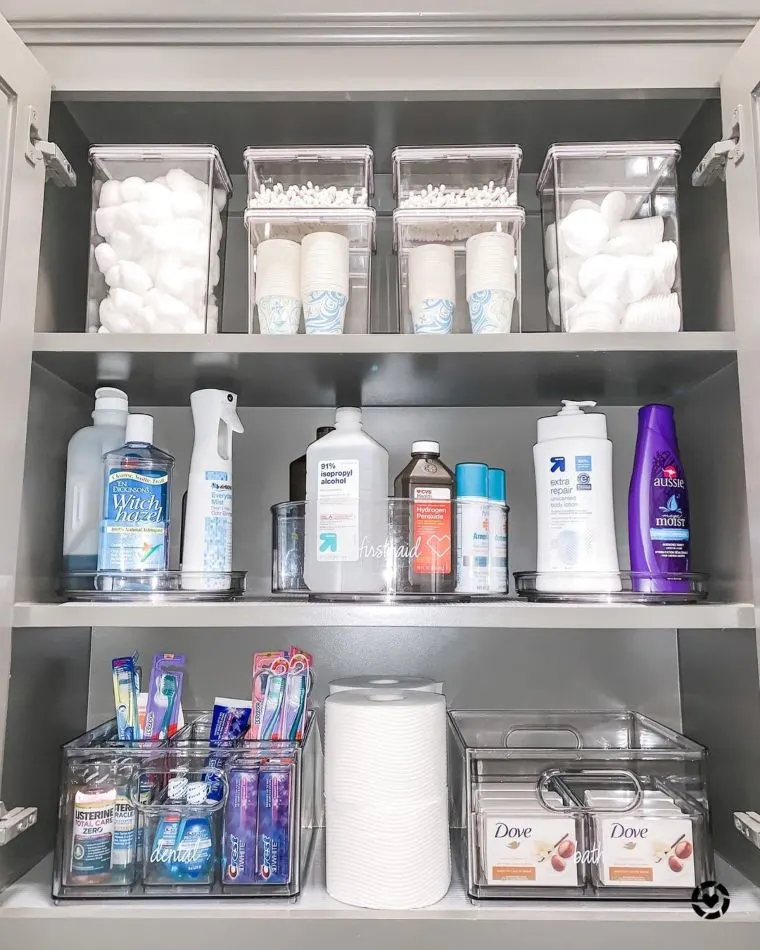 Credit: Instagram
It isn't just your medicine cabinet you need to keep well-stocked and organized. You need to make sure your bathroom supplies are in the right place as well.
Think about it. You've just shampooed your hair, and you're reaching for your conditioner, and it's empty. Of course.
Won't it just make your day knowing that you don't have to go running downstairs soaking wet in a towel to look for one? You'll reach over to the cabinet where you keep your bathroom supplies, and there it is, where you knew it would be.
Check out more bathroom organization ideas here.
12. Wires and cable organizer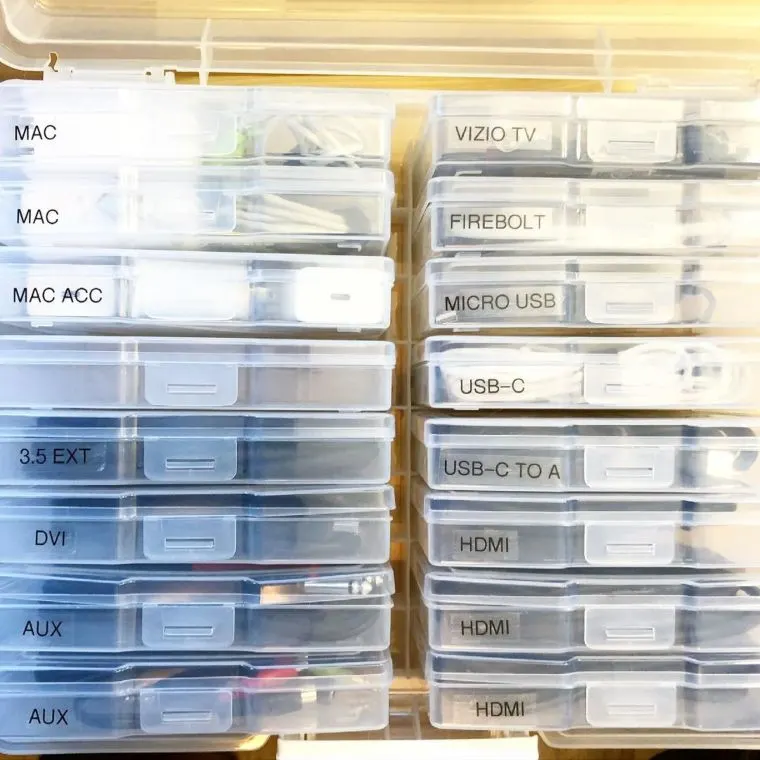 Credit: Instagram
Forget keeping your bathroom supplies in order; how would you like to never waste an hour of your day untangling cords and cable wires again?
How would you like to find a spare charger? I'm not pulling your leg, and you won't have to sell your soul to do it either.
All you need are a few of these plastic boxes and your trusty label maker like this.
13. Water Bottle rack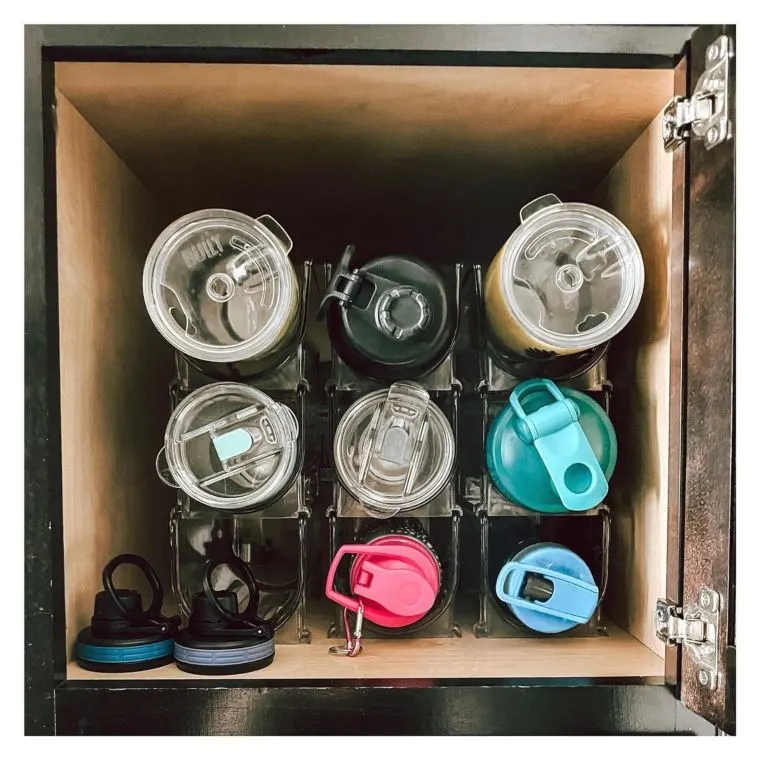 Credit: Instagram
You can't keep your water bottles just stacked inside a cupboard and call it a day. It's always that the bottle you need is right in the back and you end up pushing over the other bottles getting to it.
You know that rack you use to store bottles of wine? Why not use something like that for your water bottles?
I found a water bottle rack right here.
14. Kitchen Cabinets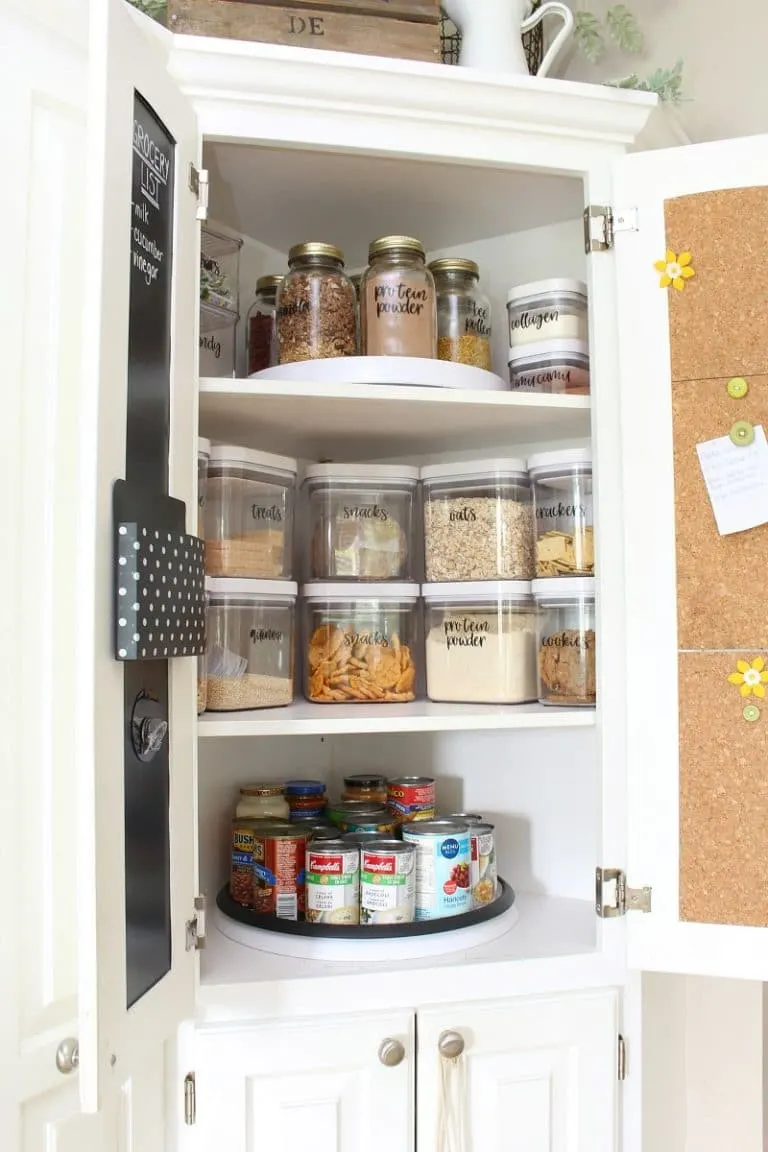 Credit: cleanandscentsible.com
I love opening my cupboards in the morning and grabbing the box labeled cookies—cereal, I was kidding—without having to shuffle half a dozen boxes around to get to it.
Stackable airtight boxes like these are just wonderful, aren't they? It's the best way to organize your cabinets and your everyday food cupboard supplies.
The bonus? Your cupboards will look like a million bucks with all your cereals, cookies, lentils, and rice labeled and stacked, just within reach.
Look here for more ways to organize kitchen cabinets.
15. Cabinet Door Storage Hack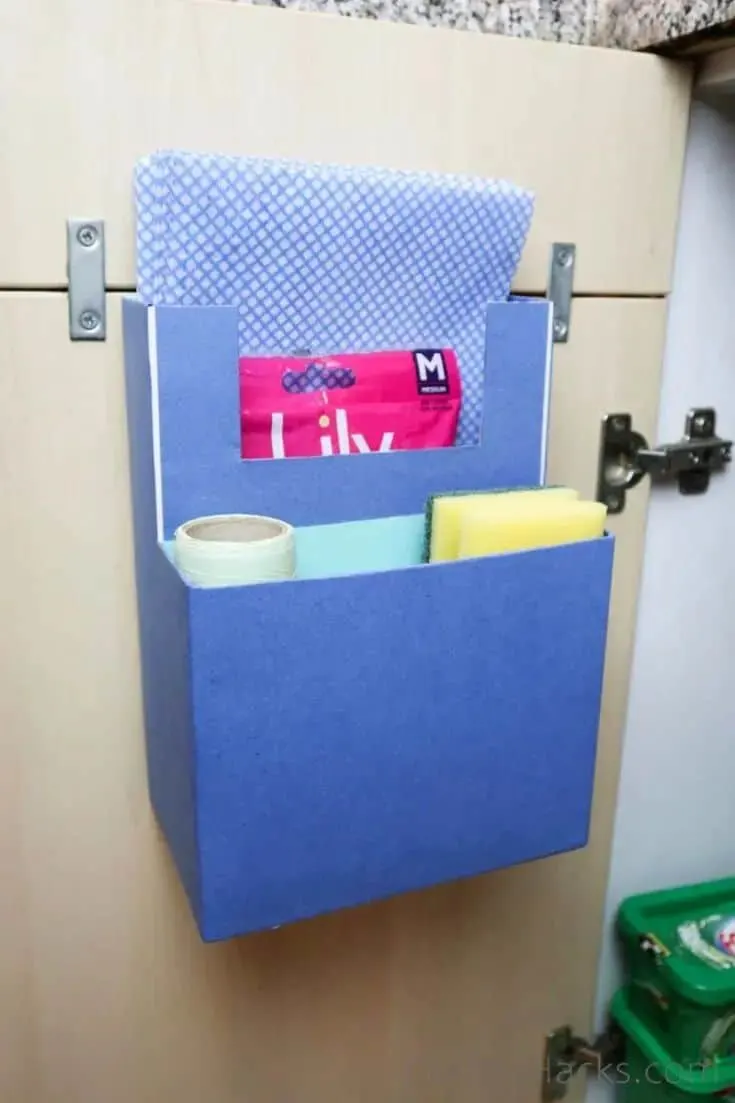 Credit: craftsyhacks.com
You know how you made desk organizers from cereal boxes earlier? Here's another way they can come in handy.
You'll need a few strips of self-adhesive velcro dots like these or strips to help you mount the upcycled serial box to the inside of your cupboard door, but that's pretty much it.
You can fill it up with a roll of garbage sacks or your kitchen paper wipes. Slip a couple of dish sponges in there; you won't have to go digging under the kitchen sink for them anymore.
16. Baby Closet Organizer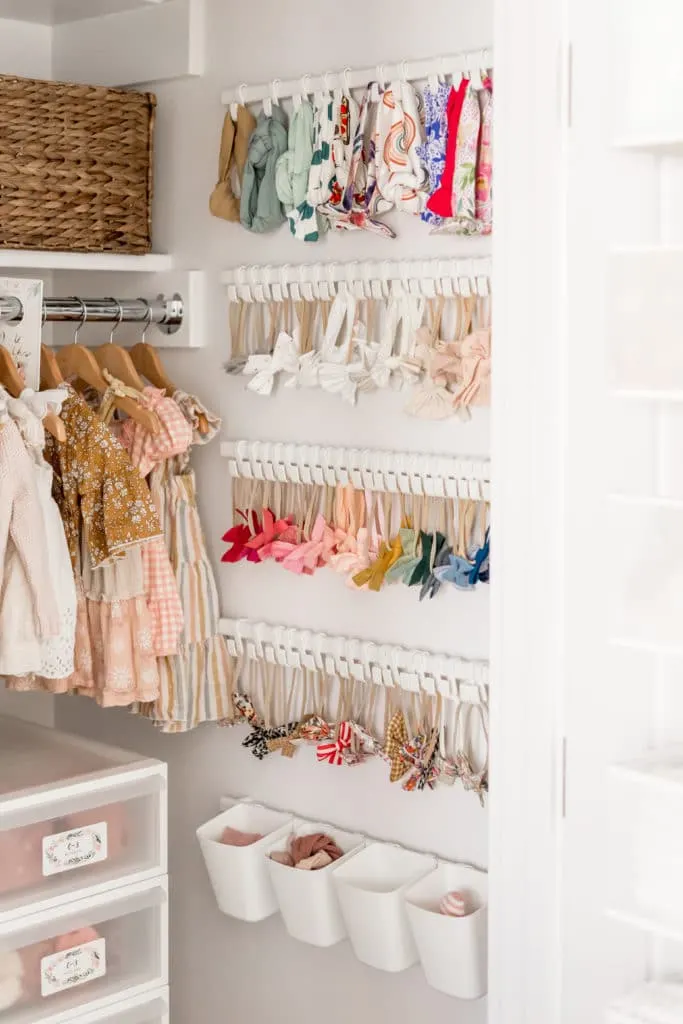 Credit: onesweetnursery.com
A new baby in the house means an overflow of baby paraphernalia : clothes, onesies, baby diapers, baby booties, the cute accessories and, even costumes. You don't have the heart to throw anything away.
It's time you got creative with organizing everything your baby needs into the little space you have.
Divide and conquer: use wall space to install additional storage racks, dividers, and over-the-door organizers. Stackable bins and boxes are your new best friends.
Here are some tips on how to best organize your closet space to make room for your baby's things.
17. Spice Rack Organizer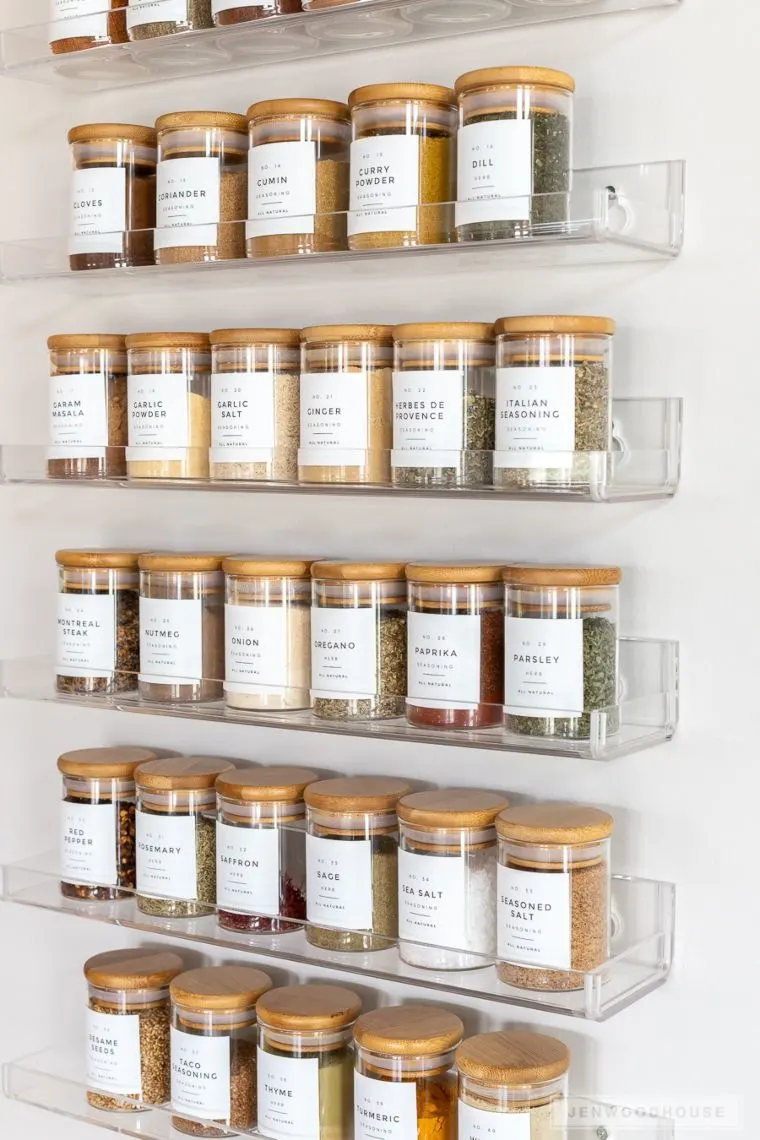 Credit: jenwoodhouse.com
I love a good spice rack. I get a kick seeing my herbs and spices lined in rows.
Here's what you'll need to set up this particular spice rack:
Once you've attached your rack in place, all that's left is to fill up the jars with those aromatic spices.
18. Over-The-Door Pantry Organizer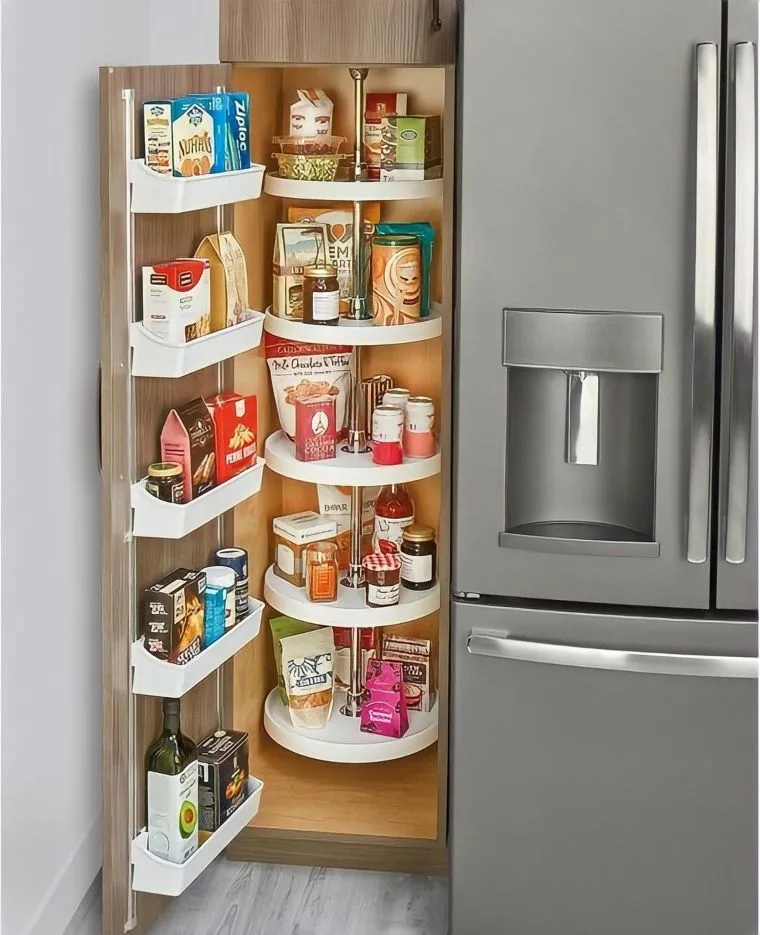 Credit: Instagram
Look at that rotatable pantry tray system. Isn't that such a neat idea? But what I really love are those five rows of additional storage on the pantry door.
Using an over-the-door pantry organizer and that revolving rack system is a great way to make the most of the space.
19. Lid Organizer Rack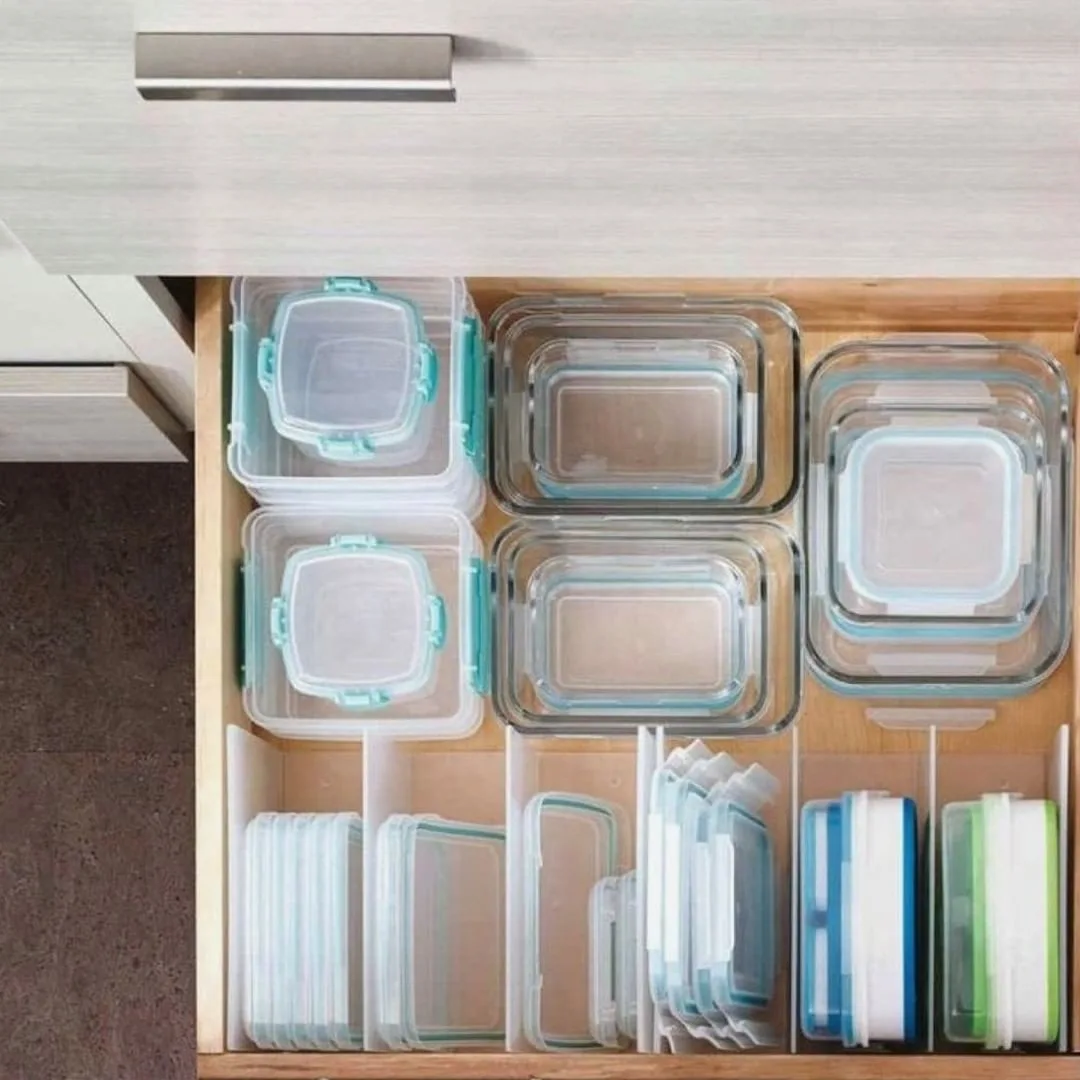 Credit: Instagram
This one, now, it just takes the cake, doesn't it?
When it's time to put away leftovers, I always end up spending way too long looking for my Tupperware boxes. And, aren't you always losing your Tupperware lids?
You've got to invest in a reliable organizing system to store your boxes and their lids. The easiest way would be to pick up a couple of expandable lid organizers here.
Alternatively, you can even use a rack like this to arrange the lids to your pots or pans.
20. Draw Dividers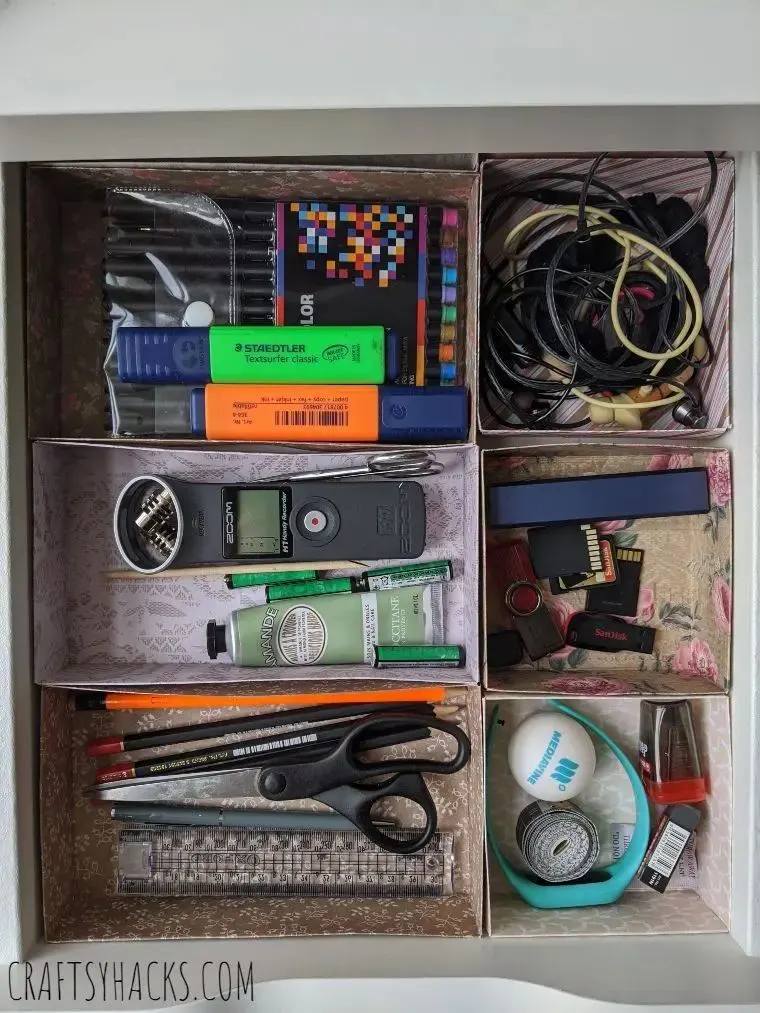 Credit: craftsyhacks.com
Do you have that draw under your TV cabinet that's always in a state of disarray?
It's time you place some drawer organizers in there and give everything: cable wires, remotes, pens and writing supplies and the odd bits and pieces, a place to go, and a place to stay.
You can make your own dividers. Just find some pretty cardstock and a pair of scissors to get started.
21. Towel stacker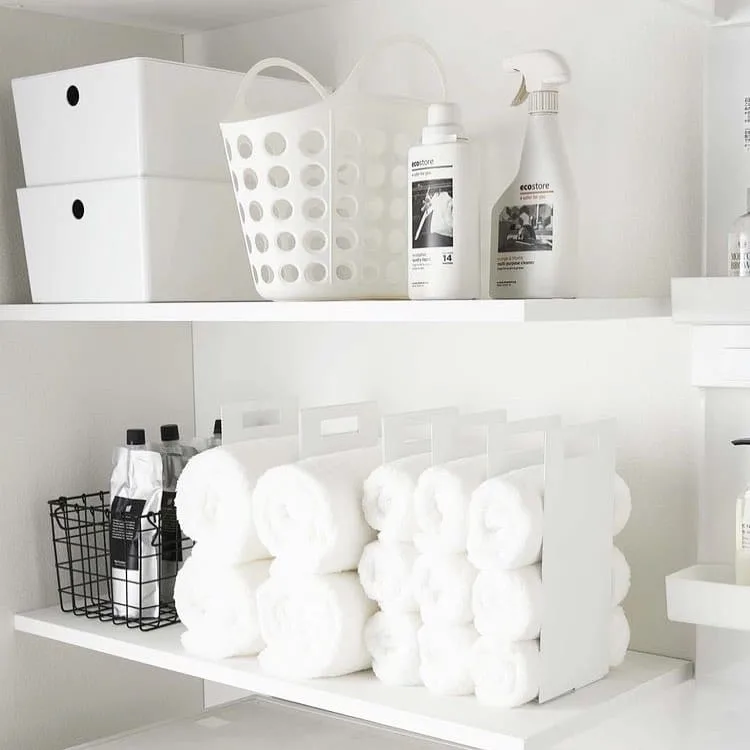 Credit: Instagram
Just look how clean, white and pristine those towel rolls look. It feels like you're in a spa.
You can have that in your home as well. Just buy a couple of shelf dividers here, roll up your face or hand towels and stack them up between two dividers.
Here are some towel storage ideas for you to explore.
22. Laundry Supplies Organizing Hack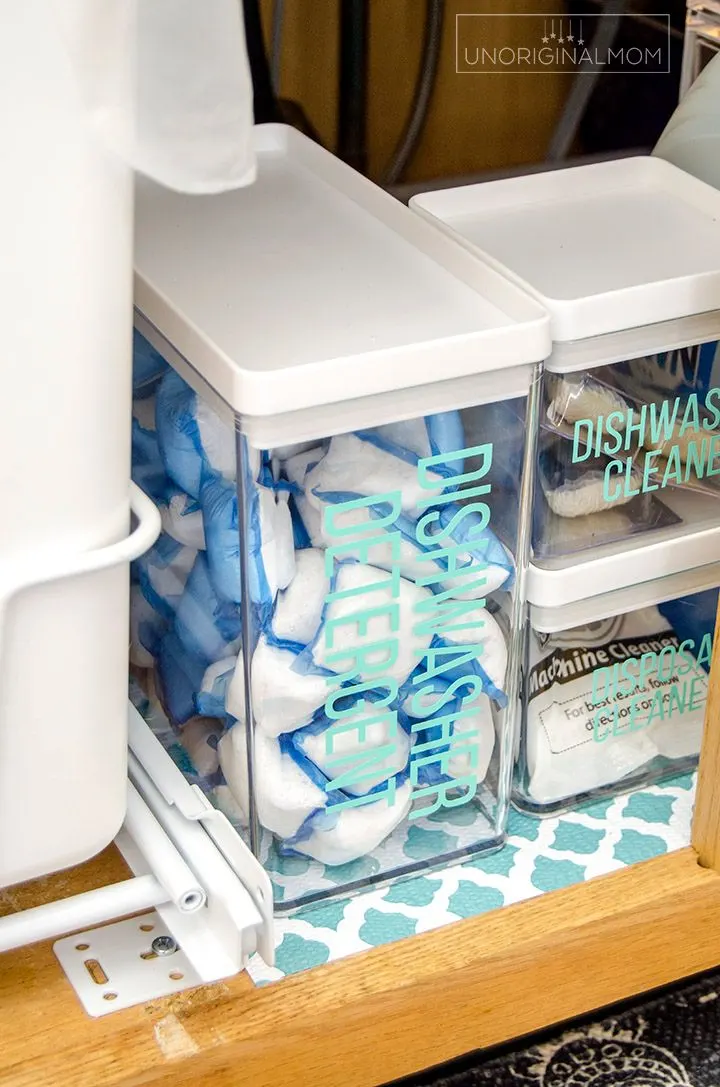 Credit: unoriginalmom.com
Your laundry room doesn't have to look like a war zone. And, you can avoid any number of accidental bleach spills or using the wrong fabric softener incidents.
No, you don't have to learn black magic. It's all about how you store your laundry cleaning supplied. First, invest in a few stackable boxes and detergent tins like these.
Now transfer all your detergent powders, pods, and sachets into them and stack them away.
Check out these laundry room storage ideas.
23. Stationery Station Organizer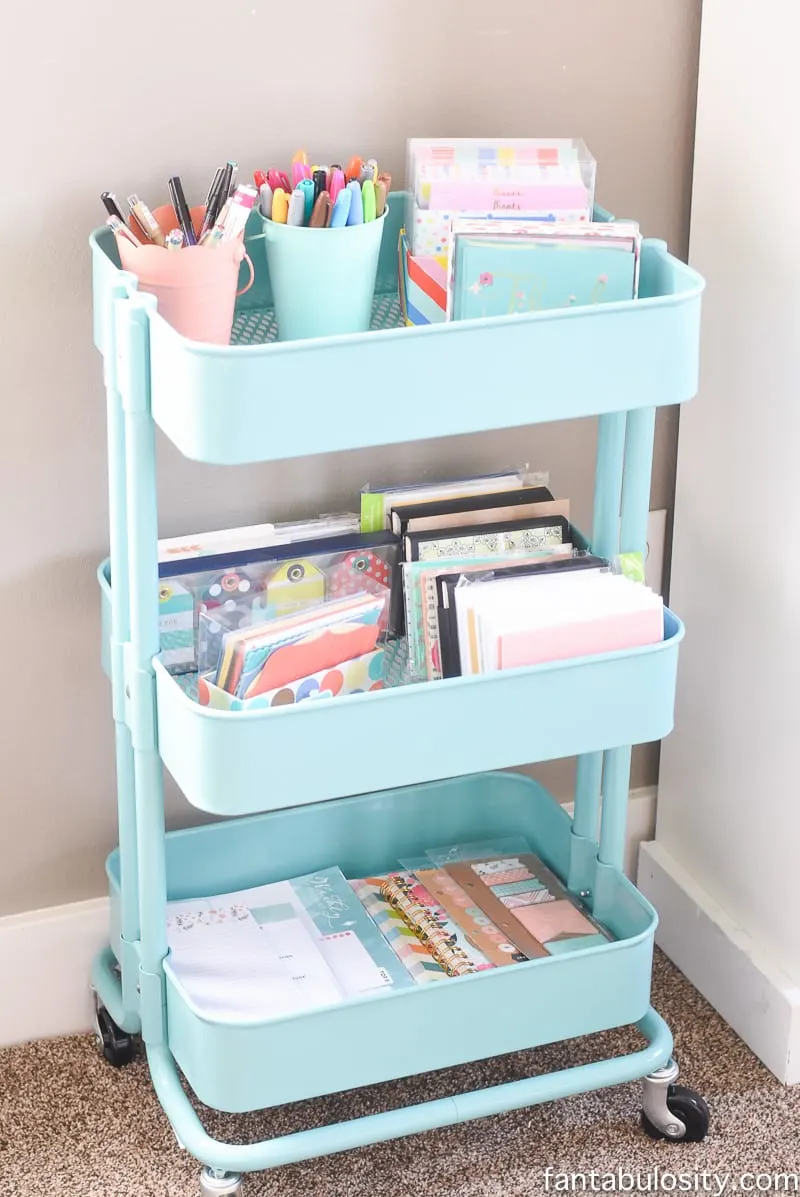 Credit: fantabulosity.com
Here's another organization tip for all fellow stationery addicts who need to enable their habit of buying every pretty pen in the vicinity.
First, admit that you've run out of drawer space and buy yourself a rolling cart like this. You can organize your supplies in there the way you see fit.
I use dividers, boxes for pins and paper clips, and rows and rows of trays to fill with all my colored pens and pencils.
This could be a great craft room idea!
24. Linen Closet Wire Baskets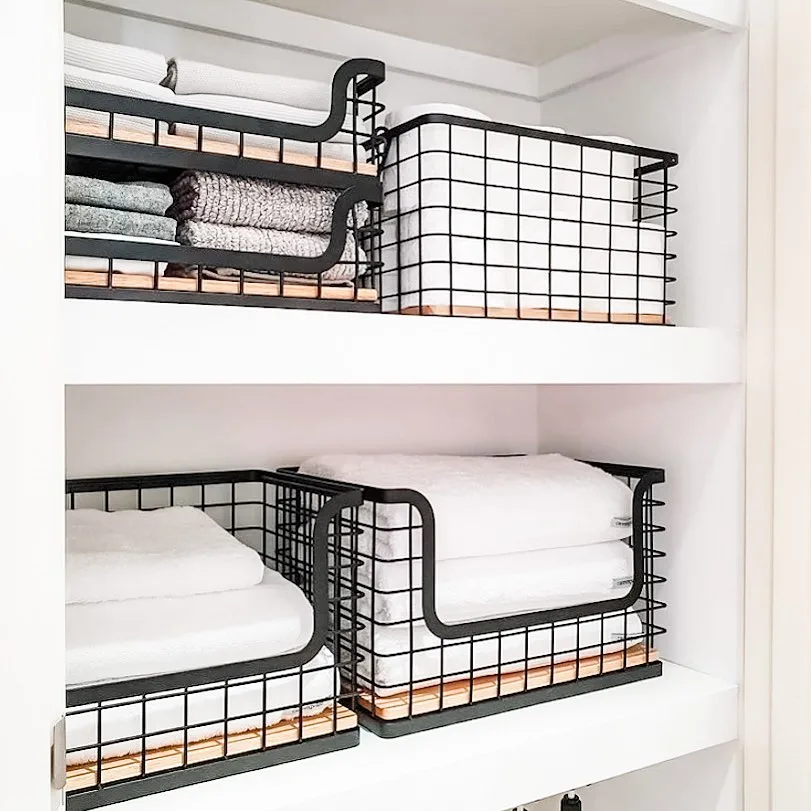 Credit: Instagram
The smell of freshly laundered towels is downright wonderful.
The key to a beautifully organized linen closet is not just having the right storage items, like that metal basket. It's also about how you fold and put away the towels.
Check out more ways to organize your closet here.
25. Desk Magazine Organizer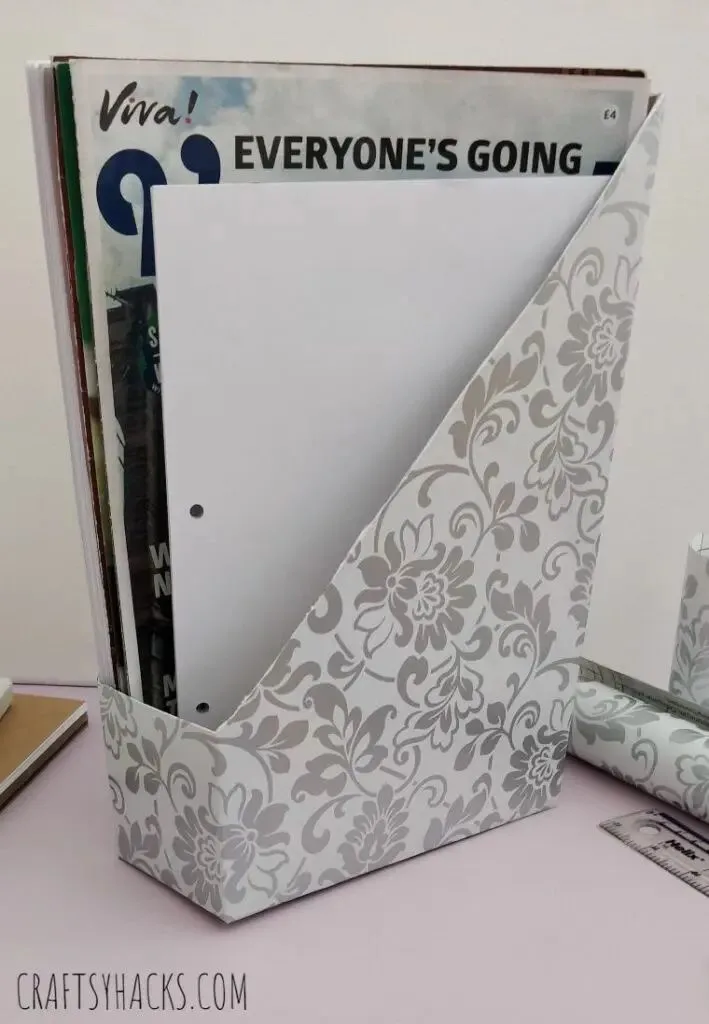 Credit: craftsyhacks.com
I hope you have some cereal boxes leftover and haven't used them all on the previous organization ideas.
Won't your magazines and stick files look much better neatly put away in these magazine organizers? I don't think the spot on the floor by your couch is working anymore.
Grab some self-adhesive fablon, and head over to your craft desk to get started making this magazine organizer!
Check out more office organization hacks here .
26. Watercolour shelf stand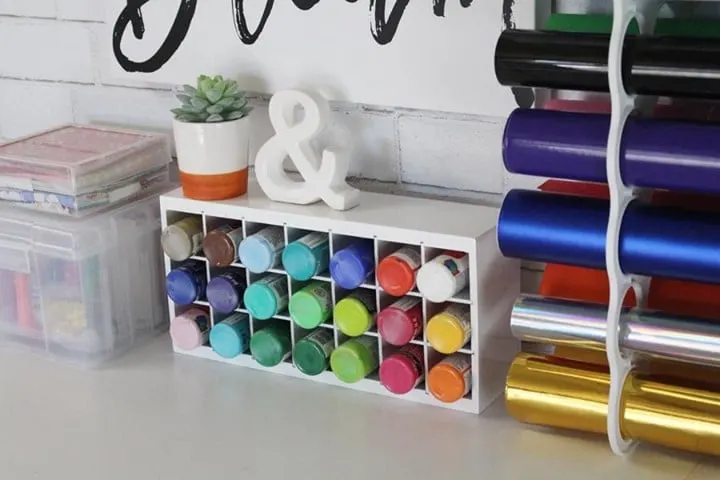 Credit: Instagram
I don't paint, but I really do love how colorful those bottles of paint look. Of course, they'd look even better if they were neatly arranged into individual, mini-cubby holes.
I found this adjustable mini desktop shelf organizer here to help organize paint bottles or any other stationery, art, or craft supplies you might have.
You can even have it mounted if you're short on desk space.
27. Office Supplies Organizer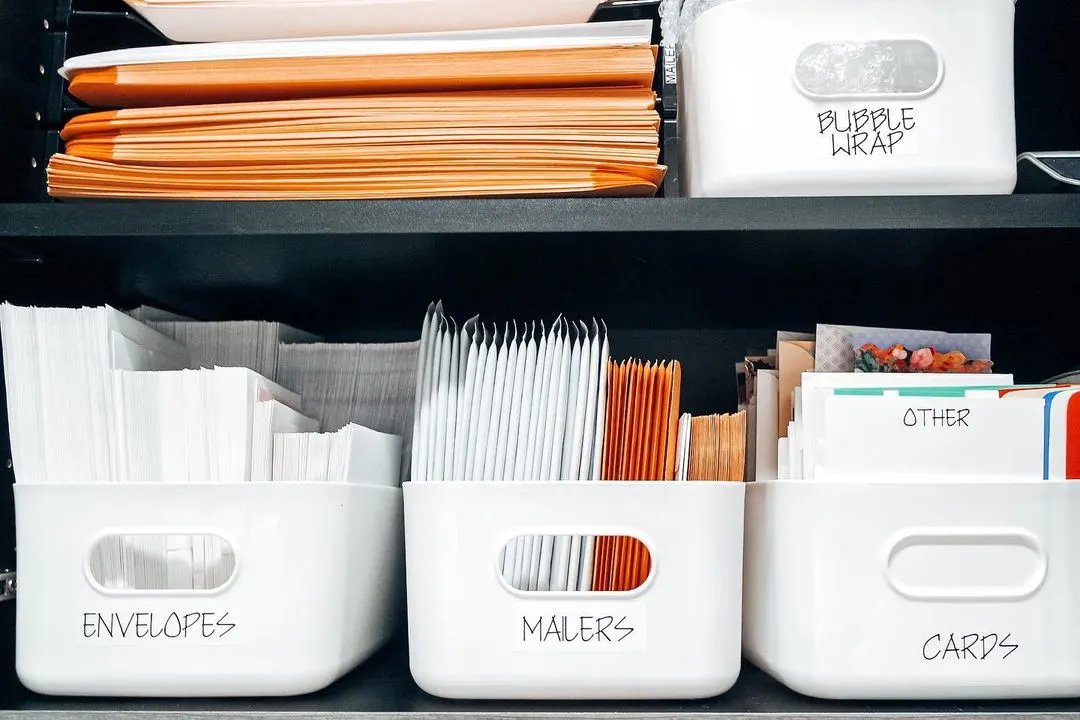 Credit: Instagram
You've been given a budget and tasked with sorting out your workplace's office supplies closet. Take a deep breath.
You can't let a stack of binder clips be the cause of your downfall. What's the worst that can happen? A papercut?
Here's all you need: around fifteen small to large-sized trays and a label maker.
Now channel your inner OCD or look here for some desk organization tips to tackle those supplies
28. Stationery Bucket Organizer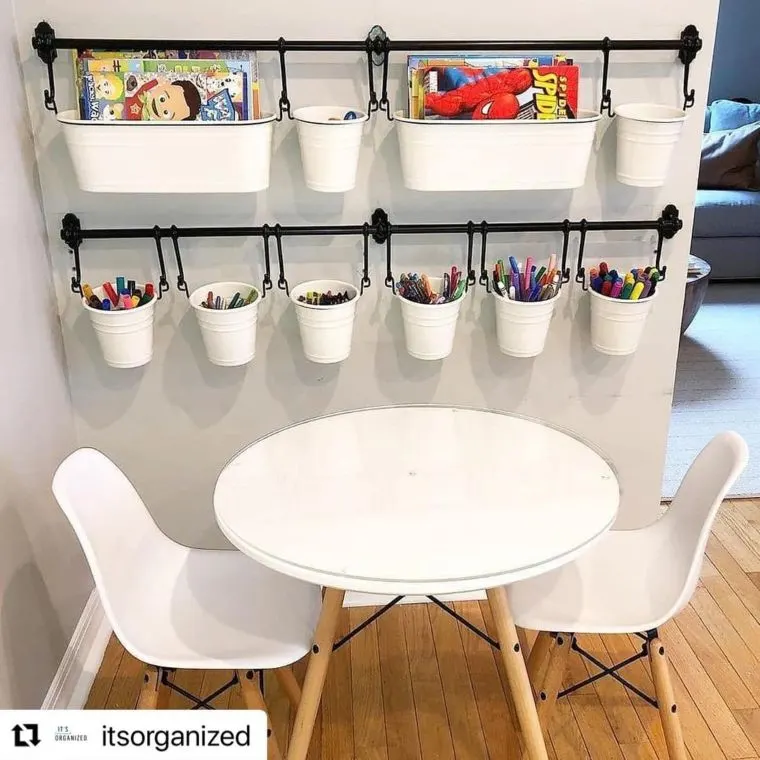 Credit: Instagram
Isn't that a lovely craft corner for kids? They've got everything they'll need in those nifty little buckets right next to them.
If you're handy with a drill, then you can get that rack set up. Now all you need are these planter buckets to use as stationery bins, and you're set.
29. Art Supply Room Organization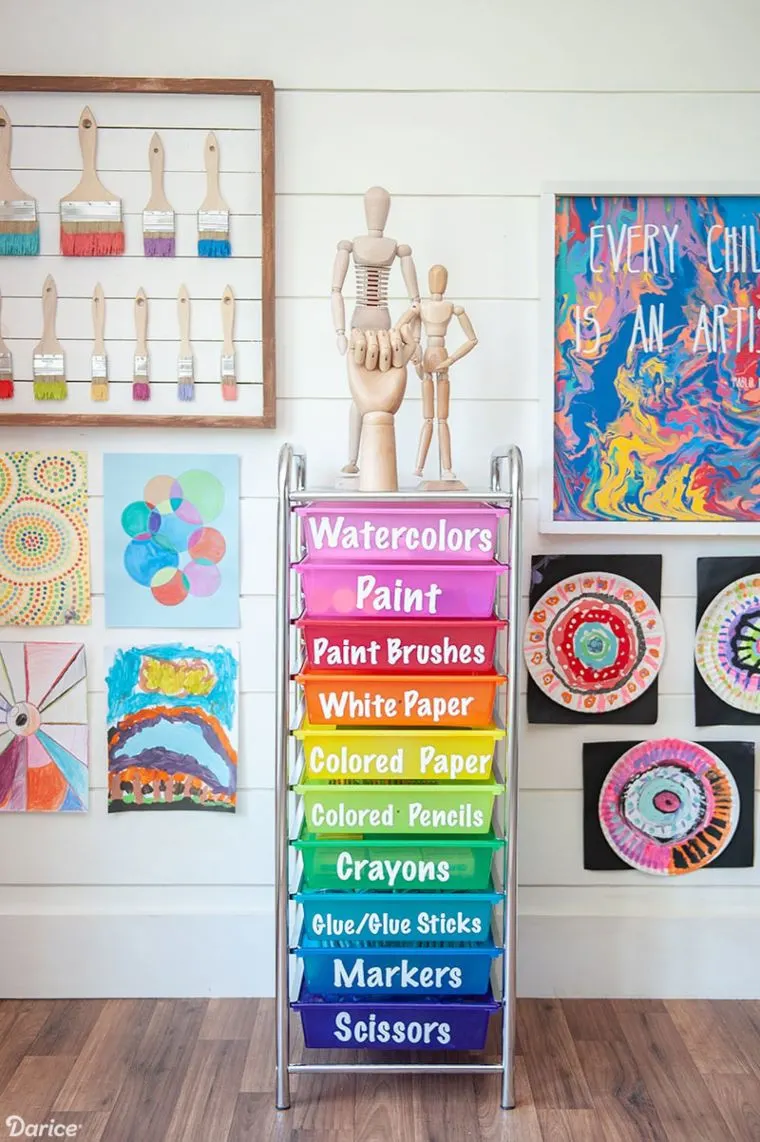 Credit: darice.com
There's no end to the number of art supplies you can have, but storage space isn't always that plenty. So, why not buy a portable rainbow drawer set?
You can print out labels, paste them on the drawers and make navigating through the maze of supplies all that easier!
30. Rope Basket Cardboard Box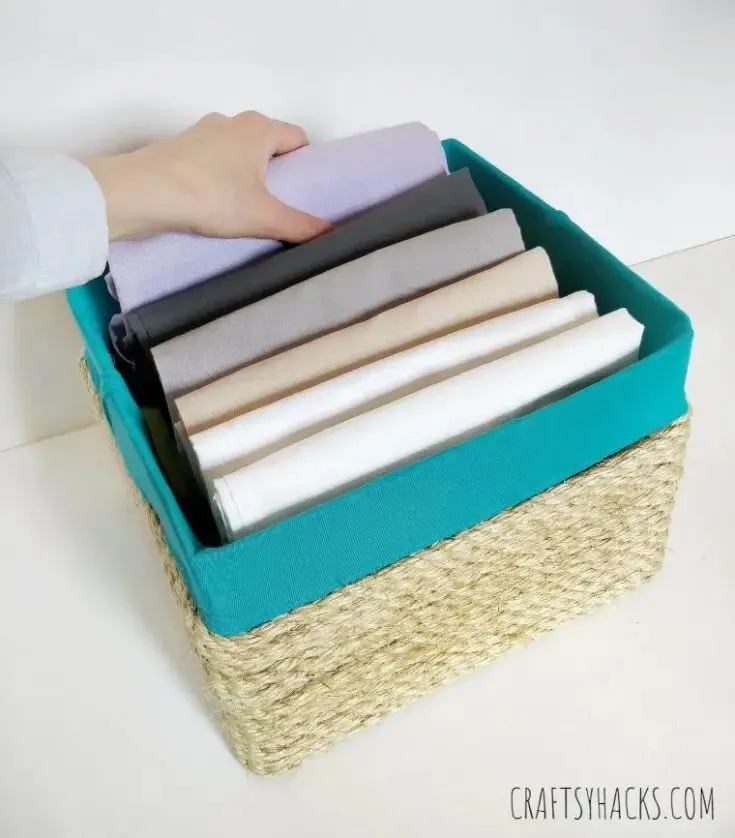 Credit: craftsyhacks.com
You've surely got several cardboard boxes lying around. Why not turn them into a bohemian-esque basket-box?
It'll help you declutter your space and add a little bit of character to the room. You can line these boxes in your linen closet and use them to store your towels.
Just get some manilla hemp rope from here, and you're set. This organizer is also great for storing lego.
31. Lid Rack Organizer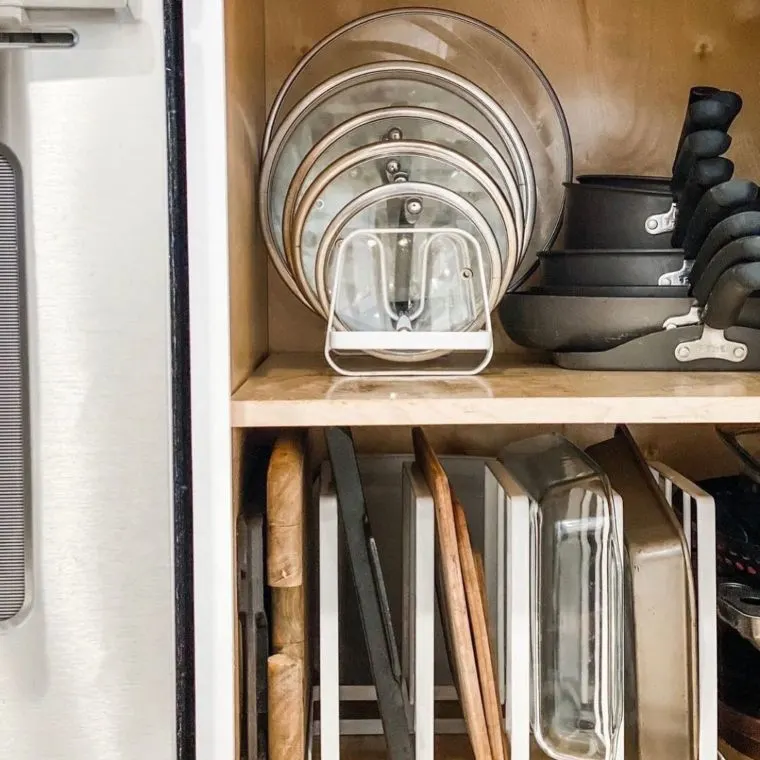 Credit: Instagram
We've seen how you can keep your Tupperware lids safe in one place. But have you considered what to do with the lids from your pots and pans? I thought not.
While you can use a plate rack to just store your bigger lids, you can also buy this rack and use it to hold more than your lids.
You can line your chopping board, baking pans, and casseroles, all neat and organized!
Check out more Dollar Store kitchen organizing tips here.
32. Laundry Closet Organizer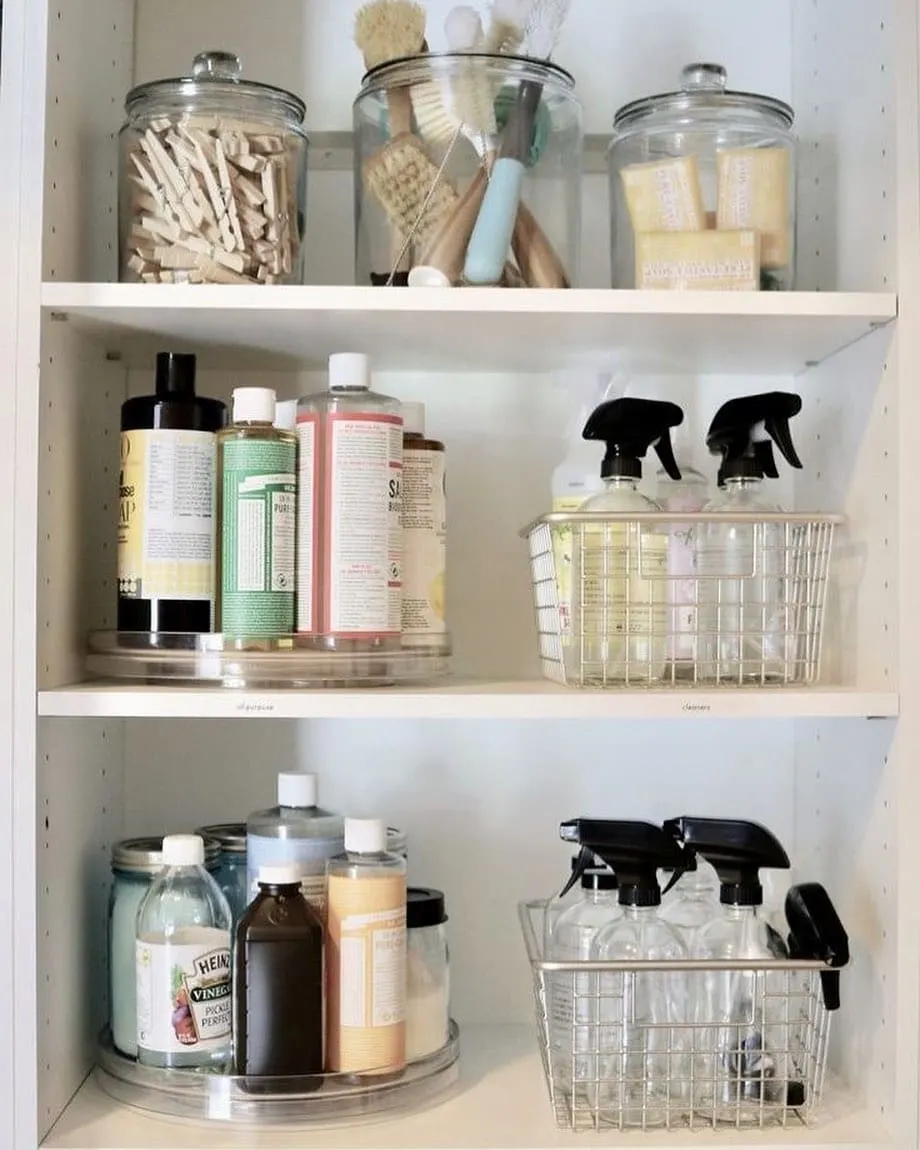 Credit: Instagram
I see a lot of homemade cleaning supplies here. While I'm all for using natural, chemical-free supplies, they need special storage facilities.
You can buy glass jars like these that will help to keep your soap bars, pegs, and brushes neatly organized. You can also buy a lazy Suzan tray like this for your liquid cleaning supplies.
33. Laundry Unit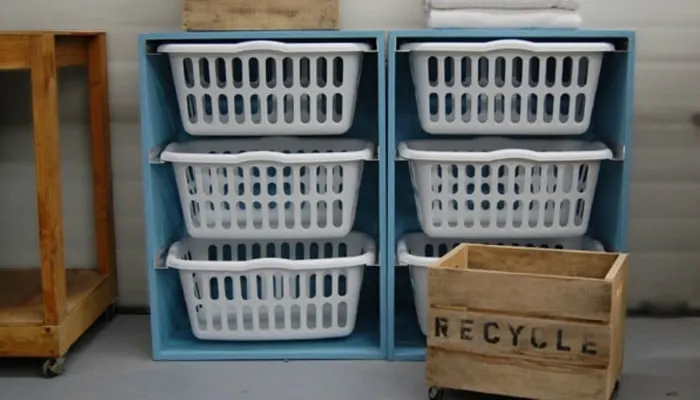 Credit: theownerbuildernetwork.co
I wish I had a laundry unit like this. Look at all that space.
With the right kind of laundry basket, you'll never have to open the lid and find all your beautiful whites turned rosy because of one darn red sock.
You can sort your whites, colors, delicates, woolens, towels, and blankets into the different baskets. Once you get your load out of the dryer, use the top of the unit to fold and press your freshly laundered clothes.
34. Garage Toy Storage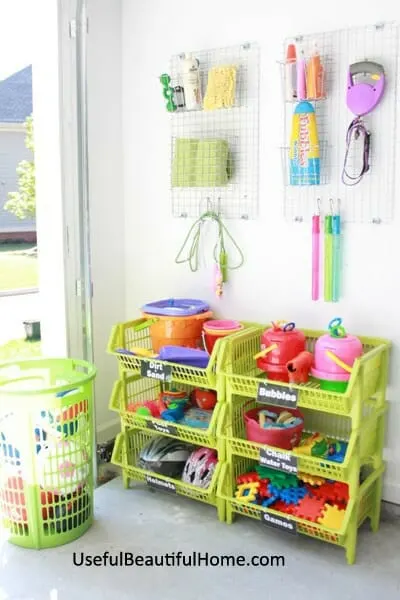 Credit: orgjunkie.com
When kids pick up after themselves, it teaches them discipline.
You've got to start teaching them young, I tell you.
You'll need a designated toy dump spot—sorry, organized toy storage space. A corner in your garage should do the trick.
You can find those stackable jumbo-sized baskets right here.
35. Rope Organizer For Desks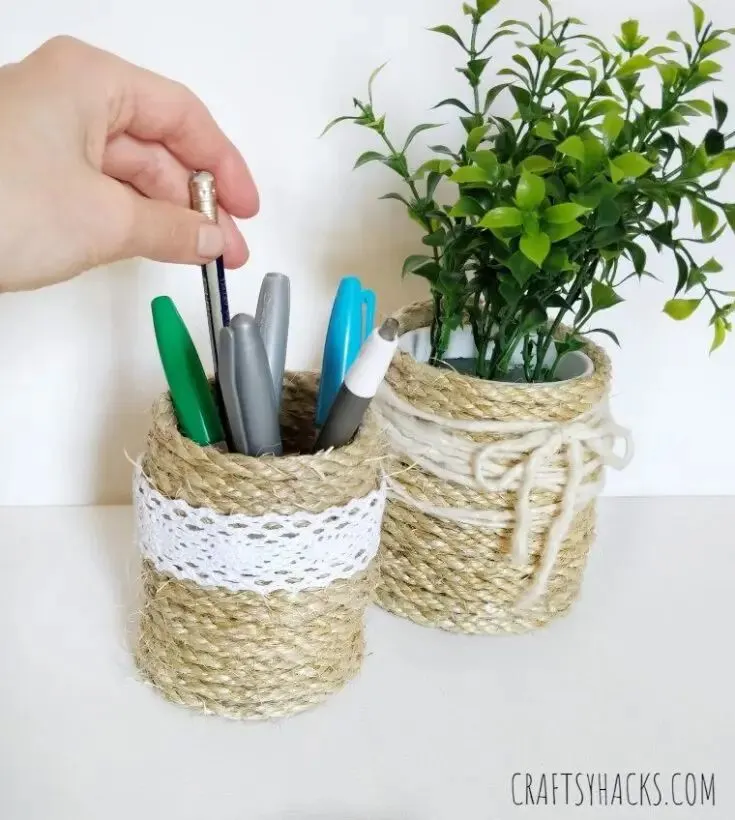 Credit: craftsyhacks.com
Something as small as this roped pencil holder can do wonders to keep your desk tidy and uncluttered.
They can also double as a lovely planter if you use a basic planter to that effect. You can wrap a strip of ivory French bobbin lace like this around it.
Now, with your pens and pencils put away and a lovely succulent sitting in that Bohemian-styled planter, doesn't your desk look fresh?
36. Tin Planters On A Rack Storage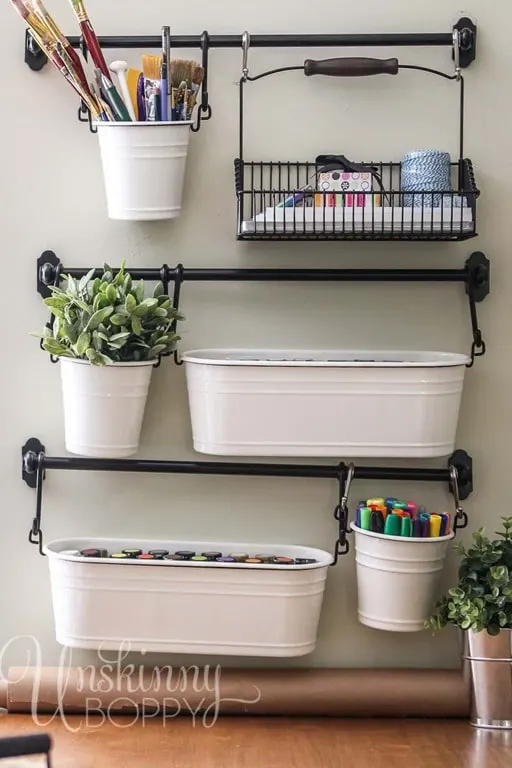 Credit: bethbryan.com
You've got the perfect length of wall just over your craft desk to turn into a convenient, accessible, and chic storage area. How? You use simple, elegant white planters like these and hang them on a rack, of course.
Imagine how beautiful your craft area would look with a lovely succulent hanging just a foot away? It would brighten the room, and add some much needed green to it.
37. Kids' Book Shelf Organizer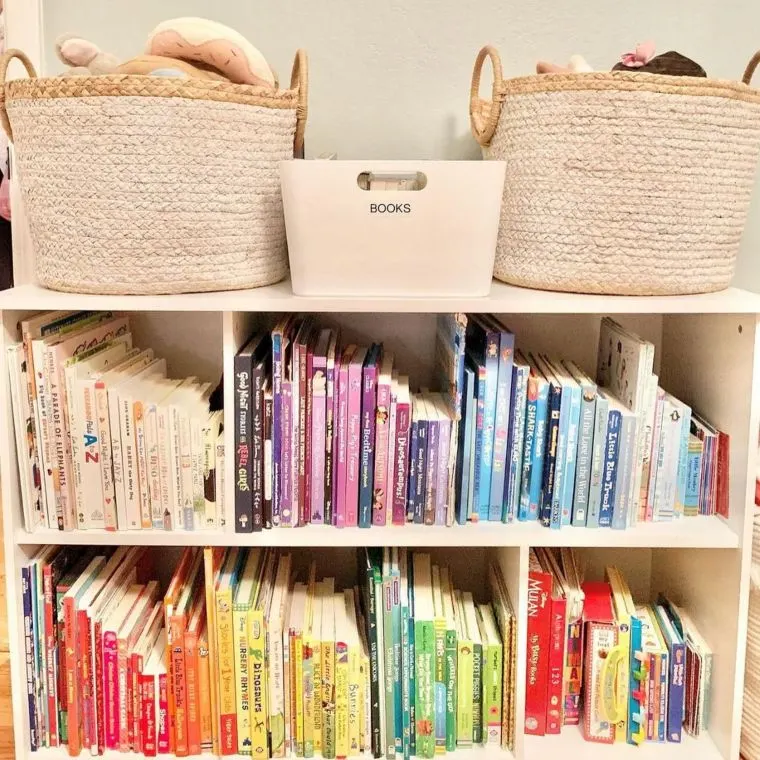 Credit: Instagram
Look at all those books. That's what I love about children's books; they're always so colorful. They're perfect for using a color-coded cataloging and arranging system.
The entire unit is so compact, with those cubby holes for shelves and those lovely jute baskets like these on top to put away toys after playtime. They'd look lovely anywhere, and you can probably use them to pick up toys around the house.
Check out more ways to organize children's room.
38. Upcycled Tin Organizer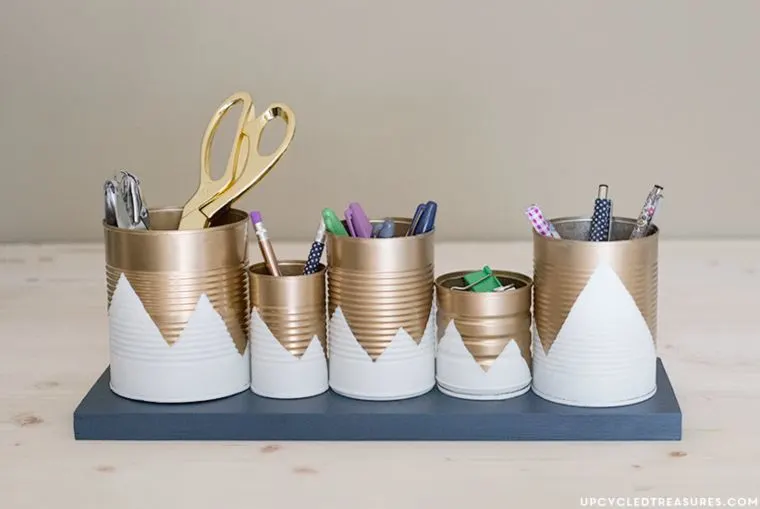 Credit: mountainmodernlife.com
Tin is in! It's all about using rustic—or rusted, as the case is—upcycled items these days.
You'll find tin cans and bins being used as planters, as bowls, or in this instance, as storage bins to organize whatever space you want to declutter.
Slap on a coat of rose gold paint, use some clear spray sealer to set the paint, and rustic just turned into chic. You can store art supplies, stationery, or if your tin has a secure lid, you can even use it to store coffee and tea.
39. Shoe Closet Stackables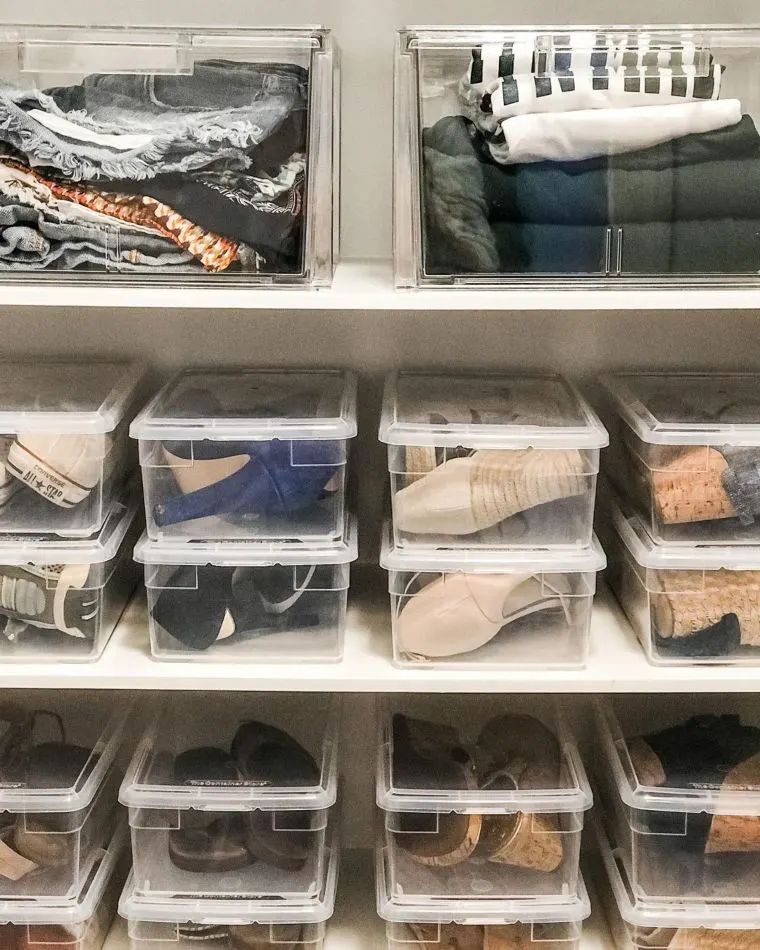 Credit: Instagram
Shoes. The loves of my life and the blight on my savings. I seem to be buying shoes and then buying stackable boxes to organize them. It's a vicious circle.
I know that not buying shoes isn't the solution. However, organizing them so they aren't cluttered and exploring some shoe storage hacks is how to go about it.
I should probably buy stock in stackables soon.
40. Portable Stationery Stand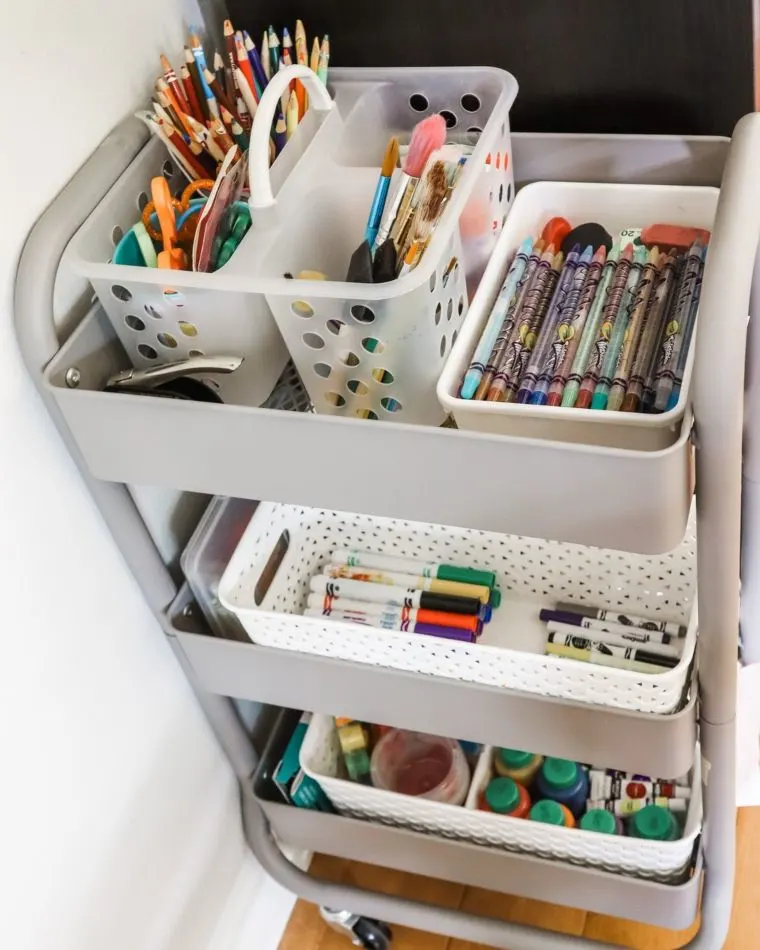 Credit: Instagram
You can sort your crayons, color pencils, brushes, markers, and painting supplies in a systematic and accessible way with a few plastic trays.
Let's leave the chaotic creativity to the actual art or craft time and make sure the tools you need are cared for and easy to find.
Let's leave the chaotic creativity to the actual art or craft time, and make sure the tools you need are cared for and easy to find.
41. Bathroom Cabinet-Under-The-Sink Organizer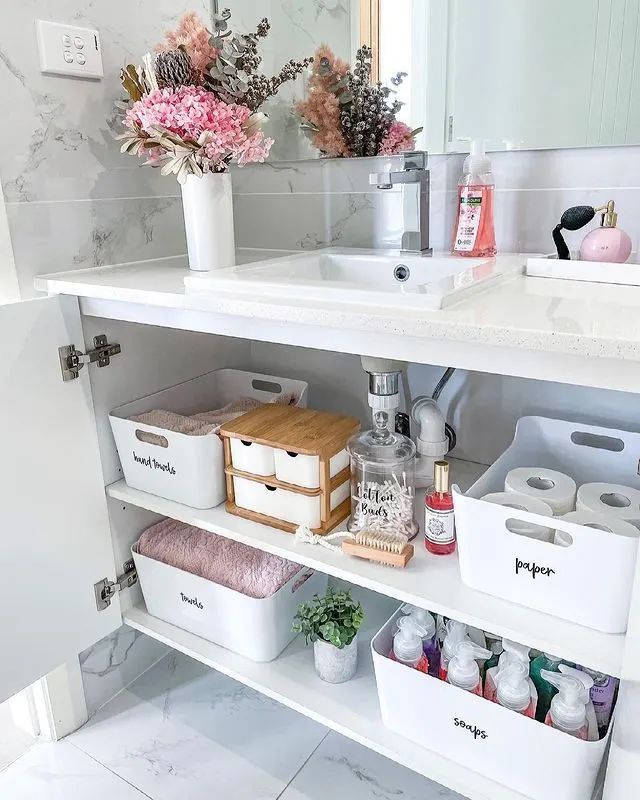 Credit: Instagram
Keeping your bathroom organized, especially if it's a space you share with someone else, is an art. Not everyone can do it, I'll admit.
But organizing the space under the sink is a good place to start. You can:
1.Add a couple of baskets for your towels.
2.Stack your toilet paper in one basket so it doesn't get wet
3.Set up a flower arrangement or a succulent and…done!
42. Craft Closet Space Organizer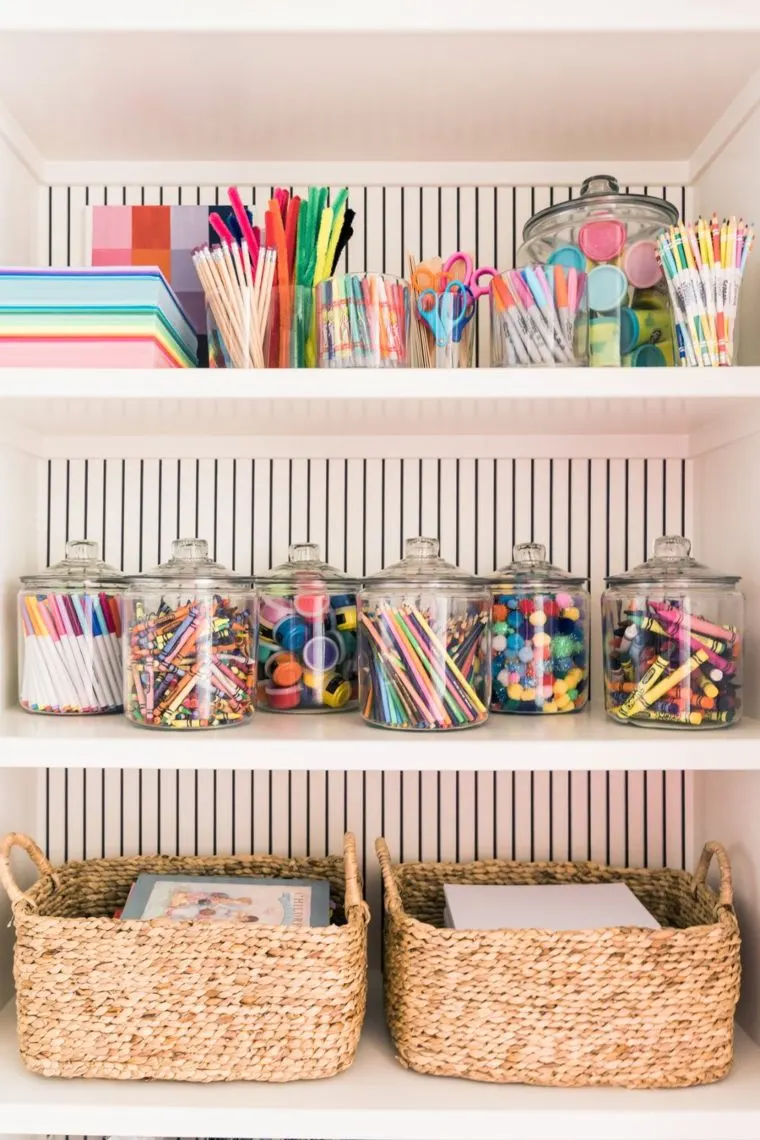 Credit: rachelparcell.com
All that color, all those craft supplies…and in those beautiful jars! They look like little rows of candy.
You look into this closet, and you can just tell where everything is. I do love controlled chaos, and the riot of color from those craft supplies neatly confined in their glass bubbles delivers just that.
Just make sure you secure your craft paper in those baskets, and you're good to go.
43. Washi Tape Rack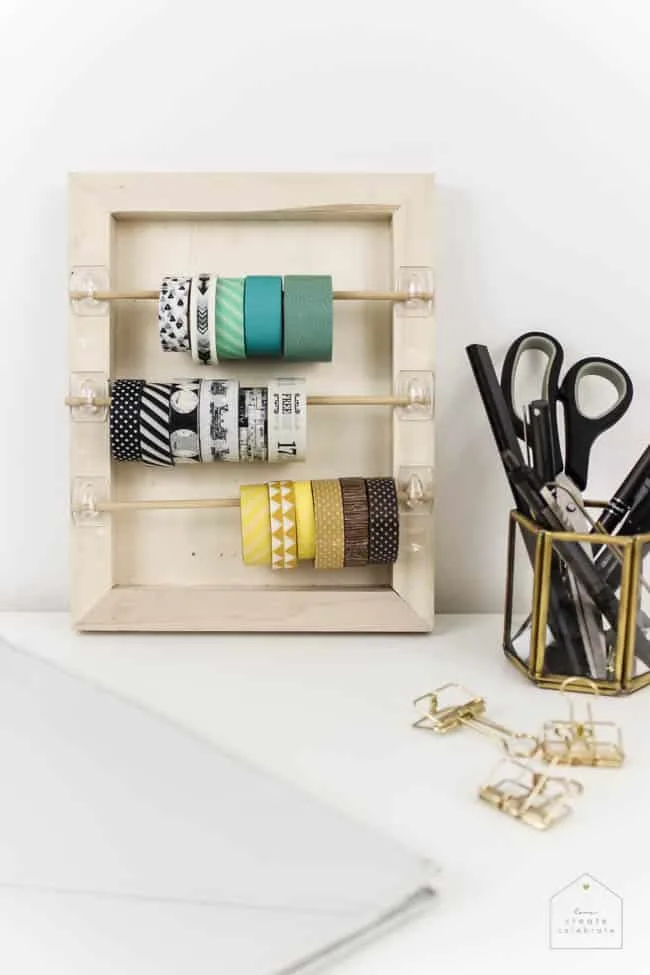 Credit: lovecreatecelebrate.com
You probably have a larger version of this stand for your bangles and bracelets. But instead, use it to arrange your washi tape.
If your washi tape stash is extensive, go ahead and plan a color scheme. You can add to your stash as you go, but for now, you can find this rack here.
44. Kitchen Corner For The Kids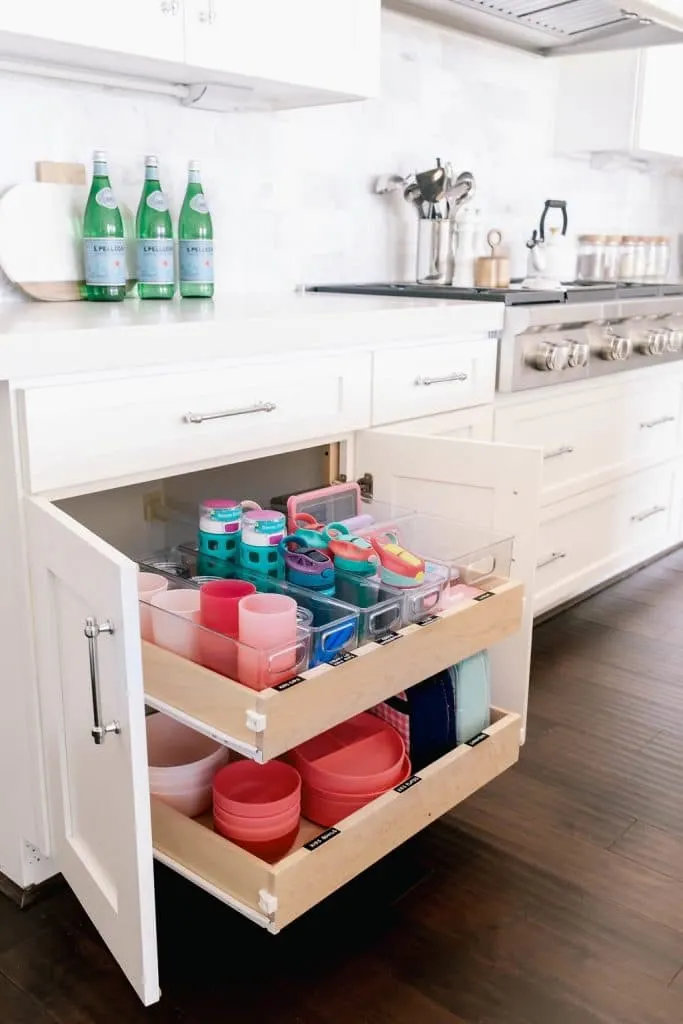 Credit: mikaperry.com
Growing up, my mum had the exact same setup in our kitchen for my school supplies. You'd be surprised how easy and efficient lunch packing can be if you know exactly where everything is.
Check out those sippy cups and water bottle divider trays. There's even room in the second draw to comfortably sit two lunch bags right next to the boxes.
This really does take me back. I almost wish I were back in school. Almost.
45. Changing Station Stand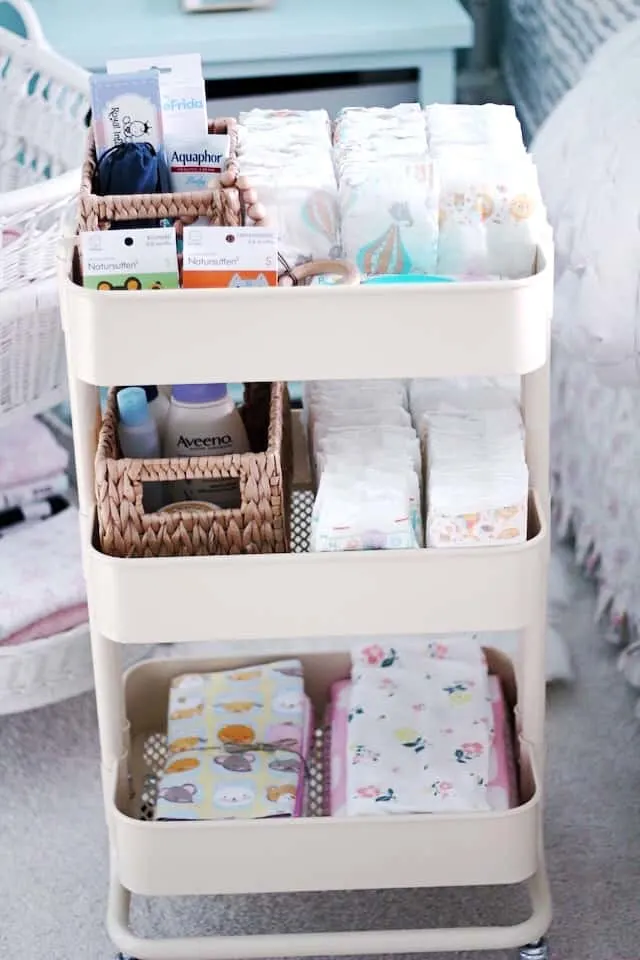 Credit: wendycorreen.com
Imagine how convenient this stand would be, right next to the changing station. You've got all the baby supplies you'd need in the order you need them.
There are baskets that keep the liquid creams away from the diapers too! The only thing I'd do is buy this diaper storage bin for the diapers to make sure they remain extra clean!
46. Children Cubby Organizer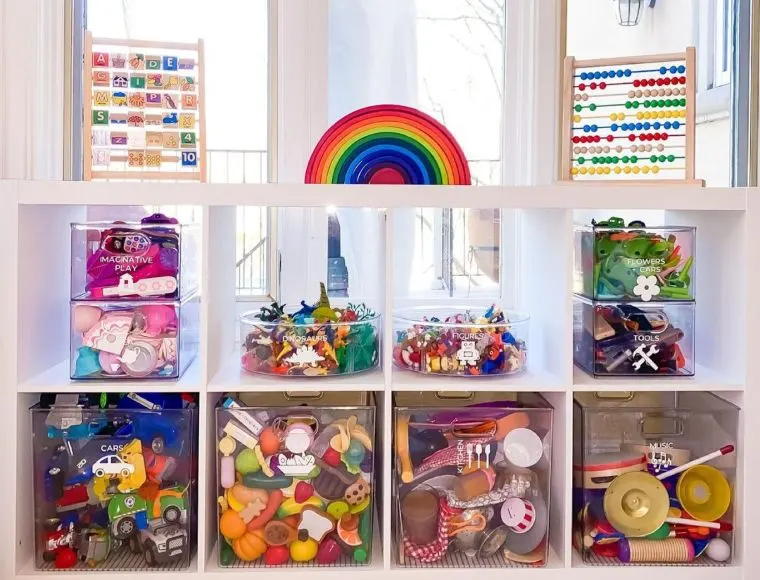 Credit: Instagram
Cubby holes for kids are a no-brainer. They make it easy to put away toys, books, art and craft supplies, and other bits and ends.
The key to a well-organized cubby space? Plastic bins with handles that make it easy to pull, put away, and push.
47. Cable Drawer Dividers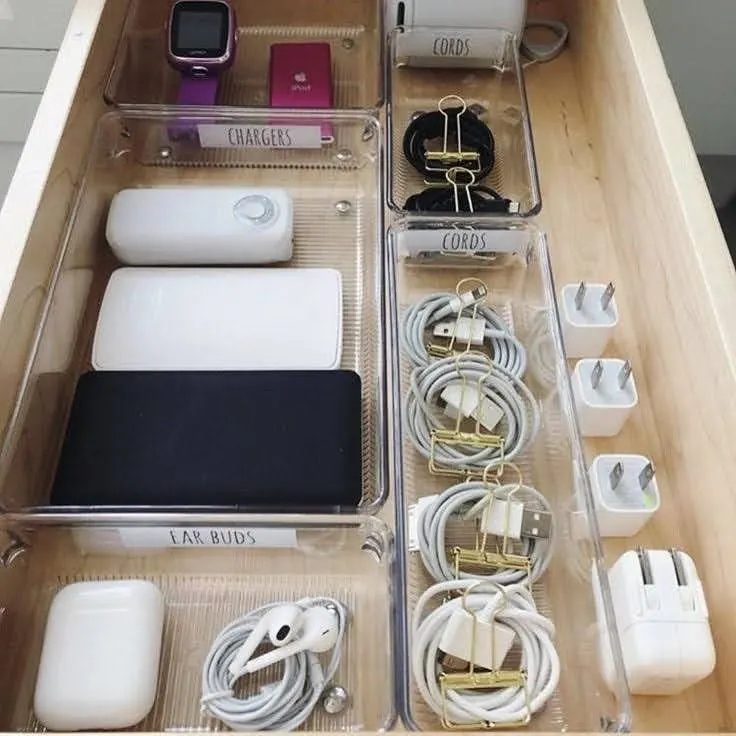 Credit: Instagram
Here's another way of decluttering and subsequently arranging your electronics. The clear trays look clean and unfettered, and they're labeled, too!
Look how those metal clamps help the cords and chargers from getting all tangled up. You can find them right here.